One of my favorite parts of my job is checking out new airplanes.
It's interesting to see all the innovations airlines add to their latest-generation jets, and I especially love when they introduce an all-new or much-upgraded cabin.
While I've toured more planes than I can count, I've been particularly eager to see inside Virgin Atlantic's Airbus A330-900neo, or "new engine option." The United Kingdom-based airline inaugurated the plane last year, and it's now flying to New York — the carrier's busiest and most important market.
Though TPG was already on board the jet's inaugural flight, Virgin recently invited a handful of members of the media to check out the plane in New York. With four A330-900neos already in service and 12 more coming within the next few years, this modern and fuel-efficient jet will become one of the backbones of Virgin's fleet.
And after touring the plane, here's what excites me most about it.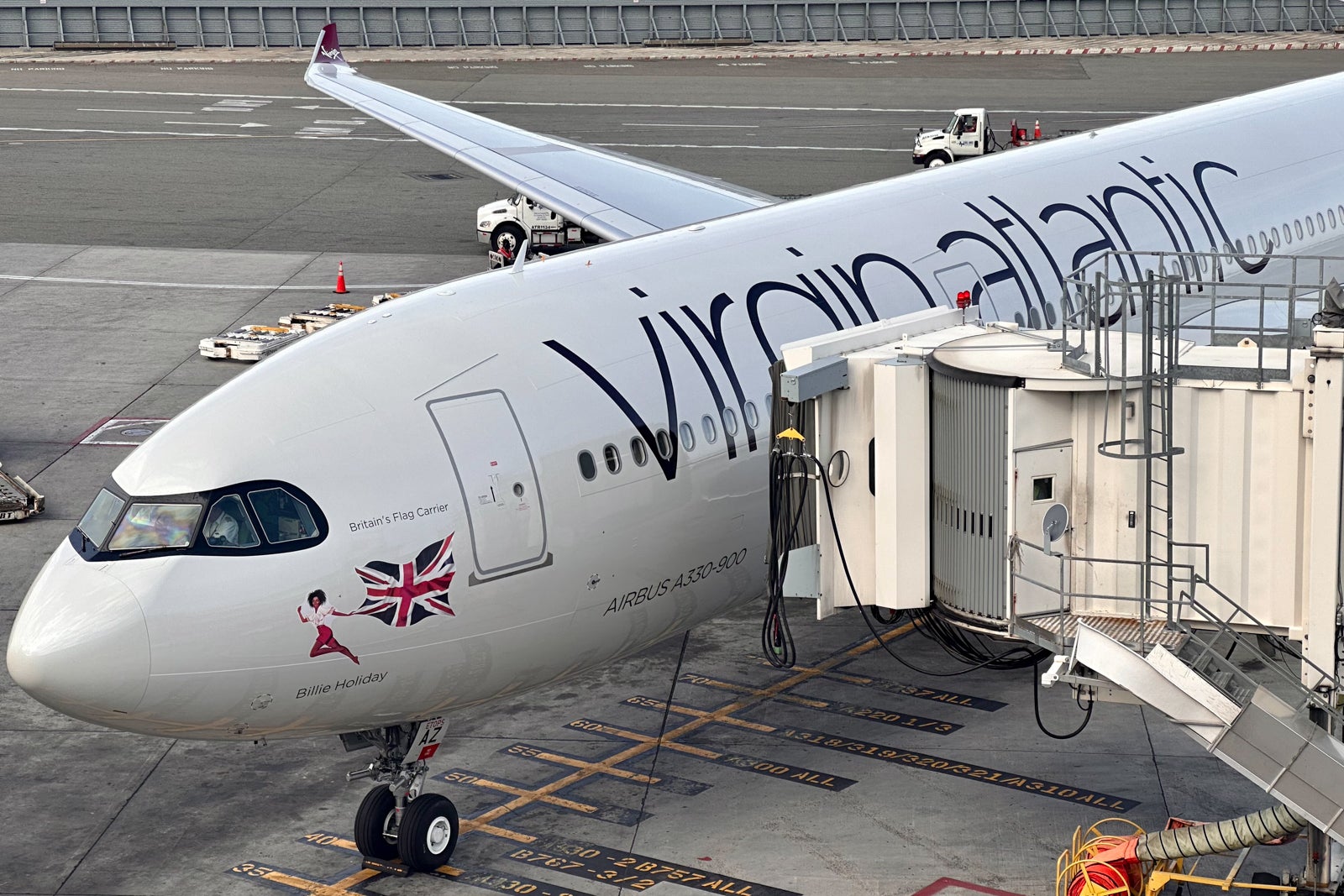 Nose-to-tail technology upgrades
In some cases, airplane cabins can fly for a decade or more. That's why it's so important for designers to outfit new jets with the latest cutting-edge technology. Otherwise, the onboard tech will be outdated well before the cabin is due for a retrofit.
Fortunately, Virgin Atlantic thought through all these details on its A330-900neo.
Perhaps most excitingly, every single seat supports Bluetooth connectivity. So, travelers can pair AirPods or other wireless headphones directly with the seatback screen without needing a dongle.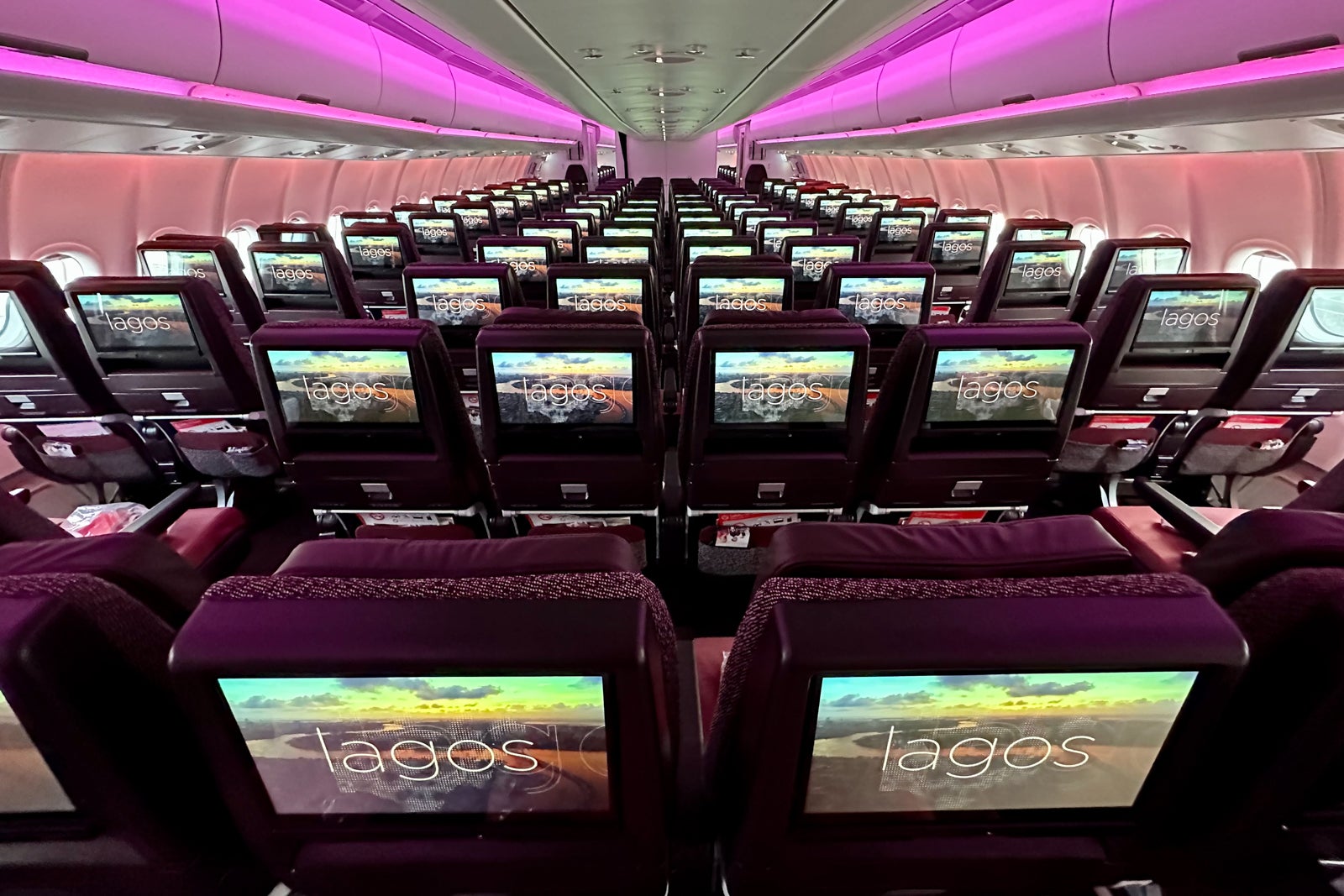 Additionally, each seat has access to a universal power outlet and USB port. Those seated in the Upper Class cabin even have access to a fast-charging 60-watt USB-C port, too.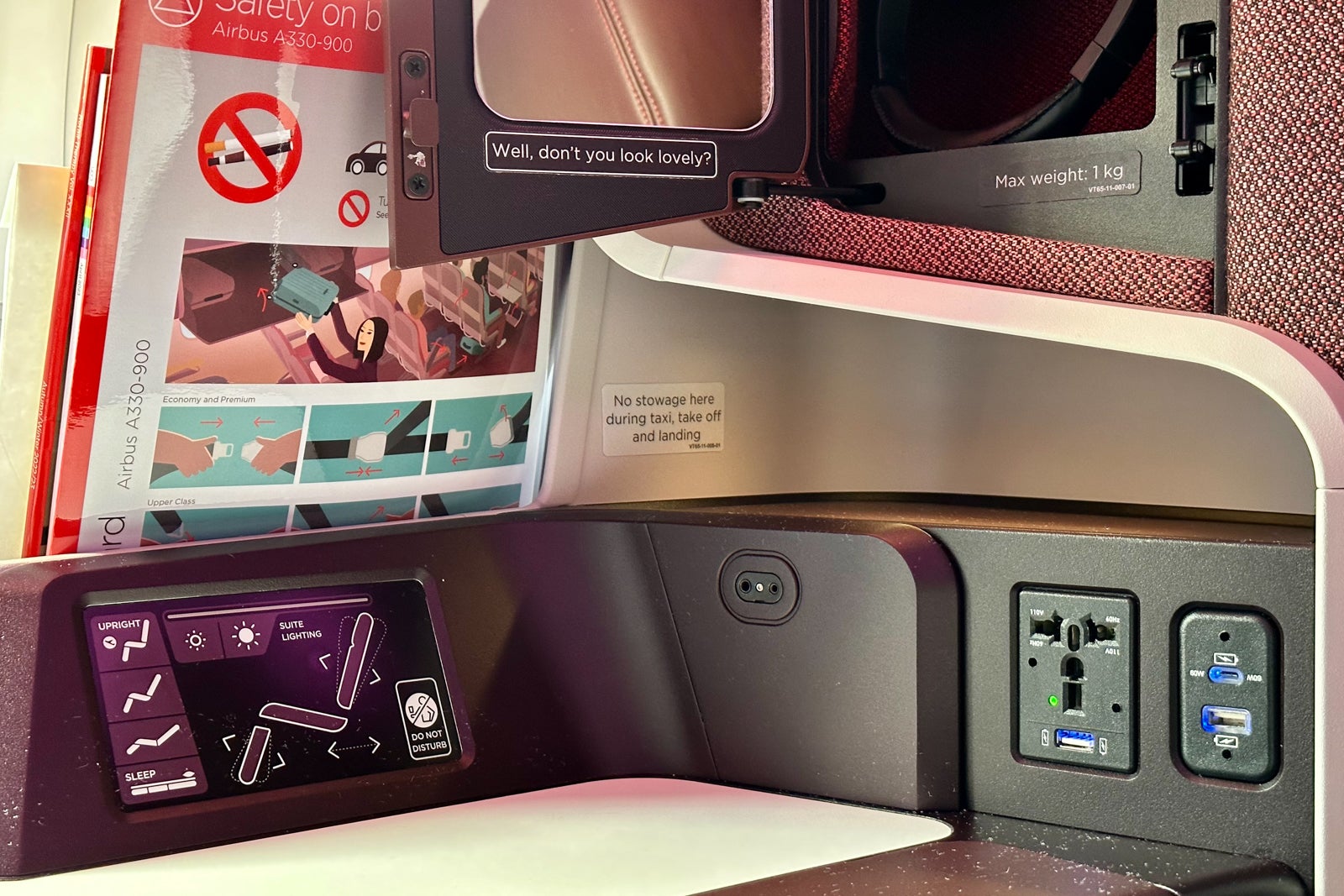 Furthermore, Upper Class and premium economy seats sport Qi wireless charging pads, giving you an unprecedented number of ways to keep your devices charged.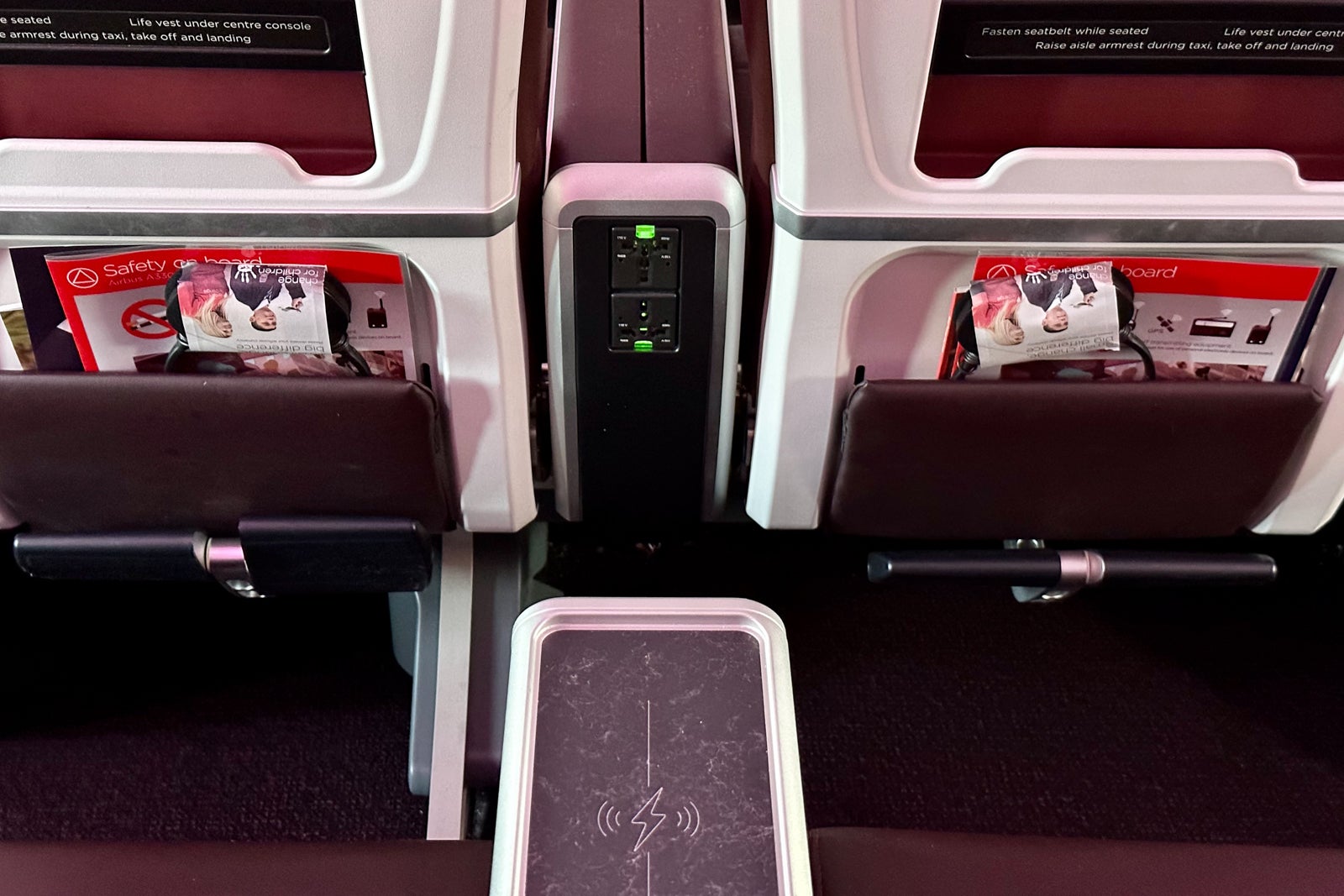 Other impressive tech improvements include crisp touchscreen entertainment monitors and the latest-generation Viasat Wi-Fi.
A new type of business-class experience
As airlines debut cutting-edge business-class products, a new cabin class is emerging. It's commonly referred to as "business class plus."
These products usually occupy the first row of the cabin and offer additional space, storage and amenities that take advantage of the bulkhead's unique configuration.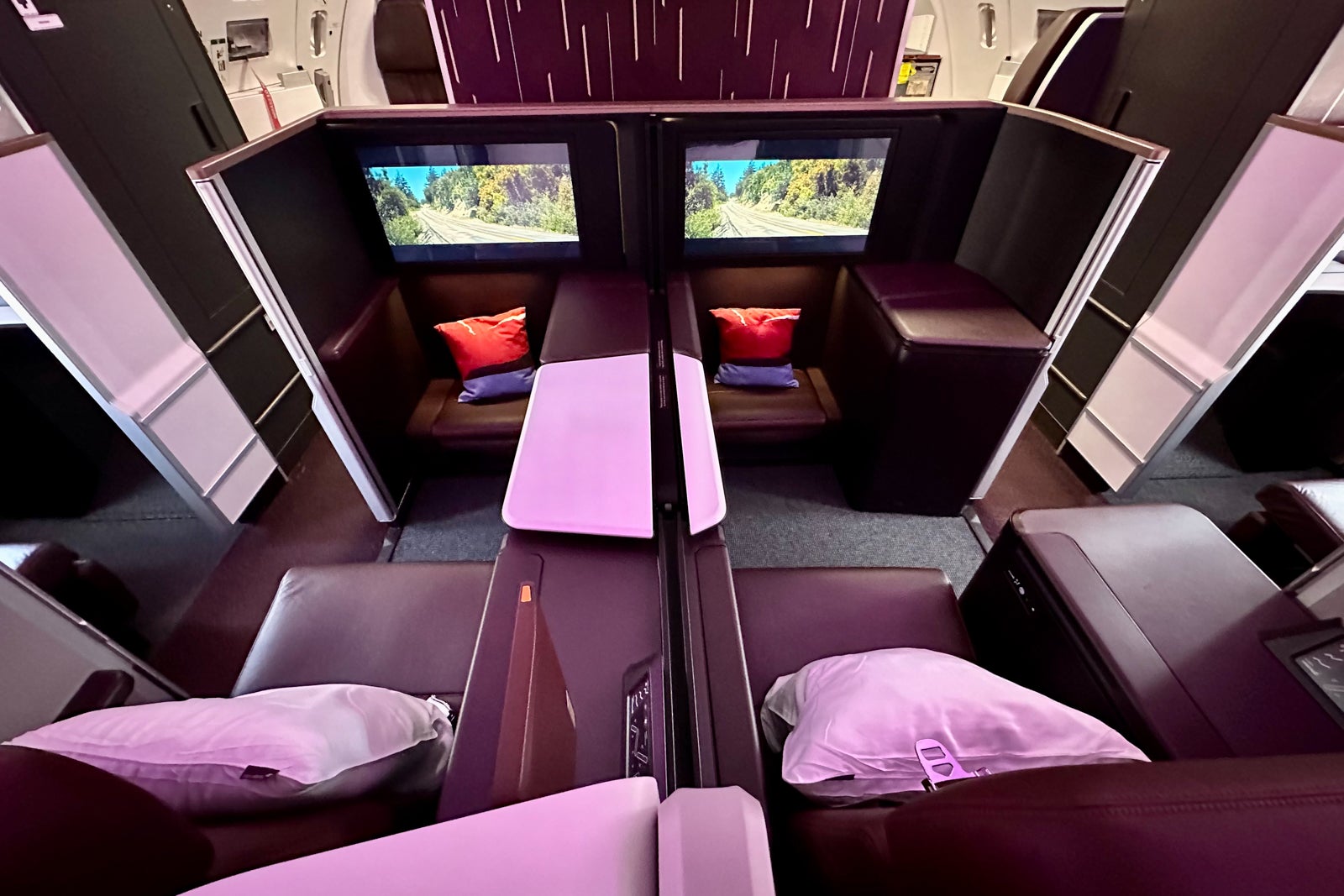 Virgin's A330-900neo leans into this trend with a new seat type for the carrier: the Retreat Suite.
The two front-row center pods in business class on the A330-900neo are larger and more spacious than the rest of the customized Thompson Vantage XL seats. I loved that the ottoman could be converted into a leg rest or a buddy seat, and the 27-inch TV screen looked great.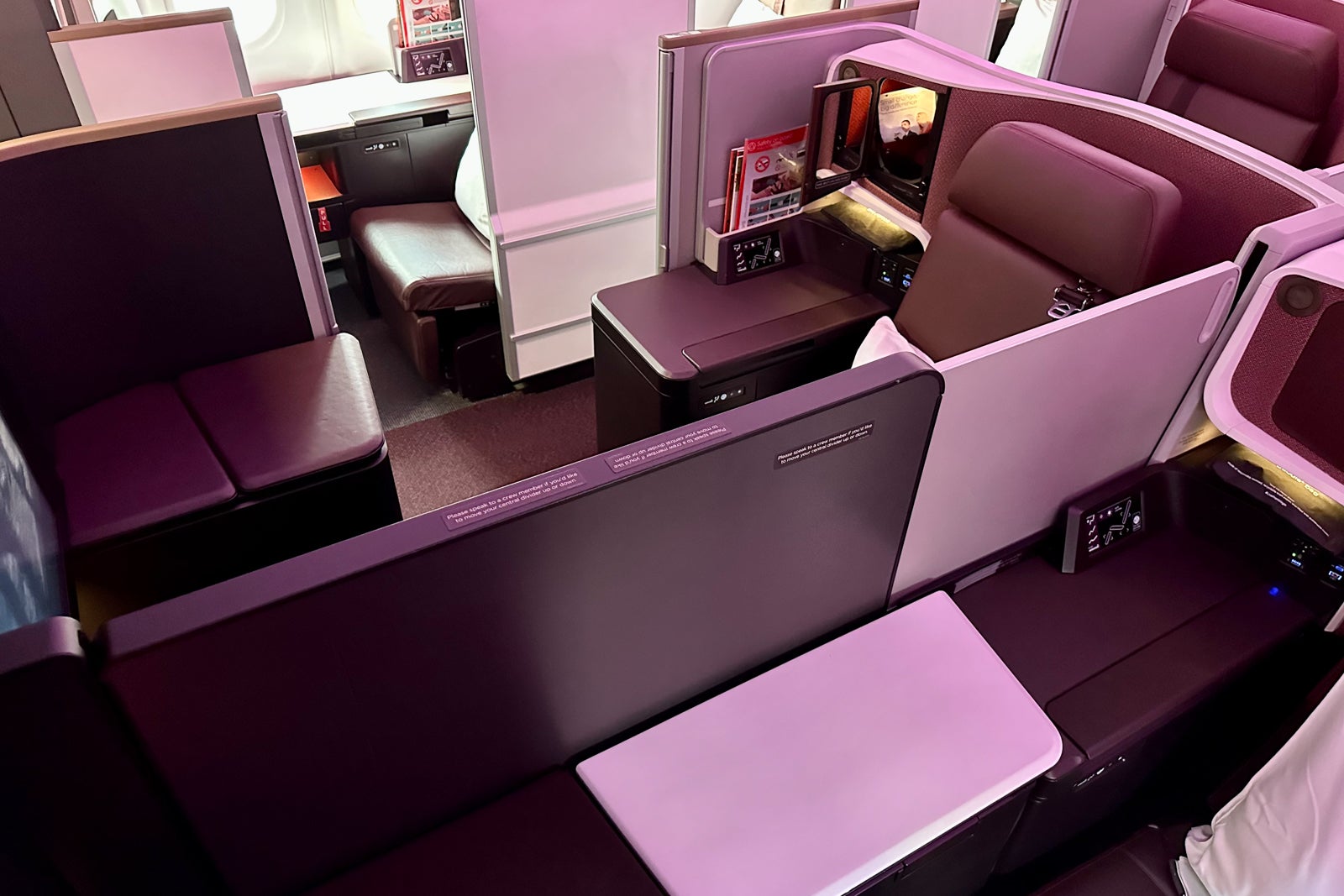 Though there's a large privacy divider that can separate these two seats, I'd imagine that the Retreat Suites would be best suited for couples and families. That's because you can combine the tray tables between the two seats to share a meal. If you convert both ottomans into buddy seats, a family or group of four could dine together simultaneously.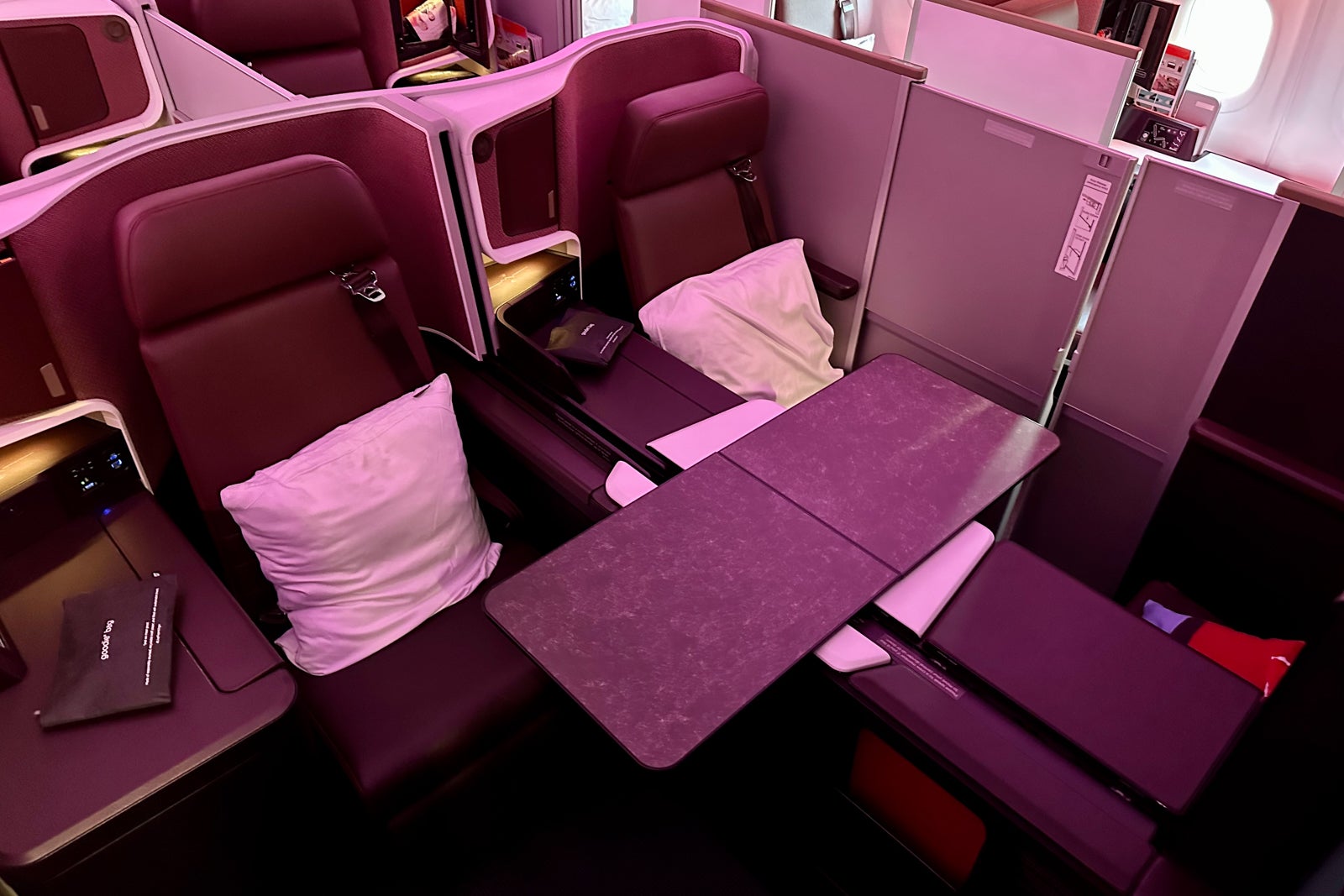 You can select one of the Retreat Suites for a roughly $250 upcharge within 14 days of departure. For more about the Retreat Suite, read TPG's latest review.
The revamped onboard bar
Every plane in Virgin's fleet features a social space for business-class passengers.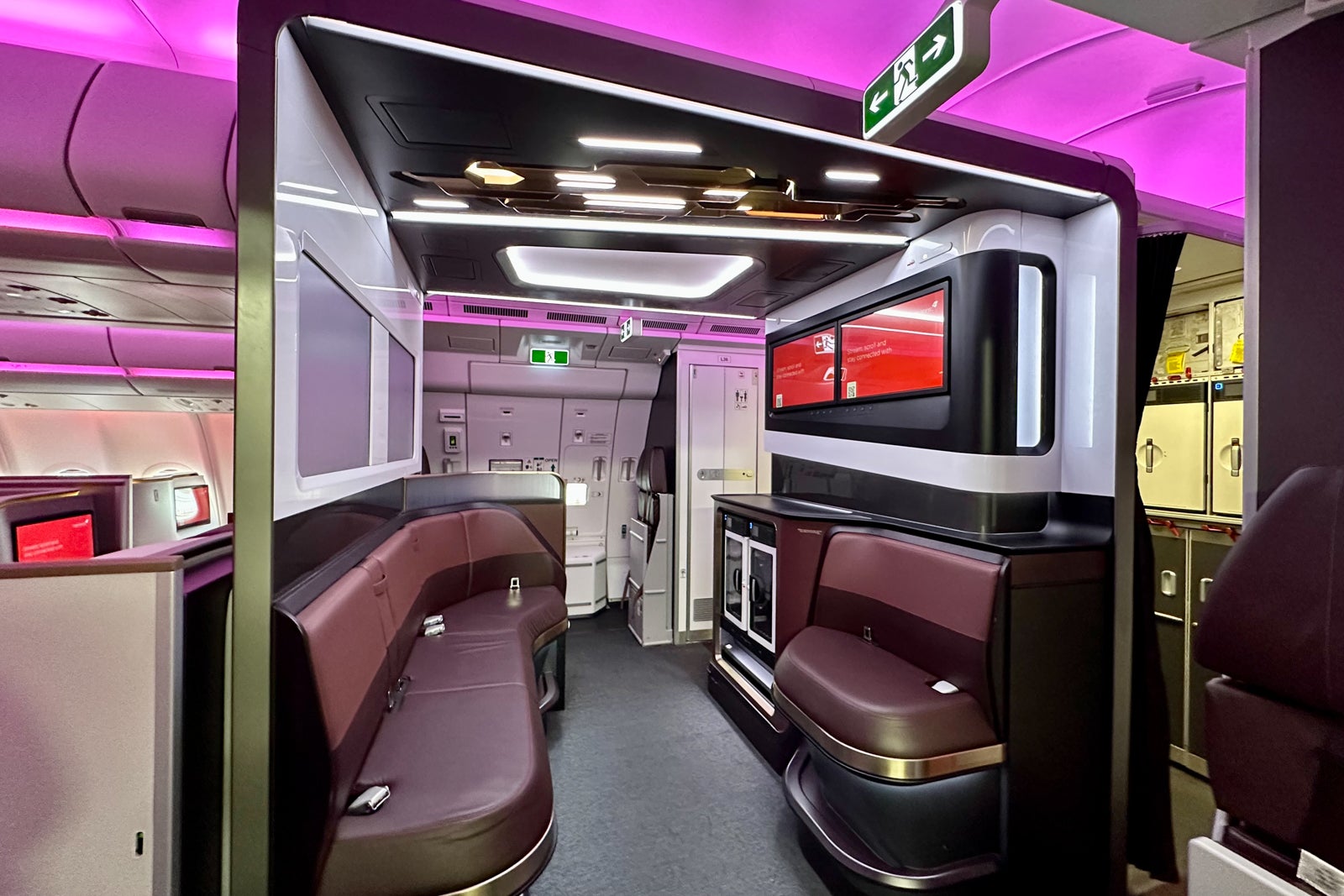 While you'll find an onboard bar on the older A330-300, the new A330-900neo features what Virgin calls the Loft (which first debuted on the A350-1000.)
This space separates the business and premium economy cabins, and it's nicely designed with accent lights, dark leather seats and two large TVs.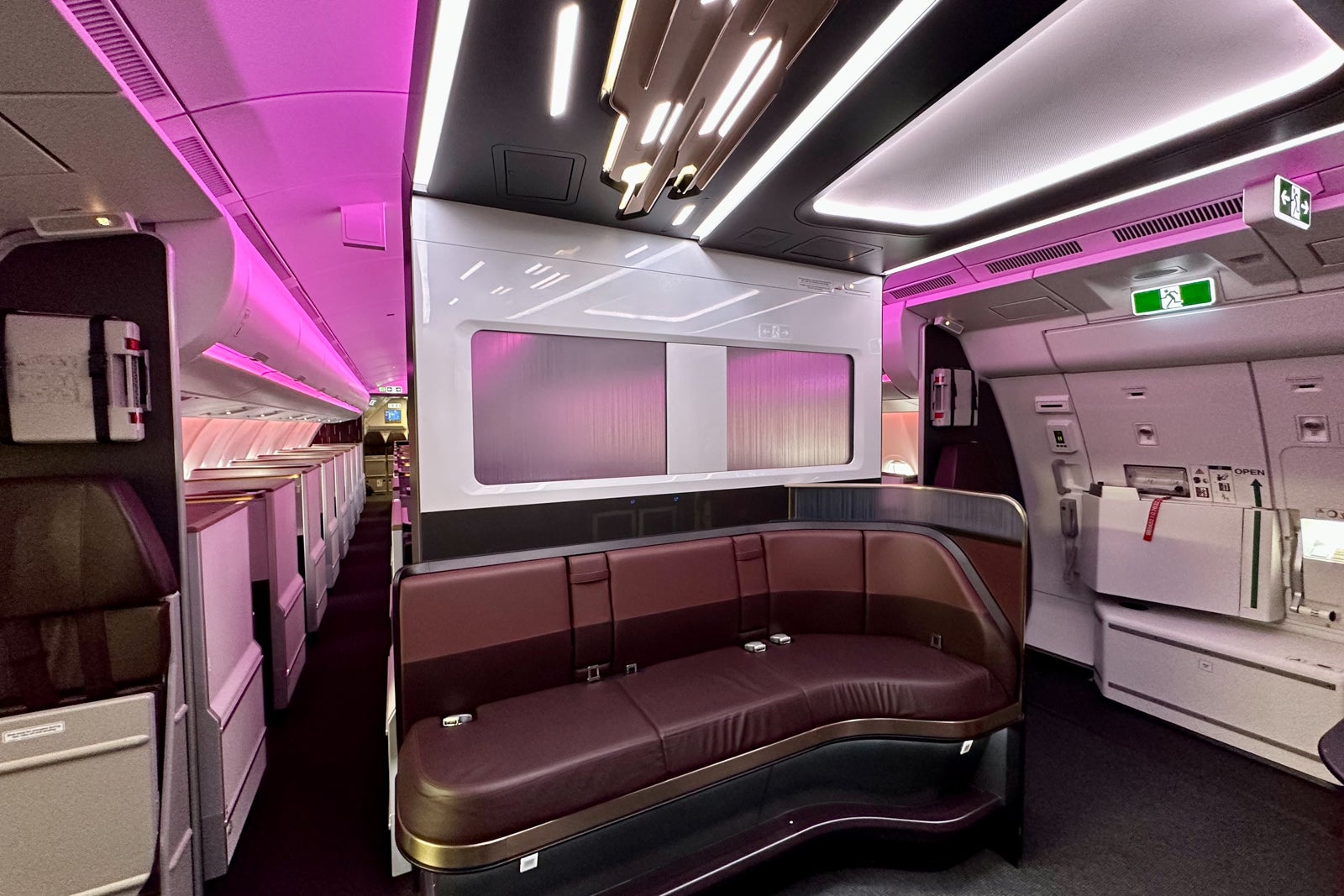 I'm sure some travelers will miss the traditional bar, but I like that the Loft has more seats than the onboard bar did. Plus, this space has been upgraded compared to one on the A350 — the seats are higher and supposedly feel more comfortable than those on the A350.
That said, not everyone is a fan. "The seats are too high and too shallow to be comfortable," TPG's Ben Smithson recently wrote.
Premium economy that's actually premium
Premium economy is all the rage these days. This intermediate cabin offers larger seats, more legroom and additional storage compared to coach — all without breaking the bank for a lie-flat business-class pod.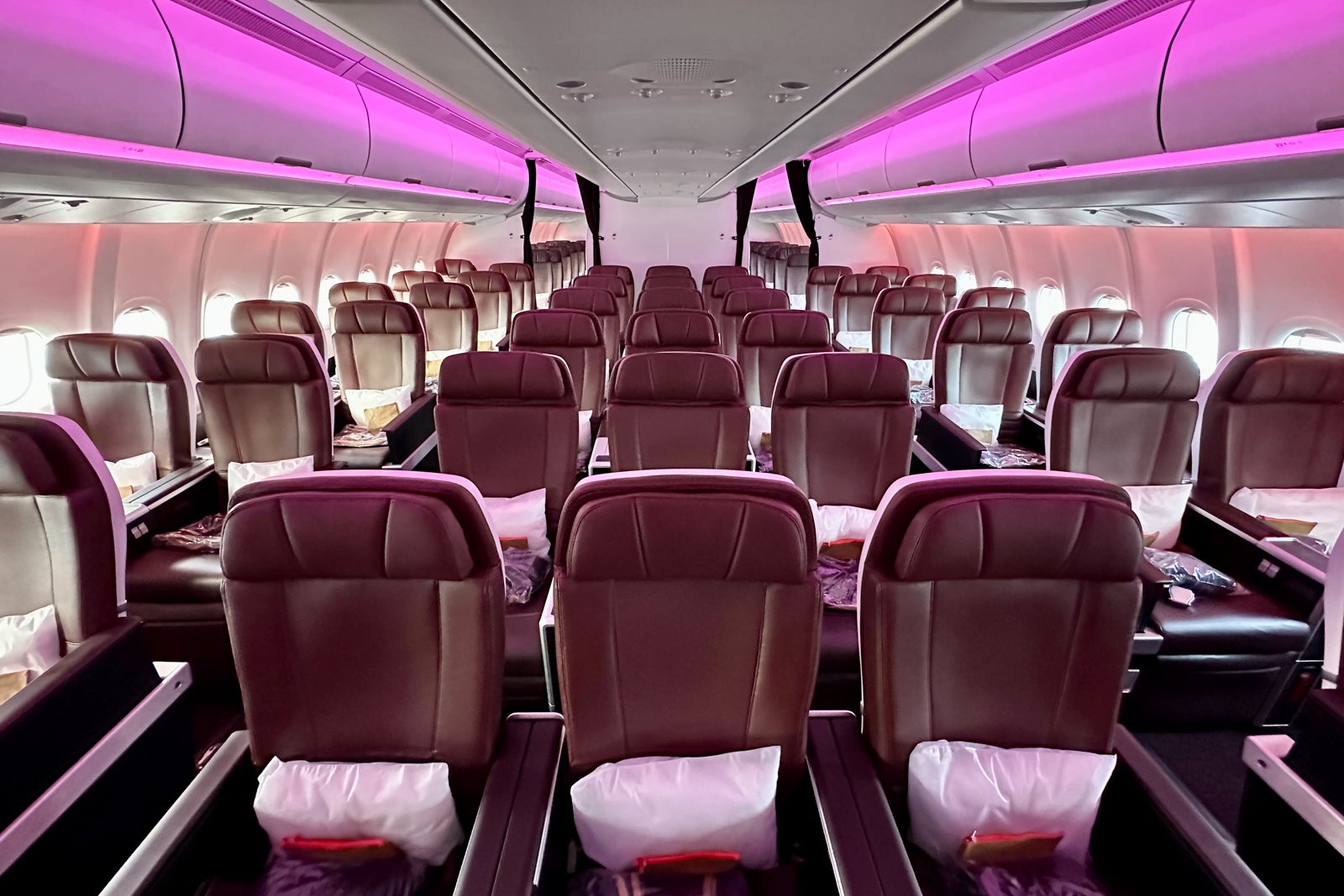 As more and more flyers seek out this experience, airlines have taken note. They have started to retrofit existing planes with premium economy.
However, while the "hard product" (the seat itself) is generally quite similar across carriers, the service and culinary experience varies greatly. Some airlines think of premium economy as an extension of the economy cabin. Others think of it as "business class light."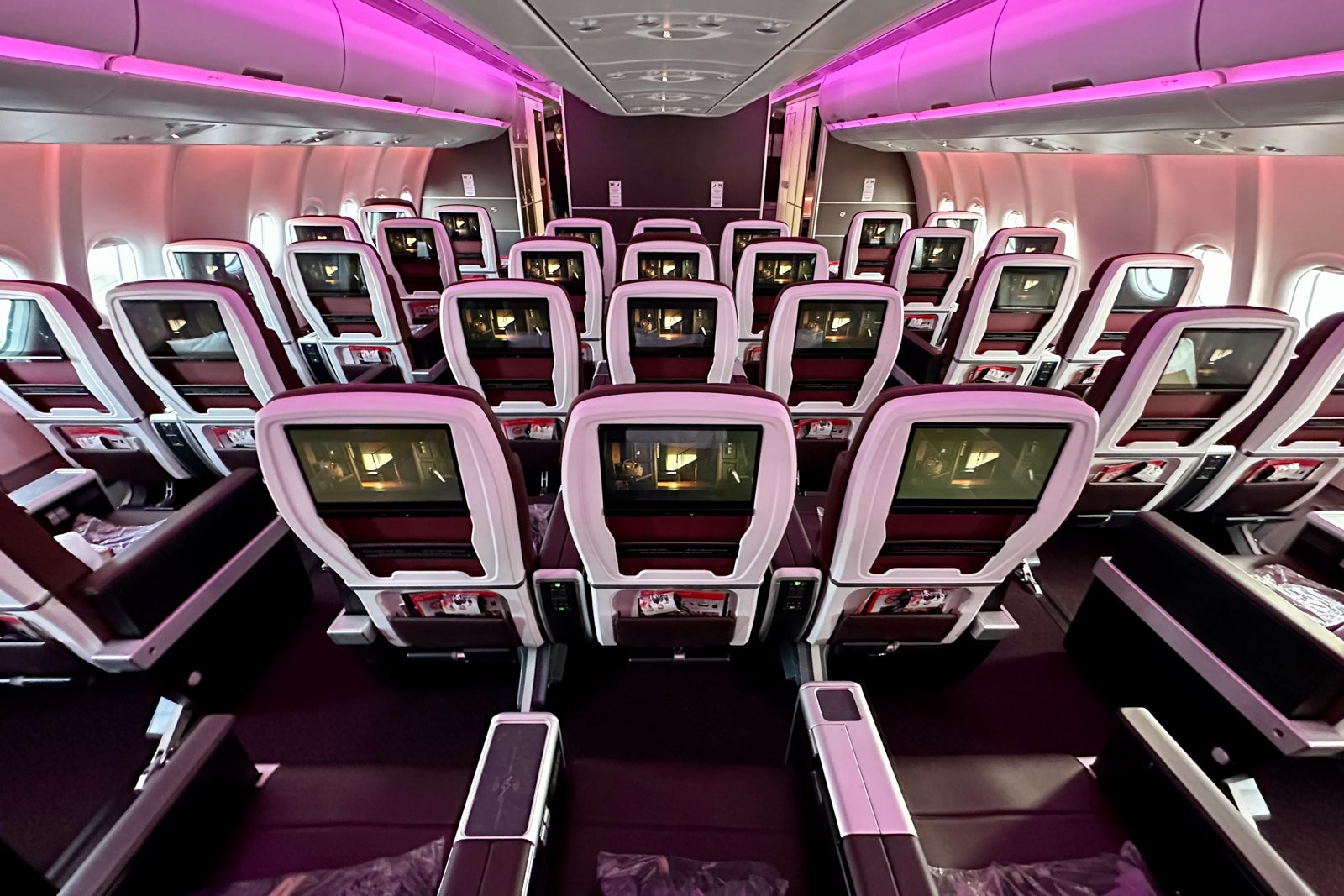 Virgin definitely fits into the latter camp, at least from a service perspective. Because of the size of the cabin — 46 seats spread across seven rows in a 2-3-2 configuration — the airline has a dedicated crew and galley space reserved for premium economy.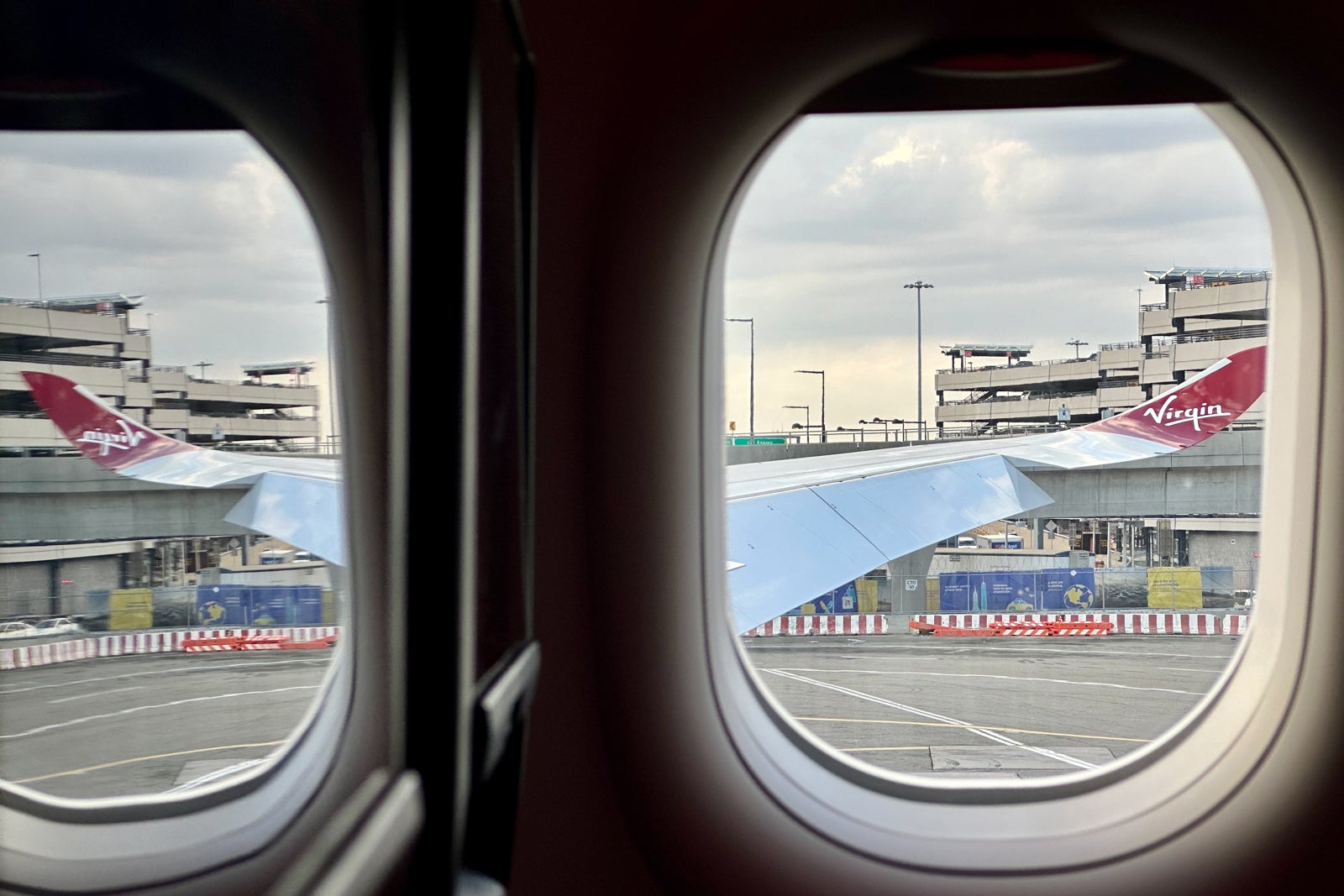 While the airline's premium economy cabin is definitely larger than many of its U.S.-based competitors, at least the service should feel more elevated than what you might be used to on American or United.
Related reading: