Editor's note: TPG's Ashley Kosciolek accepted a free trip from Norwegian Cruise Line to sail on Norwegian Viva's inaugural voyage. The opinions expressed below are entirely hers and weren't subject to review by the line.
Norwegian Viva, the second ship in Norwegian Cruise Line's Prima class, is nearly a carbon copy of its older sister, Norwegian Prima — but that doesn't mean you won't have plenty to love.
What Norwegian uses to differentiate Norwegian Viva from Norwegian Prima are art installations, entertainment ("Beetlejuice," anyone?) and additional seating at Indulge Food Hall, among other minor tweaks.
I'm halfway through the ship's nine-night inaugural sailing from Trieste, Italy, to Lisbon, Portugal, and I've rounded up some of my favorite things, as well as some that aren't so great. Find out what you should absolutely try and what might annoy you if you're planning to sail.
For more cruise news, reviews and tips, sign up for TPG's cruise newsletter.
5 great things about Norwegian Viva
Indulge Food Hall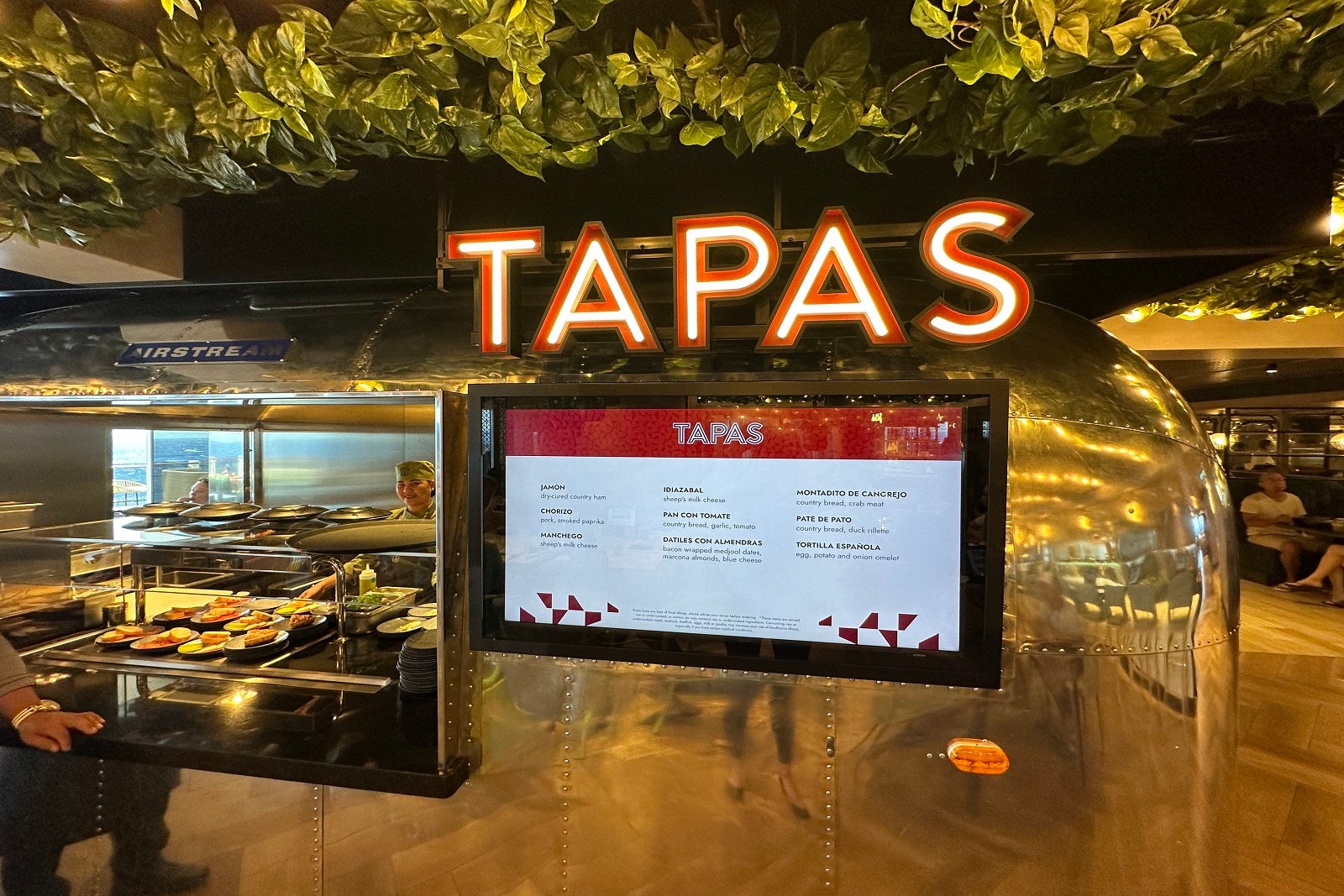 Like many items on this list, Indulge Food Hall isn't new to Norwegian. It debuted on Norwegian Prima, but it's new to me since this is my first experience with the Prima class.
So, what exactly is Indulge? It's a food court-style experience that has taken some of the best eateries from around the Norwegian fleet and put them in one place to allow passengers to try a bit of everything. You'll find a tapas food truck that offers small plates reminiscent of what you'd be able to order from Bayamo on Norwegian Escape, as well as a tiny outpost of barbecue restaurant Q Texas Smokehouse, serving pulled pork sandwiches like the ones you can get on Norwegian Joy, Norwegian Encore and Norwegian Bliss.
On Norwegian Viva, the line removed Starbucks from the space to make room for more tables and alleviate congestion. (Starbucks is now a stand-alone venue on Deck 7 in the atrium area.) You sit wherever you'd like and order from a touchscreen. My group's food showed up in mere minutes, and it was delicious. I highly recommend the Indian dishes from a counter called Tamara.
The best part is that the food is free. That's particularly notable for a line like Norwegian, which is notorious for its nickel-and-diming. Not only does Indulge Food Hall provide an additional complimentary food option, but some of the food available there comes with a fee at the corresponding stand-alone alternative restaurants (Bayamo, Q) on other ships.
Solo cabins and lounge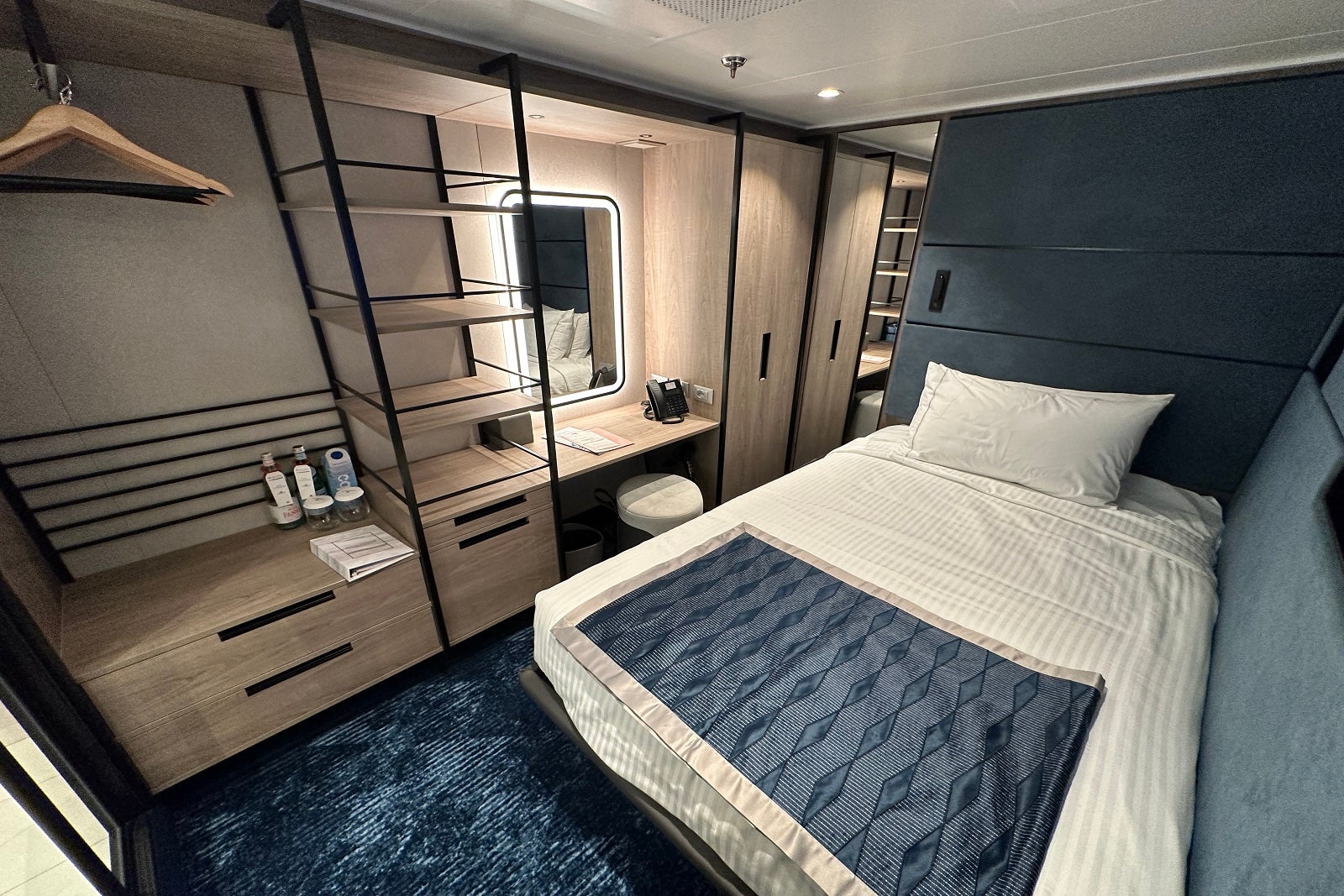 Norwegian was the first cruise line to make a real effort to accommodate solo travelers with the studio cabins it introduced on Norwegian Epic in 2010. The concept has carried through to the line's newest vessels, including Norwegian Viva. But what's special about them on Viva is how upscale they look.
The neutral, timeless color scheme — a far cry from the bright purples and greens that punctuated the studio concept's original iteration — carries through to a dedicated Studio Lounge, to which all passengers booked in studio cabins have access. There, they'll find seating, free beer and soda on tap, plus daily breakfast items and snacks. Dedicated solo meetups are often scheduled, too.
Norwegian Viva has 73 cabins for one, each of which is an inside room (no window) and offers 93 square feet of space. The accommodations are tiny but cozy and well appointed, featuring a single full-size bed, a small desk/vanity and an open-concept closet. Bathrooms are shower-only and have no doors — because why would you need privacy from yourself?
Speaking of cabins in general, another point worth noting is the exceptional lighting. It might seem small, but seeing what you're doing in every corner of the room makes a difference. Makeup lighting around the vanities is also a godsend.
Atrium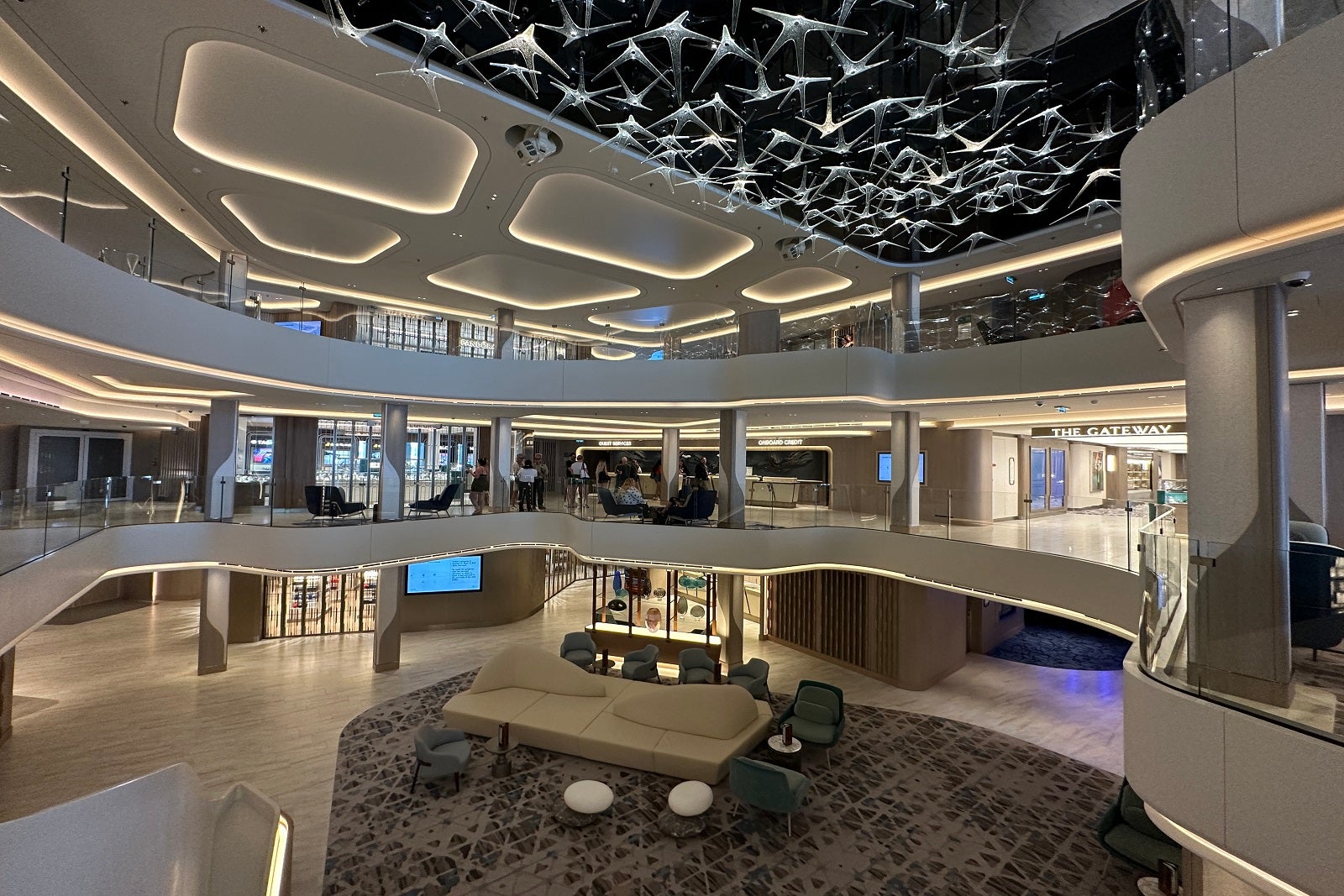 I sailed on Norwegian Encore shortly before boarding Norwegian Viva, and one of the biggest reasons I avoided the atrium area on Encore was that it made me claustrophobic. The colors were dark, and the ceilings felt low. That's not the case on Viva.
The Penrose Atrium on Deck 6 is lighter, brighter and has a more open feeling. It's a much more pleasant — albeit much louder — space than on some of Norwegian's previous vessels.
In addition to a neutral white, tan and green color scheme, the three-deck space is outfitted with comfy seating (the felt loungers are amazing), an abstract central banquette and an overhead glass lighting display that looks a bit like a sky full of cartoon stars. You'll also find Starbucks, a whiskey bar, a few shops, and desks for guest services, shore excursions, Wi-Fi assistance and future cruise bookings in the central area.
Escape rooms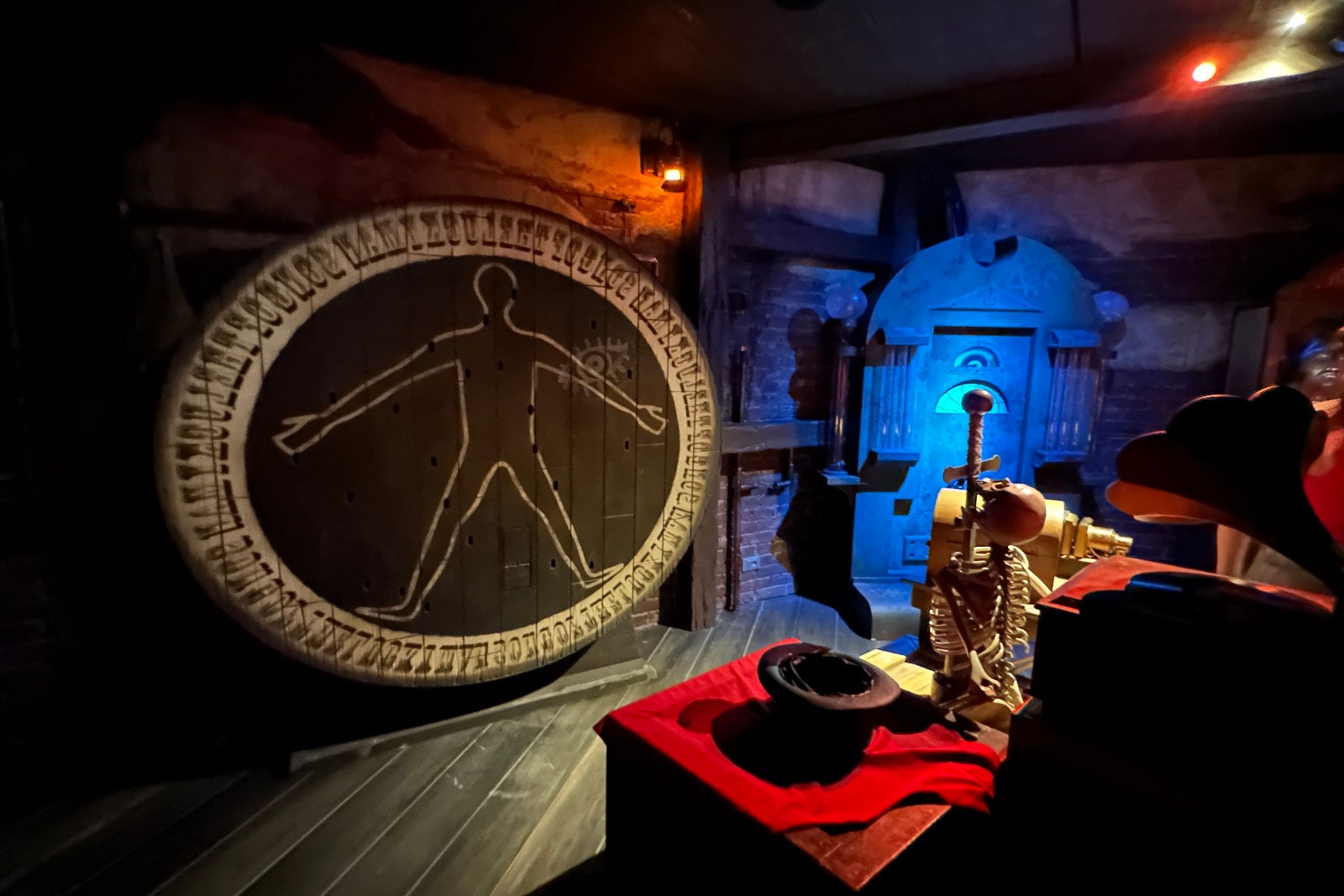 Norwegian Cruise Line's Galaxy Pavilion virtual-reality game space makes a return on Norwegian Viva, and it features two escape room choices. A group of friends and I selected one that had us searching for Mystere, a magician who went missing after a magic trick gone wrong.
Throughout the 45-minute experience, we searched for clues to help us locate him and escape the locked area. Unfortunately, the final piece of equipment glitched — even though we did everything right, according to the crew member overseeing our progress — so we never got to see the conclusion, despite solving all of the puzzles correctly.
Regardless, it was a fun way to spend some time, especially if you've got a group traveling together. Each of the two rooms can hold up to six people. It costs $15 per person to play, and I felt it was well worth the price.
Wi-Fi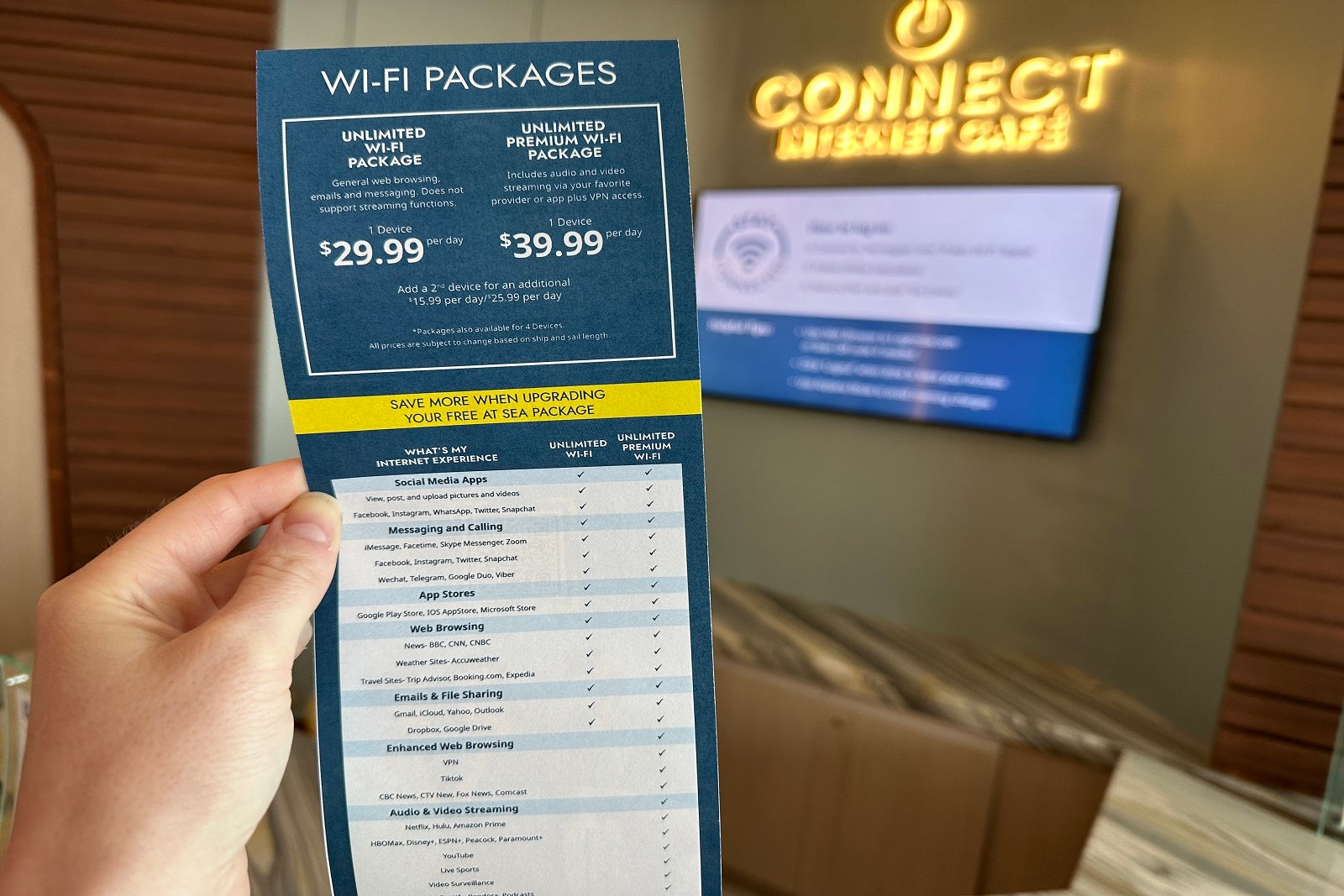 I know many people like to disconnect during vacation, but for those of us who want (or need) to stream, post, check email or do work, a solid onboard Wi-Fi connection is crucial.
On Norwegian Viva, I have a Wi-Fi package that includes streaming for two devices, and the performance has been nothing short of astounding. This is the first time I've sailed on a ship where both devices (my laptop and my mobile phone) stayed connected to the network the entire time. I haven't lost service, and I haven't been involuntarily disconnected.
Perhaps the connection speed and reliability aren't surprising, given that Norwegian Viva (as well as many of Norwegian's other ships) runs on Starlink Wi-Fi.
Prices are steep, though. You can activate one device for general web browsing, checking emails and messaging for $29.99 per day. To purchase a streaming and VPN package for one device, it's $39.99 per day. A second device can be added for $15.99 per day or $25.99 per day, respectively. Four-device packages are also available, but rates are not posted. Prices are subject to change by ship and itinerary.
Note that many of Norwegian's cruise fares come with a set number of free Wi-Fi minutes based on cruise length. The offer is good for two devices per cabin.
5 disappointing things about Norwegian Viva
Entertainment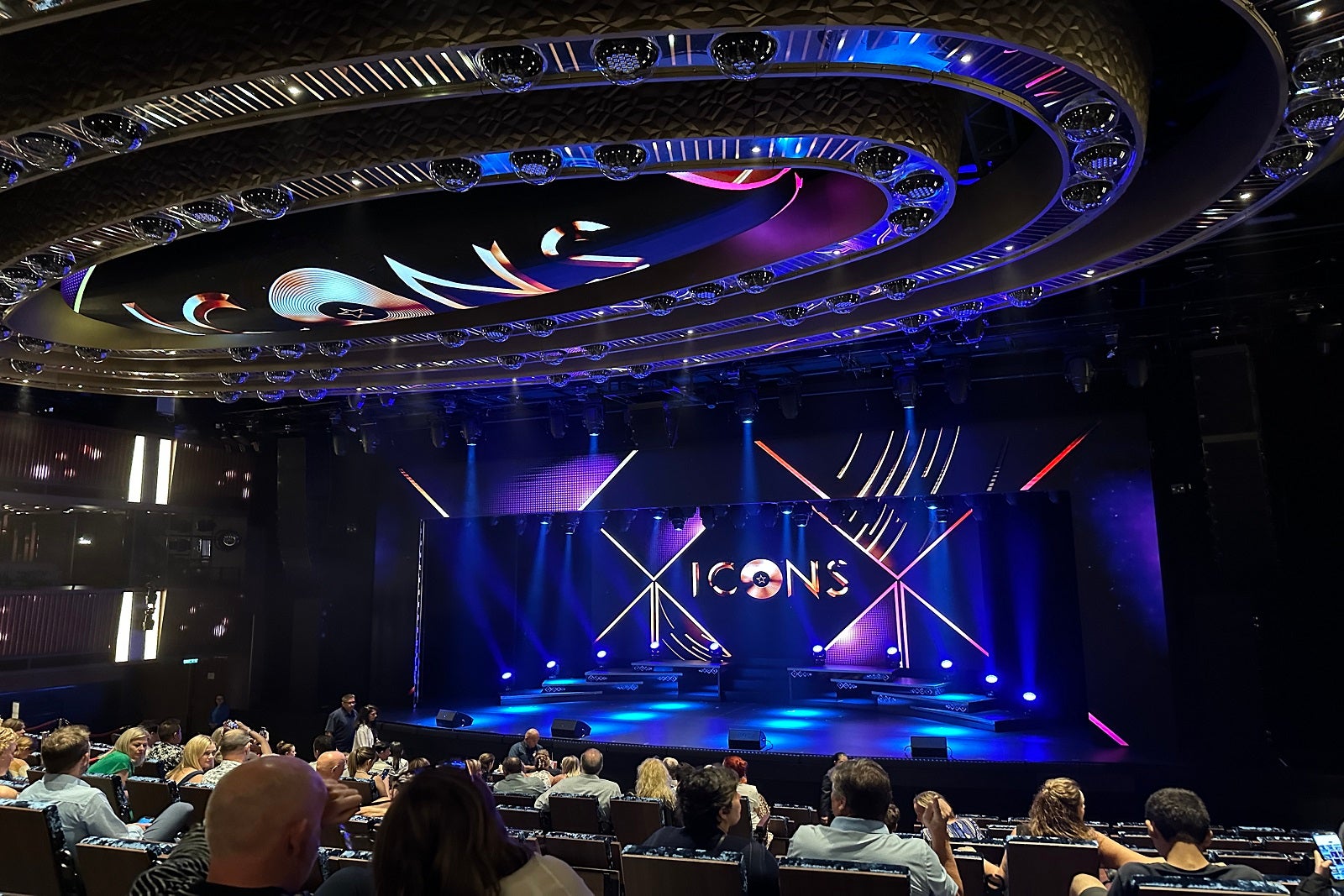 Because entertainment is one of the few areas that sets Norwegian Viva apart from Norwegian Prima, I was excited to experience the new shows, especially after NCL told us it was bringing Broadway production "Beetlejuice" on board. Unfortunately, the musical isn't ready yet, so I won't be able to see it on my voyage. (The PR team has told me it's scheduled to begin its run in late August.)
Norwegian Viva's other highlight productions include a live version of popular game show "Press Your Luck," where passengers can win money, and "Icons," a song revue that features bits of famous tunes by everyone from Whitney Houston and Bruno Mars to Celine Dion and Elton John. The former isn't ready yet, either, and the latter doesn't stand up in terms of modern-day cruise entertainment.
Although the "Icons" singers are immensely talented, the show reminds me of something straight off cruise ships in the 1990s. The only things missing are feather boas, giant headdresses and perhaps some high kicks.
Other popular and highly touted entertainment options are the interactive musical performances at Syd Norman's Pour House, a separate lounge that aims to transport passengers to the golden age of rock 'n' roll. I tried to attend one of the shows, but the venue isn't big enough to accommodate the demand. I arrived two minutes before showtime, and it was standing room only, shoulder to shoulder, spilling out into the hallway at both entrances. I plan to try again later in the sailing when I can show up earlier to grab a seat.
Kids club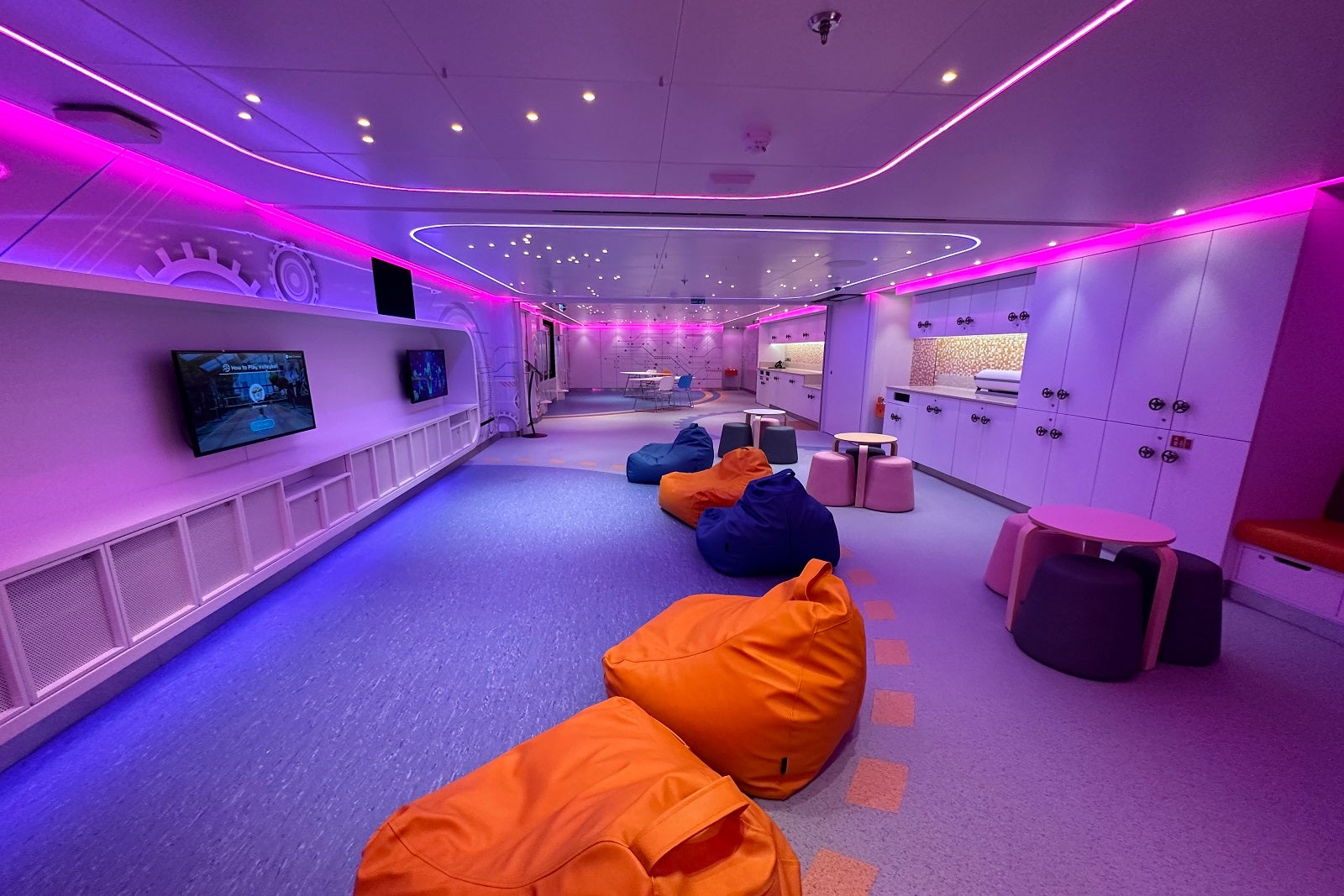 I don't even have children, and I'm scratching my head about the state of Splash Academy, Norwegian Viva's kids club. Most other vessels in the fleet have dedicated spaces for different age groups. On Viva, two spaces on Deck 15 forward accommodate all kids from 6 months to 17 years.
Although the youth staff runs separate age-appropriate activities for children from 3 to 12 years, they're all held together in the same space, which is weird. I can't imagine any 12-year-old wanting to be lumped in with toddlers.
The ship also lacks a dedicated Guppies space for children from 6 months to 2 years old. Instead, parents are allowed to utilize the existing space (toys provided) for parent-supervised play with their youngsters when there are no planned activities for the 3-to-12 set.
Even more odd is that there's no space allocated exclusively for tweens and teens. Other ships offer Entourage, a lounge for older kids, where there are supervised but less structured activities. On Norwegian Viva, teens can attend age-specific activities throughout the vessel and in the Splash Academy area when it's not in use.
That solution is a problematic one. I have never seen so many unsupervised teens and tweens running through public areas, lounging in stairwells, being loud and generally creating a disturbance. Because I've not seen this on any other ship I've sailed, I assume it's due to the programming and lack of a dedicated teen hangout.
Layout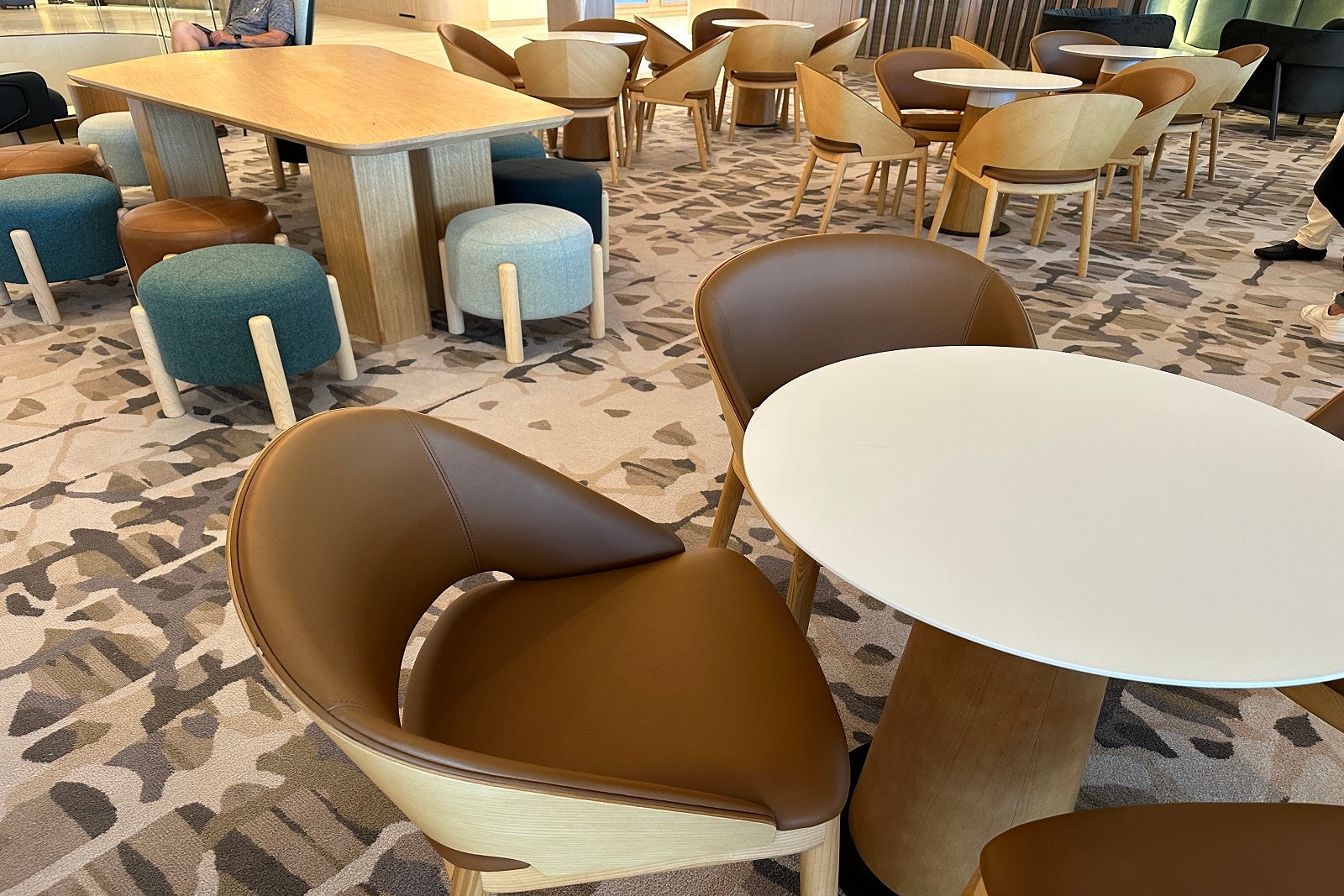 I'm OK with taking time to get used to a new ship. However, I've been on board Norwegian Viva for five days, and I still find it difficult to figure out where things are. Many of the ship's interior spaces aren't symmetrical, so it's easy to overshoot where you're trying to go if you're on the wrong side of the vessel — I'm looking at you, Le Bistro. Trying to find the Oceanwalk outdoor promenade and alfresco dining area? It's easy to miss the automatic doors on Deck 8.
And it doesn't stop there. The casino is a labyrinth, and you'll likely have to ask someone how to find your way out of it the first time you pass through. To reach the minigolf course, I had to walk partway through the buffet to find a set of stairs that would take me to Deck 18 since it doesn't run the full length of the ship. (The forward elevators only go to Deck 17, so you have to walk aft, across the pool deck, enter the buffet and then go up.)
Then there are the traffic flow issues. It's difficult to maneuver your way around the seating area by Starbucks in Deck 7's atrium, and the corridor that runs down Deck 8 aft on the starboard side is a hot mess. It feels narrow and runs right through The Local, a nearly round-the-clock eatery that serves free pub grub. When trying to find The Local, I walked through it without realizing what it was (thanks to poor signage) and wound up all the way aft at Indulge Food Hall before turning around and doubling back. It's a mistake that I saw several others also make, and it caused congestion in the area.
Lack of quiet spaces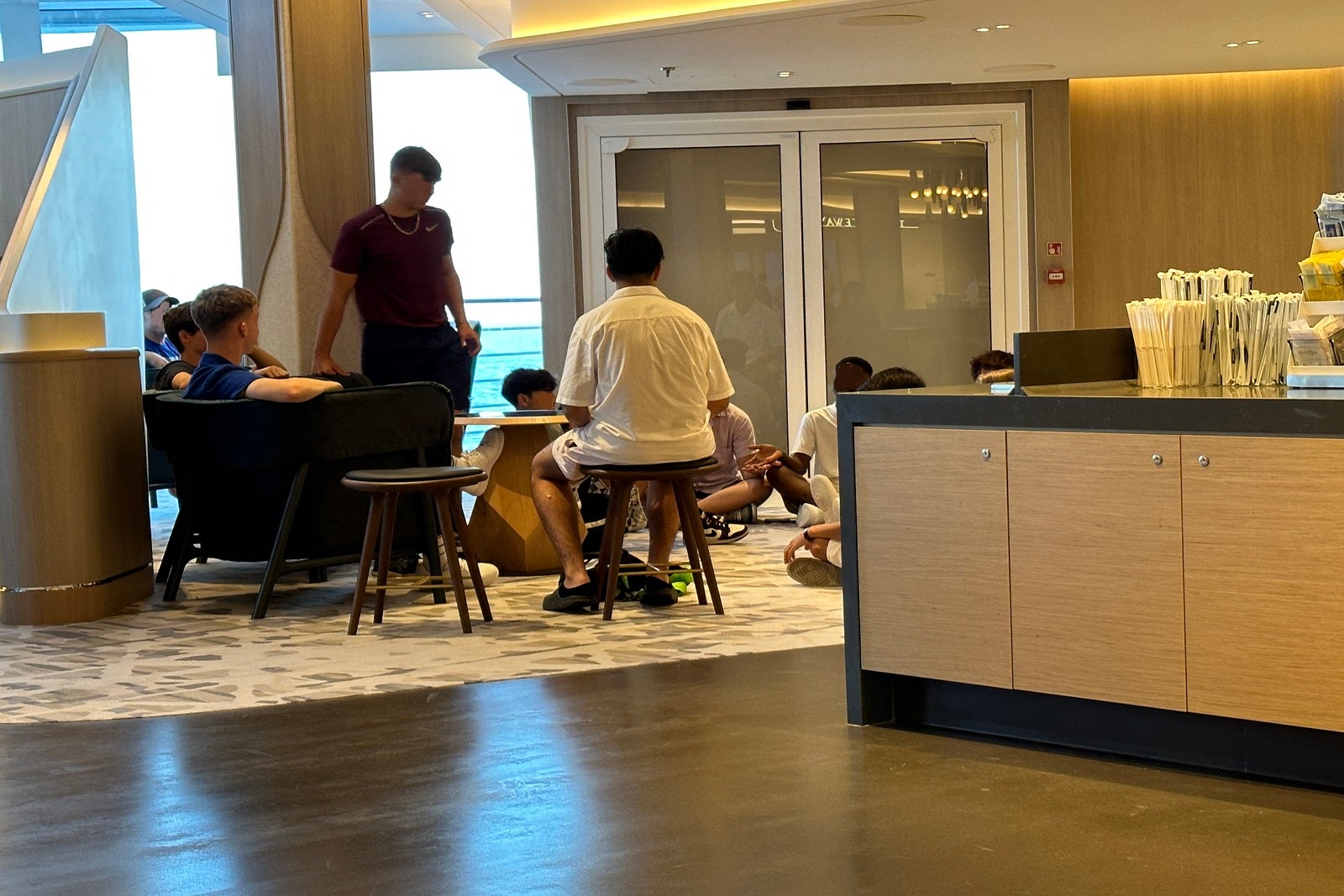 If you enjoy playing cards or reading in peace, or need a quiet place to relax or check email, Norwegian Viva isn't the ship for you. It has no onboard library, card room or other out-of-the-way space that isn't loud. Unlike on some of the line's other ships, Starbucks is out in the middle of the atrium's hustle and bustle, and late at night, there's music blasting, teenagers screaming and crew members vacuuming the carpet there.
I tried working in the Observation Lounge on Deck 17 forward, but I was met with families loudly playing board games, teenagers showing off for one another and other things that made it impossible to concentrate without headphones.
I've resorted to staying in my cabin when I need some peace, to the dismay of my wonderful room steward, who can't get in to do her job. But even in my room, it's not as quiet as I'd like. I have a connecting room, and I can hear every word spoken by the family on the other side, along with the movement of balcony furniture and general sounds from the port where we're docked. This is one of the least soundproof rooms I've had on any ship, and I've been woken up a couple of times by slamming doors or people talking loudly.

Missing fish
If you're a Norwegian Cruise Line regular, you likely know all about the fish that appear on the carpeting in the cabin corridors on most of the line's ships. They serve as a directional aid. If you're trying to figure out where you're headed, look down. The fish are always swimming forward toward the front of the vessel.
Sadly, the fish have been replaced by more subtle triangles that point forward on Norwegian Viva. (Prima also doesn't have the fish, and an industry colleague told me they were removed from Hawaii-based Pride of America during its last refit.) I'm sure there was a reason for it, but it makes me sad. The carpet fish were both whimsical and functional and set Norwegian's ships apart from those in other lines' fleets.
Have more cruise questions? TPG has answers: