For the last few years, we've been saying that all-inclusive resorts are making a big comeback — and major brands such as Marriott, Hilton and Hyatt are working to revamp the experience to buck the idea that the know-what-you-pay-upfront style of vacation means bad food, tacky rooms and a lackluster experience.
Hyatt, in particular, is one of the leading brands making changes in the space and, back in 2021, added more than 100 all-inclusive properties to its Inclusive Collection with the acquisition of Apple Leisure Group.
But before that, Hyatt already had a handful of its own upscale all-inclusive properties branded as the adults-only Hyatt Ziva and the family-friendly Hyatt Ziva.
On a trip to the Dominican Republic, I stayed at the larger-than-life, adults-only Hyatt Zilara Cap Cana, which is part of a dual-branded beachfront complex that also houses the Hyatt Ziva Cap Cana. What's great about a stay at Zilara is that adults traveling without kids, like me and my partner, can take advantage of all the restaurants and amenities, including a fabulous water park, offered at the Hyatt Ziva.
Children, on the other hand, are restricted from accessing the Zilara.
My experience at the sprawling resort was near perfect. As someone who has stayed at many all-inclusive resorts over the years, I was truly blown away by the chic design of the property, the gorgeous beaches, the overall quality of the food and drinks and how classy the experience felt as a whole, especially compared to other all-inclusive stays I've had over the years.
Here's what it was like staying at the Hyatt Zilara Cap Cana in Punta Cana — and why it ultimately earned a spot on TPG's list of the best all-inclusive resorts in the world.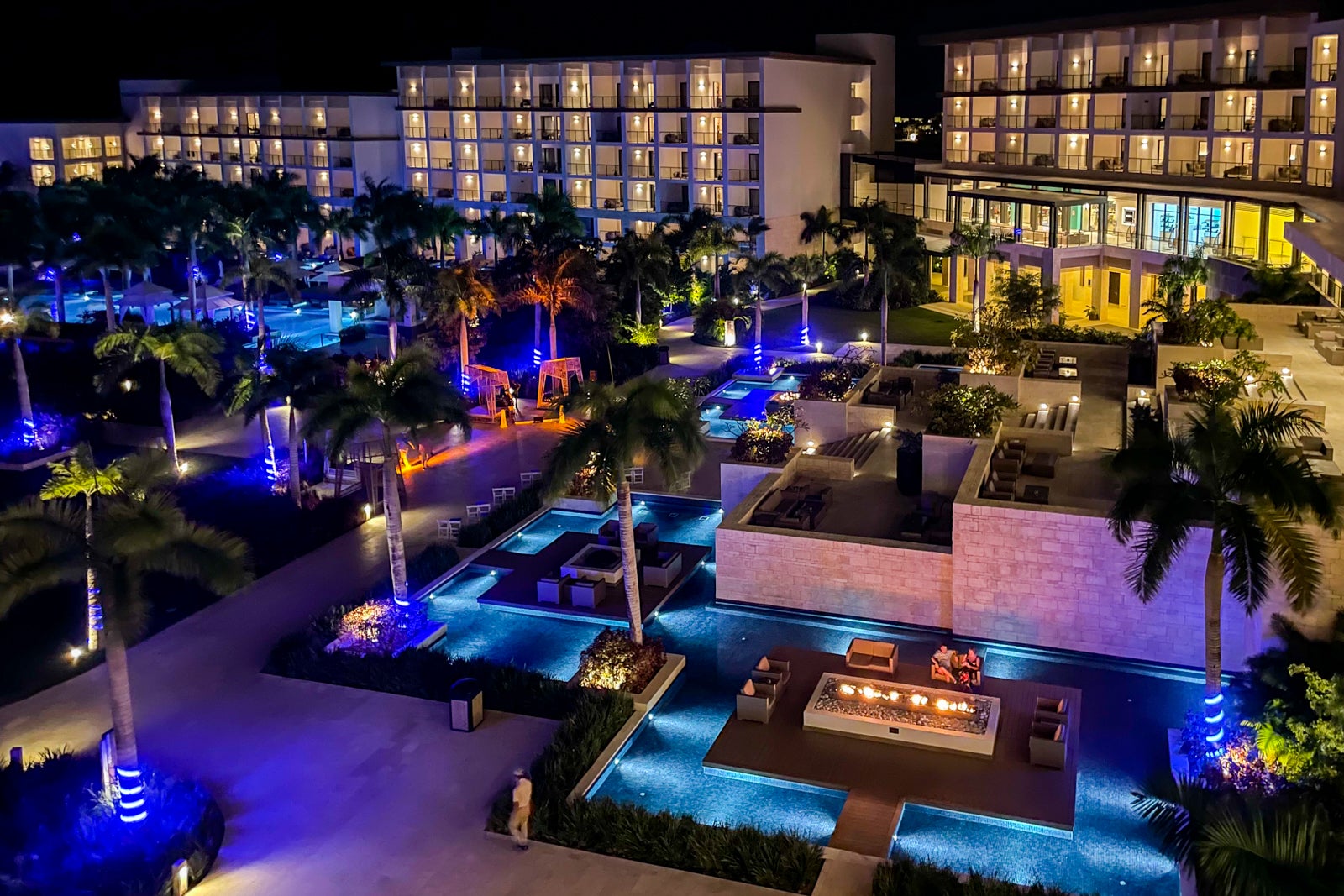 Cost
With dozens of all-inclusive resorts in the Dominican Republic, costs can range from downright cheap to very expensive. The Hyatt Zilara falls on the more expensive side of the spectrum, if you're booking with cash, but is considered by many — myself included — to be an incredible use of World of Hyatt points considering it covers most food and drink, plus entertainment, certain activities and access to a really fun water park.
If you're booking with cash, expect to pay upwards of $550 per night for two adults and more during busy times like winter holidays.
To redeem points, World of Hyatt members should expect to pay between 35,000 and 45,000 points per night, based on double occupancy, as this is a Category E property in Hyatt's all-inclusive award chart. Before March 28, 2023, the property was Category C and cost just 25,000 points per night for a standard award night, but was upgraded a whopping two categories in Hyatt's annual category changes announced early this year.
Using a corporate World of Hyatt account with Globalist status at the then-Category C pricing, I was booked into a club-level, junior suite king room with a balcony offering views of the resort, pool and ocean.
With the Globalist status, my partner and I were whisked away to a private check-in area in the club lounge and offered an ice-cold margarita while we waited. During the check-in process, we received rubber bracelets that worked as our room keys and got us access to the exclusive club bar and pool (with premium drinks).
Other Globalist perks included free international calling, 10 pieces of free laundry, butler service, discounts on certain wine and spirits, discounts on romantic dinner experiences and access to "exclusive access" at the Shutters and Chinola restaurants, among other perks.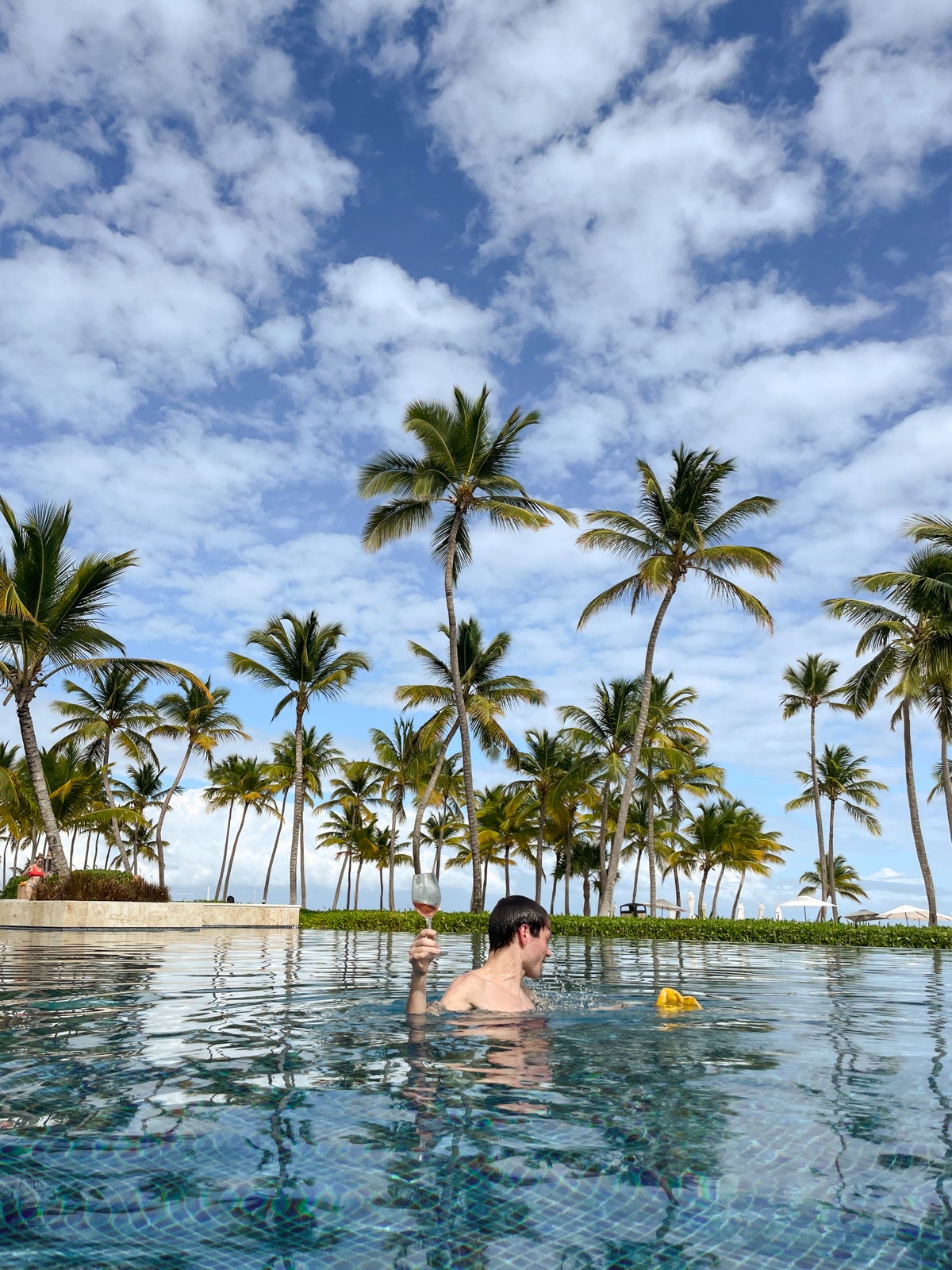 Pros
Beautiful, contemporary resort on a stunning beach with a massive pool.
At this dual-branded resort, adults can take advantage of the entire property while kids are limited to just one section.
Large and comfortable suites with plenty of space to spread out in.
Cons
This is still one of the best redemptions in the World of Hyatt program, though the resort that previously cost 25,000 points per night now costs 45,000.
Restaurants and bars can get busy and require a wait to be seated.
Getting lounge chairs near the pool or on the beach can be difficult if you don't get up early to claim a spot.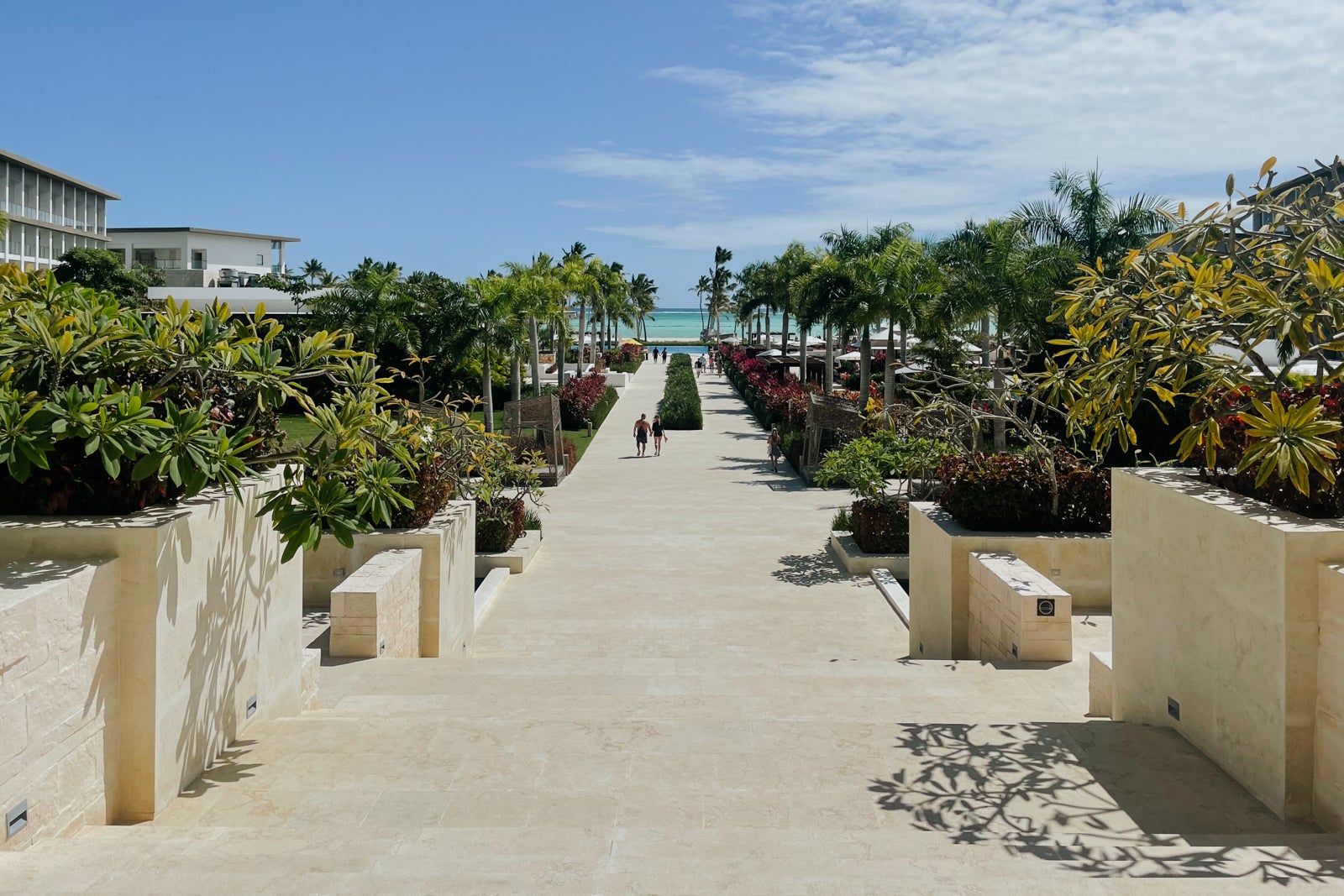 Vibe: Adults-only (kind of)
Overall, the vibe of the entire Hyatt Zilara and Ziva complex is utterly upscale, classy and almost has a European flare. The complex, which opened in 2019, is beautifully designed, with a large, open lobby rising above the main pool set below and past a dramatic staircase full of little seating nooks, with the pristine beach out further down. It's modern, full of beautiful greenery and the kind of place that's easy to get lost in just soaking up the views.
During my stay, I found guests to be from all over the world, well mannered and simply looking for a chic place to spend a few days relaxing rather than taking full advantage of unlimited booze, like I've experienced at other all-inclusive resorts in Mexico and the Caribbean. In the mornings, folks were sipping coffee or a Bloody Mary while reading or suntanning. In the evenings, as the sunset and ambient lighting started to glow, people disappeared from the pool and beach and reemerged in stylish outfits to head out for cocktails at one of the many bars before dinner at one of the nearly dozen restaurants.
At the family-friendly Hyatt Ziva side, just a quick walk but a world away, guests might have a different experience considering that pools full of kids have a very different vibe. But even in my excursions that led me past those pools, things seemed relatively calm, save for the sounds of giggling and splashing children who all looked to be thoroughly enjoying their visits, too.
For a multigeneration family vacation, this dual-property resort hits all the marks, as families with kids can book a room on one side while grandparents (or, say, a childless uncle like me) can stay on the other. I'd easily spend a few hours with my niece at the waterpark and then retreat to the adults-only pool for some quieter, calmer pool time later in the afternoon.
Room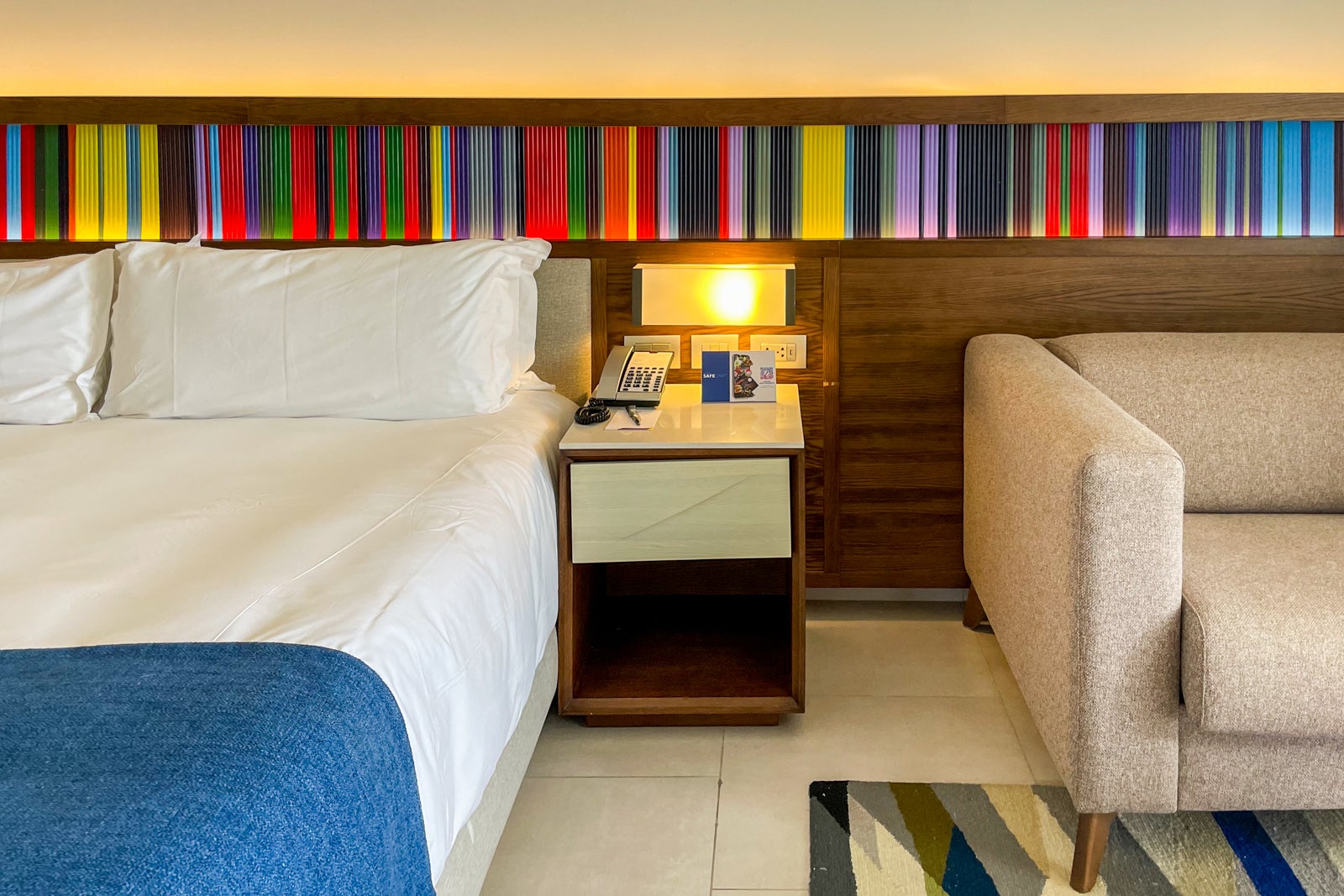 During my visit to the Hyatt Zilara, I stayed in a 600-square-foot junior suite king that was bright and colorful, airy and, most importantly, comfortable.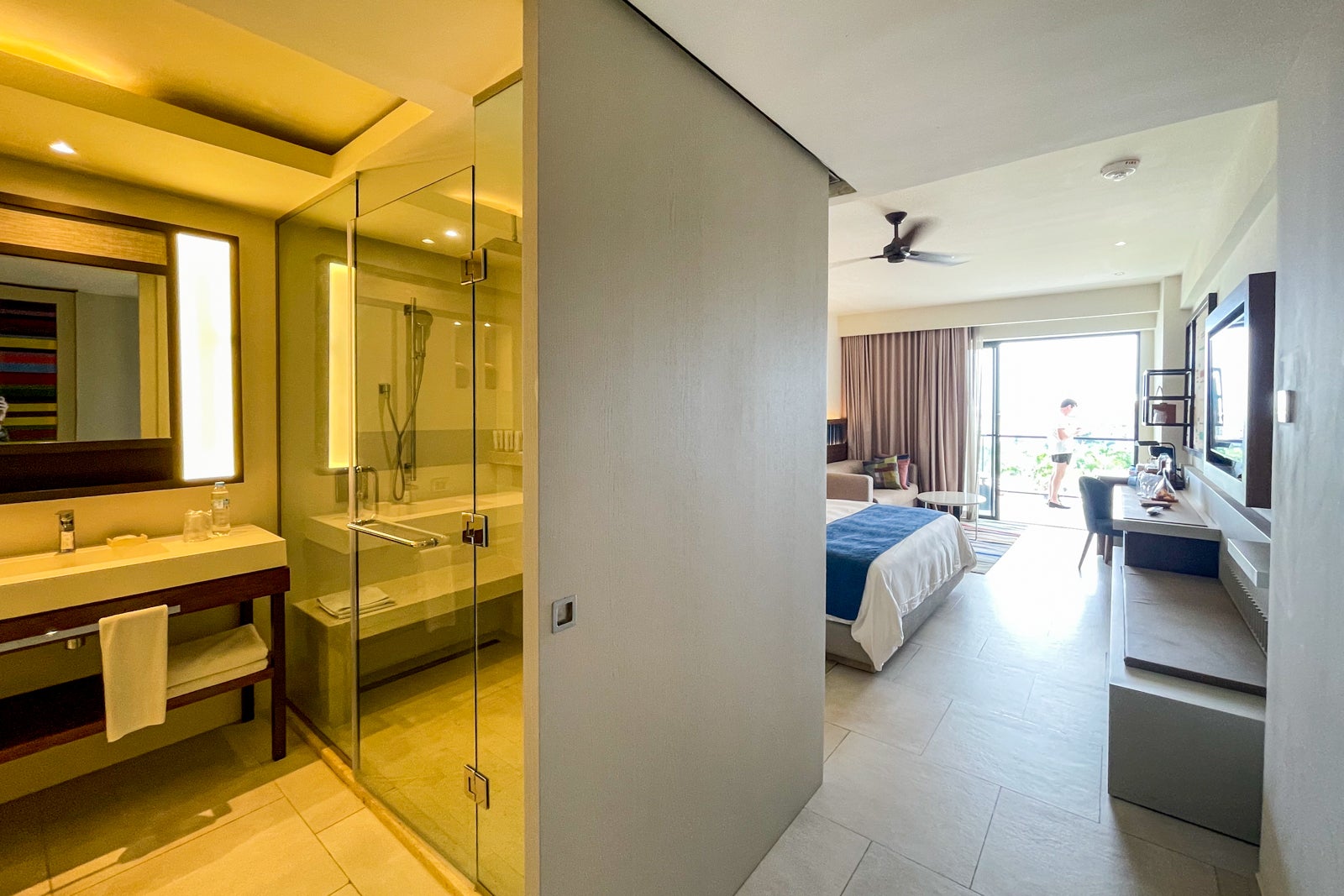 Walking in from the indoor-outdoor hallway, I immediately noticed how long the room was. And the bathroom to the left was massive. The bathroom was separated from the entry hallway with a smart closet system with doors accessible from both sides. There was a separate room for the toilet, dual vanities so two people could easily get ready at the same time and a glass shower that looked into the bedroom area. On the outside of the shower, sliding doors could be positioned to block the views from the living area into the shower and bathroom. (I'm not sure why these open-concept showers  have become such a trend, but I've noticed them at other resorts as well.)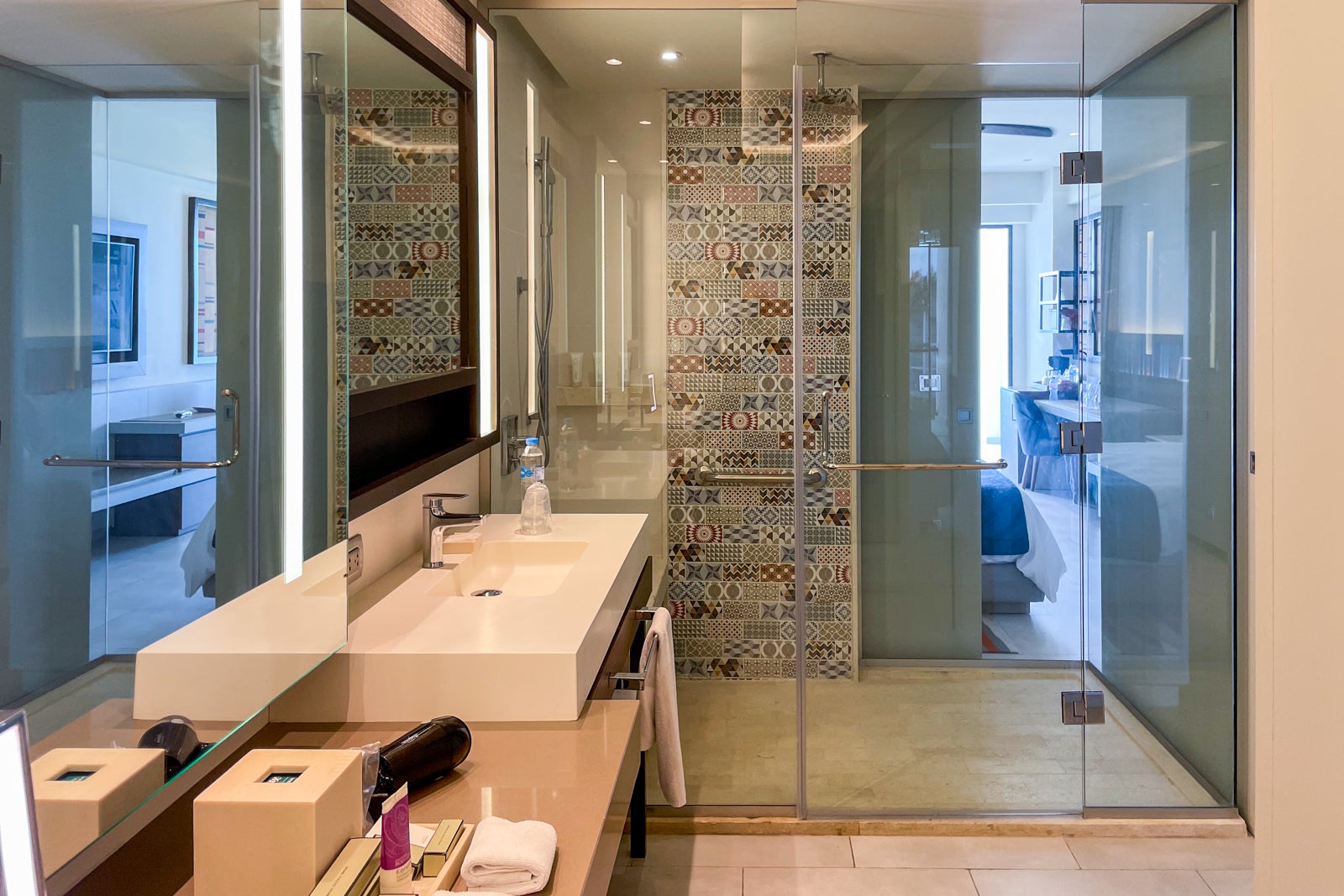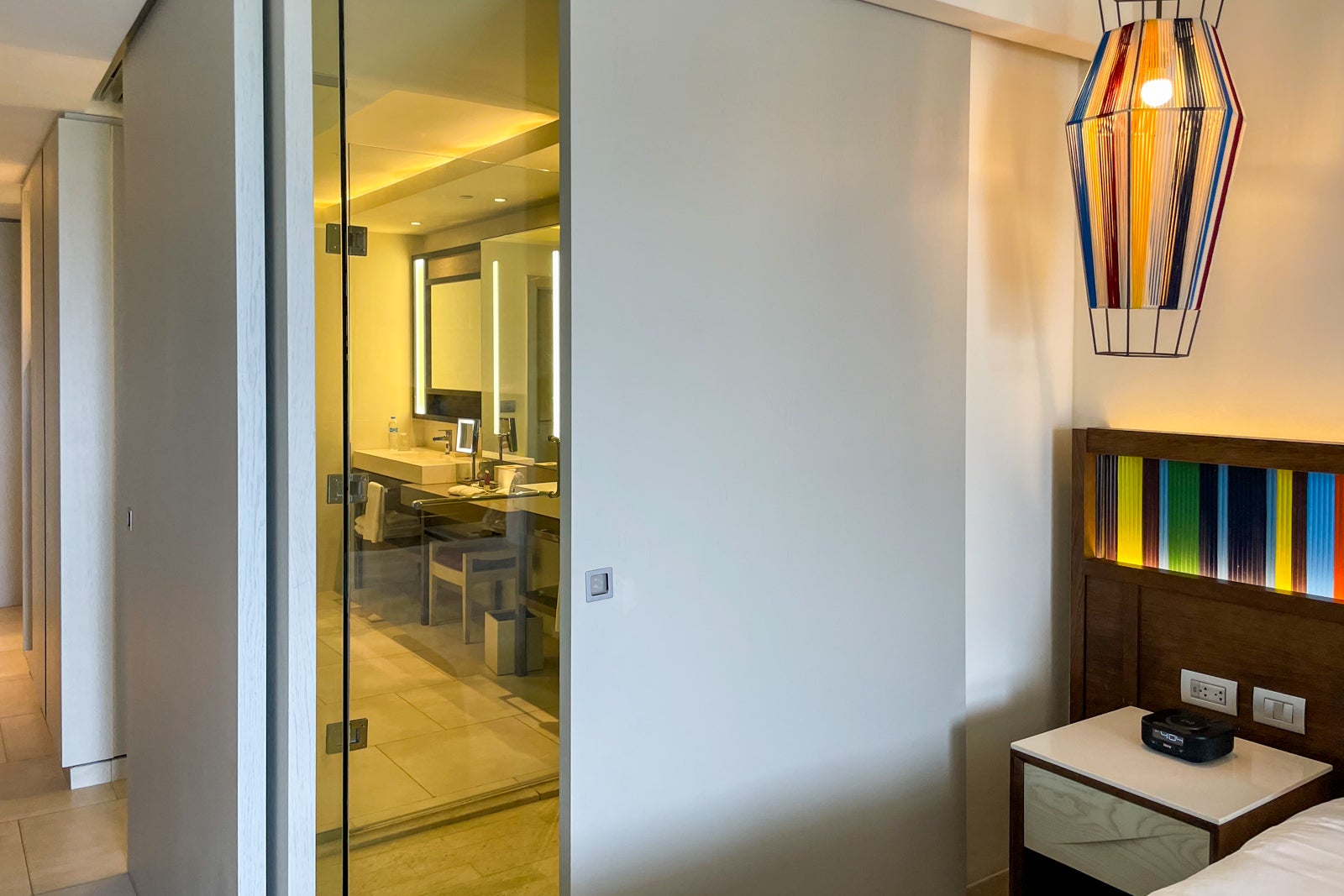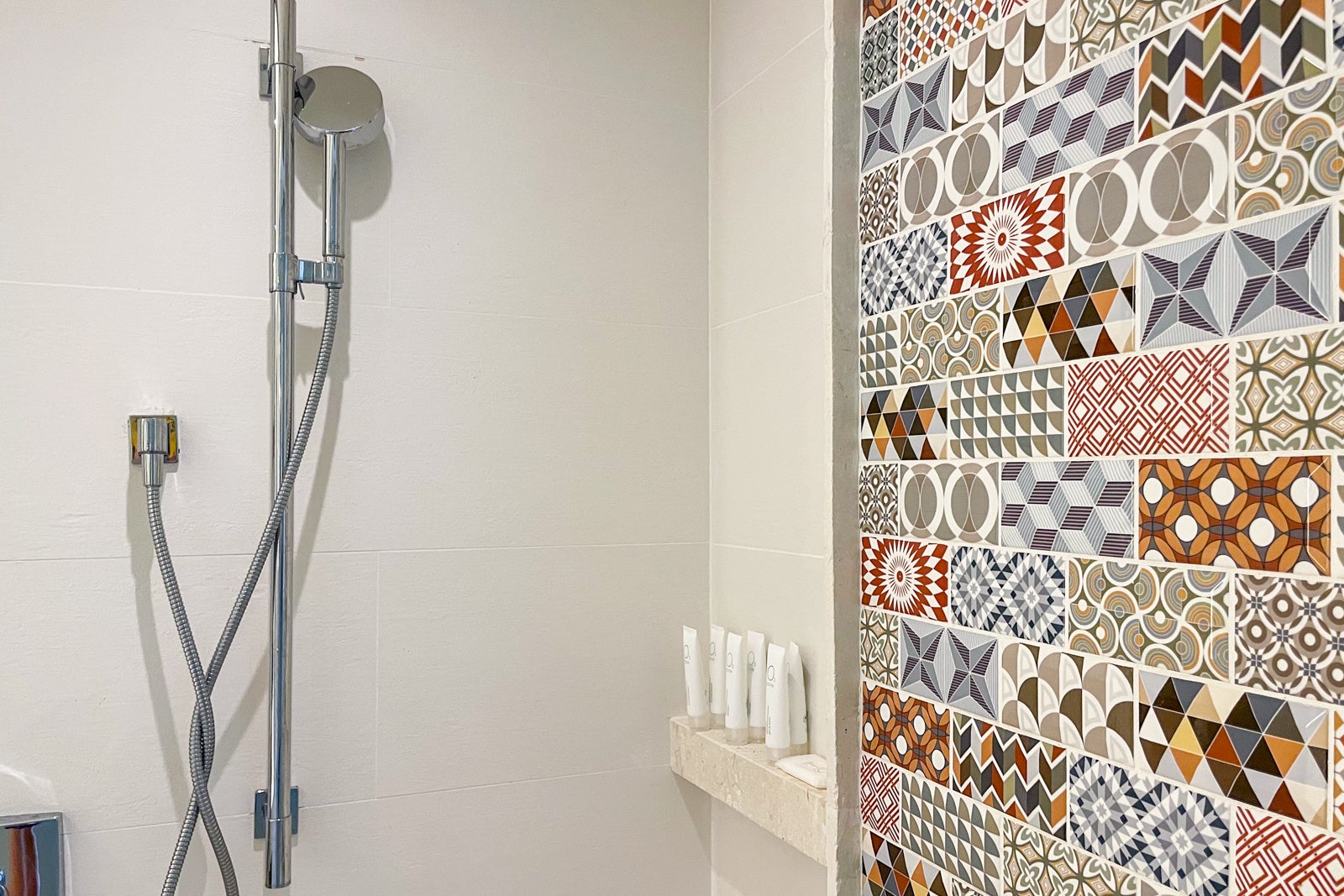 The shower offered great water pressure, a bench below the showerhead, colorful tiles and Ozone bath amenities.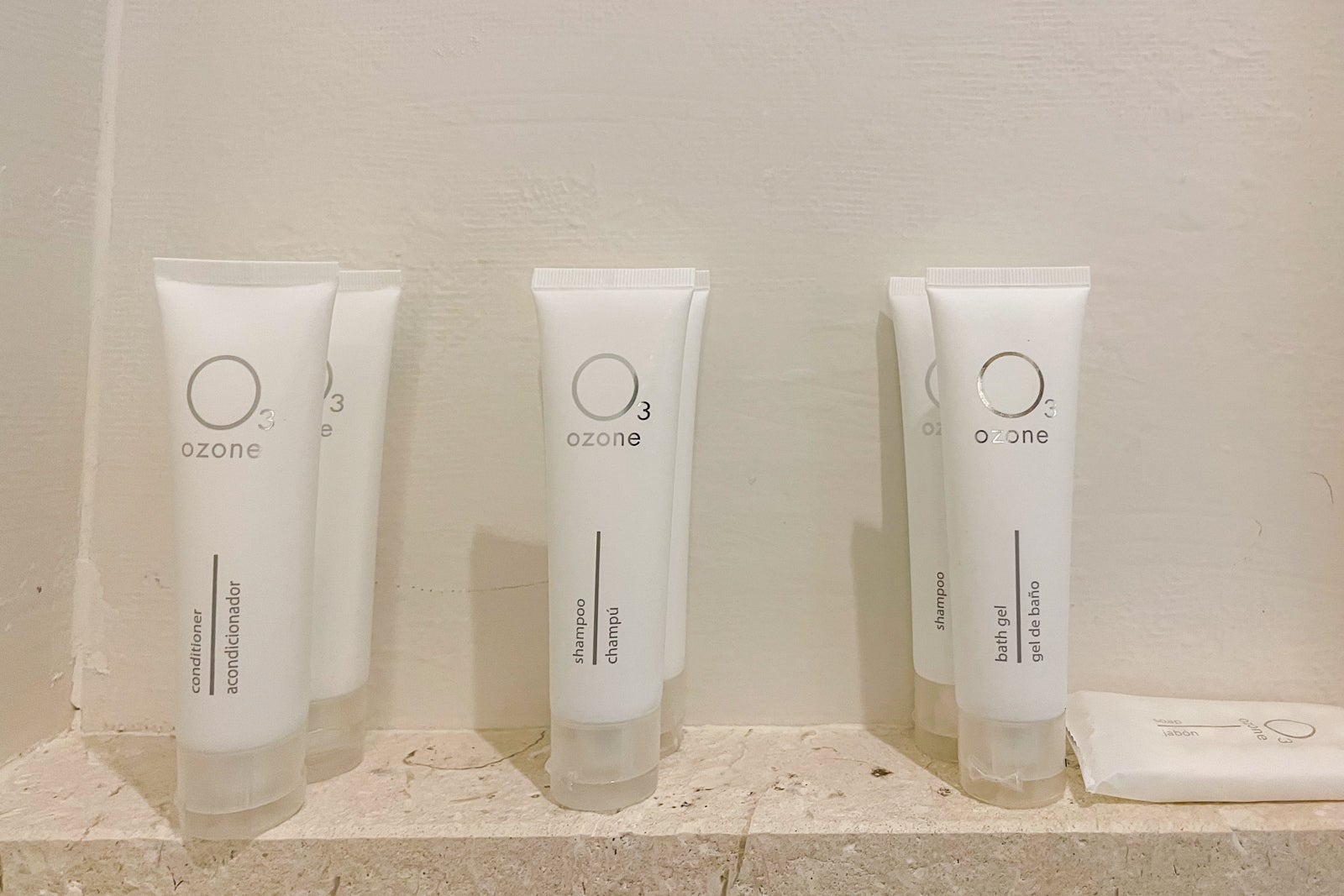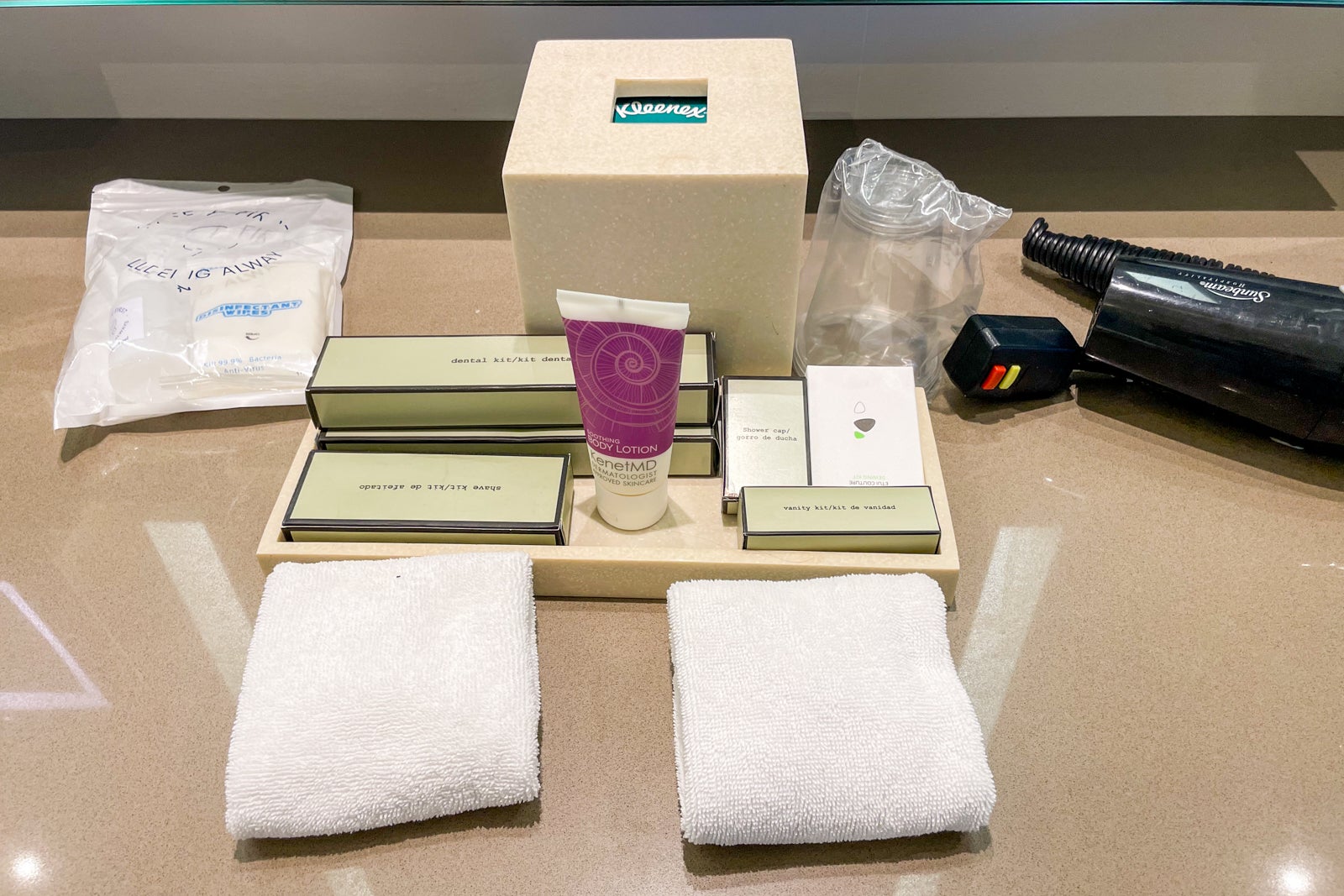 In the large living space there was a loveseat with a coffee table; a long desk with a chair, a lamp and a writing mat; a totally comfortable king-size bed; and a refrigerator.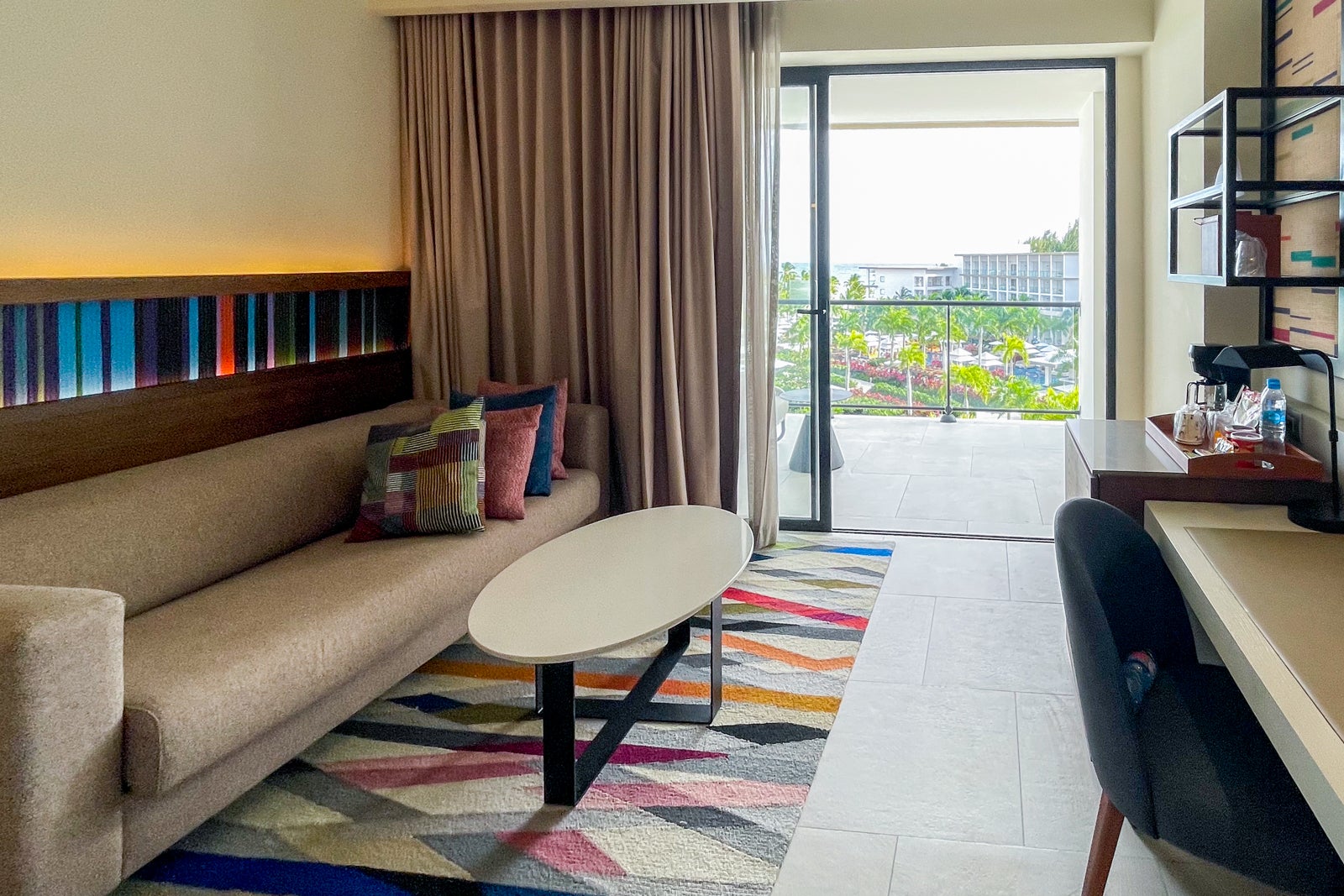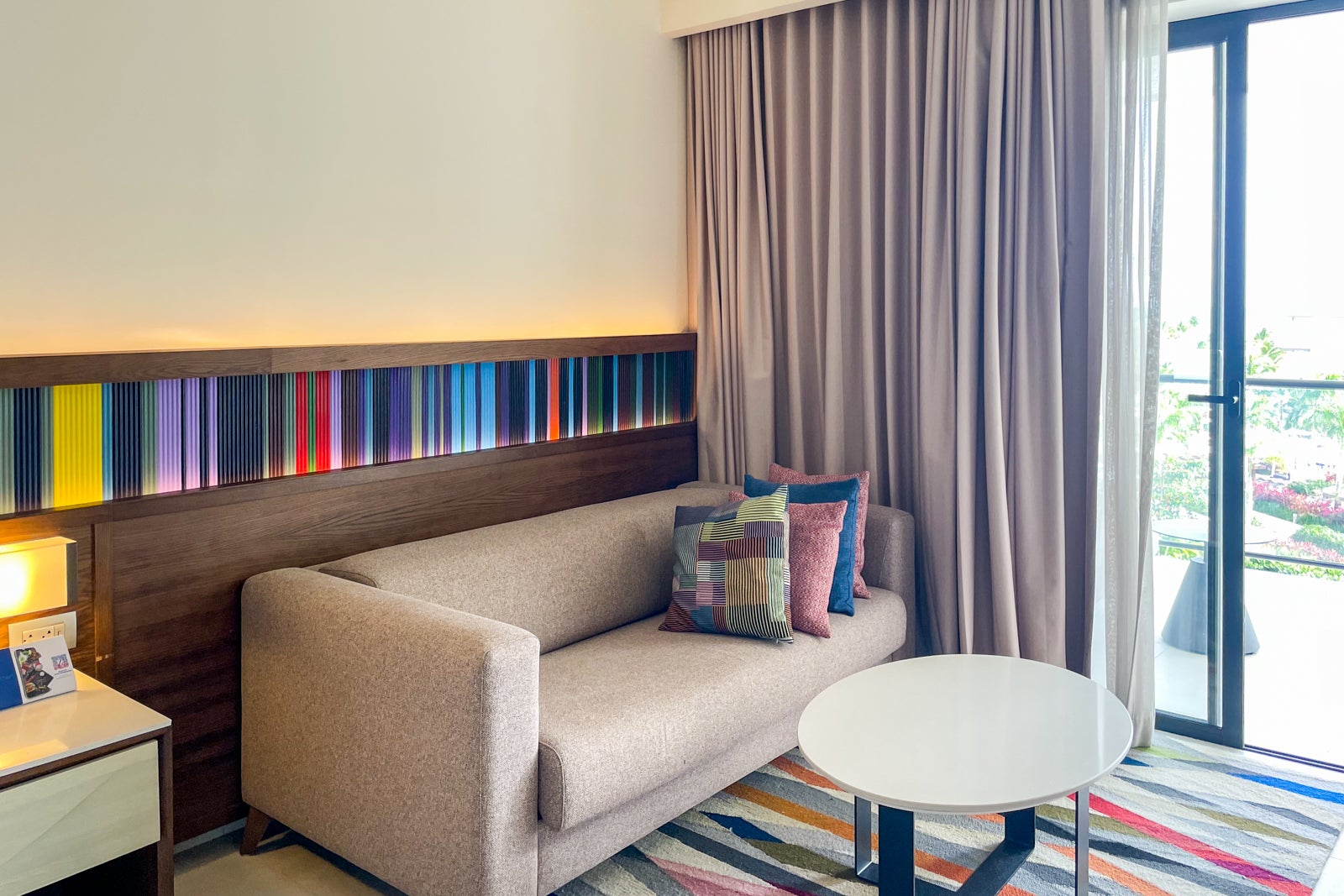 One thing I loved about the design of the room was how colorful it was, from multicolored patterned rugs to a dark wooden wall panel contrasted with a row of colorful embellishments that almost looked like books on a shelf.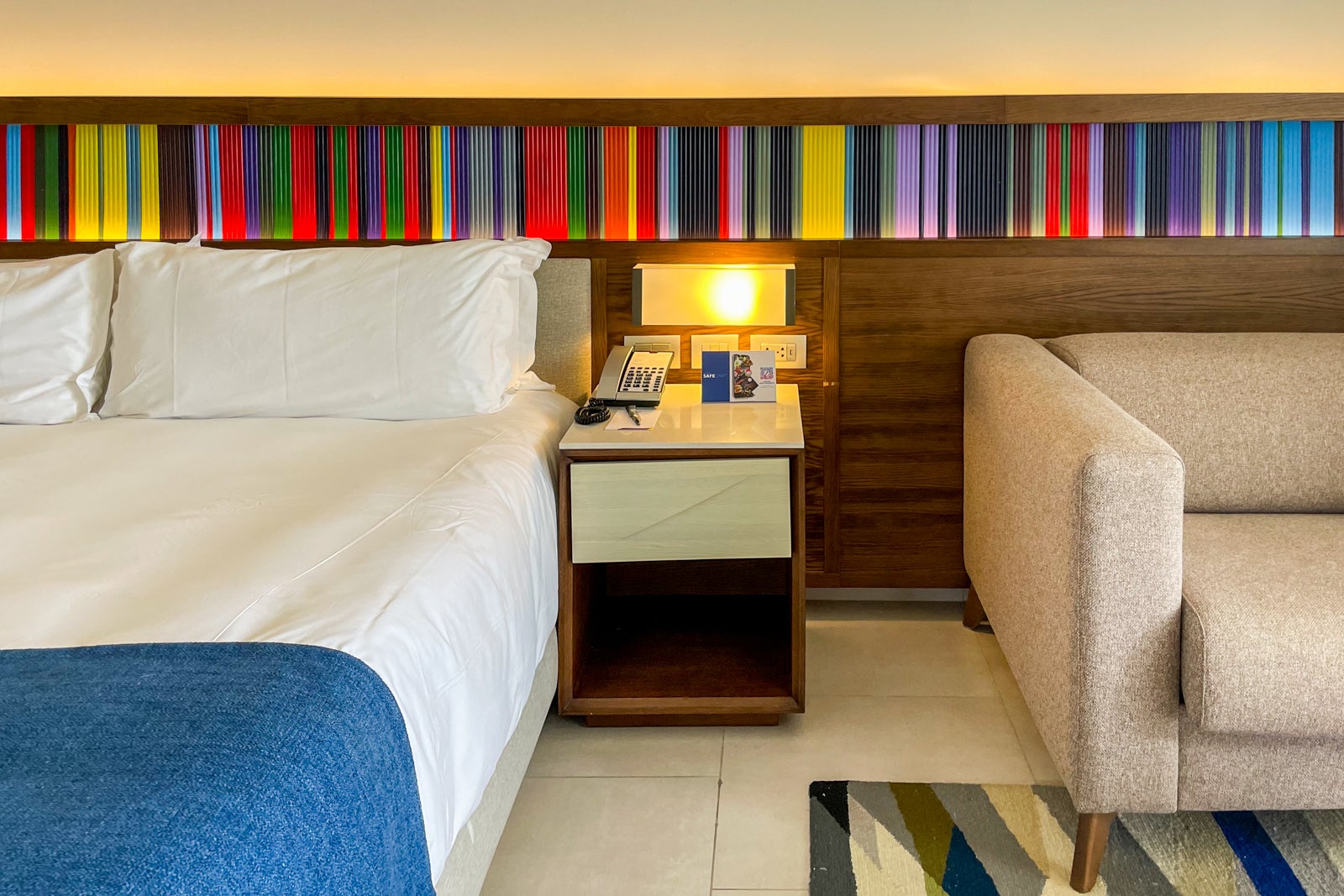 Flanking both sides of the bed were nightstands, power outlets that worked with standard American-style plugs and USB ports and lamps.
In the refrigerator were Sprites, Coca-Colas, Coca-Cola Lights, Presidente beers from the Dominican Republic, various juice boxes (perfect for me and my partner, who are both diabetic!) and bottled water. Above the fridge were snacks like Pringles, M&Ms, granola bars and a coffee maker.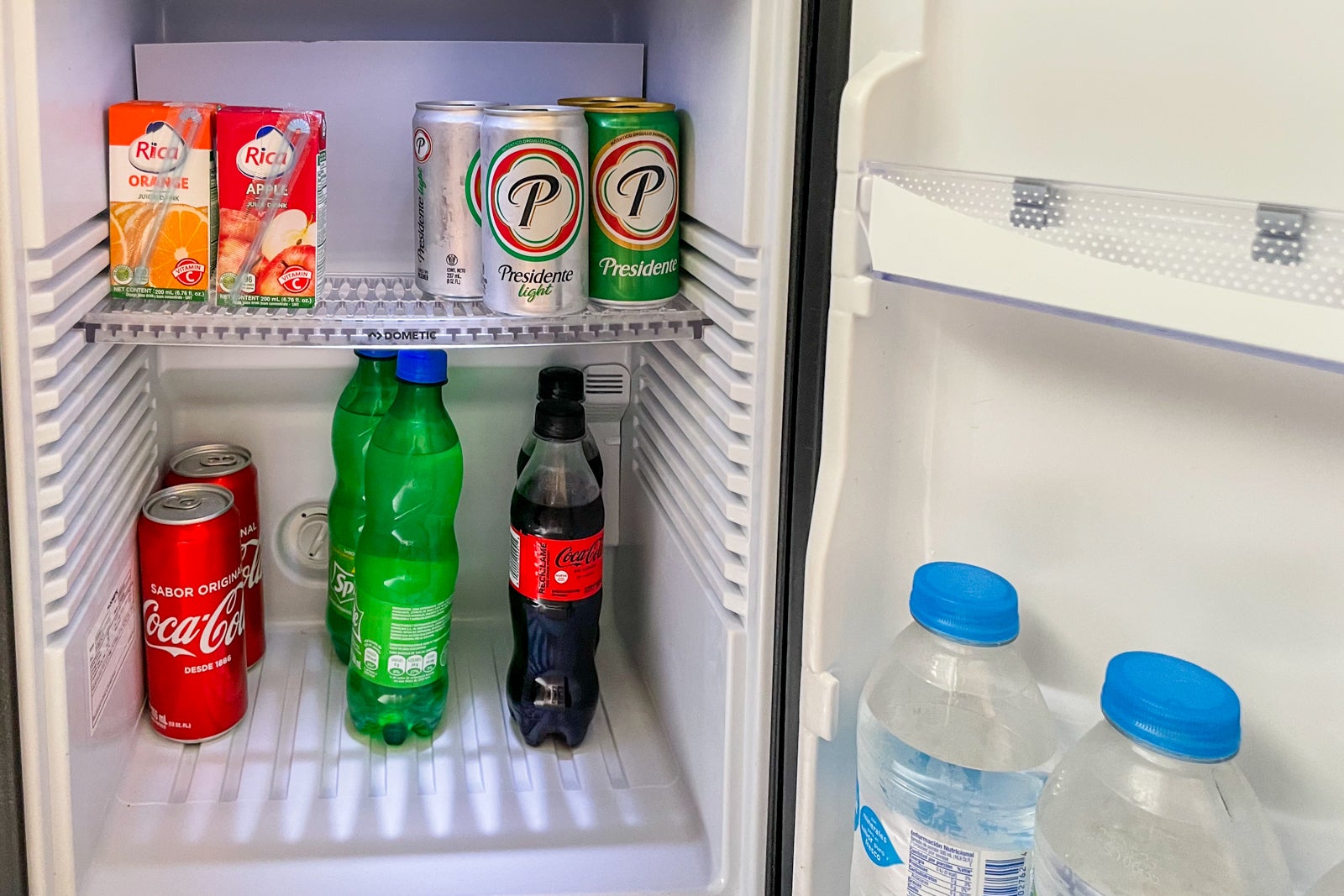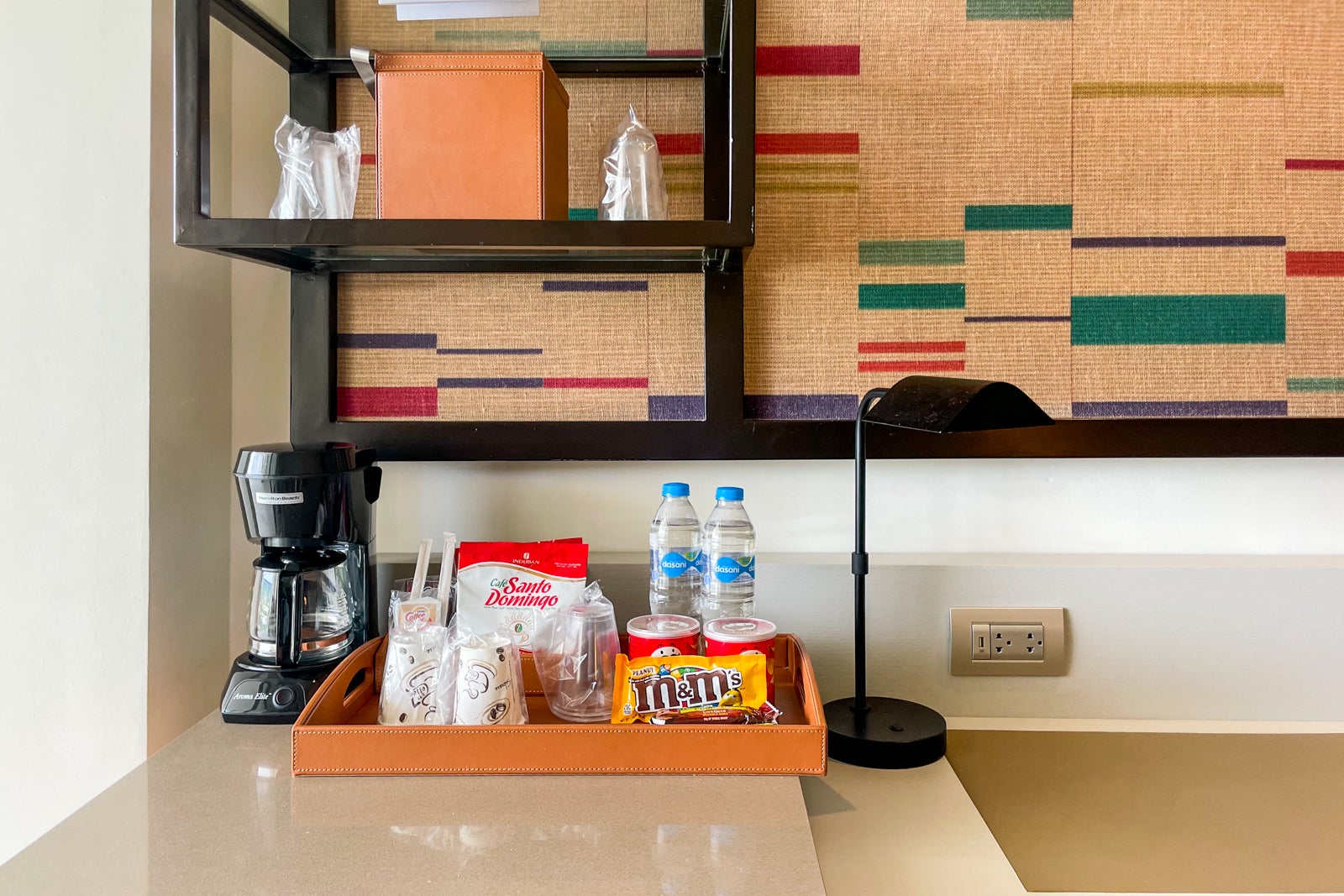 But the real star of the room was the balcony, which had a comfortable, cushioned lounge chair and had views directly on that dramatic staircase leading to the lobby, various seating areas and the pool and ocean off to the side. It was exceptionally beautiful at night when the resort was aglow with color.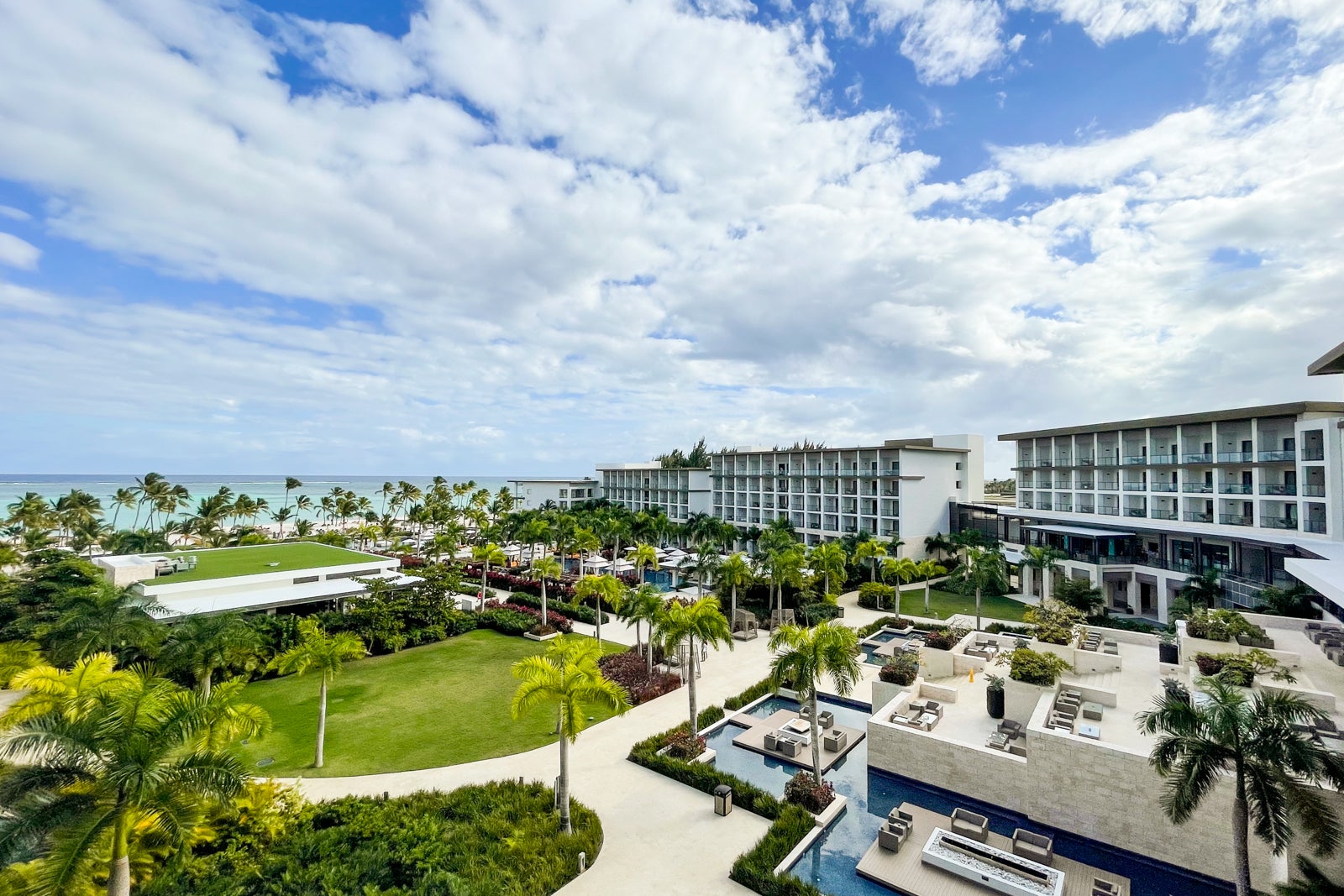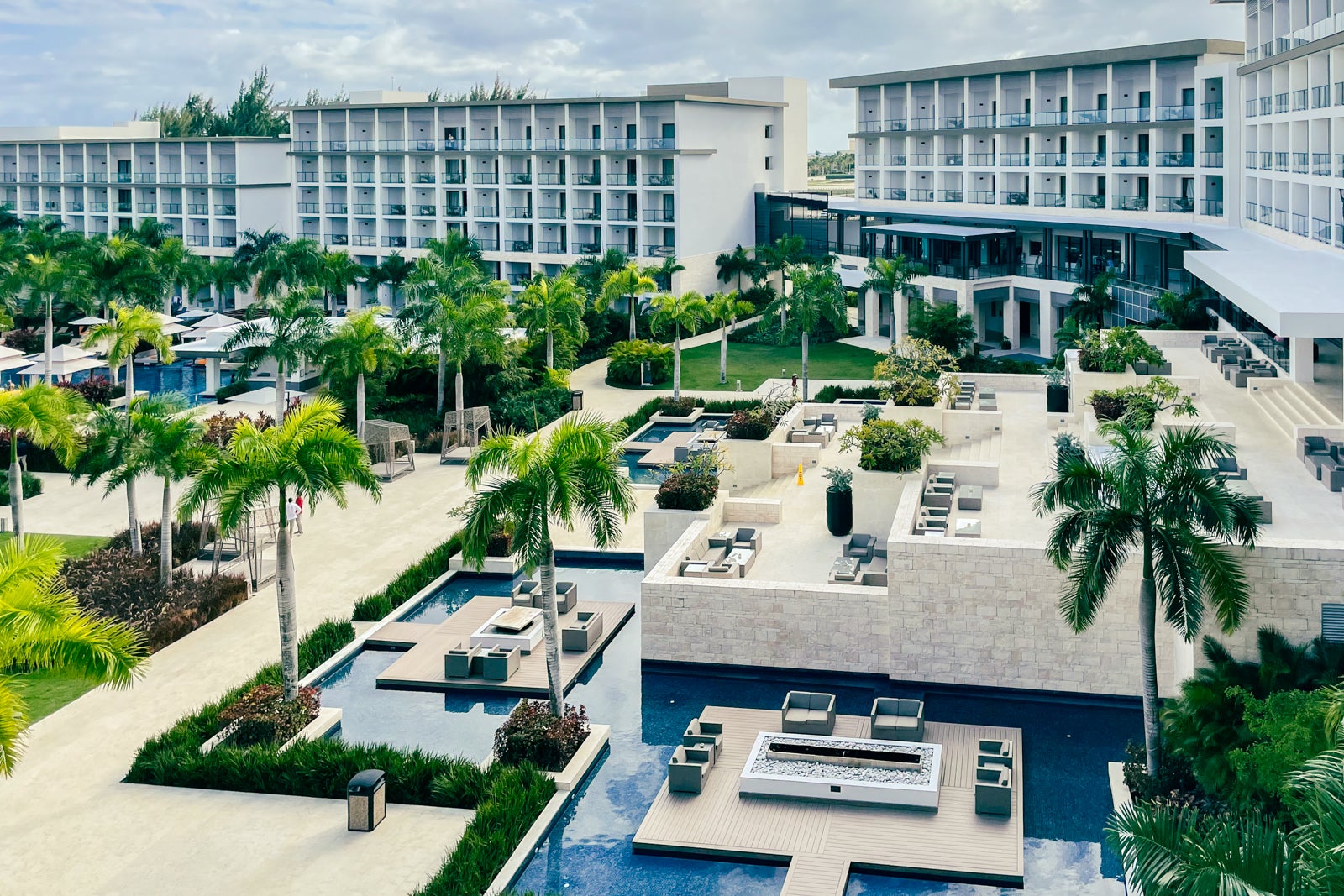 Dining and drinking
Whether you want to have a quick meal while pool hopping, sit down for a craft cocktail or dress to the nines for a fancy dinner, there's a restaurant for you between the Zilara and Ziva — and probably more restaurants and bars than you can experience during a stay.
There were certainly more than I could check out during my two-night visit.
Here are some quick highlights from my meals.
The buffet at The Pier
My first meal was at The Pier, the resort buffet that's open for breakfast, lunch and dinner. I visited the buffet only once during my stay, after checking in and while waiting for my room to be ready. Tired after an early morning flight and starving, I did what I do best at buffets: grabbed a little bit of everything.
While nothing was spectacular, I did enjoy the sashimi counter, where raw cuts of tuna, scallops and salmon prepared to order.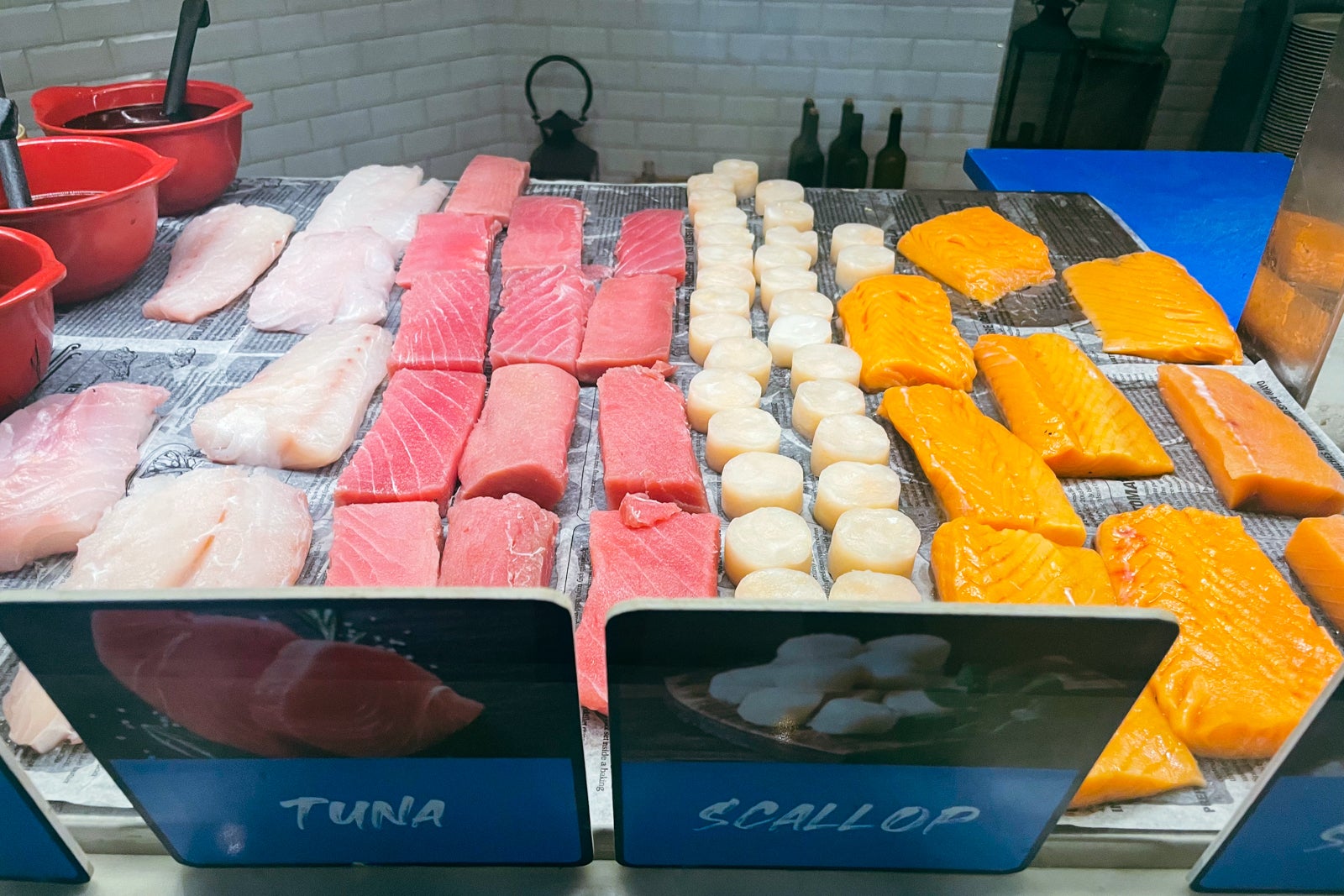 With a glass of rose wine and a strange selection of noodles, cheese, sashimi and ice cream, I was plenty full after dining at The Pier, but overall the food was pretty standard for an all-inclusive buffet — though the setting was significantly nicer thanks to its wide, airy dining room with a contemporary, industrial feel.
Italian at Noodle & Thread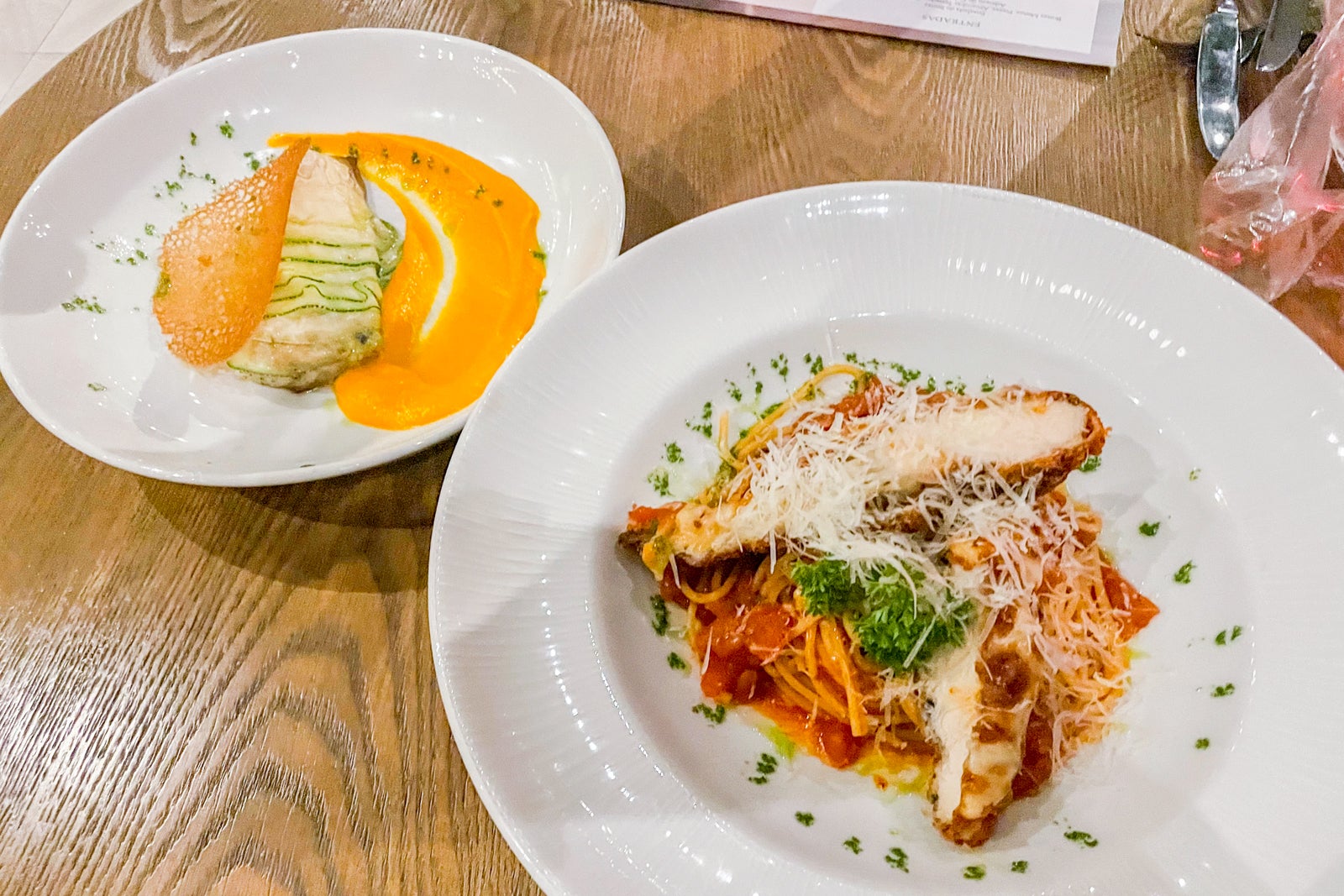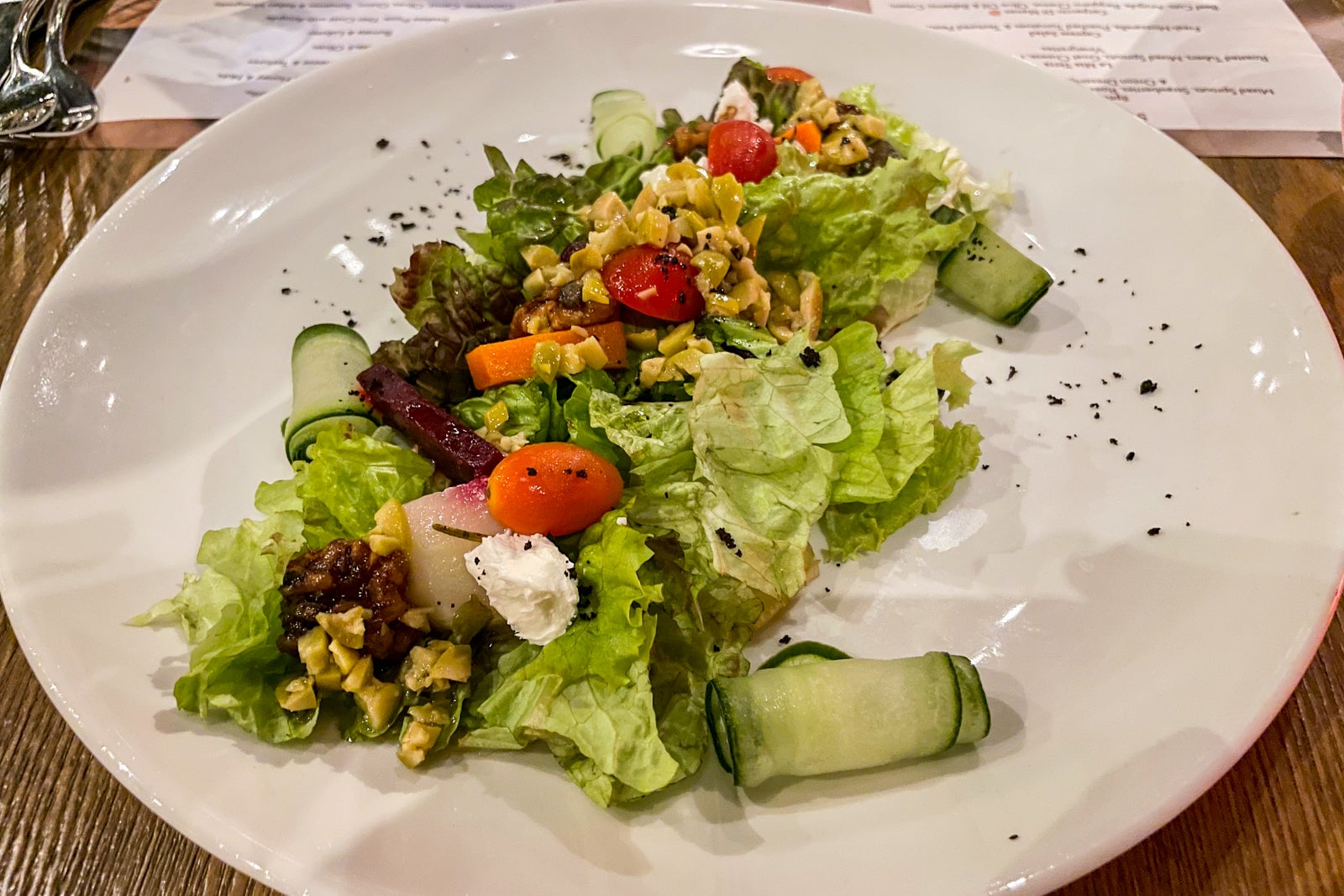 Since I love to have fried rice flung into my mouth during a showy hibachi dinner, my partner and I ventured across to Ziva for dinner at Tempest Table only to learn there was an hour-plus wait for a seat. I was bummed I didn't reach out to my assigned butler (included with my Club Level-room) ahead  of time to see if I could make reservations, but we shifted gears and quickly grabbed a table at the resort's Italian outpost, Noodle & Thread.
This restaurant was big and busy, with tables scattered around a brick-walled, bistro-like setting that felt more Brooklyn than the beach. For dinner, we shared a salad with corn, cucumbers, feta cheese and tomatoes before digging into a chicken parm served over spaghetti with red sauce and the fresh fish of the day served on a carrot puree.
On the Ziva side of the property, this restaurant was for everyone — and I noticed a large family with kids gathered together to celebrate a wedding, couples on a romantic date and everyone in between.
Shutters Beachside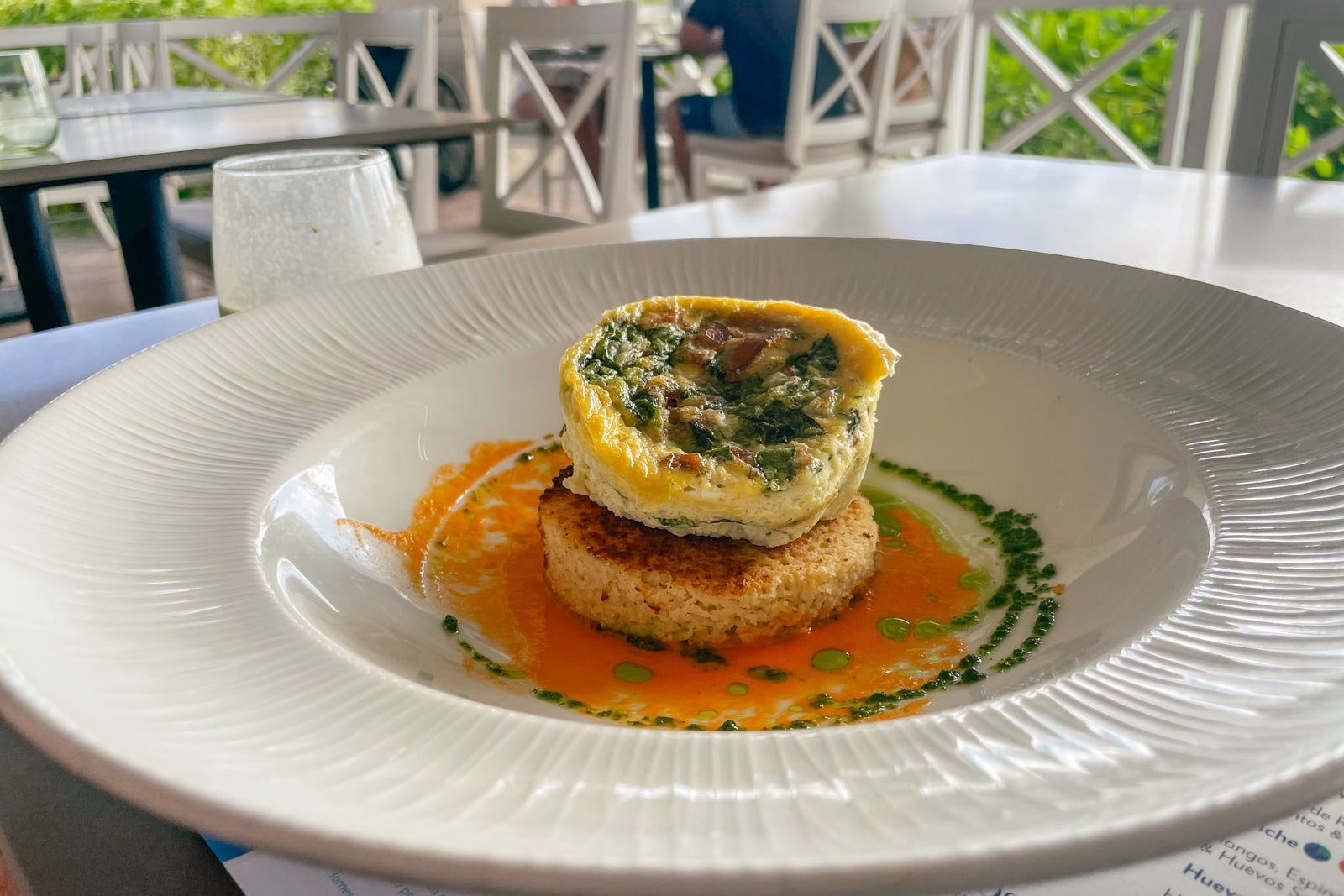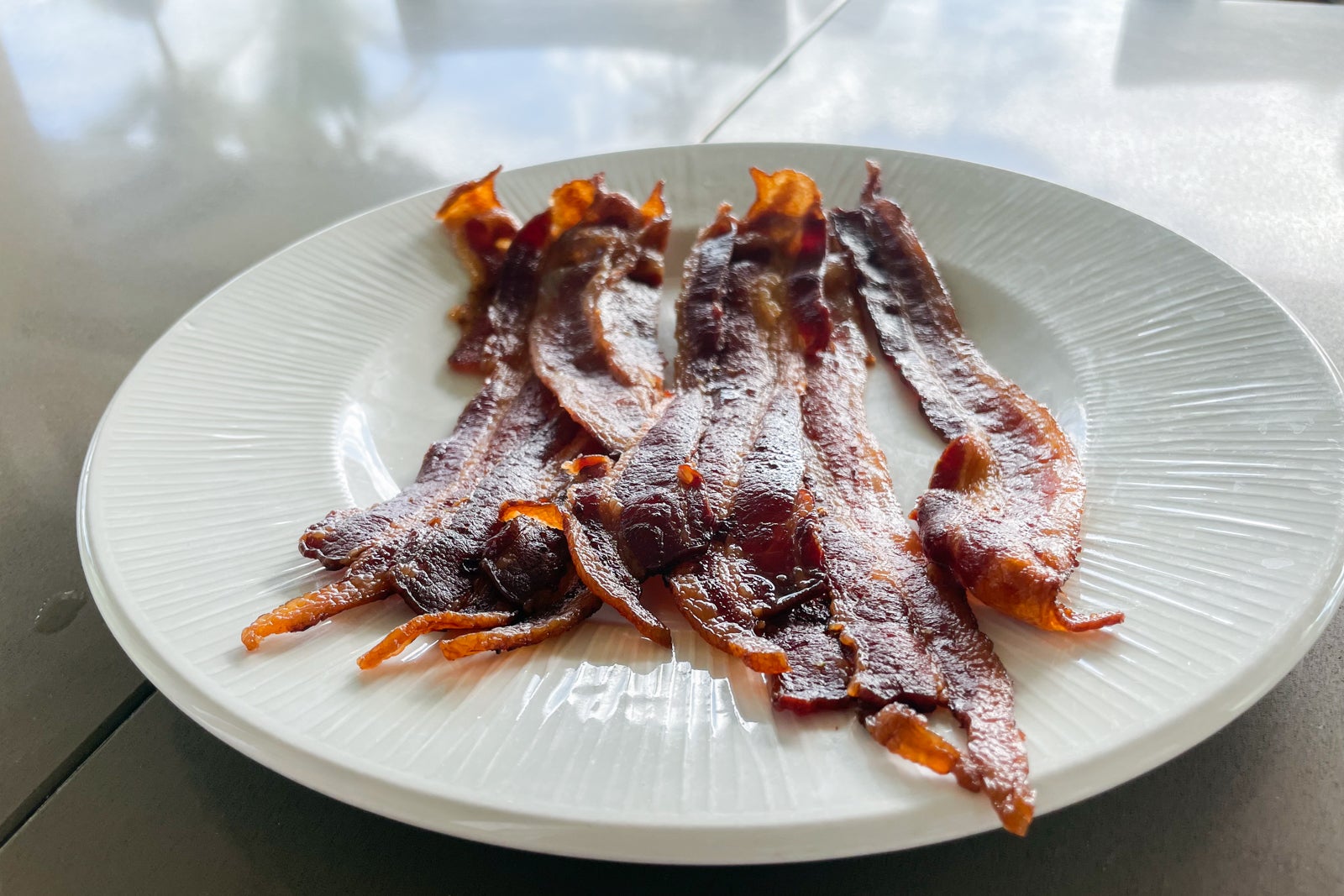 For breakfast on both mornings of our stay we ended up at Shutters Beachside, an open-air, covered restaurant that faces out to the beach. Shutters was a great stop in the morning because we were able to grab towels and claim seats before sitting down for coffee, breakfast cocktails and ocean views to start the day.
For our meals, we enjoyed a light egg frittata served on a crabcake, green juices and a healthy portion of bacon that could've been a little crispier but still tasted delicious. On the second morning, to help cushion my stomach for another day of sipping rose in the sun, I opted for perfectly runny eggs over easy. I'd recommend breakfast with full service here over a stop at the buffet to get your day going.
French polynesian at Brando's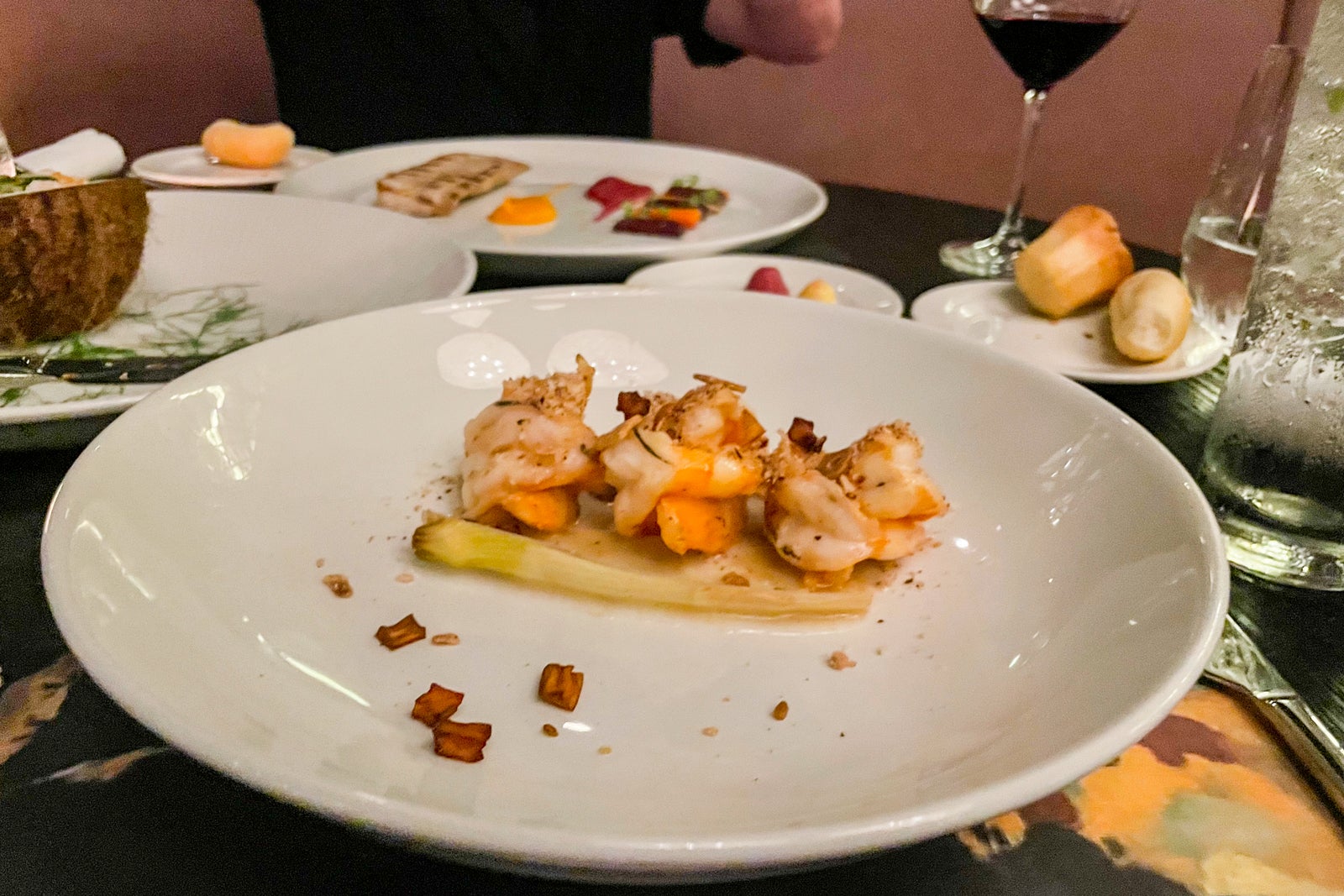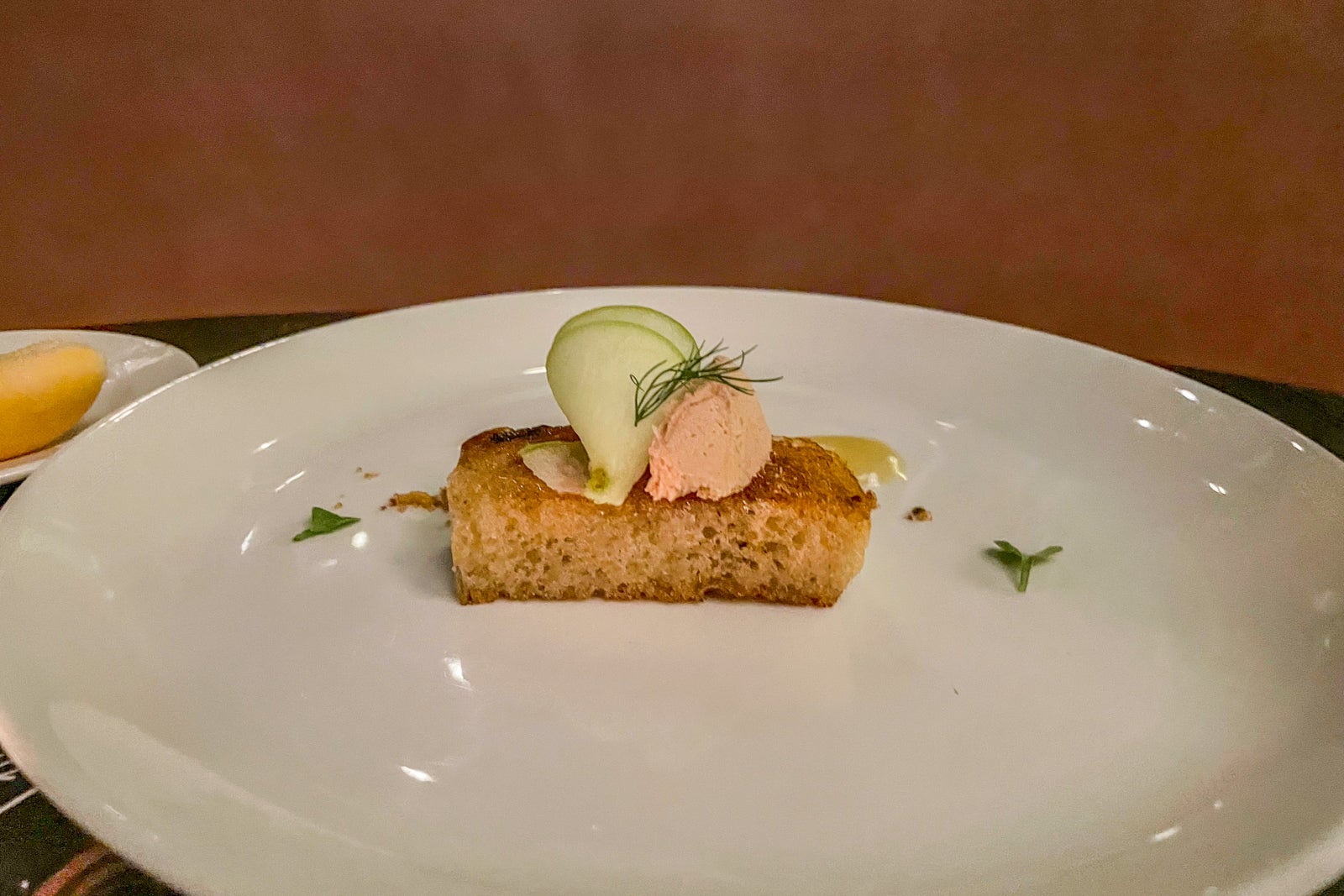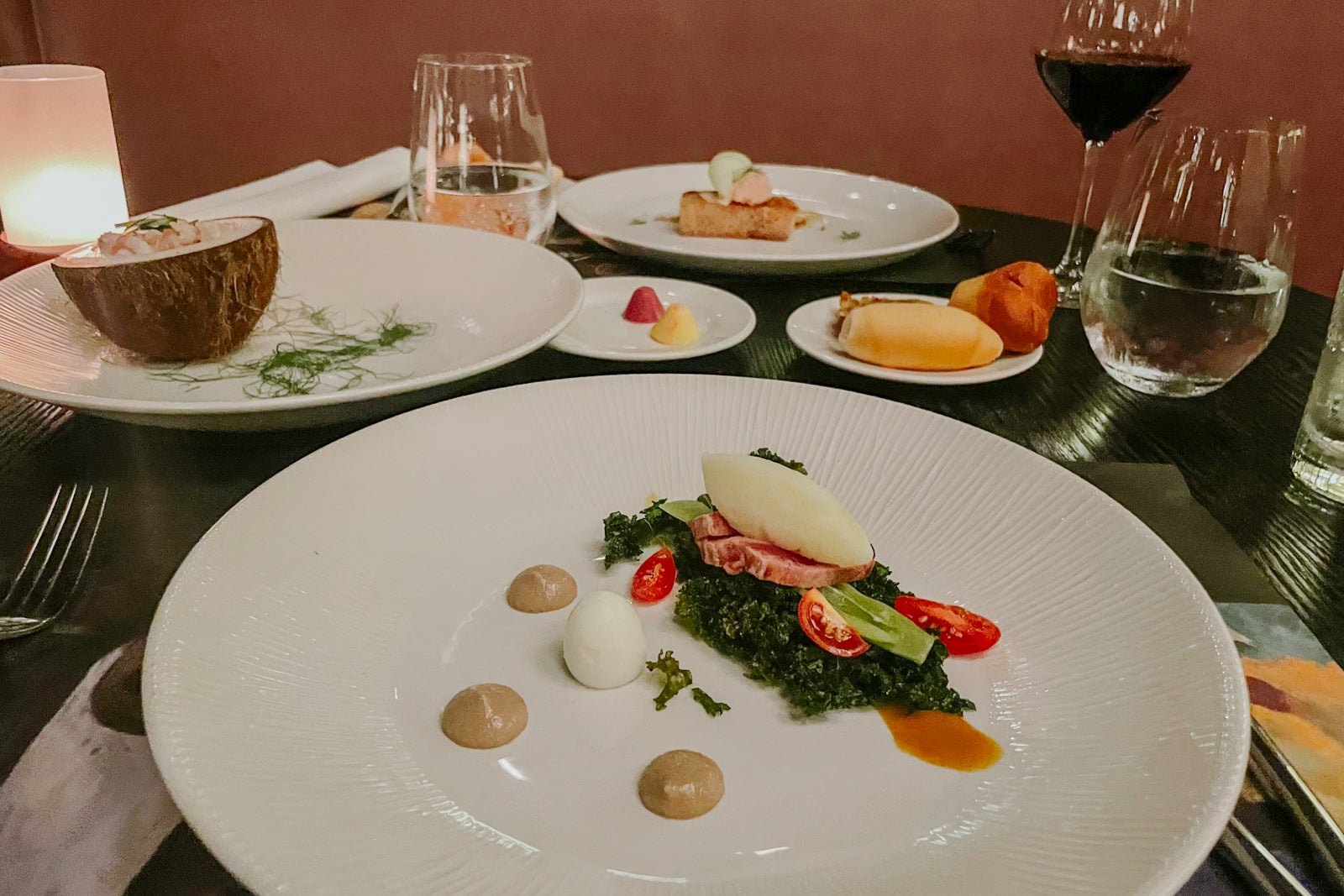 For our last dinner, we had our butler make our reservations at Brando's, an over-the-top, upscale restaurant serving French-Polynesian fusion food at tables with giant, woven baskets suspended overhead and surrounded by black-bottomed pools.
There, the food was just as intricate as the decor, and the menu might leave you scratching your head simply because you don't recognize most of the words (myself included). We decided to go all out and ordered the Tahitian cru ceviche served in a coconut; a Niçoise Salad with seared tuna with anchovy emulsion and quail eggs; grilled shrimp in coconut-and-vanilla sauce; and a Tahitian cake with coconut for desert.
Overall, the food at Brando's was fresh and tasty, especially considering what I've had at other all-inclusive resorts.
Did it stand up to an equally trendy feeling restaurant in New York or Miami? No. But I'd say it was an incredible experience considering it was all included.
Other restaurants and bars
While on a two-day trip to an all-inclusive resort, the priority is probably spending as much time as possible on the beach, near the pool or taking advantage of the resort's other amenities. That said, we spent most of our days lounging by the main pool and getting great cocktails and glasses of rosé from The Reef, Zilara's main swim-up pool, or from the many servers walking around.
With our club wristbands, we occasionally went to Las Mareas, the club pool, for top-shelf drinks, but enjoyed the energy of the main pool area more.
We also grabbed a refreshing salad for a quick lunch at Presto, the snack bar, one afternoon and had a standard, always-hits-the-spot club sandwich delivered to our room using 24-hour room service.
Before dinner at Brando's, we also hit up One Eyed Cat, a moody martini bar, for pre-dinner libations. One Eyed Cat was crowded with people dressed up, chatting and enjoying each other's company. It felt significantly more upscale than most all-inclusive bars I've visited before and would stop back for a dirty gin martini on any visit.
There's also a lobby coffee bar that I visited multiple times. Though the coffee always hit the spot, the long lines to get it did not.
Activities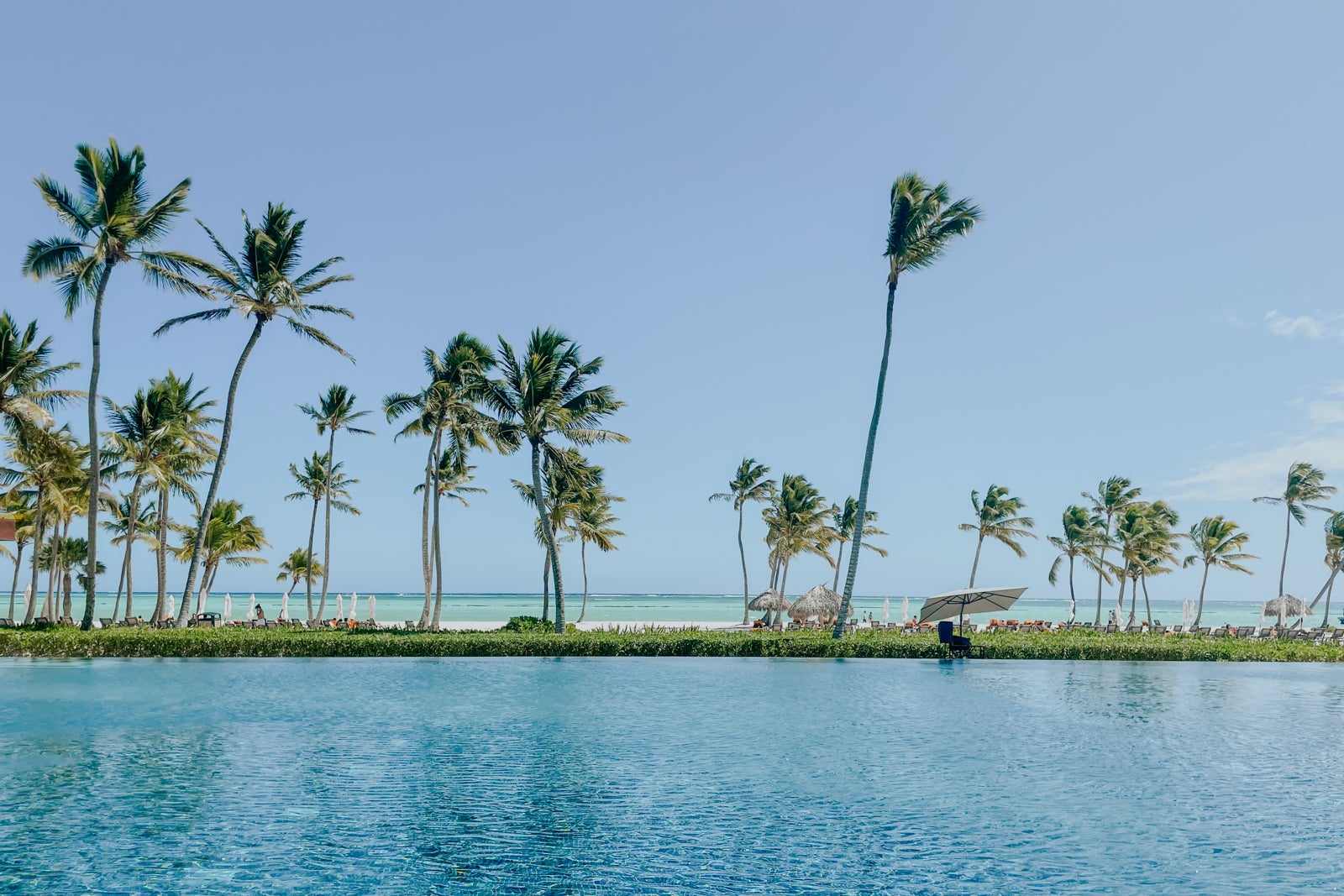 If you get FOMO (fear of missing out), consider booking a week-long stay, because there's plenty to do and experience at the Hyatt Zilara.
For starters, I'd say the Zilara pool is one of my favorite resort pools of all time — and I've been lucky enough to spend time at some insane pools (it's my job!). The infinity pool is massive, and it takes a few minutes to wade from one side to the other. It's flanked by plenty of lounge chairs, but I did notice people claimed their seats early, so make sure somebody gets up to snag a few in the morning. There are also hot tubs on each side of the pool.
During the day, various events happened in the pool, including a water aerobics class that was more fun to watch than to join.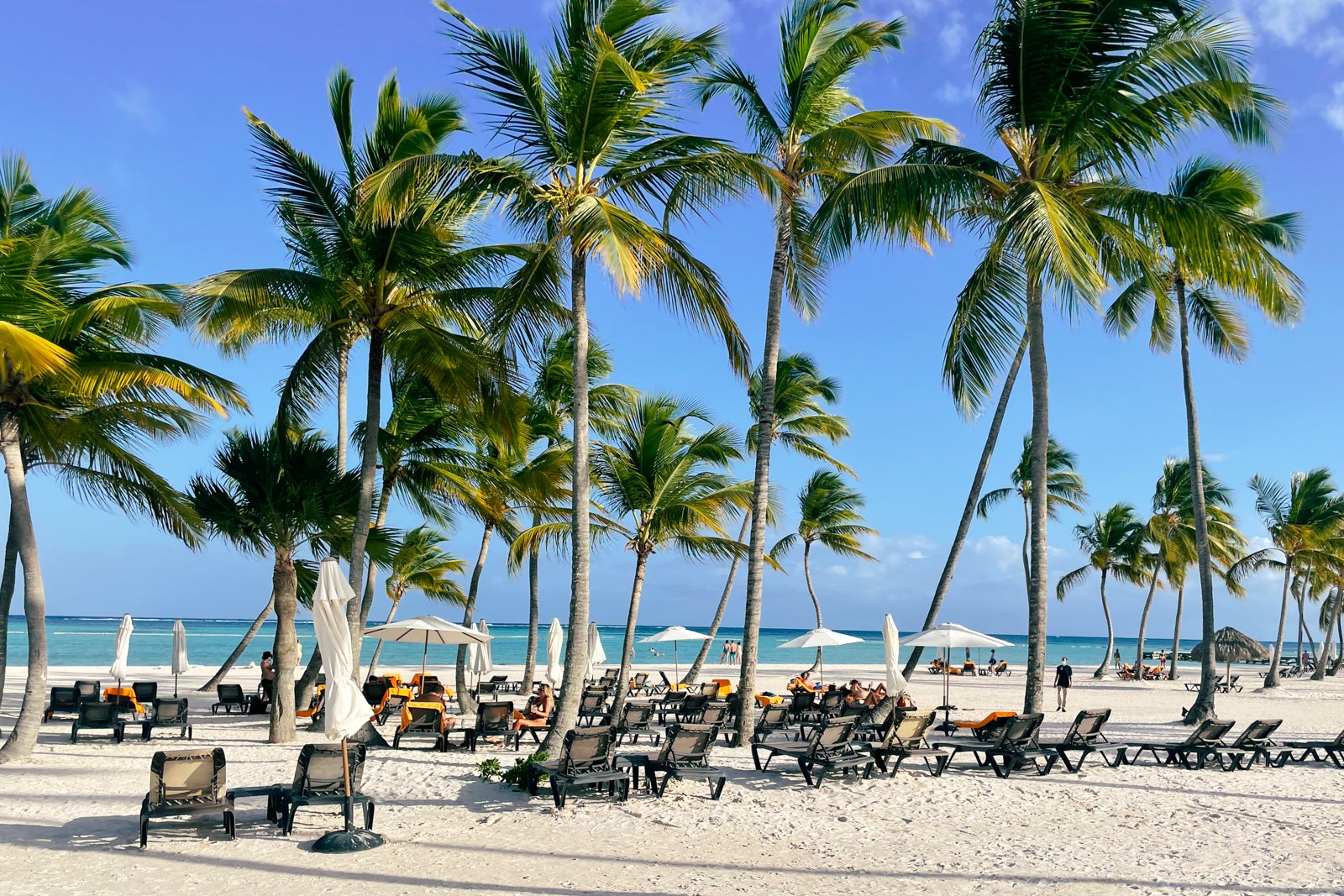 It was my first time in the Dominican Republic,  and I was truly stunned by the gorgeous beaches — the tall palm trees stretching up into the sky and curving as if dancing, and the picture-perfect water in various hues of blue. Guests can use beach chairs provided by the hotel, but it didn't seem people claimed them as early as they did those by the pool.
The price of your stay includes access to nonmotorized watersports such as aqua-cycling, though I didn't see many people taking advantage of this.
The resort offers a 14,000-square-foot gym including fitness classes like Zumba, Pilates and spin, but I'd be lying if I said I tried one for myself. Instead, I got my workout in by running around the water park.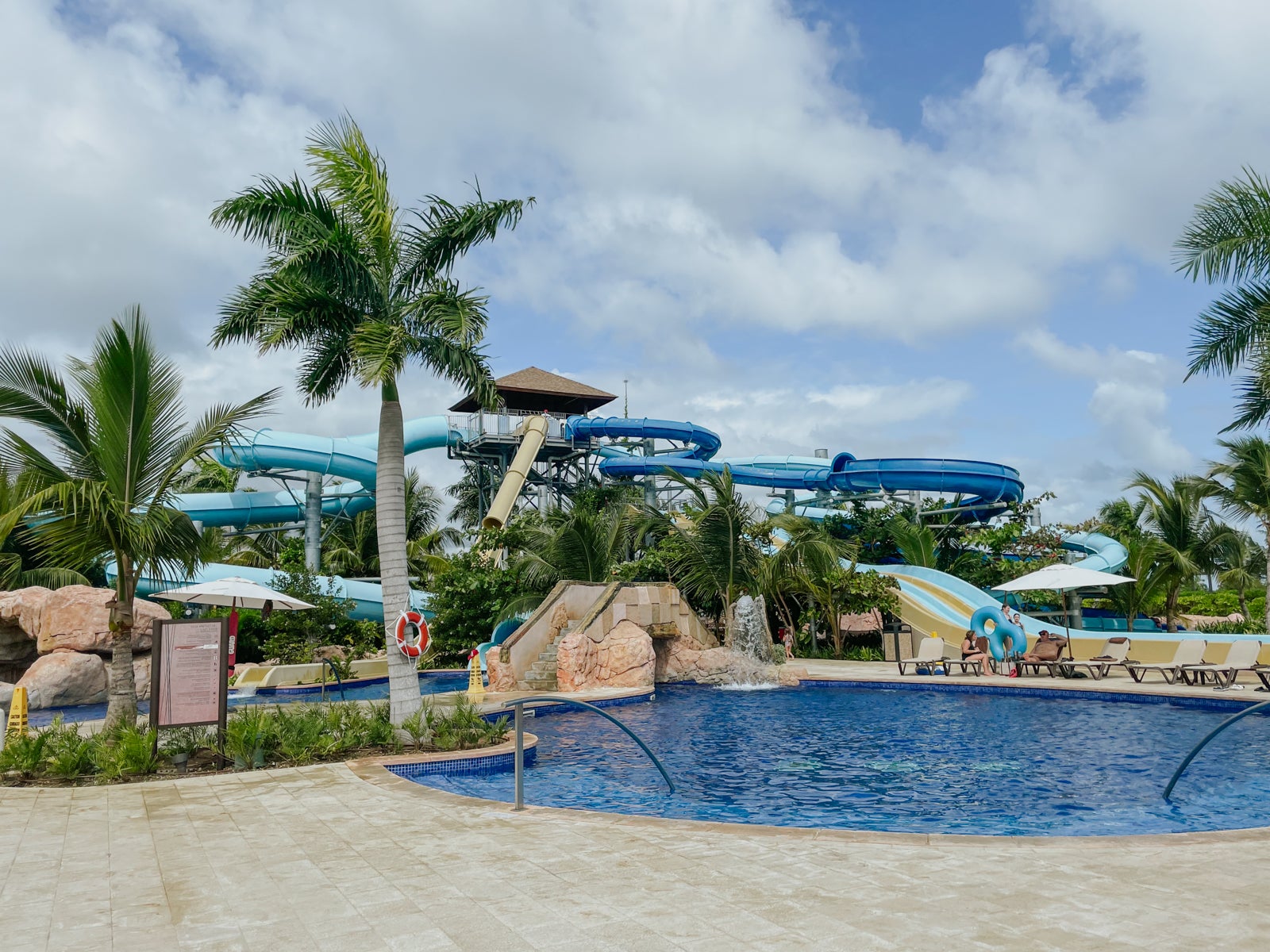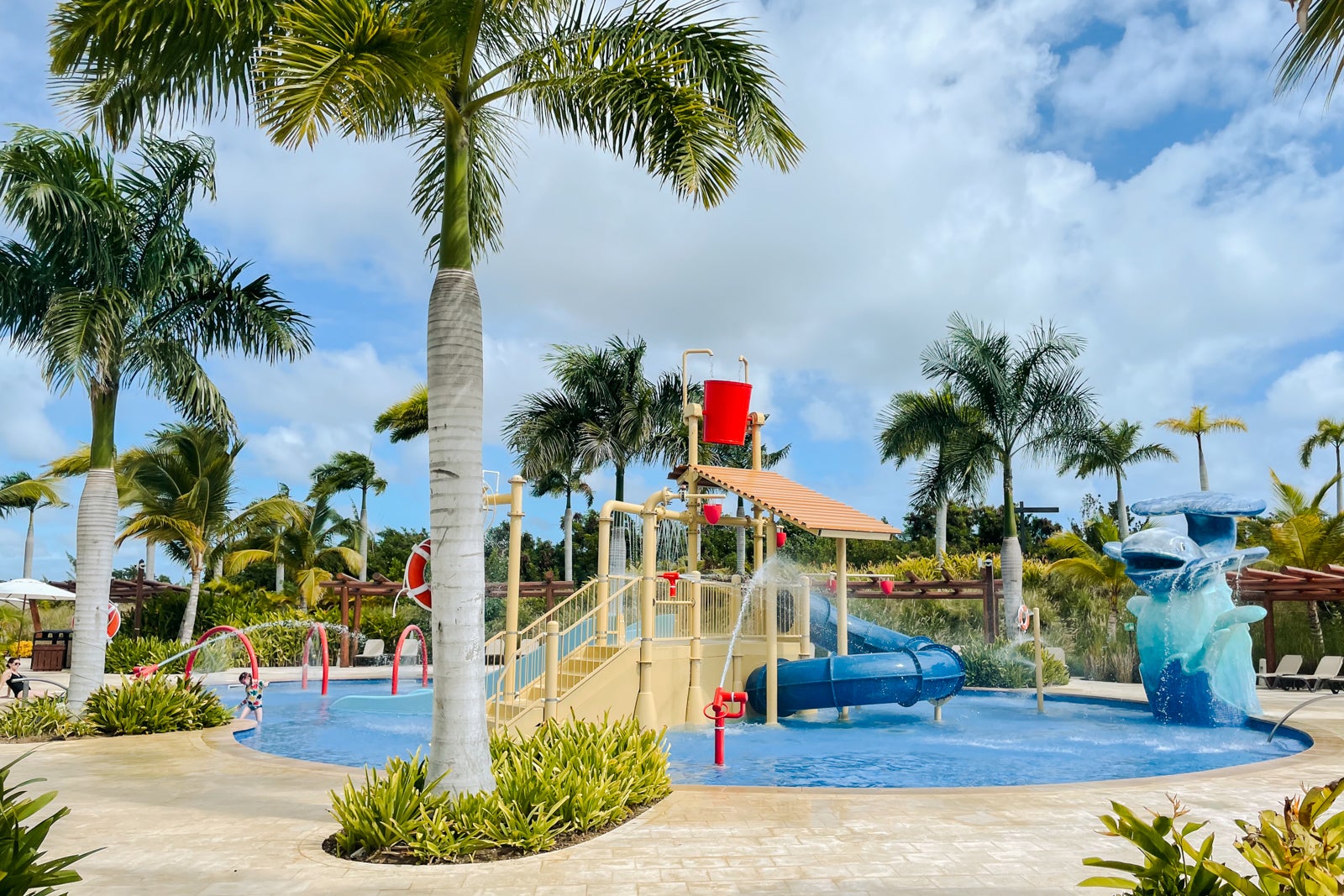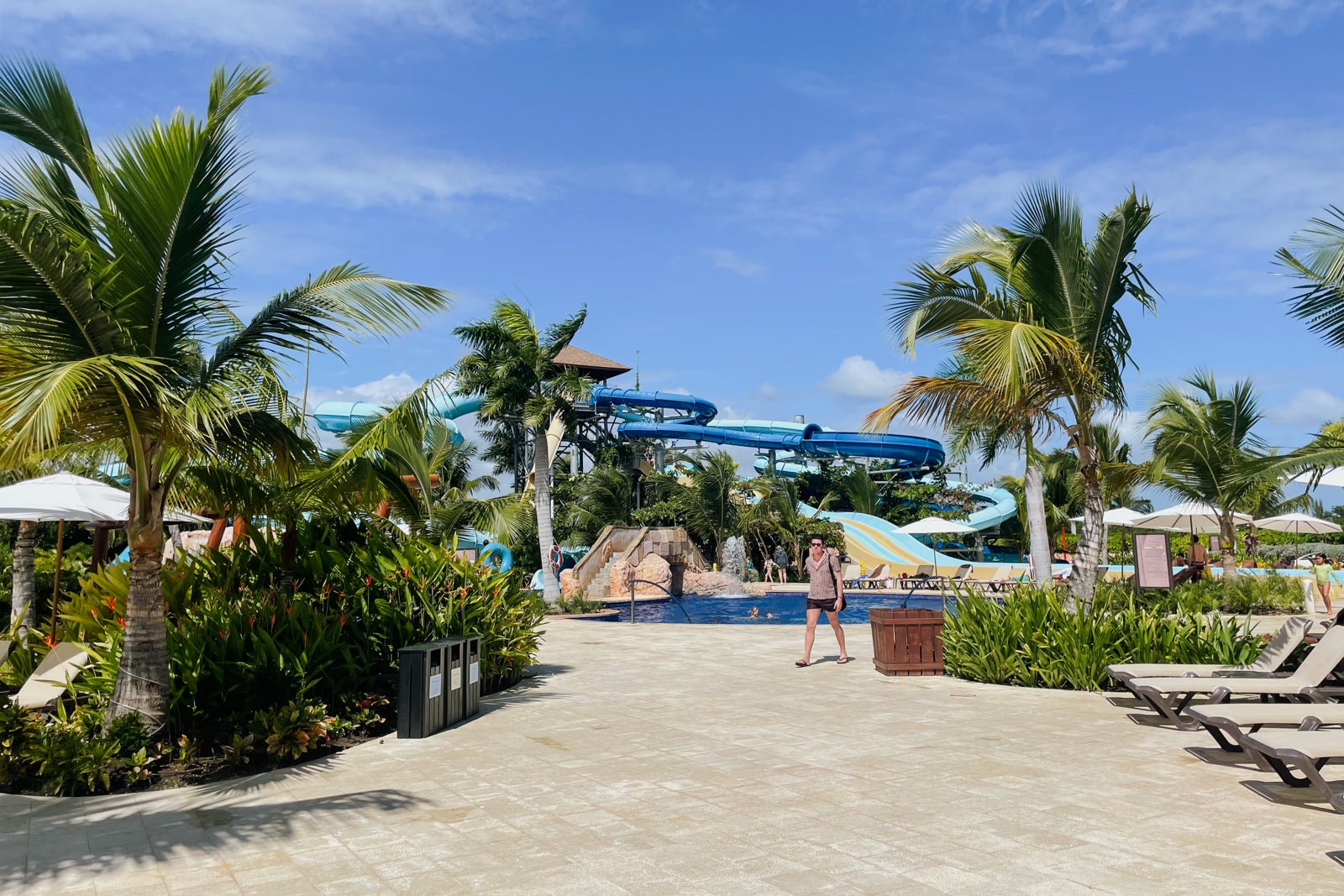 At the Canapolis Water Park, both the young and young at heart can enjoy a few hours of water-filled fun by floating along the lazy river or sliding down one of the adrenaline-pumping slides ranging from entry-level options that younger kids loved to an anxiety-inducing drop that felt like being shot out of a cannon.
For smaller kids, the water park also has a splash pad with smaller slides and a big water bucket that fills up and dumps out.
For some pampering (at an additional cost), guests can hit up the cenote-inspired Larimar Spa. There, guests will find the Dominican Republic's first Himalayan salt lounge, a hydrotherapy pool that looks like a cave and a treatment menu ranging from a basic 50-minute massage ($190) to a 90-minute body wrap that combines a cooling body wrap using Dominican Noni fruit with a coconut milk scalp massage, silver ion face mask and cold stone massage ($242).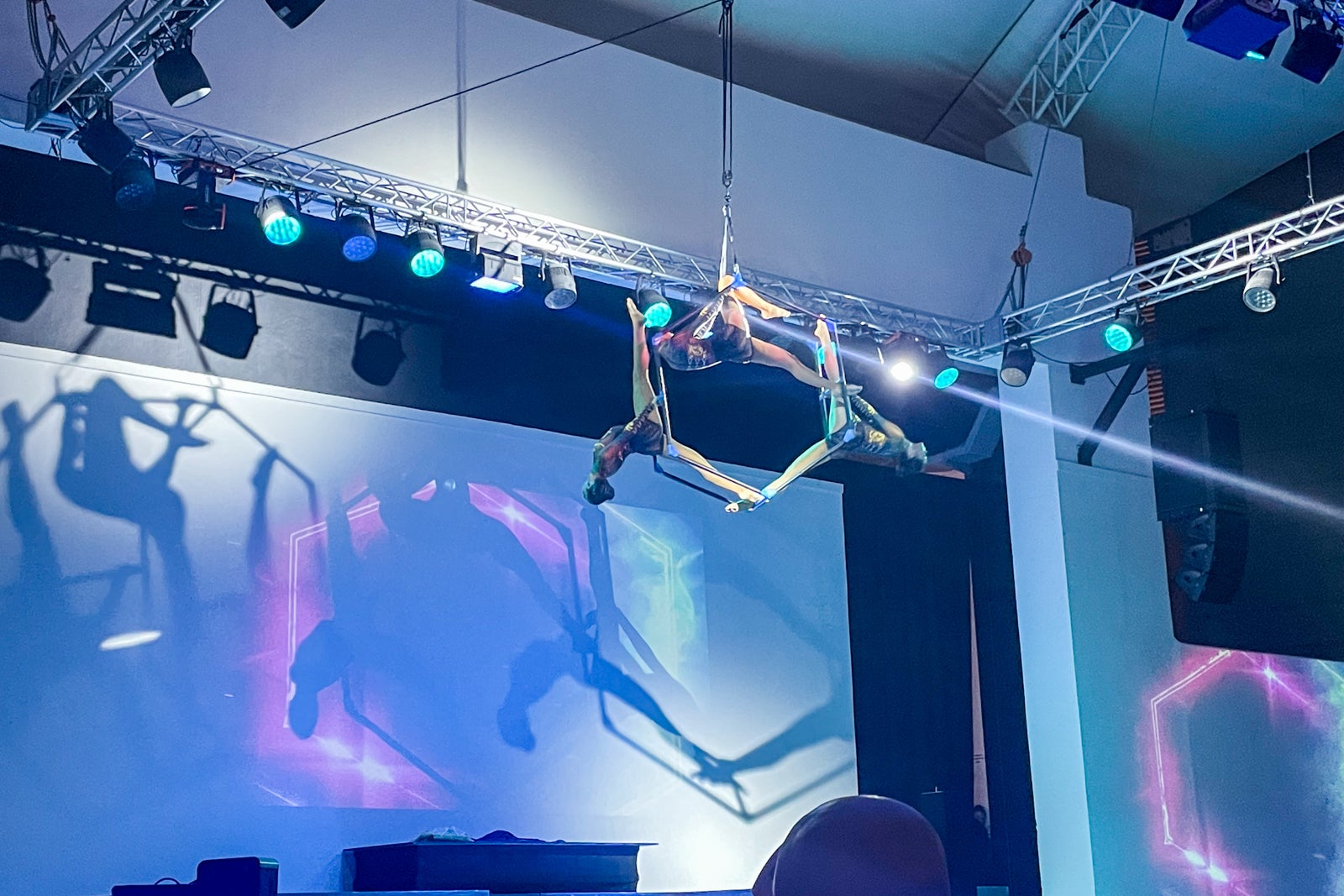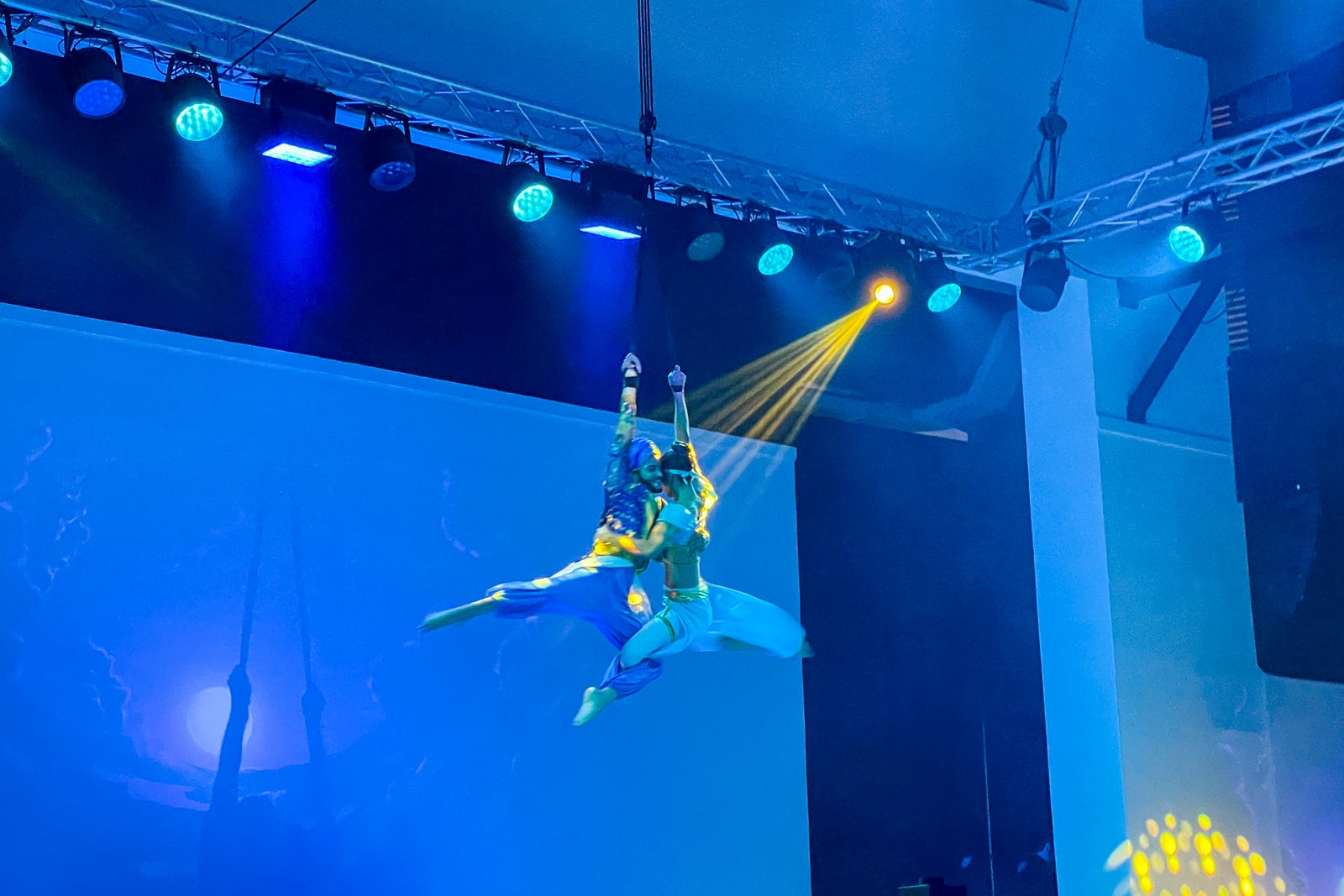 And you have to check out the resort's nightly entertainment. On the first night, we found a duo in the courtyard playing contemporary pop hits in a classical style on a violin and French horn, followed by a stage production called the "Royal Fantasy Show" that was basically a small-scale Cirque du Soleil show complete with aerial dancers, live music and a crowd of all ages clapping along.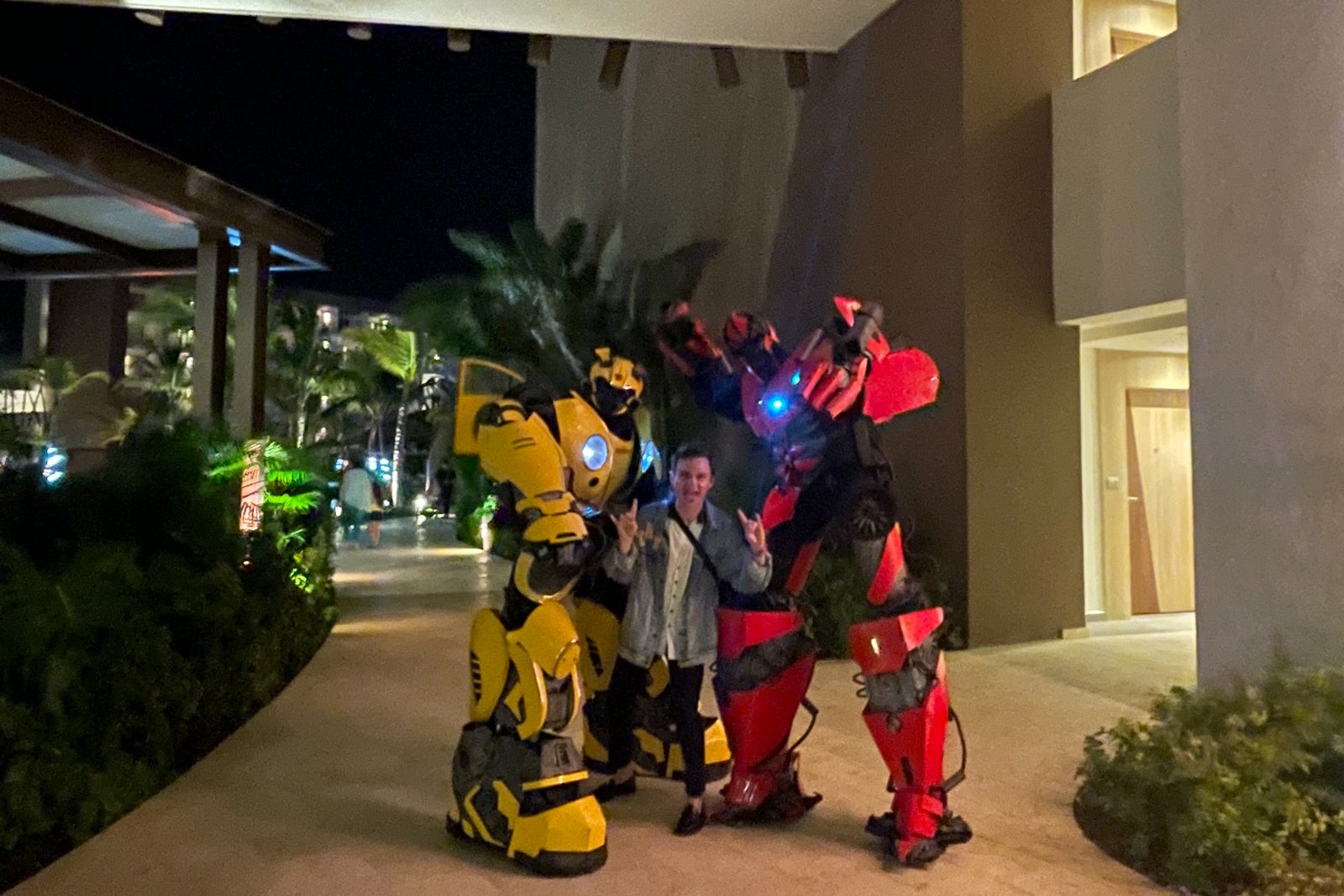 I also ran into some "Transformer"-like robots while crossing into the family-friendly Ziva.
Recommendation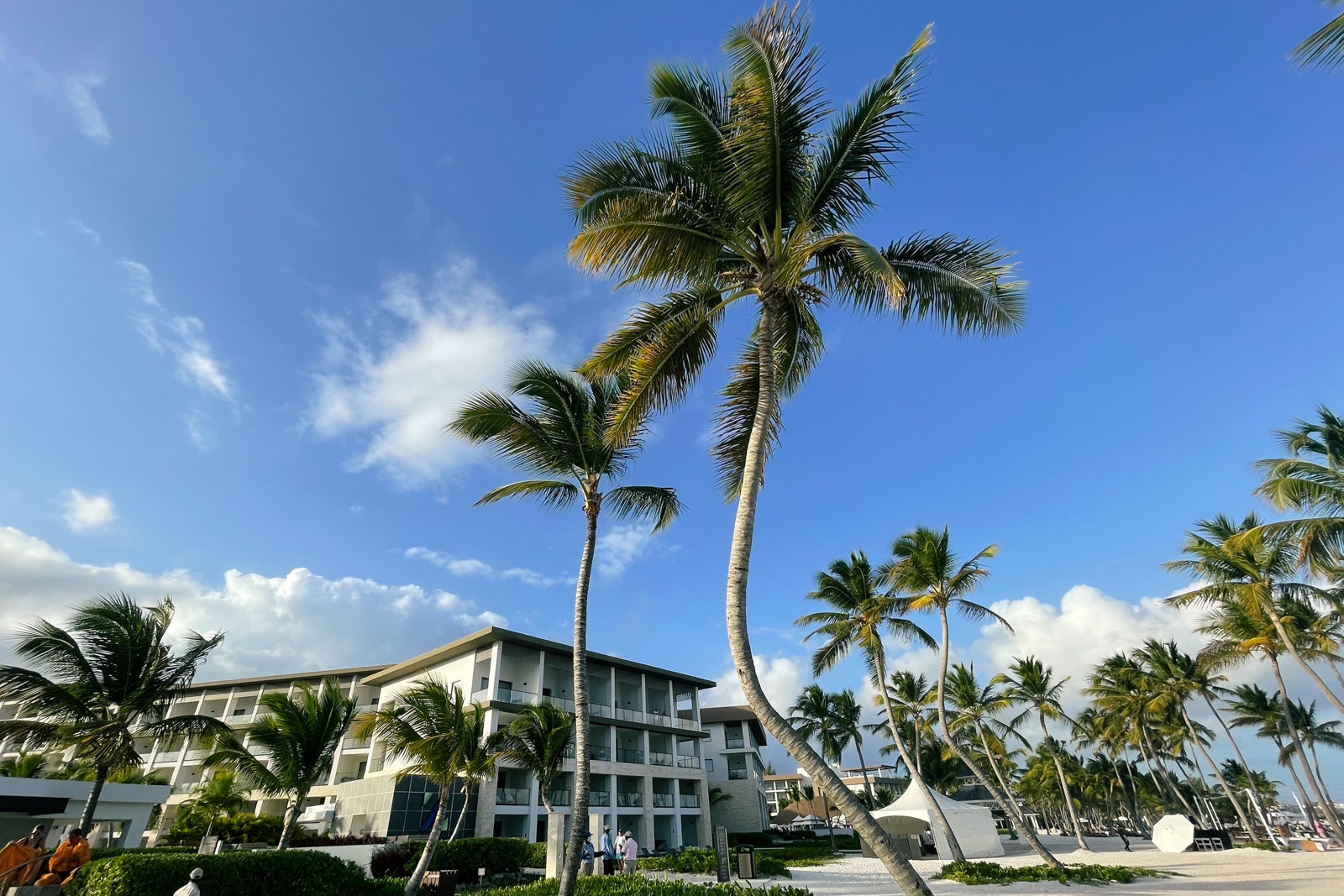 Since my stay at the Hyatt Ziva Cap Cana, I have not stopped talking about returning. For me, it was an all-inclusive experience better than any I'd had before, thanks to its upscale atmosphere, beautiful pools and beaches, a stellar water park and better-than-expected food.
But what really won me over was the value when redeeming points. Fortunately, I visited when an award stay cost just 25,000 World of Hyatt Points for a standard redemption. But I'd argue that an award stay worth 45,000 points is still a great deal considering it covers all your food and drinks for two people in a beautiful suite that's spacious, modern and comfortable.
All-inclusive resorts are changing — and I hope that new ones look to Hyatt Zilara Cap Cana as an example of how to do things right. I can't speak for the other Zilara and Ziva properties, but my colleagues have raved about a few, especially the location in Jamaica, and I can't wait to visit more in the future and see how the brand continues to expand in other locations.