One glance at a globe makes it abundantly clear just how far New Zealand truly is from the U.S.
More than 7,000 miles away from our home in Houston, the island country has long attracted outdoorsy types keen on exploring its beautiful mountains, fjords, volcanoes and beaches.
So, when my family of four decided to plan a March trip around our work and school schedules, we knew we were in for a grand adventure that we wouldn't forget anytime soon. Sure, there would be long flights involved, plus a packed itinerary to maximize our limited time in this far-flung destination, but we were up for the challenge.
Recognizing we'd only have 10 days on the ground, we decided to mostly stick near the cities and fly between the different areas we visited, which included Wellington, Queenstown and Auckland.
Despite our inability to venture to more remote parts of the country like many visitors do, we still managed to experience some of the best things to do in New Zealand as a family. However, we learned a few lessons and made a mistake or two along the way.
If you're planning a family trip to New Zealand — or hope to one day — here are seven things to keep in mind, plus a few recommendations for three of New Zealand's most popular cities to visit.
Related: Flying 14 hours in a 'couch' from New Zealand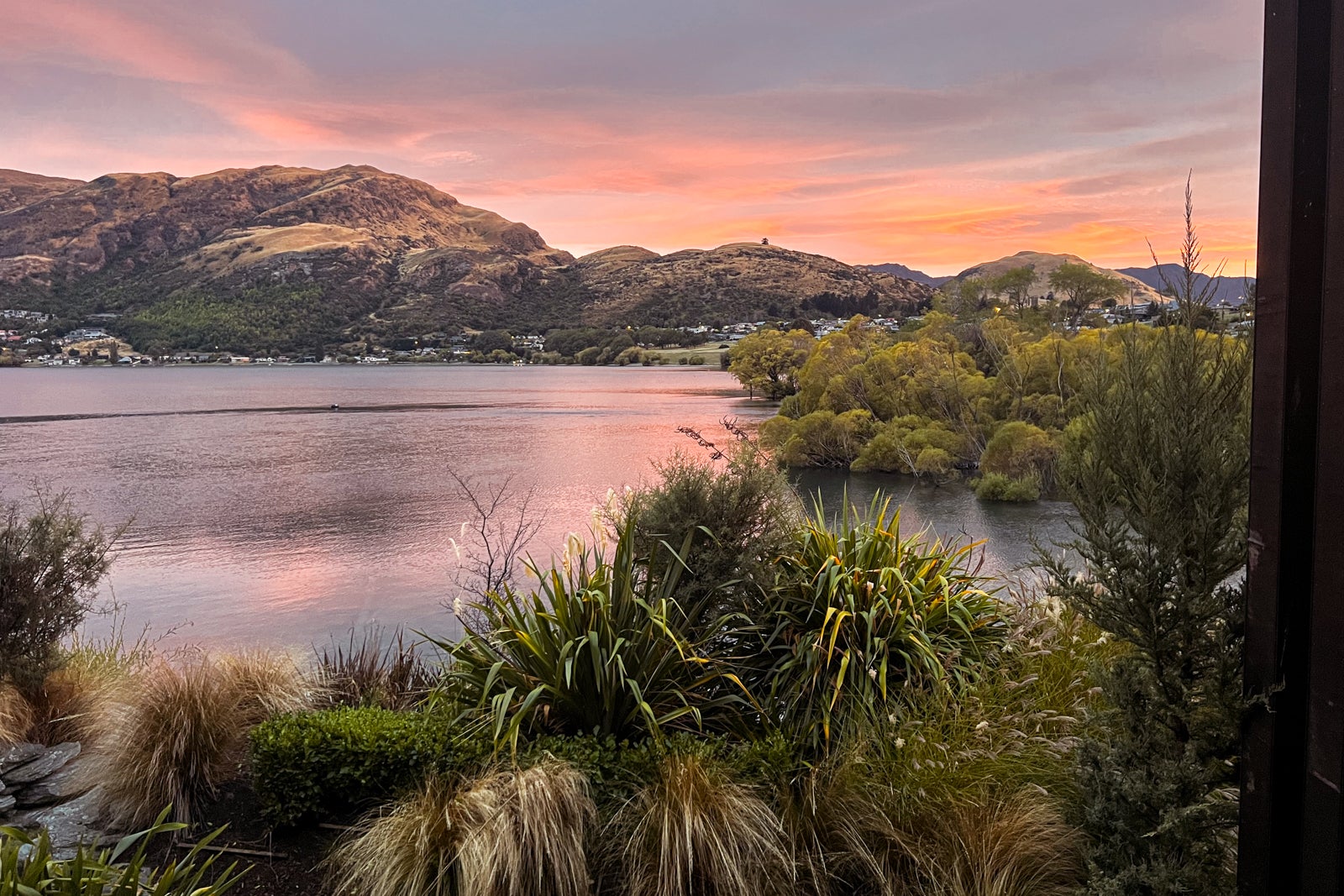 The current exchange rate makes things quite affordable
The exchange rate from U.S. dollars to New Zealand dollars favors American travelers … at least, for the time being. At the time of writing, $1 equals NZ$1.62, which means that the NZ$100 activity or meal you enjoy will cost you about $62.
It's not an all-time best exchange rate for Americans, but it is better than it's been for most of the last two decades, making everything from Uber rides to meals, hotels and activities a lot more affordable. So, if you're sticking to a tight budget, you may want to aim to visit sooner rather than later.
Pro tip: Be sure to pay in New Zealand dollars when using a credit card with no foreign transaction fees to avoid any unnecessary charges. Your bank will handle the conversion to U.S. dollars.
Related: How to get to (and stay in) New Zealand on points and miles
You don't (usually) have to tip
Tipping service staff is typically not expected in New Zealand since workers in the country are generally paid a living wage. As someone who is very used to U.S. tipping culture, I honestly found this to be incredibly refreshing.
Back home, a $15 breakfast would set me back about $20 by the time gratuities are factored in. But in New Zealand, a NZ$15 breakfast cost me about $9 thanks to the exchange rate and the no-tipping policy.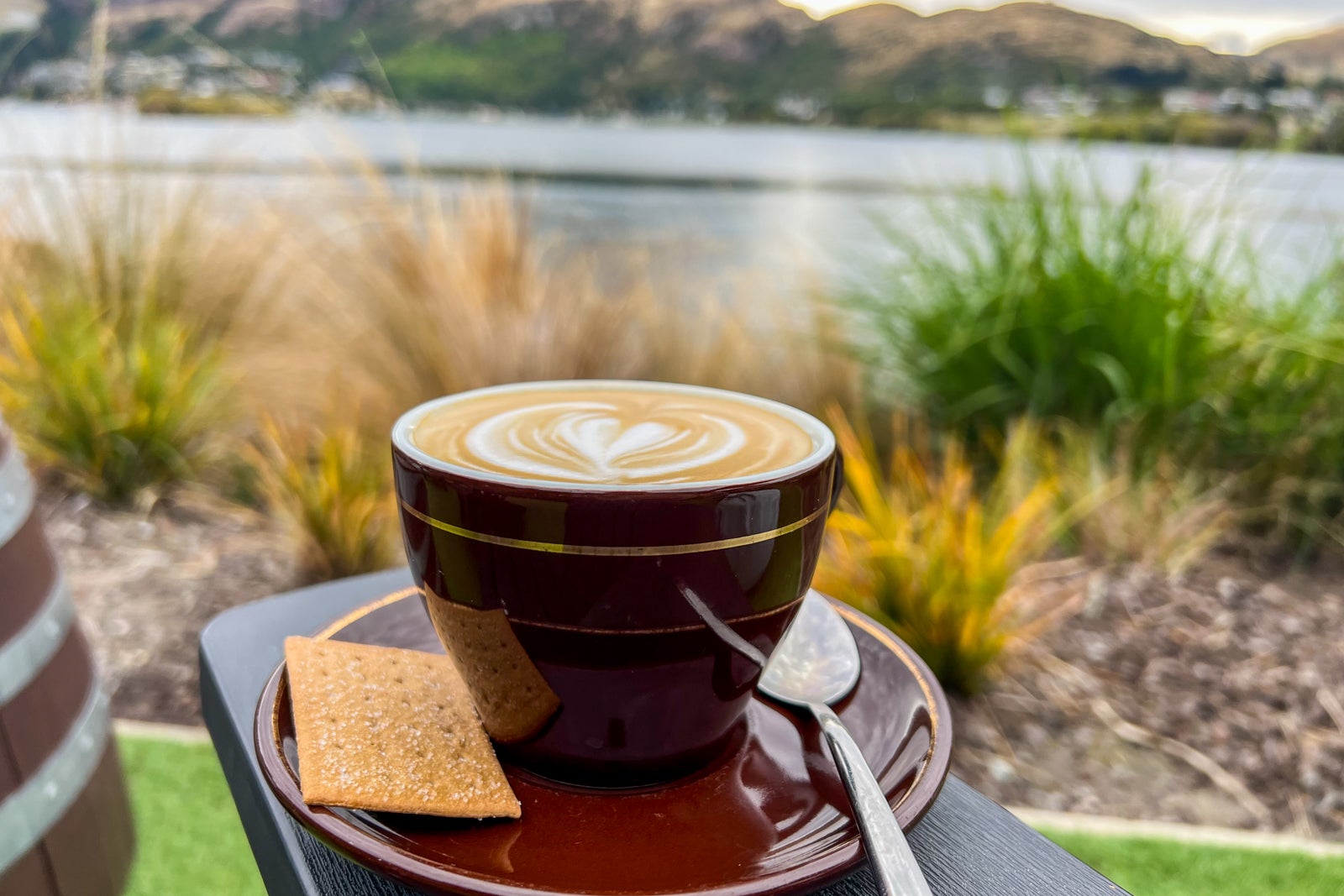 We did experience some exceptions to this rule while in Auckland. There, several restaurants displayed signs encouraging tipping.
However, in Queenstown and Wellington, we didn't have to factor in tips when calculating our daily expenses for eating out and activities. I would add a couple of dollars to Uber rides, but we otherwise didn't tip.
Credit cards are widely accepted
Unlike some destinations where it's still best to bring cash, New Zealand is easy to visit with only a credit card. That's because credit cards are widely (and almost universally) accepted. Most U.S.-based credit cards will require a signature every time you swipe, but they work just fine.
That said, a 2% credit card usage fee is pretty common, so be prepared for that trade-off if you decide to lean on cards more than cash for your purchases.
Related: Best credit cards for international travel
You may not need a car rental to get around
We had planned to rent a car in several New Zealand destinations we visited, but after the first couple of days in Wellington, it became clear that that wouldn't be necessary.
Naturally, you'll need a car rental if you decide to plan a road trip or spend a lot of time exploring smaller locations, but since we were there for a limited amount of time and spent most of our time in and around cities, Ubers made the most sense for us.
To put numbers to it, during our 10 days in New Zealand, we took a total of 15 Uber rides, with the average cost per ride coming in at $14.59. That total included several airport trips and our longer rides while in Queenstown, as we stayed a bit outside of town at the Hilton Queenstown Resort & Spa.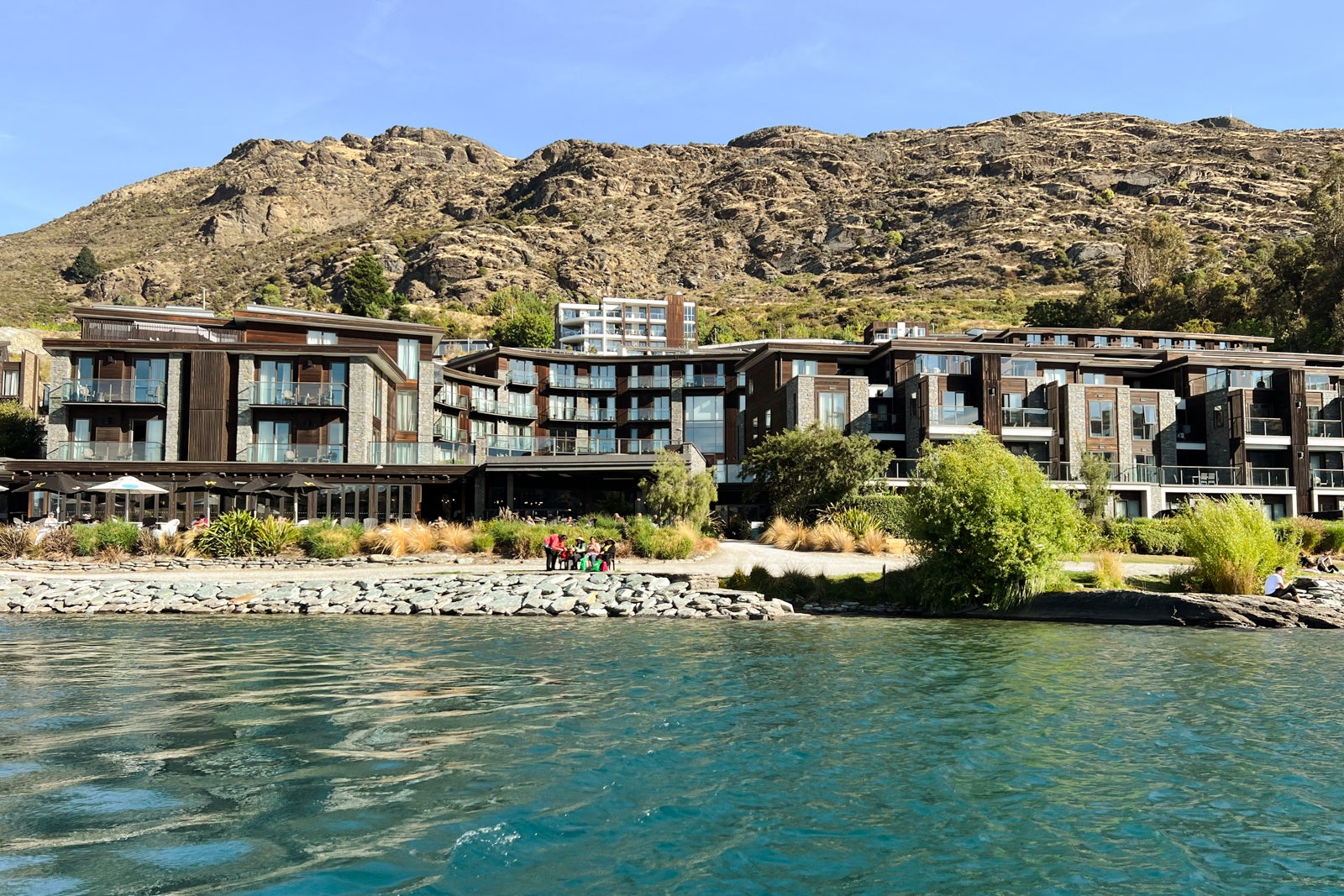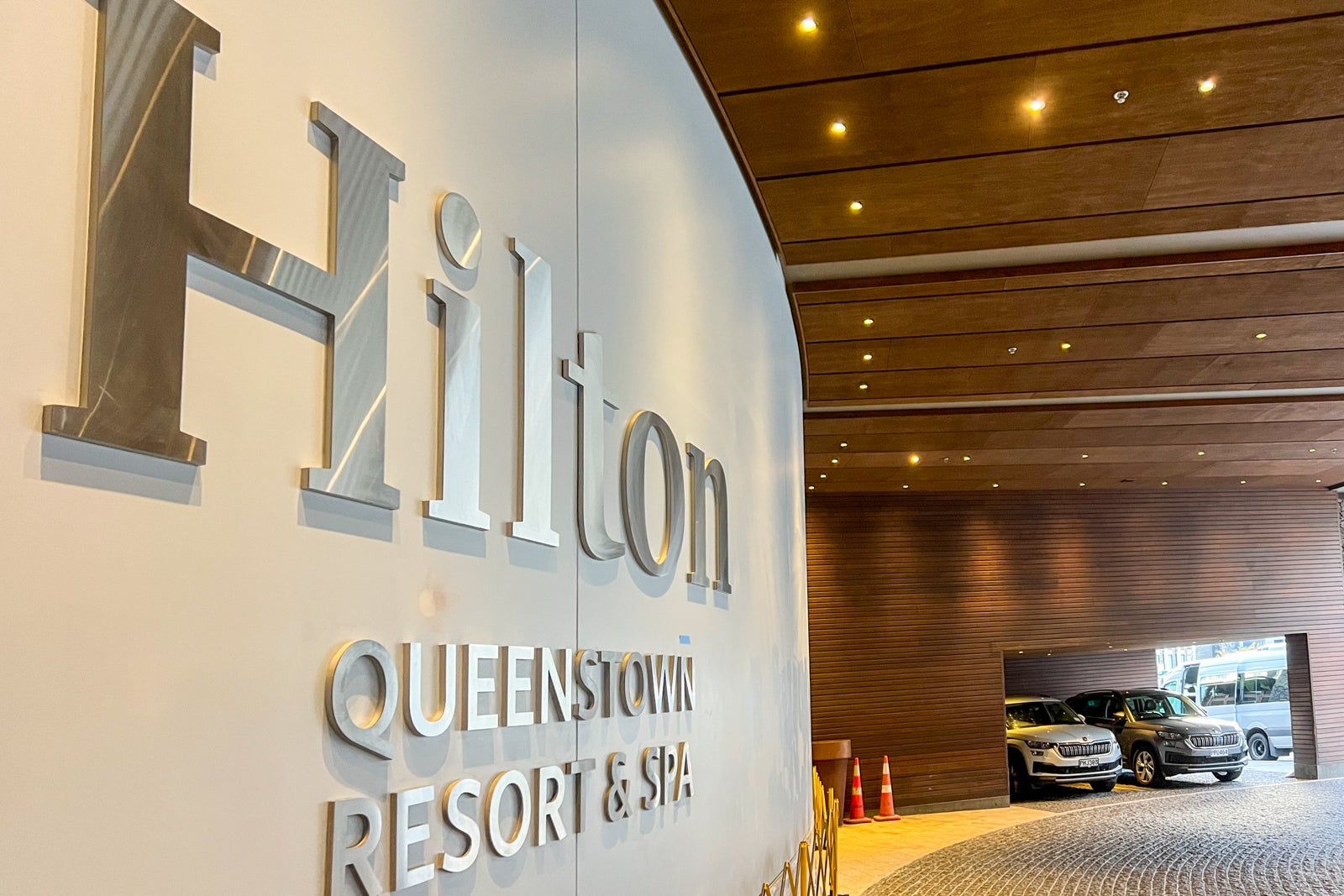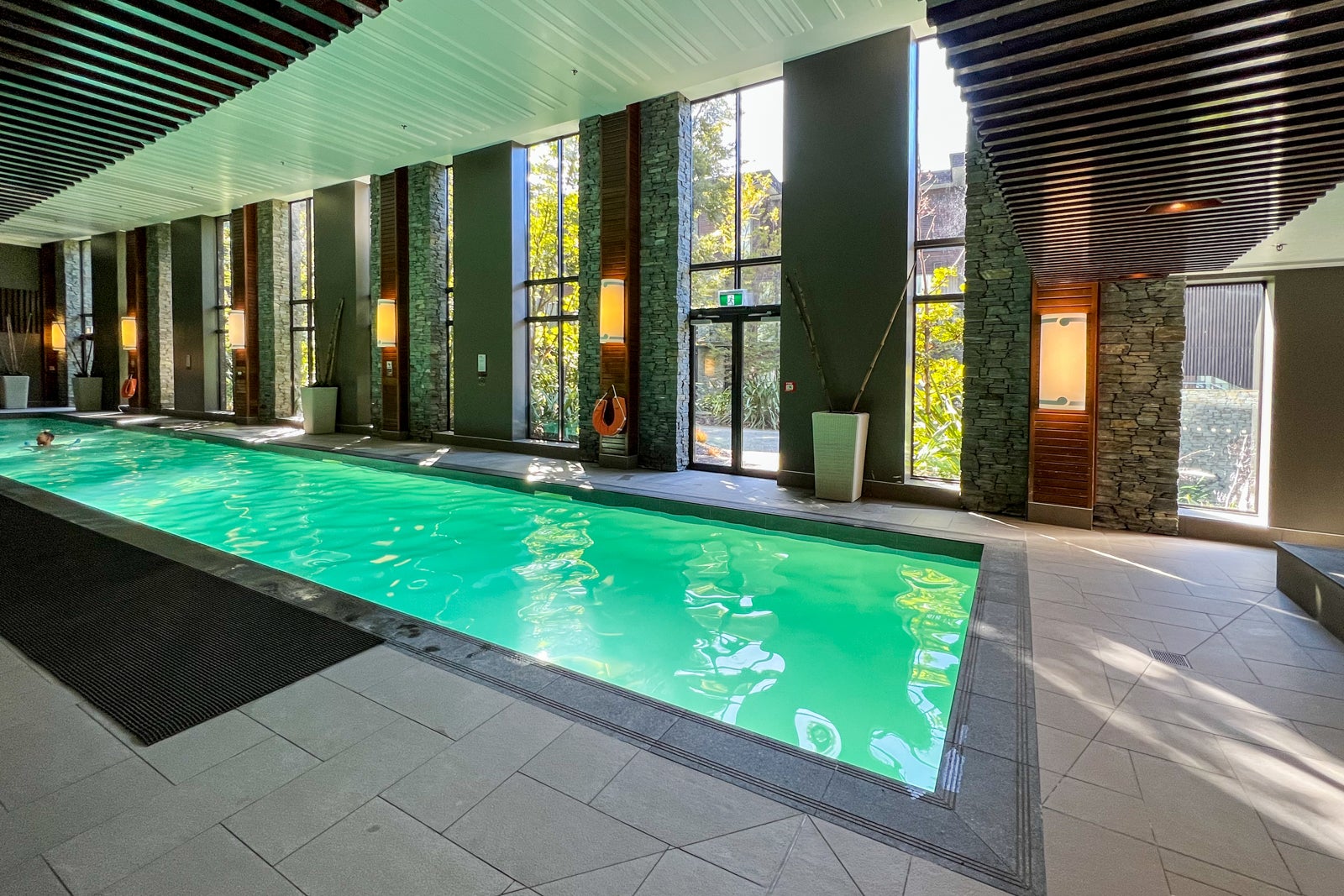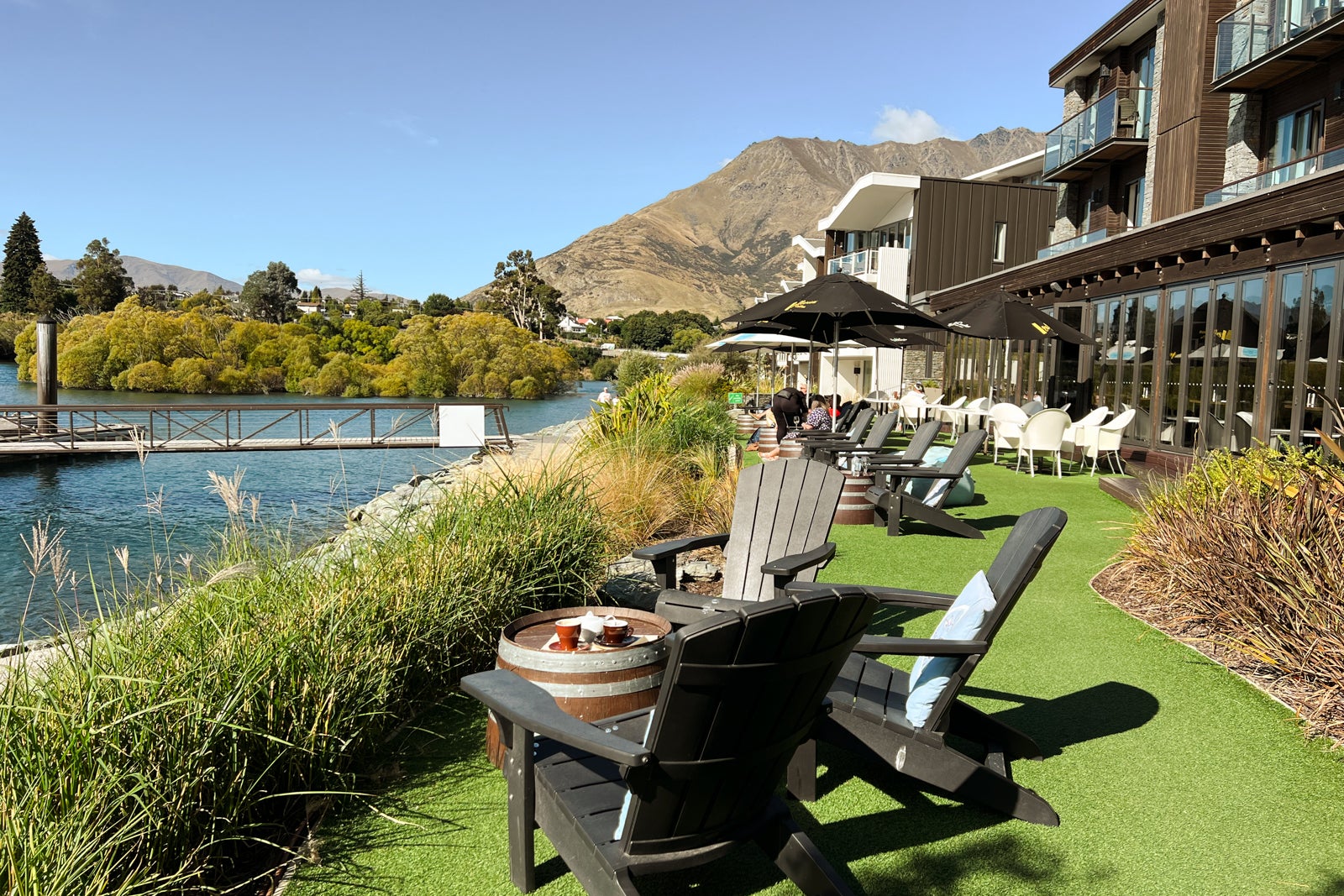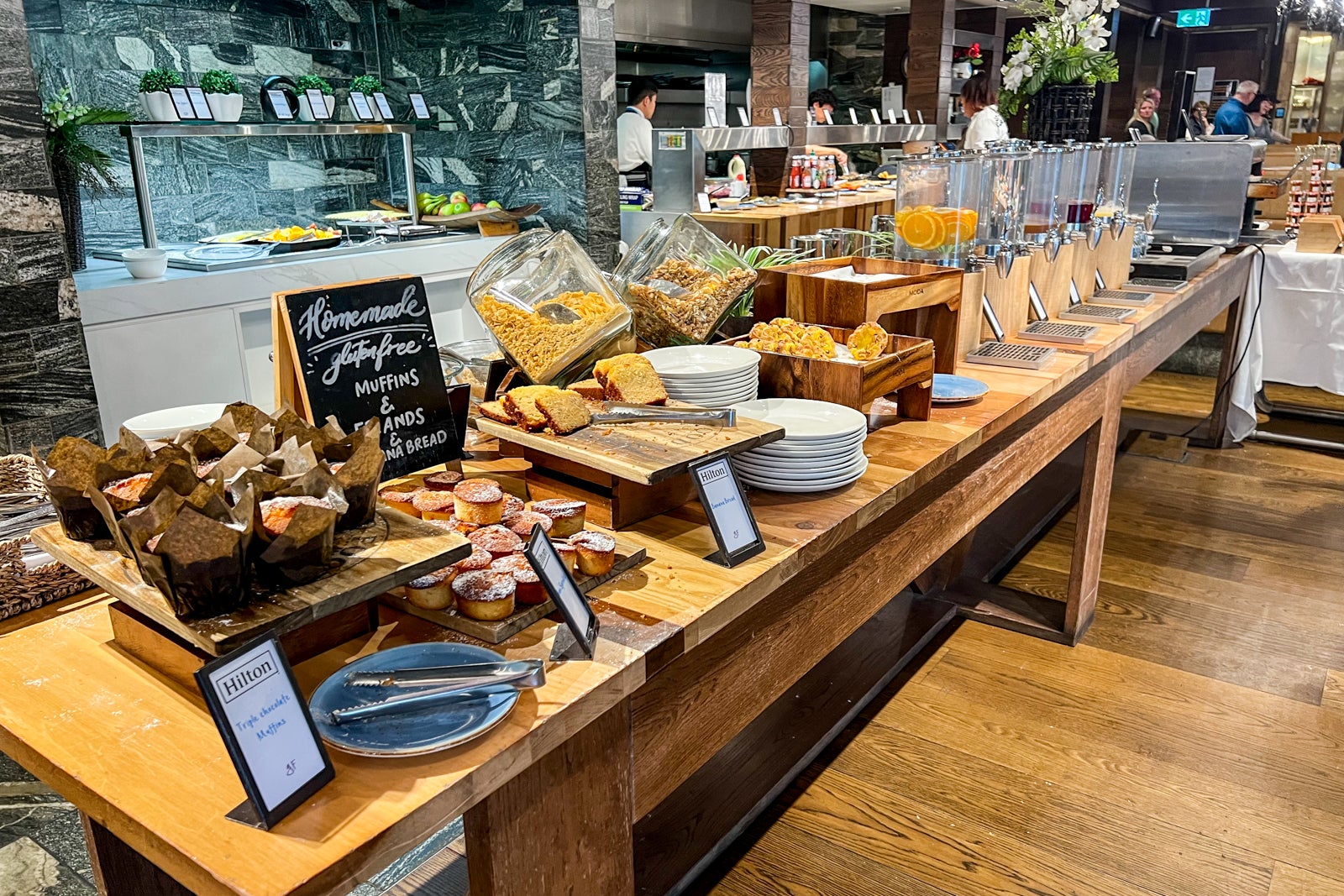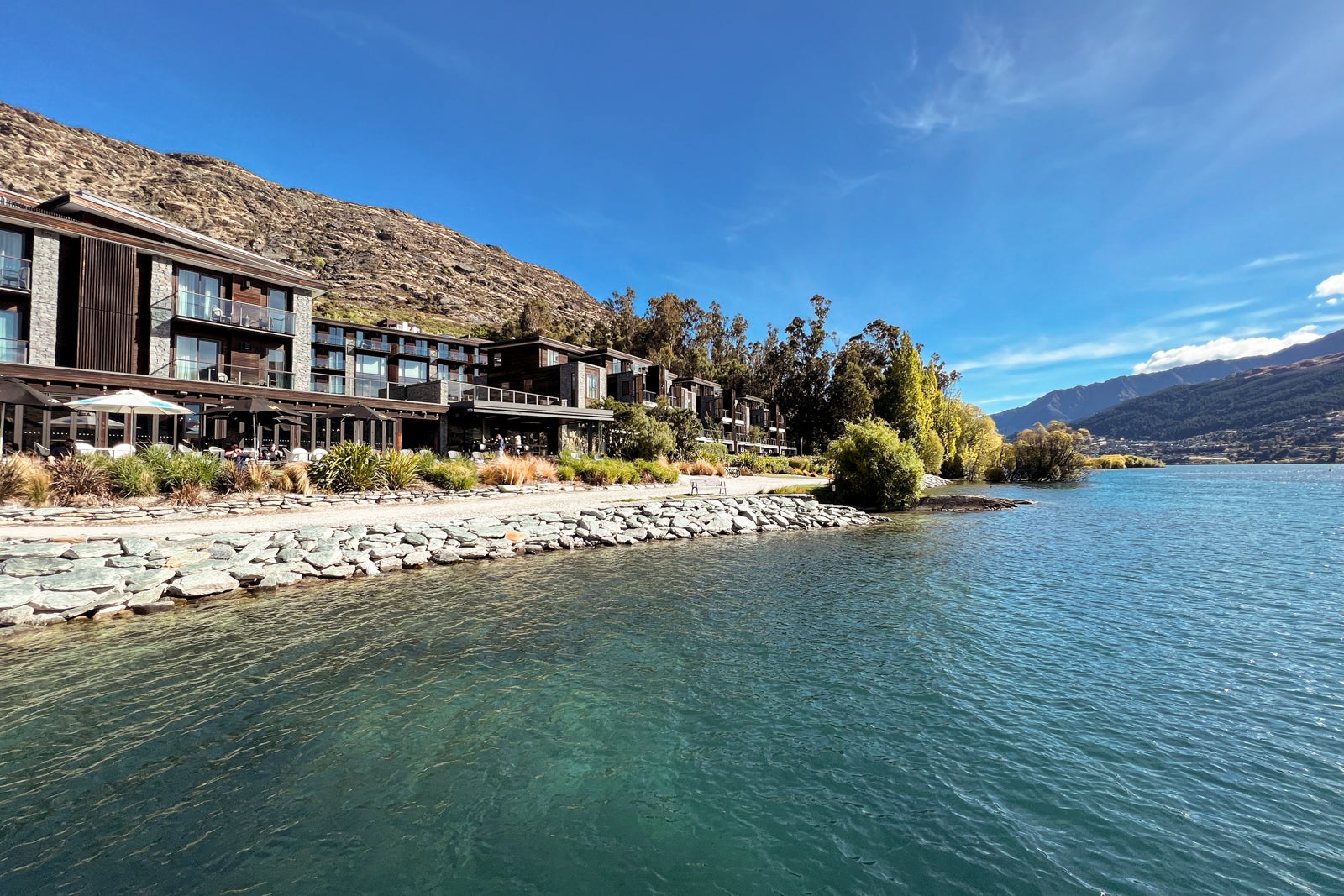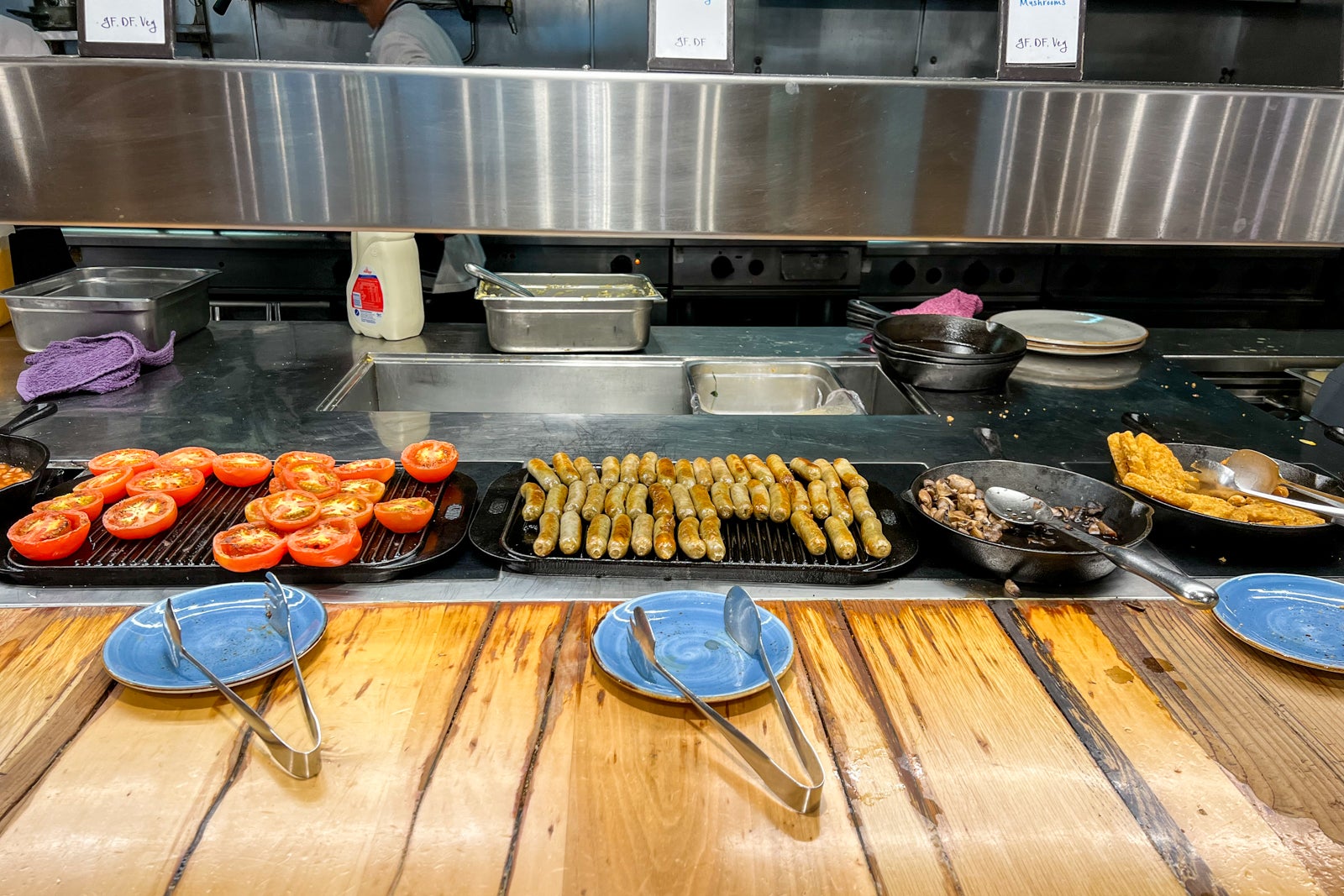 Know, though, that Uber vehicles are typically maxed out at five people, including the driver. Most of our rides were tight squeezes for the four of us due to the prevalence of compact vehicles. So, if you need more space, a car rental may be the best way to go. 
Related: 9 rental car rewards programs you need to know about
Taxis cost much more than Uber
While we mostly relied on Uber to get from point A to point B in New Zealand, we grabbed taxis a handful of times. Every single time we used a taxi, our wallet immediately regretted that choice.
During our visit, cab rides were consistently two to three times as expensive as Ubers. So, unless you really need the convenience of that cab idling at the curb, fire up the Uber app and save yourself a lot of money in the process.
Related: Frequent Uber or Lyft user? These are the best credit cards for you
The weather is in charge
While I suggest booking some of your must-do activities before the trip to ensure availability and potentially benefit from an advance-booking discount, keep some flexibility in your schedule as the weather in New Zealand — no matter where you are — can change suddenly and dramatically.
In Queenstown, for example, you'll want to book your outdoor adventures on the first day or two of your stay so you have buffer days to switch them to in the event of rain getting in the way. Also have some rainy day activities in mind so you don't waste precious time in New Zealand just sitting around waiting for sunny skies.
For our trip, we saved museum visits and indoor rock climbing for those days when the skies looked ominous. Of course, when the sun does return, you'll want to be sure you're ready to make the most of it.
For instance, while we had planned to save the Wellington Cable Car and botanical gardens for one particular day, we improvised and added that excursion to our schedule one sunny afternoon as the next day's forecast looked like it'd be a washout. Sure, we were a little tired since that ended up being a particularly full day, but we knew that that excursion wouldn't have been nearly as enjoyable in the rain.
Related: Why Aotearoa-New Zealand is the best international destination of the year
Most activities have a family discount
Before purchasing individual tickets to any activity in New Zealand, research whether a family package includes adult and child tickets at a bundled discount. Almost every activity we did was cheaper if we booked via the family plan rather than pricing out the tickets individually.
For example, the Shotover Jet we did in Queenstown charges NZ$139 ($86) for adults and NZ$77 ($48) for children, but instead of a family of four costing NZ$432 ($267), you'll pay just NZ$355 ($220) when opting for the family package.
Another example of this is the Skyline Queenstown gondola, which charges NZ$46 ($28) for adults and NZ$33 ($20) for children. Instead of paying NZ$158 ($98) for a family of four, choose the family plan discount for NZ$133 ($82).
Planning a little in advance also has its financial advantages. For example, the zip line excursion we did in Queenstown has a 15% discount if you book online at least three days in advance. Most activities allow you to change your plans up until 24 hours before your excursion, so it can make sense to book ahead but maintain some flexibility thanks to those common policies.
Things to do in Auckland with a family
While the odds are high that your travel plans will take you through Auckland while you're in New Zealand, I'd advise against spending too many nights there. I have nothing against Auckland, but spending time in a large city is hard to justify when there are so many awe-inspiring landscapes and destinations to explore.
Waiheke Island
Should you spend a little time in the Auckland area, I highly recommend taking a 30-minute ferry ride to Waiheke Island, which is packed with wineries and beaches and has a laid-back island vibe. An added bonus: It's inexpensive and easy to explore by bus.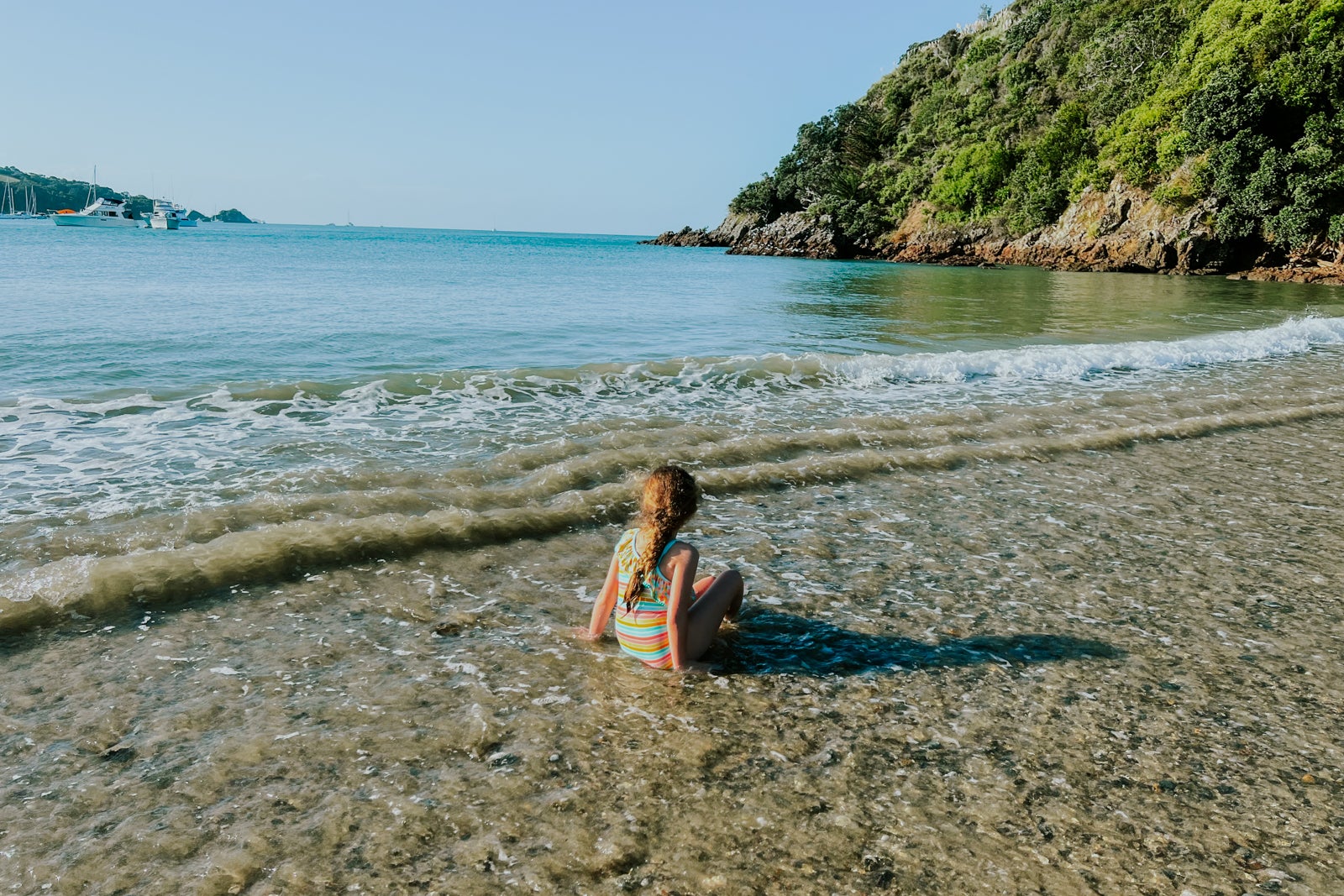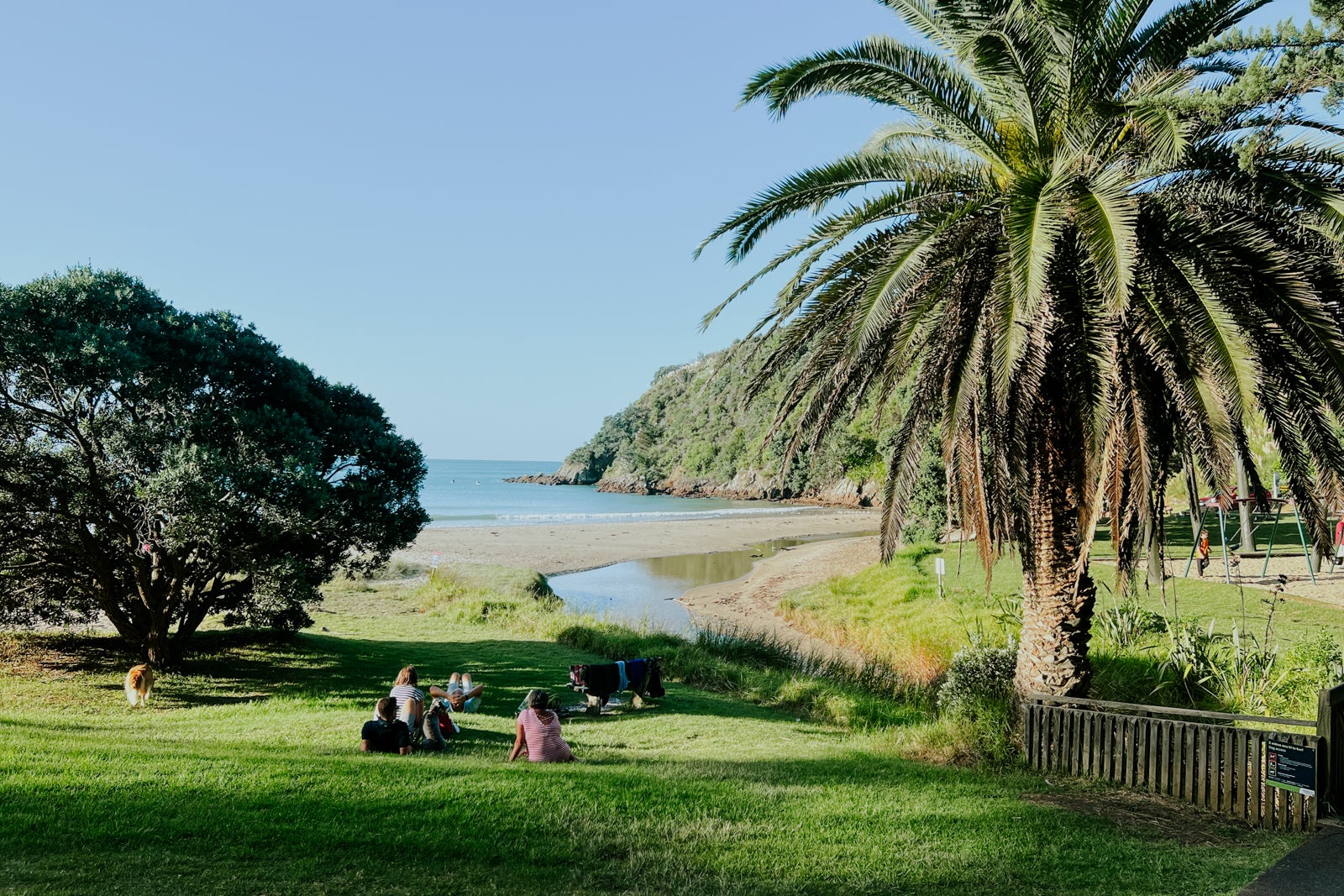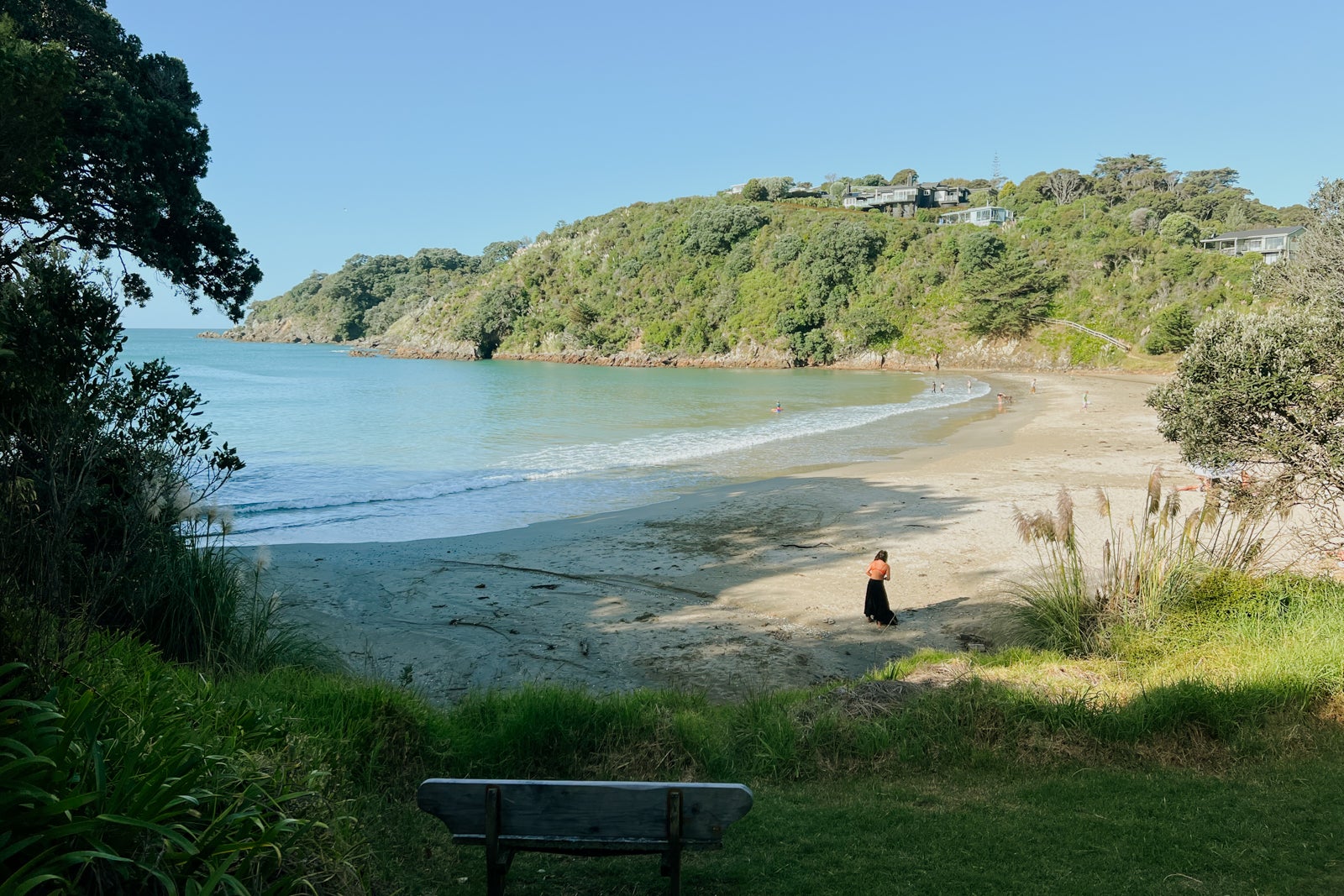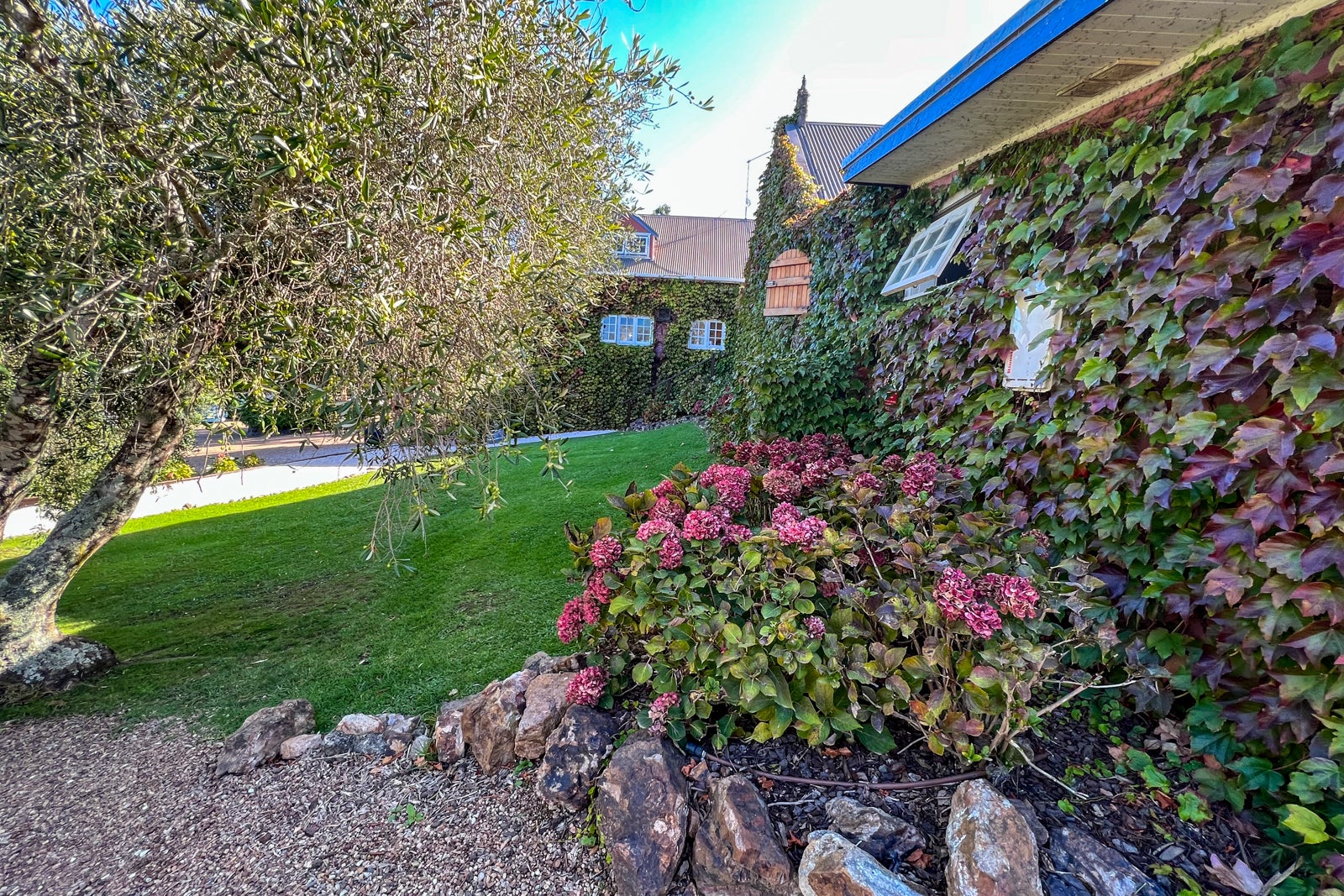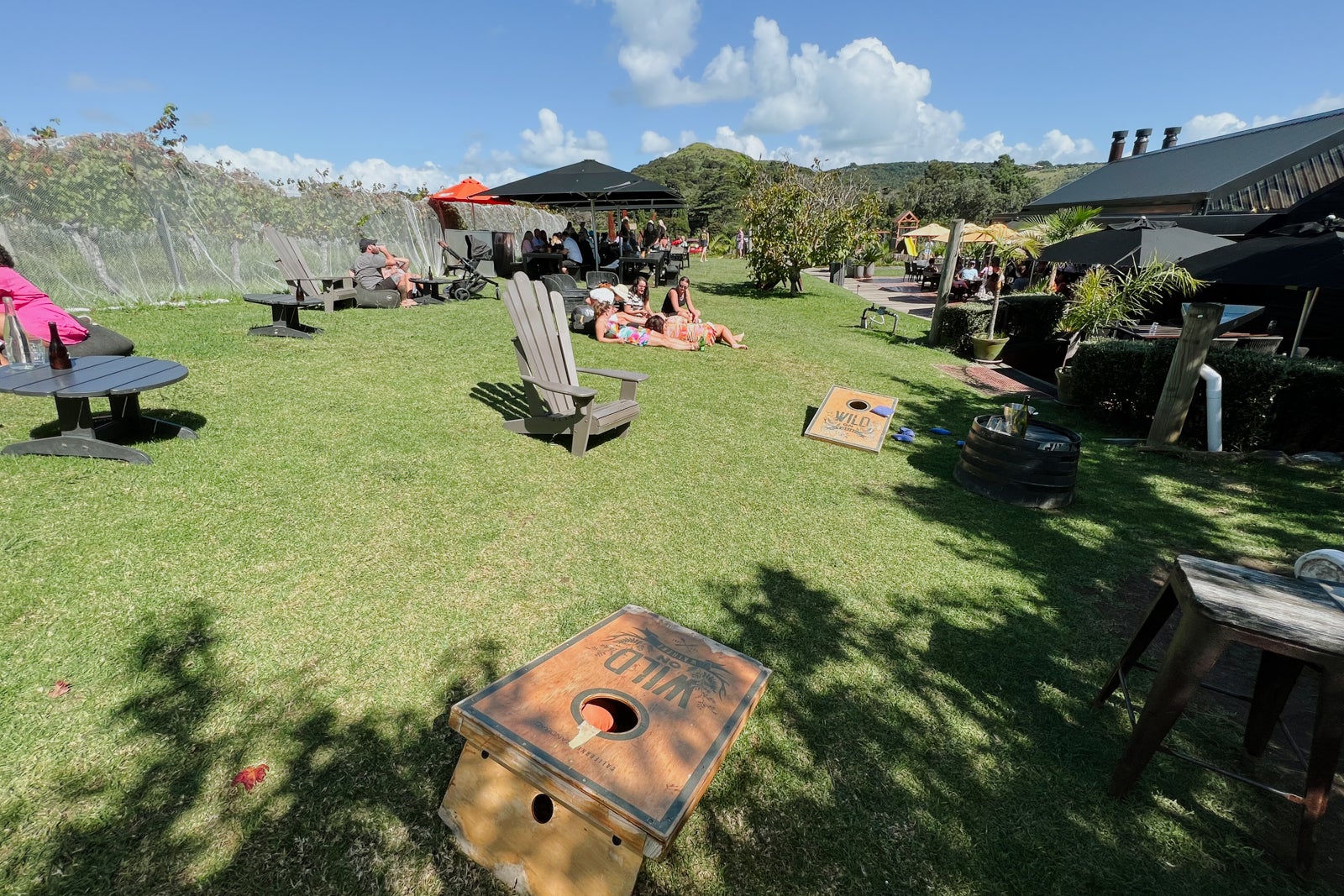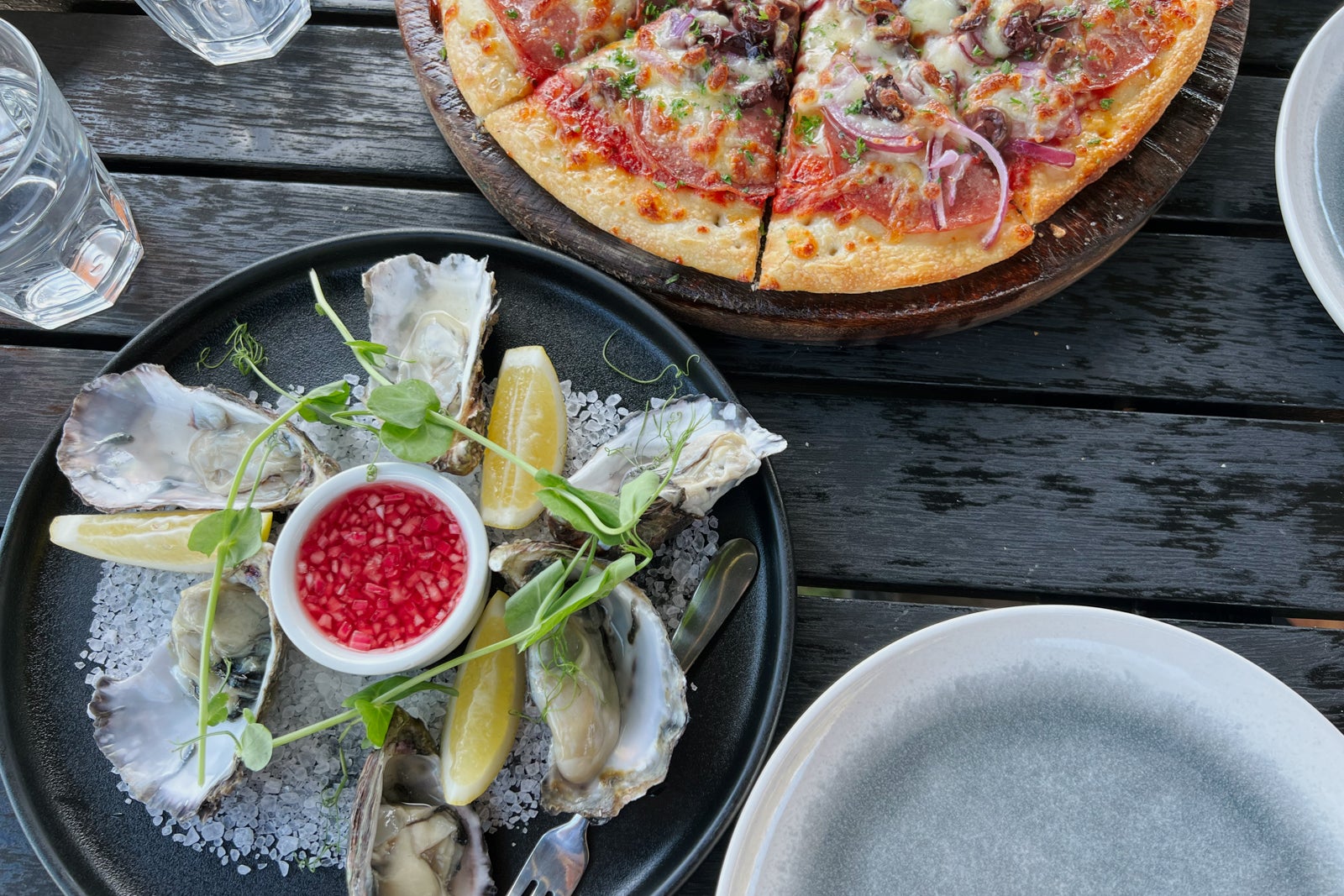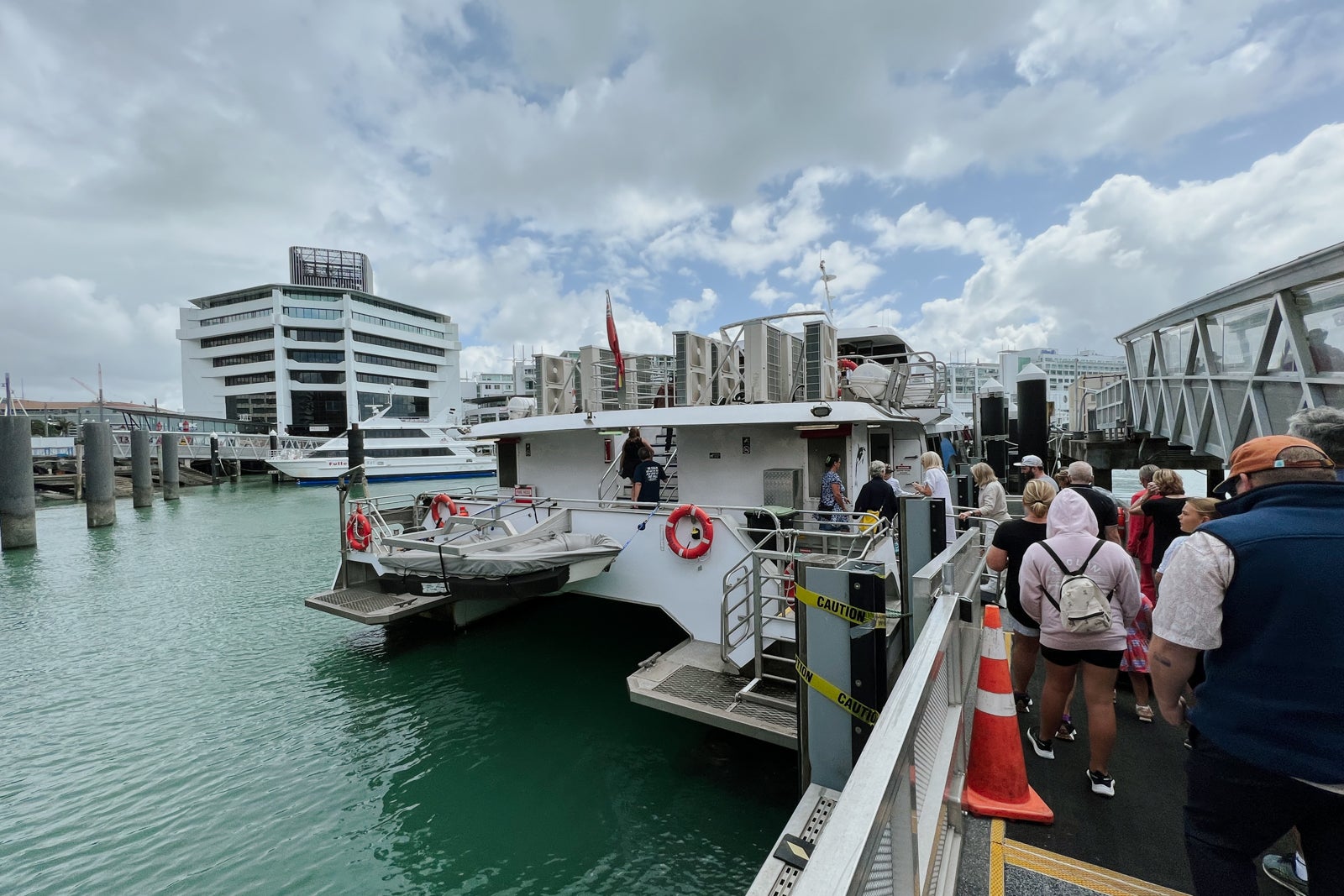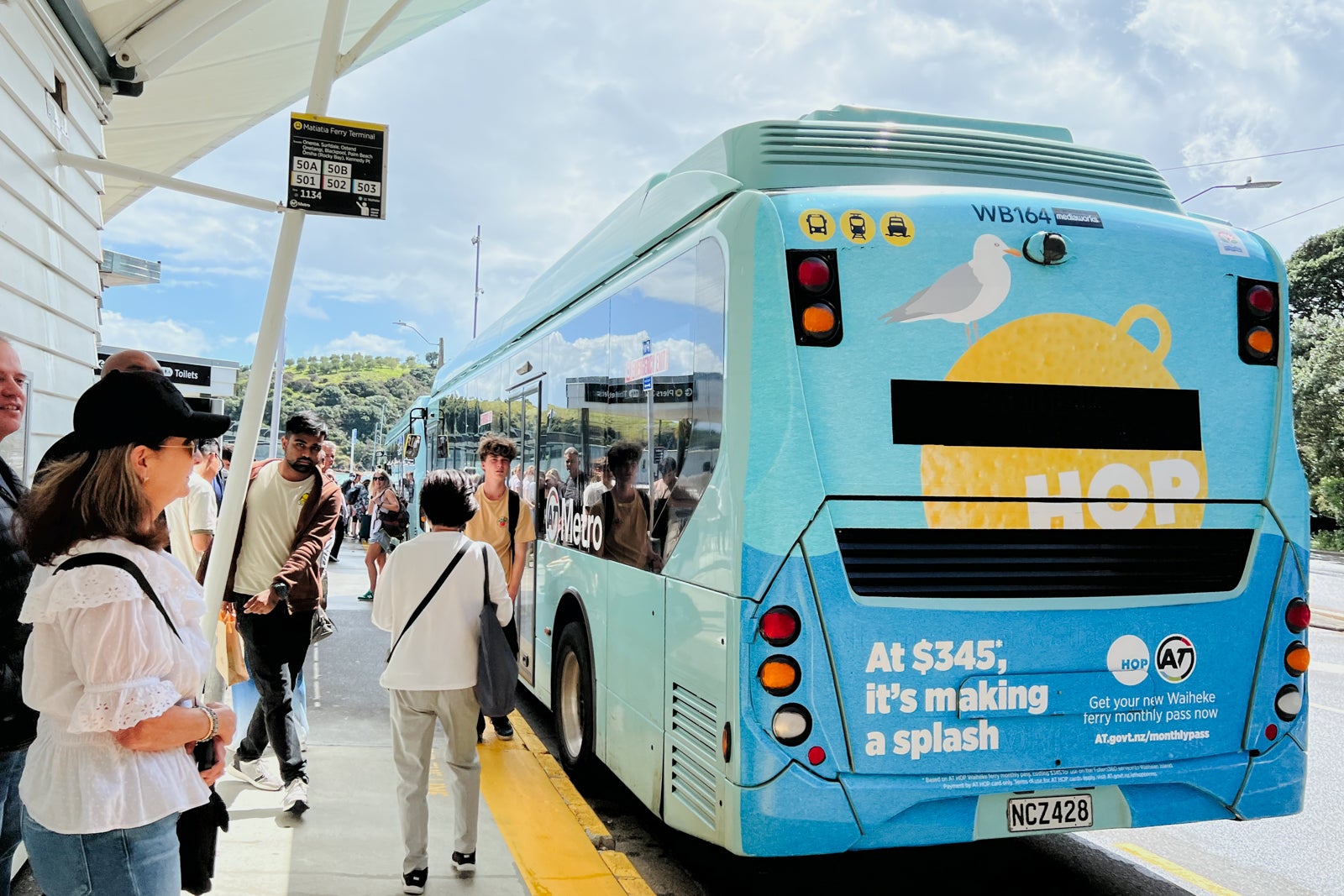 To purchase bus tickets for getting around the island, simply stop by the bus kiosk at the Waiheke Island ferry terminal. Cards are loaded with an amount of your choosing based on the number of times you expect to get on and off the bus.
Each bus ride will cost around $1, so a full day on the island would likely require $5 to $6 per card, per person.
Hobbiton Movie Set and Waitomo Glowworm Caves
For us, no visit to Auckland would be complete without an excursion to the Hobbiton Movie Set to view where the hobbits "lived" in "The Lord of the Rings" movie trilogy, plus a trek through the Waitomo Glowworm Caves. While these destinations are several hours outside the city, both are phenomenal if you want to experience a mix of natural and human-made wonders.
We booked a 12-hour guided tour to see both and travel by bus. It was a long day, but it was ultimately worth the payoff as a "Lord of the Rings"-loving family. If you couldn't care less about the movie, the journey may not be worth it, though it was unquestionably a beautiful part of the country.
Photos were not allowed at the glowworm caves, but trust me: They were unlike anything I'd ever seen. The fluorescent blue ceiling of worms you float beneath during your guided boat ride through the caves created a peaceful ambiance that reminded me of a Disney ride.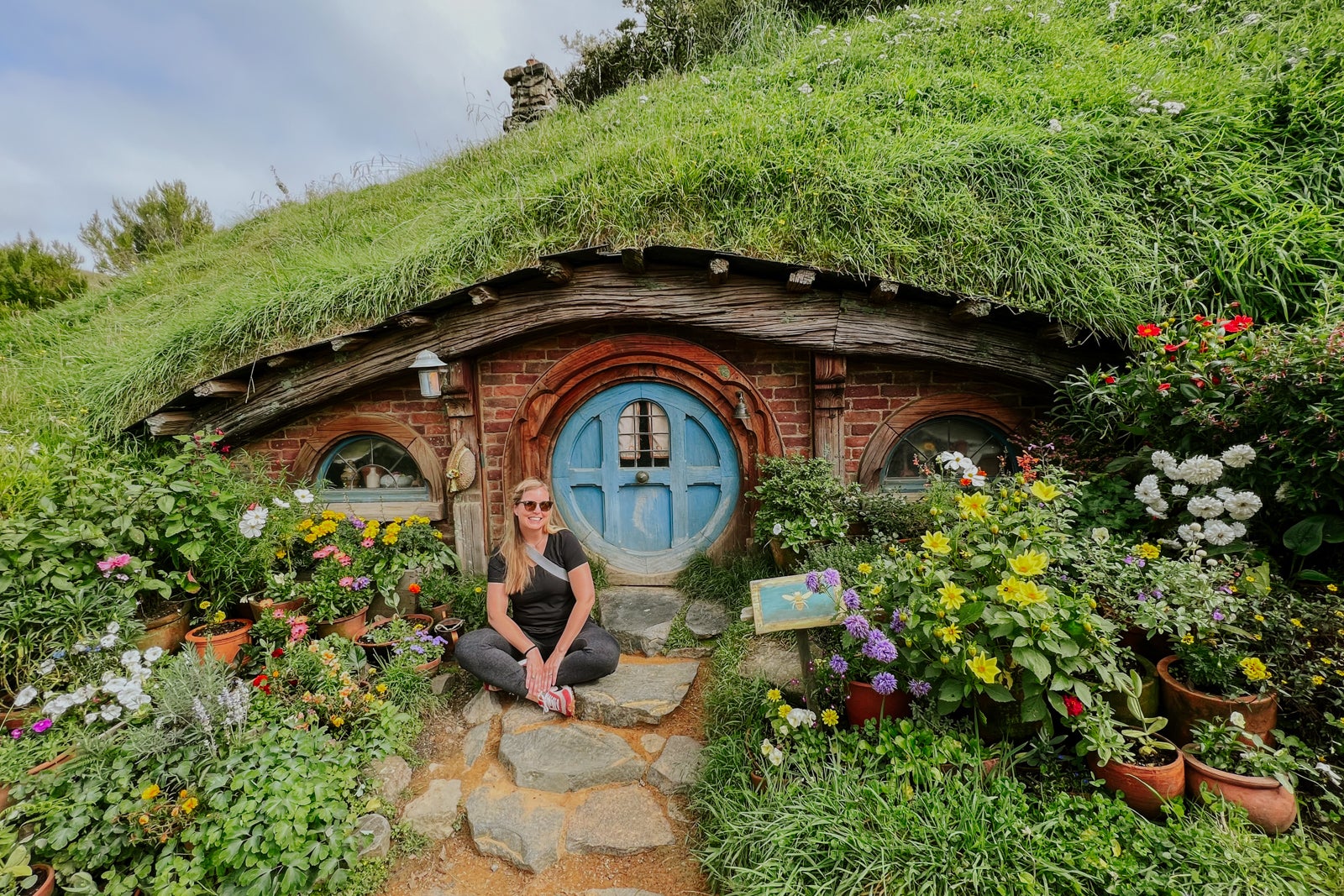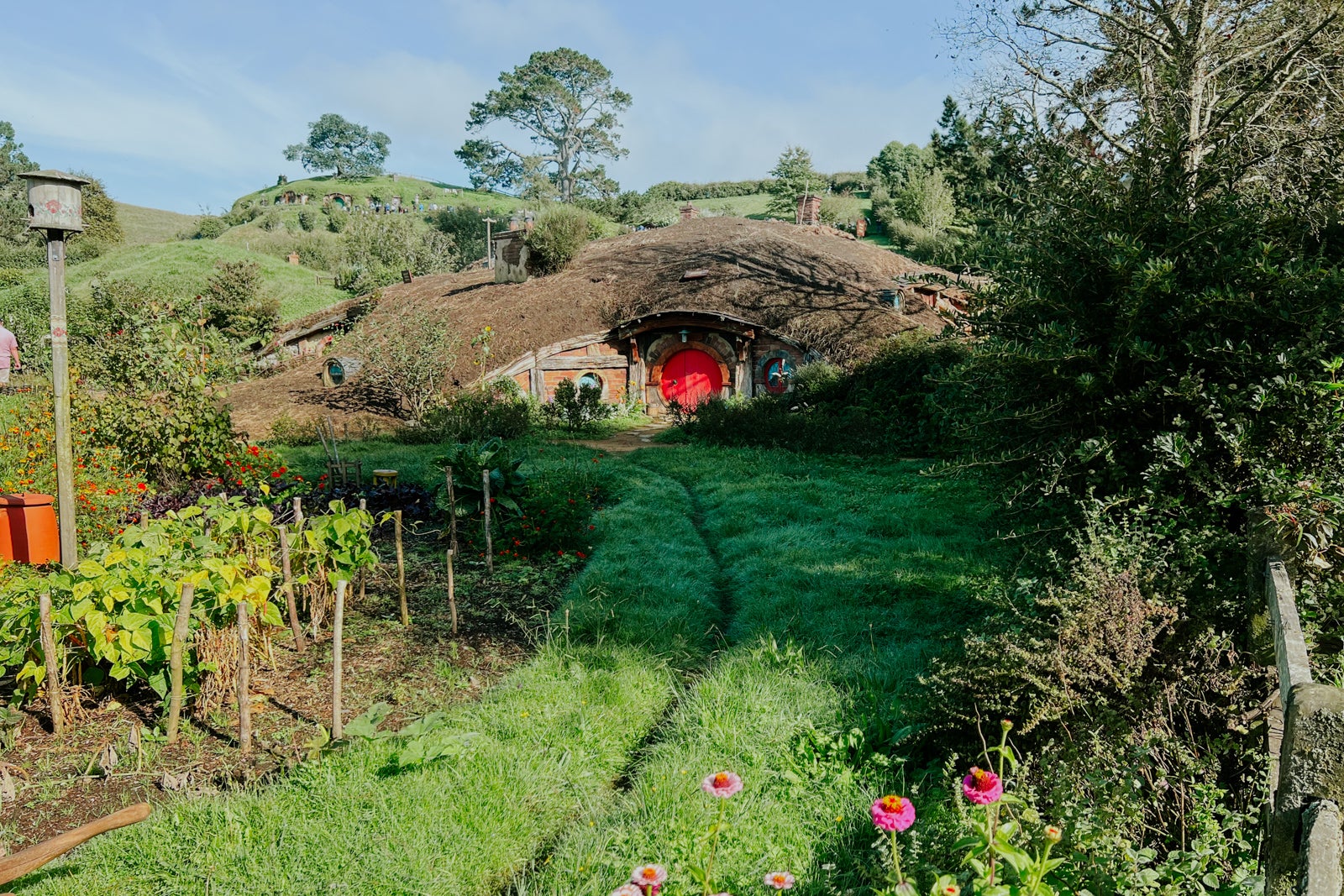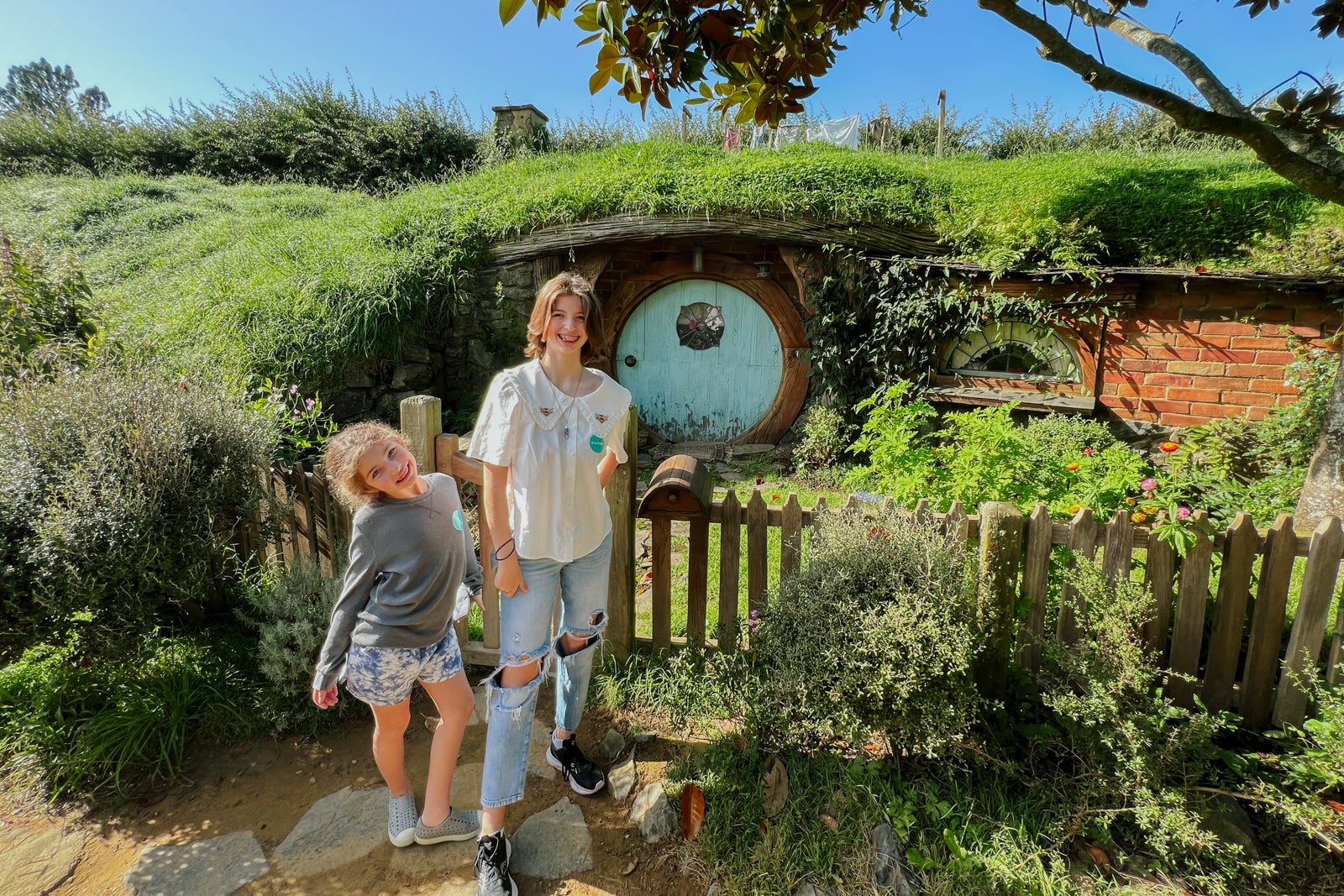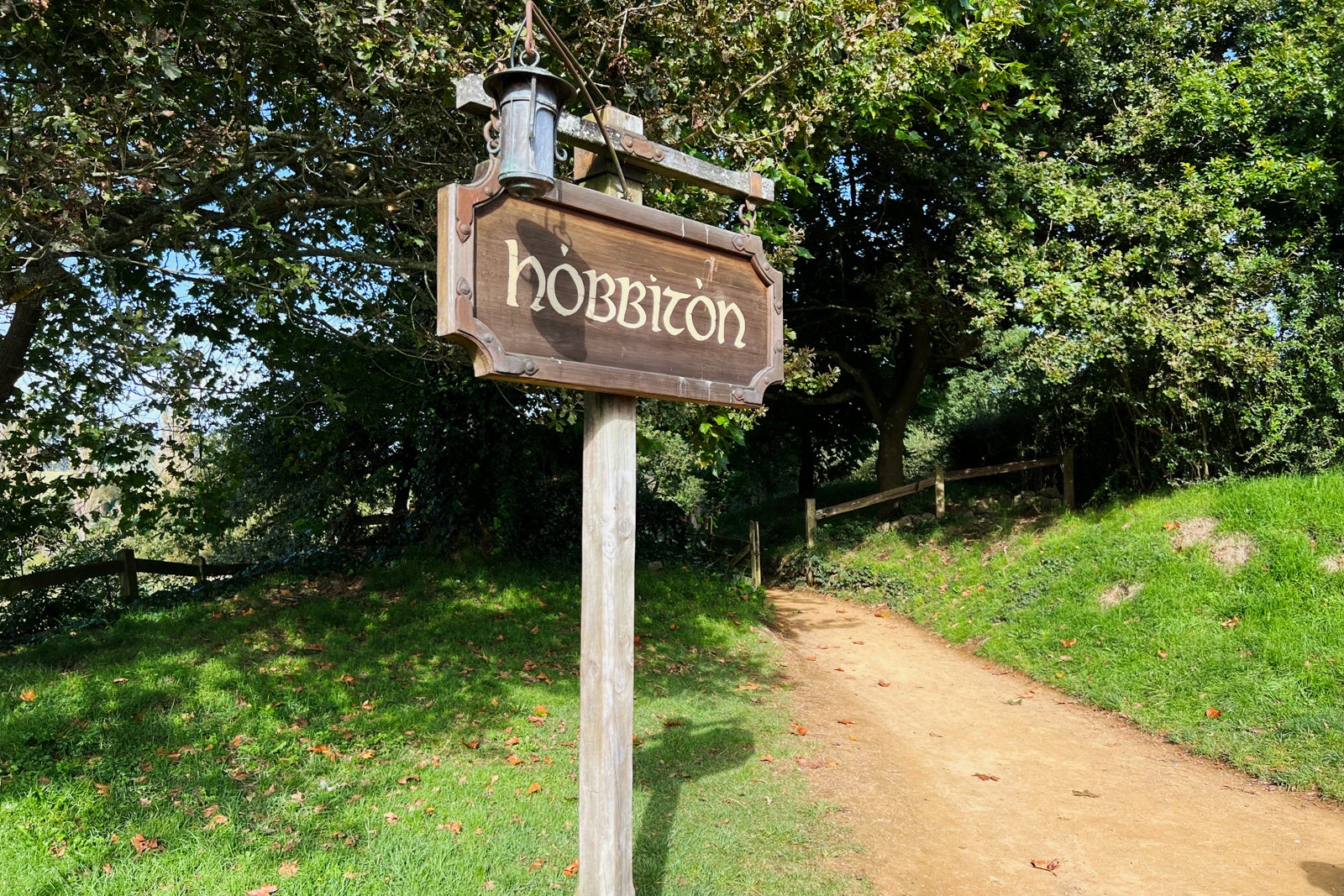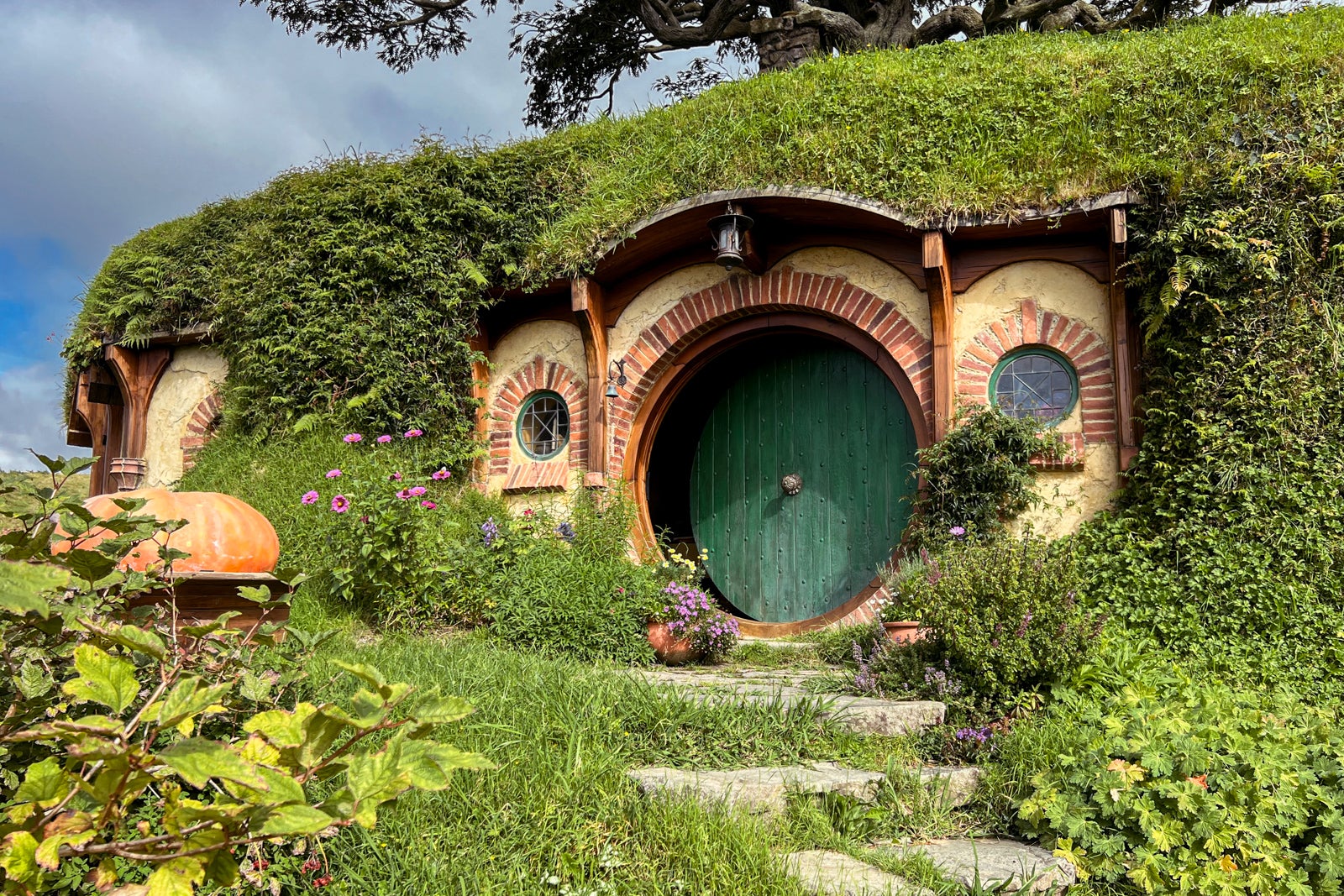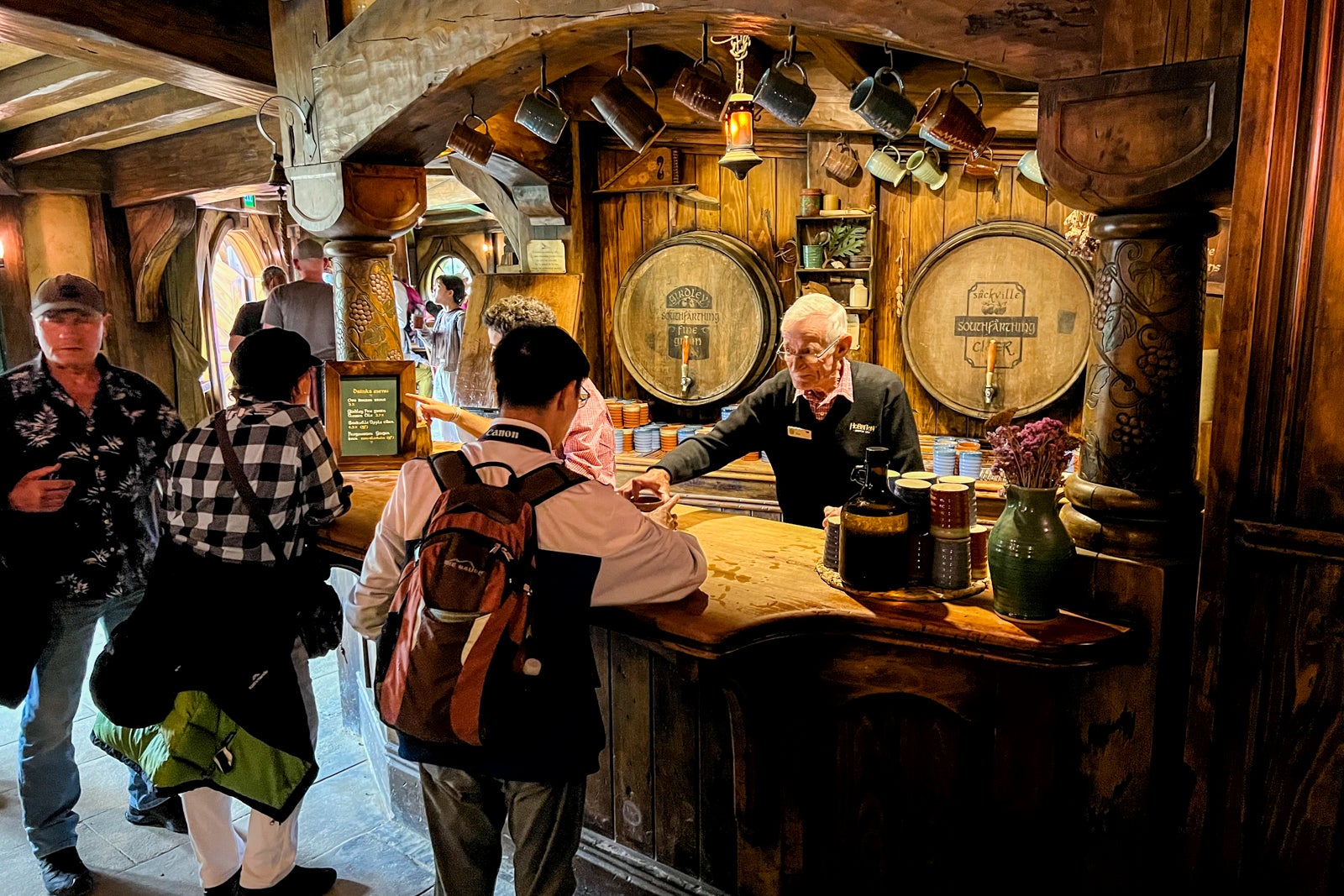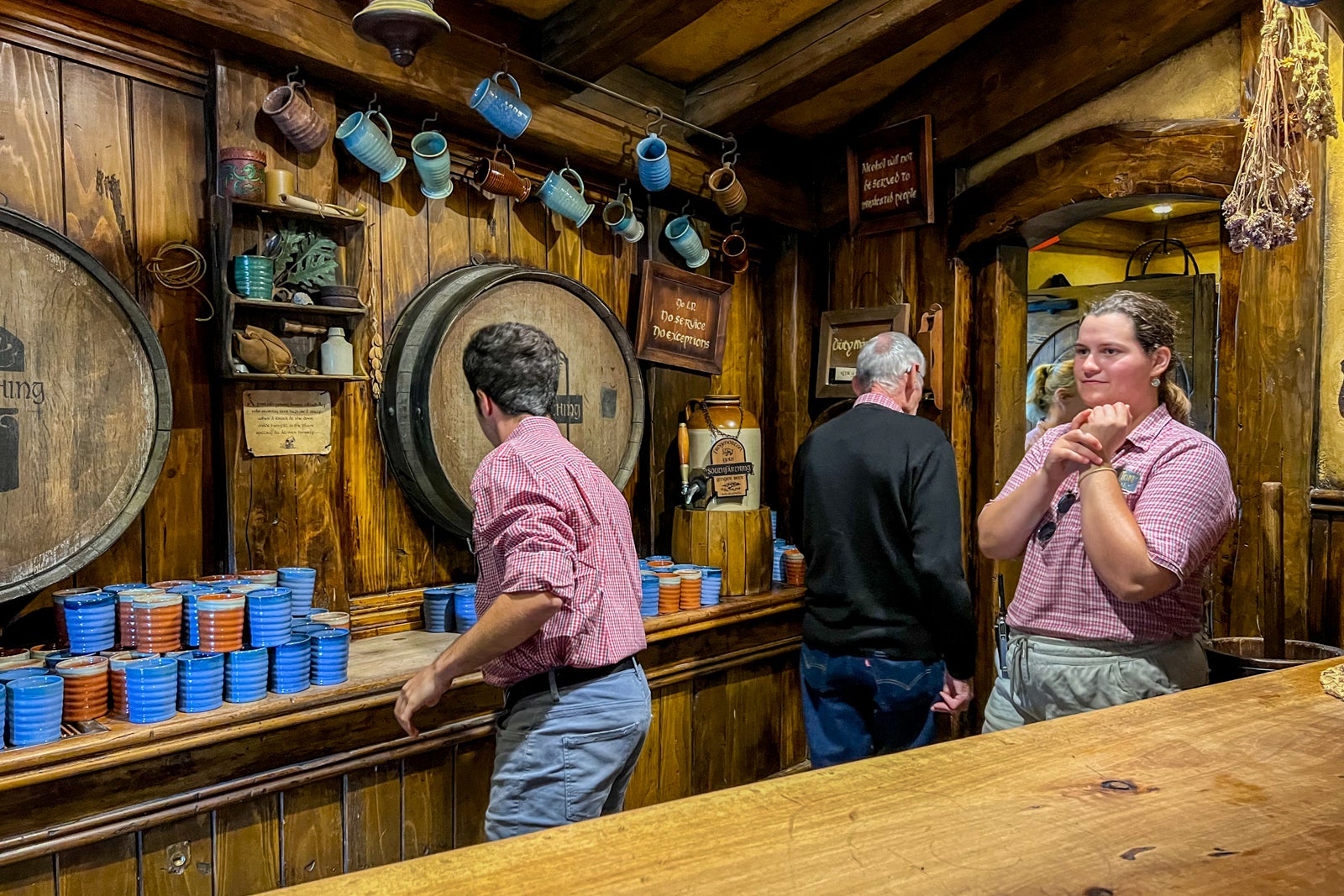 Where to stay in Auckland
Although there are several points hotels in Auckland, one of the best is the luxurious Park Hyatt Auckland, which is walkable to the ferry terminal and relatively affordable by Park Hyatt standards. A Category 5 Hyatt property, room rates range between 17,000 and 23,000 World of Hyatt points per night. I wholeheartedly recommend it for both its fabulous infinity pool and its spacious and stylish rooms.
If you happen to use a Hyatt Globalist suite upgrade or points to secure a suite (as we did), know that the 764-square-foot Harbour Suite is a fantastic treat. Offering the same layout as the Park Suite (just without the harbor view), the Harbour Suite was gorgeous and functional, with an enormous bathroom, a huge living space and a separate sleeping area. The thoughtful design allowed us to have a rollaway bed for our teen in the living room, a table to eat dinner at and plenty of space for all our jackets, shoes, bags, backpacks and more so we could easily stay organized.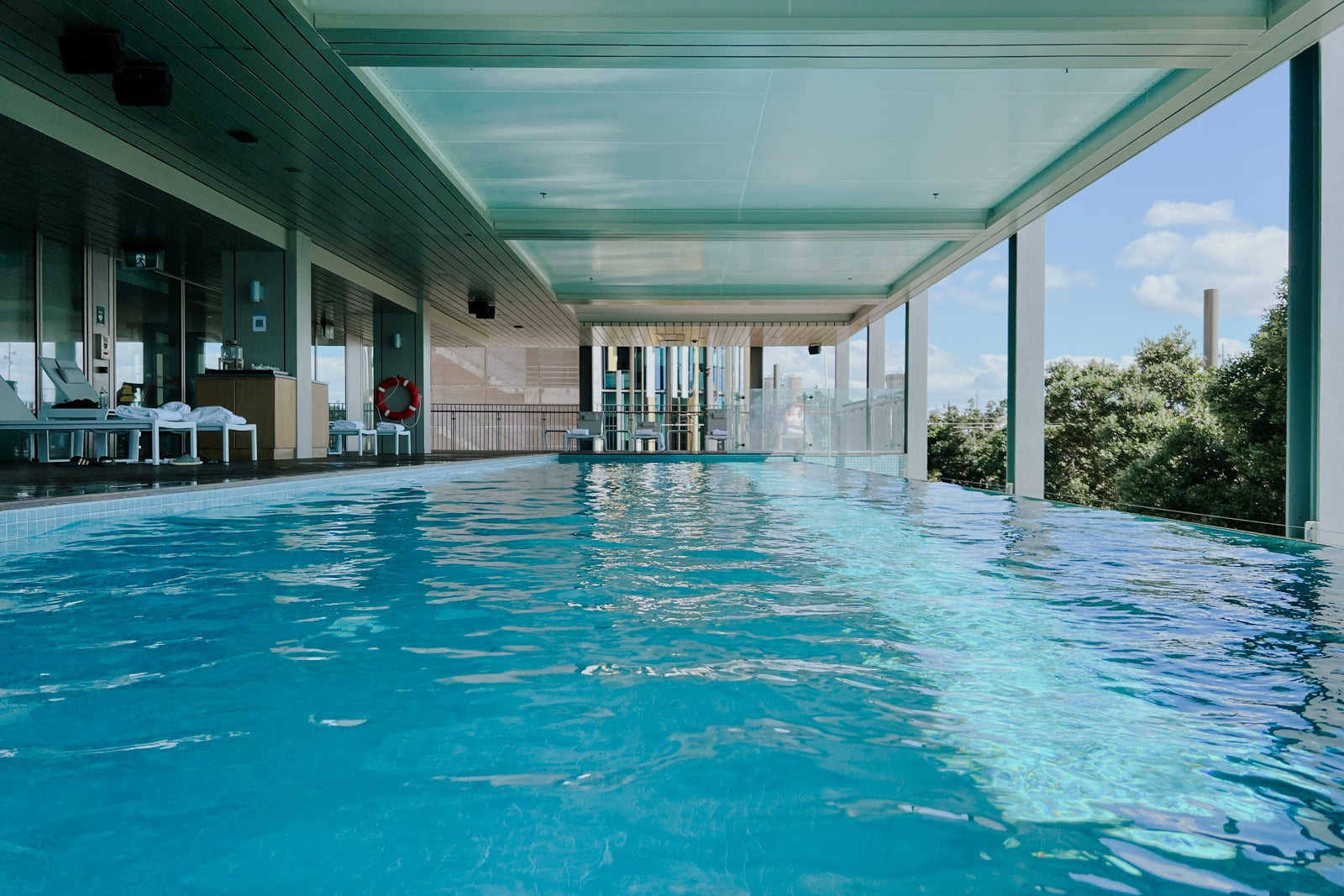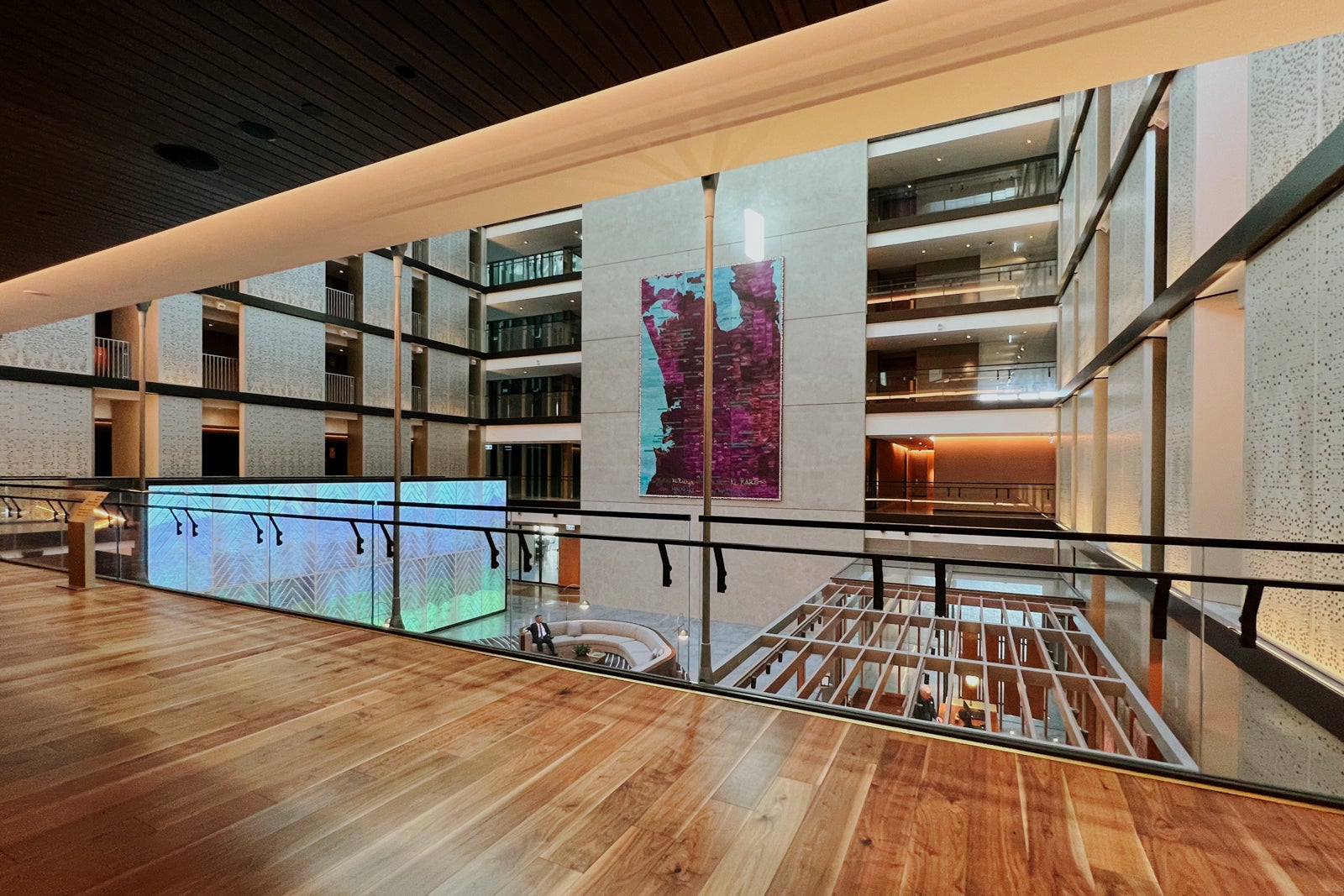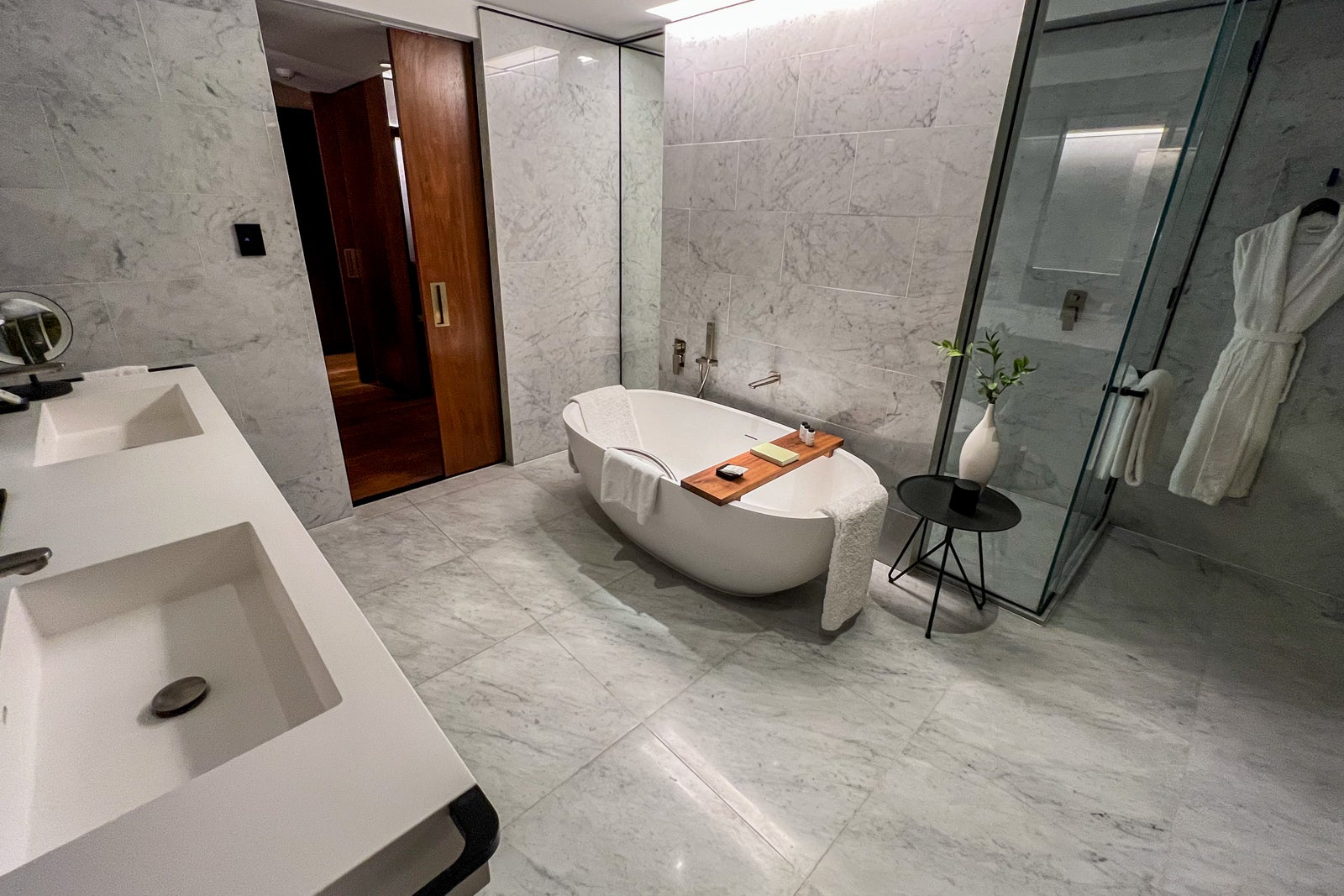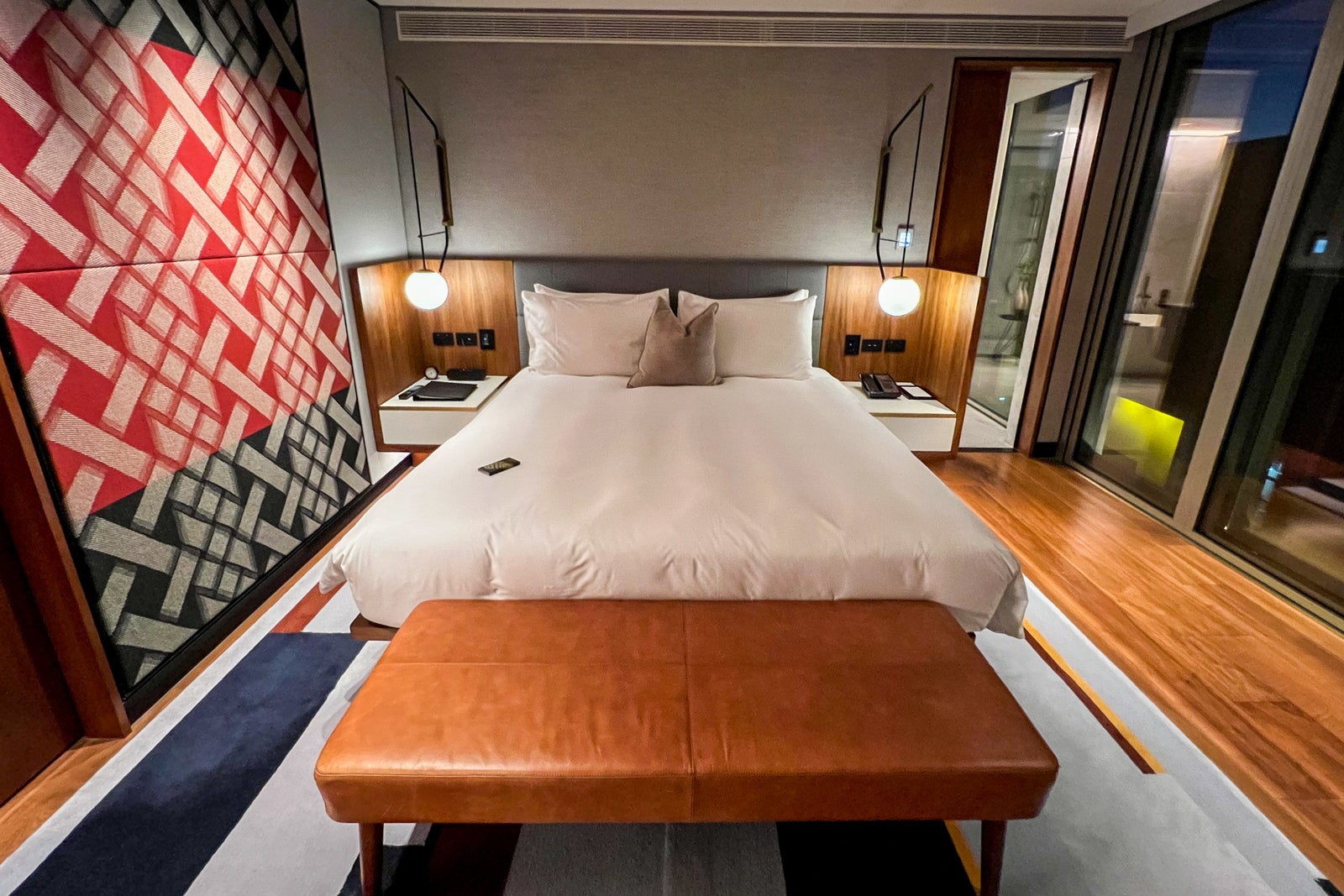 Since the occupancy limit for rooms and suites here is three people, know that most families will need to book a connecting room. We reserved ours with cash via the American Express Fine Hotels + Resorts program so we could use the annual $200 hotel credit we still had on my Platinum Card® from American Express. You can also reserve connecting rooms with World of Hyatt points, but remember that only standard connecting rooms (meaning ones that don't connect to suites) are bookable this way.
Things to do in Queenstown with a family
While it's true that Queenstown is great for seriously adventurous activities, such as paragliding, bungee jumping and skydiving, you don't have to be quite that extreme to have a great time on the South Island.
Even though free-falling wasn't on our family's agenda this trip — believe it or not, even young children can participate in paragliding and skydiving here once the weight requirements have been met, which start around 44 pounds for paragliding — we still had amazing adventures in Queenstown that I'd fully recommend.
Shotover Jet
To start, I cannot suggest the Shotover Jet — a fast-paced boat ride through the Shotover Canyons, located about a 10-minute shuttle ride outside of town — enough. This twin-engine boat does 360-degree turns, zooms around the canyon in just a few inches of water and goes over 50 mph.
We had smiles (sometimes accompanied by water splashes) plastered on our faces the entire time.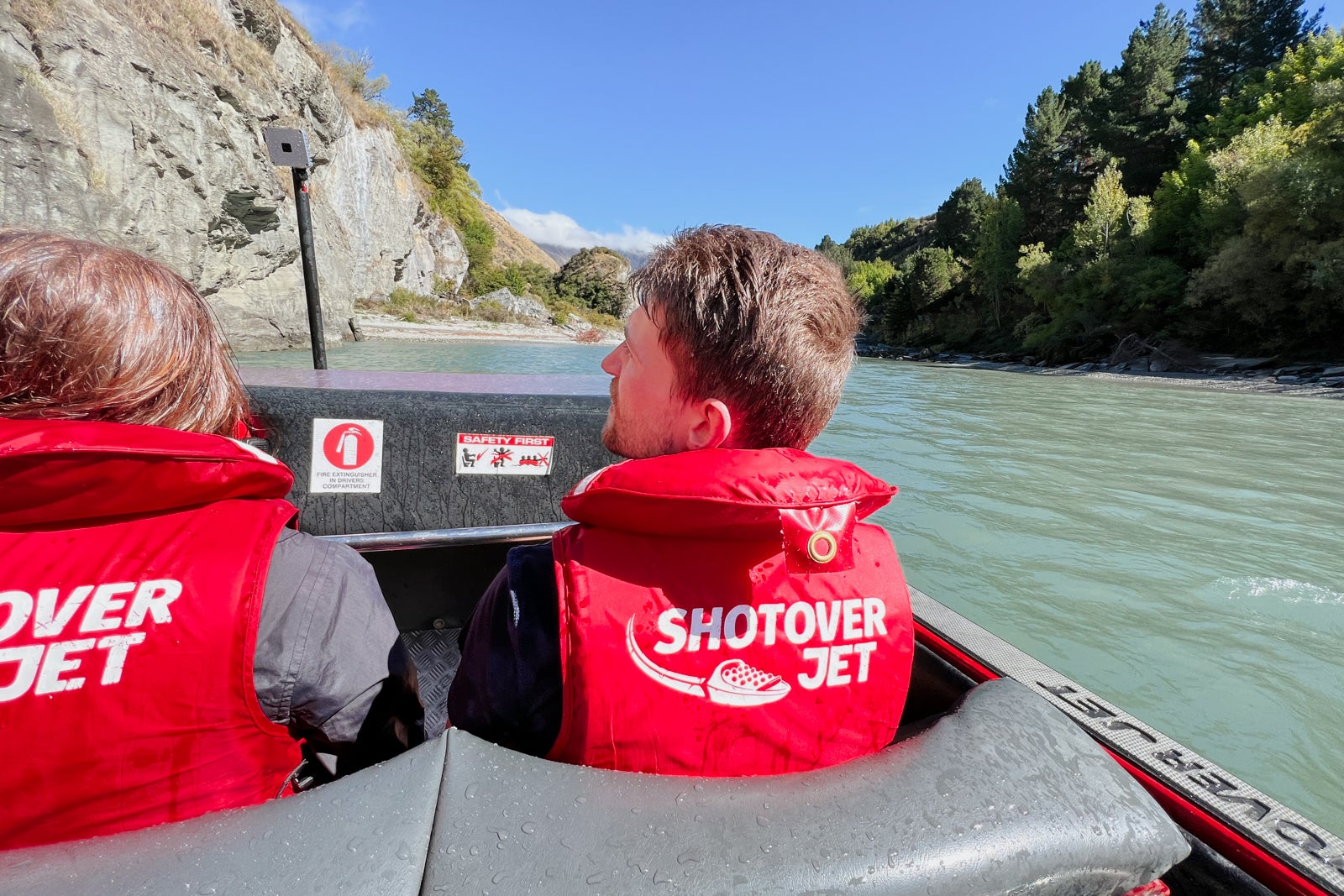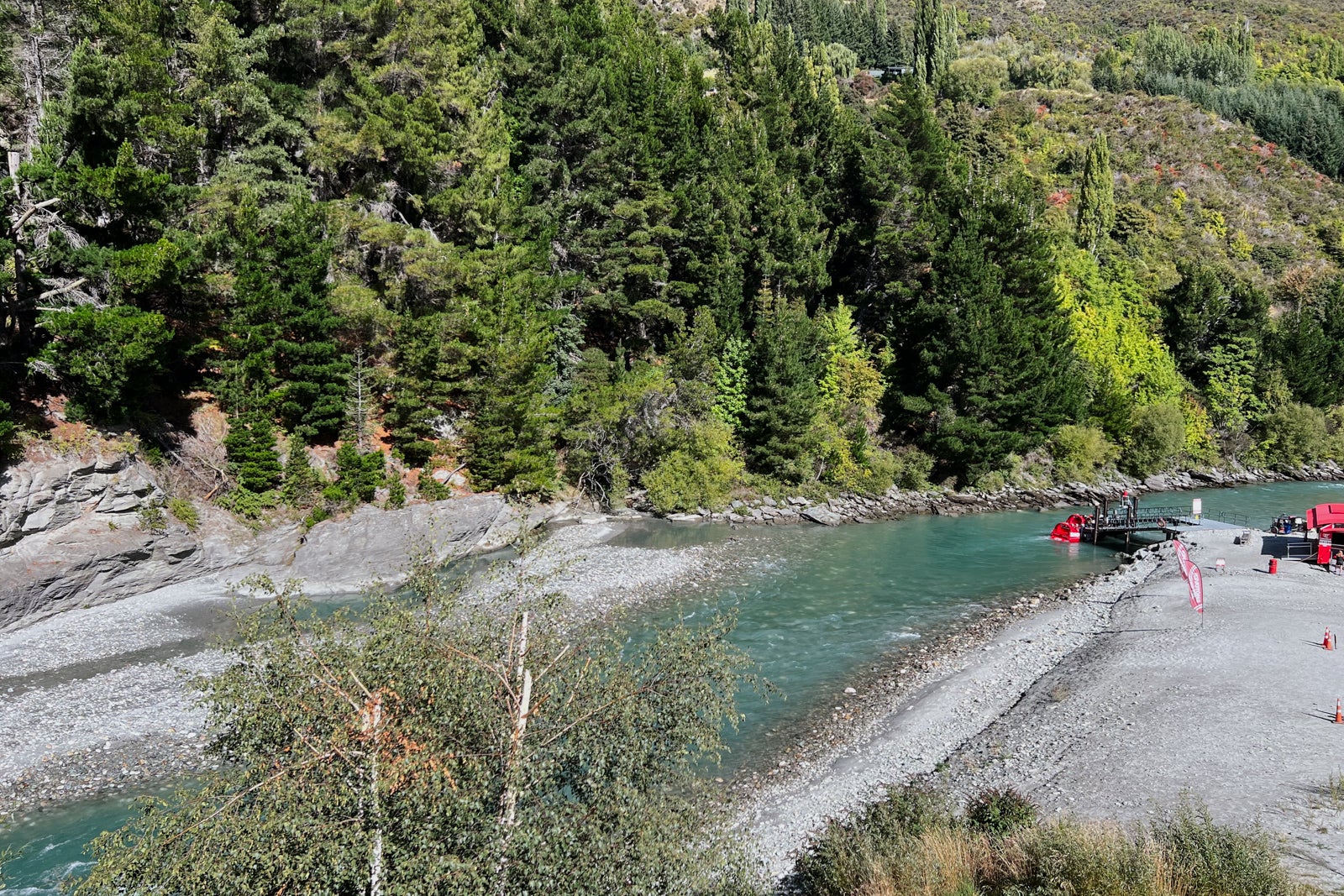 Onsen Hot Pools
If you want to relax after a thrilling ride through the canyons, visit the Onsen Hot Pools, which overlook the same river the Shotover Jet boats use. Here, you have access to a private hot tub, which can accommodate up to four people, for an hour. Children are allowed until 4 p.m. daily.
While the views from the hot tub are more than worth the fee, know that your rental also comes with a drink and snack per person. Options include juice, wine, beer, chocolate and ice cream, so there's plenty for both adults and kids.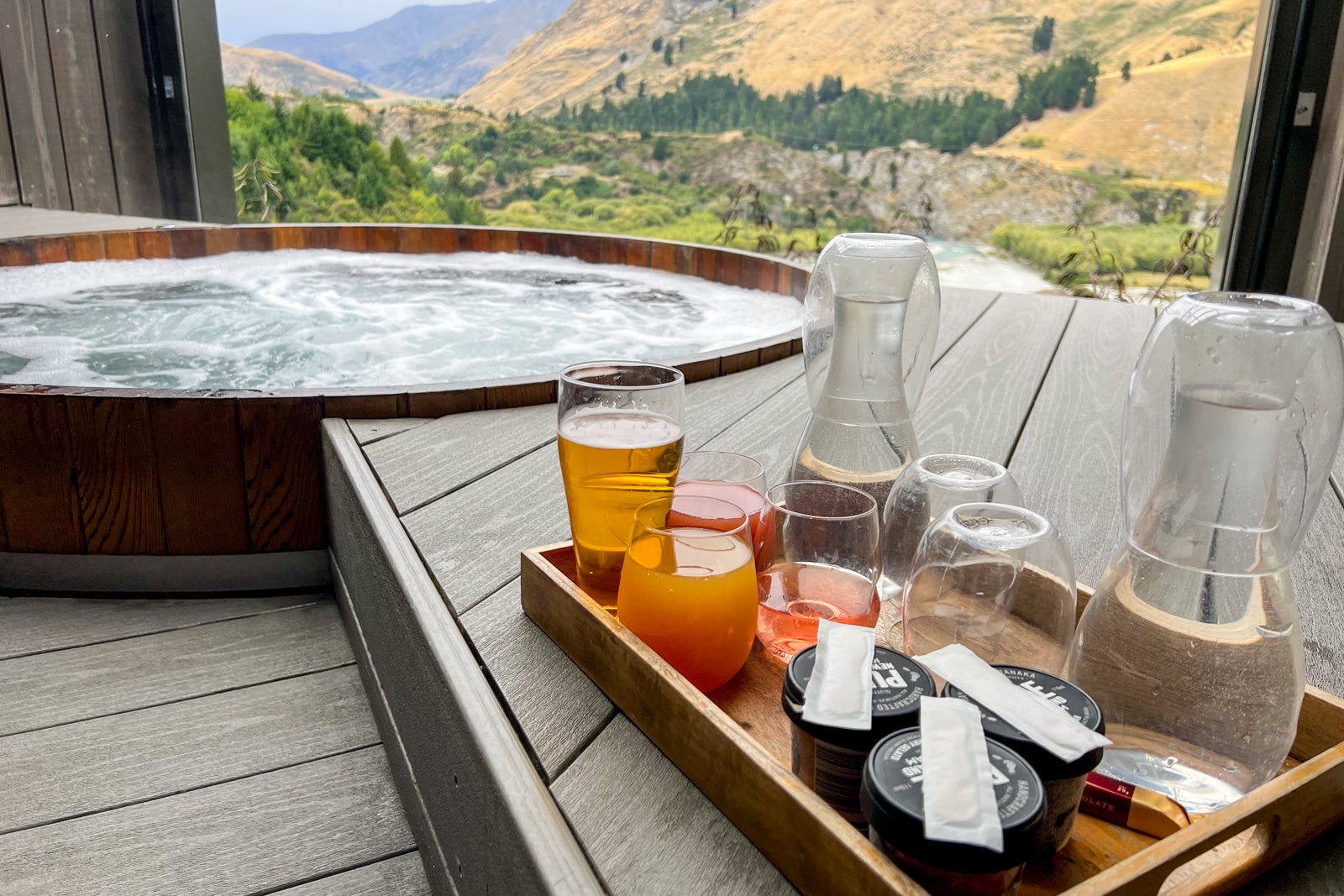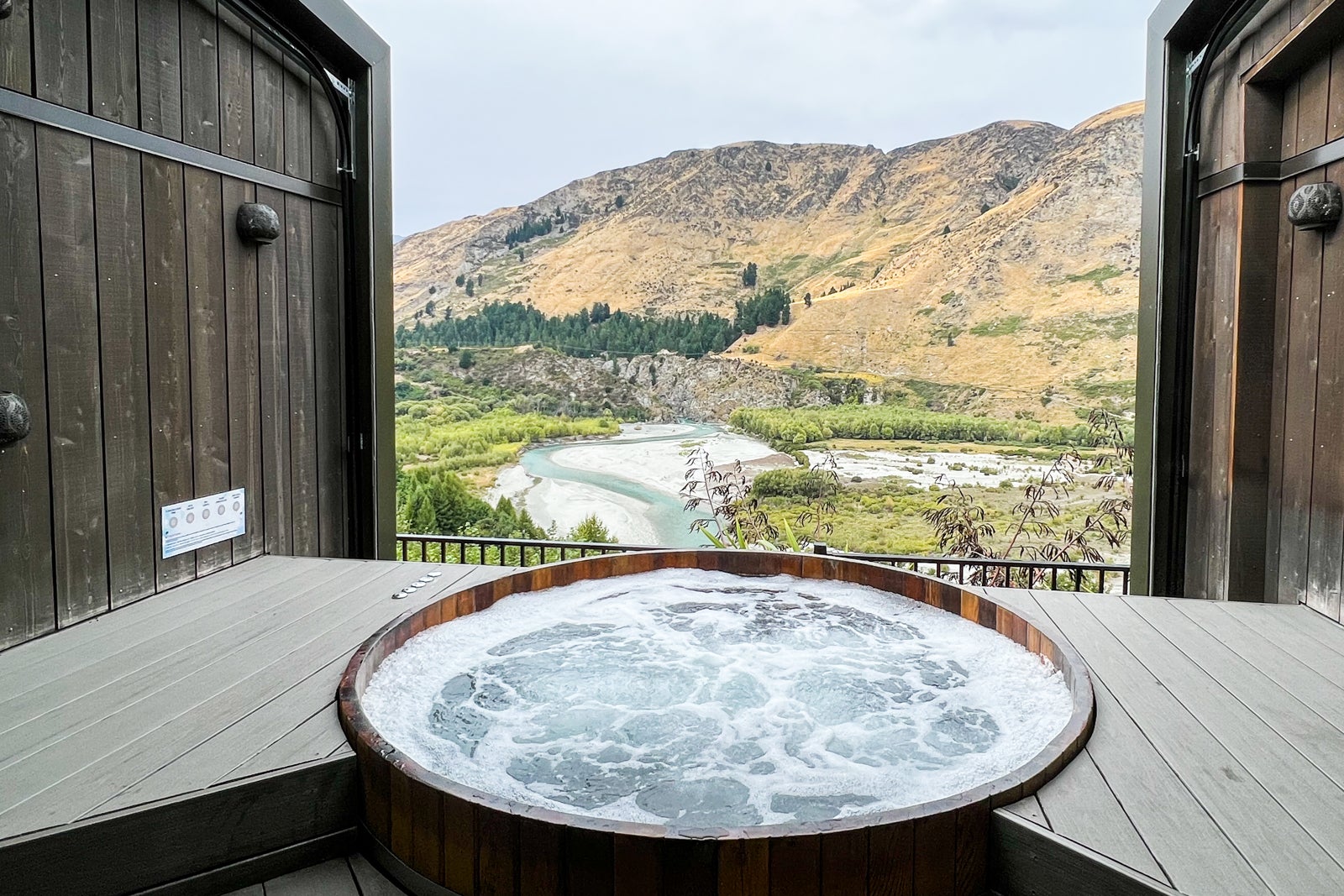 Skyline Queenstown
A visit to Queenstown should, without question, include a ride on the Skyline Queenstown gondola. You'll not only get to take in breathtaking mountain and lake views, but you'll also have the chance to enjoy a few laps on the luge track.
Packages that include the luge, gondola and even lunch or dinner are available. There are family packages that bundle all these activities with various numbers of luge rides, too, to make the experience slightly less expensive. The family of four package that includes the gondola ride, three luge rides per person and a buffet dinner came to NZ$421 ($261).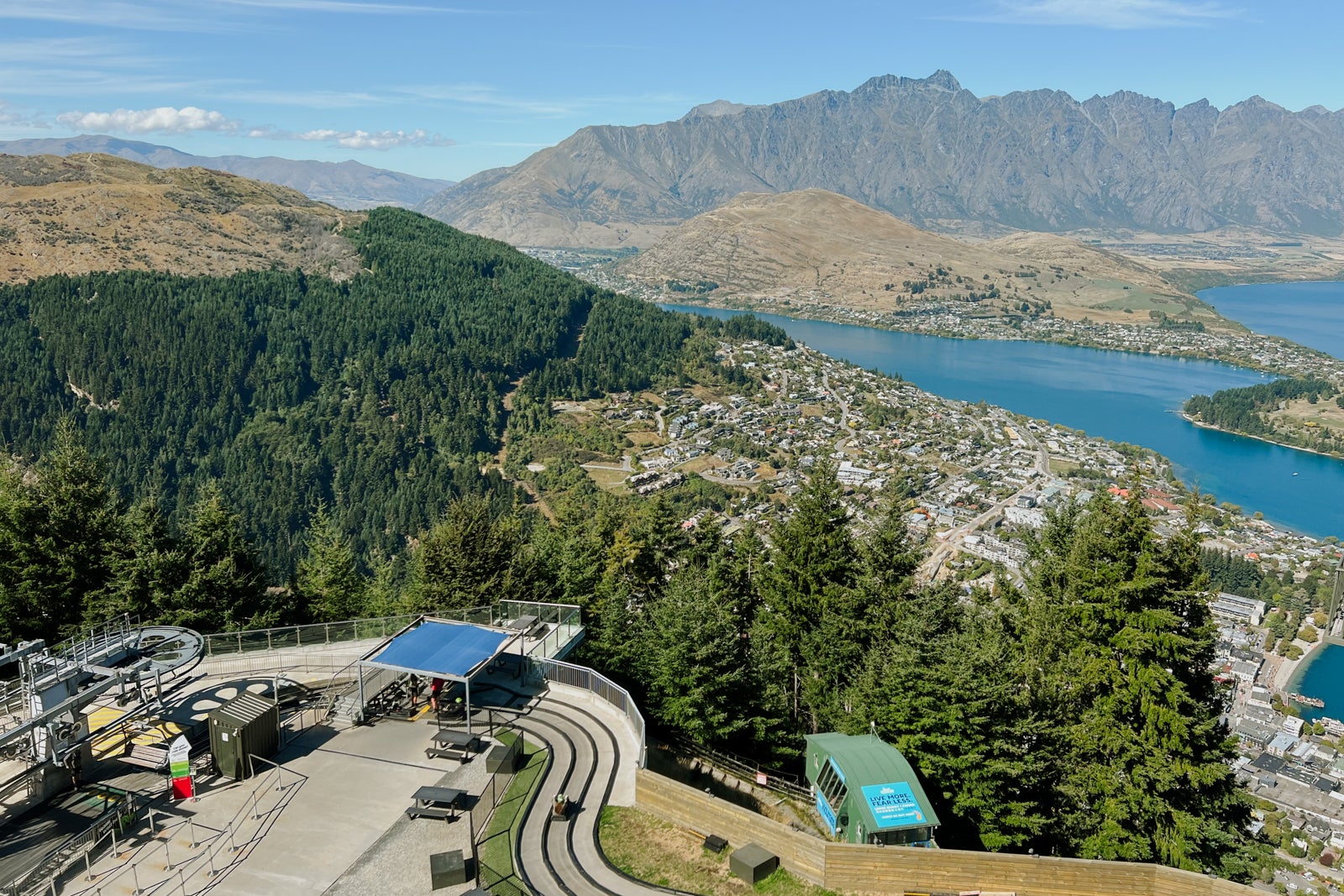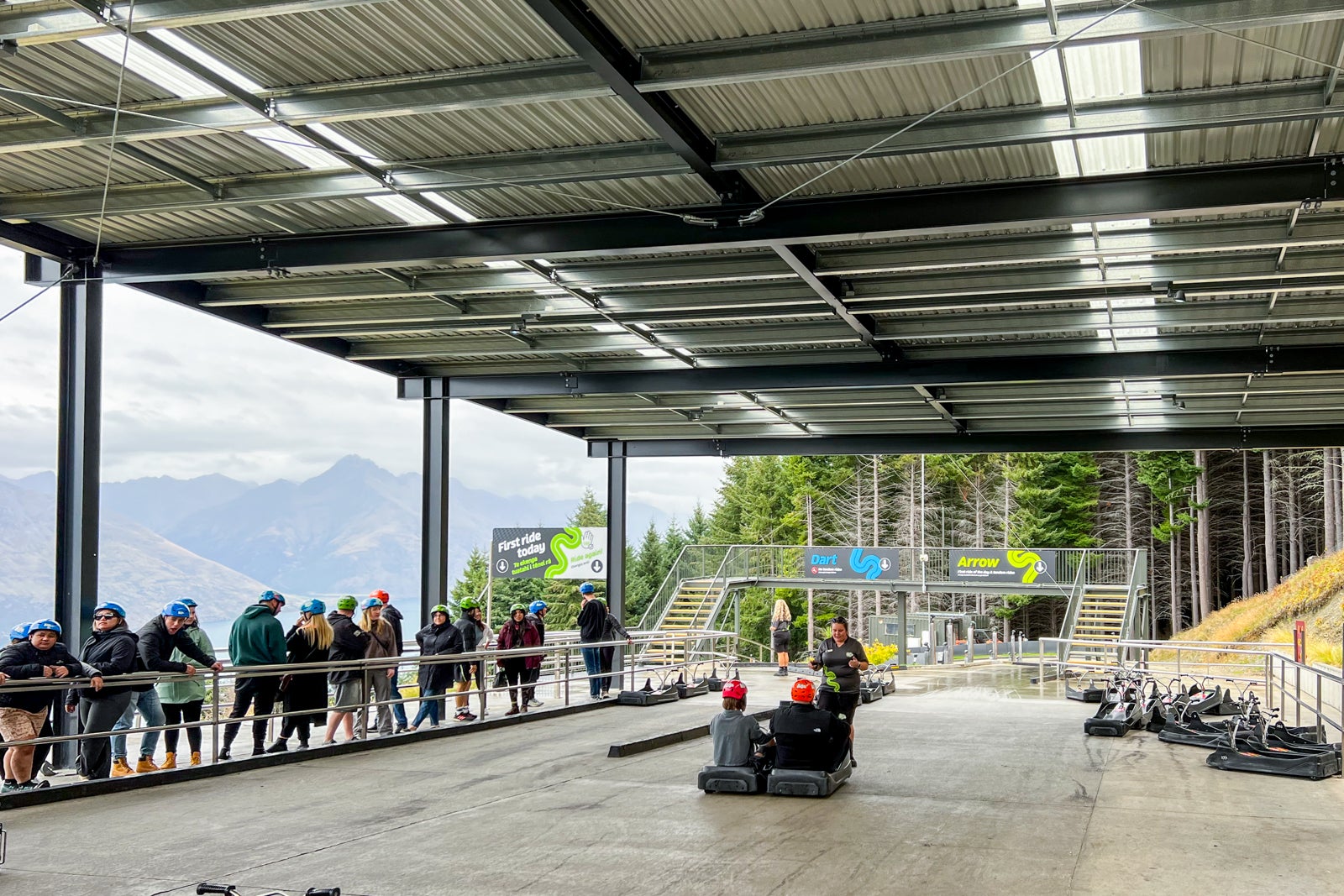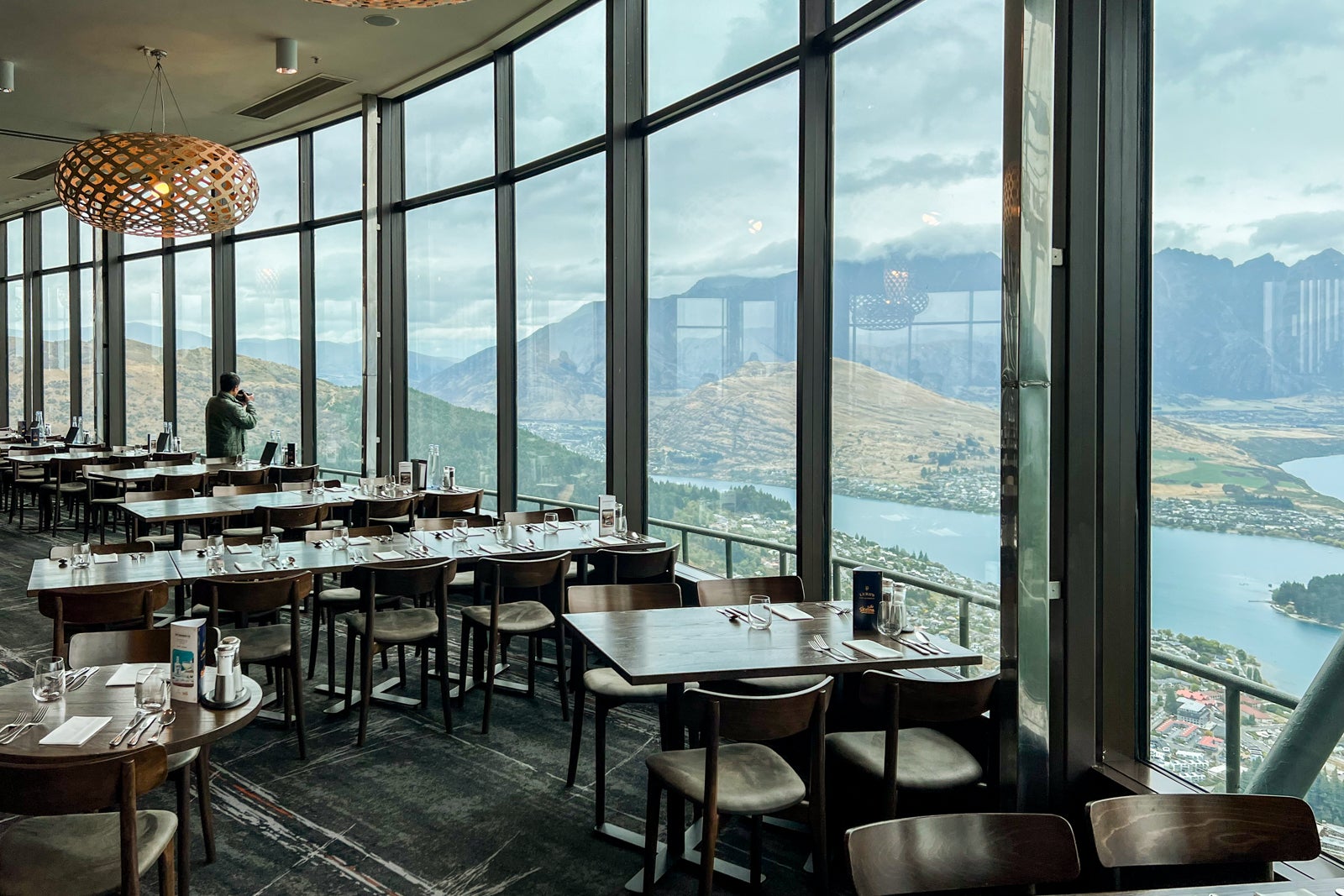 While the buffet was certainly decent, it was just a buffet, so if you're strapped for cash, consider a package that does not include that meal and instead eat in town at a place like Fergburger, where mouthwatering burgers start around NZ$16 ($10). My family loved the gondola and luge, though, making it one of our favorite parts of our trip. The adults in our group were satisfied after three luge rides, while the kids were eager for a couple of extra rounds.
Ziptrek Ecotours
For an additional activity to add to your gondola and luge day, book an outing with Ziptrek. In addition to getting to enjoy various zip lines, your family will learn a bit about New Zealand's conservation efforts.
We did the package with two zip lines and a drop, which ended up being the perfect family activity, as it was way more thrill-inducing than we had expected.
Where to stay in Queenstown
You'll find a few accommodation options in the heart of Queenstown. However, we chose to stay at the Hilton Queenstown Resort & Spa so we could book a family-friendly, two-bedroom suite.
Despite the hotel's interior feeling dated and overdue for renovations, we thoroughly enjoyed our stay. The more removed location did mean we had to take an Uber or water taxi to town each day, but the sweeping lake and mountain views from the property more than made up for the slight inconvenience.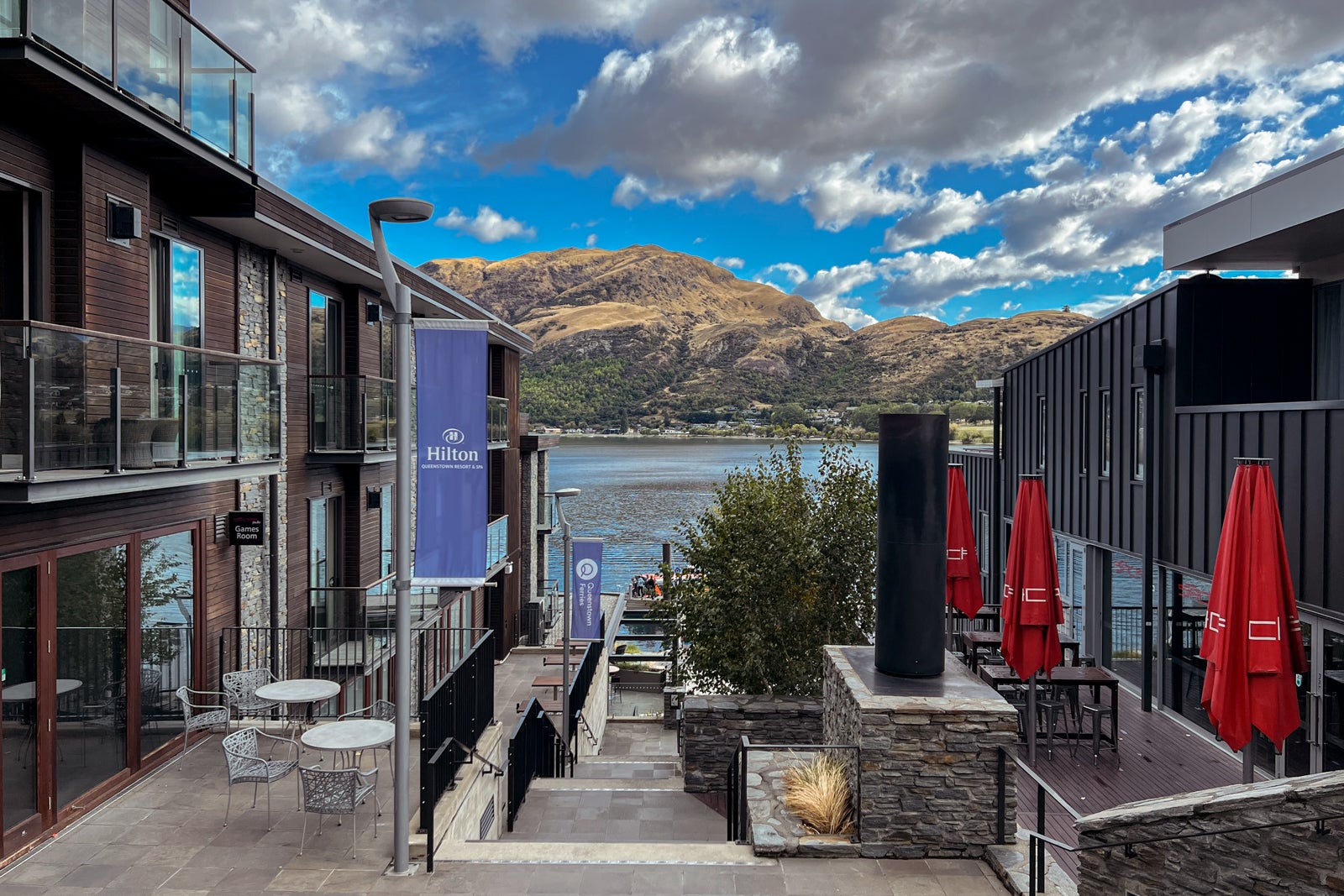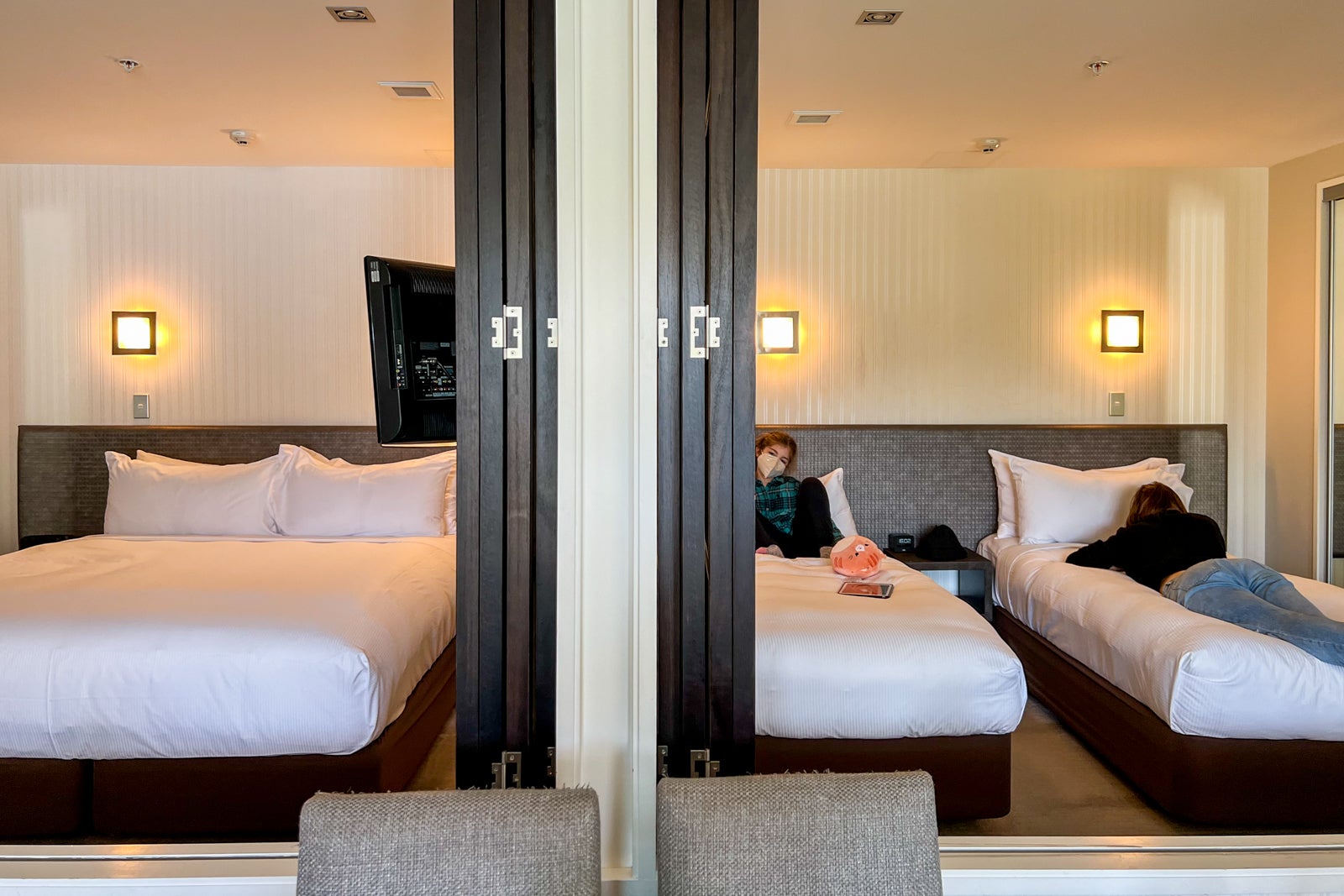 Things to do in Wellington with a family
Wellington was the surprise hit of our family trip to New Zealand. We expected to like it, but we didn't realize how much we'd love it.
The city was very compact, making it easy for our family to get around and try out different activities without committing a full day to one adventure.
Wellington Cable Car
The Wellington Cable Car is a must-do for families or anyone looking for a short, affordable ride to experience some of the city's best views. As a bonus, there's a light show in the tunnel along the way.
Once you reach the top, you'll find the entrance to the free botanical garden. The playground — with a fun zip line — is also just a five- to 10-minute walk from there, so don't skip that if you have your kids along for the ride.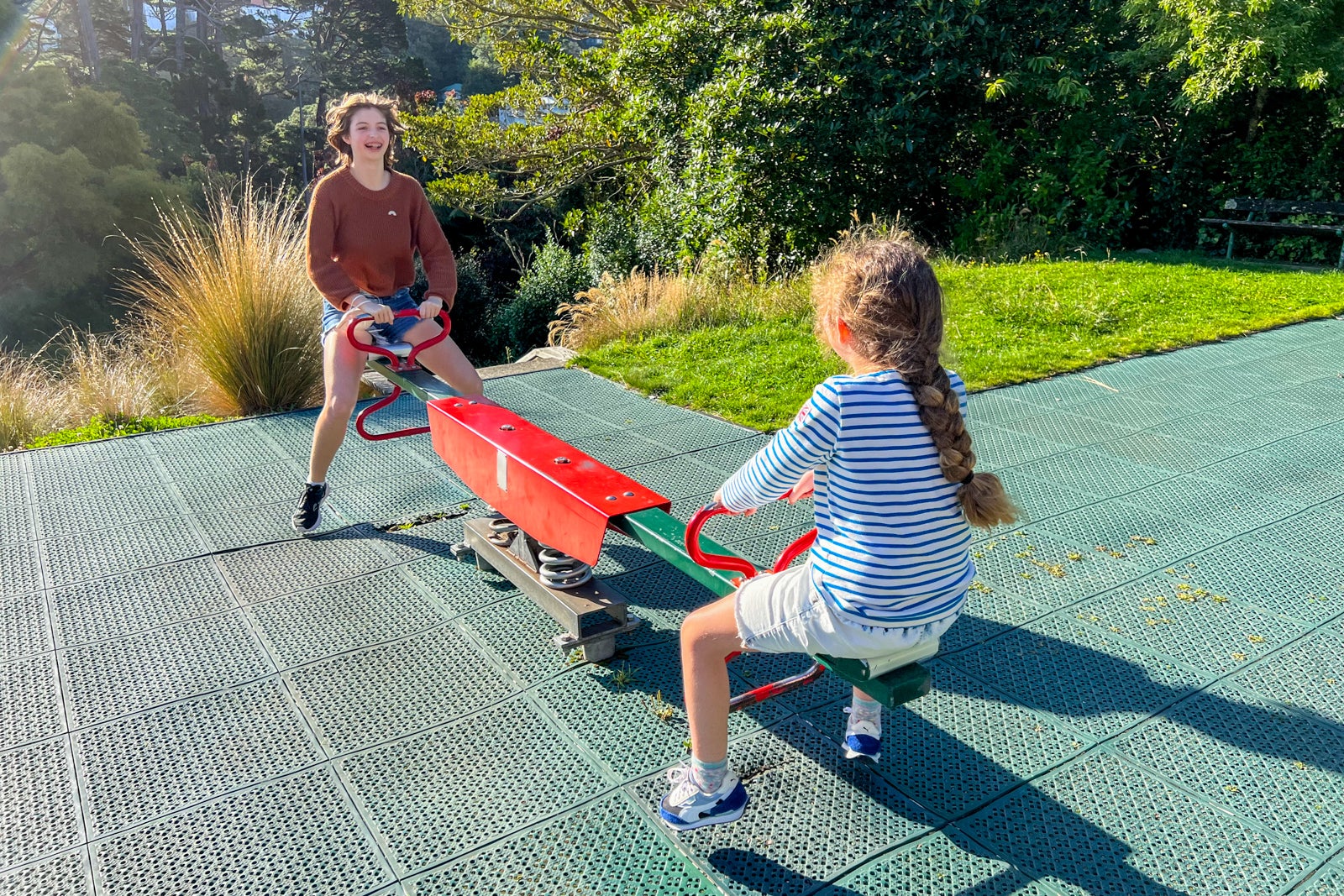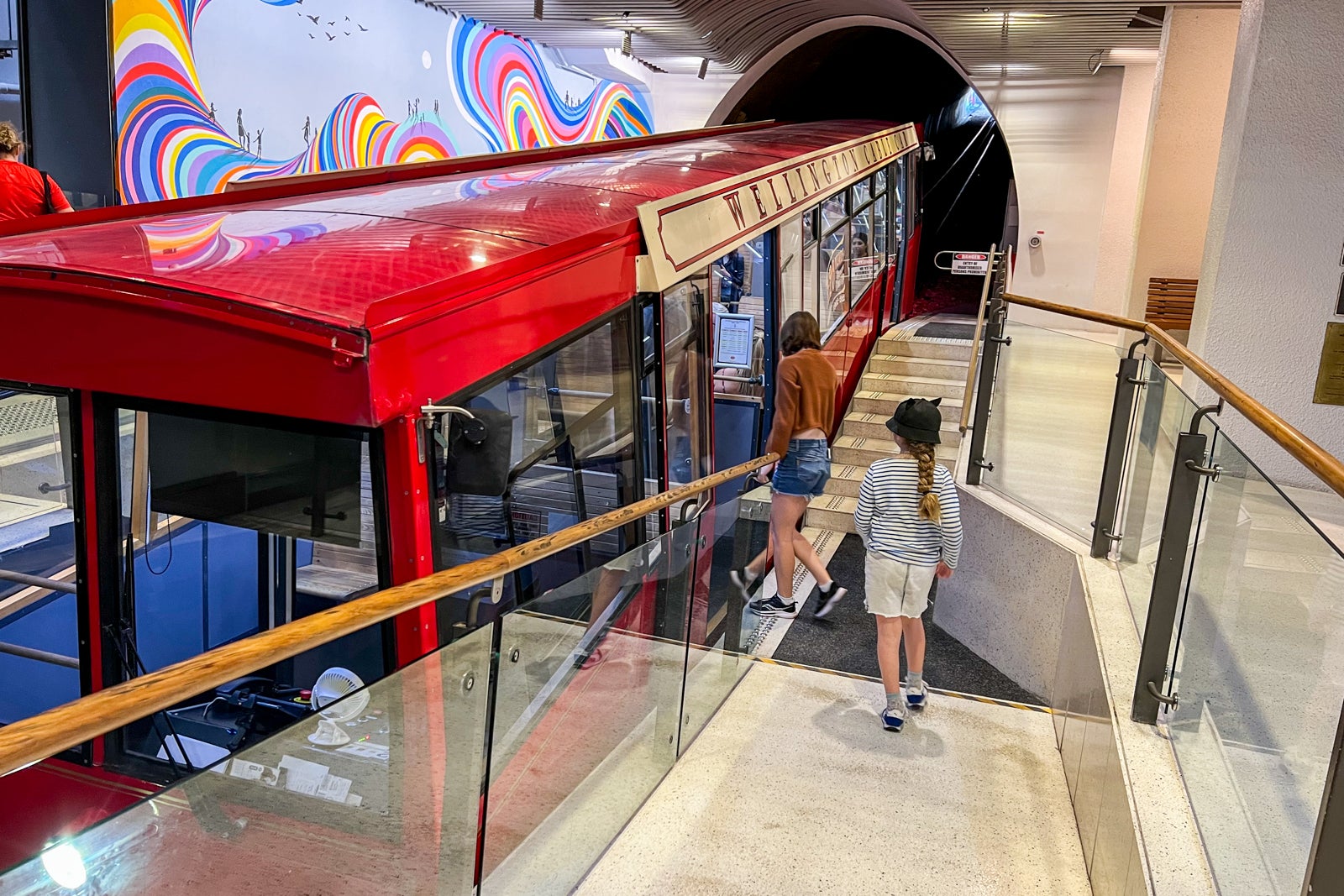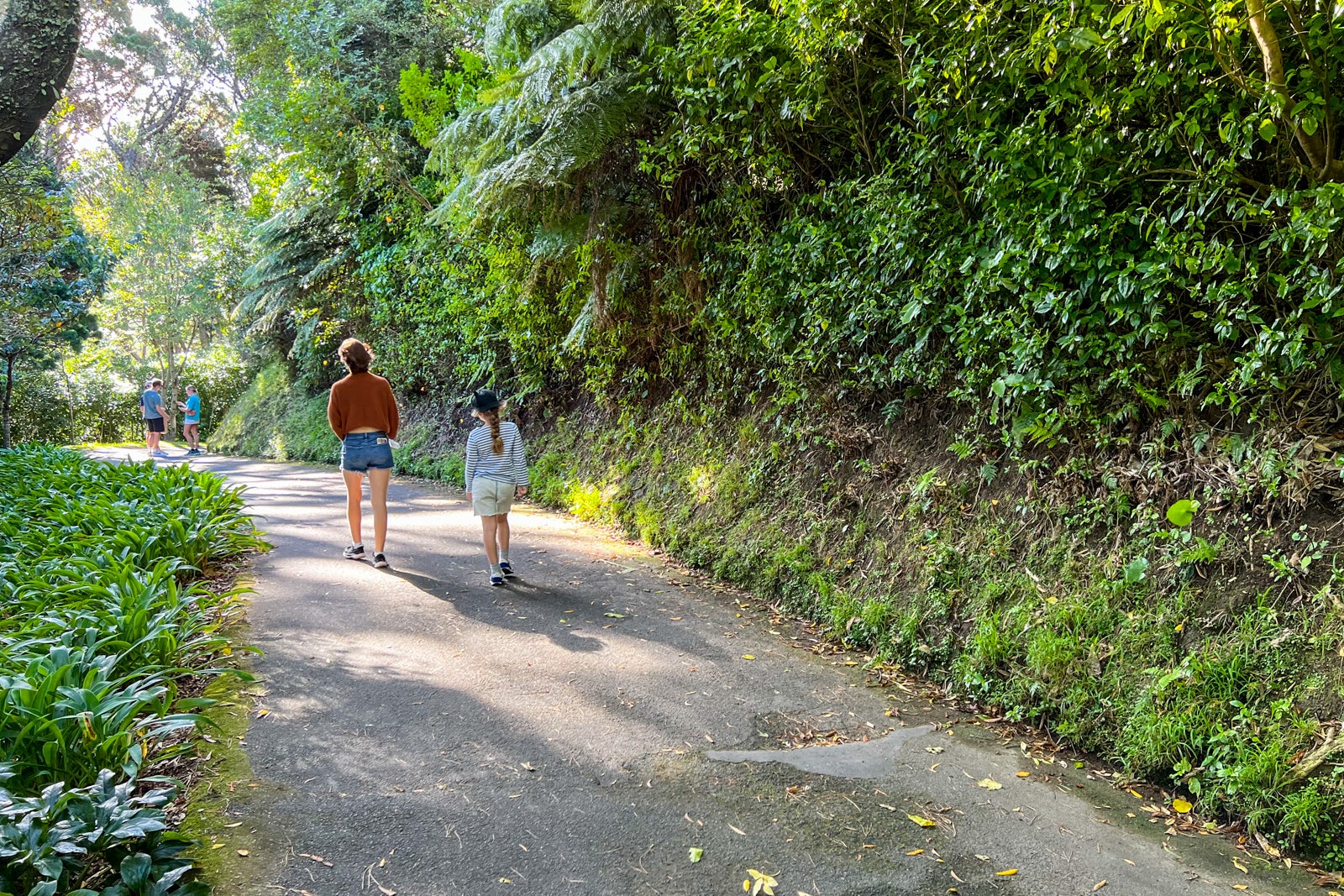 Wellington Museum and Museum of New Zealand Te Papa Tongarewa
The Wellington and Te Papa museums are solid options for some educational (but fun) activities when you need a break from New Zealand's unpredictable weather. Both accessible from almost anywhere in town, the museums are free to visit, though a donation is suggested.
The Te Papa Museum could easily fill at least a half day for families or adults. Kids will likely appreciate the house that simulates earthquakes, the "Moana" references and the animal exhibits, while adults shouldn't miss the "Gallipoli: The Scale of Our War" exhibit.
Wētā Workshop
If your group includes movie buffs, especially fans of "The Lord of the Rings," be sure to check out Wētā Workshop, where many of the film industry's costumes, prosthetics, props and more are created. Wētā Workshop is also responsible for the massive soldiers you'll see in the "Gallipoli: The Scale of Our War" exhibit at the Te Papa Museum.
You can visit the free small museum and gift shop or book one of the 90-minute tours. Should the tour be your preference, be sure to book it well in advance, as it frequently sells out.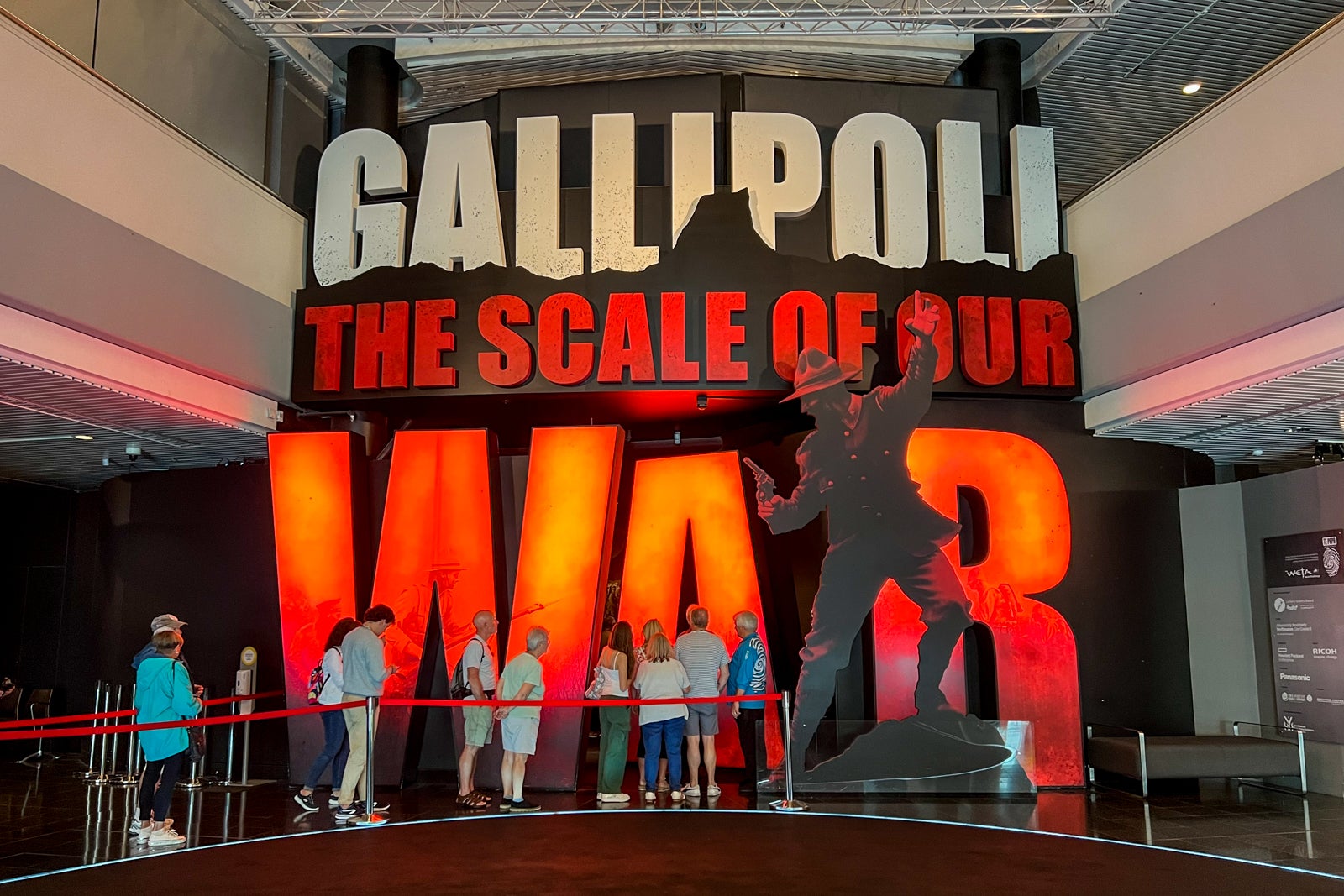 Fergs
With locations in both Wellington and Auckland, Fergs is an ideal spot to spend a few hours on a rainy day.
In Wellington, you'll find the indoor rock climbing venue by the waterfront. It has multiple climbing areas for various ages and abilities.
Admission lasts all day, so you could burn off some energy in the morning and return in the afternoon, making it possible to time your visit around the weather on any given day.
Wellington Zoo
On a sunny day, head to the Wellington Zoo, which is just a few minutes away by car from the center of town. It has some fun exhibits ranging from roaming wallabies to tigers, giraffes and red pandas.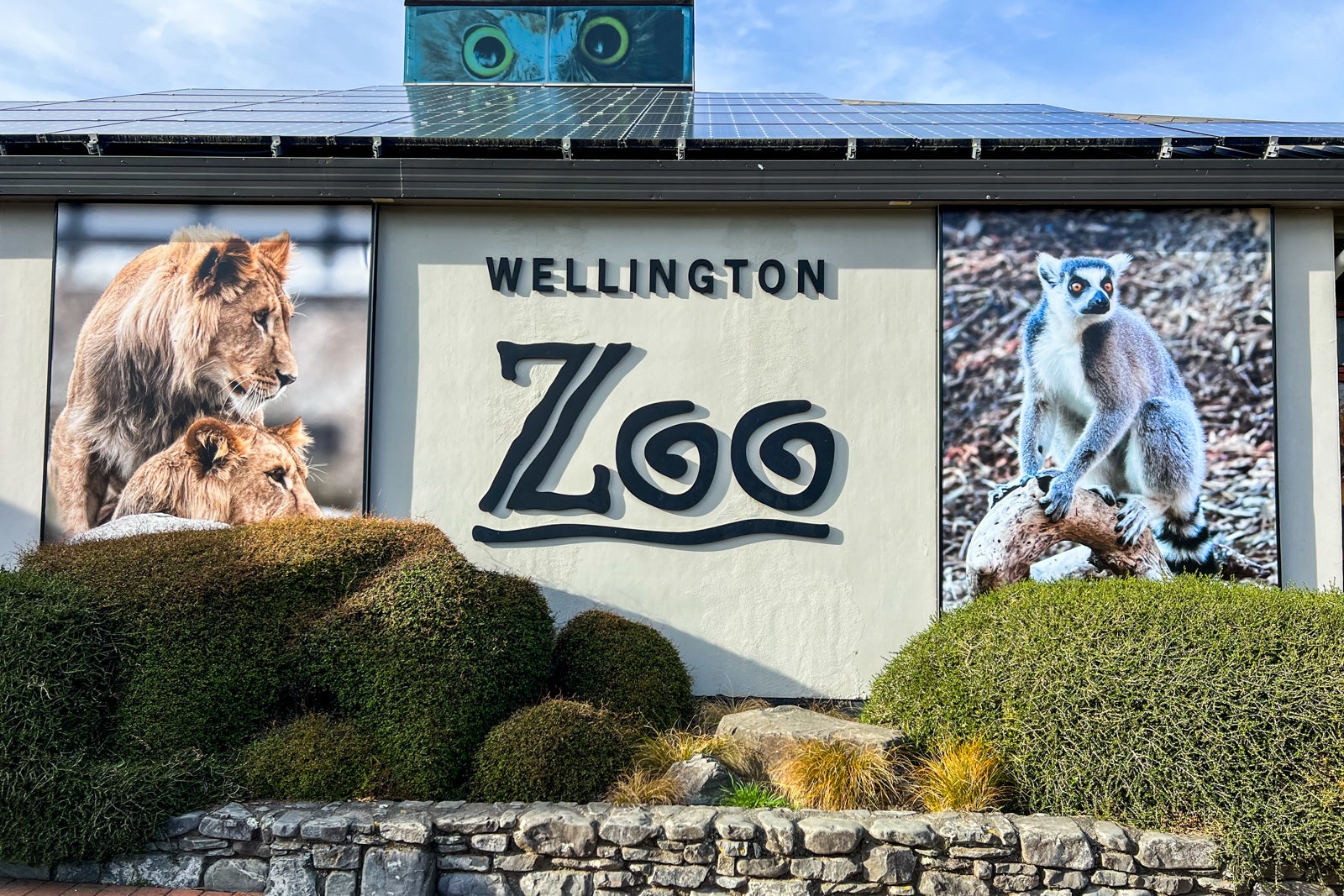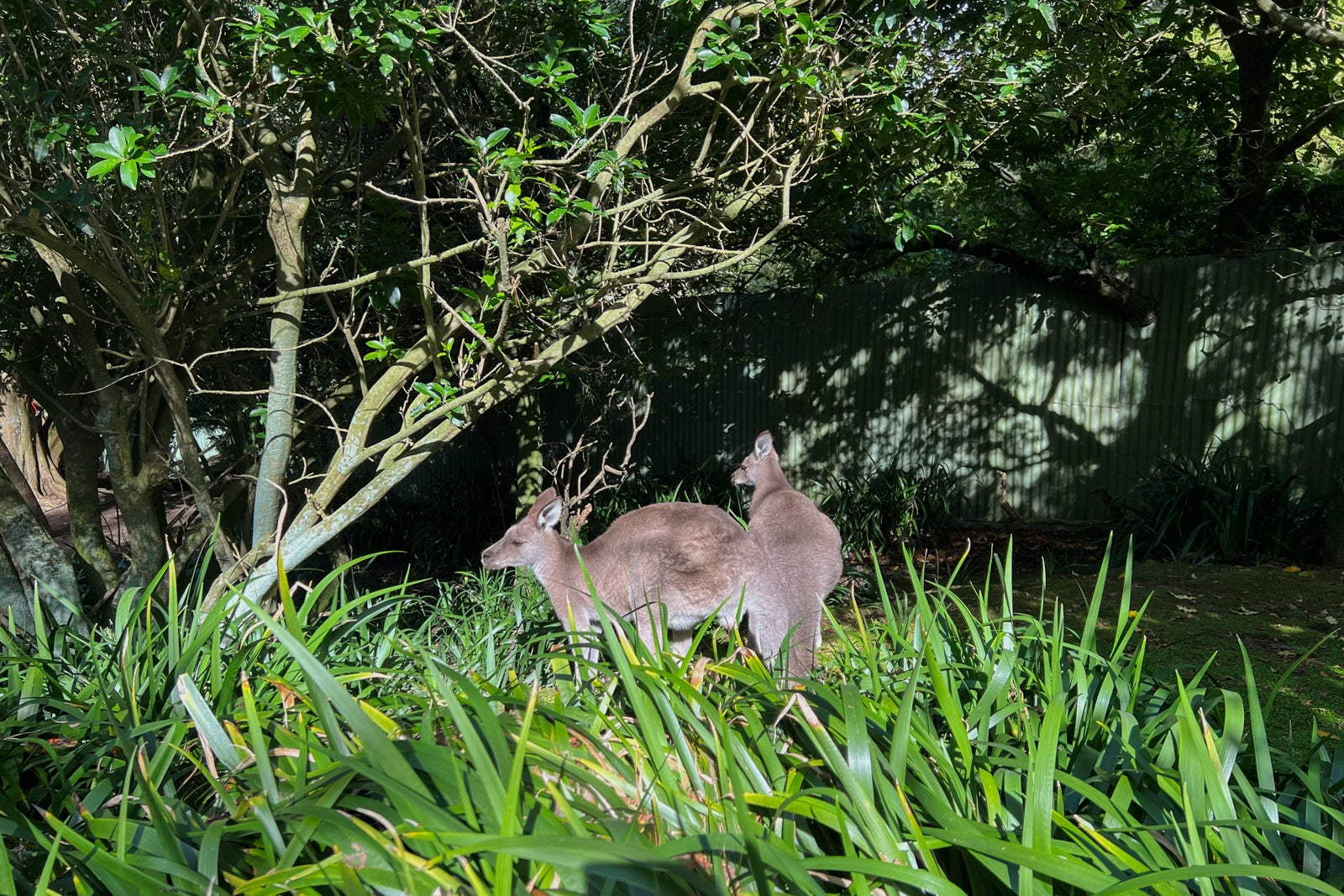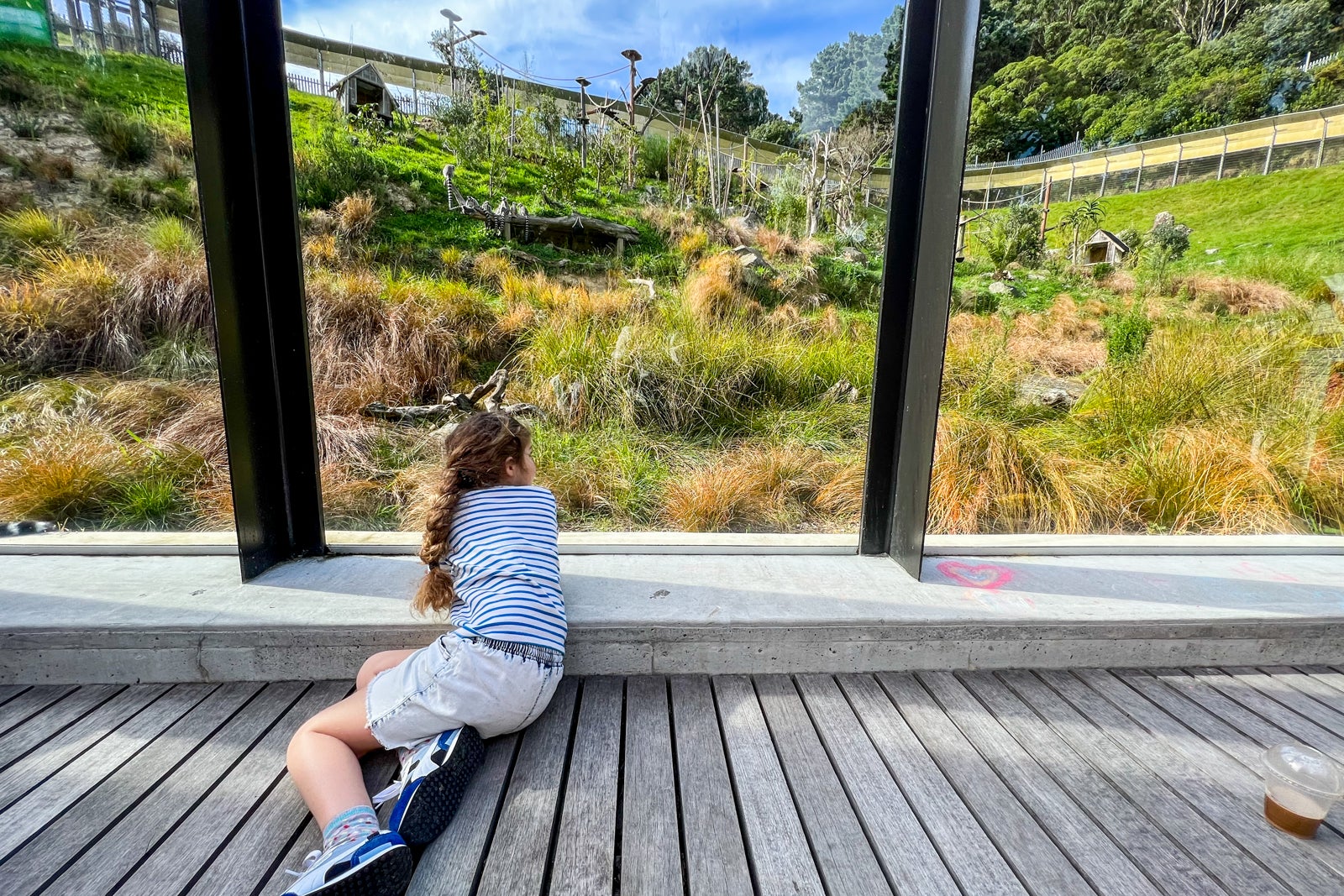 Like Wellington itself, the zoo was clean, happy, interesting and large enough to be engaging while still small enough to be manageable for an afternoon.
Cuba Street
Whether you crave a prime photo-op or a fantastic meal, Cuba Street shouldn't be missed. The area is home to a photo-friendly rainbow-painted street, plus a variety of tasty eateries serving everything from Malaysian fare to handmade pasta.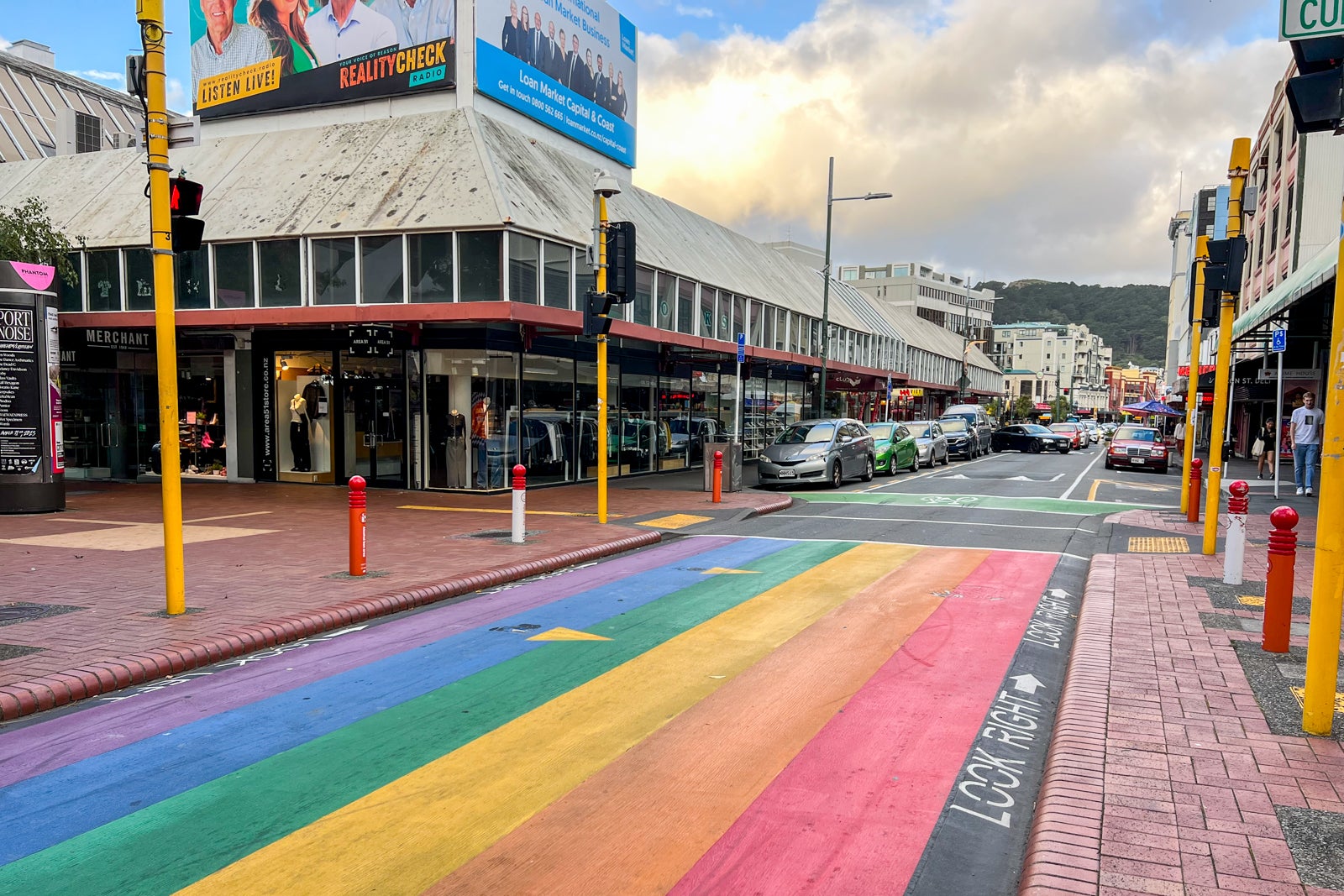 Where to stay in Wellington
If you want to use points for lodging in Wellington, consider the InterContinental Wellington and/or the DoubleTree by Hilton Wellington. Both sit in great locations and allow families of four to share one standard room if desired, a rarity in some parts of New Zealand.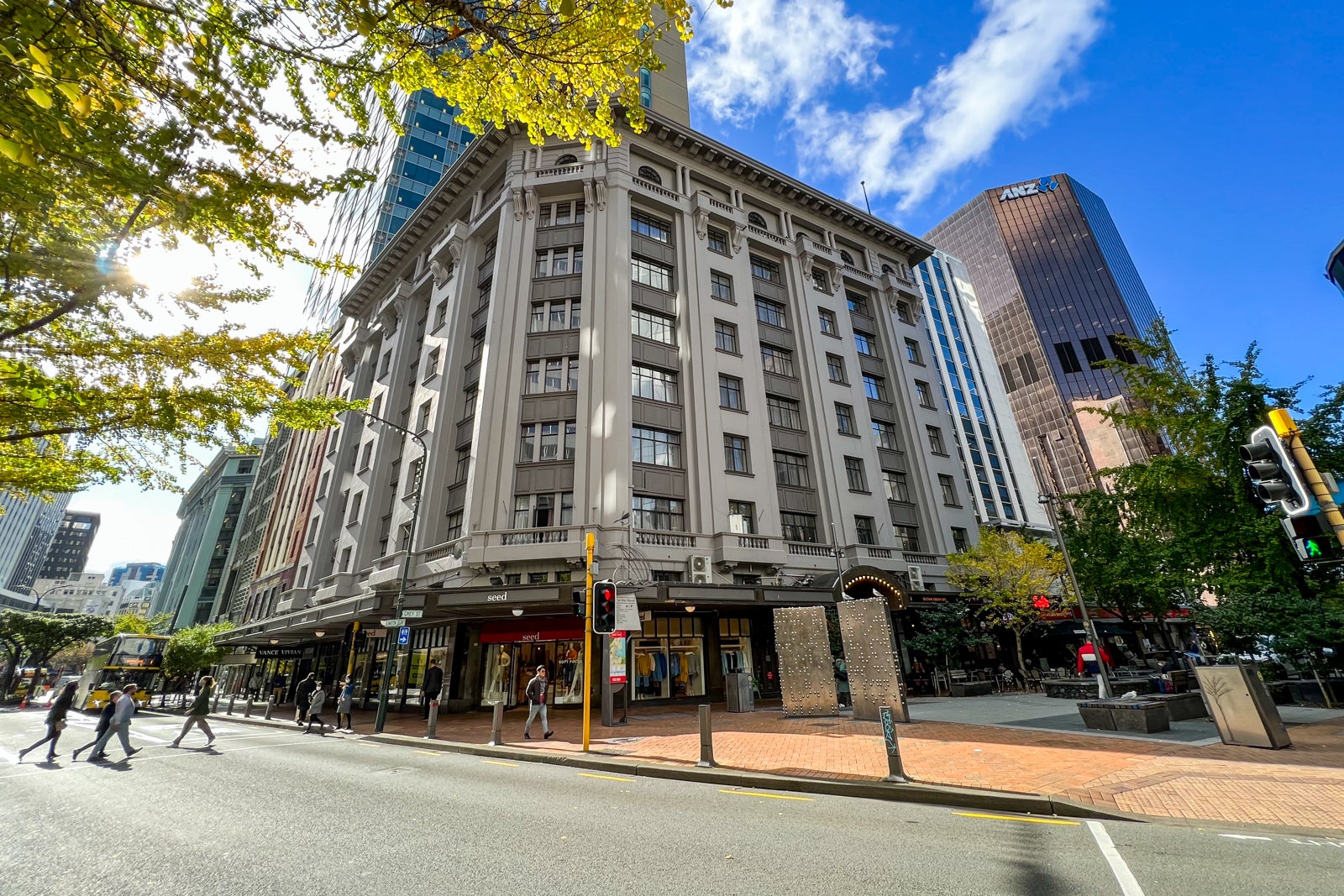 Bottom line
While my family loves closer-to-home getaways such as Disney World and Caribbean cruises, New Zealand easily ranks as one of our favorite family trips of all time.
It may sound daunting to take your family to the other side of the world, but if you're willing to take that leap of faith and give it a go, I can assure you you won't regret it. You'll be rewarded with jaw-dropping scenery you can barely believe is real, interactions with some of the friendliest people around, a number of adventurous activities, amazing coffee and plentiful playgrounds, among other highlights.
Best of all, you'll make memories that will last a lifetime — just as I know mine will.
Related reading: 
For rates and fees of the Amex Platinum Card, click here.