The next time you're traveling to Denmark, Sweden or Norway, you may very well find yourself flying on the region's main airline, SAS. For a recent trip from the New York City area to Oslo, I found a great cash fare for round-trip flights to the Norwegian capital that was thousands of dollars cheaper than what my preferred airline, United, was charging.
I'd never flown with SAS before, and because I'm on an eternal quest for United MileagePlus Premier qualifying points, I hesitated to book directly with SAS and face complicated earning rules. (The airline's declaration of bankruptcy this summer didn't help, either.) But the price was too hard to resist and, since SAS is a Star Alliance member, I knew I could still earn some points and segments to help me requalify for MileagePlus Premier status in 2023.
But it wasn't long after I booked my discounted economy-class SAS Go fare that I started to regret my decision to take a seven-hour overnight flight in an economy seat that didn't even come with a free seat assignment. Fortunately, I was able to bid on an upgrade to SAS Business and enjoyed my flight across the Atlantic in a lie-flat, business-class seat instead. Here's what I discovered about the product — and the thrill of winning an upgrade bid.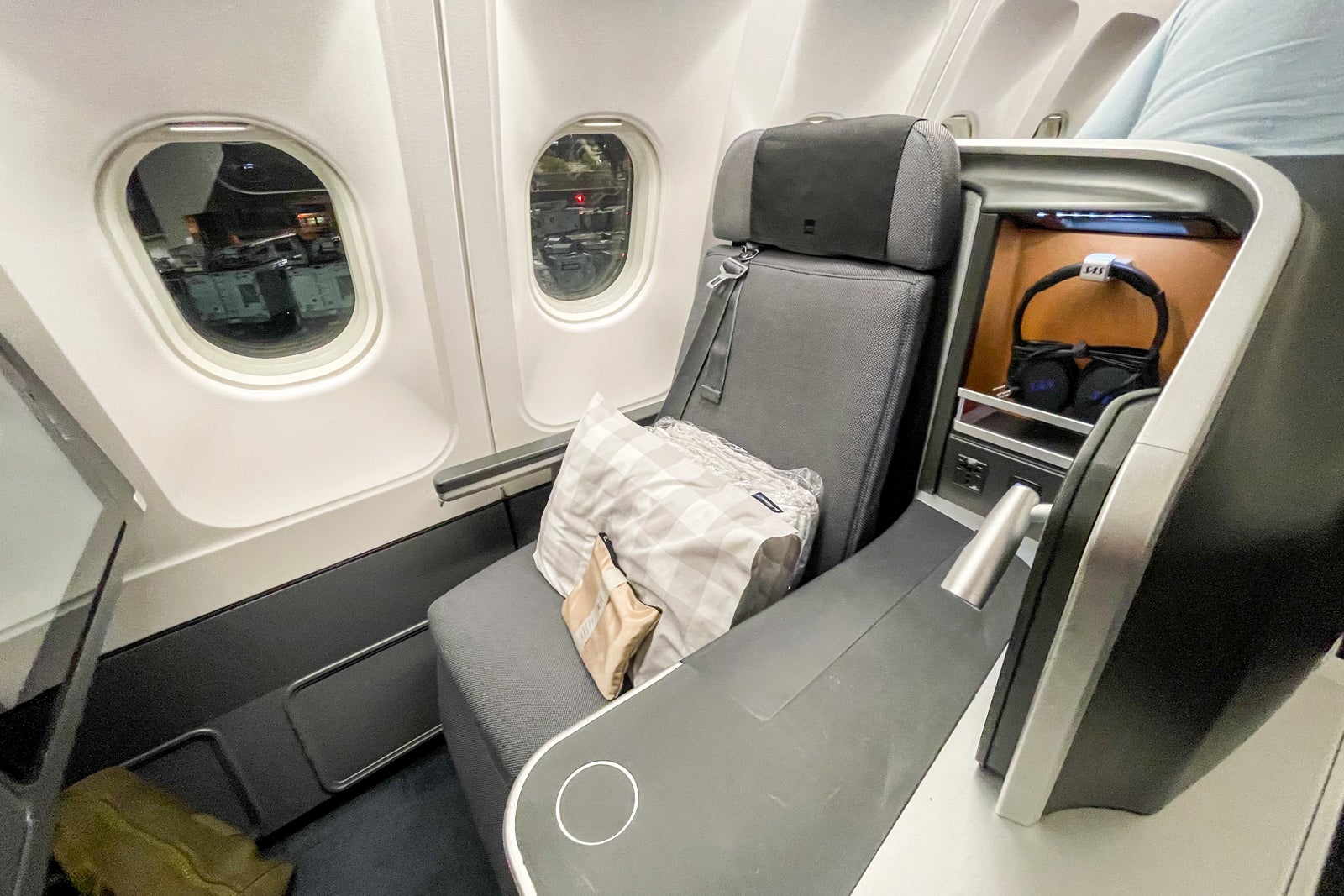 You can bid your way to an upgrade
Many airlines allow you to bid on an upgrade, though travelers are often restricted to upgrading by just a single class of service — you can't always leapfrog from economy to business or first class instead of premium economy. I initially called SAS to ask about paying for an upgrade, and a friendly agent informed me it would cost upward of $5,000 to do so, in part because they could only upgrade the entire four-segment trip. All I really wanted was to sleep in a horizontal position from New York to Norway, though.
That was going to be a no.
Instead, I decided to take advantage of the airline's upgrade bidding program. In the days leading up to a flight, travelers can bid on an upgrade to a premium cabin. You have until 25 hours before departure to bid on domestic and European flights but can submit a bid as late as six hours before departure for U.S. and Asia flights.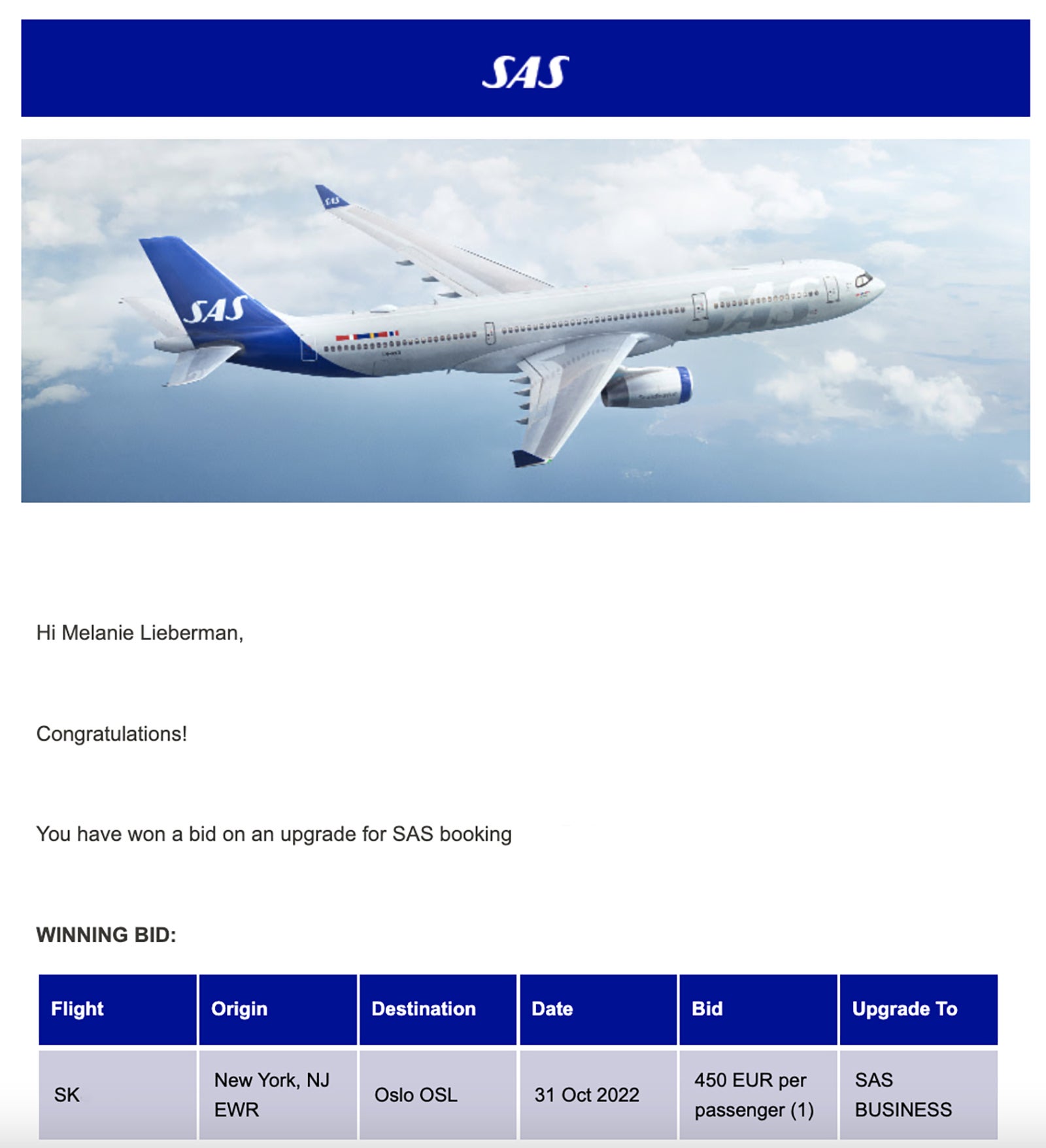 Bids for business class on my flight started at 420 euros (about $410 at the time due to the strong U.S. dollar — and a steal, in my opinion). I rounded up to 450 euros (about $440 at the time) to improve my odds. A bit of research (read: Googling) led me to believe many travelers secure upgrades with only the minimum bid, and an ExpertFlyer search confirmed there was wide-open availability in business class on my flight. About 24 hours before my flight, I received an email saying my upgrade had cleared.
Travelers could certainly wait until the last possible hour to check seat availability, though I'd make sure you bid on U.S. and Asia flights at least 25 hours in advance, which is when the upgrades start to clear.
If you happen to be sitting on a stash of EuroBonus points (or American Express Membership Rewards points, which transfer to EuroBonus at a 1:1 ratio) you can also bid on an upgrade using those points.
A winning bid won't change your fare class
Though cash upgrades do earn additional EuroBonus points, the fare class of your ticket stays the same, so I did not end up earning more United PQPs than I would have if I'd stuck with my coach seat since United still considered my ticket to be an SAS Go fare.
You'll get business-class perks (regardless of how you booked)
My business-class experience began at Newark Liberty International Airport (EWR). Though my flight to Oslo Airport (OSL) departed from the sorely underwhelming Terminal B, which didn't even have a dedicated TSA PreCheck line or Clear kiosks, I was able to take advantage of lounge access. I would have been permitted entry with my Star Alliance Gold status, but for travelers who don't have other means of entry, your business-class boarding pass will do.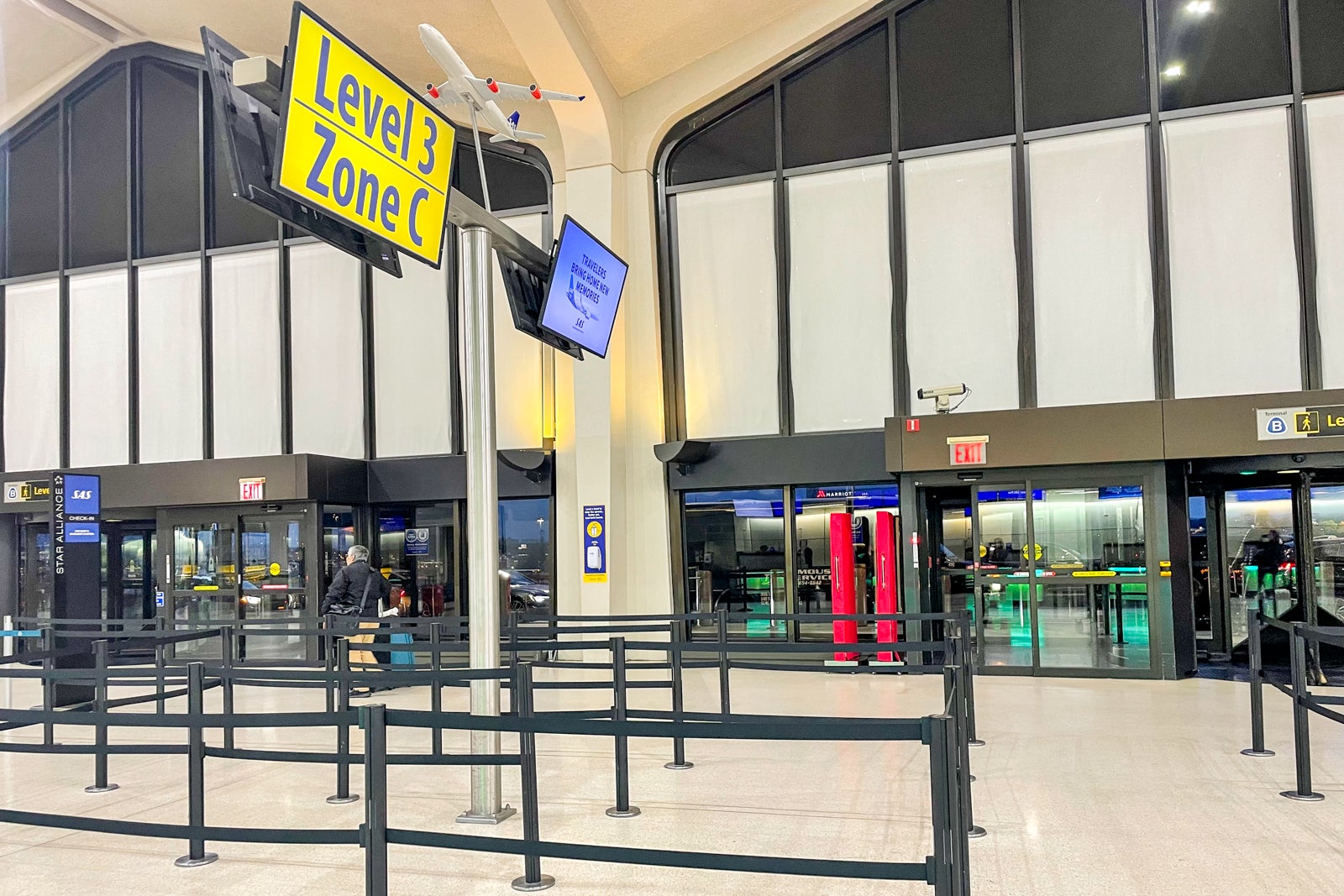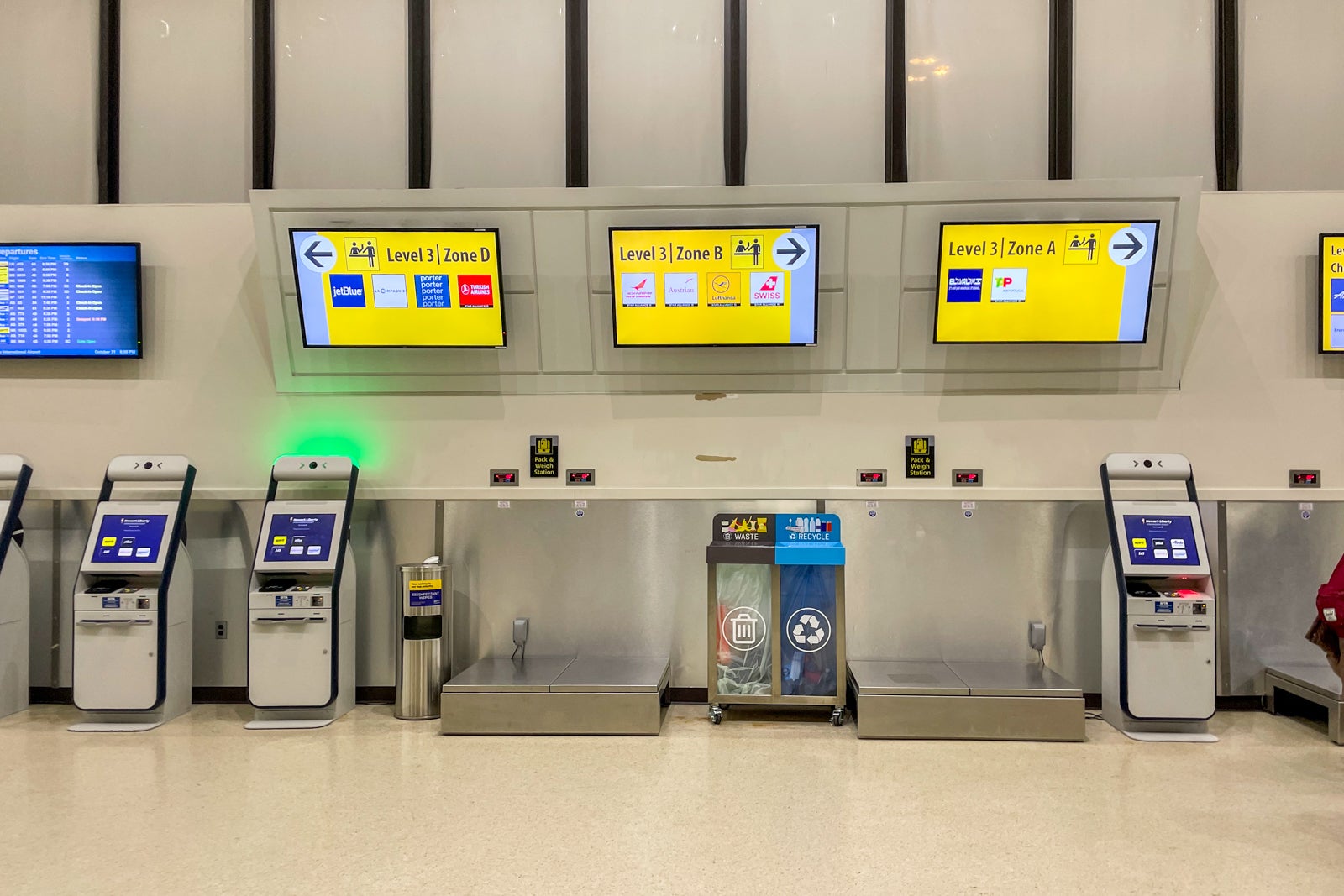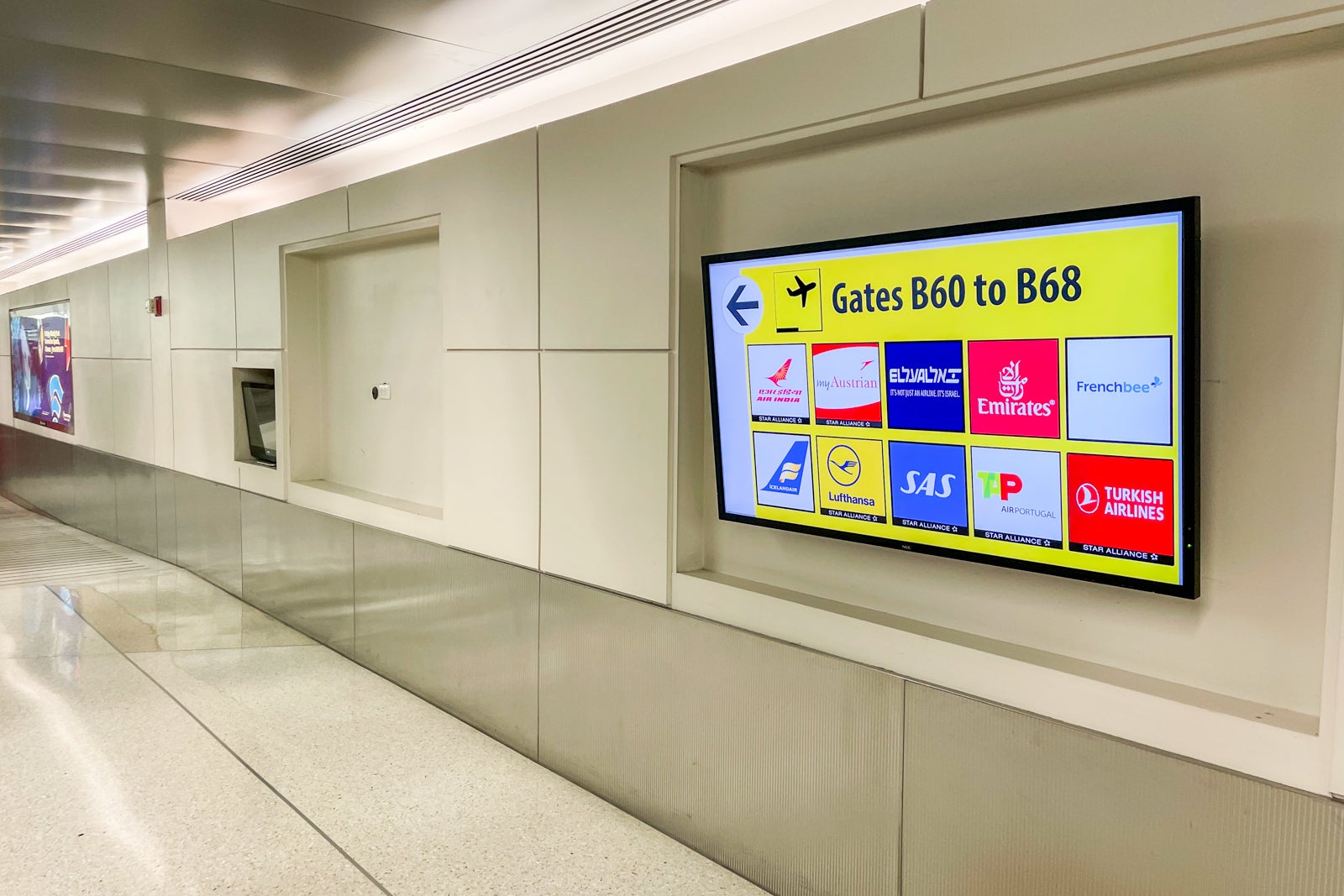 The SAS Lounge in Newark's Terminal B, near Gate 60, was suitable for short stays, but I wouldn't count on having a substantial meal there. There was plenty of seating in the distinctly Scandinavian design-inspired space, but despite the late hour, the lounge was fairly busy.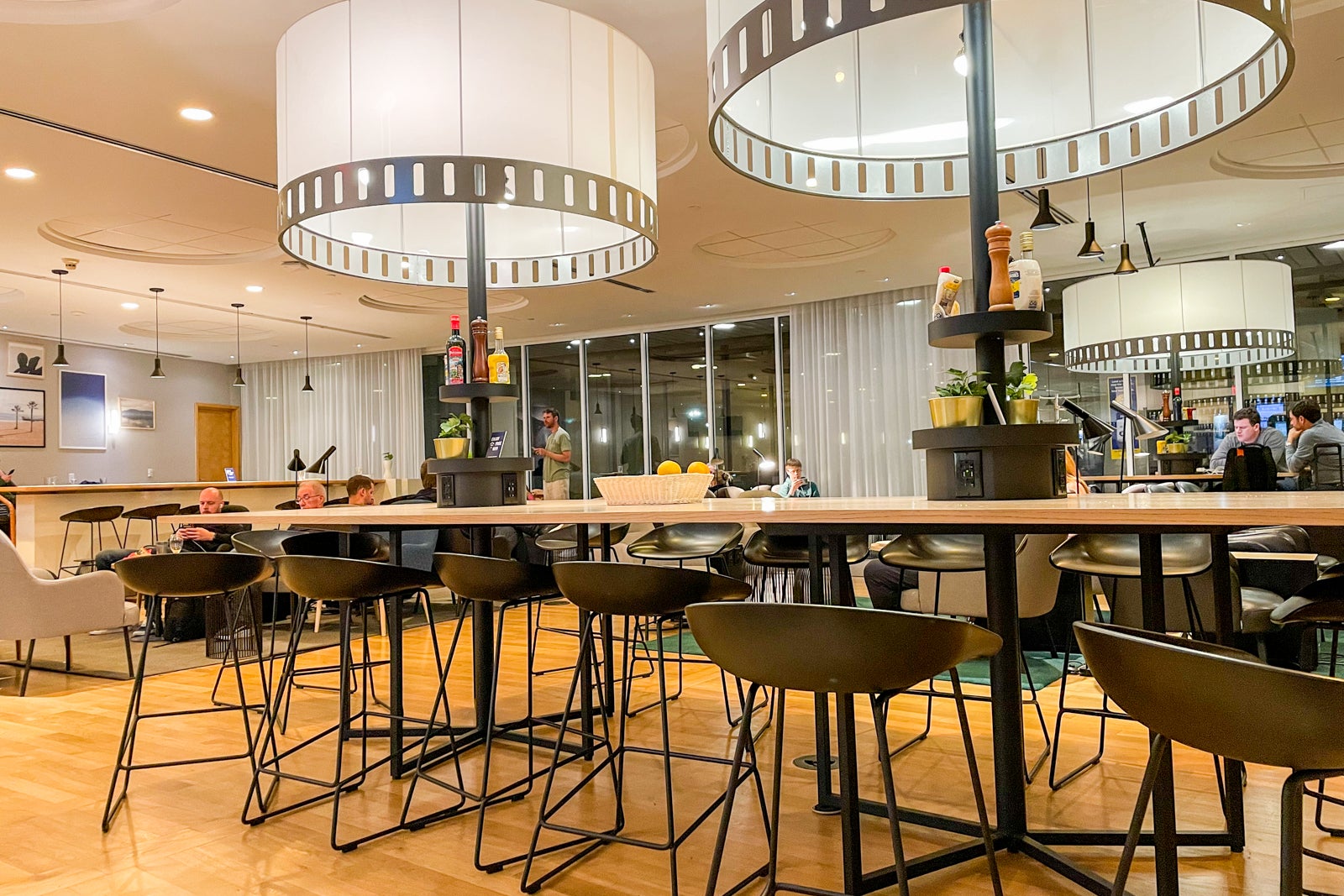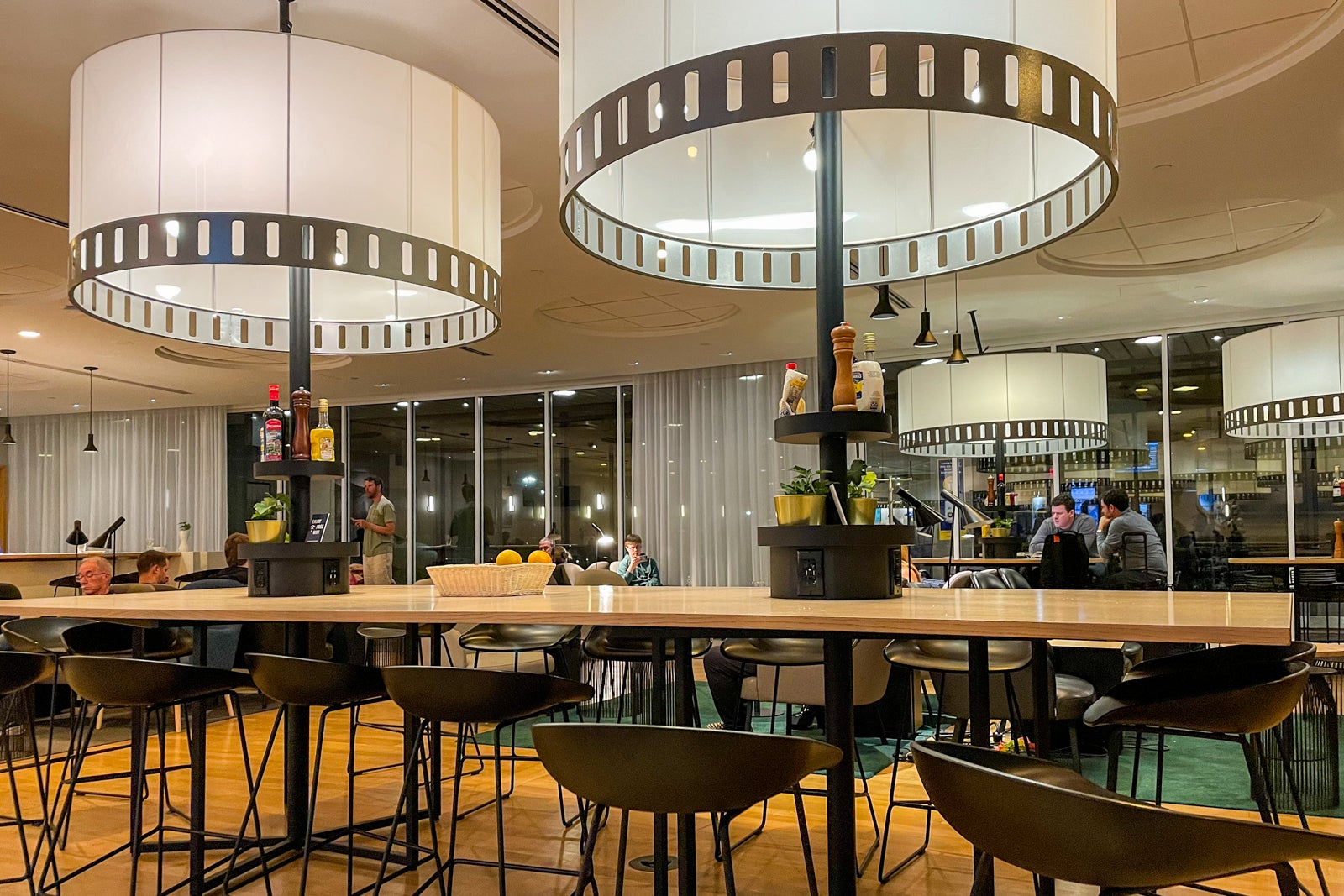 There was a self-serve beverage bar and a disappointing cold food buffet (fresh lettuce and raw vegetable crudites, but also trays of sliced turkey and American cheese slices) and no music; you forget how important a bit of background sound is until it's completely absent.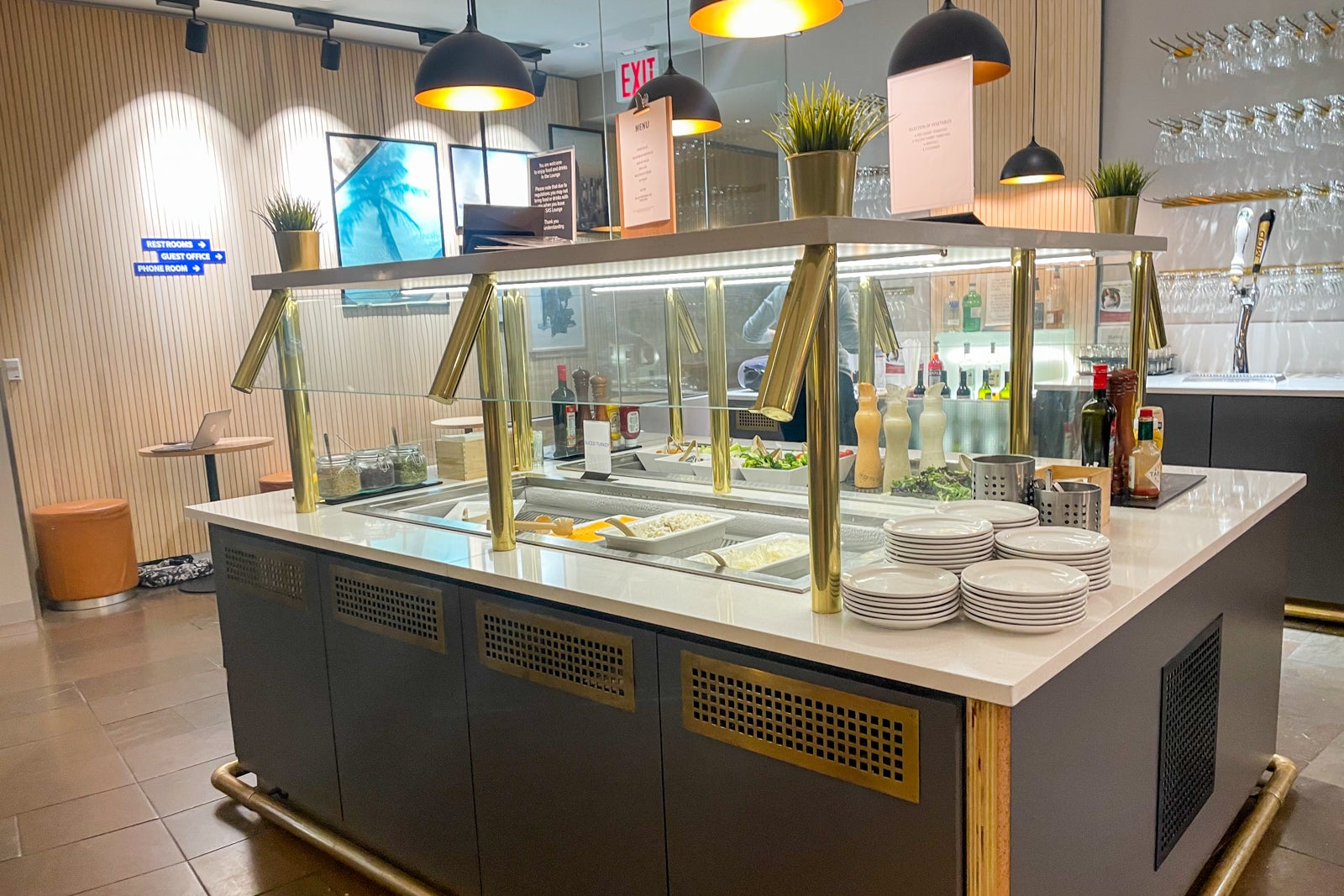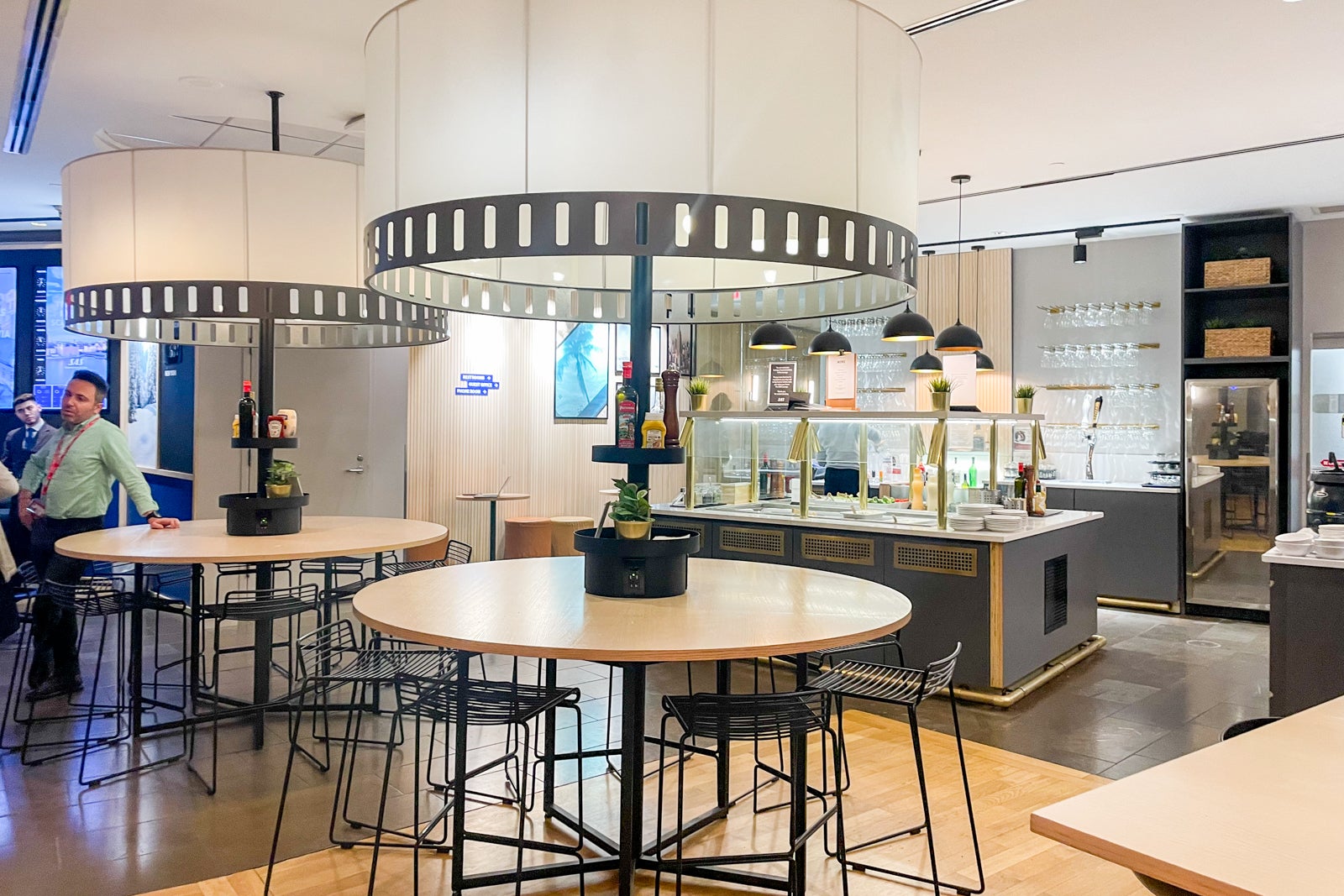 Other perks include free onboard Wi-Fi, where available, and access to Fast Track security lanes, where available.
The meal was surprisingly good — even for business class
It had been years since the last time I'd flown international first class with an international carrier, and I had forgotten how much better the food is than in economy — generally speaking.
I was impressed with the service I received during my seven-hour flight from the New York City area to Oslo. But what I loved the most about the experience were the thoughtful details and special touches I wasn't expecting. A couple of members of the crew changed into crisp, double-breasted chef's whites for the dinner service (I'd find out the following week this was true in economy, too), which established a more formal dining atmosphere.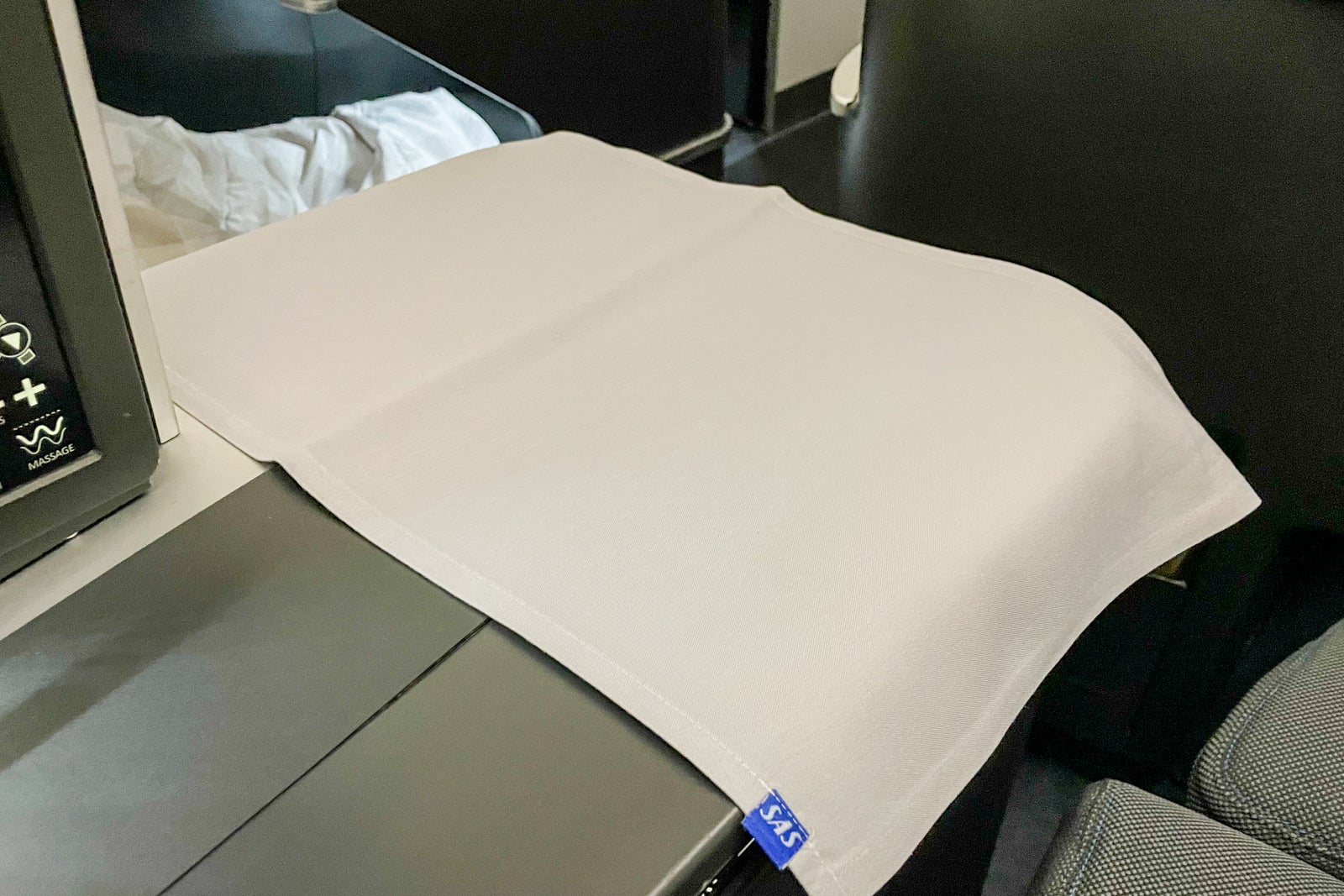 My flight attendant "set the table" with a crisp white linen napkin, and my potent gin and tonic was mixed to order and served with the remaining can of Ekobryggeriet tonic.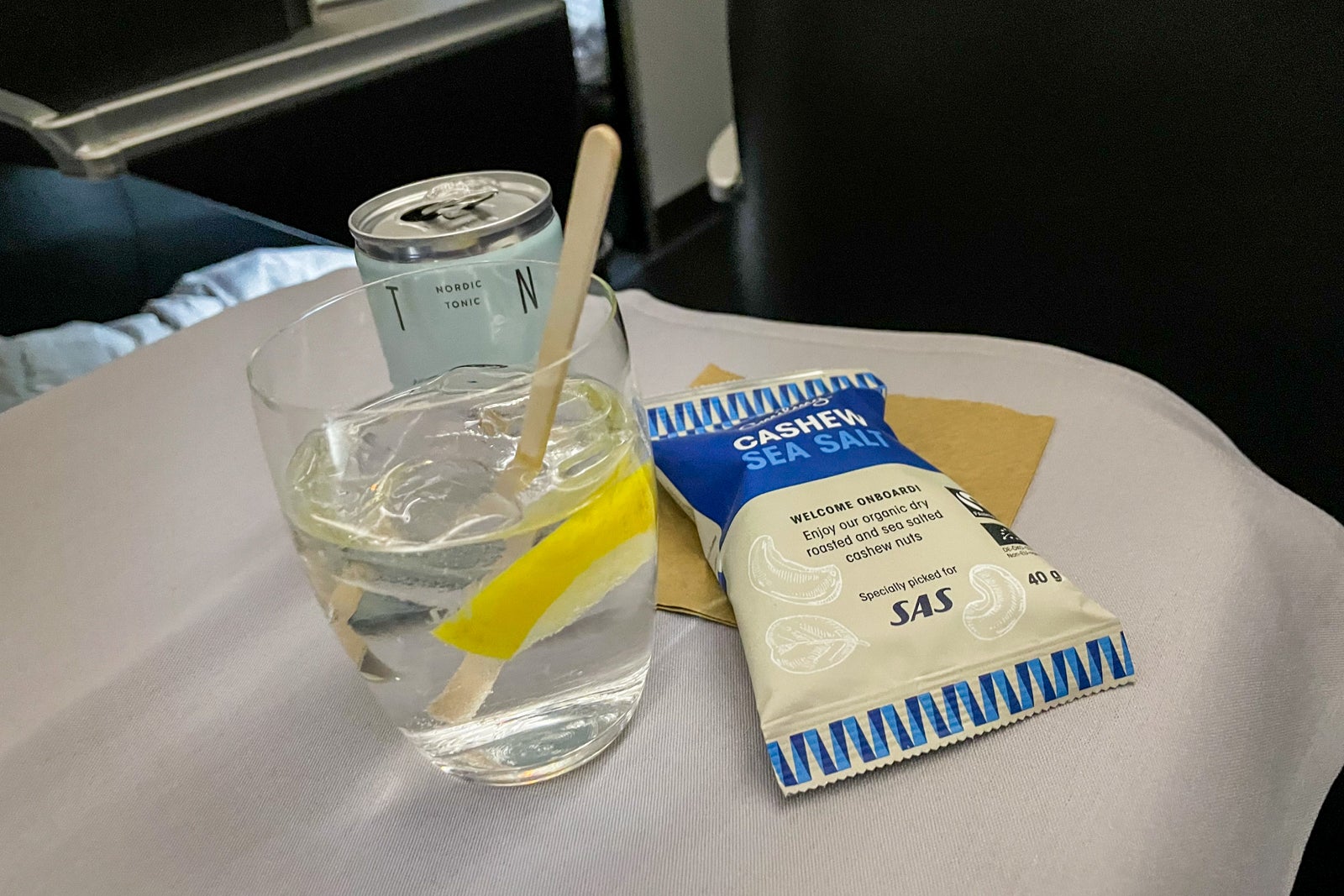 Though my colleagues have since remarked that I should fly international business class more often (no arguments there), I was thrilled when dessert was rolled out on a cart for passengers. I felt immediately transported to the Hogwarts Express — only instead of a trolley witch selling chocolate frogs and boxes of unpredictably flavored jelly beans, a flight attendant was doling out plates of seasonal fruit with vanilla yogurt, apple doughnuts and ice cream.
Even before dessert, I was impressed with the variety and execution of the meal that evening. Dinner was preceded by a selection of breads, a mixed greens salad and a choice of starters (beef tenderloin carpaccio or Maine lobster with smoked tomato vinaigrette with corn salsa).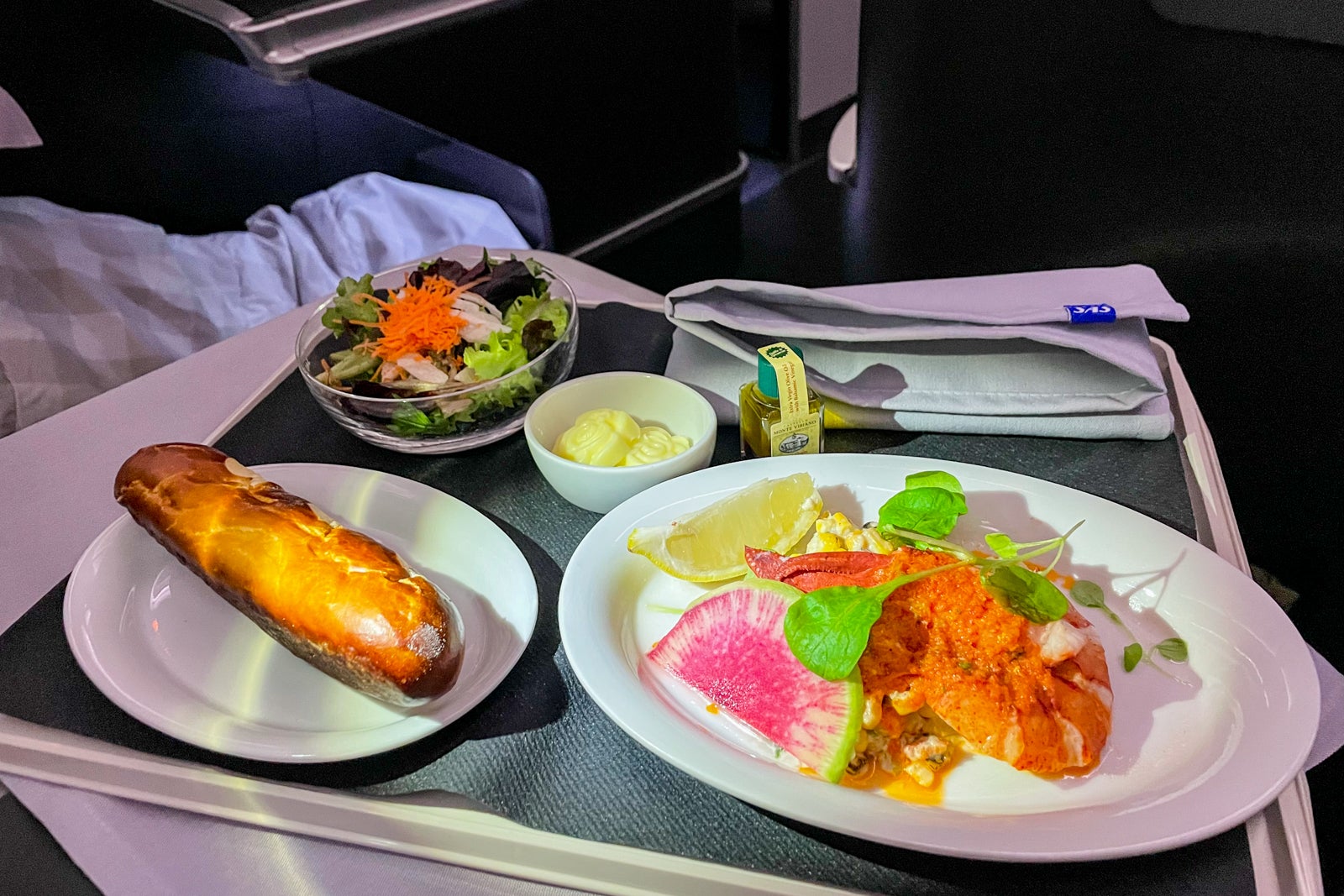 Entrees included four selections that accommodated almost every dietary preference (broiled chicken with lemon sauce and garlic confit; a mustard-and-pepper short rib with truffle Gruyere gratin; seared sea bass atop a fennel and tomato ragout; porcini and caciocavallo ravioli with mushroom ragout).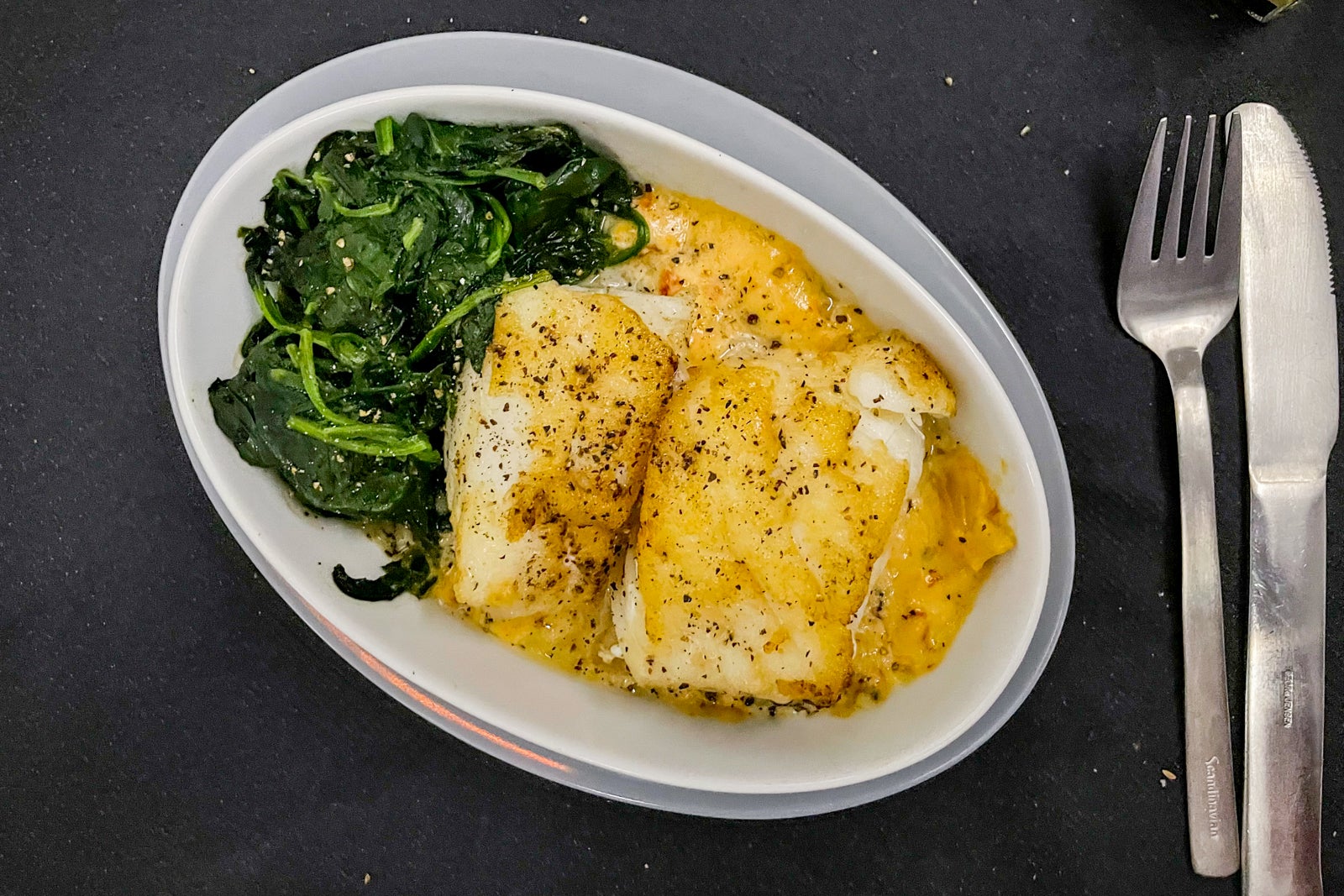 I ordered the sea bass, which was perfectly prepared; it was moist and flaky, with no indication it had been reheated in a galley microwave.
The service was attentive and frequent
I'd hardly sat down in my seat before a flight attendant came by to offer me a beverage (water, red wine or a sparkling white). And the drinks never stopped coming after that, with the flight attendants frequently asking if I wanted another gin and tonic.
I've been on much longer international first- and business-class flights in the past where you're counting the hours between beverages, or have to get up and request one (which I always feel a bit uncomfortable doing). I shudder to think how many drinks you could consume on an SAS flight if you were able to down a full drink between flight attendant check-ins.
Though I mostly slept on the overnight flight, the flight attendants also politely woke me for breakfast, upon request, and assisted with my overhead luggage whenever I needed it. It wasn't the first time I'd found the overhead bins too high to reach, but these did seem even taller somehow.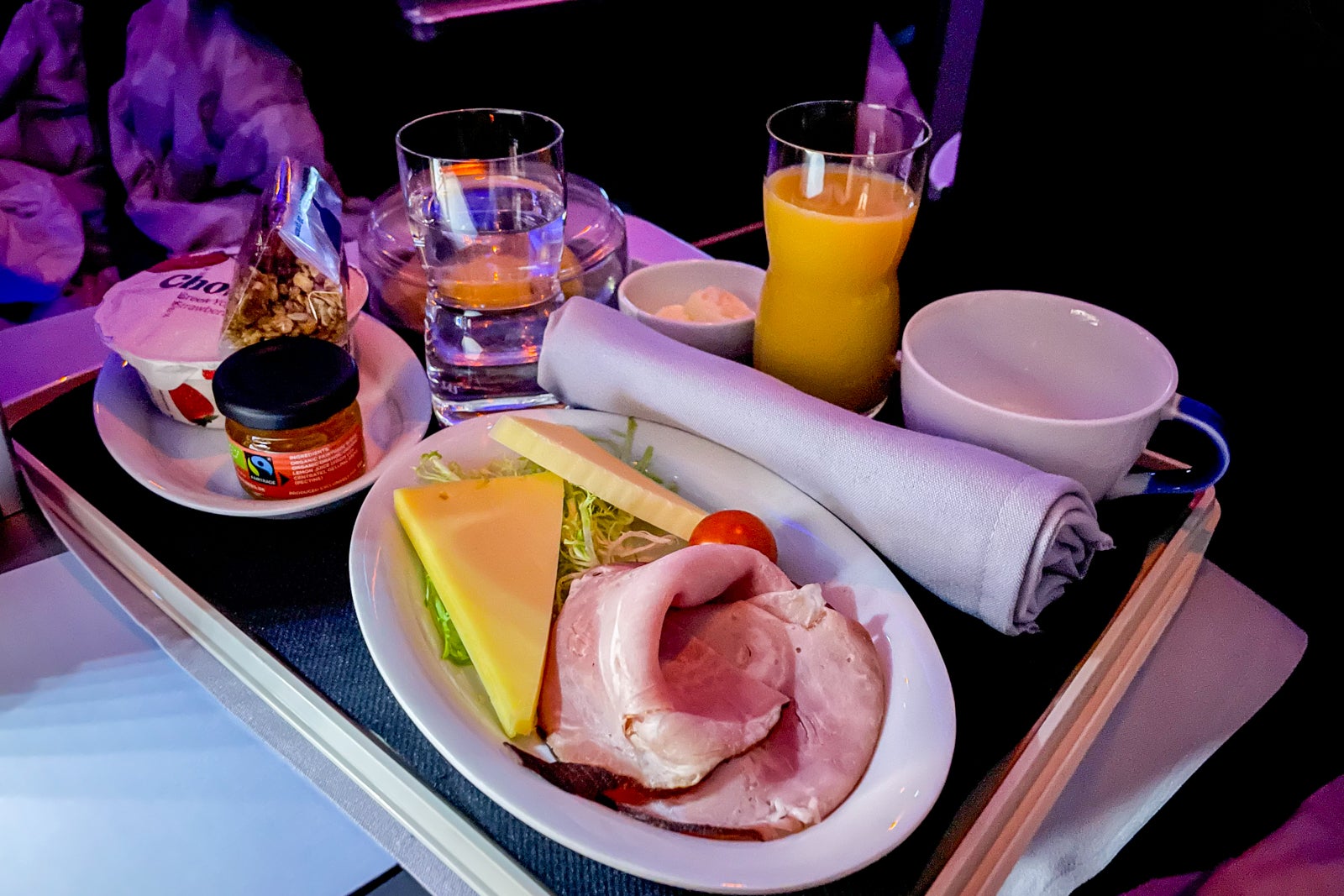 You can get a massage in your seat
The best part of a strip mall pedicure is, I'm sure we can all agree, the massage chairs. And the lie-flat seats on board SAS are equipped with the same technology, which I wouldn't say made for a more restful sleep but was particularly fun while I waited for my food to arrive.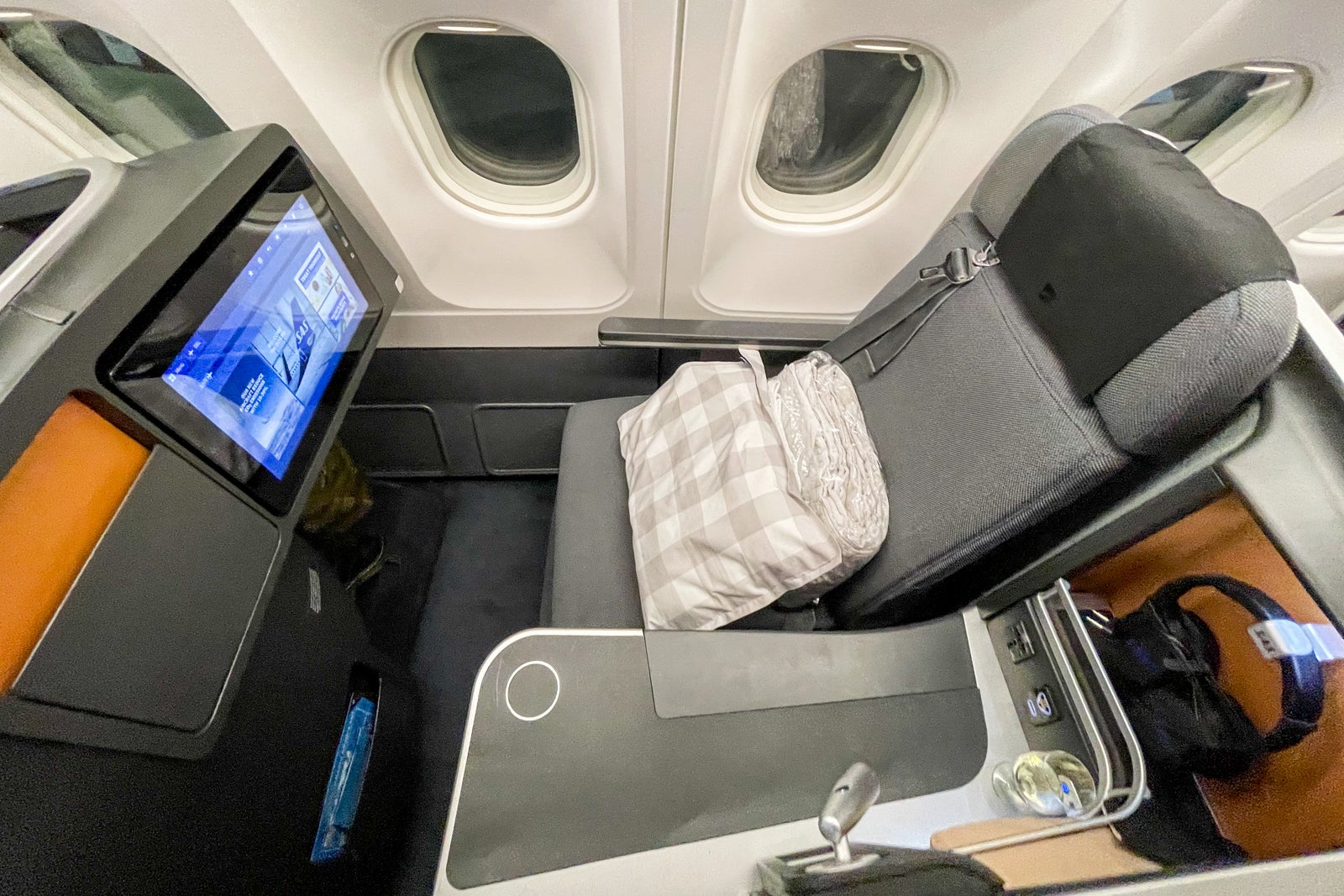 You could crank up the firmness of the seat five notches, and the simple massage feature delivered a gentle rolling massage.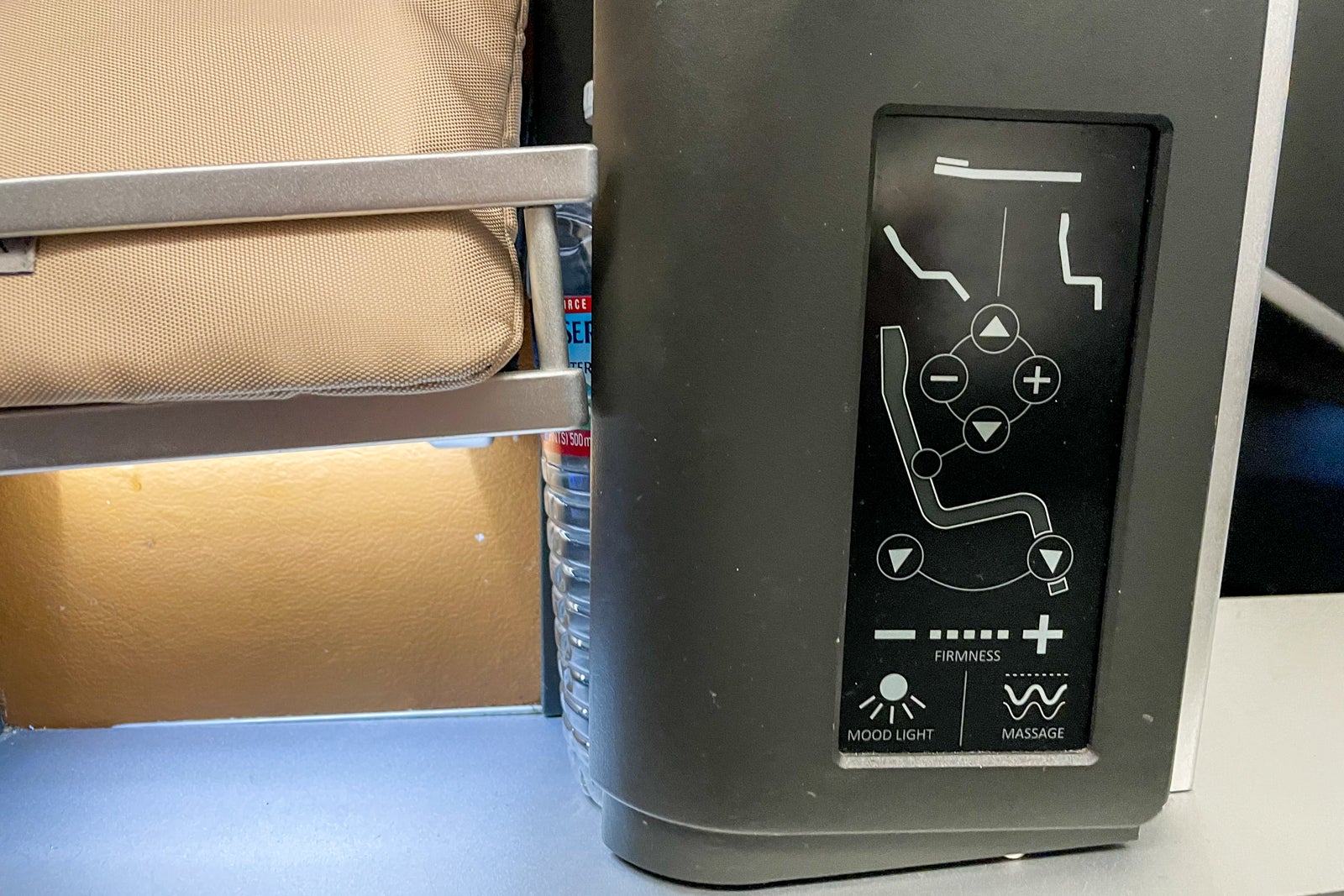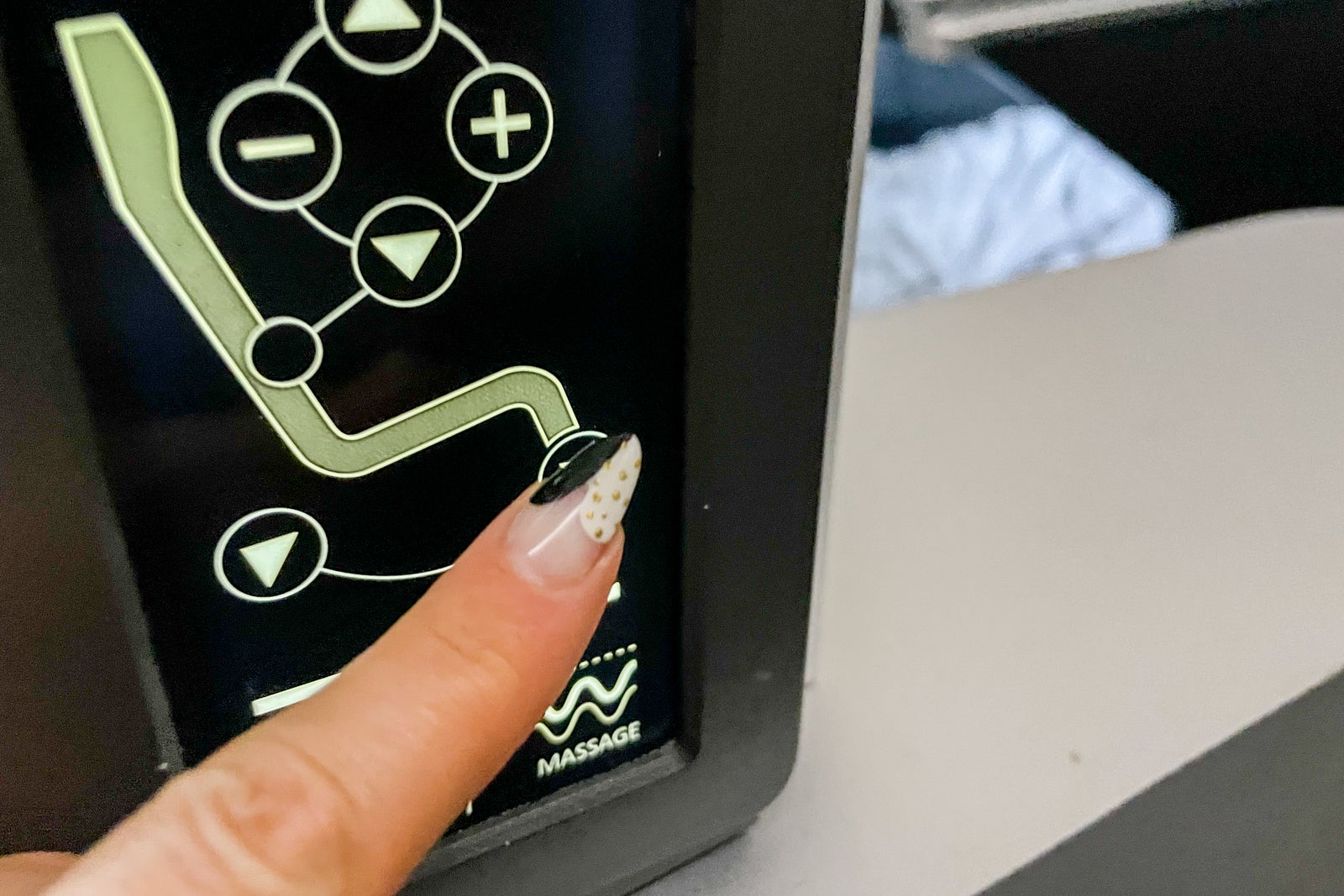 Though they're not the most spacious business-class seats in the sky, Hastens bedding is provided (including a seat topper, a thick checker-pattern blanket and a cozy pillow) which even puts United Polaris' Saks Fifth Avenue bedding to shame.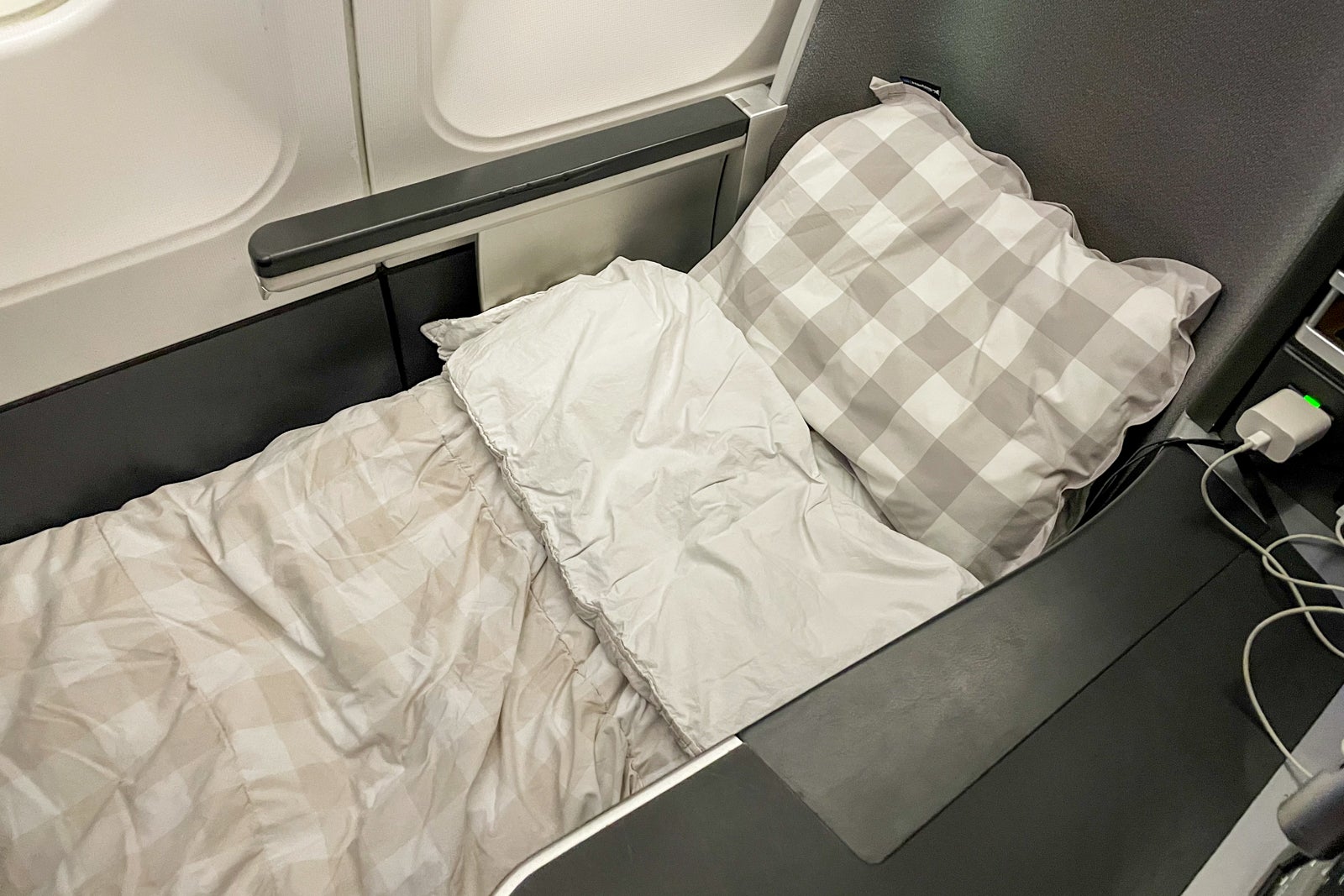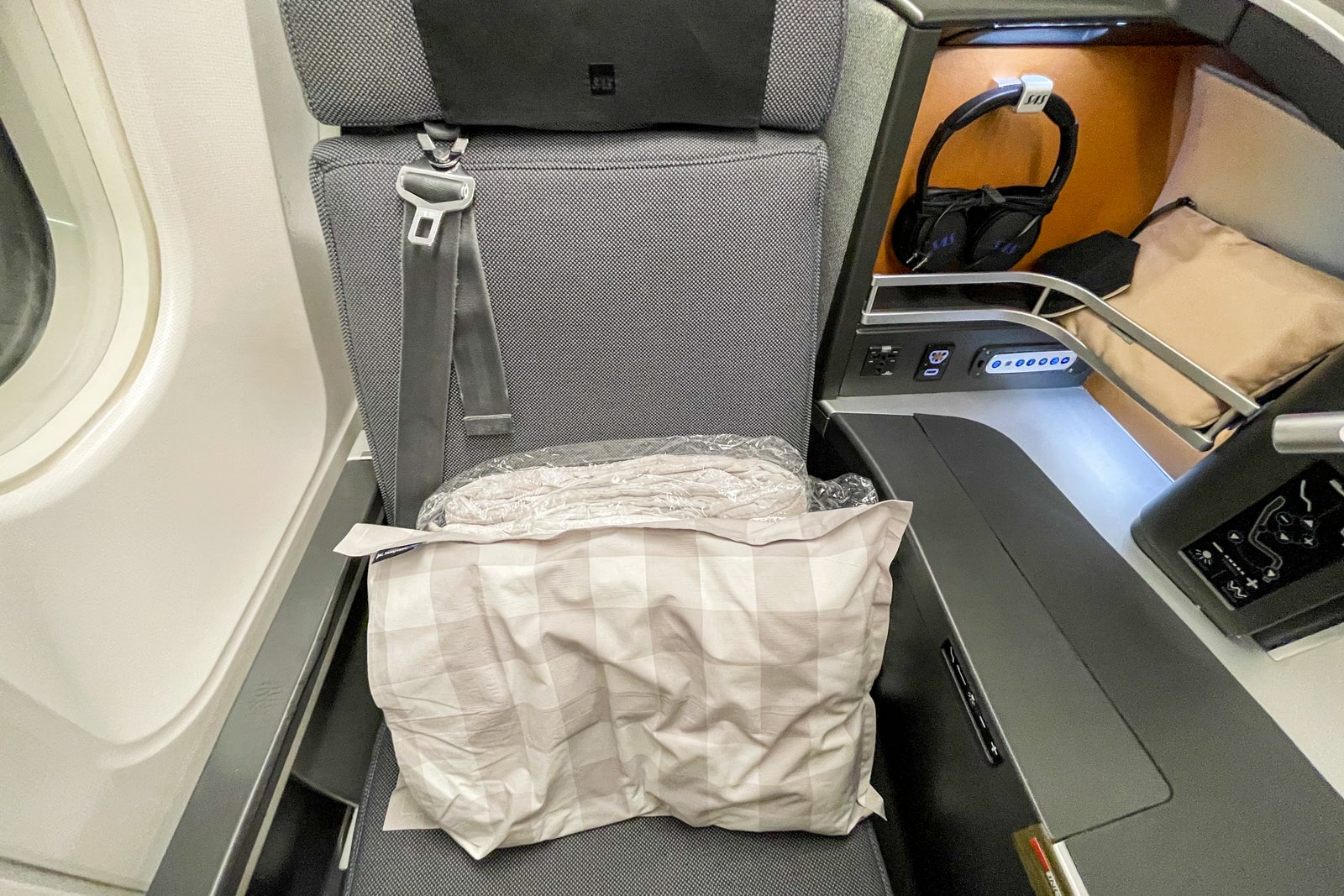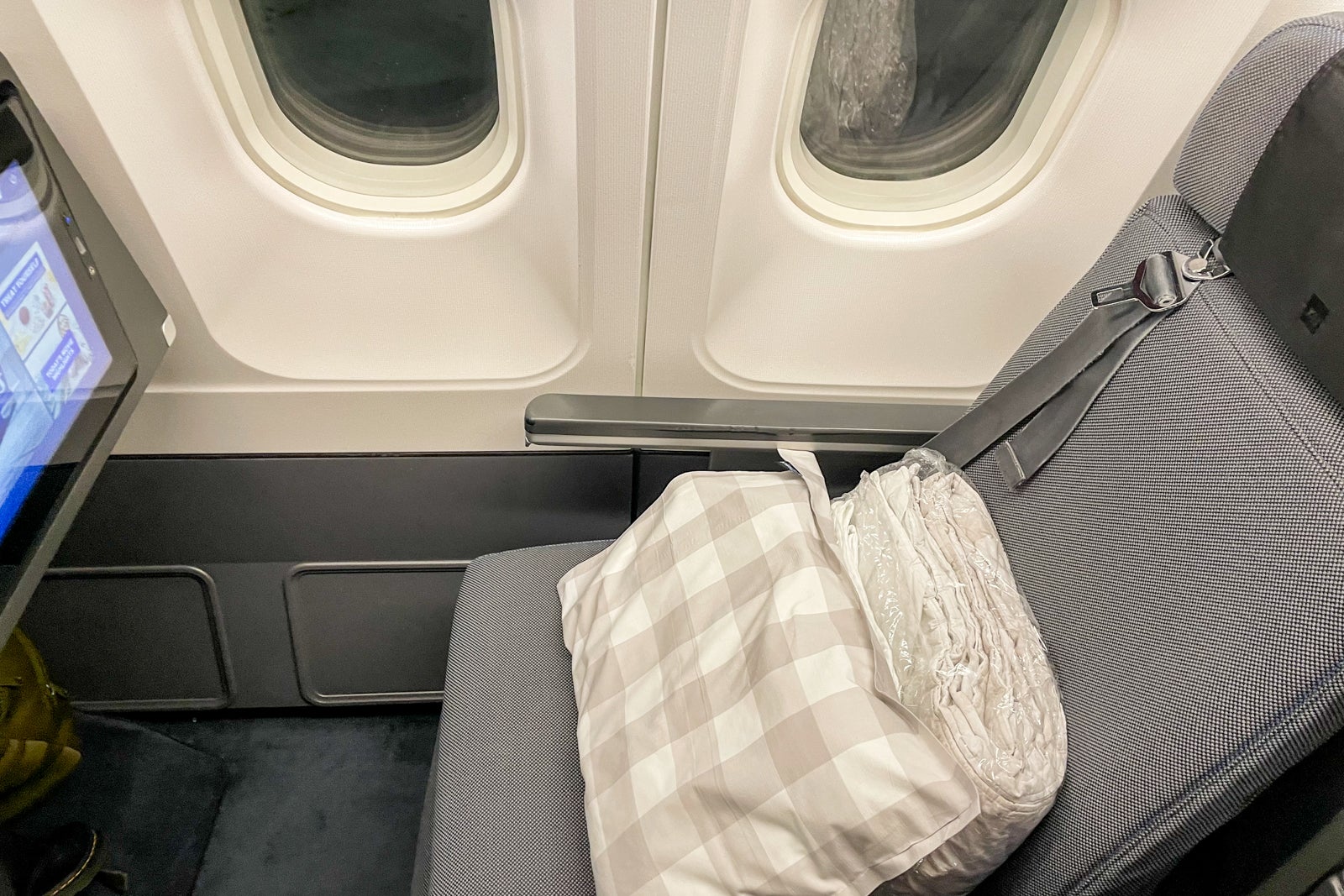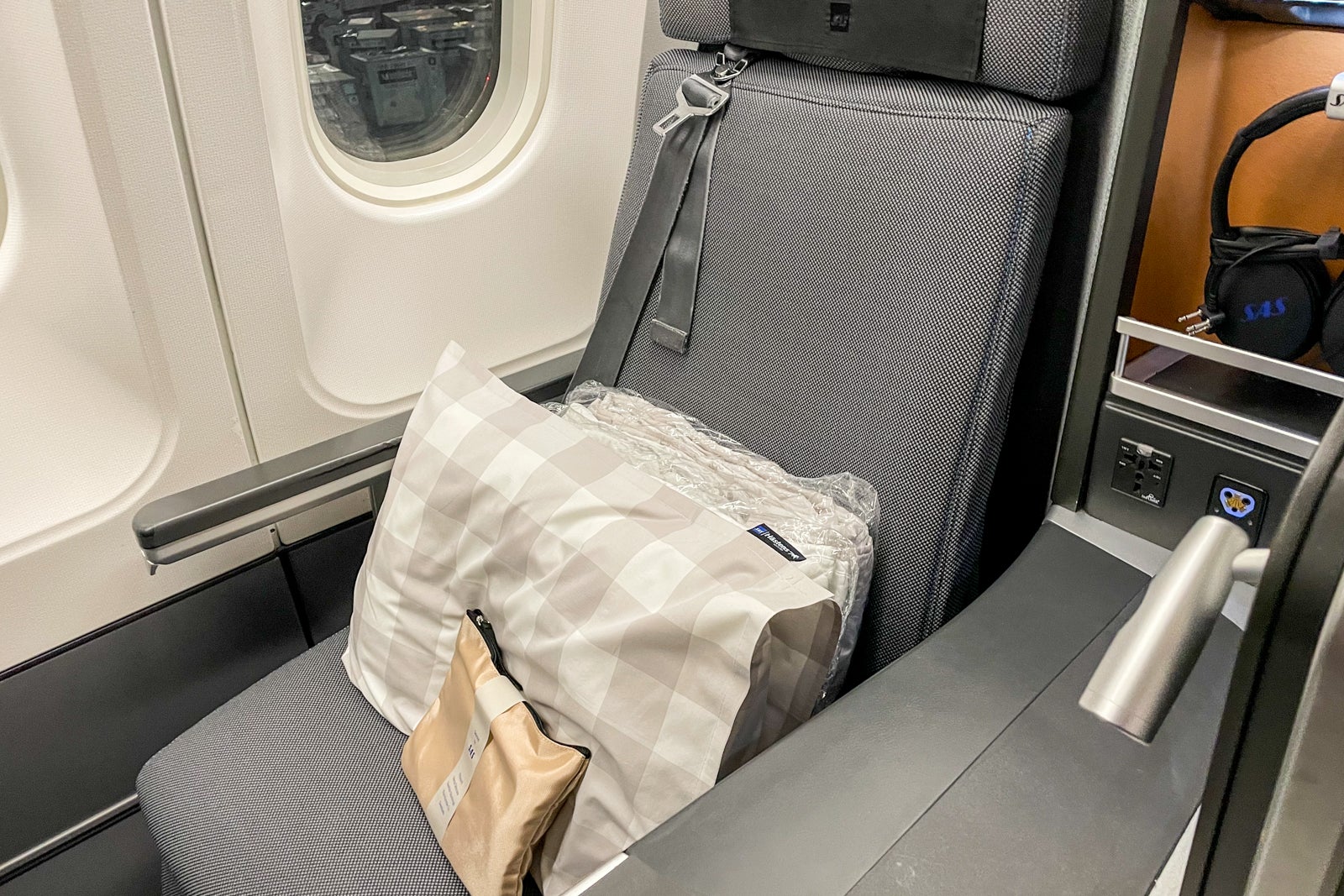 The Scandinavian bedding brand is famous for its craftsmanship, and if you wanted a duvet of your own at home it could easily set you back between $800 and $5,000. (Travelers might know the brand from the $11,000-per-night Regent Seven Seas Cruises suite with a handmade Hastens mattress worth around $200,000.)
Seats are competitive — especially for the price
Business-class cabins on the SAS A330 are arranged in a 1-2-1 configuration, with the window seats alternating between either the seat itself or the console being right up against the window.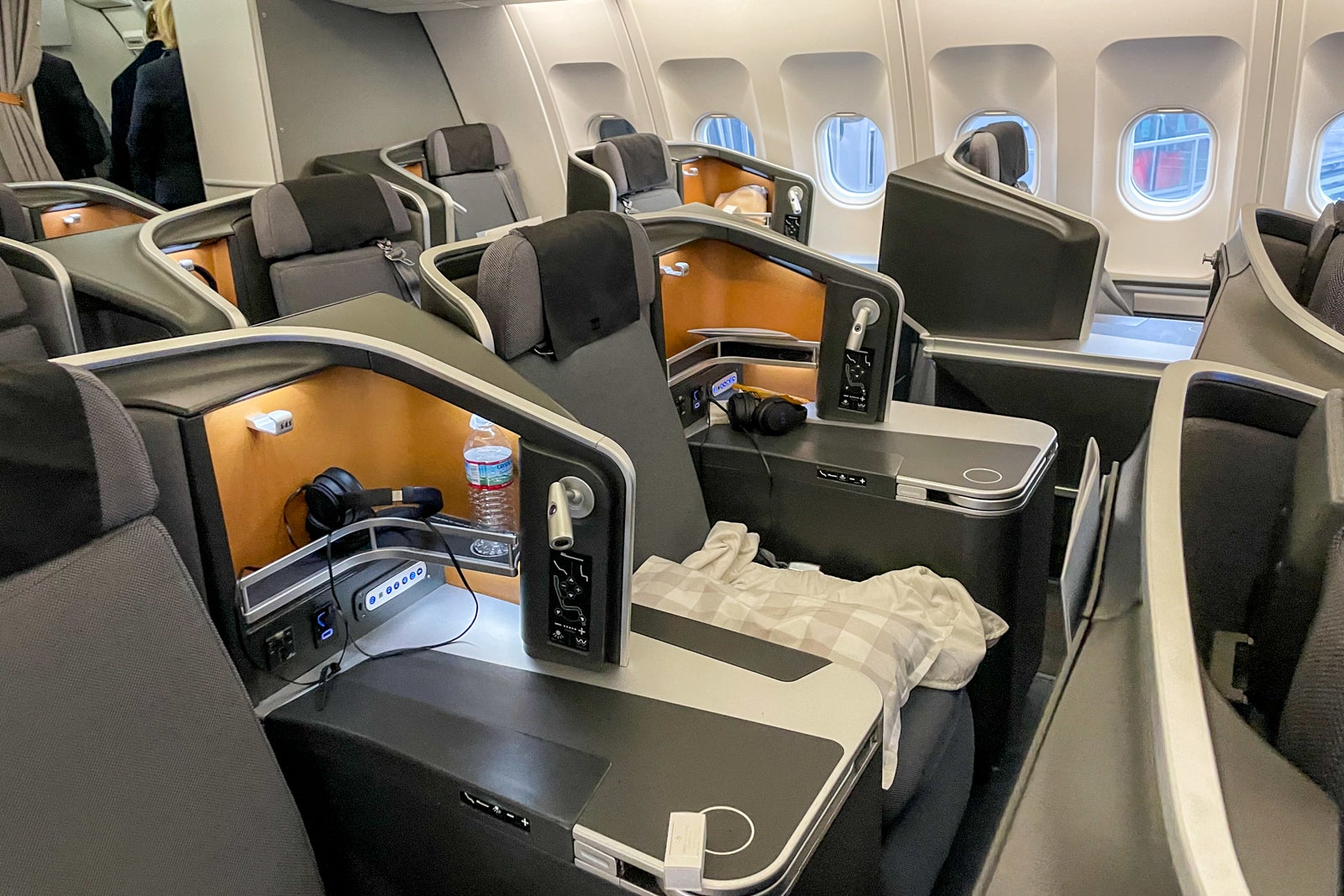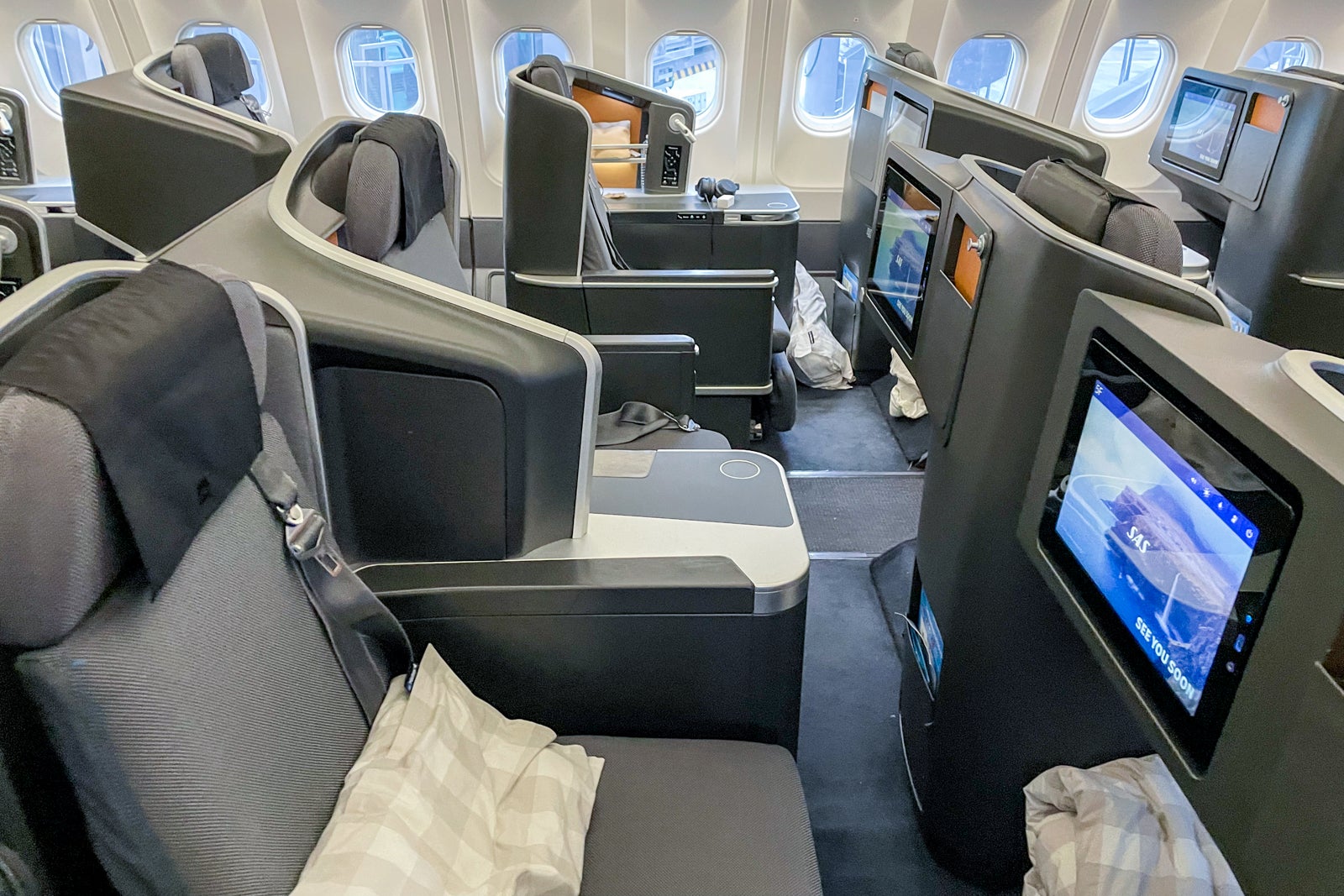 Though every seat allows every passenger in the cabin to enjoy direct aisle access, having a seat right up against the wall (like mine, 2H) of the aircraft made getting in and out of the seat a tight squeeze, though the actual Thompson Vantage XL seats were comfortable and spacious, with easy-to-use controls.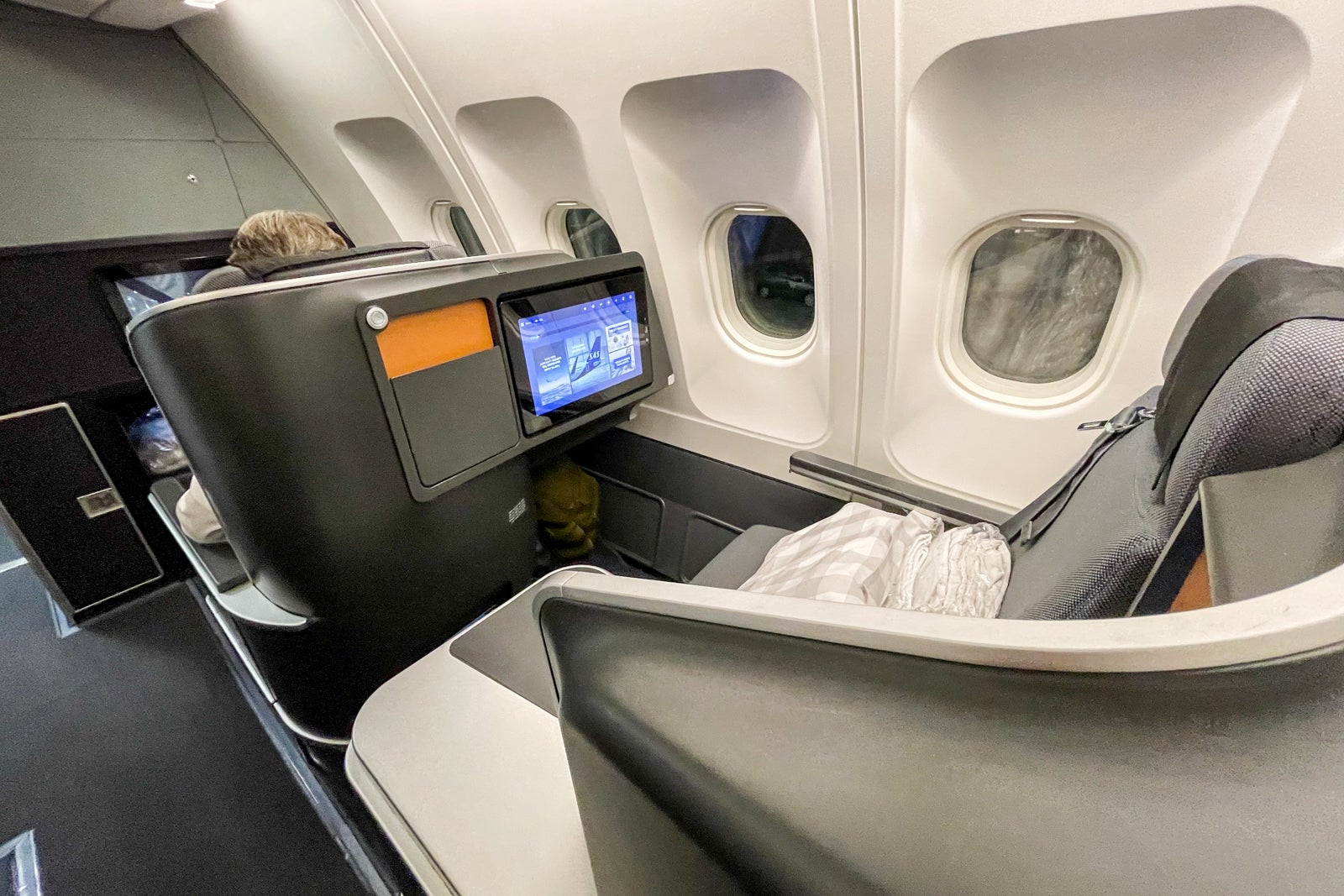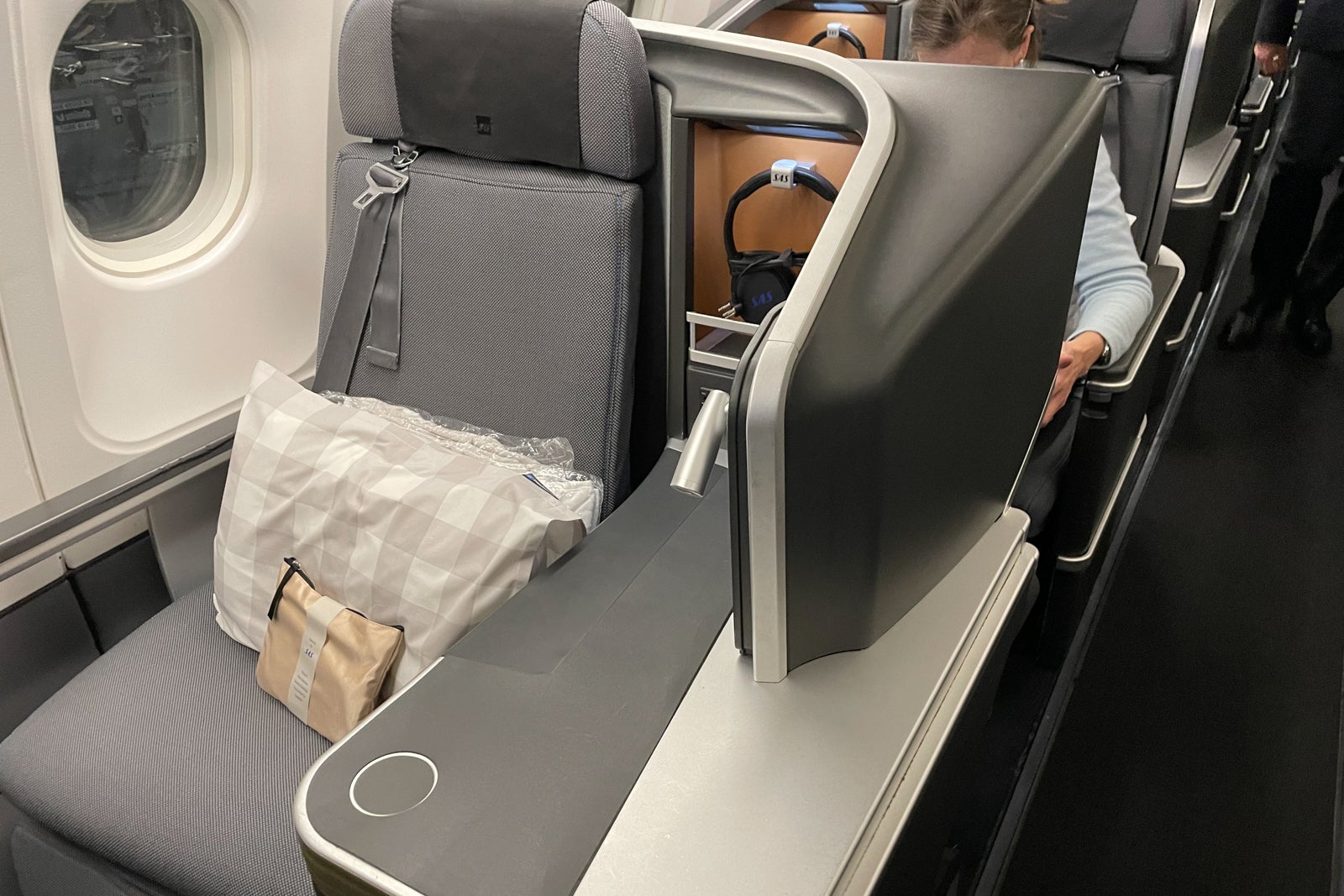 Seats on board are 23 to 24 inches wide, and they can transform into 77-inch beds when flat. When in a full lie-flat bed position, the footwell does get a bit cramped.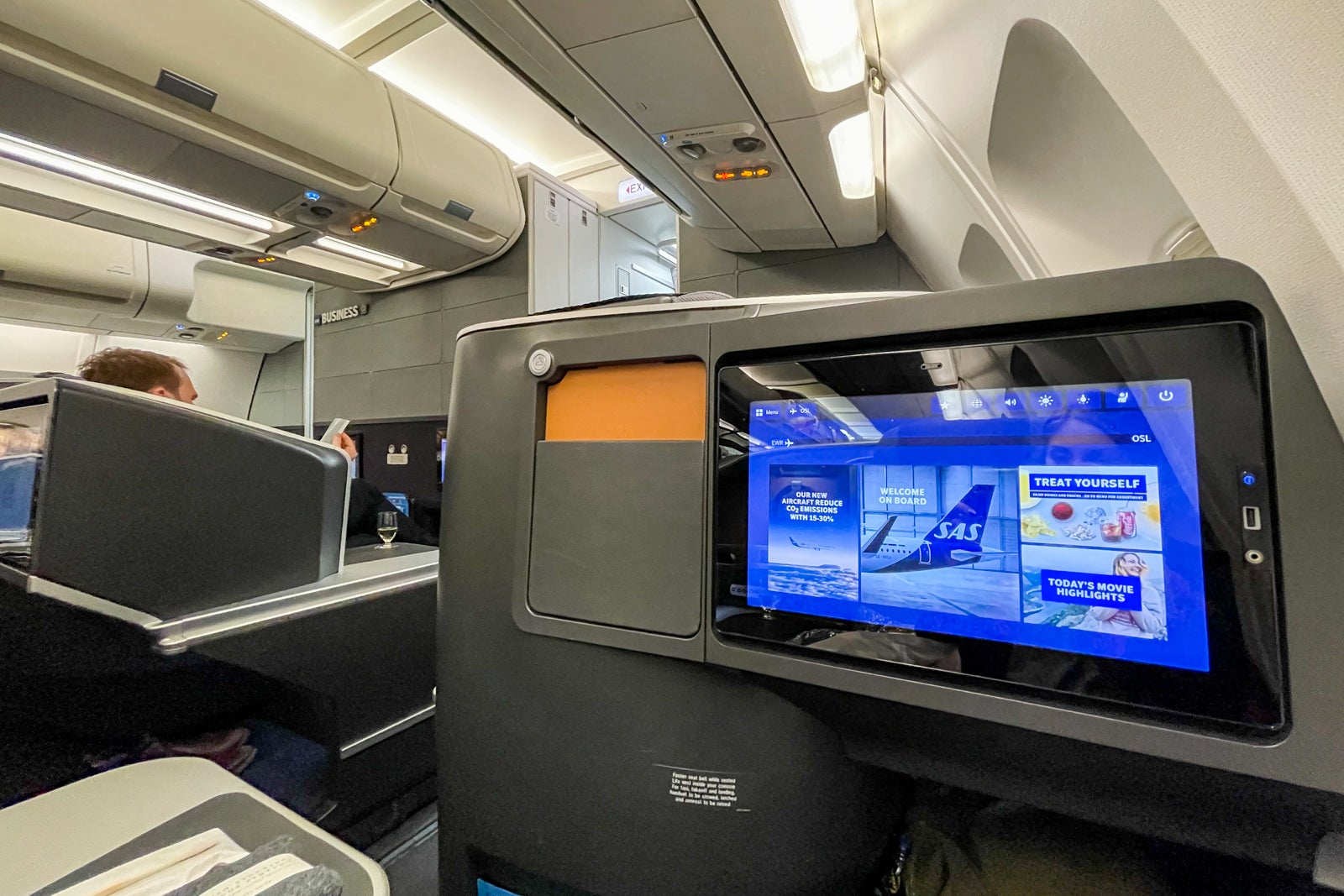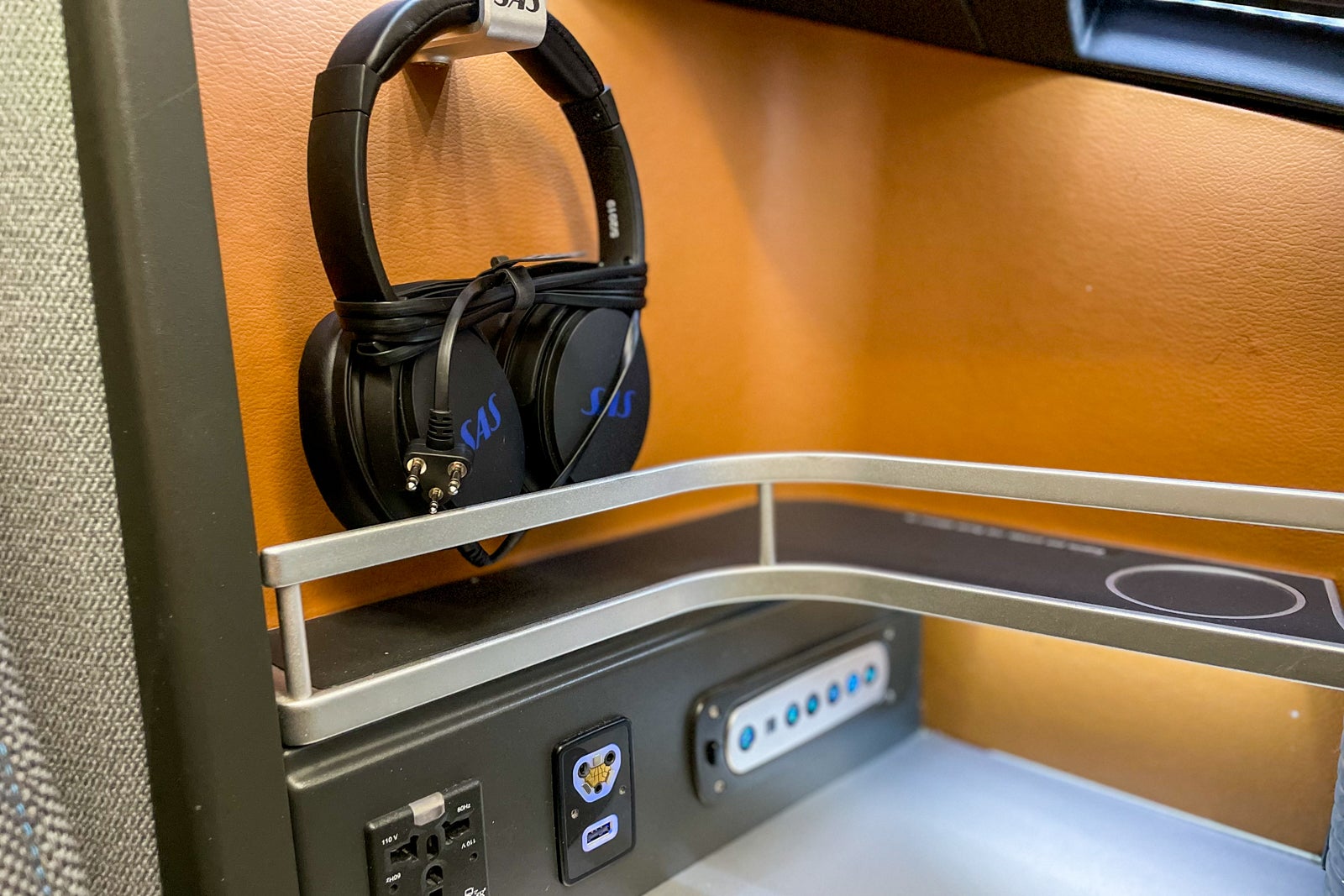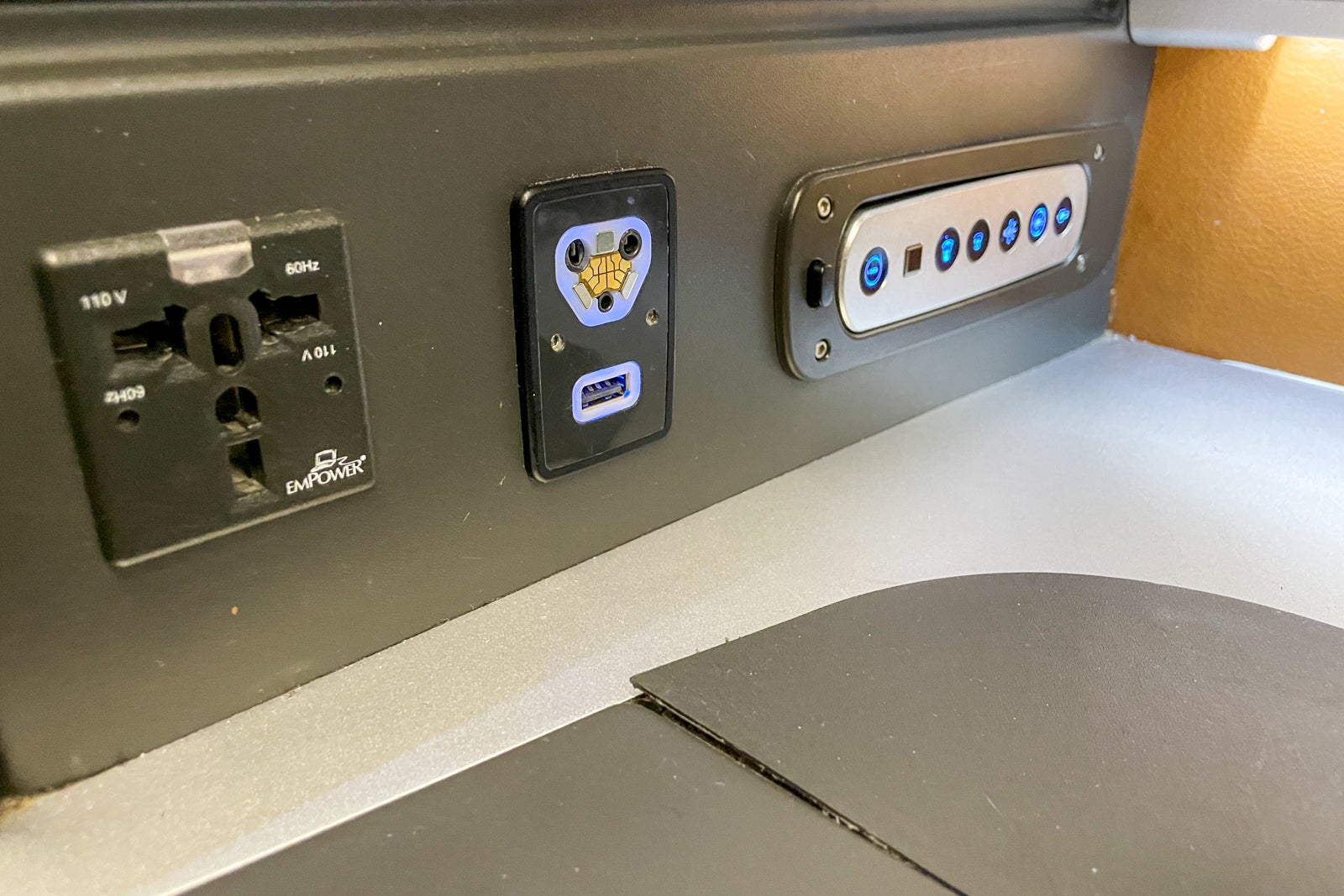 It's a great introduction to Scandinavia
I loved rifling through my amenity kit when I boarded to see the assortment of Scandinavian brands represented in the little bag (including lip balm and moisturizer from Stockholm-based Verso Skincare). And the aforementioned Hastens bedding made my night far more restful than I expected; cozy and with enough weight to transport me far from the freezing skies to, say, a mattress store in Sweden.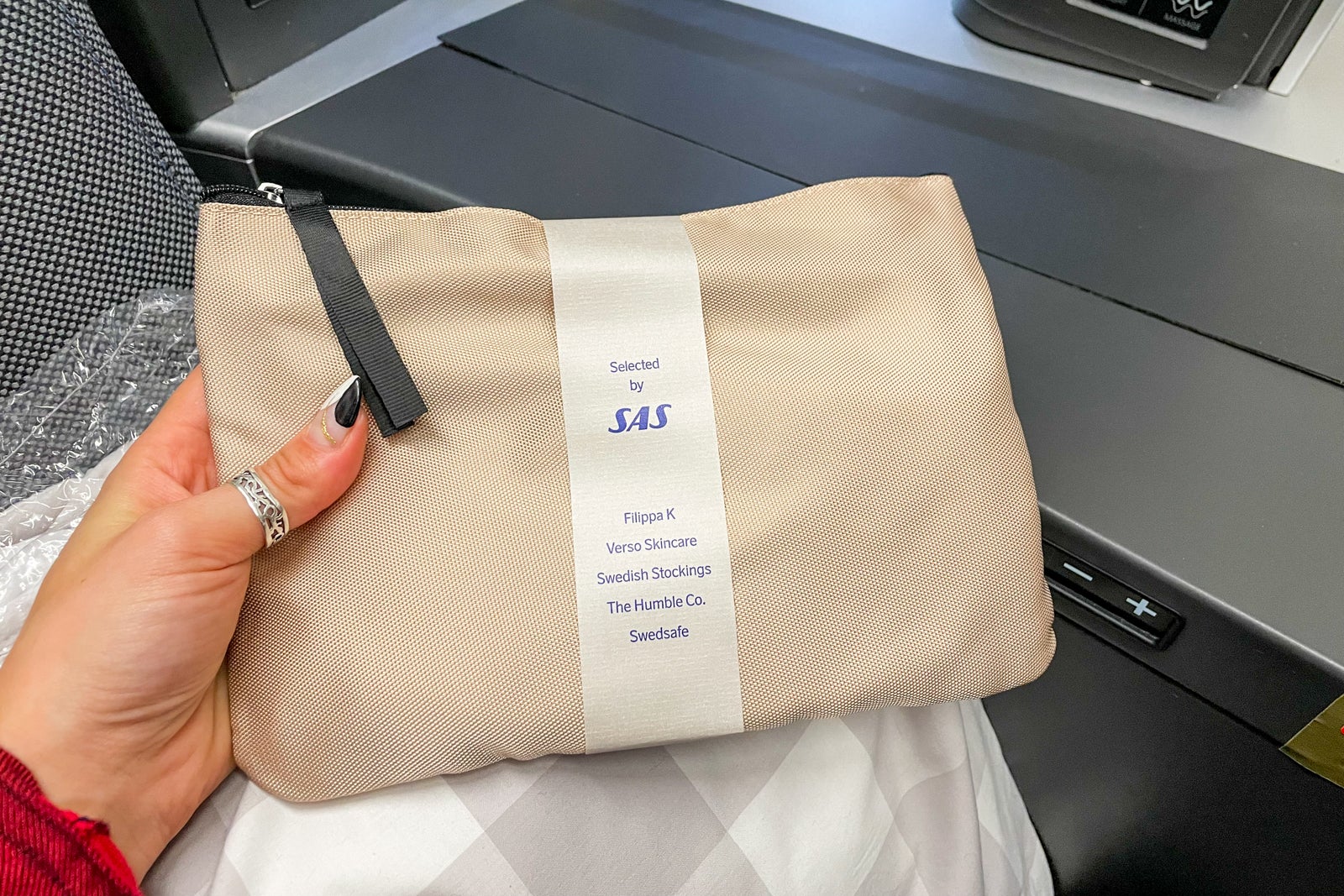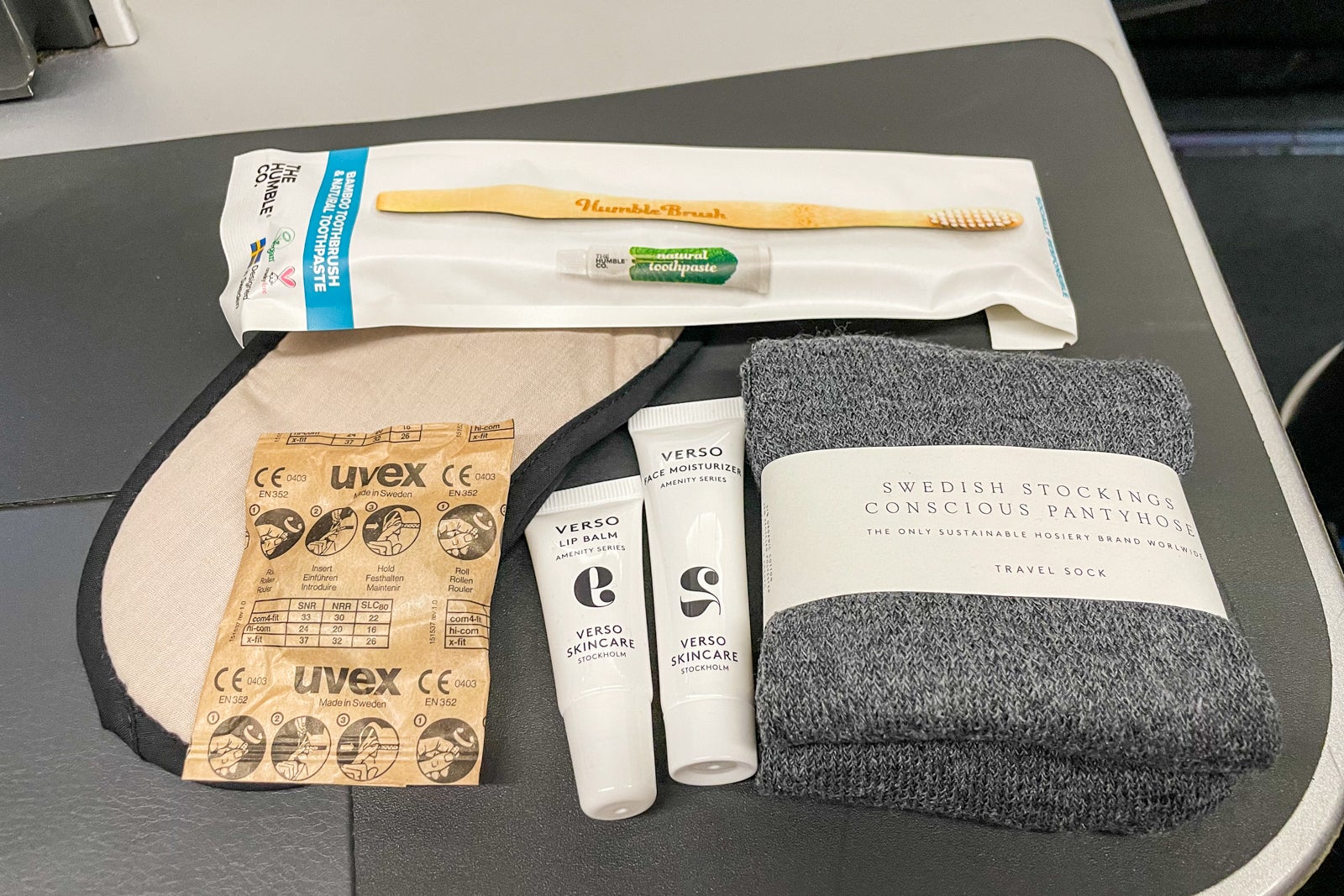 The menu featured a variety of Swedish, Danish and Norwegian brands and ingredients — apple must from Norway's Upper Ringi farm; port wine marmalade made in Malmo, Sweden; and a Danish IPA and Pilsner — and went to great lengths to celebrate the region. My only disappointment was that the seafood entree featured sea bass, and not Norway's iconic pink salmon.
Bottom line
My business-class flight on SAS wasn't perfect. When I settled into my seat, I quickly realized I had an inoperable tray table and would have to lean over the armrest to eat for the duration of the flight.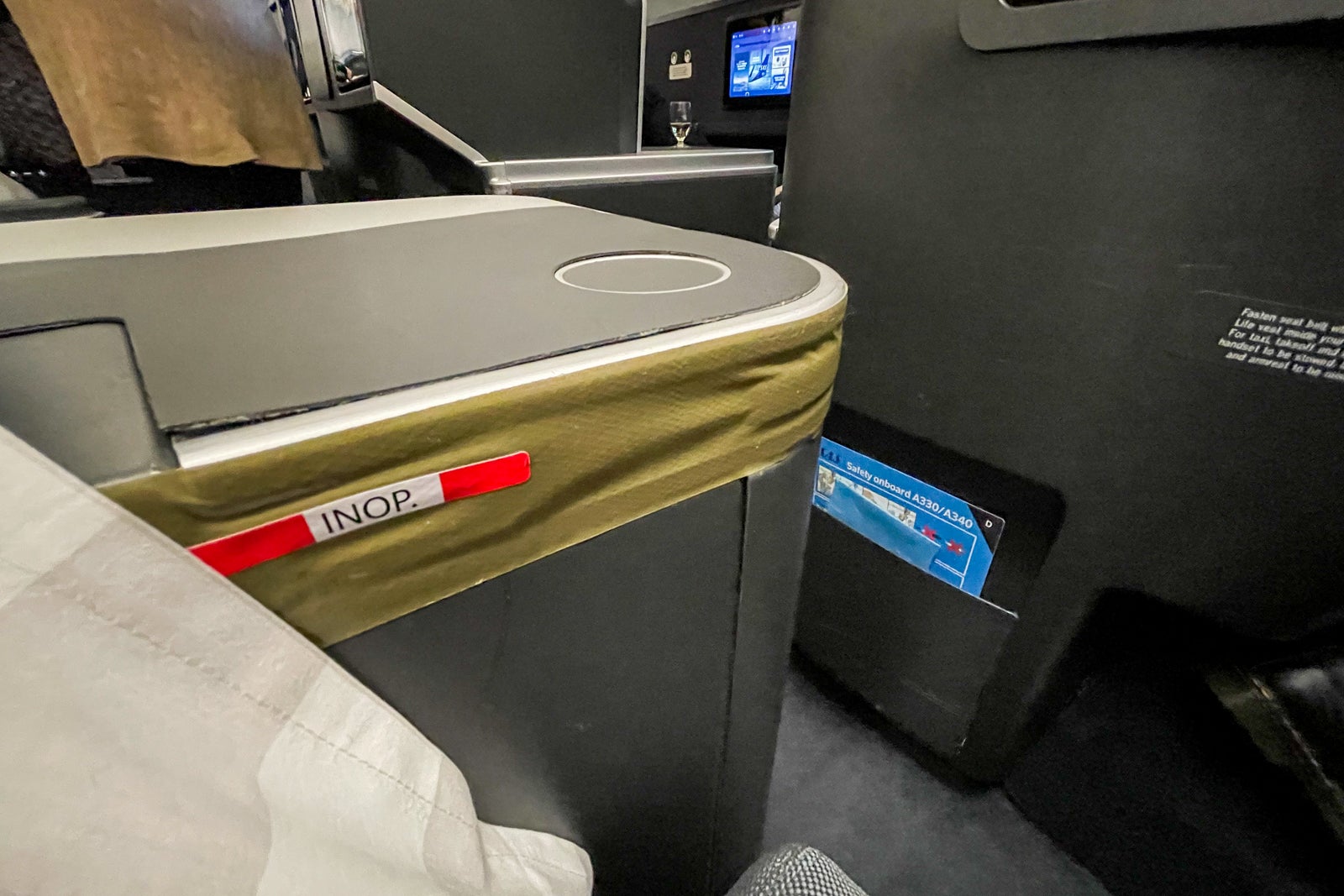 And the boarding process was not unlike watching the doors to Best Buy open on Black Friday: Either every single person in that plane had priority boarding, or the gate agents did nothing to maintain order.
There wasn't a ton of space for my belongings at the seat either; there was no enclosed storage, like the miniature cabinet you'll get at a United Polaris seat. But SAS still delivered great value for its premium service.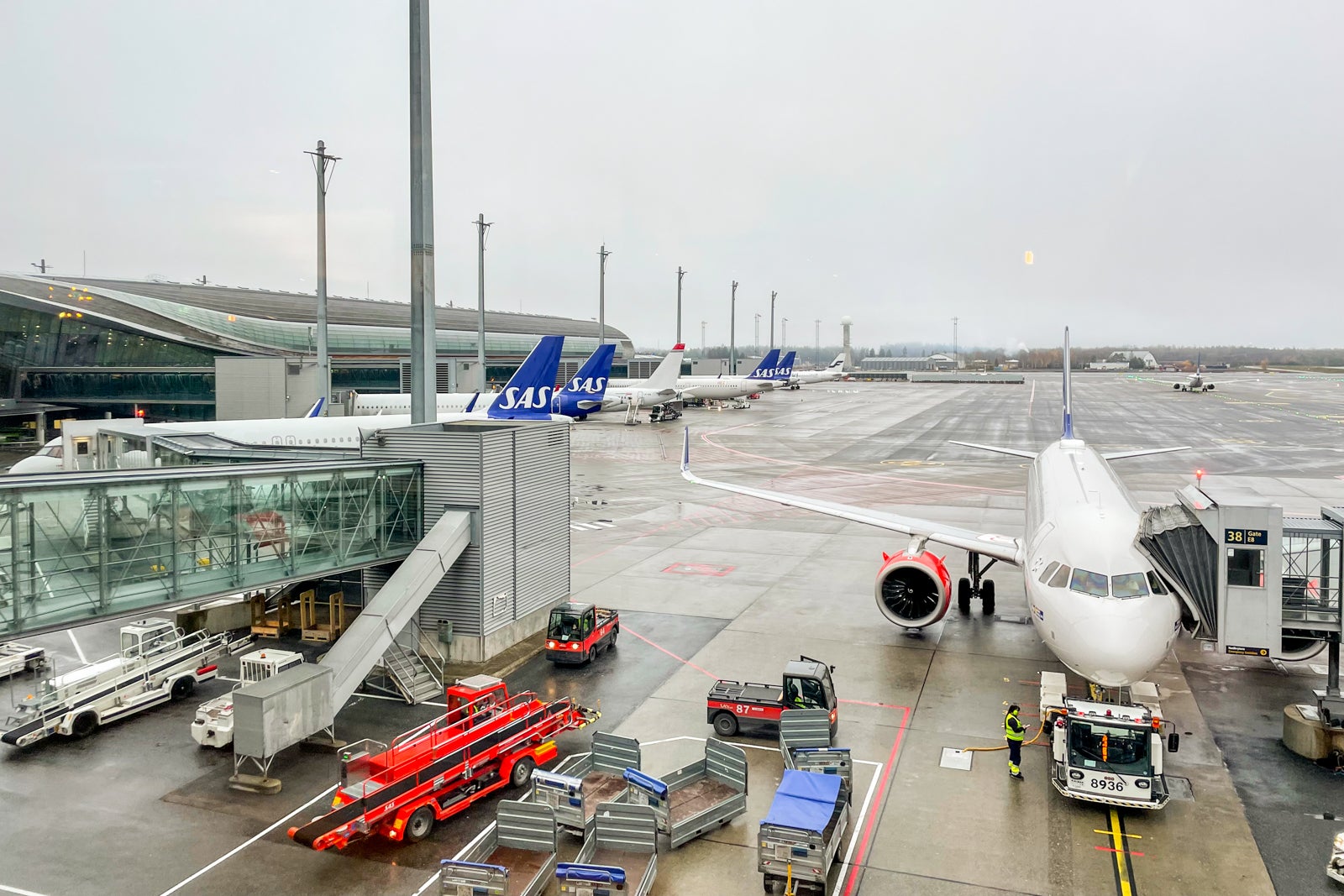 Now, if only I could convince them to recalculate my total ticket price with the upgrade bid so I can earn more United PQPs.