Alaska Airlines Mileage Plan used to be one of our favorite airline programs. Even though its miles are fairly difficult to earn (there are no credit card points transfer partners), the program once offered some incredible award flight sweet spots.
Sadly, Alaska has removed many of its award deals. Consider these recent devaluations to the program:
Most of these changes came without notice, which is especially upsetting after Alaska Airlines committed to providing 90 days' notice before changes to its award chart.
If you're sitting on a pile of Alaska Airlines miles, you might be worried about them losing value. Or maybe you just signed up for the elevated bonus offers on the Alaska Airlines Visa® credit card or Alaska Airlines Visa® Business card and are worried that you won't be able to use the miles as you envisioned.
Here are the remaining sweet spots with Alaska Mileage Plan that you should book before they disappear.
Flights to Australia and New Zealand with a free stopover in Fiji
You can fly from West Coast airports like Los Angeles International Airport (LAX), San Francisco International Airport (SFO) and Vancouver International Airport (YVR) to Fiji for 40,000 miles each way in economy class. You'll need just 55,000 miles in business class.

However, you can pay that same number of miles (plus around $25 more in taxes and fees) when flying to Australia or New Zealand with a stopover in Fiji for a few days. No extra miles are required.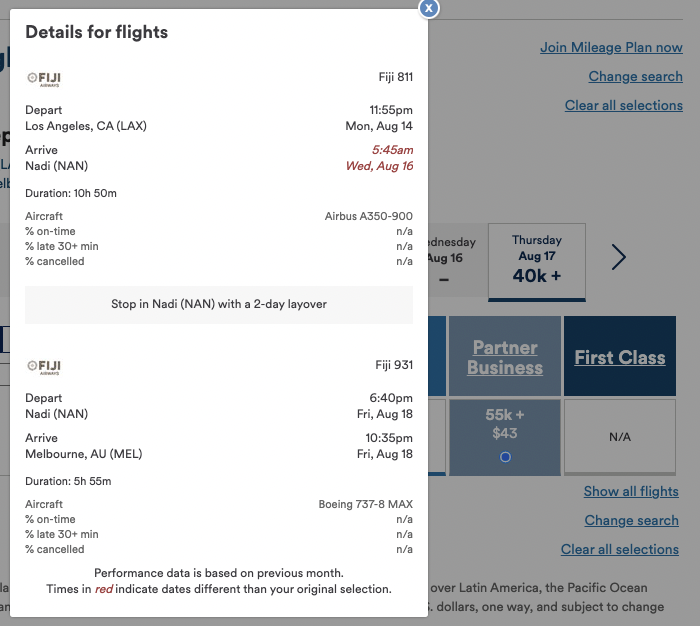 A free stopover in Fiji can add considerable value to your booking, and you can book these awards online using a multicity search.
Related: How to book free stopovers with Alaska Airlines Mileage Plan
Interisland flights with Fiji Airways
Some of Fiji Airways' flights to other islands in the Pacific can be incredibly expensive — especially when you consider the short distance of many of these hops. One-way flights to neighboring islands in Vanuatu, Samoa, Tuvalu and Tonga can cost up to $500 on popular dates. You can book these with 17,500 Alaska miles in economy or 32,500 miles in business class.

It's easy to get over 2 cents per Alaska mile on many of these flights.
Related: Beyond Hawaii: 5 Pacific islands for perfect family vacations
Flights to Asia or Africa with Cathay Pacific
Flying with Cathay Pacific from the West Coast to its Hong Kong International Airport (HKG) hub will cost 30,000 miles each way in economy class. If you can find available seats in premium cabins (which is difficult), you'll pay 50,000 miles per person in business class and 70,000 miles in first class.

You can also continue to several points in Asia, such as various destinations in India and Dubai International Airport (DXB), paying just 50,000 miles per person for a one-way flight in economy. Expect to pay 62,500 miles for a one-way business-class ticket and 70,000 miles in first class.

Unfortunately, Cathay Pacific's premium cabin seats are extremely tough to find. If you find availability, we recommend booking immediately. If you need to cancel your ticket later, Alaska will redeposit the miles and refund the taxes and fees without penalty. However, if you book your award ticket over the phone, the $15 call center booking fee may not be refundable.
Related: Business as usual: A review of Cathay Pacific's A350-900 in business class, Hong Kong to Newark
Flights to South America with LATAM
South America's largest carrier, LATAM, flies between Los Angeles and Arturo Merino Benitez International Airport (SCL) in Santiago, Chile, and you can book this flight for 25,000 miles each way in economy. One-way business-class tickets cost 45,000 miles.

Other route pairs with LATAM include the following:
LAX and Jorge Chavez International Airport (LIM) in Lima, Peru.
LAX and Sao Paulo International Airport (GRU).
Boston Logan International Airport (BOS) and GRU.
John F. Kennedy International Airport (JFK) and LIM.
JFK and SCL.
JFK and GRU.
Orlando International Airport (MCO) and El Dorado International Airport (BOG) in Bogota, Colombia.
MCO and GRU.
Miami International Airport (MIA) and BOG.
MIA and LIM.
MIA and SCL.
MIA and GRU.
MIA and Fortaleza Airport (FOR).
Pricing should remain the same across these routes and in either direction.
Related: 5 expert tips when booking award travel to South America
Bottom line
Sadly, we've lost some great uses of Alaska Airlines miles over the past year. If that's any indication, these remaining sweet spots might also disappear.
We recommend booking these flights before you lose the opportunity.