Airbnb's summer release is here — and it's a big one.
The updates, which include more refined maps and new payment options, come on the heels of a record year in 2022. And this year, Airbnb is expecting a whopping 300 million guest arrivals.
Fifteen years following its launch in 2008 and after weathering a pandemic, Airbnb's growth has been driven by three things, Catherine Powell, Airbnb's global head of hosting, told TPG during a phone interview: a pent-up desire to travel and connect, people turning to hosting as a new source of income, and the tech company's continued commitment to innovation.
Those three things were also top of mind for the platform's most recent release, which is now live worldwide.
"With this release, we've had nearly 400 upgrades and innovations in the last couple of years," Powell explained, "and these are innovations listening to [and] understanding what our guests need, what our hosts need."
Powell also explained that many of this release's innovations are tied directly to keeping the Airbnb experience more affordable for guests — with more transparency in the booking process. In fact, she explained, Airbnb is specifically innovating around "affordability, choice for guests [and] being able to price competitively for hosts."
After getting a firsthand look at the new releases, I can say that, starting now, Airbnb is easier to use and more functional than ever. Here are just a few updates you should know about:
Airbnb's now a lot more transparent
One major upgrade is that Airbnb users can now see the price of a listing inclusive of fees (but without taxes) across the entirety of the platform from the minute you start searching. So, now you don't have to worry about falling in love with what seems like a moderately priced listing, only to have your heart broken once you click in and the price skyrockets (thanks to something like an above-average cleaning fee).
The fee-inclusive pricing is available in search results, price filters, maps and listing pages. A quick click on the total price will also reveal the exact price breakdown so you know what fees are included and how much they cost.
With this feature — an expansion of last year's all-in price transparency — "there's no hidden surprise of a fee you weren't expecting," Powell said.
And speaking of price, one exciting new feature is that now in the U.S. and Canada, guests can use Klarna to book stays and pay with four interest-free installments over six weeks. On bookings over $500, users in the United States can apply to pay in monthly installments.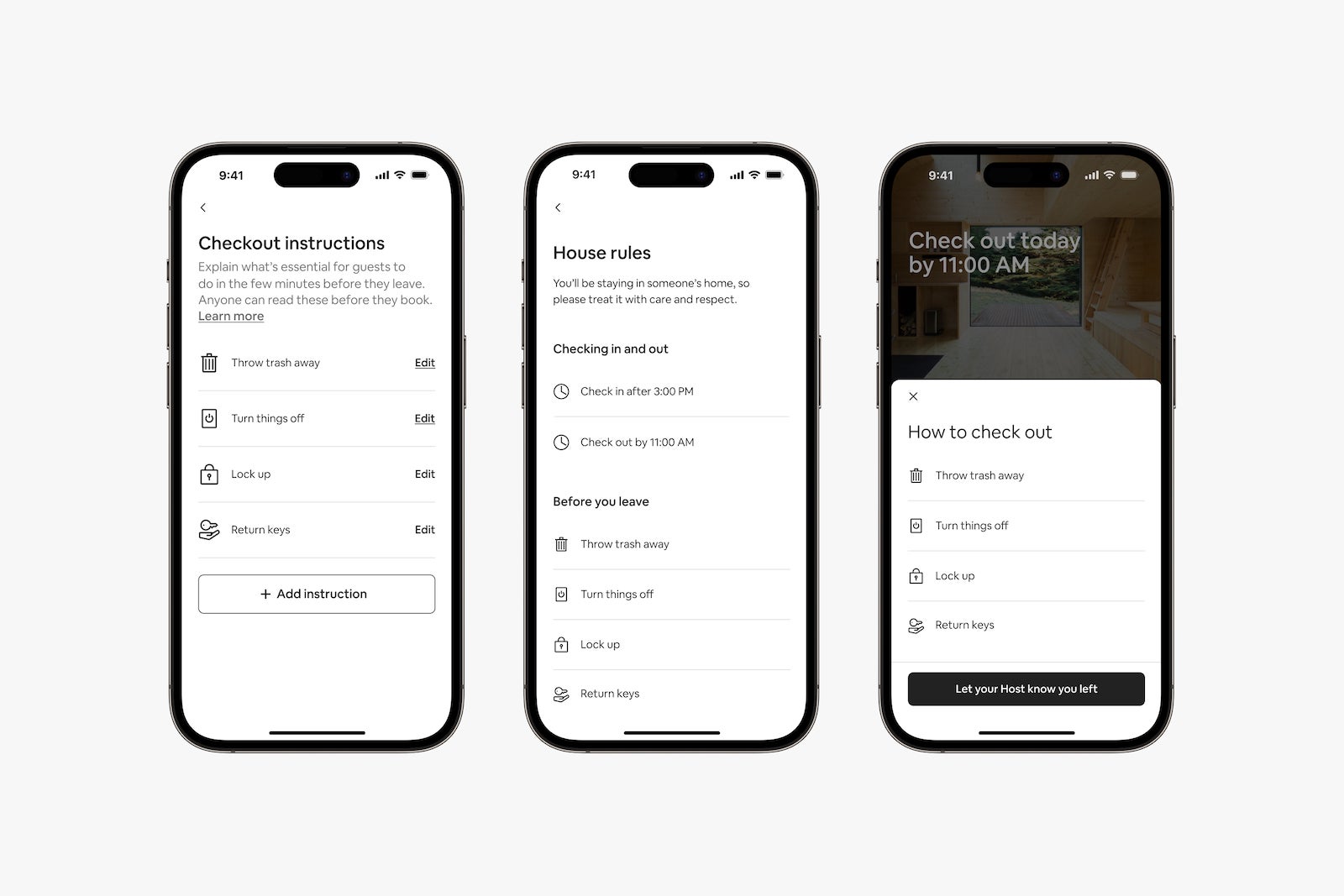 Another way Airbnb is being more transparent is with the checkout process.
We've all heard stories about Airbnb bookings that come with a list of checkout chores more tedious than many of us have for our own homes. Over the last few years, Airbnb users have taken to social media to share some of those unexpected asks that suddenly make a vacation feel like work — even when there's a high cleaning fee attached to the booking.
Frankly, people are tired of it.
"We heard it loud and clear from guests. I think everybody did," Powell said. "We spent a lot of time looking at the data and analyzing, and the vast majority of our hosts are reasonable … but there were outliers."
To keep those outliers at bay, users can now see the full set of checkout details on a property's listing page before booking, meaning that if more arduous cleaning tasks are a non-starter for you, you'll know ahead of time.
Private rooms are making a comeback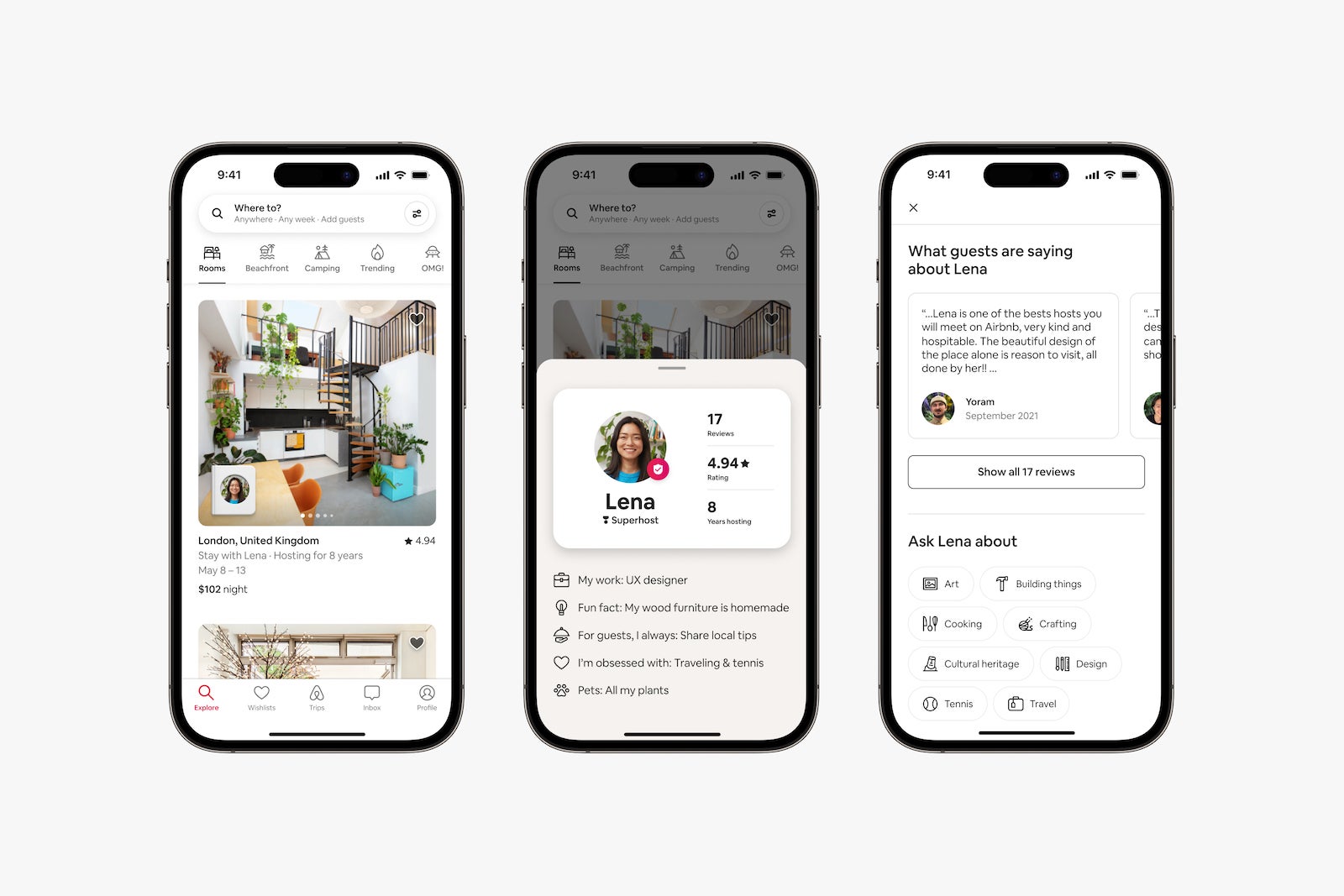 When Airbnb originally launched, it was all about helping people find a room in someone's home. Now, the company is doubling down on that original function by introducing an Airbnb Rooms category that'll curate more than 1 million listings. Rooms, Powell noted, is one of the most affordable ways to use Airbnb, with over 80% of private rooms costing less than $100 per night, with an average rate of $67 per night.
Now guests can learn more about who they're staying with through a "Host Passport" that allows the host to share personal information like some fun facts and languages spoken. Guests can also now more easily find private rooms with attached private bathrooms or rooms with locks.
Better Wishlists, maps and customer support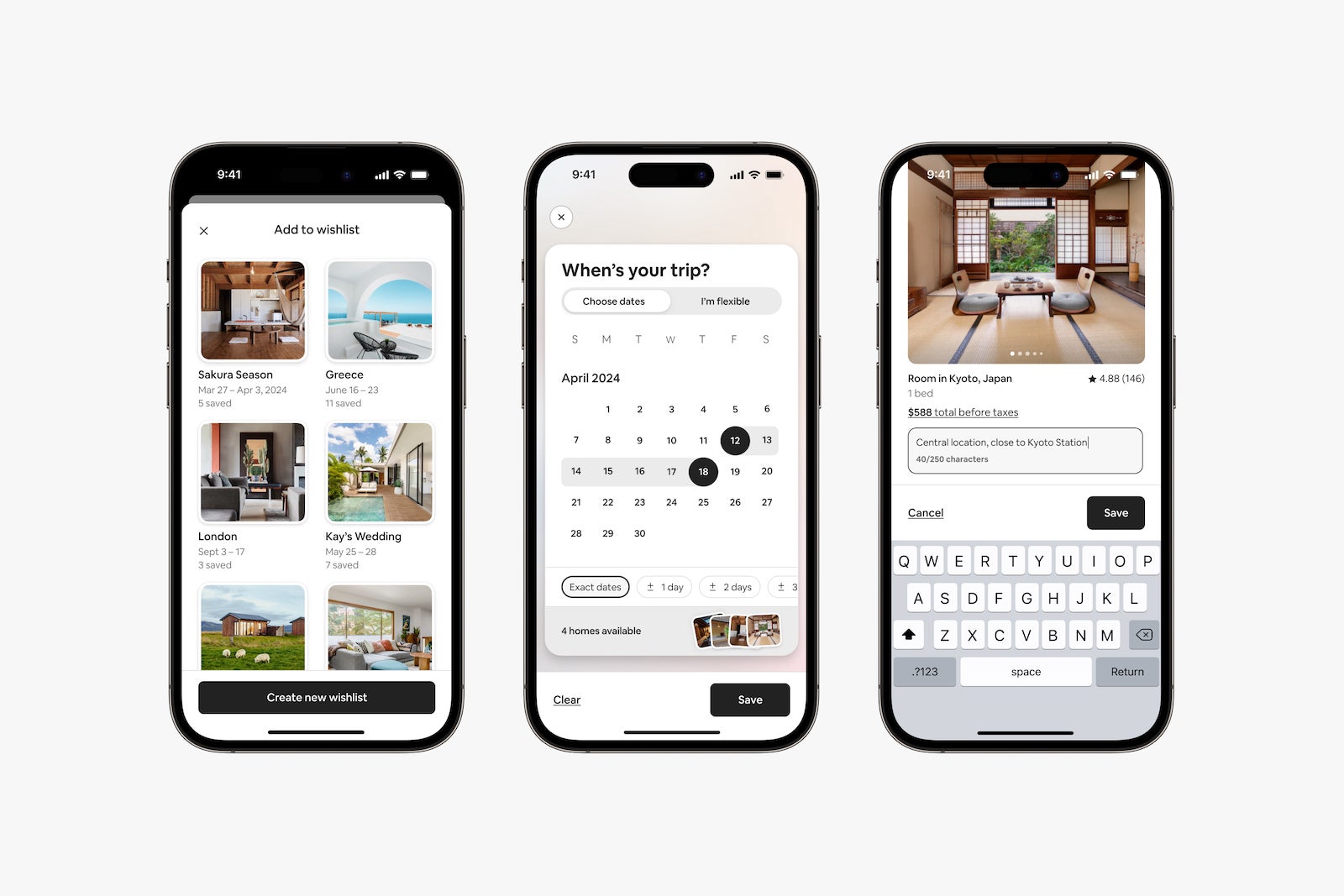 If you're like me, you have a slew of Airbnb Wishlists for destinations around the world that you've curated over the years — and then never do anything with. Now, Wishlists have been redesigned so you can easily search for properties in a Wishlist for a select date range to finally make that dream trip happen. You can also make notes about each property to remember why you loved it in the first place.
With new and improved map features, guests can now find listings closer to whatever brought them somewhere in the first place. For example, instead of just searching for "Paris," you can now find listings near the Eiffel Tower — and then see how long it might take you to walk there from the listing. Other updates include faster performance, pins that stick when zooming and moving around the map, and even mini-pins that can help you find even more similar listings.
Another new feature is a special 24/7 support team dedicated to people who are currently traveling. According to Airbnb, the team has a goal of answering 90% of calls in English within two minutes or less.
There will also be instant rebooking credits offered to travelers if a host cancels a stay within 30 days of arrival so that the travelers can readily book a new place for the trip.
What's next
The updates above are just a few of the many changes coming for travelers (and hosts) with Airbnb's spate of summer updates. But of course, here at TPG, we're always curious about what's next.
"I think we will continue to listen, we will continue to understand what the needs of guests and hosts are and continue to innovate to meet those needs," Powell said. "What the innovations will be in November? I don't yet know, but we're very, very focused on ensuring that we remain really dynamic in terms of innovations."