The summer of 2022 was one of the most chaotic air travel seasons in recent memory. European destinations, in particular, experienced unprecedented travel disruptions right as visitor numbers spiked following the end of coronavirus lockdowns and the easing of entry requirements.
From widespread flight cancellations and delays to continued labor actions and strikes across the continent to melting runways and chaos at Amsterdam Airport Schiphol (AMS), last year was challenging, to say the least.
You can't actively prevent an airline's staffing problems, industry strikes and airport meltdowns. However, you can take a few actions to "keep calm and carry on," as the Brits like to say.
Certain strategies and planning techniques may improve your chances of getting where you want to go — or at least make cancellations easier to manage.
The latest European airport problems
With Memorial Day in the U.S. and the late May bank holiday in the United Kingdom swiftly approaching, those hoping for clear and hassle-free travel in Europe could be forgiven for feeling concerned.
In the last 24 hours alone, British Airways was forced to cancel 118 flights at London's Heathrow Airport (LHR) and delay a further 327 flights following technical issues. The affected BA services at Heathrow amounted to 17% of the day's schedule canceled and 49% delayed.
Related: TPG's guide to understanding EU261 flight compensation
Bringing more woes, approximately 1,400 security staff at Heathrow are currently embroiled in a 72-hour walkout set to end on May 27. This strike action is largely focused on Terminal 5, meaning British Airways passengers will face the brunt of the disruption. This will be of particular concern to international travelers passing through the London hub on their way to and from the U.S.
Heathrow officials have been optimistic that strike disruptions will be minimal.
"Passengers can be reassured that they will travel as normal," a spokesperson said. "We have activated our contingency plans and deployed 750 additional colleagues and the entire management team who will be on hand in the terminals providing assistance to passengers."
Related: Ultimate guide to canceling a flight and getting a refund with major US airlines
These recent disruptions come hot on the heels of EasyJet, Ryanair and British Airways being forced to cancel hundreds of flights at the beginning of May due to ongoing French air traffic controller strikes. The ensuing worker disputes affected flights departing from London Stansted Airport (STN), Bristol Airport (BRS), Manchester Airport (MAN) and Edinburgh Airport (EDI) — and that's just in the U.K.
Moving into summer, the ongoing threat of strike action across Europe shows little signs of abating. As it stands, we can expect to see further walkouts in May and June.
In Italy, a nationwide general strike affecting buses, trains and trams is starting today, May 26. It's expected to last 24 hours.
Italian travel will again be hindered on June 4 due to a 24-hour ground-handling strike at airports. Thankfully, under Italian law, flights departing from 7 to 10 a.m. and between 6 and 9 p.m. are protected from the action. If you're planning to travel to Italy on this date, booking an earlier or later flight would be wise.
In France, travelers received warnings of potential disruptions due to protests against the nation's increase in the legal retirement age. The date to watch here is June 6; previous protests have seen cancellations, as well as delays to flights and Eurostar train schedules.
French air traffic controllers have been regularly striking since March, and this is expected to continue until June 1. ATC strike action has amounted to more than 50 days of disruption in the first months of 2023 alone, contributing to more than 3,700 flight cancellations, according to low-cost carrier Ryanair.
As for Spain, the Spanish Airline Pilots Union is planning strikes for pilots at Air Europa on May 29 and 30, plus June 1 and 2. Strikes also occurred from May 22 to 26.
While last summer's chaos could largely be attributed to staffing shortages following the bruising toll of the pandemic, 2023 is looking to be more and more hindered by strike action. We don't expect this to be solved soon.
It's not all bad, though. The number of canceled flights within Europe fell by 48% in April versus the previous month, according to data crunchers at aviation risk analytics firm Cirium. Leading Spanish airline Iberia proved to be the most punctual globally, with 87.28% of flights taking off as scheduled. It's a worthy contender if you're yet to choose an airline this summer, especially if you're loyal to Oneworld.
Norwegian Air Shuttle, Austrian Airlines and Finnair made the top five most punctual airlines in Europe last month. No U.K. airlines appeared in the top 10 for most punctual carriers.
How to plan for airport chaos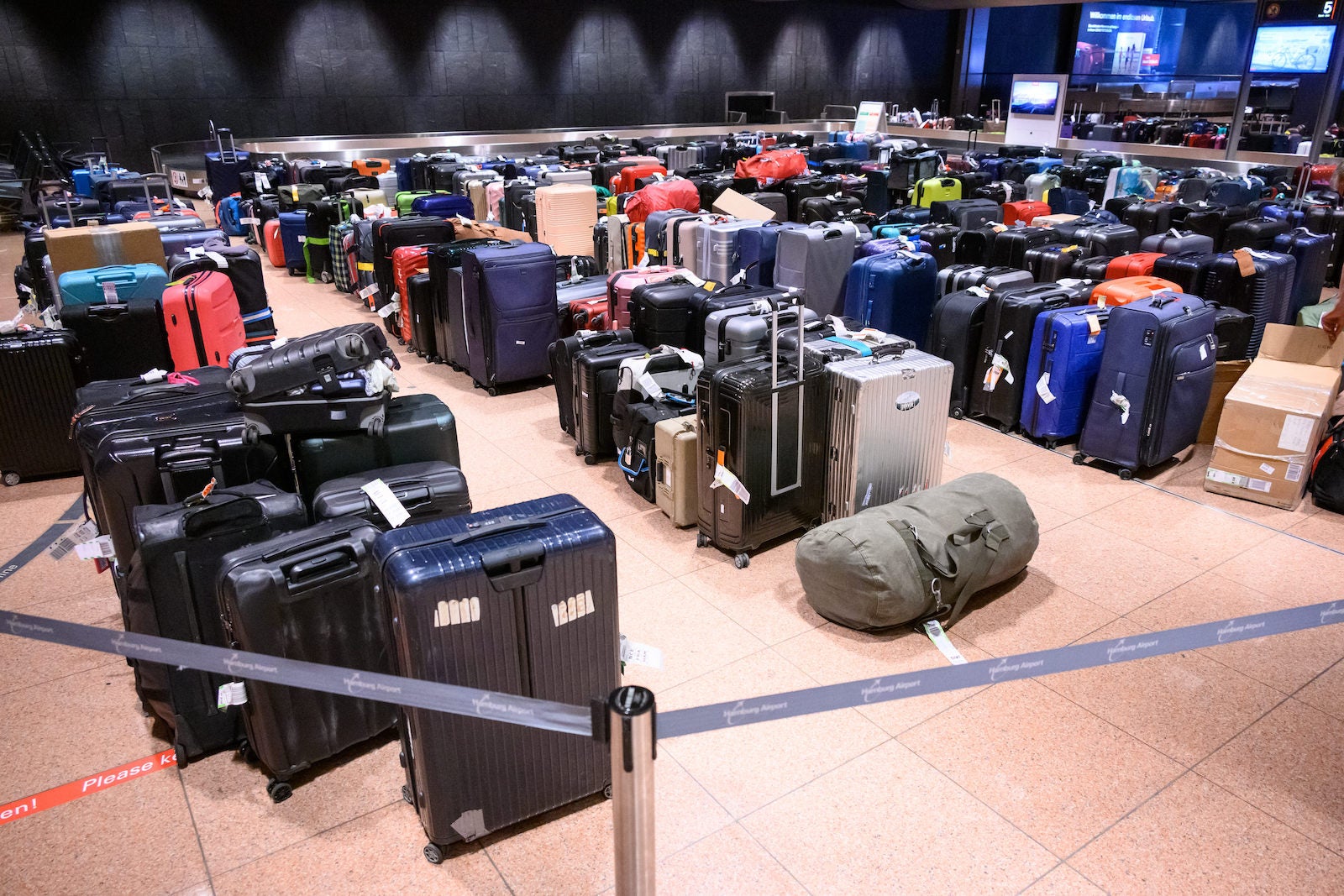 Strikes are out of your control. However, there are certain actions you can take before your flight to prepare for potential airport chaos, flight cancellations and scheduling snafus.
Only bring carry-on bags
Airlines are having well-documented issues handling luggage, particularly with connecting flights to and around Europe. Checked bags may not arrive with you at your destination, and last-minute flight changes or reroutings may mean checked bags get lost.
To try to escape this problem, only travel with carry-on luggage, if possible. Bringing just a rollaboard bag on your Europe trip also makes it more convenient to grab a replacement flight or make last-minute travel changes without worrying about checked bags.
Related: 7 steps to take when an airline loses your luggage
Know, though, that with many airlines' cabins completely sold out and passengers competing for limited overhead luggage space, you may be forced to gate-check your carry-on, even after all your planning. TPG has some tips on the best way to keep your carry-on with you.
Related: 9 travel packing tips to save space in your luggage
Use direct flights to avoid troubled airports
Regardless of the airport, it's typically best to avoid any unnecessary flights. The more connections you make, the more chances you'll face cancellations or delays.
If it makes financial and timing sense, book direct flights. Those extra dollars may save you a lot of hassle.
Related: Your flight is canceled or delayed — here's what you should do next
Leverage available travel tools
Staying up to date on your airline and flight status can help you predict and manage delays and cancellations. Use all the channels available to you: email notifications, text notifications, the airline's app, airline Twitter accounts and even airport Twitter accounts.
"Be sure to download your airline's phone app and make sure their contact information is updated and notifications turned on," said Limor Decter, travel advisor at Embark Beyond.
Decter advises his clients to check on flight status, weather and news — both where the flight originates and where it's going — a day or two before departure. Should things go wrong, he advises using your travel agency for support, as agencies have direct access to airlines.
"We can often connect with the right people to rebook a flight that is canceled," Decter explained.
Related: Check out these four great new Google trip-planning tools
Apply patience, persistence and politeness
Even the best-laid travel plans sometimes go awry, through no fault of your own.
When this happens (and it most likely will this summer), think about packing the "three P's": patience, persistence and politeness. Traveling with these three items in your mental suitcase will better help you navigate your travels. It can also reduce stress levels.
Related: 6 tips for keeping your cool this summer as air travel melts down
Politeness is a powerful tool
Being polite to airline customer service representatives, whether in person or on the phone, is a nice thing to do, especially given the amount of stress they face.
It may also inspire them to take that extra step to help rescue your travel plans. That's because there's a great amount of discretion available to call center employees regarding how many options they research for your rebooking before they give up and leave you stranded at your destination.
Apply persistence in rebooking
It pays for passengers to be proactive if they need to rebook a flight.
As anyone who has recently tried to change an itinerary knows, airline customer service phone wait times can be horrendous — sometimes measured in hours.
Try a multipronged approach to rebooking. Contact your travel agent if you used one, and check on the airline's website, app and Twitter feed. Consult with in-person representatives at the airport — both at the customer service center and with gate agents.
If you have airline lounge privileges, consider going there to talk to a customer service representative, as the line will likely be shorter.
Related: As more airlines ditch Twitter, here's how to quickly reach an airline customer service agent
Bottom line
Travelers will continue to face air travel challenges to, from and around Europe this summer due to labor disputes, as well as overall capacity and staffing issues.
TPG recommends travelers planning any Europe trips this summer stay connected to the latest news from airlines and airports.
When travel plans involve transiting through some of the busiest airports and destinations, try reducing your travel disruption risk by only packing carry-on suitcases and leveraging your airline or travel status to skip lines and upgrade cabins.
As always, in these unpredictable times, pack your patience to cope with the chaos.
Additional reporting by Bill Fink.