London is like a second home to me. I know the streets, keep a list of my favorite pubs to grab a pint at and know the Tube system (almost) by heart. For my first visit back since the pandemic, I was coming off a long, 10-day road trip with my family. Instead of staying at one of the city's most popular hotels or a hotel that would give me a totally unique stay, I wanted to find a more convenient and budget-friendly property.
After extensive research, I landed on the DoubleTree by Hilton London – Tower of London. I had never stayed in that central part of the capital before, and the hotel earned bonus points for its location right off the Circle line (the most tourist-friendly line in the entire city). But what solidified my decision was the hotel's rooftop bar, Savage Garden, which claimed to offer direct views of the Tower of London.
The rates were within budget, so I made the reservation and looked forward to returning to one of my favorite cities in the world. Once I got there, though, things were not exactly as the website said they would be.
Here's what it was like staying at the DoubleTree by Hilton London – Tower of London.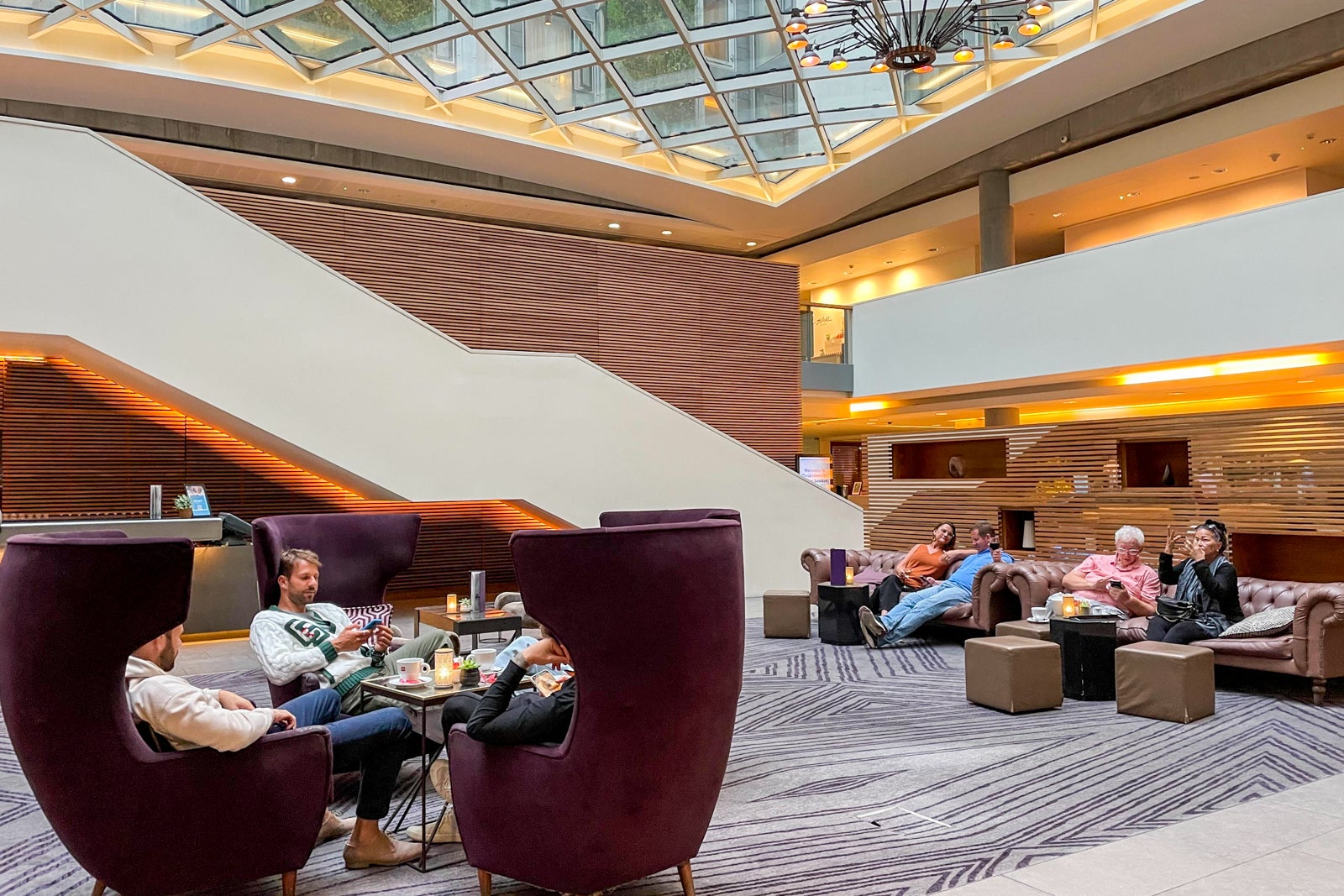 Quick take
DoubleTree has been a staple of the Hilton brand for years. The ambiance is usually the same from property to property. Guests know they can expect a good night's stay in rooms that are usually comfortable and clean — plus an iconic DoubleTree chocolate chip cookie at check-in. The Tower of London property offered just that but with a business-leaning crowd.
Surrounded by office buildings and right behind a Four Seasons, this DoubleTree easily gets lost in the crowd on the street. However, step inside, and you'll enjoy a vast lobby with amazing natural light pouring in from its atrium ceiling. Also, there were many spots to sit with a laptop to answer emails throughout the day.
The lobby almost felt like a co-working space, and multiple conference rooms were occupied throughout the hotel due to a busy convention schedule. (Snag a spot early for easy access to plugs and a comfortable chair.) If you work remotely and would prefer privacy, the rooms have enough space as well as a desk and office-like chair.
There are three on-site restaurants serving breakfast, lunch or dinner. Savage Garden, the popular rooftop bar, is open for dinner and drinks.
Getting there
From Heathrow Airport (LHR), an Uber to the hotel will run between 60 to 70 British pounds ($73 to $86). An iconic black London cab will cost, on average, about 45 to 70 pounds ($55 to $86).
One of the easiest ways to travel to the hotel is via public transit. You can take the Heathrow Express train for 25 pounds ($30) to get to Paddington Station in about 15 minutes. There, transfer to the Circle line and get off at Tower Hill.
Related: Watch us race to London Heathrow by cab, the Heathrow Express and new Elizabeth Line
Booking details
With a central location within walking distance of some of London's top tourist attractions, this hotel falls on the higher end of London's more affordable hotels. Generally, London hotels are already pretty expensive to start with.
I paid 453.45 pounds ($558) for a two-night stay in a queen guest room with breakfast included. Room rates typically range from $127 to $360 per night. Hilton Honors members can book award nights for between 60,000 and 160,000 points per night, depending on room type.
Standout features
The Zone 1 location on London's Tube map allows for easy access to prime spots like Buckingham Palace, Tower Bridge and The Shard.
Skipping housekeeping earns you a 10-pound ($12) drink credit at the lobby bar.
The lobby offers a great meeting place or solo work environment with plenty of seats and desk space.
Drawbacks
Room rates can change dramatically from night to night, affecting the overall affordability of the stay.
Room service was only offered from 5-10 p.m. and had a limited menu geared more toward cocktails and beverages than actual food.
The rooftop bar was unavailable during my stay as it was booked out for private events.
Some of the seemingly on-property restaurants are not actually associated with the hotel, so you will be unable to earn points by charging things to your room.
DoubleTree chocolate chip cookies were not offered until checkout, and you do have to ask.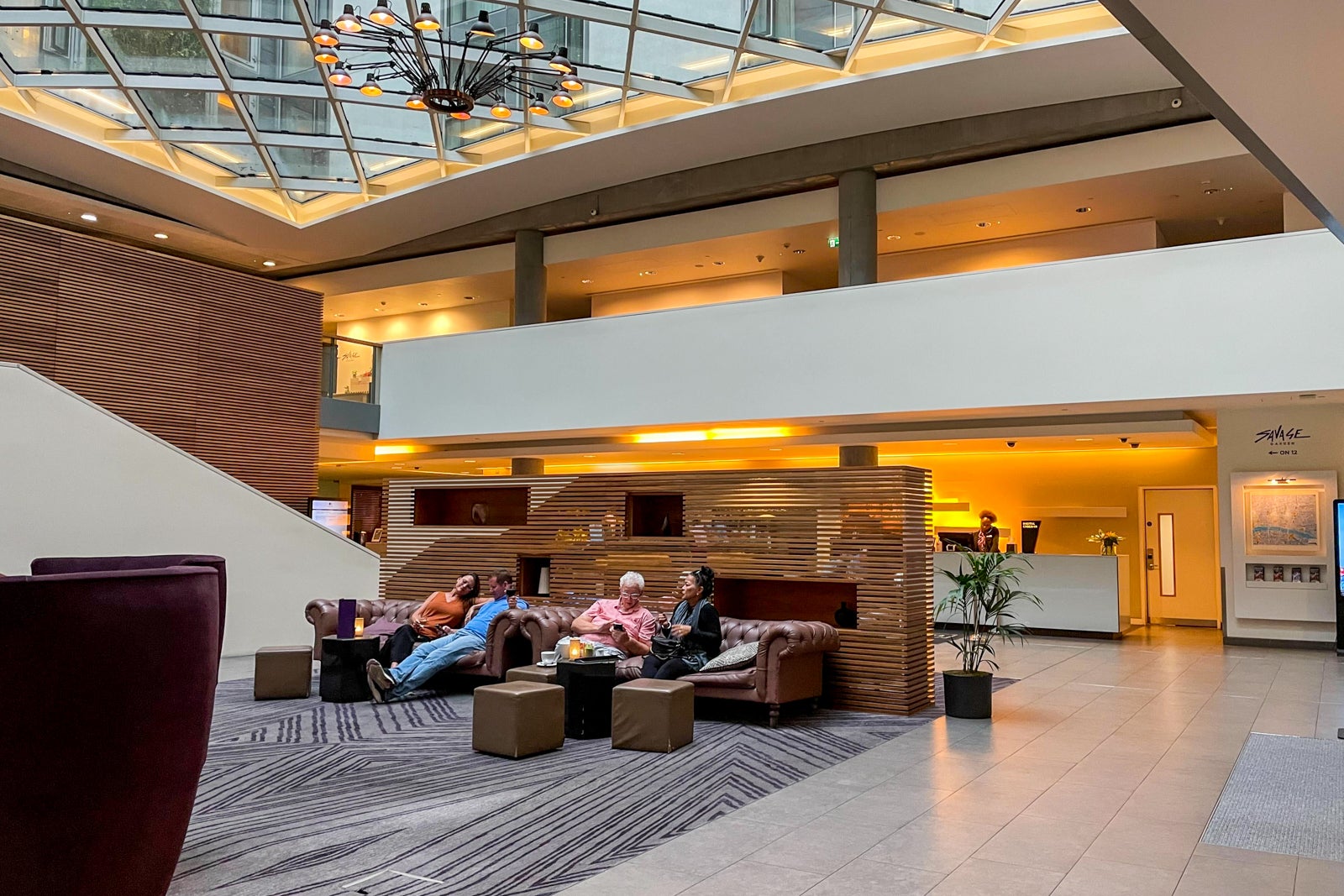 The vibe
This is a hotel designed for business travelers smack dab in the heart of London — but it's also filled with tourists. The neighborhood is full of offices, and the property's facade matches the office buildings surrounding it.
The entire upper floor of the lobby was usually full of people meeting with colleagues before heading out to meetings or conferences. It felt more like a WeWork than a hotel lobby at times with people networking, taking calls or having group meetings.
The room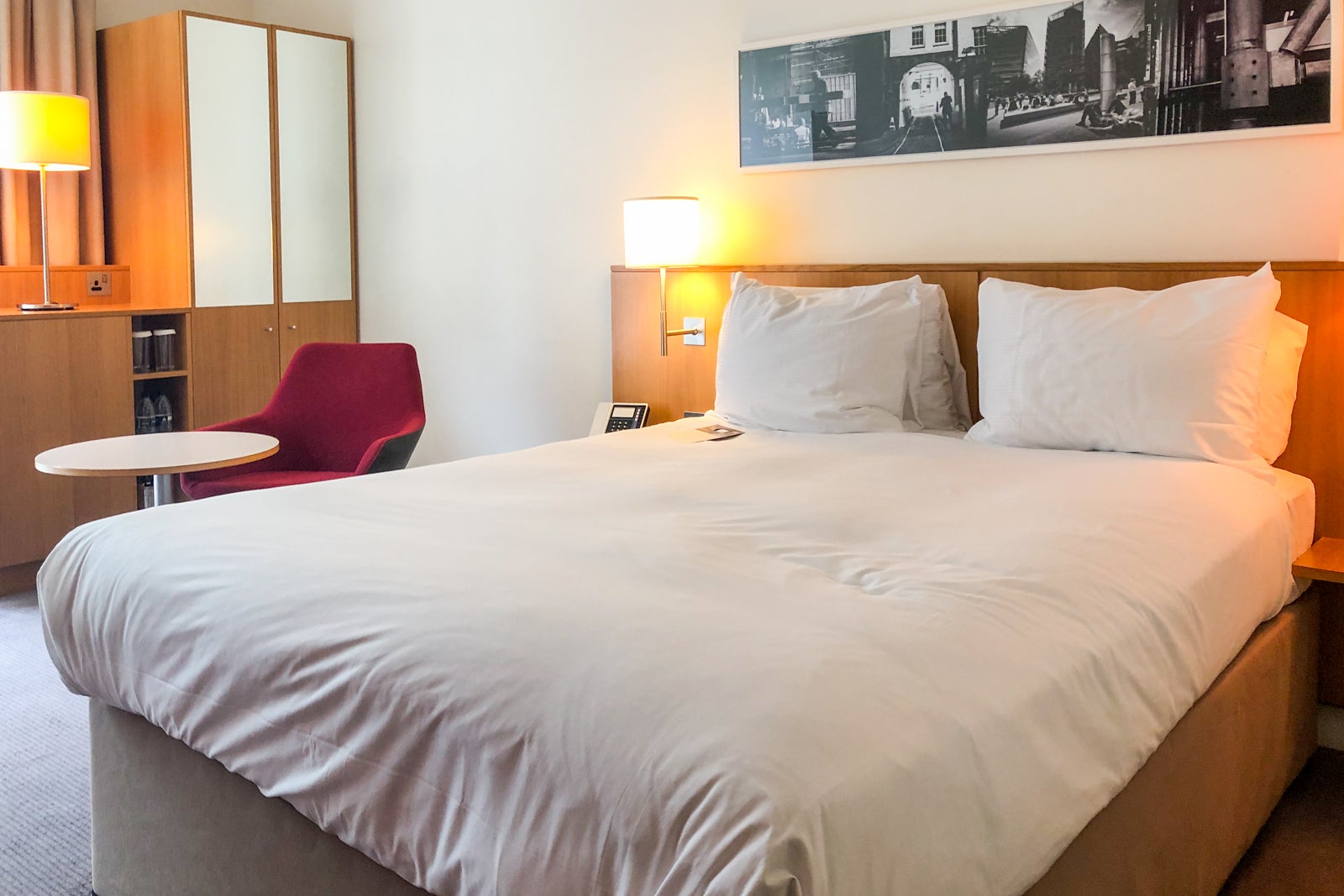 Coming in at less than 300 square feet, my queen guest room felt comparable to my New York City studio apartment — and had a similar layout. The hotel was renovated about six years before my visit, and I did notice a little wear and tear starting to show.
Upon entry, the bathroom was to the right, followed by the living and sleeping areas.
There was a nice desk setup with convenient access to plugs, so working from the room was quite easy. The desk offered lots of room to spread out: There was space for my 19-inch Macbook and a large breakfast tray with room to spare.
There was one window, but sadly it didn't offer much natural light; it looked out onto an office building.
The room had no minibar, but there was tea, coffee and an electric kettle. It took me a minute to find it since it wasn't sitting in the open but was tucked away in the desk's bottom drawer.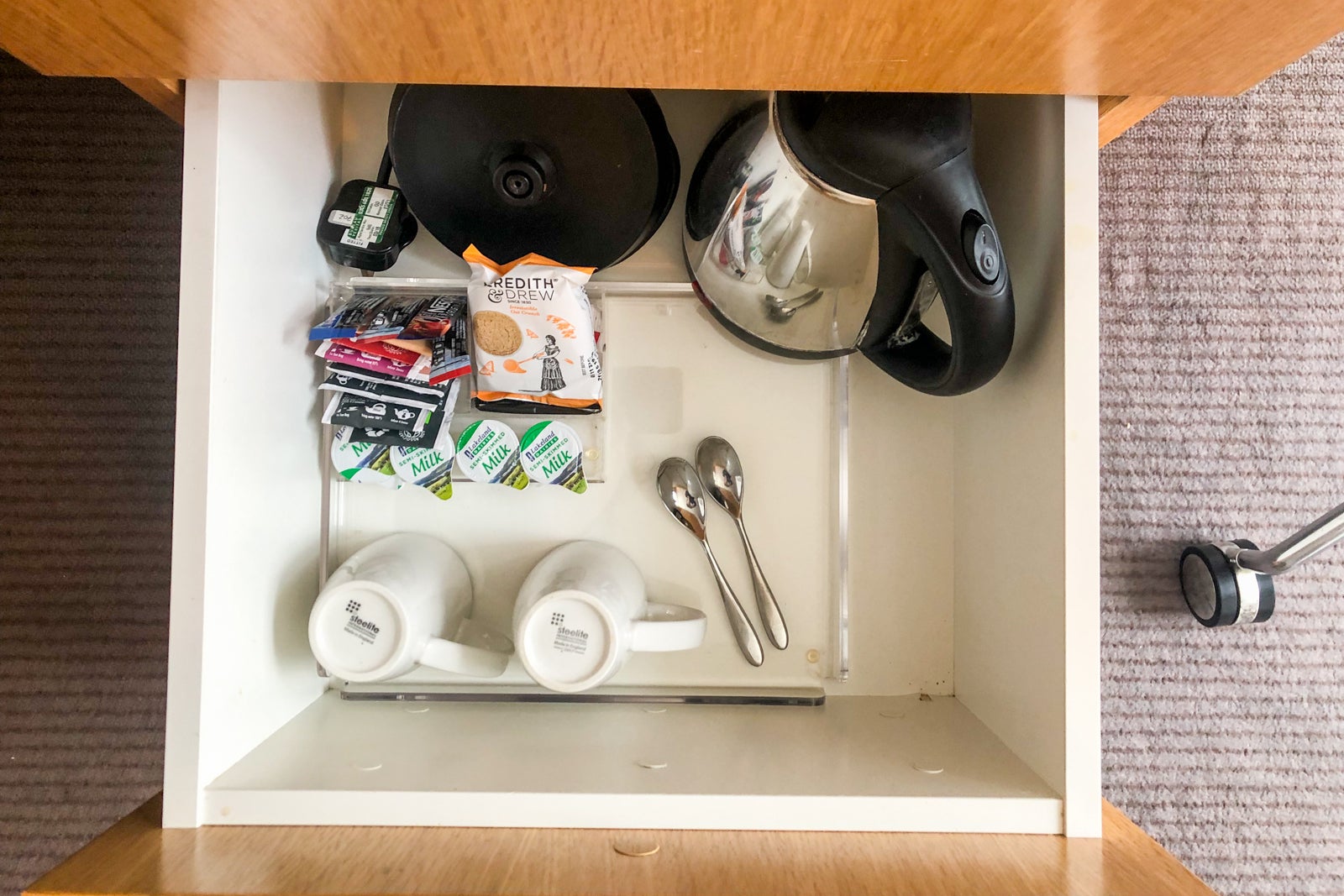 After traveling with my family for over a week, I was more than excited to finally have my own bathroom.
The shower was the largest I encountered over this particular Europe and U.K. trip, and the pressure was wonderful. Just be warned, there was a slight step up to it. There was no ventilation fan in the bathroom, so a hot shower steamed the space up very quickly. The toilet required a bit of effort to flush (I actually had to use two hands), but it was worth it simply to not have to share.
One interesting find in my room was a card that said if I volunteered to skip housekeeping services, I would get credit to use at the lobby bar — an offer I took full advantage of.
Food and drink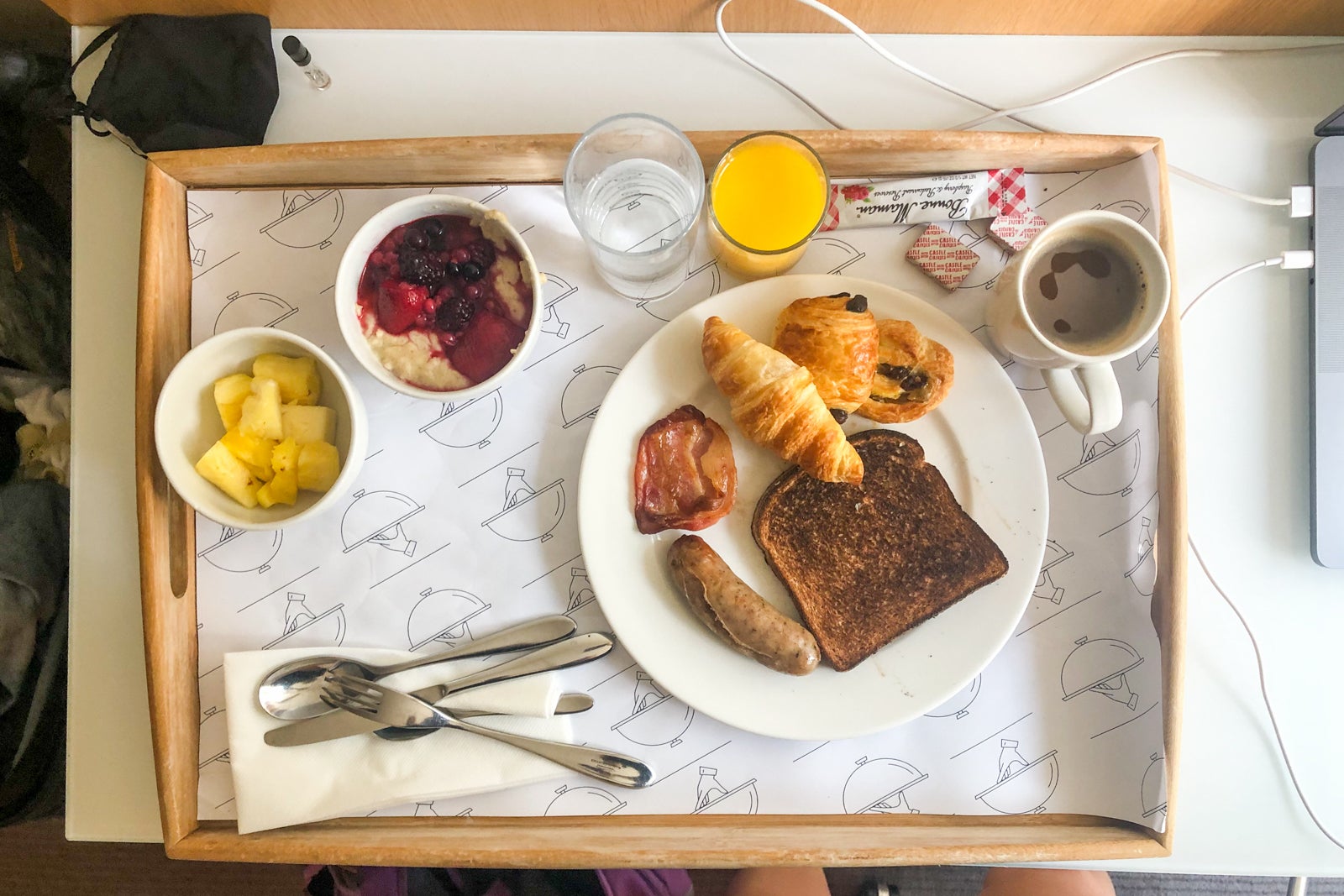 The property's food options ultimately left something to be desired. Still, the hotel's breakfast buffet, dubbed The City Cafe, offered options for everyone. Though it was a basic hotel breakfast, I enjoyed scrambled eggs that were just the right amount of runny as well as many yogurt options. This breakfast was included in my room rate but would otherwise cost 21.50 pounds ($26) per person.
At Number 7, the lobby bar, I didn't find anything out of this world. Drinks were decent, and classic cocktails were priced at 11 pounds ($13). Thanks to the coupon I found in my room for skipping housekeeping, I ordered a decent espresso martini that only cost 1 pound (about $1).
Number 7 also offers a small food menu with items like pastries for breakfast and mixed nuts during cocktail hour — but don't think of it as a restaurant. Itis very much a cocktail bar, and it's the kind of place to grab a drink before heading out for a reservation elsewhere.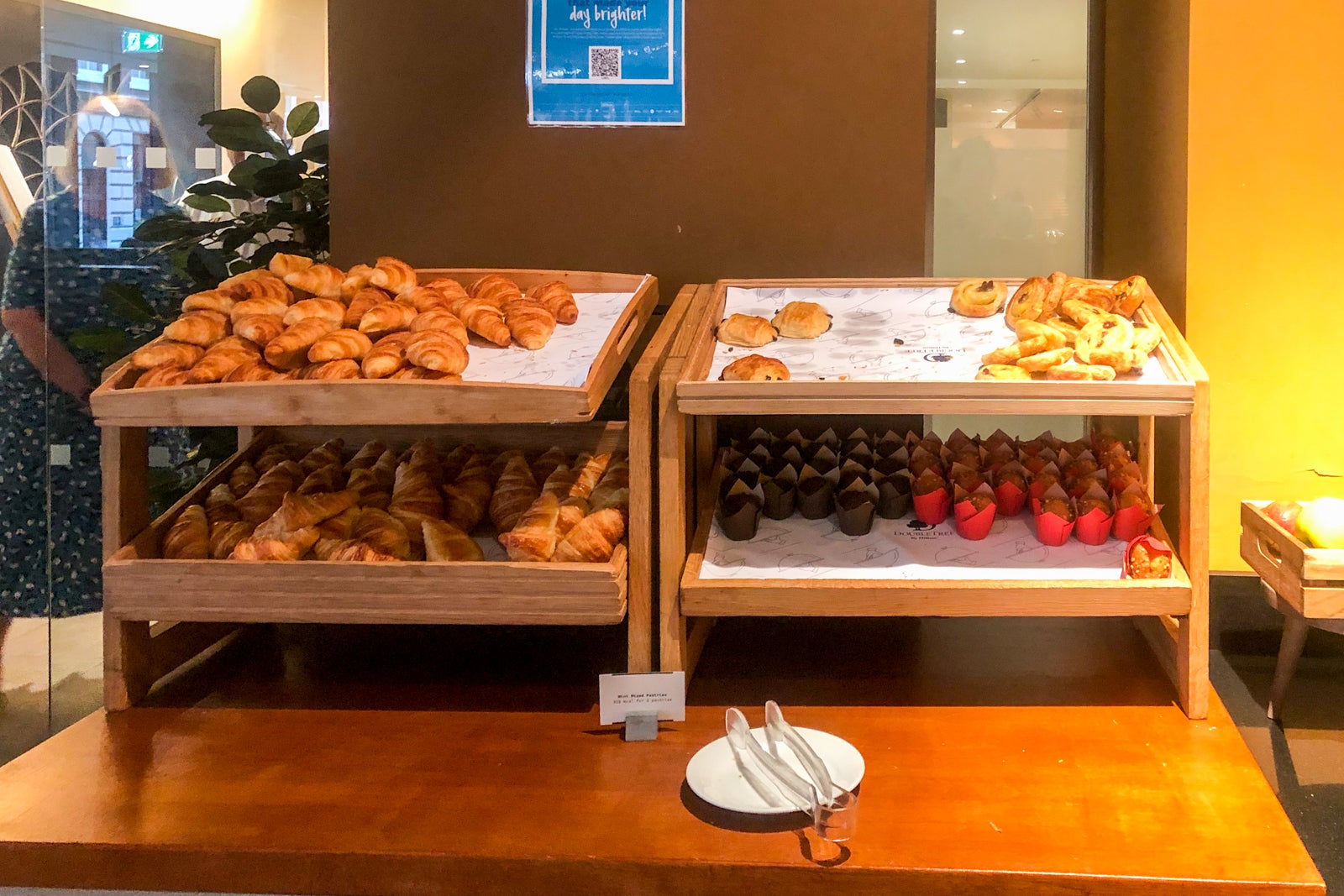 Unfortunately, the main hotel bar Savage Garden was booked for private events the entire length of my stay.
After working remotely during the day and traveling for the previous ten, I had been looking forward to unwinding at Savage Garden and enjoying the views of the iconic Tower Hill. So, hearing that I could not access or experience this popular London spot during my stay was certainly a downer.
I had asked the concierge if I could order food from its menu and get it delivered to my room, but that wasn't possible.
Instead, I was directed to a lackluster room service menu offering sports bar-like fare. For example, there were nachos for 10 pounds ($12), pepperoni pizza for 15.50 pounds ($19) and burgers for 18.50 pounds ($23). I landed on tomato soup for 9 pounds ($11) and a mixed-leaf house salad for 4 pounds ($5). It ultimately filled me up but was incredibly basic.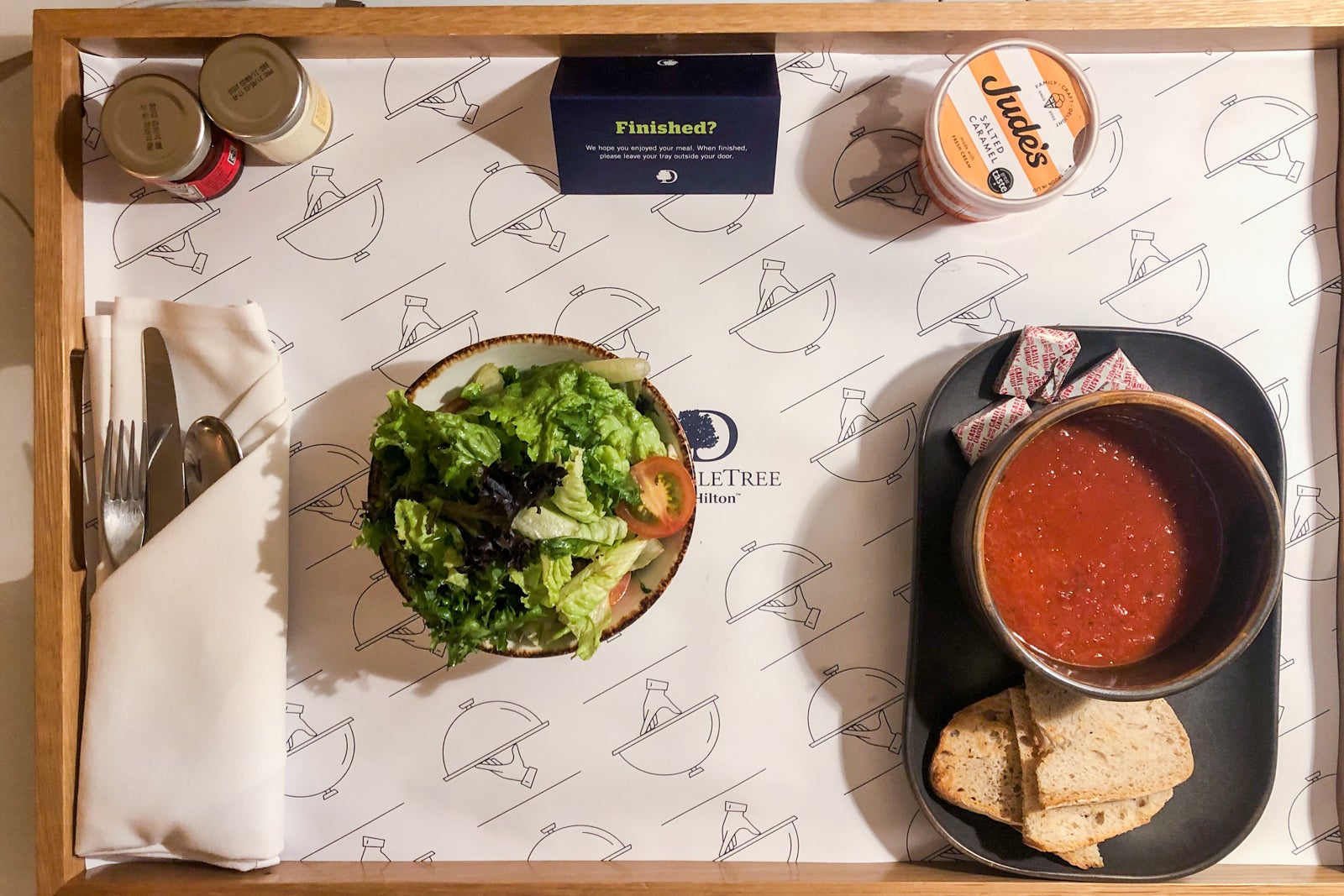 There is another restaurant, Natural Kitchen, attached to the hotel, but it is not a hotel restaurant where you can charge to the room to earn Hilton Honors points. This food hall-style establishment offers a modern vibe and healthy food. The crispy halloumi salad I grabbed for lunch was delicious and cost 17.50 pounds ($20).
Amenities and service
Checking into the hotel, the Hilton Honors line was completely overwhelmed. I could have checked in via the app, but I wanted to ensure I received my preferred room location and my DoubleTree cookie upon arrival.
It seemed like there were many new employees in training, so things were moving slower than normal. I was in a bit of a rush and knew I needed to join a meeting within 20 minutes of checking in, so I moved over to the regular check in line that was moving faster.
It was quick process, despite the new employee in training, but I was bummed that no one gave me a cookie when I checked in. Instead, the hotel offers cookies during checkout by request.
A few conferences were taking place during my stay, so accessing the business center was challenging. Luckily there wasn't an urgent reason for me to access it during my stay, but keep in mind that it might be difficult to quickly use the services if needed.
Guests can also access a gym stocked with basic equipment and weights during a stay.
Out and about
There are multiple coffee shops, pubs and restaurants to check out close to the hotel. If you don't feel like hopping on the tube to head to the next stop on your itinerary, it's very easy to walk around. The neighborhood gets quiet after working hours, so you can easily grab a table at some great pubs behind the hotel, such as The Cheshire Cheese or the Crutched Friars, for fish and chips and a pint.
For your morning caffeine boost, take a less than 10-minute walk to Black Sheep Coffee. (Tip: You can order proper iced coffee instead of an iced Americano).
Major tourist attractions like the Tower of London, home of the Crown Jewels and the Tower Bridge are less than a ten-minute walk away.
Accessibility
The hotel's main entrance and lobby were accessible and wheelchair-friendly; the back entrance offered a wheelchair-accessible lift for guests who entered there.
Travelers can book an accessible room with wider doorways, lower bathroom washbasins, a roll-in shower, handrails and lowered beds.
At Number 7, the bar was single-level and didn't feel the most accessible. Plus, the arrangement of tables and chairs felt hard to maneuver around.
Checking out
Ultimately, I had an unassuming, fairly typical hotel stay at this DoubleTree property. I enjoyed the space to work in my room and around the lobby. However, it was disappointing that the rooftop bar and its marketed views — the hotel's major draw — were completely inaccessible to me when I wanted it.
Although the hotel offered great rates for one night of my stay, my room rate went up 50% on the second night, even in the middle of the week.
That said, if you are looking for a hotel convenient to The City of London, the Tower of London or the Tower Bridge, this might just be the hotel for you.