British Airways has introduced a new way to purchase Avios at a rate significantly below TPG's valuation, which it is calling Balance Boost.
Specifically, Executive Club members can boost the Avios they've earned within the last 30 days by one, two or three times. News about British Airways Balance Boost was first reported by Loyalty Lobby.
While British Airways-operated award flights are notorious for their high fuel surcharges, there are many great ways to use Avios on other carriers.
Here's what you need to know about this new option.
How to use British Airways Avios Balance Boost
To access the British Airways Avios Balance Boost, go to this webpage and sign in to your Executive Club account. Next, navigate to "Balance Boost," and if you have eligible Avios that you've earned within the last 30 days, they'll appear here.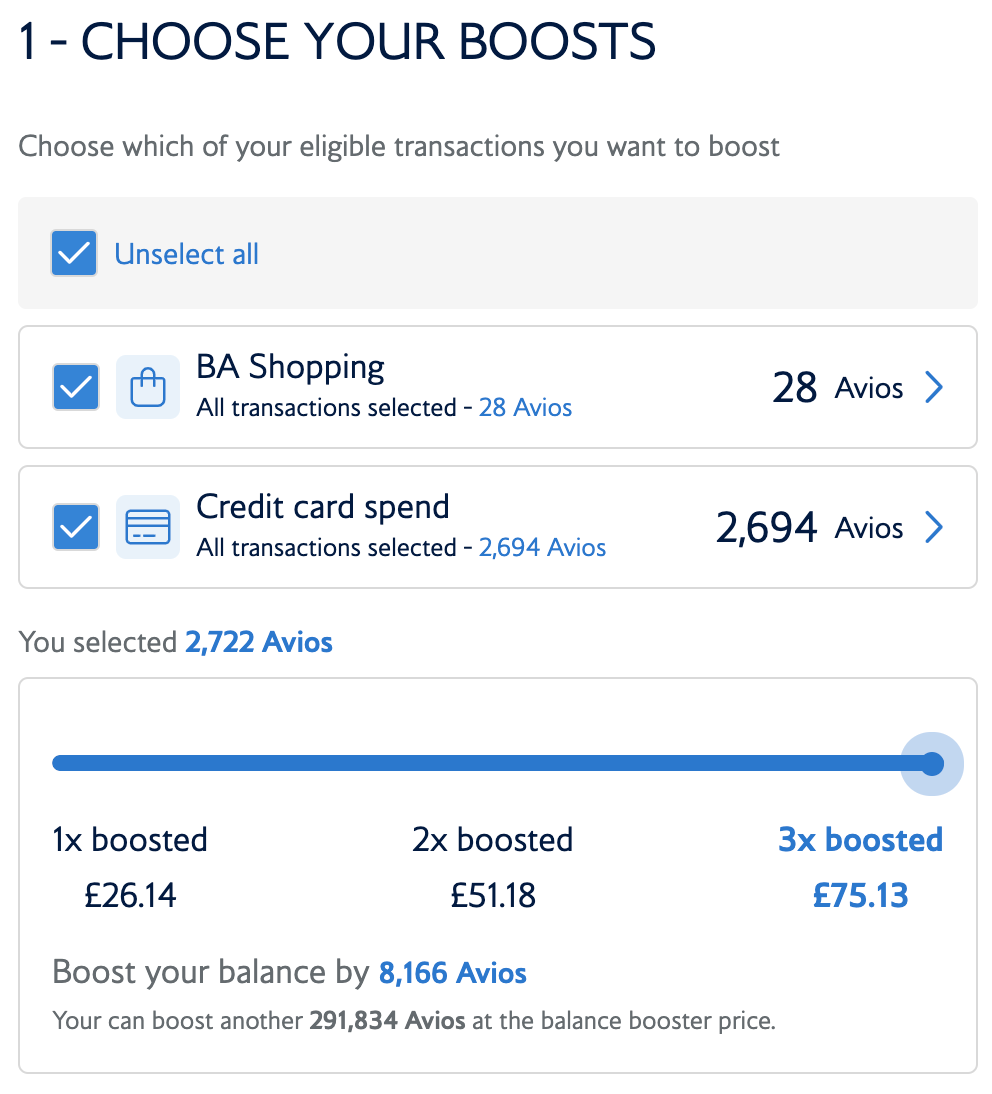 You can tick the eligible earnings you want to boost and then slide between boosting your earning by one, two or three times.
Here's how much British Airways currently charges (in U.S. dollars) to boost Avios:
| | | | |
| --- | --- | --- | --- |
| | 1x | 2x | 3x |
| The first 300,000 Avios you boost | 1.25 cents. | 1.22 cents. | 1.2 cents. |
| Additional Avios beyond 300,000 | 2.3 cents. | 2.3 cents. | 2.3 cents. |
TPG values Avios at 1.5 cents apiece, so purchasing up to 300,000 Avios through Balance Boost can be a great way to accumulate Avios at a price below our valuation. However, boosting your Avios beyond that threshold results in a much higher cost, so you should avoid boosting more than 300,000 Avios.
For comparison's sake, the normal cost of purchasing Avios without a bonus is 2.3-3.25 cents apiece, depending on how many you purchase.
To sweeten the deal on this new option, British Airways is offering Executive Club members a 10% bonus on Balance Boost transactions until July 31. This lowers the above prices even further — to as low as 1.09 cents apiece on up to 300,000 Avios.
Restrictions on boosting your Avios
While this new option is effectively a way to purchase Avios, the amount is limited to three times the total Avios you've earned from eligible activities in the last 30 days. Generally speaking, eligible transactions will include flights, online shopping portal purchases, Avios earned from credit card spending and most other partner activity.
However, you can't boost Avios transferred from other airlines, Avios shared or gifted by other members and previously purchased Avios.
That said, while not explicitly included in the terms, it appears that you can boost Avios transferred from some credit card programs. TPG Director of Content Nick Ewen did test transfers from American Express Membership Rewards, Capital One and Chase Ultimate Rewards to his British Airways account. All three posted as eligible for Balance Boost.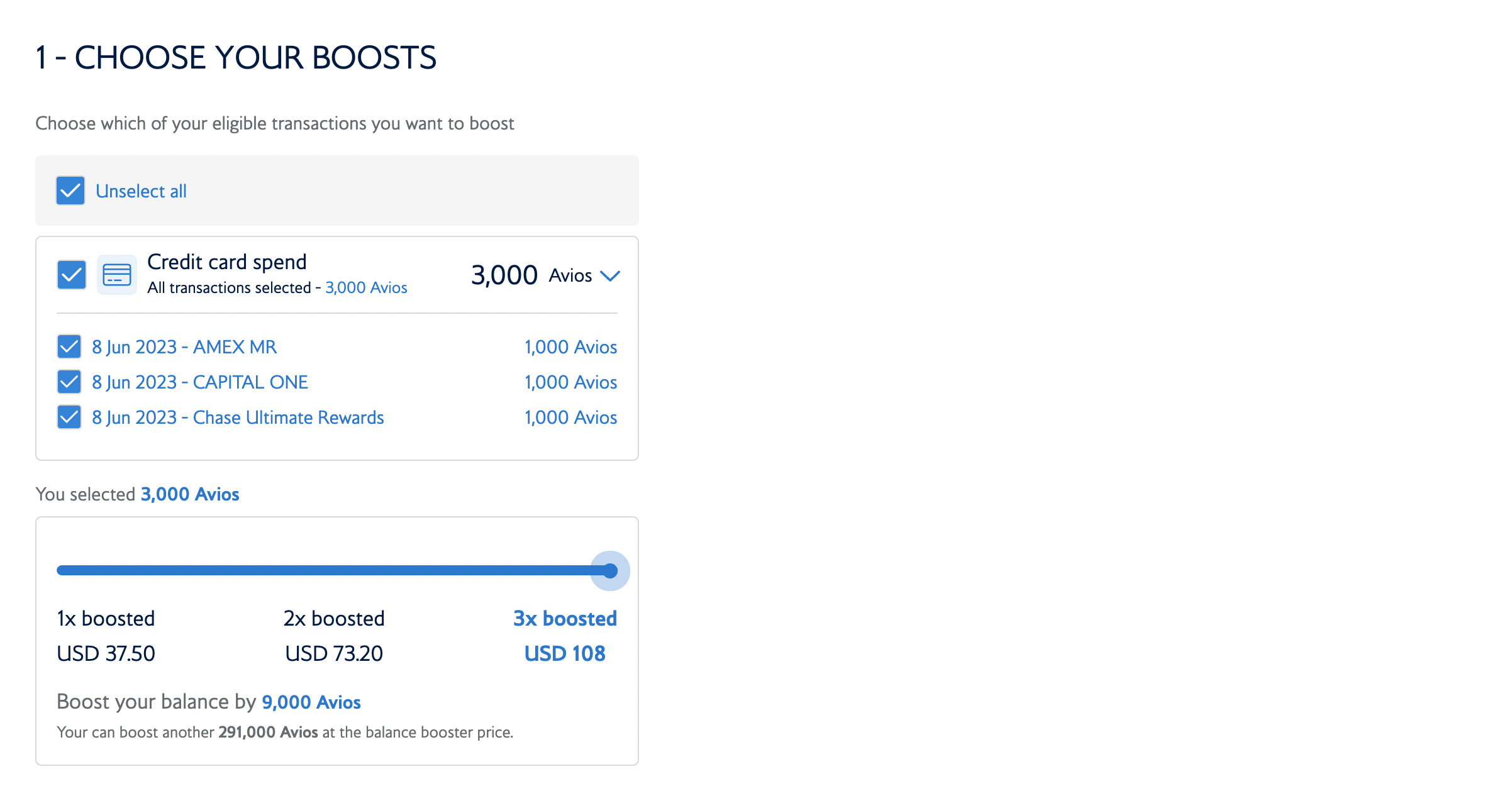 However, a previous transfer from Bilt Rewards did not appear as an option.
Related: 8 current promotions for buying points and miles

Bottom line
By allowing members to multiply their eligible Avios earnings within the last 30 days, British Airways has effectively introduced a new way to buy Avios. British Airways has lots of sweet spots, including short-haul American Airlines flights for 7,500 Avios and nonstop flights from the West Coast to Hawaii for 13,000 Avios.
If you multiply Avios by three times with the 10% bonus by July 31, you're buying Avios at just under 1.1 cents apiece — that's a 25% discount based on our valuation. And at the time of writing, it appears that credit card transfers are eligible for this boost as well.
To start multiplying your Avios, sign in to this webpage to check if you have any eligible earnings for boosting.