Editor's note: TPG's Andrea Rotondo accepted a free three-night voyage from Norwegian Cruise Line to attend a special sailing of Norwegian Prima out of Miami. The opinions expressed below are entirely hers and weren't subject to review by the line.
---
2022 has seen the debut of some pretty spectacular cruise ships, including Royal Caribbean's Wonder of the Seas, Disney Wish, Seabourn Venture and Ritz-Carlton Yacht Collection's Evrima.
However, when the 3,215-passenger Norwegian Prima first set sail in July, my Instagram feed blew up with images that I couldn't get out of my mind.
I gawked at the Penrose Atrium with its soaring ceiling spiked with sculptures and wondered if they were geometric shapes, birds or starfish. I took in Le Bistro's signature eye-level chandeliers that looked as tall as I was and found myself intrigued.
While I normally gravitate to small ships and luxury lines like Silversea and Seabourn, I couldn't help but think, "Could Norwegian Prima be right for me?"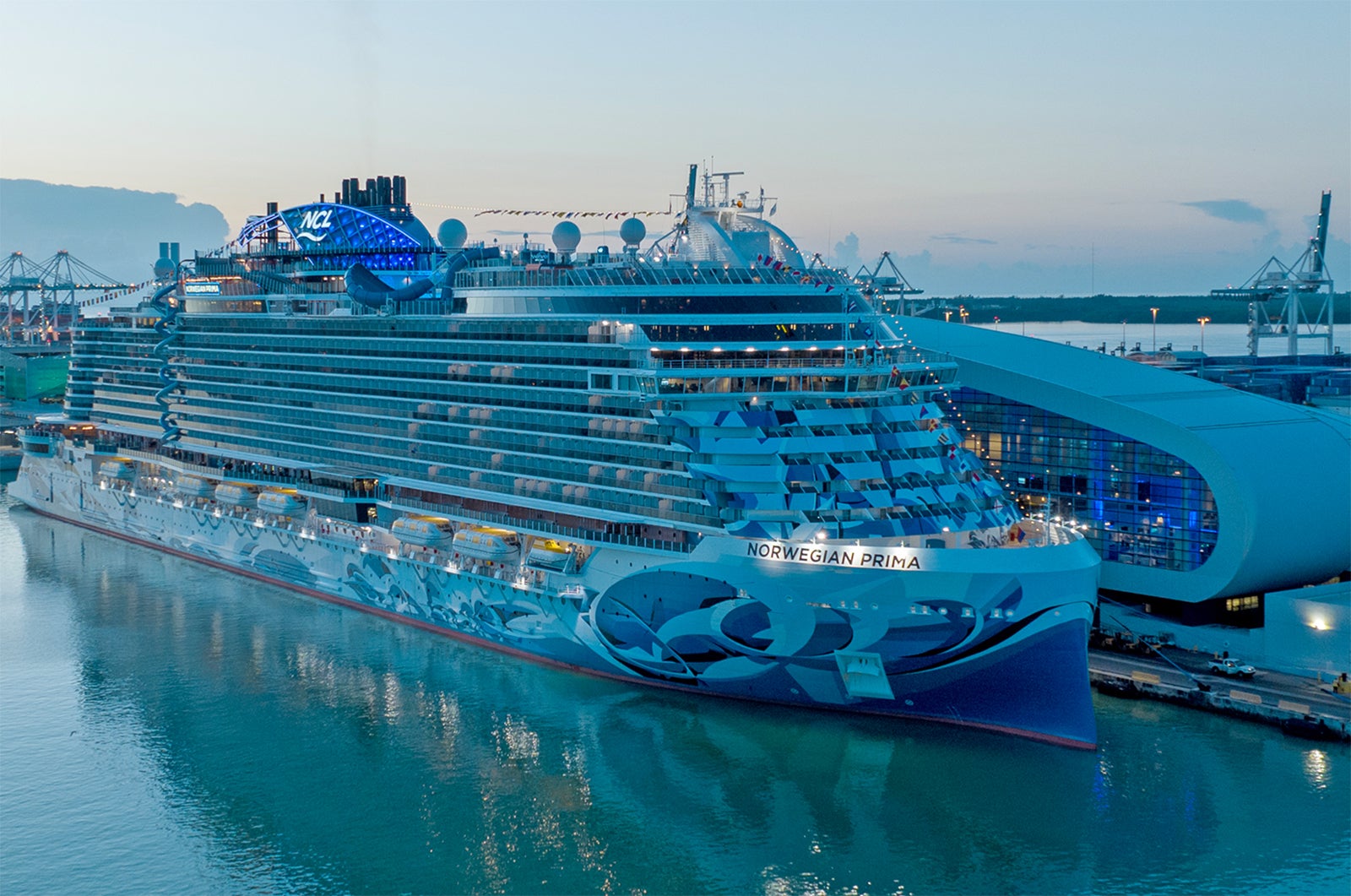 Historically, when it comes to mainstream cruise lines, I've been partial to Celebrity Cruises for its beautiful ships, terrific crews, a bevy of extra perks for suite passengers and fine dining options.
It's not that I don't like what Norwegian has to offer. It's just that it wasn't a perfect match for me, based on two previous sailings: one on Norwegian Gem and the other on Pride of America (an excellent way to see Hawaii, by the way).
Those earlier experiences made me think of Norwegian Cruise Line as being a solid choice among the mainstream cruise lines. However, NCL is doing a lot these days to evolve toward a more premium product, and Norwegian Prima is the first of six ships in the line's new "Prima Class."
For more cruise news, guides and tips, sign up for TPG's cruise newsletter.
When I saw my colleague Gene Sloan's Norwegian Prima photos from the ship's inaugural sailing in July — combined with everything I was seeing in my social feeds — it got me thinking that I needed to revisit this line.
Luckily, an opportunity to board Prima knocked on my door, and I was thrilled to experience three nights on board. Would this quick trip change my opinion of the line and big-ship cruising? Here's how Norwegian Prima stacked up in all the areas important to this small-ship, luxury cruise fan.
Related: TPG's guide to Norwegian Prima
Inspiring surroundings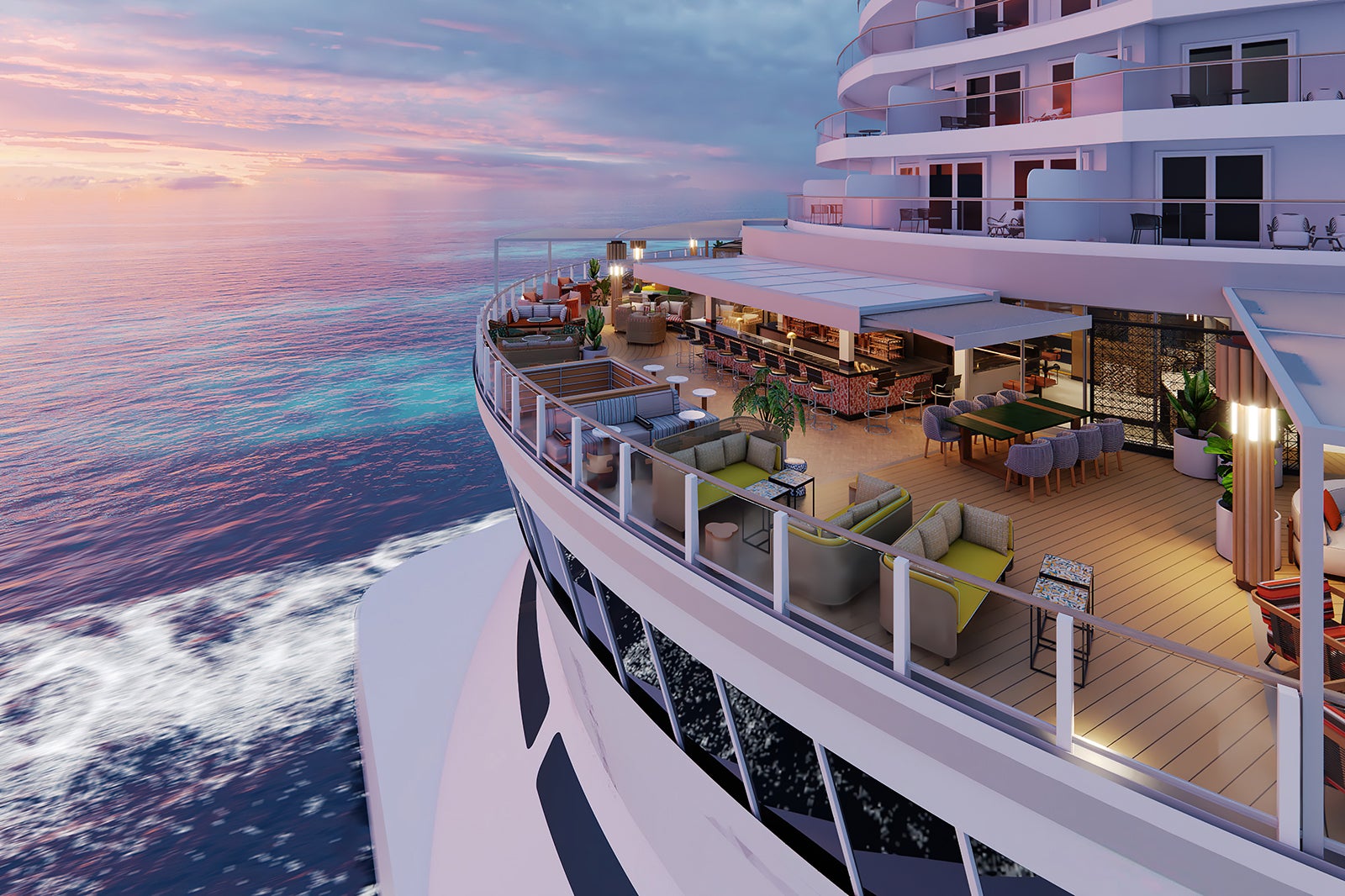 Norwegian Prima is beautiful without being over-the-top or garish. The muted colors — lots of sea greens, blues and creams — are soothing. The atrium was a vibrant meeting place, one that I looked forward to spending time in rather than just passing through.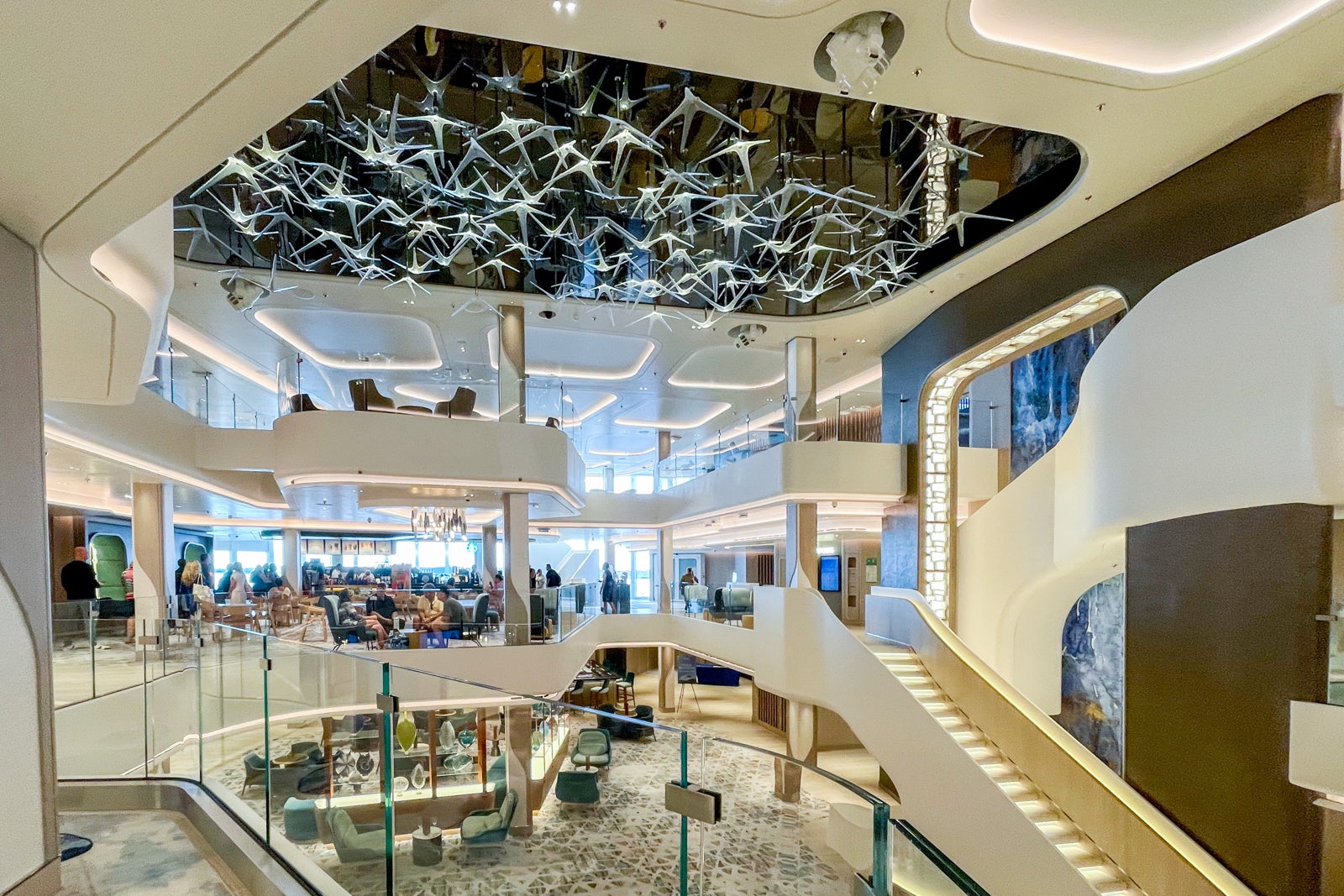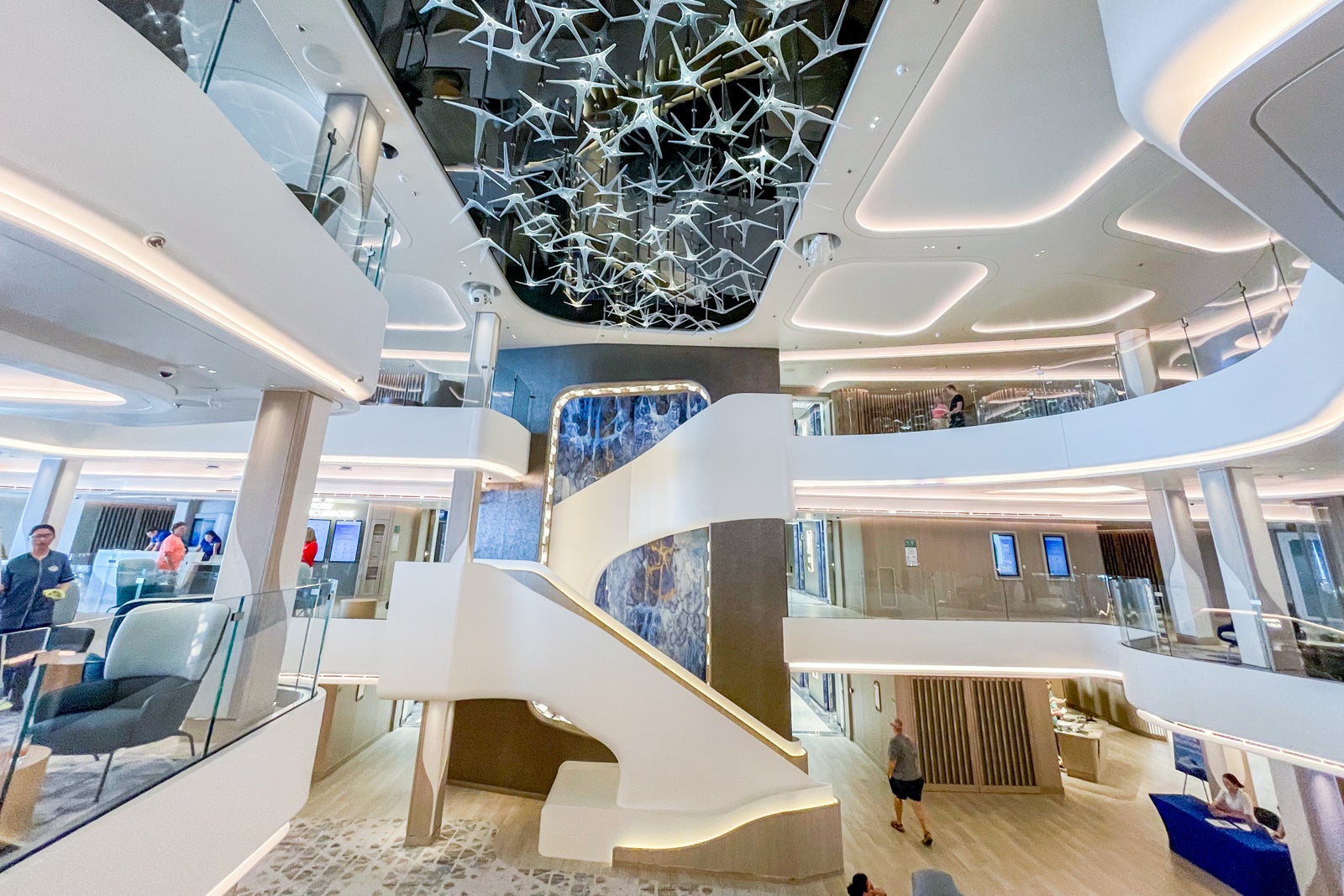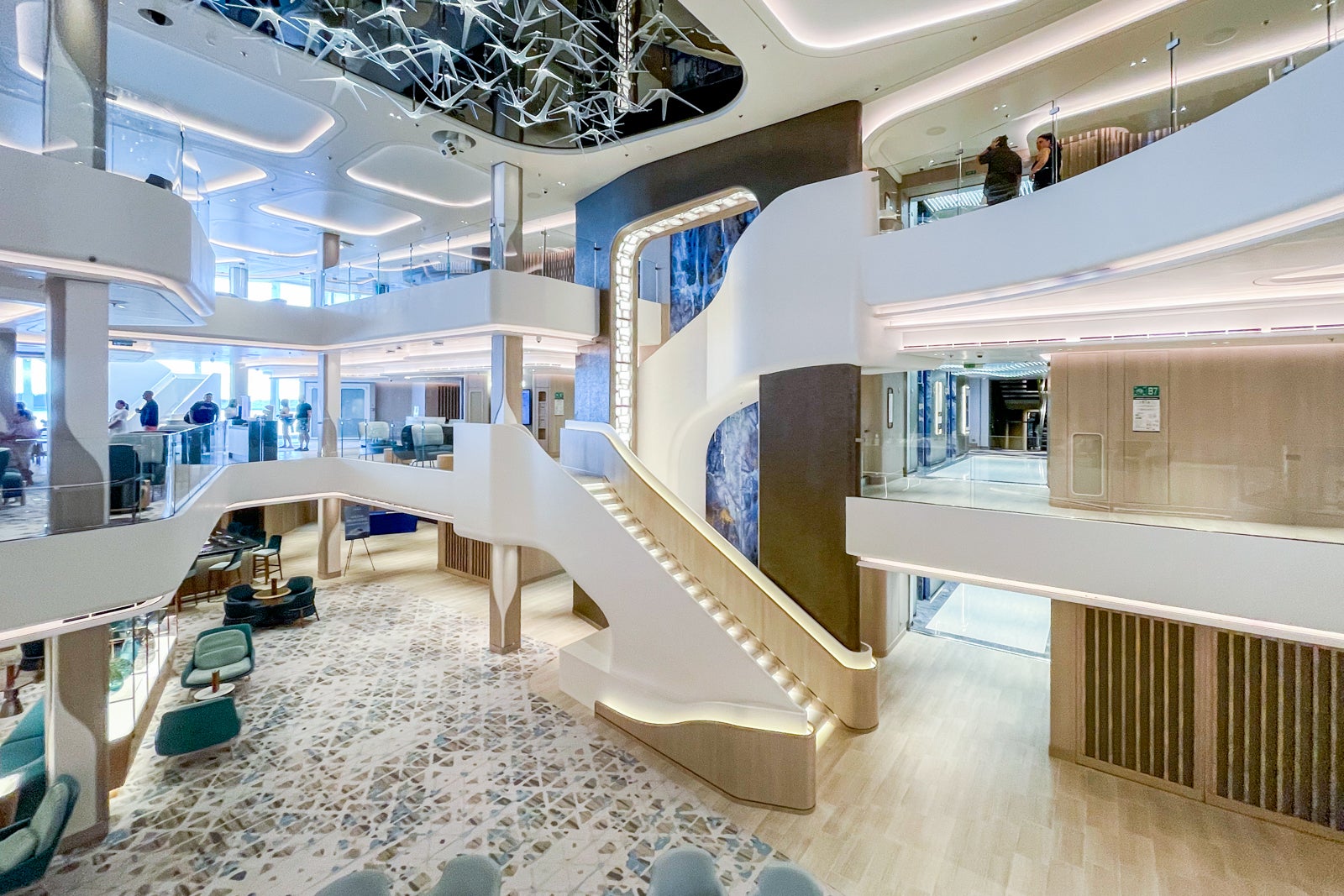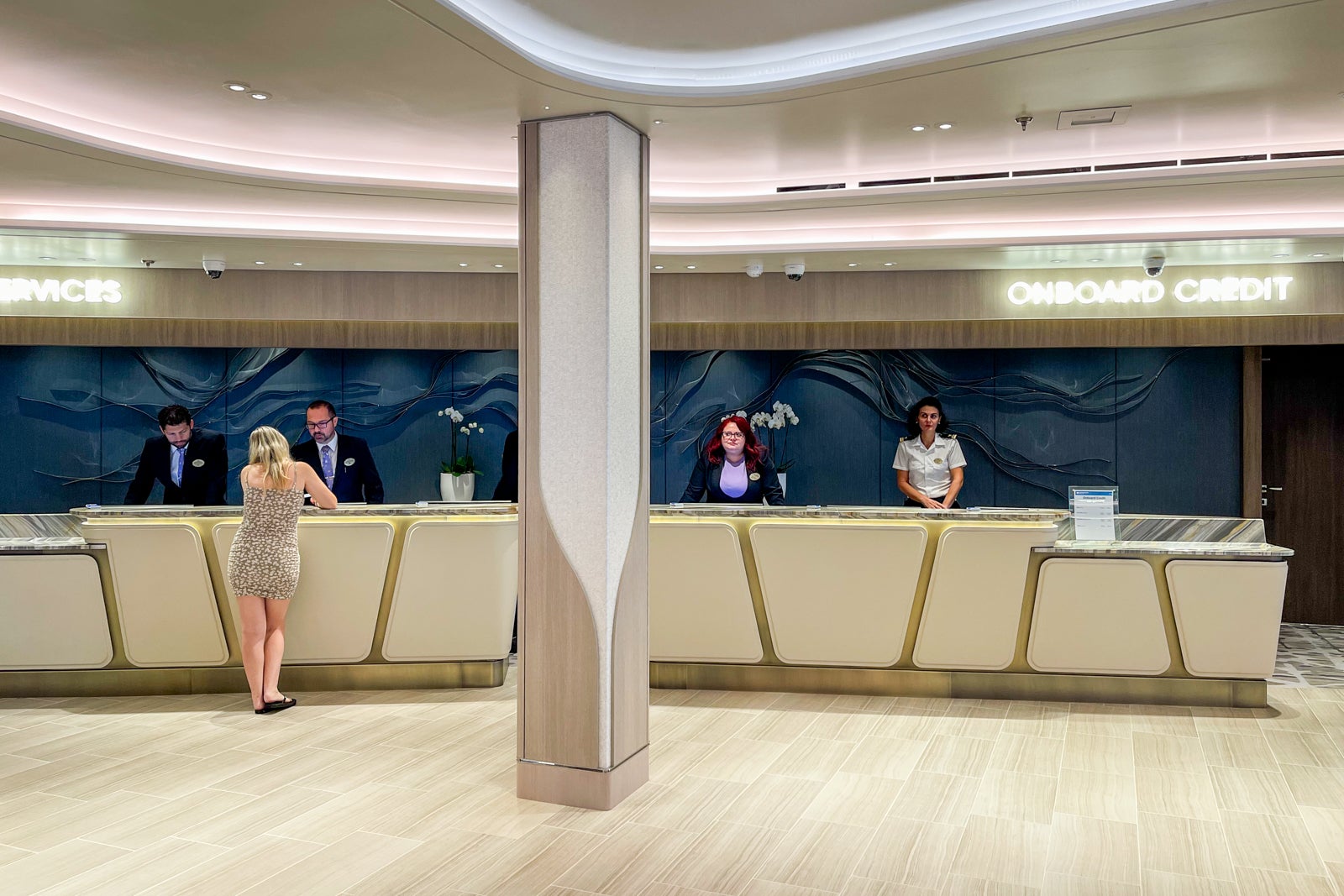 Each of the 18 lounges on the ship has its own personality, and the furniture across the ship was universally comfortable.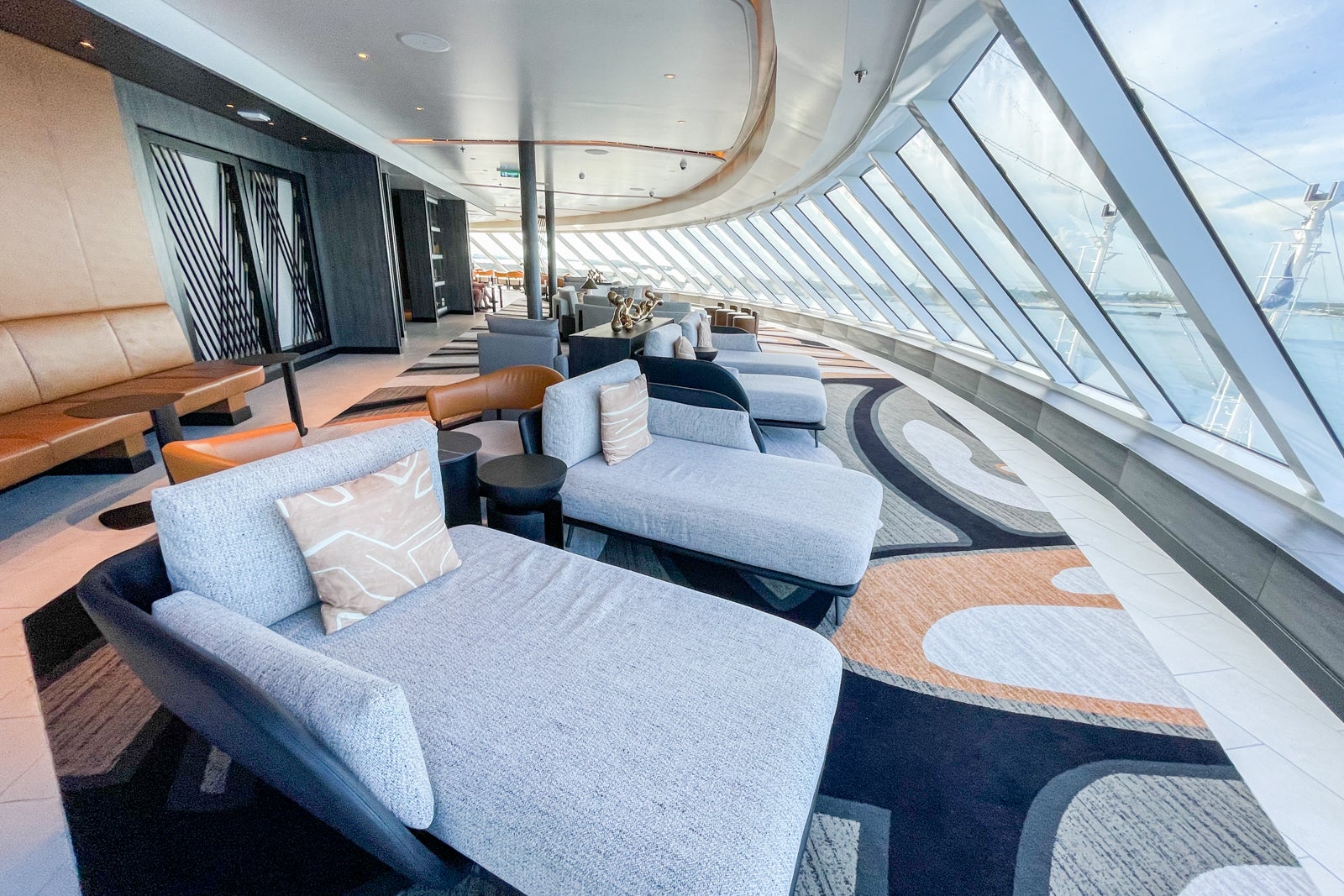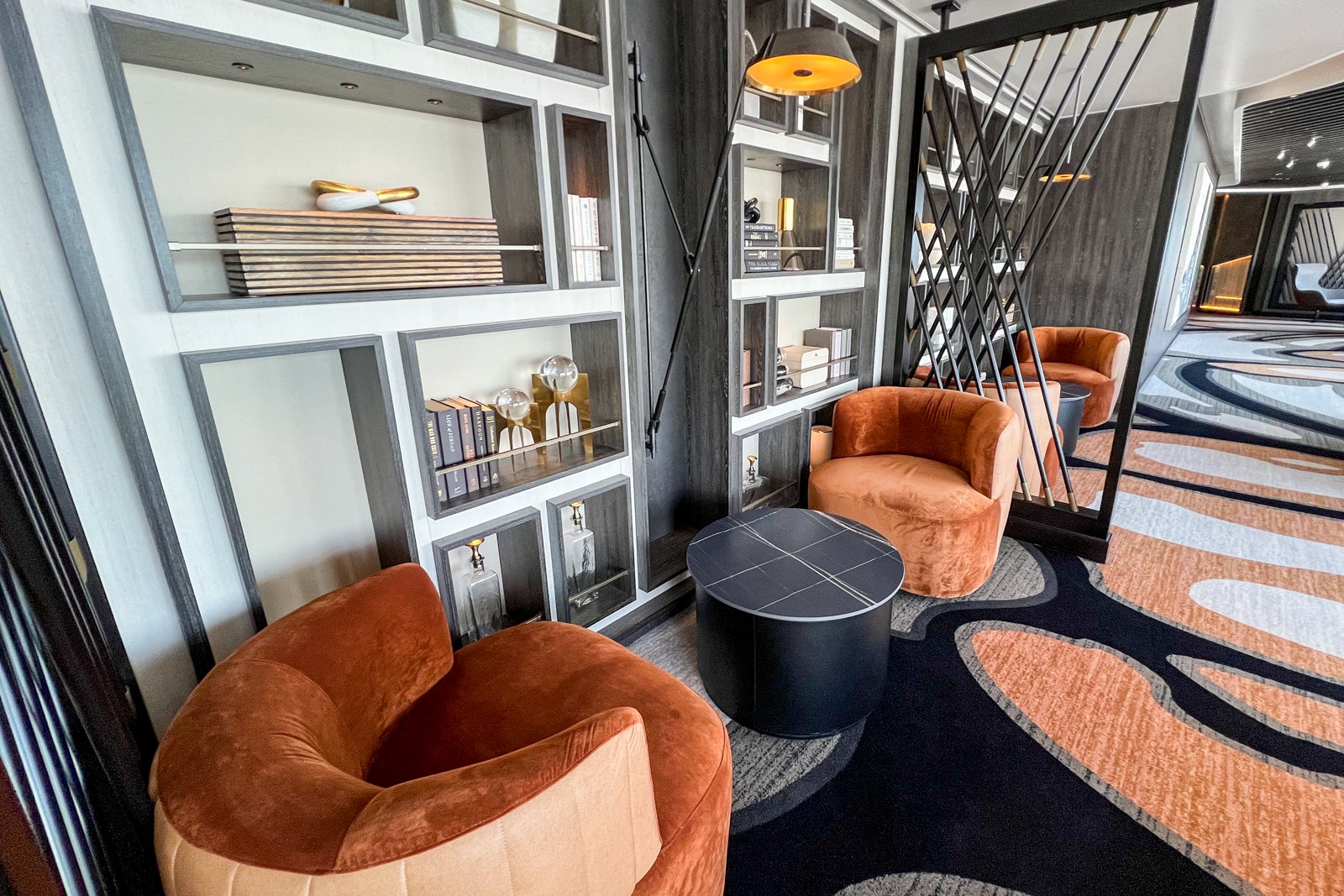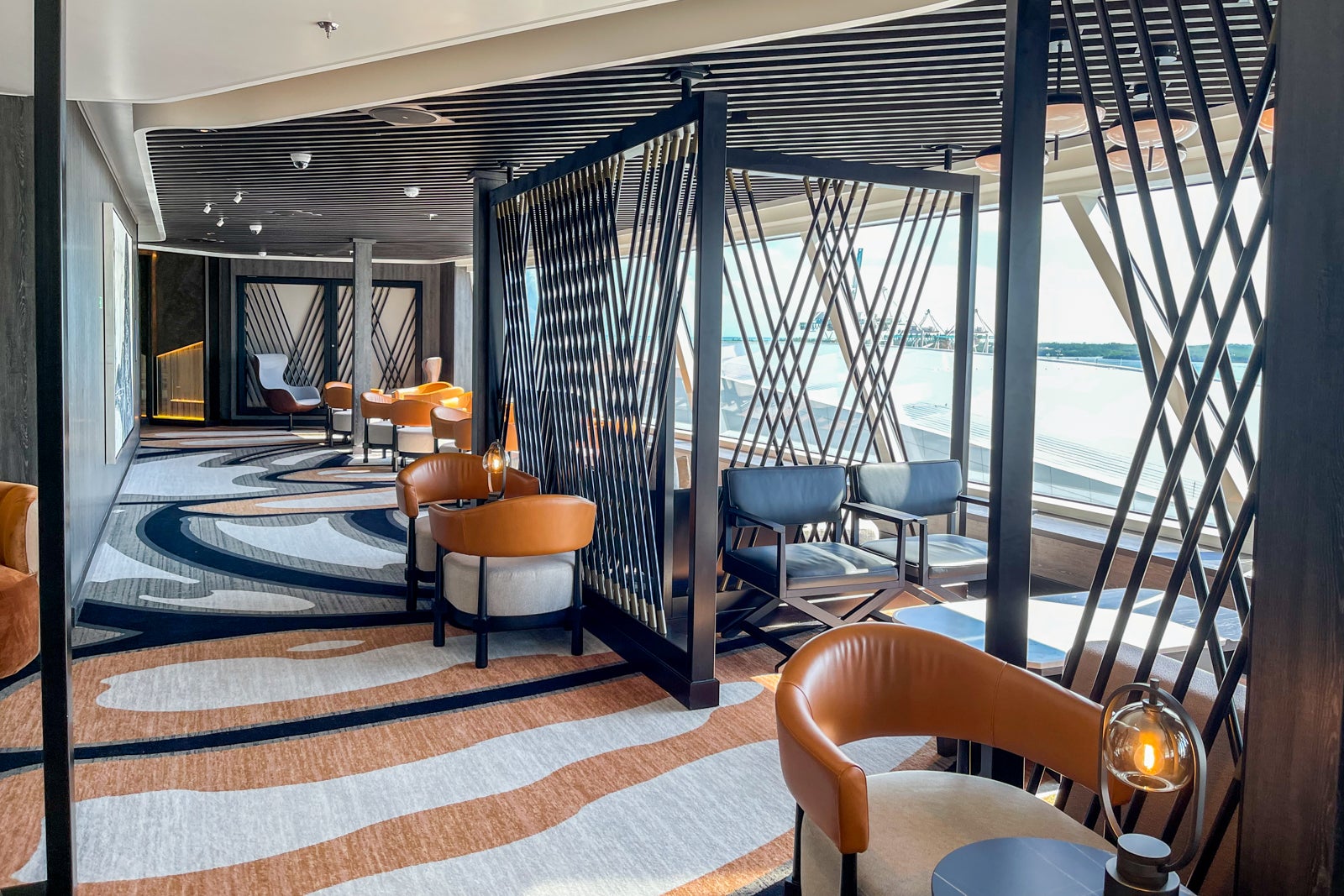 My favorite spots included the Observation Lounge on Deck 17 forward and the outdoor seating peppered along Deck 8's Indulge Outdoor Lounge. My husband and I were able to find a cozy daybed for two, as well as a quiet nook where we could talk with friends who were also on board.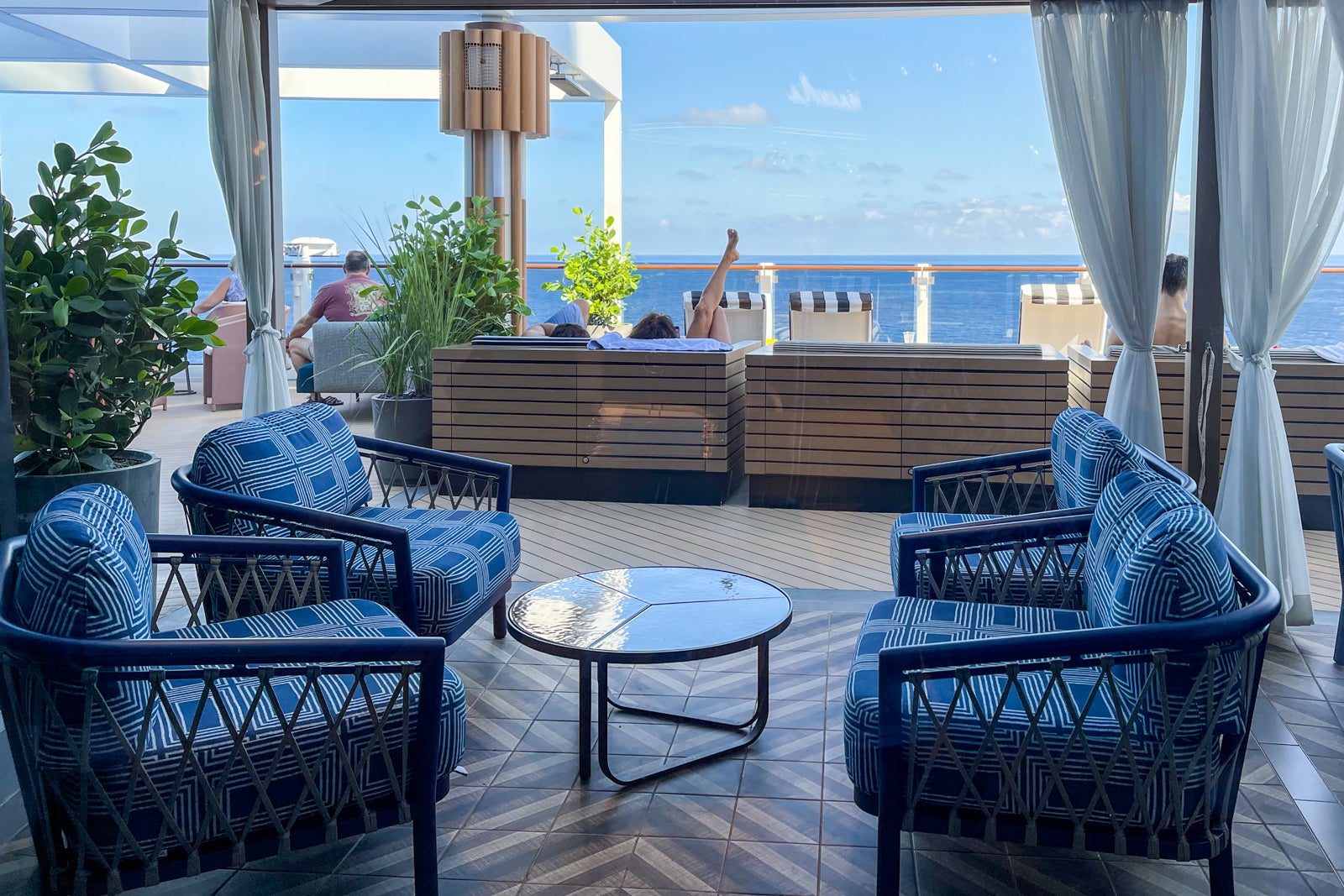 Bigger groups could easily gather in the living room-like setting that fronts the Soleil outdoor bar.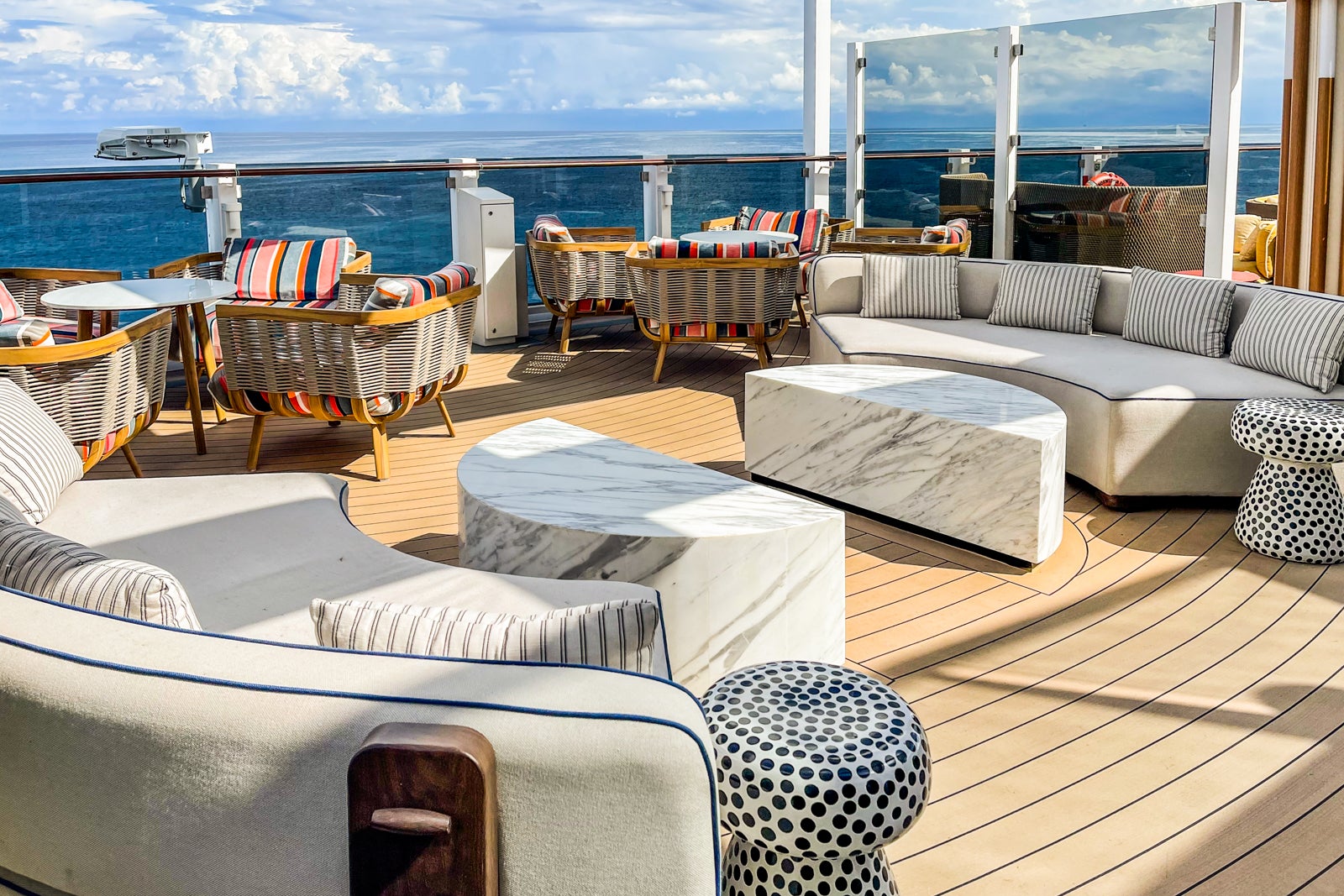 The only spot on the ship we avoided was the Metropolitan bar on Deck 7. It was adjacent to The Humidor Cigar Lounge and even with a double door, the smell of smoke was too much for us. That was a disappointment since the Metropolitan bar experience was a highlight for Gene when he sailed aboard Prima.
While many ships pack everything onto one main pool deck, Norwegian Prima breaks up its seating areas so you can find what speaks to you: sun, shade or a combination, plus a buzzy bar or space for quiet contemplation. Music was piped in around the ship but it was never overbearing. At the main pool, the music was livelier but never loud and obnoxious.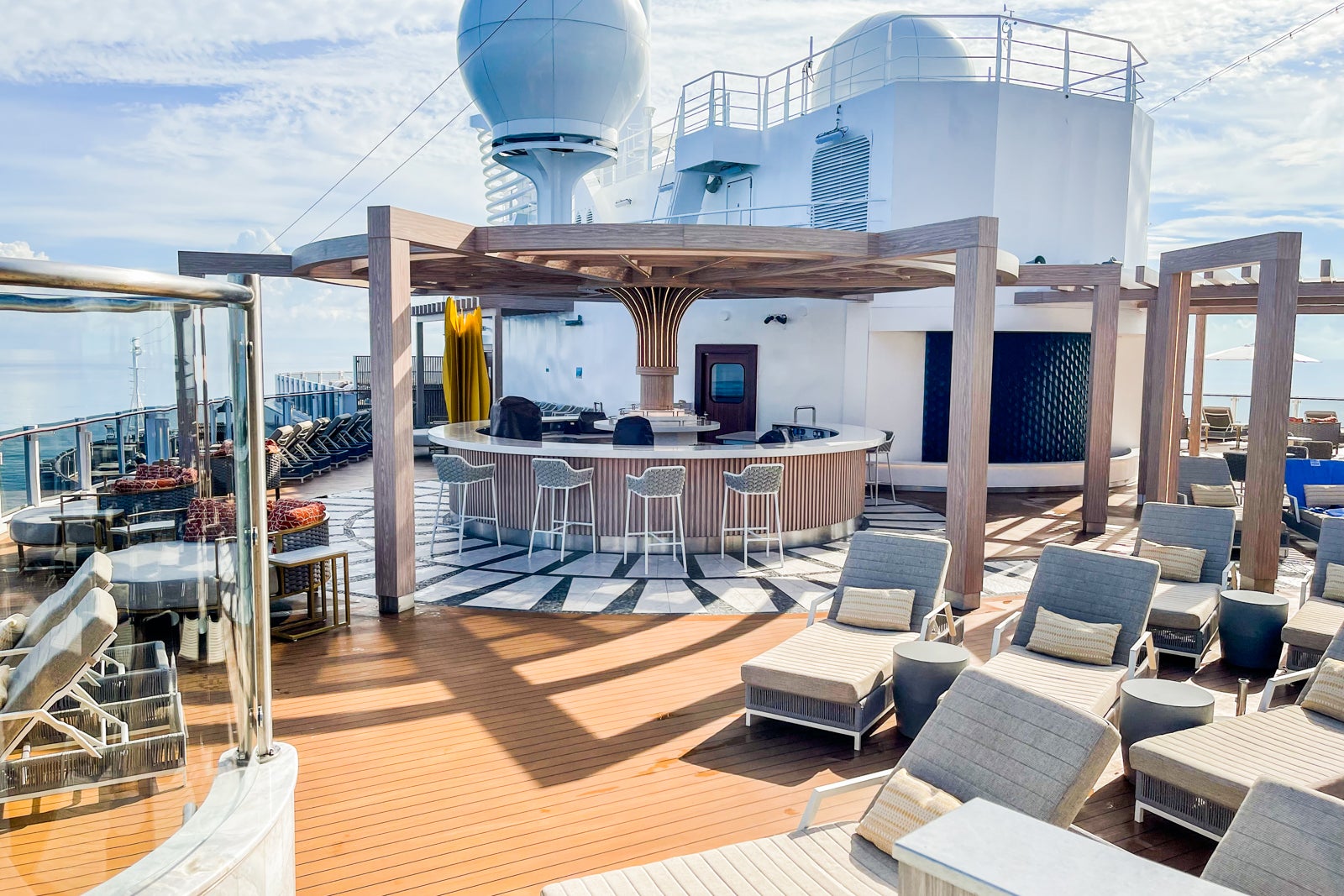 You'll also find hot tubs and infinity pools on the sun decks that are perfect for small groups. Infinity Beach is the spot on Deck 8 where you'll find small infinity pools that are perfect for taking a dip and watching the ocean's waves. For a more traditional pool deck experience, head to Deck 17 with a larger swim space and plenty of loungers in both the sun and shade.
While I am not a spa person, I can attest that the Mandara Spa & Salon aboard Norwegian Prima is drop-dead gorgeous. It even has a two-story indoor waterfall. The thermal suite was very popular on my cruise as were treatments such as the aroma stone and Swedish massages.
Related: The 8 classes of Norwegian Cruise Line ships, explained
Food and drinks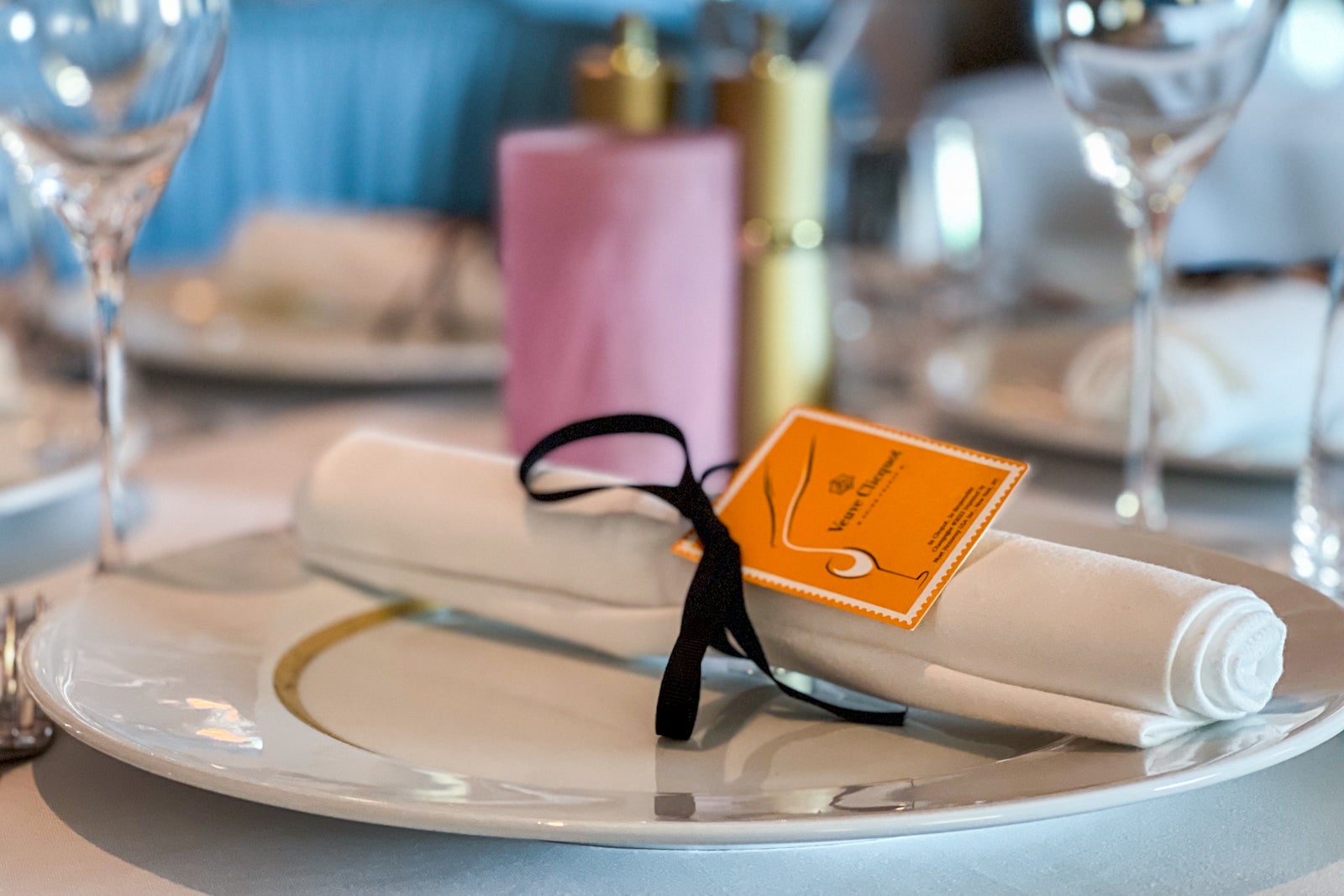 I envy people who aren't food motivated. It would make life so much easier if that were the case for me, too. But I'm Italian and, culturally, we use food to communicate both information and emotions. I may put too much emphasis on the dining and drinking aspects of a cruise, but they are crucial to me.
I also feel that well-prepared food and atmospheric lounges on a ship indicate that similar care and attention have been placed on other aspects of the cruise experience, such as the spa options, shore excursions and shipboard entertainment.
The dining options aboard Prima exceeded my expectations. If I were to cruise that ship again, I would purchase a specialty dining package to access the premium restaurants each evening. (Note that prepaid dining packages usually don't include the gratuity, so you'll still get a bill at the end of the meal for a 20% tip plus any premium beverages you've ordered.)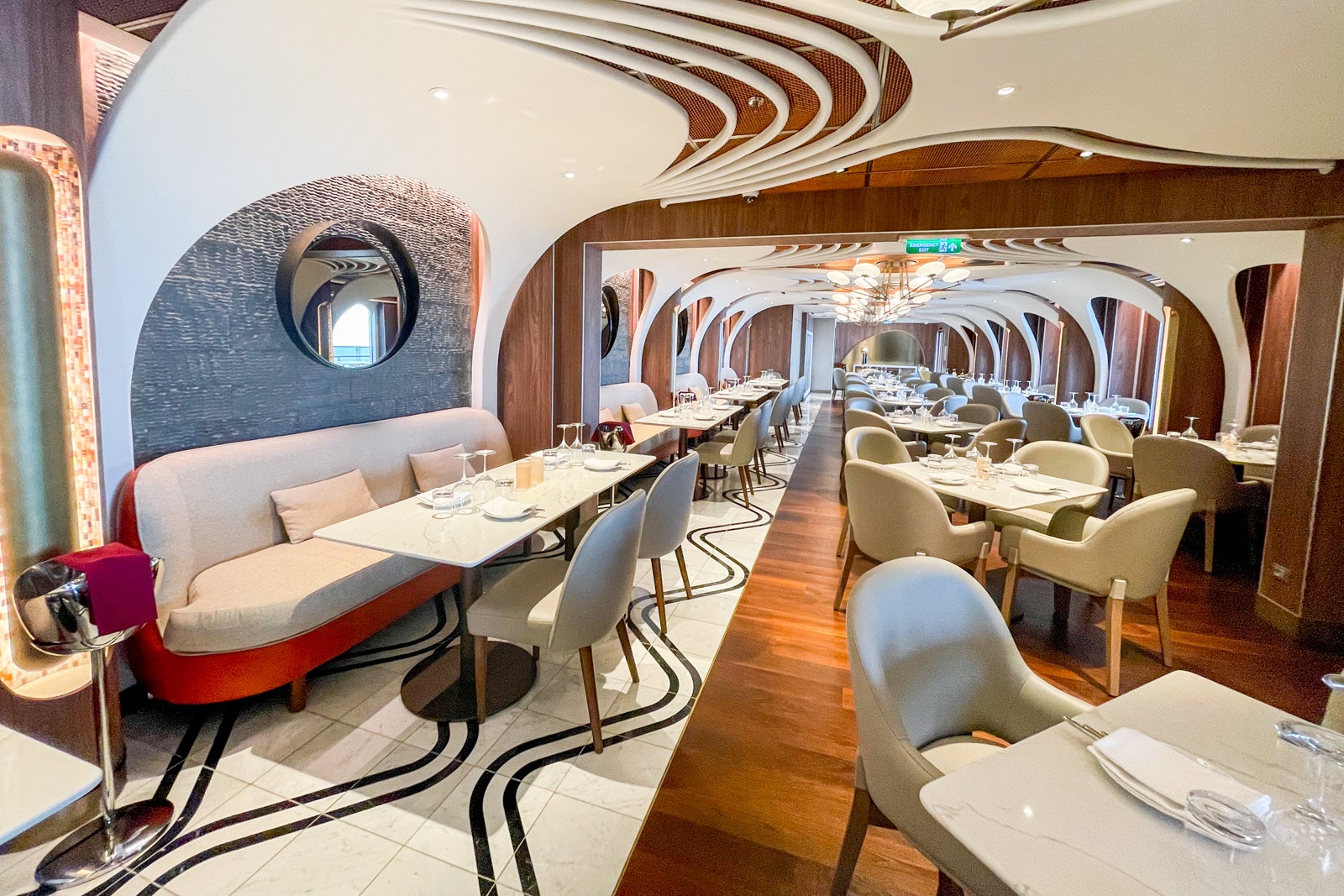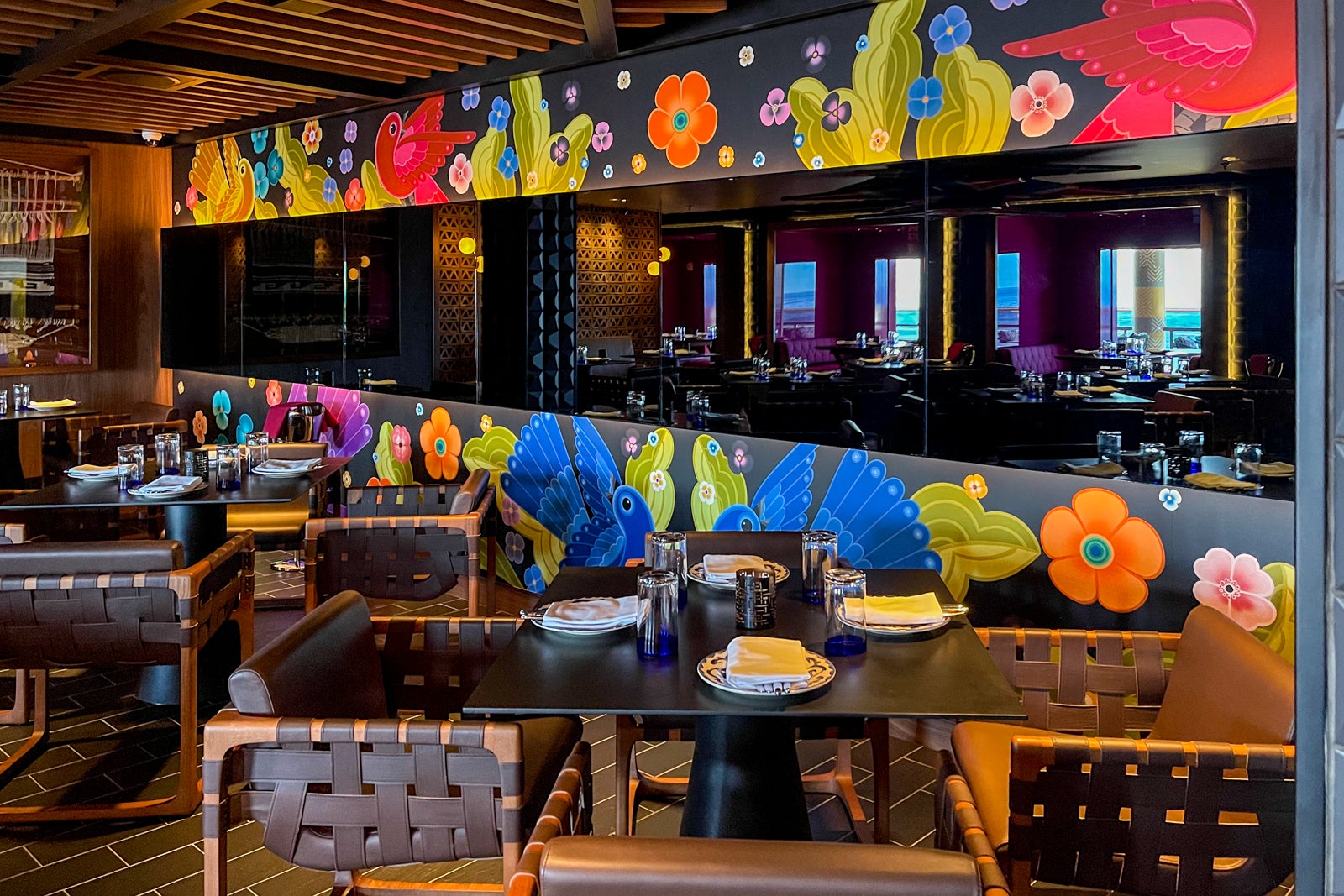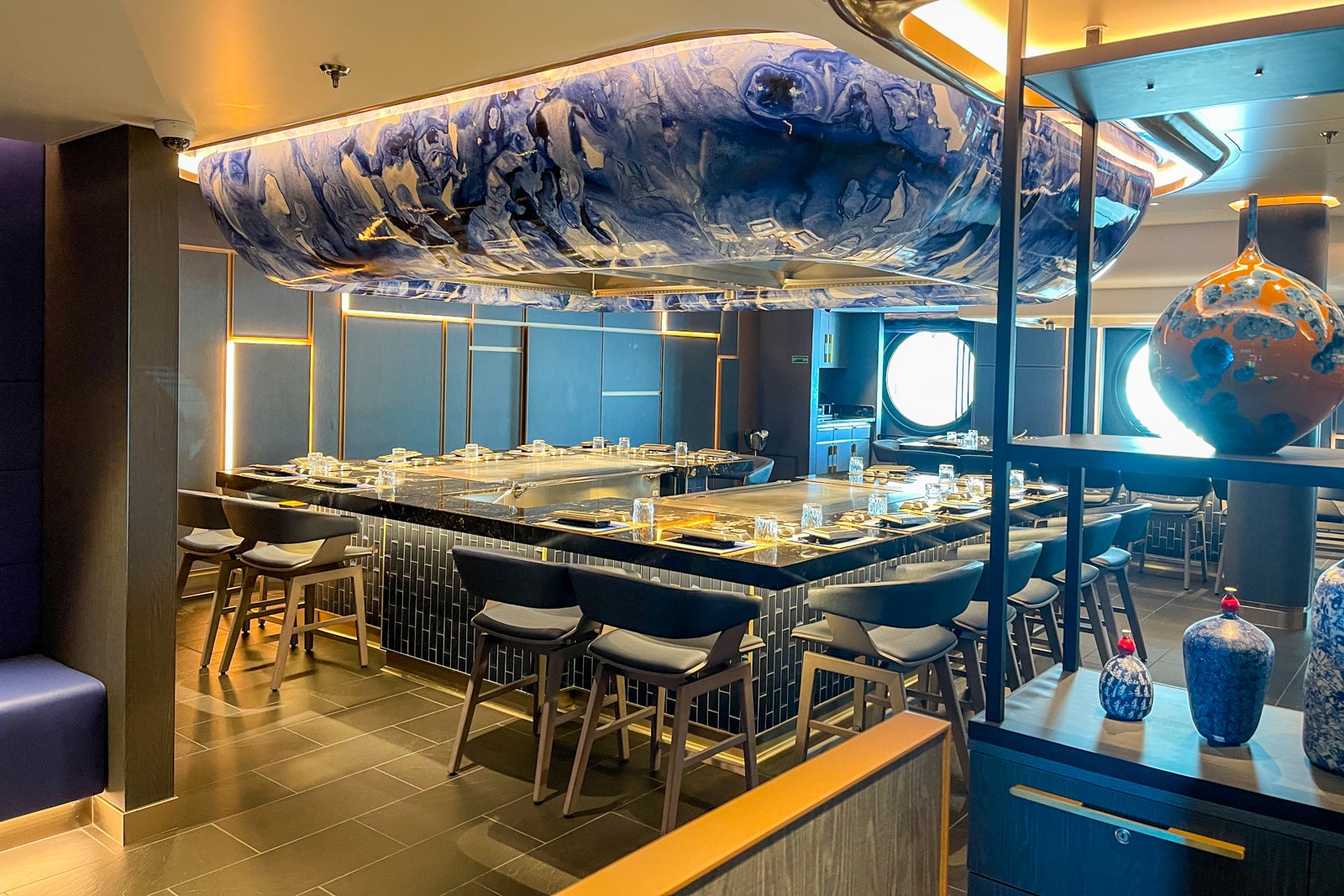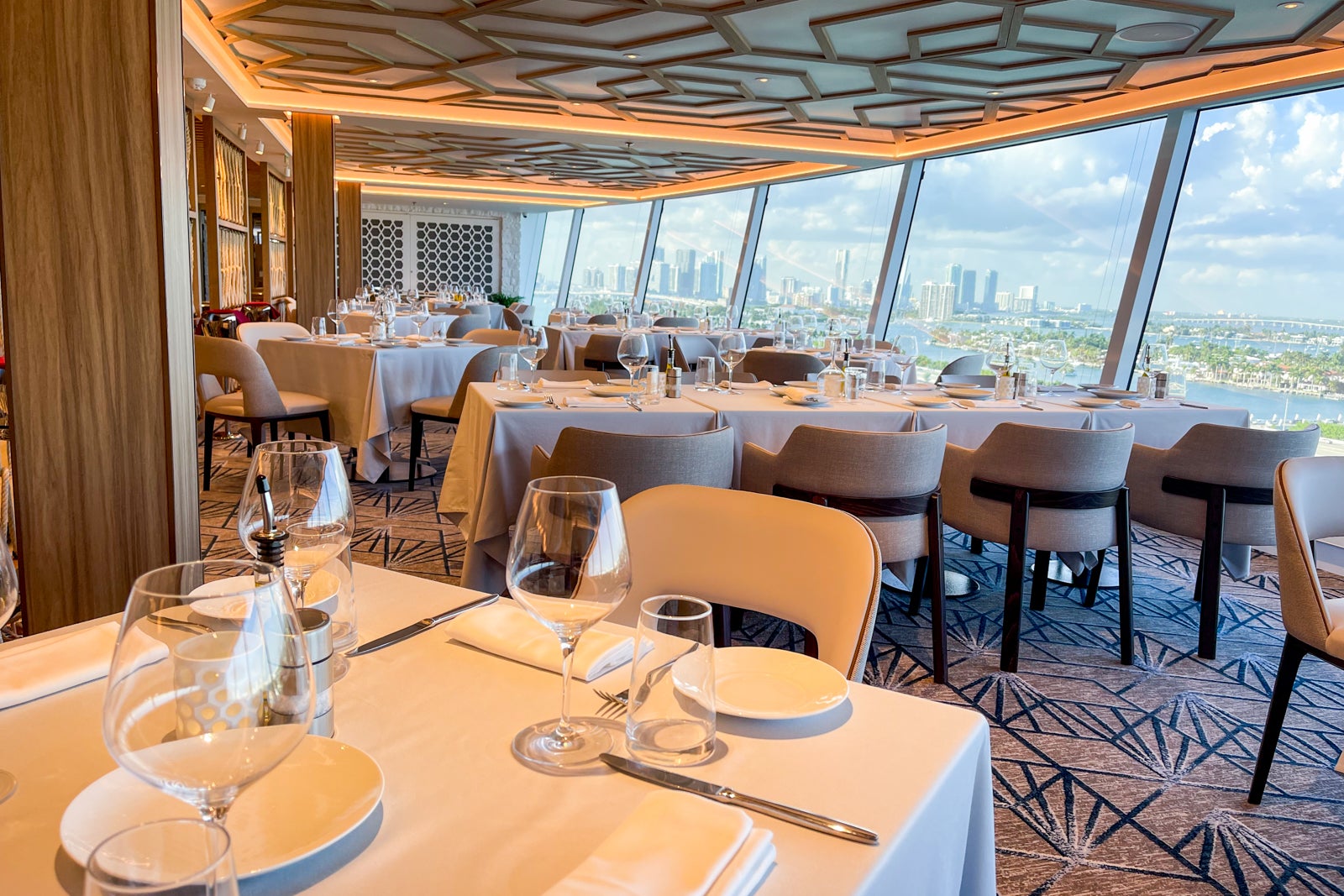 This was a short three-night voyage, so I couldn't try all the dining venues that I wanted, but what I sampled exceeded my expectations in all but one instance.
In fact, I found the dining options aboard Norwegian Prima to be far superior to previous experiences I've had on Norwegian Gem and Pride of America. The restaurant selection was wide (Mediterranean, French, Mexican, gastro-pub, Asian and more). The menus were interesting, and the quality of the provisions was generally very good as well.
Here are my thoughts about the restaurants I was able to sample board Norwegian Prima:
Hudson's
Ambiance: Average; tables were too close together.
Service: Rushed; no chit-chat with the waitress.
Food: Menu looked good, but none of the items we ordered spoke to us; salads were ho-hum, and the beef Wellington lacked flavor.
Indulge Food Hall
Ambiance: Above average; all sorts of seating indoors and out, including fun tables with a Biergarten vibe.
Service: Order via tablets on each table and the waitstaff bring food; everyone was friendly, but twice we ordered items that didn't arrive until we asked for them.
Menu: Above average to excellent; the Indian food was exceptional.
Le Bistro
Ambiance: Intimate dining room with glossy white woodwork, sparkly chandeliers and plenty of room between tables.
Service: Friendly waiter, but I suggest slowing the pace a bit since this is a specialty dining experience.
Menu: Outstanding; one of the best meals we've had on any cruise ship in the past 20 years.
Onda by Scarpetta
Ambiance: Buzzy atmosphere that made me feel as if I were dining in a very upscale restaurant.
Service: Excellent. Friendly and attentive, with excellent suggestions regarding the menu and wine list.
Food: Very good across the board … our table of four shared appetizers and entrees, and everything was delicious.
The Local Bar & Grill
Ambiance: Small dining room; empty when we arrived around 9:30 p.m.
Service: Good, though we wished they would have let us do a to-go order so we could have eaten out on deck.
Food: Very good; if you love a good Reuben sandwich, order it here. (This spot received praise for its breakfast from my fellow passengers, too.)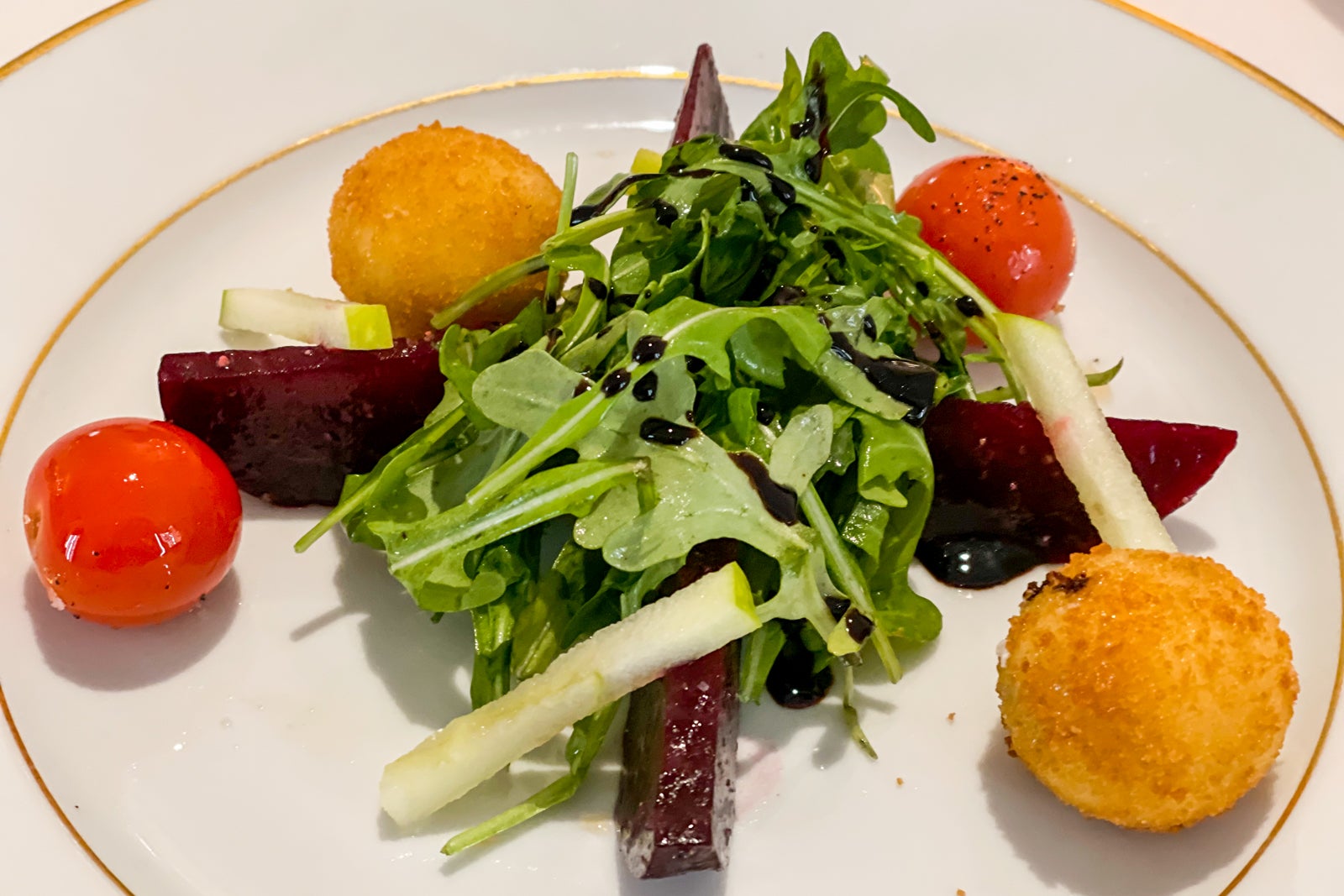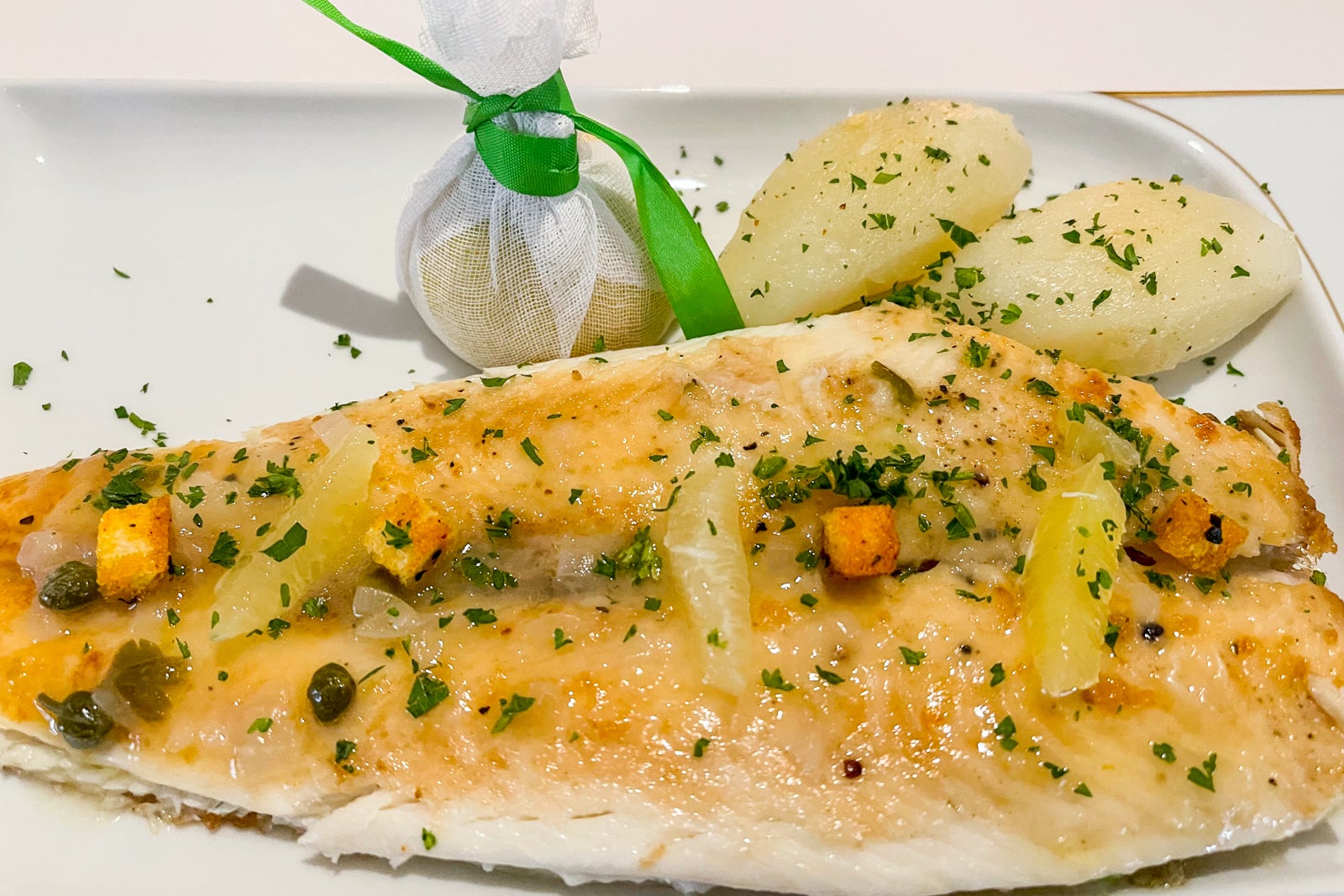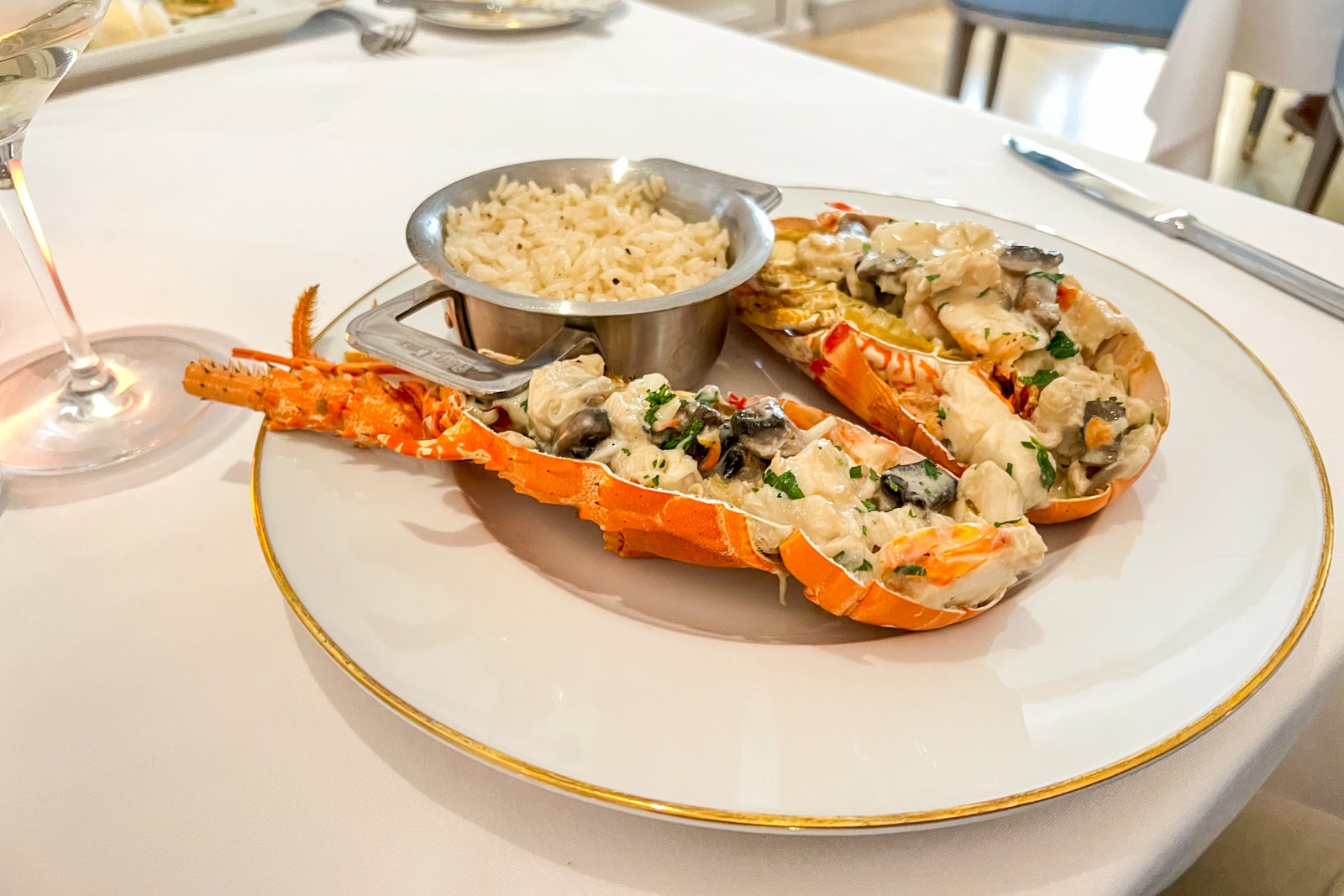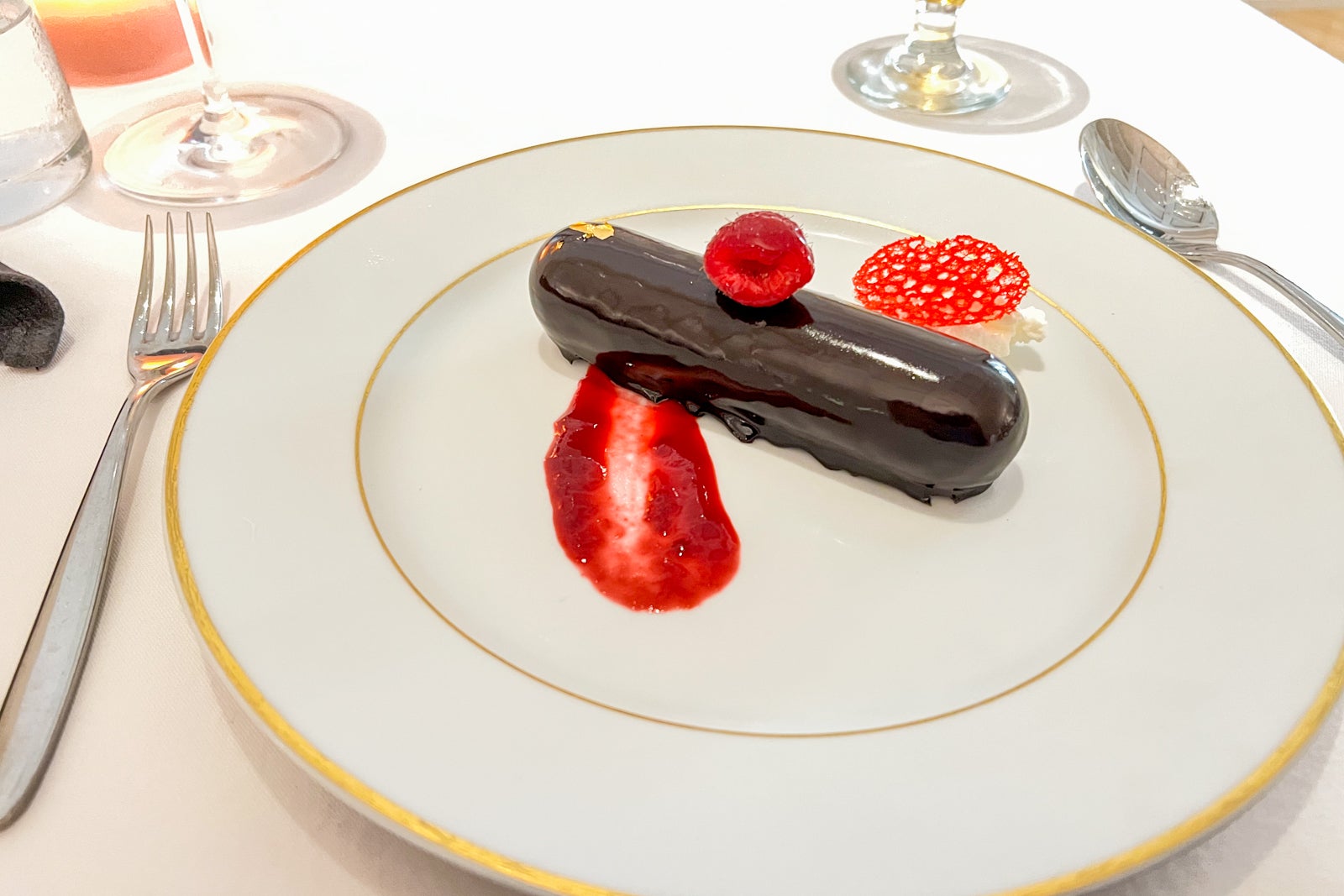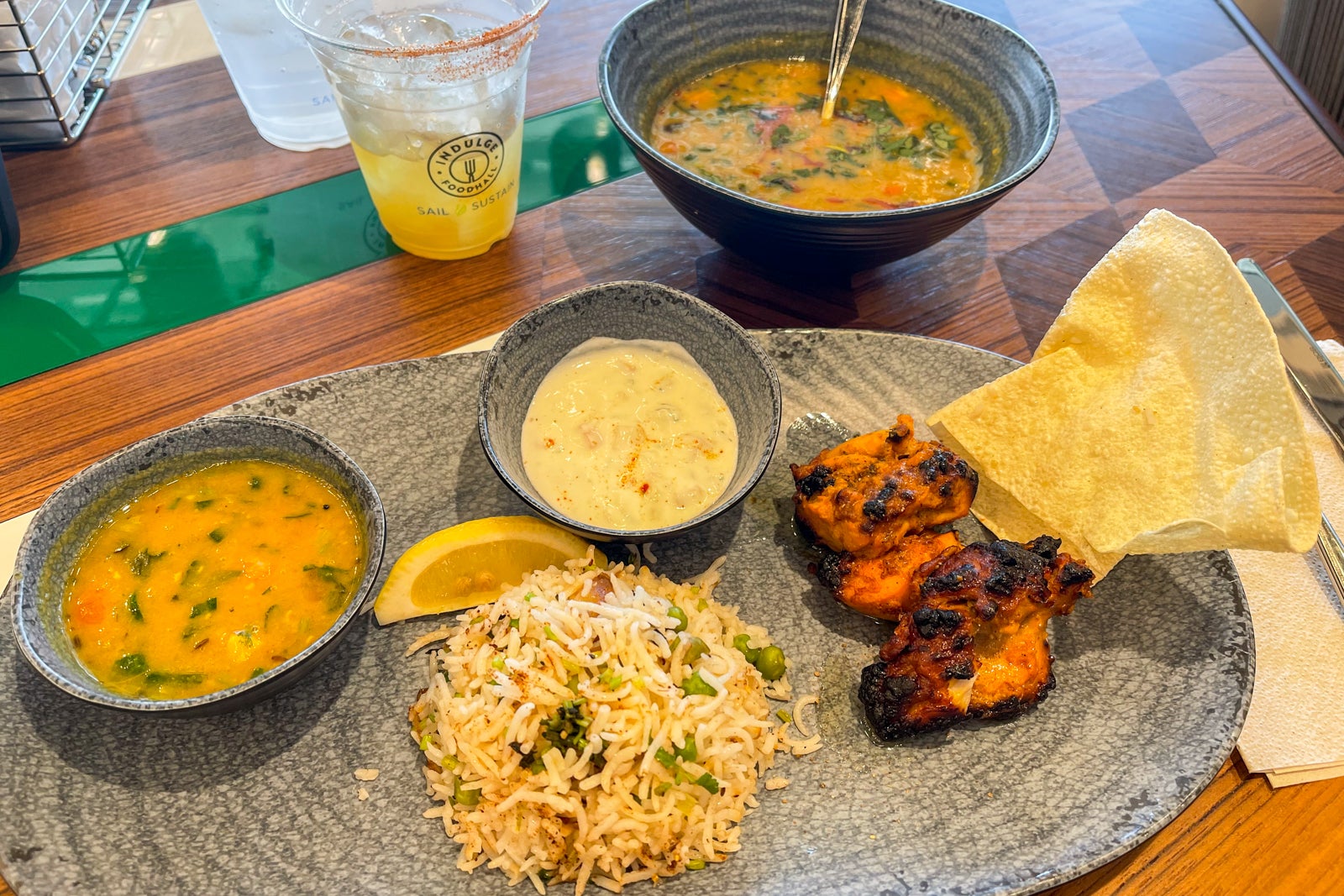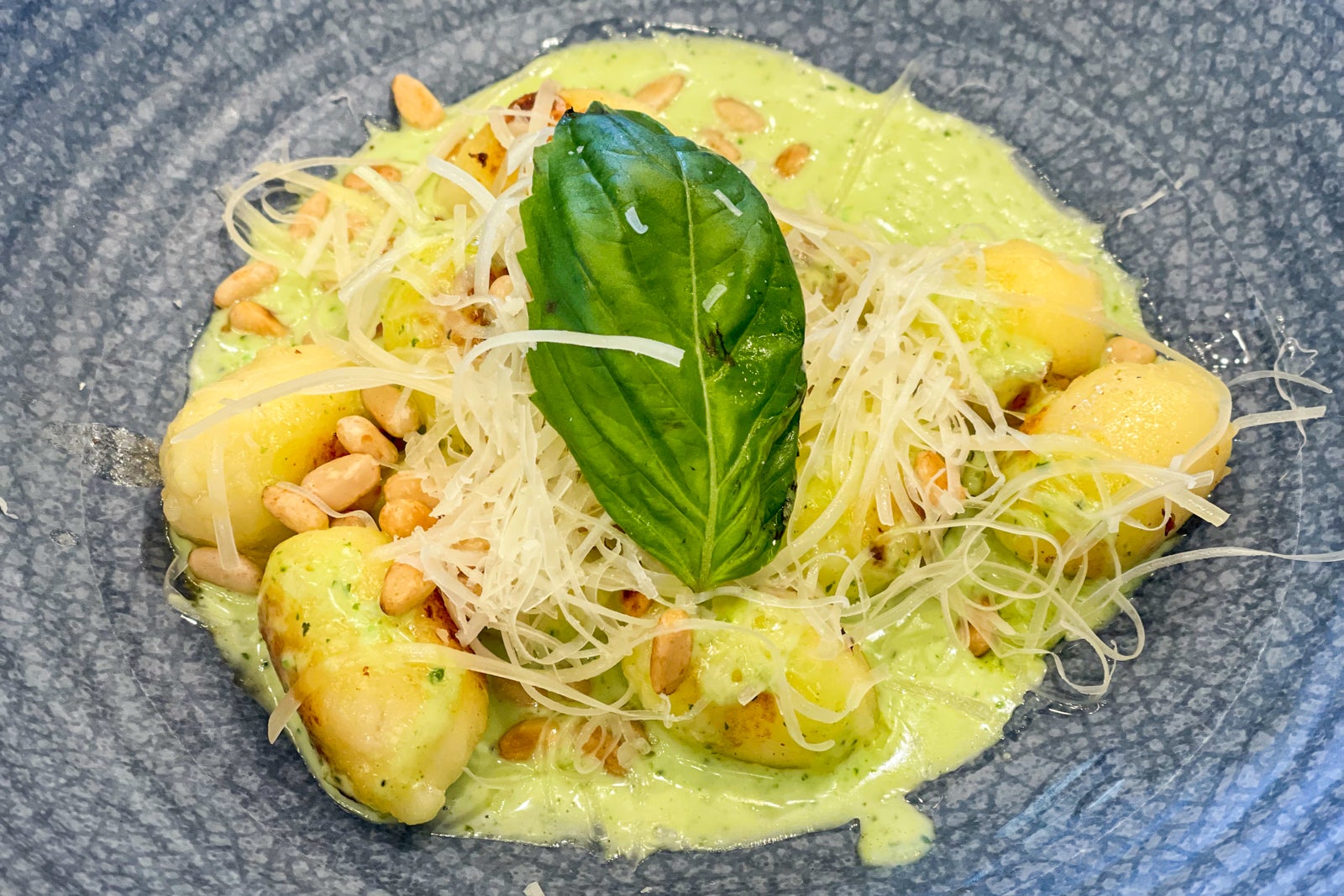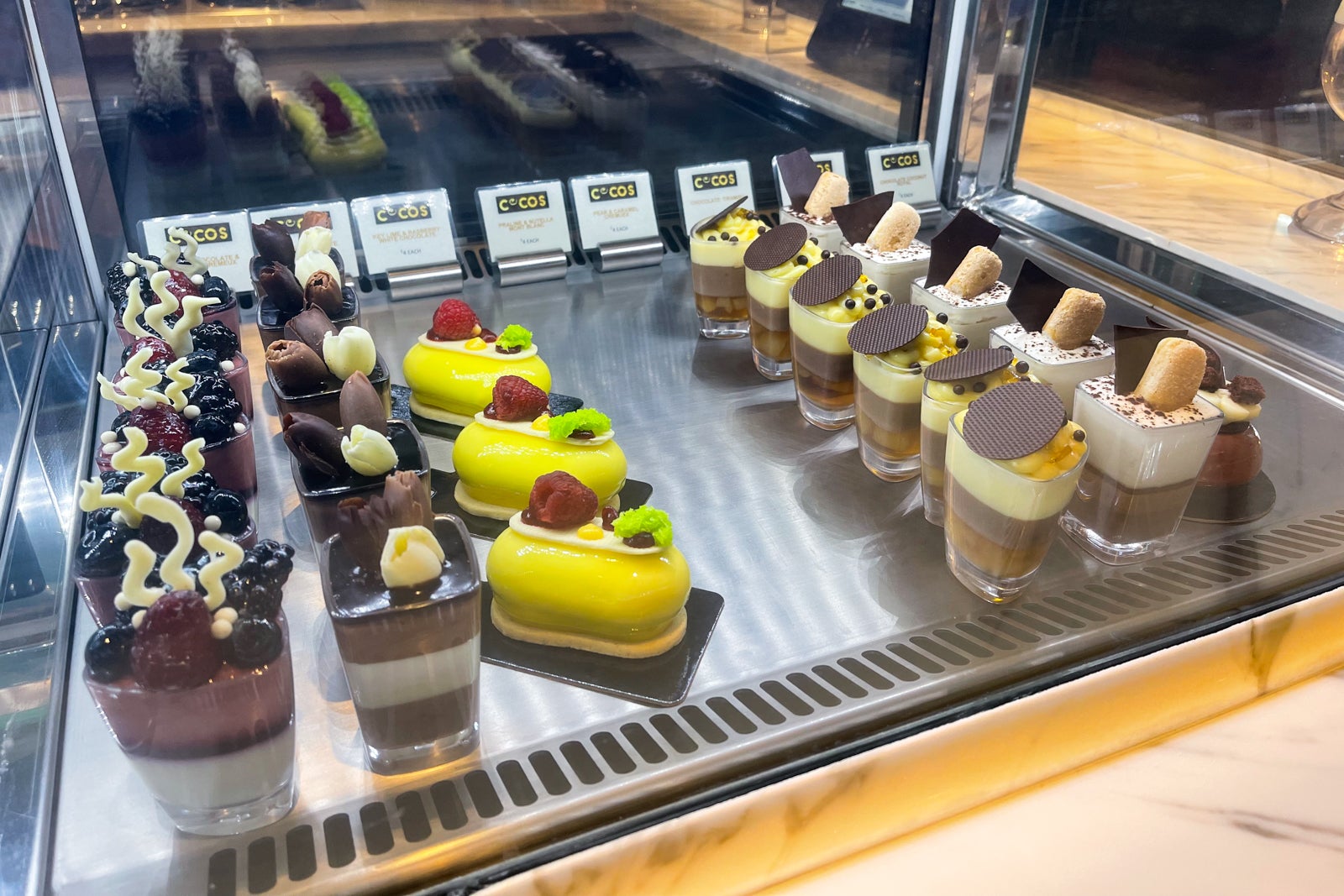 It's important to note that Norwegian Cruise Line fundamentally changed the definition of a cruise ship main dining room with Prima.
NCL has killed the tradition of a banquet hall with a menu that changes daily. Instead, it's taking more of a specialty dining approach on its newest ship and Hudson's, the main dining room on board, features a set menu that doesn't change.
In reality, this doesn't much matter on a ship with as many restaurants as Prima. I've found on many recent cruises that I rarely opted for the main dining room and instead relied on specialty restaurants, the buffet and room service. The flexibility of the other options was too much of a draw for me. I did have dinner at Hudson's on this voyage, and while it was fine, I wouldn't make an effort to return.
Related: Everything you need to know about Norwegian Cruise Line's new Indulge Food Hall
I normally sail ships where all restaurants are included or, on larger mainstream ships, I book a suite to have access to the VIP option reserved for passengers booked in that category. On this ship, passengers in the VIP Haven part of the ship have their own private restaurant.
For everyone else, Norwegian Prima has six restaurants included in the fare, eight extra-free restaurants and room service. I love the added flexibility of more choices at mealtime, but it's sad to think some cruisers will miss out on these spots due to the extra fee.
If food isn't a motivating factor for some people, though, why should they pay a premium for the type of food that isn't what they truly want? I get the appeal of a ship that has many free dining options, as well as upgraded for-fee restaurants.
Onboard activities
On small ships and luxury vessels, onboard activities trend more toward lectures from a visiting anthropologist, wine tastings and cooking demonstrations. I love those sorts of intimate gatherings where you feel like you're in a friend's living room and not on a giant cruise ship.
Norwegian Prima has much more lively options. I'll admit that I wouldn't necessarily seek out several of the pastimes aboard Prima, but a few of the ship's offerings — such as the multi-deck go-kart track and virtual reality gaming center — intrigued me. I'm not a gambler, so I don't miss the lack of a casino aboard smaller luxury ships. But for many, the casino aboard Prima is a go-to spot.
On smaller ships, entertainment is often limited to a DJ, four-piece band or duo. Norwegian Prima offered a comedy club and a gorgeous theater with Broadway-style shows. That's compelling for people who want a more robust slate of evening entertainment options.
A glance at Norwegian Prima reveals the two 10-story slides on this ship: The Drop free-fall version and The Rush (Deck 18). The Wave, the first tidal wave waterslide according to NCL, is on Deck 19. That's too much adrenaline for me but our friends took the plunge and had a blast.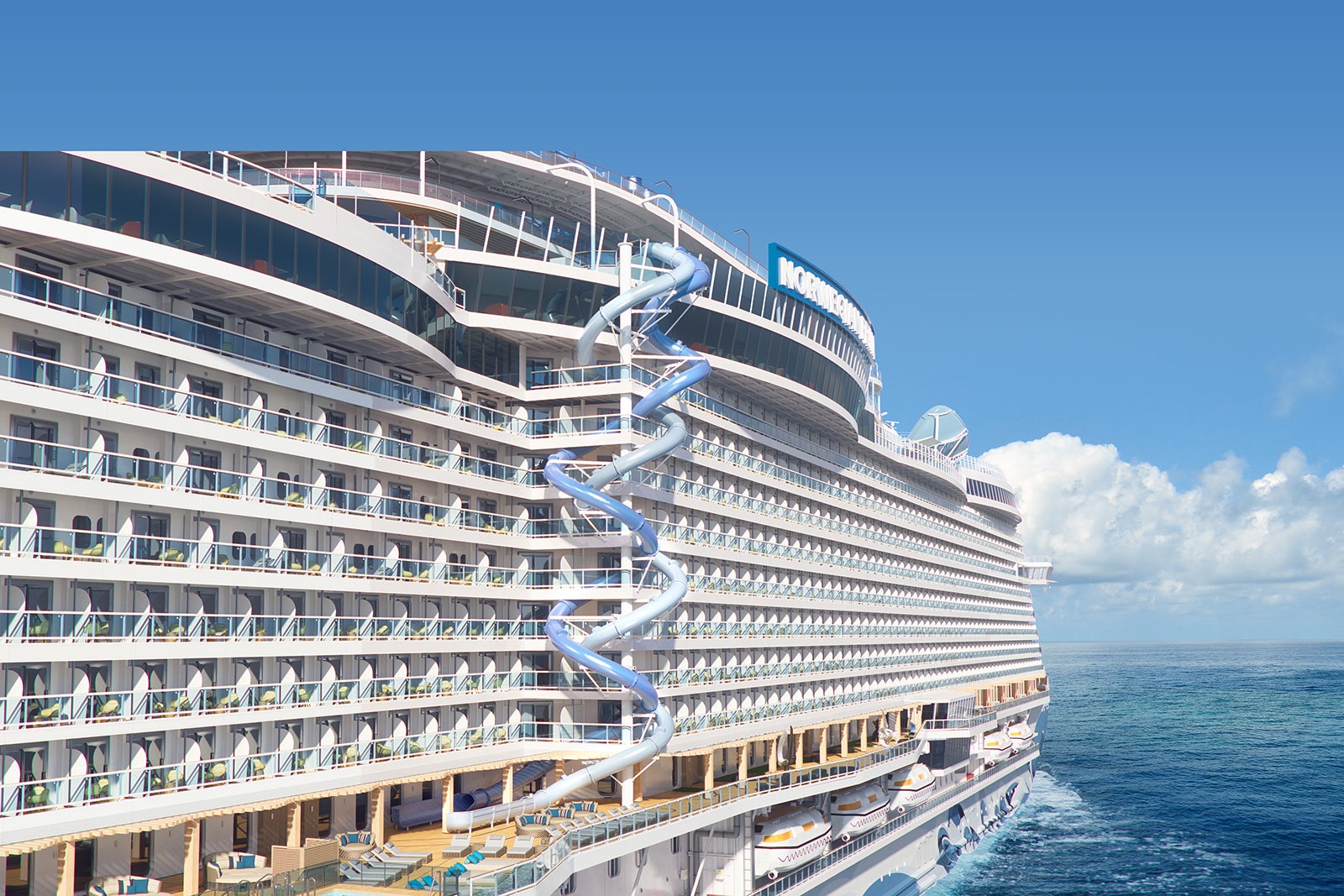 Then, there's the multideck Prima Speedway for your go-kart fix. This is a paid experience at $15 a pop.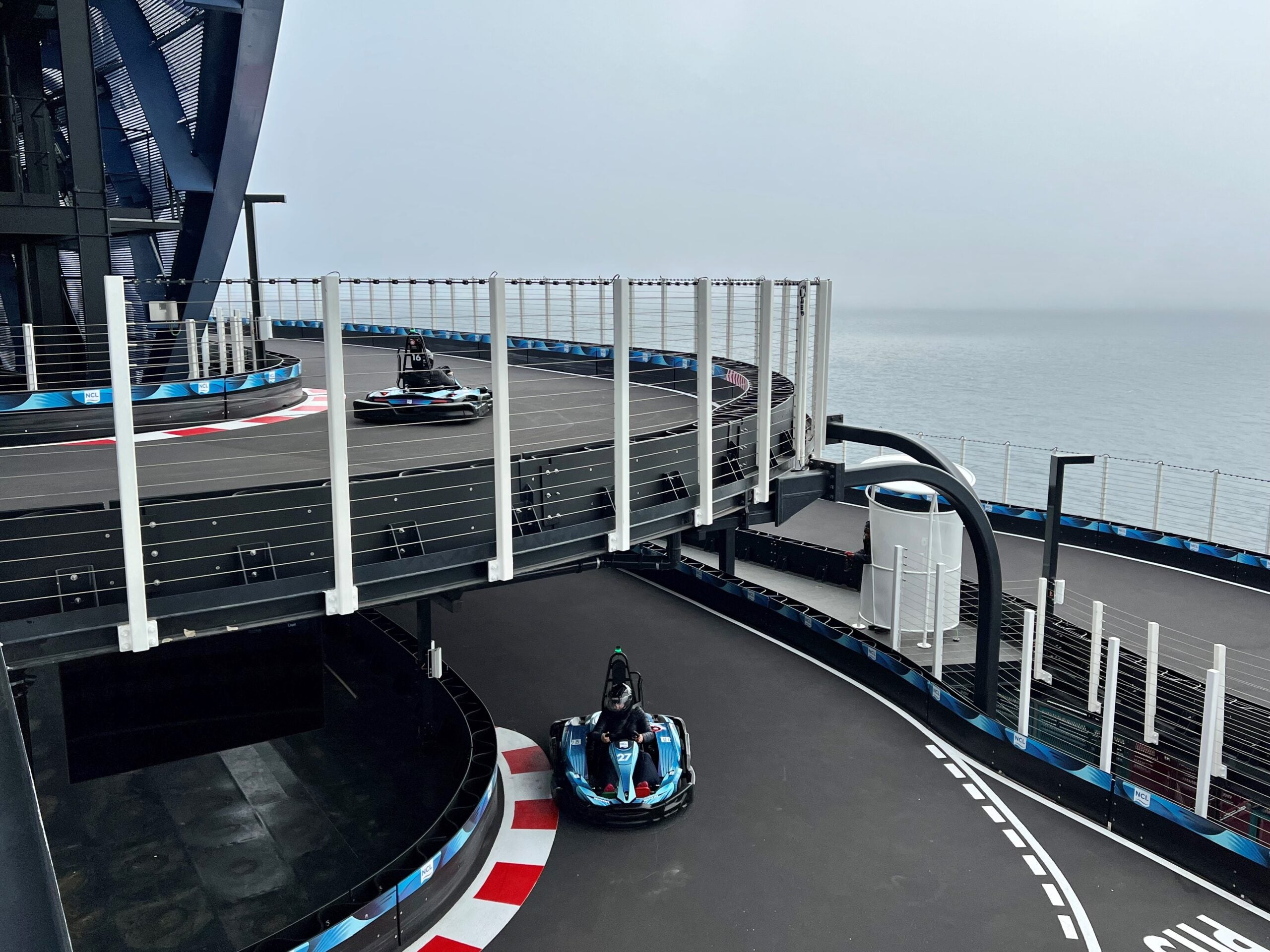 Galaxy Pavilion, with its range of virtual reality "rides" and experiences, was more our speed. (Additional fees apply.)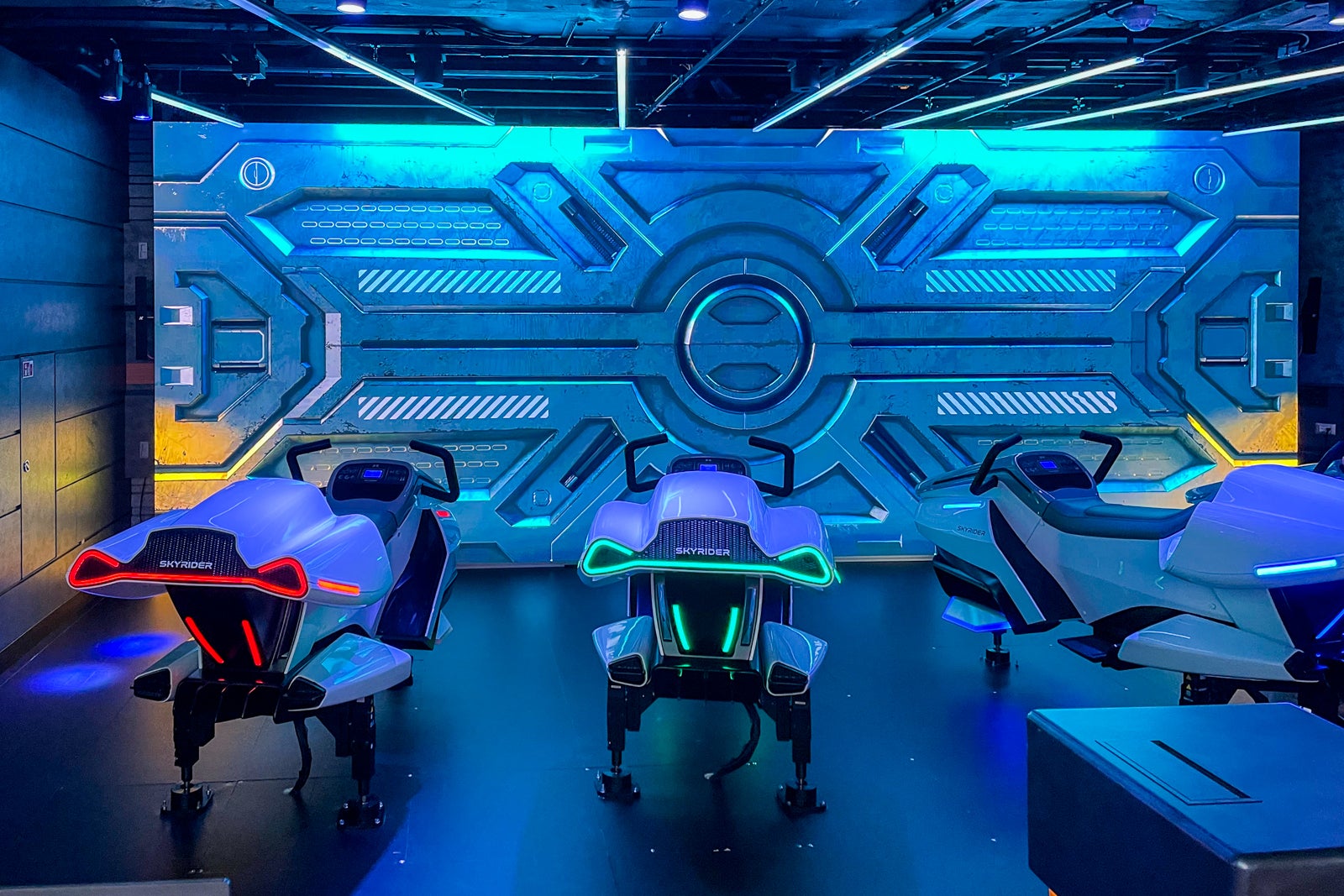 We had fun tackling the ship's mini-golf course, Tee Time, on Deck 18. Groups were having fun nearby at The Bull's Eye as they played a round of darts.
If you're traveling with children, Deck 18's Kids' Aqua Park looked like oodles of fun — especially on a hot, sunny day. Alternatively, kids could spend time at the Splash Academy kids club.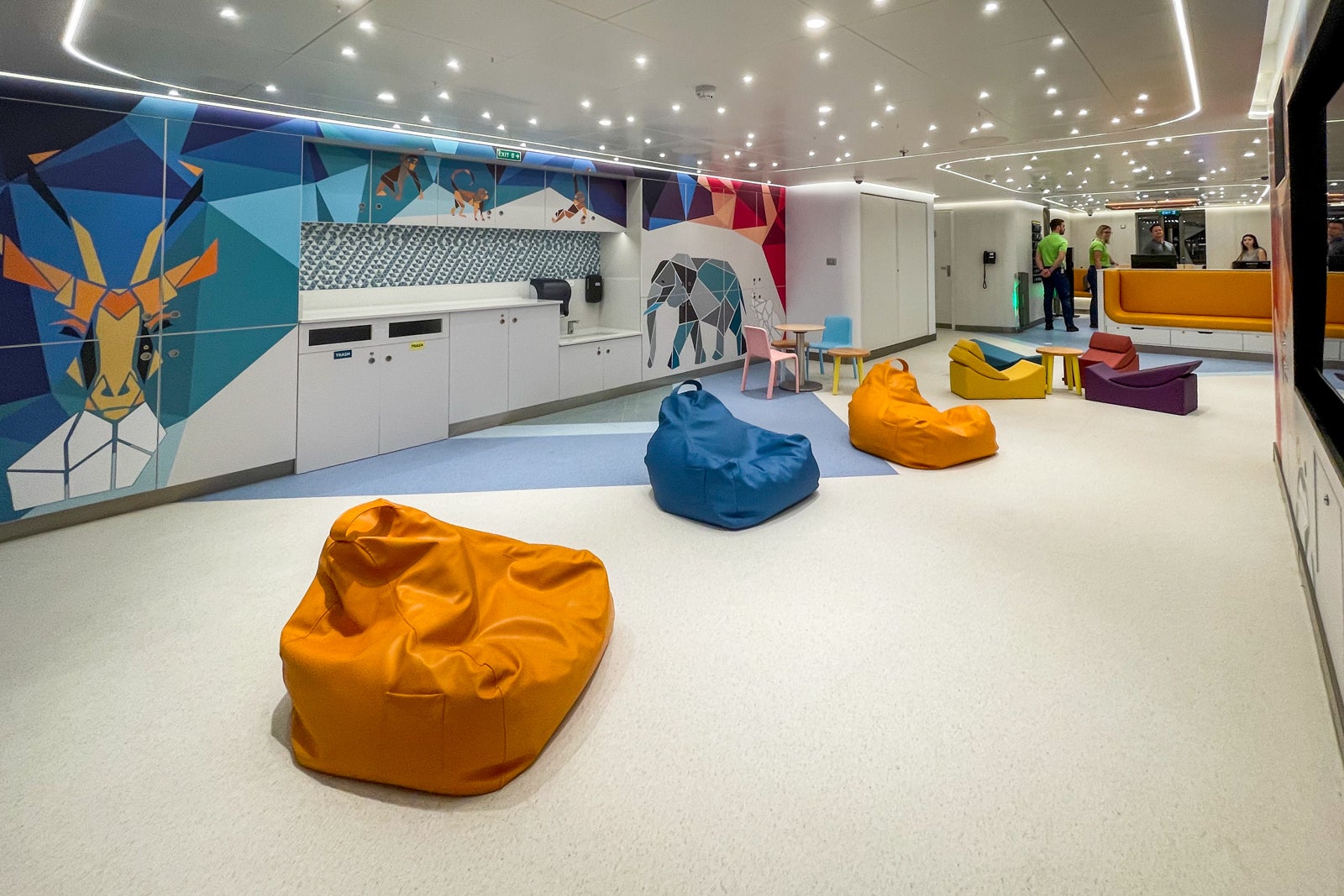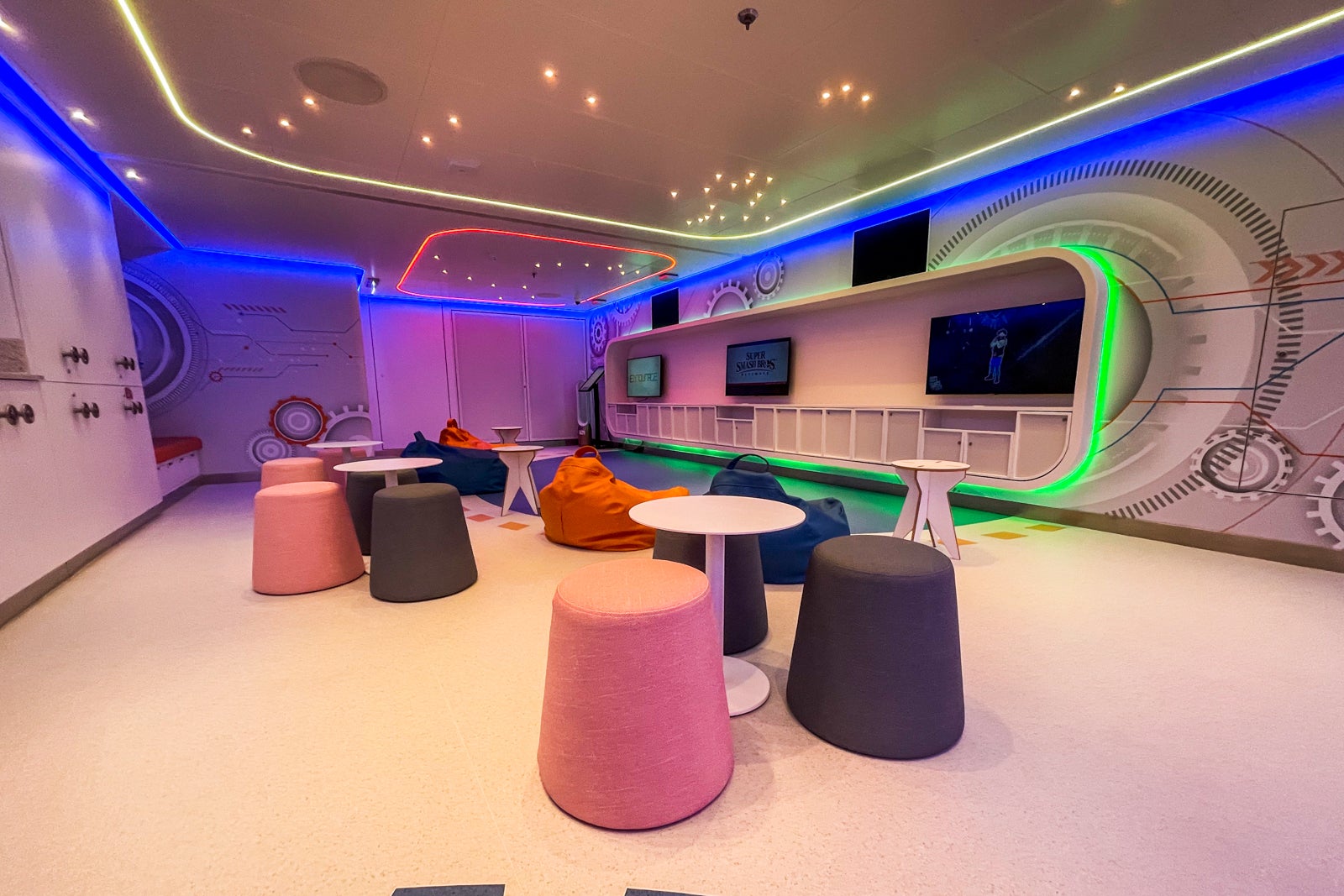 The fitness center was well-equipped but seemed a bit snug for a ship this size.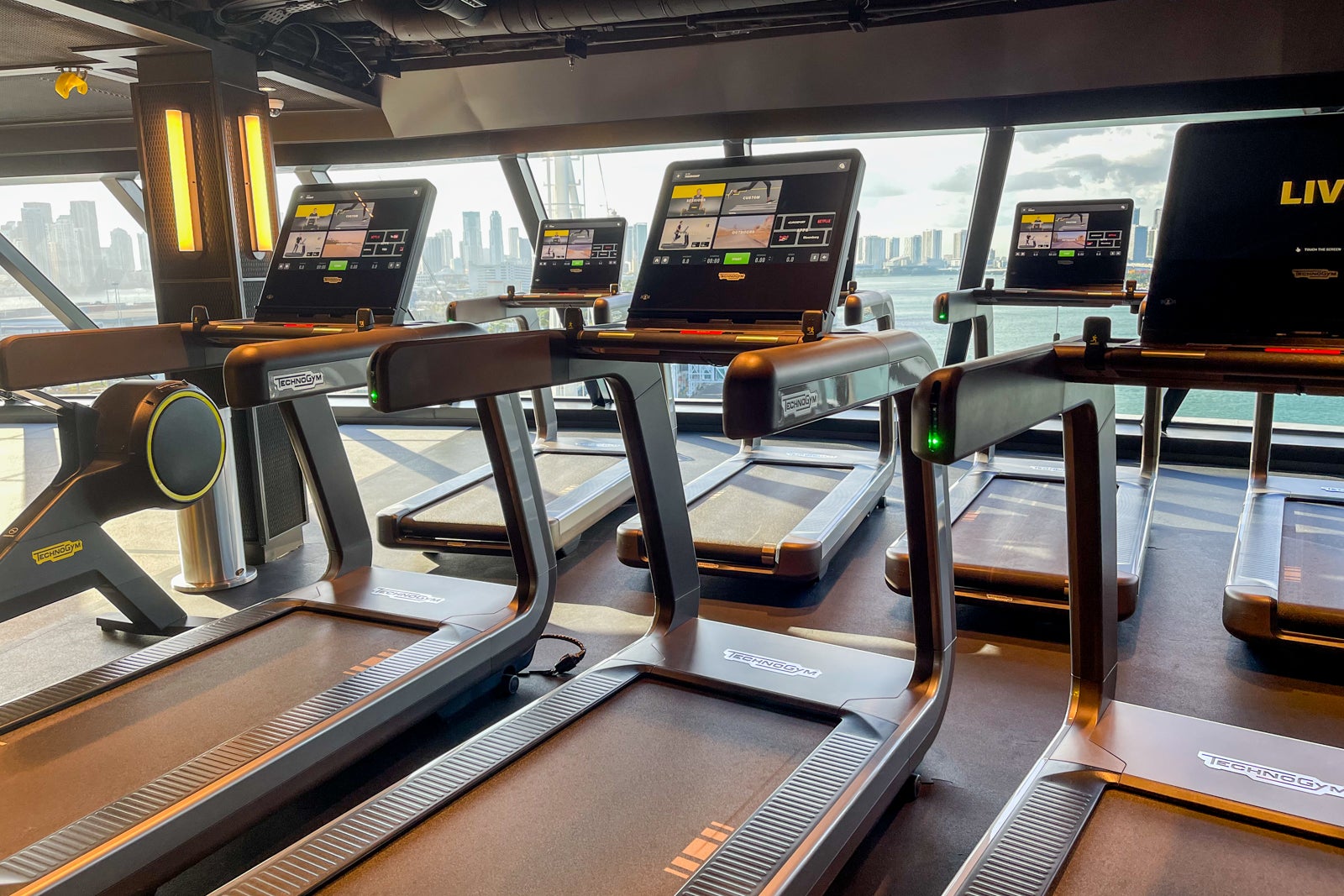 Related: Norwegian Prima's onboard amenities
Comfortable cabins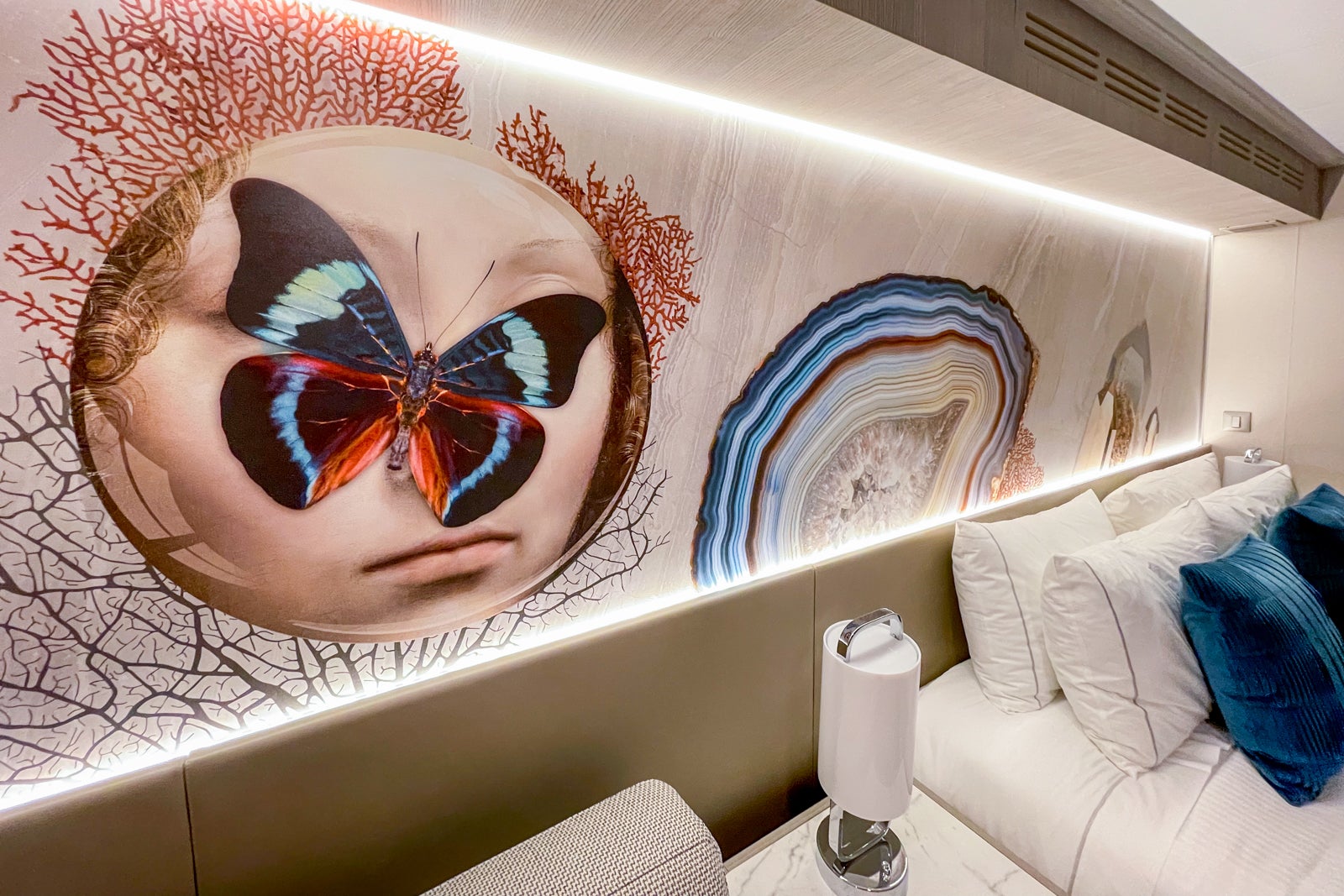 We sailed in a category B4 balcony stateroom. It was a bit snug. I would have loved a slightly larger space that could have accommodated a coffee table and an extended balcony that could fit loungers instead of two upright chairs and a cocktail table.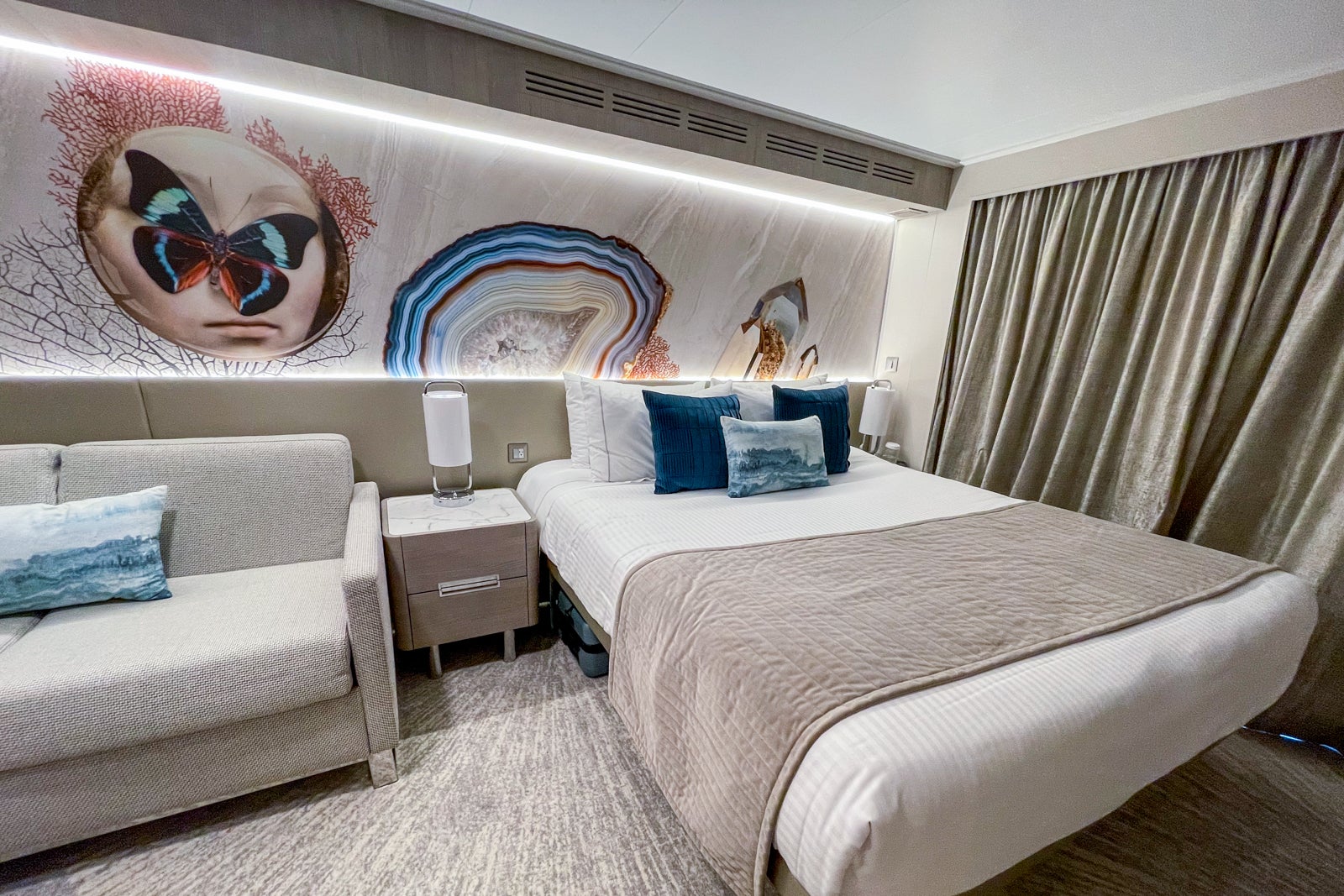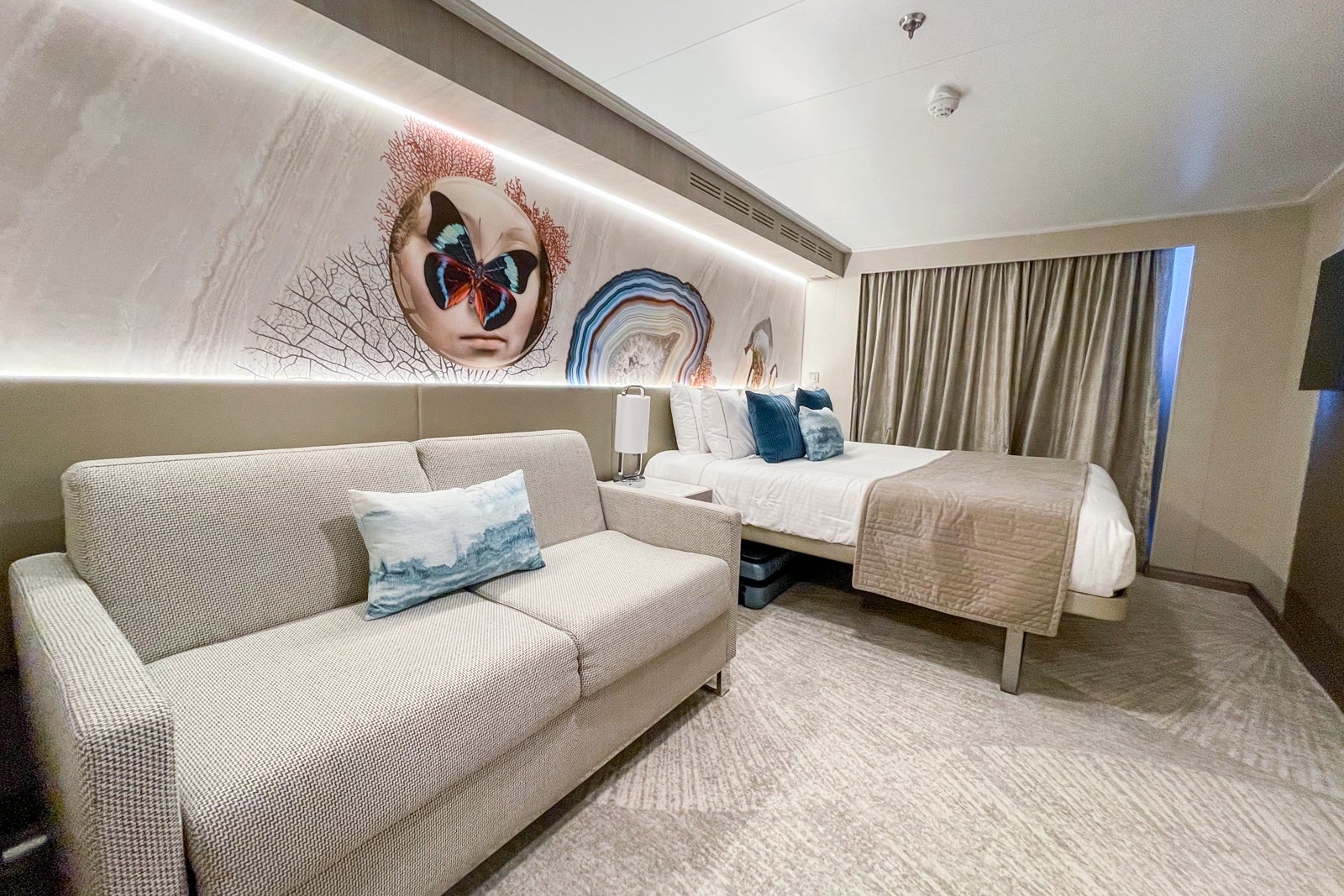 In my opinion, the bed needed a pillow-top mattress cover. It was too firm for me. I would have liked different pillows as well — one wasn't puffy enough but two were too bulky.
If you book a suite in The Haven, there is a pillow menu, feather duvets and Bliss Collection by Norwegian pillow-top mattresses.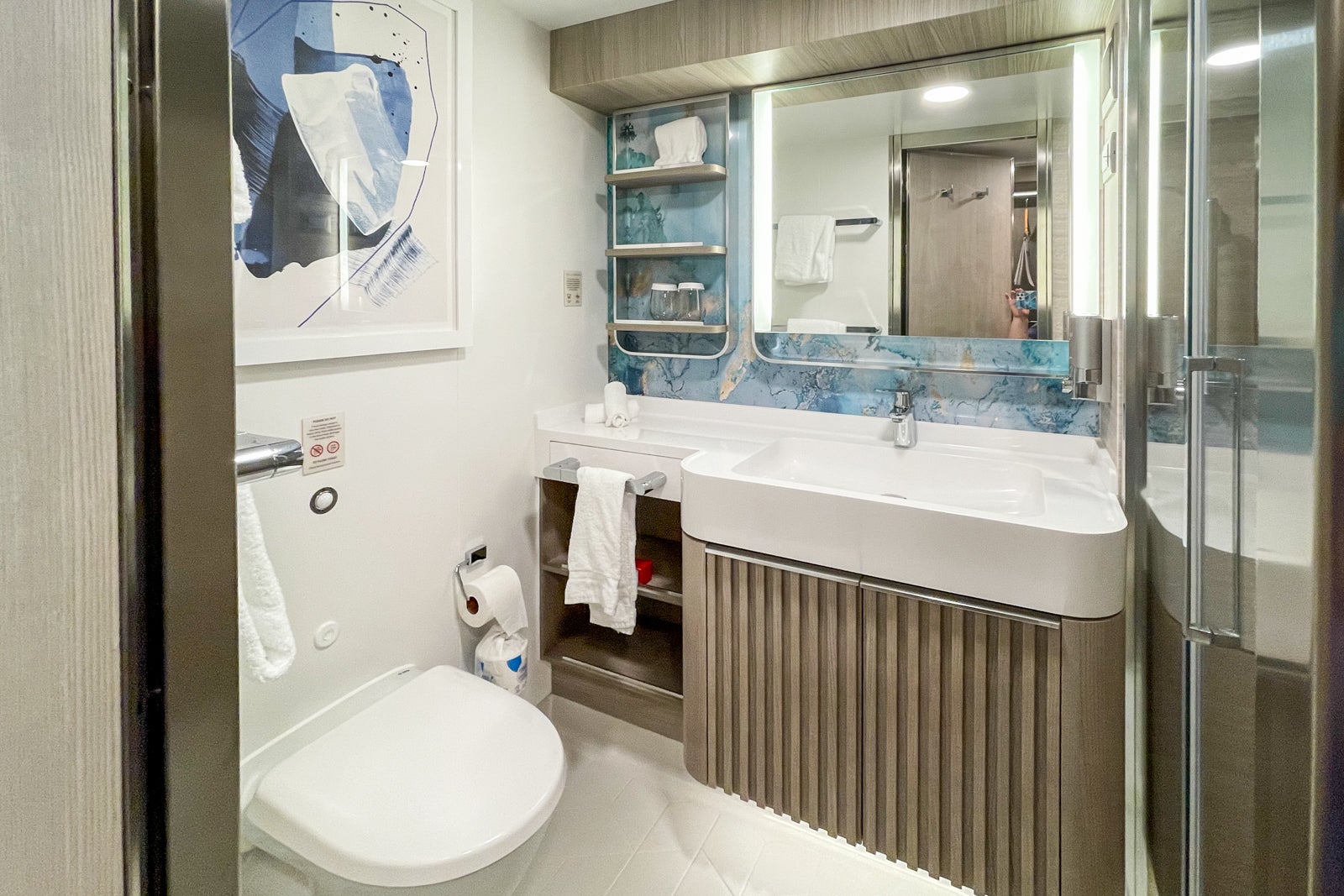 The bathroom was the cabin's highlight. It was bright, well-designed and roomy. Finally, a shower where you won't bang your elbows on the walls as you wash your hair! And, if you're plus size, you won't feel squished as you get ready for the day.
One caveat: The ship provides body wash and a combined shampoo/conditioner in dispensers affixed to the wall. I would have liked separate shampoo and conditioner products and not one thing that was a combination of both, so if you have the same preference, be sure to bring yours from home.
Related: Norwegian Cruise Line is betting big on luxury with over-the-top suites and amenities on its new ships
Frictionless travel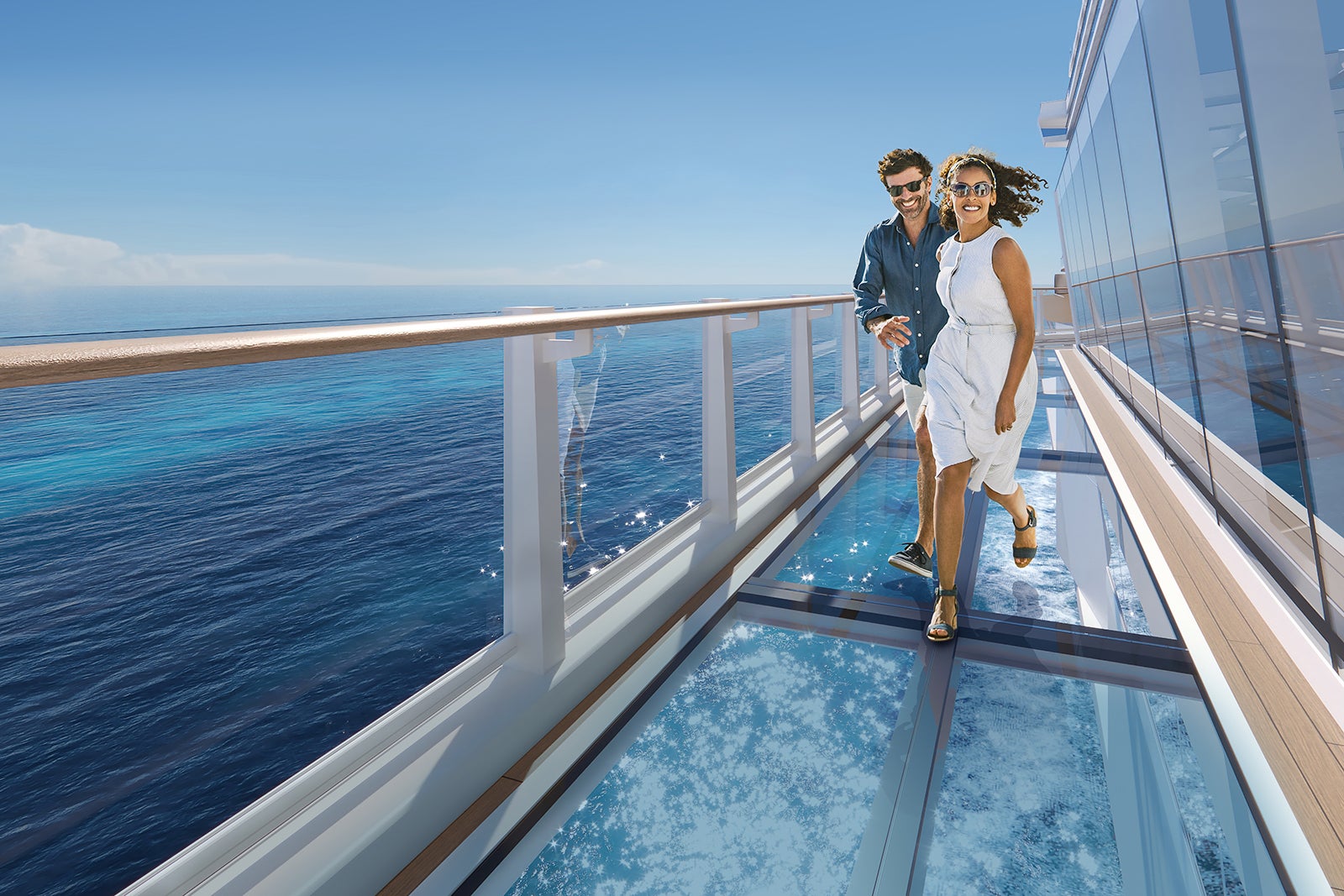 I might have rolled my eyes the first time I heard the term "frictionless travel." All it means is that your experience getting from A to Z — and everything that happens in between — is simple and stress-free. Who doesn't want that?
In terms of frictionless cruising, I look for:
Seamless airport- or hotel-to-ship transfers.
A simple screening process at the port (one that gets me on the ship in the shortest amount of time).
The ability to do the things I want, when I want (dining at specific restaurants, going ashore at the time of my choosing or experiencing an onboard amenity, like Norwegian Prima's go-kart track).
Having my questions answered in a timely fashion and to the fullest extent so I can make the most of my vacation.
An easy way to disembark without waiting forever for a porter, my luggage and onward transportation.
On previous luxury and small-ship cruises, embarkation has been a breeze. On many occasions, I've gotten out of a taxi at a port, passed through the port's security screening, walked up the gangway and was escorted to my suite in less than 30 minutes … no lines, no waiting for a boarding group to be called, no waiting for my cabin to be ready for me.
Of course, Norwegian Prima is much larger than the average luxury cruise ship. So how much friction should you expect on your Prima sailing? That's hard for me to say categorically since I was on an industry-only three-night sailing.
I can tell you that check-in at PortMiami was efficient. We arrived at Norwegian's new Terminal B at 10:45 a.m. After a few minutes in line, we had our photos taken, secured our room keys and were placed in boarding group 12. We were onboard by 11:15 a.m. (VIPs, like guests booked in the suite section of the ship called The Haven, get priority boarding. If you want the best embarkation and debarkation experience, book in The Haven.)
We went straight to book our specialty dining reservations. We wanted to try Palomar, but it was already completely booked. We opted for Le Bistro but had to dine earlier than we would have preferred. On a regular sailing, you'd have the opportunity to book your specialty dining reservations before embarkation.
You will also want to book your entertainment activities as early as you can, too … whether that's a spa treatment, a few laps around Prima Speedway, virtual reality experiences at The Galaxy Pavilion, or the evening musical or comedy show. If you're the type who likes to do things on the fly, you may be disappointed. Planning out those activities in advance is your best bet on Prima.
Of course, mainstream cruise lines aren't the only ones that have capacity issues when it comes to dining, entertainment and shore excursion reservations. Elites on many cruise lines get first crack at those reservations, so sometimes you'll be shut out whether you're trying to book the comedy show aboard Norwegian Prima or a specific dining experience on Regent's Seven Seas Explorer.
Disembarkment wasn't frictionless but, again, this was a unique sailing. Still, my experience convinced me that The Haven — with its priority disembarkation — would be worth the price if I were to bring my family on a voyage with me.
Service
Excellent service means different things to different people. I want attentive service that feels warm, friendly and authentic (i.e., the crew wants to be on the ship and enjoy working with passengers). A happy crew equals happy passengers. I don't want anything that's too formal, snooty or uptight.
I want my preferences remembered — whether that's at the pool bar (where I will request fun frozen drinks without any alcohol), in the main dining room (where I appreciate recommendations that fall within my previously communicated dietary restrictions) or in my stateroom (where I want the minibar stocked with diet Coke and bitter lemon).
If there is a service issue, I want the ability to speak with someone who can make it right — and have that conversation as soon as realistically possible.
How did the ship do on all of those counts? Very well, actually.
Norwegian Prima's crew consists of genuine people who truly care about your vacation. It was easy to strike up conversations with crewmembers across the ship and everyone wanted to please — even if there was still a bit of training to be done. A new ship always has a few kinks to work out but I was very pleased with the crew who I believe will grow into an incredible team.
I would say that service in the specialty restaurants needs to slow down a bit. It was quick and efficient but for a dining experience that is so good, it would be nice for a little more time built in for chitchat with the waitstaff. At Hudson's, Norwegian Prima's equivalent of a main dining room, service was friendly and fast but the buzz in the room didn't lend itself to lingering over dessert and coffee.
The ship could use more signage and, upon embarkation and disembarkation, more direction from the crew would be welcome.
Related: Everything you need to know about tipping on a cruise ship
Bottom line
Norwegian Prima exceeded my expectations in many ways — most especially in the sheer beauty of the public spaces and the quality of the specialty dining experiences. I appreciated the innovation of Indulge Food Hall.
I enjoyed all the bells and whistles that you may not find on luxury ships, such as the go-kart track, mini-golf course, dart games, infinity pools and live entertainment like "The Donna Summer Musical." The crew was kind and efficient, and that goes a long way toward making a cruise great.
If I were to sail with my family, I'd book a suite in The Haven, which offers, among other things:
Private, VIP-only spaces on the ship: private pool, hot tubs, sundeck, hot tub and fitness area.
Finnish sauna and cold room.
24/7 butler service.
Help from a concierge to book dining, activity reservations and shore excursions.
Priority when reserving dining and entertainment preferences.
Complimentary room service.
Special Haven dining room and lounge.
Skip-the-line at embarkation, at ports and at disembarkation with the assistance of a ship escort.
In the end, I do think that luxury cruisers can love Norwegian Prima — or at least come darn close — especially if they select the ship for a multigeneration vacation or a friends' getaway where travel companions will want different sorts of activities throughout the day and evening.
Just book in The Haven to get an exclusive experience more akin to what you're accustomed to on smaller, more upscale ships.
If you're considering Norwegian Prima for your next voyage, you may also want to read: