The shortest path to earning tons of points, miles and cash back each year is credit card sign-up bonuses. These can be incredibly lucrative, and using the best credit card for each purchase (based on the spending category) can add thousands of extra points to your balance each year.
Another great strategy for earning points and miles with minimal effort is to refer friends and family for credit cards. This overlooked strategy can yield thousands of dollars in cash back or miles each year, and it doesn't require additional spending on your part.
Related: Quick Points: Free points and miles for referring friends to loyalty programs and credit cards
Here's how you can use this program to refer friends, family members and small businesses for Capital One credit cards — and how you can earn lucrative bonuses along the way.
Capital One Refer a Friend
Capital One Refer a Friend allows you to refer people for credit cards through a unique link. Using this link, your friend, relative or co-worker can apply for a credit card and earn a sign-up bonus the same way they normally would.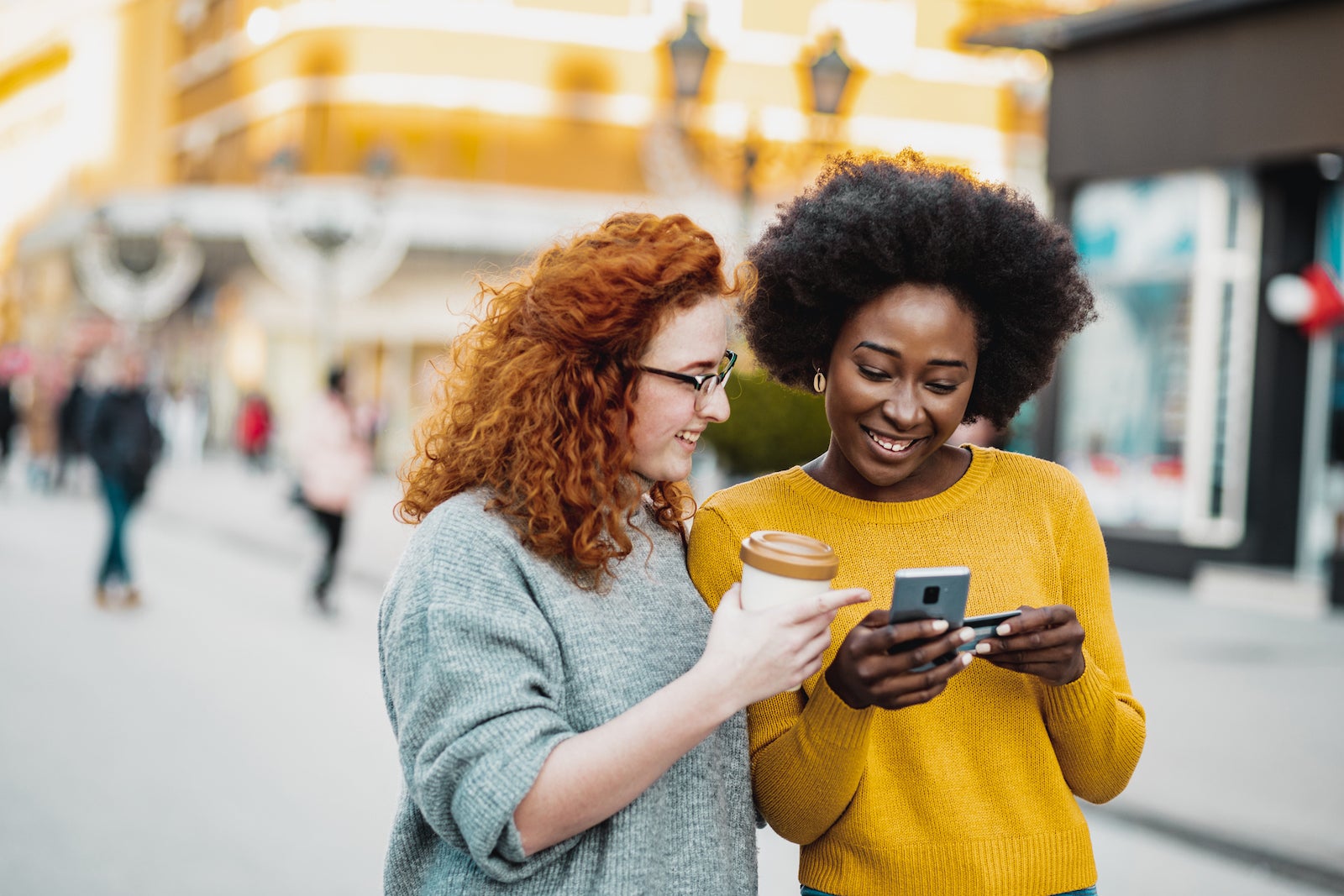 However, by using your personalized link, you (as the referrer) can earn a bonus after the person you referred applies for and is approved for a credit card. They must start and finish their application using your link for you to receive the bonus.
Related: How to refer friends and earn points, miles or cash credits
The referral bonus will be issued in the same type of rewards your credit card normally earns. Thus, you'll earn a cash bonus when referring a cash-back credit card and will earn miles when referring a card that earns Capital One miles.
Capital One Refer a Business
If you have a small-business credit card from Capital One, you can use the Refer a Business program to earn referral bonuses on these credit cards. You'll earn cash bonuses on cash-back cards and earn bonuses of miles on cards that earn those.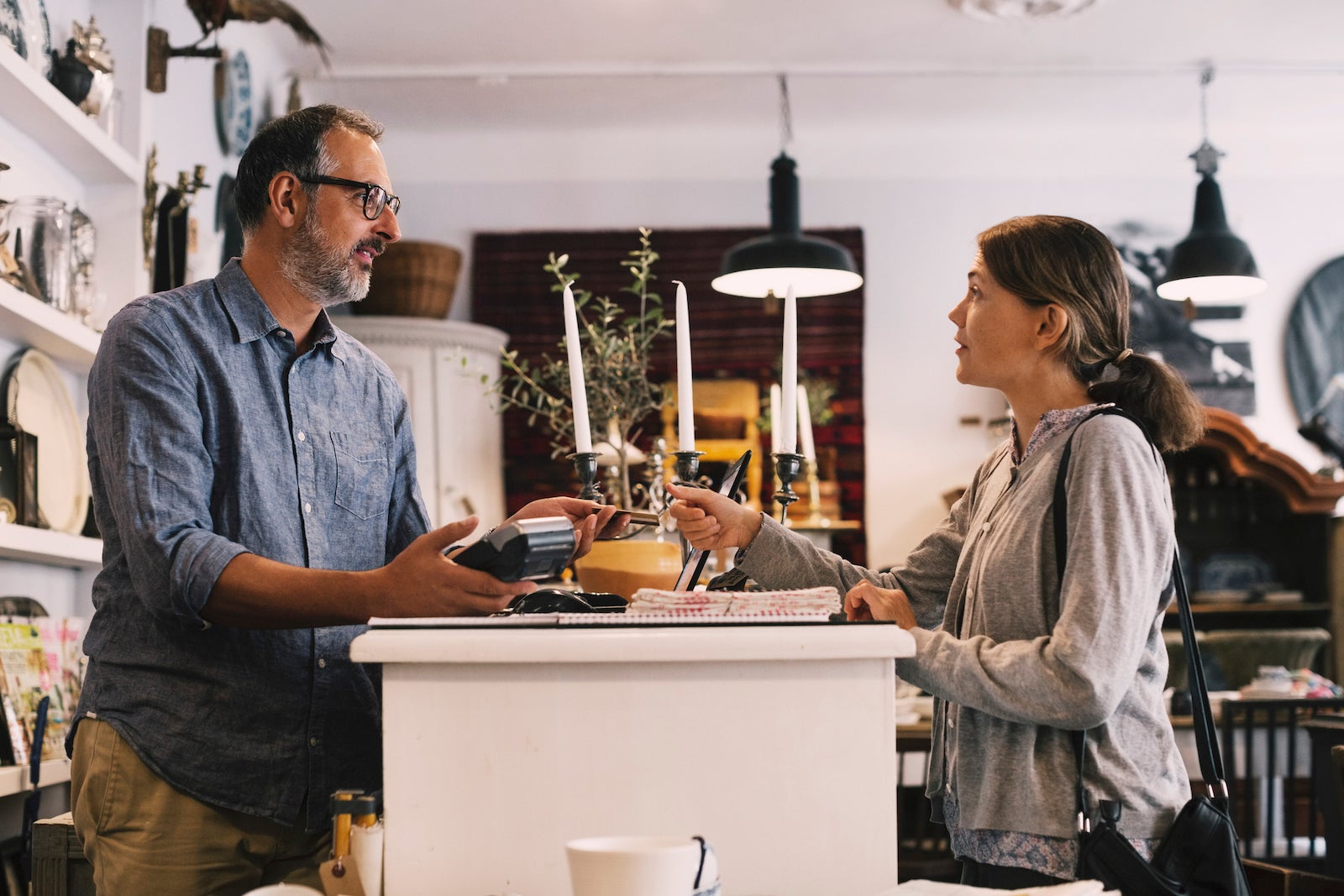 Earning additional bonuses of cash or miles should complement your business's existing credit card strategy to help you earn additional rewards.
Related: 10 considerations for your small-business credit card strategy
Cards eligible for referrals
There's a simple answer with good news here: All personal credit cards are eligible for referrals, as long as your account is in good standing.
For business cards, nearly every Capital One account can generate a referral link. The sole exception: You cannot refer someone for the Capital One Spark Classic for Business.
The information for the Spark Classic for Business card has been collected independently by The Points Guy. The card details on this page have not been reviewed or provided by the card issuer.
This means you can refer people for personal credit cards from the Venture, Quicksilver, Savor and Platinum families and can refer people for business cards from the Spark Cash and Spark Miles families.
Related: The best time to apply for these popular Capital One credit cards based on offer history
Receive bonuses for your referrals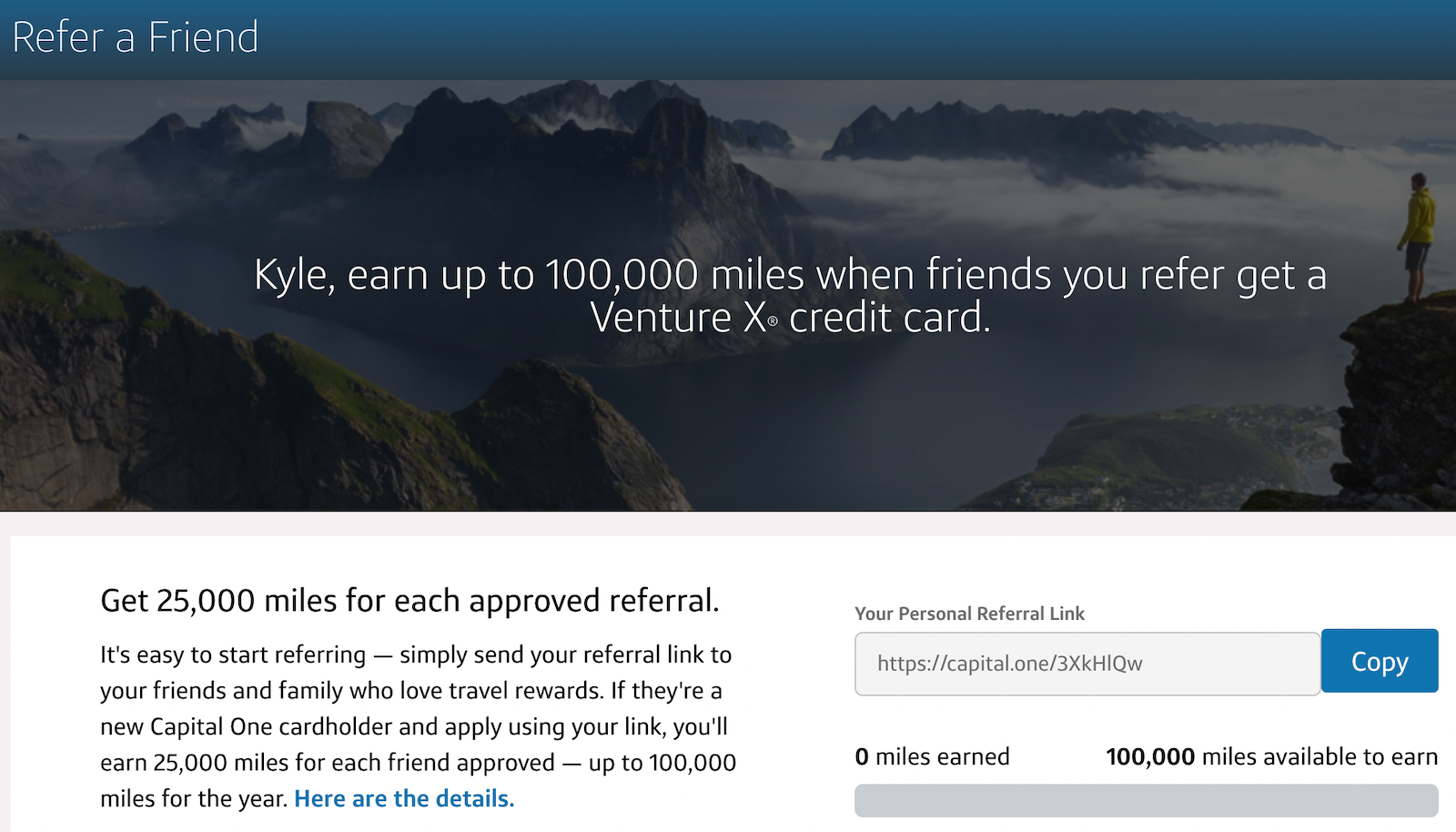 The Capital One Refer a Friend and Refer a Business programs generate targeted offers. That means not everyone will see the same bonuses when generating a referral link from their credit cards. However, these are likely bonuses you can expect when referring someone for a Capital One credit card:
Related: Select Capital One cash-back cards now earn 10% back on Uber and Uber Eats purchases
The information for the Spark Cash Select and Spark Miles Select cards has been collected independently by The Points Guy. The card details on this page have not been reviewed or provided by the card issuer.
How to generate referrals
To generate a referral, head to the Capital One Refer a Friend page located here. If you're referring someone for a small-business credit card, you'll need to start from the Refer a Business page at this link.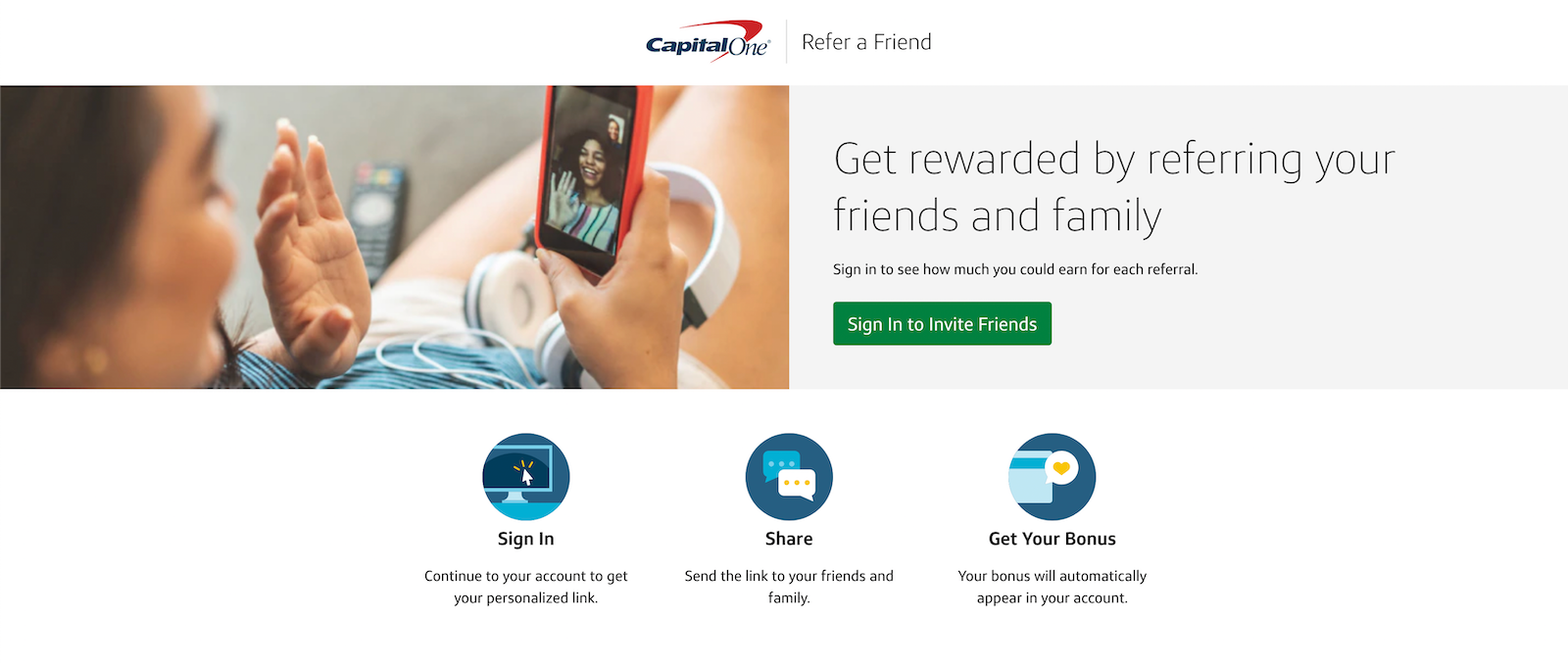 After signing in to your Capital One account, you'll be able to copy your referral link.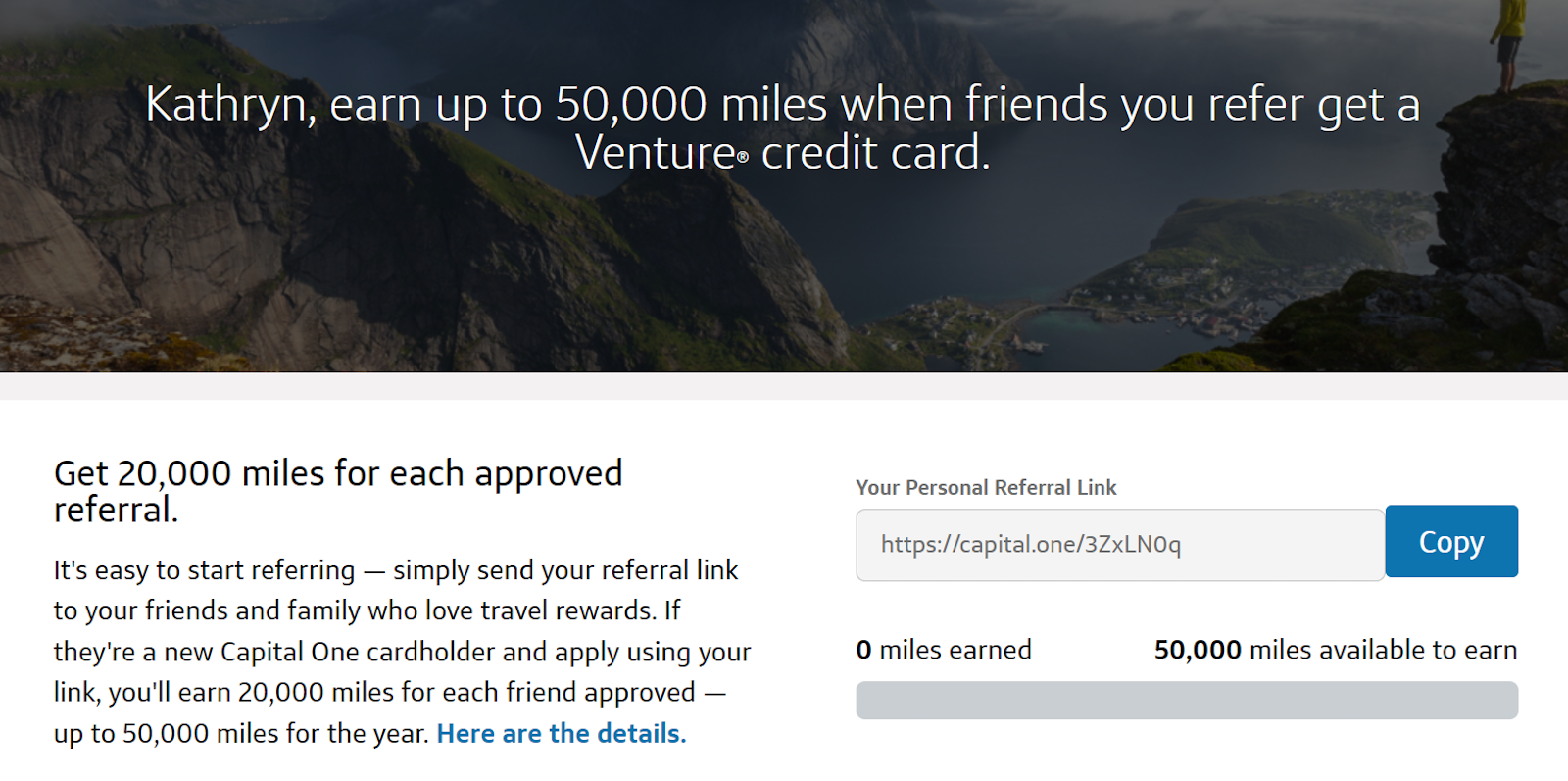 Once you click on the blue "Copy" button, you'll receive this message saying that you've copied the link correctly.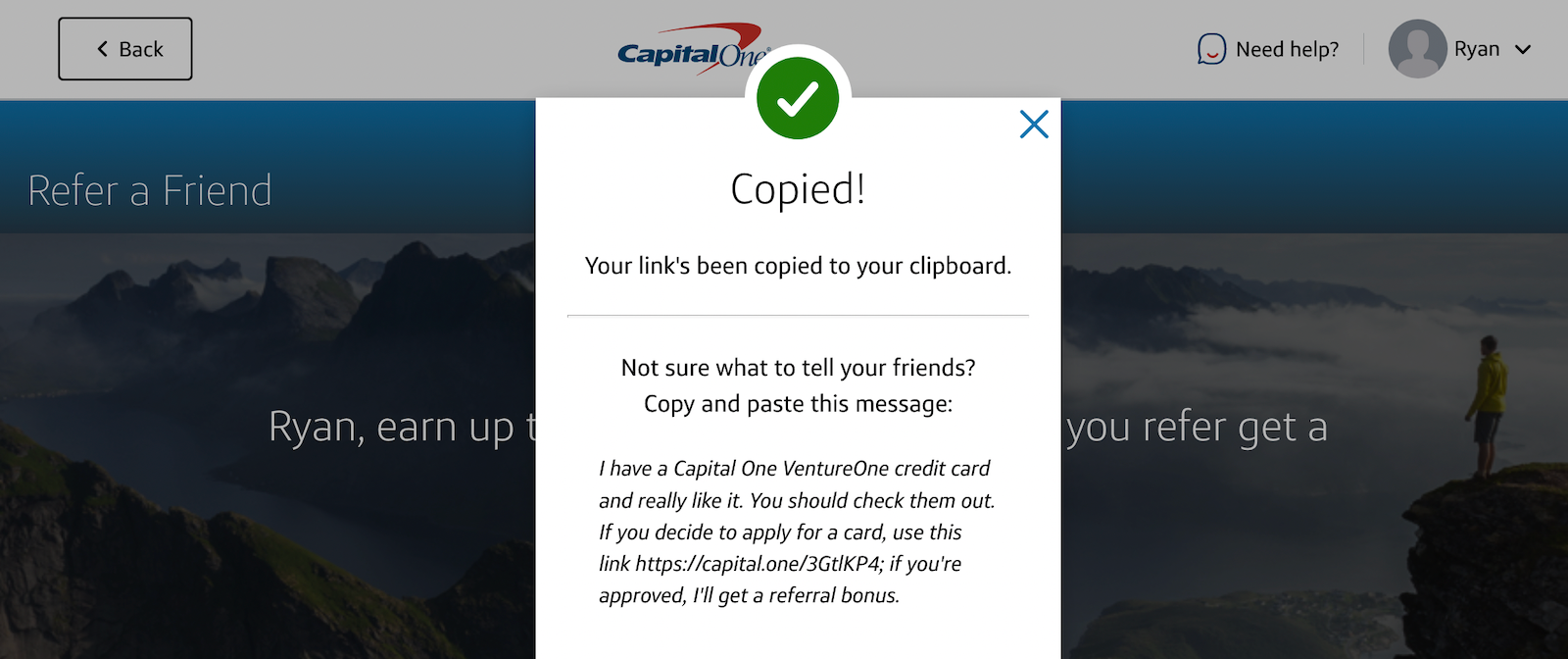 If you give this link to a friend or relative, they will see this screen when using your link to apply.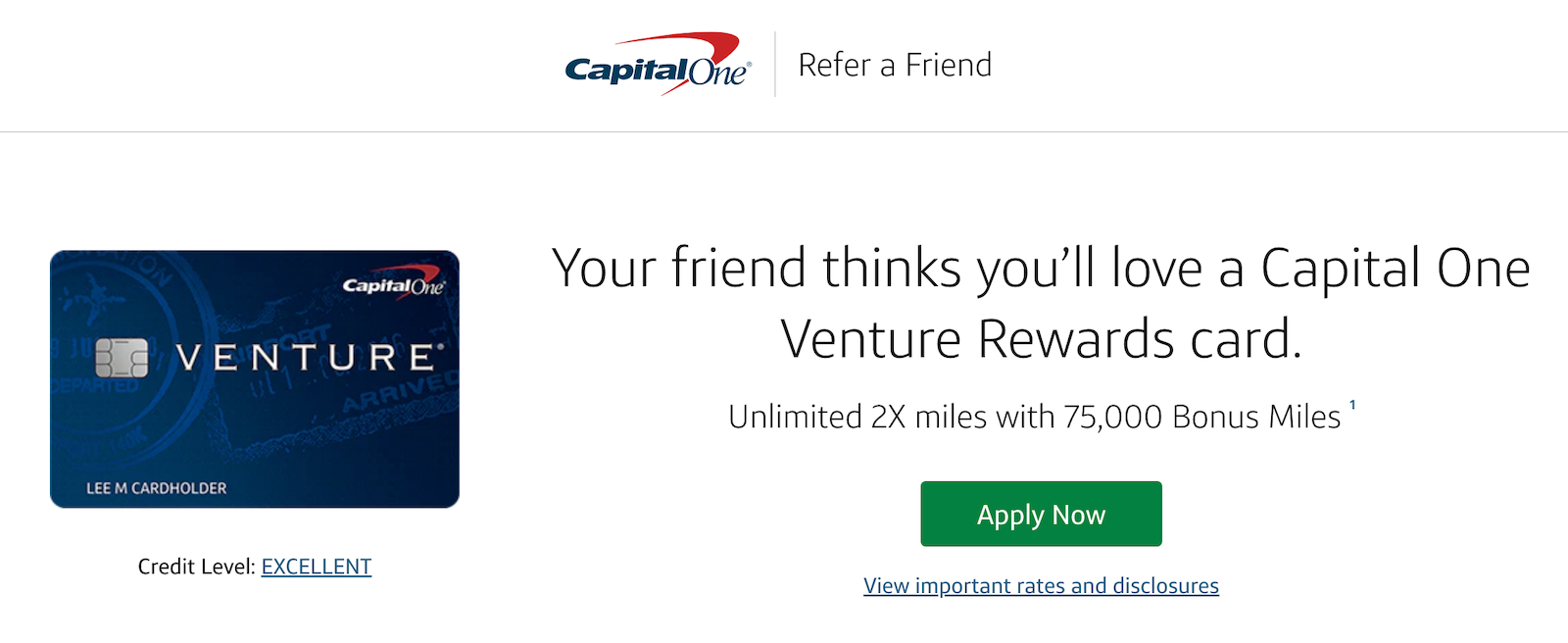 It's also possible to generate a referral link using the Capital One mobile app. Just head to your credit card's account details and scroll down.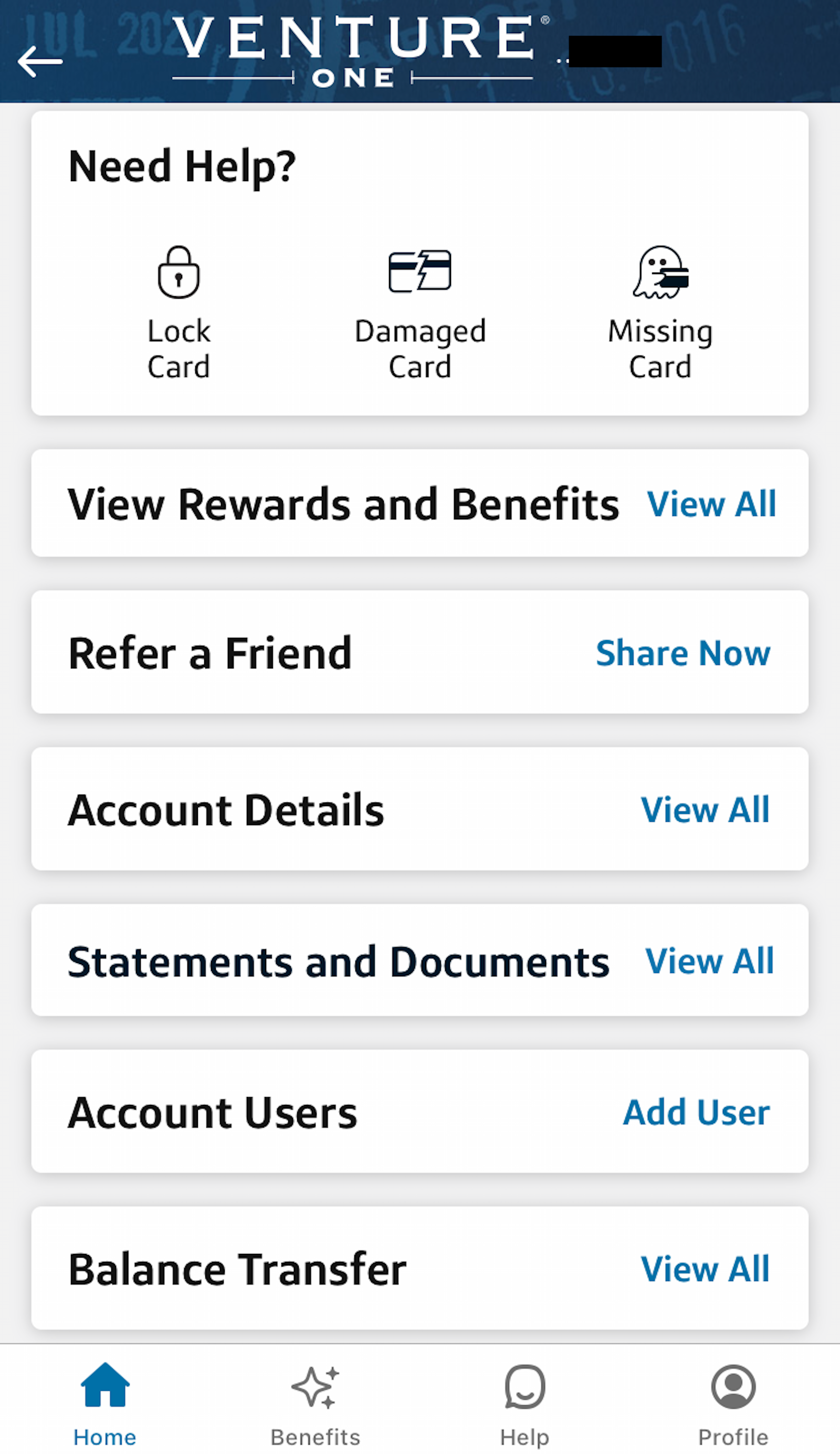 Next to the options for replacing your card and viewing recent statements, you'll see "Refer a Friend".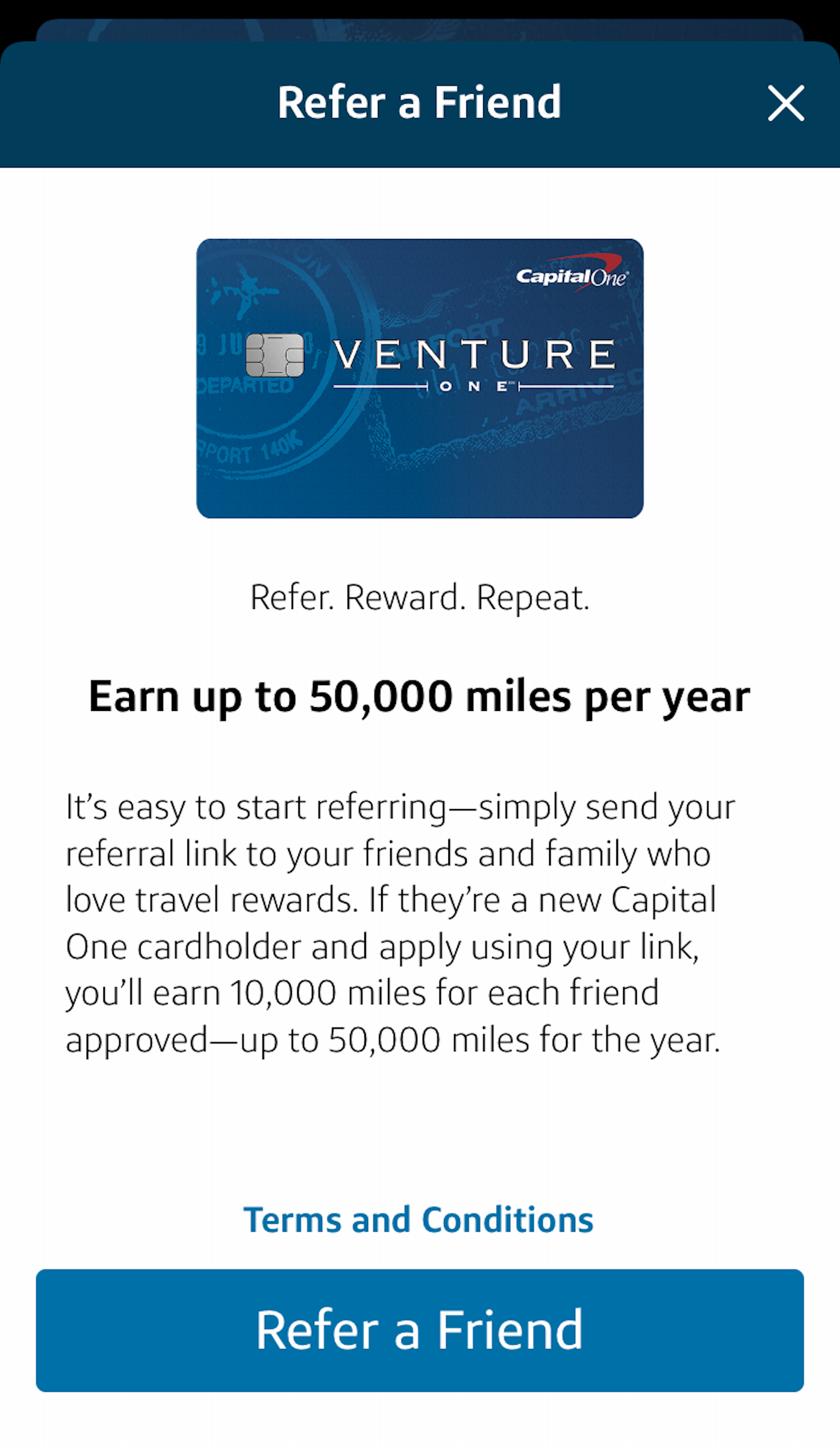 On this screen, you'll see the details of your referral bonus and a "Refer a Friend" button to copy your referral link at the bottom of the screen.
You don't necessarily need to know the person you're referring. Posting your referral link online or on your social media accounts could generate unexpected referrals.
You can't refer cards you don't have
Some banks make it possible to generate a generalized referral. Thus, you could refer a friend to a page with multiple credit card options, allowing this person to choose which card is best for their situation.
With Capital One, unfortunately, that's not the case. You can refer someone to apply for the same card you have but can't refer to other cards. Thus, if you have the Capital One Venture card, you can't generate referrals for or receive bonuses on the Venture X card.
Referral bonuses may be taxable
It's worth noting that banks may issue a 1099-MISC tax form on any referral bonuses you receive. While rewards you earn from credit card spending (as well as sign-up bonuses) are generally considered a discount or rebate on goods you've purchased, referrals are different.
Related: If I cash out my points and miles, do I have to claim it on my taxes?
Thus, you may receive tax forms on any cash bonuses or miles earned from referring friends and family for credit cards. If you have questions about how this could affect you, consult your tax preparer or attorney.
Referral bonuses aren't instant
Unfortunately, you won't receive your referral bonus as soon as your friend applies for and is approved for a Capital One credit card. Capital One says it can take up to eight weeks to receive these bonuses, though it's generally faster than that.
If more time has passed and you're sure the person used your link to apply for a card, call the number on the back of your card to inquire about a missing referral bonus.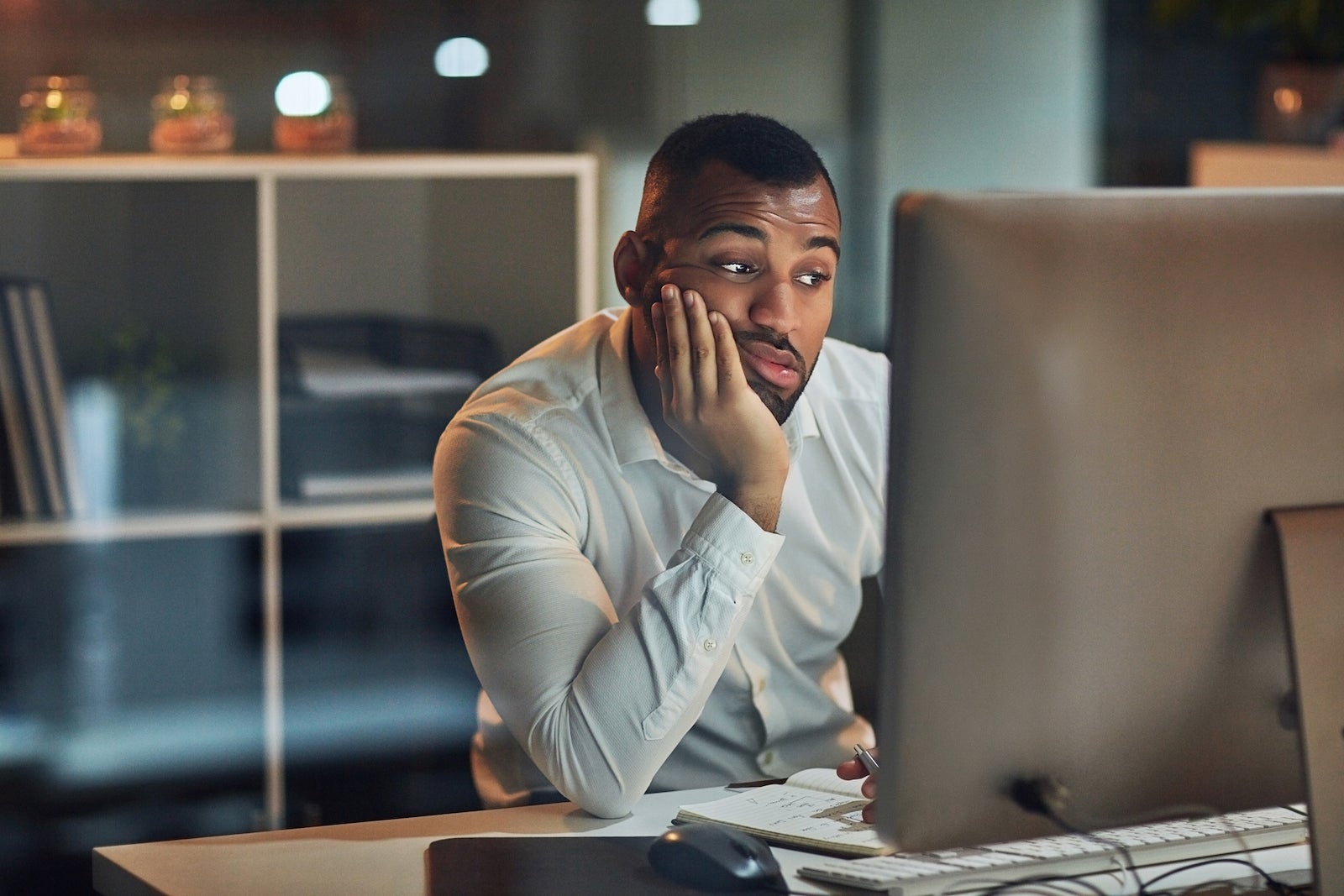 When you might not receive a referral bonus
Sometimes,m you may not receive a bonus from Capital One Refer a Friend or Refer a Business. The following rules apply:
Your account must be open and in good standing to receive referral bonuses.
The person must use your link to start the application, complete it and be approved for an account before you can receive the bonus. If that person doesn't complete the application through the link you sent, you won't receive a bonus.
The person using your link must be approved for the credit card or you won't receive a referral bonus.
If you or the person you refer are employees of Capital One, you may not receive a referral bonus.
You also won't receive a referral bonus if you've passed the yearly maximum for referrals on your account.
If any of these apply to you or the person using your referral link, it's possible you won't receive a bonus.
Bottom line
Referral bonuses should factor into any long-term credit card strategy, along with retention offers, using the right credit card for each purchase, utilizing rebate programs like Capital One Offers and earning additional sign-up bonuses whenever possible. The best part about referral bonuses is that they don't require any spending on your end. You simply generate a link, get someone to apply for a credit card through the link and then collect a bonus after that person is approved for a new account.
The Capital One Refer a Friend program (and its Refer a Business counterpart) allows you to refer credit cards you have in your wallet and can provide up to 100,000 bonus miles or $500 in cash per year, depending on the card(s) you have. TPG values 100,000 Capital One miles at $1,850, meaning this can be a very lucrative program year after year.
Related: Tips and tricks to get maximum value from your Capital One miles