Editor's note: This is a recurring post, regularly updated with new information and offers.
When you travel as a couple, simple math shows you'll need more points and miles than when traveling solo. After all, even if the lodging costs are the same, you'll still need double the airline miles to get there. Luckily, couples have twice the opportunity to earn rewards from travel credit cards.
However, you may have questions about managing and maximizing credit cards as a couple. Today, I'll discuss several credit card strategies you and your partner can use to leverage your credit and your two-player relationship.
How credit cards work for couples
When deciding whether to approve you for a card, credit card issuers don't care whether you're married. Specifically, as long as you're an adult, you can apply for a credit card — regardless of whether your spouse or partner has the same card. And you'll be approved or denied for a card based on your credit score and history, independent of your partner's credit score and history.
Related: How to check your credit score for free
However, you can include all household income to which you have access when applying for a new card. So if you and your partner manage your finances jointly, you may be able to include their income on your credit card application.
Primary account holders can make their partner (or anyone else) an authorized user on their account. Authorized users can make purchases on the account, but they generally can't fully manage the account, make changes to the account or redeem rewards. However, depending on your card's benefits, they may enjoy certain perks.
If one person in a couple has a higher credit score than the other, the person with the higher credit score may have more success when applying for new cards. As such, the person with the higher credit score may want to apply for cards and then add the person with the lower credit score to the account as an authorized user. Doing so could boost the authorized user's credit score.
However, you'll only want to add your partner as an authorized user if you trust them to use credit responsibly. After all, authorized users aren't responsible for repayment. So you'll be on the hook for charges made by authorized users on your account. It's also possible that having an authorized user card will give you temporary trouble with Chase's 5/24 rule (covering how many accounts you've opened in the last two years), but this can be resolved with a reconsideration call.
Related: Credit cards with the greatest value for authorized users

Best credit card strategies for couples to maximize rewards
Maximizing rewards will look different for each couple. After all, each couple has their own travel goals, credit scores and financial management strategies. That said, these are some of the most common questions couples ask about maximizing credit card rewards:
Should we each sign up for the same card?
To answer this question, consider the following aspects:
Do you manage your finances jointly or separately? Couples who manage their finances separately will generally want separate credit card accounts. However, even if you manage your finances separately, you may want one or two shared credit card accounts for shared expenses. Likewise, even if you generally manage your finances jointly, having one or two separate cards can be nice for purchasing surprise gifts.
Is the sign-up bonus or welcome offer exceptional? Some offers remain pretty consistent for years on end. But limited-time offers may disappear as soon as you leave the page. For example, suppose you and your partner both checked the CardMatch Tool and found targeted 125,000-point offers for The Platinum Card® from American Express. In this case, you may both want to apply if you can each reach the minimum spending requirements to obtain the bonus. After all, CardMatch offers are only available for a limited time and can change at any time.
Can the cardholder benefits be shared? Many of the best rewards credit cards offer valuable perks. For these cards, consider whether you and your partner can share the benefits. For example, some airline credit cards offer a checked baggage benefit you can share with others but a lounge benefit available only to the primary cardholder.
Are you mainly interested in the bonus earning categories? If so, you may want to add your partner as an authorized user. If there's a fee to add an authorized user, you may want to load their card in your mobile wallet and tap to pay whenever possible.
Is adding an authorized user or applying for a second card better? Some cards allow you to add authorized users for free, while others charge a fee. While some cards extend most of the primary cardholder's benefits to authorized users, others don't offer many benefits to authorized users. For example, many couples have one primary Amex Platinum card in the family while the spouse (and potentially parents, kids, etc.) has an authorized user card that confers many of the same perks but only costs $175 a year for up to three users, instead of paying the full $695 annual fee (see rates and fees) all over again.
Related: Points of View: Should my partner get their own card or be added as an authorized user?
If you are only applying for 1 card, who should apply?
If only one person will open a new card account, consider who is more likely to use the card's benefits exclusively. For example, if you travel without your partner more than they travel without you, you should open most of the hotel and airline cards. This way, you can use the benefits when you travel solo. Likewise, if you are loyal to different airlines or hotels than your partner, this will dictate which cards you open.
You also should consider dividing your new applications. Balancing out your new applications (so you take turns applying for new credit cards) will allow you to build your credit history at a similar pace. Additionally, this will decrease the chances that an issuer declines you for a new card due to too many recent applications. You also should consider whether either of you is close to or over Chase's 5/24 rule when planning out new applications. In fact, starting with Chase credit cards pays off in the long run.
Related: How does applying for a new credit card affect my credit score?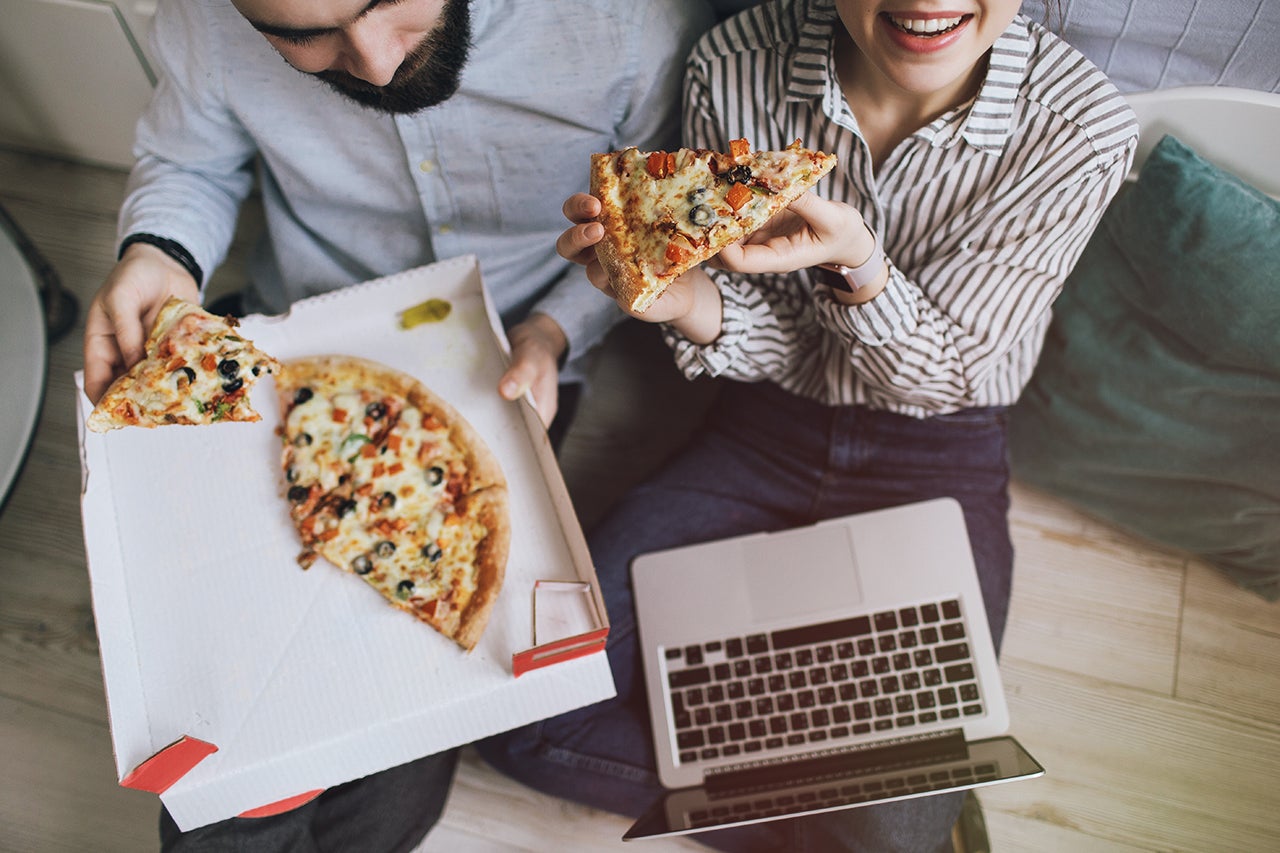 How can we mix cards to maximize our earnings?
When signing up for a new card, consider four main questions:
How will we use this card's sign-up bonus?
How will this card improve our earning rates?
Does this card have any notable benefits that will improve how we travel?
Can we easily hit the spending requirement to trigger the full bonus?
By answering these questions before applying for new cards, you can create a mix of cards between you and your partner. This is true even if you're not jointly managing your finances, although you may miss out on maximizing some earnings if your partner holds the card with the best earnings for a particular purchase you want to make.
Related: The best rewards credit cards for each bonus category
In couples where one person travels more than the other, it may make sense for the frequent traveler to focus on travel rewards cards and the other person to focus on cash-back cards. If one person in the couple doesn't want to remember the best card to use for each purchase, it might be best for that person to apply for and use one of the best cards for everyday spending.
Related: How to assess and build your credit card portfolio
Best joint credit cards for couples
Some banks offer joint credit card accounts, which you apply for together and are jointly responsible for the bills. But joint accounts are relatively rare and may not be the best idea.
So, let's consider the more common situation in which one person opens an account and then adds their partner as an authorized user. There's no absolute best card for authorized users since "best" depends on your situation. But here are four of our favorites:
*Upon enrollment, accessible through the Capital One website or mobile app, eligible cardholders will remain at upgraded status level through December 31, 2024. Please note, enrolling through the normal Hertz Gold Plus Rewards enrollment process (e.g. at Hertz.com) will not automatically detect a cardholder as being eligible for the program and cardholders will not be automatically upgraded to the applicable status tier. Additional terms apply.
Of course, depending on your situation and preferences, adding your partner as an authorized user on a different card may be better. And applying for a joint account may be preferable for some couples.
Related: Everything you need to know about authorized users

FAQs
You may have additional questions about credit card strategies for couples. Here are a few of the most commonly-asked questions.
How to determine the right accounts for your relationship?
If you're in a committed relationship, you may commingle finances. As you decide what new card(s) to add to your wallets and whether to add each other as authorized users on some of your cards, be sure to consider the points discussed above to create a good mix of cards. In particular, ensure you're maximizing your earnings on most purchases, and working toward obtaining the right points, miles or other rewards to reach your goals.
Related: How (and why) you should earn transferable points
How to use joint accounts responsibly?
As mentioned above, many banks don't offer joint credit card accounts, and joint credit cards may be a bad idea. You should weigh the pros and cons of having a joint account against adding each other as authorized users.
But if you want a joint account, ensure your partner is on the same page financially. This is essential since you'll both be fully responsible for any charges on the account and have access to the full credit line. Monitor the account closely and consider closing the account if your partner is irresponsible or if a separation occurs.
Related: TPG's 10 commandments of rewards credit cards
When should couples add each other as authorized users?
If you trust your partner to make responsible financial decisions, consider adding them as an authorized user on cards that don't charge any additional fees for authorized users. Even if you manage your finances separately, having one or two accounts for shared expenses can be useful. However, remember that you'll be responsible for any charges made by an authorized user on your account. It also may not be necessary or beneficial to be authorized users on every card your partner holds, so only add each other for specific reasons — not as an automatic process.
In some cases, it can make sense to pay an authorized user annual fee. For example, I'm an additional cardholder on my husband's Amex Platinum, even though the card carries a yearly fee of $175 for up to three additional Platinum cardholders (see rates and fees). We believe the expense is well justified by the elite-like benefits provided to authorized users, including Centurion Lounge access and hotel elite status.
Related: The best way to share lounge access with a spouse or family member

Is it better to have individual accounts?
You should maintain individual accounts if you manage your finances separately or have different financial priorities than your partner. Even if you manage finances jointly, each partner should have several accounts on which they're the primary cardholder. After all, having your own accounts will allow you to build your credit history and snag welcome offers on new cards.
Related:  The 5 best credit cards for young professionals
Tips for managing cards as a couple
Here are some final tips for managing cards successfully as a couple.
Managing your partner's account
If one person in the couple manages accounts for both individuals, they may face some difficulty. After all, only the primary account holder can make changes to an account. You can use the secure messaging or chat feature for most simple inquiries and requests. But your partner will need to call the bank in some situations and has to be comfortable sharing their login details. For example, the primary cardholder usually must call to report fraudulent transactions, inquire about retention offers or report a lost card.
Related: Reader mistake story — Forgetting to manage your family's accounts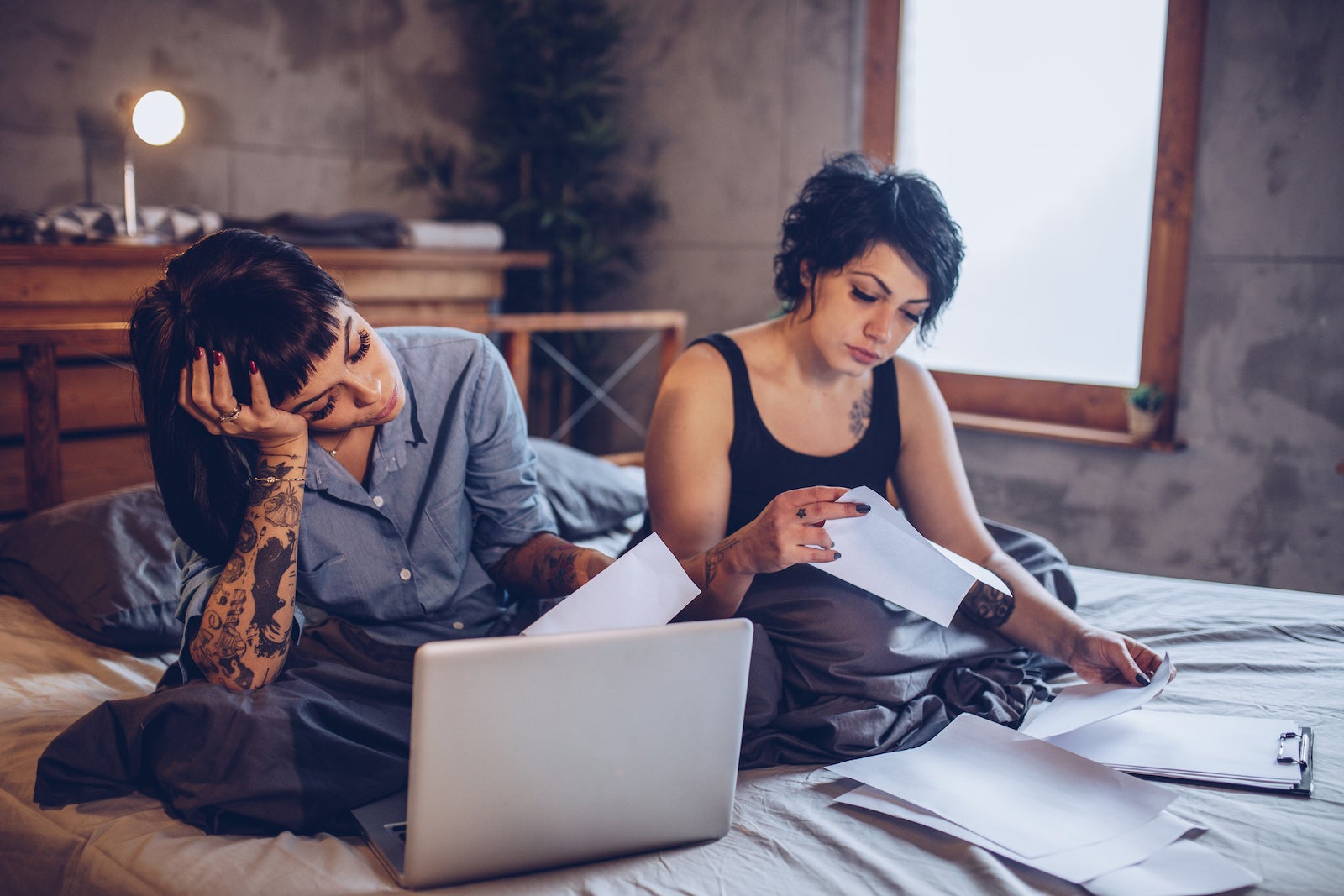 Keeping things simple
Even if you have cards for every possible use, you likely won't carry all of them simultaneously. For example, your physical wallet may contain a card for groceries, a card for restaurants, a gas card and a card for everything else.
Before leaving on a trip, you'll want to remove cards with foreign transaction fees (when traveling overseas) and add travel-related cards. For example, the Hilton Honors American Express Aspire Card is a great card to carry if you're going to stay at a Hilton property and use the Hilton Aspire's annual resort credit.
The information for the Hilton Aspire Amex card has been collected independently by The Points Guy. The card details on this page have not been reviewed or provided by the card issuer.
Organization
Maintaining a spreadsheet or utilizing a website or app that tracks your cards, application dates and other important information is potentially a good idea. If you or your partner commonly forget which card to use for particular expenses, placing sticky notes on each card may reduce confusion. You also might like using a money management app. My husband and I use Quicken to track our finances, but there are many other popular options for keeping track of all your accounts.
Related: 4 ways to manage your spending on multiple credit card accounts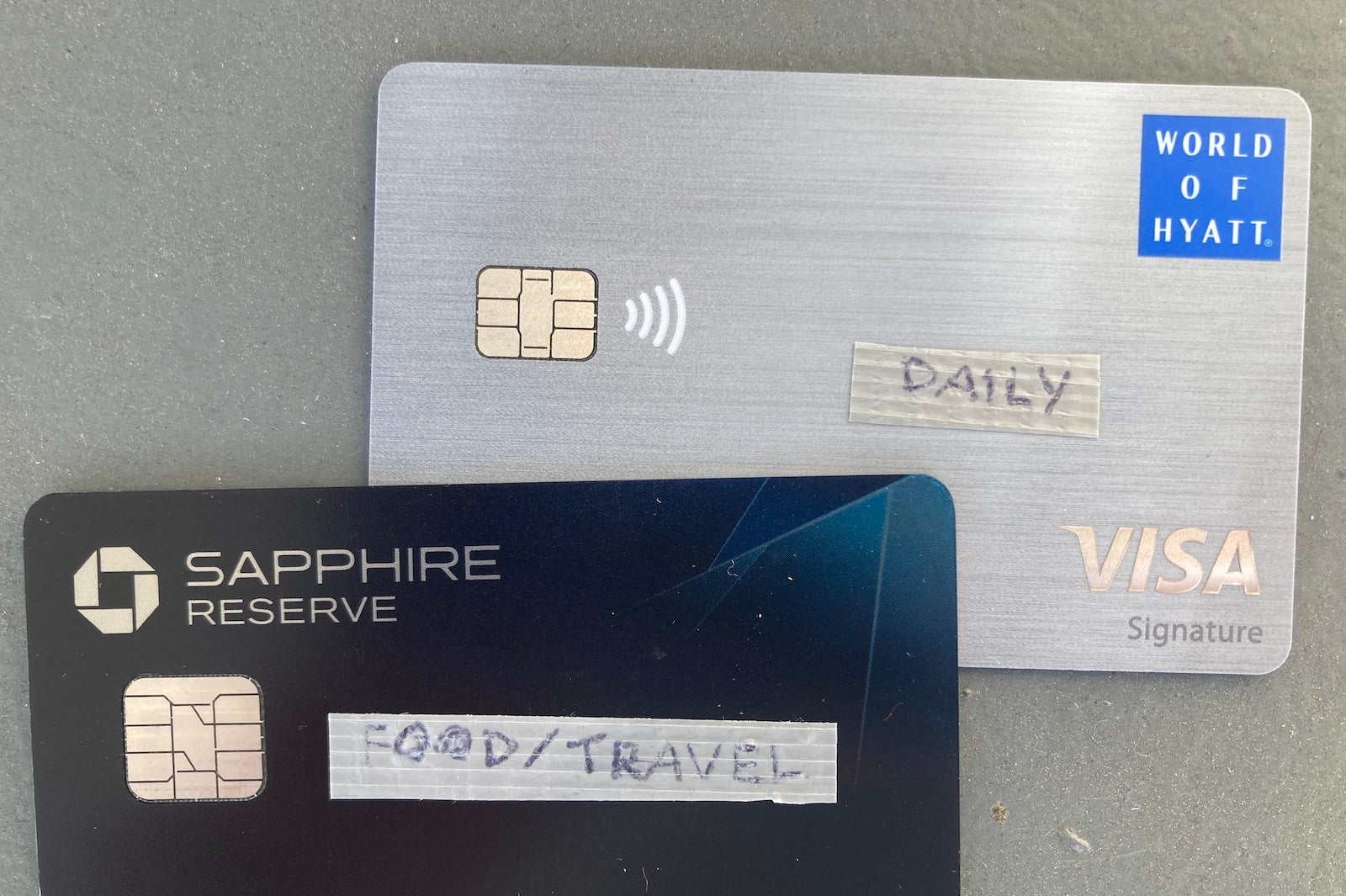 Bottom line
Rewards credit cards can provide significant value. And coordinating your travel rewards card strategy is essential if you and your partner want to travel together. For example, you might decide you will go all-in on collecting American Express Membership Rewards points while your partner gets the Chase trifecta to collect Chase Ultimate Rewards points. Or you might want to focus on cash-back rewards while your partner collects Marriott Bonvoy points.
Likewise, you may find it useful to each sign up for a hotel credit card with an annual free night. And, if you apply simultaneously, you can coordinate your award night expiration dates. In short, there are many aspects to consider. But having a rewards plan and understanding how to use credit responsibly are important first steps.
For rates and fees of the Amex Platinum Card, click here.
Additional reporting by Jason Steele and Ryan Smith.