Whether you're taking a Caribbean cruise, sightseeing in European cities or trekking through South America, staying connected on your mobile phone can be a game changer.
Some travelers value the ability to use their mobile phone overseas because it allows them to stay in touch with family 24/7.
Others find it crucial to have access to a GPS when lost in a medieval town's bewildering alleyways.
Then, there's the ease of checking in for a flight via an airline app, scheduling an early-morning ride to the airport on an app or simply asking your phone's virtual assistant, "What's a great restaurant or museum nearby?" The amount of information we need at our fingertips when traveling abroad is hard to overstate.
Roaming overseas used to be an expensive proposition. However, in recent years, major U.S. wireless carriers have made it easier than ever for customers to keep data streaming on personal devices without incurring exorbitant pay-per-use fees.
Among them, AT&T offers some of the best options for travelers on both land and sea with AT&T International Day Pass and AT&T Cruise packages.
Here are the details on each and how they can help you stay connected on your summer travels.
AT&T International Day Pass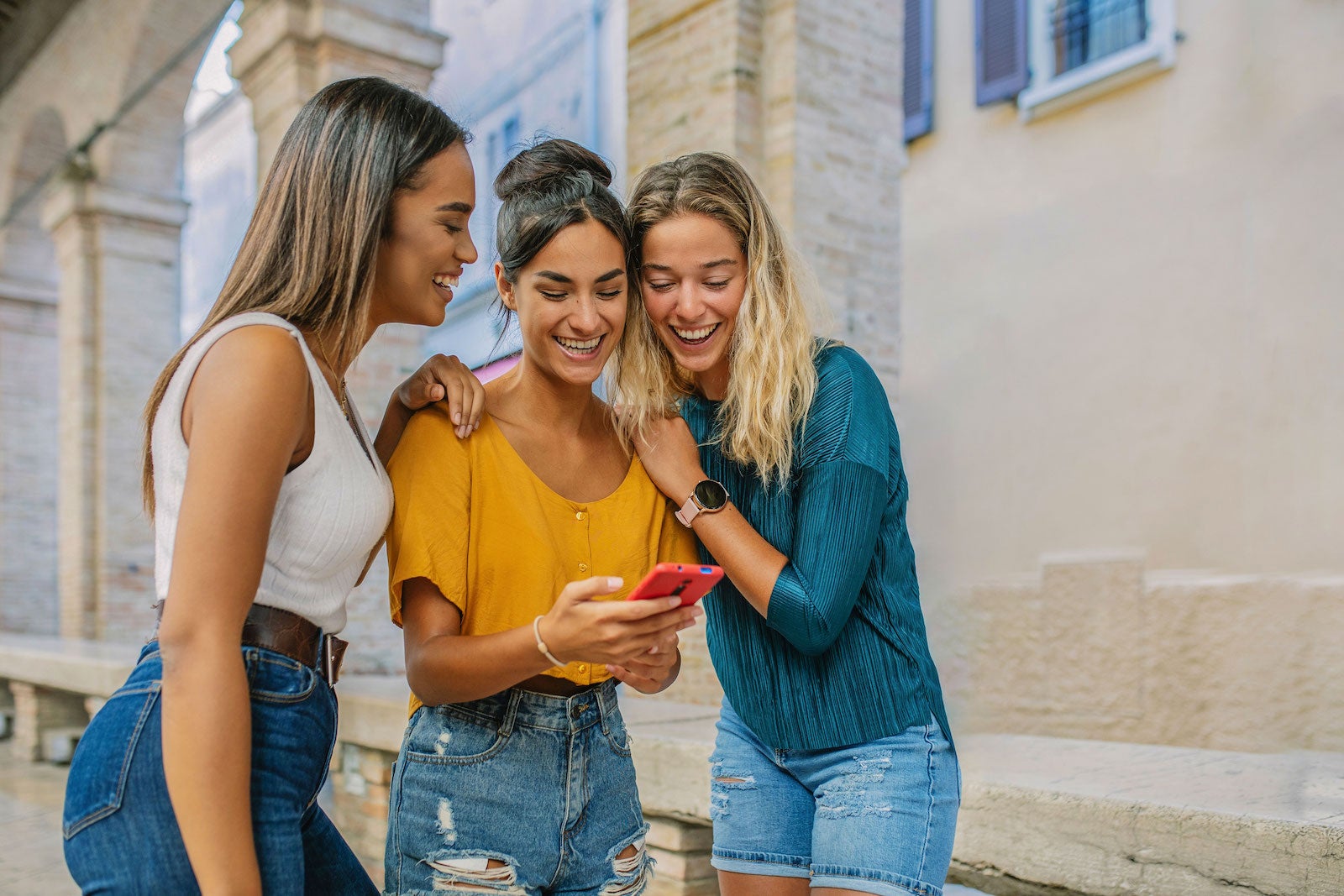 For many travelers, the most seamless option for using your mobile phone while abroad is to connect your device to a local cellular network and use that connection to make calls, send texts, surf the internet and use apps, just as you would at home. AT&T International Day Pass lets you do just that.
Adding AT&T International Day Pass to your eligible wireless plan is simple. You can sign up before your leave, or it'll get added for you as soon as you arrive at your destination. It's also cost-effective and reliable, with no complicated setup or SIM swaps necessary.
While the feature is on your account, you can talk, send a text, or use data in any of the included countries; you will be charged $10 per day on the first line used and $5 for each additional line on the same account used the same calendar day.
The other aspect that makes this feature appealing versus the competition? It caps the number of days charged to your account at 10 per line, per monthly billing cycle. This means you'll only pay for, at most, 10 days per line per bill, regardless of how long your trip is. It doesn't matter which borders you cross — as long as you're in one of the carrier's 210-plus destinations.
The plan includes spots like England, Spain, Aruba, Cambodia and Botswana. While most popular destinations are included, a few far-flung locations, such as the Maldives and Antarctica, are not covered.
This gets even better for customers on eligible unlimited plans, which offer coverage (at no additional cost) when traveling to select destinations in North and South America. Be sure to check your plan details to see whether international coverage in these countries is included and to learn more.
When you get home, you don't need to worry about removing it — you won't be charged anything until you connect to the local network on your next international trip.
AT&T Cruise Plus and AT&T Cruise Basic packages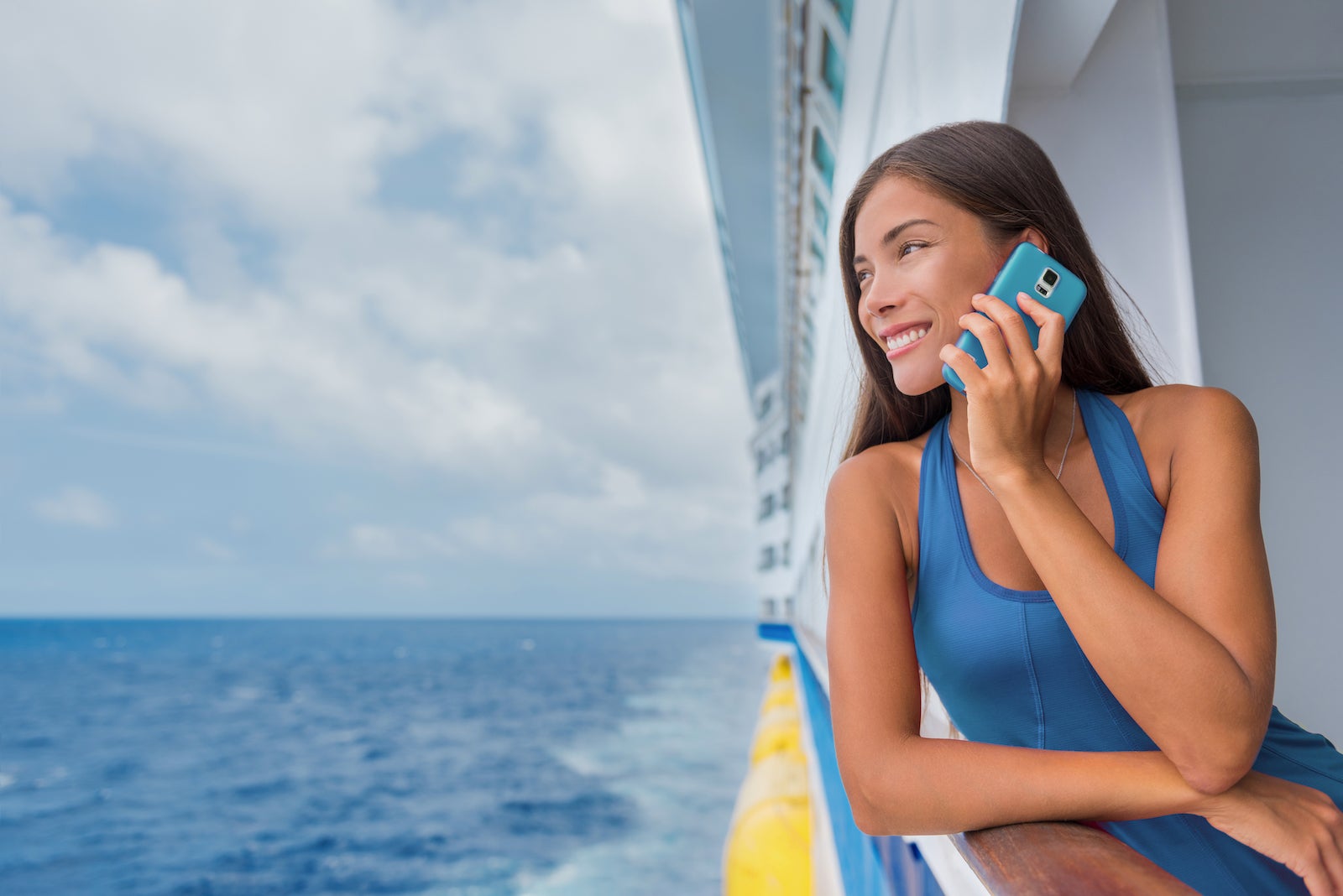 As veteran cruisers know, using your mobile phone on a cruise is not as easy as it is at home without racking up expensive roaming charges. Once you've sailed away from the nearest land-based cell tower, your phone will usually go into roaming mode and accrue those hyper-expensive satellite roaming charges.
It is possible to switch your phone into "airplane mode" and stay connected at sea via your ship's Wi-Fi. The big-name cruise lines are making strides to improve their onboard Wi-Fi offerings, but connectivity can still be finicky and slow depending on the ship and where it sails.
Adding international, cruise-specific coverage enables connectivity at sea and can help travelers avoid unnecessary charges, including sometimes-expensive shipboard Wi-Fi plans. AT&T Cruise packages work in tandem with AT&T International Day Pass to offer a streamlined way for travelers to stay connected, even if they are toggling between journeys on land and sea.
Customers traveling internationally on cruise ships can choose between two packages: AT&T Cruise Plus ($100) and AT&T Cruise Basic ($60). For each package, the charge allows up to 30 days of usage. Choosing a package depends on your personal travel habits — how many phone calls you expect to make and how much data you generally burn through while traveling abroad (requires a compatible device with domestic wireless service).
The Basic package, for smartphones only, includes 100 minutes of talk (with an overage of $1 per minute), unlimited texts and 100MB of data (with an overage of $10 per 100MB beyond that). The more extensive Plus package, for smartphones and tablets, allows unlimited talk and text as well as 1GB of data (with an overage charge of $10 per 100MB beyond that).
Before signing up for a cruise package, always make sure that your ship is one of the more than 175 cruise ships that the package covers. The big names like Celebrity Cruises, Holland America Line, Norwegian Cruise Line, Royal Caribbean and Disney Cruise Line are all on the list.
It's also important to note that cruise packages only work at sea, kicking in 9 to 11 nautical miles from shore. If part of your trip involves land travel either before or after your cruise, you'll need to add the AT&T International Day Pass for those days.
Things to keep in mind when choosing an international phone plan
Below are a few more tips for choosing an international phone plan and making the most of it while you travel abroad this summer and beyond.
Sign up in advance
On land, relying on Wi-Fi is possible if you don't intend to leave your hotel much. However, at some point, the likelihood is that you will incur costly pay-per-use roaming fees if you haven't signed up for a plan with your carrier in advance. Be sure to check out your options before crossing any borders.
Turn off updates
Since so much data roaming goes on in the background — many apps continue to gobble data even when you're not actively using them — you'll often incur fees that far exceed what a day plan would cost, even just using your phone sparingly for emergencies. Turn off any unnecessary updates ahead of travel.
Consider prepaid packages
Cruisers are not beholden to typical international roaming charges (which are excessive enough). Rather, they can get hit with extremely expensive satellite roaming charges. Surfing the internet, using social media, reading emails or even just checking the weather will all use data charged at a premium rate — this can make a prepaid package very appealing.
Don't expect flawless connection on cruises
Bandwidth and connection speed are problematic at sea. Depending on where your ship is and whether anything (like a mountain range) is blocking the connection to the satellite, you may still experience lag time on calls or slow connection speeds.
Bottom line
Whether it's a Galapagos cruise or a road trip through Europe, if you plan to travel this summer with your mobile phone — and don't want to pay excessive roaming charges — an international cellphone plan can save you time and stress.
With AT&T's international features, you can use your phone just like you do at home without worrying about connecting to public Wi-Fi or obsessing about whether your phone is switched to airplane mode.
If you have the AT&T app, each package is super easy to add and remove from your existing cellphone plan and provides peace of mind and reliability. The 10-day bill cap for the AT&T International Day Pass means no matter how long you travel, it's extremely cost-effective compared to pay-per-use rates.