There's exciting news for fans of luxurious, boutique and historic hotels: Preferred Travel Group — the force behind Preferred Hotels & Resorts, Historic Hotels of America, Historic Hotels Worldwide and Beyond Green — has given its I Prefer Hotel Rewards program a face-lift.
As a family-owned business with more than 650 participating hotels around the world, like the stylish Pendry Manhattan West in New York City and the much-loved Grand Velas Los Cabos all-inclusive resort in Mexico, I Prefer Hotel Rewards might be a smaller program, but it isn't one you shouldn't sleep on, considering its impressive lineup of properties.
The main changes to the program include a fully revamped membership website with a new member dashboard. The dashboard makes it easier than ever to track how many points you've earned and see how you're moving up the different status tiers. It's also one convenient place to learn about all the participating hotels you can book with points and manage your reservations.
The website now lets you easily select a destination city or country and scroll through available properties to plan your next vacation — and use points to do it.
The I Prefer app is also getting an update with a similar look and functionality as the website. Members can easily check their points and elite status level or book a room with the touch of a finger.
Signing up for I Prefer Hotel Rewards is totally free, and members typically earn 10 base points for every $1 spent (excluding taxes and charges) on eligible stays and 5 base points per $1 spent at select properties.
Upon signing up, members automatically receive Insider status, which comes with early check-in and late checkout, when available, and potential complimentary room upgrades.
After earning 25,000 points, members are upgraded to Explorer status, which includes a welcome amenity on arrival and a 20% points bonus. With 50,000 points, members earn top-tier Elite status, which comes with a 50% points bonus, complimentary food and beverages, a digital anniversary gift and more.
Award stays at participating hotels start at 15,000 points and go up from there. For example, a night at The Watergate Hotel in Washington, D.C., starts at 50,000 points, while the Hermitage Hotel in Nashville starts at 100,000 points.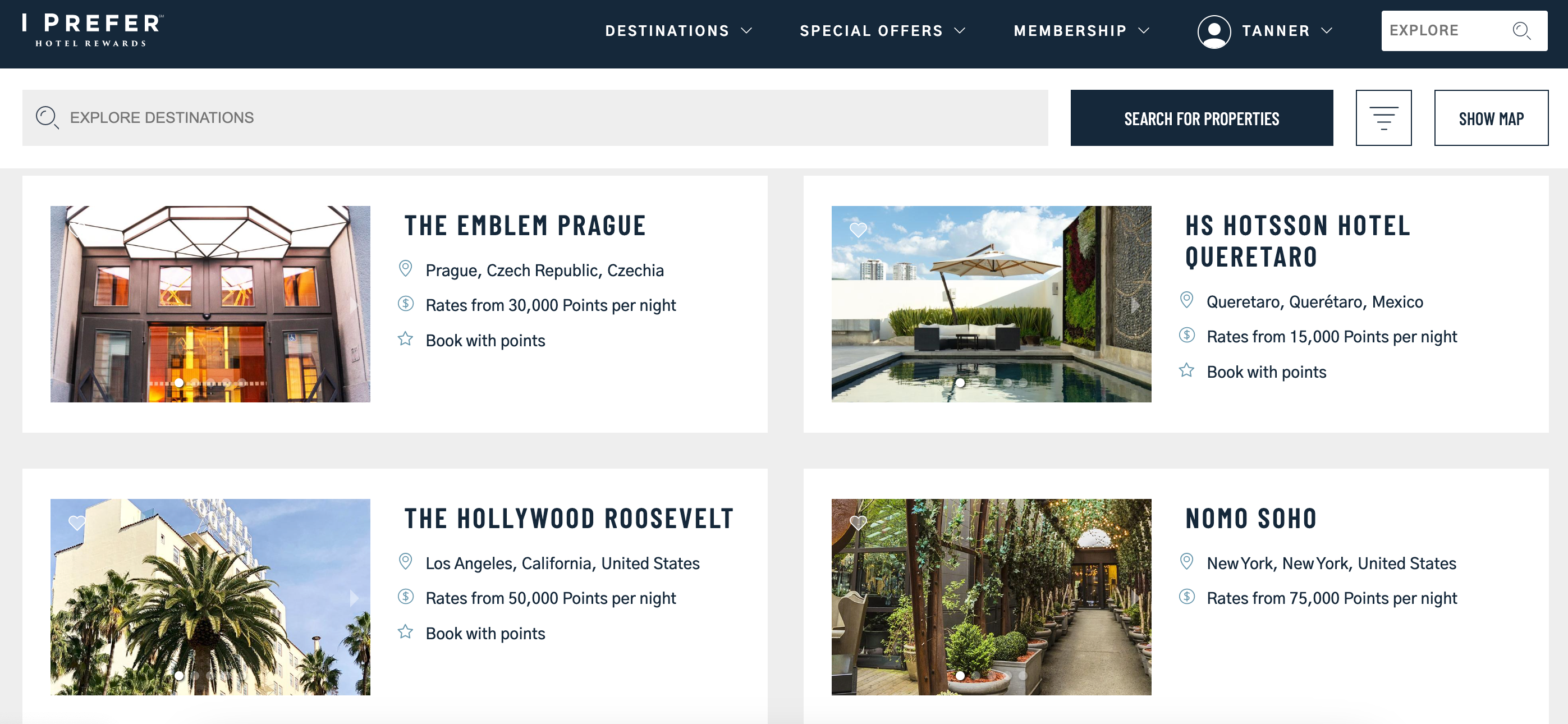 Members can also pay with a combination of points and cash or trade points for a reward certificate with a fixed cash value that they can apply to the cost of the room or for meals at hotel restaurants, spa treatments and more.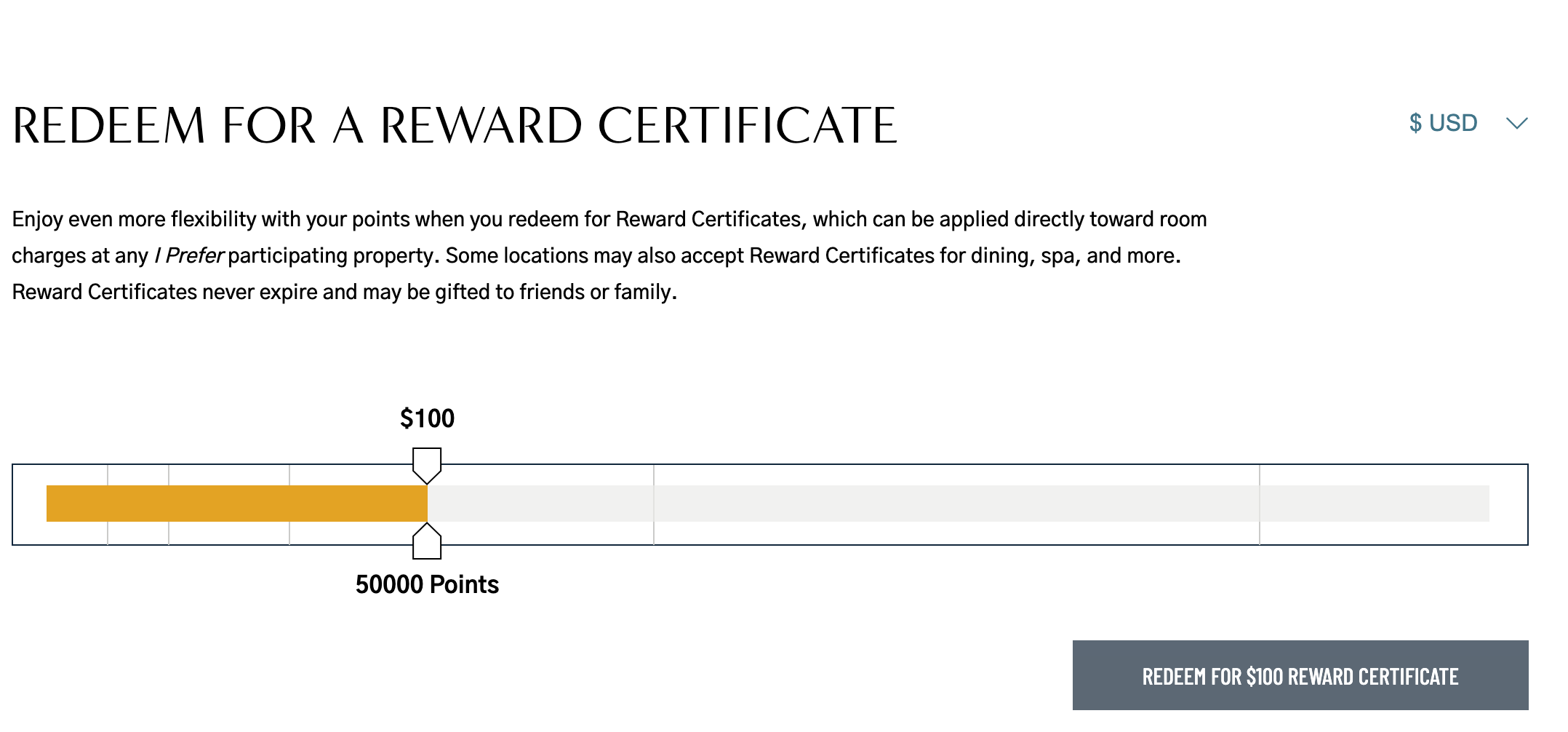 Also new to the I Prefer program is the opportunity to use points to bid for one-of-a-kind stays or experiences at hotels, restaurants and spas.
"Our program is still young relative to other programs that have been around for decades," Jennifer Munro, vice president of loyalty at Preferred Travel Group, exclusively told TPG. "Our independent spirit, that speaks to people with an insatiable desire to travel, discover, learn and 'write their own story,' will always be at the core of who we are. We want to help our members discover new destinations and experiences and always feel welcomed back to the places they love."
When asked where Munro would spend her own points, she was quick to say it would be "impossible to answer."
" … Each [place] is so special and unique across the portfolio. How do you compare Mexico, Tokyo, New York, London, Bali, the Alps, Nashville, Tuscany or South Africa? I could go on and on. It's like asking, 'Who is your favorite child?'"
Just like a parent knows each of their kids is unique and special in their own way, Munro pointed out that the independent nature of the portfolio isn't different in that respect.
"Our hoteliers pride themselves in their independence and uniqueness — such as their ability to offer a guest experience that they create themselves and one that reflects their own culture, location, history and more. Many of our hotels are historic, one-of-a-kind, family-owned and run (some for many generations), and have a story to tell."
And now, with these new updates and tools, it's easier than ever to check out all the properties across the collections.