Attend a port wine tasting in Porto, Portugal, or try a pastry at the Cafe Central in Vienna.
It would normally cost a lot to travel to places like Porto and Vienna. However, airlines are offering marked-down flights to cities across Europe, with the cheapest flights starting at $453 round-trip.
From the U.S., you can primarily fly to Europe from Atlanta, Charlotte, Dallas, Miami and Minneapolis. But the options in Europe are almost endless.
Beyond Porto and Vienna, there are cheap flights to Copenhagen, Stockholm, Berlin, Munich, Dublin and Helsinki, to name a few.
The travel dates for these deals are from February through May and October through December. These fares are only expected to last for a couple of days.
Deal basics
Airlines: Air Canada, Air France, American Airlines, British Airways, Delta Air Lines, Finnair, Iberia, Icelandair, KLM, Lufthansa, TAP and United Airlines.
Routes: From Atlanta, Charlotte, Dallas, Miami and Minneapolis.
How to book: Use Google Flights to search for your best dates and then book directly with the airline of your choice.
Travel dates: Generally from February through May and October through December.
Book by: Within the next three days.
Major kudos to Going, formerly known as Scott's Cheap Flights, for scouting these deals. For $49 a year, the site's Premium membership offers discounts of up to 90% and comes with a 14-day free trial. The Elite membership also finds premium economy, business-class and first-class deals.
Sample flights
Even though availability is primarily limited to just five U.S. cities, you can fly to nearly anywhere in Europe with this deal — cities like Berlin, Copenhagen and Stockholm are all on the map.
Here are some standout flights:
TAP: Miami International Airport (MIA) to Josep Tarradellas Barcelona-El Prat Airport (BCN), starting at $453 (includes a layover in Lisbon, Portugal).
Air France: MIA to Copenhagen Airport (CPH), starting at $477 (includes a layover in Paris).
Icelandair: Minneapolis-Saint Paul International Airport (MSP) to Dublin Airport (DUB), starting at $516 (includes a layover in Reykjavik).
Air France and Delta: Hartsfield-Jackson Atlanta International Airport (ATL) to Vienna International Airport (VIE), starting at $579 (includes a layover in Paris).
American: Charlotte Douglas International Airport (CLT) to Munich International Airport (MUC), starting at $578.
Delta: Dallas Fort Worth International Airport (DFW) to Edinburgh Airport (EDI), starting at $580.
We recommend searching through Google Flights to find your ideal dates and then booking your flights on the airline's website, since airlines are more dependable if your flight is canceled, delayed or experiences a booking change.
For a Dec. 4-11 trip from Atlanta to Vienna, Air France and Delta both offer flights priced at $579. The Air France flight departs at 5 p.m., and the Delta one takes off at 11 p.m. Both options include a layover in Paris.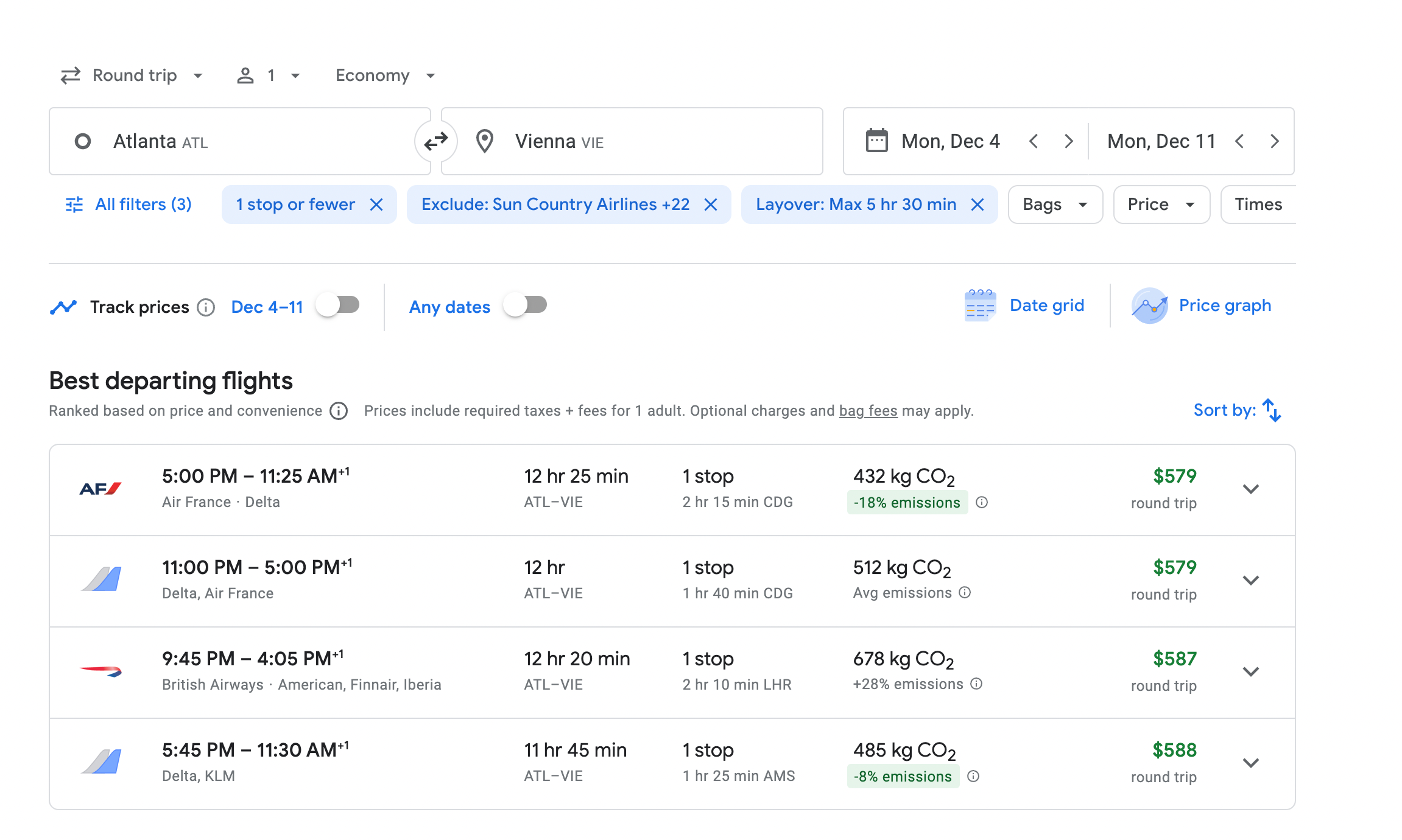 If you select the Air France flight, the carrier has a return flight that leaves Vienna at 6:15 a.m.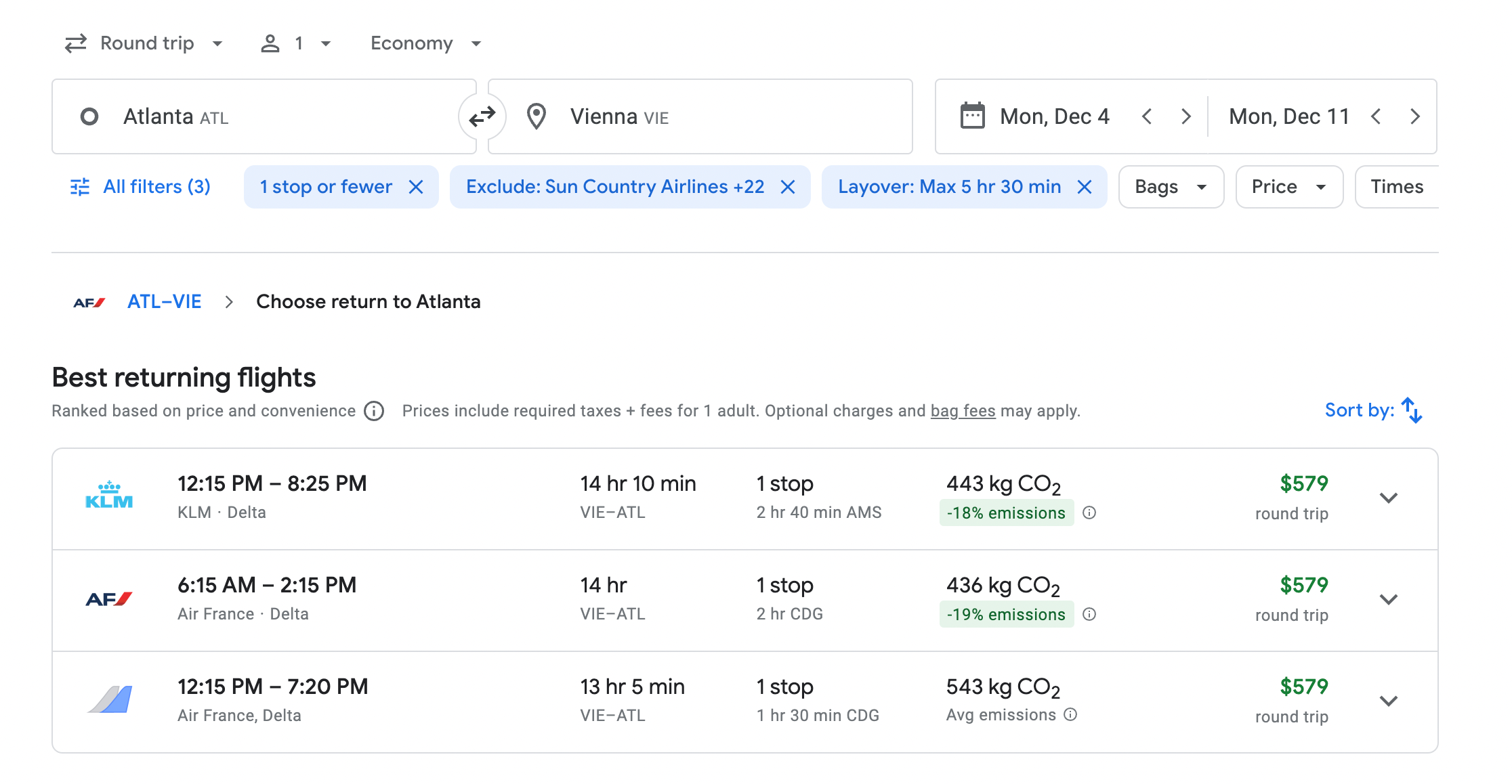 The flights in this deal are only basic economy fares. Air France's most basic fare, known as Economy Light, allows passengers to bring a carry-on and personal item and lets them make changes to their ticket.
However, passengers flying with Air France's Economy Light must pay a fee for seat selection, and the fare does not include checked baggage.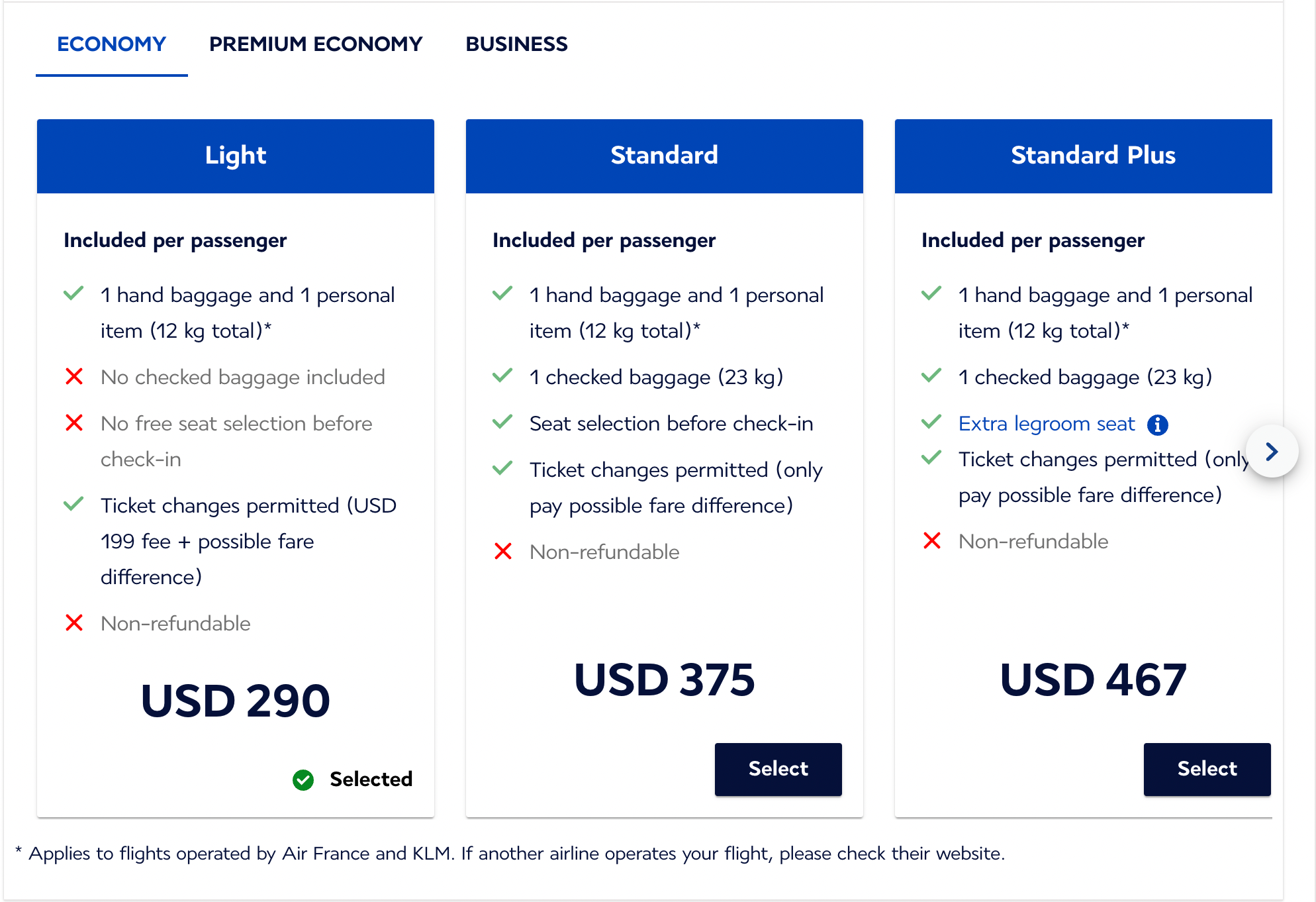 If you check one bag, it will cost $160 round trip ($80 each way).

Seat selection starts at $27.54, but can cost as much as $75.60 if you sit in the exit row. The more expensive seats tend to be at the front of the aircraft and have more legroom.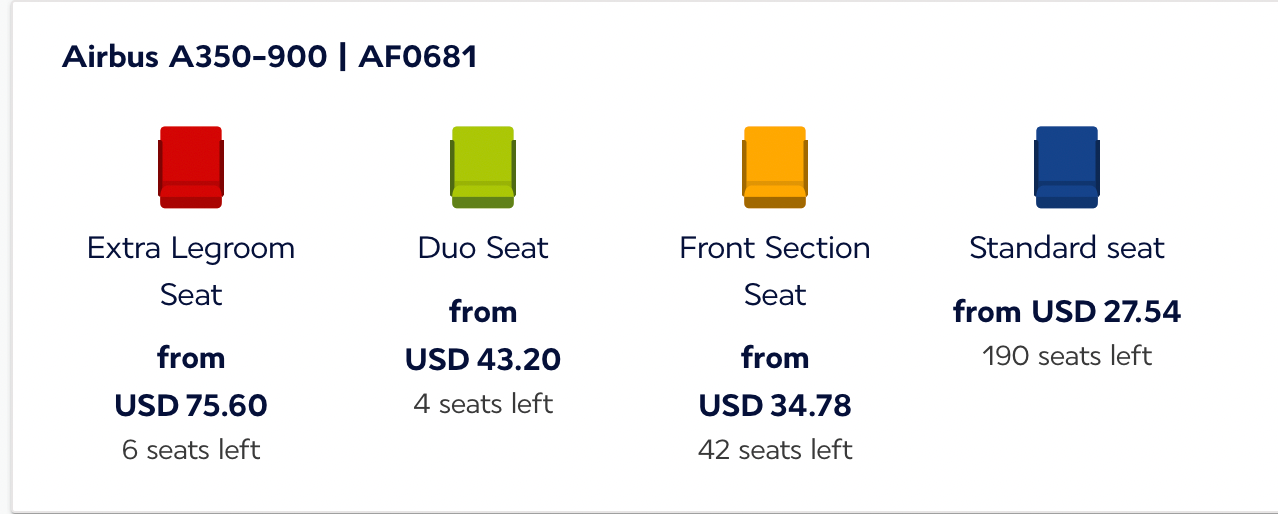 Maximize your purchase
Use a card that earns bonus points on airfare purchases, like The Platinum Card® from American Express (5 points per dollar on airfare booked directly with the airline or through American Express Travel, on up to $500,000 on these purchases per calendar year), Citi Prestige® Card (5 points per dollar on airfare), Citi Premier® Card, Chase Sapphire Reserve (3 points per dollar on airfare), American Express® Gold Card (3 points per dollar on airfare when booked directly with the airline or through Amex Travel) or the Chase Sapphire Preferred Card (2 points per dollar on travel). This post has more on maximizing airfare purchases.
The information for the Citi Prestige Card has been collected independently by The Points Guy. The card details on this page have not been reviewed or provided by the card issuer.
Bottom line
These deals to Europe are not always easy to come by. It's typically more expensive to fly to Europe during the warmer months, so it's definitely worth booking these tickets while they're still available.
Since the beginning of the year, airlines across the board have been slashing fares to Europe, but these low fares won't last long — flights are certain to fill up.