Editor's note: This story has been updated.
After unveiling a discounted all-you-can-fly pass for the summer last month, Frontier Airlines has further discounted the pass to $499 to book unlimited domestic and international flights with the carrier through Sept. 30.
These savings are only available through May 31 or while supplies last.
Additionally, the airline's GoWild! annual pass, which is valid for travel through next year, is currently available for $1,999.
Deal basics: Summer pass

Airline: Frontier.
Routes: Across Frontier's 75 U.S. and international destinations.
How to book: Directly with the airline.
Cost: $499.
Travel dates: April 11-Sept. 30.
Deal basics: Annual pass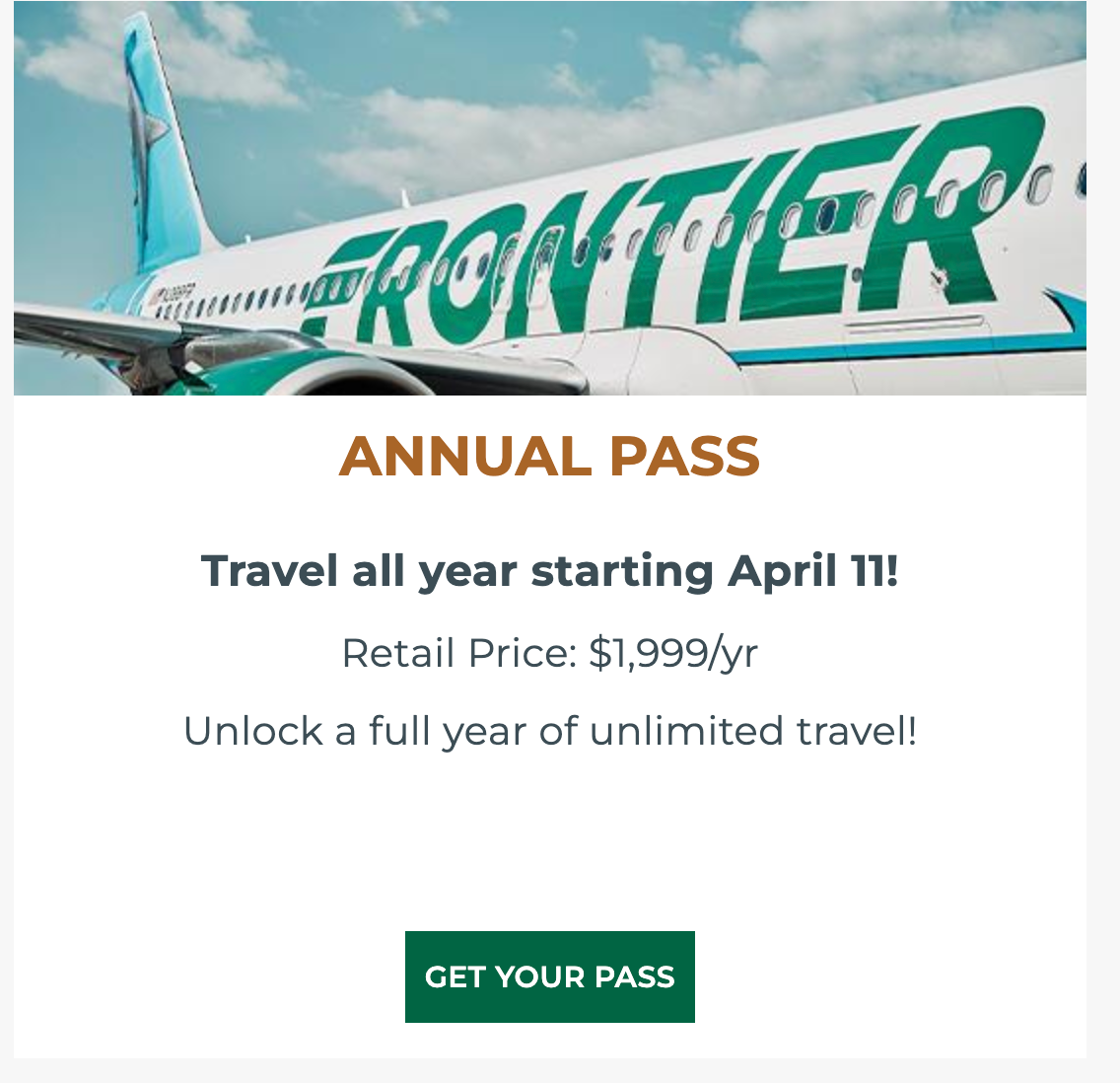 Airline: Frontier.
Routes: Across Frontier's 75 U.S. and international destinations.
How to book: Directly with the airline.
Cost: $1,999.
Travel dates: April 11, 2023-May 2, 2024.
Terms for both passes

Travelers can use both passes for Frontier flights to 75 U.S. destinations, including Puerto Rico and St. Thomas, U.S. Virgin Islands, plus international destinations in Mexico, the Caribbean and Central America.
During this early access promotion, Frontier has waived the standard booking-window restrictions, so you can use your pass to book flights between now and May 16 for travel anytime through June 8 while seat availability lasts. For reservations made after May 16, domestic flights can be booked within one day ahead of departure, while international travel may be booked as early as 10 days before your flight.
Flight passes cover the fare itself, so factor in extra costs for mandatory government-imposed taxes and fees, a base fare of 1 cent and both seat assignments and bags, if applicable.
Flights taken with the pass do not earn miles or elite status credit but will extend the expiration of members' existing Frontier miles.
GoWild! passes are nontransferable and will automatically renew unless you cancel.
To take advantage of this promotion, log in to your Frontier Miles account and select your pass. From there, search for your desired routes and book. Repeat this process as many times as you wish for as long as your pass is valid.
For full terms and conditions of using the pass, see Frontier's website.
Sample flights
Passes are applicable for travel across the Frontier network, including to and from:
Austin-Bergstrom International Airport (AUS).
Denver International Airport (DEN).
Orlando International Airport (MCO).
Midway International Airport (MDW).
Ontario International Airport (ONT).
Palm Beach International Airport (PBI).
Los Cabos International Airport (SJD).
Cancun International Airport (CUN).
Rafael Hernández Airport (BQN).
Lynden Pindling International Airport (NAS).
Luis Muñoz Marín International Airport (SJU).
Maximize your purchase
If you purchase a flight pass, use a credit card that earns bonus points on airfare purchases, such as:
Bottom line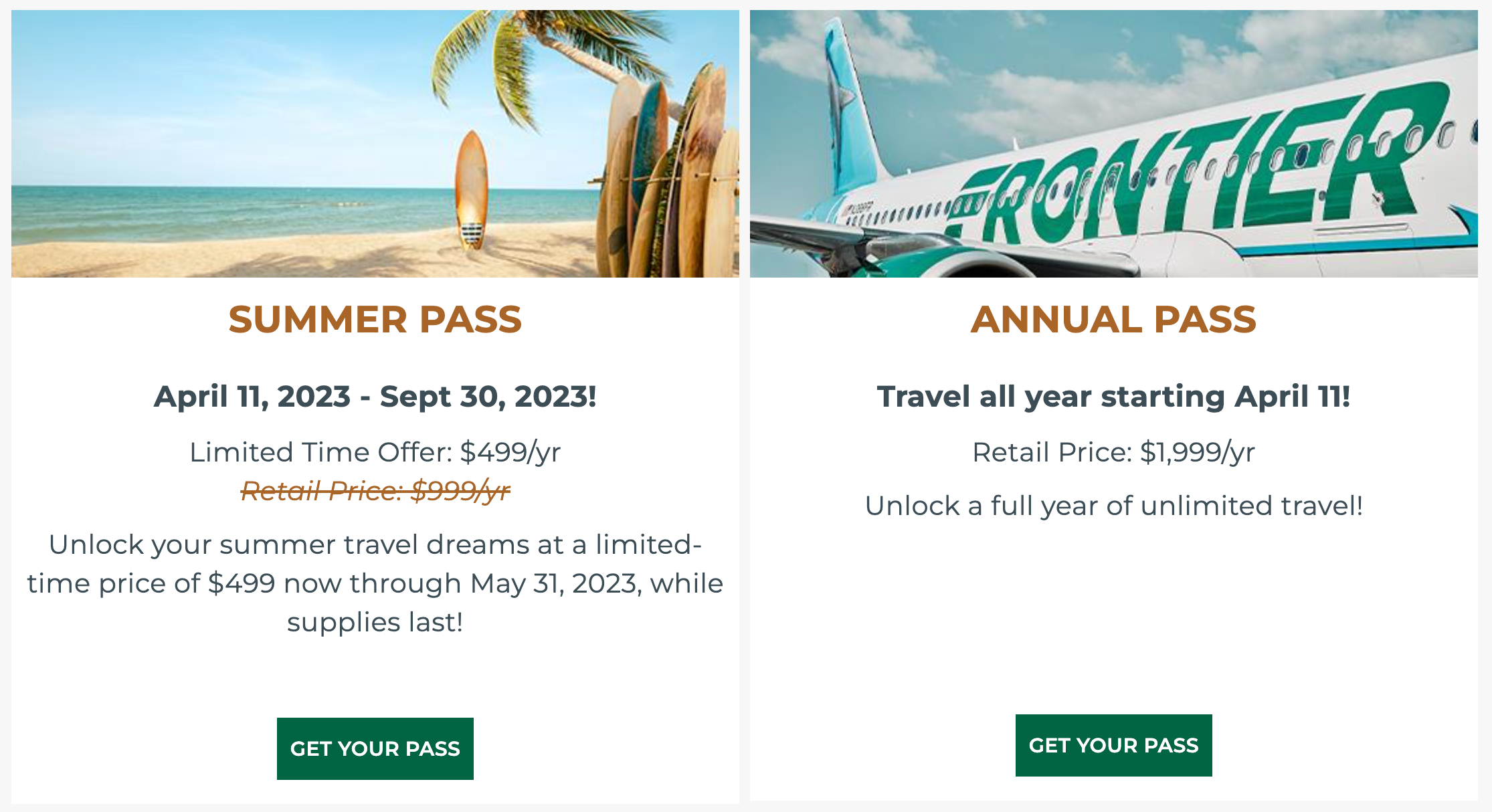 These passes are on sale for a limited time. They are applicable for either unlimited summer travel or travel through next year.
Related reading:
Zach Griff contributed reporting.