Delta's top-tier flyers can now save themselves a phone call (and possibly a headache or two).
The Atlanta-based carrier began rolling out a hotly anticipated new feature to its website this week that allows Diamond and Platinum Medallion members to apply upgrade certificates during the booking process.
If you're a top-tier Delta flyer, you'll now be able to request an upgrade using any unexpired Regional Upgrade Certificates or Global Upgrade Certificates when making a new reservation.
The new "Upgrade Certificate Request" window appears during the checkout process on Delta.com. Depending on the flight you're booking, you'll be able to select which type of certificate you'd like to apply. (Note that RUCs can only be applied on certain routes.)

From there, you'll complete the checkout process, and you'll then receive an email and push notification in the Fly Delta mobile app confirming your upgrade request and whether you've been assigned a new seat or added to the waitlist.
As long as you're logged in to your Platinum or Diamond account, you'll be able to check upgrade availability before you book on Delta's website — a feature that first debuted in March 2021.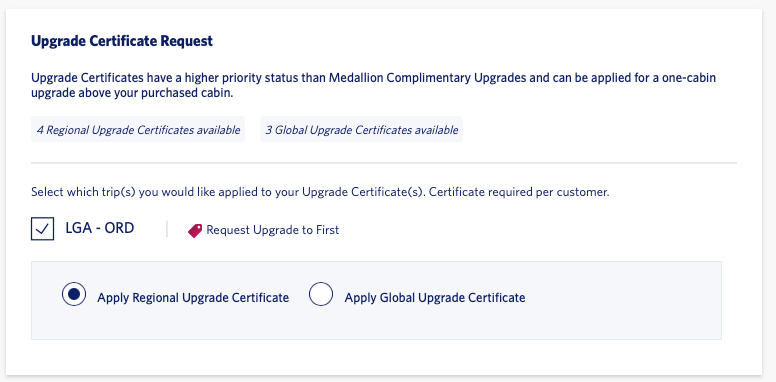 The ability to redeem upgrade certificates online is limited to new flights booked on Delta.com. The airline plans to roll out the feature to the My Trips page in the coming months, and it also plans to bring this functionality to the Fly Delta app soon.
Even though this feature is still in its infancy, Delta is solving a major pain point for top-tier Medallion members, who've historically needed to call Delta to make upgrade requests. After factoring in the wait time for a representative (and finding one who was well versed in redeeming upgrades), this manual process has been a major drawback to Delta's upgrade system.
In a statement confirming the new feature, Delta spokesperson Drake Castañeda shared that:
We're excited for our customers to start experiencing this highly-anticipated enhancement. Delta continues to invest in the SkyMiles Program, listening to member suggestions and evolving the experience to exceed member expectations and enable more seamless travel.
Delta first teased this new feature back in October, at the same time when it unveiled higher Medallion thresholds for earning status in 2024 and beyond. Delta originally promised to launch the ability to redeem upgrades online by early next year, so the airline is beating its timeline by a few months.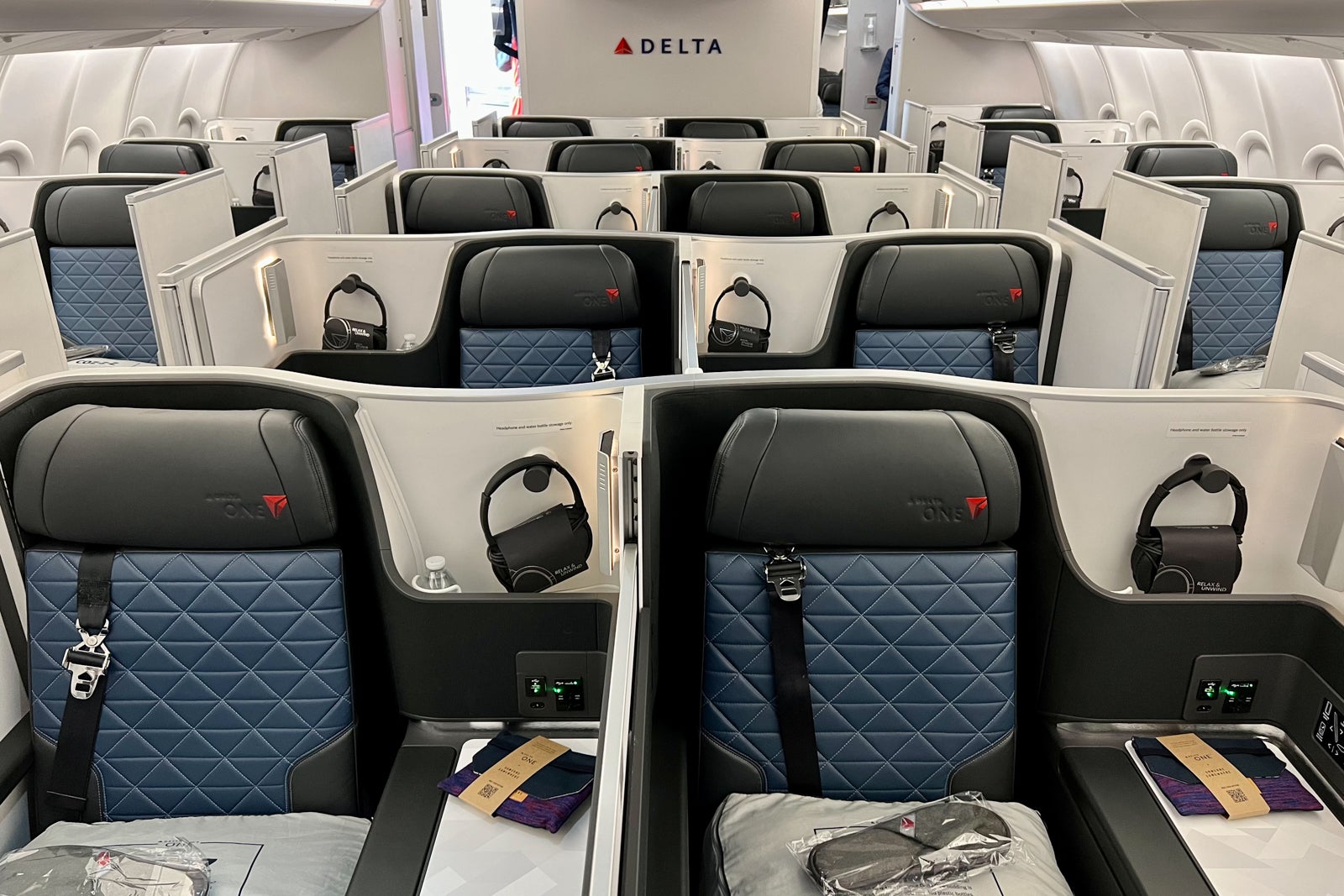 This is just the latest move in a string of changes that Delta has made to the upgrade process. It began in early 2021 when the airline added the ability to search for upgrade space directly on Delta.com. Before that, the only way to search for upgrade space was by calling Delta and asking an agent to manually check routes and dates for you.
Needless to say, this was a time-consuming process that irked many of Delta's top flyers and clogged up Delta's phone lines.
However, the news hasn't all been about improvements. Earlier this year, the carrier formally changed how GUCs work. As of Feb. 1, 2022, Global Upgrade Certificates move you up by just one class of service. If you book an economy-class ticket, you'll only be able to confirm an upgrade to Premium Select during booking.
Once a bump to Premium Select is confirmed, elite members will be added to the Delta One waitlist 24 hours prior to departure, so there's still a chance (albeit smaller) of a double upgrade.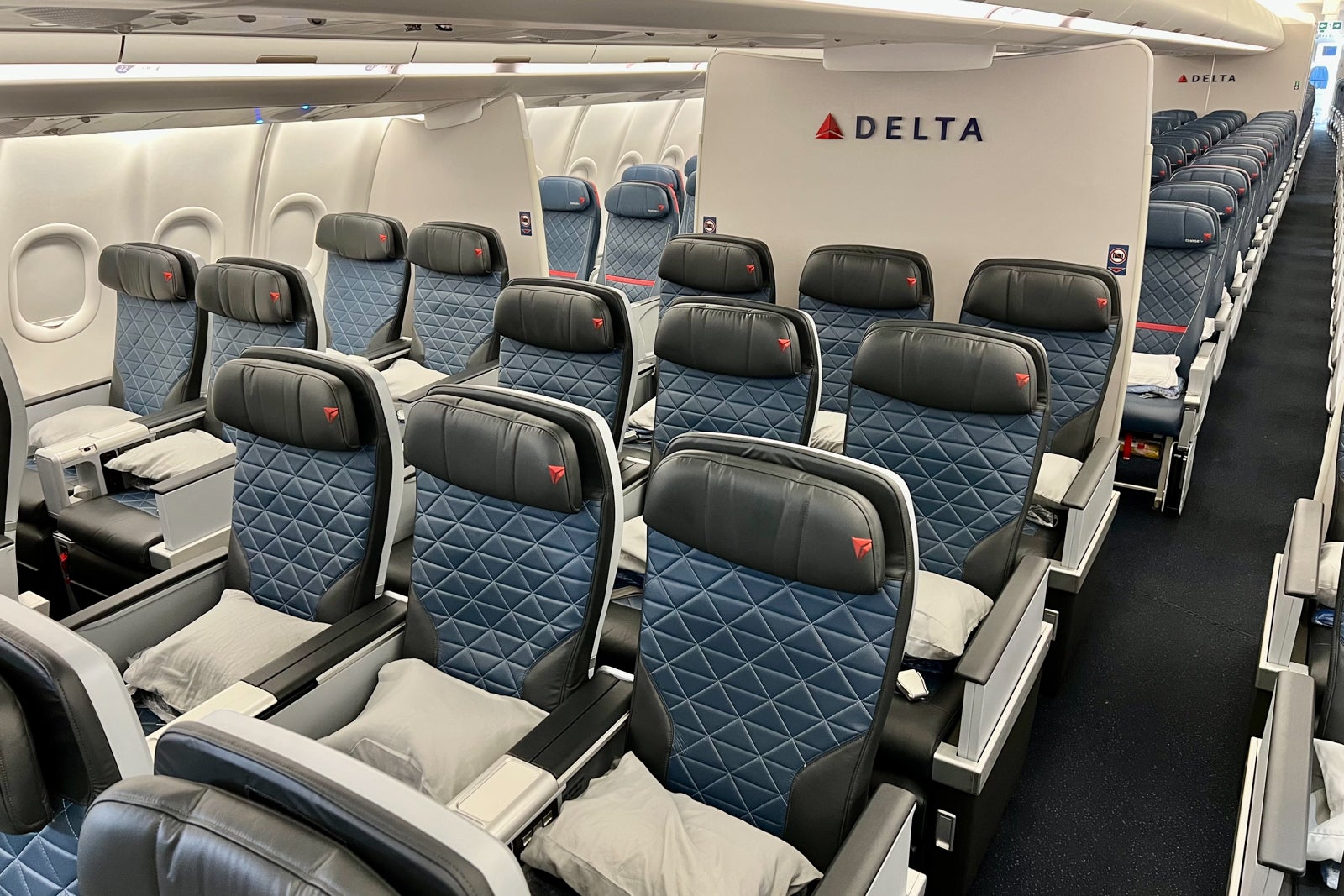 As part of the new one-cabin rule, Delta now promises last-seat upgrade availability in long-haul premium economy and in domestic and short-haul international first class. That said, many Diamond members have been disappointed with Delta's decision to clamp down on upgrades, especially compared to American Airlines and United Airlines, which both offer top-tier flyers the ability to confirm business-class upgrades on three-cabin aircraft as early as the time of booking.
Speaking of Delta's competitors, the airline is playing catch-up with United, which allows Premier members to apply PlusPoints — United's upgrade currency — to both new and existing bookings on United.com and via the mobile app.
While you can search systemwide upgrade availability on American's website, you'll still need to call in to apply one to a new or existing booking.
Though Delta Medallions will undoubtedly appreciate the improvements, perhaps the biggest winners are those who plan to call Delta — the airline's customer service numbers should be considerably less busy with the debut of the new online upgrade functionality.
For more about upgrading with Delta, be sure to check out: