The end of the year is fast approaching. In your scramble to maximize your credit card perks and not let them go to waste, you may be wondering how to effectively use all of those benefits before time runs out. Let us present an alternative idea: using your credit card perks to donate to food pantries during the holiday season.
Nearly 10% of U.S. households experience food insecurity annually, according to the U.S. Department of Agriculture. Food insecurity means being uncertain of the ability to get enough food, due to a lack of money or other resources. This number is even higher for households with children; more than 12% of households with children experience food insecurity in the U.S.
As we get into the gift-giving spirit around the holidays and contemplate ways to use our credit card benefits before year's end, here's how you can donate to food pantries through your cardholder benefits.
Instacart Community Carts
Several Chase credit cardholders gained access to benefits with Instacart in August 2022. This includes statement credits on Instacart purchases and complimentary Instacart+ memberships. The length of your complimentary membership and the number of spending credits varies by card.
For example, those with the Chase Sapphire Reserve can enjoy 12 months of complimentary Instacart+ and up to $15 per month in statement credits to offset their Instacart purchases. Those with the Chase Freedom Flex, on the other hand, are eligible for three months of complimentary Instacart+ membership and up to $10 per quarter in statement credits for Instacart purchases.
Related: Eligible Chase cardholders can get up to $15 in Instacart statement credits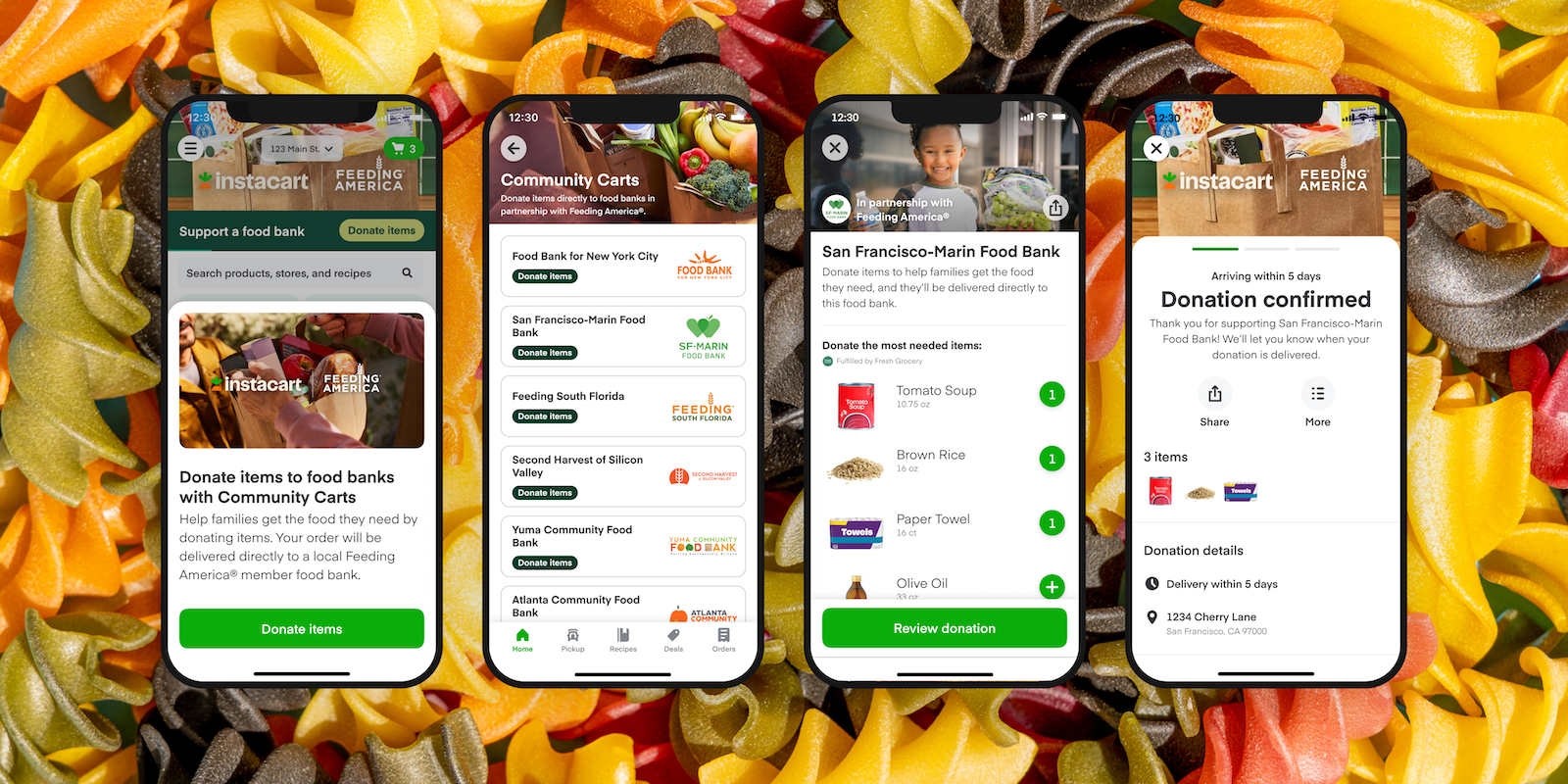 Cardholders can use these benefits to help more than 100 Feeding America food banks across the U.S. through the Community Carts function in the Instacart app. Think of Community Carts as a virtual food drive — and you can take part even if you don't live near a participating food bank. Even better, you can donate groceries to these food pantries without delivery or service fees since those are waived on all donation orders.
To donate through Instacart, go to this page to see the full list of participating food banks and choose one to support. Each food bank has a personalized wishlist, based on what's needed most in that local community. These donations are possible through Dec. 31 and will be delivered directly to the food bank by local Instacart shoppers.
Community Carts launched earlier this month and customers have already donated more than 25,000 items, according to a spokesperson for Instacart. Each participating food bank has received at least one donation, with an average value of $50. Furthermore, Instacart matched donations during the week of Giving Tuesday, totaling up to $100,000 in donations to Feeding America.
To start your donation, go to this page on the Instacart website.
Donate the Change with Grubhub
When placing an order with Grubhub, you can participate in the Donate the Change program. This is an option to round up your bill to the nearest dollar on your next order and support charities "that work to close the hunger gap, aid independent restaurants and create opportunities in the hospitality industry," according to a spokesperson for Grubhub.
Additionally, Grubhub matches donations from Grubhub+ members, which led to more than $25 million in grants last year, according to the same spokesperson.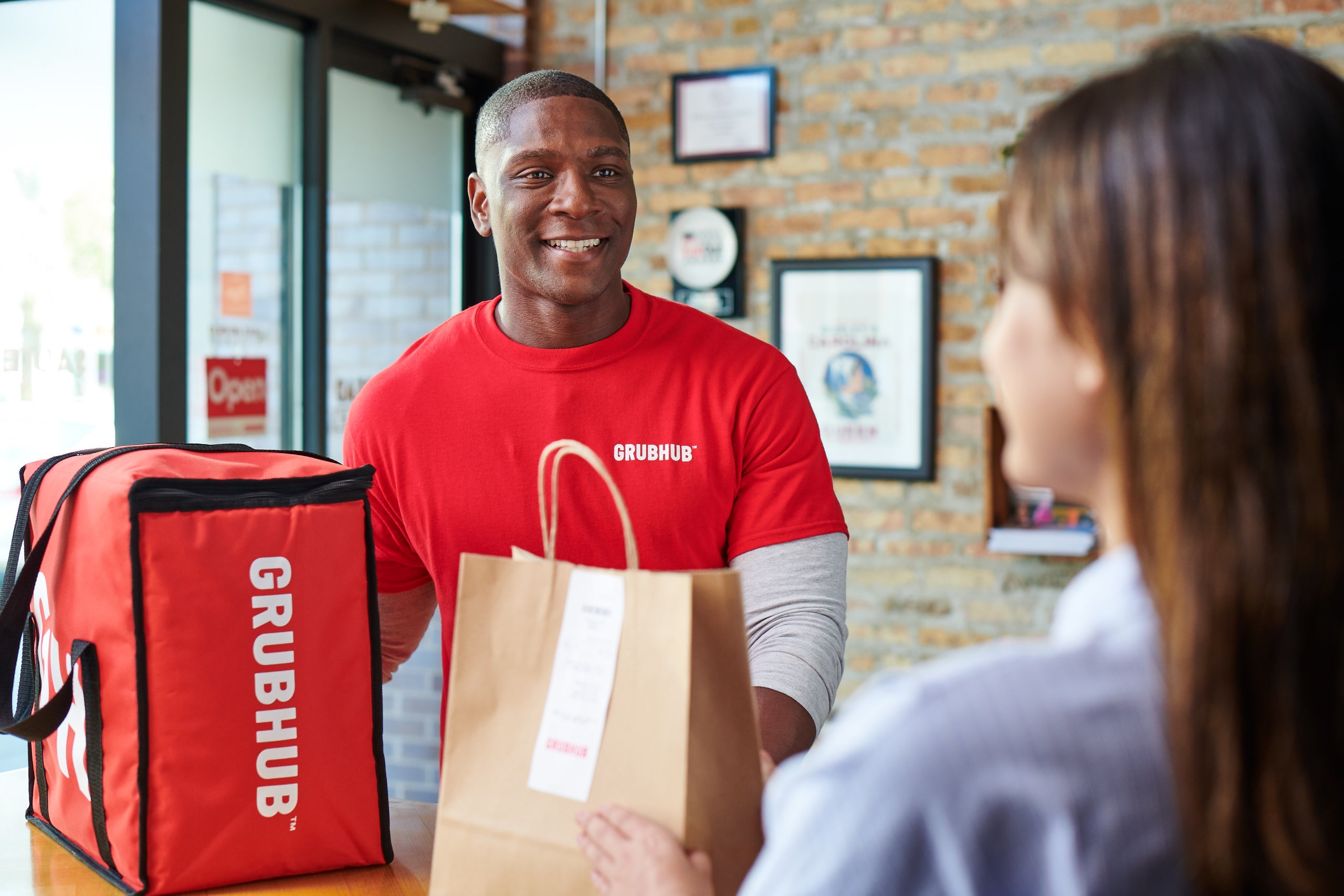 You can receive a complimentary Grubhub+ membership in several ways. Those holding a Bank of America credit or debit card can receive a year of complimentary membership. Readers who have Amazon Prime can activate a year of Grubhub+ by linking their accounts. If you have the Chase Sapphire Reserve, you can activate a Lyft Pink membership and then use that to receive a Grubhub+ membership by linking your accounts.
Additionally, there's another idea to consider if you'd like to cover your donations through Donate the Change with spending credits. Those with the American Express® Gold Card can enroll for a benefit that provides up to $120 per year in statement credits with select dining merchants each year. This comes in the form of up to $10 per month in statement credits after purchases with the Cheesecake Factory, participating Shake Shack locations (excludes stadiums, airports and racetracks), Wine.com, Goldbelly, Milk Bar and Grubhub.
Related: Your completed guide to the Amex Gold dining credit
To help through this program, round up your next Grubhub order to the next dollar. It's not a huge amount but every little bit makes a difference.
Bottom line
If you're wondering how to maximize your remaining credit card benefits before the year's end, consider using these perks to help feed others through donations to food pantries and food banks.
You can shop for groceries on the wish lists of food banks partnering with Instacart or round up your Grubhub orders to donate to charities. Either would be a great use of your credit card benefits during the holiday season.
We also should point out that hunger knows no season, so consider using these benefits to help others throughout the year to come.