A trip to India to visit relatives was at the top of my family's travel wish list during the pandemic.
When we were finally ready and able to travel, it seemed as if the whole world had already returned to the skies with great enthusiasm, with airline ticket prices shooting up accordingly.
Since this would be our first visit to India after almost five years, we'd committed to going regardless of any obstacle thrown our way.
Planning a trip from the U.S. to Delhi of almost 30 hours in duration and with two young kids, age 8 and 14, is no easy feat.
After carefully considering all the factors like price, flight schedule and routes, booking a flight with a long layover — seven hours — appeared to be our best option. 
Why we chose a long layover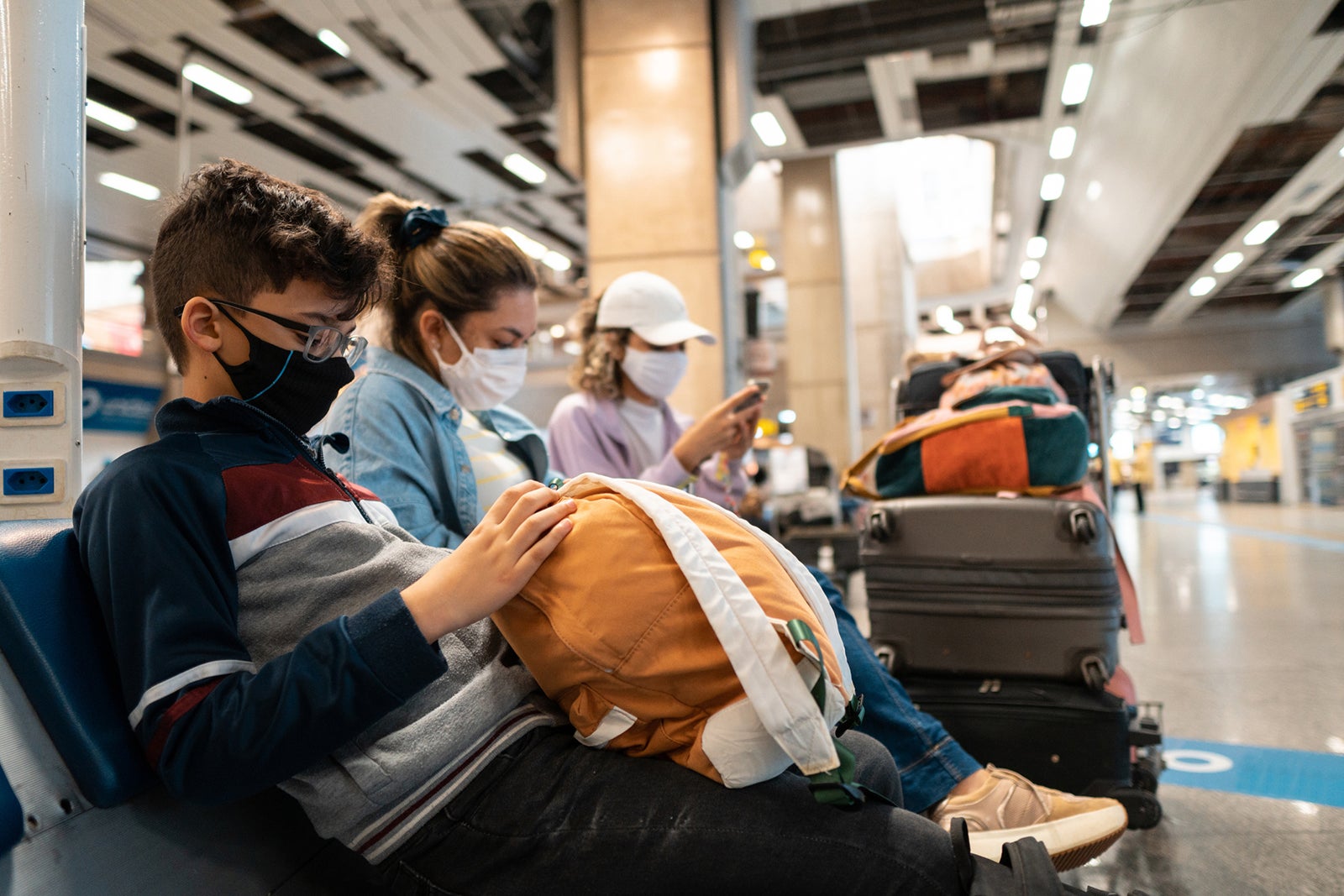 Before choosing our travel dates, we considered many factors, like ticket prices, number of stops, school break, paid time off from work, holiday travel chaos and the potential for winter storms. We also had the additional complication of needing to book our tickets in groups of two because my husband and high schooler had to return home sooner.
While it may seem strange, the flights we selected, with a long airport layover, were a calculated choice. We wanted to ensure that we wouldn't have to sprint to make our connecting flight — not so easy with a whole family and lots of luggage.
After much deliberation, I reserved tickets from Hartsfield-Jackson Atlanta International Airport (ATL) to Delhi Indira Gandhi International Airport (DEL) with a seven-hour layover at London's Heathrow Airport (LHR).
As our travel dates approached, my anxiety about keeping everyone sane for seven hours at Heathrow Airport increased. I started Googling and asking advice from TPG's large team of travel experts and frequent flyers, but my family's 30-hour-long itinerary with two kids was certainly not the norm.
A common theme among my colleagues was that I should spend the layover in a lounge at LHR. Since I don't yet have a credit card with airport lounge benefits and I didn't want to sign up for a credit card just for lounge perks, that wasn't really an option. In light of this experience, that decision may change soon.
Related: 13 credit cards that offer Priority Pass airport lounge access
Pre-trip planning
Long-haul flights can be especially difficult when traveling with youngsters, but there are many tips and tricks out there to make the journey easier.
Planning ahead and having plenty of activities and snacks on hand will help keep little ones entertained. Some of our favorite travel games include word puzzles, sudoku, coloring books and printable maps.
Perhaps the most important thing, however, is to organize your hand luggage so that all your kid-friendly paraphernalia is easy to access when you are transiting through a busy terminal — choosing the right carry-on can often make all the difference.
Departure-day chaos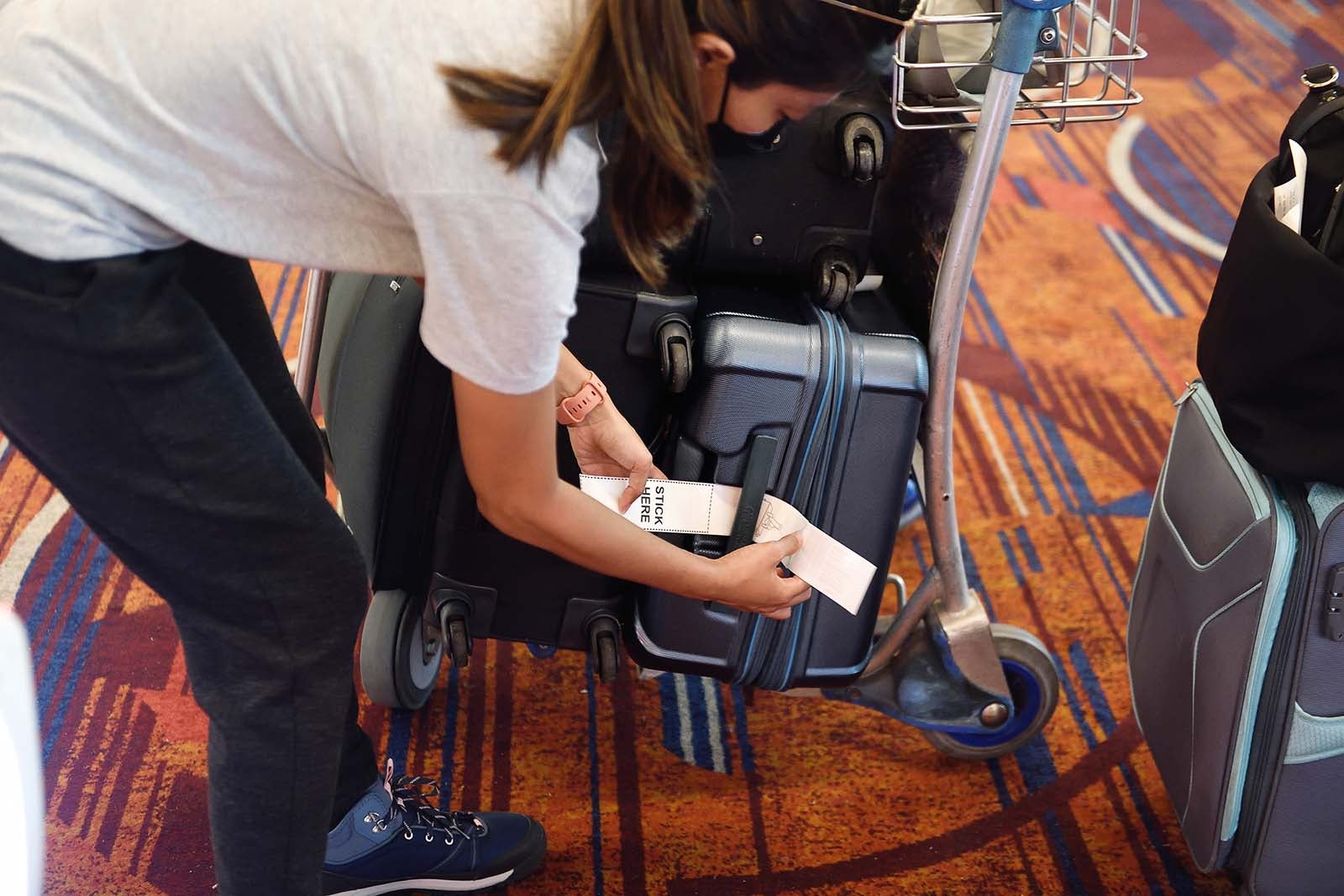 Our flight departure coincided with the first day of the major holiday travel period last December, which meant more traffic on the roads and longer lines at the airport — not to mention a fair number of passengers with frayed nerves.
We decided to leave the house earlier than we would normally during non-peak travel periods to give ourselves a nice buffer. While it did extend our itinerary by another hour, it was totally worth it. 
It wasn't just the long security lines that complicated our airport experience. Between the four of us, we were lugging around three carry-ons and four backpacks. By the time we had removed all our electronic devices, chargers, shoes and jackets and placed them in separate trays, we now had nine trays of gear that we needed to keep track of and repack. It was chaotic, for sure! If there was ever a time that I understood why so many of my co-workers at TPG have either TSA PreCheck or Clear, that was it. Lesson learned.
This security process was even more complex at LHR, where electronic items need to be placed in separate trays and 100-millimeter liquids must be placed in transparent, sealable bags no more than 8 by 8 inches. This resulted in even more trays than we had at ATL.
After going through security, we were finally ready to relax and grab a bite to eat.
Related: Why you should get TSA PreCheck and Clear — and how you can save on both
The long layover begins
The moment that I'd been planning for (and worrying about) for so many days had finally arrived.
After a smooth flight, we landed at LHR Terminal 3 midmorning. Thanks to travel fatigue (from days of packing, organizing and luggage handling) and an almost perfectly timed night flight, we had all been able to sleep periodically during the flight, so we weren't feeling any major jet lag just yet.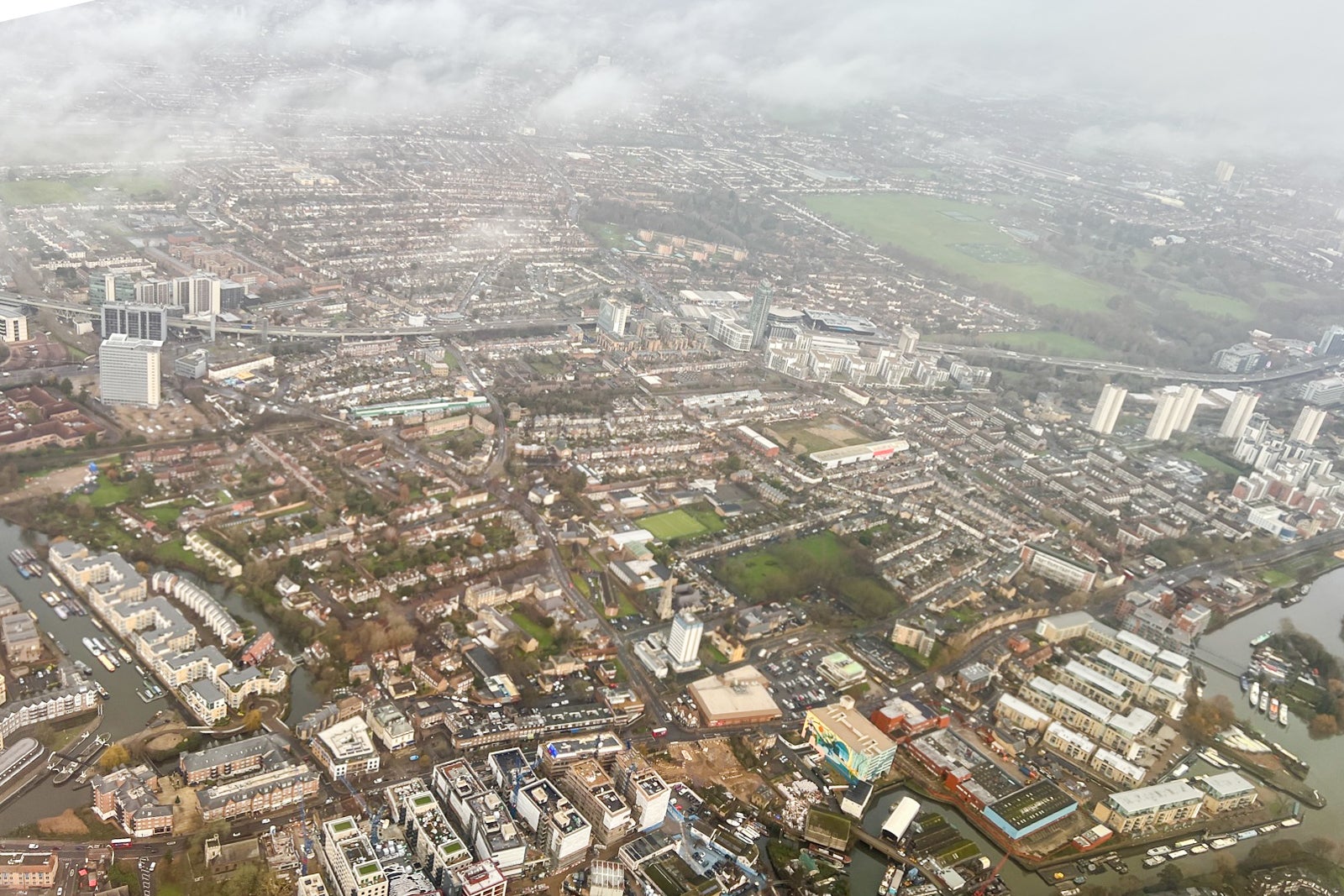 11:10 am
From the time it took to deplane and then sort, collect and repack our 10 trays at the security check, plus make a couple of restroom visits, almost 90 minutes had flown by.
With holiday travel in full swing, we then spent almost 15 minutes searching for enough open seats to accommodate my family and our bags.
Once my family had settled in, I promptly ditched them to take a walk around the terminal (that is my way of stretching my legs after a long flight) and grab a coffee and cookie from the trendy EL&N London outpost that had been recommended by a co-worker. This cute all-pink cafe was certainly a treat for tired eyes.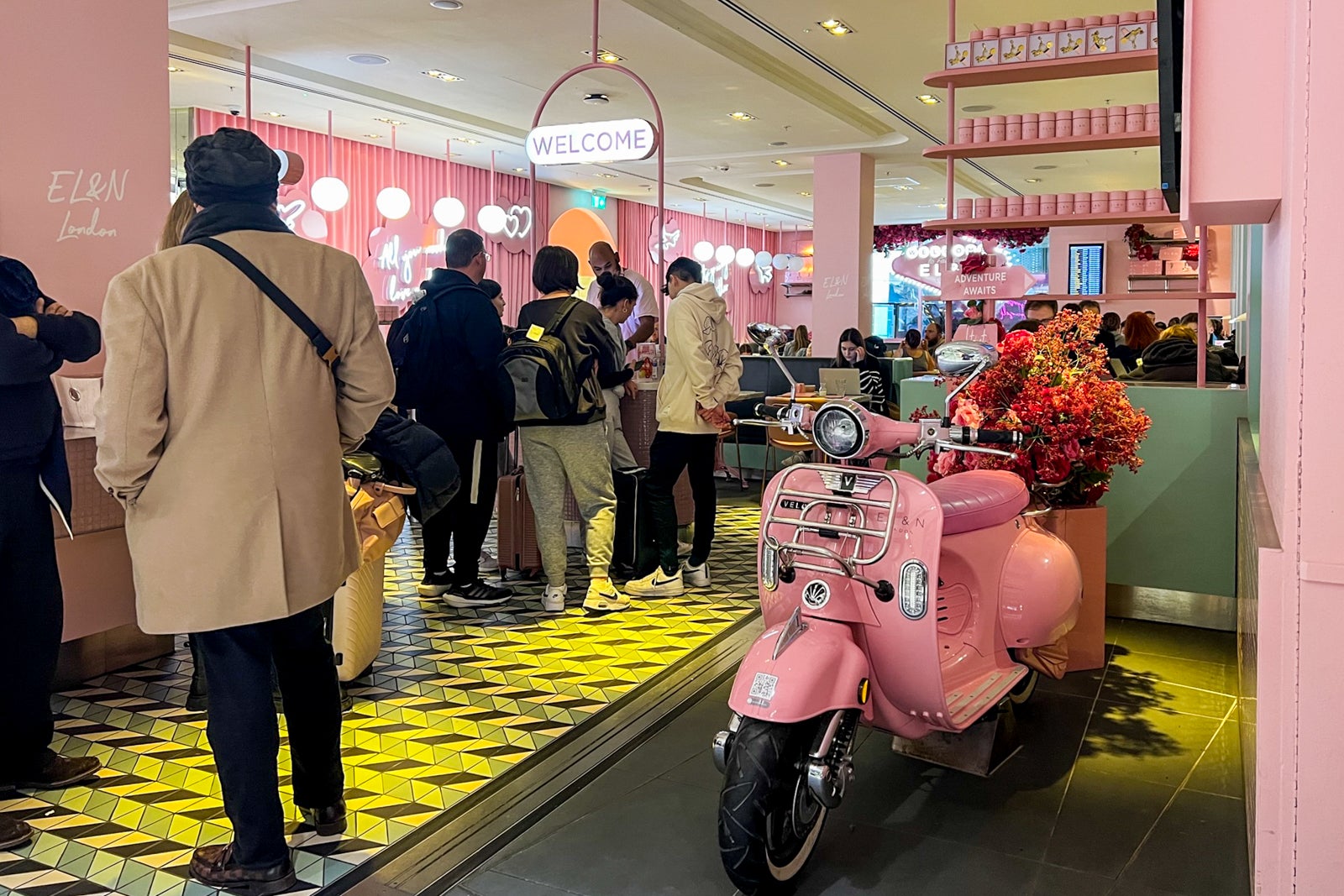 12:30 pm
After exploring a little, I headed back to my family. We set a 20-minute timer to disconnect the kids from their devices while I took them for a walk around the airport so they could pick a restaurant for lunch.
I was able to sneak in a food scavenger hunt for my 8-year-old and a shopping scavenger hunt for my 14-year-old, which led them inside some of the stores in the terminal where they could also peruse some British novelties.
Shopping was not the end game, but letting them each buy one or two little things as souvenirs added a dose of excitement and kept the kids engaged for another chunk of time.
Despite Heathrow being the second-busiest airport in the world, I was surprised to find that Terminal 3 felt quite small, which made it easier to navigate, especially when you are 15 hours into a very long journey.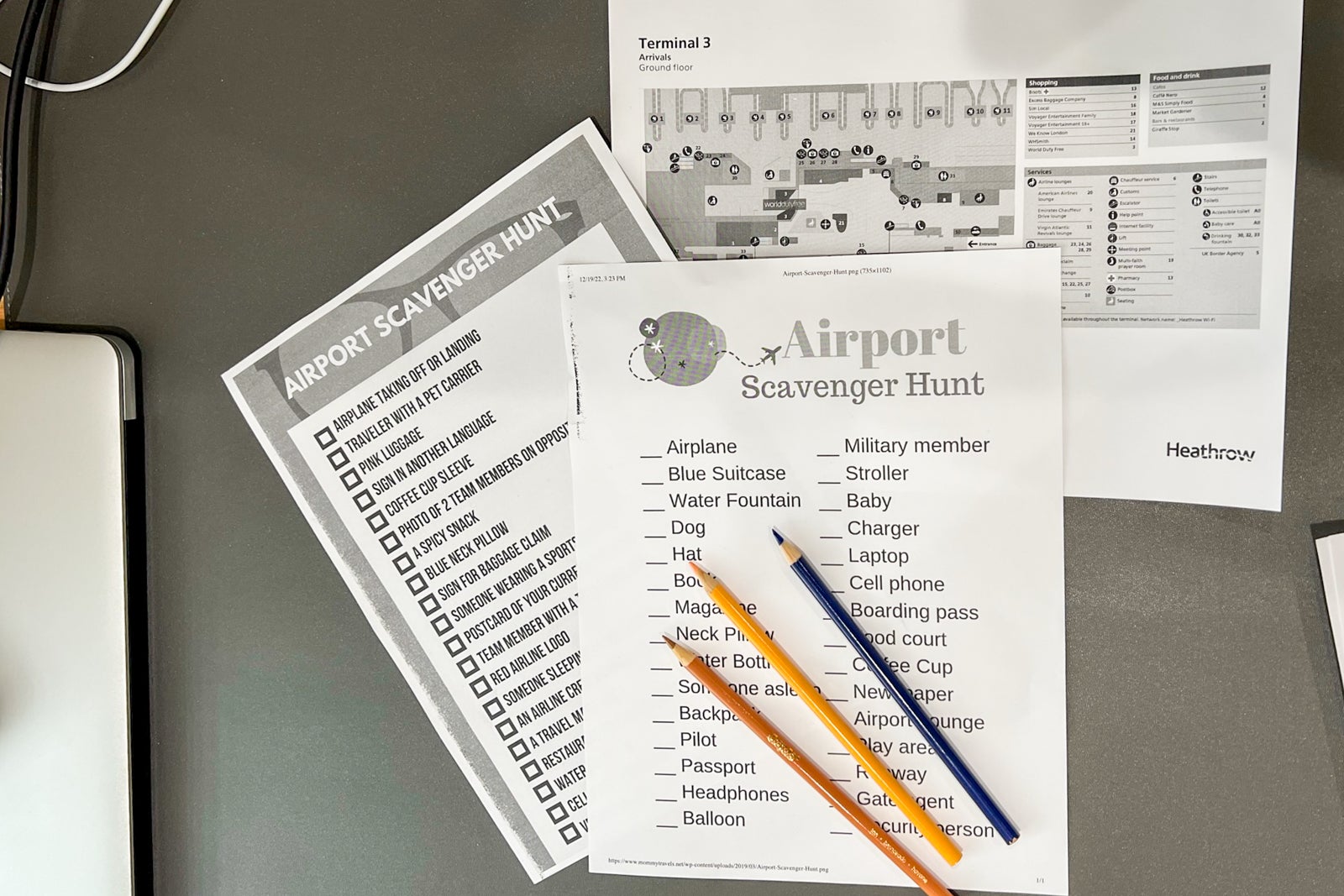 If you are looking for a long, lingering lunch at Heathrow's T3, your options are quite limited. We finally chose a restaurant named Spuntino for its diverse menu that we knew would cater to everyone's taste.
3:45 pm
We'd been so focused on our activities and enjoying lunch that we didn't notice that a little over four hours had passed.
We secured a long seat with enough room to relax, either by stretching our legs on our luggage or leaning our heads on each other's shoulders. It was the perfect time to just enjoy reading and relaxing together, and another hour quickly passed by.
My youngest child has no interest in or patience for drawing, but his elder brother sometimes manages to motivate him. At this particular moment, that skill was key.
When I'd checked everything off my list, offline drawing videos were a savior. Even though exhaustion was kicking in at this point, both boys became completely focused upon creating their artworks.
Finally, around 5:10 p.m., we regrouped and headed toward the gate to board our 6 p.m. flight.
My husband and I exchanged a smile of relief that we'd managed to get through our seven-hour layover, relatively stress-free, and shared memorable moments together in the process.
What worked and what didn't
Kind of worked
Scavenger hunts are a great way to make airport layovers entertaining for kids. As I was traveling with a teenager and an 8-year-old, the same ideas wouldn't work for both kids, so I downloaded different options like a food hunt and an airport hunt for airline companies and aircraft.
While you can find these printable sheets easily on Google, I found that it's more fun and effective to customize them to your child's interests or your setting.
I added London-themed information: fish and chips and Dutch baby pancakes for the food hunt, and airline names like Qantas and Royal Jordanian and aircraft types like Airbus A380 and Boeing 787 for the airport hunt (this information is available on the Heathrow Airport Guide website).
The scavenger hunt idea worked wonders with the younger one, the food hunt was fun for the teenager, and locating aircraft sparked an interest in aviation.
Worked
Since my eldest son likes to draw, he helped me download some drawing lessons for himself and his younger brother. Another great tip is to add some shiny new art supplies to their bag, too.
If your kids aren't artistically inclined, you could instead try sudoku, word puzzles, travel puzzles or card games. These options have always worked for us, both on flights and during road trips. With younger kids, the parent needs to be an active participant, but fortunately, I really enjoy playing these puzzles with them.
The food scavenger hunt was a hit. Although food items on the scavenger list were generic, they found some fun treats to enjoy both in the terminal and during the next flight. My 8-year-old was super excited to see fish and chips (from the scavenger hunt list) on the restaurant menu at lunch, and it became his instant choice. 
We also bought a souvenir and some chocolates.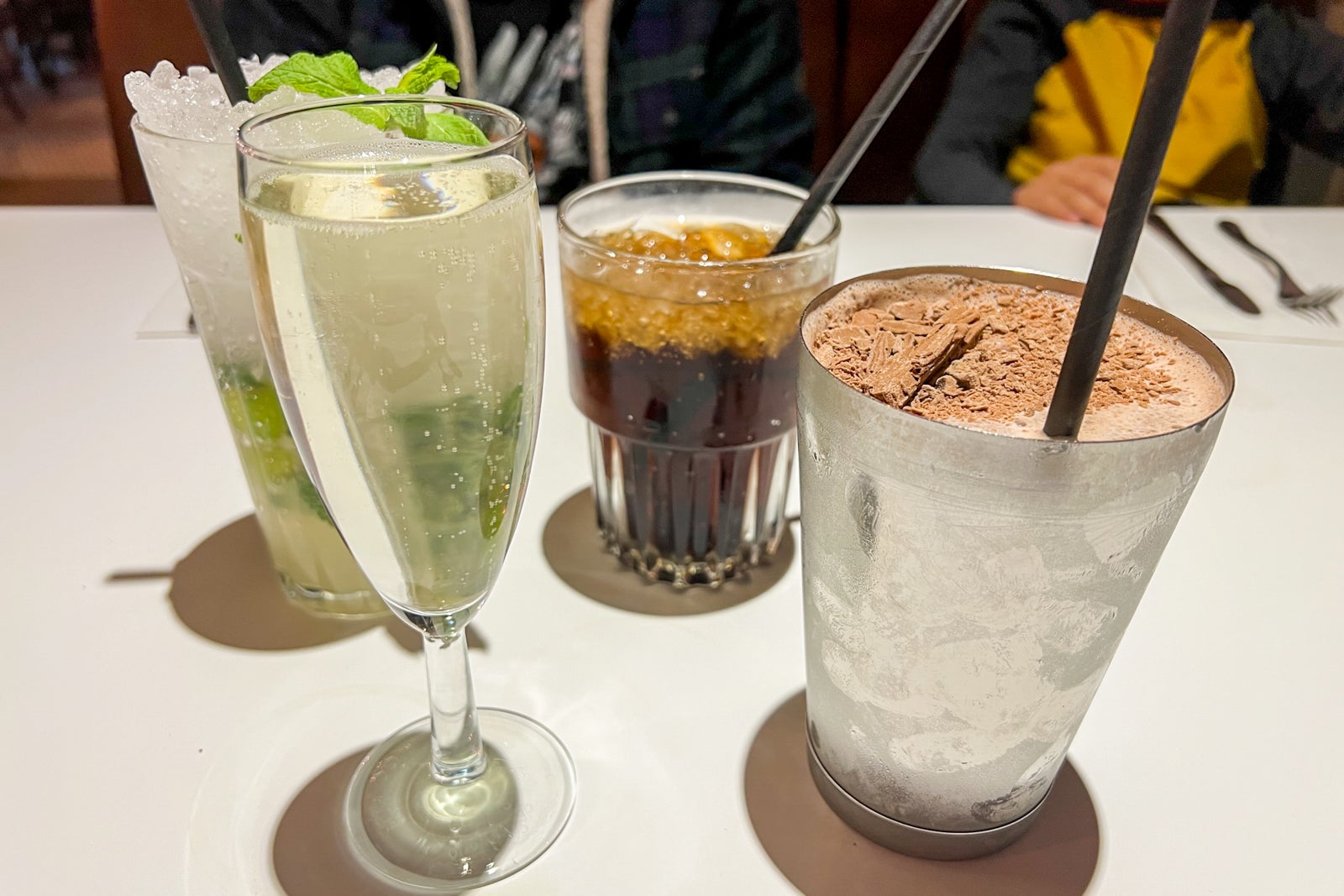 Definitely worked
How could I not add a device or a gaming console to my list? Of course, I had to. No packing list is complete without versatile, quick-fix technology.
We also saved some offline games and downloaded some e-books. Since we decided not to pay for Wi-Fi on the plane, our screen time was inherently limited. Most kids will at some point become bored of playing the same offline games, which will force them to rest, read or switch to another off-screen activity.
Bottom line
Searching for and planning out activities in advance helped to ensure that our long layover was as enjoyable as possible.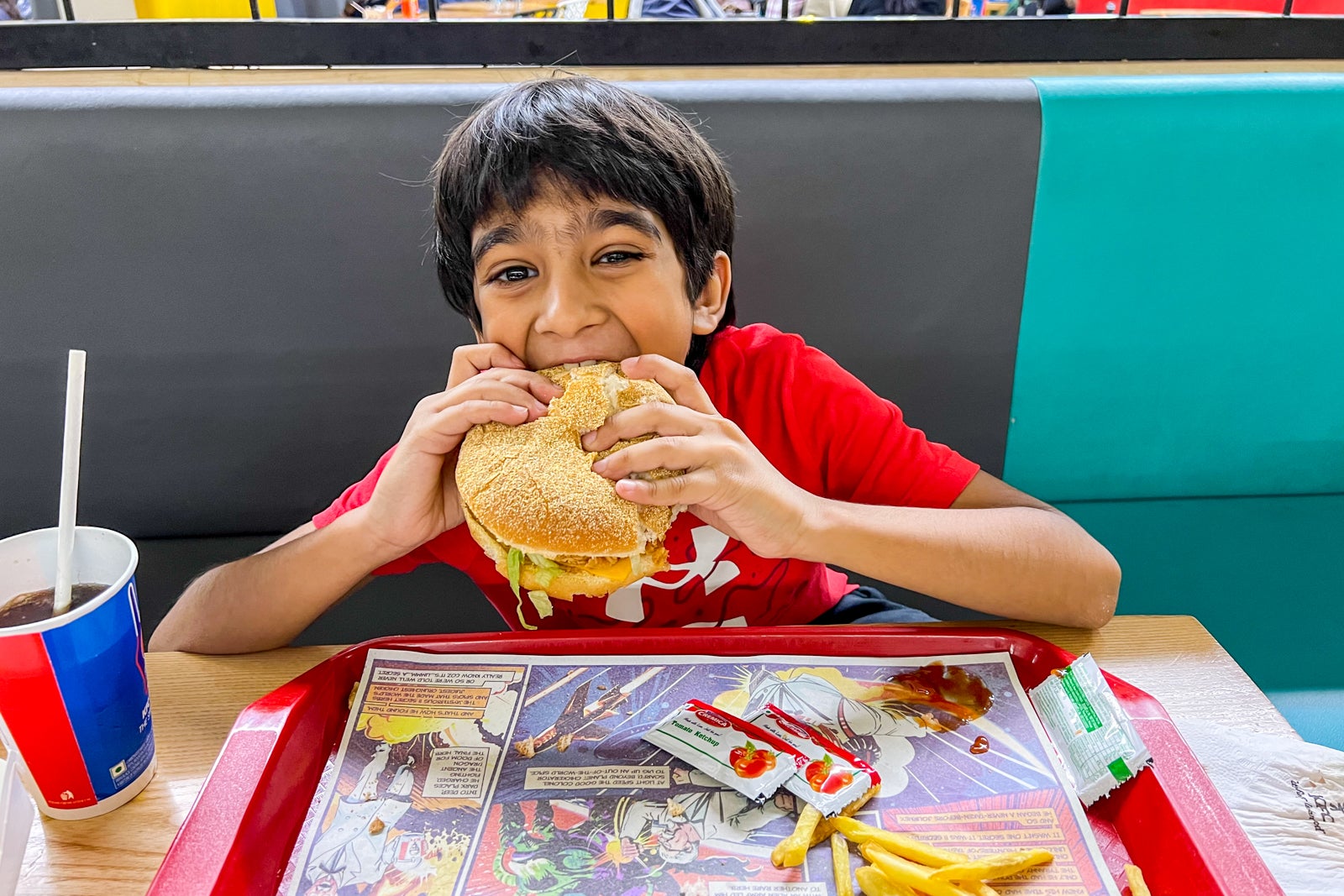 While I do not regret not paying for lounge access for this particular long layover, that's not to say that I wouldn't consider it for my next trip.
Lounge access is no doubt a boon if your family likes to savor a nice buffet and relax and recline. But it's not worth it if all your 8-year-old wants to do is eat KFC. (Yes, this happened on our return journey when it was just the two of us.)
Strategies that work for grown-ups or business travelers might not work for families with kids who like to roam, crave fast food at 4 a.m. and won't appreciate that free glass of wine for mom.
Had I not prepared or planned anything, I would have wound up watching my kids on their screens the whole time, and ultimately losing my patience.
In the end, a happy child exploring, being creative and playing around with a carry-on at the airport says, "You did all right!"
Related reading: