I've been a Taylor Swift fan for as long as Taylor Swift has been on the scene, and over the years, I've been lucky enough to see her live 13 times — and as all Swifties know, 13 is a very important number.
But last year when tickets went on sale for the Eras Tour, my luck ran out, and I was one of the countless many left ticketless after the November Ticketmaster debacle, despite having the right card to access a presale.
Needless to say, there were a few teardrops on my guitar at the time, but my crew decided to hold out until the tour started to see if resale prices would drop leading up to the days before a show — or maybe even hours, if it came down to it — before shelling out hundred of dollars for secondhand tickets.
Since the tour kicked off on March 17 in Arizona, I noticed that resale ticket prices did drop before a show — and swifties around the country have noted that Ticketmaster was releasing a handful of tickets the day before some shows.
But I live in New York City, and my daily Stubhub check was starting to leave me nervous, as even the worst tickets with limited or obstructed views in the highest sections of MetLife Stadium in East Rutherford, New Jersey were priced at (or well over) $1,000 each before taxes and fees. Dare I try to move to a section just slightly closer to the stage and I might as well have considered buying a used car instead.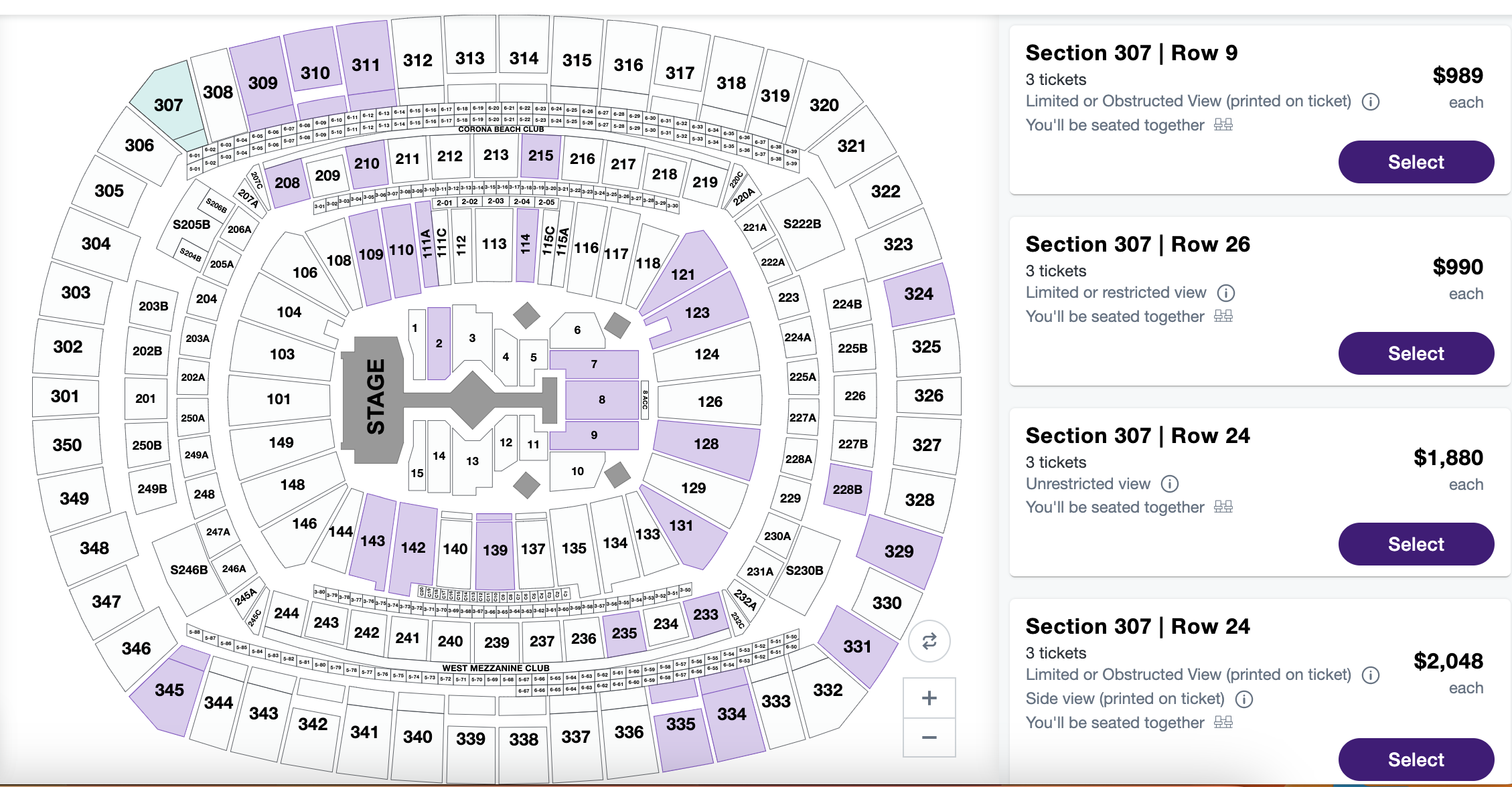 Here's the thing: I love music, I love concerts and I love Taylor Swift. In fact, it was seeing Taylor at the Houston Livestock Show and Rodeo in 2009 that drove me to take my own musical ambitions to the next level, inspired me to start writing my own songs and served as the spark to move to Nashville for college to study songwriting. "Fearless" was an album that changed the trajectory of my life, "Red" played nonstop in my college years and "Evermore" is the album I listen to on every flight during takeoff.
Missing the concert was not an option — so I decided it was time to get creative. I was afraid I wouldn't be able to get the tickets I wanted in New York or miss it altogether by holding out too long, so it was time to see how far my hard-earned points and miles could take me to justify paying cash for secondhand tickets online.
My first gut instinct was to make a trip out of the concert by going somewhere fun or new, but with the caveat that I could only justify it by paying nominal fees for flights and a hotel. I also made it a goal to attend a show on the front half of the tour in case something came up that stopped me, my fiancé and my best friend from going, so there would still be time to regroup and go somewhere else, if necessary.
Here's how it went.
Tapping out of Tampa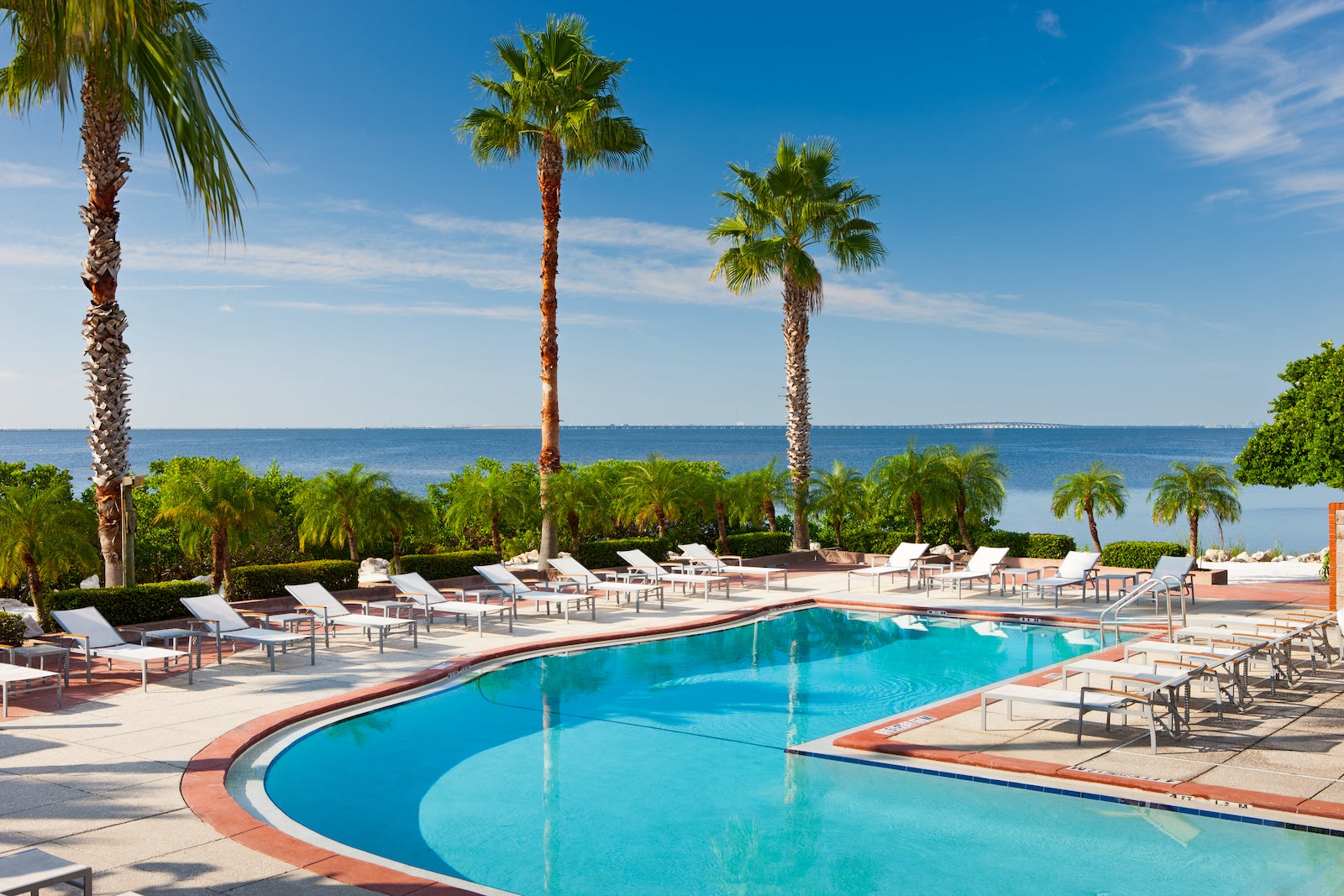 My original thought was to go to Tampa to enjoy some warm weather and potentially get some sun before the show.
I found tickets in my budget for the Saturday night show on April 15th that weren't amazing seats but better than what I'd found in NYC. I immediately looked for hotels I could book with points and, shockingly, found award nights for Friday and Saturday at the Grand Hyatt Tampa Bay for 15,000 points per night. I could book this room by transferring 30,000 Chase Rewards points from my Chase Sapphire Preferred Card.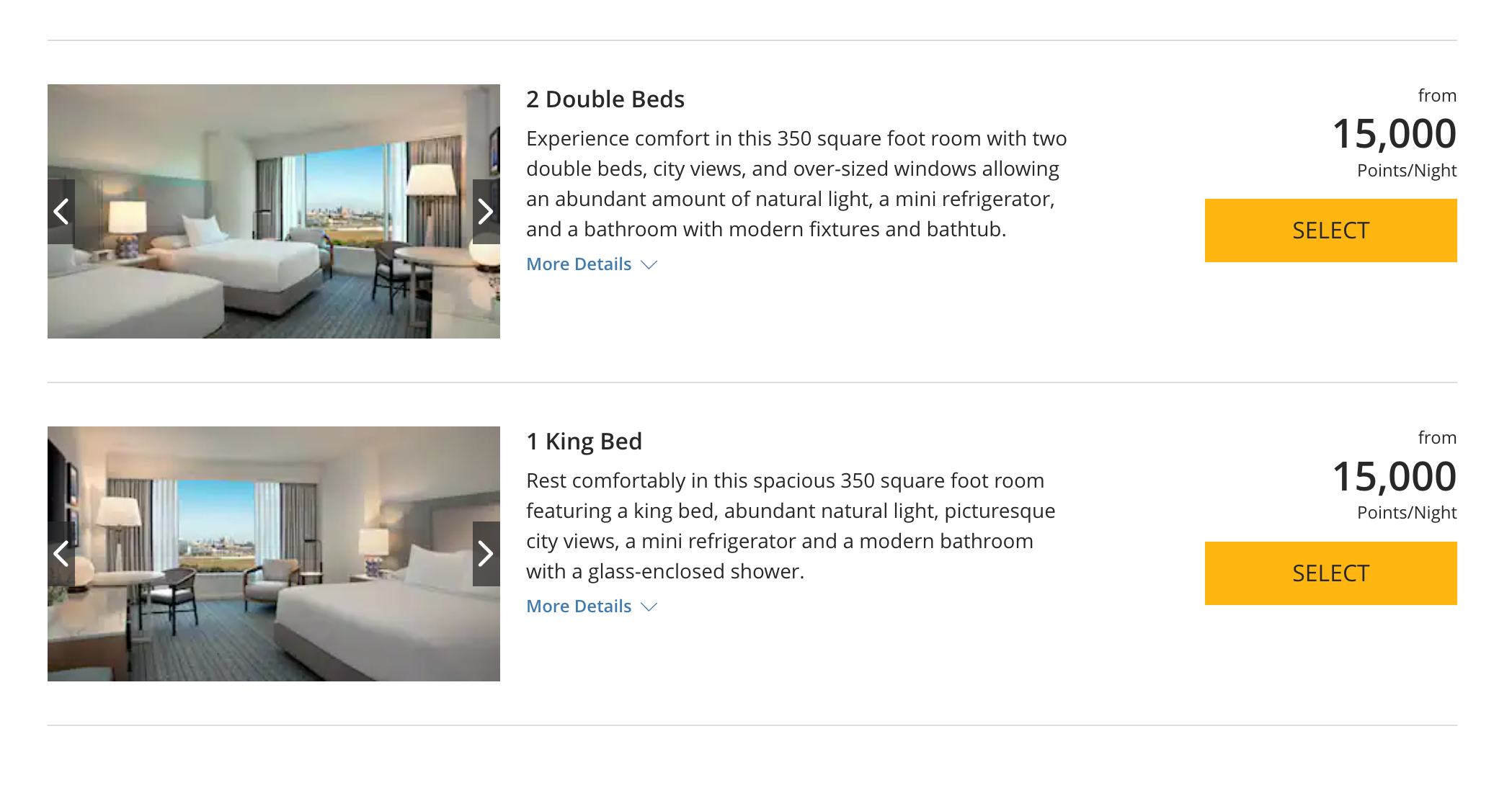 The cash rate for those same nights averaged out at $980, according to the Hyatt website, for a total of a whopping $2,279.13. By booking with points instead of cash, my World of Hyatt redemption would have been valued at an incredible 6.52 cents per point, for a hotel just about a ten-minute drive from the concert. That was well over TPG's value of 1.7 cents per point.

Next, I started pricing flights — and that's where this plan fell apart. Being an American Airlines loyalist, I started with flights from multiple NYC airports to Tampa International Airport (TPA) and found one-way options for 12,500 points plus $5.60 in taxes and fees. Score!
Related: Chasing American Airlines elite status? Here are 14 ways to earn Loyalty Points
But it was the return flight on Sunday, April 16, that made me realize Tampa wasn't my best bet. The cheapest flight on American was 49,500 miles, or $389 for a route that included a flight to Dallas with an overnight layover. No thanks.
Next, I checked other airlines, all to no avail. The cheapest one-way Delta flight was 35,000 points. United's was 34,400. Even the cheapest Spirit flight was $374 — and that didn't even include a carry-on bag.
It was time to go back to the drawing board.
A+ options in A-Town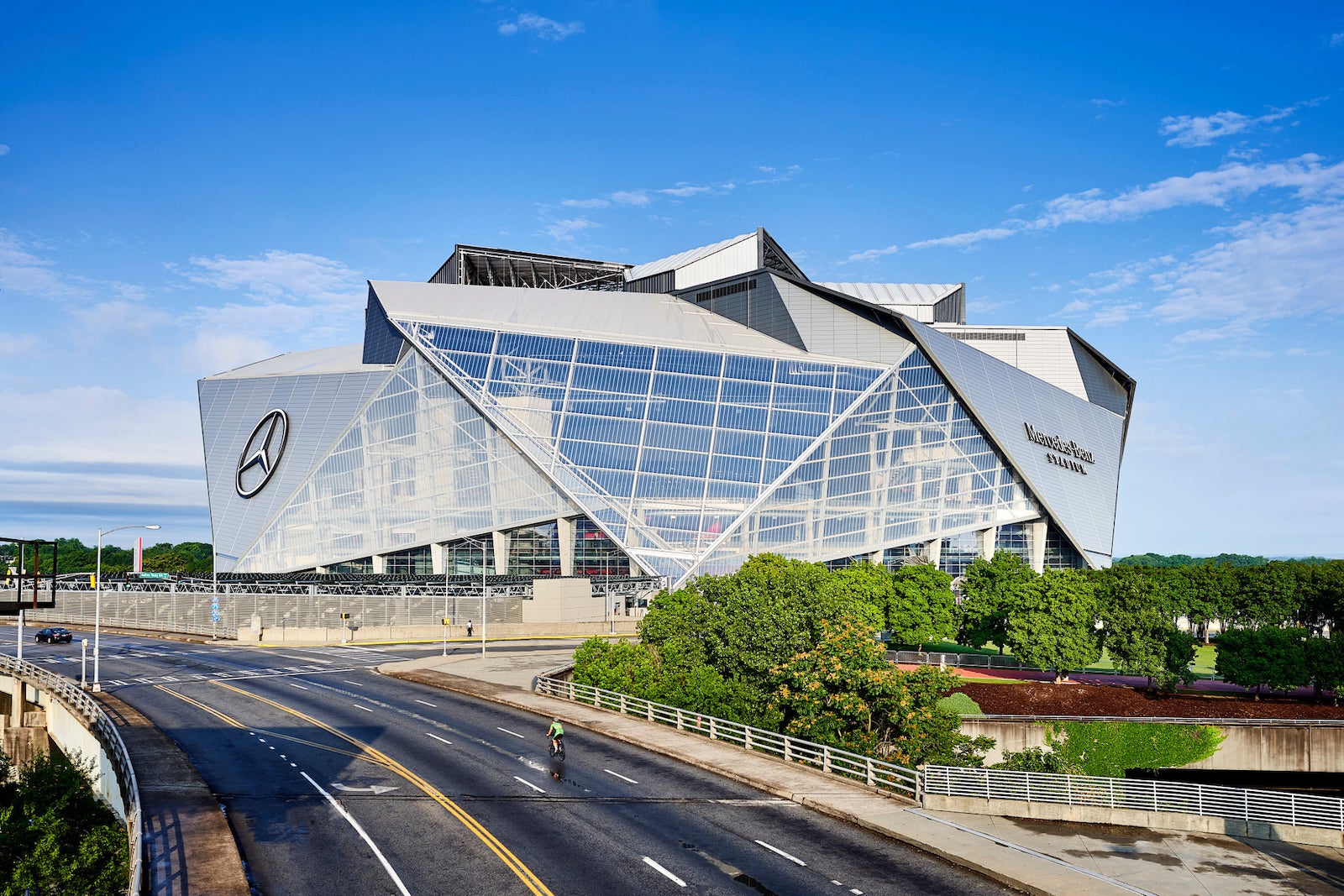 Scratching my head and looking at the tour schedule, it hit me that to book this entire trip with points and miles, I needed to look for a city with a big airport and lots of hotels.
That's when I saw Atlanta dates — and it all clicked. Atlanta is a megacity with an array of neighborhoods and suburbs, so I figured there had to be a handful of hotels I could book with points. And, with Hartsfield-Jackson Atlanta International (ATL) being the world's busiest, plus a hub for Delta, surely there was a way to get it all booked on points and miles.
I was right.
My first step was searching for tickets, which was exceptionally tricky because I needed the unfortunate quantity of three. But for the first time since November, when the tickets originally went on sale, my luck changed: I found three tickets in our budget, not in the nosebleeds but — gasp — in the Delta Sky360 Club section, for the show on Sunday, April 30. It took everything in me not to click "buy now"; first, I needed to confirm flight and hotel options.
I started with hotels to make sure there was a place to sleep. Again, I started with Hyatt, hoping for a 15,000-point-per-night option. I was in luck and found rooms available at the Hyatt Centric Midtown Atlanta for 12,000 points a night and at the Thompson Buckhead for 40,000 points per night in a King Suite or 20,000 points per night for a standard King. The reality was that both of these rooms were great deals, but wouldn't be enough space or beds for a couple plus a friend.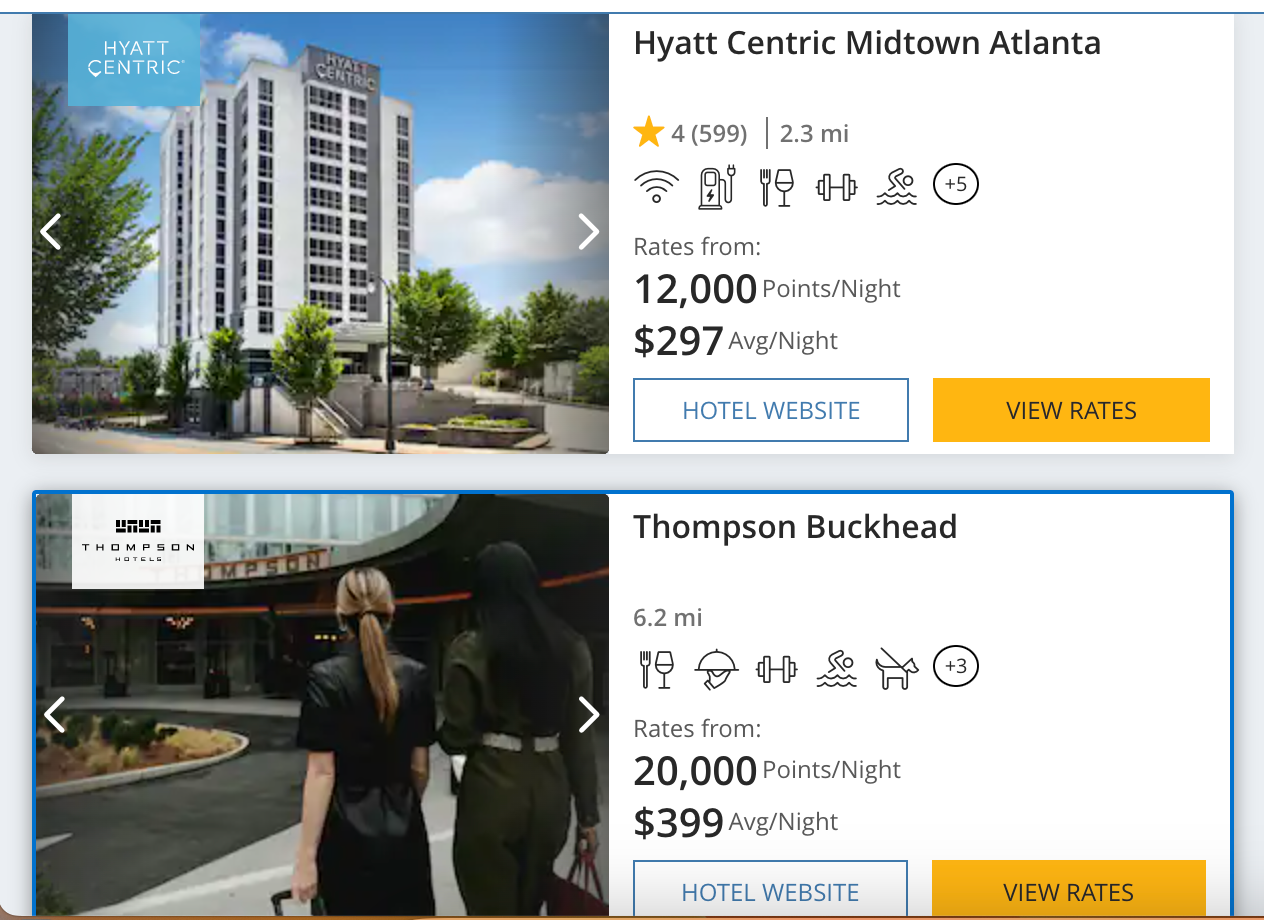 So I moved on to Marriott — and I hit the jackpot. With Marriott, I found plenty of hotels with award availability starting at 35,000 points per night (and also lots of unavailable notices, too). Ultimately, knowing we wanted to be in Midtown, not too far from the concert but close to nightlife for the Saturday night before the Sunday concert, I was able to snag a room at the Twelve Midtown, Autograph Collection in a one-bedroom suite with a pull-out couch, a kitchen and balcony for 45,000 points per night. The total for the stay came to 90,000 points plus $10 in taxes and fees.
In cash, the same room was $504 a night for $1,009, save taxes and fees. This means that my booking equaled out to 1.12 cents per point and still above TPG's 0.8 cent value for Marriott Bonvoy points, and in a location we wanted with plenty of space to share. And, since I had more than enough points in my Bonvoy account to book, I didn't have to deal with transferring.

And last but not least, I had to book flights — and once again, I scored. For 24,500 Delta miles plus $11.20, I was able to book round-trip flights to and from New York-LaGuardia (LGA), my closest airport, at times that allowed us to get to Atlanta early for a day of fun that Saturday and enough to sleep in and recover before the return flight on Monday.
In fact, we could've saved a few thousand more points by booking a Basic-level ticket, but we opted to book Main so we could all select our seats and sit together.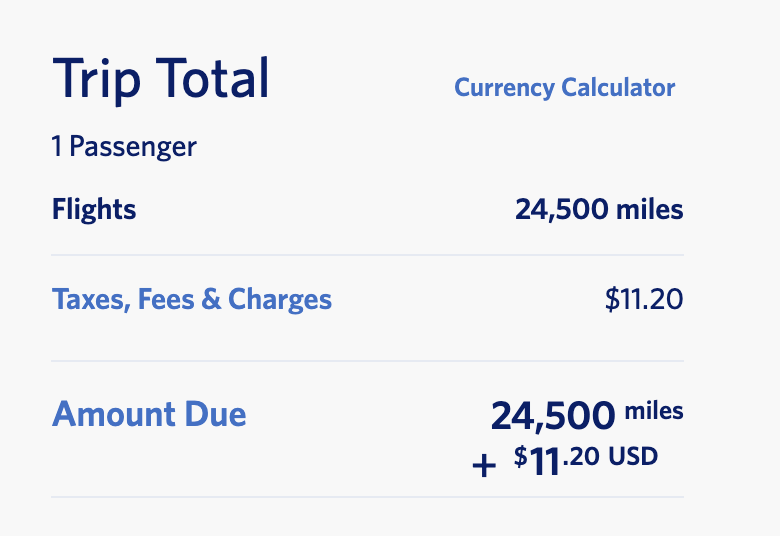 With travel plans confirmed, I jumped back to grab the tickets — and just a short while later, we were all set.
I forgot something important …
If, like me, you end up purchasing tickets on StubHub, do not forget to click into the site through Rakuten, the shopping portal that lets you earn American Express Membership Rewards or cash back on purchases. I remembered when it was too late, but right now Rakuten offers up to 3% back (or 3 Amex points per dollar spent) on StubHub purchases. And new members can snag a one-time bonus of $30 by joining through this link and spending $30 through the site in the first 90 days.
This can further help offset the price of a trip for a concert.
And for what it's worth, my experience buying secondhand tickets on Stubhub was totally fine. I made my purchase and was alerted that my tickets would be delivered electronically 48 hours before the show. That did make me nervous, but thankfully for my anxiety, the tickets were transferred to my Ticketmaster account from the original owner about a day later.
But just to be safe, I paid for the tickets with my American Express for extra security in case something did go wrong with the secondhand purchase.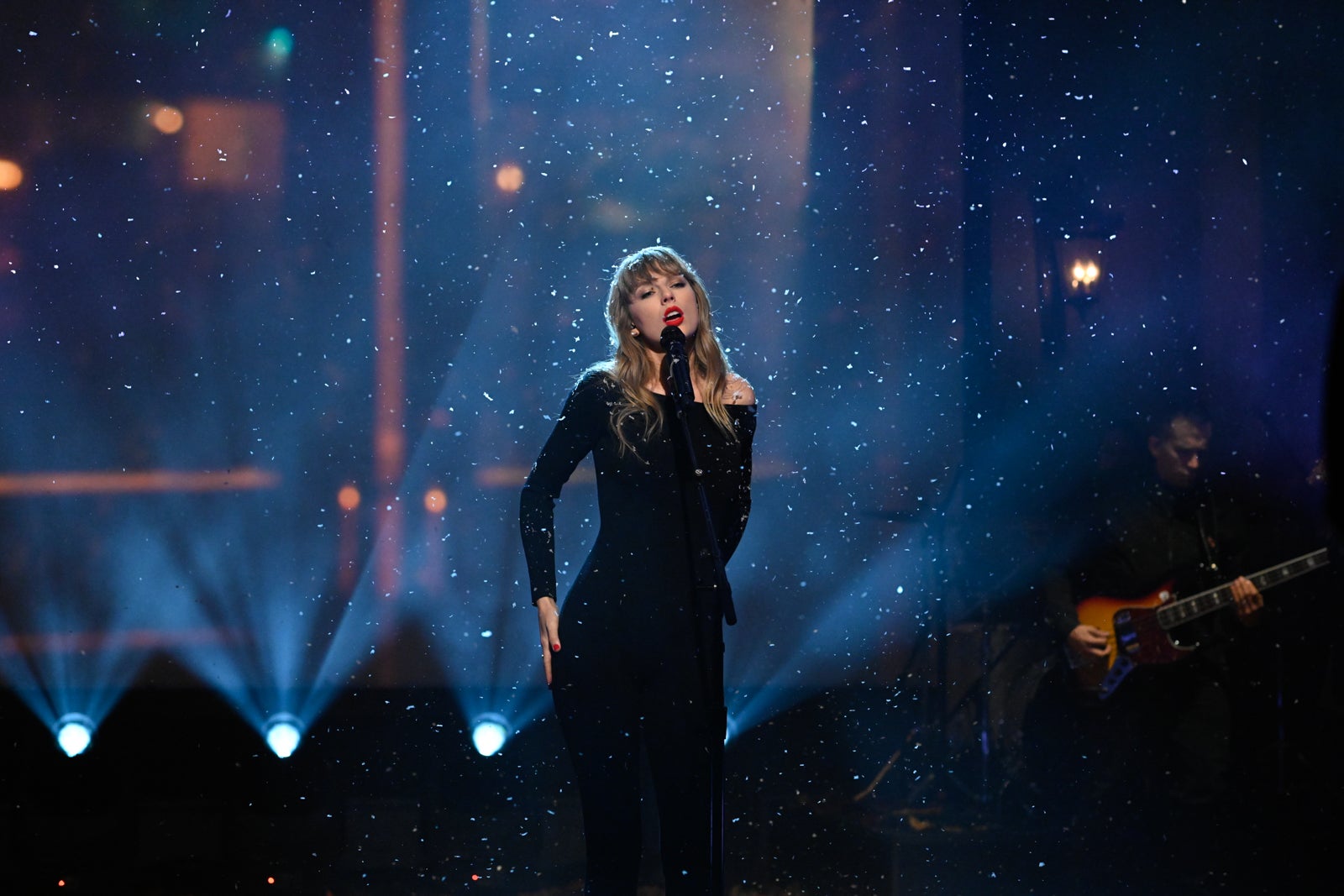 BOTTOM LINE
I'm usually a person who hordes my points and miles for something really special — like a luxury hotel stay or business-class seats for a trip to Japan. But at the end of the day, I love that my points and miles are there when I need them for something unexpected. Was I expecting to spend 90,000 Marriott points on a hotel and 24,500 Delta miles for a flight? No. But am I glad I did? You better believe it!
Now, instead of paying an arm and a leg for horrible seats in my hometown, I'm getting a fun weekend trip with friends, seeing a concert I was afraid I'd miss in great seats and was reminded of the importance of always checking your options for jumping into booking something.
Judge my redemptions all you want. As Taylor says, "The haters gunna, hate, hate, hate, hate , hate" … but "I'm just gonna shake, shake, shake, shake, shake" the night away in Atlanta.
And people still searching for tickets — hang in there! See where your points and miles might take you and, if all else fails, keep checking for tickets until literally the last minute.