Editor's note: This is a recurring post, regularly updated with new information. 
---
A select group of airline credit cards tout companion certificate benefits. Generally speaking, these perks allow you to bring a friend or family member along at a steep discount (or in some cases, nearly free) when you book a qualifying ticket. They are often issued annually for renewing the applicable card.
But are these perks really as great as they seem?
In this guide, we'll focus on one such benefit and share exactly how to use the Alaska Airlines companion fare offered on the Alaska Airlines Visa® credit card and the Alaska Airlines Visa® Business card, including some strategies for making the most of it.
Alaska companion fare overview
The companion fare on these cards is relatively simple. For a fixed dollar amount (plus mandatory taxes and fees), you can bring along a travel companion on an Alaska Airlines flight.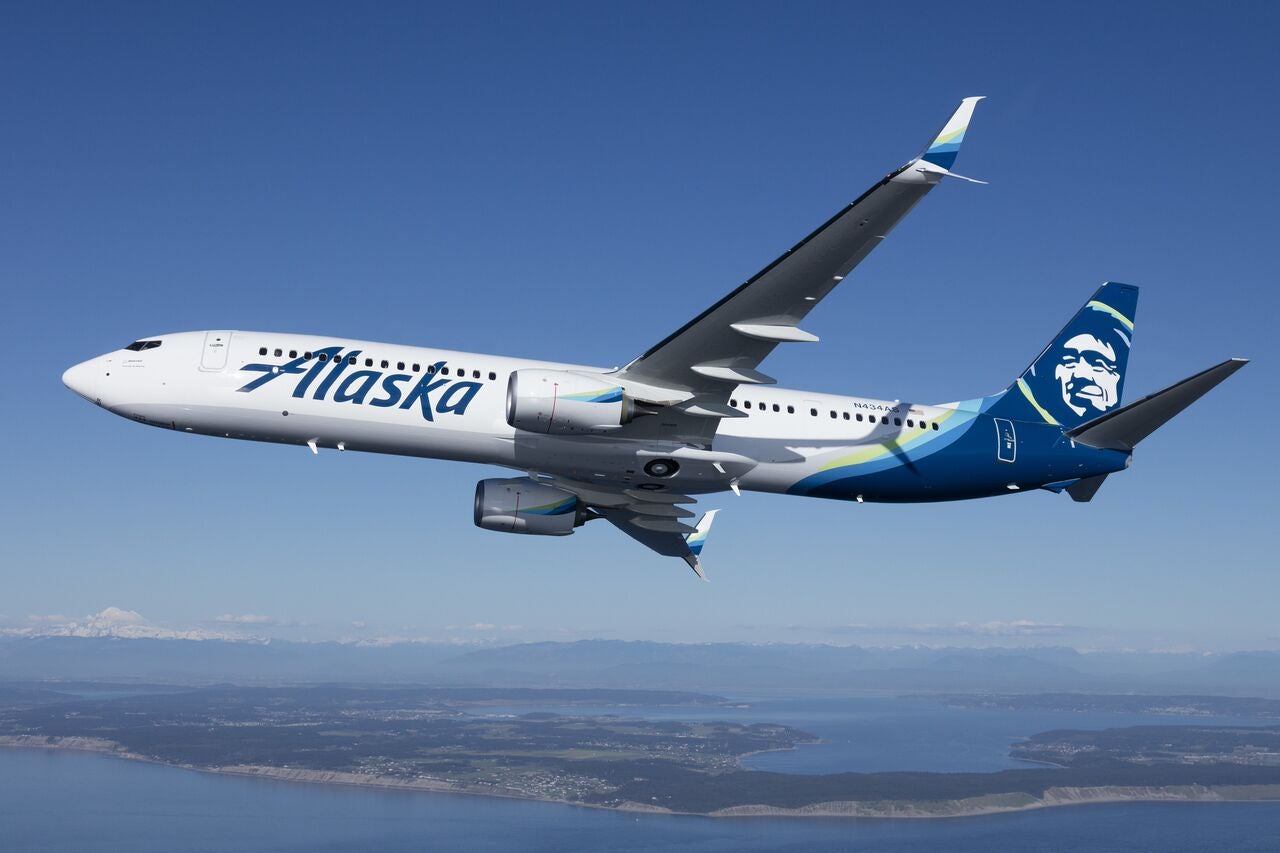 You can receive a companion fare in two ways: as part of a welcome bonus and for each year you hold the card. Currently, the welcome offers for the personal and business cards are:
Alaska Visa credit card : New applicants will earn 70,000 bonus miles, plus Alaska's Famous Companion Fare™ from $122 ($99 fare plus taxes and fees from $23), after you spend $3,000 or more within the first 90 days of opening your account.
Alaska Visa Business: New applicants will earn 40,000 bonus miles, plus Alaska's Famous Companion Fare™ from $121 ($99 fare plus taxes and fees from $22) with this offer after making $2,000 or more in purchases within the first 90 days of opening your account.
Then you can receive an extra companion fare for each year you hold the card. On the business version, you'll get this automatically each year; on the personal card, you must spend $6,000 or more on purchases within the prior anniversary year to unlock this benefit.
It's important to note that the companion fare is only valid on Alaska-operated flights. While Alaska has some terrific airline partners that give you access to some fantastic award redemptions like Cathay Pacific first class, you can't utilize the companion discount on those other carriers — and this has remained consistent since Alaska joined the Oneworld alliance.
Related: How to redeem miles with Alaska Airlines Mileage Plan

The benefit also carries some additional restrictions and items of note, as laid out on the carrier's companion fare FAQ page:
Both you and your companion must be booked on the same itinerary at the same time.
The certificate is valid for coach travel only, though the tickets are eligible for upgrades.
The companion fare must be redeemed on alaskaair.com by 11:59 p.m. Pacific Time on the expiration date, which is generally 12 months after being issued (though travel can occur after the expiration date).
Both travelers accrue miles on the tickets.
There are no blackout dates.
You do not have to be one of the travelers to use your companion fare. However, you must use your Alaska card to pay for the tickets. (More details under "Book for friends or family members" later on in the guide.)
If you're still waiting for the catch, let me save you some time. There really isn't one; this perk truly is a terrific option to save money every year on an Alaska Airlines flight.
Related: Alaska Airlines Visa credit card review
When do you receive the companion fare?
As far as timing goes, the terms indicate that the first year's companion fare will post to your Mileage Plan account six to eight weeks after qualifying for the sign-up bonus by reaching the minimum spending requirements. However, when I added the card to my wallet in 2018, I received the discount code just six days after my qualifying statement closed, so you hopefully won't be stuck waiting.
After year one, the terms indicate that you'll receive the companion code within two billing cycles after your anniversary date, which (for some reason) "will fall approximately six to eight weeks after the date on which you originally open[ed] your credit card account." However, my experience is a bit faster than that timeline.
My personal experience of receiving the companion fare
I originally opened my account on July 3, 2018, so I expected my companion fare each year to arrive in mid-to-late August. However, each subsequent fare has posted a bit earlier, even before the $75 annual fee hit my account:
My 2019 fare posted to my account on July 29, 2019 — less than four weeks after my account anniversary.
My 2020 fare posted to my account on July 22, 2020.
My 2021 fare posted to my account on July 21, 2021.
My 2022 fare posted to my account on July 21, 2022.
My experience has also shown that you won't receive notification of its arrival, so you'll need to periodically check on your own.
Related: How we are saving almost 50% on airfare for our cruise to Alaska
How do you use the Alaska Visa companion fare?
When it comes time to actually use the companion fare you've earned on the Alaska Airlines Visa credit card or the Alaska Airlines Visa Business card, the booking process is relatively straightforward. For starters, it's important to note that the benefit takes the form of a discount code that is automatically deposited into your account. To find it, simply log in to your Mileage Plan account, find the discount and companion fare codes section on the profile homepage and see if you have a valid code.
The actual code will be a series of letters and numbers directly underneath the "Shop" icon (which I have blurred out in the picture below):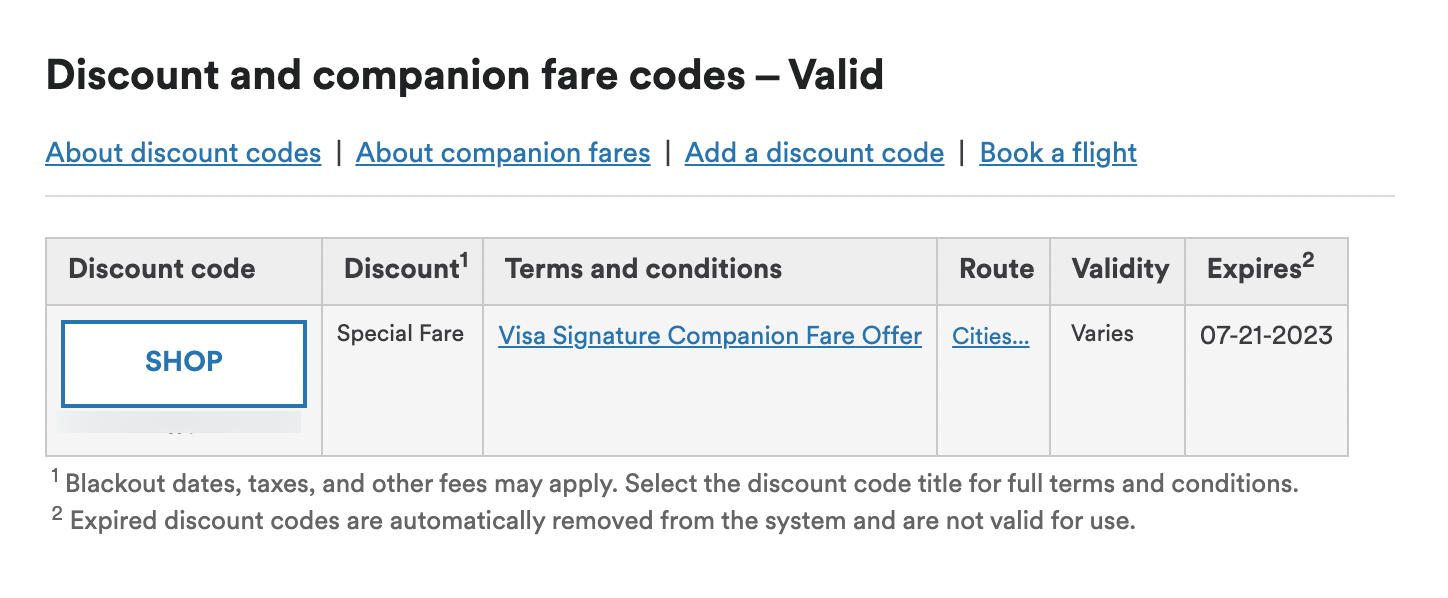 To start the search process, click the "Shop" icon to go directly to Alaska's search engine. The companion fare code should be automatically copied into the Discount or companion fare code field (again, mine is blurred out here):

From there, enter your search criteria and click "Find Flights," and be sure that you only have two passengers selected. If you try to book for more than that, you'll get an error message like this:

I learned this when trying to book a flight for me (the cardholder), my wife and my daughter. To get around this limitation, I simply booked my daughter and me together to use the companion fare and then created a separate reservation for my wife.
Once you've initiated the search, the results page will flag eligible itineraries with a green icon next to the price: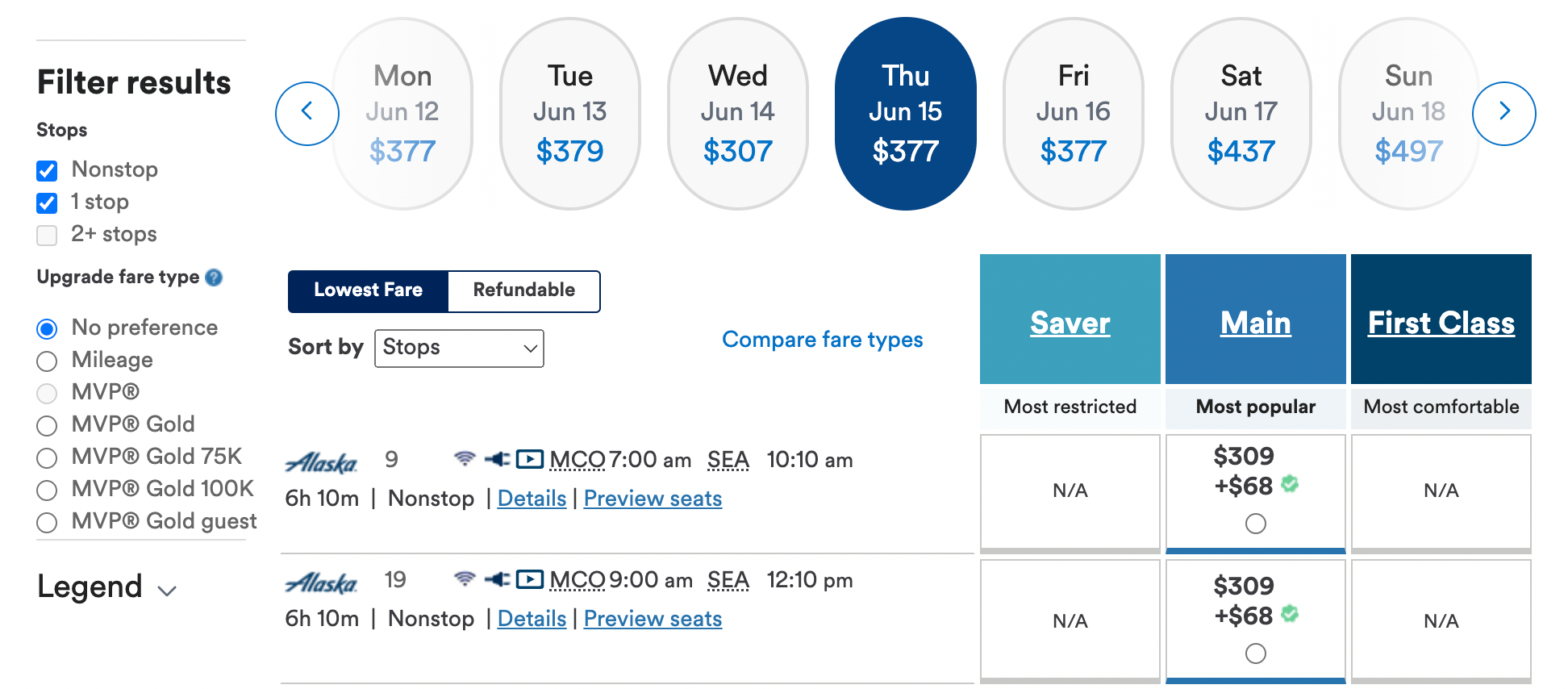 Find the flight you want and click "Add to Cart." The summary page will indicate that your base fare is the regular price, but your companion fare is just $99 (or $0, if you're using the first-year benefit on the personal Alaska Visa Signature).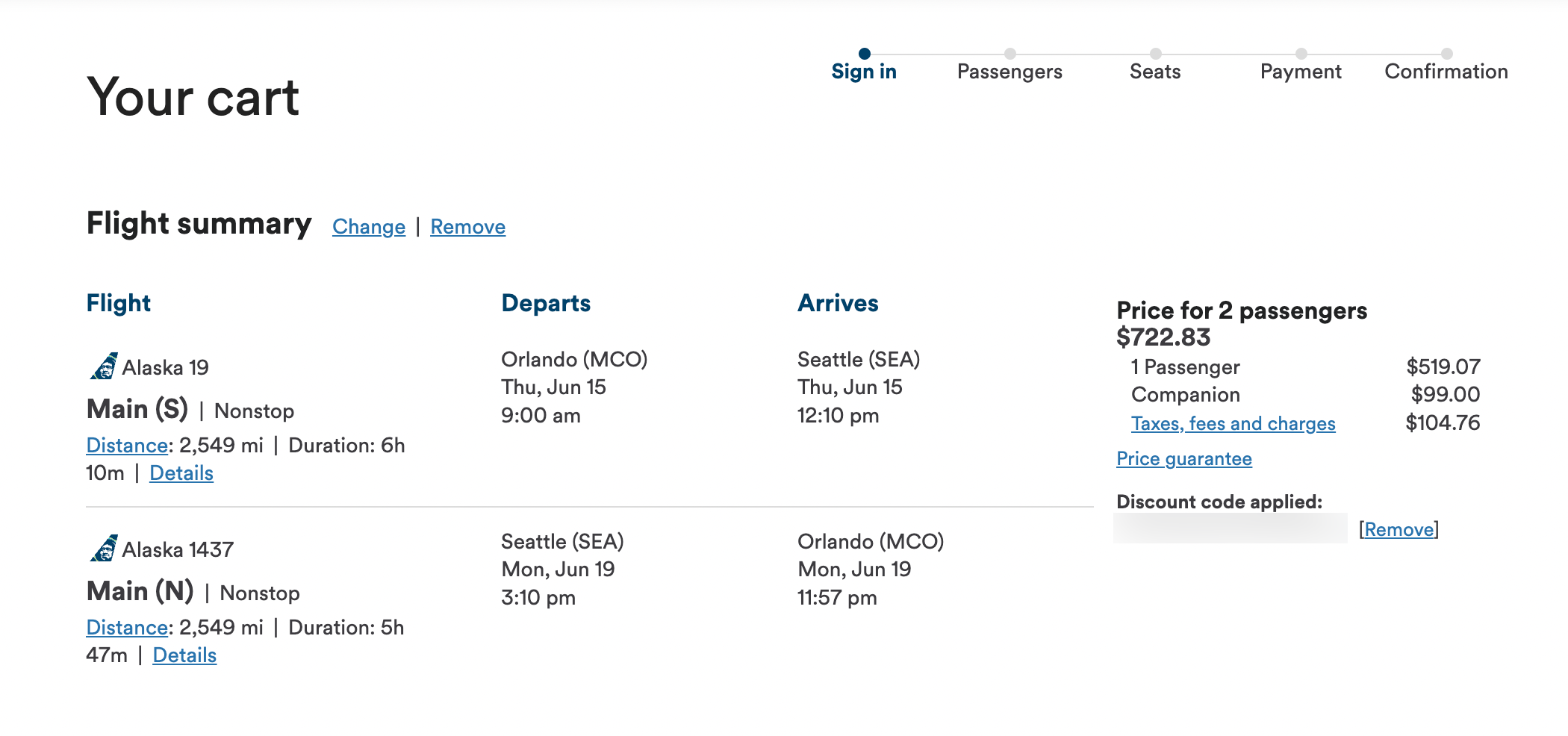 Expect to pay at least $22 more to cover additional taxes and fees for your companion, including:
U.S. flight segment tax.
U.S. passenger facility charge.
U.S. September 11 security fee.
Any state or country-specific fees (e.g., U.S. Alaska/Hawaii departure tax).
In the above example, the total for two passengers comes to $722.83. However, if I remove the companion fare code, the price jumps to $1,174.40.
In other words, on this sample round-trip itinerary from Orlando (MCO) to Seattle (SEA), the benefit saves $451.57 — more than six times the personal card's $75 annual fee.
How do you maximize the companion fare?
So how do you make the most of this companion ticket benefit on the Alaska Airlines Visa card? Well, it's actually quite hard not to get a lot of value from it. The personal Alaska Visa Signature card carries a $95 annual fee, while the Alaska Visa Business card is $70 for the company and $25 for each card on the account.
Meanwhile, outside of limited-time offers, your companion's ticket will typically cost $121 ($99 + ~$22 in taxes and fees). As a result, you'll need to book a ticket with a base fare of more than $196 to get more value than you're paying.
This may be harder on short hops up and down the West Coast, but if you're looking to fly further — potentially even to Hawaii — it's quite easy to find a ticket at this level to come out ahead.
Related: The best time to visit Hawaii this year
However, there are a few ways to stretch the value of this even further:
Include an open jaw
One of the best things about the Alaska companion fare is that you're not restricted to a simple, round-trip itinerary. You can book a one-way ticket, but you'd probably get the most value by using it in other ways. The first valuable alternative is to build in an open jaw, whereby you fly into one city and back out of a different one, allowing you to see two destinations on a single ticket. This ticket would still be eligible for the companion fare benefit.
To accomplish this, follow the same instructions above: log in to your account, go to the Discount and companion fare codes section and click Shop. From the search page, change from Round-trip to Multi-city and enter your search criteria. The results will again show you that your companion benefit is being applied.
Let's say you needed to book a flight from New York-JFK to the West Coast, and you wanted to fly into Portland (PDX) but then back out of Seattle (SEA). When you enter those parameters into the search fields, it allows you to combine these two flights into a single itinerary and leverage the companion fare benefit.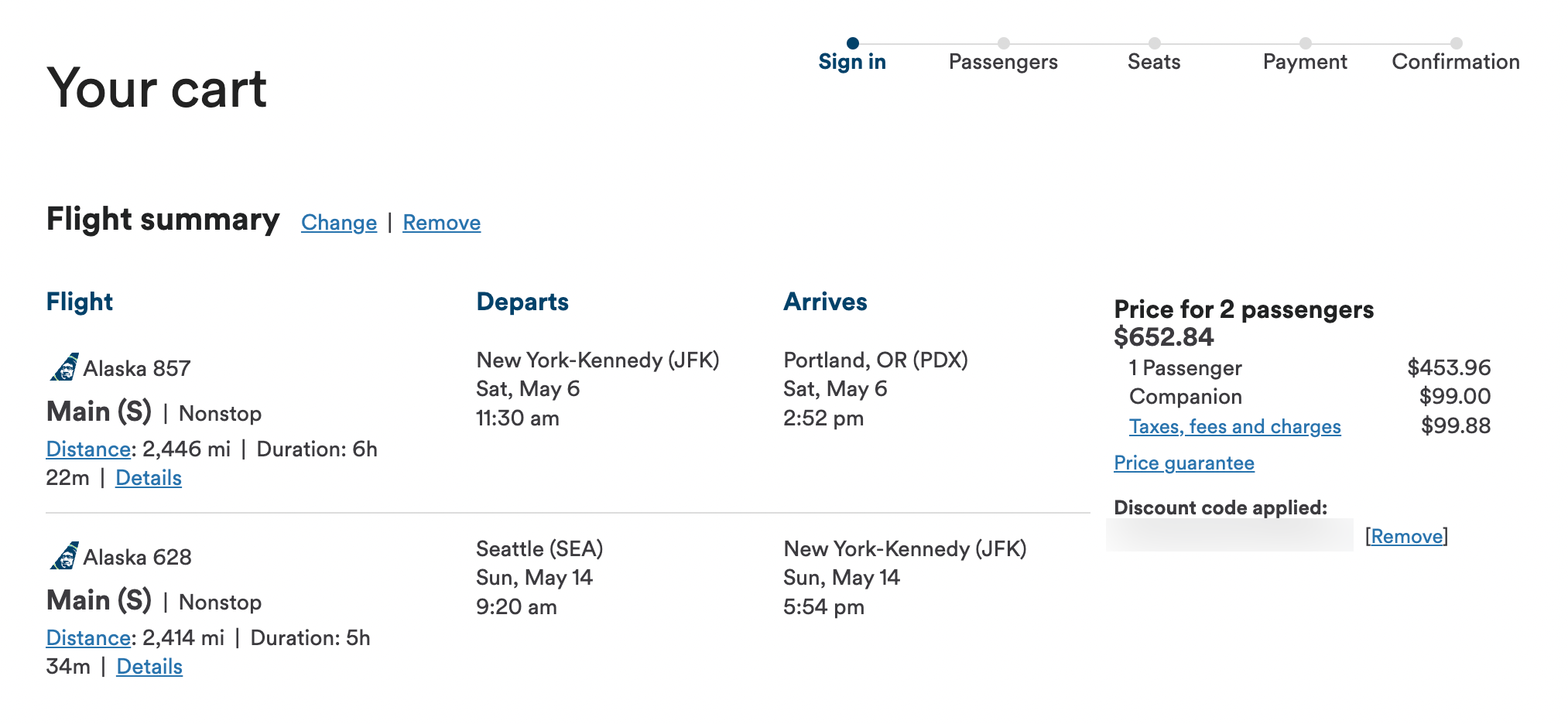 To get between the two cities, you could pick up a one-way rental car, take Amtrak or consider using the following strategy for maximizing this perk.
Include a stopover
Instead of being forced to "fill" the open jaw between the two cities in the above example, you could fill it with a flight and include a stopover. In this case, your itinerary becomes a flight from New York to Seattle with a stopover in Portland. While you do have to pay for your ticket and any additional taxes and fees for the companion's added flight, you're extending the value of the benefit even further.
Related: How to book free stopovers with Alaska Airlines Mileage Plan
Here's what the combined itinerary would look like: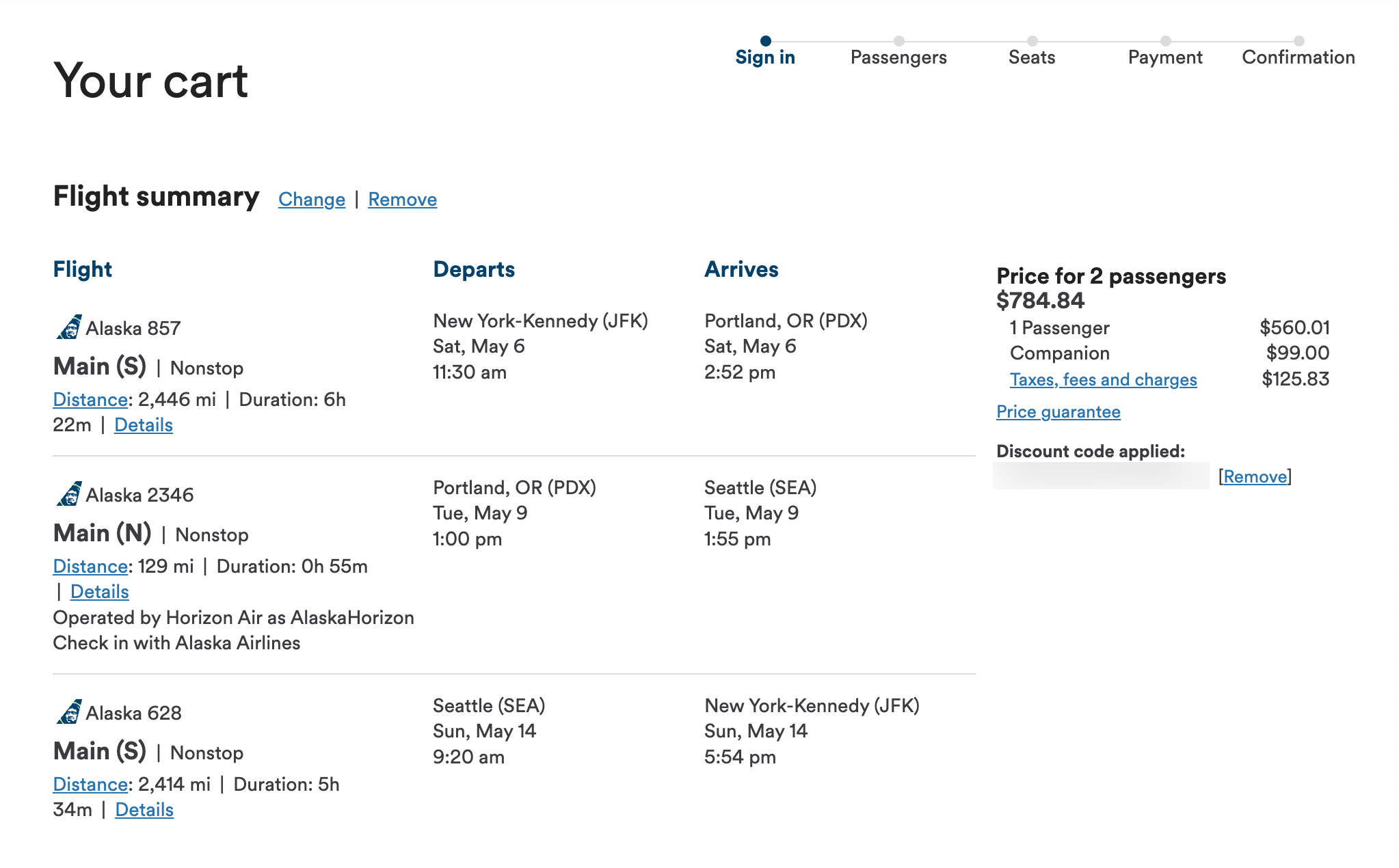 If you removed the companion code, the price for this itinerary jumps to $1,280.42, giving you nearly $500 worth of value on a single ticket.
Of course, you could also combine an open jaw and a stopover to extend the value even further. For example, let's say you were flying out of Orlando (MCO) and wanted to visit Hawaii and then stop in Portland on your way back home. Since the Aloha State is such a trek from Florida, you want to visit both Maui and Oahu, and you find a cheap one-way flight between the two islands.
Here are your multi-city search parameters:
Orlando (MCO) to Kahului (OGG).
Honolulu (HNL) to Portland (PDX).
Portland (PDX) to Orlando (MCO).
And here's a sample of the itinerary you would have: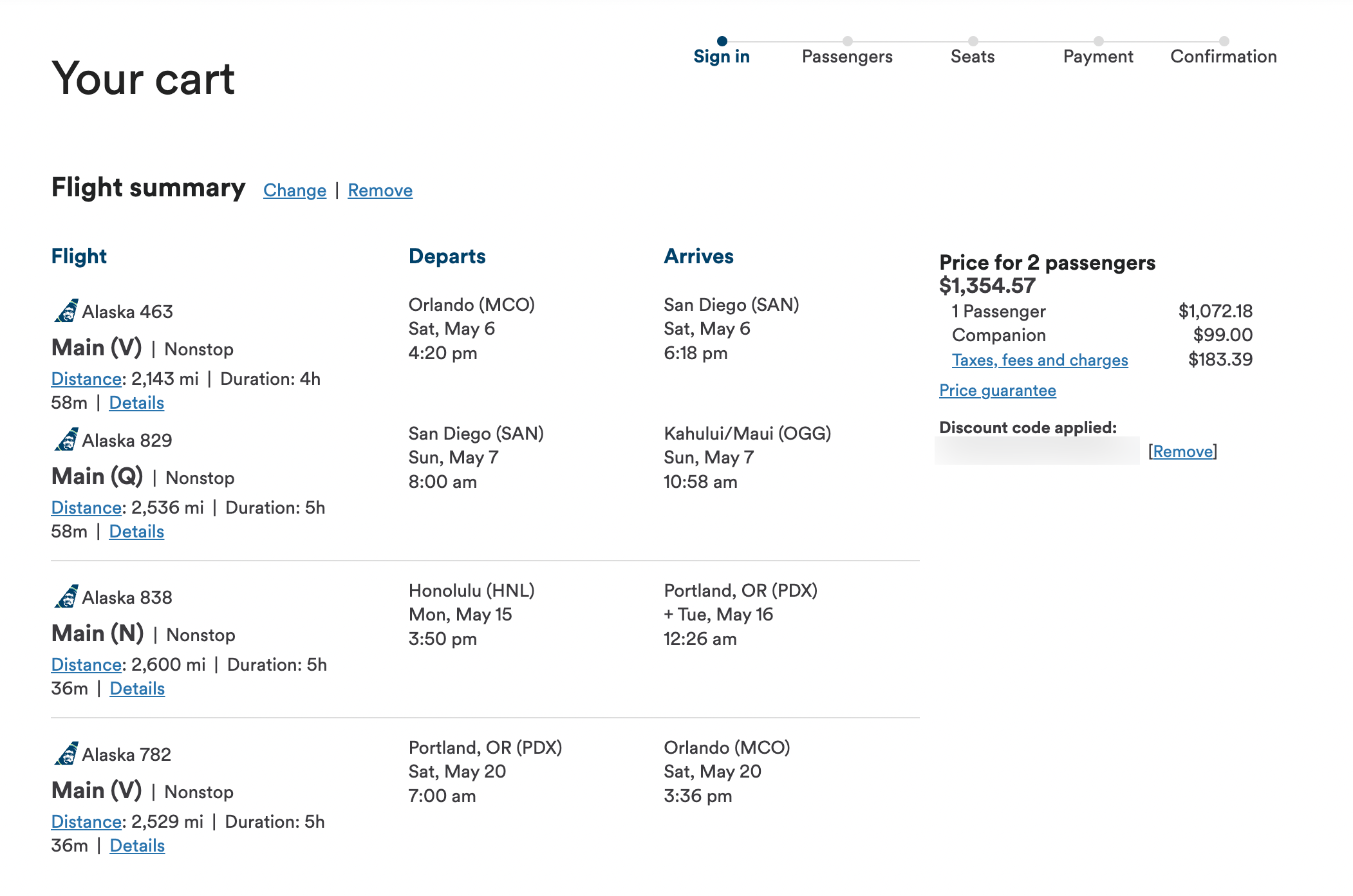 This trip gives you an overnight layover in San Diego, eight nights in Hawaii — split however you'd like between the islands — and five nights in Portland. In this example, removing the companion code would cause the price to jump from $1,354.47 to $2,368.76, giving you an incredible value of over $1,000.
Now, I know full well that this itinerary may not be a realistic comparison, but spending the equivalent of $700 per person for flights from Florida to Hawaii and back with a stopover in Portland isn't too shabby.
When I first got this card back in 2015, I actually booked a similar itinerary. We flew from Orlando to Maui (with an overnight layover in San Diego), spent four nights at the Andaz Maui at Wailea Resort, flew back to San Diego, spent four nights at the Andaz San Diego, and then flew home to Orlando. In that case, the companion fare saved us well over $750.
Now, it's worth noting that the terms & conditions of the companion fare state the following: "multiple stopovers not allowed." However, I was able to price out an itinerary with two stopovers: Orlando to San Diego (stopover 1) to Portland (destination) to Seattle (stopover 2) back to Orlando. The summary page indicated that the companion fare applied to the entire itinerary.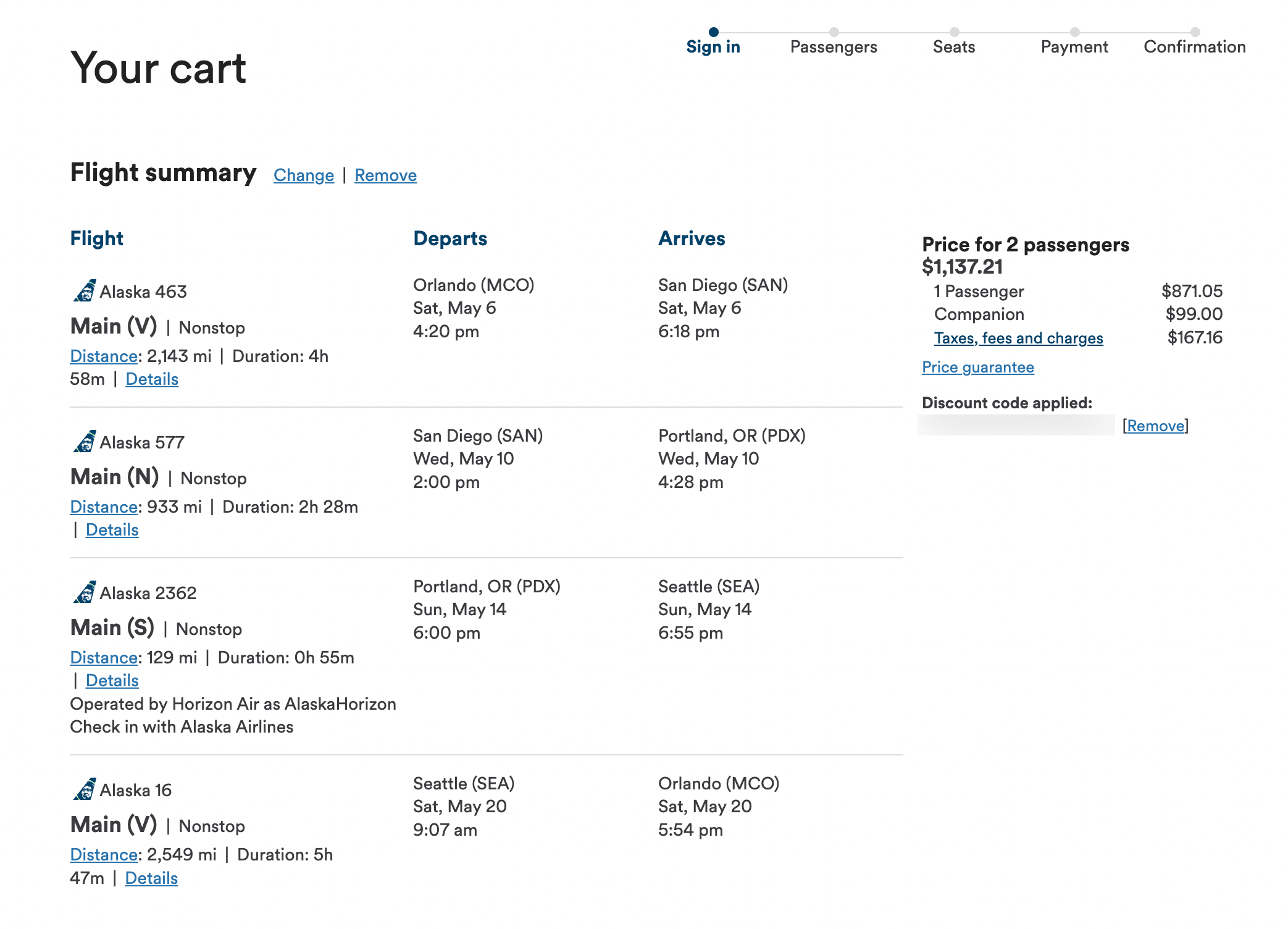 Just be aware that this routing is technically against the terms of the companion fare. And it looks like Alaska Airlines may be enforcing this prohibition of multiple stopovers going forward.
Related: Maximizing Alaska Airlines' award routing rules
Consider a status challenge
A third way to maximize the companion ticket is through a status challenge. While Alaska used to provide a straight-up status match for elite travelers from other airlines, the carrier now offers you a three-month trial of the equivalent tier of Mileage Plan MVP status. If you're a higher-tier member of another loyalty program, you may even enjoy MVP Gold or MVP Gold 75K status, putting you in a great position to snag an upgrade and enjoy other perks on your trip.
However, the most important thing to keep in mind is timing. Once your status challenge is approved, you'll have temporary status for three months — and you need to fly a certain amount during that time to maintain it:
MVP: 5,000 miles.
MVP Gold: 10,000 miles.
MVP Gold 75K: 20,000 miles.
As a result, be sure to wait until your flight is less than three months away to initiate the challenge. That way, you'll enjoy the corresponding perks on your trip, and the ticket booked with the companion fare will help you meet the requirements to extend your status for the rest of the year.
Book for friends or family members
This next suggestion is something I didn't initially realize when I opened the Alaska Visa the first time around, but it can really help if it looks like you won't be able to use this perk in a given year. Unlike most companion ticket benefits, you do not need to be one of the travelers to use it. This may seem shady, but it's actually spelled out on the card's Companion Fare FAQ page.
One of the questions is, "Who can use my companion fare code?" and here's the answer:
"The Mileage Plan™ member who owns the companion fare code must either be one of the travelers or the purchaser of the reservation. If the member is allowing two travelers to use his or her companion fare code, then the member's name must match the name on the credit card used to purchase the reservation."
One of our TPG writers did this for a colleague earlier this year, saving him nearly $700 on a transcontinental flight. I too have used this a few times for friends and co-workers when I had expiring companion fares that I wasn't going to be able to use.
As long as you pay for the reservation using your Alaska Visa card, this is absolutely permitted.
Related: Maximizing redemptions with Alaska Airlines Mileage Plan
Open two Alaska cards in your household
Another way to make the most of this perk is if you take multiple annual trips on Alaska or are booking a single trip for four or more travelers. If you and your spouse, partner or significant other both open the card, you'll each have your own companion tickets to use each year, and you don't even need to travel when using it. Here are some examples of when this could work well:
Family of four: A single companion fare for a family of four would cut the ticket price by roughly 25% in the first year; if both parents have one, the price will be slashed nearly in half.
Family of three plus a friend: If you're a family of three (like me), you could use a second companion fare to take a trip with your kid and allow them to bring along a friend.
Weekend with friends: Maybe you're planning a bachelor or bachelorette party in the next year or two. By having multiple companion fares spread across the group, you can save some serious cash for the trip itself.
Two trips as a couple: If you typically take at least two round-trip flights on Alaska as a couple, you can leverage two companion fares, where one pays for the first ticket and the other pays for the second. We have retired friends who travel to Seattle from Florida multiple times per year, and they each have an Alaska card for this very reason.
Keep it simple
Finally, you may want to consider keeping things simple. You don't have to add an open jaw, nor do you need to include a stopover. Sometimes it makes the most sense just to book the flight you need and still get some solid value from it.
That's exactly the position I found myself in a couple of years ago. We were looking for flights around the holidays to and from Salt Lake City (SLC), and we managed to grab a fantastic Economy Web Special on American Airlines for the return leg. However, the outbound portion was still up in the air — until I remembered that I had an unused companion fare (originally used for a flight at the end of a canceled trip to Asia).
I booked a ticket for me and my daughter using the certificate, though even with the discount, it still set me back $566.20 out of pocket (since it was around the holidays). However, when I saw that the one-way ticket had dropped to $369 per person (thanks to price tracking on Google Flights), I changed the flight and got $84 back into my Alaska wallet — which can be put toward a new flight.
The total cost of the itinerary? $482.20.
Paying over $240 per person for a one-way, domestic flight hurts, but without the discount, the flight would've been $737.20.
By paying a $75 annual fee on the Alaska Visa card, I saved $255 — and that's before taking into account the free checked bags we enjoyed on the flight.
Bottom line
When you hear "free companion ticket" in relation to a credit card, you probably start picturing all of the restrictions that would prevent you from using a benefit that seems valuable on the surface.
However, the companion fare benefit on the Alaska Airlines Visa credit card and the Alaska Airlines Visa Business card truly is flexible and simple to use on all manner of itineraries, though you are restricted to flights on Alaska metal.
If you've never considered these cards before, hopefully, this post has shown you just how valuable they can be.
Additional reporting by Ryan Wilcox.