Editor's note: This post has been updated with new information.
---
JetBlue Airways is celebrating its 23rd birthday this week with five days of deals. We'll keep this post updated throughout the week with new deals, but you can view the entire week of sales online.
Tuesday's deal can save you up to $600 when you bundle flights and a hotel or flights and a cruise through JetBlue Vacations.
Deal basics
Airline: JetBlue Airways.
How to book: Directly with the airline.
Travel dates:  Feb. 24 through Dec. 31.
Book by: Feb. 13 at 11:59 p.m. EST.
Save up to $600 on round-trip flight and hotel packages or round-trip flight and cruise packages booked through JetBlue Vacations. Savings are based on the total package price, including taxes and fees, as follows:
Use code BDAY25 to save $25 on a JetBlue Vacations package when you spend $500 or more.
Use code BDAY200 to save $200 on a JetBlue Vacations package when you spend $3,500 or more.
Use code BDAY350 to save $250 on a JetBlue Vacations package when you spend $5,000 or more.
Use code BDAY600 to save $600 on a JetBlue Vacations package when you spend $7,000 or more.
Sample itineraries
Here's how you can save on your next all-inclusive Caribbean getaway or weeklong family cruise.
For example, a five-night stay for two adults at the all-inclusive Hyatt Zilara Rose Hall resort in Montego Bay, Jamaica, with round-trip flights between Fort Lauderdale International Airport (FLL) and Sangster International Airport (MBJ) is regularly priced at $4,439.51 with travel dates from July 17 to July 22.

JetBlue's birthday savings promotion will save you $200, for a total of $4,239.51.
Also, booking through JetBlue Vacations gets you perks like a free shared airport transfer to the resort, a complimentary 30-minute massage and late checkout. All food, drinks and activities are included in Hyatt Zilara Rose Hall's pricing, as well.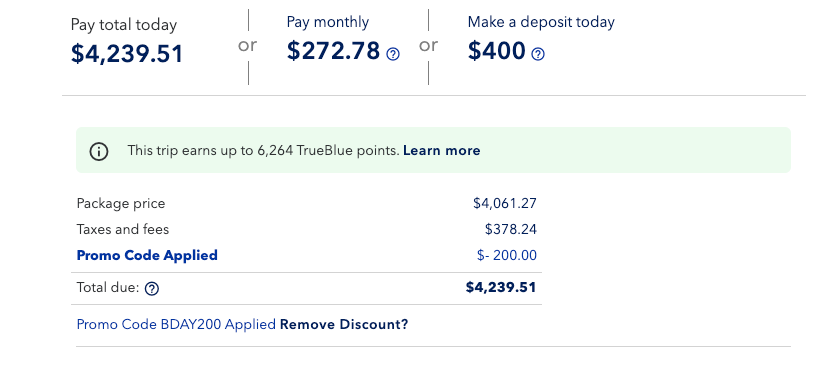 Or, how about taking the entire family on Royal Caribbean's Oasis of the Seas?

You can save $200 on a seven-night cruise for two adults and two children with stops in Cozumel, Mexico; Roatan, Honduras; Puerto Costa Maya, Mexico; and Royal Caribbean's private island Perfect Day at CocoCay in the Bahamas.
This package also includes round-trip flights between New York's John F. Kennedy International Airport (JFK) and Miami International Airport (MIA), departing Feb. 26 and returning March 5.

The total package price with this discount is $4,067.16. You can use those additional savings for a shore excursion, beverage package or prepaid gratuities.
Maximize your purchase
Use a credit card that earns bonus points on airfare purchases. For JetBlue frequent flyers, try the JetBlue Plus Card (6 points per dollar on eligible JetBlue purchases) or the JetBlue Card (3 points per dollar on eligible JetBlue purchases). Or try the Chase Sapphire Reserve (3 points per dollar on airfare) or Chase Sapphire Preferred Card (2 points per dollar on travel).
The information for the JetBlue Card and the JetBlue Plus Card has been collected independently by The Points Guy. The card details on this page have not been reviewed or provided by the card issuer.
Read: Best credit cards for JetBlue flyers
Bottom line

Bundling your flight and hotel (or cruise) by booking a vacation package can often be less expensive than booking them separately. Now you can save even more during JetBlue's 23rd birthday celebration.
Check back tomorrow because JetBlue is celebrating with special discounts all week long.
Related reading: