The easy paths many airlines and hotels laid down during the height of the COVID-19 pandemic are now long gone. In fact, Delta Air Lines is making it even harder than it was pre-pandemic to achieve its coveted Delta Diamond status with huge spending requirements.
I no longer have expedited ways to get to top-tier Alaska Airlines, American Airlines, Delta or Hyatt status, but that doesn't mean I'm giving up on elite status. It's just gotten trickier this year.
My elite status journey has been erratic, to say the least, over the past several years. I've done several status challenges, gotten some big wins and been forced to cut my losses in a few programs.
Hopefully, you'll be able to create your own path forward, and maybe my journey can teach you a few things too.
Alaska Airlines Mileage Plan: Dropped to Gold and giving up for next year
Alaska Mileage Plan has been my go-to elite status for the past several years, but that's coming to an end.
When I first started at The Points Guy in 2019, I signed up for a status challenge that got me to MVP Gold 75K and that kept me on the status hamster wheel with Alaska for the past several years. I moved to Montana during the pandemic, and that Alaska status got quite a workout, including traveling to a new country when Alaska launched service to Belize.
Related: How and why I went for Alaska's new top-tier MVP Gold 100K status
I even earned Alaska's new top-tier MVP Gold 100K when it was unveiled in 2021.
MVP Gold 100K members are given two international one-way upgrade certificates to use on American Airlines, and I was able to use one of mine to upgrade an American Airlines flight from Paris to New York. These upgrades are similar to American's popular systemwide upgrades.
Related: Everything you need to know about Alaska's partnership with Oneworld
Alaska has as many as five daily flights to its hub in Seattle from my then-home airport in Bozeman, Montana, which really ramped up my Alaska flying.
But all good things must come to an end. A move back to New York City last year made flying Alaska tougher than when I was in Big Sky Country.
I've also been pretty disappointed with recent changes to the program. It's harder and harder to find business-class seats for international travel on Alaska partners, which makes spending my more than 400,000 Alaska miles frustrating. Alaska instituted dynamic pricing on some awards, and they are now often more expensive than booking with other programs.
Alaska has also cut earning rates on partners like Cathay Pacific and dropped valuable partners like Emirates over the years.
Related: Big changes coming to Alaska credit cards
My passion for the Alaska program has cooled since 2019, so I'm saying goodbye to pursuing elite status with Alaska this year.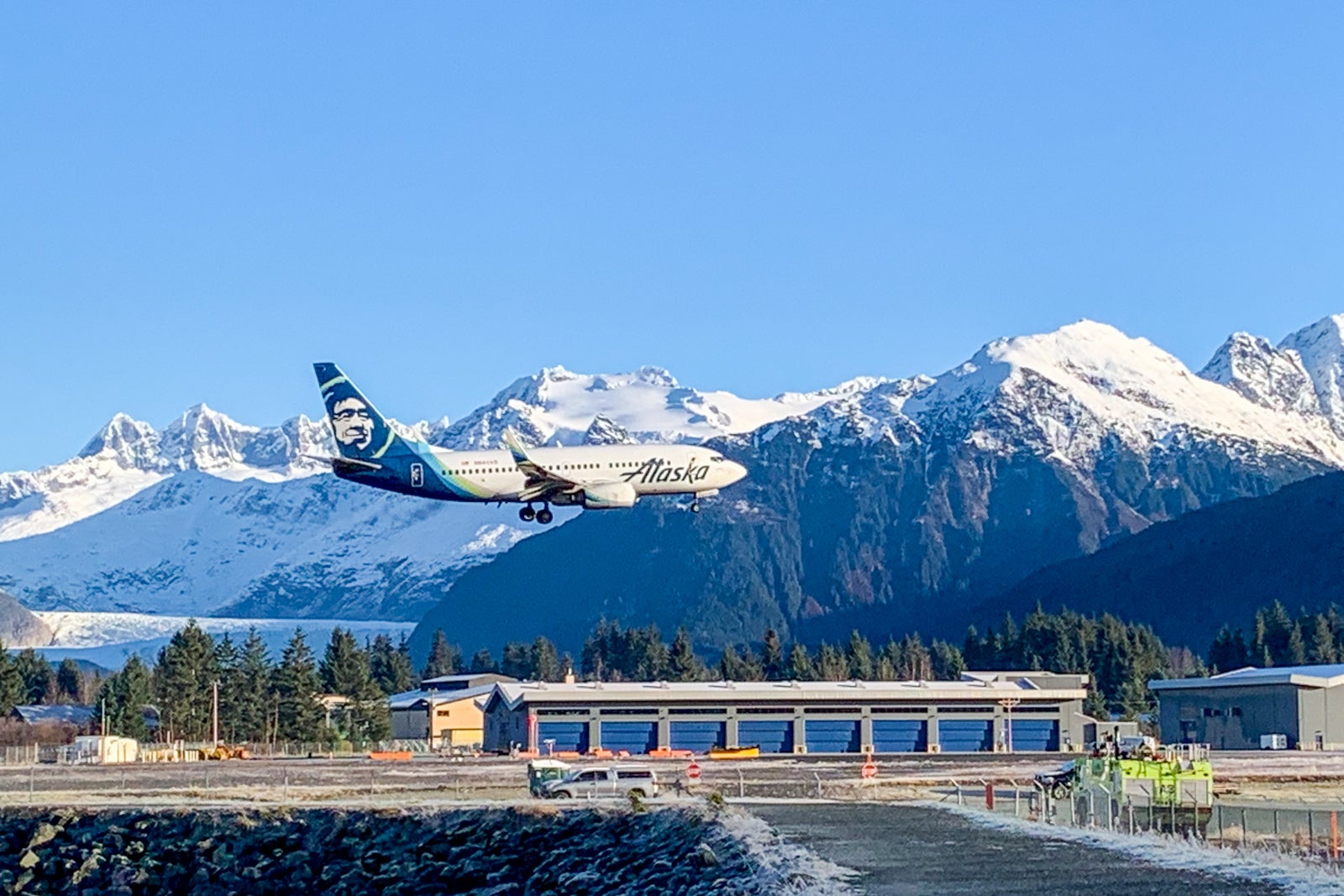 American Airlines AAdvantage: Platinum Pro status challenge activated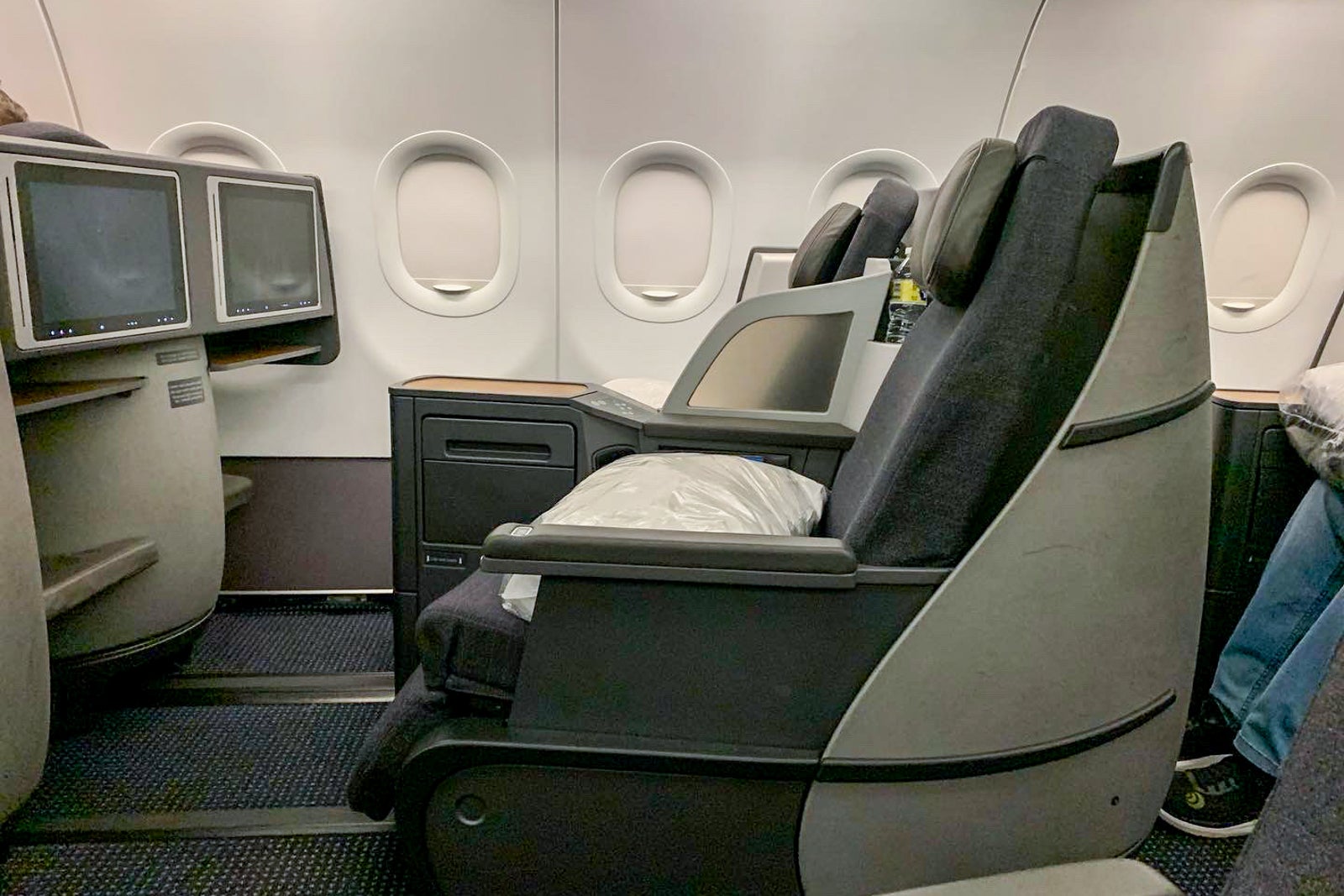 I held AAdvantage Executive Platinum status for many years, but in 2018, American started making it more difficult (and expensive) to achieve top-tier status.
That's when I decided to try a few new programs. I did status challenges for both Delta and Alaska, and I mostly stopped flying with American. Still, I managed to hit Platinum Pro in 2019 and that status was then extended for several years during COVID-19. My Platinum Pro status finally expired at the end of January 2022, though, and I dropped to the dreaded "member" status.
But something interesting happened during that period. Alaska and American became Oneworld partners, and because I had top-tier Alaska Mileage Plan MVP Gold 100K, I ended up with status when flying American. I even wrote about how I'd been upgraded a ton as an Alaska elite member flying on American Airlines.
So, flying Alaska sent me back into the arms of American AAdvantage.
Related: What is American Airlines elite status worth?
Fast forward to 2022 and I wasn't able to requalify for Alaska MVP Gold 100K, dropping down two levels to MVP Gold. But then, American did something to lure me back into the Oneworld fold.
American unveiled a new "Instant Status Pass" which granted me Platinum Pro status until the end of March with the opportunity to extend it through July 28 if I earn 42,000 Loyalty Points by March 28. So far, I've already earned 23,471 Loyalty Points. I should be able to keep the status with a few more trips I have booked before the end of March. If I earn a total of 67,000 Loyalty Points by then, I could even get boosted to Executive Platinum.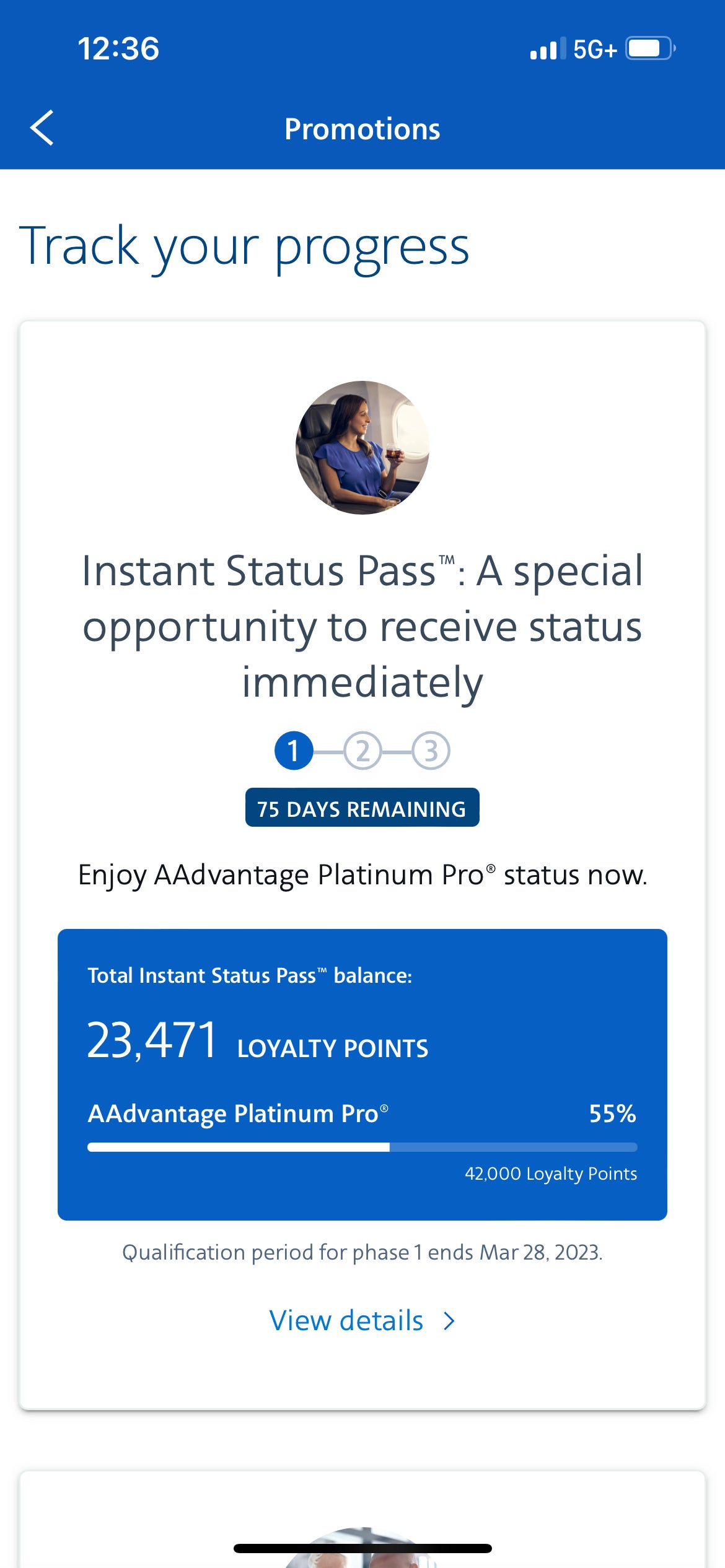 One thing American got right — at least for this consumer — is luring me back to the AAdvantage program! I'm already booked on American Airlines flights to Georgetown, Guyana; Los Angeles; Miami; Paris; and San Andres Island in Colombia.
Delta Air Lines SkyMiles: Going for Diamond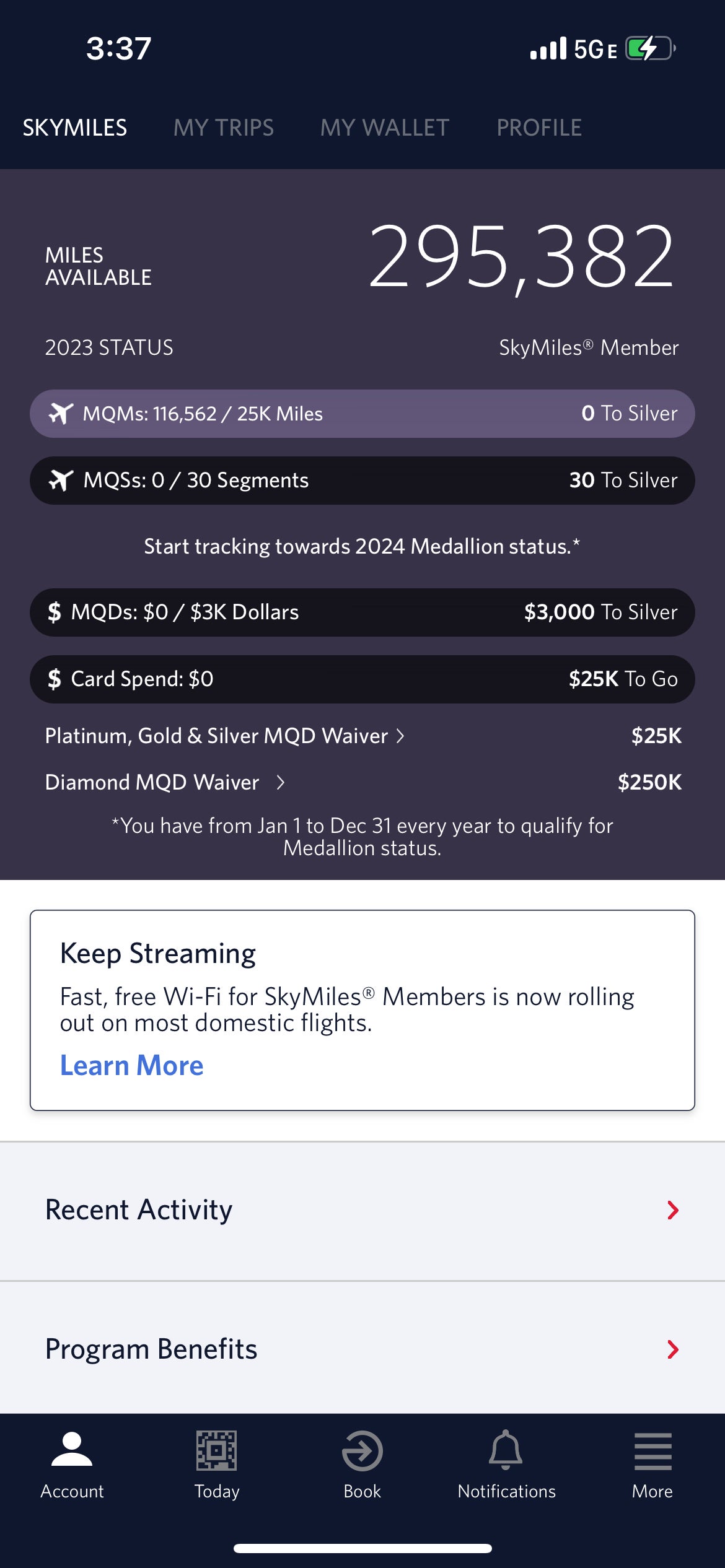 I've been coasting as a Delta Platinum member ever since I did a status challenge back in 2019. You can sign up for a Delta Air Lines status challenge here.
My timing was great. I've managed to hold on to that status level since Delta made it easier to keep status and to requalify during the pandemic.
I ended 2022 with a whopping 191,152 Medallion Qualification Miles, thanks to rollovers. That would have been enough to get me Delta Diamond status before it added an onerous spending requirement of $15,000 back in 2020 and raised it again this year.
My total spending for 2022 was $6,816. That's not even close to enough to get Platinum, let alone Diamond.
The only reason I made it to Platinum is that I spent a ton on my Delta SkyMiles® Reserve American Express Card which gives a Medallion Qualification Dollar waiver up to Platinum status if you spend more than $25,000 on the card in a calendar year. The $550 annual fee is steep (see rates and fees), but often worth it for those chasing status.
Related: Why I'm keeping my Delta Reserve card even when I'm flying less
The good news about not qualifying for Diamond is that I rolled over many of my MQMs into 2023. Delta automatically rolls over MQMs you earn above your earned status tier. So if you end the year with 100,000 MQMs and qualify for Platinum (which requires 75,000 MQMs), you'll start the next year with 25,000 MQMs.
I ended up getting more than 116,000 Delta rollover MQMs. That means if I spend $25,000 on my Reserve card again, I'll get Platinum outright. The required number of MQMs for Diamond is 125,000, so I'll easily get the MQMs I need (just 9,000 as of now).
Of course, the problem is the whopping 20,000 MQDs required to earn status. And to make matters worse, the MQD waiver for Diamond requires a huge $250,000 in spending on a Delta card! That's a "no" for me.
I may try to figure out a way to fly enough to achieve that MQD requirement through tickets purchased on partner airlines. In fact, I'm about to board a KLM flight in business class to Bangkok. I will credit that flight to Delta for increased MQDs.
Still, I'm not sure I'll be able to make it to Delta Diamond even with partner MQD runs. Regardless, it will be fun trying to find out!
World of Hyatt: Dropping to Explorist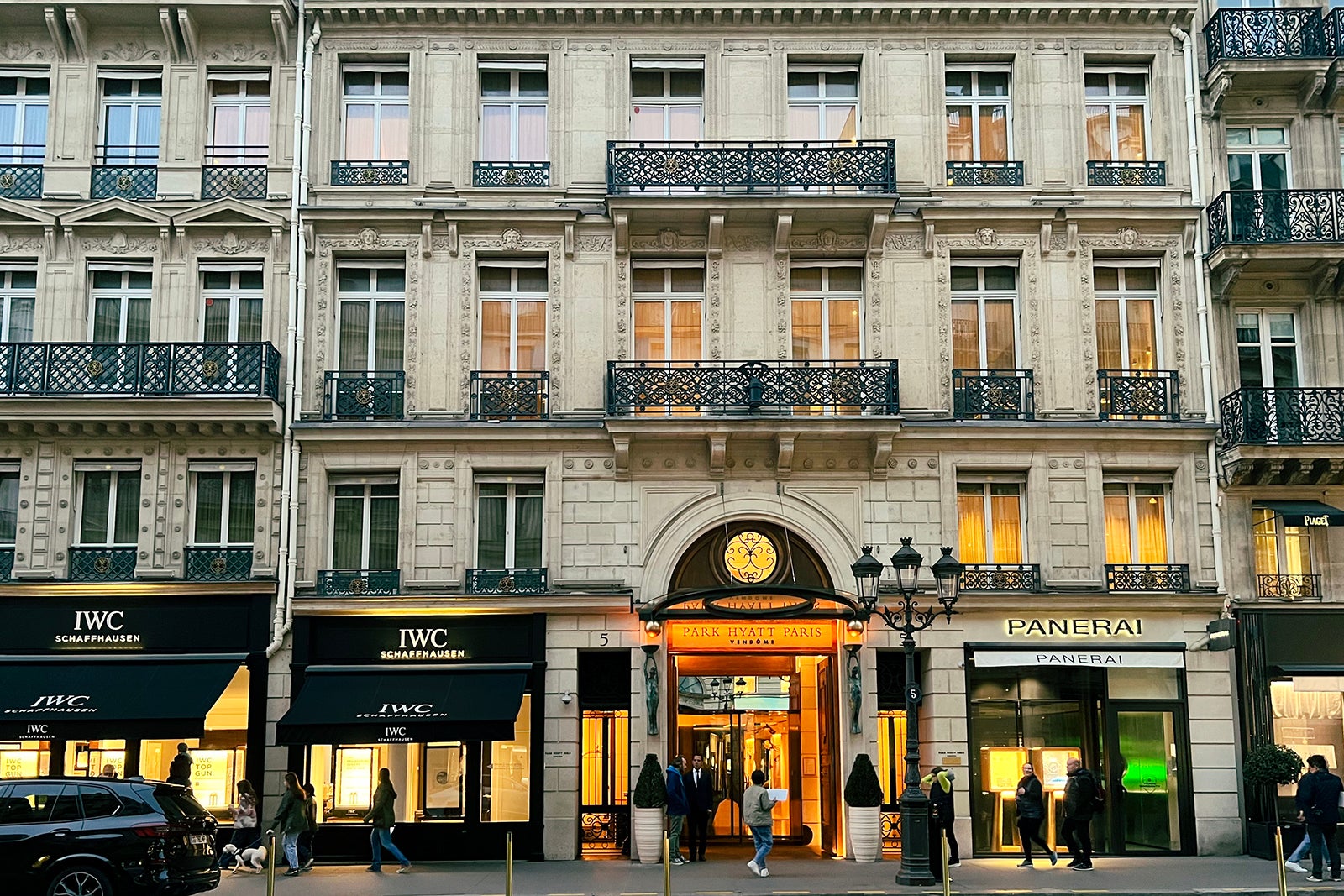 I've been loving Globalist status after an incredible offer at the end of 2020 to get World of Hyatt Globalist status through 2023, but unfortunately, easy street is now closed.
There were no big shortcuts to Globalist over the past year, and I couldn't get to 60 nights at Hyatt hotels.
Related: How a successful status challenge rekindled my love affair with Hyatt
I was able to earn my way to Explorist, which is great, but I will no longer get those sweet suite upgrade certificates that I was able to use for a suite at the Park Hyatt Paris-Vendome. I'm going to miss the guaranteed 4 p.m. late checkout, free breakfast and better upgrade odds, too.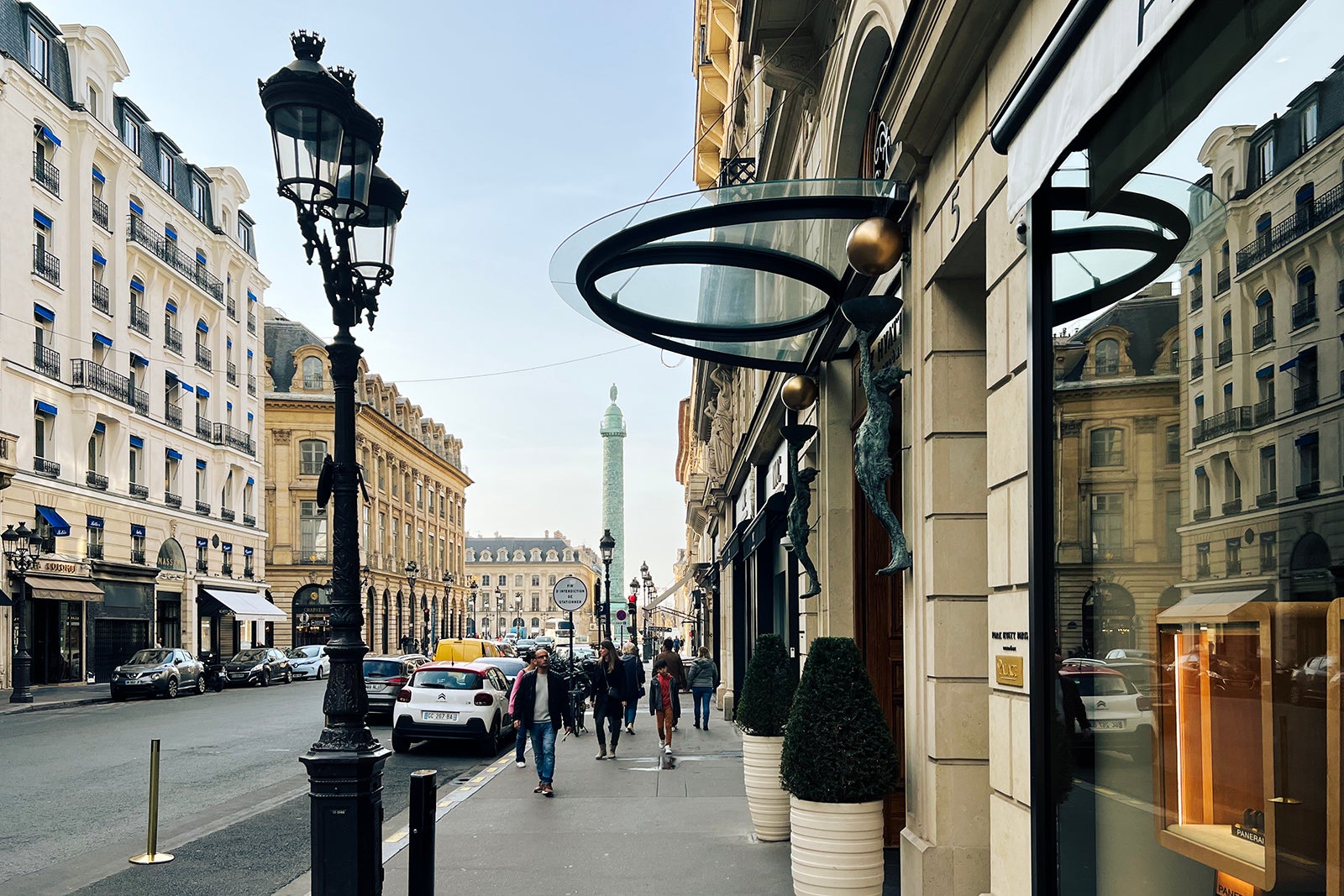 I'll keep both my World of Hyatt Credit Card and the World of Hyatt Business Credit Card so I can still get 10 elite nights each year toward status, but I'm going to miss Globalist.
Since points transfer from Chase Ultimate Rewards, though, I can easily get more Hyatt points even though I won't be earning quite as many as I would if I were still Globalist.
Related: What is World of Hyatt elite status worth?
And I'm still enjoying Hyatt Globalist status for a few more weeks. In fact, I was just upgraded to a suite at the Hyatt Regency Toronto last week. I bet those upgrades are fewer and farther between later this year, but I still will find lots of value in being Hyatt Explorist. Who knows, maybe it will offer another fast track to status at some point in the future.
Hilton Honors: Diamond forever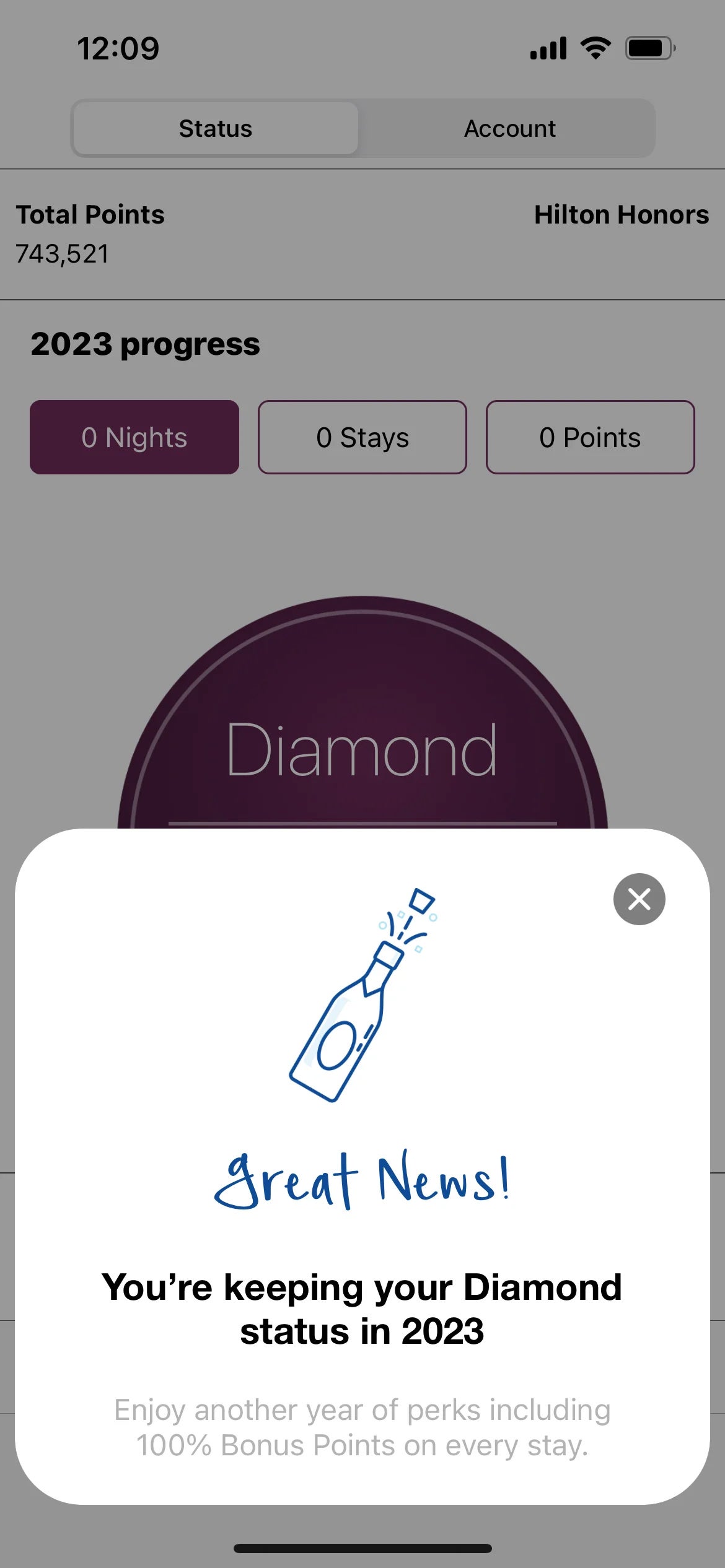 This is the easiest of my top-tier status achievements. While I only stayed at Hiltons four times last year, I still have the program's highest status level — Diamond. So how did I manage that? Simple: It's a perk of holding the Hilton Honors American Express Aspire Card.
Related: What is Hilton elite status worth?
The card comes with Hilton Diamond status for as long as you have the card. While the card has a hefty annual fee of $450 (see rates and fees), there are other valuable inclusions such as a $250 annual Hilton resort credit, a $250 airline credit every year and a free weekend night when you open the account and each year on your card anniversary.
The information for the Hilton Aspire Amex Card has been collected independently by The Points Guy. The card details on this page have not been reviewed or provided by the card issuer.
Related: How to choose the best Hilton credit card for you
I've now had Hilton Diamond status since 2020.
Related: Why Hilton's top card has me switching my loyalty
While I certainly have had some nice stays at Hilton properties, including the stunning Conrad Bora Bora Nui, a few have been not so great.
I have been able to use the airline fee credits, but I didn't get to use the $250 resort credit last year. D'oh!
I haven't gotten many upgrades at Hilton properties, and it's not as rewarding as Hyatt Globalist, but I will keep the Aspire card and my Diamond status for 2023 even though I have no Hilton stays currently on the calendar.
Marriott Bonvoy: Platinum via credit cards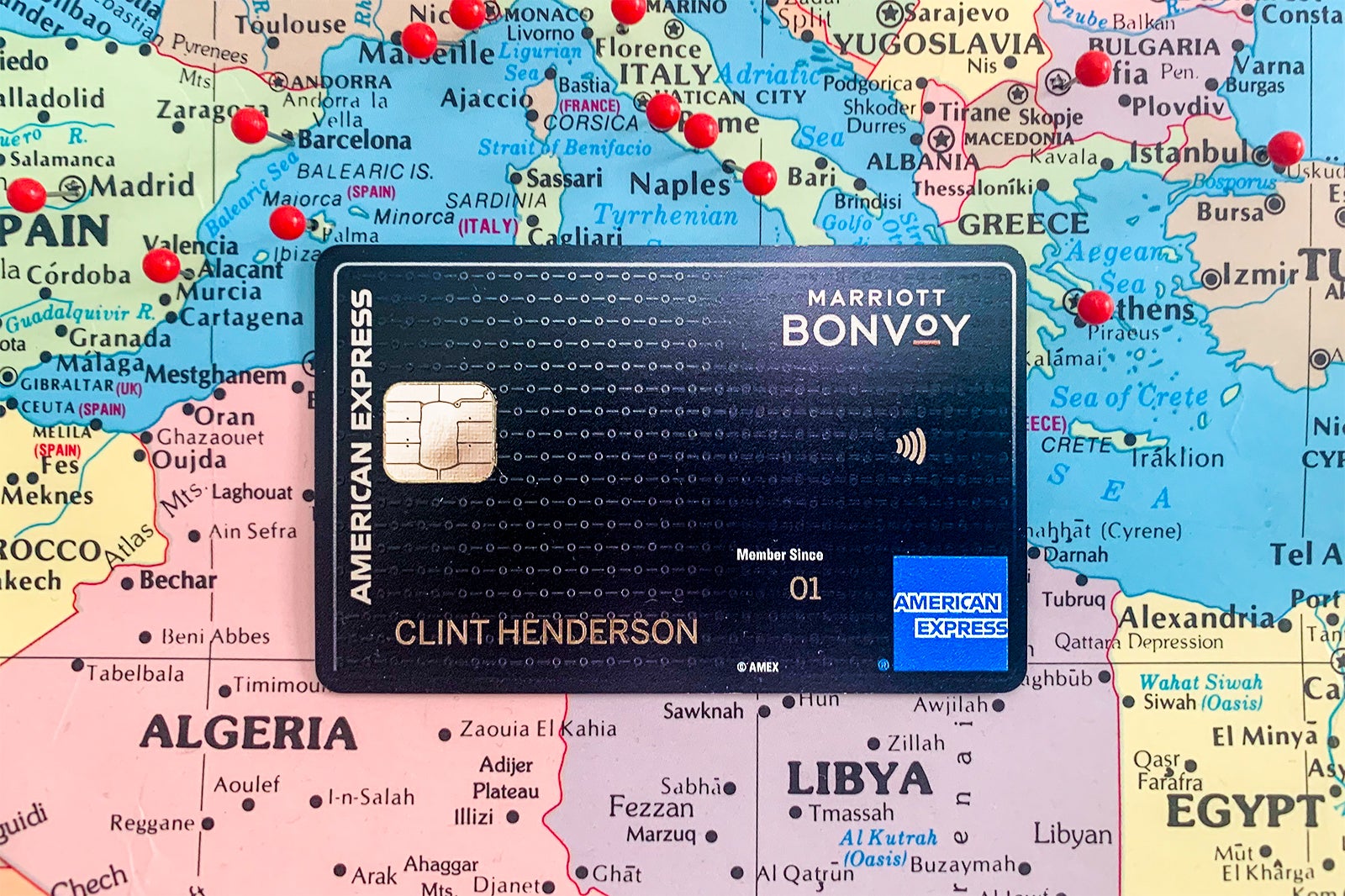 I'd been very content with Marriott Bonvoy Gold for the past several years courtesy of The Platinum Card® from American Express, which gives status in several hotel programs, including Marriott.
Then came 2022, and the surprise from American Express that holders of the Marriott Bonvoy Brilliant® American Express® Card would get Platinum status for as long as they hold the card. I applied for the card, and I'm now Platinum. That was an unexpected treat. 
I only stayed at a few Marriott hotels in 2022, but the Westin Book Cadillac in Detroit and the Sheraton in Tel Aviv were lovely.
I won't go out of my way to stay at Marriott properties this year, but I have several trips booked, including a big redemption in Guyana. Having Platinum status will make those stays better with benefits like guaranteed late checkout, lounge access and complimentary breakfast at many Marriott brands.
Related: Guide to Gold status with Marriott and Hilton via your American Express Platinum
Even though many of our favorite Marriott Bonvoy properties now cost more points due to dynamic pricing, I still find that Bonvoy points come in handy.
There's no way I'll be able to do the additional 25 nights with Marriott to unlock Titanium in 2023. In fact, I don't think I'm going to be able to even get to 50 nights, though the idea of opening the Marriott Bonvoy Business® American Express® Card is intriguing.  
For now, I'll keep the Brilliant card open and enjoy Platinum status without worrying about how many nights I need to stay.
IHG One Rewards: Platinum via credit card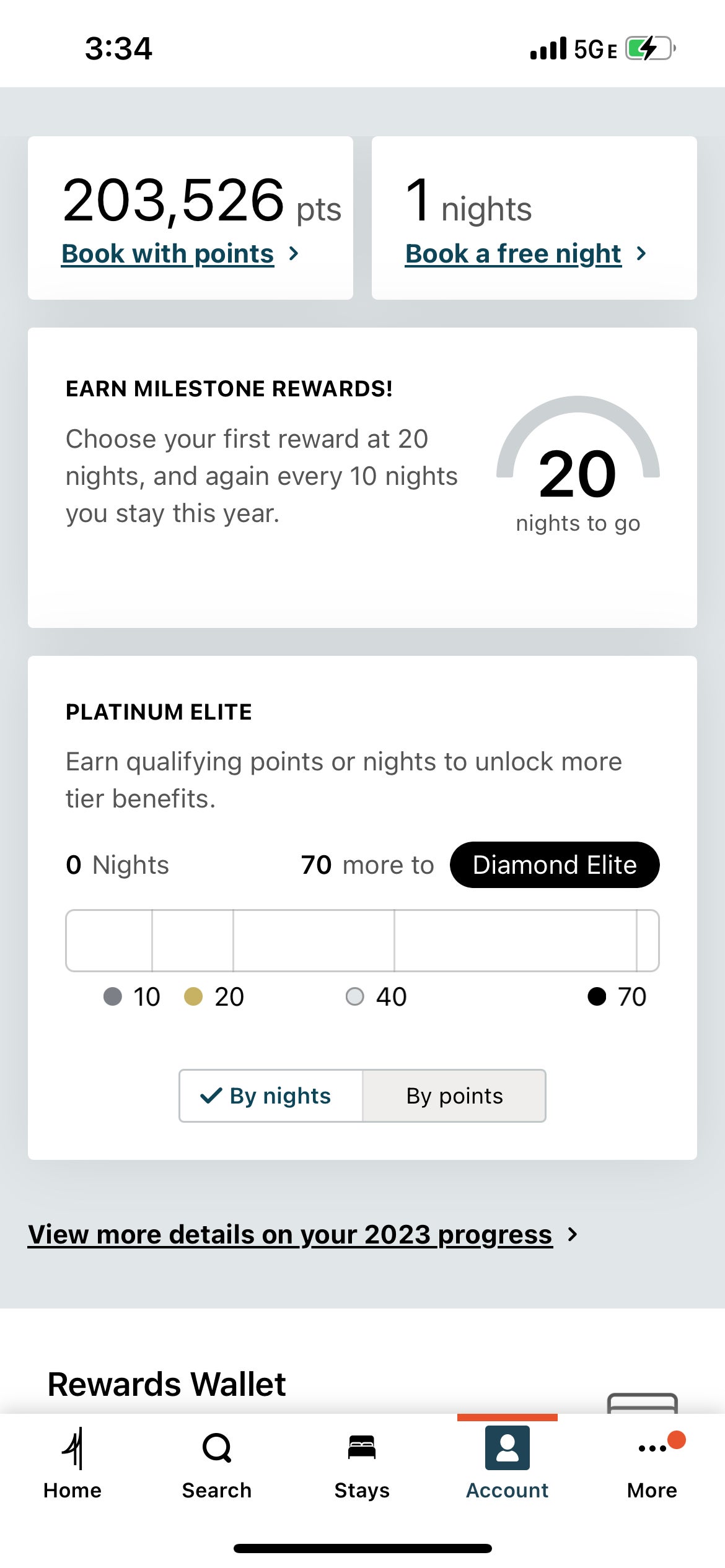 I ended up with a huge amount of stays at InterContinental properties in 2022, including the stunning Six Senses Shaharut, the InterContinental David Tel Aviv and a stay at the Hotel Indigo Detroit Downtown using a free night certificate.
That wasn't enough to qualify for Platinum status with IHG One Rewards, but that's OK … I keep it simply by virtue of holding the IHG Rewards Club Select card (no longer open to new applicants).
The card includes a handful of nice perks (such as a fourth night free on award stays and better bonus categories), but best of all it gives you Platinum status and a free night award to use at lower-category properties.
Related: A review of the InterContinental Los Angeles Downtown
I used mine the first year I had the card in Singapore, and I had an incredible stay at the Kimpton Armory Hotel in Bozeman back in 2021.
The information for the IHG Rewards Club Select card has been collected independently by The Points Guy. The card details on this page have not been reviewed or provided by the card issuer.
Related: Automatic Platinum status with the IHG Premier Card
The new version of the card is the IHG Rewards Premier Credit Card, which also gets you Platinum status — but keep in mind the annual free night award is capped at properties costing 40,000 points or less a night. The annual fee is $99.
I won't be going for Diamond Elite status, which gets you free breakfast and early check-in, because I'd need to stay 70 nights to make that happen.
Instead, I'll keep my IHG card for status (and a free night) this year. I'm also sitting on a nice stash of points. Let's see what unfolds this year, but I don't plan on any IHG stays so far.
Bottom line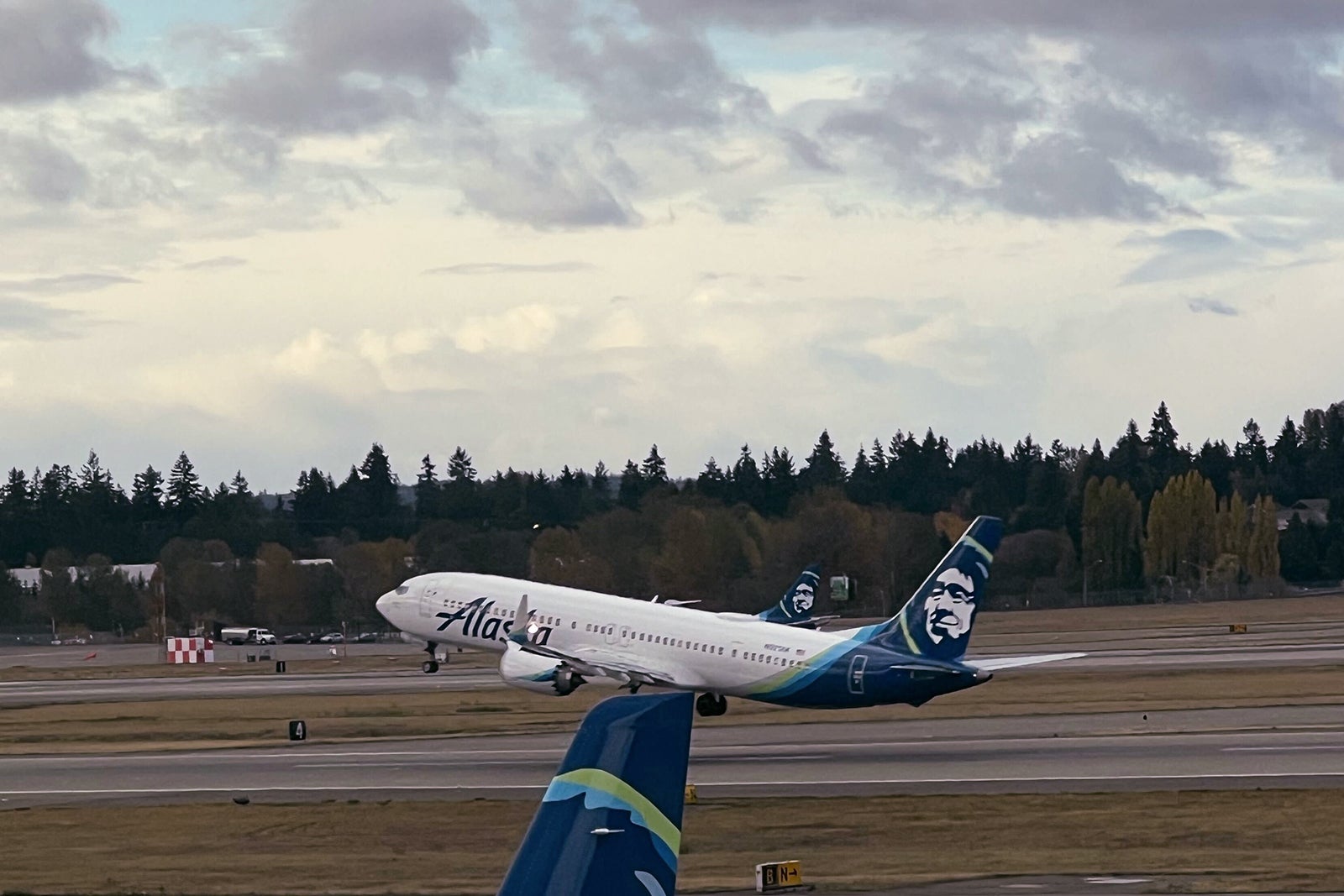 I was pretty sad at the end of 2022 when I realized I was going to lose my top-tier status with Alaska and would drop down to Explorist with World of Hyatt, but a status challenge with American that will keep me a Platinum Pro, automatic Diamond status with Hilton and the remote possibility of top-tier Delta Diamond status this year have me more excited than I thought I'd be in January 2023.
I'll have fun trying to keep up with Delta and American, and I may do a little more exploration of Hilton and Marriott since I've been focused pretty exclusively on Hyatt in the past few years.
I'm looking forward to being more of a free agent in 2023 — and you can be sure I'll be reporting back with what I find out.
For rates and fees of the Amex Delta SkyMiles Reserve Card, click here.
For rates and fees of the Hilton Honors Amex Aspire Card, click here.