And then there were 32 … brands, that is, at the world's largest hotel company.
Marriott officially launched what it anticipates will be its most budget-friendly extended stay brand on Monday. Anthony Capuano, Marriott's CEO, first hinted on a company earnings call last month that a new brand was on the cusp of being announced. It has now arrived, mere weeks after the company brought in its 31st brand with the official acquisition of Mexico-based City Express, an affordably priced mid-tier chain.
While the latest brand — dubbed Project MidX Studios — doesn't officially have a name yet, it is the biggest throttle forward to date among the major hotel conglomerates battling it out for budget-minded travelers. Hilton recently launched an extended-stay brand under the working title Project H3. Hyatt launched its Hyatt Studios brand last month and is the only major extended-stay brand with an official name set in stone.
Earlier in the year, Hilton also launched a so-called "premium economy" brand called Spark, but it is not an extended-stay offering.
Marriott's MidX Studios concept already has more than 250 potential development opportunities in the works compared to the similar extended-stay brand launches by Hyatt and Hilton, which both touted more than 100 development talks apiece for their respective projects.
"Marriott has long believed in having the right accommodations in compelling destinations at the right price point," Capuano said in a statement. "As consumers look for new, flexible accommodation solutions, we are thrilled to announce our plans to launch an affordable midscale extended stay offering to meet the needs of guests seeking long-term comforts at a moderate price point."
The details on MidX Studios
Marriott leaders touted affordability both for the people staying at a future MidX Studios as well as the developers fronting the bill to build each hotel.
The brand aims to appeal to guests staying for 20 nights or longer at a hotel and who want to pay around $80 per night. Guest suites will feature single or double queen-size beds as well as kitchens and an abundance of storage areas. Common areas will include guest laundry facilities, a gym, pay-and-go retail spaces and pet-friendly spaces.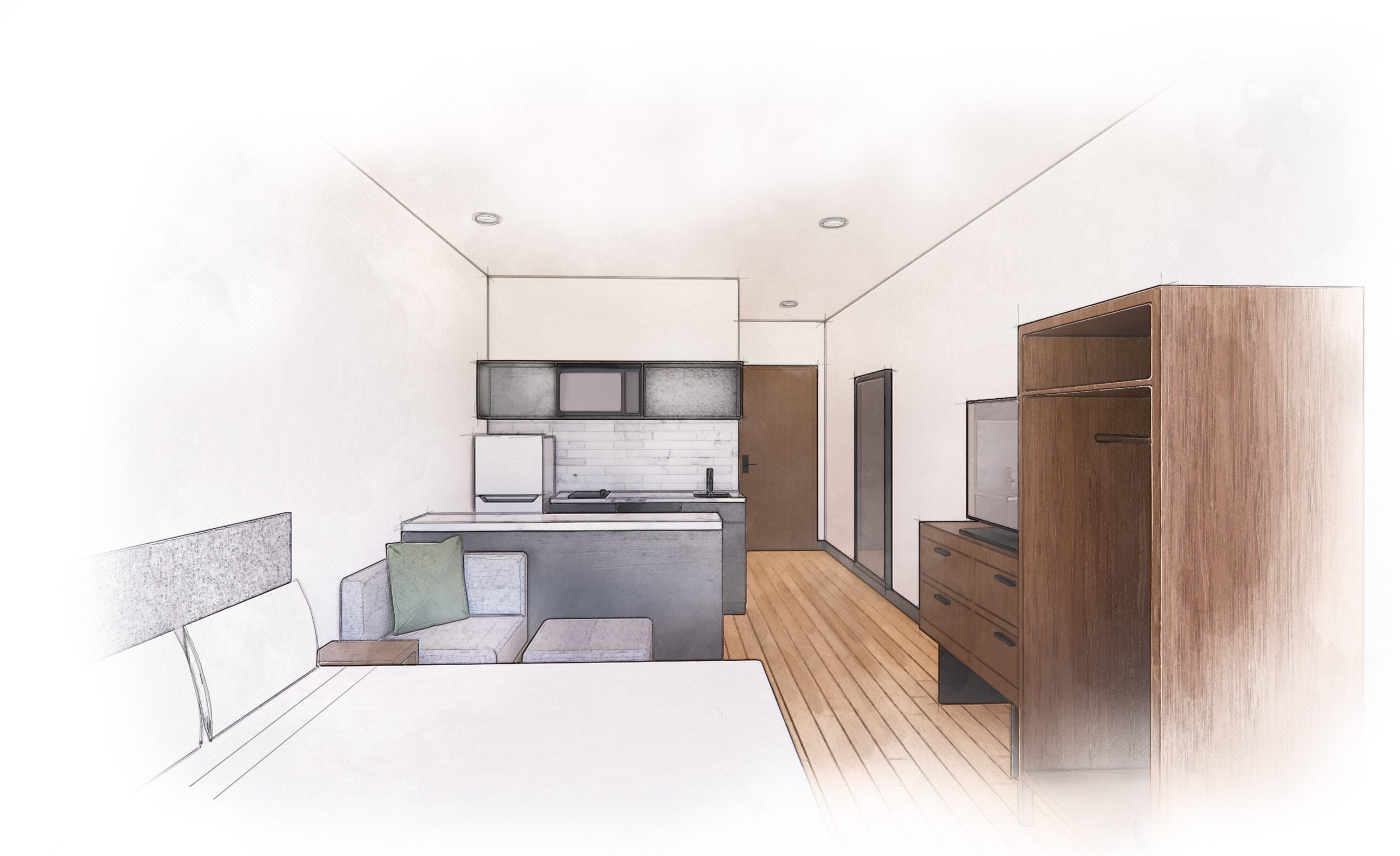 Marriott also estimates the new label will be the most affordable cost-per-room option in the company's overall brand portfolio. The extended-stay sector has been a highly lucrative one for Marriott in the past, as Residence Inn is widely seen throughout the hotel industry as a cash cow for owners of each of these properties due to the popularity of the brand.
Even in economic downturns, extended-stay hotels generally perform well due to their customer base of essential workers and people needing temporary housing. Marriott has tapped into that revenue with a reliable stream of licensing fees compared to other companies that rely more on leisure or business travel demand that ebbs and flows.
"With trends towards longer-stay travel and increased work flexibility, Marriott is utilizing its experience in extended stay to deliver a fresh solution to meet the needs of a growing customer base, backed by Marriott's powerful demand engines and revenue systems," Noah Silverman, Marriott's global development officer for the U.S. and Canada, said in a statement. "With our plans for Project MidX Studios, we will have an extended-stay product in every lodging tier — from affordable midscale to upper-upscale and luxury — for our customers and our owners and franchisees."
Marriott's swelling extended-stay brand count
While MidX Studios brings Marriott's overall hotel brand count to 32, it also beefs up the company's extended-stay lodging bracket to six brands. The company already has Residence Inn, Element, TownePlace Suites, Marriott Executive Apartments and the recently announced Apartments by Marriott Bonvoy.
Why another brand? MidX Studios taps into a more budget-conscious market segment, both for customers and hotel owners. Each of MidX Studios' brand siblings operates at a higher price point.
While Residence Inn is a traditional hotel brand operating in the upscale segment alongside competitors like Hyatt Place and Hilton Garden Inn, the new Apartments by Marriott Bonvoy resides in the premium and luxury stratum and is more of a serviced apartment-style option rather than a typical hotel stay (think: weekly housekeeping and up to three-bedroom offerings in a high-end residential building).
But MidX Studios brings something new — and more affordable — to the table for Marriott customers.
Major hotel companies like Marriott, Hyatt and Hilton often touted their concentration on higher-end segments of the hospitality food chain while leaving more budget-friendly options to players like Wyndham and Choice Hotels. But that mindset is rapidly changing, and hotel chains are embracing the idea it's better to have an offering at all price points rather than focusing just on higher-spending, higher-yielding markets.
Court travelers when they primarily book more affordable hotels now, and you'll keep them in the loyalty ecosystem for a lifetime (and ideally when they can pony up for more expensive offerings like a St. Regis or Edition), the thinking goes.
"With Project MidX Studios, we are focused on enhancing the breadth of our portfolio through the creation of a product specially designed for the affordable midscale extended stay tier — from the physical product to the operating model," Leeny Oberg, Marriott's chief financial officer and executive vice president of development, said in a statement. "The team created Project MidX Studios to reach both new customers and new markets."
Marriott was already at work on beefing up its affordable accommodation line-up with the recent acquisition of City Express. While the hotel world waits to see if City Express expands globally like Marriott's other mid-market brand, AC, which was once a brand focused on Spain, travelers in the U.S. and Canada will be the first to experience MidX Studios.
As for the first outposts? Hotel development company Concord Hospitality, which is based in Raleigh, North Carolina, expects to break ground on three MidX Studios hotels later this year and open the first as early as sometime next year.
Related reading: