Whether you're a lover of UNESCO World Heritage sites, looking to visit all Seven Wonders of the World or simply a fan of "Indiana Jones," you may be dreaming of a visit to the ancient city of Petra, located near Wadi Musa in southern Jordan.
Despite being a popular tourist destination, though, options for redeeming your points for a hotel stay in this area are not abundant. Hyatt and Hilton have properties in Jordan's capital, Amman, but nothing in the region of the ancient Nabatean capital that's more than 2,000 years old.
During a recent trip to the Middle East, my wife convinced me to add Petra to our itinerary, since my previous visit to this ancient wonder happened on a solo trip before our marriage. We booked two nights at the Petra Marriott Hotel and I was happy the stay would help me hit the final nights I needed to requalify for Marriott's Titanium Elite status and use points to minimize our out-of-pocket costs.
While the guest rooms would benefit from a refurbishment, the high quality of the service and the excellent meals we enjoyed at the hotel transformed what might otherwise have been a humdrum stay at a tourist attraction into a truly memorable trip.
Quick take
This is not the newest hotel in the world — or even in Jordan — and its rooms haven't been refurbished in 10 years. While details like in-room sockets and furniture could be updated, the hotel surprised us in other ways that compensated for mediocre guest rooms. These include the staff and the meals we enjoyed at the hotel's restaurant twice a day.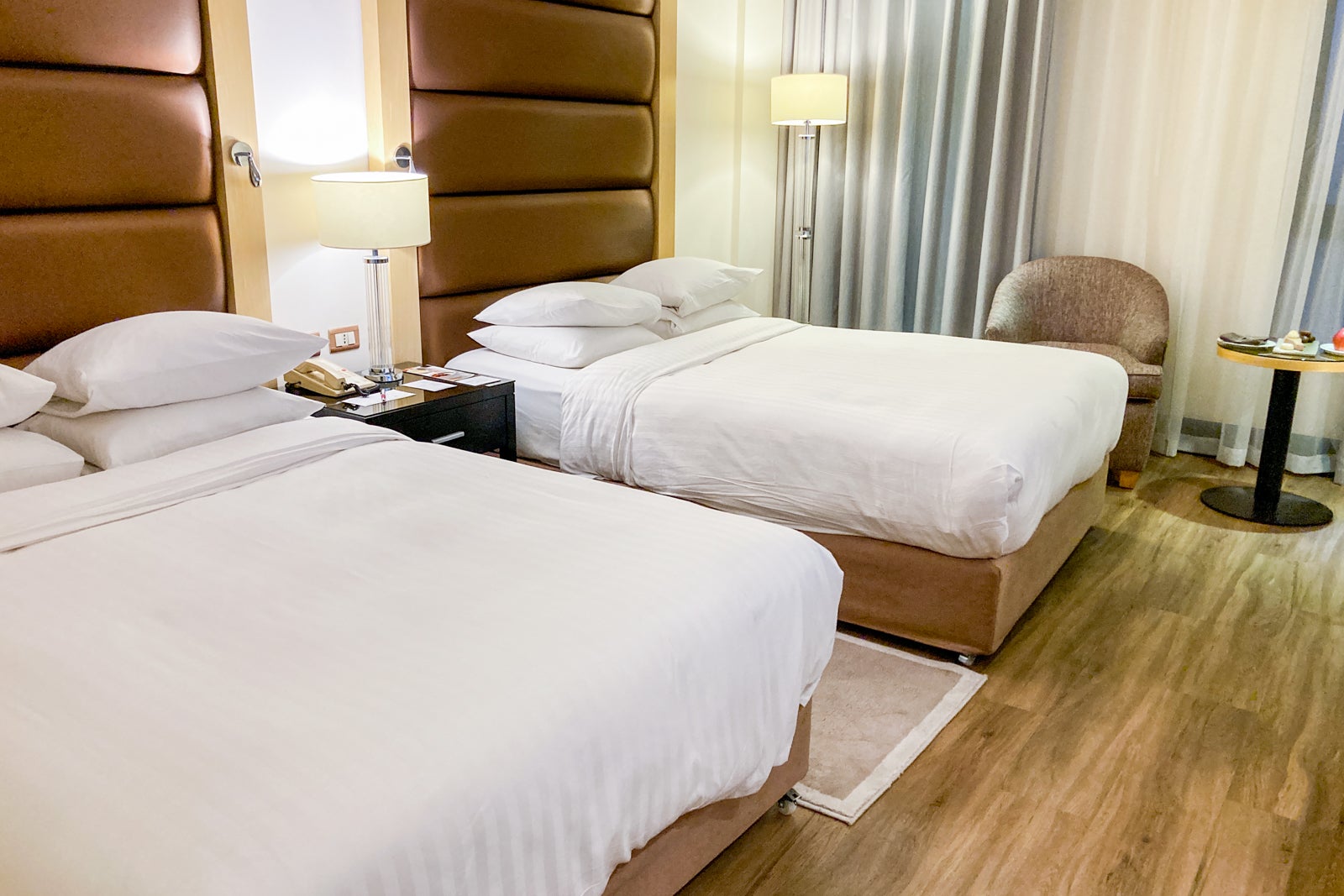 The hotel was fully booked during our stay, so there was no possibility of a room upgrade on arrival (which is a perk available to those with Marriott Bonvoy status). To compensate for not receiving a room upgrade, staff members provided extras in other areas, such as greeting us by name throughout our stay and providing free meals, plus complimentary access to the sauna.
This is a great hotel for those visiting Petra and looking to use points or free night awards, as well as those who are loyal to Marriott. It's also an excellent option for those who want to unwind after a long day on their feet, because you can swim, dine and pamper at the property without needing to leave the hotel.
While we did encounter two small problems with staff communication, a surprise charge for drinks and attempts to convince us to pay for a ride in place of the free shuttle paled in comparison to our overall positive interactions with staff and enjoyment of the property.
It was clear that the Petra Marriott Hotel doesn't receive an abundance of guests with high levels of Marriott Bonvoy status, and staff members made an extra effort to provide service they thought befitting my elite status tier. A few small adjustments to alleviate the communication hiccups would further improve upon this.
Getting there
It is possible to reach the hotel by prearranged shuttle from Amman or from Queen Alia International Airport (AMM), and numerous guests during our stay arrived on buses teeming with tourists on package holidays. However, it's easy to find rental cars for as little as $30 per day at the Amman airport. We used this option to give ourselves flexibility during our trip and enable us to take the scenic route (along the Dead Sea, lasting four hours ) to the hotel while taking the more direct path through the desert when departing for home (which took nearly three hours).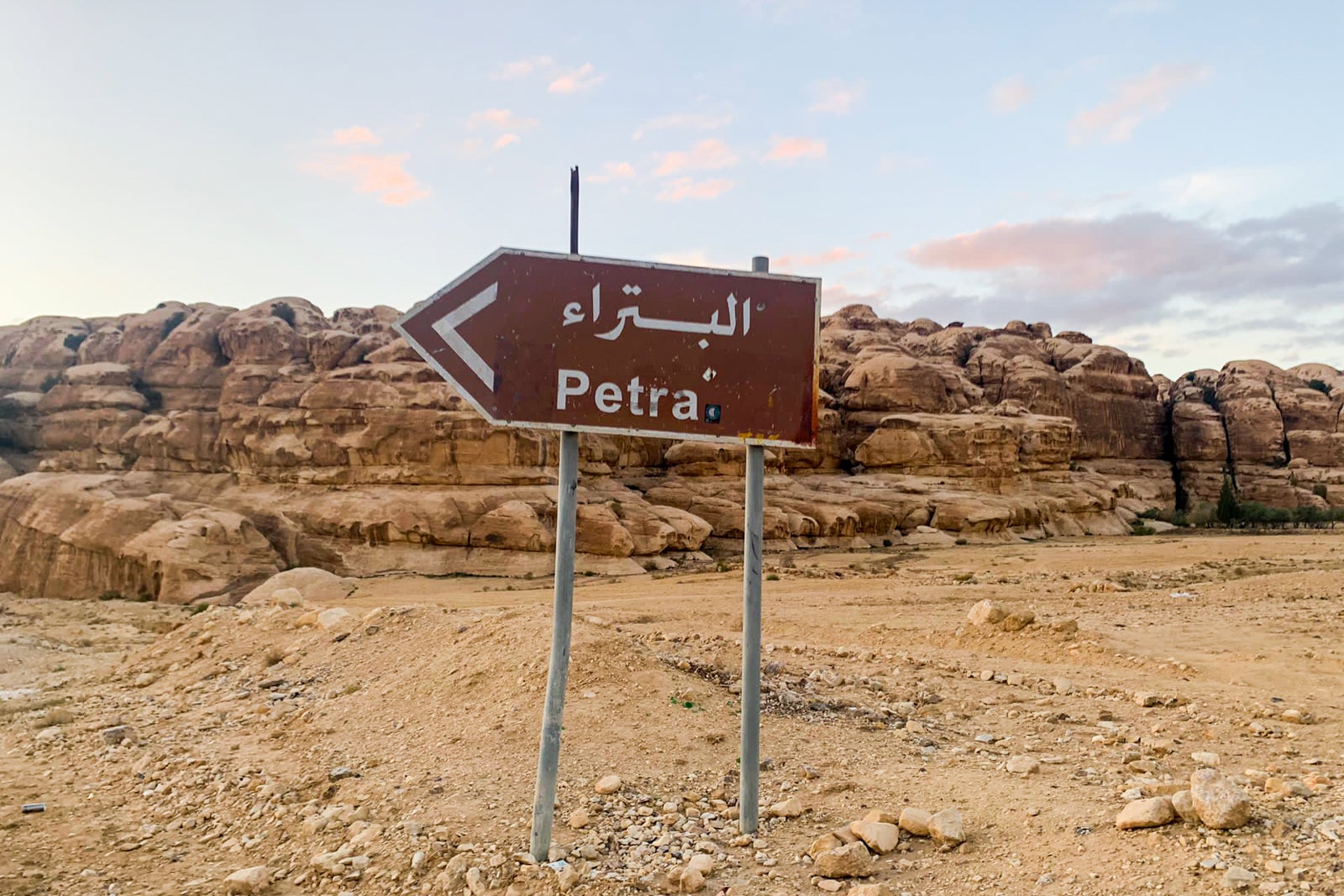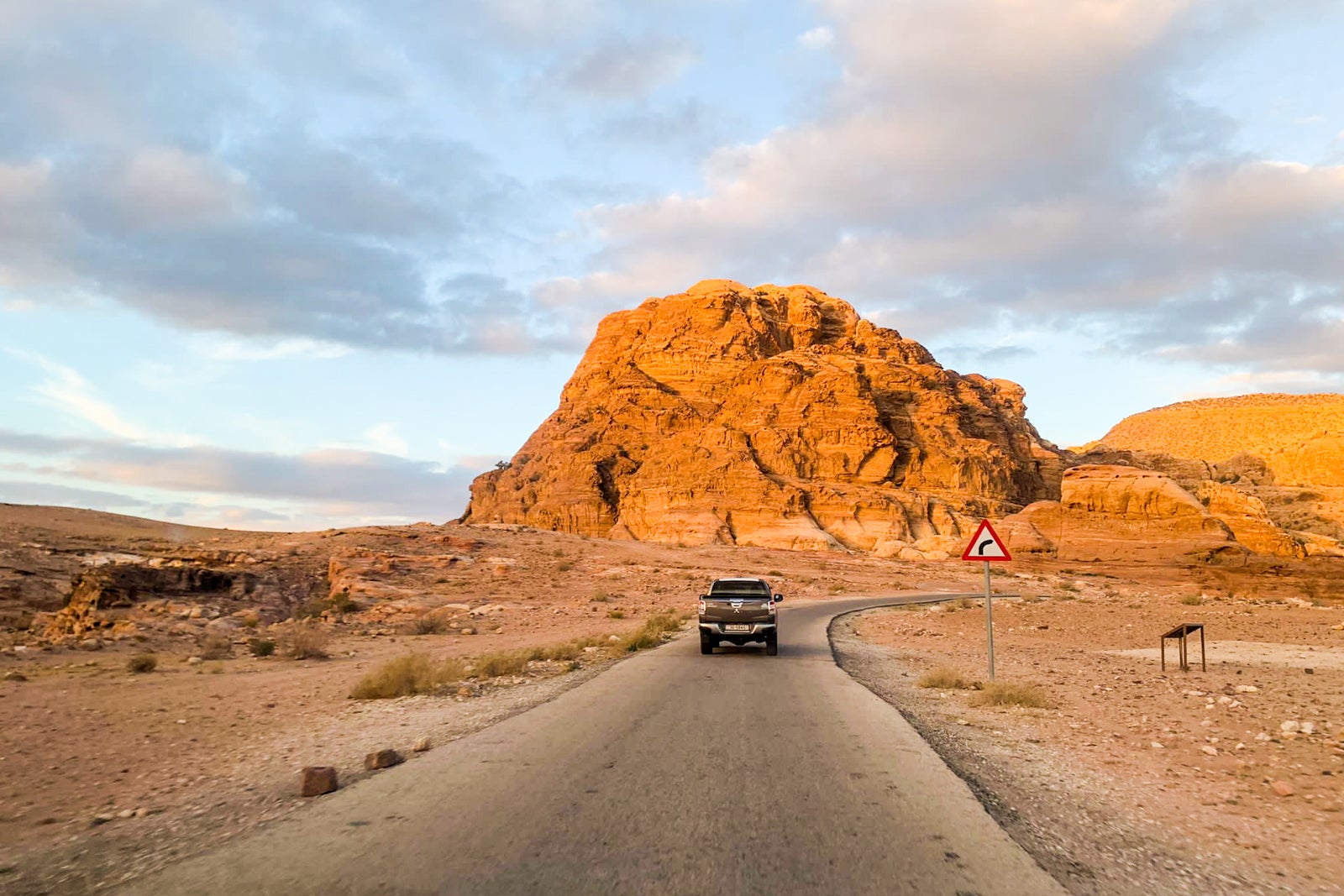 The Petra Marriott Hotel sits on a hillside overlooking Wadi Musa, the modern town closest to Petra. Amid excellent views over the valley from the deck behind the property, it's even possible to see the entrance to Petra and the path into the Siq — the entryway to Petra made famous in "Indiana Jones and the Last Crusade." However, the location also means walking to the Petra entrance — as you can do from other hotels in the area — is out of the question for most people, since it's nearly 3 miles of steep uphill and downhill travel. Luckily, the hotel provides a complimentary thrice-daily drop-off at the ticket office each morning and three pickups at fixed times in the afternoon.
Related: The best way to get to Jordan using points and miles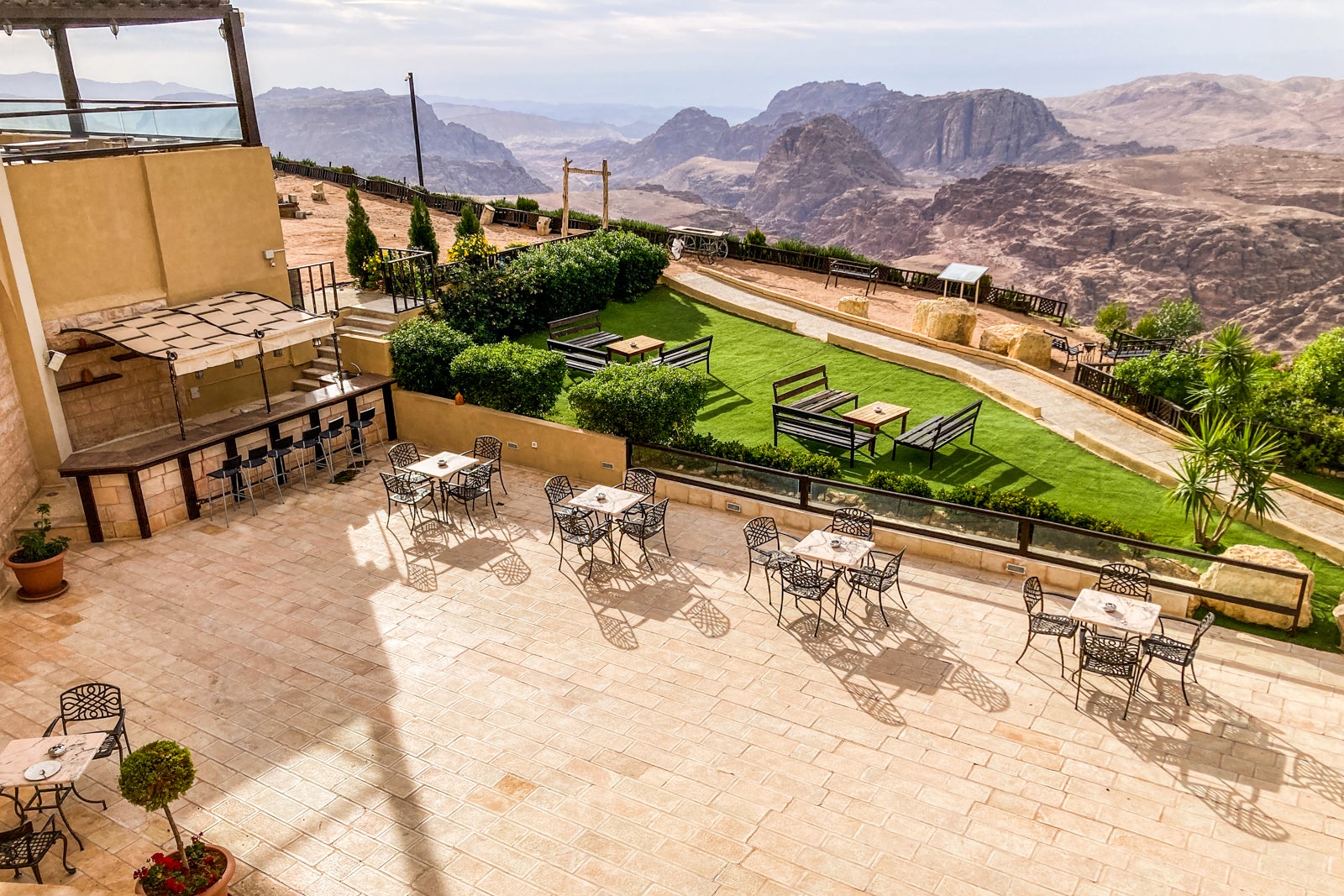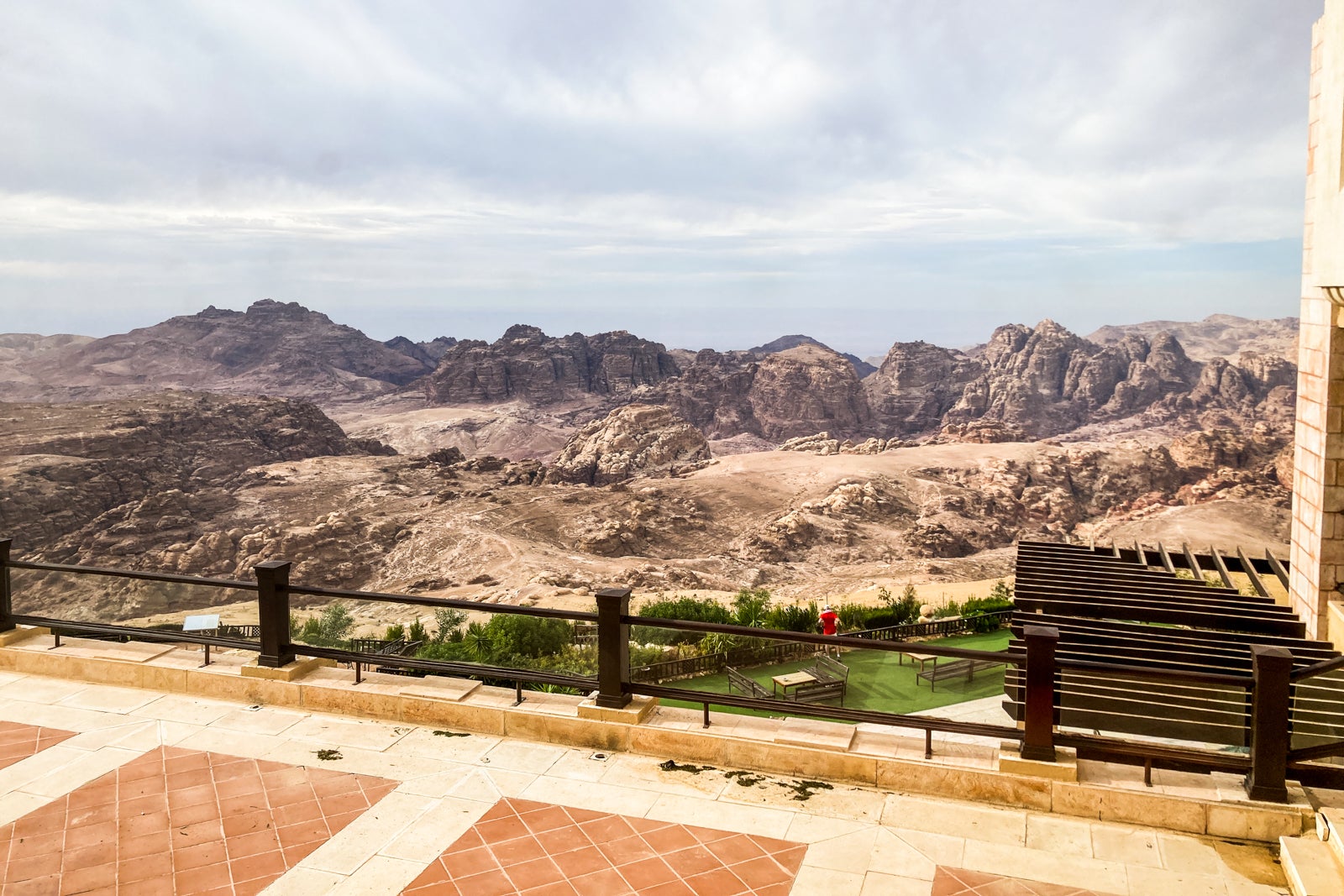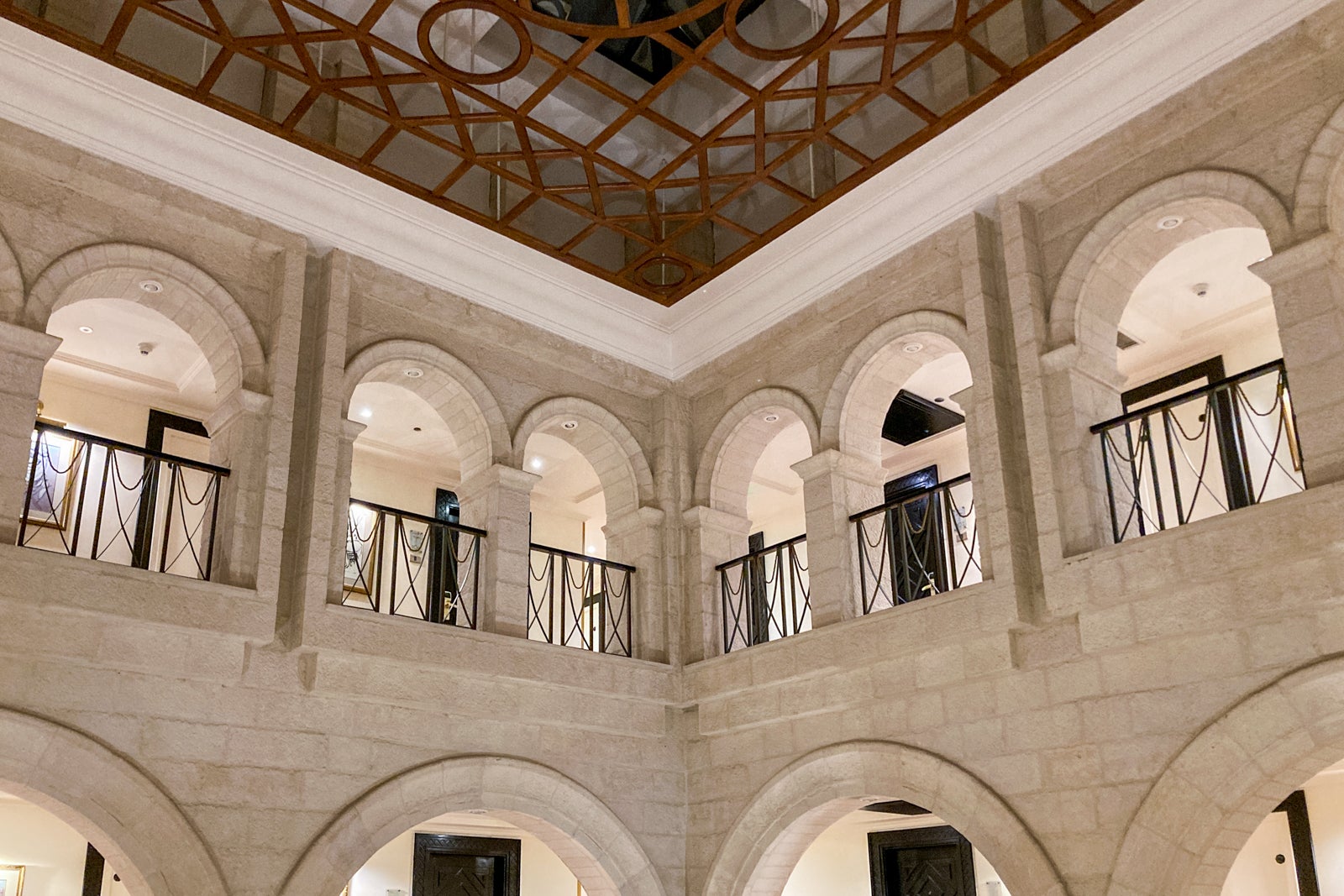 Booking
November is the high season for visitors to Petra, so the hotel was completely full, and standard rooms were priced at $500 per night. In the summer months of July and August, rates are as low as $187 per night.
If redeeming points, nights require as few as 24,000 points apiece in July or August, but were 30,000 points during our stay, which allowed us to use free night awards from my Marriott Bonvoy Business® American Express® Card and Marriott Bonvoy Boundless Credit Card (worth up to 35,000 points each) that were set to expire in February of 2023.

I booked this room only 10 days prior to arrival; thus, the only rooms available had two double beds. There was no option for a room with one king-size bed at the time of booking, but these rooms are available if you reserve in advance and will cost the same number of points as the rooms with two double beds.
Standout features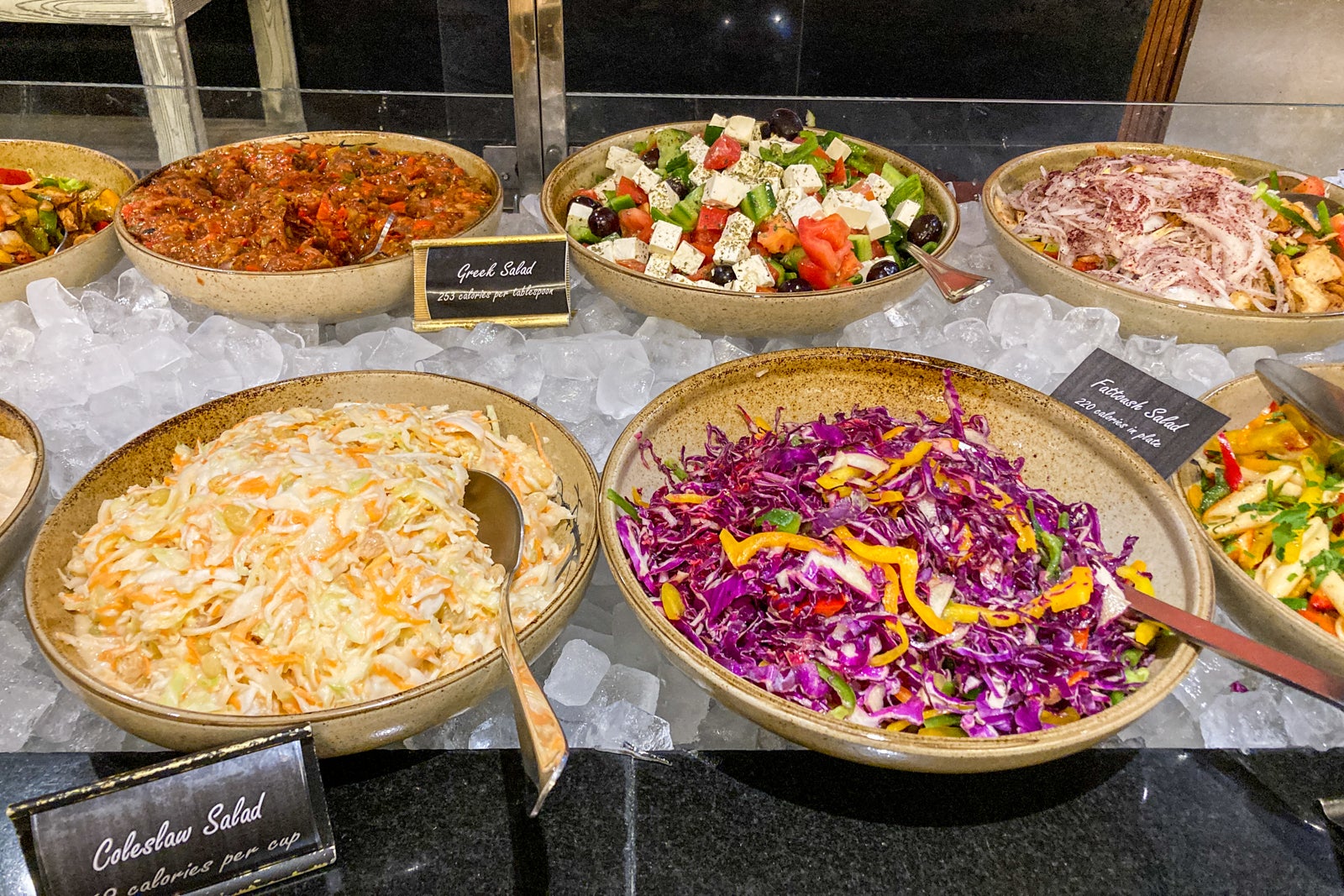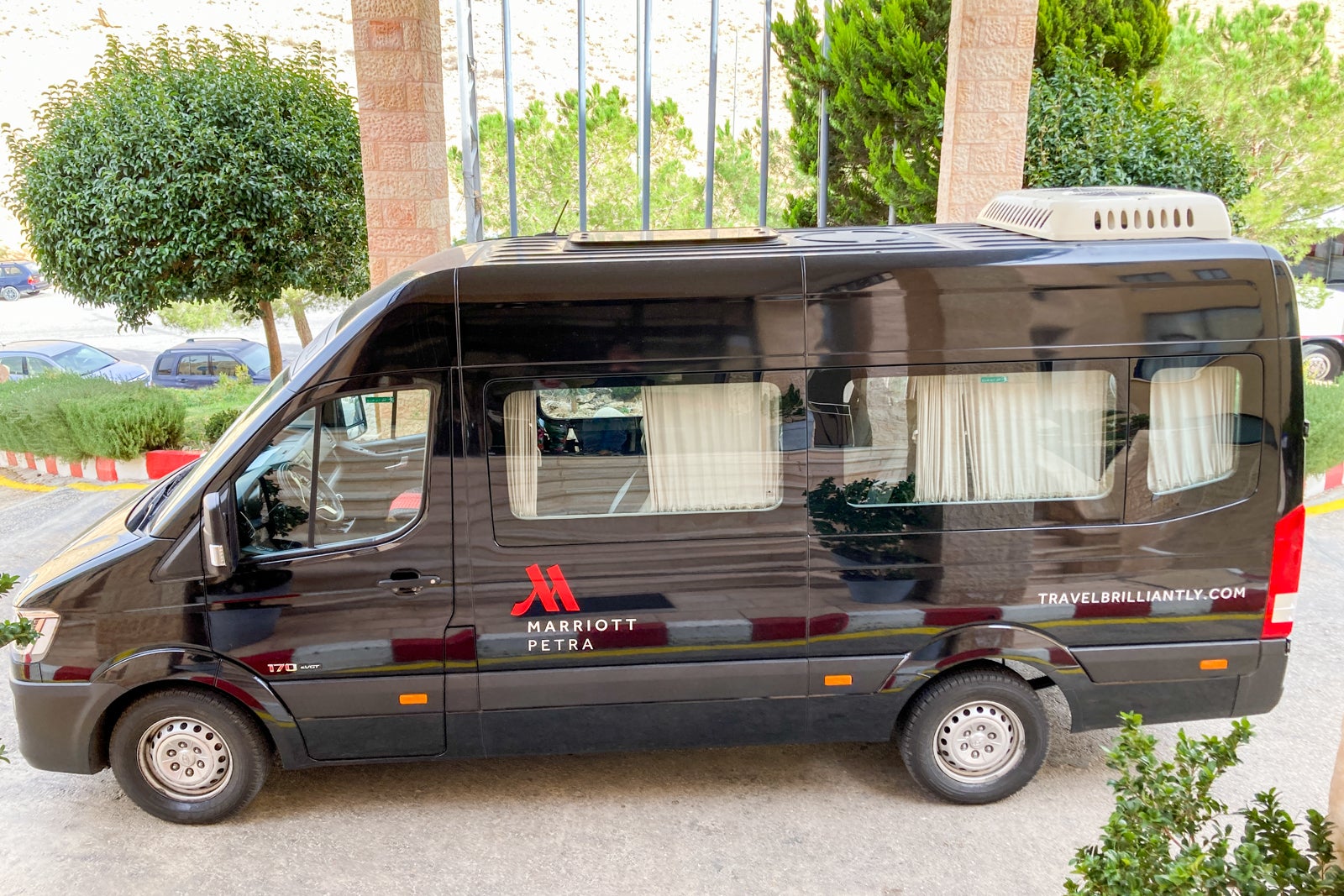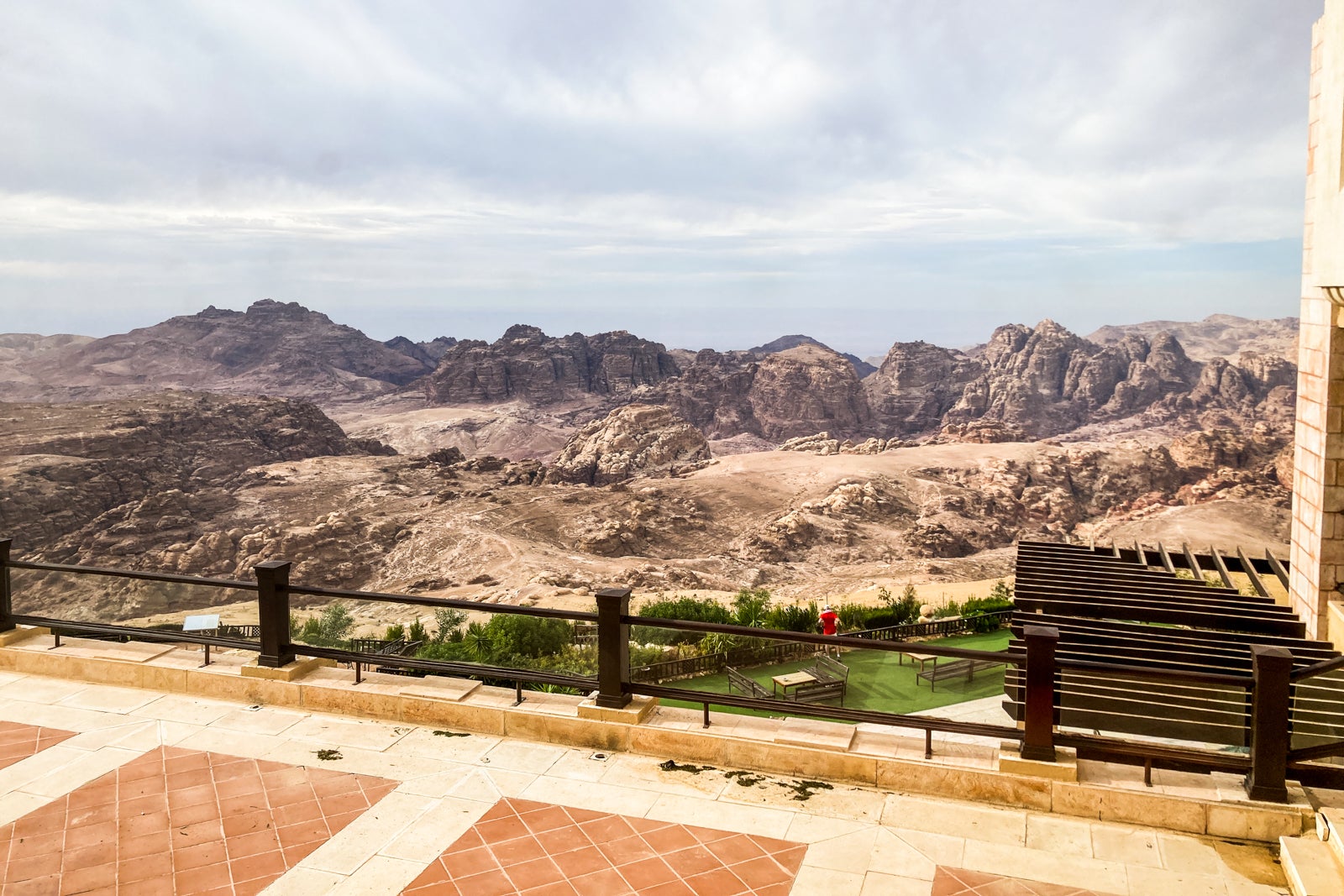 The nightly dinner buffet at the Dushara restaurant had an astonishing variety of delicious dishes that changed each evening, including local dishes like fatoush, hummus and a meat carving station as well as Western dishes like pasta primavera and cheesecake.
 Since they couldn't upgrade our room at check-in due to the hotel being at full capacity during our stay, the staff provided multiple value-added amenities, including visiting the steam room for an hour each day and complimentary dinner each evening.
Amenities outside the guest rooms more than compensated for ho-hum habitations, including great sunset views from the hotel's deck, delicious dinners, friendly service and experiences of local culture that included artisans working near the gift shop and a hands-on introduction to coffee preparation in the Bedouin style.
The ability to order a box lunch to take to Petra each day is thoughtful, given that restaurants inside the grounds aren't abundant and charge exorbitant prices from a captive audience.
Drawbacks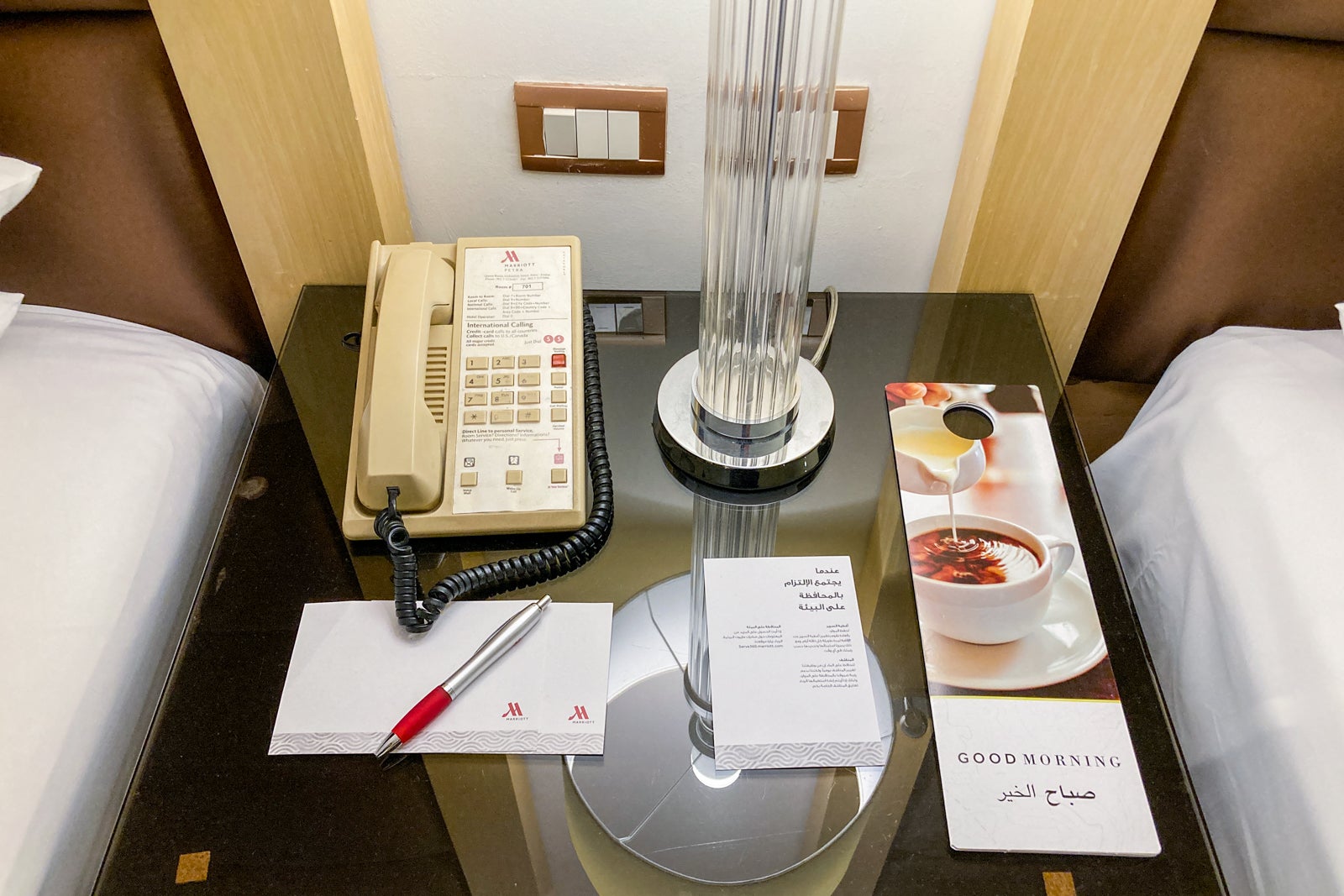 Guest rooms could benefit from updates, such as additional (and universal) outlets or USB outlets, newer phones and streamlined switches and room controls. Modernizing the rooms could take a second step to provide accessibility features like induction loops and Braille to create a more inclusive space.
Staff members tried to convince us to arrange a private taxi (which has a cost) to and from Petra, despite the hotel offering a free shuttle that is clearly advertised in the lobby.
The hotel is removed from the town of Wadi Musa. If you'd like to explore other restaurants, see more of the town or go shopping, other hotels are better situated.
The vibe
As soon as we entered the front door, we experienced two elements that came to represent our experience at the Petra Marriott Hotel: warm hospitality and bright, airy spaces.
Staff members were consistently friendly in a very genuine way. They exhibited authentic smiles and deep, gut-busting laughs in our interactions throughout our stay. This included displays of a genuine sense of humor, such as joking with us at meals, and taking extra time to show us elements of their culture whenever the opportunity arose.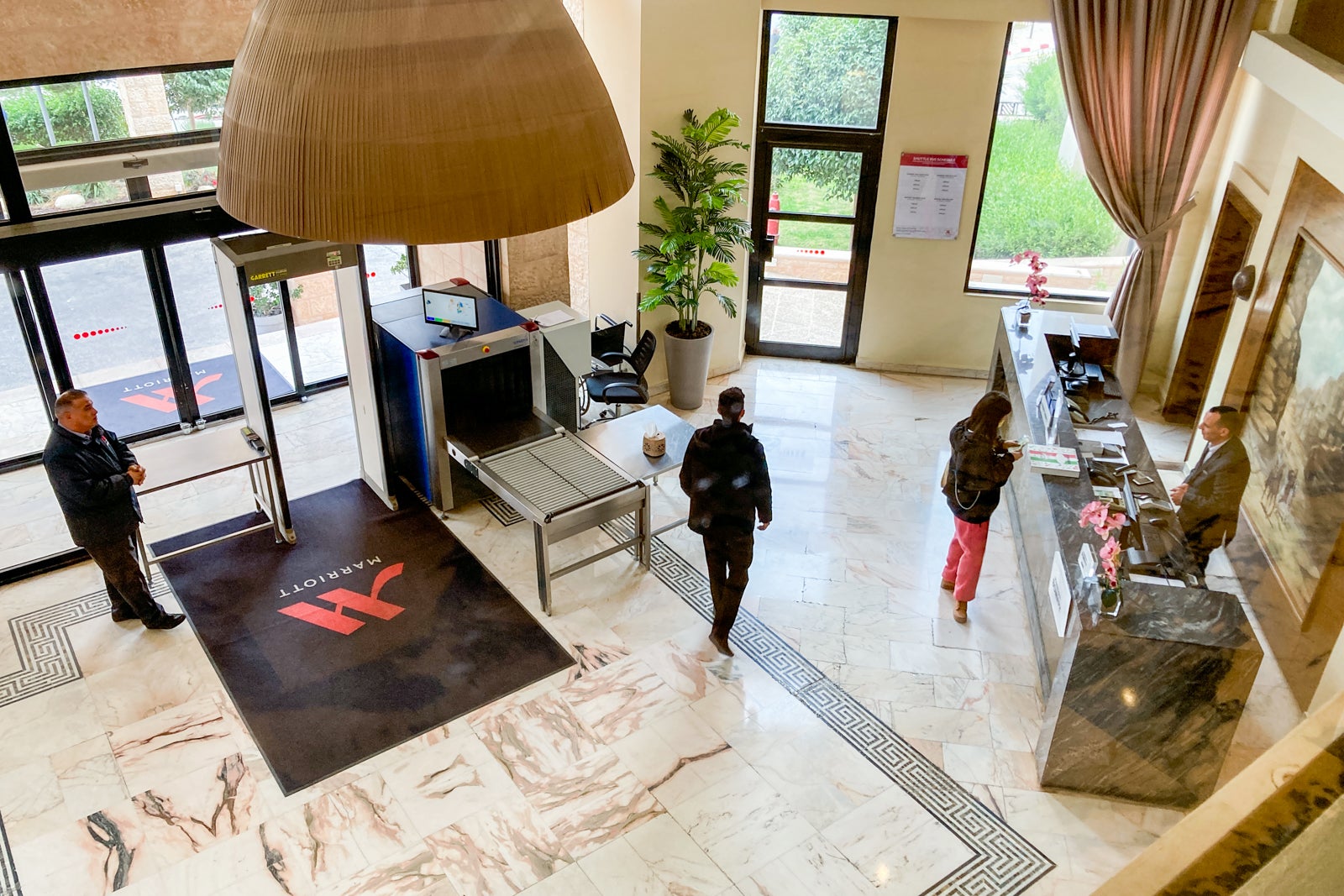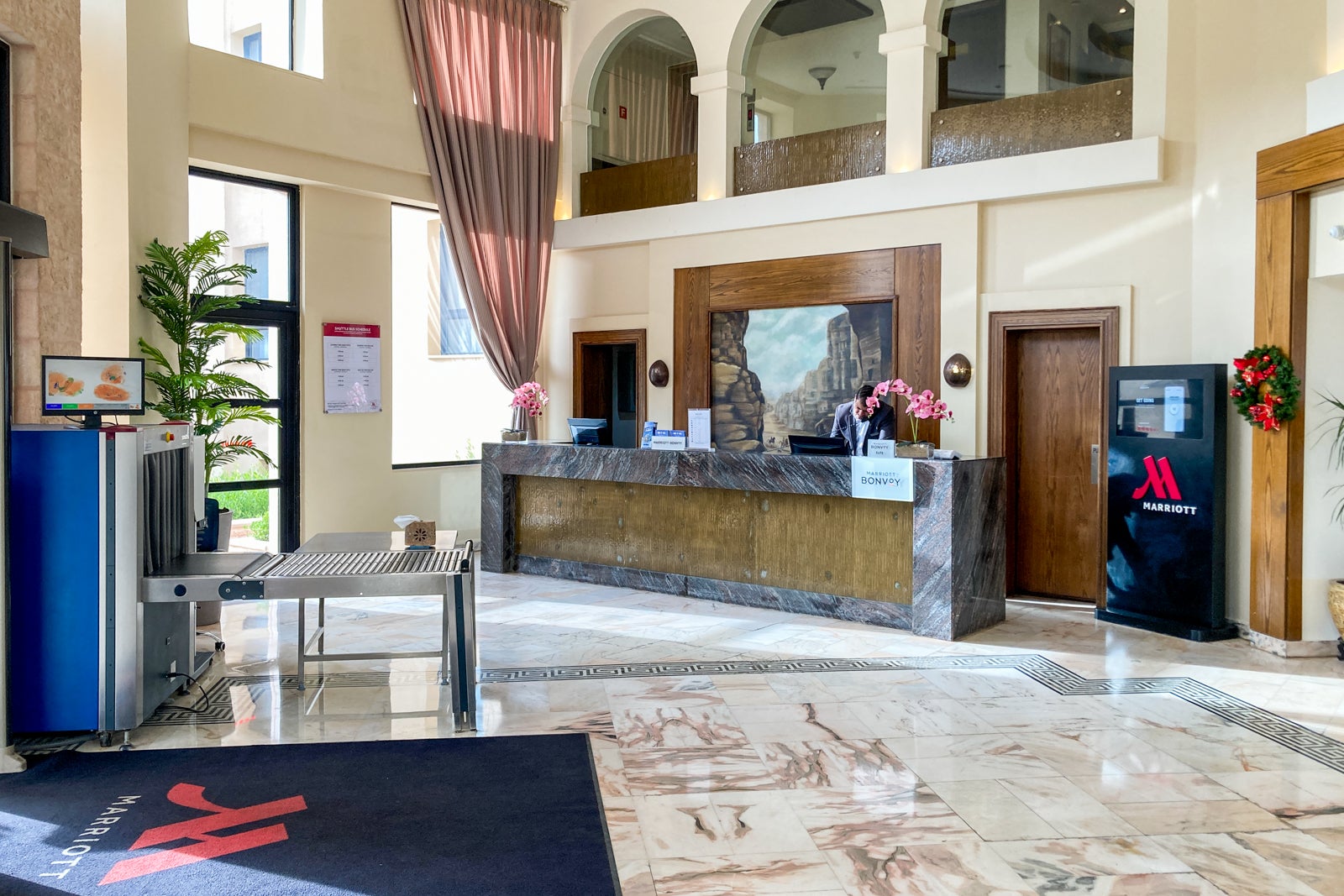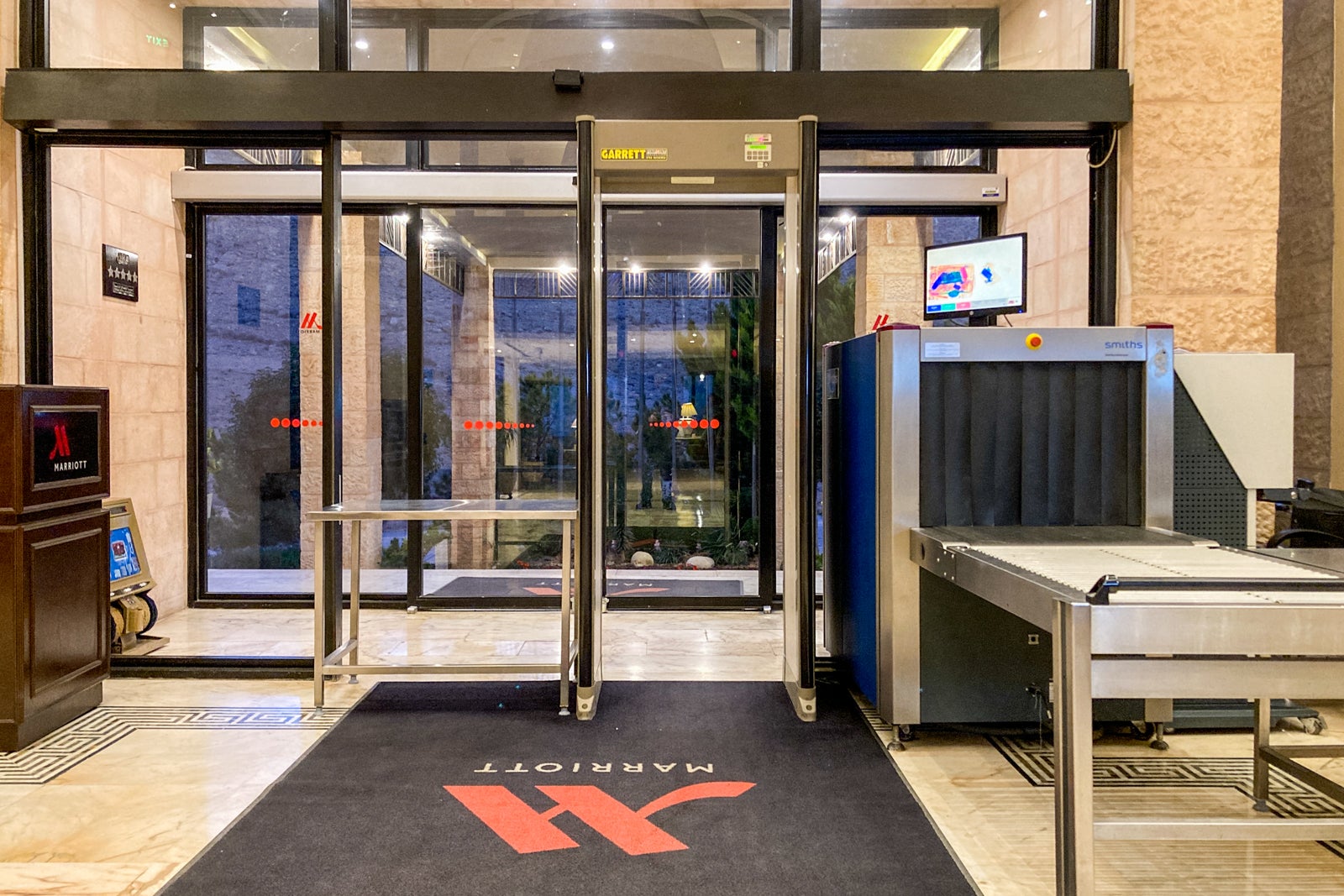 The other aspect of the hotel's vibe is a feeling of open space. We felt this as soon as we walked into the two-floor lobby on arrival. The lobby felt larger than its actual square footage, due to the use of open archways on the second floor, bright colors and natural light pouring in through the many windows. A mix of Arab and Western design elements could be found throughout the hotel, starting with this first impression.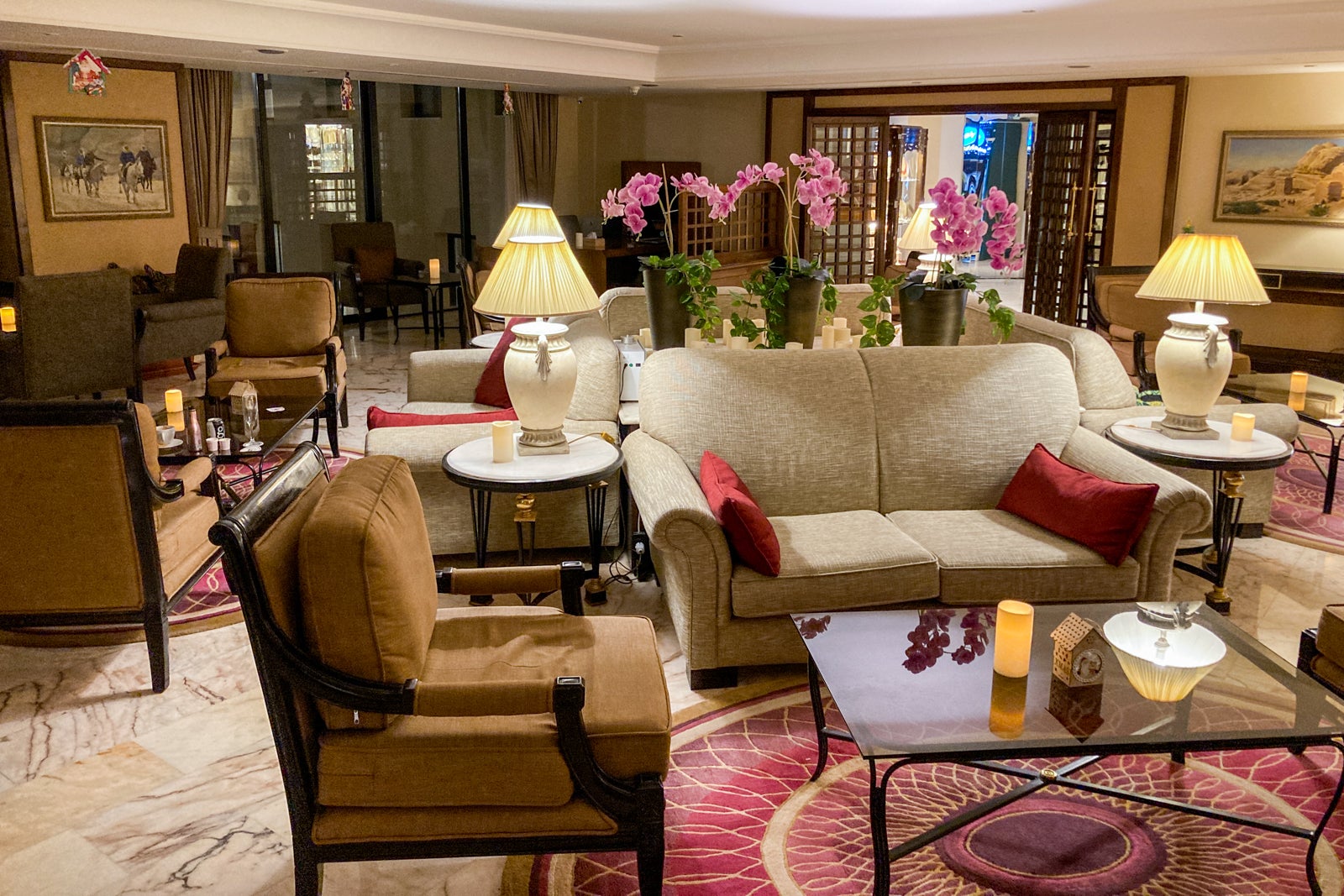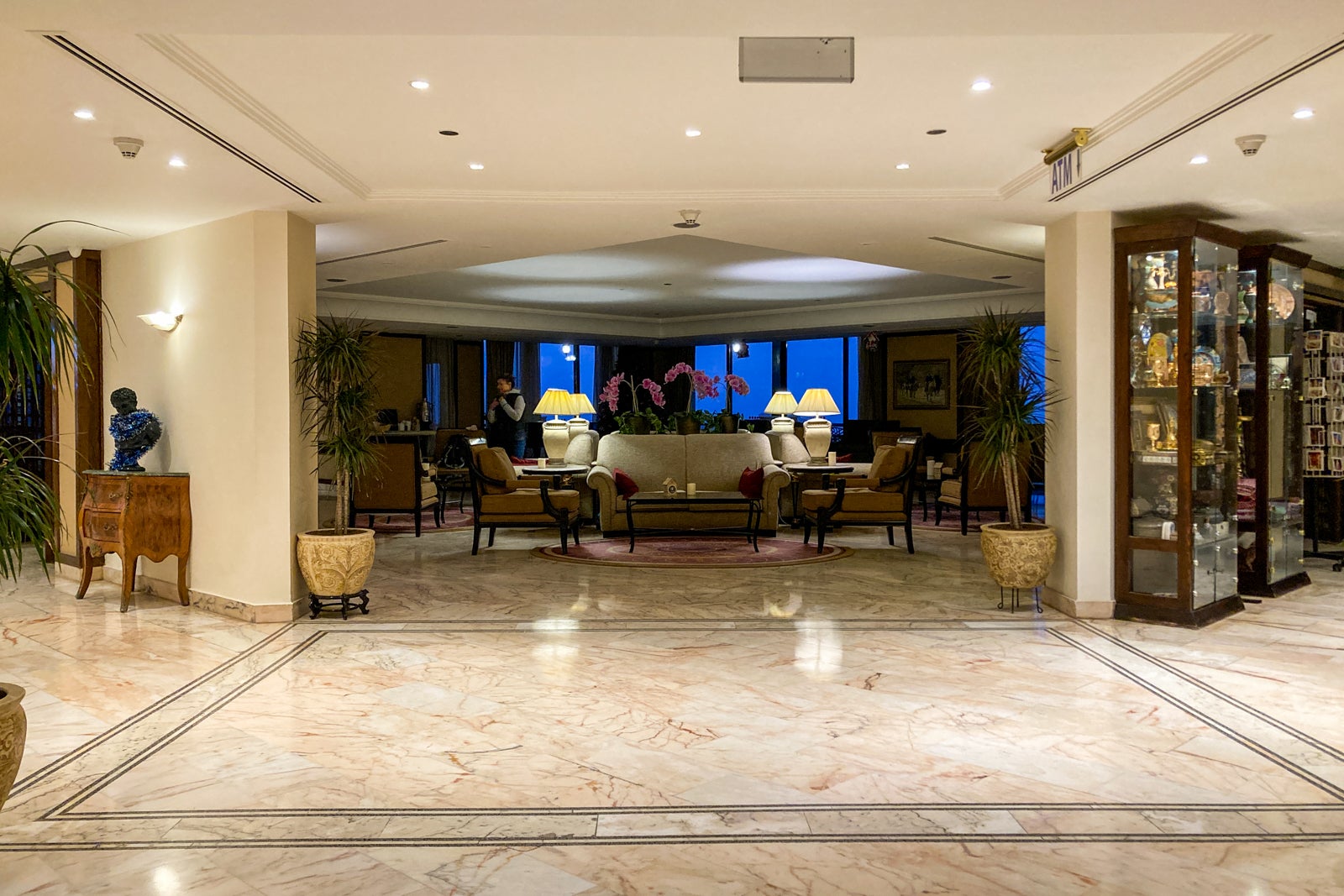 Beyond the lobby, there is a large area that resembles a living room. The hallways leading to guest rooms have open archways overlooking a small interior courtyard.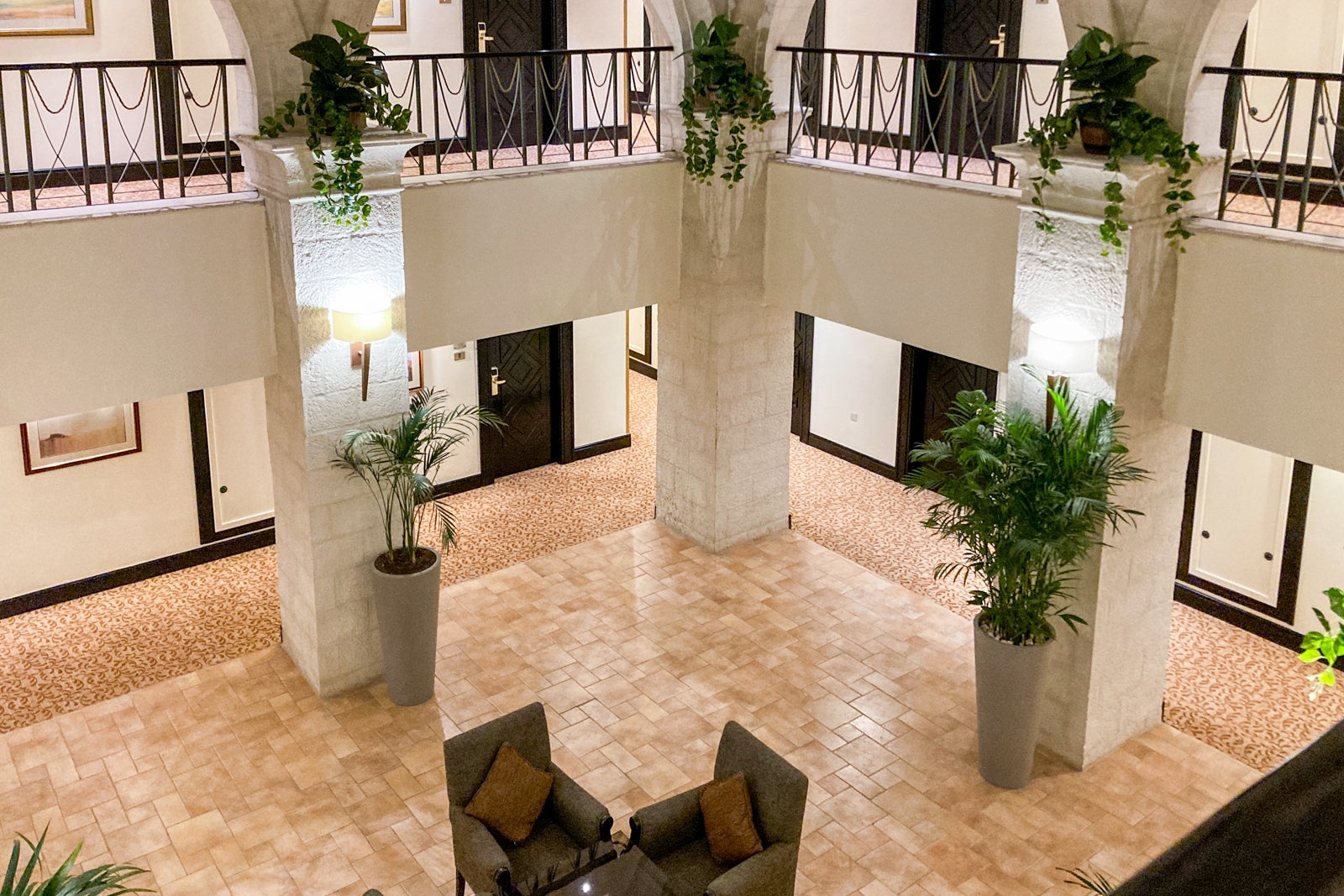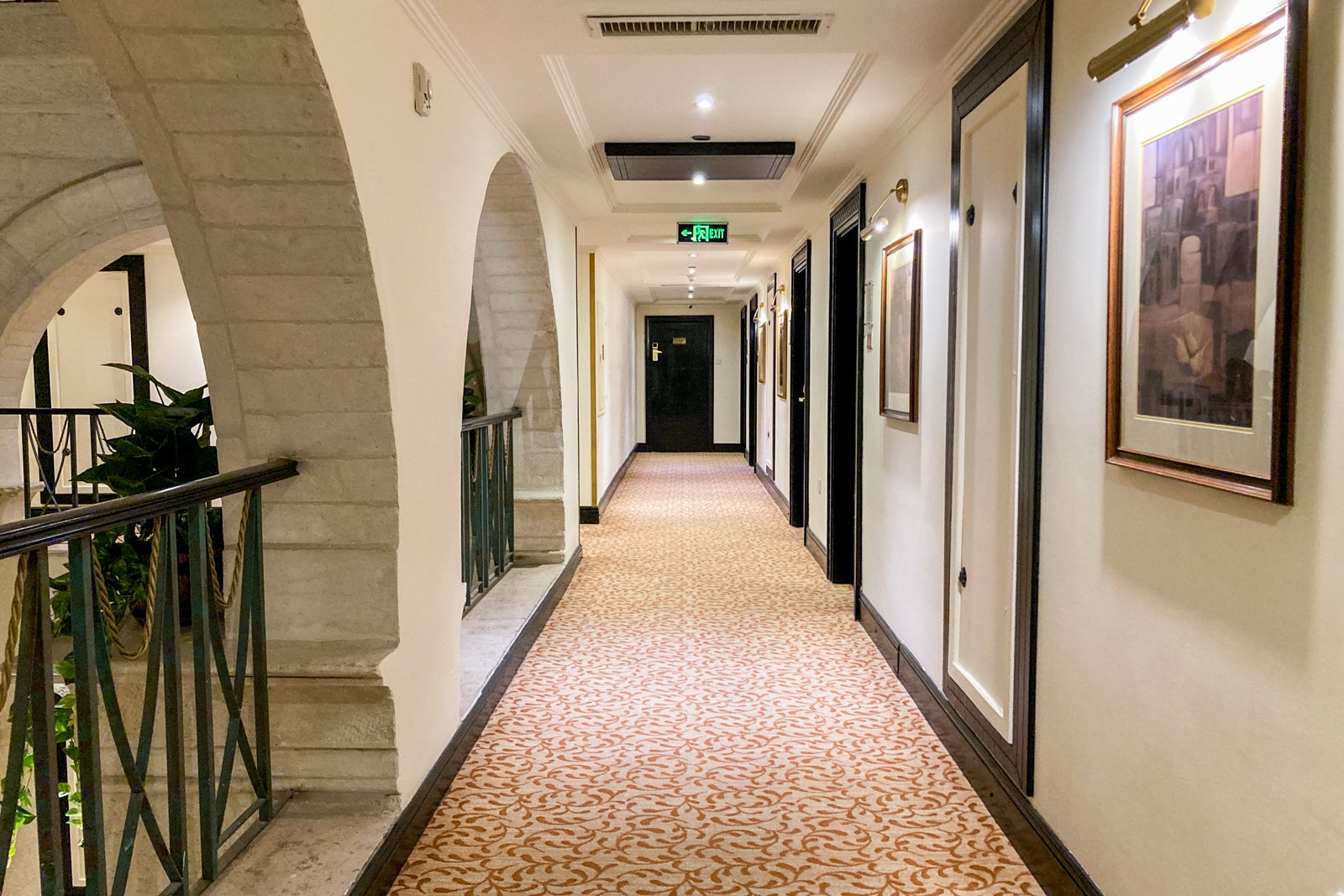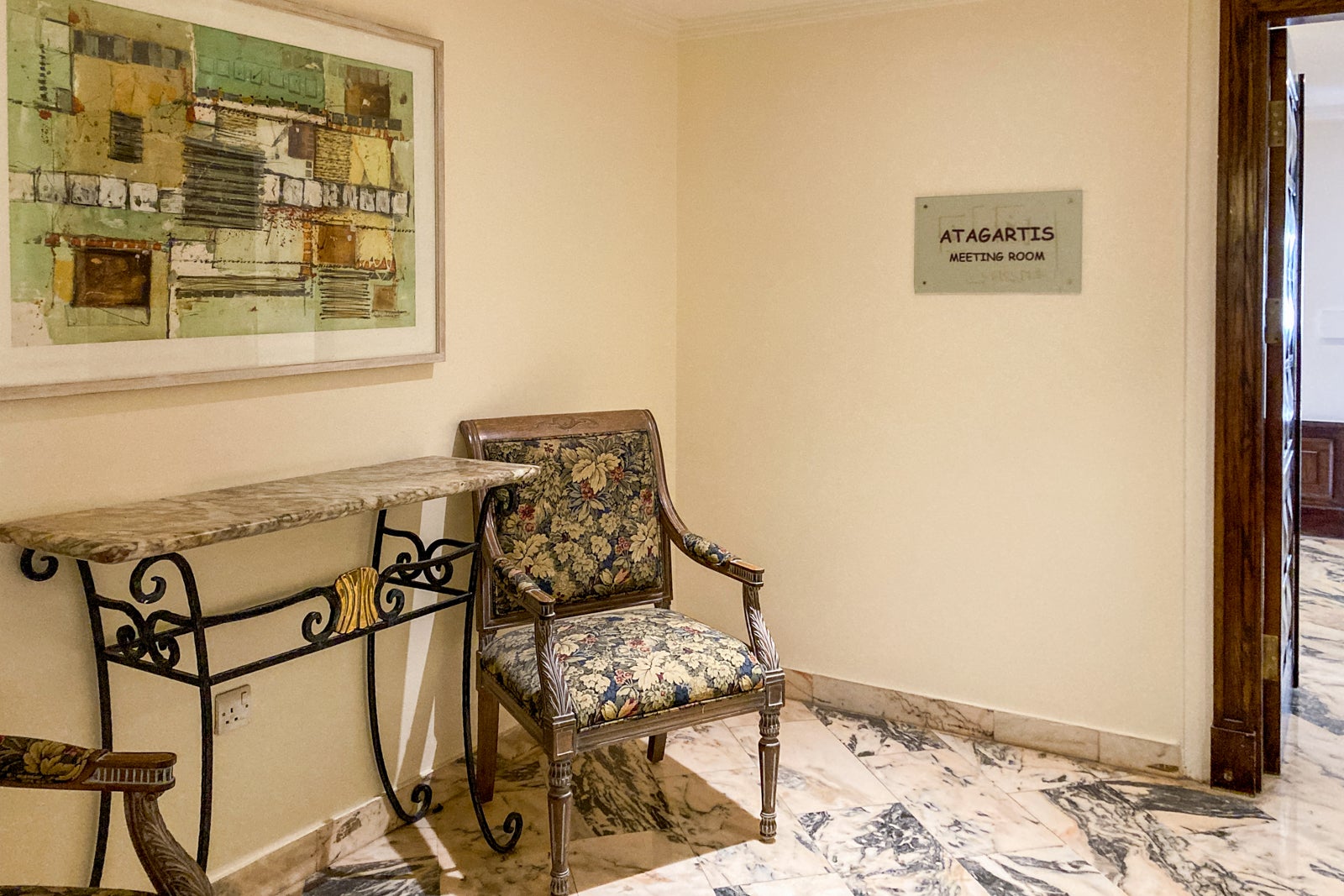 The open-air spaces and staff personalities cater well to foreign tourists filling out the hotel every evening. The hotel feels warm and welcoming for people of all types. The Petra Marriott Hotel is best suited for tourists looking for a quality stay but not willing to spend the extra money for the most expensive hotels overlooking the entrance to Petra.
The room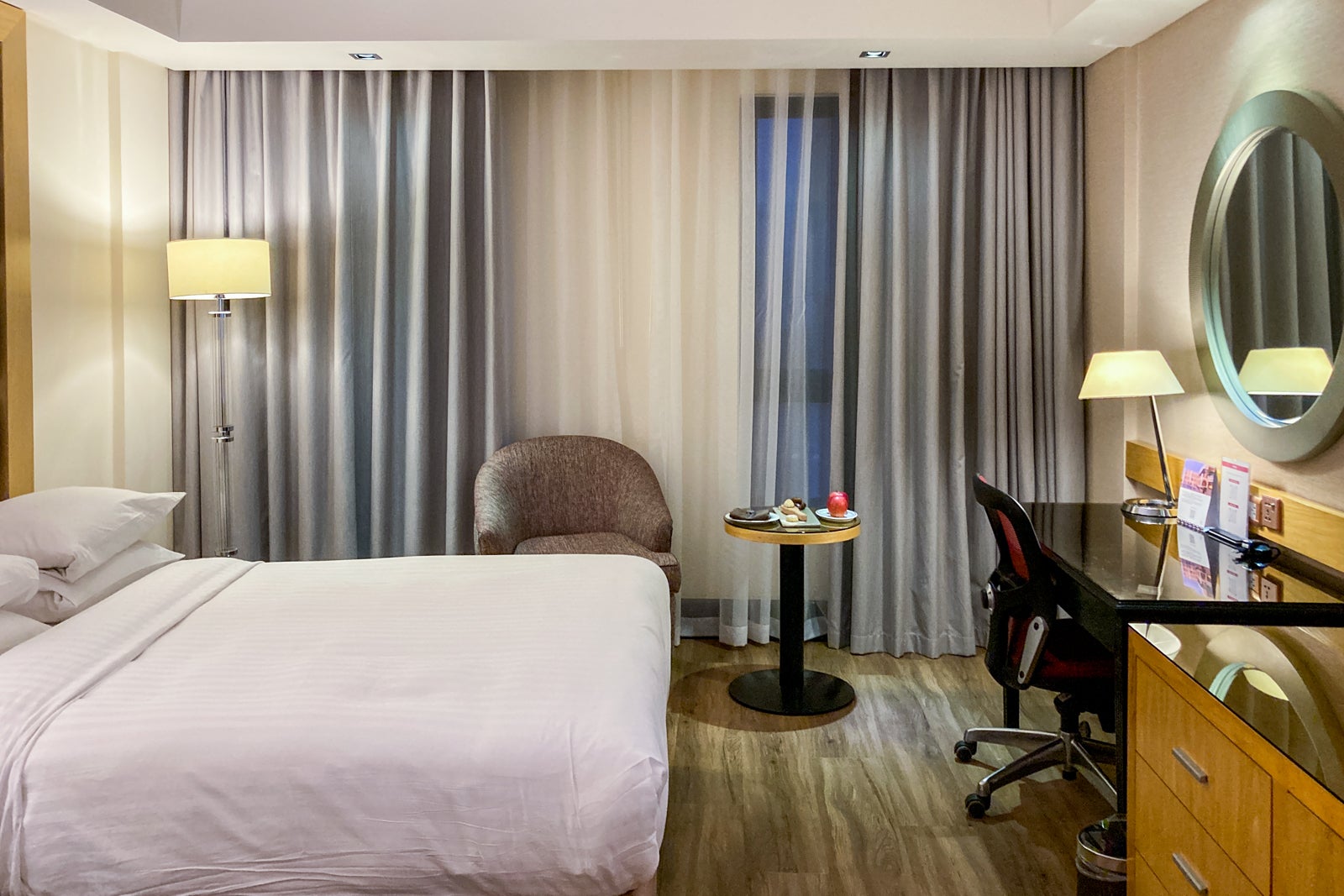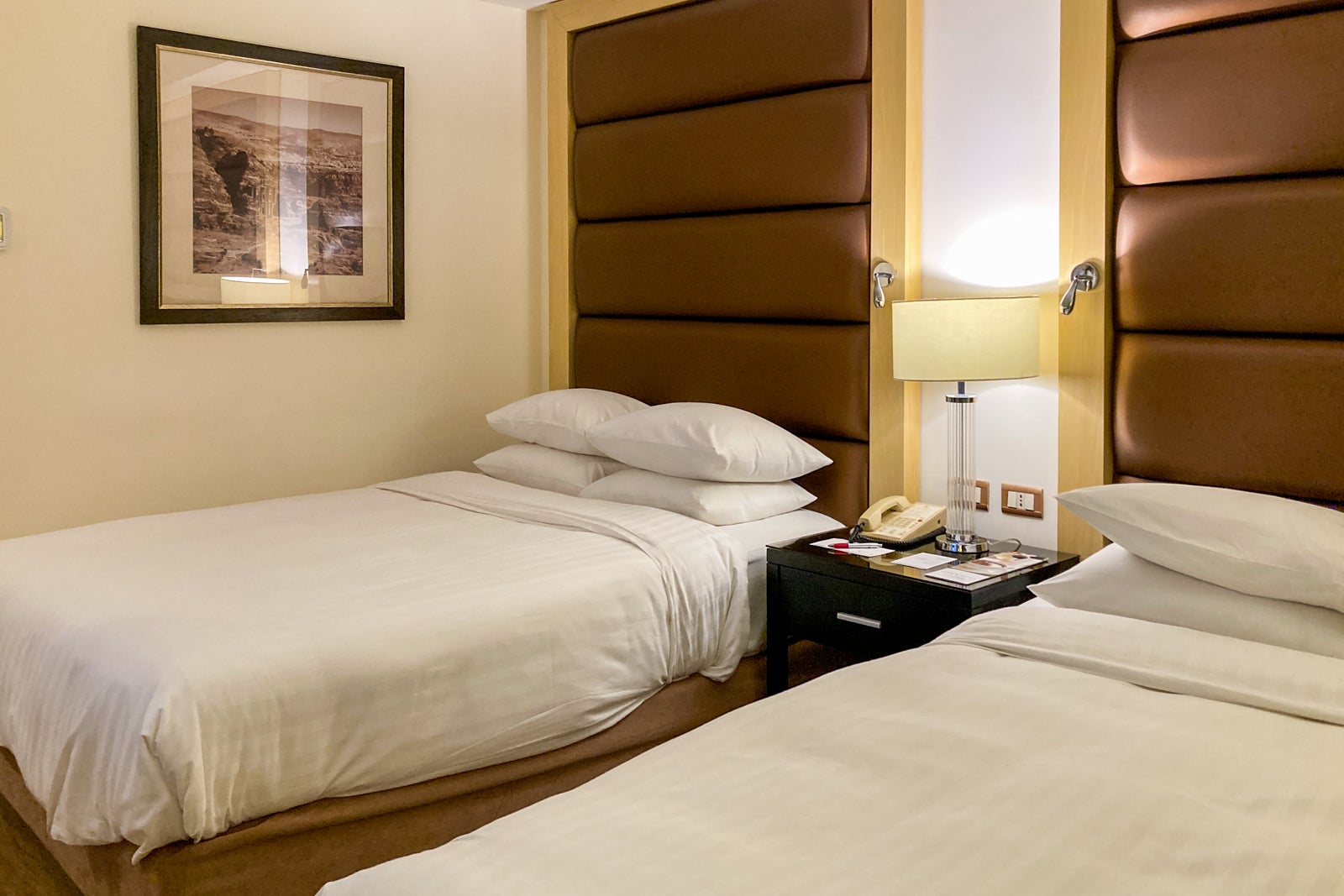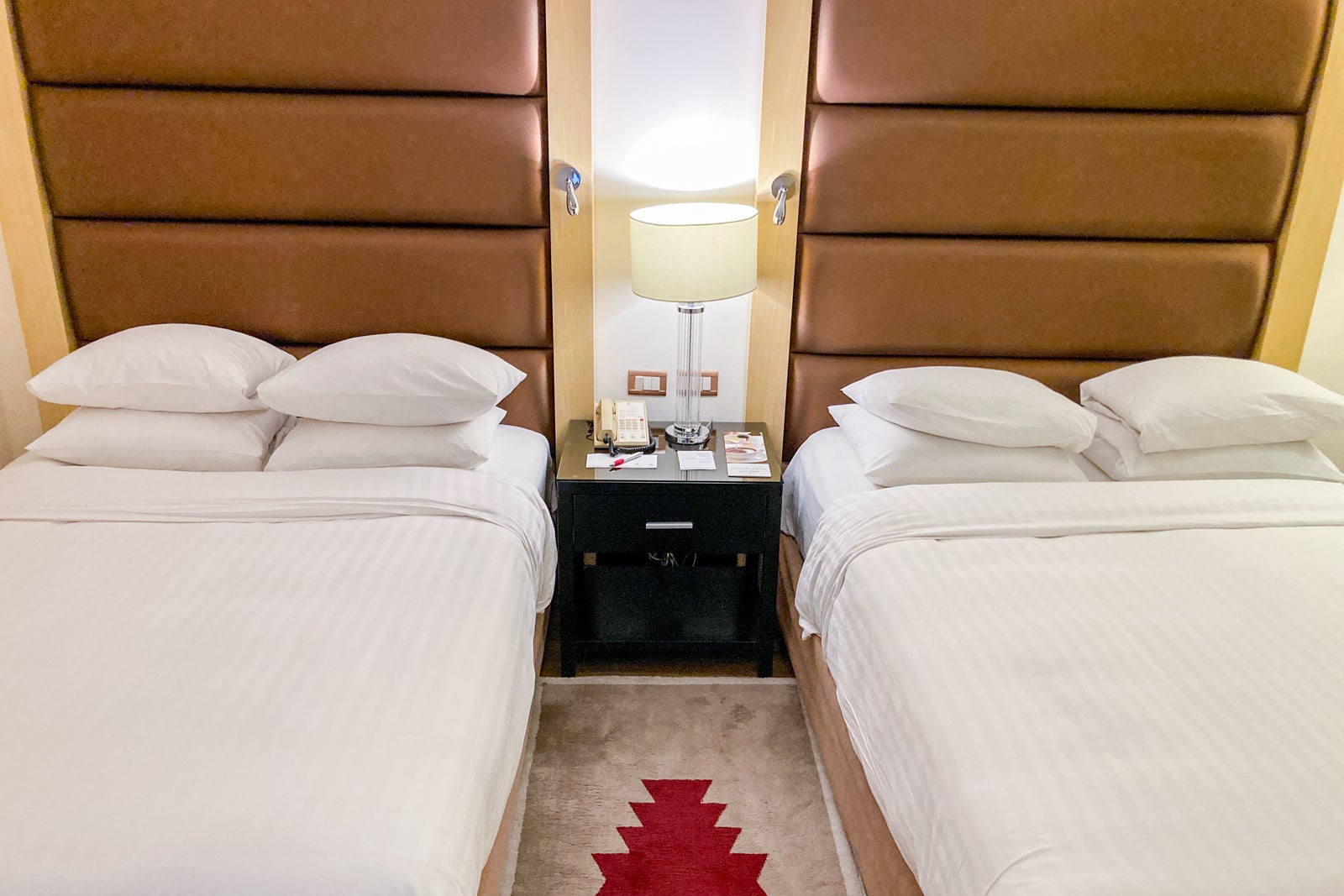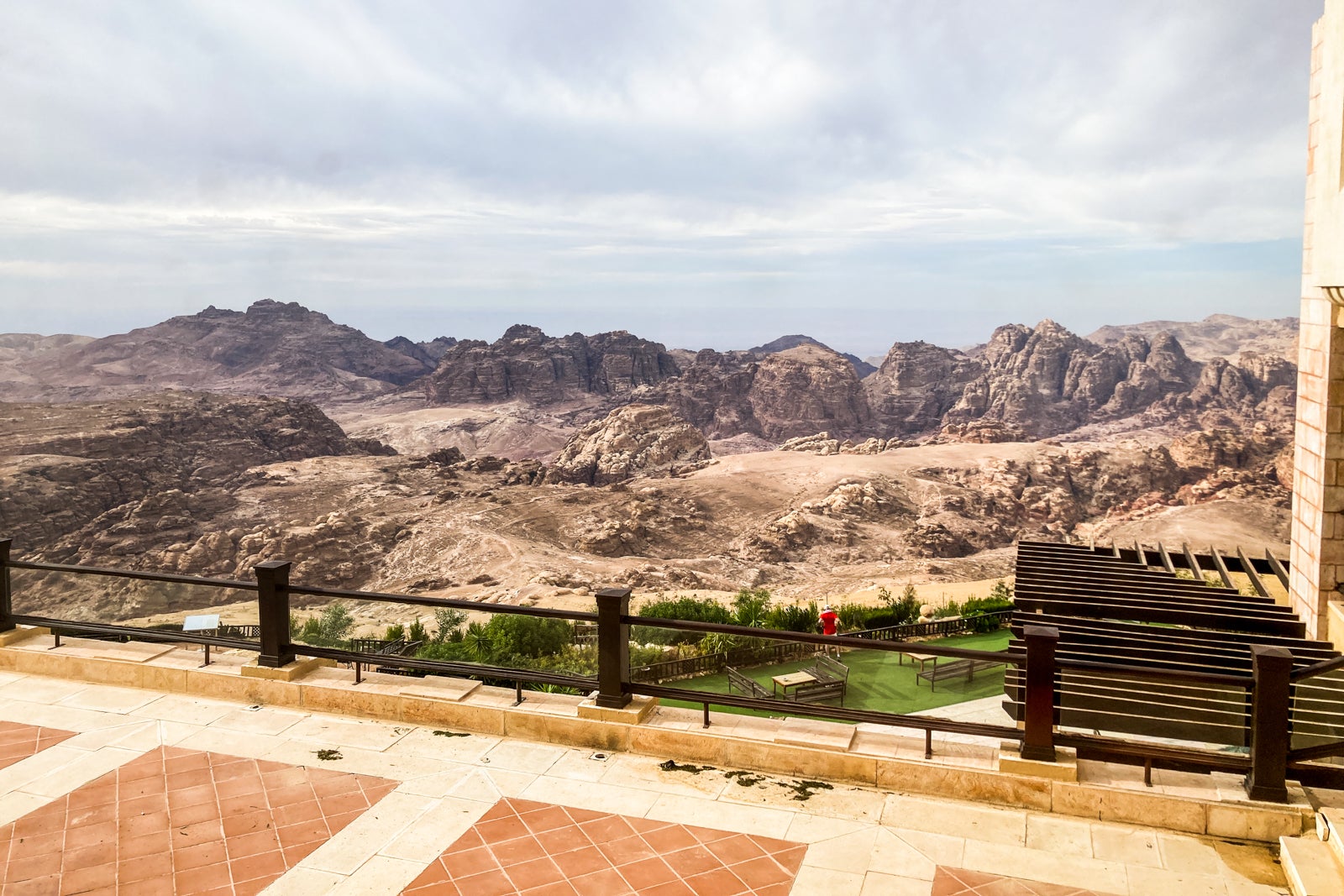 While they could be improved, there's nothing inherently wrong with the guest rooms. Our room was billed as a "deluxe guest room" but felt very standard. Standard isn't necessarily a bad thing, as the room provided everything we needed for a two-night stay.
Beyond the two beds, the large windows overlooked the rear deck and the valley beyond the hotel.
The beds were comfortable and provided a good night's rest, though the pillows were the type where you lay your head on them and instantly sink to the bottom. The sheets were smooth and lightweight, rather than stiff or starched.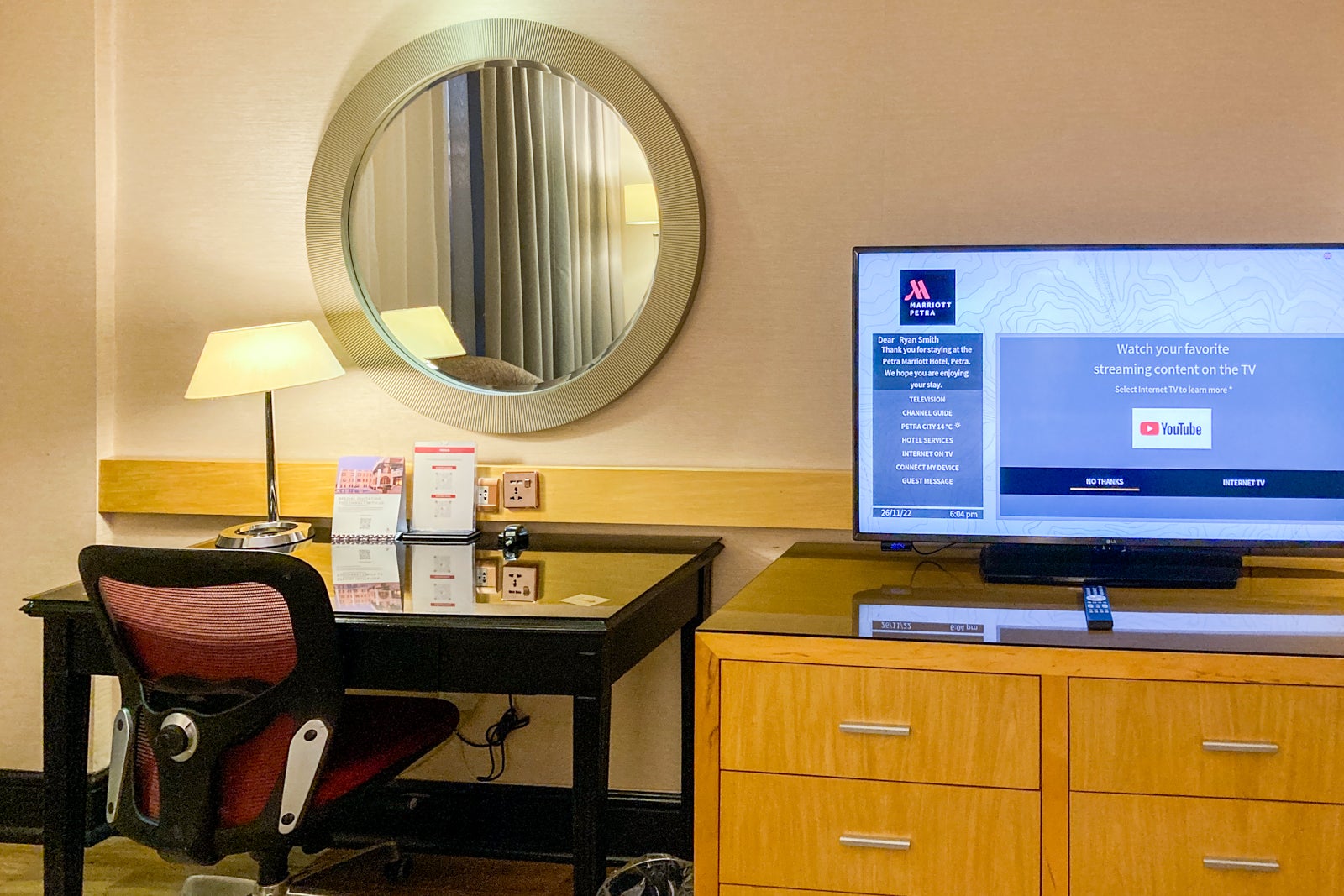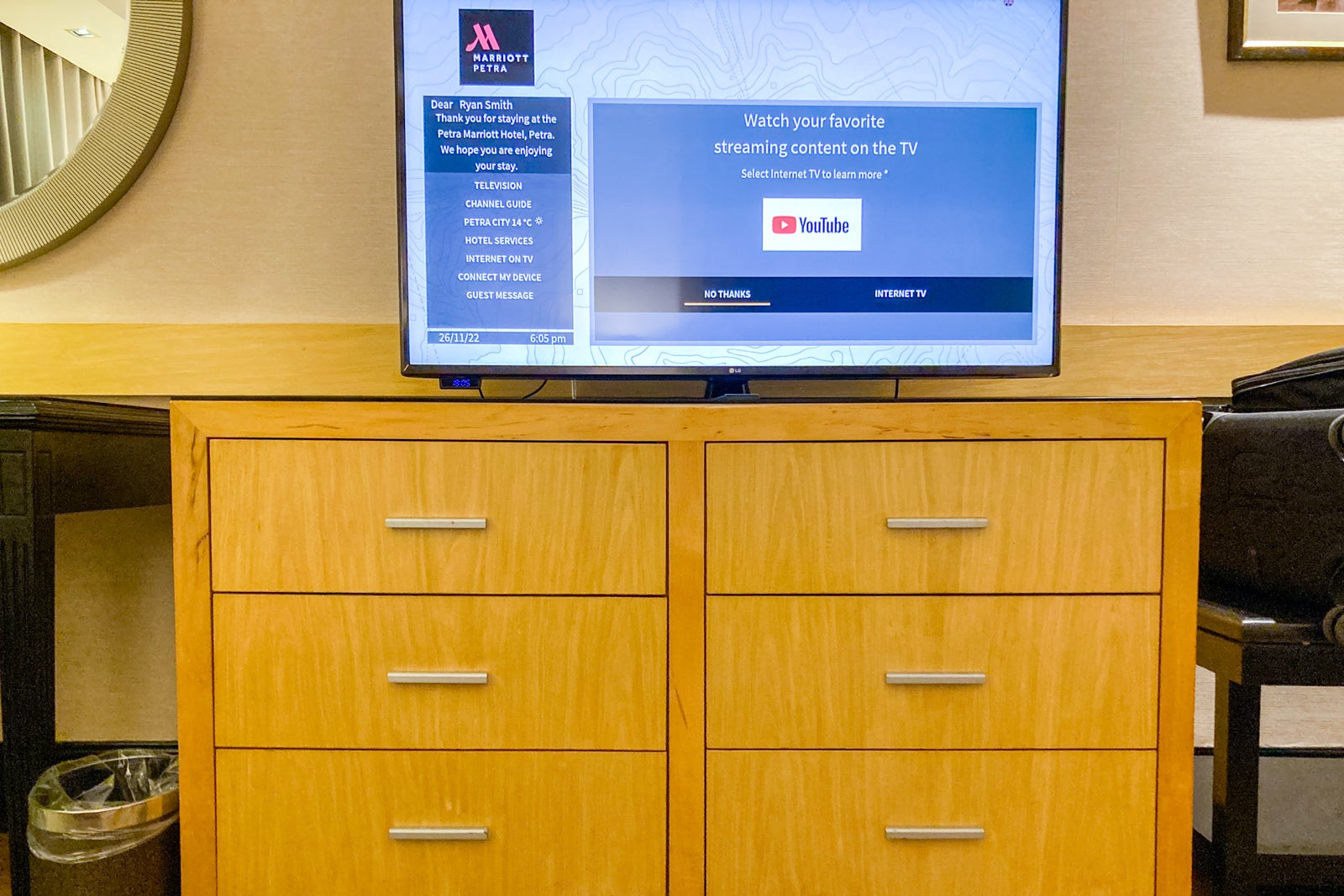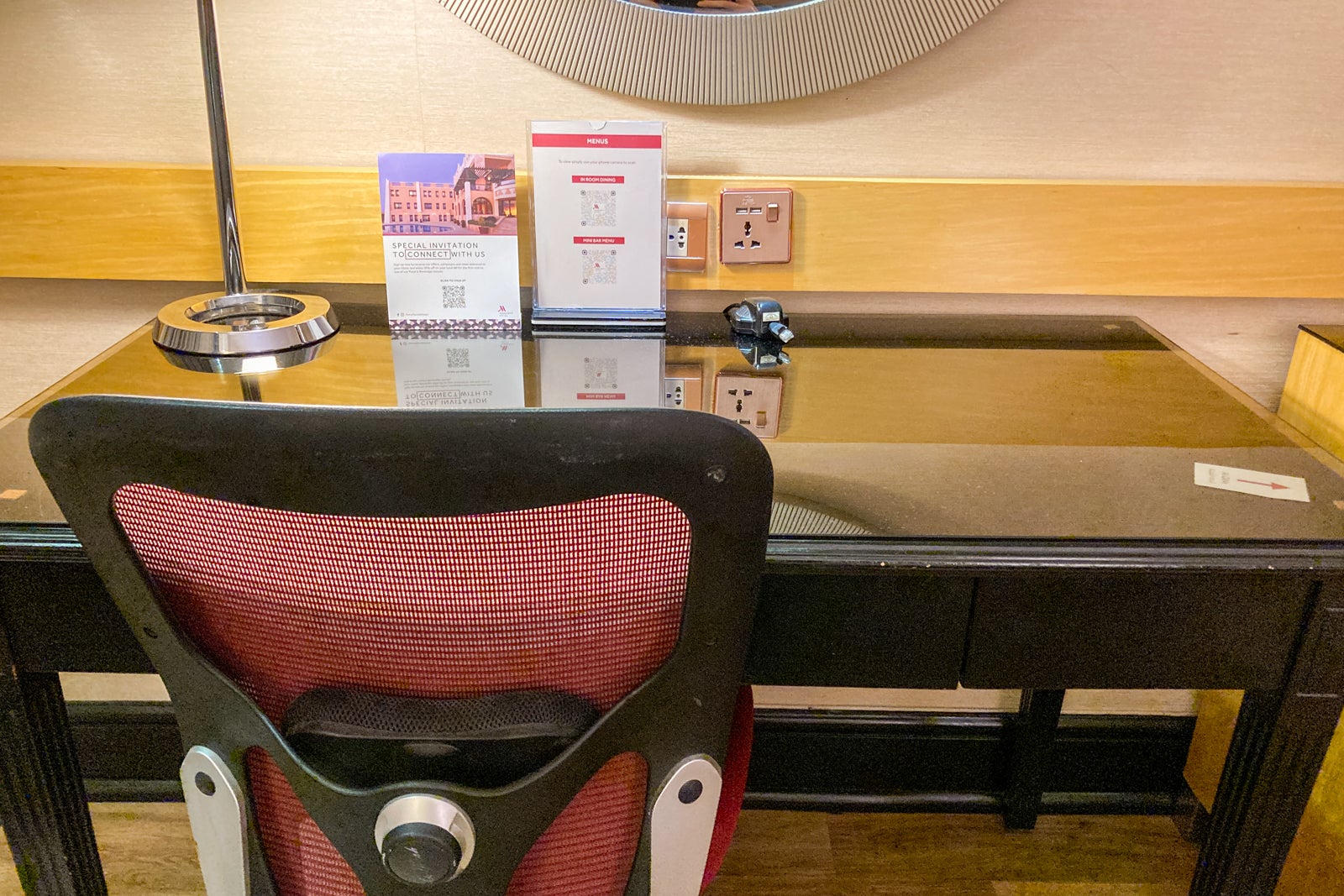 Opposite the beds, there is a six-drawer wooden dresser with a TV on top. Next to this, a glass-topped wooden desk — more like a table than a desk — and an ergonomic chair without armrests provide a workspace for anyone who may need it during their stay. I sat in the chair purely to check it out for this review, and it provided good support.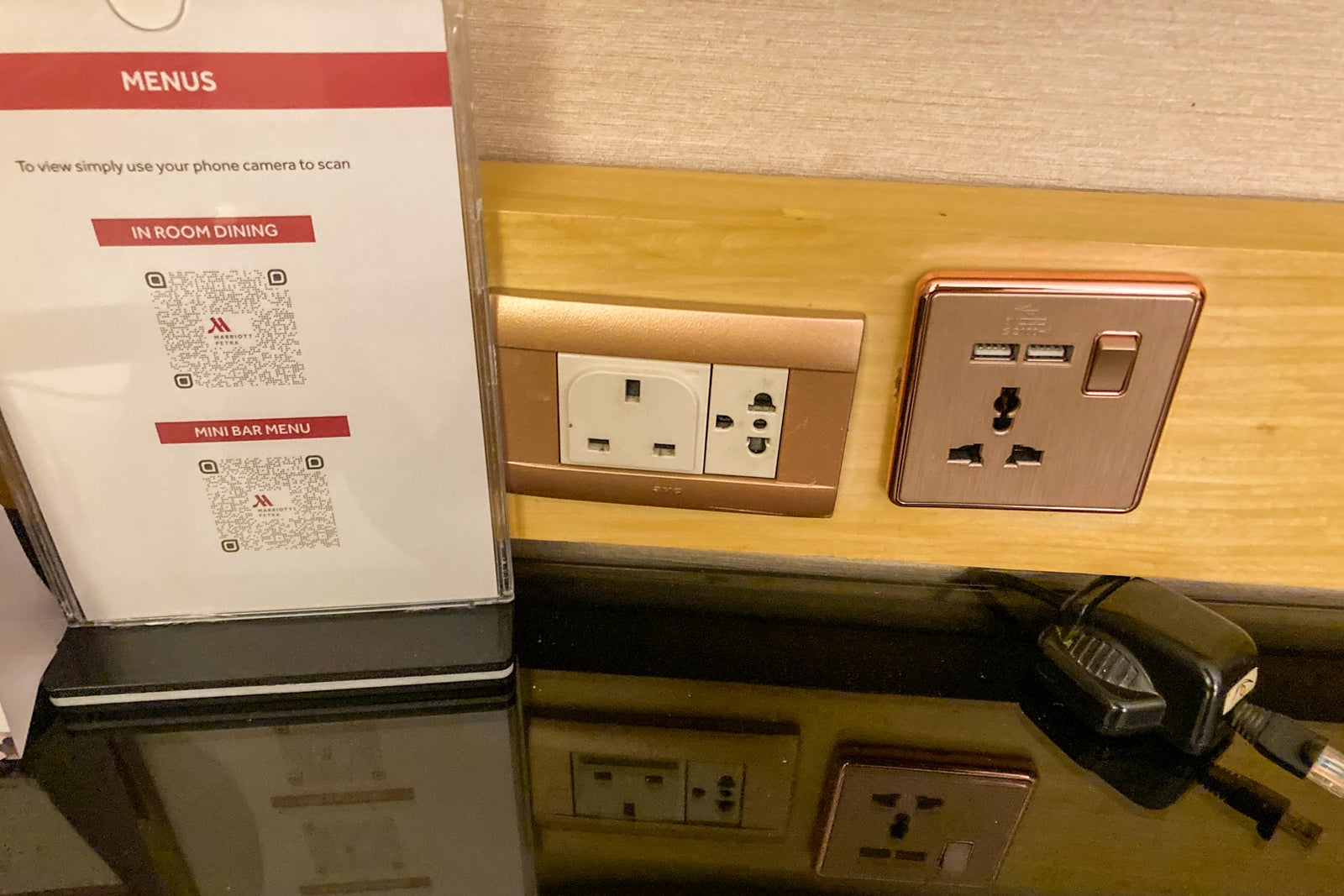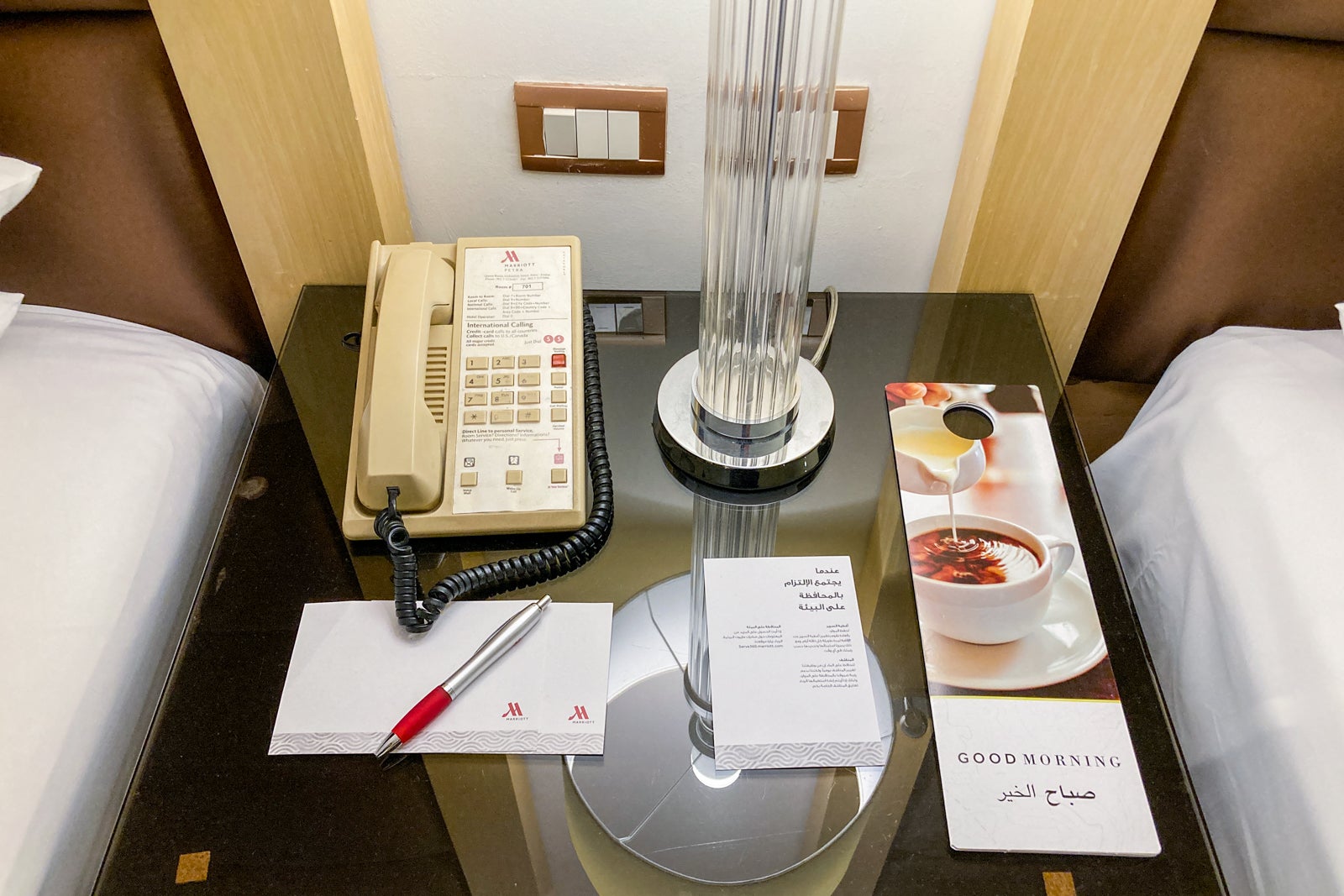 Sockets above the desk accept multiple types of plugs, which was convenient but limited since the other plugs in the room are not universal. The single outlet between the beds accepts only one plug type (which isn't the U.S. style), plus it is situated between a confusing mix of switches. Some of these didn't have any discernible use, which made controlling the room lights complicated.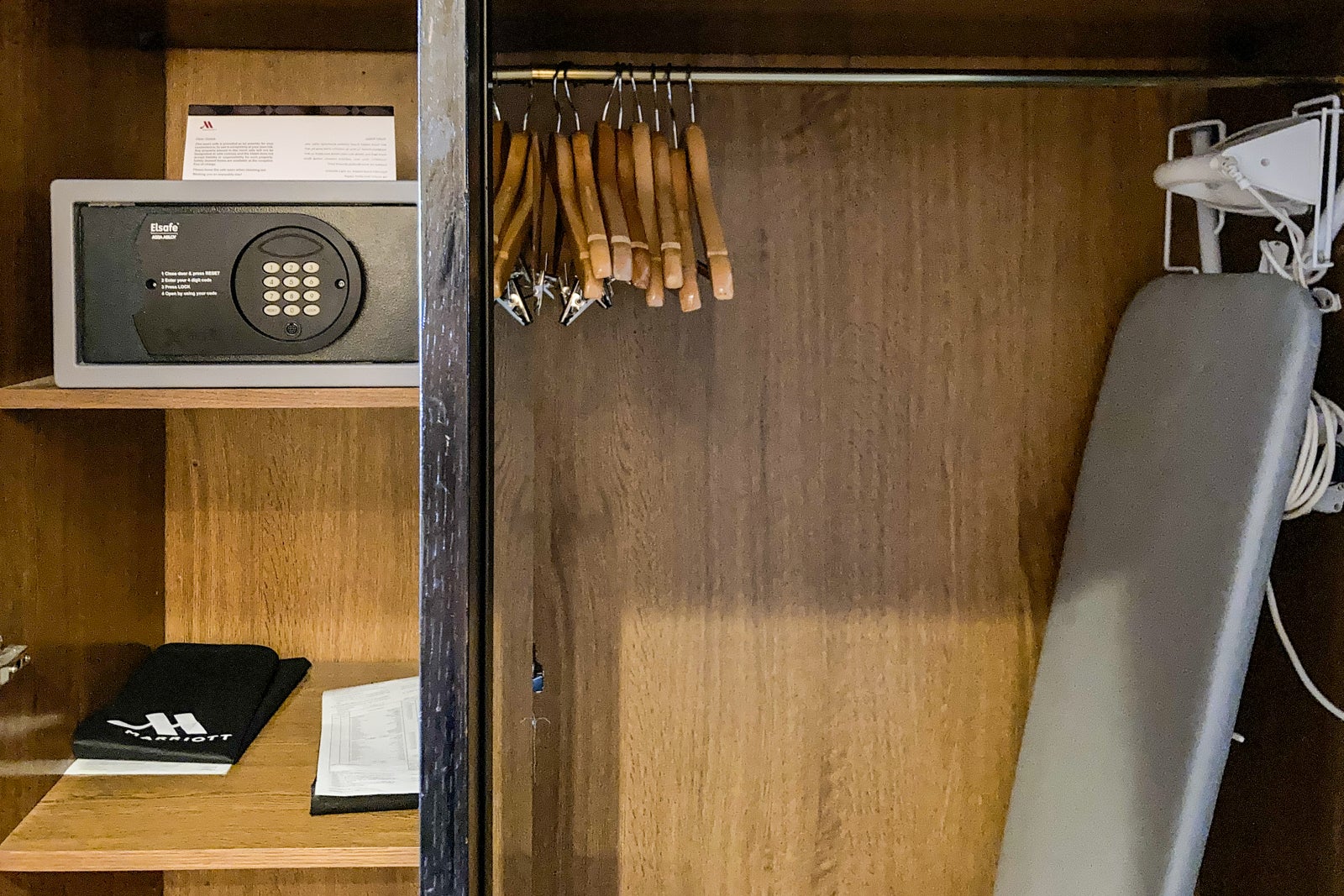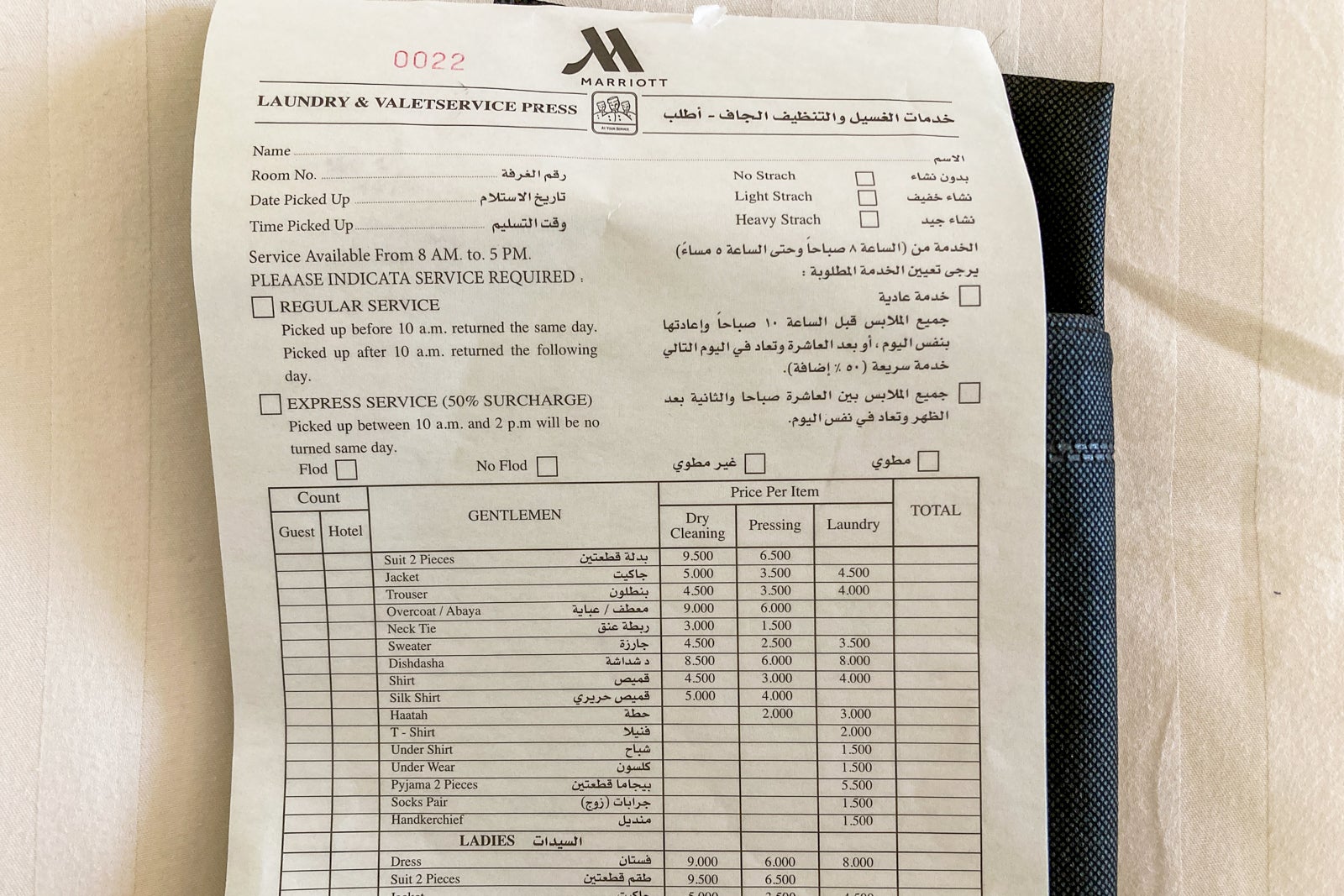 In the room's entryway, there is a closet on one wall and a panel of switches next to the bathroom entrance on the other. The closet includes several shelves, a small safe, hangers, an iron and an ironing board. A laundry bag and price list indicated the availability of guest laundry and dry cleaning services. Pricing is per item, and washing a T-shirt costs approximately $3, for reference.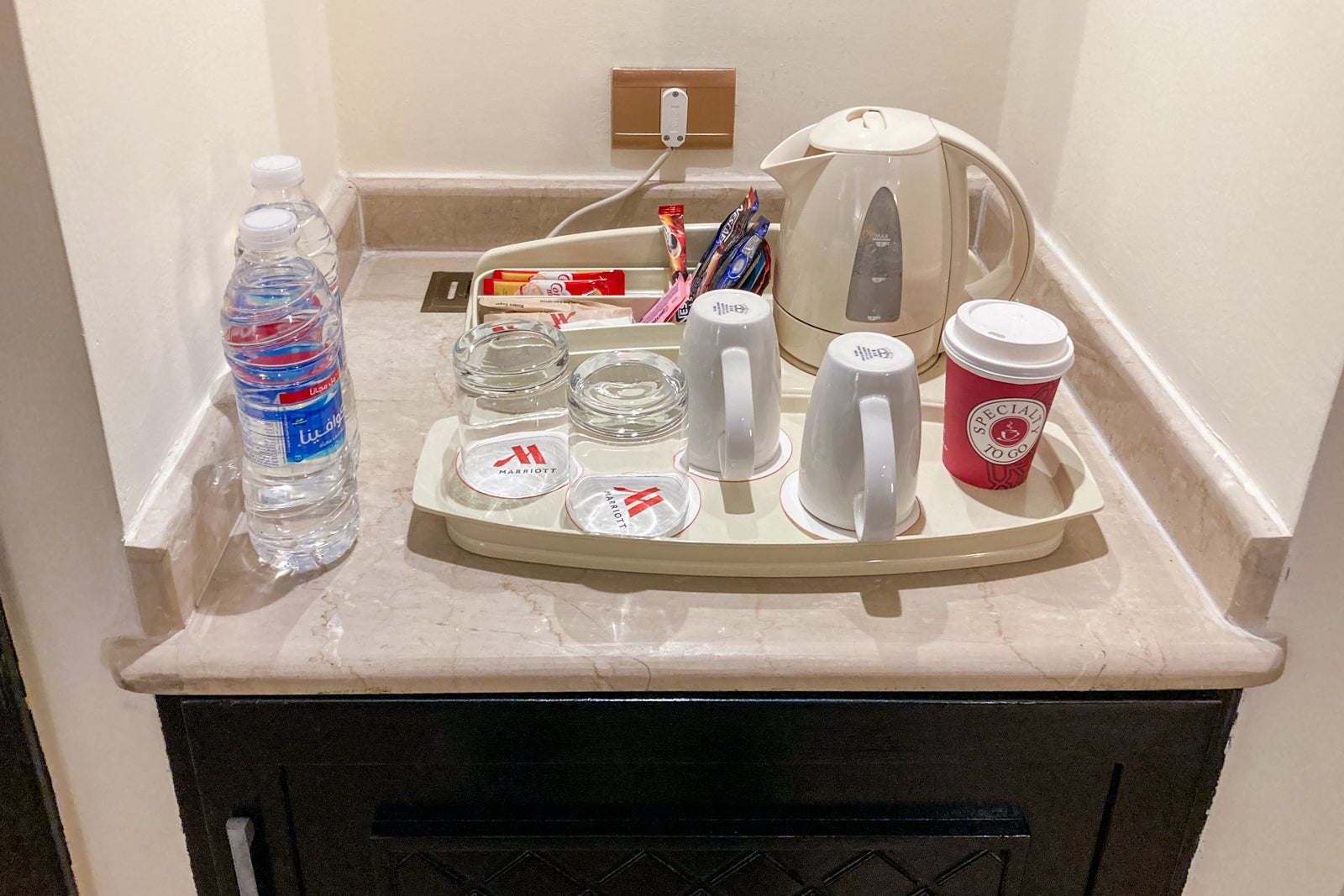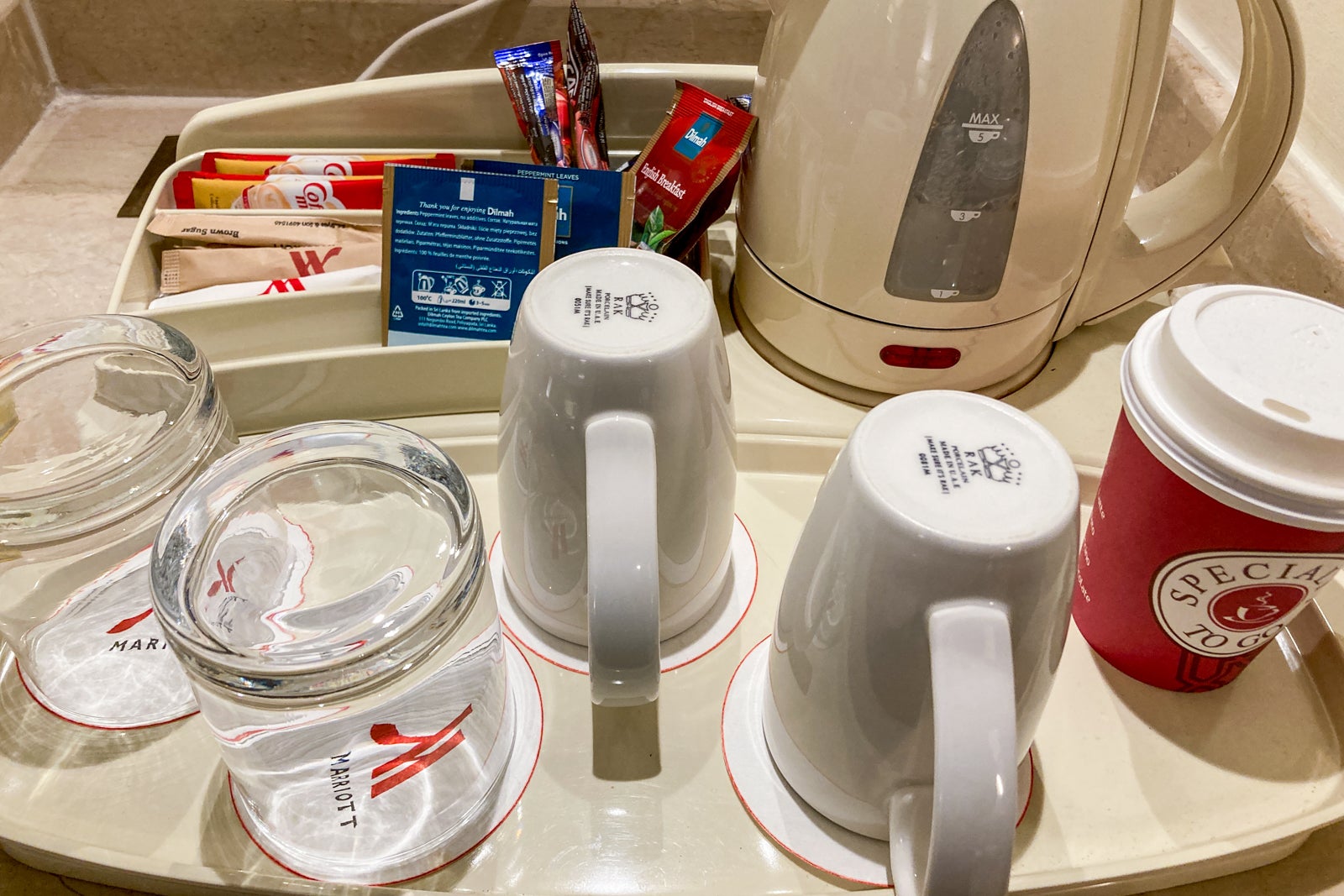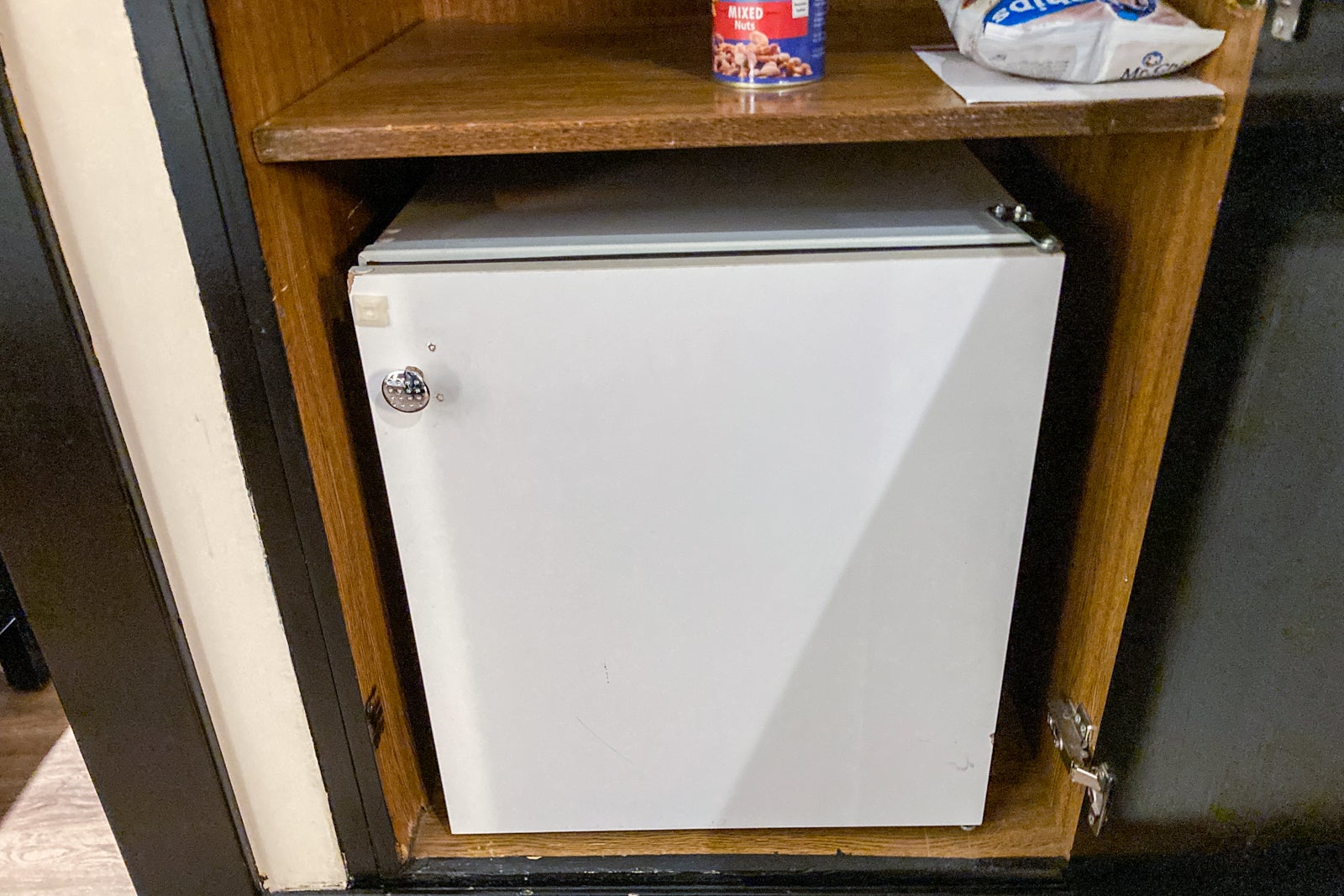 Next to the closet, there is a minibar area with a small refrigerator inside the cabinet plus coffee and tea supplies on the counter. These include a hot water kettle plus tea bags, sugar and instant coffee. The option of mugs or takeaway cups was a nice touch. We also found drinking glasses and bottled water here, and housekeeping provided new daily bottles to keep us hydrated.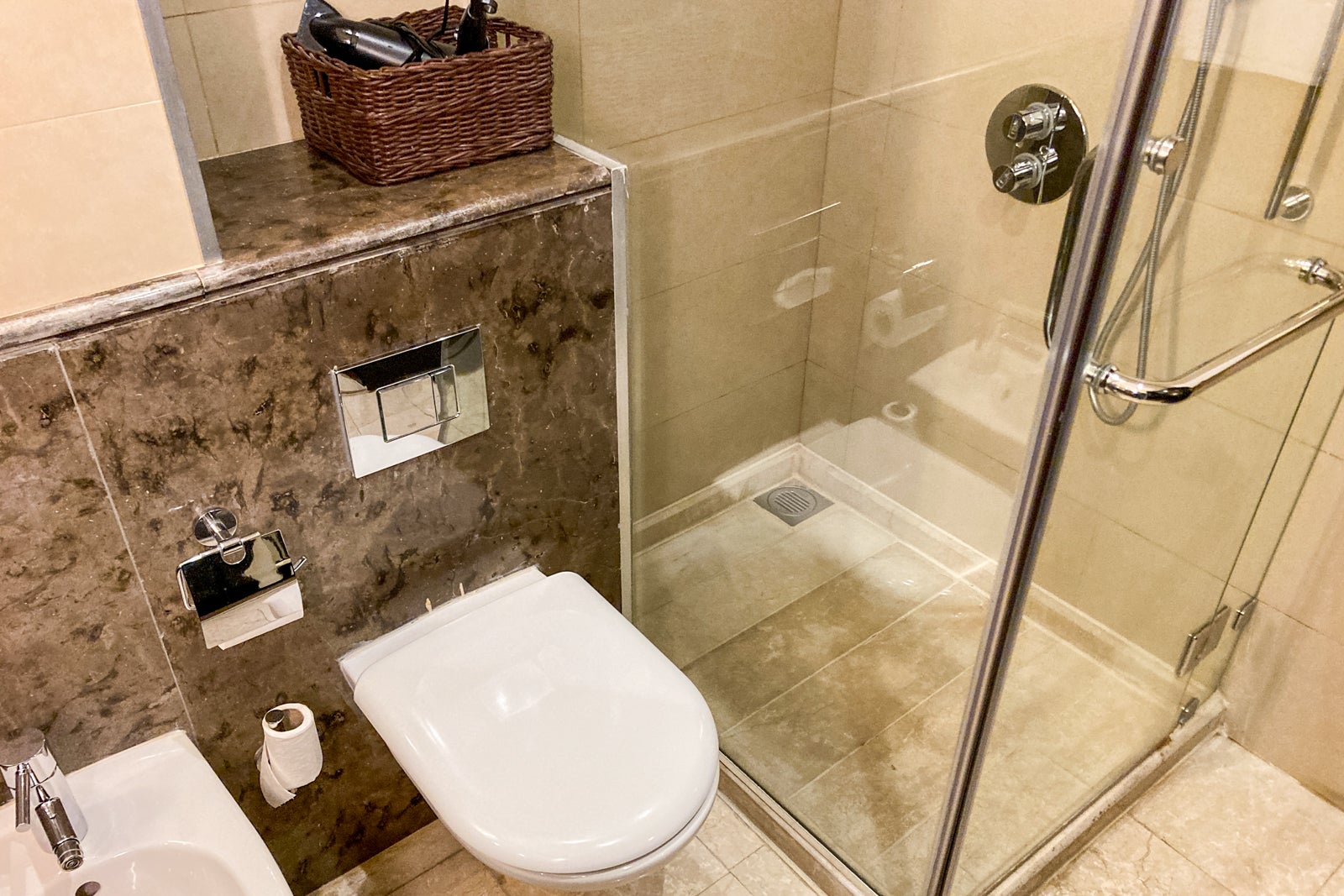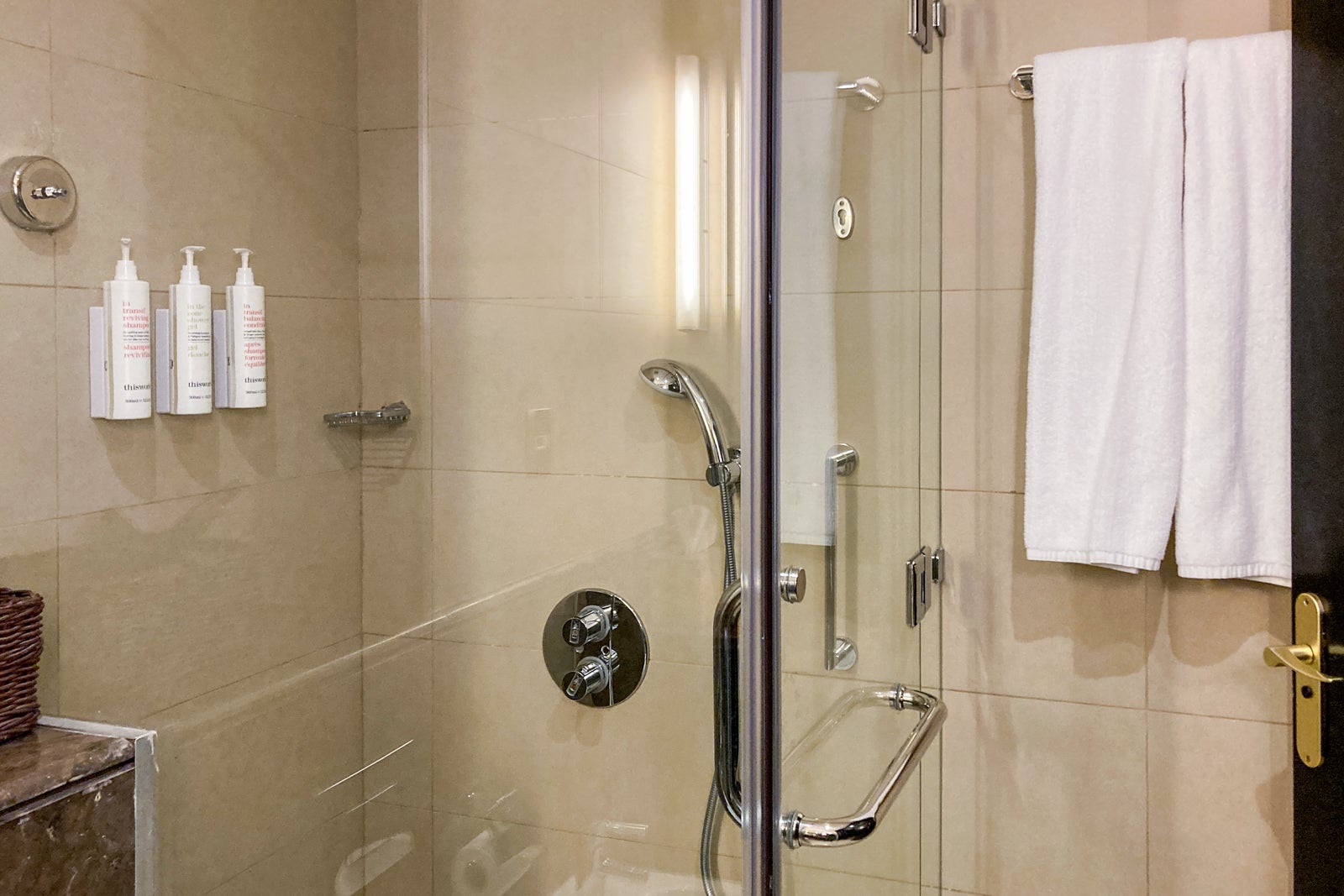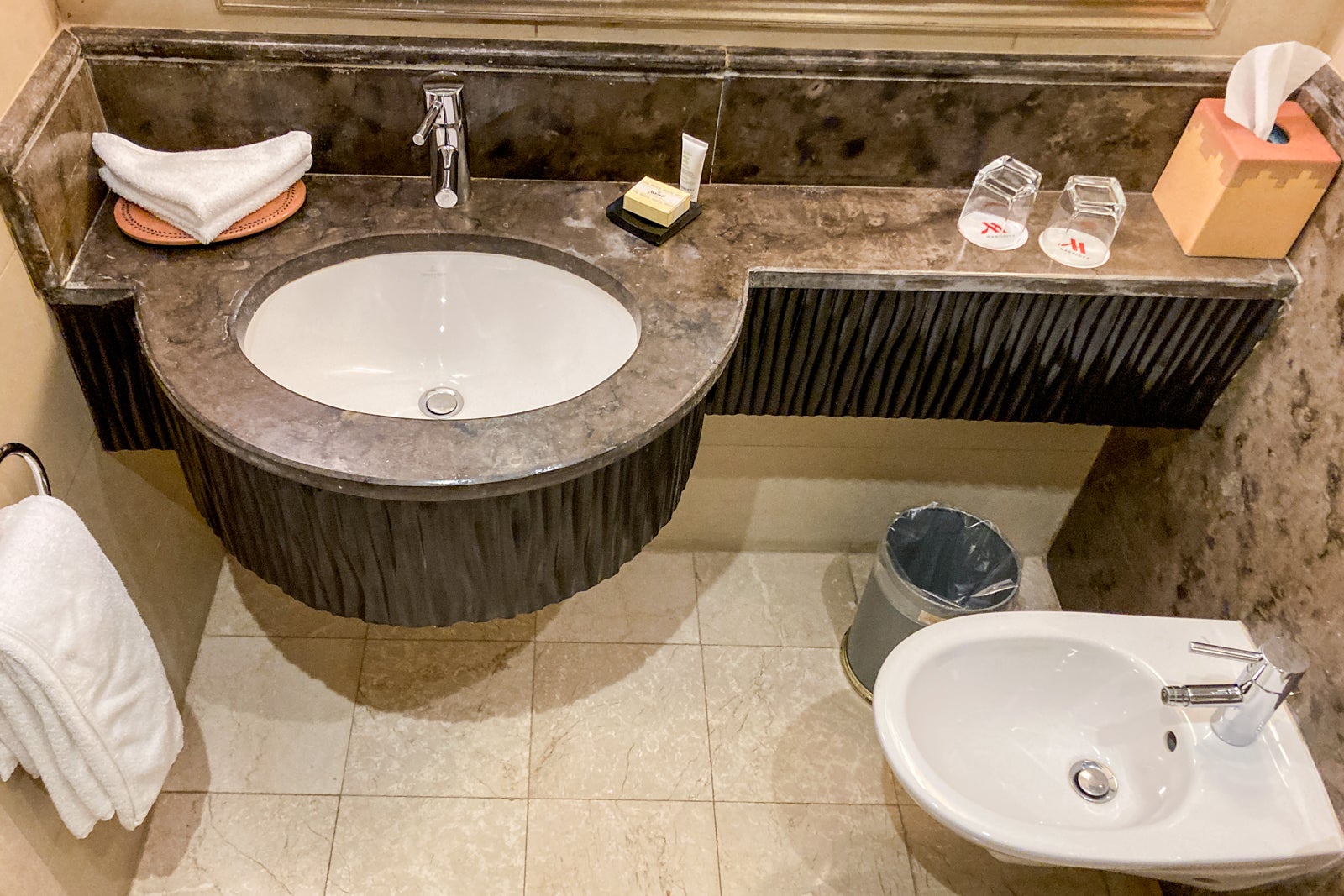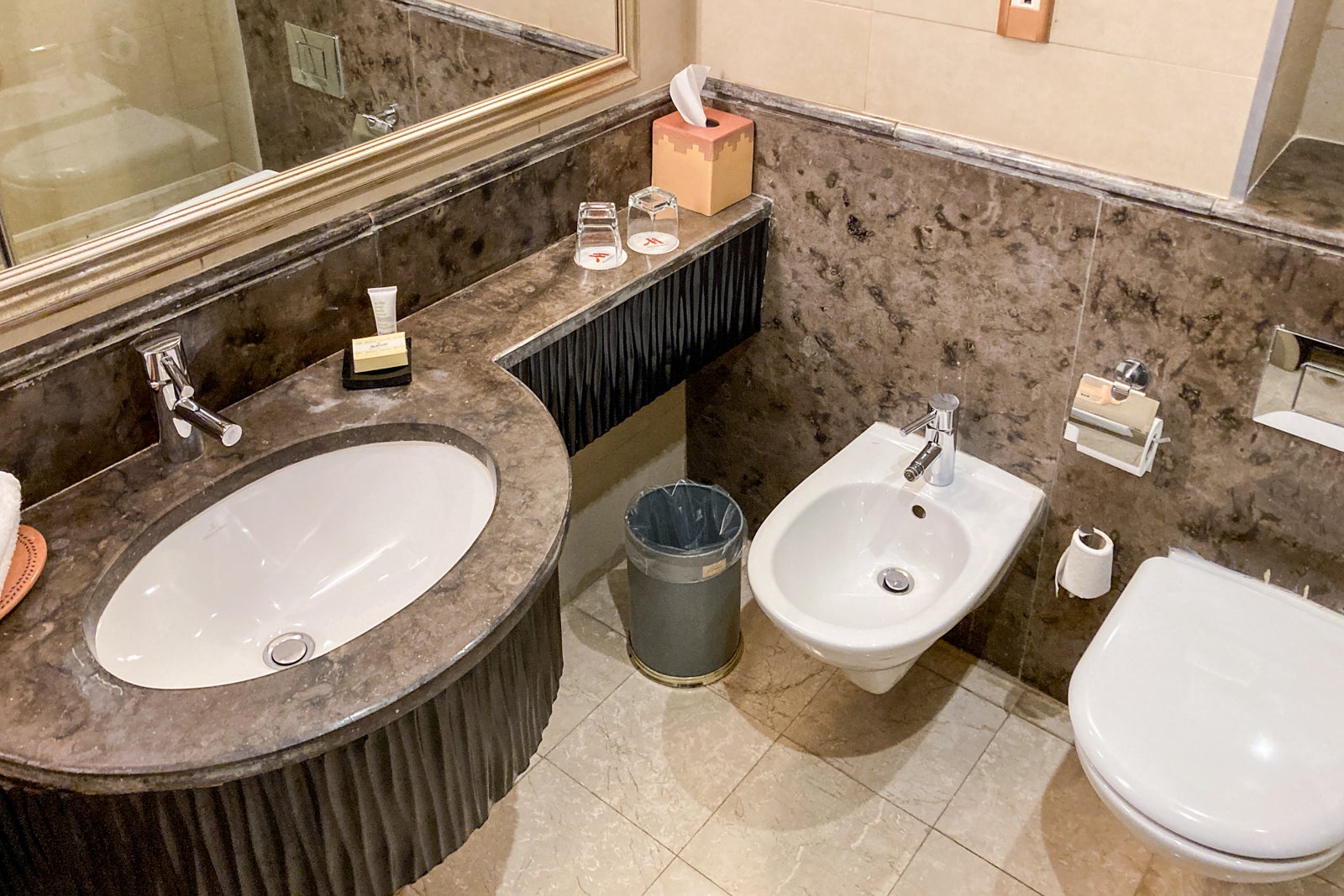 The bathroom is small but contains everything necessary in a layout that makes sense. My wife and I didn't trip over each other when using the bathroom, and that is a strong compliment for a bathroom of this size.
A small amount of counter space next to the sink was complimented by a shelf above the toilet, where there is a hair dryer and sufficient space to store our toiletries. A bidet sits between the toilet and the sink, and a glass shower box occupies the corner next to the door. It is easier to get in and out of the shower with the bathroom door closed; with the door open, the glass door from the shower will hit the wooden bathroom door, and we worried about shattering the glass door. Aside from factoring this in, the bathroom features felt very intuitive.
Pump bottles on the wall contain This Works citrus-nutmeg shampoo and conditioner and eucalyptus-scented shower gel that tingles on your skin when scrubbing your body.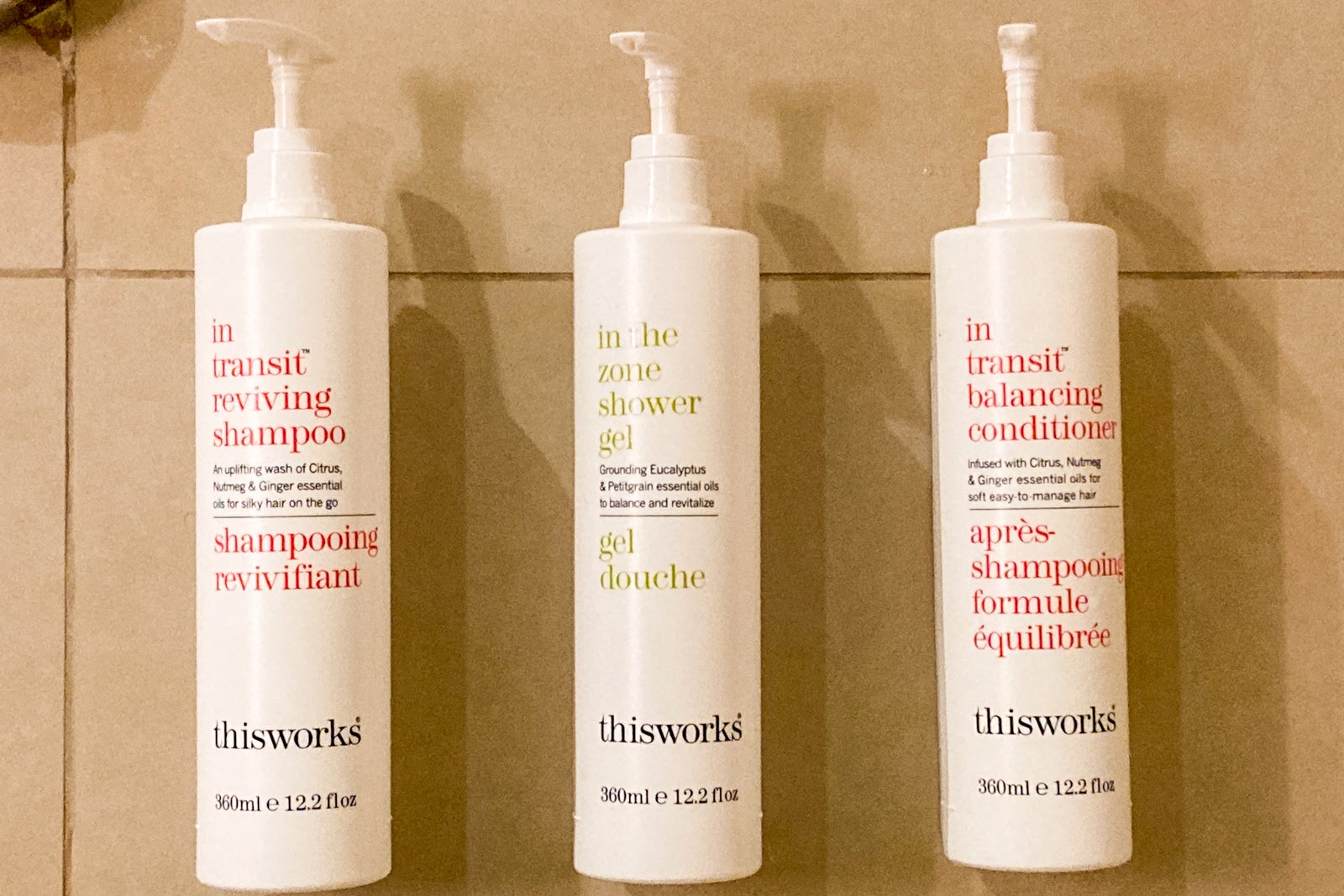 Under the sink, we had two pairs of bath slippers. Using these while moving about the room after a full day of walking at Petra made our feet very grateful for something other than hiking boots.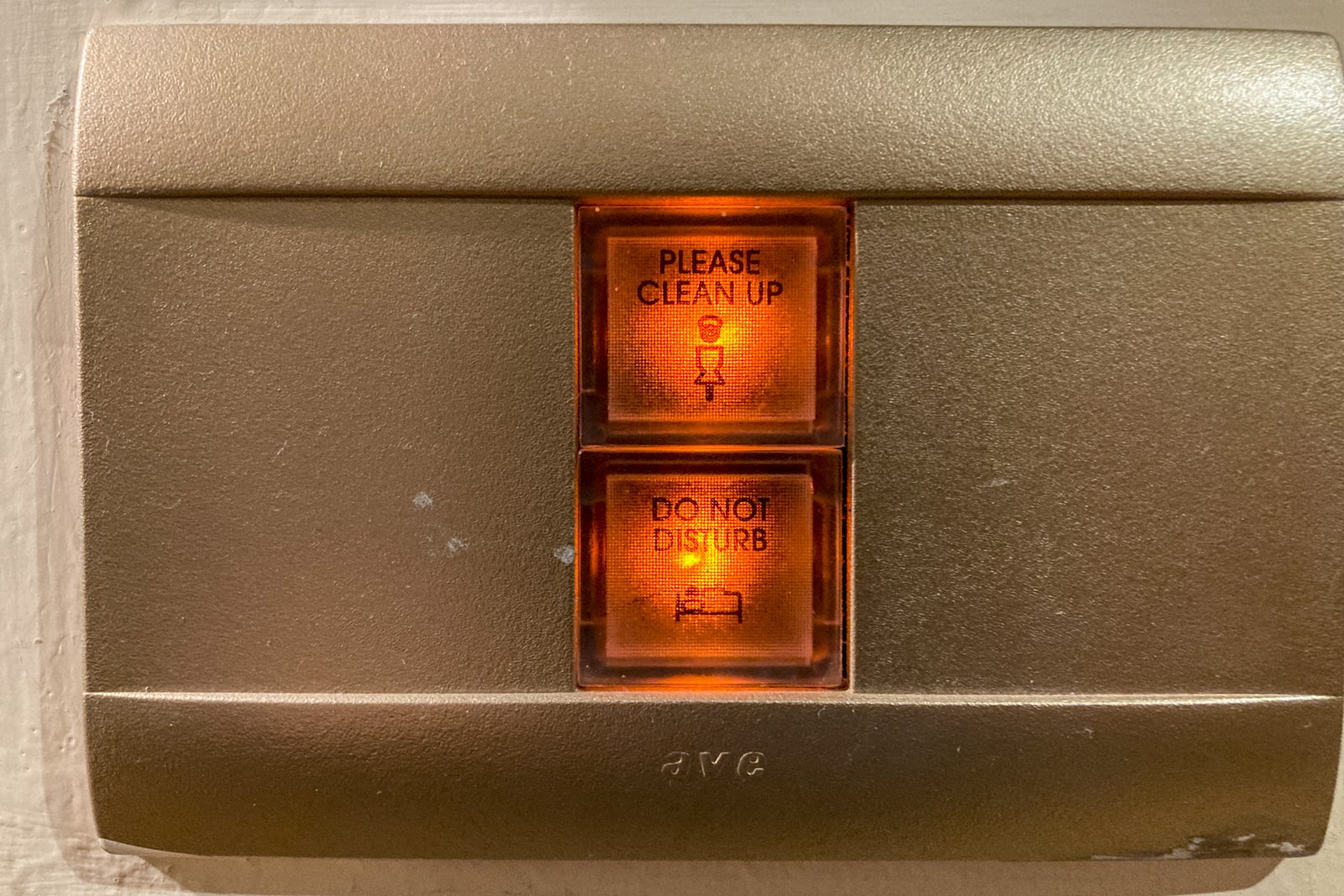 On the panel of switches next to the bathroom, there are switches to control "Please clean up" and "Do not disturb" lights on the wall outside the room. One improvement to the room would be a light in the entryway. We used the lights from the bathroom for the entry and closet, since there is no overhead light behind the door. At night when returning from many hours walking at Petra, we took off our boots in the entryway. This area was quite dark and would be improved by adding an overhead light.
Food and drink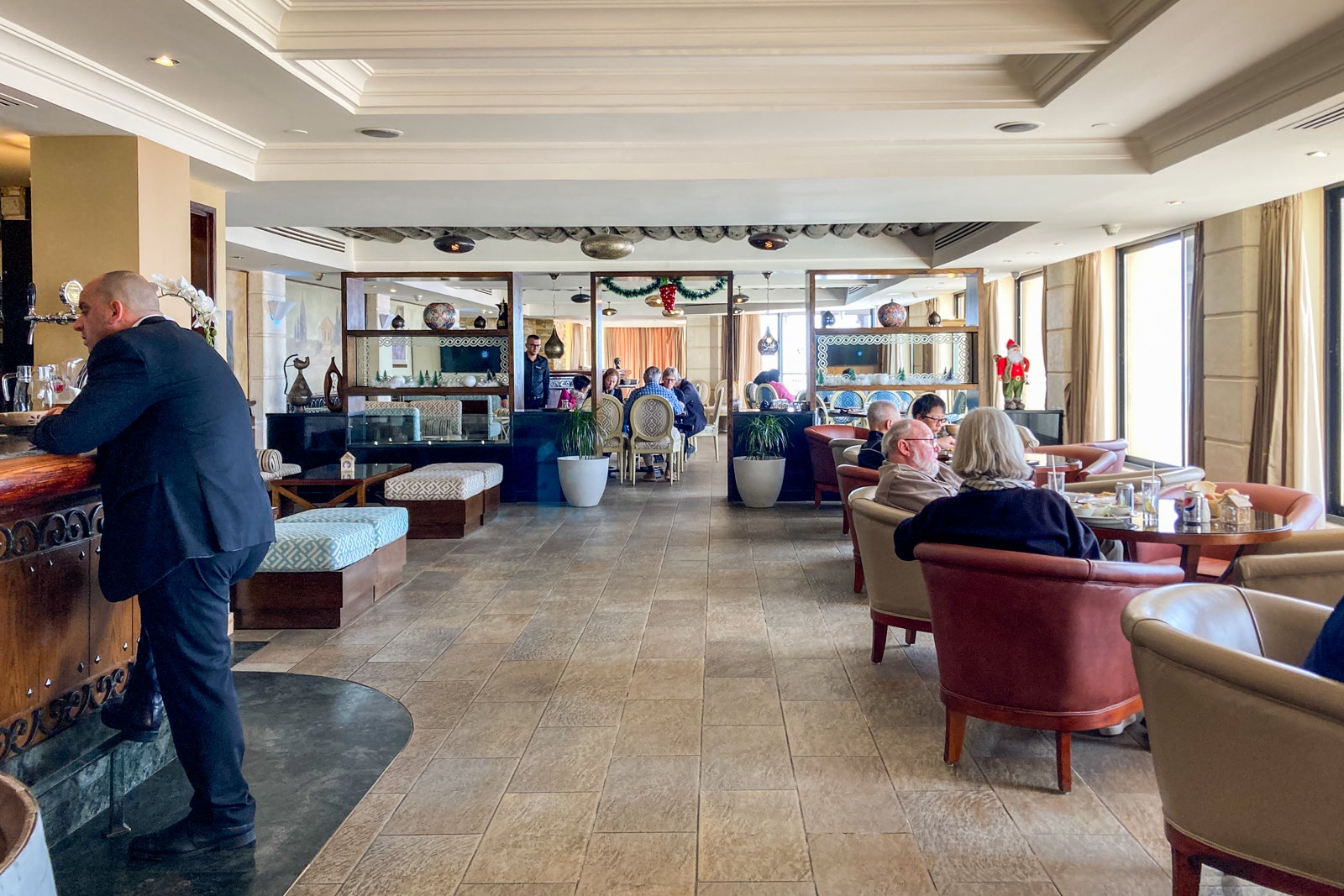 To the left of the lobby's living room area are Aretas, serving beer, wine and mixed drinks as well as soft drinks and a full coffee bar, and Hala Hala, with a menu of Arabic food, including barbecue and traditional Jordanian dishes.
Two floors down, located on the same level as the outdoor deck, the Dushara restaurant serves a breakfast buffet each morning and a large dinner buffet each evening. At check-in, the hotel informed us that we could dine for free at the Dushara restaurant each evening thanks to my elite status.
Usually, I don't find hotel dinner buffets exciting. However, we were impressed by the range of offerings at both breakfast and dinner, and the fact options weren't the same every day kept the meals interesting.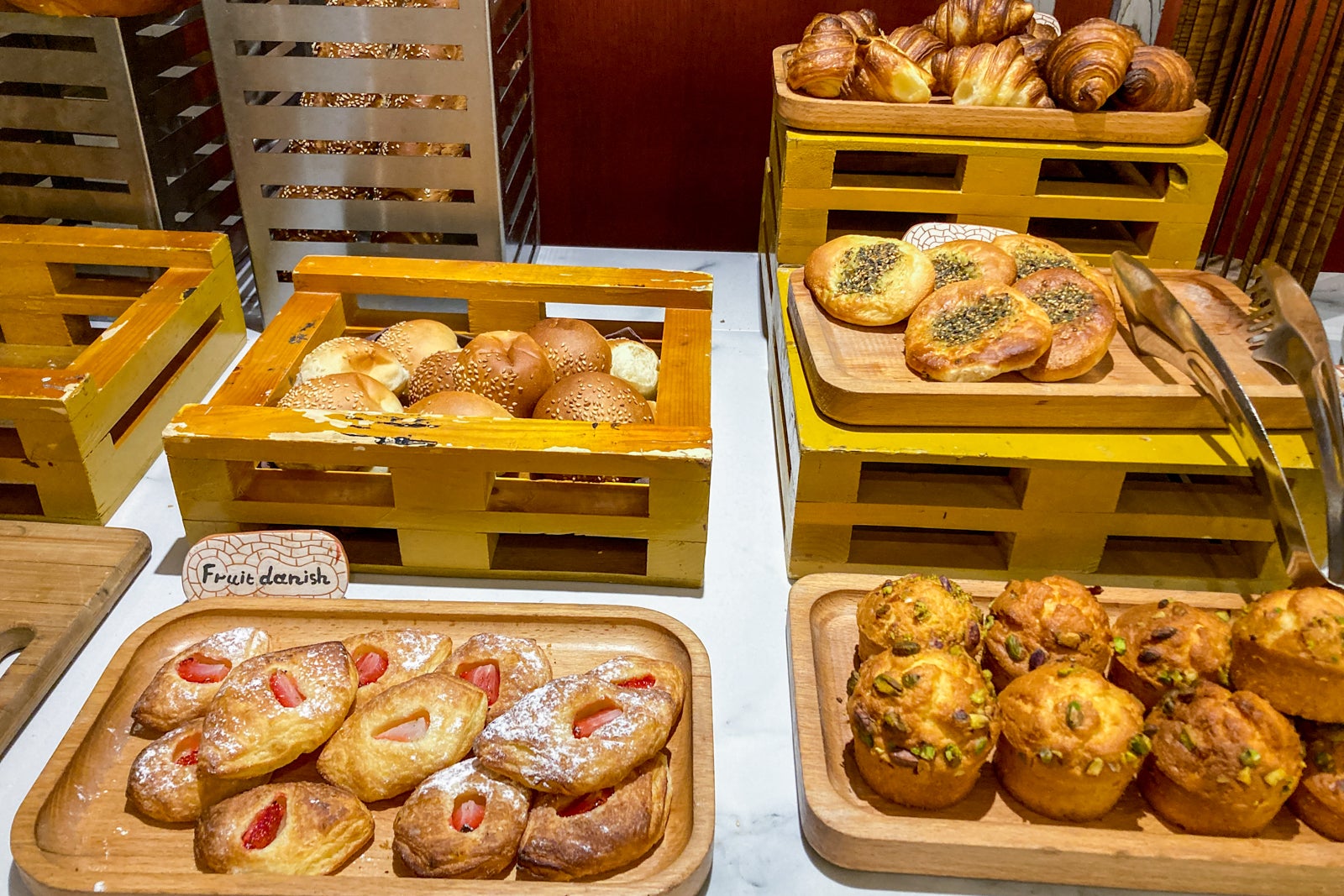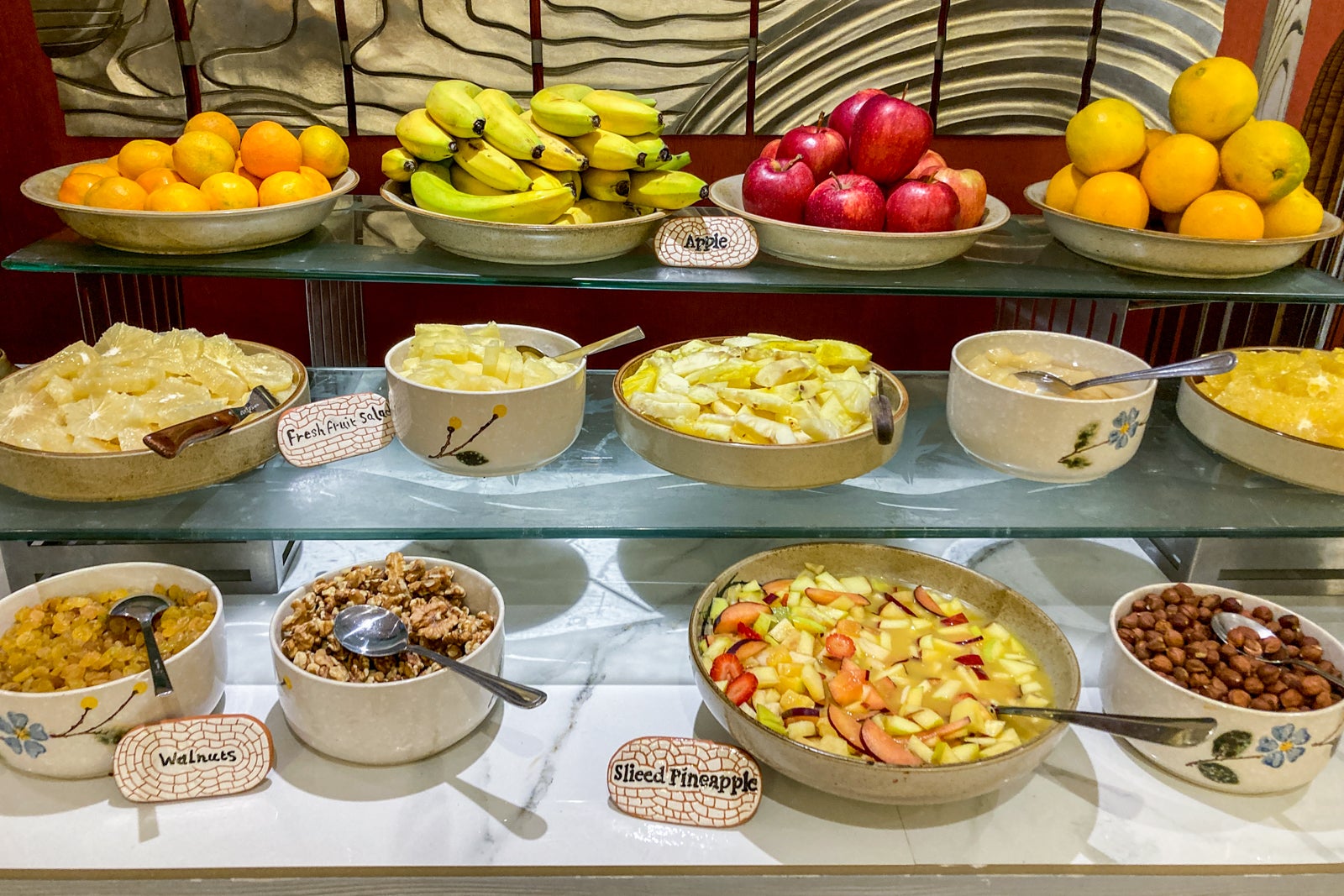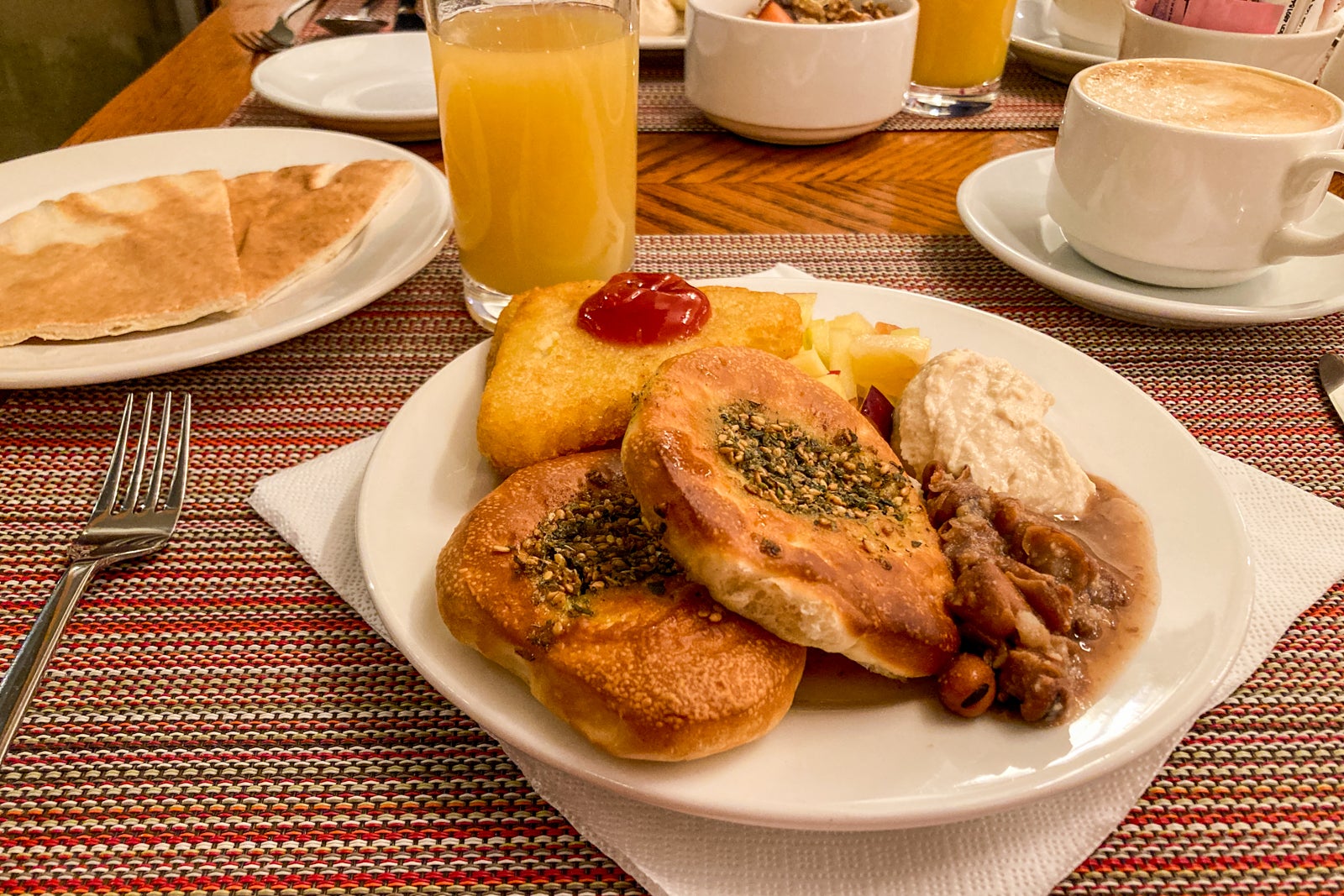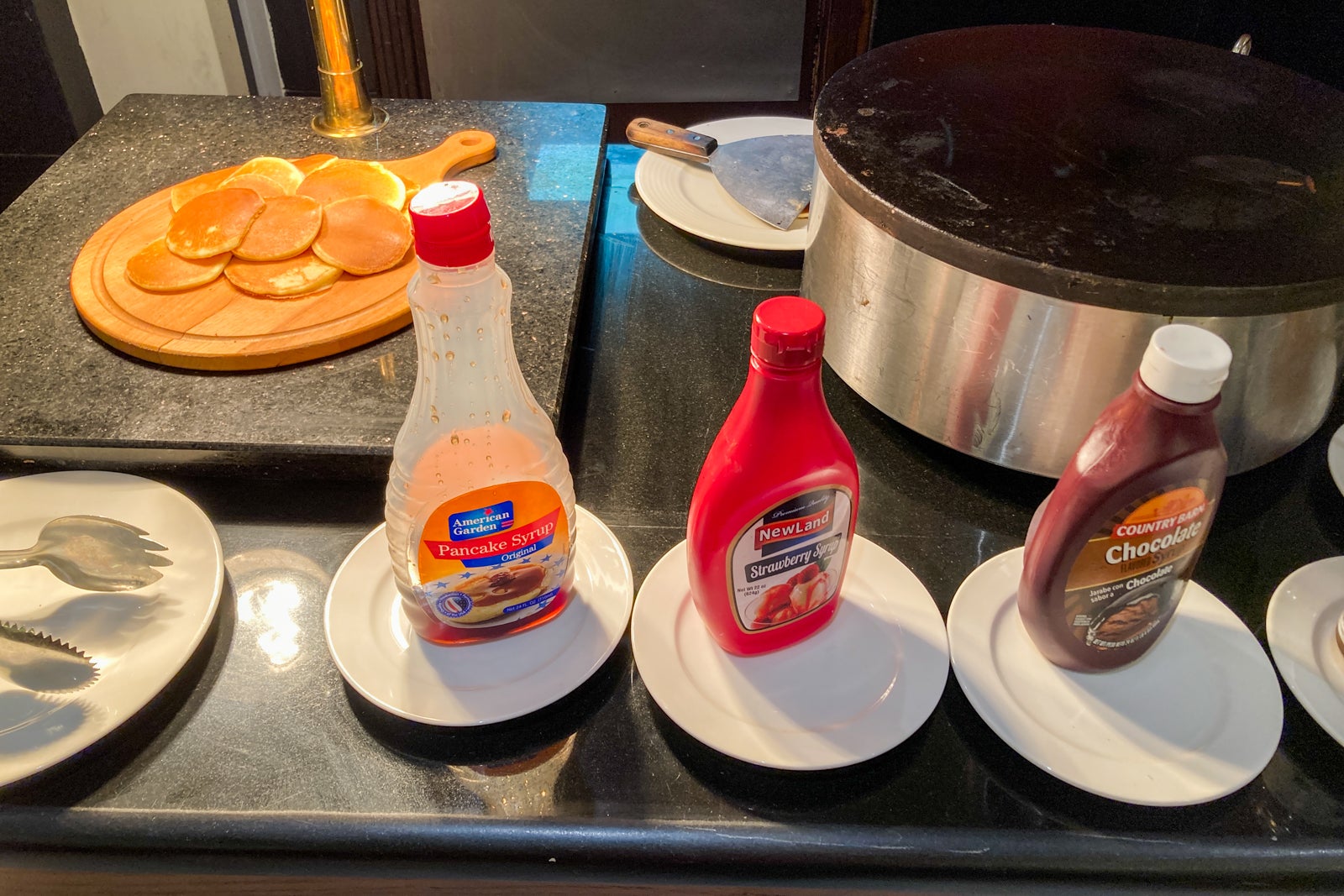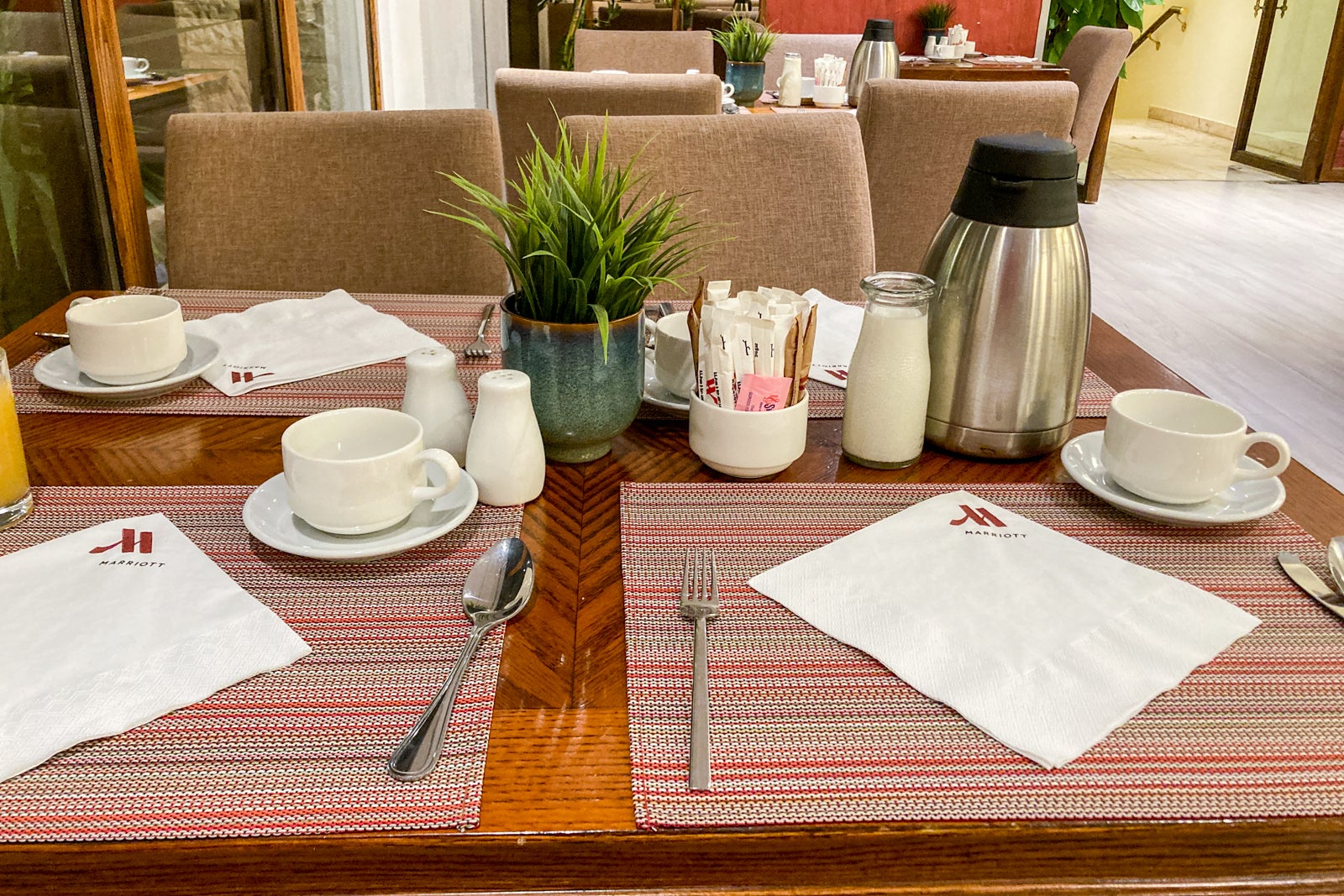 Dushara's breakfast buffet rivals buffets at more luxurious hotels. Along with standard fare like scrambled eggs and croissants, you'll also find an employee making pancakes while another whips up made-to-order omelets at the end of the buffet.
On the opposite side of the dining room, we found a wide range of bakery items and fruits. These included Western and Arab options, such as muffins, danishes and my wife's favorite, zaatar — a bread dish that can be large or small and is covered in seasonings and spices. Staff members joked that they would need to order more supplies for zaatar if my wife stayed at the hotel longer, and this is the type of interaction we enjoyed with staff throughout our stay, feeling authentic and personable, rather than simply asking if we enjoyed our meals and then clearing our dishes.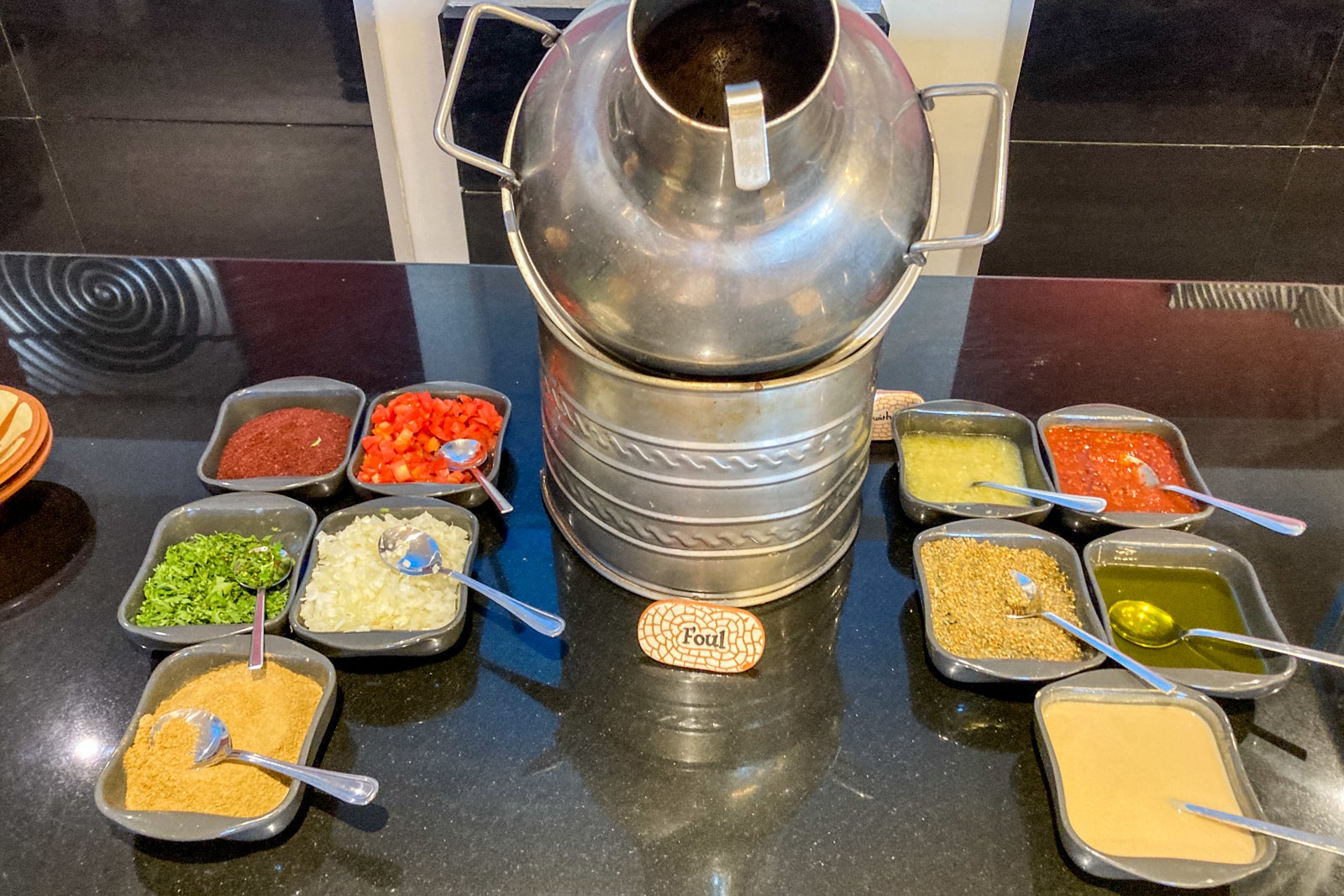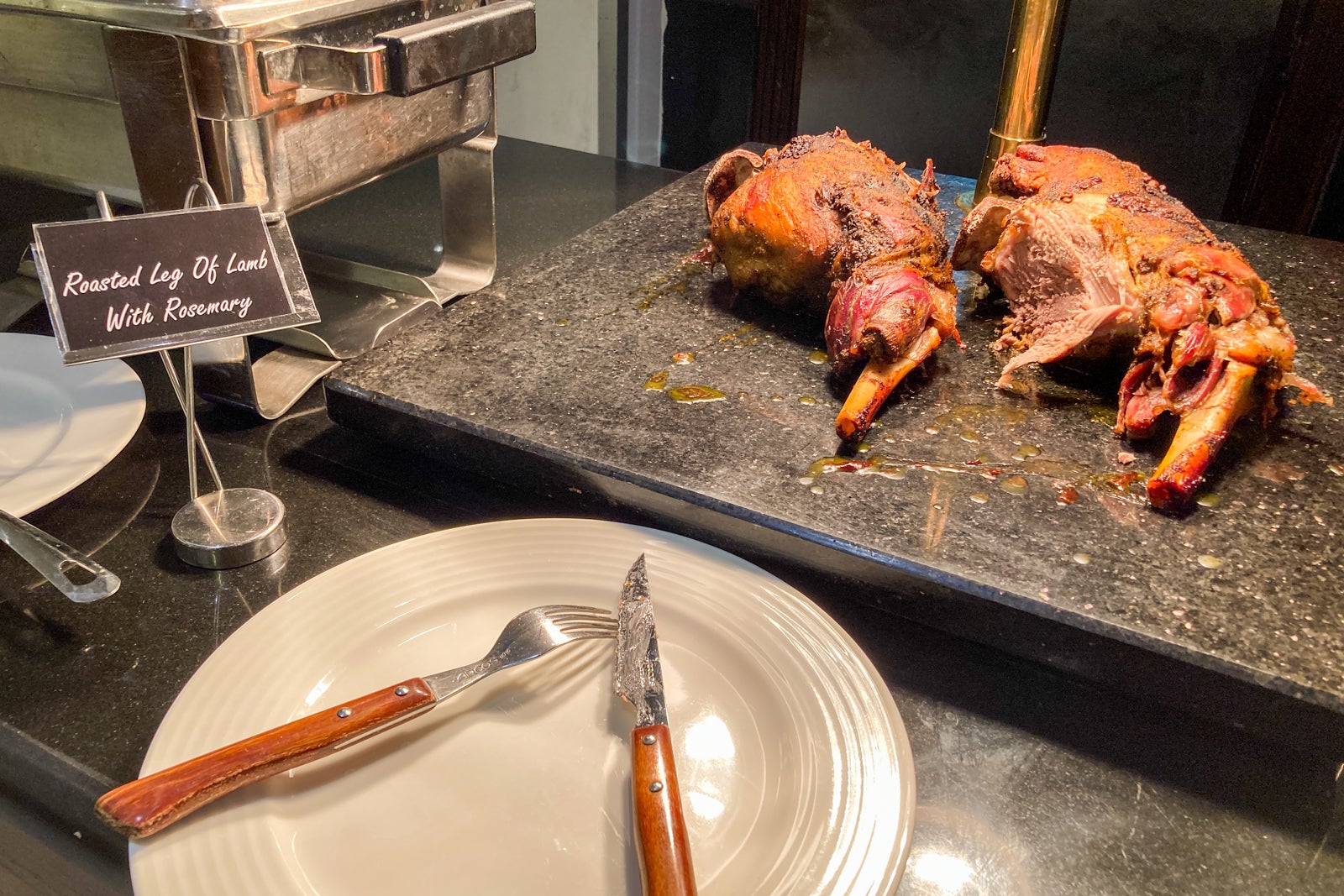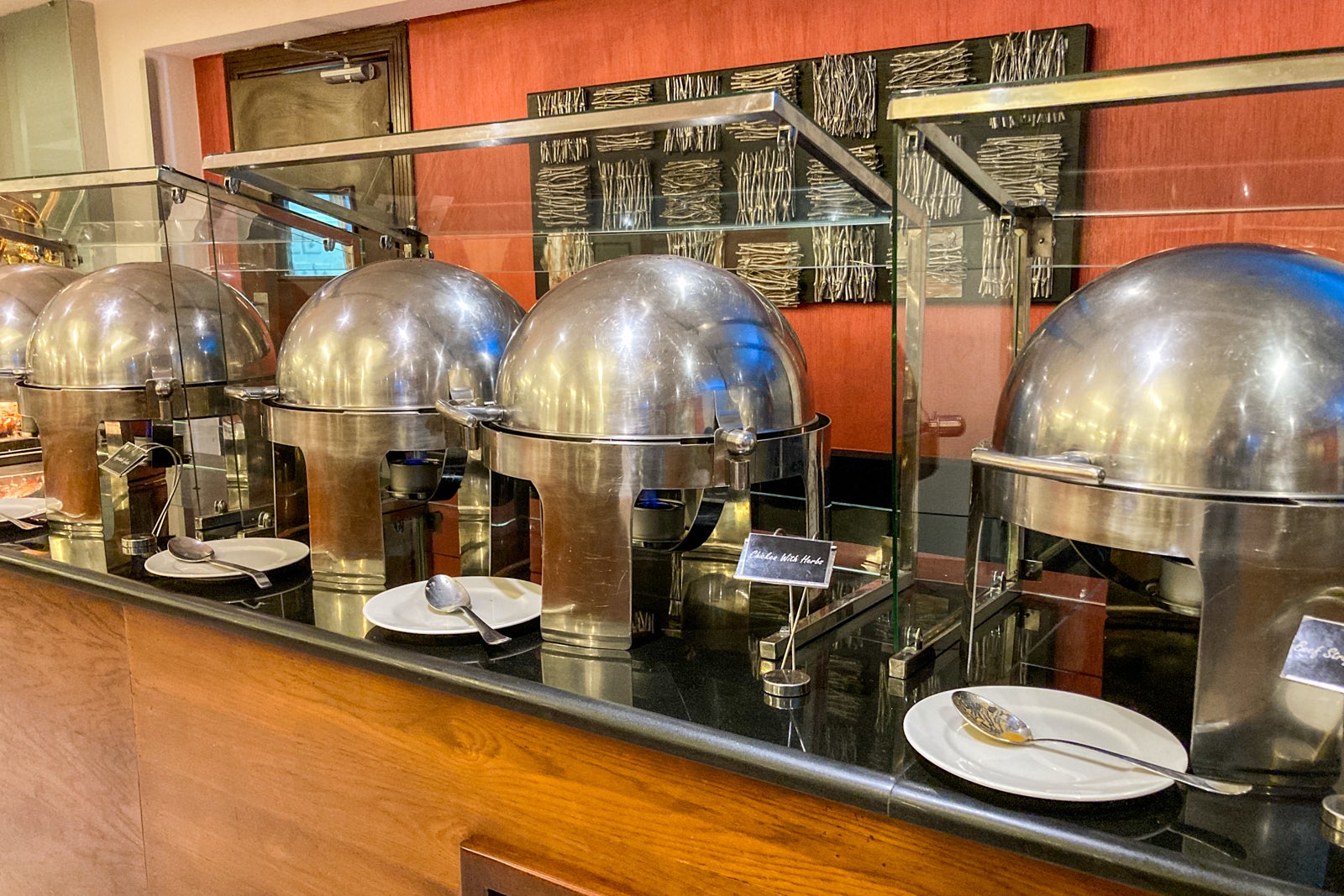 At dinner, dishes focused heavily on Middle Eastern fare, including pilaf, foul (a traditional bean dish, pronounced like "fool"), a meat carving station, potatoes, pastas and numerous salads on the cold bar.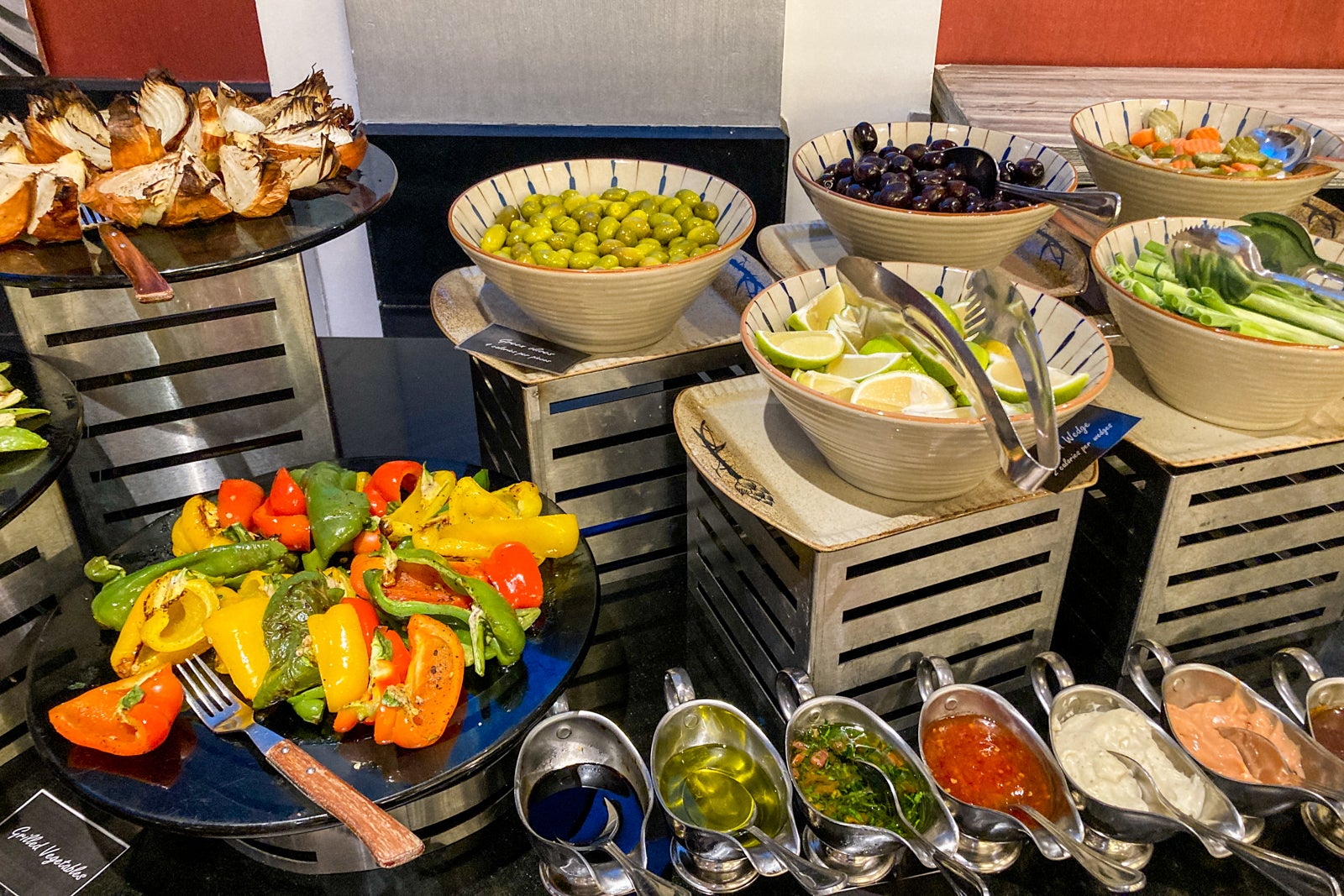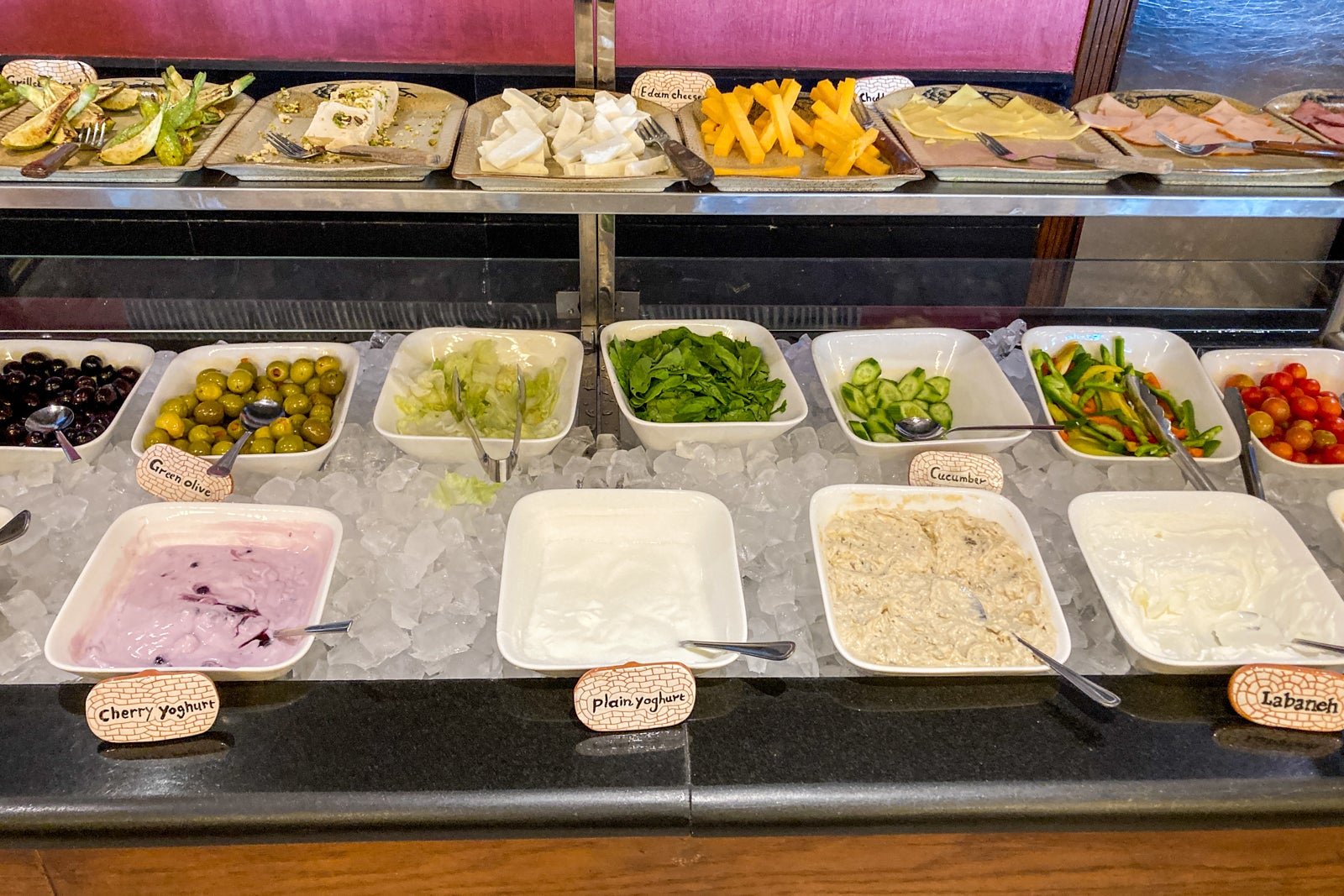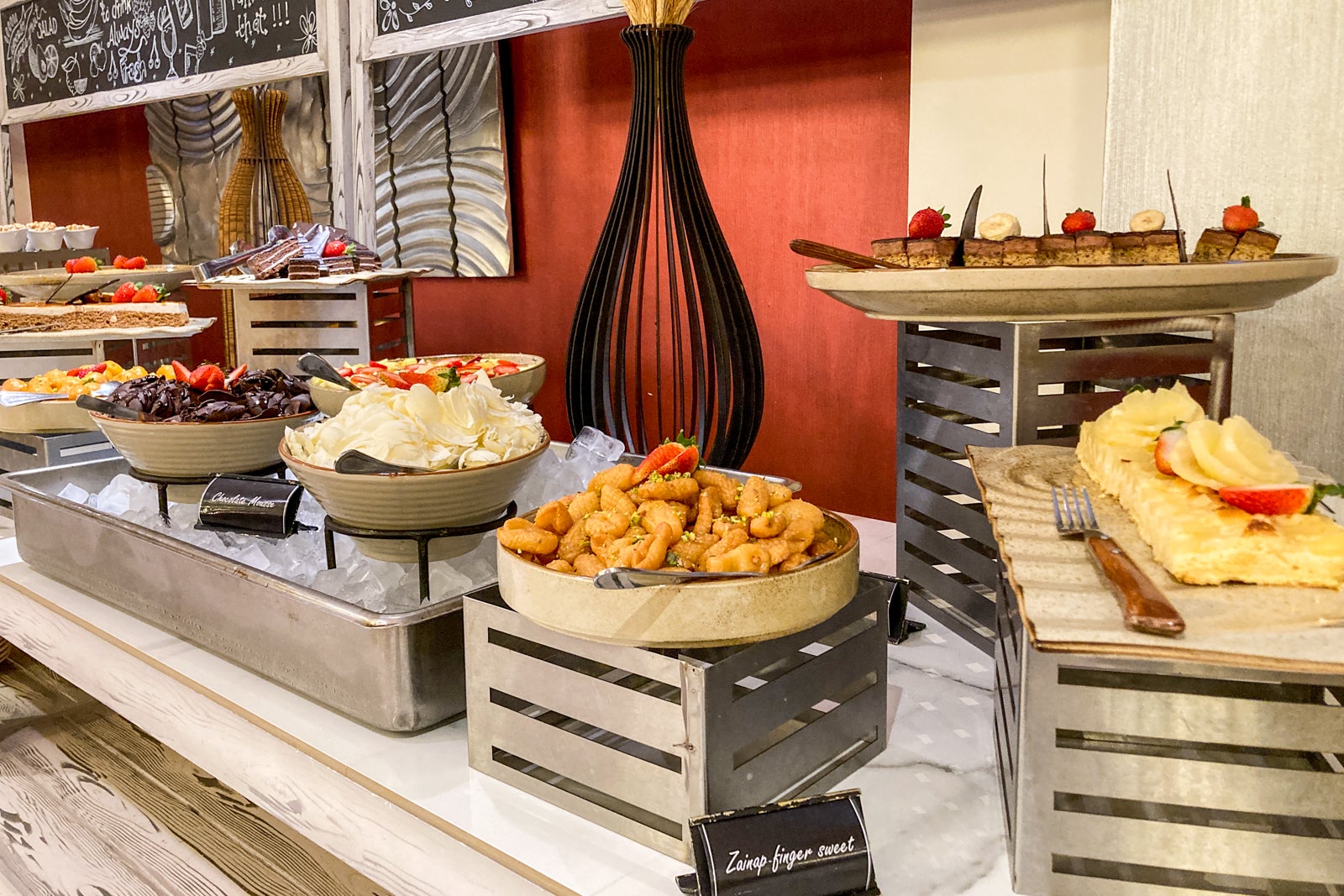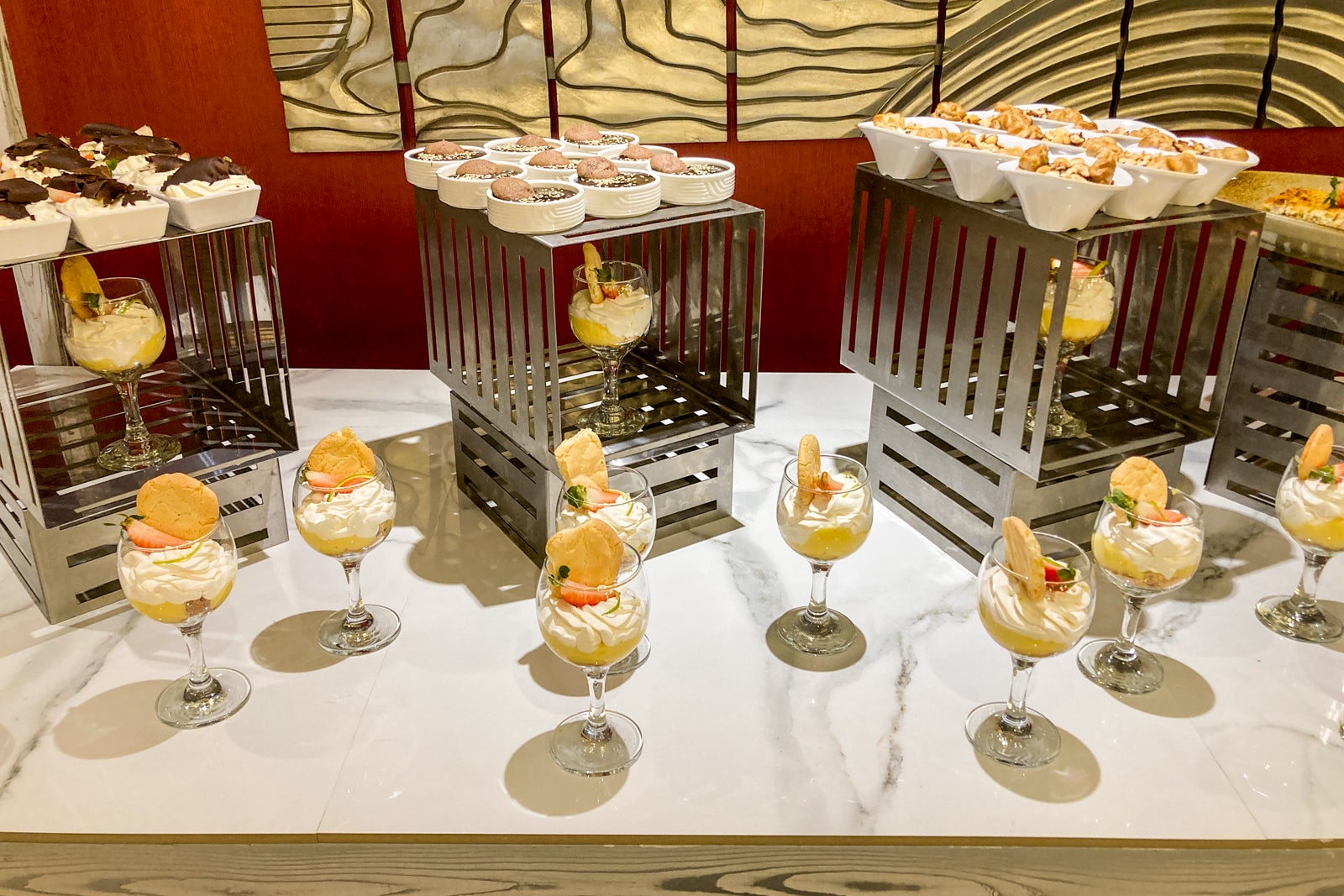 The dessert bar included Middle Eastern and Western options with various cakes, sweets, puddings, bakery items and more.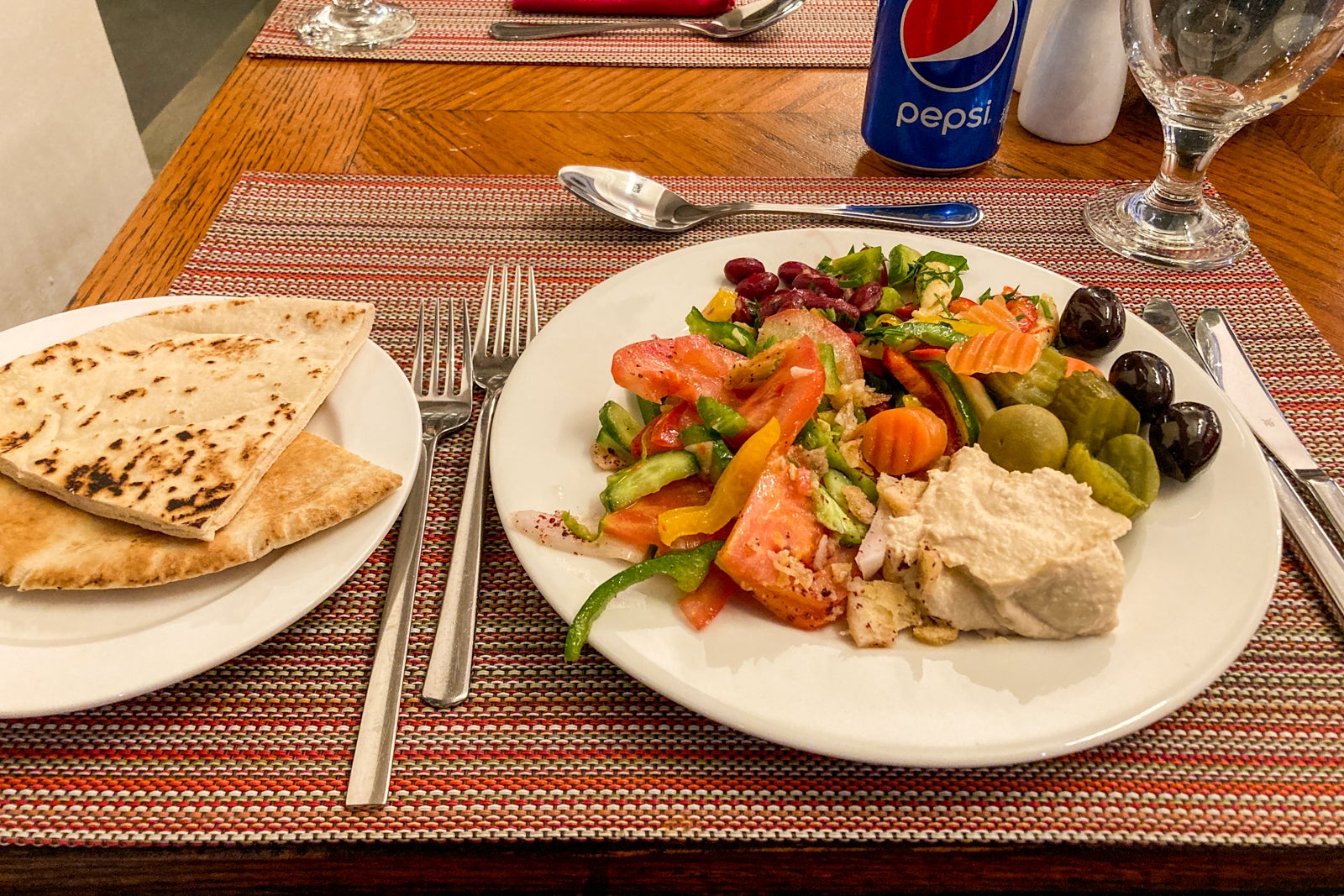 If dining at the Dushara restaurant for multiple days, you'll find that many dishes will change. Fresh selections of hummus and olives — and my favorite Middle Eastern dish, fatoush — remained while other salads and items on the hot bar changed from the first night to the second.
At dinner the first evening, we had a small communication problem with the staff. The waiter informed us that our meal was complimentary, thanks to my Titanium Elite status. We understood "your dinner is complimentary" to include the drinks. They meant it to include only the food, so we received a surprise bill for my Pepsi and my wife's lemonade. It was an inexpensive misunderstanding, but clearly indicating what is and isn't included would improve interactions with guests.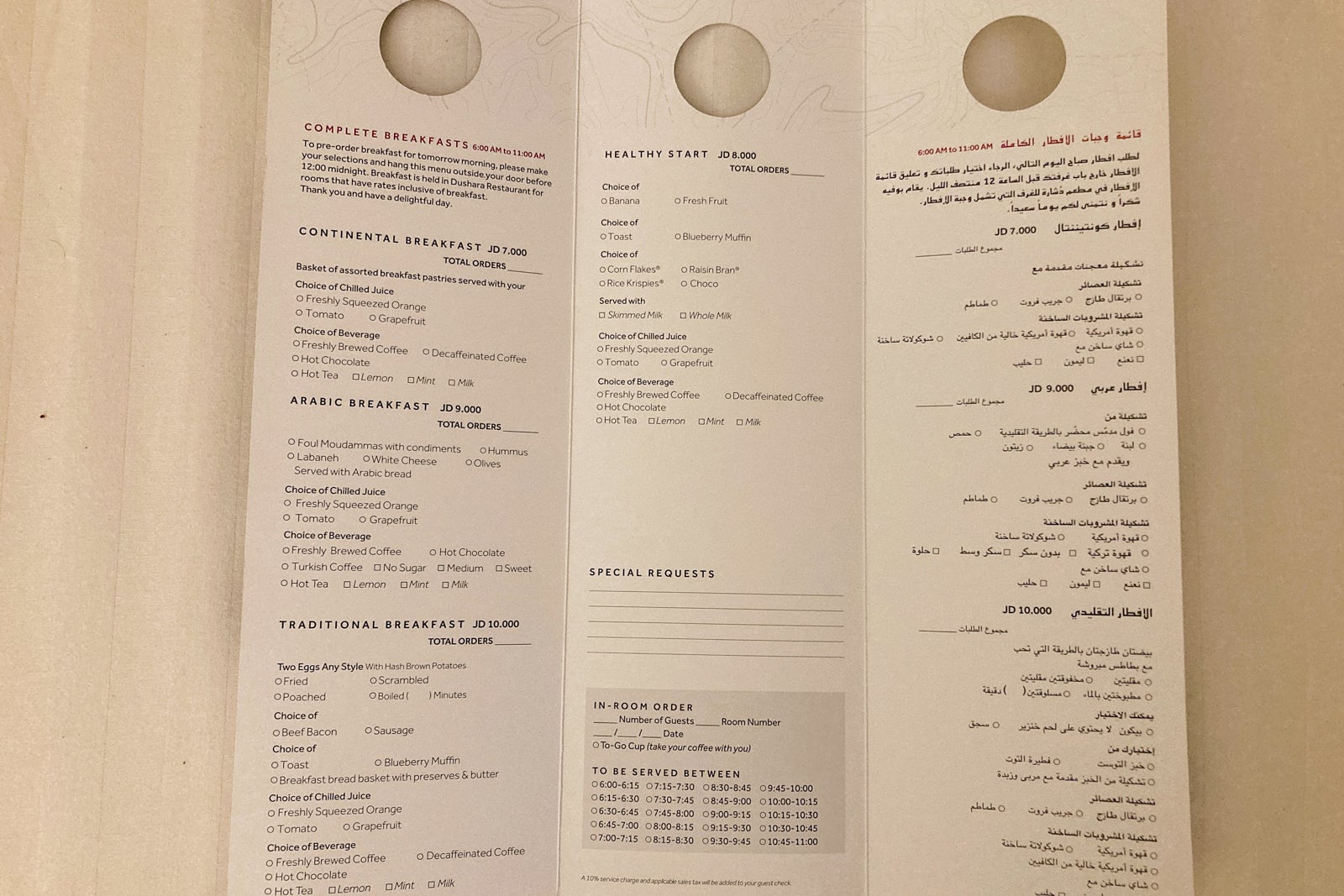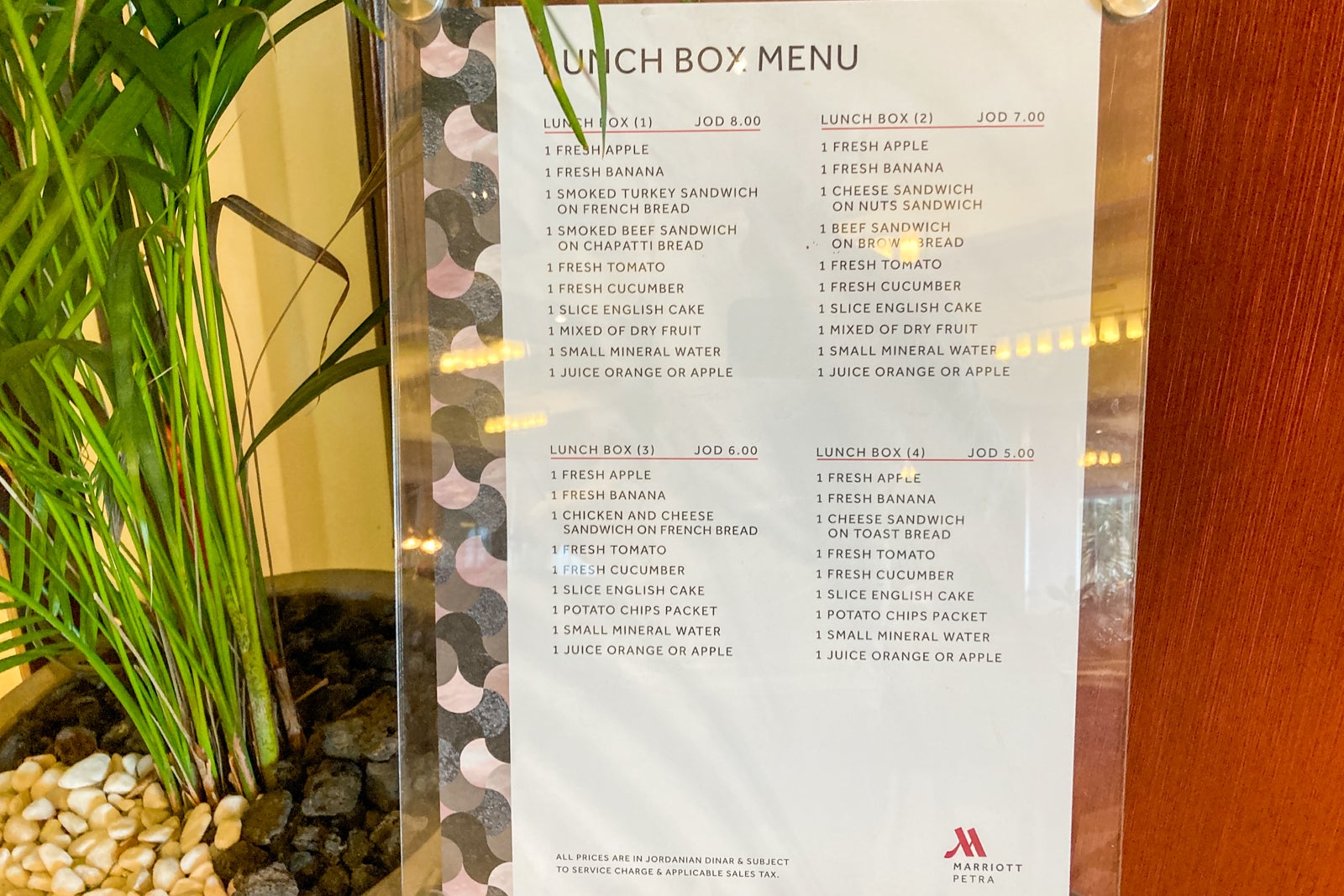 Room service is available, as is the option for a boxed lunch from Dushara. Menu prices at the limited number of restaurants inside Petra are heavily inflated, and ordering a lunch to take with you is a great option for saving money. Depending on your hunger, each box could be enough for one or two people. The cheapest box costs approximately $7 and includes fruits, chips, water, juice and a cheese sandwich. The most expensive option costs approximately $11 and includes fruits, a turkey and a beef sandwich, a piece of cake, water and juice.
There is another dining option available from May to October, which is the Al Matal Bedouin Tent. The hotel's website describes it as having music, traditional food and drinks inside a Bedouin tent. Unfortunately, this was closed during our visit.
Amenities and service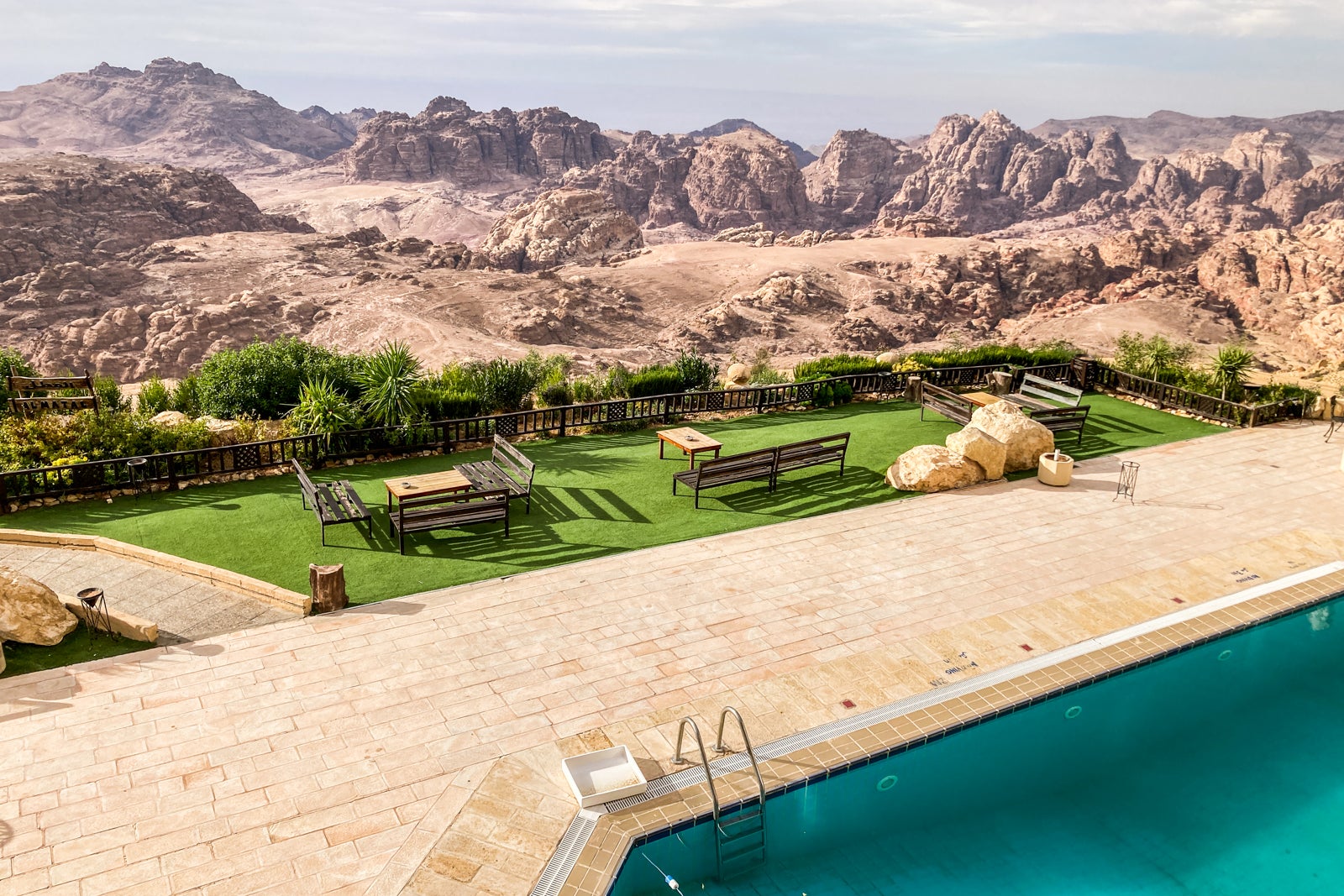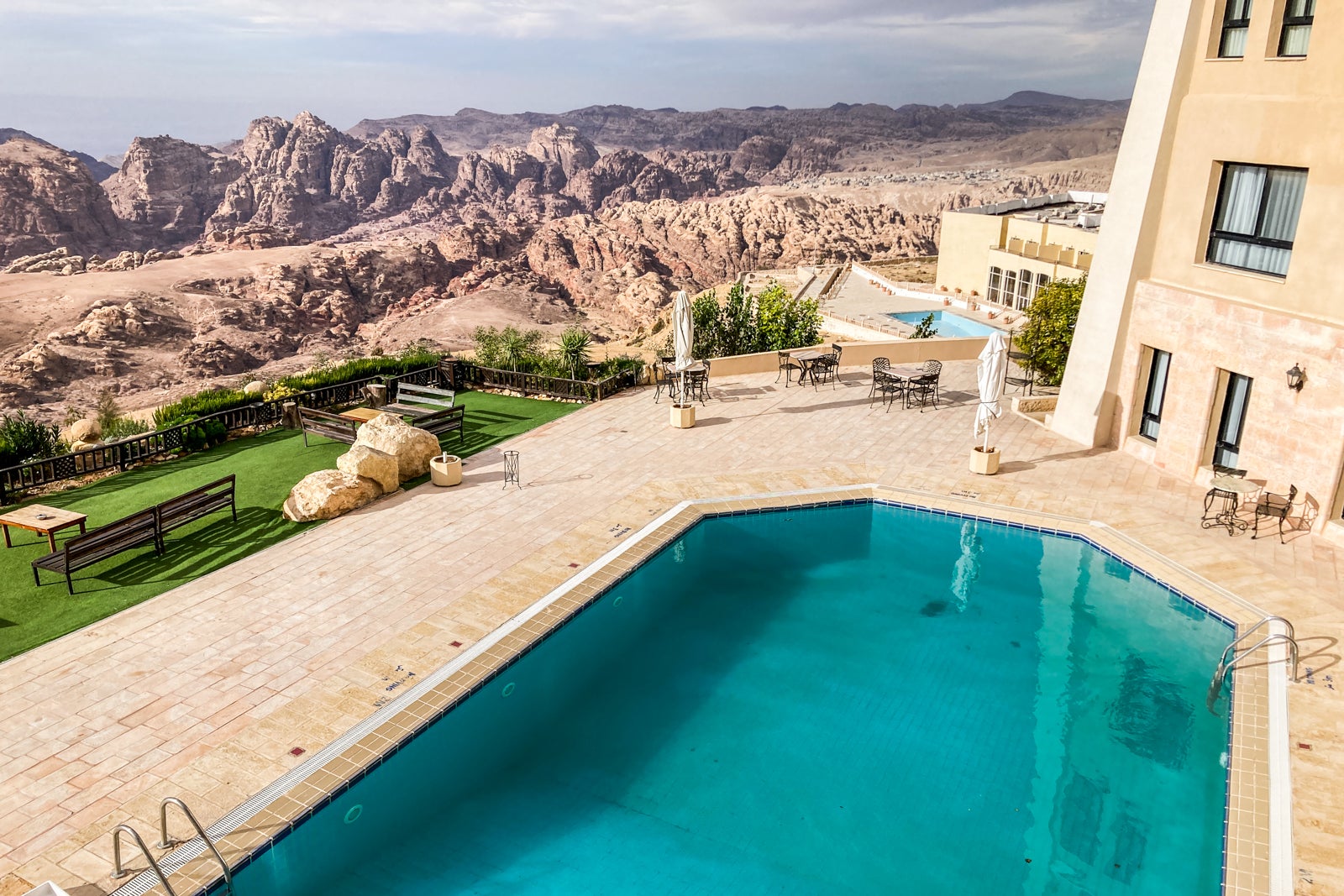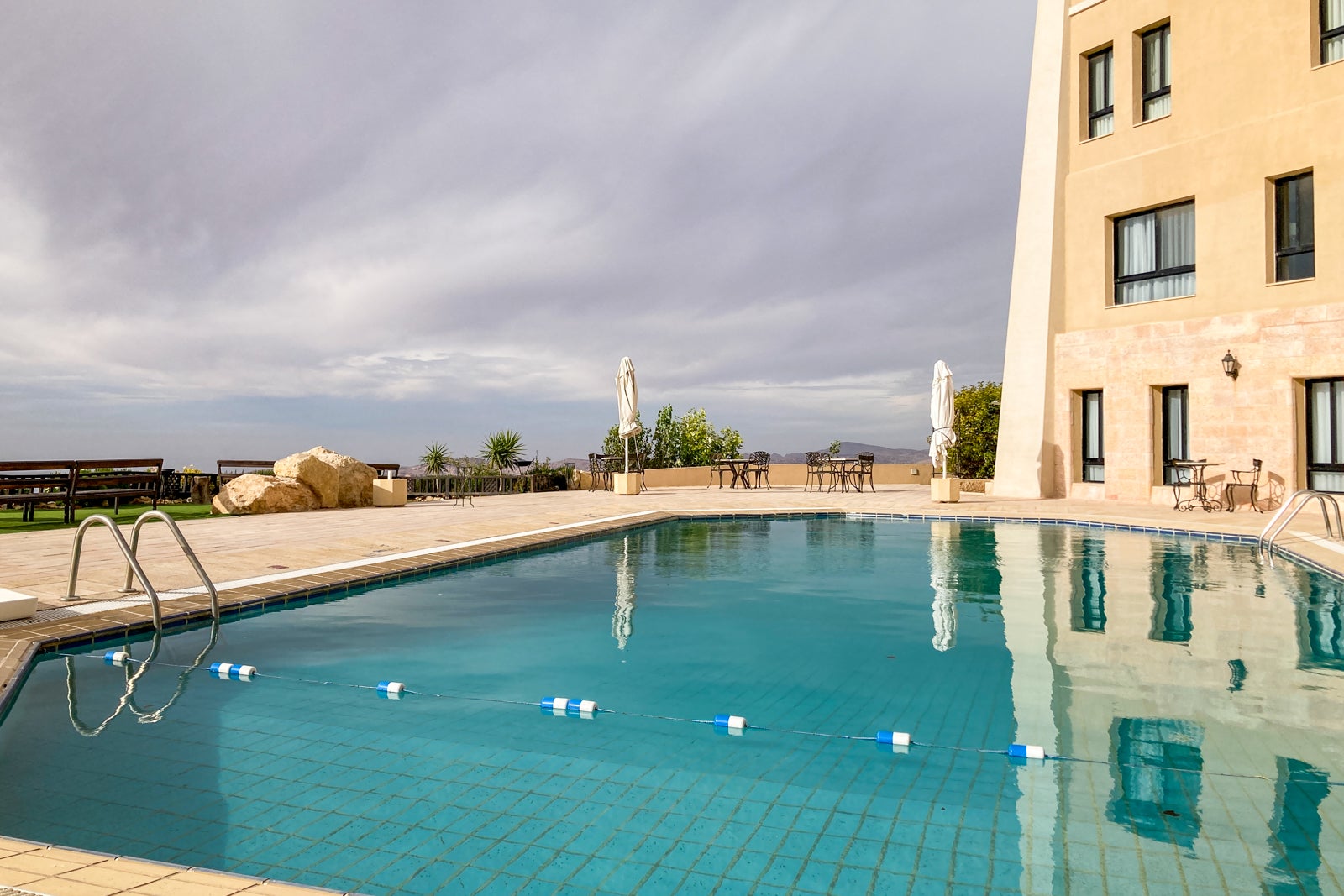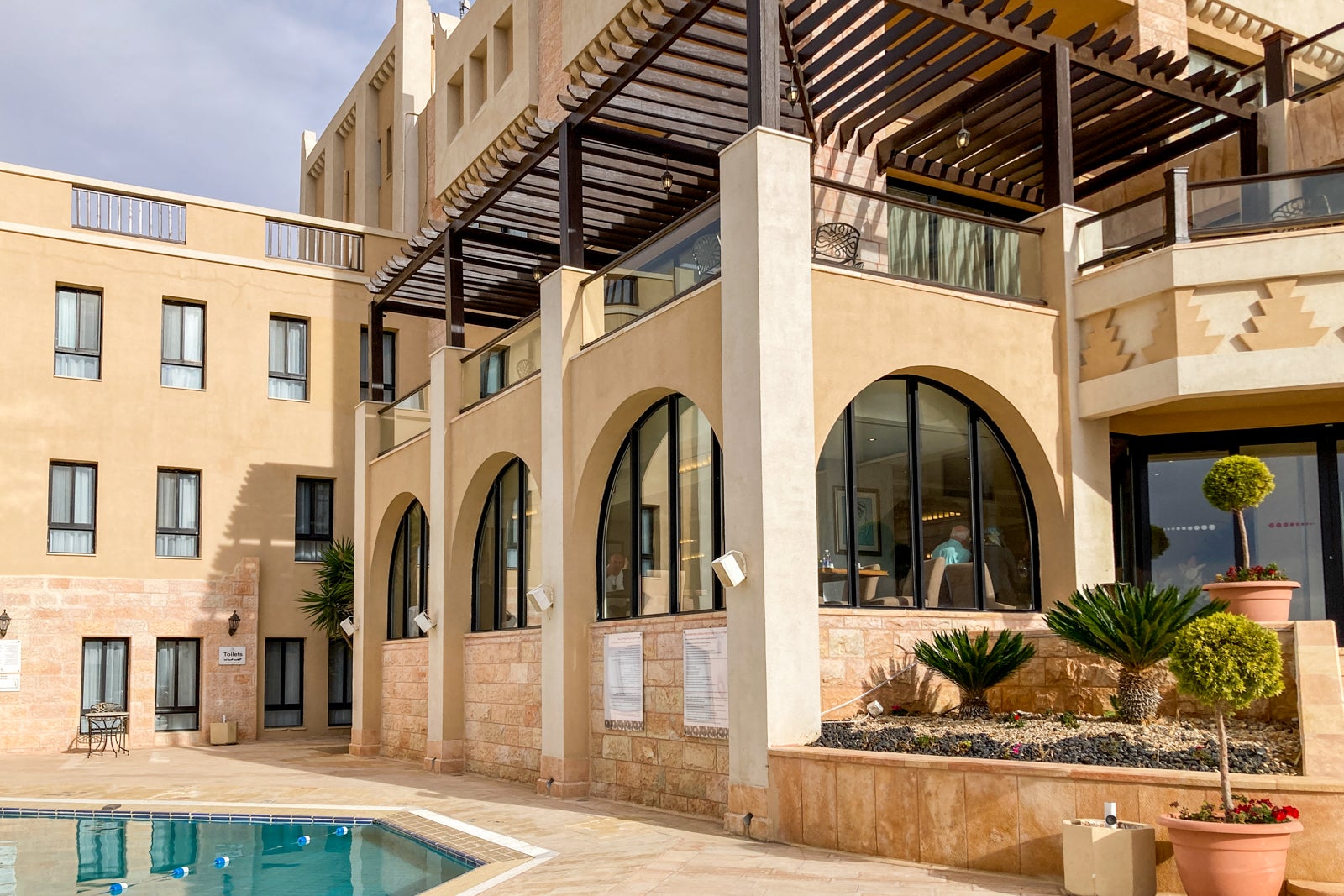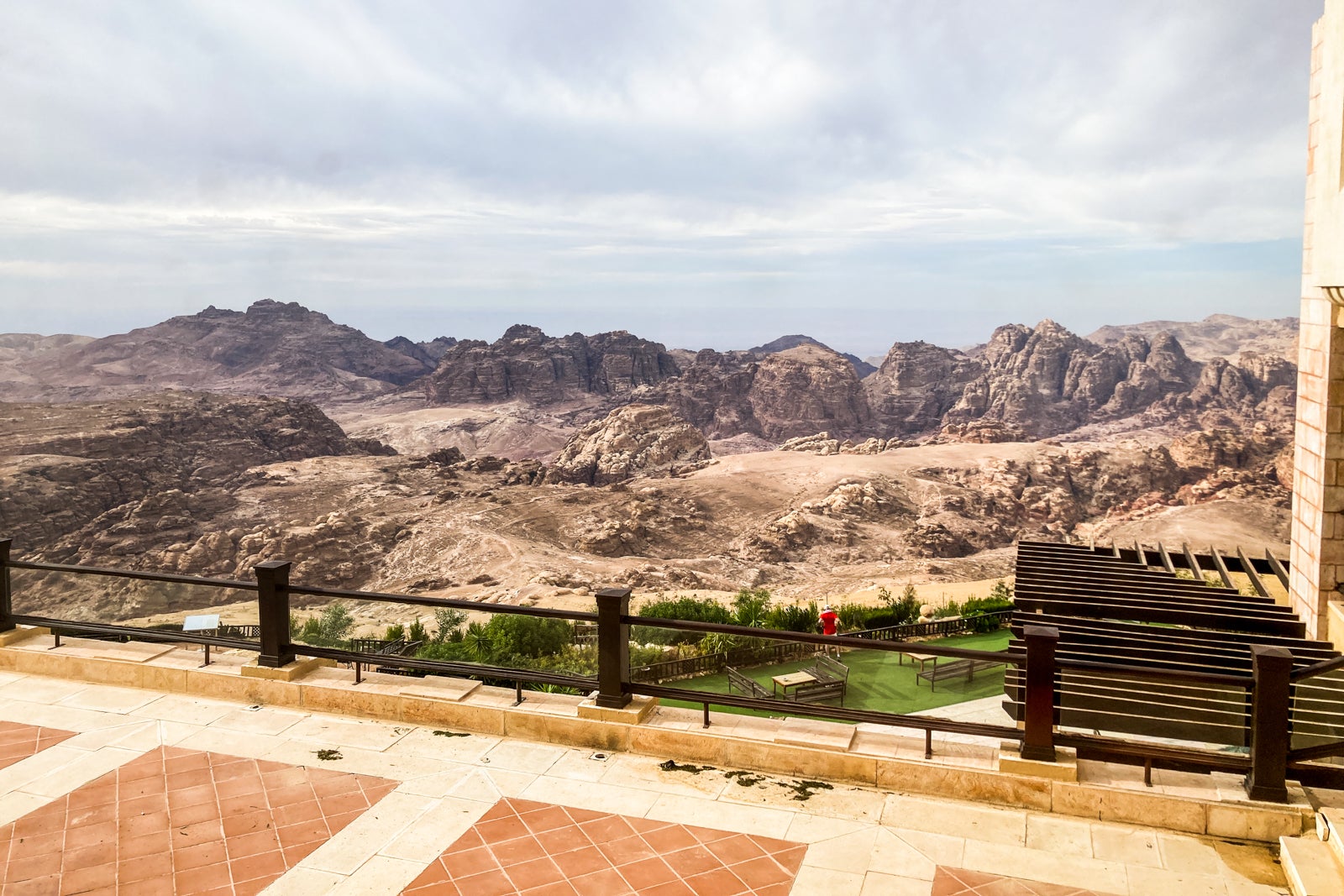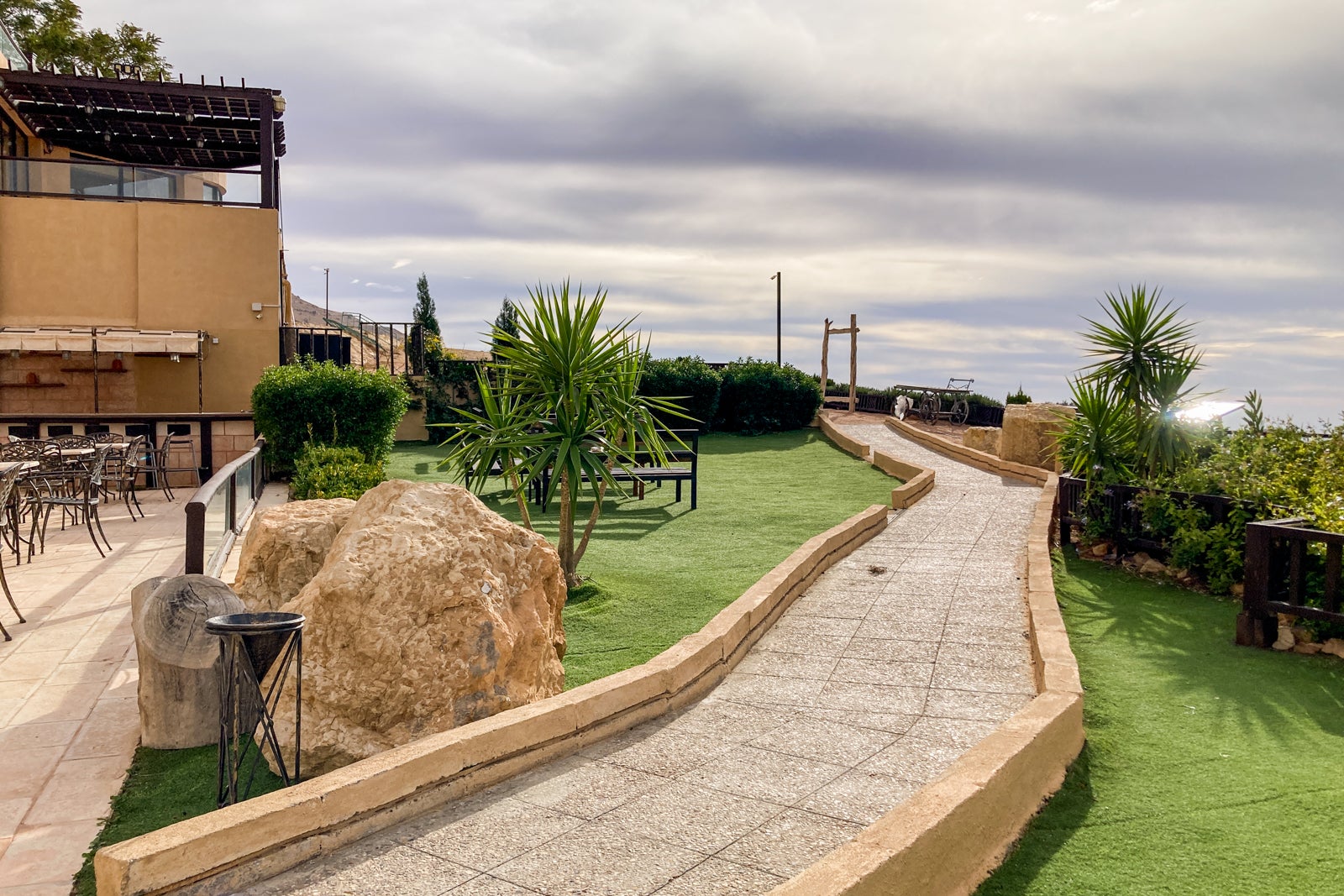 Along with the pool, the hotel's rear deck includes numerous seating areas and a path to a small walking trail. The deck is located on the second floor (the same as the Dushara buffet restaurant and two floors down from the lobby). We enjoyed the views of the valley and the sunsets from there, especially.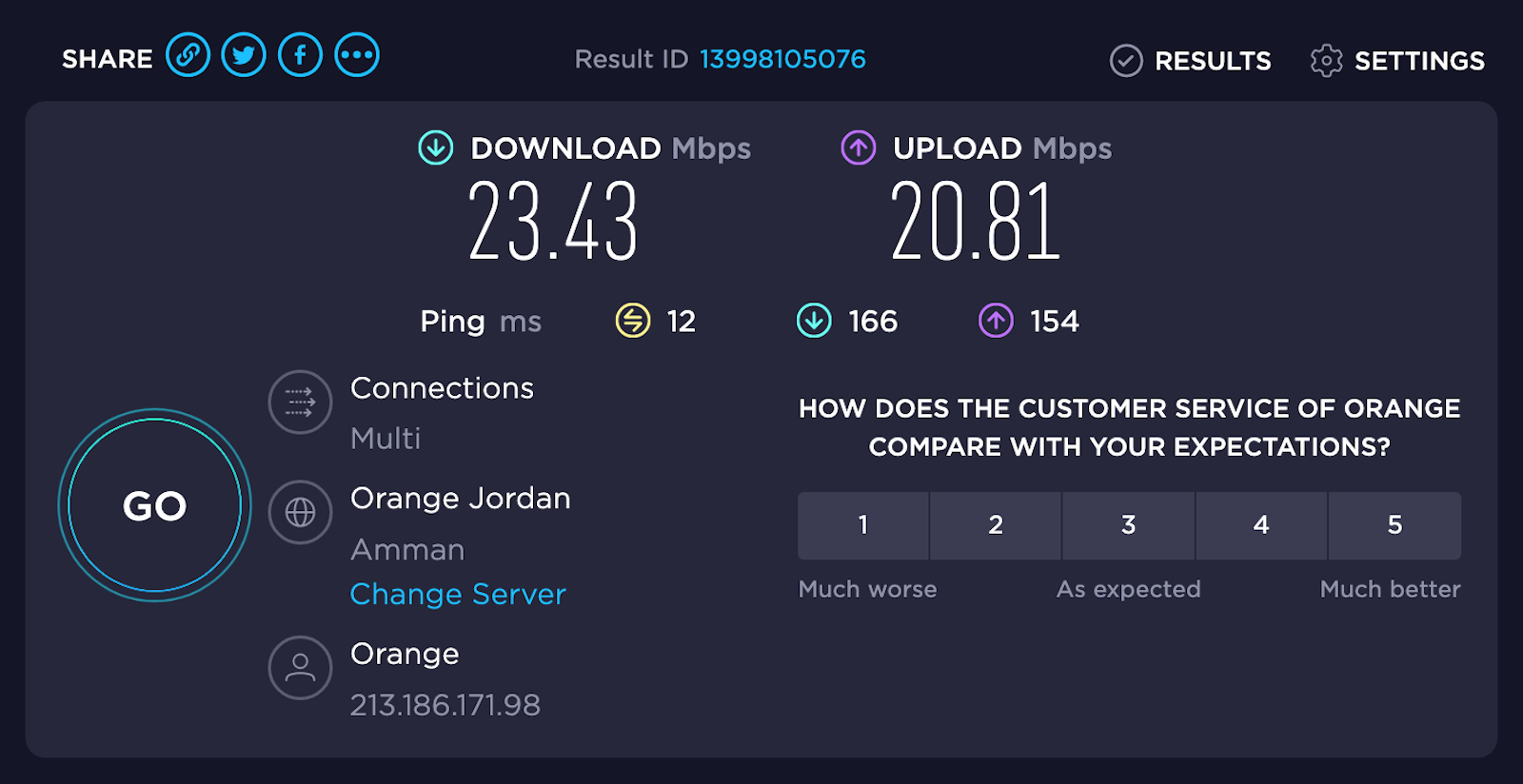 Internet worked well throughout the hotel and did not require rejoining the network every time your phone's screen turned off.
The hotel also has two shops adjacent to the lobby. One sells snacks while the other offers gifts and handicrafts, including decorative sand art made by local artisans.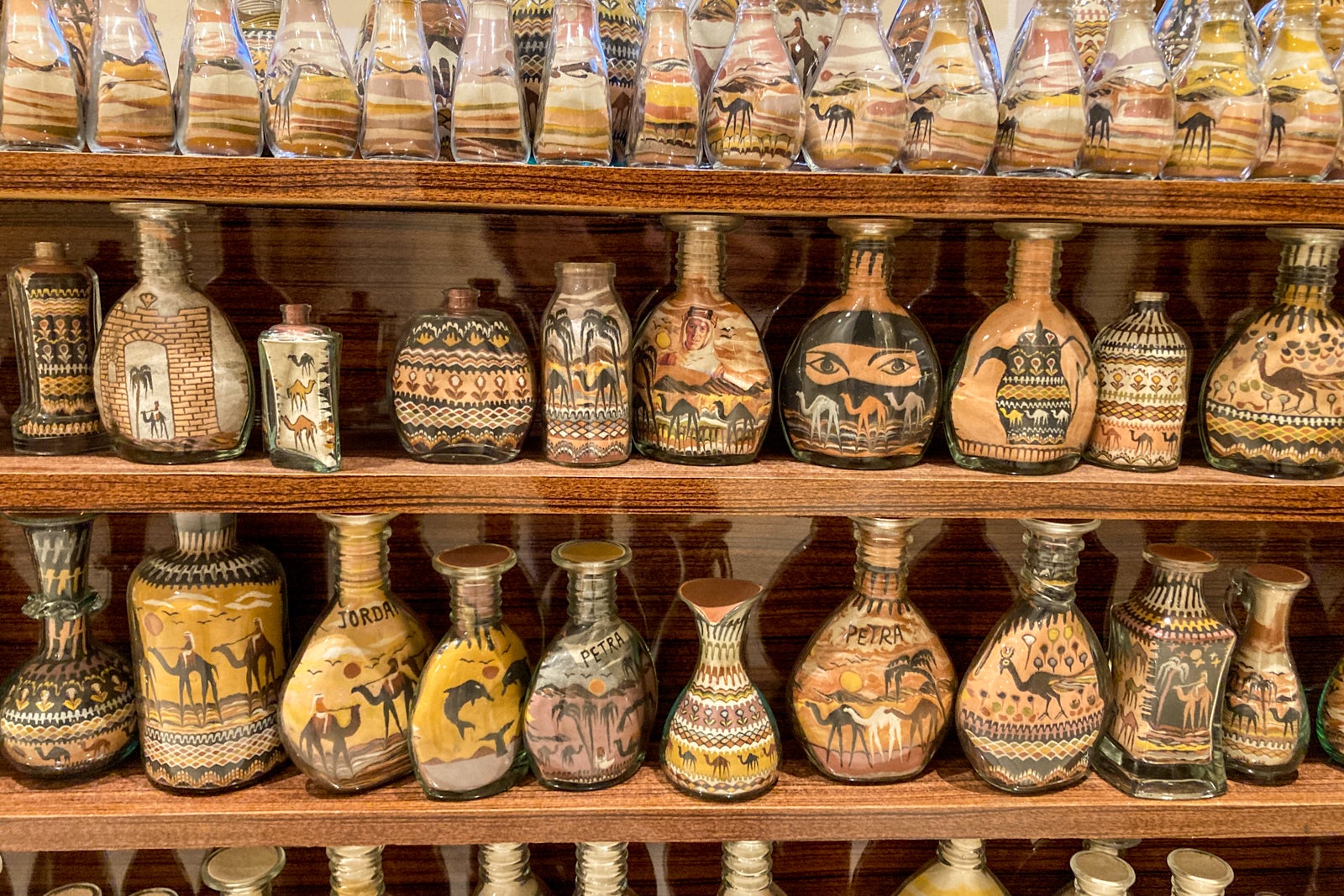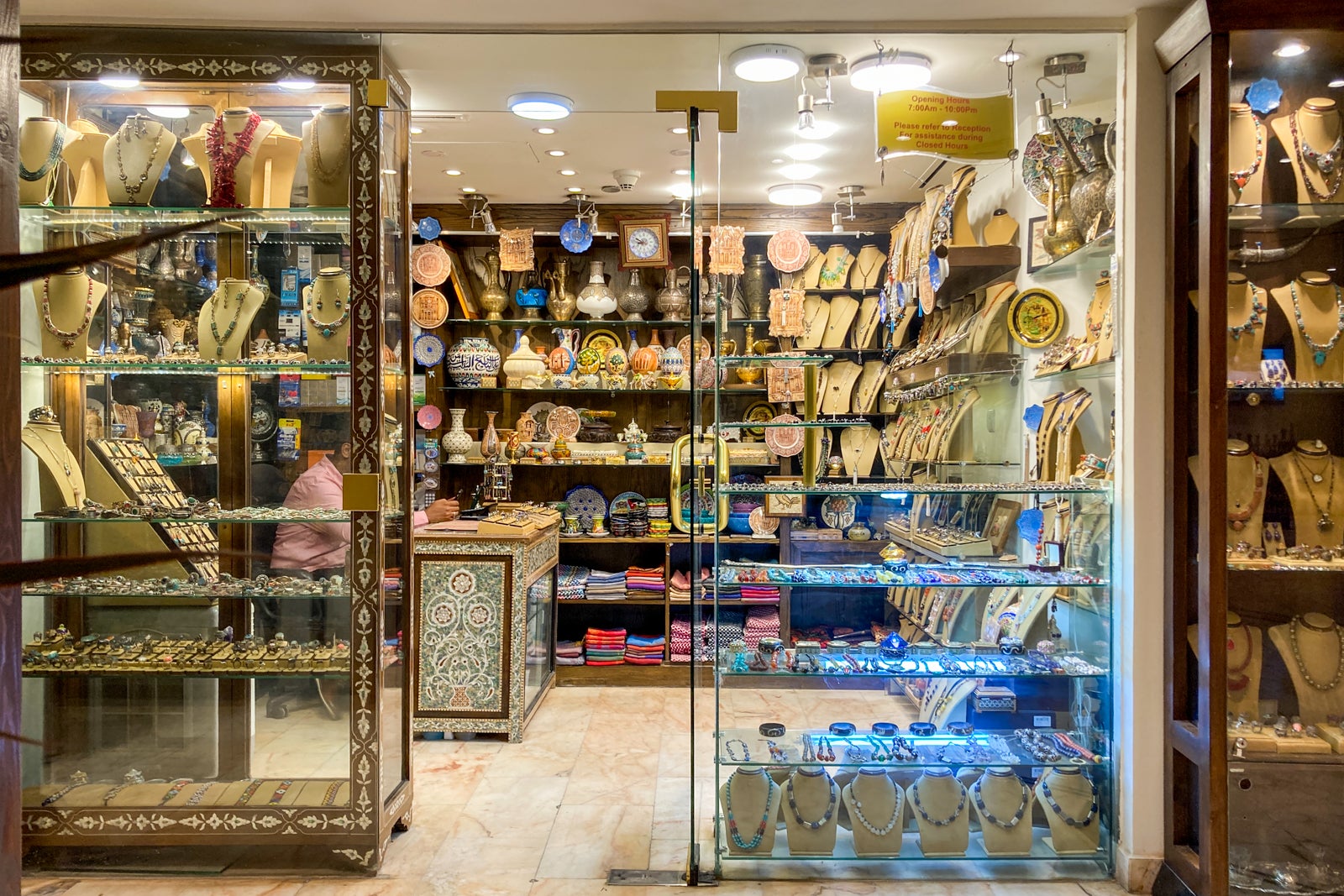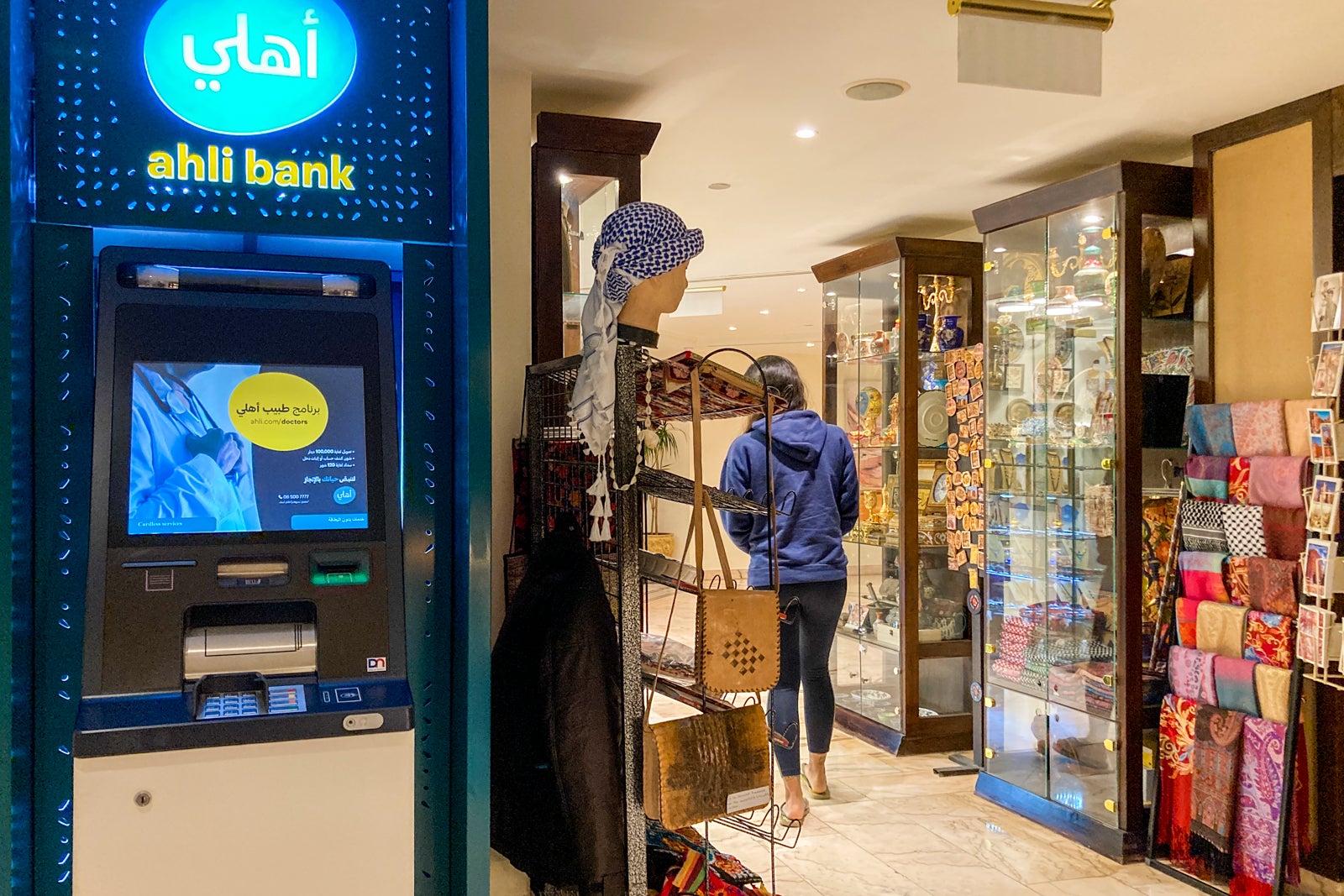 There's an ATM available near the shops, which we used to obtain cash. While increasing numbers of vendors inside Petra are accepting cards now, there are still times when cash is necessary, and we were glad we didn't need to hunt for an ATM.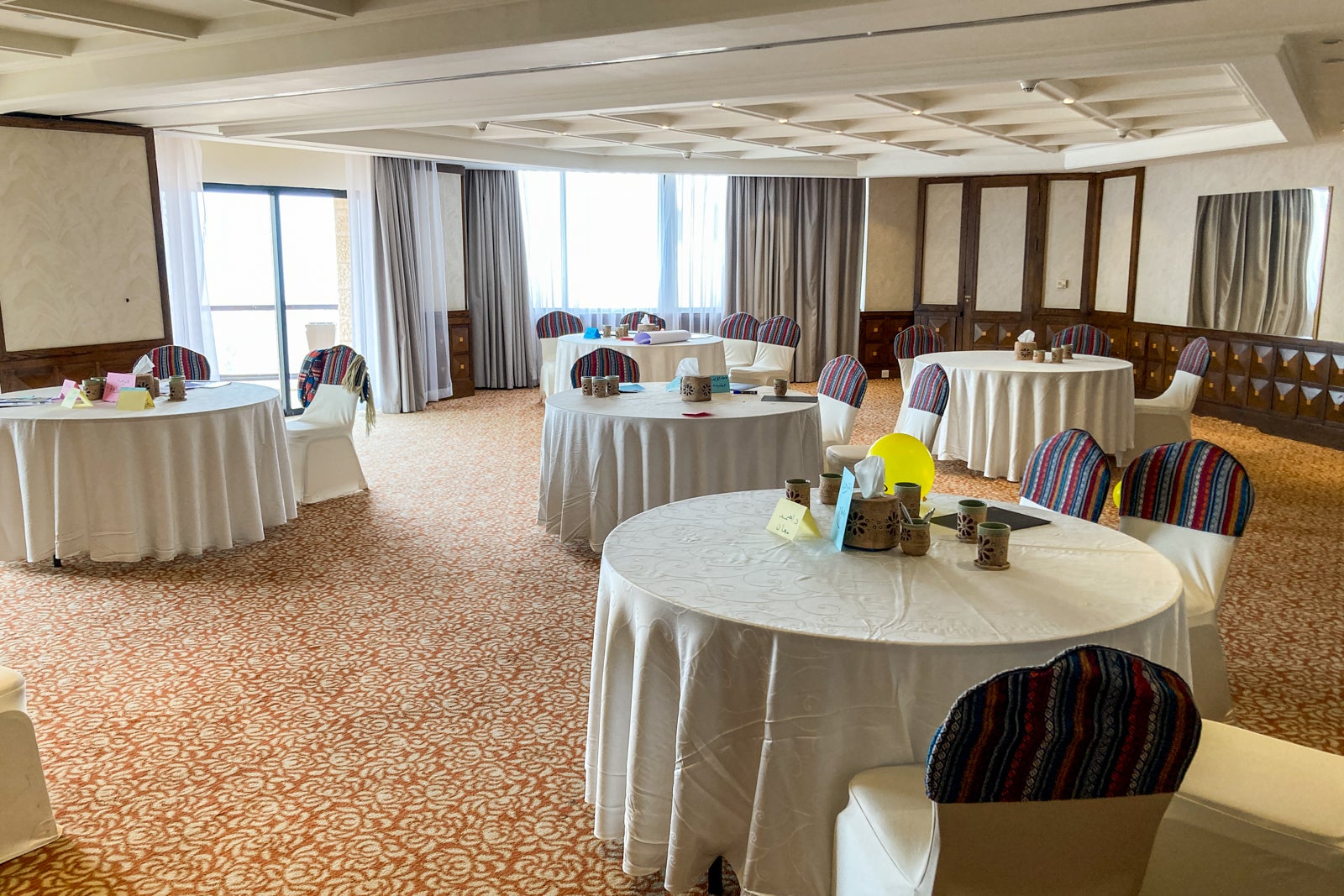 The hotel also has a meeting room/event space, a gym and a spa.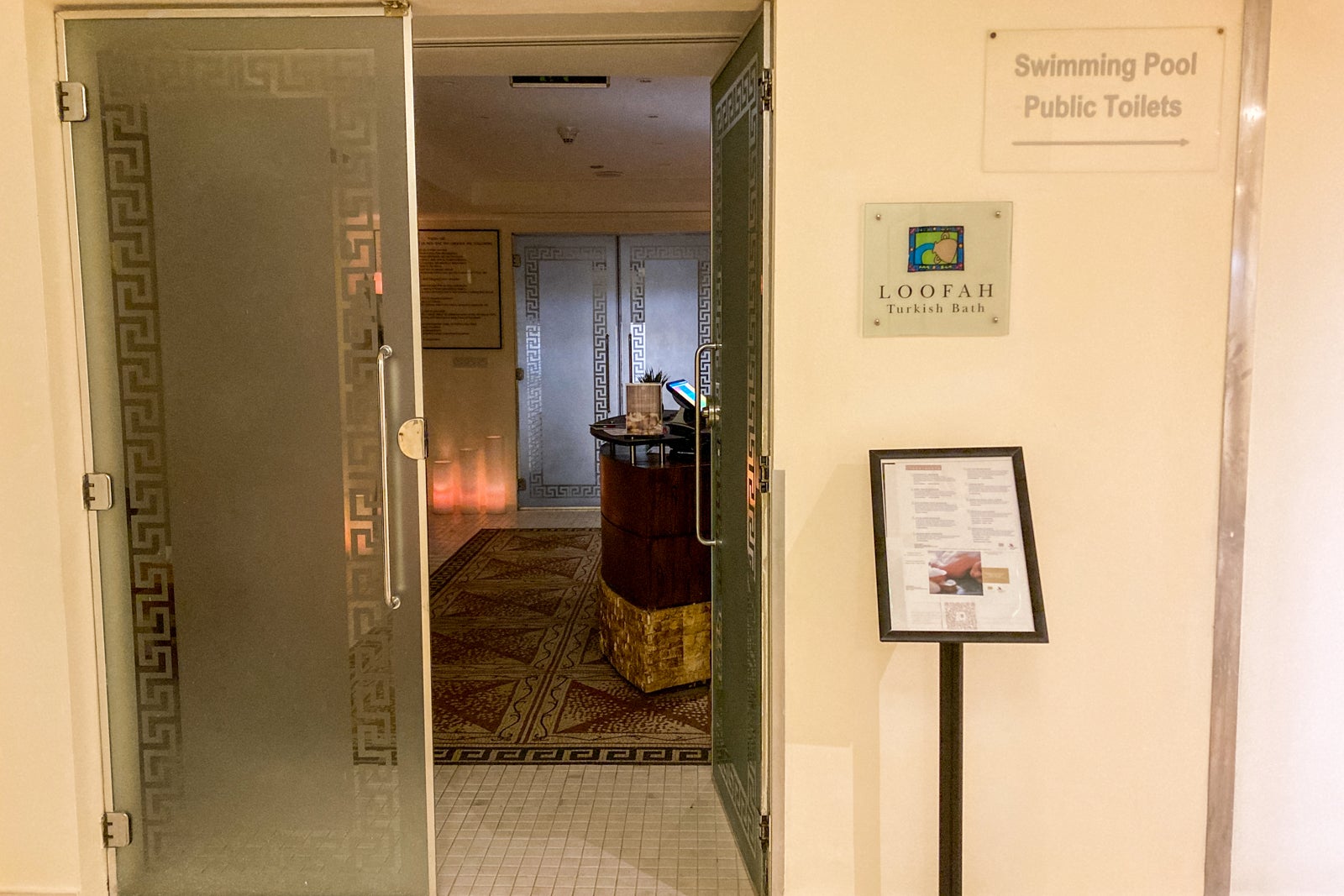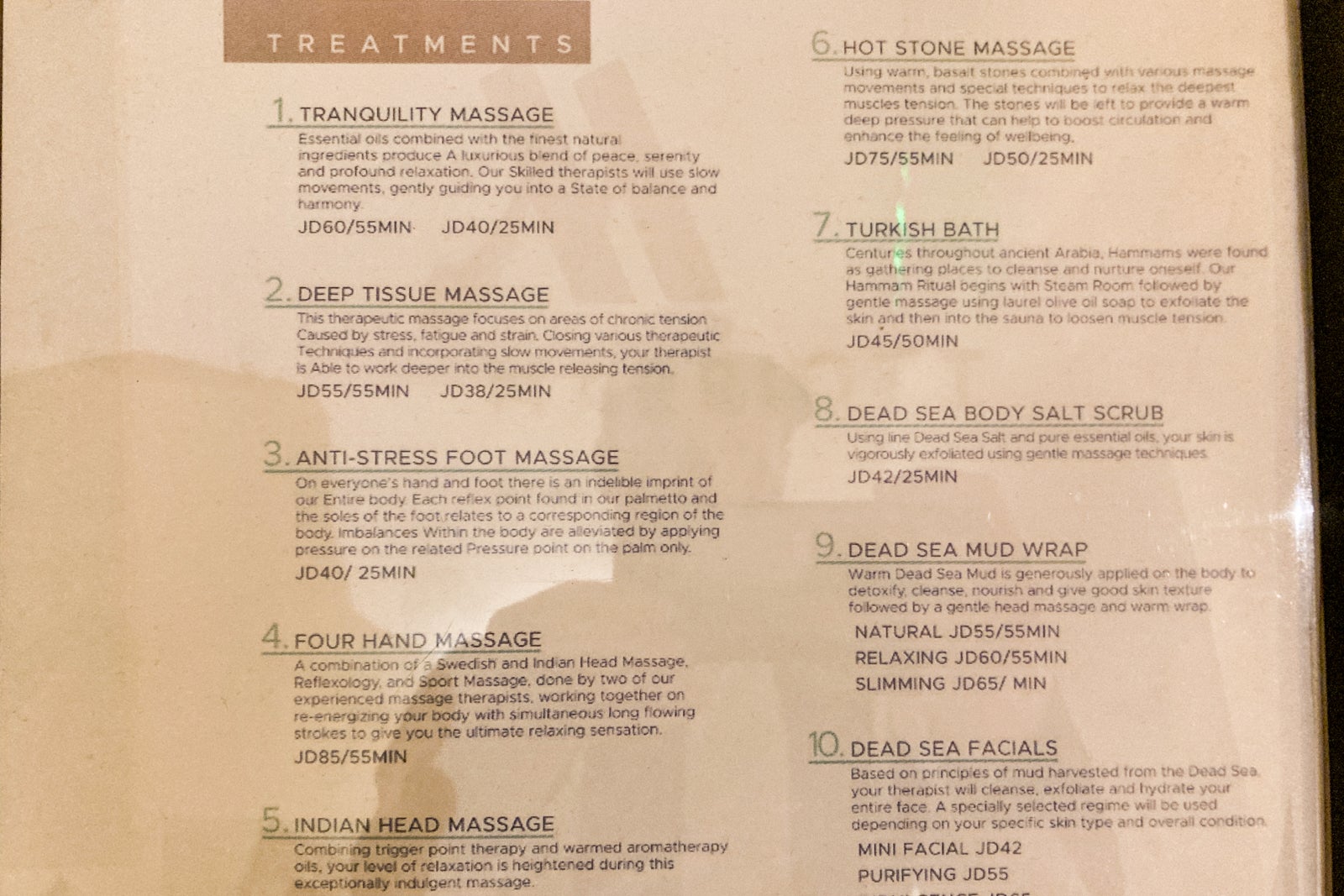 As a benefit of my status, the hotel allowed my wife and I to use the spa's steam room for an hour each day at no cost, which was a great way to relax after long days on our feet, walking through the sand and climbing the trails at Petra. The spa offers a full range of services, from massages to mud wraps.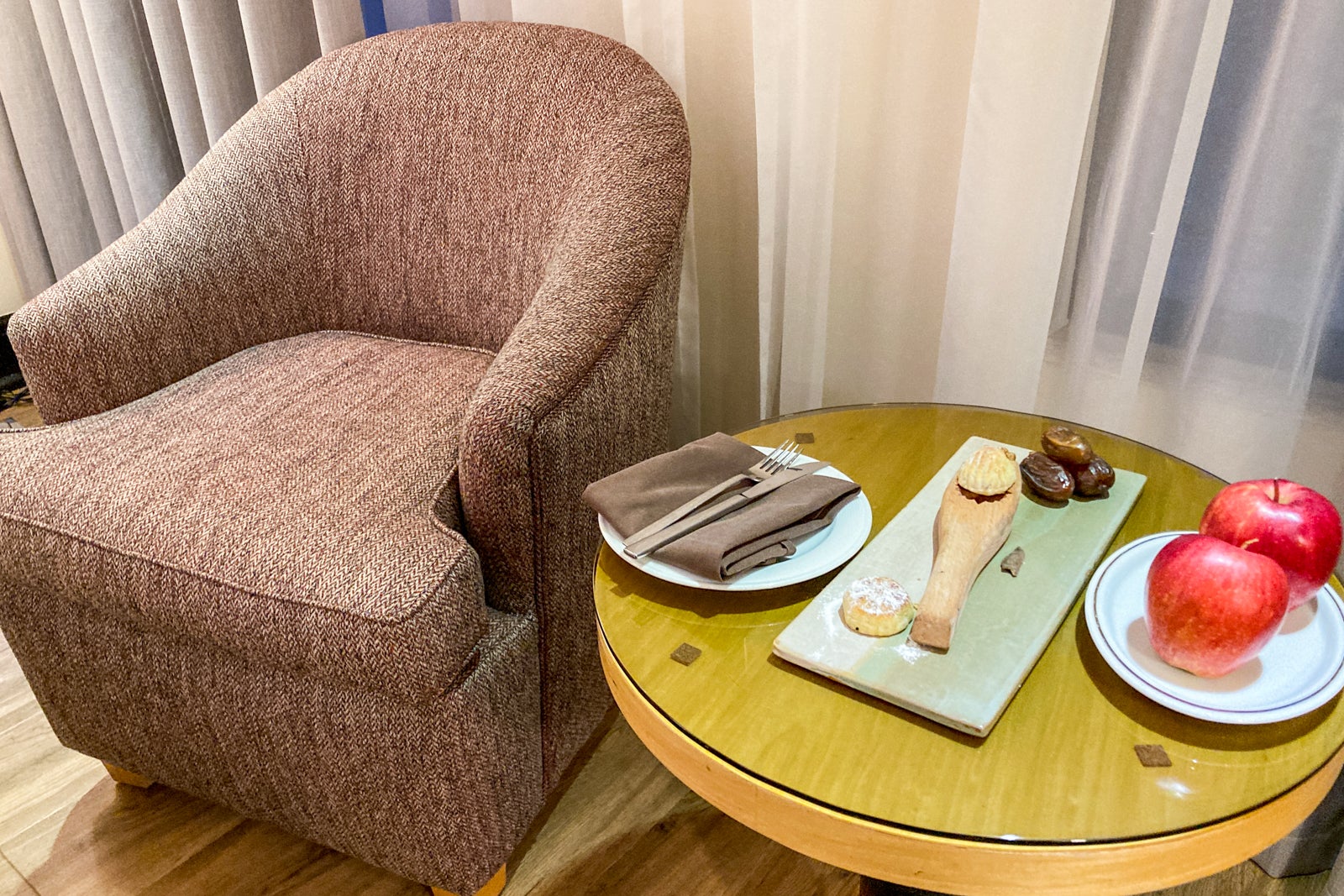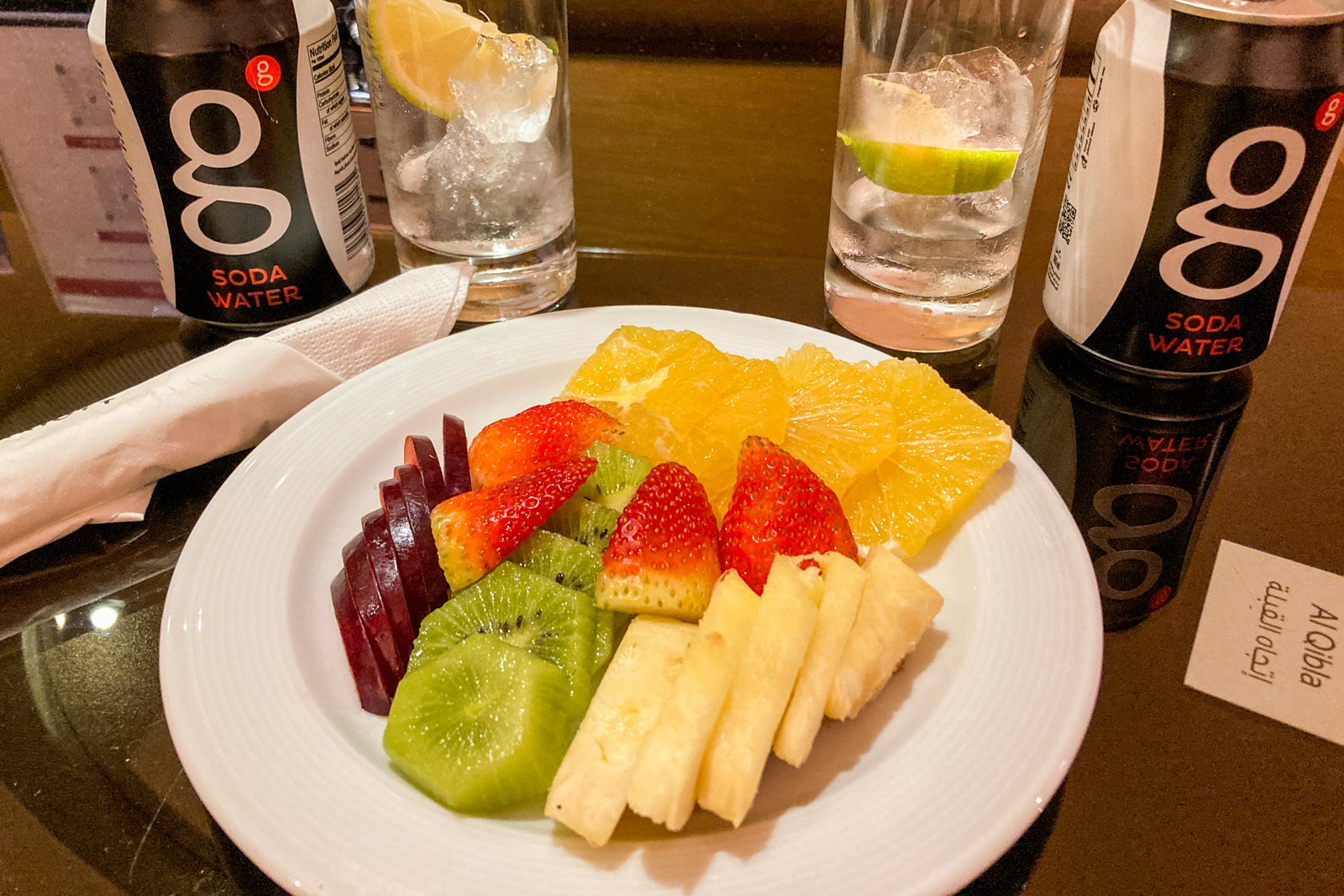 My elite status also afforded us room snacks and a welcome gift upon arrival. Options included 500 bonus points, a drink from the bar or a selection of sodas and fruits delivered to our room. We took the last option and kept the fruits and drinks in the room's minifridge to snack on after returning from Petra the following day.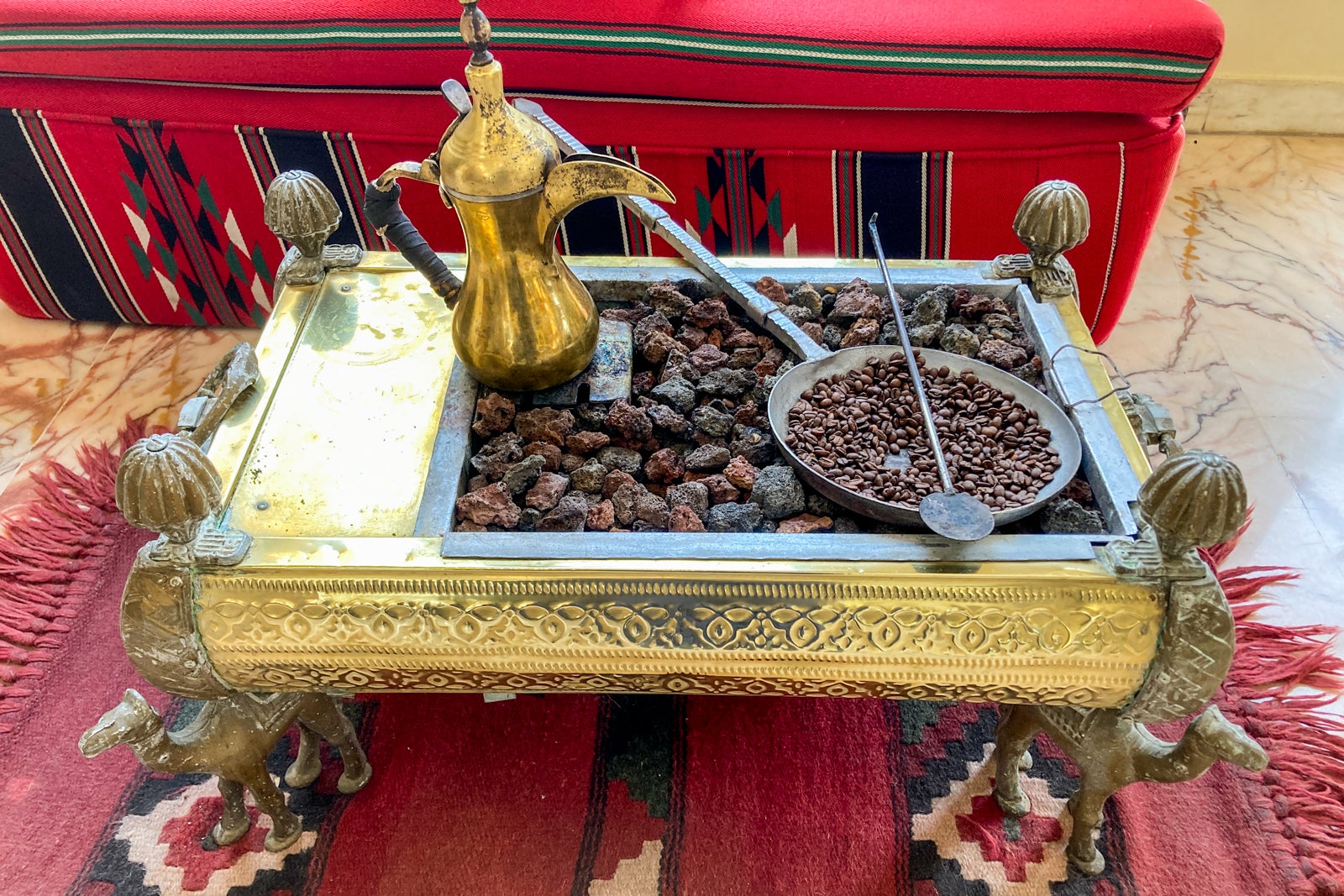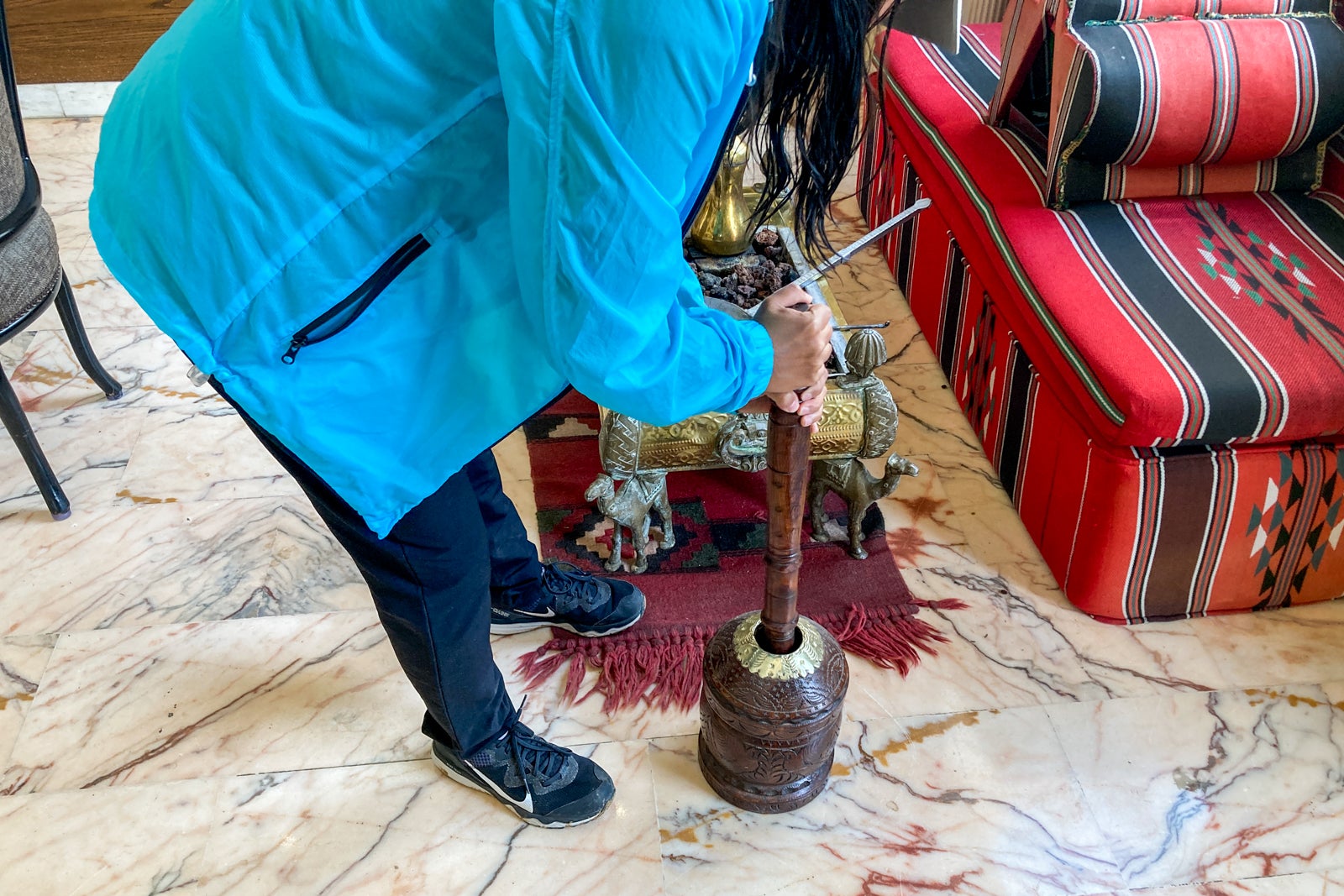 While waiting for the van to Petra on our final morning, we inquired about the coffee items on display. Rather than simply telling us about the traditional method of preparing coffee infused with cardamom, several staff members walked us through the process, inviting my wife to mash the coffee beans as we prepared coffee over hot coals. Out of nowhere, an employee arrived with to-go cups, since the van had arrived to take us to Petra for the day.
The genuine warmth on display here provided a clear example of the friendliness we experienced from employees at each opportunity. They could have said a few words about the items and brushed it aside, assuming there was little time until the van departed. Instead, they eagerly shared a part of their culture with us in the brief amount of time available.
Out and about
There are museums plus an abundance of restaurants and cafes around the town of Wadi Musa, which is the gateway to Petra. However, your stay in the area is probably tied to visiting the ancient site itself. The hotel offers a complimentary shuttle to the Petra entrance with three morning drop-offs and three afternoon pickups. Using it lets you avoid overpriced taxis or having to drive yourself and navigate parking and other logistics.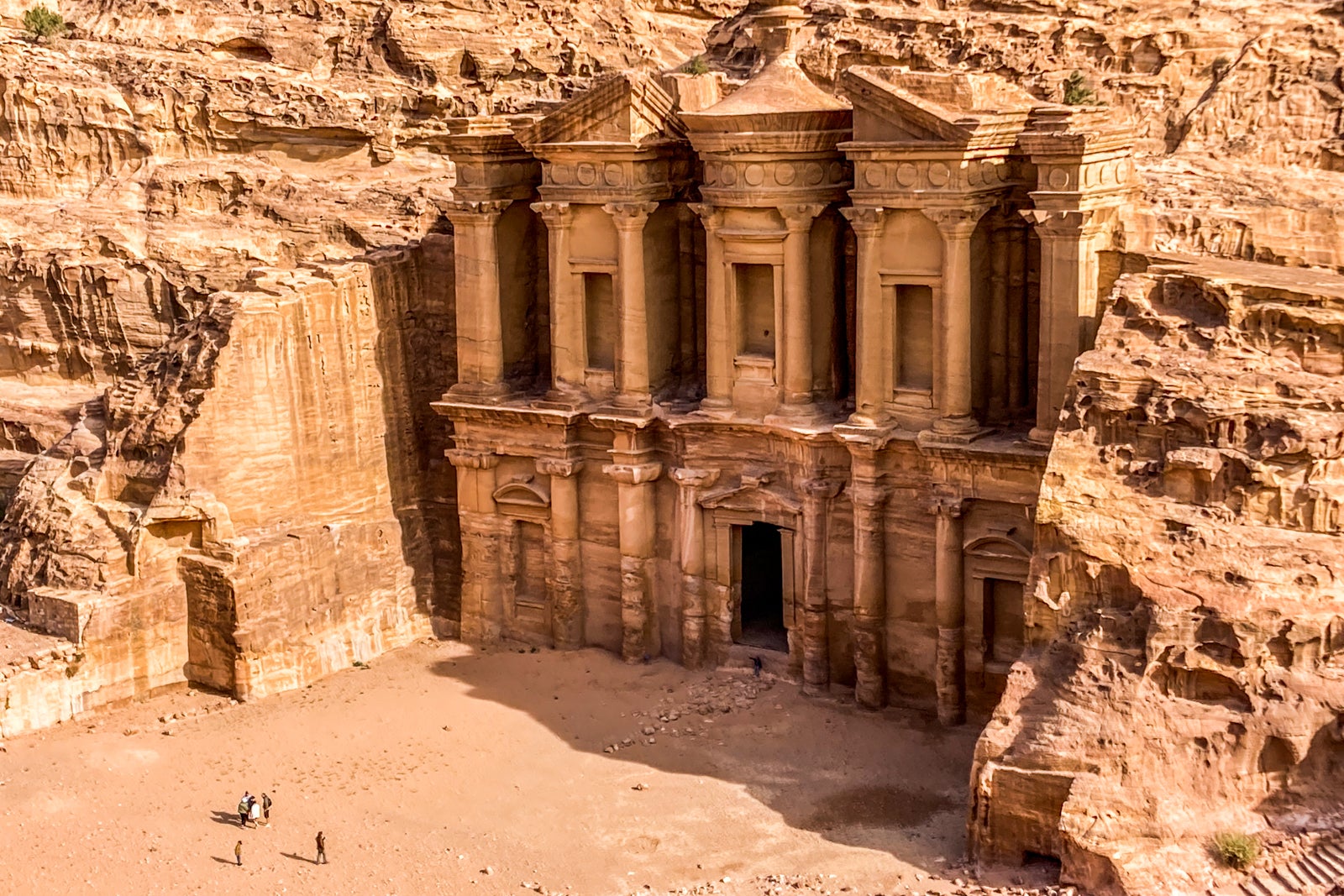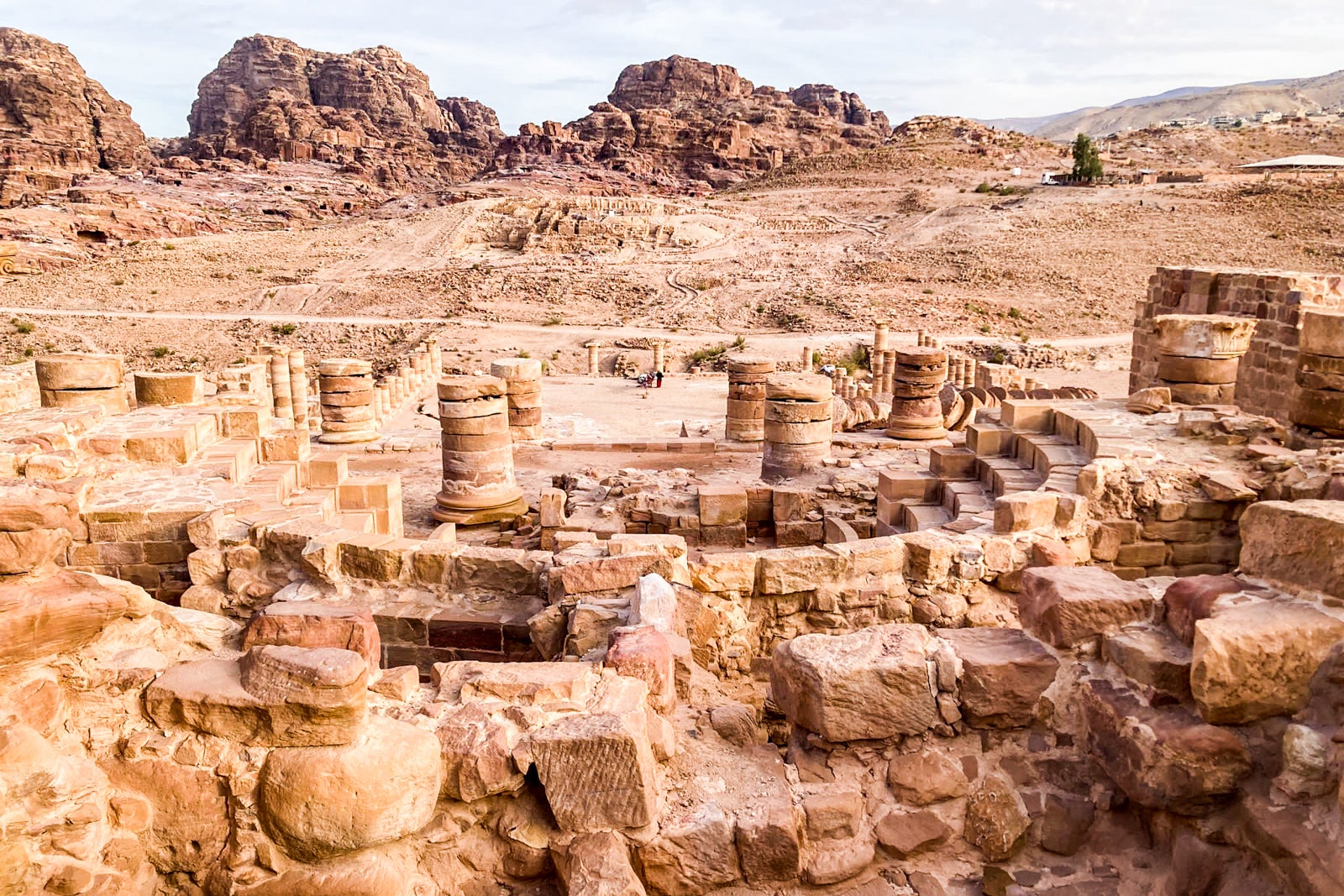 Beyond Petra, you can explore the surrounding desert independently or through guided tours. It's also possible to sleep out in the desert, with options ranging from rustic Bedouin camps to luxurious encampments with plush beds and round-the-clock service.
Related: 5 reasons to go to the Wadi Rum desert in Jordan
Farther afield, the King's Highway and Desert Highway can take you north to Amman — Jordan's bustling capital combining a vibrant culture with ancient Roman ruins — or south to Aqaba on the Red Sea, where more cruise itineraries are visiting. If you access Petra through the Jordan Pass, rather than buying tickets only to Petra, dozens of museums, UNESCO sites and historic curiosities throughout the country are included for no additional charge. The Jordan Pass also includes the price of your visitors visa, which is required for U.S. passport holders.
Accessibility
The hotel has numerous floors owing to its size and being built on a hillside. Each floor is accessible via elevator, though they are generally small.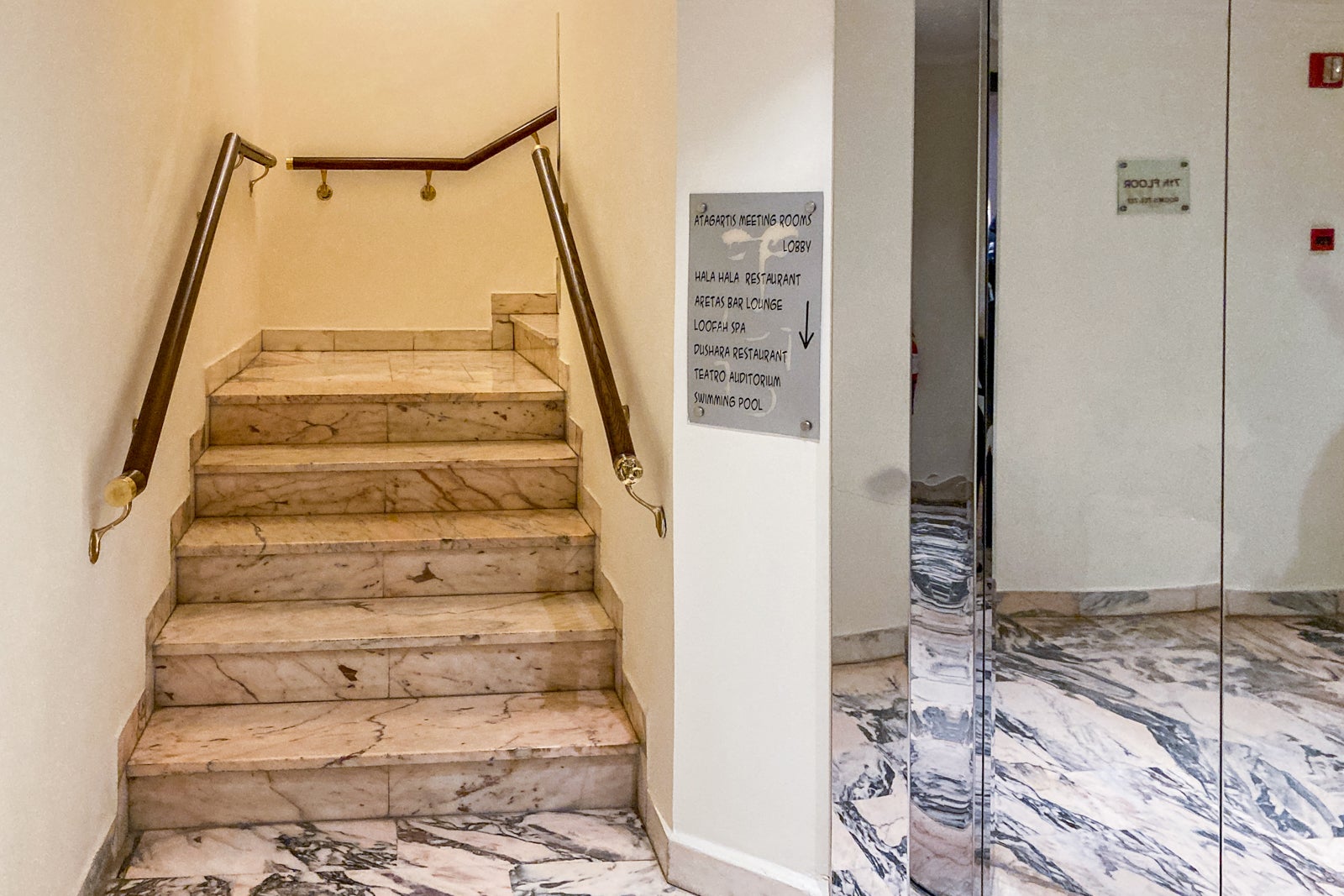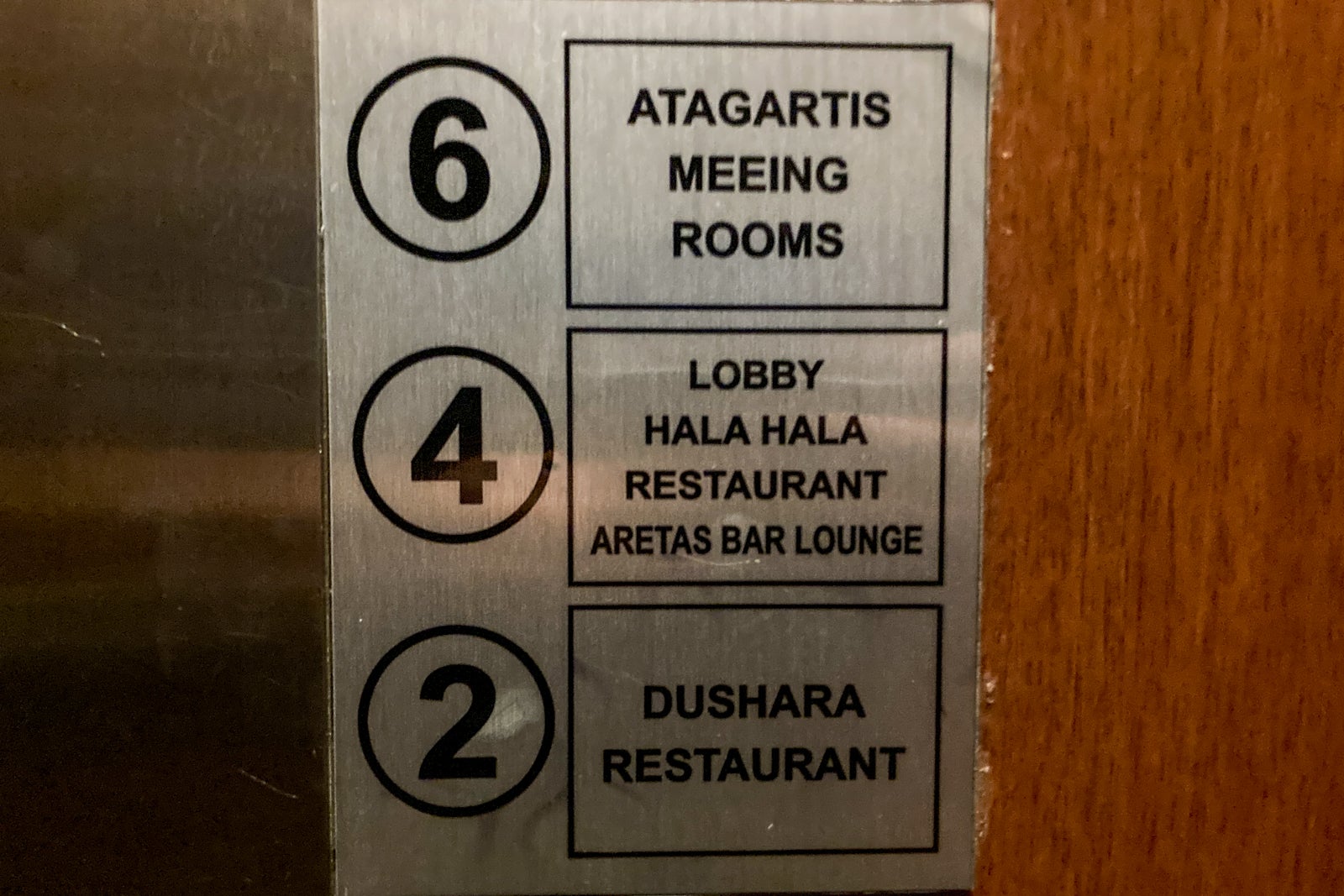 The fact there are elevators is good news, however, since there are many steps required to move between floors. Stairwells have handrails on both sides, and there are no stairs required to access the pool and outdoor patio behind the hotel. While it is possible to access the pool area, getting in and out of the pool would be difficult for those in a wheelchair as no lift is available, nor is there a ramp entrance.
Additionally, there are no Braille signs or induction loops at the hotel, which can be problematic for those who rely on these features. The hotel is due for some updates, and these are elements it should consider including in the next refresh.
Checking out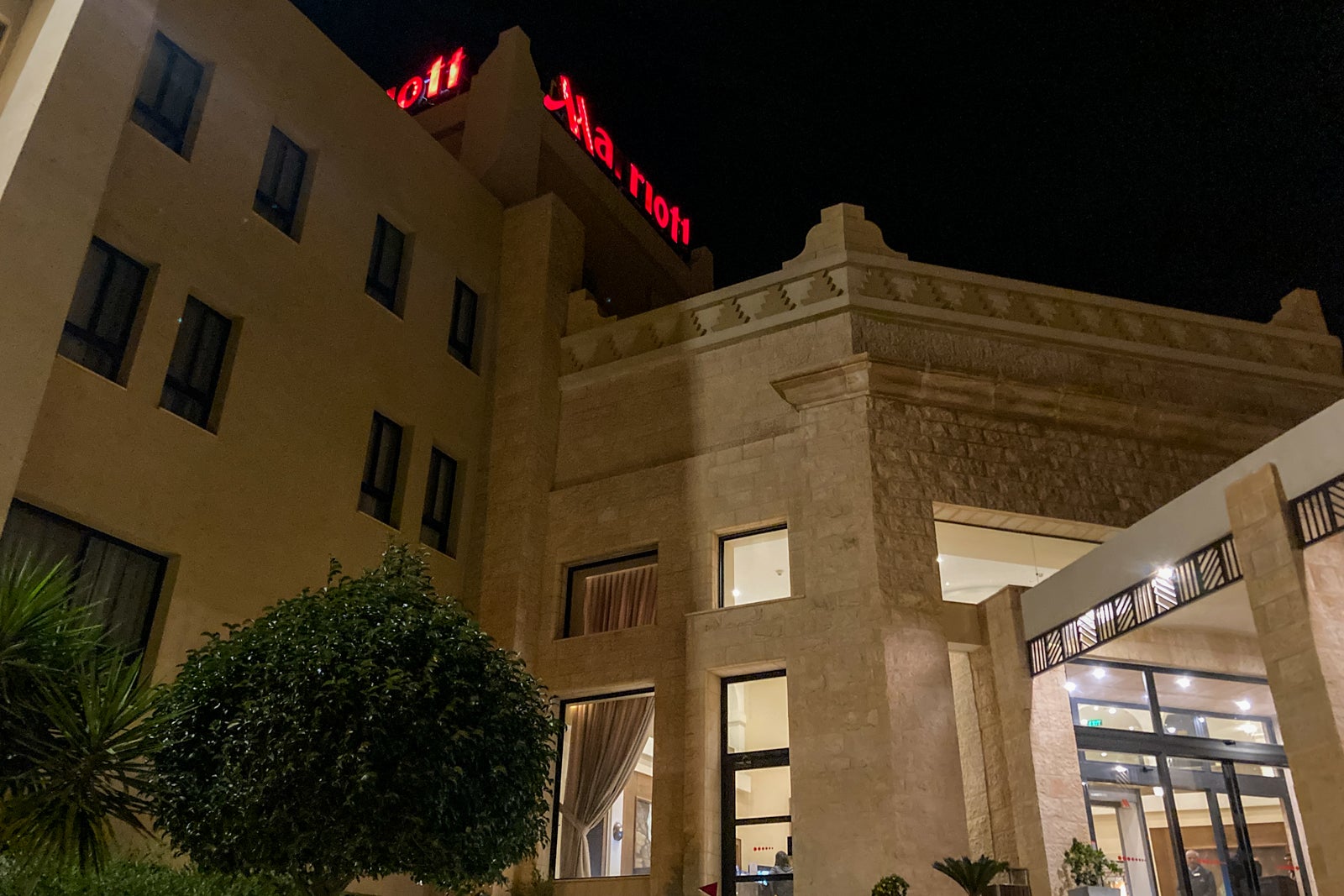 We thought this stay would conclude with us thinking the hotel was nothing special but feeling relieved to have saved money through a points redemption near a major tourist site. Instead, we truly enjoyed our stay. The staff members worked hard to enhance our stay through complimentary meals and spa visits in addition to apologizing for their inability to upgrade our room at check-in. We also appreciated their hospitality came through as authentic rather than forced. Although I don't have plans to return to Petra for now, I would not hesitate to book here again if the opportunity arises.