Editor's note: This is a recurring post, regularly updated with new information.
---
If maximizing points and miles on big purchases is your game, Plastiq can help you get there. The payment platform is popular among those looking to earn rewards on expenses that normally can't be charged to a credit card. We're talking about rent and mortgage payments, taxes, tuition, a new car and pretty much everything in between.
But before you get too excited about the miles you're going to earn paying your kid's college tuition, keep in mind that Plastiq does charge a fee. There are also restrictions on the type of payments you can make with specific credit cards. Below, we're covering some workarounds for these issues along with everything else you need to know about Plastiq.
What is Plastiq?
Plastiq is a payment platform that allows you to pay and accept pretty much any bill with a debit or credit card. It's a great option for earning points on spending that you normally can't put on a credit card. This includes some of your biggest living expenses, like housing, cars and tuition.
You can pay these merchants with a credit card and Plastiq will send them a check or wire transfer on your behalf. It also has Plastiq Accept for small businesses and a global payments solution as well.
You can even set up automatic payments, so you don't have to worry about scheduling them manually every month.
Plastiq fees and how to avoid them
Plastiq currently charges a credit card processing fee of up to 2.9%. You can offset this fee by signing up with a referral link and referring others to the platform. You'll earn bonus Fee-Free Dollars for signing up with a referral link or by referring someone who then makes $2,500 in payments during the first 30 days after sign-up.
Plastiq promotions
While the 2.9% fee can be tough to justify, Plastiq does run occasional promotions that cut down the fee. In the past, it's sent out targeted offers for reduced fees or bonus Fee-Free Dollars you could apply to future payments.
To make sure you don't miss out on these promotions, sign up to receive email notifications from Plastiq. Whether you're targeted for a special offer or notified of public promotions, signing up for email notifications ensures you don't miss out on these deals.
Related: How to hit your card's minimum spending bonus — even if you've recently returned purchases for refunds
The Plastiq referral program
If you have lots of friends and family eager to earn miles on big purchases, you can earn Fee-Free Dollars by referring them to Plastiq. You'll earn 2,500 FFDs for every person you refer who makes $2,500 in payments during the first 30 days after they sign up. Occasionally, you can also earn bonus FFDs during a promotion.
Just keep in mind that FFDs expire 90 days after they're issued. An easy way to ensure they don't expire is to use them for your mortgage or rent payments every month. These are bound to be high enough to use up any expiring FFDs you've got lying around.
The best credit cards for Plastiq bill payments
The best credit cards for Plastiq bill payments are ones that earn rewards that are more valuable than the fees you're incurring. Using Plastiq to meet spending requirements on a card with a big welcome offer is another great option. For example, the Ink Business Preferred Credit Card is currently offering 100,000 bonus points after you spend $15,000 on purchases in the first three months after account opening. If you're having difficulty meeting the spending requirement, Plastiq is one option for getting it done.
Similarly, a credit card that offers elite status or annual spending bonuses would also be a great contender for Plastiq bill payments. If the card you're using earns more than 1 point per dollar spent, that's even better.
Related: The top 6 credit cards to maximize large purchases
How does Plastiq work?
Plastiq is pretty simple to use. After signing up, you can add credit cards to your wallet and set up payment profiles. You can set up one-time or recurring payments for virtually any merchant. When you make a payment using a credit card, Plastiq pays the merchant via check or transfer.
Since payments can take up to 11 days to be received, you'll want to keep this in mind when choosing your payment options.
Plastiq has a payment calendar that shows you when the payment will post so you can adjust the payment date accordingly. If you're making a payment at the last minute, you can pay extra to get it expedited.
How to add a new recipient in Plastiq
If you're making a payment for the first time or adding a new vendor, you need to log in and click the blue plus sign to "make a payment."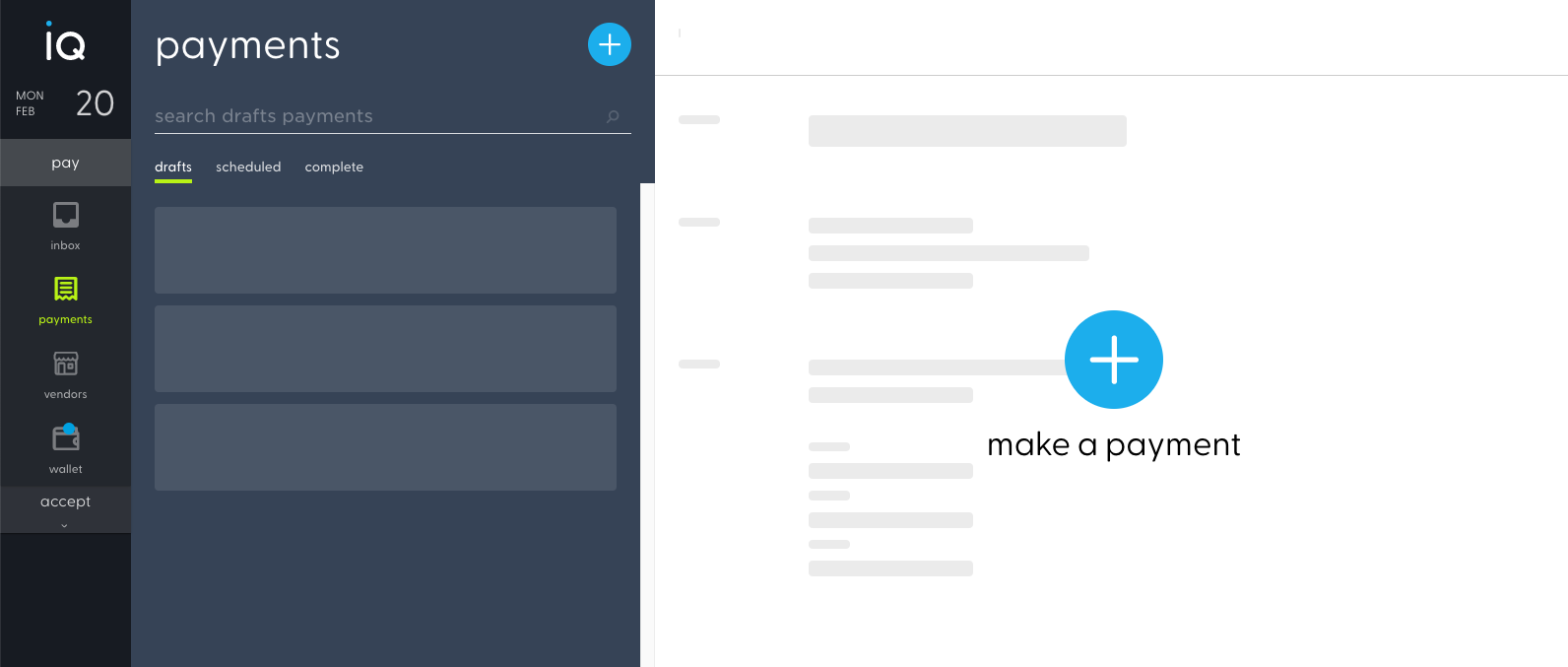 On the next screen for "Who do you want to pay?", you'll type the vendor's name. The system will search its network to see if your vendor is on file, and if not, you can add the information manually.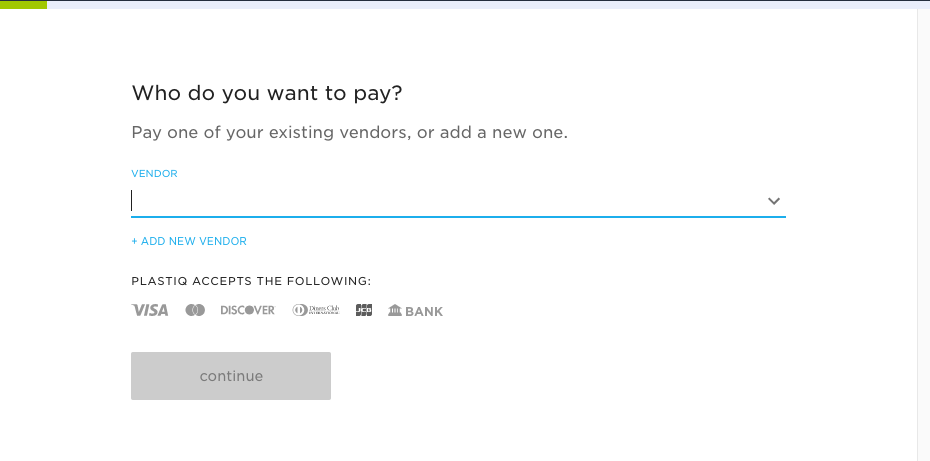 You can choose to send your payment via paper check, automated clearing house bank transfer or domestic wire. Wire transfer is the fastest option, while paper checks can take up to 11 days to process.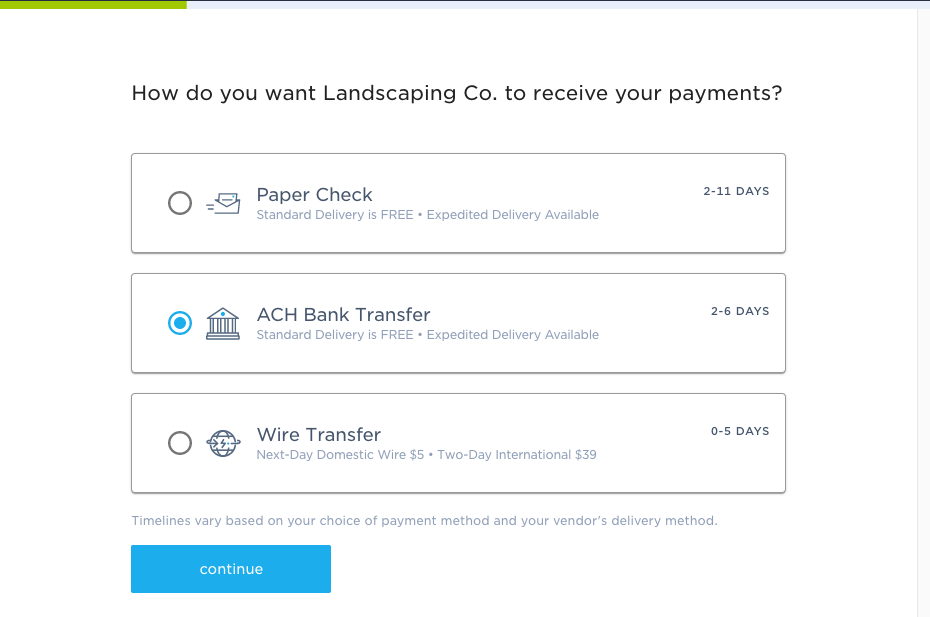 Payments by check
If you want Plastiq to send your payment via check, you'll be asked to provide the recipient's address.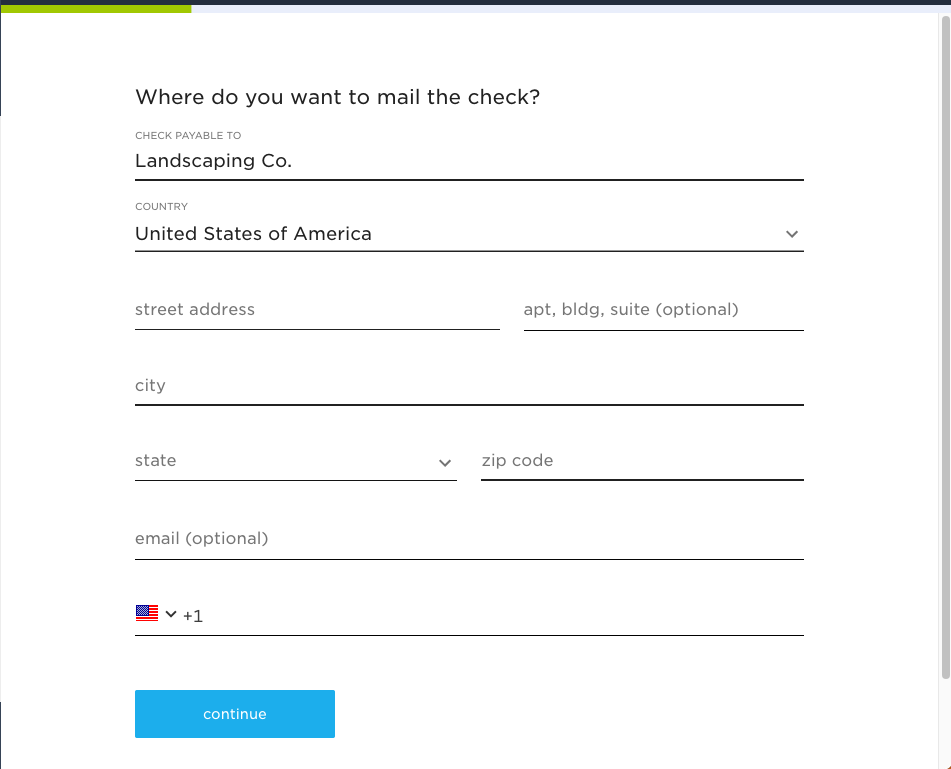 Finally, you'll need to specify the services provided by the vendor. Options include business purchases, clubs and membership, general inventory, labor and payroll and insurance.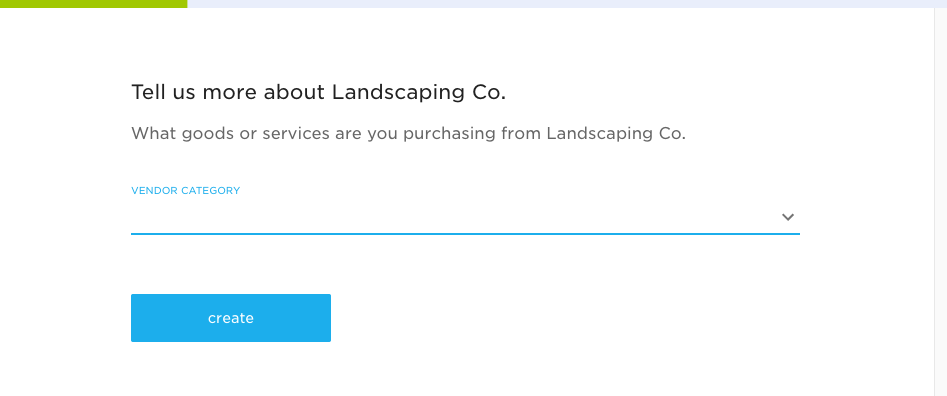 ACH and wire
For automated clearing house or wire payments, you'll be prompted to enter the vendor's name, bank account number and routing number.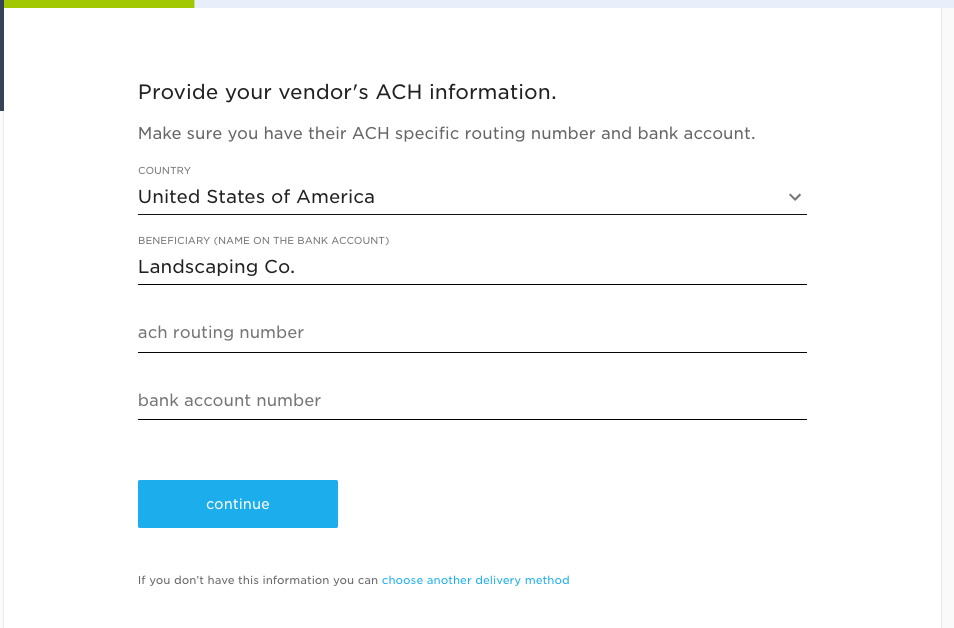 Making a payment through Plastiq is straightforward and requires just a few simple steps. Once you've added a recipient, you can bypass most of these steps on future payments.
Related: Beginners guide to points and miles
Plastiq FAQ
Here are some of the most common questions we've received about Plastiq:
Which bills can you pay with Plastiq?
Using a credit card, you can pay virtually any bill or merchant through Plastiq. This includes your rent, mortgage, car payments, your landscaper and pretty much anything in between.
The only payment restrictions are for "debt products," investments and other people. Plastiq is meant to be a consumer-to-business product, so you can't use it as a Venmo alternative to send money to friends or family.
Which credit cards does Plastiq accept?
Plastiq accepts many major credit cards, including Visa, Mastercard, Discover and Diners Club. However, keep in mind there are limitations regarding which bills you can pay with each card type.
Plastiq has a handy guide that lists all the different bills you can pay with your eligible card.
Note that as of Feb. 10, Plastiq no longer accepts American Express. Any Amex cards that were already added to an account have been automatically removed, and new Amex cards cannot be added.
Payments also cannot be made with personal Capital One credit cards. However, Capital One business credit cards are accepted for certain types of bills.
Can I use Plastiq to pay a credit card bill?
Unfortunately, you can't use Plastiq to make a credit card payment since that falls under the "debt product" restriction. While a mortgage is technically a debt product, Plastiq makes an exception in allowing you to pay it with a credit card. That's pretty handy since mortgage payments are such a big expense for most people and there isn't really another way to earn points while paying it.
What are some alternatives to Plastiq?
There are a few alternatives to Plastiq, depending on the type of bill you're paying. If you're looking to pay taxes with a credit card, a cheaper option is to go with an IRS-approved payment processor. Many of them accept credit cards for less than a 2% processing fee.
If you want to use a credit card to pay rent with no transaction fees, consider the Bilt Mastercard®. This no-annual-fee card (see rates and fees) allows you to pay rent with it and earn points where you otherwise may not be able to.
TPG founder Brian Kelly is a Bilt adviser and investor.
If you're looking to earn points on tuition payments, check with your university first because you may end up paying a lower card processing fee than Plastiq charges — or none at all.
PayPal is an option for peer-to-peer payments using a credit card since Plastiq doesn't allow those types of payments. The platform charges 2.9% plus a $0.30 processing fee per transaction. That brings your total for a $1,000 payment to $29.30.
Related: The right way to pay your credit card bills
When is using Plastiq worth it?
With the fees involved, you may be wondering whether Plastiq is worth it. There are a few scenarios where incurring a 2.9% fee makes sense. For starters, if you're trying to meet a large spending requirement to earn a credit card sign-up bonus, Plastiq might be worth considering. You'll pay roughly $29 per $1,000 payment, which could be worthwhile depending on the size of the sign-up bonus.
For example, the Ink Business Preferred currently offers 100,000 bonus points after you spend $15,000 in the first three months of account opening. Making $15,000 in payments through Plastiq will cost you about $435 in fees. While that's certainly not a small amount, keep in mind that you can redeem the Ink Preferred welcome bonus for $1,250 worth of travel booked through the Ultimate Rewards travel portal. Even if you end up redeeming part of your sign-up bonus for cash back to offset the Plastiq fee at 1 cent per point, you'll still come out ahead.
Of course, our recommendation is to transfer your points to one of Chase's travel partners for premium award redemptions. In fact, you can get well over $2,000 in value by going this route.
Bottom line
Plastiq is a solid option if you're looking to earn points on big purchases or need a little help meeting a large spending requirement. While the 2.9% fee can be substantial, you can save by signing up with a referral link or referring others. The occasional promotion can also knock out a big chunk of those fees. And if using Plastiq gets you a big credit card sign-up bonus, redeeming it for a high-value award can also take the sting out of paying those fees.
For rates and fees of the Bilt Mastercard, click here.
For rewards and benefits of the Bilt Mastercard, click here.
Additional reporting by Emily Thompson.