If you've cruised to the Bahamas a million times and you're starting to feel bored with the options, you're in luck. Disney Cruise Line and Royal Caribbean are working on expanding their exclusive port offerings with new private destinations slated to open in 2024 and 2025, respectively.
What that means for passengers is a slew of new beaches, restaurants, shore excursions and even children's facilities will soon be yours to enjoy on cruises to the islands.
Here's a look at what we know about Disney Cruise Line's Lighthouse Point on Eleuthera Island and Royal Caribbean's Royal Beach Club at Paradise Island.
For more cruise guides, news, reviews and tips, sign up for TPG's cruise newsletter.
Lighthouse Point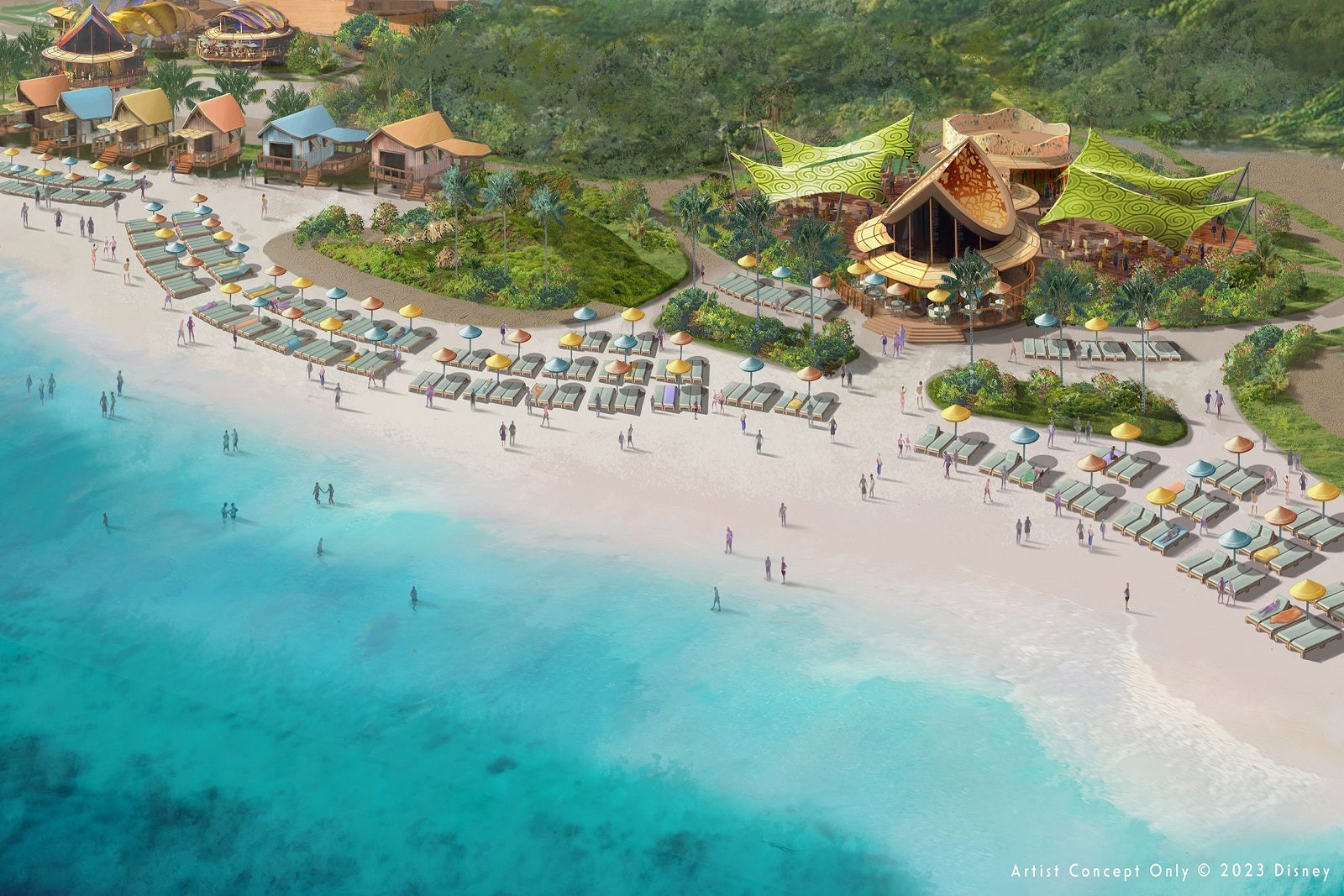 Disney Cruise Line revealed plans for Lighthouse Point back in 2019, but development was stymied by the onset of the COVID-19 pandemic. However, the line said at the 2022 D23 Expo that construction is underway on Eleuthera Island.
"New details about Lighthouse Point reveal a relaxing beach escape designed with families in mind, infused with the color and energy of Bahamian artistry, and developed with a commitment to conservation at its core," the line said in a March 9 statement on its website.
Lighthouse Point's offerings are set to include the following:
A dedicated family beach on the island's east side.
An arts and culture pavilion focusing on Bahamian traditions.
A family water play area, featuring two slides, water drums, fountains and a section for toddlers.
A covered gaming pavilion, volleyball court, gaga ball pit, bicycle and water sports equipment rentals, and nature trails for active cruisers.
An adults-only beach, complete with a dedicated bar and dining area and six private cabanas available for rent.
A themed, supervised kids club for children ages 3 to 12, offering a splash pad area and dedicated dining facilities, all with plenty of shade.
A set of 20 family cabanas — four of which are double cabanas that accommodate larger groups and offer massage services — available for rent on a beach along the island's southwest shore.
Opportunities to learn about the island's natural habitats and what the line is doing to protect them.
A selection of new shore excursions that will allow passengers to explore other parts of Eleuthera in partnership with local tour operators.
Disney has committed to developing only a small portion of the land it purchased — something it says it will do with environmental protection and sustainability in mind. It also donated part of the Lighthouse Point land back to the Bahamian government.
Lighthouse Point's location on Eleuthera Island is about 140 miles from Castaway Cay, the cruise line's exclusive private island.
In addition to Disney Cruise Line passengers, locals will also be able to access Lighthouse Point.
Although Princess Cruises' private island, Princess Cays, is technically part of Eleuthera, Princess Cays is only accessible by passengers who visit the island on a Princess ship, and it doesn't allow passengers to explore the rest of Eleuthera. That makes Lighthouse Point the first cruise line-developed port area on Eleuthera to grant access to people who live in the area and to grant passengers access to the rest of the island.
Details about Lighthouse Point's dining, entertainment and retail options, as well as shore excursions, will be released at a later time.
Royal Beach Club at Paradise Island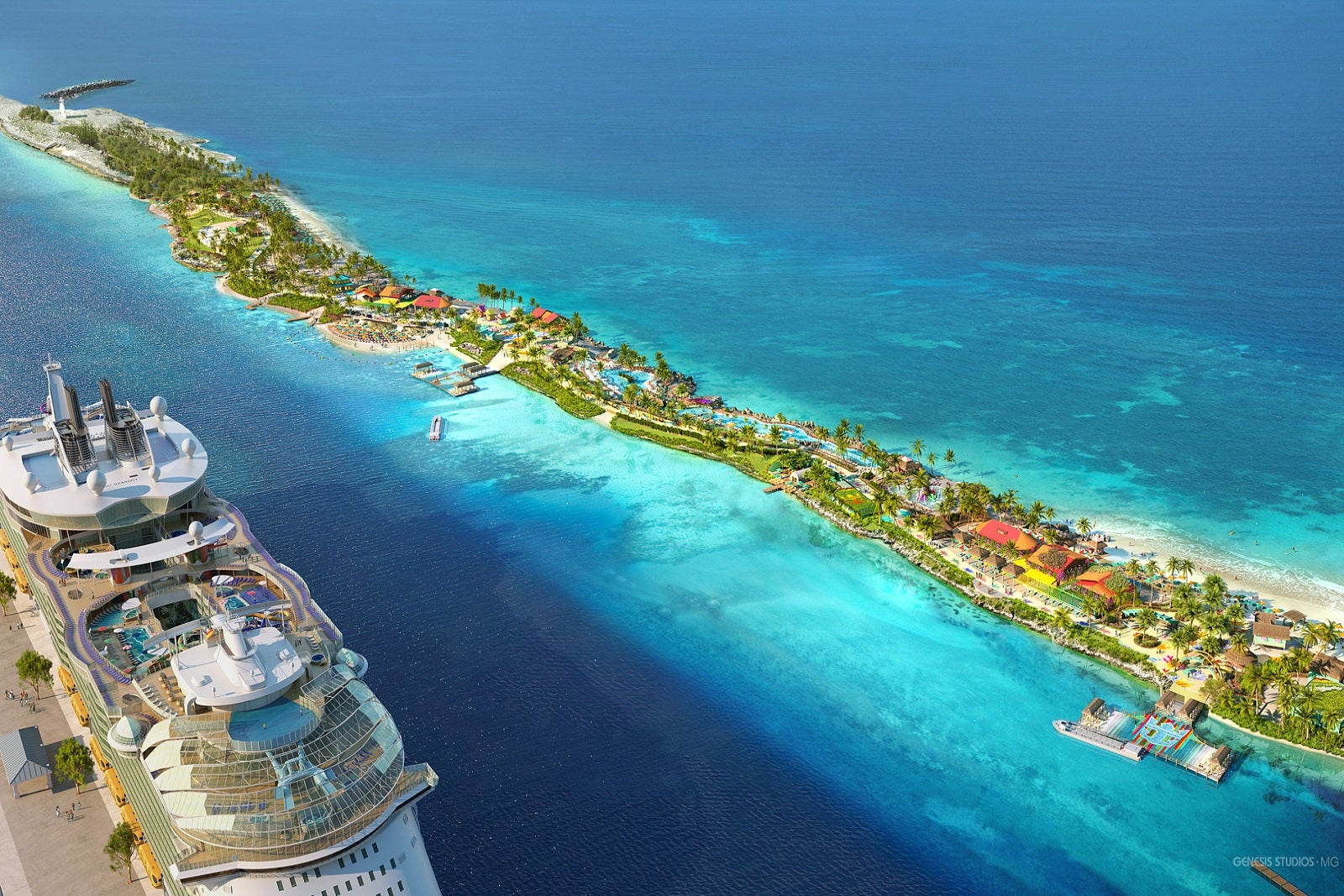 The Royal Beach Club, set to be located at the western end of Nassau's Paradise Island, is a joint venture between the cruise line and the Bahamian government. Of the 17-acre property, Royal Caribbean owns 13 acres; the other four were given to the line by the Bahamas for development.
As part of the agreement, the Bahamian people can own 49% of the venture, with locals running most of the operation and a portion of the profits going back to the Bahamian government and the people who live on the island.
Few details are known at this time about the beach club's specific offerings. Visitors can expect private cabanas, pools, beach access, island-style barbecue lunches and a variety of local musicians and artists, according to a statement on the cruise line's website. Additional information will be released in the coming months.
Although many ships call on Nassau, located on New Providence Island, none currently call on Paradise Island, located just across Nassau Harbor. Paradise Island is known for the iconic Atlantis Paradise Island resort located there.
When it opens, the Royal Beach Club will join Royal Caribbean's other exclusive branded properties: private island Perfect Day at CocoCay elsewhere in the Bahamas and private beach Labadee in Haiti.
Bottom line
In a never-ending quest to offer passengers more variety, cruise lines have been constructing and operating their own dedicated beach recreation areas for years.
Disney Cruise Line's Lighthouse Point and Royal Caribbean's Royal Beach Club at Paradise Island are just two reasons for cruise fans to get excited about booking trips to the Bahamas in the coming years.
From high-end cabanas and new shore excursions to cultural experiences and dedicated adults-only beaches and kids club areas, the beach areas will surely offer something for just about everyone.
Planning a cruise? Start with these stories: