The holder of bragging rights for operating the world's longest flight may soon change once again.
Qantas' nonstop flight from Sydney Airport (SYD) to London's Heathrow Airport (LHR) seems poised to reign as the world's longest flight — clocking in at a whopping 10,576 miles and 20 hours long — once it debuts in late 2025.
Want more airline-specific news? Sign up for TPG's free biweekly aviation newsletter.
The history of the world's longest flight is an inherently dynamic one. As engineering and technology have improved, airlines have been able to push their planes farther and farther. Within the past 26 years, the world's longest flight has jumped by approximately 33%, according to data from OAG, a global travel data provider based in the United Kingdom.
The world's longest flight spanning back to 1997 was a South African Airways flight from New York's John F. Kennedy International Airport (JFK) to Johannesburg's O.R. Tambo International Airport (JNB) at 7,973 miles.
Since then, the longest flight has continued to increase in miles. Singapore Airlines' flight from JFK to Singapore Changi Airport (SIN) has held the title of the world's longest flight since 2021, stretching to 9,532 miles.
Interestingly enough, the majority of these ultra-long-haul flights have departed from the U.S. since 1997, according to the OAG data. So, the coming Sydney to London route joins only two other ultra-long-haul flights that have not departed from the U.S. in the past 26 years. Emirates' 2016 Auckland, New Zealand, to Dubai flight (8,824 miles) and Qatar's 2017 Auckland to Doha, Qatar, flight (9,031) are the only other routes on OAG's list without a U.S. point of origin.
Related: 19 thoughts for 19 hours on the world's longest flight from New York to Singapore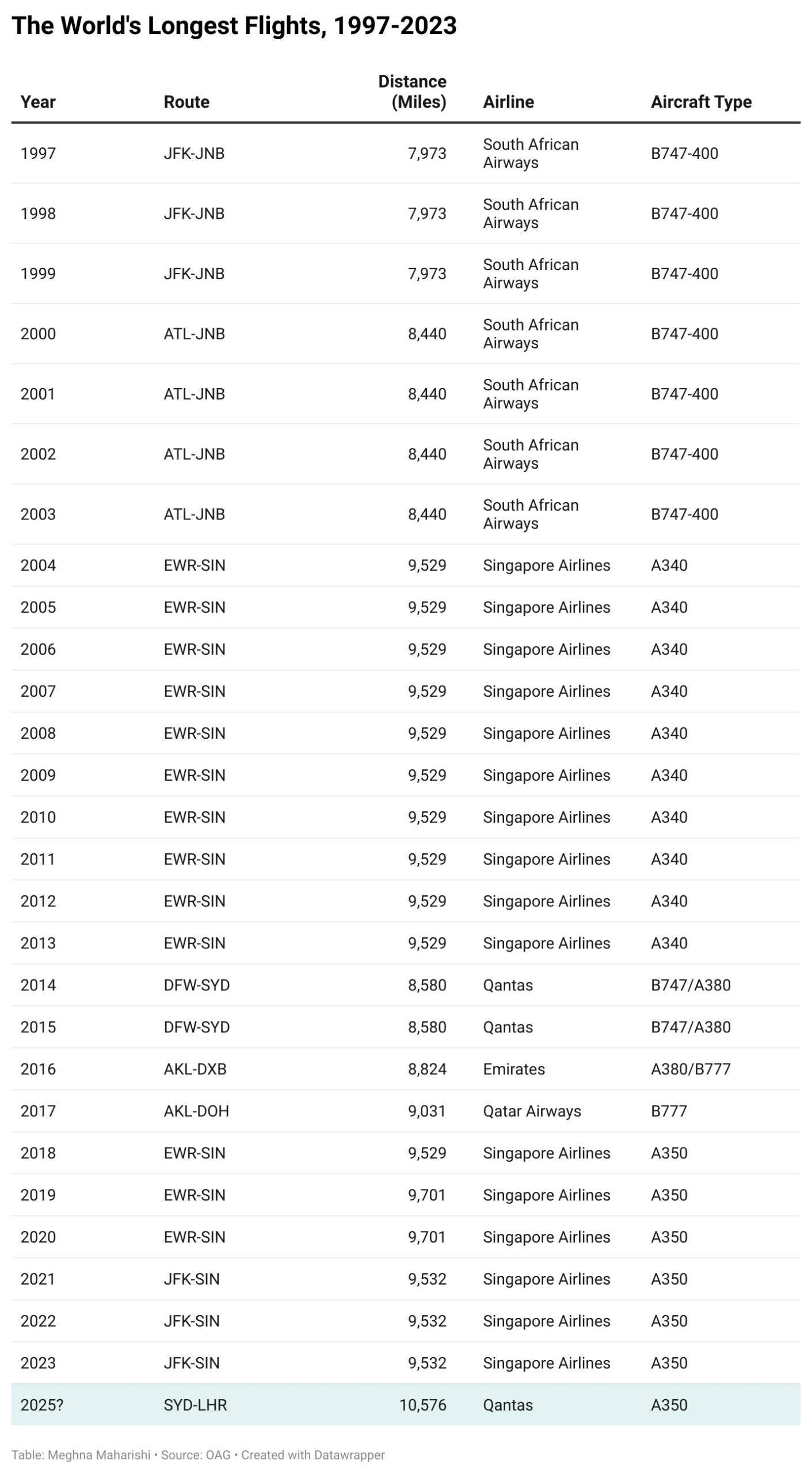 Since 2017, Qantas had been working to coordinate what could become the world's longest flight through an ambitious initiative called "Project Sunrise," which was stalled due to the coronavirus pandemic, according to the BBC. The Australian carrier touts Project Sunrise as "the final frontier in aviation" on its website.
Project Sunrise pushed jet makers Airbus and Boeing to find a way to engineer an aircraft that can regularly fly nonstop from Australia's east coast to London. The flight from Sydney to London will be operated on an Airbus A350-1000 jet, which can fly to nearly any part of the world while carrying anywhere from 350 to 410 passengers.
While Qantas will first launch flights from Sydney to London and New York (SYD-JFK is 9,950 miles), the Australian carrier has plans to start more nonstop routes to and from Australia in the future.
Qantas first conducted a test run of these ultra-long-haul flights from New York to Sydney in 2019. The test run was operated in a Boeing 787-9 that only held 50 people in order to make the trip. TPG was on board the test flight and found it to be a unique experience.
Qantas CEO Alan Joyce applauded the 2019 flight at the time, describing it as "historic."