Pass the Champagne and caviar: One of IHG's most luxurious brands is finally getting back into the U.S. hotel business.
Regent Hotels & Resorts plans to open the Regent Santa Monica Beach in California later this year. The hotel, formerly a 347-room Loews-affiliated hotel, will undergo a significant renovation that cuts the room count by at least half to bring the property up to Regent's ultra-luxurious standards, IHG leaders told TPG this week ahead of the announcement.
The Regent Santa Monica Beach is a return to the U.S. for the overall brand, which launched in Hawaii in the 1970s and eventually expanded to Beverly Hills in California before Four Seasons absorbed a significant portion of the brand's portfolio in the 1990s. IHG considers the move more like a U.S. debut for a reimagined Regent brand.
It's a busy month for Regent, which opened the Carlton Cannes, a Regent Hotel this week in southern France and plans on a grand opening at the Regent Hong Kong in June. Both of those hotels are former InterContinental-branded hotels (though the Regent Hong Kong was originally a Regent, so it's a homecoming of sorts for that property).
Wondering where exactly Regent fits in the ultra-luxury sector, known for brands like Marriott's St. Regis and Hilton's Waldorf Astoria? IHG leaders divulged all the details.
"We spent a lot of time and effort talking to our owner partners around the world about properties and hotels that will make it and whether that might be important to have a common shared vision, which we absolutely do with this hotel in terms of vision and of what we want to bring to the next generation of luxury," Tom Rowntree, IHG's vice president of luxury brands, said in an interview with TPG this week amid the Carlton Cannes opening. "That's kind of a nonnegotiable, I would say."
The Regent Santa Monica Beach's coastline location is steps from the Santa Monica Pier, and a beachfront pool deck with multiple pools, a destination spa and a wellness center are part of the redevelopment plans. A high-end market, as well as a celebrity chef-anchored restaurant, are also in the works, but no further details were provided.
The Regent Santa Monica Beach will also be considered the brand's flagship in the Americas.
"Regent Santa Monica Beach is the start of a bright future for the brand in the Americas, emphasizing our strategic focus on luxury and lifestyle growth globally," Julienne Smith, IHG's chief development officer for the Americas, said in a statement.
Regent's rebirth around the world
While further details weren't readily available on the upcoming California hotel, one can look to the Carlton Cannes renovation as what might be in store for Santa Monica. The 332-room French hotel underwent a two-year renovation to migrate from its InterContinental past into the Regent vibe.
TPG toured the property in December while construction was still underway, and while photography wasn't allowed at the time, it was clear the team was going to great lengths to elevate the property to new glory.
Excavators dug below the property to add a parking garage, spa, wellness center and convention space while developers transformed a rear parking lot into a garden and year-round swimming pool. A team of 750 craftspeople worked on careful details like art deco-inspired chandeliers and hand-placed marble scales on the lobby floor. A team of artisans who restored chandeliers at the Palace of Versailles worked to restore chandeliers in the Grand Salon.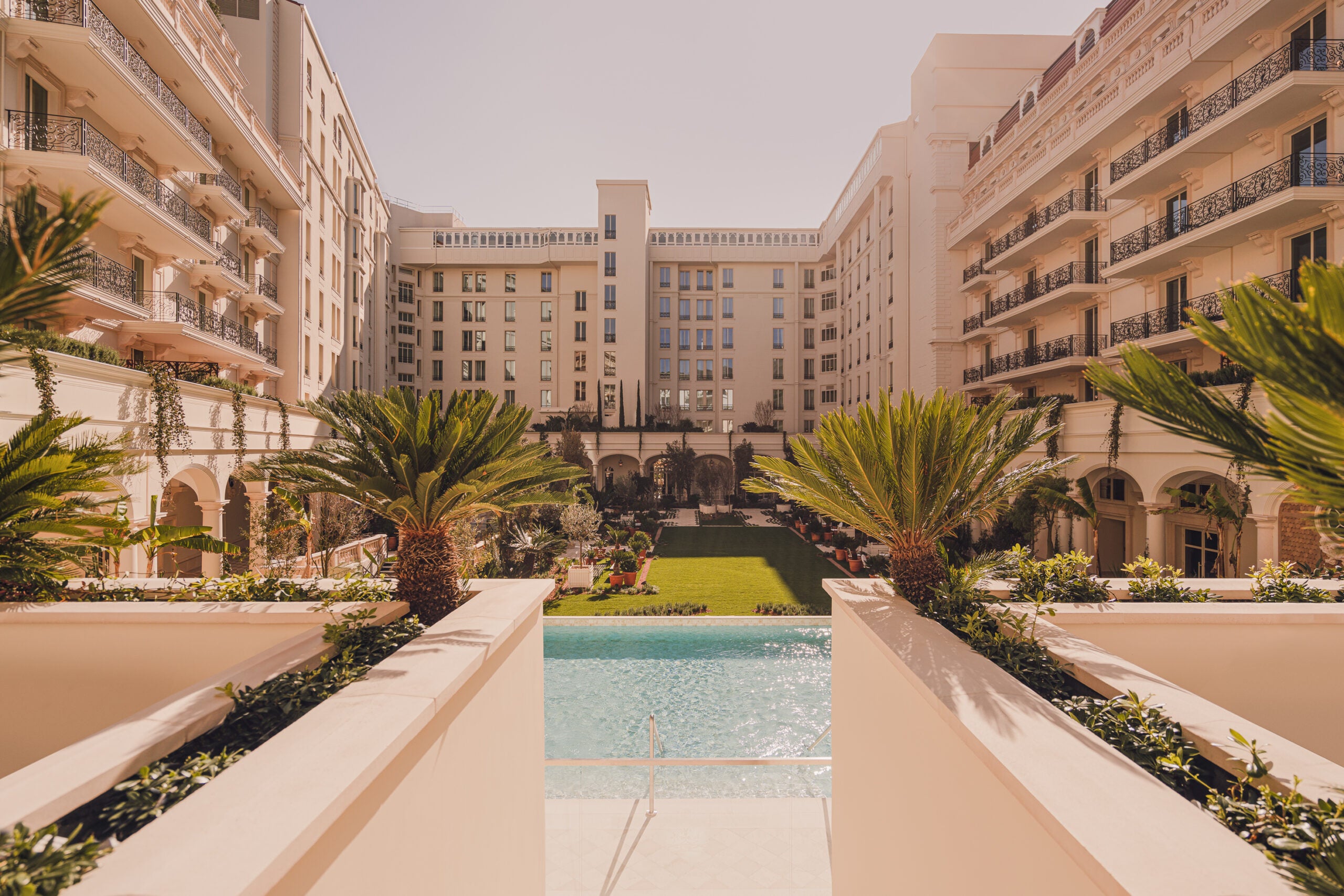 From personal observation, the 72 guest rooms and suites with views of the Mediterranean will be hot commodities on the Cannes hotel scene. Each boasted clean, minimalist designs with large, marble bathrooms. How much did an overhaul like this cost?
Rowntree declined to provide a specific number, but it was a budget high enough to take into consideration the precise angle the parking garage incline could have without running the risk of scratching the fender of a low-sitting McLaren sports car.
"It's the restoration of a monument, so that's working with real specialists in their craft on how they bring back the former glory of our hotel," Rowntree said.
The Regent Hong Kong is slated to make its own debut this year, with similar anticipation around its own return to glory. The hotel was operated as an InterContinental from 2001 until 2020, when it closed for renovations. While the two newest Regent hotels were once InterContinental hotels, that doesn't mean IHG travelers should expect a wave of these InterContinental-to-Regent transformations to happen in the future.
"It is not our strategy to rebrand InterContinental [hotels] to Regents," Rowntree said. "It's just that these two owners had completely matched with the direction we were taking Regent brand."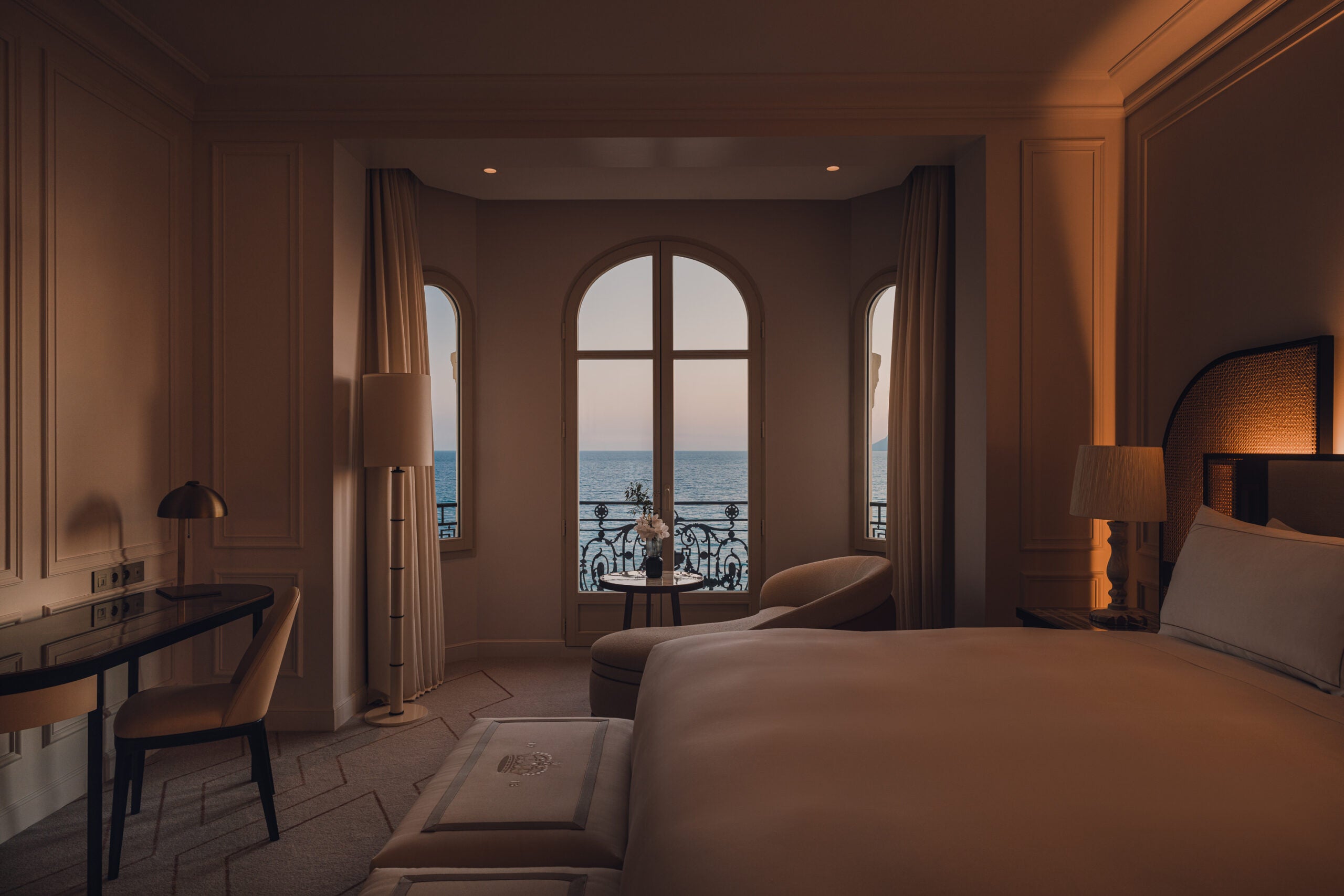 IHG's ultra-luxury ambition
The new hotel in the U.S. is the latest in a rapid ascent for Regent's overall hotel count. While Regent's first hotel was in Hawaii, the brand had scaled back to Asia and two properties in Europe by the time IHG announced in 2018 it was the brand's new majority stakeholder. IHG leaders indicated a long-term plan at the time of the acquisition to beef Regent up from six hotels to 40.
Regent is part of IHG's significant push into the luxury and lifestyle hotel sector. Until 2015, the company's most luxurious brand was InterContinental. Company leaders recognized there needed to be more offerings in this space to compete better. Marriott has seven luxury brands while Hyatt has eight, according to both companies' most recent annual reports.
IHG now has six brands in its Luxury and Lifestyle Collection thanks to the acquisitions of Kimpton, Six Senses and Regent, as well as the launch of the Vignette Collection. Hotel Indigo and InterContinental also reside in this brand cluster.
"Up until 2015, InterContinental Hotels and Resorts was our only luxury hotel brand and an incredible brand. It's been around since 1946 and really is a pioneer of international luxury travel, and that continues today — but it was our only luxury brand," Rowntree said. "What we saw coming from a lot from our IHG One Rewards members was a demand for having a greater breadth and depth of luxury offerings that they could then both earn and redeem their points."
Six Senses is the company's wellness- and sustainability-focused ultra-luxury brand that is rooted in resort destinations but has increasingly pushed into cities, with one hotel in Istanbul and another slated for Rome later this year.
Regent is more of the traditional, ultra-luxury offering; however, Rowntree notes the revival of the brand is aimed more at expanding to younger travelers.
"What we recognize with Regent is the evolution of the luxury consumer and that younger mindset that they're having and that the traditional classic hotels need to evolve and actually meet the needs of the modern luxury consumer," Rowntree said. "That's where Regent sits, and that is a very clear ambition for the brand."
Some of the specific strategies on how to court those younger-minded luxury travelers weren't immediately clear, but paying attention to McLaren car heights when designing a parking garage in Cannes is clearly a starting point.
Related reading: