How early should you get to the airport?
It's a question most travelers know to ask during busy holiday travel periods. Throngs of travelers, long check-in queues, jam-packed roadways and snaking security lines are among the reasons holiday flyers should give themselves and extra hour or two to get to their gate.
This Christmas, however, travelers may want to consider heading to the airport not just an hour or so earlier than normal – but perhaps by a full day or two.
Want more airline-specific news? Sign up for TPG's free biweekly Aviation newsletter.
Winter weather may impact holiday travel
That's thanks to a massive winter storm winding up now that's threatening to bring treacherous weather to airports across a wide swath of the nation – including many of the nation's busiest airline hubs.
The storm — a potential "bomb cyclone," according to The Weather Channel — already was bringing poor weather to the Pacific Northwest on Tuesday, where cancellations and delays were above normal at busy airports like Seattle/Tacoma International (SEA) and Portland International (PDX) in Oregon.
Travel disruptions will only likely worsen this week as the storm treks east in the days leading up to Christmas.
Snow is forecast for much of the Great Plains and Midwest from Wednesday into Thursday, with blizzard conditions and more than two feet of snowfall expected in some locations. The East Coast is also expected to get hit with a mix of snow, ice and rain. Heavy rain and strong winds could snarl busy Northeast airports.
Unusually cold weather also will complicate travel on the back end of the storm, with temperatures dropping into the teens as far south as places like Houston and Atlanta. Even New Orleans and Jacksonville, Florida, are expected to see temperatures in the low 20s later in the week. That could lead to icy conditions on roadways or deicing delays at airports that don't frequently encounter extreme cold.
And with the worst of the storm hitting the Midwest and East Coast just two days before Christmas this coming Sunday, there will likely be few options for stranded travelers to find new itineraries to get home before the holiday.
But, there are possible alternatives to just hoping for the best, as the big U.S. airlines have rolled out flexible rebooking waivers to let flexible travelers change their plans to avoid the storm.
When and where will travelers be affected?
The storm is already ashore in the Pacific Northwest, where some cancellations and delays are being tracked in the region. Nearly one out of five flights at Seattle was canceled Tuesday, and a similar number were delayed, according to the flight-tracking service FlightAware.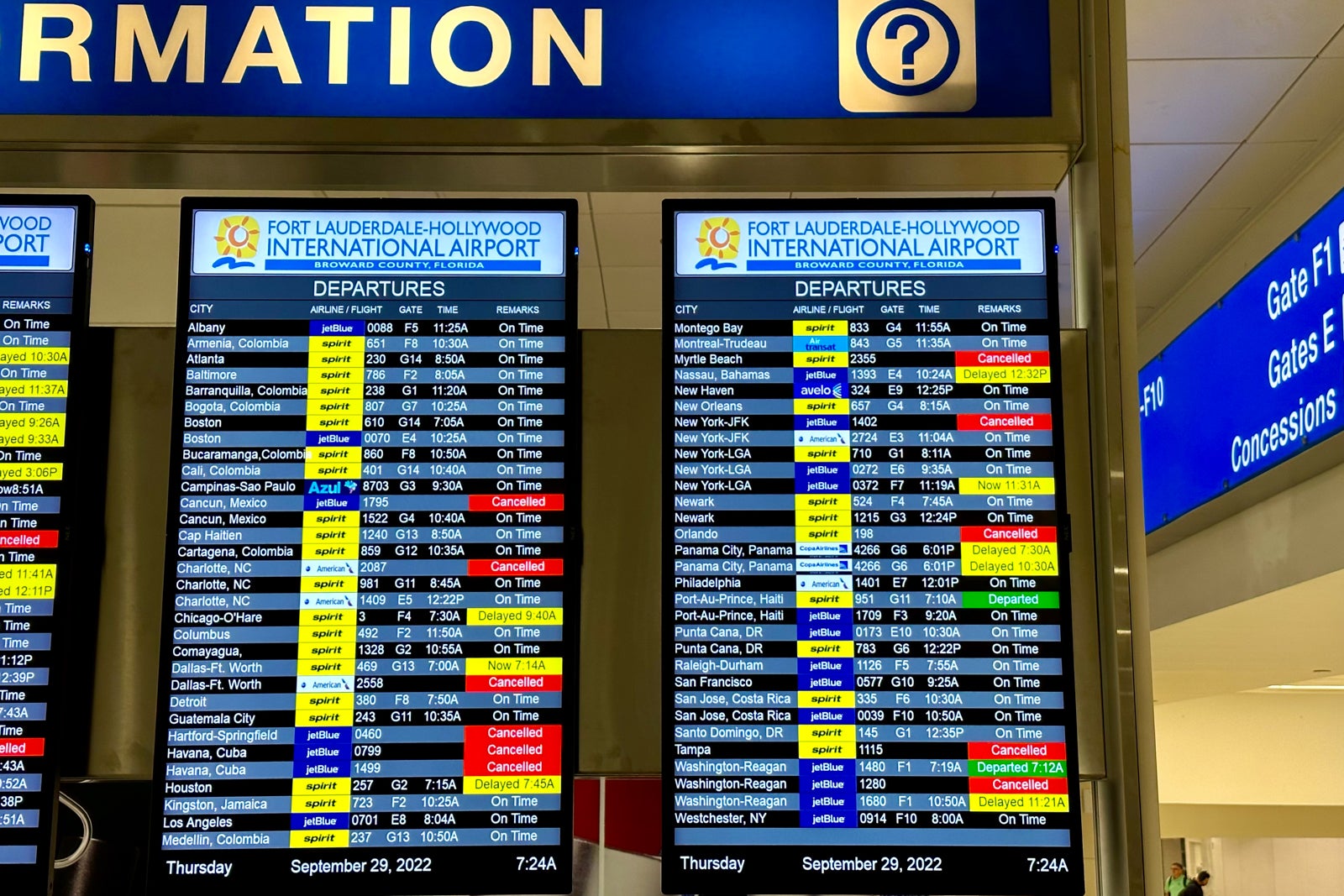 Forecasts called for the storm to move east, bringing snow to the Great Plains and Upper Midwest by Wednesday night before expanding into the Great Lakes by Thursday and lasting into Friday. Heavy rain and wind were forecast along much of the East Coast on Thursday and Friday, including at the Northeast's delay-prone airports in New York and Philadelphia. Freezing temperatures in the Deep South are expected by Thursday and into Friday.
And while flight delays and cancellations are possible outcomes of this weather system, the impacts likely won't just be limited to air travel as drivers across the impacted regions also should prepare for difficult conditions.
Should you fly out early?
Whether you should change your travel plans this holiday week to depart a day or two earlier than planned will depend on your travel plans and when and what type of weather is expected for your precise location(s).
Drivers will face particularly difficult conditions in many areas this week, leading the National Weather Service to warn travelers to consider adjusting their plans in light of the weather.
"The best Christmas gift you can give this year is to be around for another Christmas," the National Weather Service said in an advisory about the storm. "Plan now to delay, alter or cancel travel plans."
Air travelers also face complications, especially if their holiday plans call for them to fly through an airport in the storm's path.
Those with the flexibility to change planes might want to consider leaving early to get to their destinations before the storm snarls travel in the Midwest and East.
Flights are already full this time of year, and passengers displaced by cancellations or missed connections will likely find few empty seats on other flights. In other words, if you can be proactive and adjust your plans before many flights full of would-be travelers try to do the same, you may have more options.
What about those airline weather waivers?
Most of these waivers let customers make one change to their itinerary without paying any additional fee or fare difference. For example, United currently has well over 100 airports currently under waivers stretching all across the country with a  rebooking window spanning from Dec. 19 – Dec. 28, 2022.
The dates and airports covered vary by airline, so check out the details for your carrier to see if a change makes sense for your itinerary.
Bottom line
Santa may still arrive right on time on Christmas Eve, but for flights that aren't reindeer-equipped, this may be the year you need to check the weather reports twice and think long and hard about changing your flight plans if your current itinerary puts you in a location with an unfavorable weather forecast.
Read more: