Editor's note: This post has been updated with the latest information.
---
While the SkyTeam alliance may not have the most powerful loyalty programs, Air France-KLM's Flying Blue is often considered one of the best. It prices award tickets dynamically but frequently offers excellent deals on transatlantic flights. One award that frequently offers a great deal is flights from the U.S. to Europe.
Better yet, you can transfer points to Flying Blue from all the major transferable points programs, including:
Let's take a closer look at these redemptions in this week's edition of Sweet Spot Sunday.
Why it's special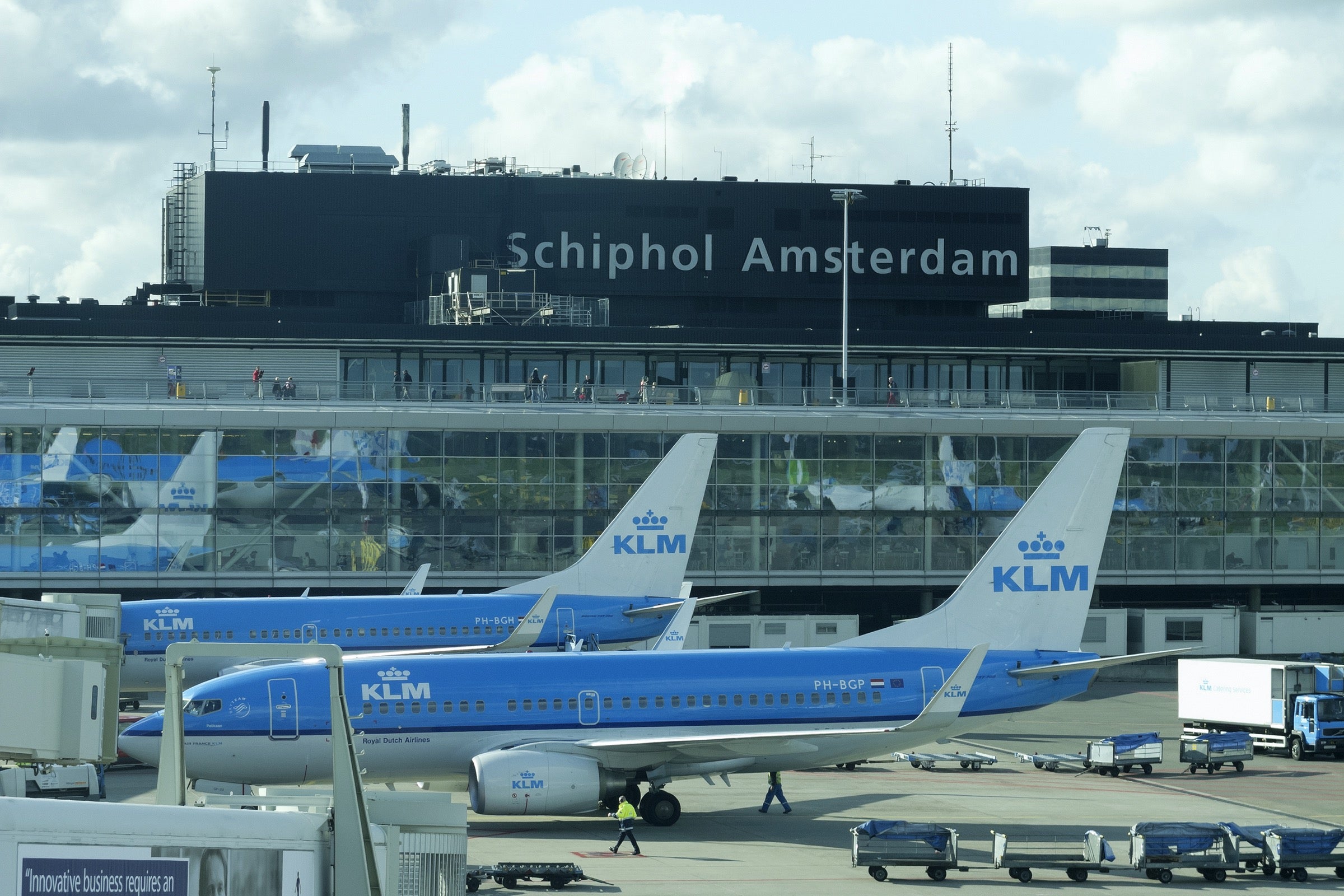 Flying Blue offers excellent pricing on one-way flights from the U.S. to Europe. Most SkyTeam programs — for example, Delta SkyMiles — charge 40,000-plus miles one-way for these awards. Meanwhile, Flying Blue frequently offers these awards for under 20,000 Flying Blue miles one-way plus moderate taxes and fees — even when you exclude limited-time Promo Rewards.
Here's an example flight from New York's John F. Kennedy International Airport (JFK) to Zagreb, Croatia. This flight costs just 16,500 miles with $82.10 in taxes and fees.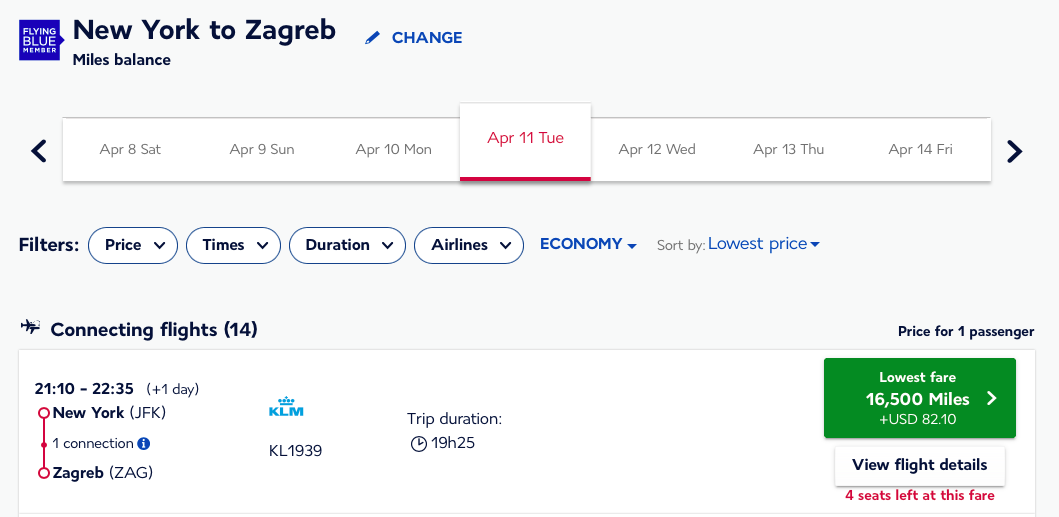 You can book flights from the West Coast for roughly 20,000 miles on many dates. In my test searches, I found that flights from San Francisco International Airport (SFO) to Frankfurt start at 20,000 miles one-way on some dates, but prices spike on others. You'll want to be flexible to find the best deals.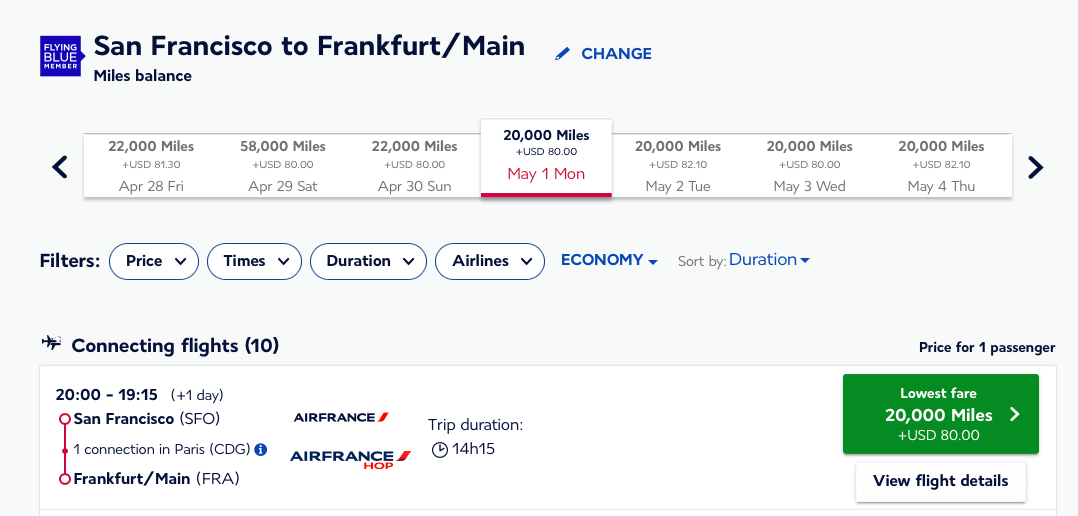 It's worth mentioning that you won't always get a great deal with Flying Blue. Award tickets are priced dynamically, so you'll see different prices depending on your route, date and operating airline. Regardless, if you can find flights in the 15,000-25,000-mile range, you'll walk away with a solid deal when compared to booking with Delta SkyMiles or other SkyTeam partners.
Related: Sweet Spot Sunday: How to fly round-trip to Europe in business class for 88,000 miles
Business class can be a great deal too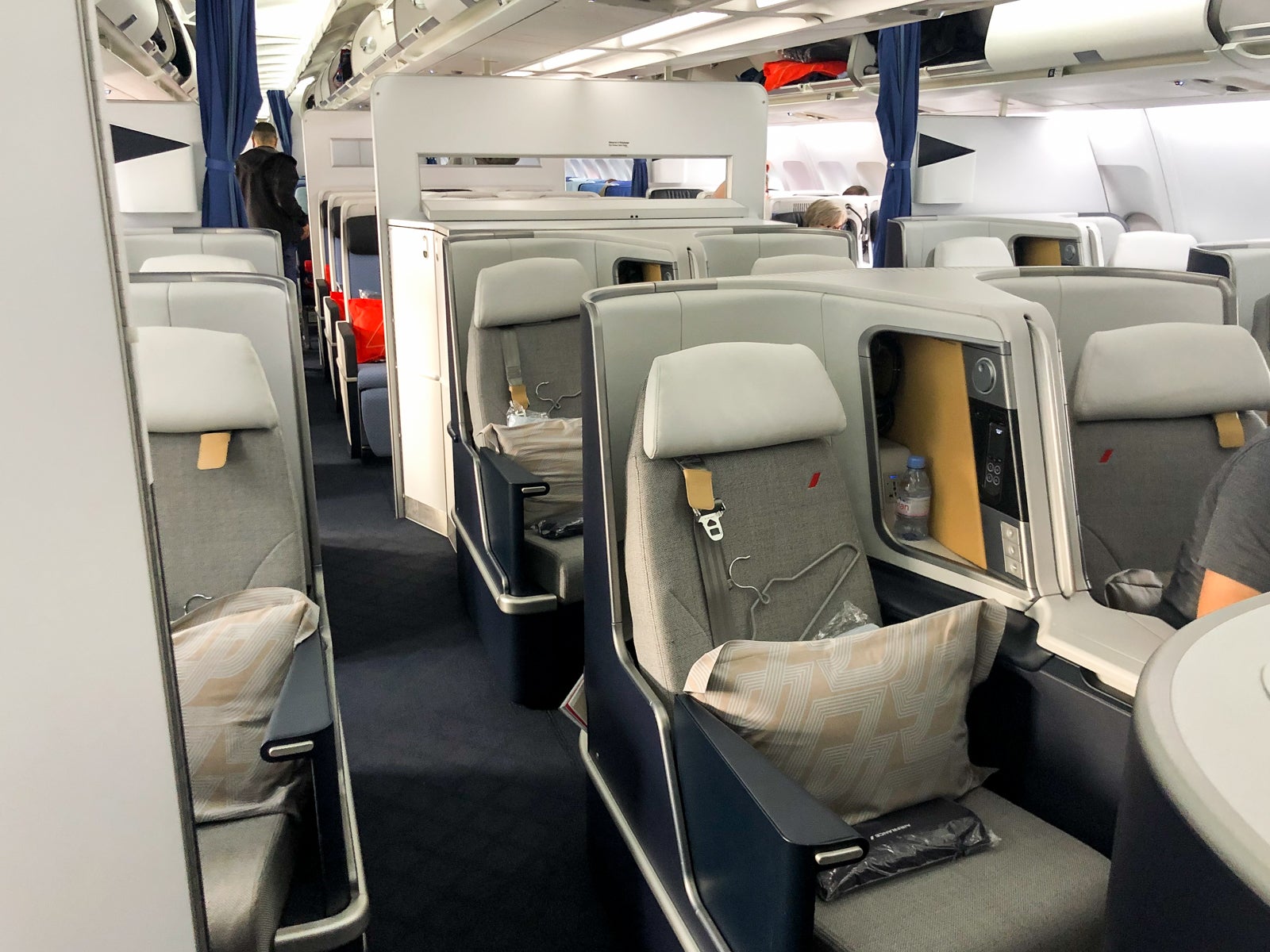 This article focuses on economy-class awards, but it's worth noting that you can get great value on business-class tickets. One-way flights from the U.S. to Europe start at 55,000 miles on most routes.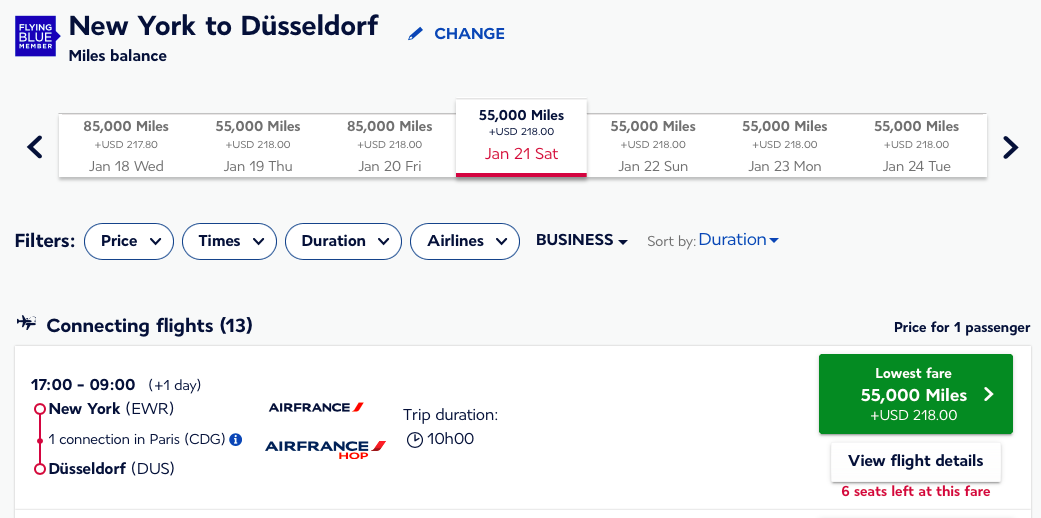 Keep this in mind when searching for a Flying Blue award ticket to Europe. It may be worth paying more miles for business class if you want more comfort on your flight across the pond — especially if the price is right.
Related: Crossing the Atlantic on Air France's 777-300ER in business class, New York to Paris
What's the deal with taxes and fees?
One downside to booking with Flying Blue is that you're liable for paying higher taxes and fees than you would with some other programs. This is largely because Flying Blue passes on moderate fuel surcharges on some award tickets. You're also subject to paying usual fees like Transportation Security Administration tax, departure fees and applicable local taxes.
It's always best to compare the cost of a Flying Blue award ticket to a paid ticket. Sometimes it won't make sense to book an award ticket if cash prices are low. Here at TPG, we value Flying Blue miles at 1.2 cents apiece, so try and get at least that much value if you agree with our valuations.
Related: Complete guide to Flying Blue monthly Promo Rewards
How to book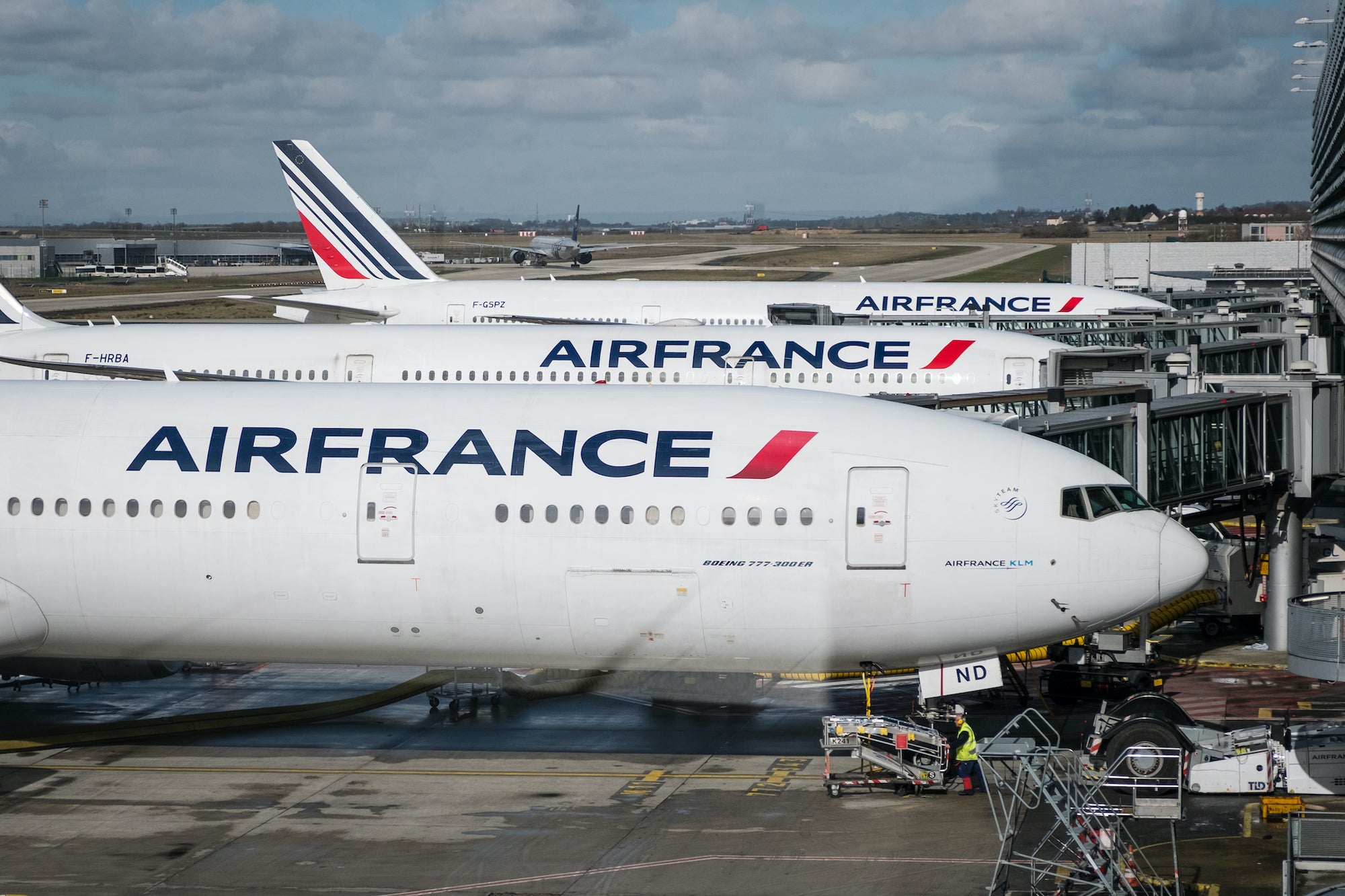 Booking Flying Blue award tickets is simple. You can book these awards on either Air France's or KLM's website. Both websites display the same prices and award space. I've grown to prefer the KLM website and will use it for the sample booking below.
Step 1: Log in to your Flying Blue account
You'll need a Flying Blue account before you can search for an award ticket. If you're on the KLM site, click the "Sign up" button at the upper right-hand corner of the screen. You can then create your account by filling out the form on the sign-up page.
Step 2: Enter your trip information
To book, log in to your Flying Blue account and click the "Book with Miles" button at the center of the screen. Then, enter your desired itinerary and click the orange "Search flights" button.

Step 3: Pick your flights
All flight options and their respective prices will appear at the center of the screen. You can use the filtering options at the top of the screen to narrow down your search and use the calendar search function to view flight options on other dates. The cheapest award is highlighted in green.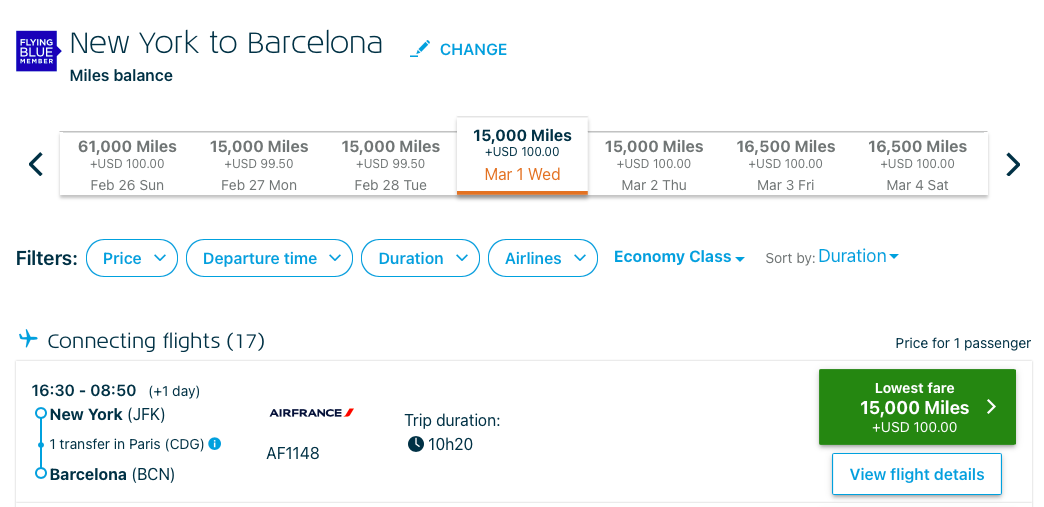 Step 4: Confirm and pay
Once you find a flight you like, click on its price to start the booking process. You'll first be asked to confirm your class of service and then brought to an overview of your booking. This shows the final points and cash price. If all looks good, click the "Continue" button at the bottom right-hand corner of the screen to finalize your booking.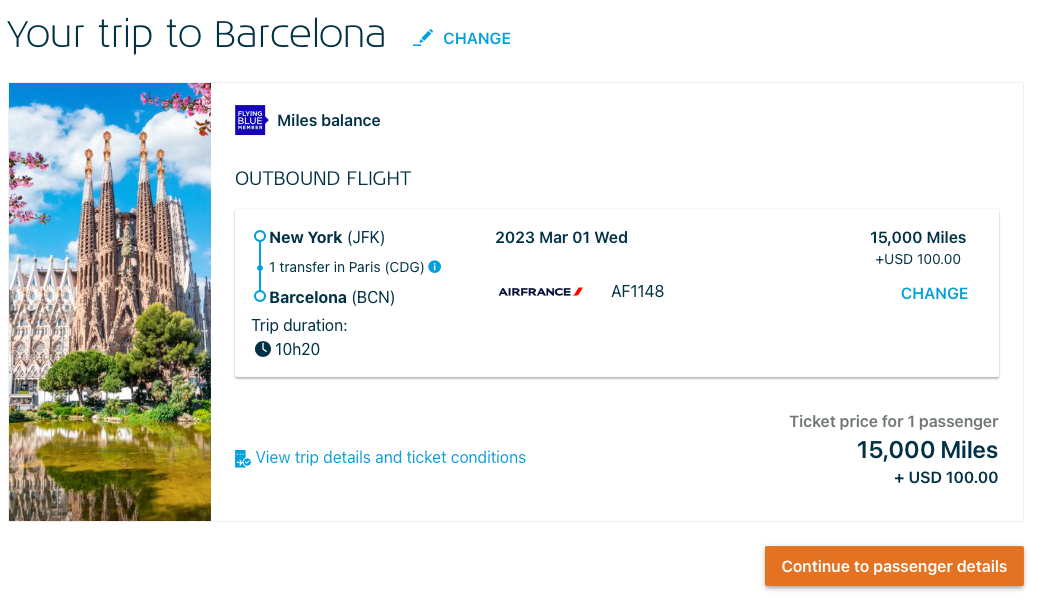 Don't forget to pay the taxes and fees with a credit card that earns bonus points on flights, like The Platinum Card® from American Express or Chase Sapphire Reserve. You also may want to consider paying with the Capital One Venture Rewards Credit Card if your award has high taxes and fees. You'll earn only 2 miles per dollar spent, but you can redeem miles to offset your out-of-pocket cost.
Related: The best websites for searching SkyTeam award availability
How to earn miles for this award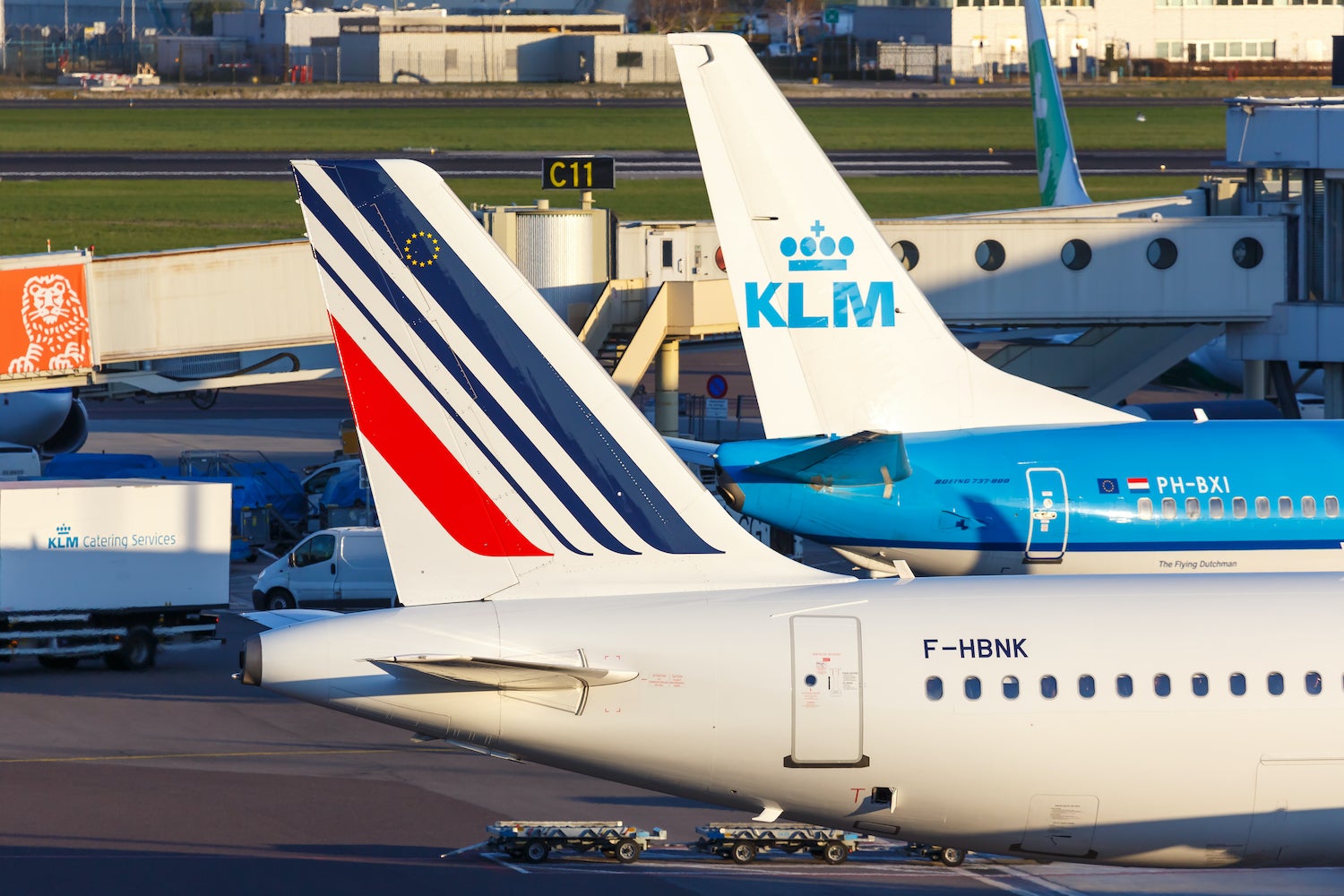 The easiest way to earn Flying Blue miles is by transferring points from various credit card points programs. As discussed in the introduction, you can transfer points from the following programs to Flying Blue:
I recommend starting with Chase Ultimate Rewards if you're new to the points and miles world. The Chase Sapphire Preferred Card has a hefty sign-up bonus and earns bonus points on travel and dining. Plus, it's in your best interest to open Chase cards before you open cards with other banks due to Chase's strict 5/24 application rule.
Here's a look at the best Chase credit card offers:
Check out my full guide to earning and redeeming with Flying Blue for more earning methods.
Related: Fly from Florida to Montana and everywhere in between for 7,500 LifeMiles
Bottom line
In this article, I showed you how to use Flying Blue miles to fly from the U.S. to Europe on the cheap. Bookmark this article and refer to it the next time you're traveling to Europe — you may find it's the best way to get to your final destination.