Ask a returning family about their trip to Walt Disney World, and you might hear the common refrain: "My kids just wanted to swim in the pool the whole time!"
It's tough to top the nostalgic appeal of classic rides like Peter Pan's Flight and Haunted Mansion, the high-speed thrills of Expedition Everest and Tron Lightcycle Run, and the draw of Disney's Animal Kingdom theme park and Star Wars: Galaxy's Edge, but the kids are onto something.
Tucked away from the bustling parks are some of the most meticulously themed and immersive pools you'll find anywhere. Walt Disney World's resort pools aren't just a place to cool off. They offer an experience that, for some, can rival the theme parks.
If you already know your itinerary will include some serious pool time, this guide to the best pools at Walt Disney World will help you pick the perfect pool for your trip.
Related: The return of all-day park-hopping and the other major changes coming to Disney World in 2024
What to know about the Walt Disney World pools
Every Walt Disney World hotel has at least one pool, with most of the larger, more sprawling resorts boasting three or more. Each resort's main pool, known as the feature pool, will be the most elaborate, with increasingly impressive theming and features as you go up the pricing ladder across Disney's three hotel tiers — Value, Moderate and Deluxe.
The feature pool will also have a pool bar and quick-service food options nearby. At Moderate and Deluxe resorts, you'll also find a waterslide and kids splash areas. Value resorts have large feature pools but no waterslides or hot tubs.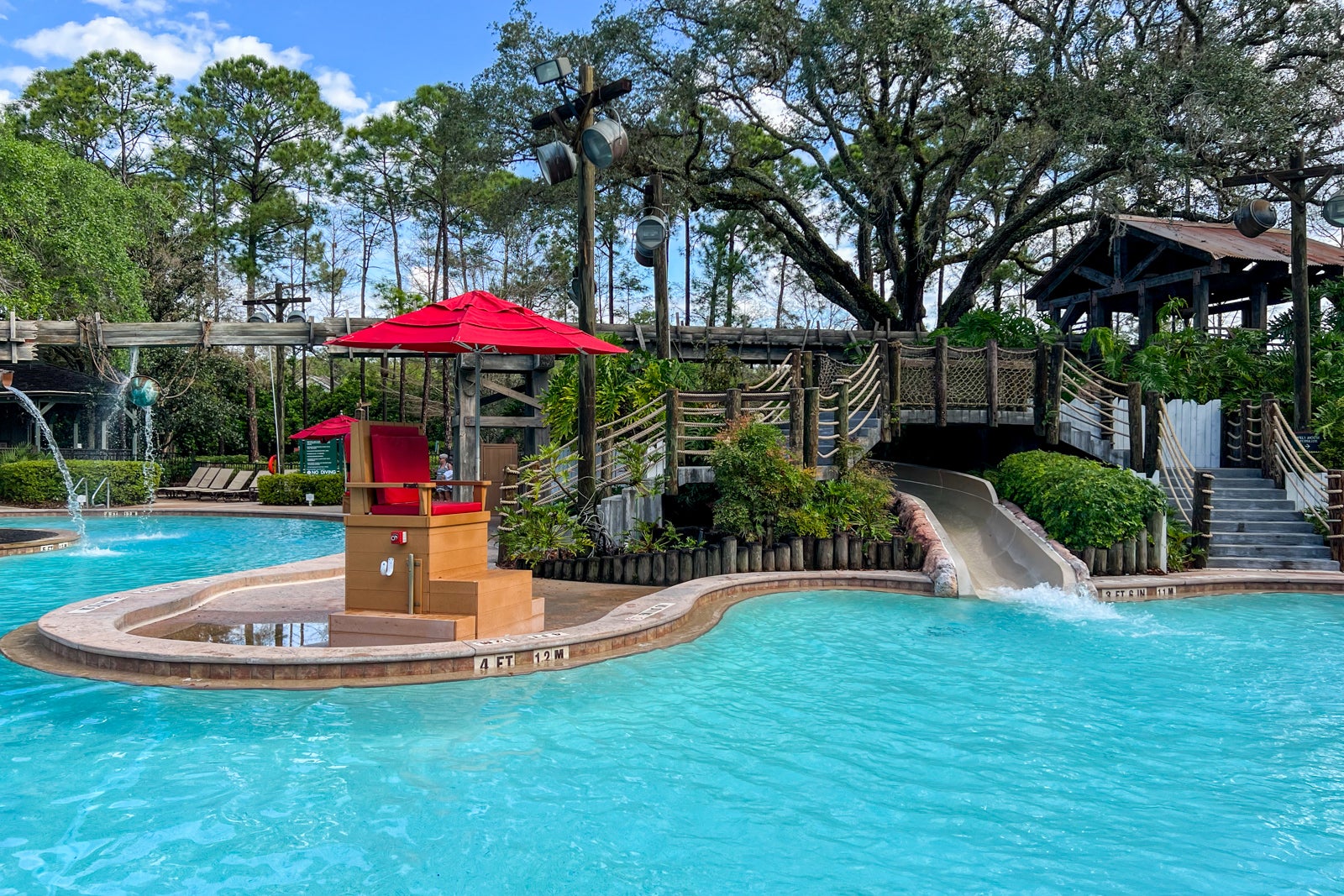 Daily recreation activities take place at the feature pool, typically in the afternoons. Recreation hosts will lead games for kids, sometimes with small take-home trinkets as prizes and Disney trivia everyone can join in on.
The feature pool is also where you'll find the biggest crowds and most noise. So, if you prefer to lounge quietly with a good book, you may want to seek out a leisure pool, sometimes referred to as a "quiet" pool.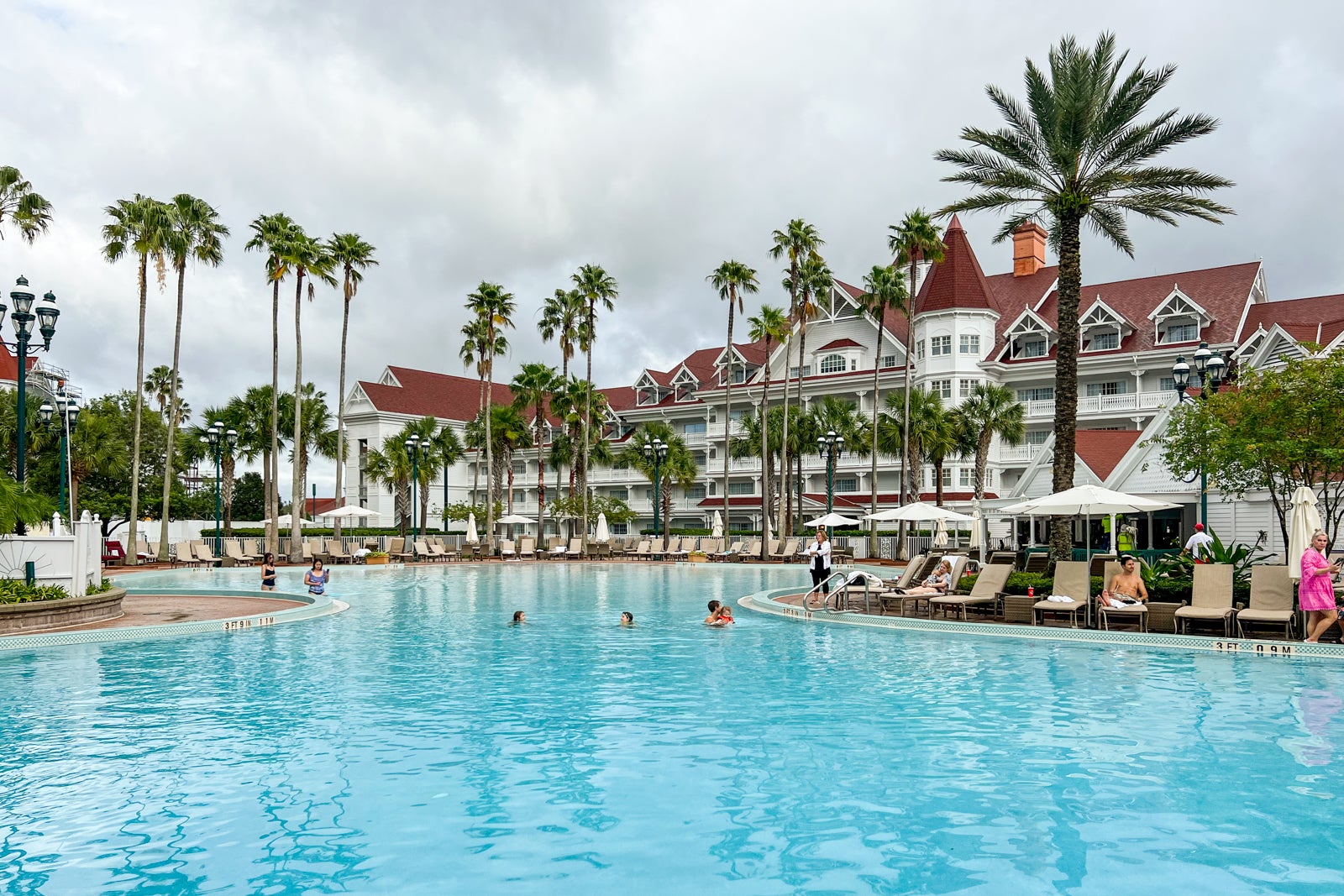 Walt Disney World pools are heated to 82 degrees year-round, though the water can be warmer in the summer thanks to the blazing Central Florida sun. Complimentary towels and life jackets are available at all pools. Lifeguard availability and pool hours vary by pool.
Related: The best Disney World hotels
Best Disney World pool for families
Many of Walt Disney World's resorts are destination-worthy even without the addition of the nearby theme parks, perhaps none more so than Disney's Animal Kingdom Lodge.
More than 200 different animals, including zebras and giraffes, roam numerous savannas. The Africa-themed resort is also home to two fantastic feature pools, one at each of the resort's two hotels, Disney's Animal Kingdom Villas — Jambo House and Disney's Animal Kingdom Villas — Kidani Village.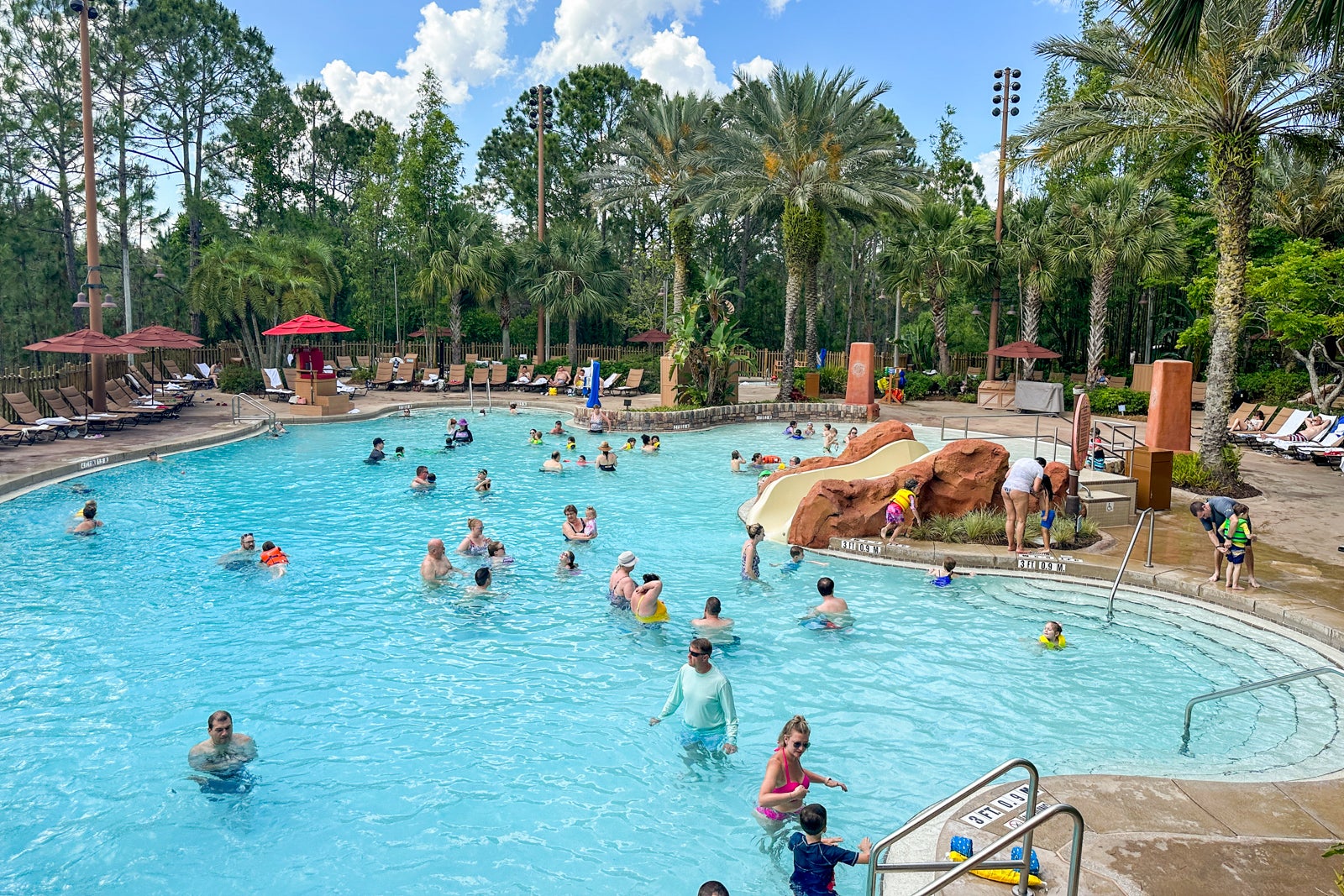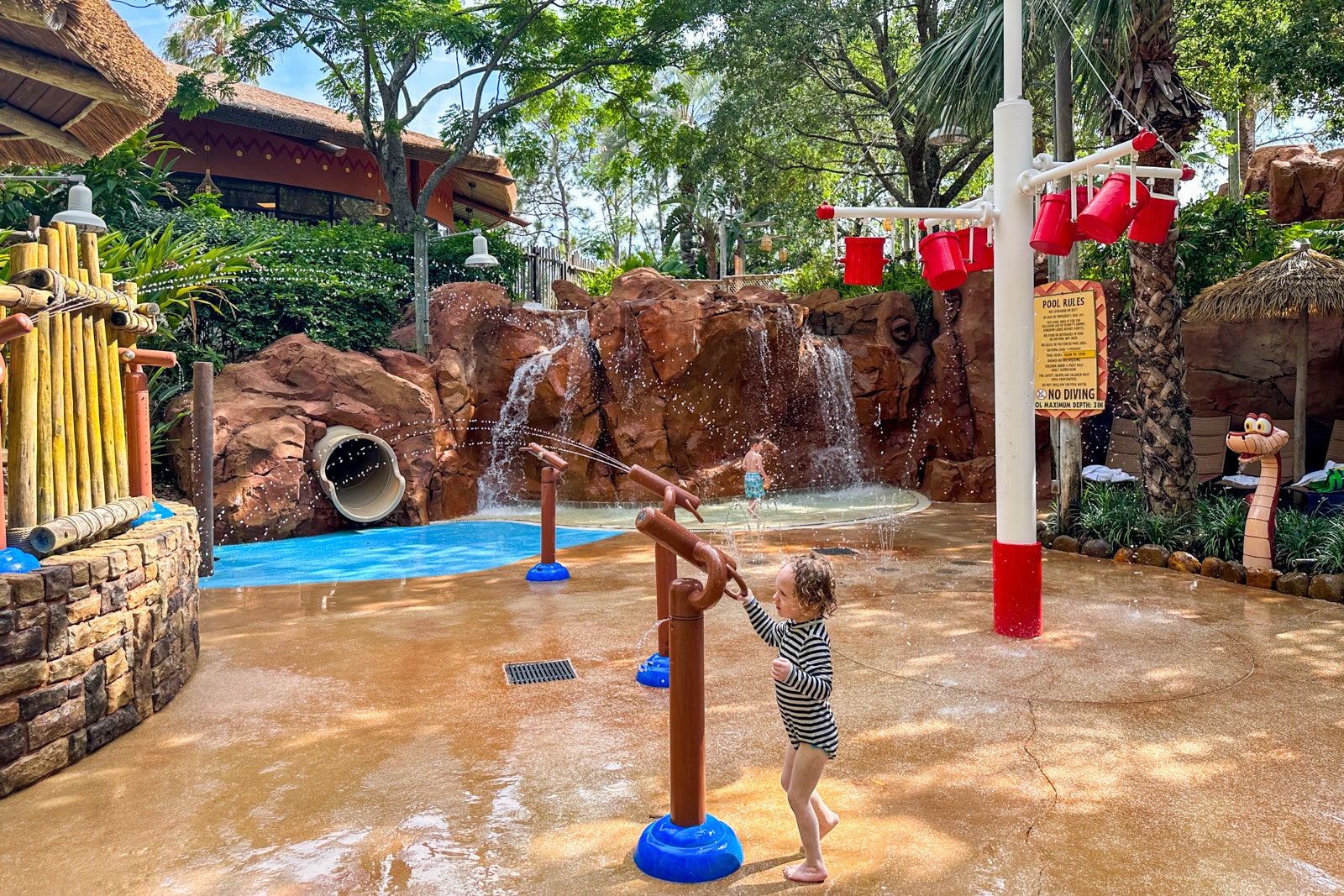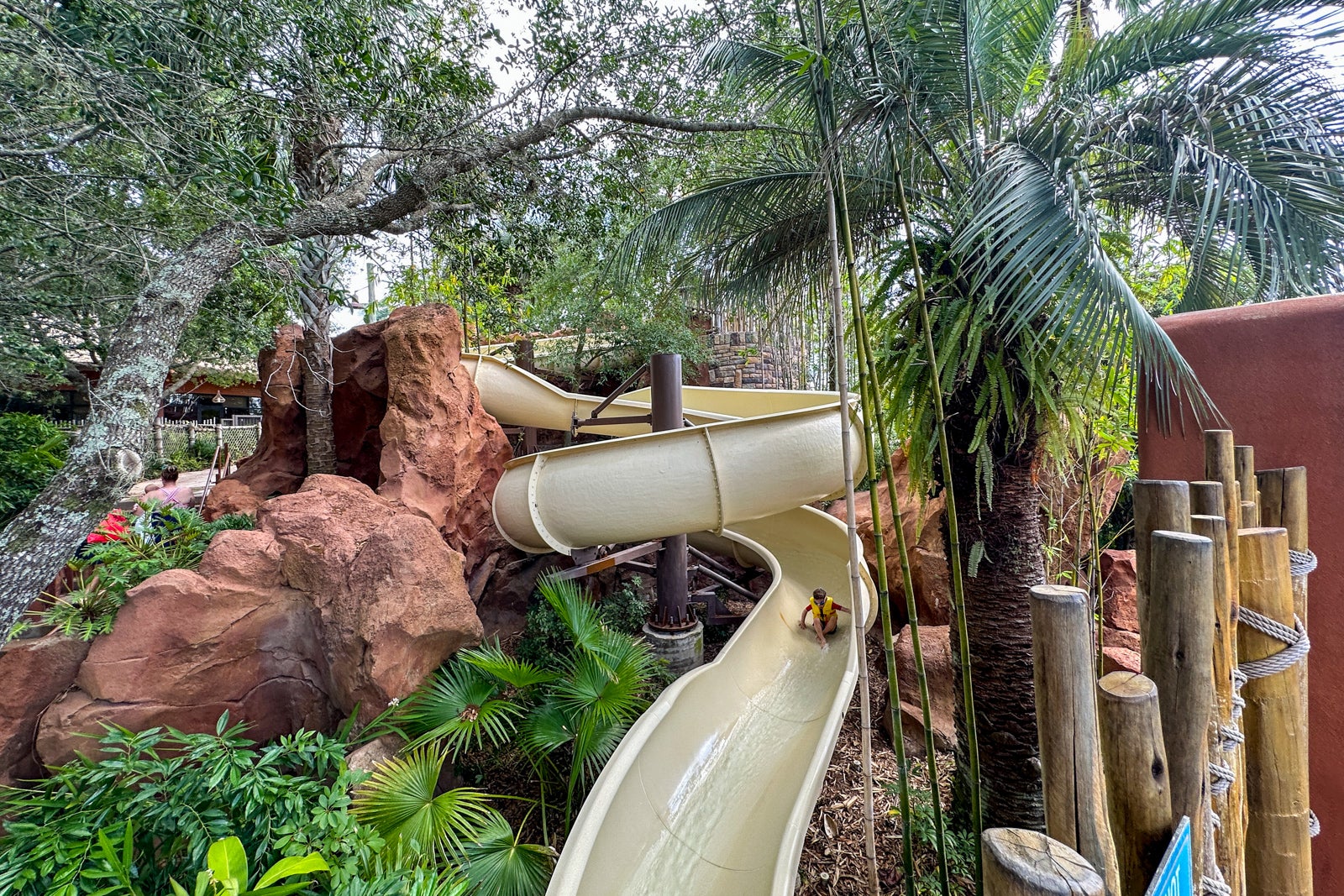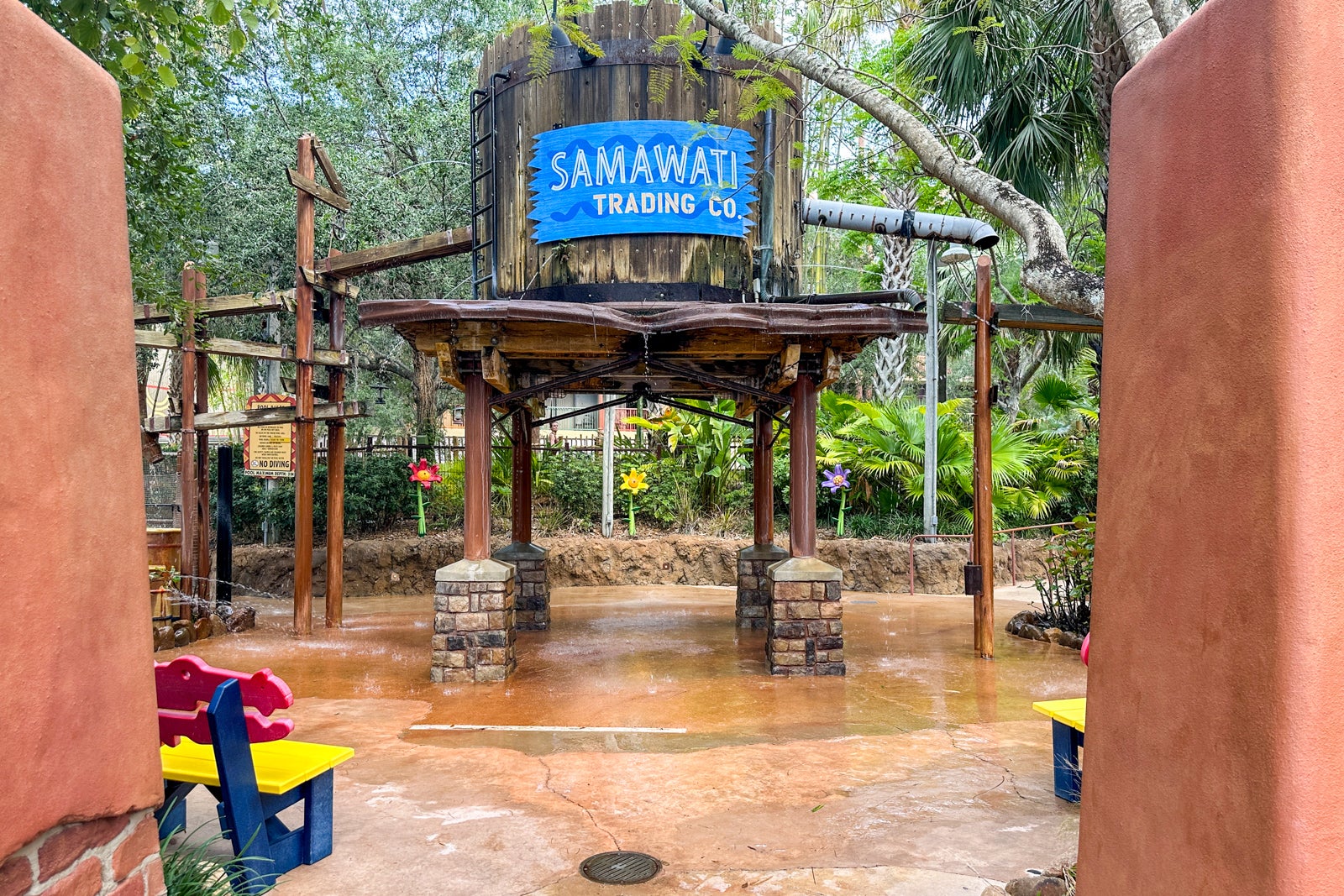 At Jambo House, the 11,000-square-foot Uzima Springs Pool features a zero-depth entry and 67-foot-long waterslide and has a maximum depth of 4 feet and 9 inches. There's also a wading pool for kids and two hot tubs. The resort's main quick-service dining location, The Mara, is just steps from the pool gate, and the Uzima Pool Bar is a full bar serving cocktails, beers on tap, frozen drinks and more.
Uzima Springs is an excellent pool, but it's Kidani Village's Samawati Springs Pool that makes this resort our pick for the best pool for families.
The 4,700-square-foot, 118,138-gallon pool offers something for every preference. It has a zero-depth entry point that's great for kiddos, two hot tubs for those looking to relax, and one of Disney World's most thrilling hotel waterslides, 128 feet long and fast, for swimmers looking for excitement. A second, much smaller waterslide with a pool depth of 3 feet and 6 inches at the base lets young kiddos in on the slide fun, too.
Another big draw for younger kids here is the Uwanja Camp water playground. Themed after an animal observation site, the play area includes three zones — Observation Station, Departure Zone and Base Camp. Each is designed for different ages, from 4 and under to 8 and up (though we've never seen older or younger kids excluded from any of the areas at this resort). The area offers a good amount of shade, water features like cannons and spitting cartoonish snakes, and spots to climb and slide.
Dining options are less extensive near this pool than at Uzima Springs, but the Maji Pool Bar serves a range of foods from hot dogs and soft pretzels to tandoori chicken and spiced pork nachos. You can also order to-go from Sanaa, Kidani Village's excellent table-service restaurant.
Related: What would happen if you let your kids plan your Disney vacation?
Best Disney World pool at a Value resort
Disney's Art of Animation Resort is home to the best Disney World pools at a Value resort.
However, rooms here are consistently the most expensive in the Value tier, so be aware of the trade-off. The "Finding Nemo"-inspired Big Blue Pool is the largest hotel pool at Walt Disney World and features giant, colorful characters from the film. The 308,527-gallon pool is zero-entry with a maximum depth of 4 feet and 11 inches.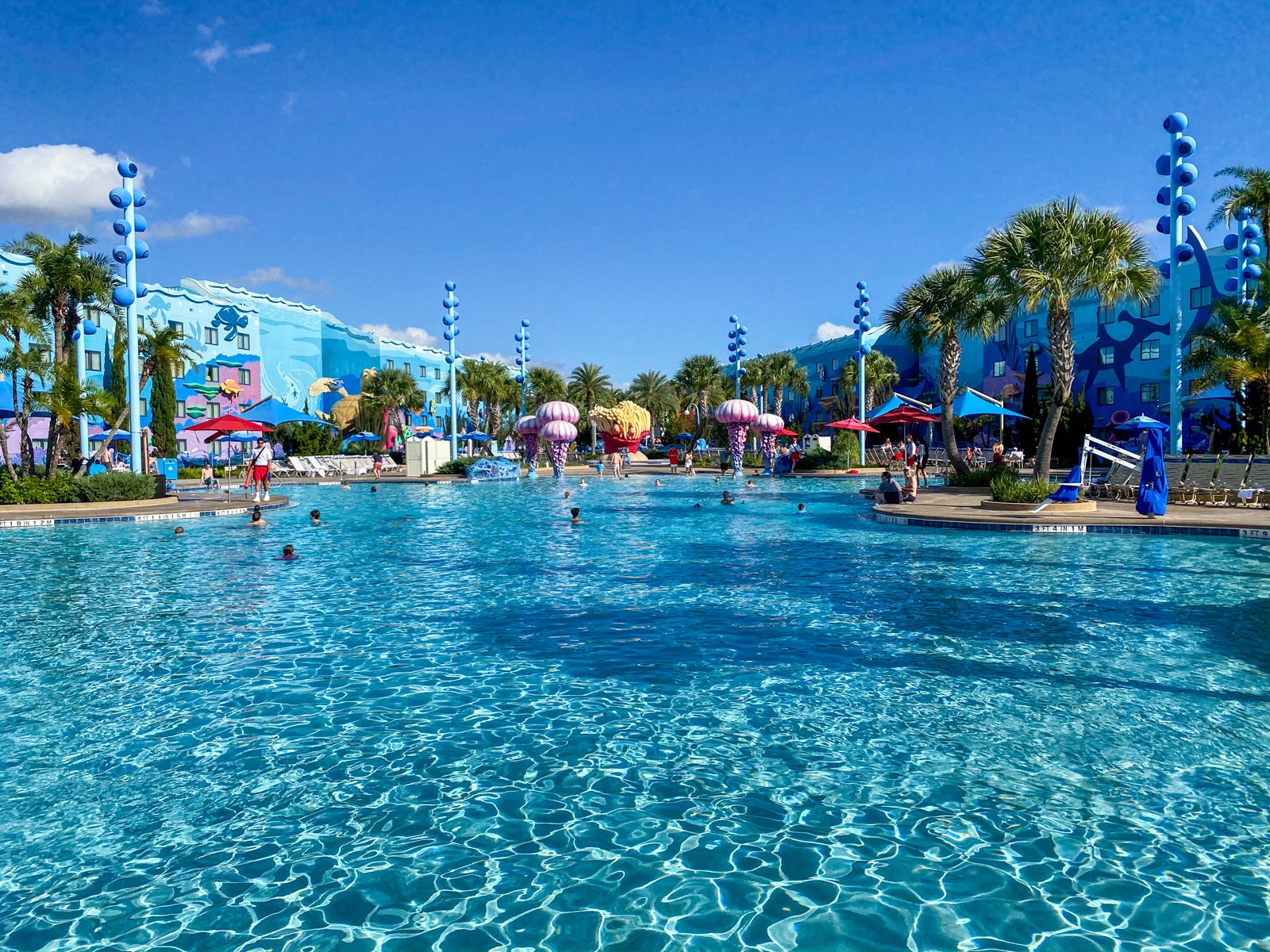 Next to the Big Blue Pool, Schoolyard Sprayground is a spacious splash zone surrounded by more of Nemo's friends. Also nearby, Squirt's Righteous Reef offers kids a dry playground option.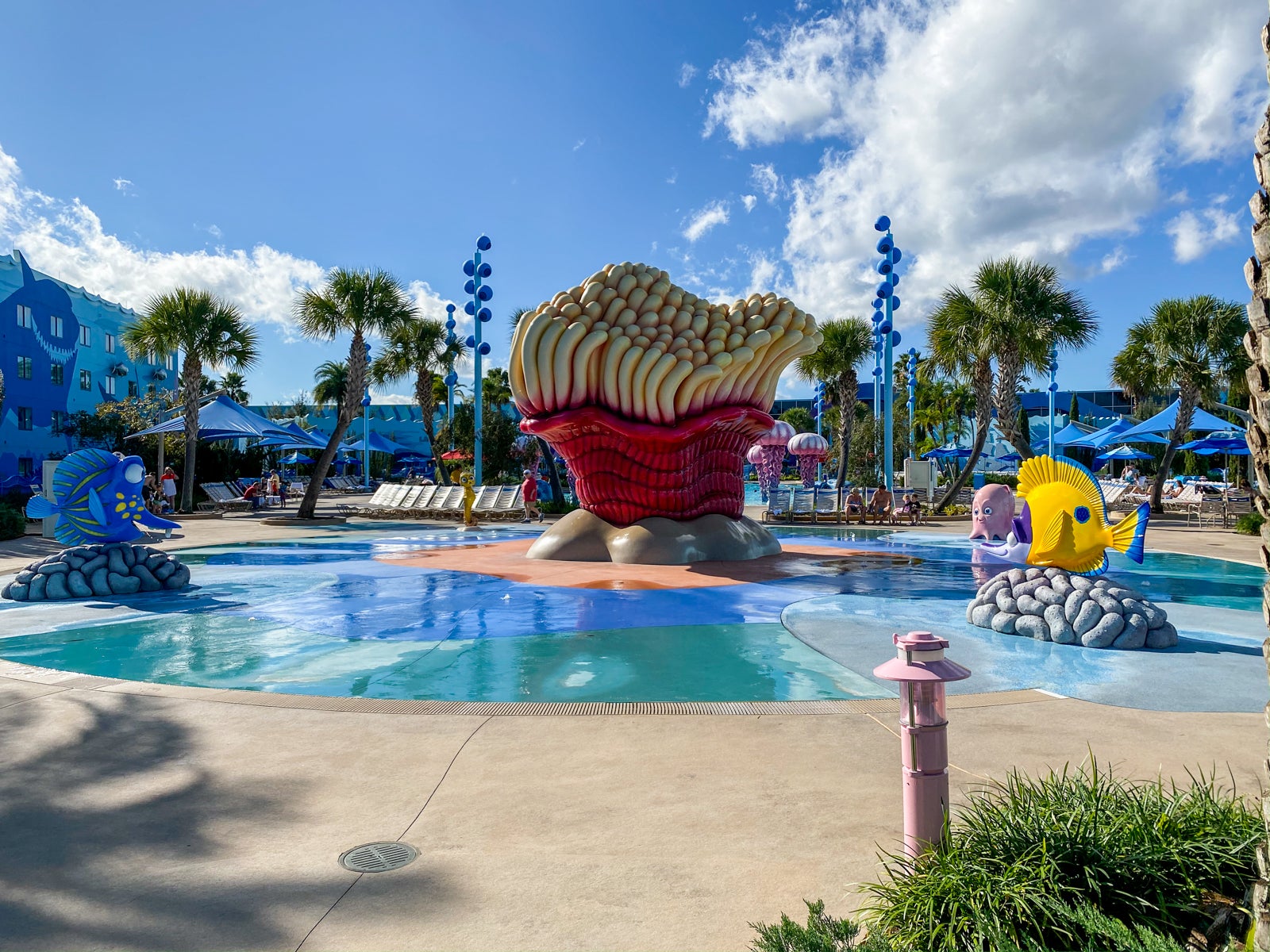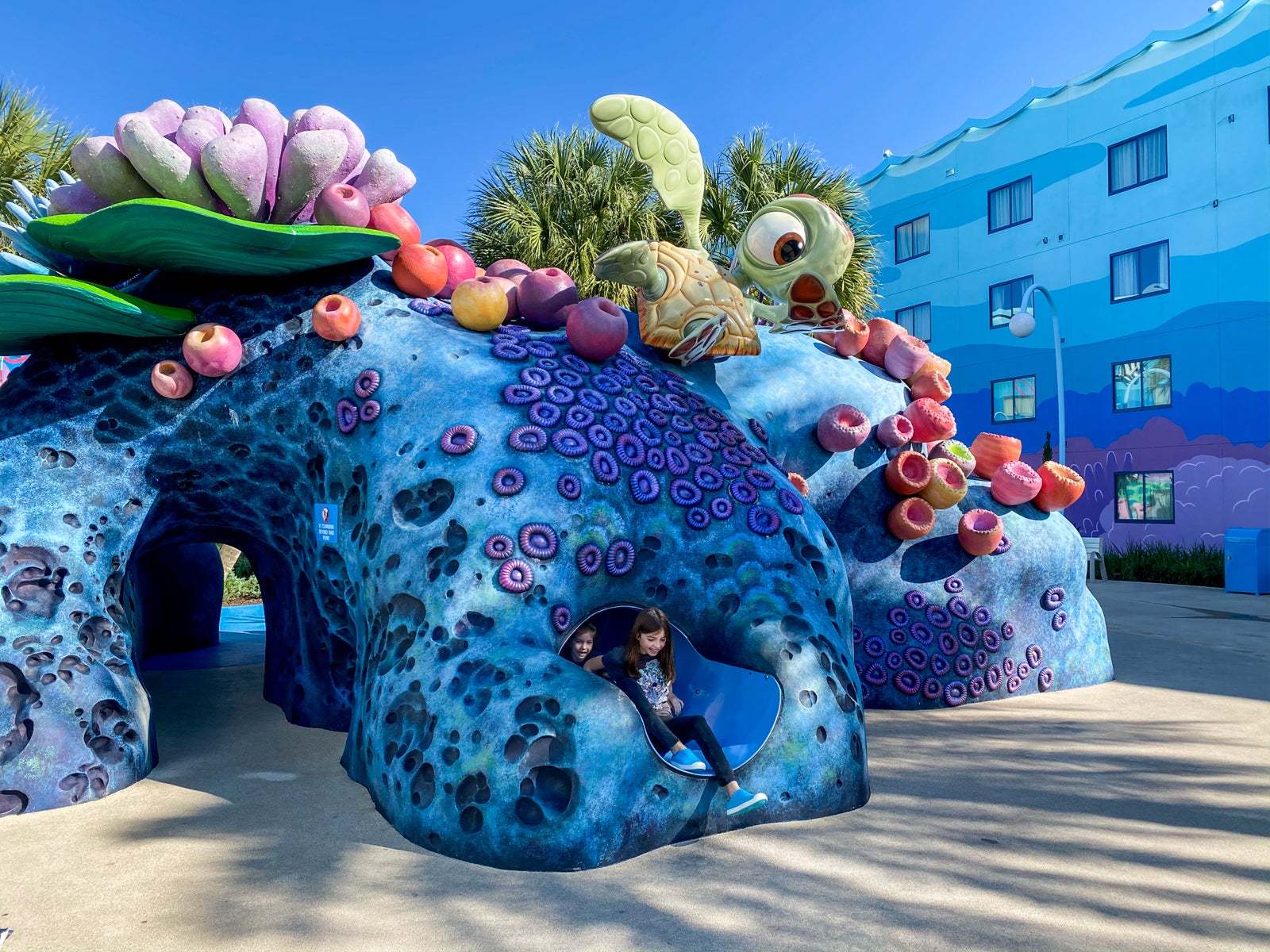 When hunger strikes, the Drop Off Pool Bar serves basics like simple sandwiches, soft pretzels and frozen treats. For a more extensive selection, the resort's food court is a short walk away.
For a quieter pool nearby, head to the Cozy Cone Pool in the "Cars"-themed area of the resort, which features life-size models of favorite "Cars" characters. The pool is surrounded by Cozy Cone cabanas (first come, first served) that provide a shaded spot perfect for families with younger kids needing a nap or break from the sun while bigger kids play.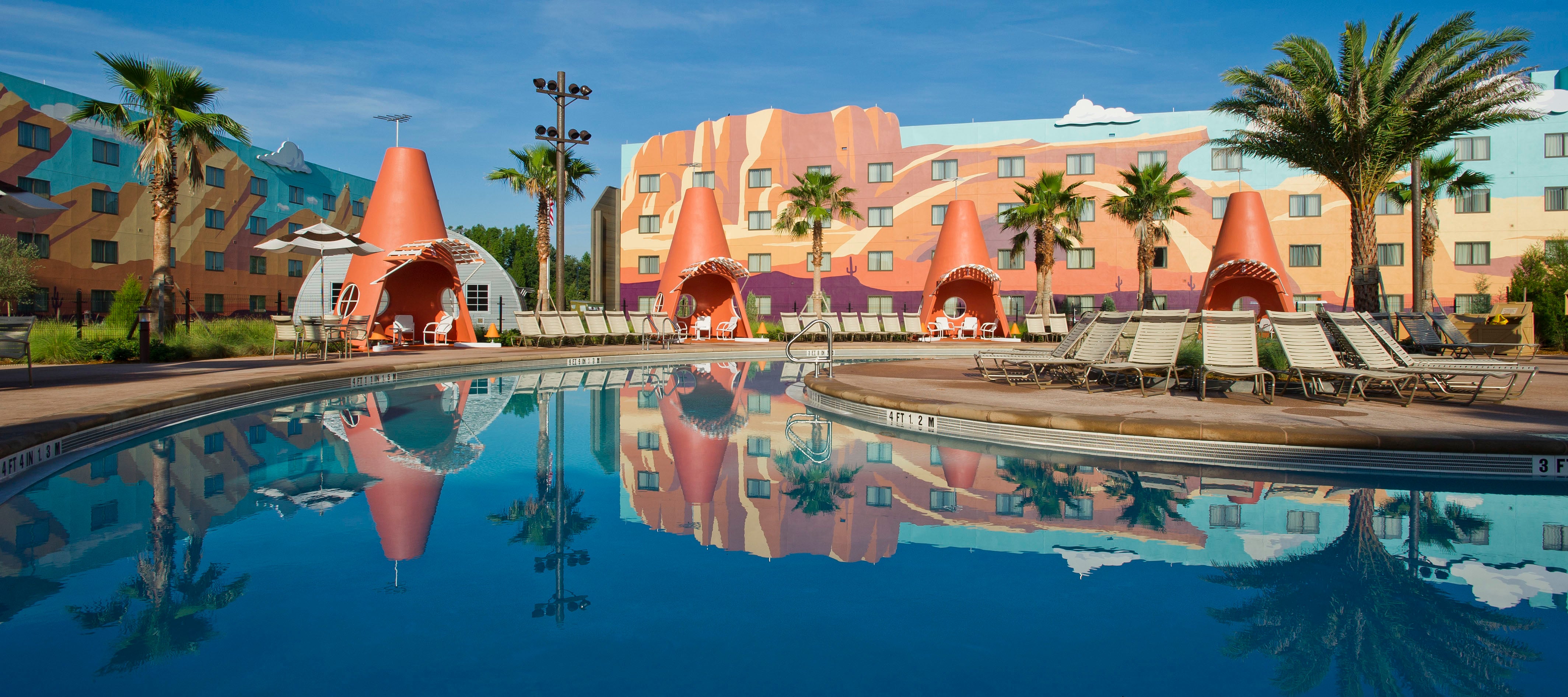 Fans of Disney's "The Little Mermaid" may want to head to the resort's third pool, the Flippin' Fins Pool.
Related: This is Disney World's most budget-friendly hotel for large families
Best Disney World pool at a Moderate resort
Aspiring swashbucklers can live out their pirate dreams at the Fuentes del Morro Pool at Disney's Caribbean Beach Resort, our pick for the best pool at a Moderate resort. Designed to transport guests to a colonial Spanish fortress, this zero-entry pool has two waterslides, with the biggest stretching 102 feet and huge water cannons that give major "Pirates of the Caribbean" vibes.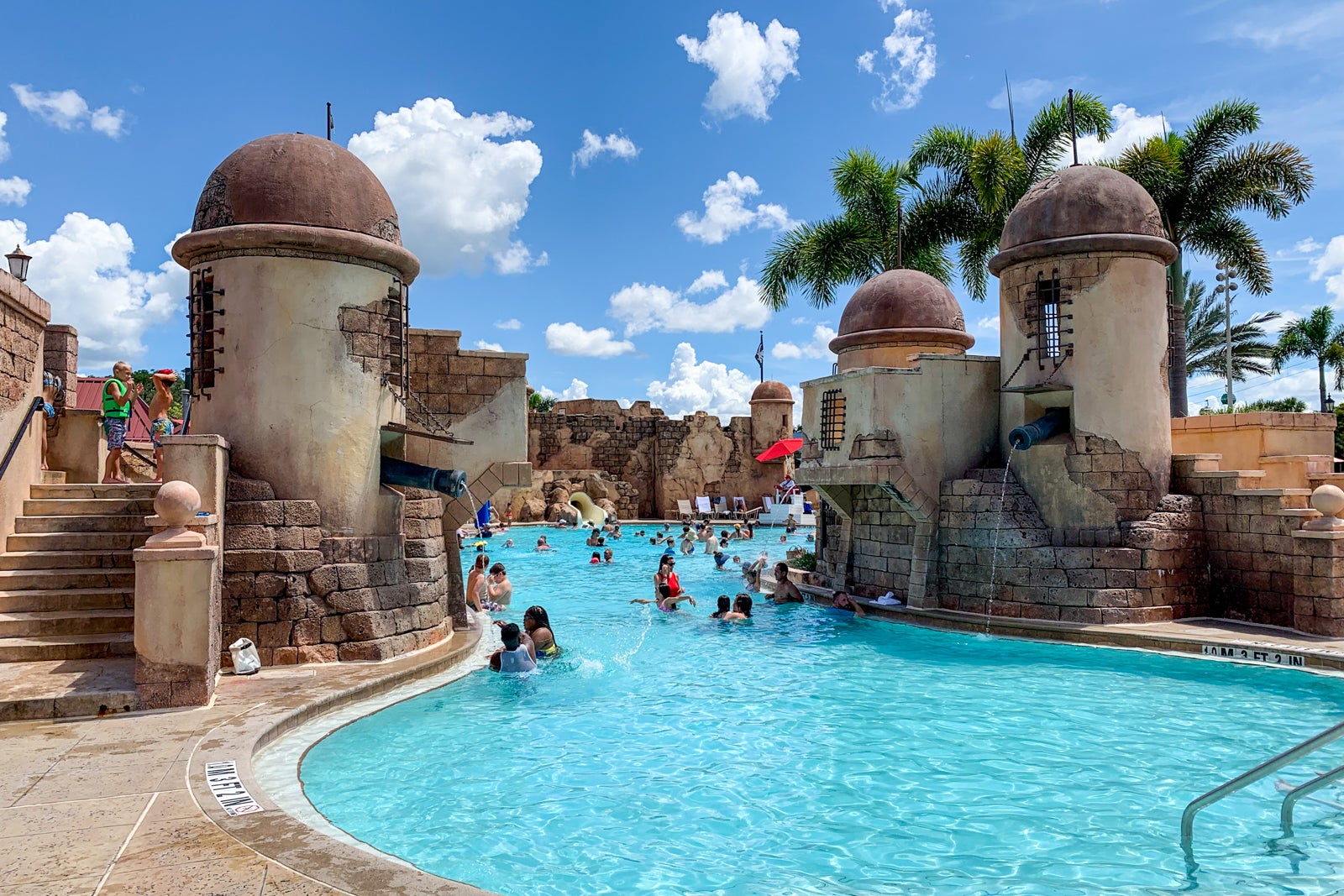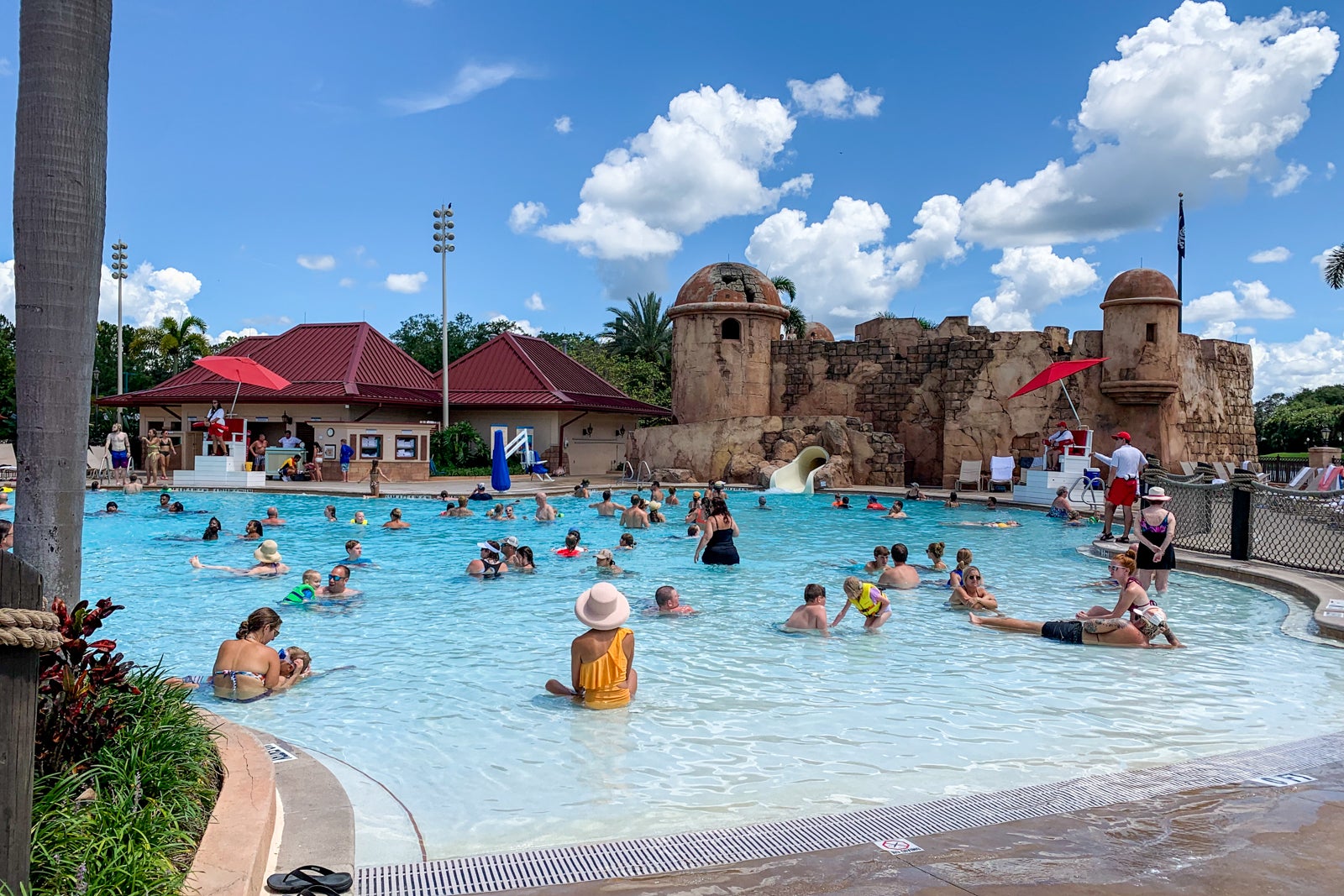 Kids 48 inches or shorter can get extra pirate play in at the Fuentes del Morro Water Play Area, a kids' splash area with a pirate ship and mini slides. A 12-person hot tub offers plenty of room for relaxation, as do the resort's whopping five additional leisure pools.
At Old Port Royale, the pool is right across from Banana Cabana, the pool bar and lounge serving specialty frozen tropical drinks and Caribbean-inspired fare like coconut shrimp and jerk chicken wings. For even more dining options, Centertown Market, the resort's main quick-service location, is right next door.
Know before you go: The Fuentes del Morro Pool will be closed for routine maintenance from January to late March 2024. Guests are advised to use the resort's five leisure pools during this time.
Best Disney World pool at a Deluxe resort
The runaway favorite pool across all of Walt Disney World, Stormalong Bay at Disney's Yacht Club and Beach Club resorts is more like a mini water park.
Spanning three acres with a total of 795,000 gallons of water, the complex features a variety of pools, including a sand-bottomed pool, a 230-foot-long shipwreck-themed waterslide, a lazy river, three hot tubs and a sandbar where kids can play. The small Shipwreck Pool at the entry point of the massive waterslide also has a smaller waterslide for younger kids.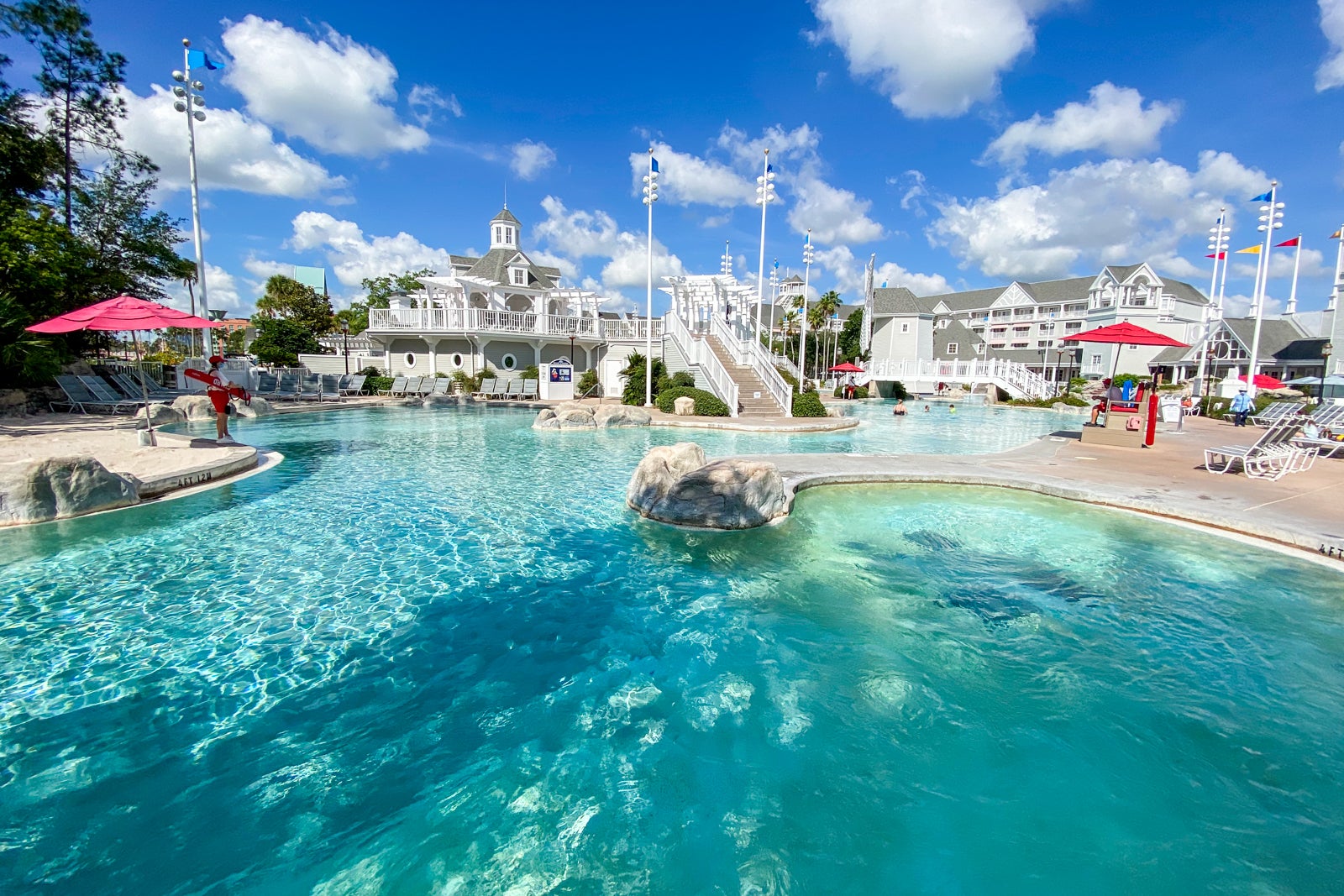 There's no arguing that Stormalong Bay offers endless aquatic entertainment. However, it can be a stressful pool option for families managing multiple children of varying abilities, and this is why Stormalong Bay isn't always our top pick for younger families. Some pools begin with a zero-entry point and reach depths of 4 feet to 5 feet, and the lazy river ranges from 6 feet to 8 feet in depth. The pool deck can get very crowded, and different areas of the deck are connected by sometimes narrow walkways and bridges, making the complex feel like a maze when you're trying to get from point A to point B quickly.
Additionally, the Shipwreck Pool and entrance to the large waterslide, which is called The Flying Jib, are outside the gated pool complex and across a wide public walkway accessible to guests not staying at the resort, so some parents may not feel comfortable letting kids go back and forth from the pool area to the waterslide alone.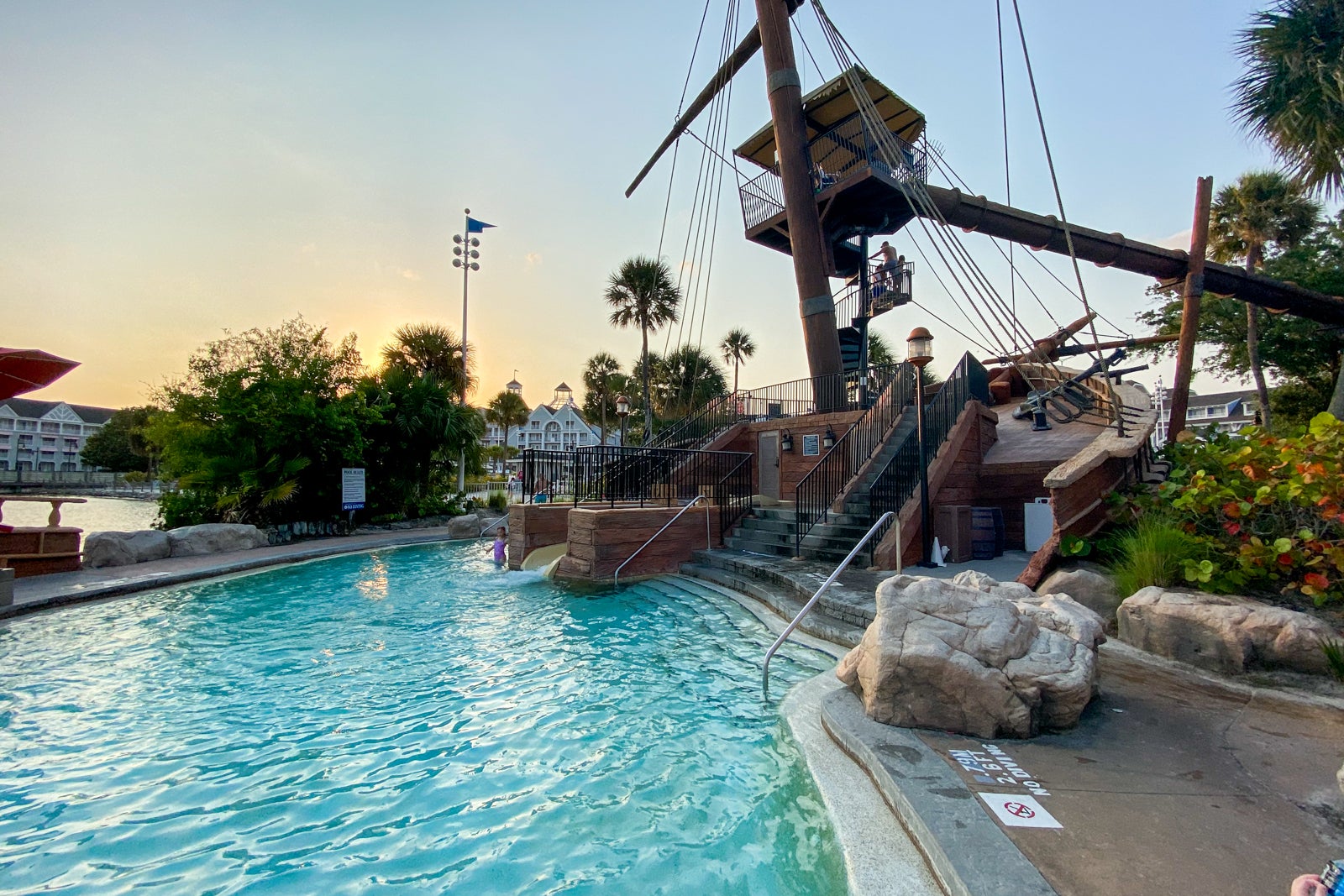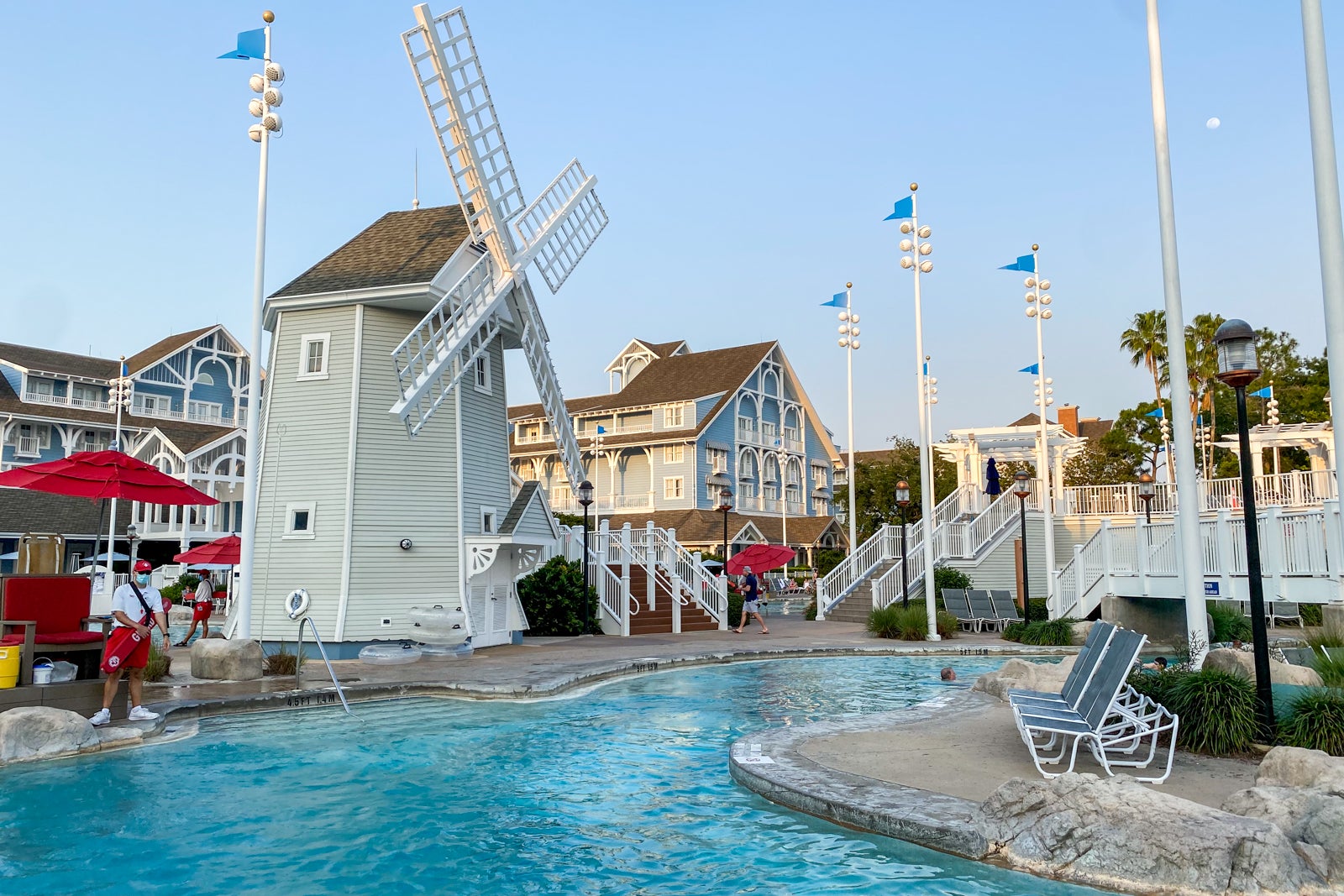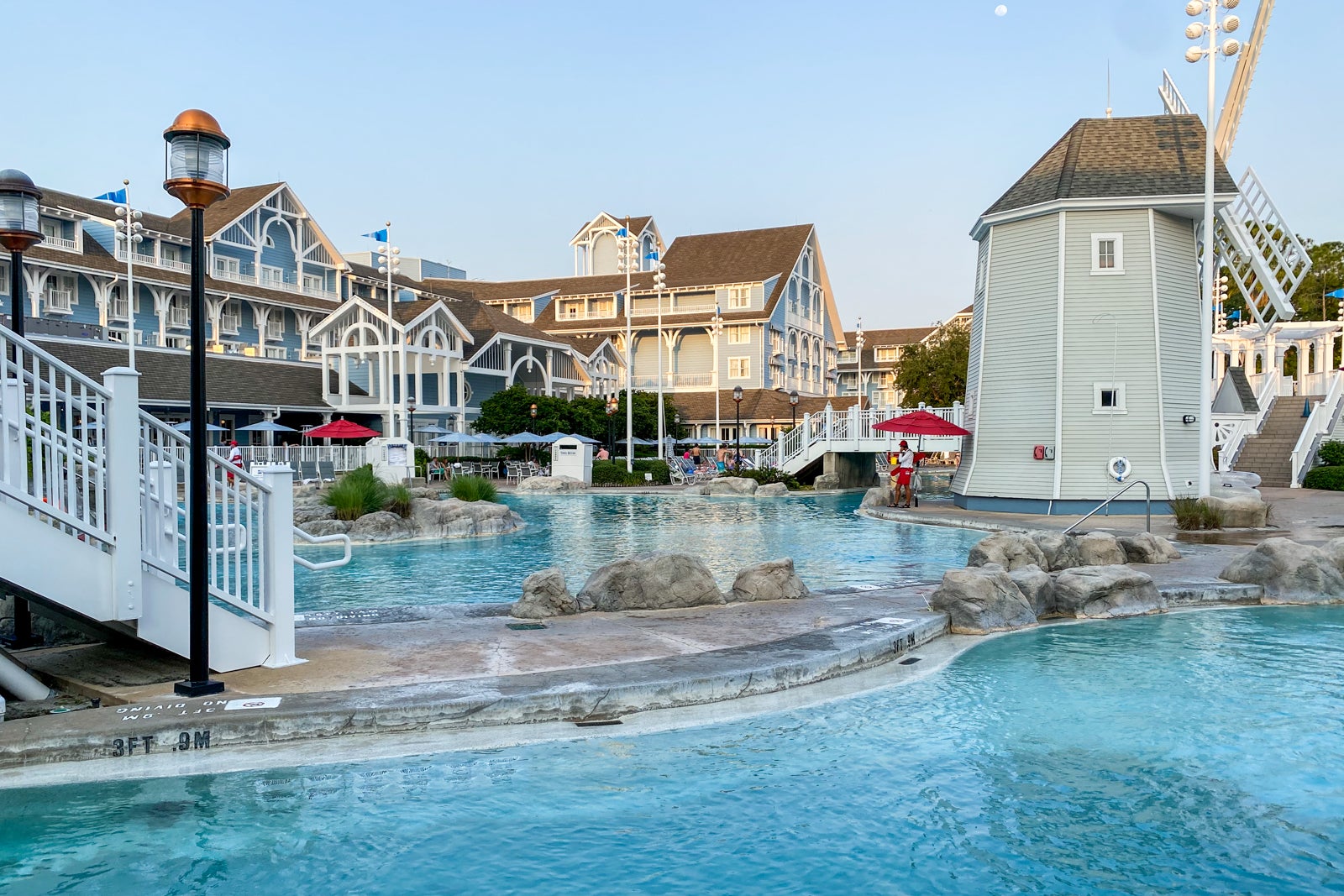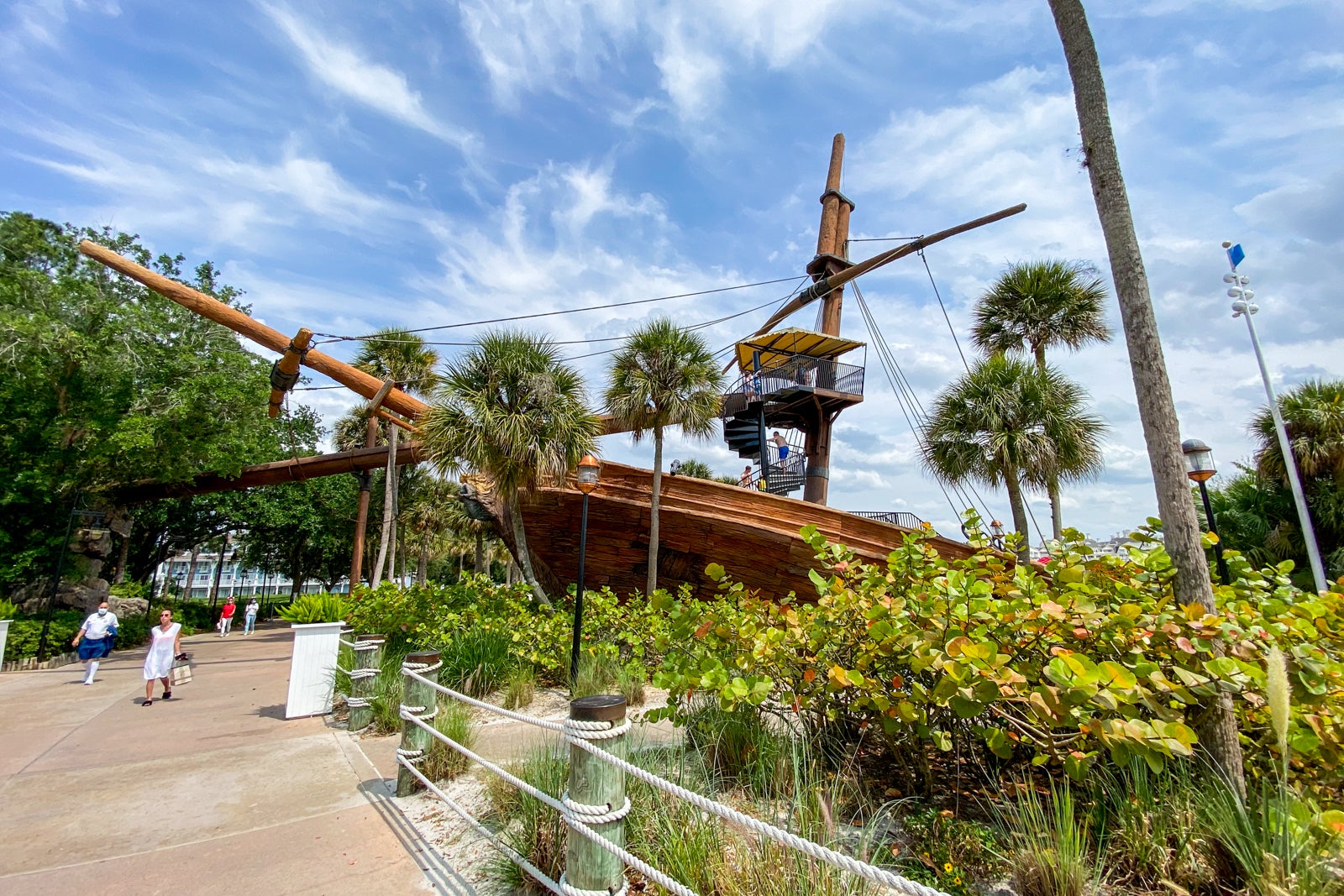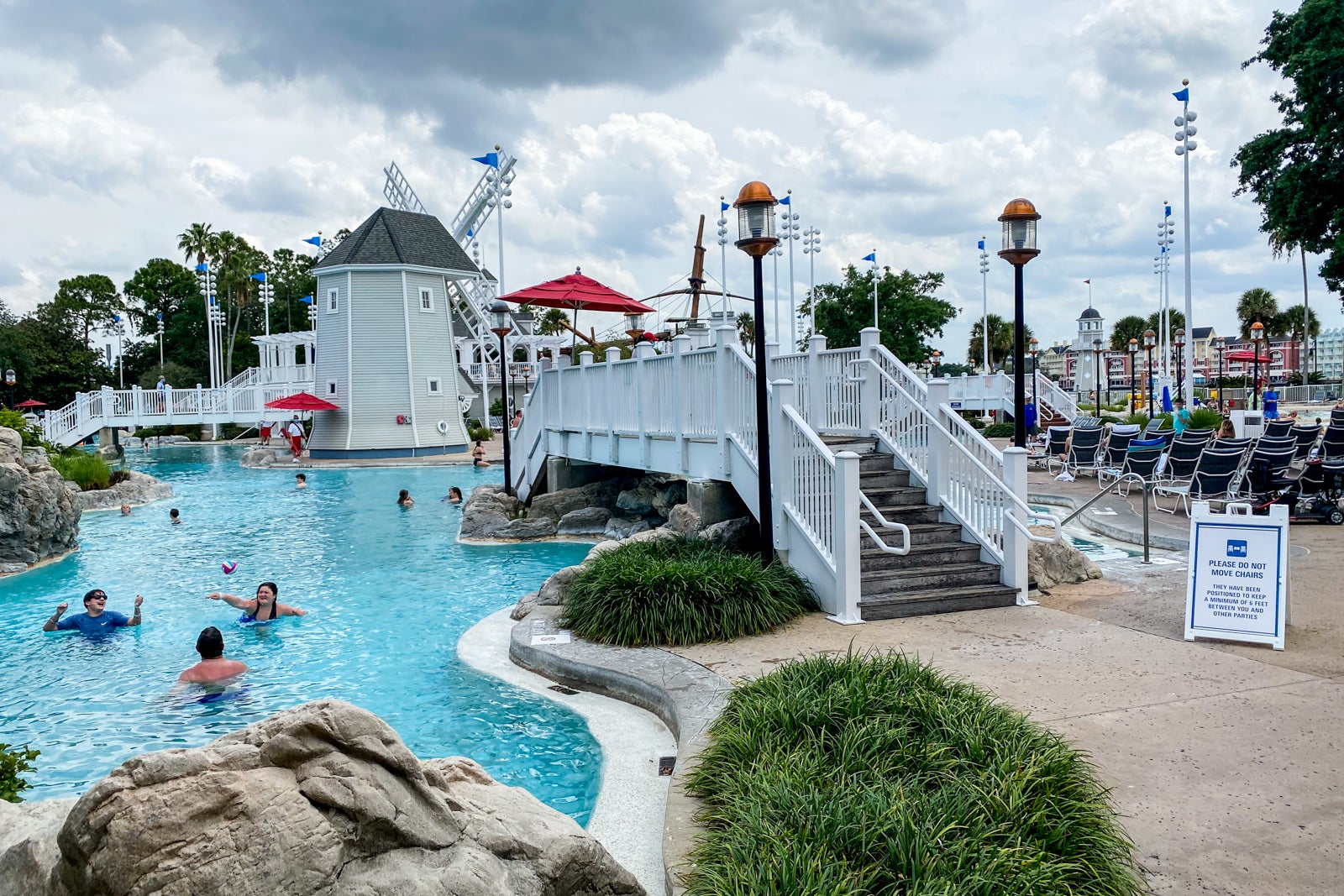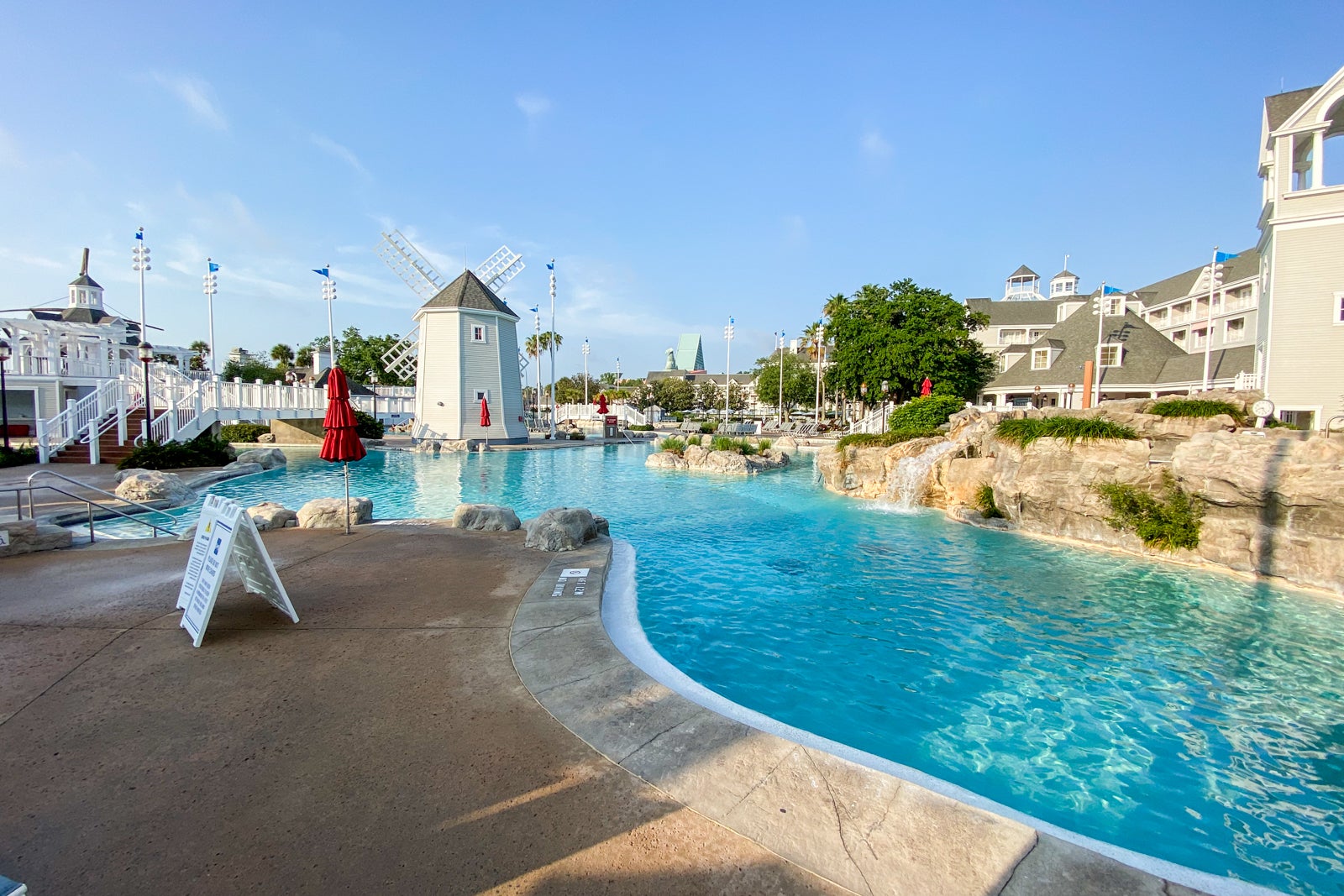 But for endless aquatic entertainment, nothing beats Stormalong Bay.
The pool complex is also surrounded by top-notch dining options available to enjoy poolside. The pool bar, Hurricane Hanna's, serves a reliable lineup of appetizers, salads, sandwiches and frozen drinks, but there are also numerous dining options nearby that serve food to go, including Ale & Compass Restaurant and the Yacht Club's and Beach Club's quick-service locations, each with different menus.
For a fun table-service lunch or dinner break from the pool, make a reservation at Beaches & Cream Soda Shop, an old-fashioned diner serving up a classic menu of burgers and fries, chili-cheese tots and more, along with malted milkshakes and monstrous sundaes for dessert.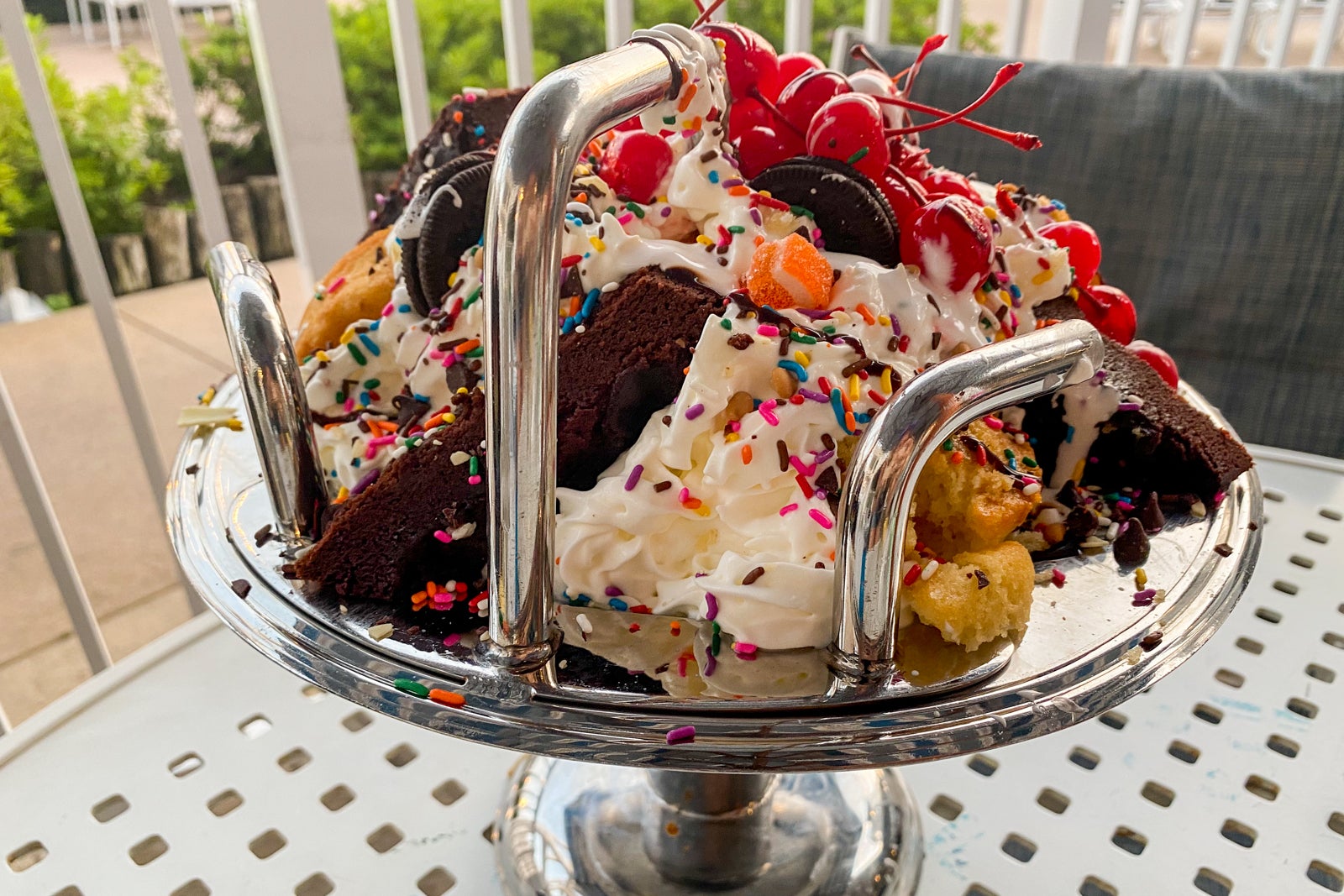 Know before you go: Stormalong Bay and the Shipwreck Pool will be closed from January through May 2025 for routine maintenance. Guests are advised to use the resort's three leisure pools during this time, so be sure to avoid this stretch if you want to visit Stormalong Bay.
Related: Hotel with the best pool complex at Disney World: Review of Disney's Yacht Club Resort
Best Disney World pool for adults
For adults looking to escape the noise and splashes of a chaotic feature pool, the many leisure pools at Walt Disney World resorts offer great alternatives. However, some of them can be somewhat secluded and out of the way of dining options. If you want a relaxing pool experience but don't want to be too far from the action, we have two picks for the best pool for adults.
Our first choice is the Beau Soleil Pool at Disney's Riviera Resort. This leisure pool feels quiet and secluded once you pass through the gates, but it's also right next to the resort's beautiful activity lawn and steps from the Bar Riva pool bar and Primo Piatto quick-service restaurant.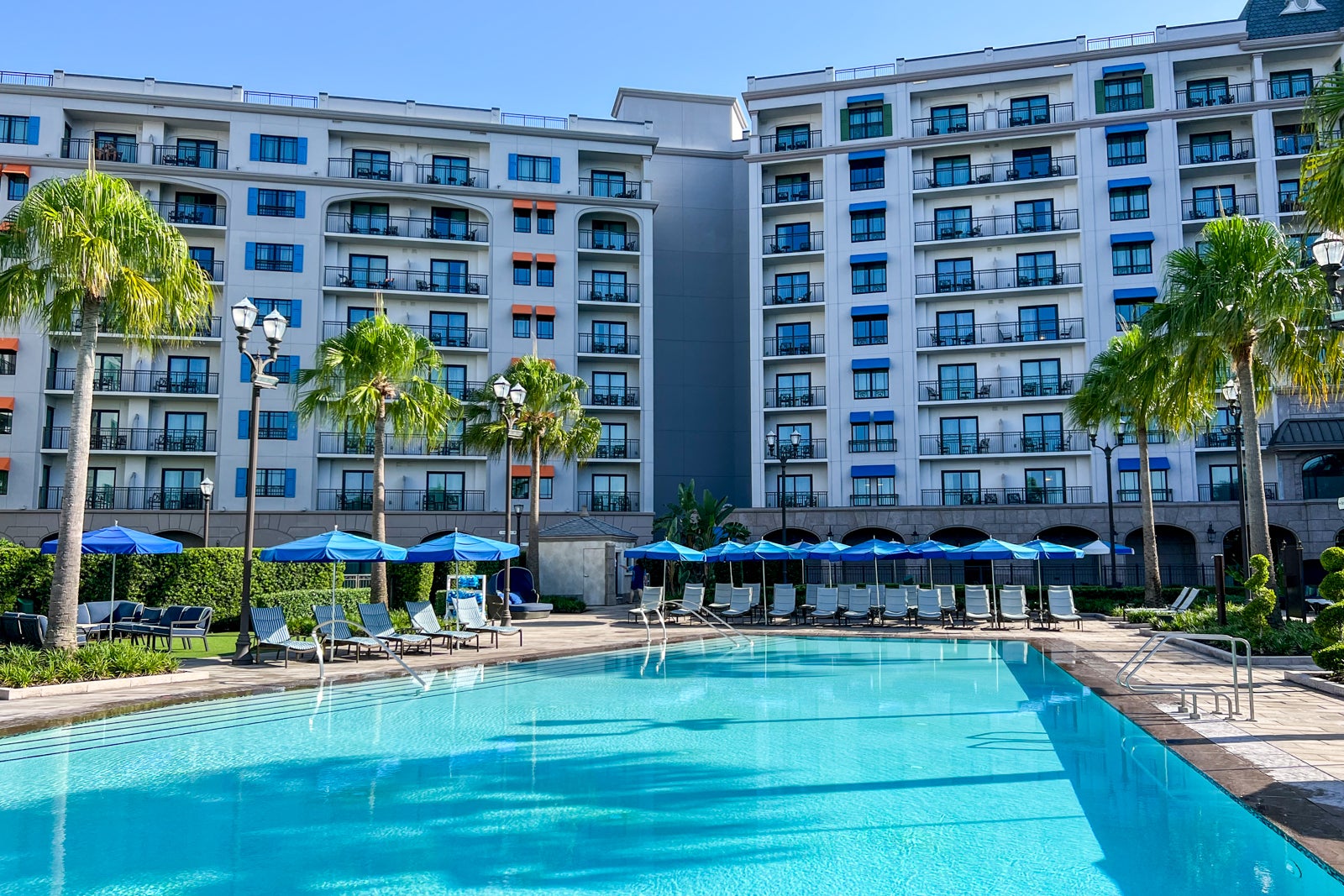 Bar Riva is one of the most beautiful open-air lounges at Walt Disney World and offers an elegant spot to take a break from the pool for Mediterranean fare and drinks. We recommend the mushroom arancini and a glass of Provence frose.
Also, unlike many other leisure pools that sometimes attract families because they offer a closer option than the resort's feature pool, Riviera's impressive main pool, which includes an excellent splash pad for kids, is just across the lawn.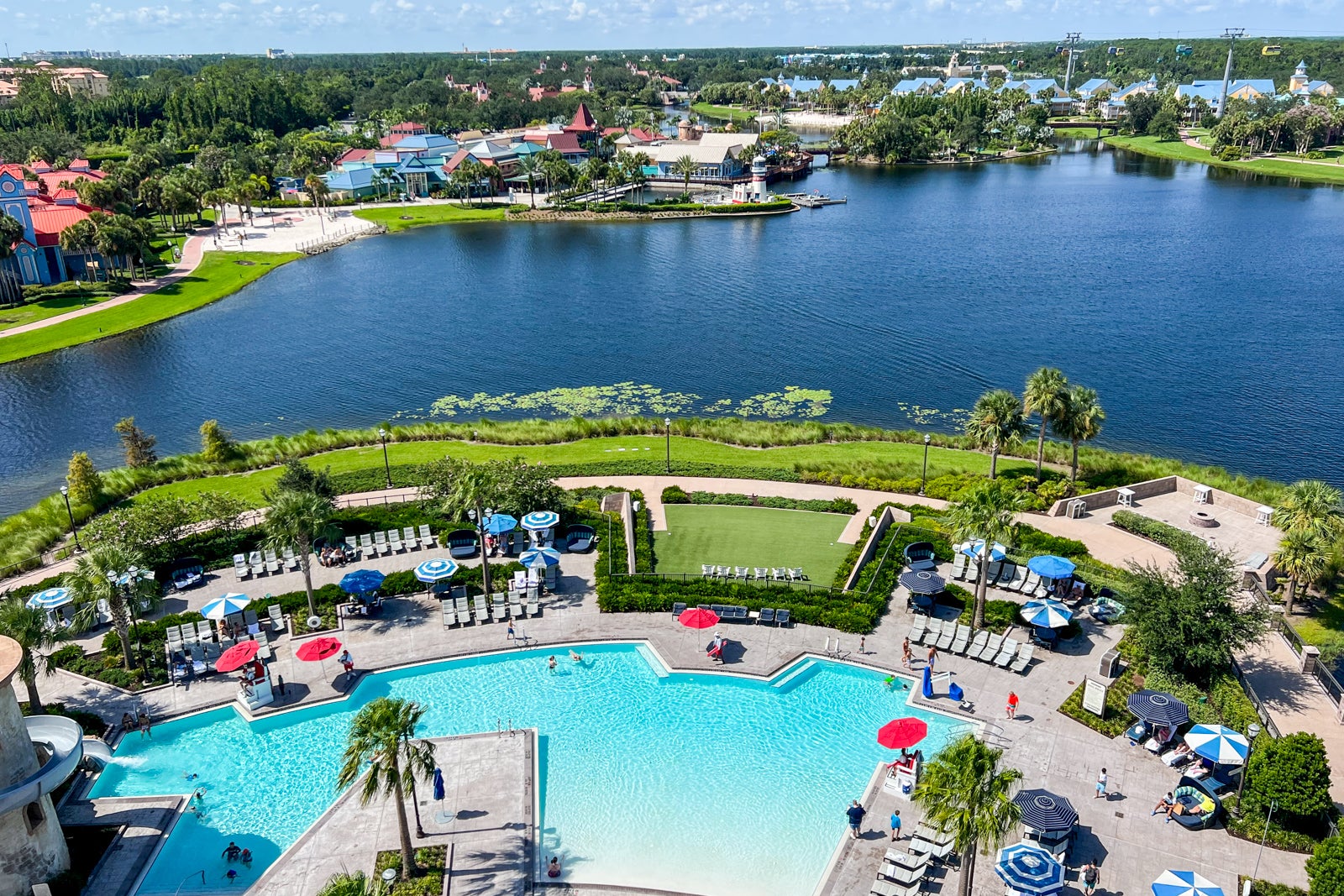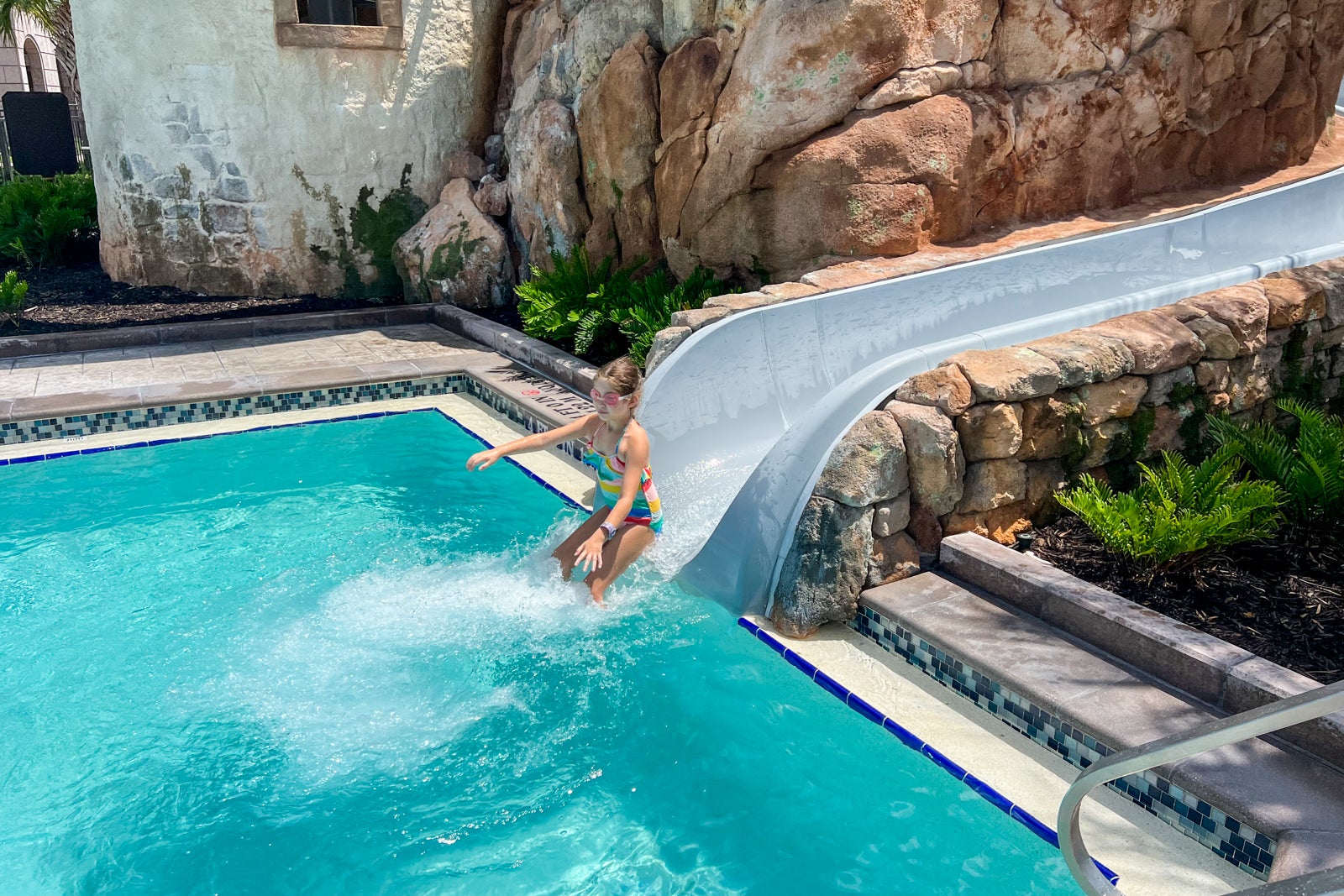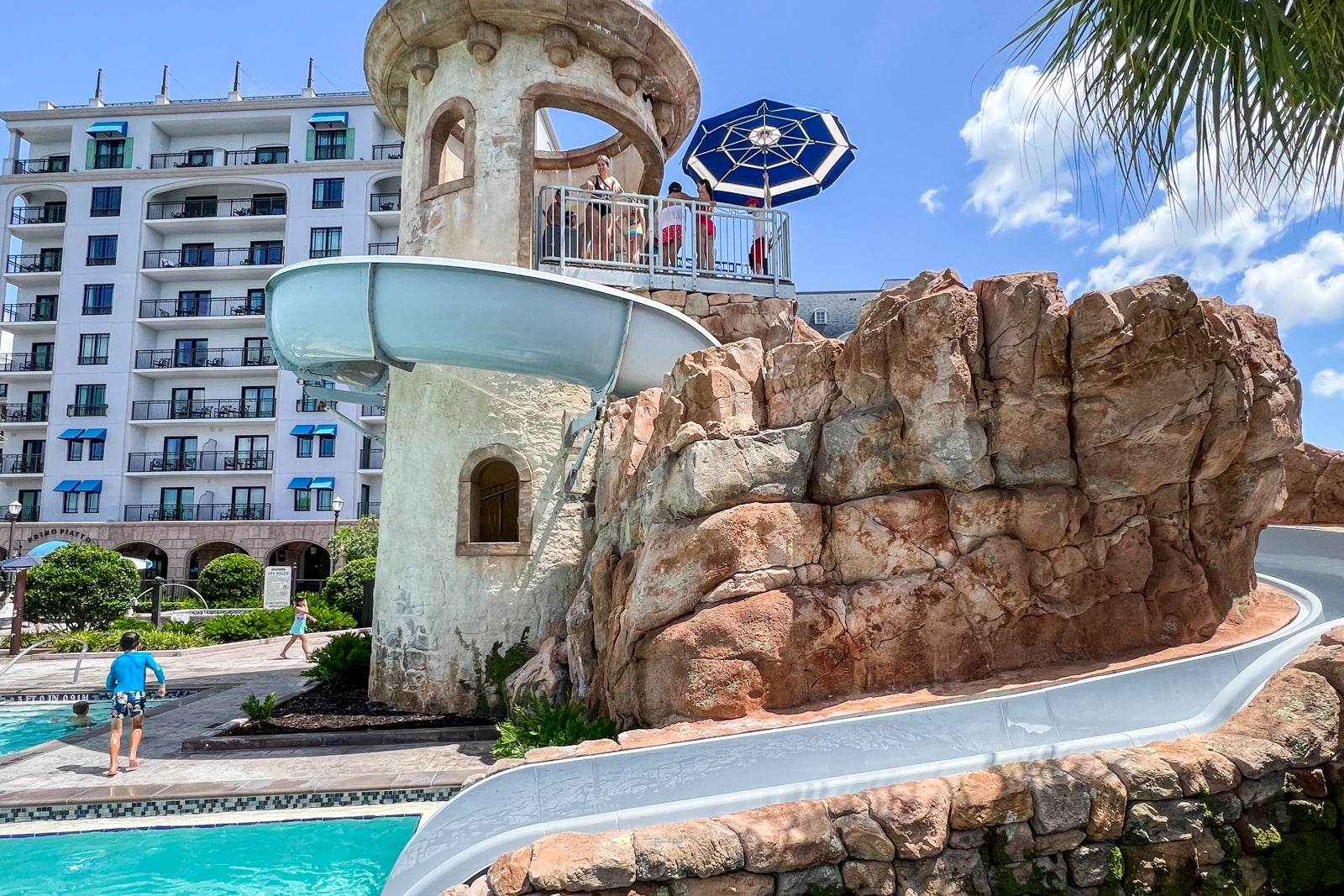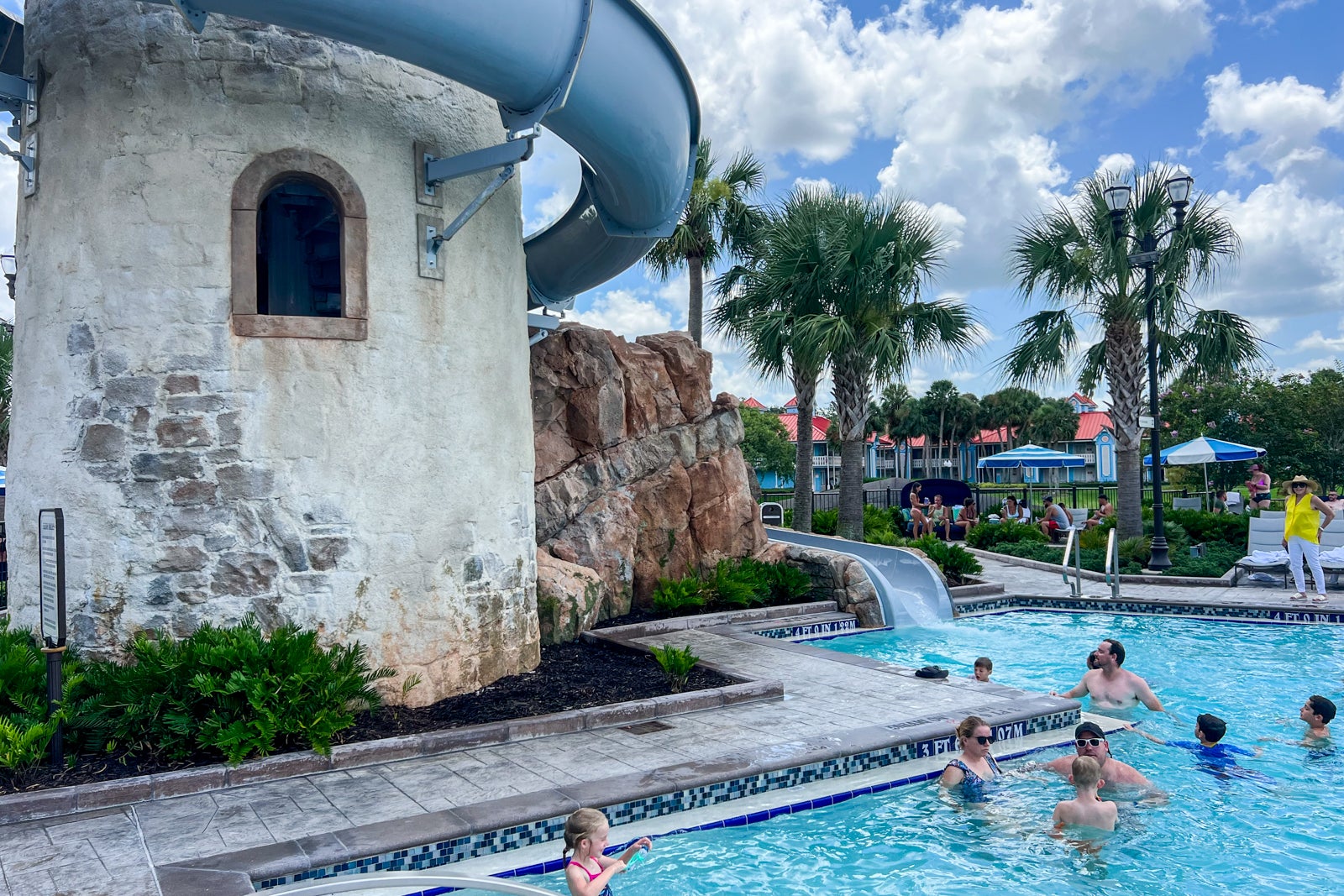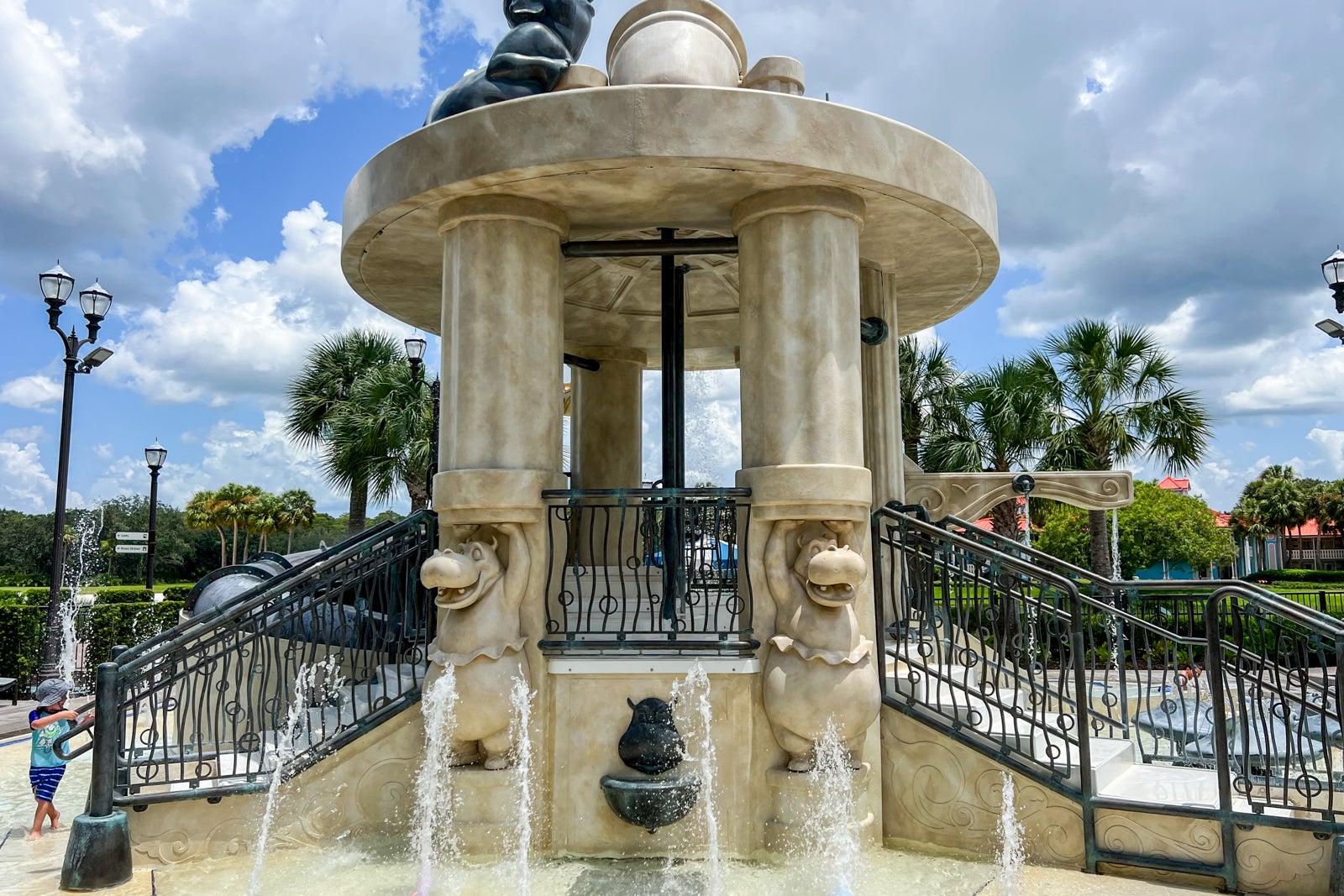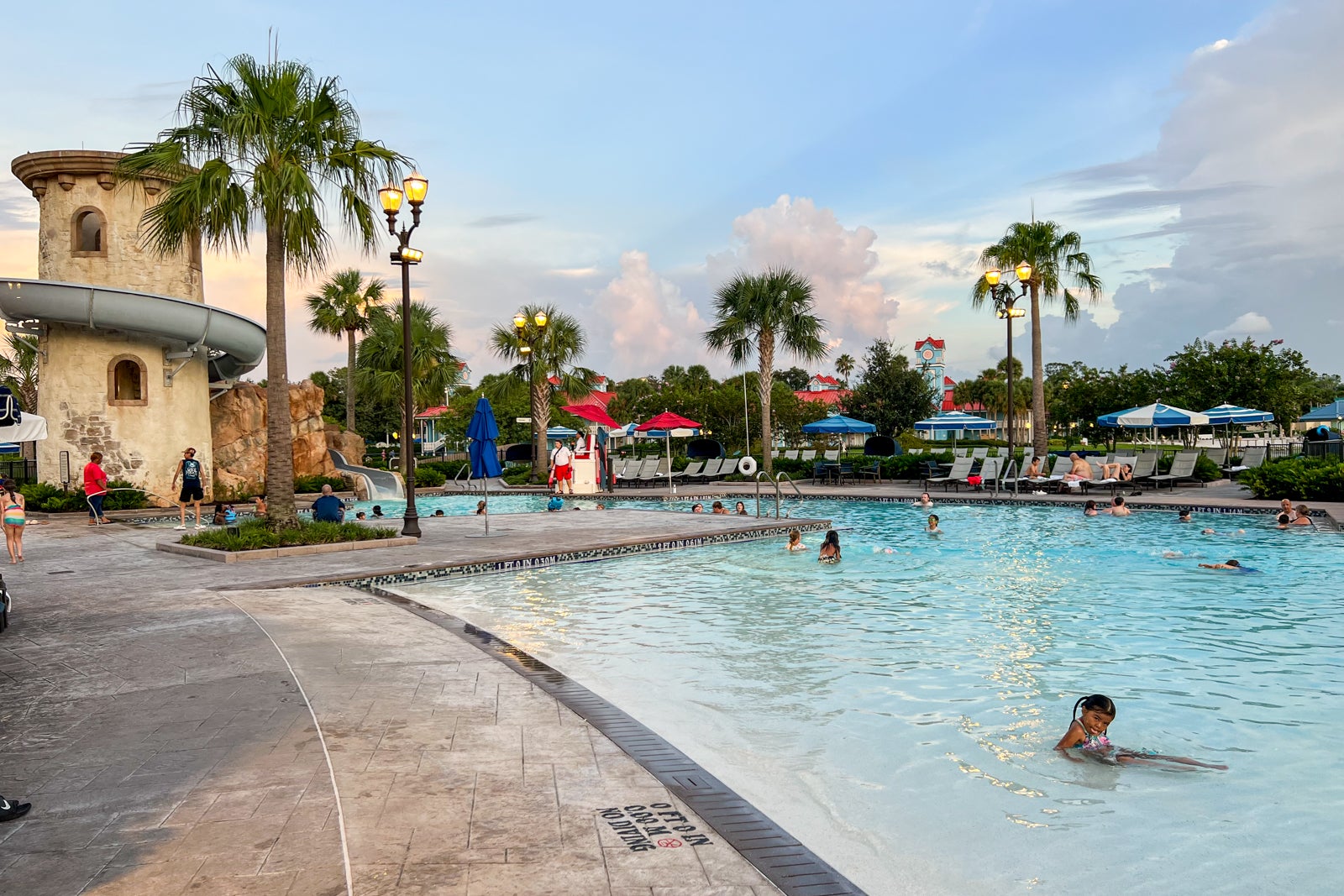 Our other favorite pool for adults is the Oasis Pool at Disney's Polynesian Village Resort.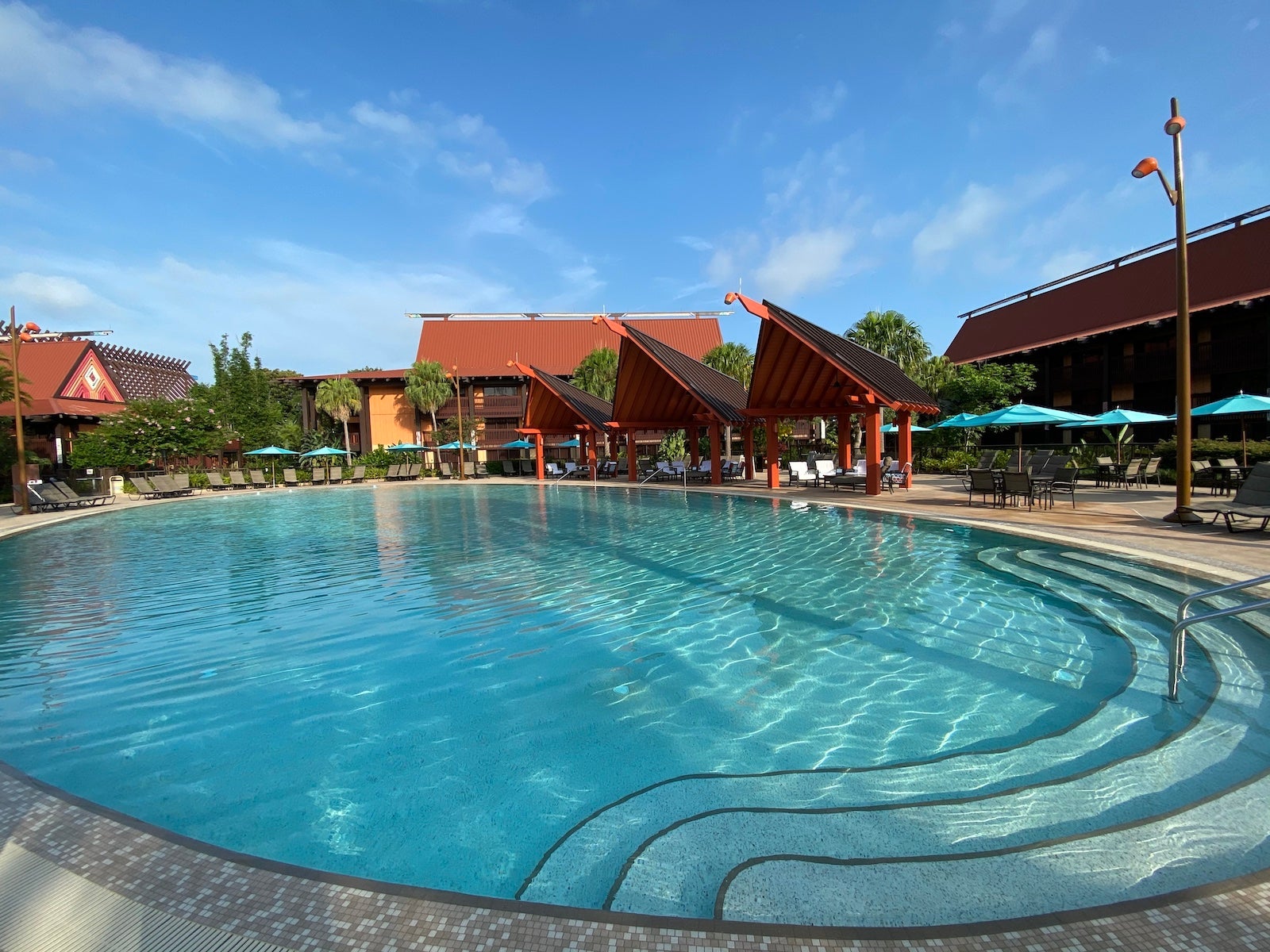 As the resort's leisure pool, the Oasis Pool tends to attract a more grown-up crowd than the nearby Lava Pool with its enticing volcano, waterfall, kids play area and 142-foot waterslide. The Oasis Pool also has its own pool bar, the Oasis Bar & Grill, so you don't have to leave the pool area to enjoy dishes like wonton chips and fish tacos, specialty cocktails, beer, soft drinks and more.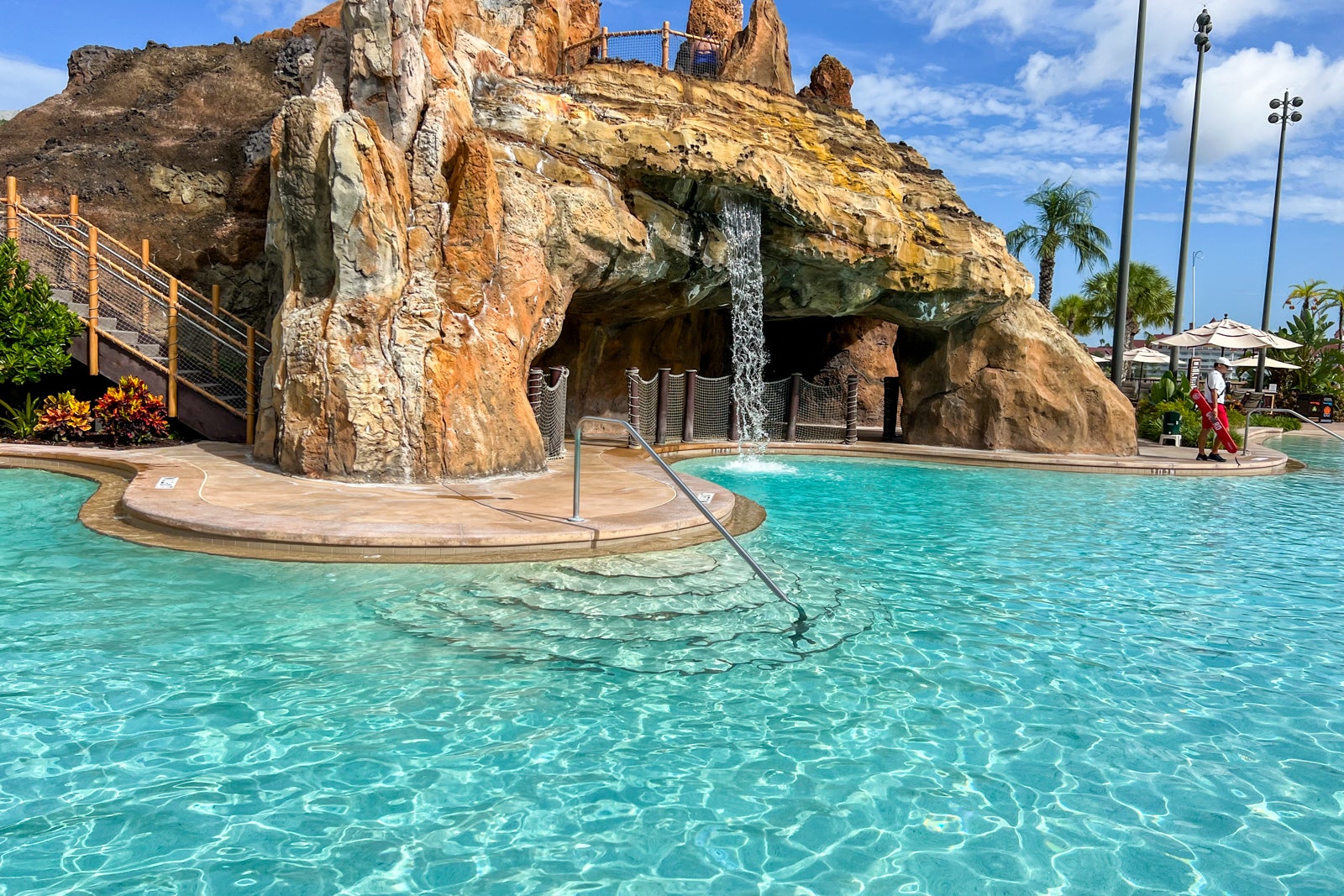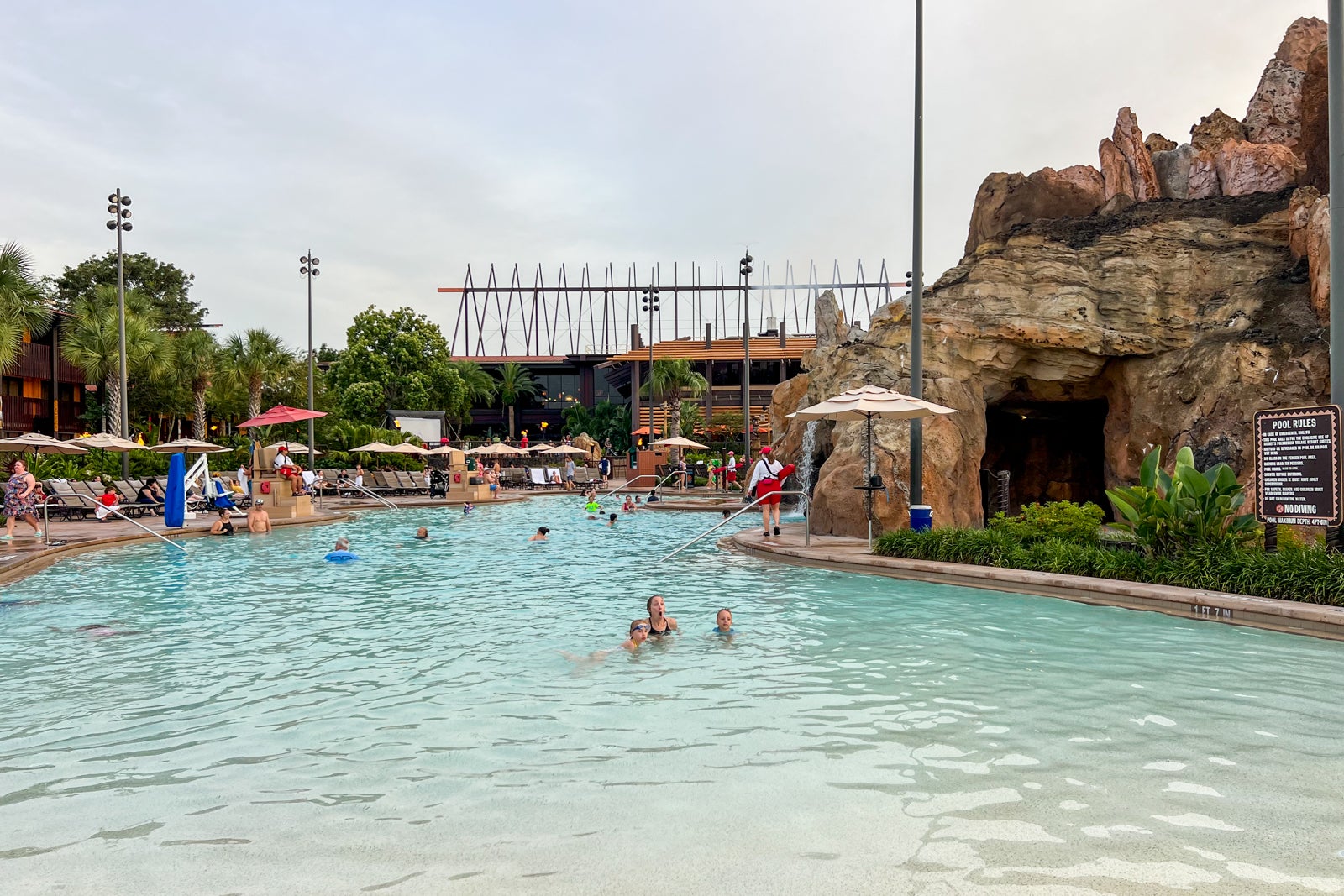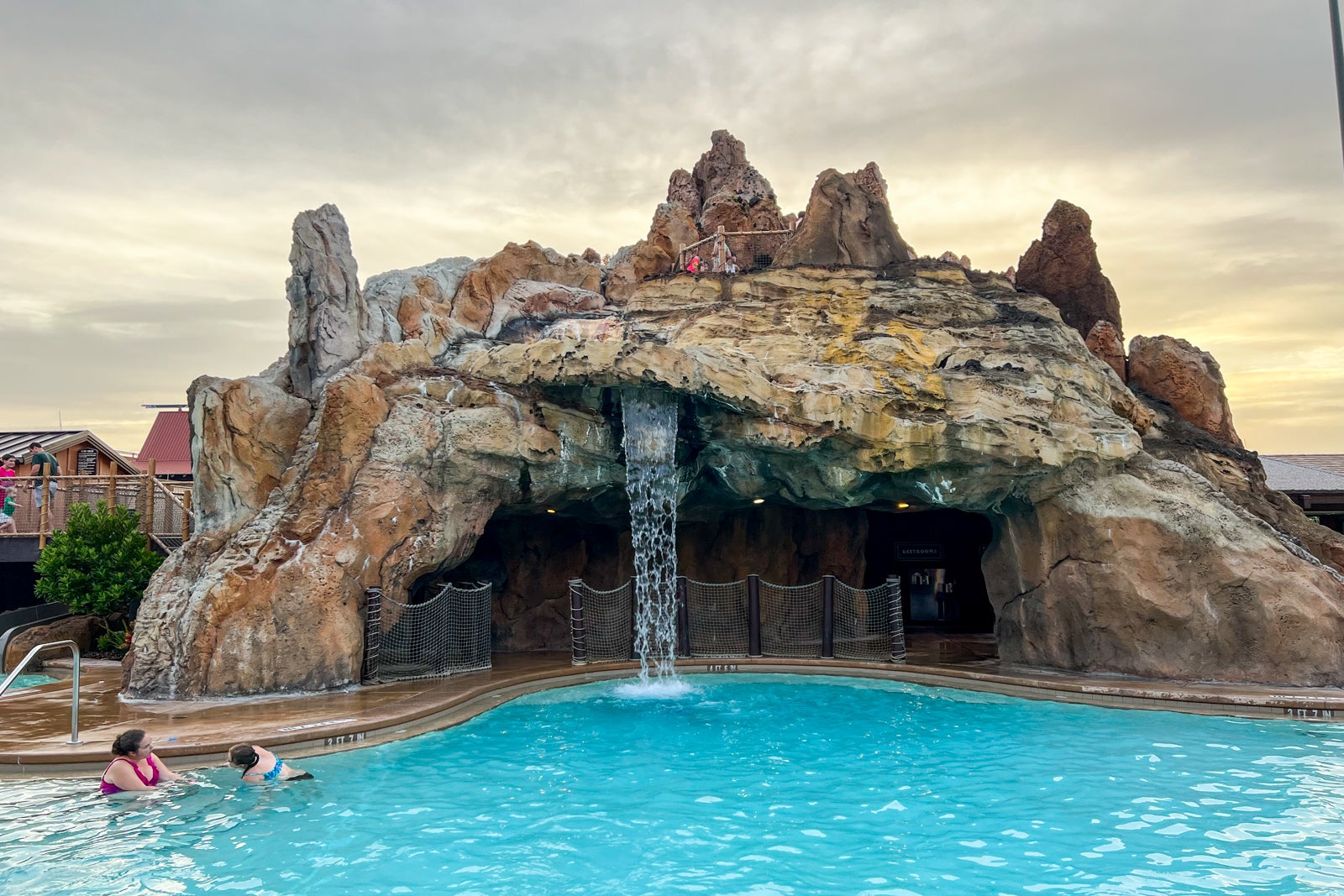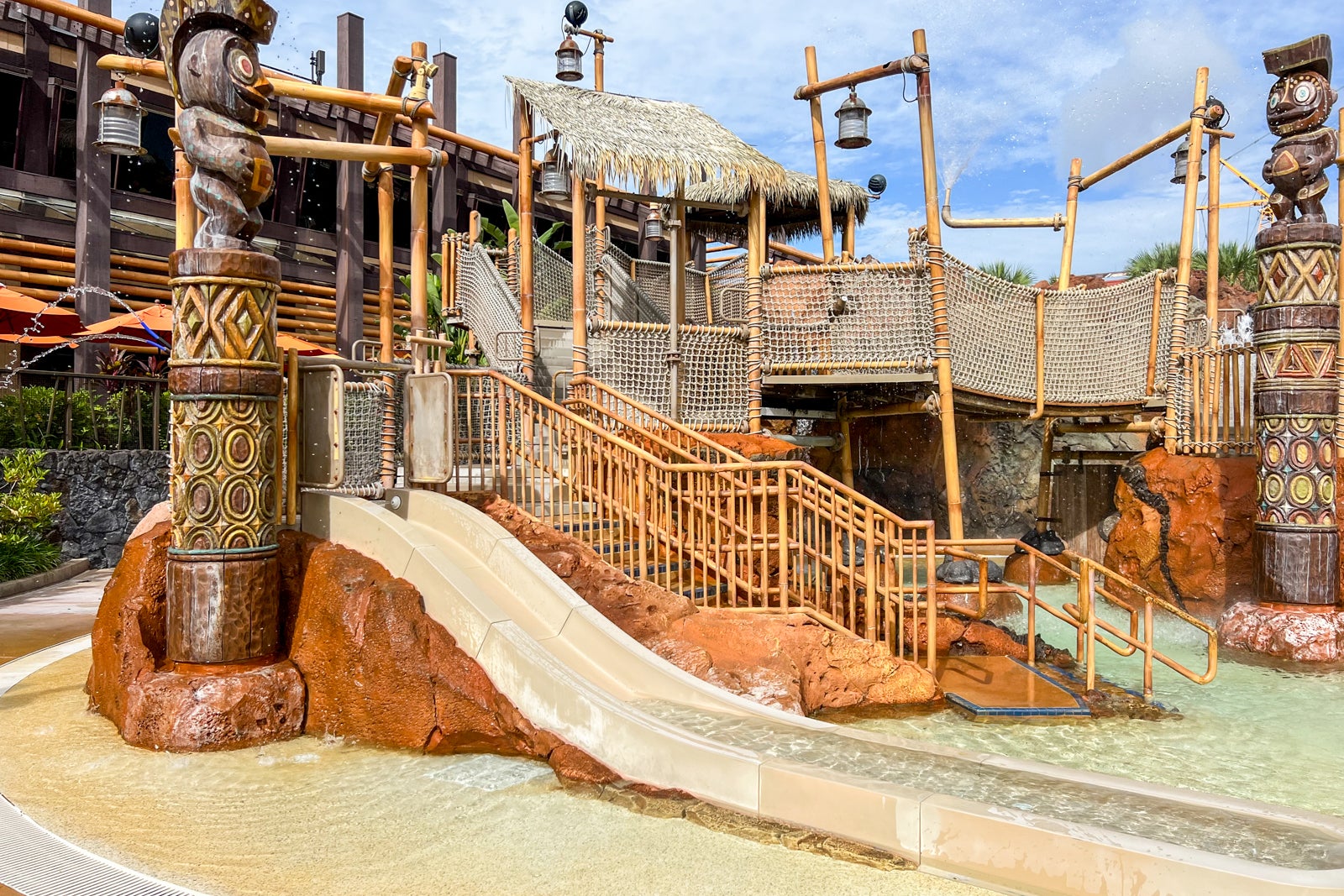 Best Disney World pool splurge
For the most luxurious poolside experience, private poolside cabanas are available for daily rental at three of Walt Disney World's Deluxe resorts: Disney's Contemporary Resort, Disney's Grand Floridian Resort & Spa and Disney's Yacht Club and Beach Club resorts.
These private, shaded spaces accommodate up to six guests and come equipped with plush furniture, ceiling fans and varying entertainment options like Bluetooth speakers, TVs and charging stations.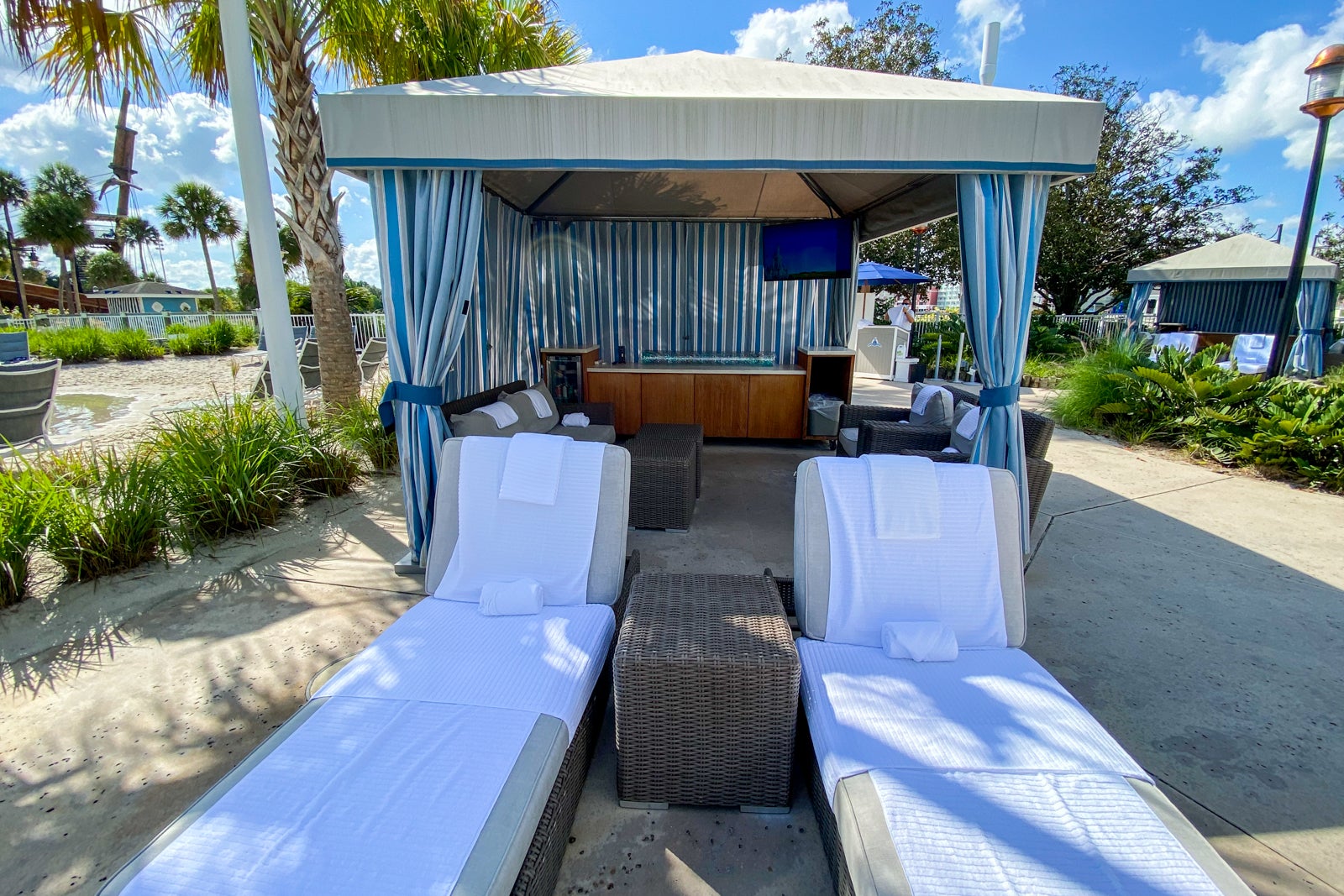 Complimentary refreshments, including fresh fruit, soda and water, are also provided, as well as sunscreen and skincare products and a safe. Booking is only open to guests of each respective resort. Pricing starts at $350, and amenities and services, like cocktail service to the cabana, vary slightly by resort. Book by calling 407-939-7529.
Disney's Polynesian Village Resort also offers a lower-priced option that still provides shade and privacy. Oasis Patios are at the resort's Oasis leisure pool and accommodate up to six guests with a dedicated shaded spot near the pool, furnished with cushioned lounge chairs and plush towels. Oasis Patios start at just over $100 and are available first come, first served or by advance reservation by calling 407-939-7529.
Related: 5 over-the-top luxurious places to stay at Disney World
Best Disney World hot tubs
At the height of summer in Central Florida, a hot tub might not top your list of ways to relax on your Walt Disney World vacation, but temperatures can really dip during the winter and in the evenings at certain times of the year. All Moderate and Deluxe resorts have hot tubs, but some rise above the rest.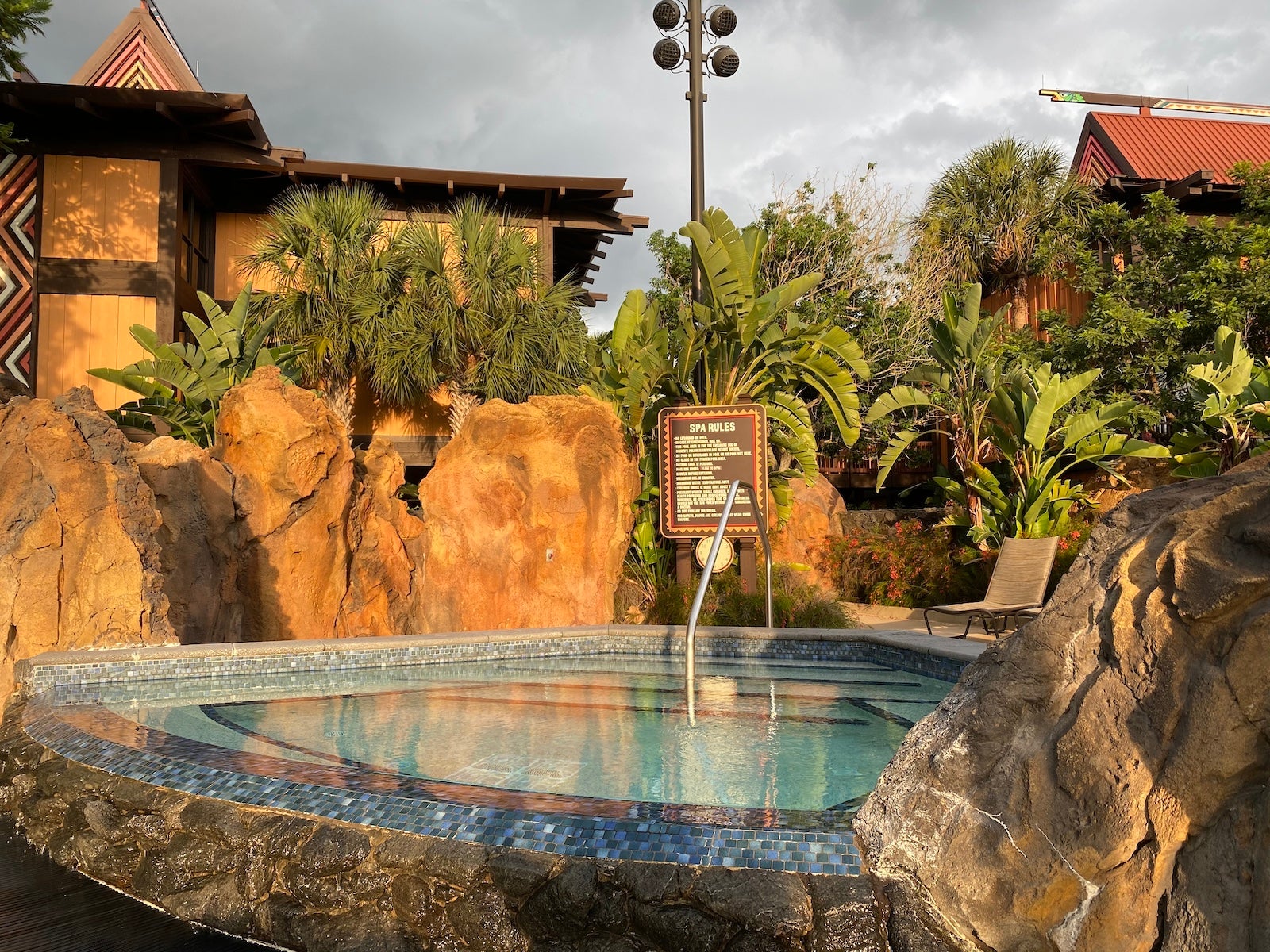 One of the prettiest hot tubs with the best views is at the Lava Pool at Disney's Polynesian Village Resort. It has an infinity edge and offers views of Seven Seas Lagoon and even the fireworks over Cinderella Castle in the evenings. Be warned, this hot tub is definitely not a well-kept secret — it can get quite crowded, especially in the evenings.
For more room, The Dig Site, the expansive pool complex at Disney's Coronado Springs Resort, is home to Walt Disney World's largest hot tub, accommodating up to 22 people.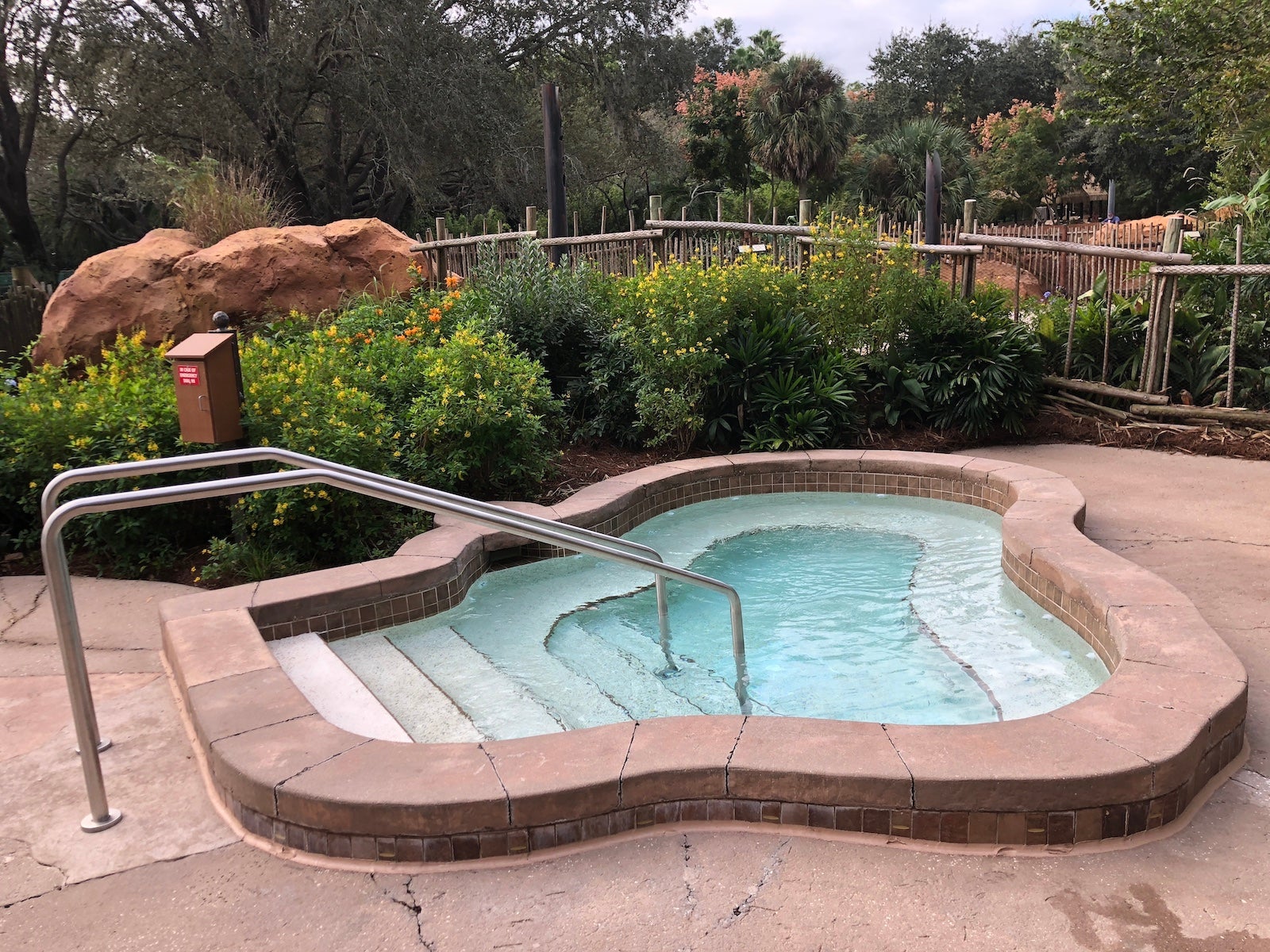 For a more secluded soak, Disney's Animal Kingdom Lodge hot tubs are tucked away in spots slightly separated from the hustle and bustle of the main pools.
And if you're looking for a serious splurge, you can have your own hot tub if you book one of the Copper Creek cabins.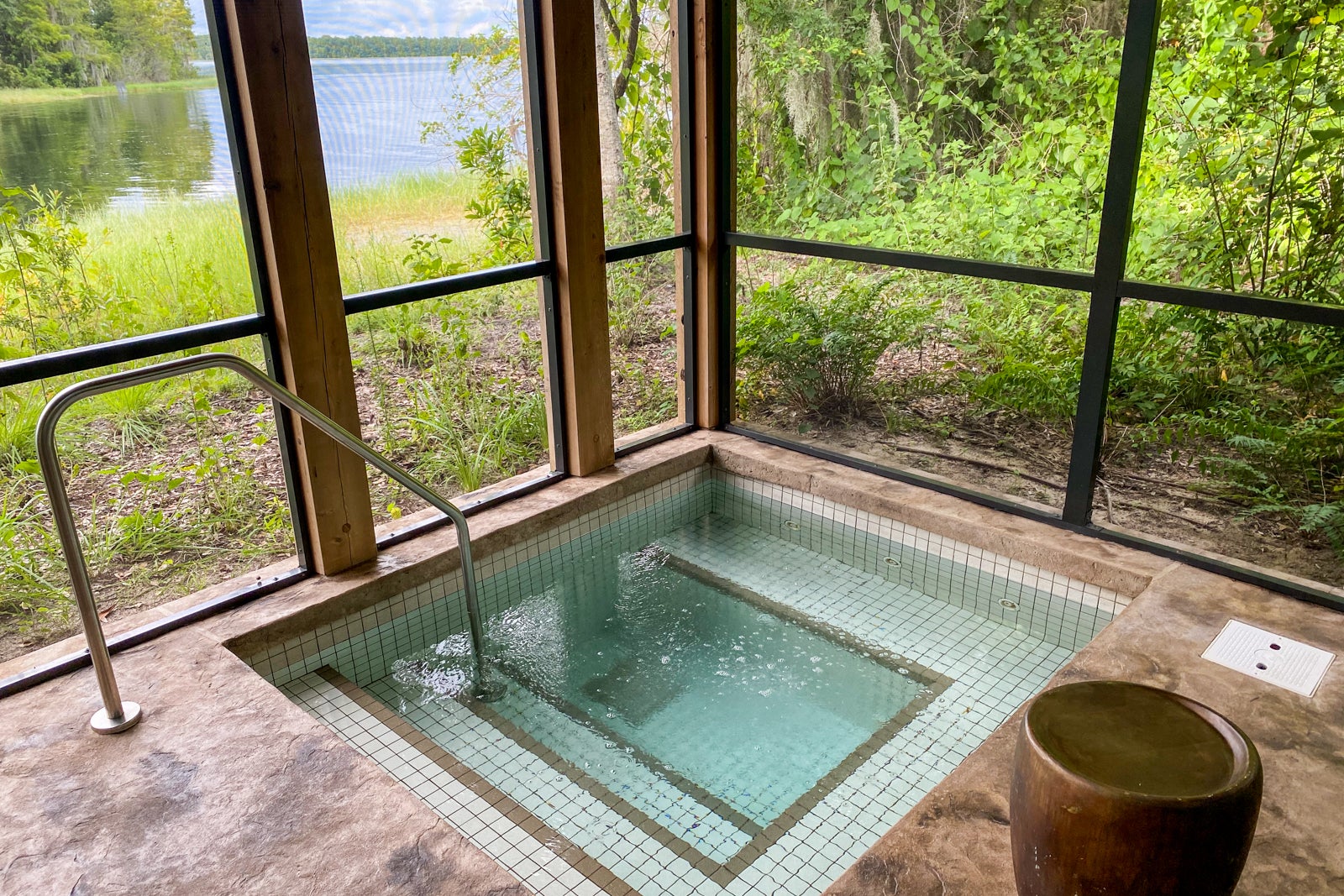 Best Disney World splash pads
Kids love a water playground, and parents love a break from keeping kids entertained in the pool. These top water play areas are so good the hardest part for parents may be getting kids to leave.
Disney's Polynesian Village Resort
Situated next to the Lava Pool, the Polynesian's water playground for kids under 48 inches is one of Walt Disney World's most elaborate.
Water features throughout the multilevel structure include spitting tikis, spraying spouts, erupting water geysers, two mini slides and plenty of stairs to climb and bridges to cross to keep kids busy. Just beware if you have kids on either side of the 48-inch maximum height restriction — this is one time older siblings could find themselves wishing they hadn't hit that height marker yet.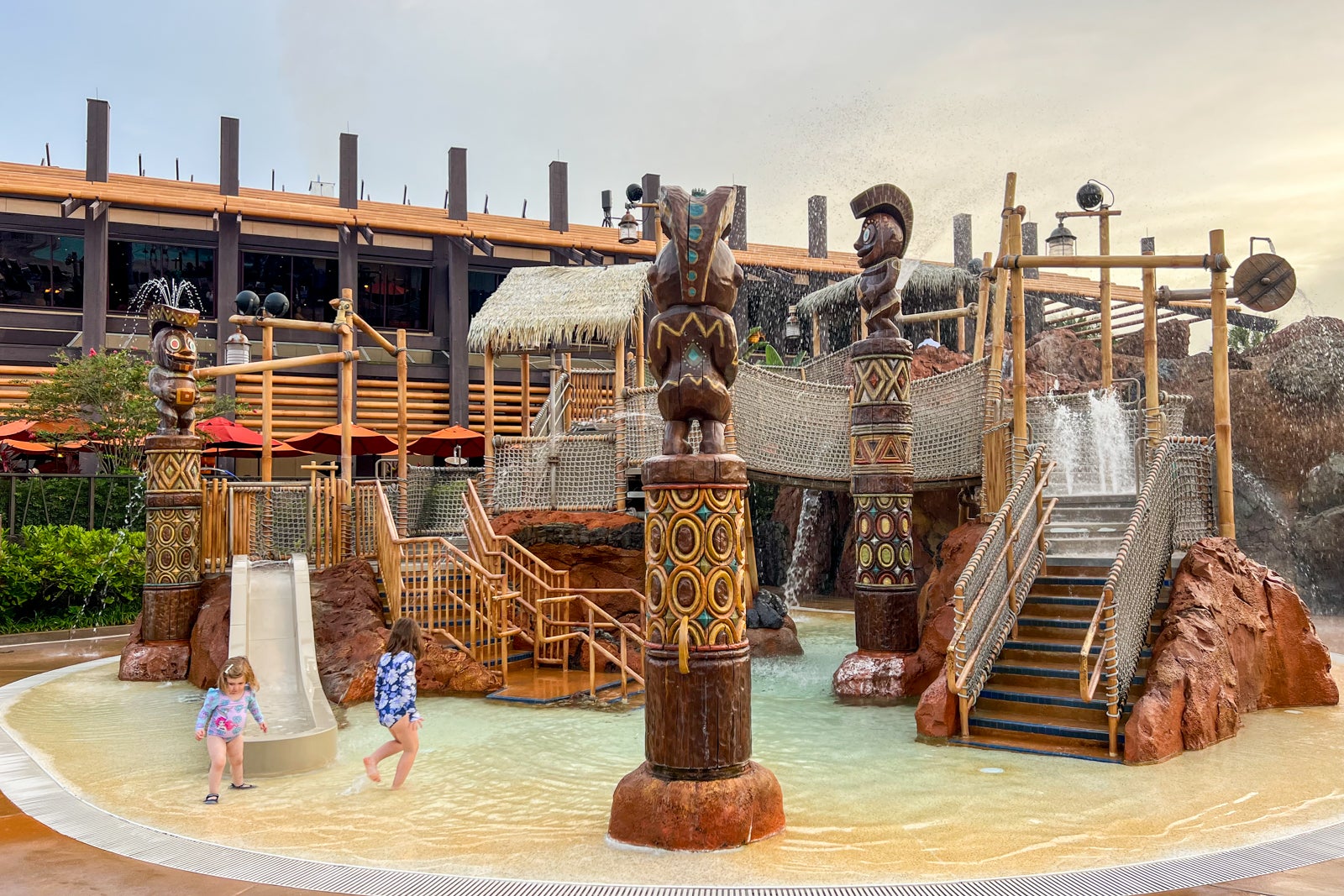 Disney's Grand Floridian Resort & Spa
This "Alice in Wonderland"-themed splash pad includes mini waterslides, sprinklers and water spouts. Overhead, the Mad Hatter's hat and a giant teapot periodically fill with water then soak everyone in striking distance. Within minutes, your kids will be saying, "We're all wet here."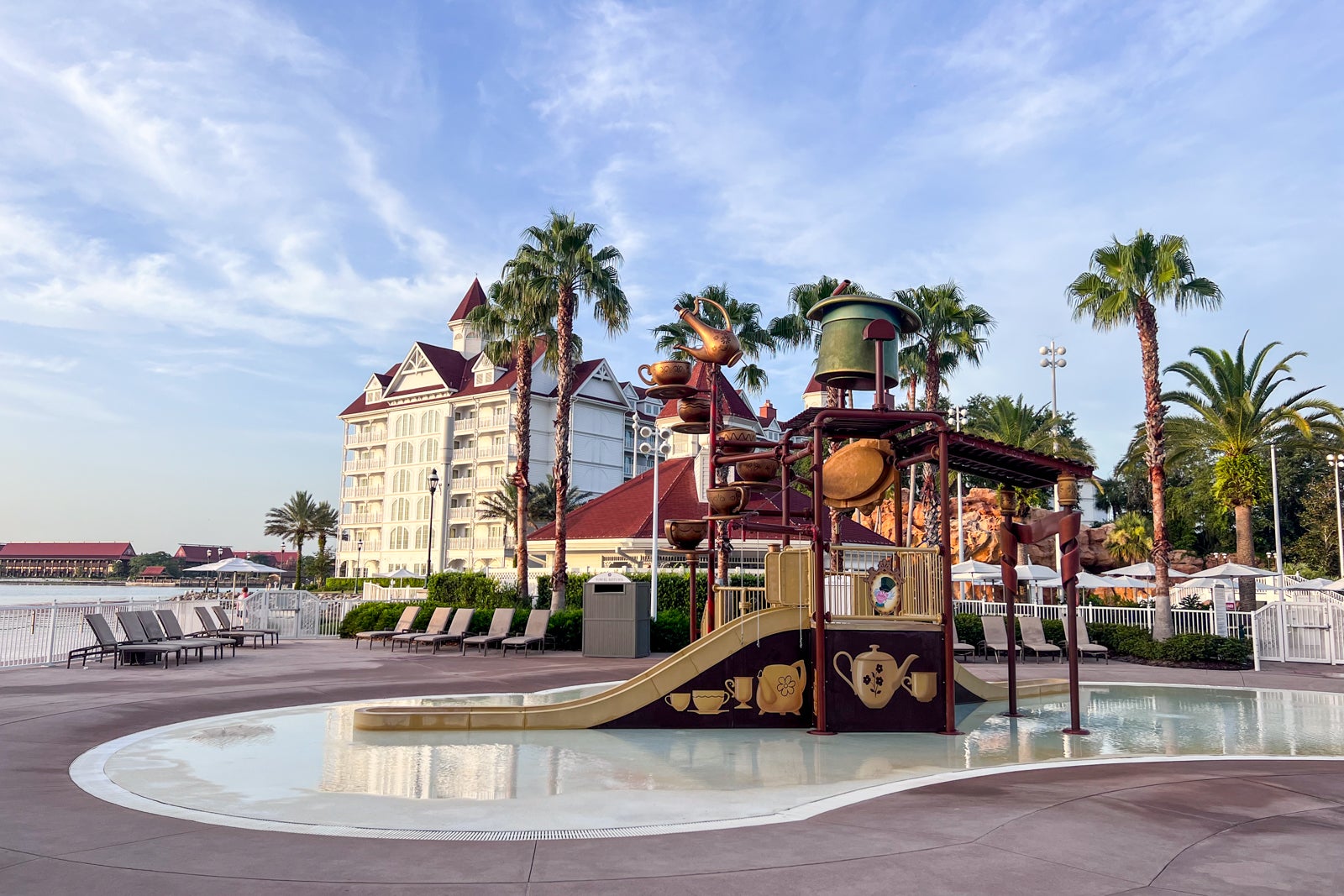 Related: Is Disney World's Grand Floridian the 'grandest' option for you? Here are 8 things to know
Disney's Riviera Resort
Reminiscent of Europe's majestic public fountains, S'il Vous Play is a beautiful "Fantasia"-themed water play area with two waterslides and lots of interactive water features.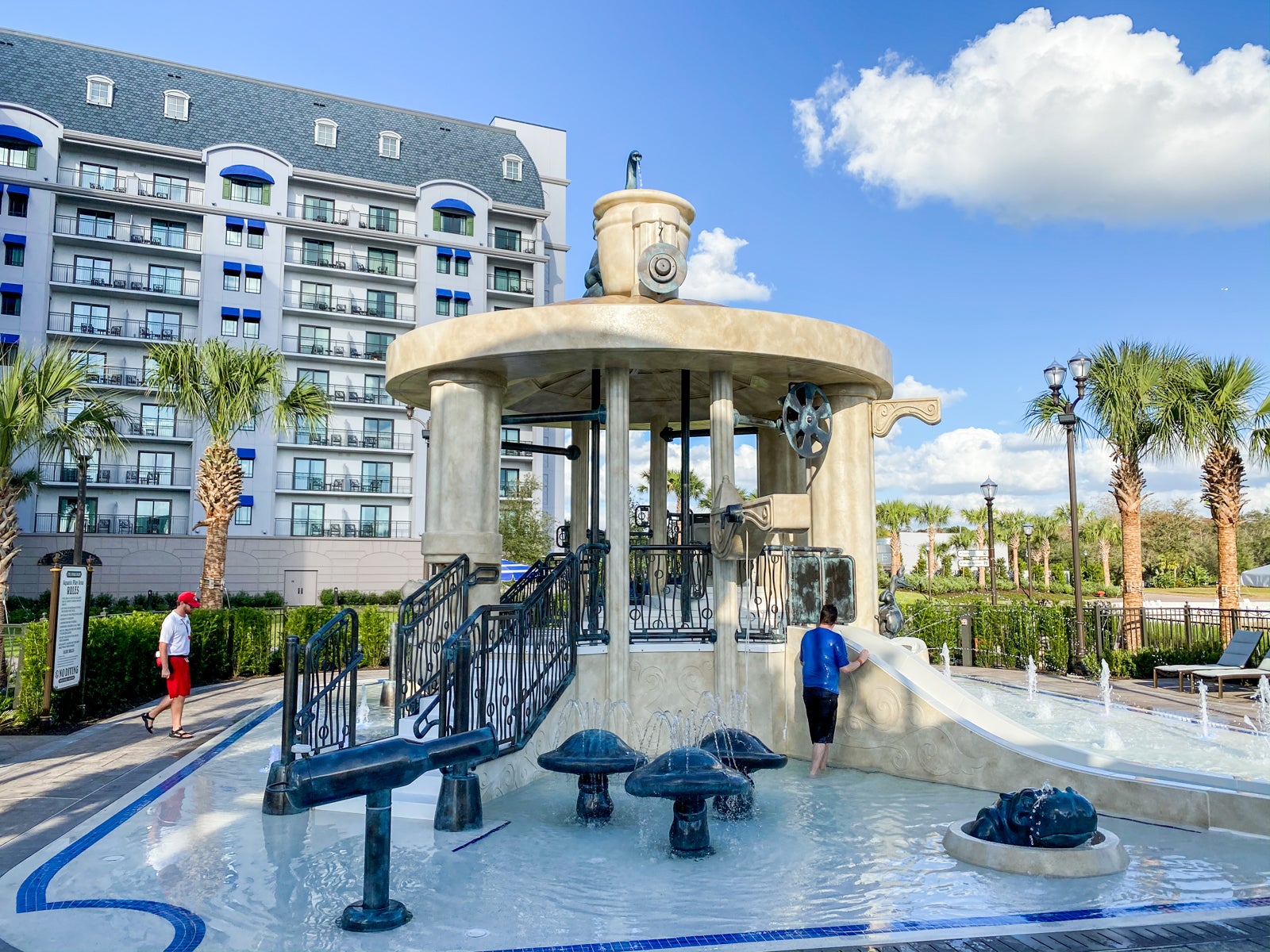 Best Disney World waterslide
The Luna Park Pool at Disney's BoardWalk Inn is a whimsical homage to the amusement park attractions found along the turn-of-the-century boardwalks in places like Atlantic City and Coney Island. The piece de resistance is the 200-foot waterslide, which resembles a classic wooden roller coaster. The pool bar, Leaping Horse Libations, looks like a carousel, adding to the classic theme park feel of the pool area.
The huge Keister Coaster waterslide used to be known for the iconically creepy giant clown head at its base. Sadly (for those of us who love the BoardWalk's quirky theming), the clown was removed in 2020 and replaced with two-dimensional artwork of Mickey and friends.
The slide remains at the top of the list, though. Although Stormalong Bay's Flying Jib slide is slightly longer, we prefer the Keister Coaster for ease of re-riding without having to leave the pool complex. For the same reason, parents will also find it much easier to keep an eye on kiddos here.
Related reading: