After welcoming Virgin Atlantic to the alliance earlier this year, SkyTeam now has 19 member airlines connecting almost 350 million yearly passengers on more than 10,000 daily flights to 1,000-plus destinations across 184 countries.
SkyTeam, like competitors Star Alliance and Oneworld, is a group of airlines that work together and allow frequent flyer members to earn and redeem miles across the network. In theory, if there's award space, you should be able to redeem your rewards from one member's program for flights on another.
To get the most out of airline alliances and maximize your points and miles, you need to know how to find award availability across all the airlines in your alliance. Remember that you don't have to use these sites to book your award ticket, but they can help you find award space to book with another loyalty program.
So, how do you search for SkyTeam award space? Let's look at four of the best sites to search for SkyTeam awards.
SkyTeam overview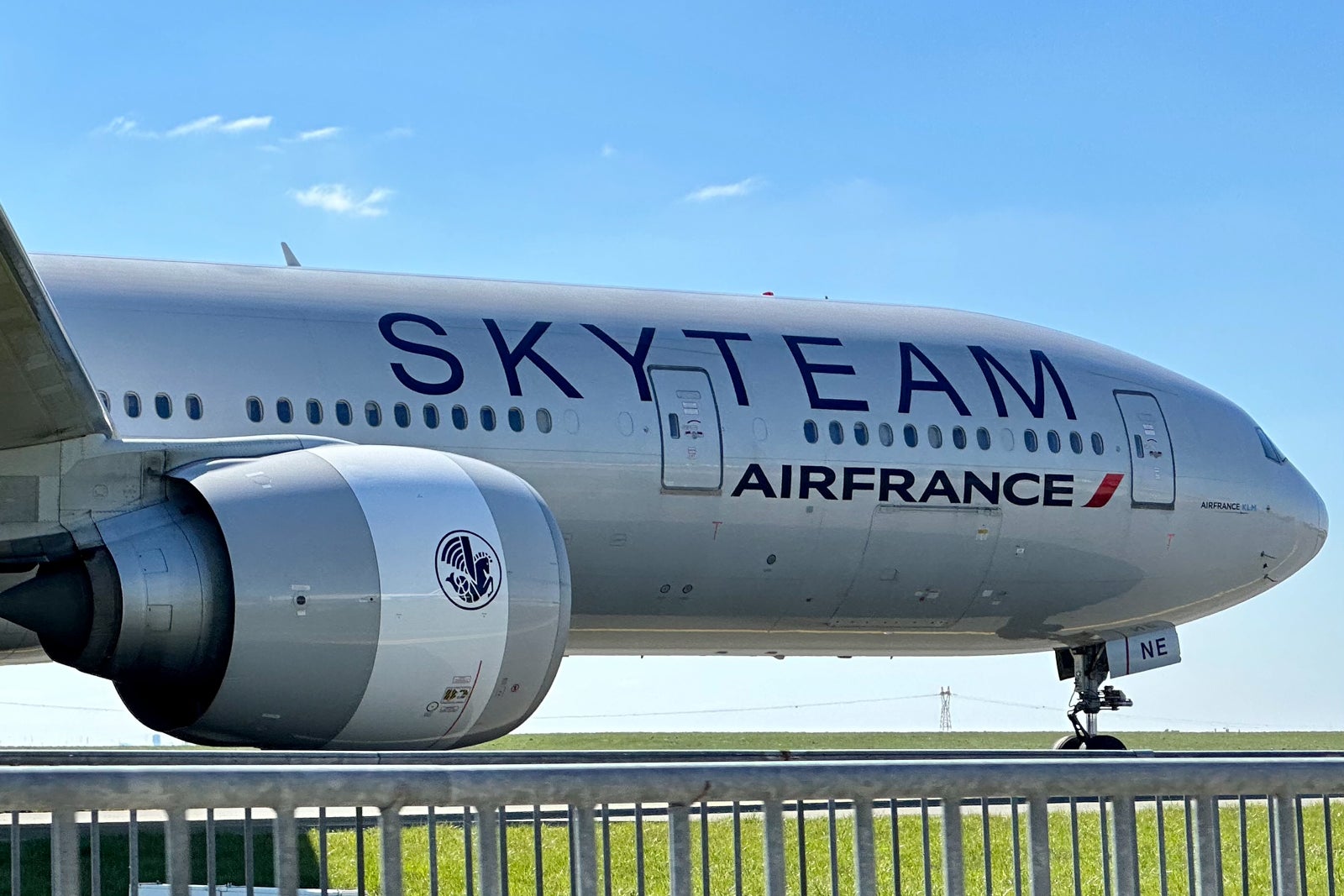 Here's the list of the 19 airlines that are part of SkyTeam. Shortly after the Russian invasion of Ukraine, Aeroflot was suspended from the alliance.
Aerolineas Argentinas.
Aeromexico.
Air Europa.
Air France.
China Airlines.
China Eastern Airlines.
Czech Airlines.
Delta Air Lines.
Garuda Indonesia.
ITA Airways.
Kenya Airways.
KLM Royal Dutch Airlines.
Korean Air.
Middle East Airlines.
Saudia.
Tarom.
Vietnam Airlines.
Virgin Atlantic.
XiamenAir.
At a basic level, using SkyTeam miles is straightforward: Use one airline's miles to fly with another airline in the alliance. However, some airlines in the alliance limit the availability of award seats for partner bookings, and some may only release award seats to partners within a certain timeframe before departure. When searching for award space, keep these limitations in mind.
Related: Your ultimate guide to searching award availability for the major airlines

A word on dynamic pricing and partner award space
When searching for award space on SkyTeam airlines, you need to be aware that the major loyalty programs in the alliance, like Delta SkyMiles and Air France-KLM Flying Blue, use dynamic award pricing instead of standard award charts. This means that award ticket prices fluctuate based on factors like the cost of a paid ticket and passenger load. In contrast, many airlines in Star Alliance and Oneworld have standard award charts where all awards with Saver space are priced at the same point.

SkyTeam's dynamic pricing means award ticket prices will often differ depending on the SkyTeam partner you book with.
Some lesser-known SkyTeam carriers like Korean Air and Czech Airlines use a standard award chart for their redemptions, but since these programs don't participate in credit card point transfers, they're obsolete for most U.S.-based flyers.
In summary, the award prices for one SkyTeam airline may not be the same as what you'll see when searching other SkyTeam award programs. To find the best pricing for your desired flight, evaluate your options and run multiple searches across different SkyTeam partners.
With that out of the way, let's look at the websites you can utilize to find SkyTeam award availability.
Related: Your complete guide to SkyTeam alliance benefits
AirFrance.us or KLM.com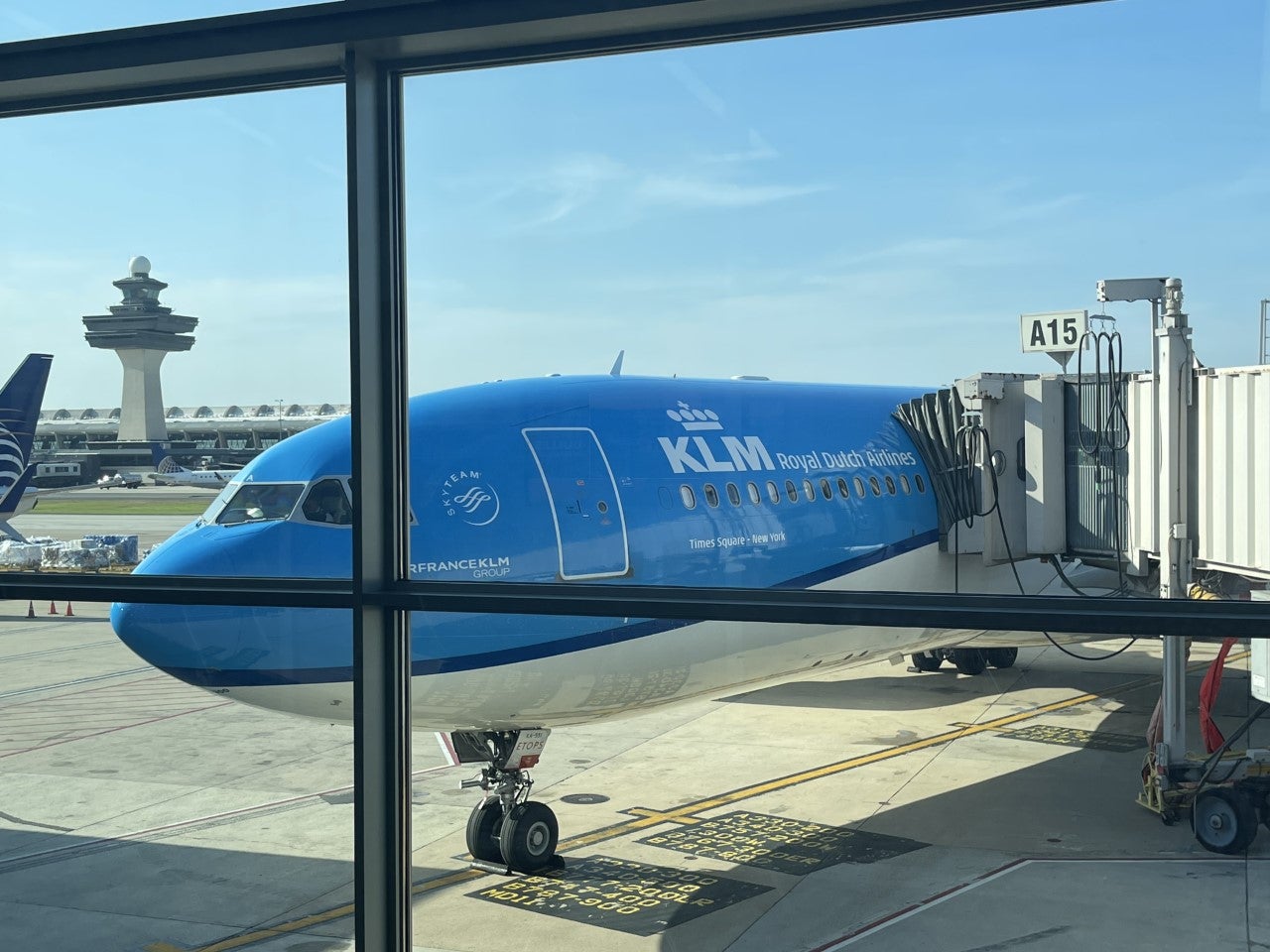 Flying Blue, the loyalty program of SkyTeam members such as Air France and KLM, offers one of the best online tools for finding SkyTeam award seats. The website has recently been updated to include wholly Delta Air Lines-operated flights, which were previously not searchable.
When using Flying Blue to search for award tickets, keep in mind that you must search for awards on either AirFrance.us or KLM.com. Both websites have the same award space and pricing but different layouts.
Avoid Flying Blue phantom award space with award ticket holds
While it's no longer as bad of an issue as it once was, Air France and KLM's websites sometimes show phantom award space. This is when you find an award ticket on a carrier's website, but when you book it, you're met with an error and cannot book the ticket.
Fortunately, Flying Blue provides free ticket holds on most award tickets. The hold duration varies depending on the agent, but typically it's for 72 hours.
We recommend putting your award ticket on hold before transferring miles to Flying Blue from American Express Membership Rewards, Chase Ultimate Rewards, Capital One miles or Citi ThankYou Rewards. This will ensure you don't transfer points to book a ticket only to find that the award space doesn't exist.
Related: The easiest airline miles to earn and why you want them
Book Promo Rewards
Flying Blue offers discounted tickets on select routes through a monthly promotion called Promo Rewards. The sales change every month, and all tickets must start or end in Europe. We routinely see economy and business-class tickets to Europe for less than 15,000 and 45,000 miles, respectively. Only Flying Blue members can book Promo Rewards tickets, and the discount and award space won't carry over to other SkyTeam loyalty programs like Delta SkyMiles.
Related: Low-cost awards to Europe: This month's Flying Blue Promo Rewards
Flying Blue stopover
If you want to spend more than 24 hours at the airport where you have your connection, Flying Blue offers free stopovers for up to one year on its award tickets wholly operated by Air France and/or KLM. To add a stopover to your eligible Flying Blue itinerary, call the Flying Blue service line at 1-800-375-8723.
Can I book tickets found with Flying Blue on other SkyTeam carriers?
You can generally book award tickets found on the KLM website with other SkyTeam carriers like Aeromexico. However, there are some exceptions, such as expensive awards. A 65,000-mile, one-way transatlantic business-class flight on KLM likely won't be available at the Saver level through other SkyTeam carriers.
Related: Book this, not that: SkyTeam award tickets
Searching with Flying Blue (on KLM.com)
To search for award space on Flying Blue, go to Air France or KLM's website. After you log in, select "Book with Miles." Leave the departure date blank to see the award calendar view.

Here's Flying Blue's monthly calendar view of availability from San Francisco International Airport (SFO) to Amsterdam Airport Schiphol (AMS) in business class: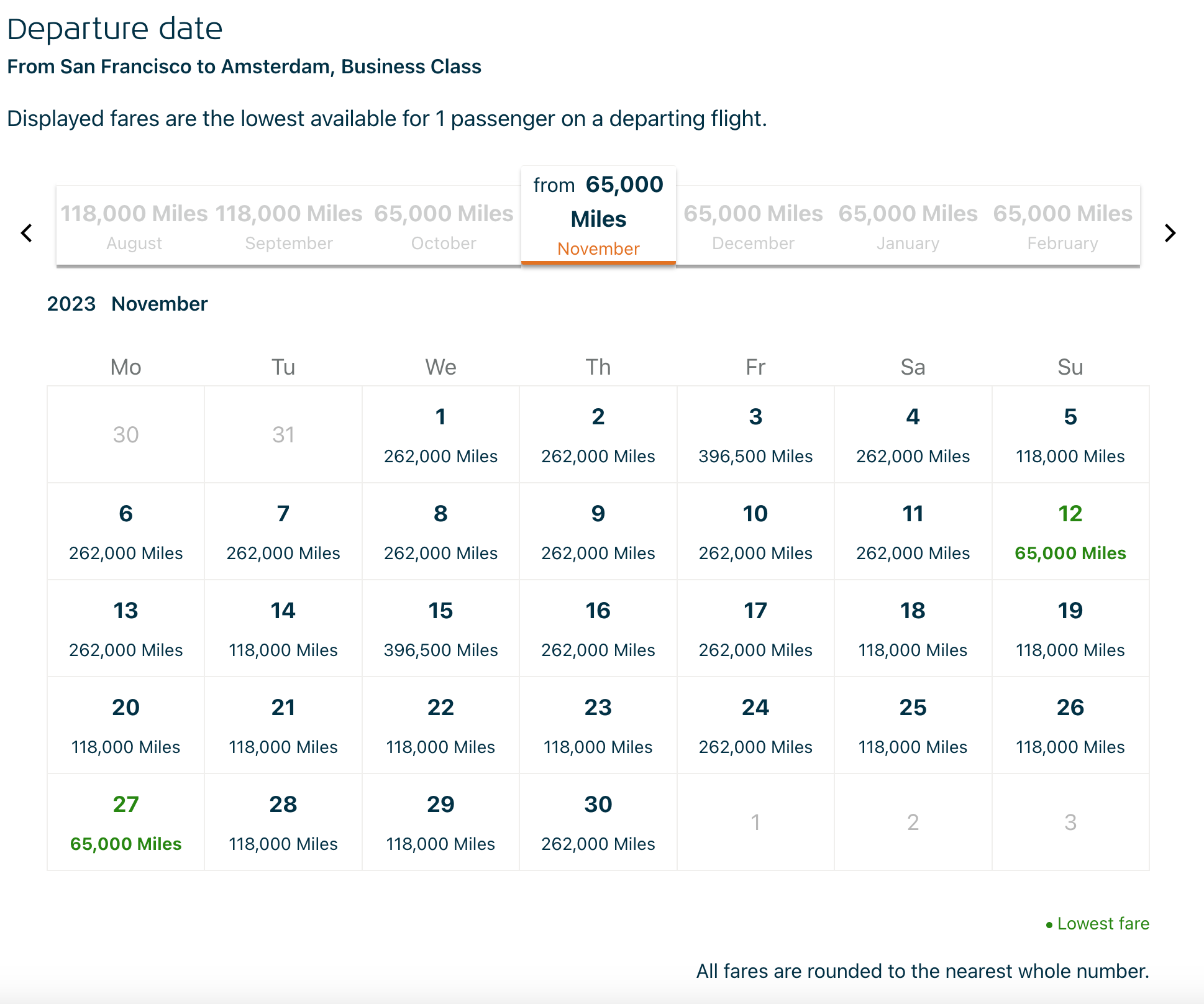 Delta.com
Using Delta.com as a SkyTeam award search engine may not be fully comprehensive and may not show accurate seat availability for partners. While Delta shows some partner airline seats well, the Flying Blue engine tends to show more accurate results.
Partner awards seen on Delta.com should be bookable by other SkyTeam carriers. The Delta website can sometimes find complex itineraries and the most available award flights, but be cautious of high prices for international Delta One tickets. That said, if you are flexible, you may find good deals on certain routes, including some economy tickets.
Related: How to redeem miles with the Delta SkyMiles program
Use Delta for cheap domestic award tickets
Using Delta SkyMiles to book cheap domestic itineraries can be a great way to maximize SkyMiles. These deals are usually available on low-demand dates but can be found on various routes throughout the year. We generally find the best deals on medium-distance routes with high flight frequencies, like New York to Chicago.
For instance, a search for a flight from LaGuardia Airport (LGA) to Chicago's O'Hare International Airport (ORD) departing two months out showed flights for just 7,500 miles one-way. Compared to other programs that charge 12,500 miles or more for the same route, that's a great deal. You might even find cheaper flights, but note that Delta offers basic economy awards, so you'll likely be booking into this class on ultra-cheap award tickets.
Related: How to survive basic economy on Delta Air Lines
Delta SkyMiles flash sales
Like Flying Blue's Promo Rewards, Delta occasionally offers limited-time deals called SkyMiles flash sales that allow you to fly between certain cities at a lower price. These deals are exclusive to Delta, so you won't be able to book them at the same price with another SkyTeam program. They don't follow a specific schedule, so it's a good idea to bookmark the website and check it periodically for new deals.
Searching with Delta.com
Searching for award tickets on Delta.com is simple. Just head to the Delta website and enter your search criteria at the center of the screen. Check the box next to the "Shop with Miles" option and click "Advanced Search" to specify your booking class. Click the red arrow button when you're ready to run your search.

When you search for award travel on Delta's website, it defaults to "My dates are flexible." This is useful because you can see a week's worth of award pricing on the next screen. To see a month's worth of award pricing, click on the "Price Calendar" option at the top of the screen.

Once you find a date that suits you, click on it and tap "Continue." You'll see award pricing for all classes and flights on that day. Select the option that suits you best.

By default, Delta shows the cheapest tickets first, but look through all your options before booking your flight.
Related: 16 easy ways to earn more Delta SkyMiles
KoreanAir.com
Korean Air Skypass works differently than Flying Blue and Delta SkyMiles because it uses a standard award chart instead of dynamic pricing.
You can use the Korean Air website to find award space to book with other SkyTeam partners. However, the Korean Air engine is not always accurate, and you must search for round-trip itineraries. Additionally, you can't transfer any of the major credit card point currencies to Korean Air. Nonetheless, finding Saver award space on SkyTeam airlines can be useful.
Related: How to book award flights with Korean Air Skypass
Searching with KoreanAir.com
After logging into your Korean Air Skypass account, click "Mileage Booking" and "SkyTeam awards."

There are three class options: economy, Prestige (like business class) and first. Delta's domestic first-class tickets are considered first class, while Delta One is considered Prestige class on international routes.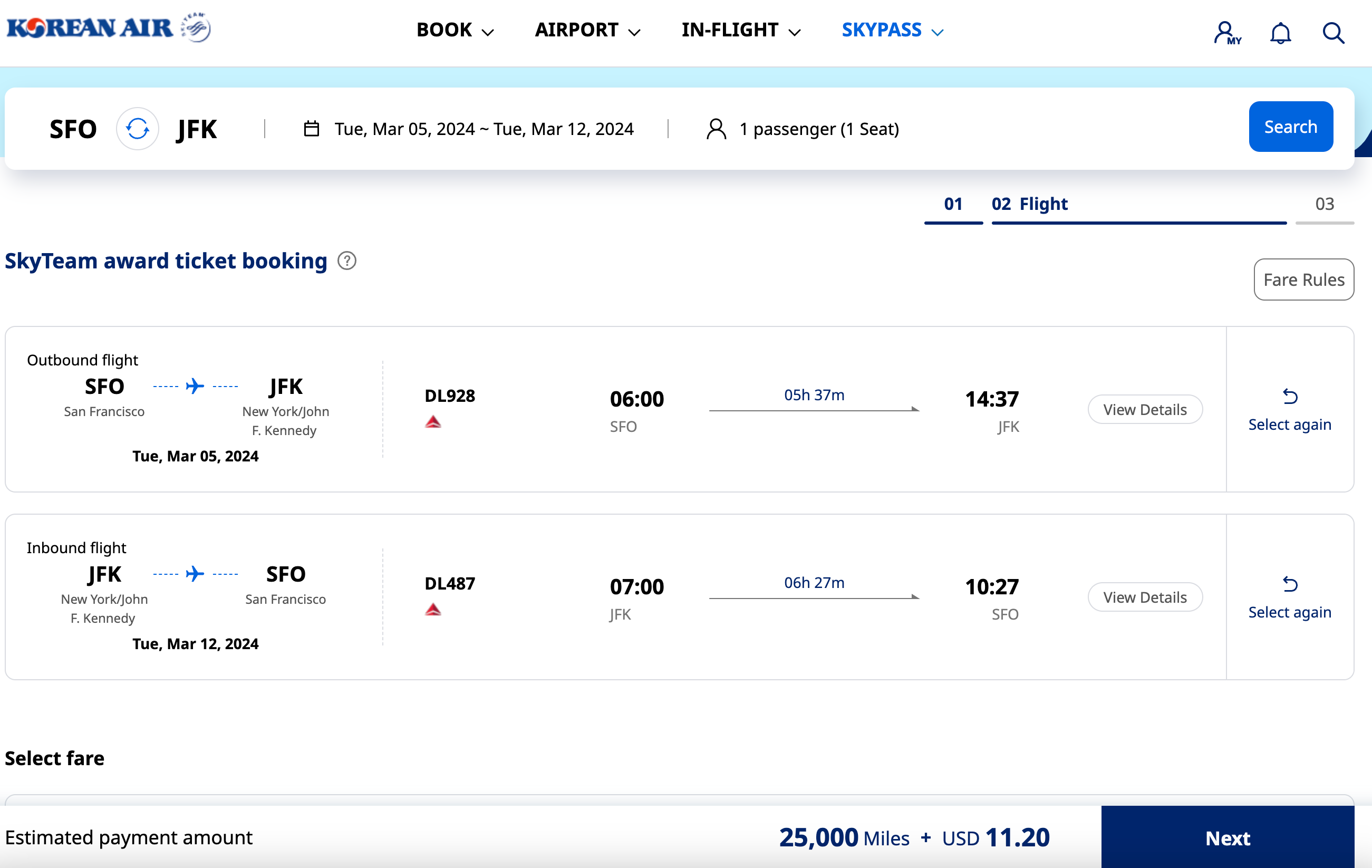 If you plan to book with another loyalty program, write down the flight numbers and call your airline to book your ticket. Again, Korean Air doesn't always have the most accurate award space, but it's one of the only search engines that will show you how to find Saver award space for most SkyTeam partners.
ExpertFlyer
TPG's parent company, Red Ventures, also owns ExpertFlyer, a search tool that allows you to look for award space on multiple airlines, such as SkyTeam members like Czech Airlines and Korean Air. Based on my experience, ExpertFlyer is the most precise method for searching award space, making the monthly subscription fee worthwhile.

This travel tool is among my top picks and has enabled many TPG team members to secure award tickets or upgrades across various SkyTeam airlines. However, it's important to remember that while the website enables you to search for availability, you cannot actually book the flights through it. Instead, you must proceed to the individual rewards program you wish to use for redeeming points or miles and complete the ticket reservation there.
Related: How to use ExpertFlyer alerts to snag a better seat
Bottom line
Searching for SkyTeam award inventory can be challenging since three of the alliance's main airlines (Delta, Air France and KLM) use dynamic award pricing. It's not always clear when these flights are available through partner programs, though you'll frequently see that the lowest-priced awards are bookable across the alliance.
We recommend using Flying Blue miles for international SkyTeam awards and Delta SkyMiles for domestic Delta tickets because they typically offer the best redemption rates. However, be sure to check rates on Virgin Atlantic, as some awards may be a bit lower with Virgin points.
As a reminder, this article is only about finding seat availability, not which program's miles to use. To maximize redemption value, compare the miles and fuel surcharges required by different programs like Aeromexico, Korean Air, Delta, Flying Blue and Virgin Atlantic before booking.
Additional reporting by Richard Kerr and Andrew Kunesh.