In a city flush with hotels, deciding where to stay in NYC can be challenging.
That's why I often tell my friends and family visiting New York City to skip tourist-filled Midtown for a stay in my neighborhood, the fashionable, eclectic and (mostly) laid-back area of Brooklyn called Williamsburg.
Just a quick Subway ride from Manhattan, hip Williamsburg is home to some incredible hotels — like the towering William Vale and The Hoxton, whose Israeli restaurant, Lazer Wolf, is one of the hottest tables in town — most of which are centered around the more gentrified (and expensive) northern part of the neighborhood.
But now, my favorite part of Williamsburg, the slightly less polished southern section near the Williamsburg Bridge, has a stunning new hotel designed to cater to both tourists and locals, the Moxy Williamsburg.
To be frank, my initial reaction to the news of a Moxy in my neighborhood wasn't necessarily excitement due to the almost collegiate-like feel of Moxys I've stayed in the past. Wouldn't a sleek Design Hotel or characterful Autograph Collection property be a better fit, I thought to myself? Or something truly boutique?
Well, I'm not thinking that anymore, because the soon-to-open Moxy Williamsburg seems to be setting a new standard for the brand.
To get a feel for the hotel, I met up with Mitchell Hochberg, CEO of Lightstone Group, which developed the property and some of the city's other Moxys, for a tour before its opening March 7th. Here's why the Moxy Williamsburg feels like a game-changer for the chain.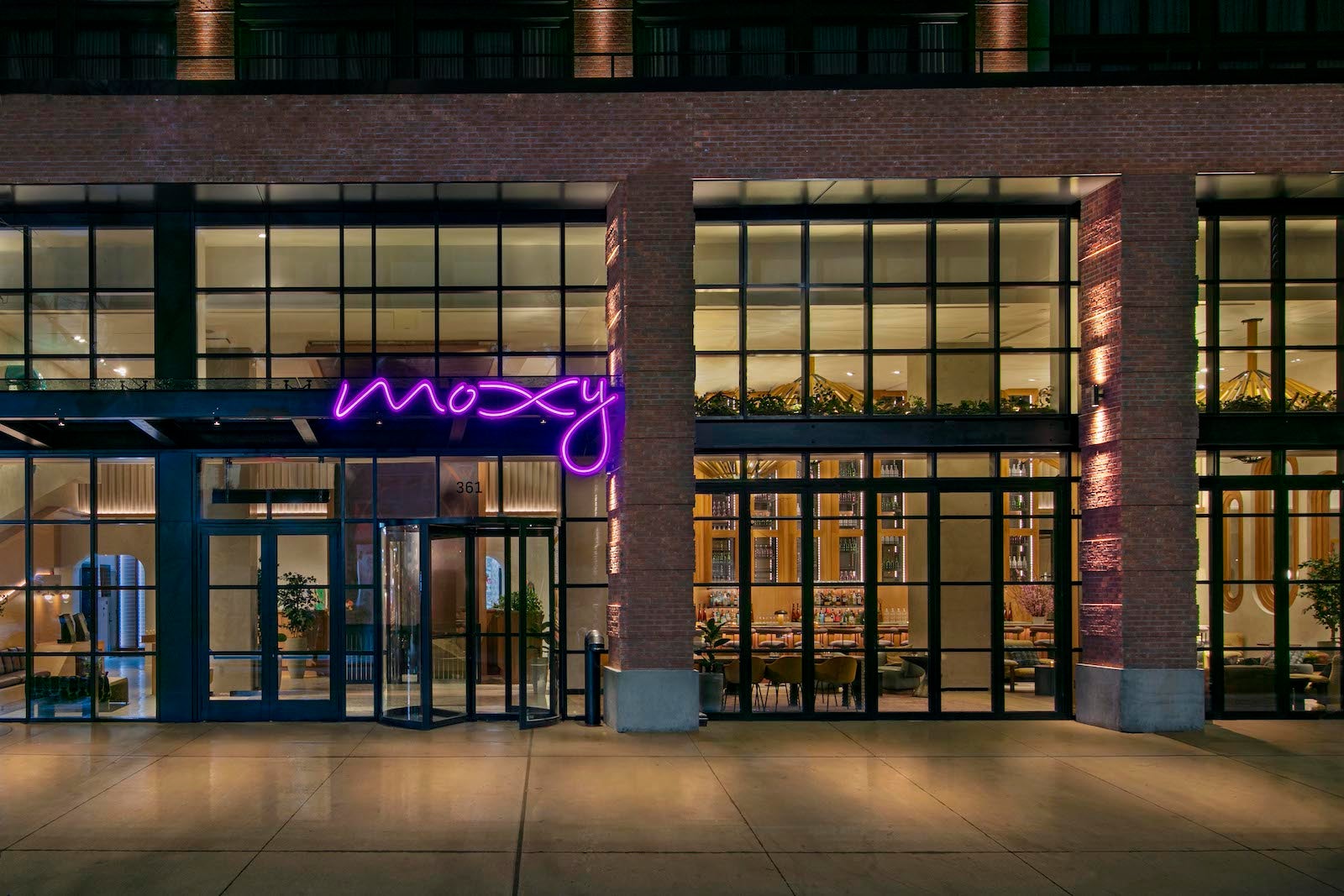 Meet the Moxy Williamsburg
It's safe to say that the Moxy brand, as a whole, has a love-it-or-hate-it sort of reputation. By design, the rooms are compact but efficient. The brand's focus on communal areas like bars and coworking spaces is designed to draw travelers out of the room and into a community of sorts.
"The animated brand combines stylish, industrial design and sociable service at an affordable price point so that guests can save on space and splurge on experiences," the Marriott website explains of the Marriott Bonvoy-participating brand.
But for many folks, Moxys feel both barebones and overly interactive, coming off more like hostels than hotels — and I've experienced that myself at many locations where the bar doubles as the check-in desk and you often have to shout your personal details over the din of loud music and boisterous bar patrons.
Over the last few years, though, Hochberg and his team at Lightstone Group have attempted to introduce an alternative version of Moxy at their specific properties, one that feels more mature and calm, but is still playful in a tasteful, subtler way and that ultimately feels more boutique than the nightly rates would suggest (though they are still high compared to other Moxys due to the fact that they're in New York City).
Nowhere have I seen this more sophisticated direction than at the new Williamsburg property, and though I haven't stayed the night and put the service to the test, the interior design alone made me feel like I was in a bank-breaking Pendry or an aesthetic-blending Design Hotel and not a typical Moxy.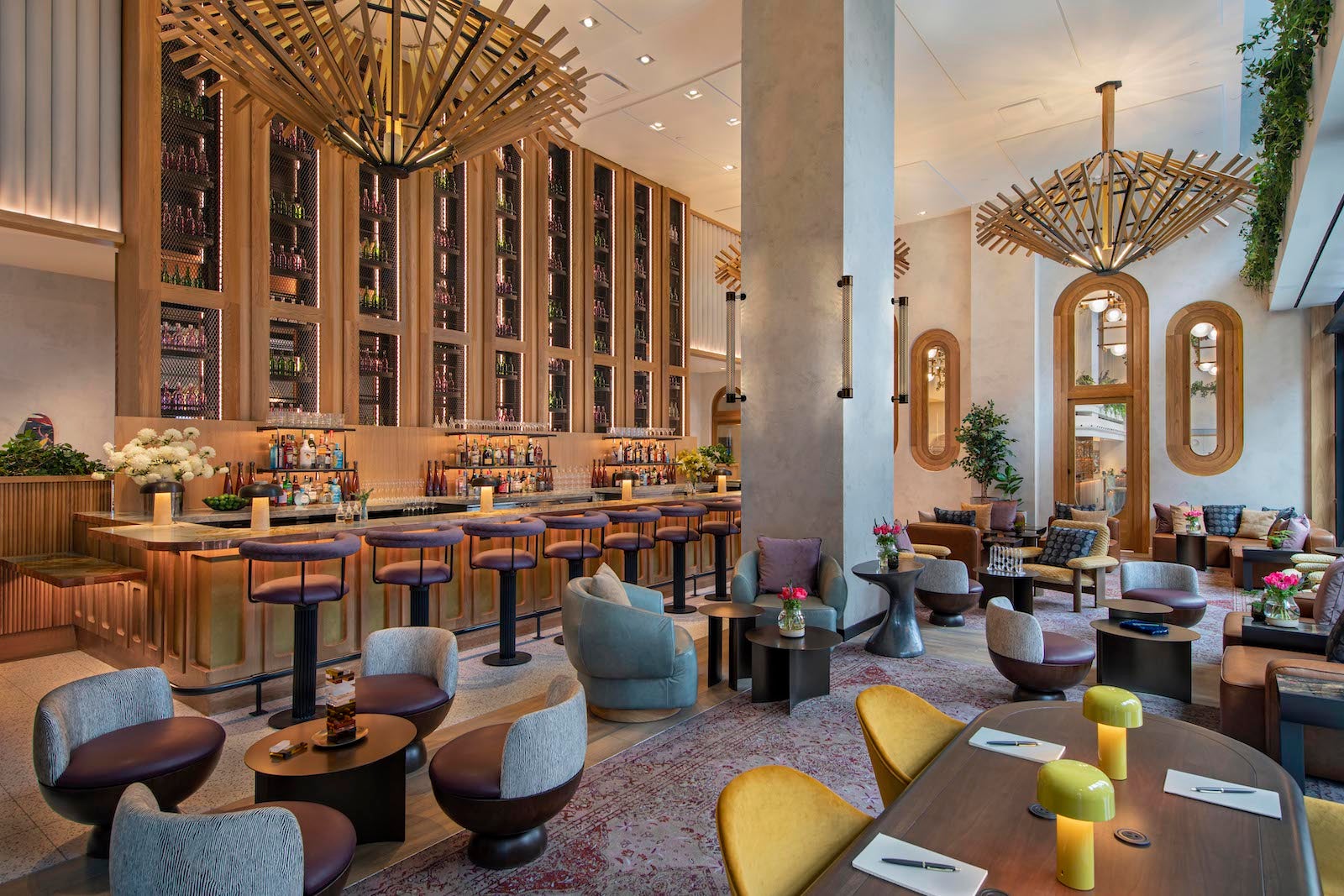 The interiors, designed by San Diego-based Basile Studio in conjunction with Lightstone Design Studio, are bright, airy and full of attractively mismatched patterns. Adding to the glitzy vibe are textures and a hodgepodge of furniture such as curvaceous, cushioned armchairs, large co-working tables with plentiful power outlets and even a floor-to-ceiling (literally it wraps up onto the ceiling) art installation by Rare Culture made of Crayons that recreates a moody and showstopping panorama of the Williamsburg Bridge.
In the lobby, an amalgamation of industrial elements like stark, concrete walls contrasted by light-colored wooden accents feels perfectly in tune with this particular Brooklyn neighborhood. The lobby lounge, Bar Bedford, features a series of 20-foot motorized liquor risers (inspired by New York's storied Automats, a precursor to vending machines that served hot meals in coin-operated boxes in the days before fast food) that can hold up to 1,500 bottles. And in the warmer months, the windows along the front facade of the hotel can open up so the bar and coworking space can spill out onto Bedford Avenue, Williamburg's main strip.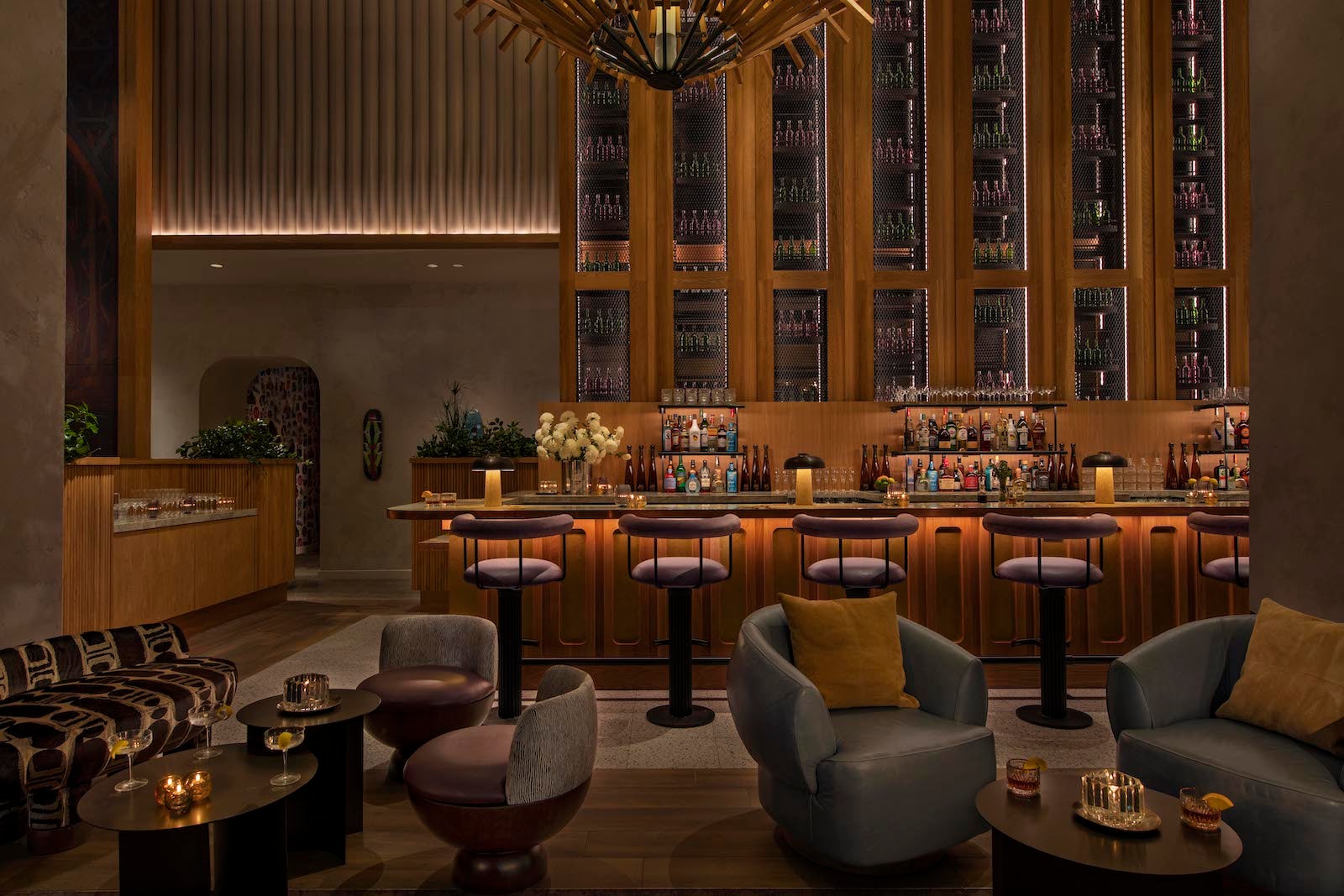 Instead of awkwardly checking into your room at the bar or with a bouncer-like agent standing at a podium, which is the norm at many other Moxys, automated check-in counters are smartly placed to the side of the main entrance.
Speaking of checking in, the 216 rooms are smart and efficiently laid out, but offer a much more elevated design spine than at other Moxys. For me, the highlights of the rooms included beautiful showers and bathrooms with glassy-green tiles; an innovative, industrial take on the brand's signature-peg board walls, which often act as open-air closets; a fun play on NYC's iconic Greek takeaway coffee cups serving as water cups by the sink; and excellent views of the Williamsburg Bridge through huge windows.
For groups traveling together, there are rooms with four bunk bed-style sleeping compartments that, despite the room's limited size, still didn't feel cramped.
To manage its food and beverage outlets, Lightstone brought in Bar Lab Hospitality, the folks behind Broken Shaker, with locations in New York, Miami, Los Angeles and Chicago. The hotel's signature restaurant is Mesiba, serving chef Eli Buli's menu of seasonal Israeli and Levantine cuisine in a Bauhaus-inspired dining room (perhaps a nod to Tel Aviv's famous buildings from that era).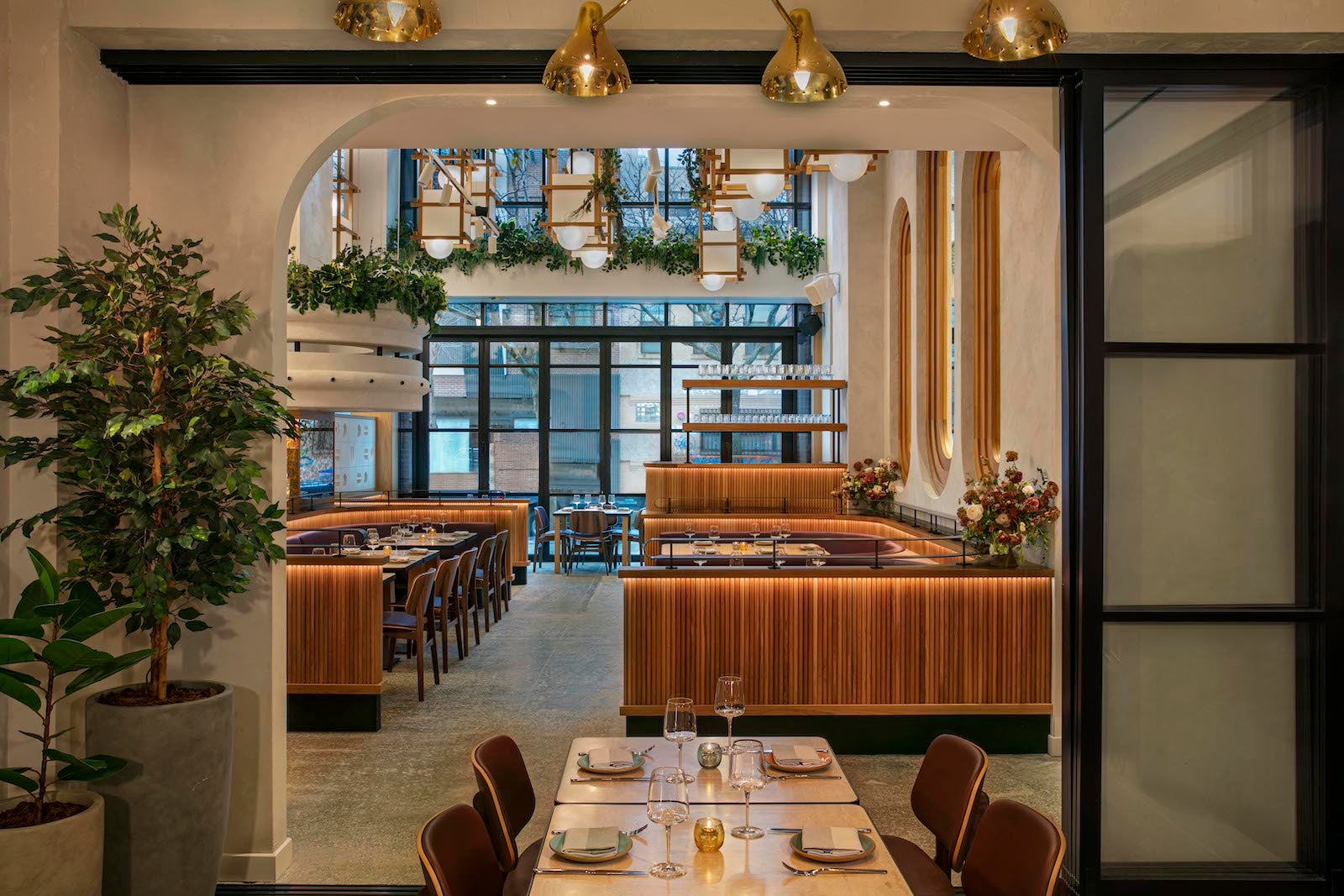 But for me, the real star of the show is the rooftop bar and lounge, LilliStar, set to open in the spring. After seeing the Australian beach-inspired bar that has indoor and outdoor seating areas, I'm calling it: LilliStar will be one of New York's new "it" bars based on its sweeping views of Manhattan alone. LilliStar will serve tropical cocktails infused with fruit and Southeast Asian spices, as well as large, group-friendly drinks to share with the table.
And at the hotel's club, Jolene, inspired by Dolly Parton (I'm a Dolly superfan, so having this on my block might be a life-changer for me), an innovative sound and visual system will bring music to life by incorporating a beat-automated light show in the ceiling of the retro-skewing venue that's supposed to have the same slightly more laid-back energy of Williamsburg compared to Manhattan's buzzy night clubs. Behind Jolene is "The Space Invaders," the trio who made Club Space one of the hottest places in Miami.
Coincidentally, Lightstone's latest Moxy, the Moxy Lower East side, sits just across the river on the Manhattan side of the Williamsburg Bridge. Having spent some time in that recent opening's chic and moody public bars and restaurants, it was there I started to realize that Lightstone really understands what the modern traveler wants out of a contemporary hotel — and how to do it in a way that fits nearly perfect in the neighborhood each hotel calls home.
Seeing how the Moxy Lower East played so well off the grungy, all-around sceney vibes of the Lower East Side, I was curious before my tour to see how it would translate to Brooklyn.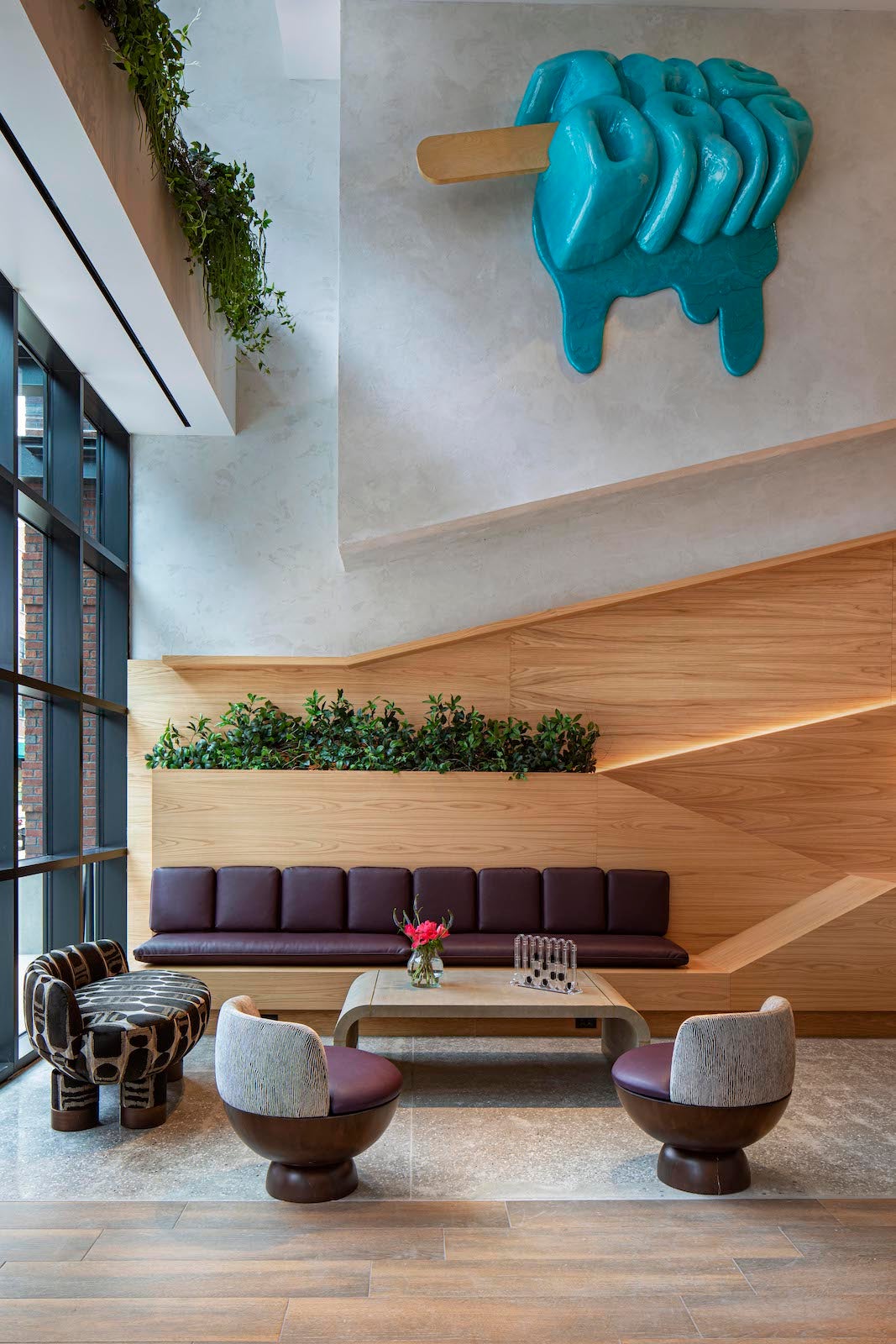 Before meeting with Hochberg in Williamsburg, he laid out his vision of the Moxy Williamsburg for me — and it sounded like the teams working on this project really understood the neighborhood. And now, after seeing it for myself, it feels like they got it all right, from capitalizing on some of the best views of the city to the cheeky wallpaper of monkeys holding vodka bottles that I'd consider putting in my own home.
But once the hotel has had some time to work out its opening nerves and get past the initial learning curves that come with debuting a new hotel, I'll get in for a full review to see if it actually lives up to the impressive design standard it already set for itself.
To check it out for yourself, cash rates start around $199 a night or 40,000 Marriott Bonvoy points. And, as I've told my friends, if you're coming to visit, my couch is officially closed for business.