Universal has been a fixture in the world of monster movies since the 1930s, bringing fictional creations like the Wolf Man, Dracula and the Invisible Man to the big screen.
These famous monsters have been a mainstay at Universal Orlando Resort since the park opened in Orlando in 1990, showing up in attractions like the "Horror Make-Up Show" and the Revenge of the Mummy roller coaster.
It only makes sense that Universal would drive full-throttle into the world of haunted attractions by turning its entire park into one. Universal Orlando's Halloween Horror Nights began as a three-night event in 1991 (hosted by none other than Beetlejuice himself) with just one haunted house.
Now in its 32nd year, Halloween Horror Nights will run for a record-breaking 44 nights from Sept. 1 through Oct. 31, and if you want to get the socks scared right off your feet, you have to plan ahead. Popular dates, including opening weekend and Halloween, sell out early. You need to get your tickets now if you don't want to miss out.
Related: Final destination: 7 horror movie filming locations to visit this Halloween
Throughout the event's two-month run, guests can experience a more sinister side of Universal Orlando. The event is held in the dark of night after Universal Studios Florida closes to daytime guests, and the haunted houses, outdoor scare zones and live shows serve as a terrifying counterpart to the family-friendly fun that Universal is otherwise known for.
There is no minimum age requirement for Halloween Horror Nights, but due to the intense nature and extreme gore, the event is not recommended for children under the age of 13. If you are considering bringing kids, use your best judgment on whether or not they are ready for this event.
Related: I'm terrified of horror films and braved Universal's Halloween Horror Nights as a first-timer — here's how scary it really was
Here's everything you need to know before exploring the darker side of Universal Orlando's Halloween Horror Nights.
2023 Halloween Horror Nights dates
This year, Halloween Horror Nights will take place on select nights between Sept. 1 and Oct. 31. The event is open every night of the week except Mondays and Tuesdays. The only exception is Oct. 31, which does fall on a Tuesday this year.
The event begins at 6:30 every night and typically operates until 2 a.m.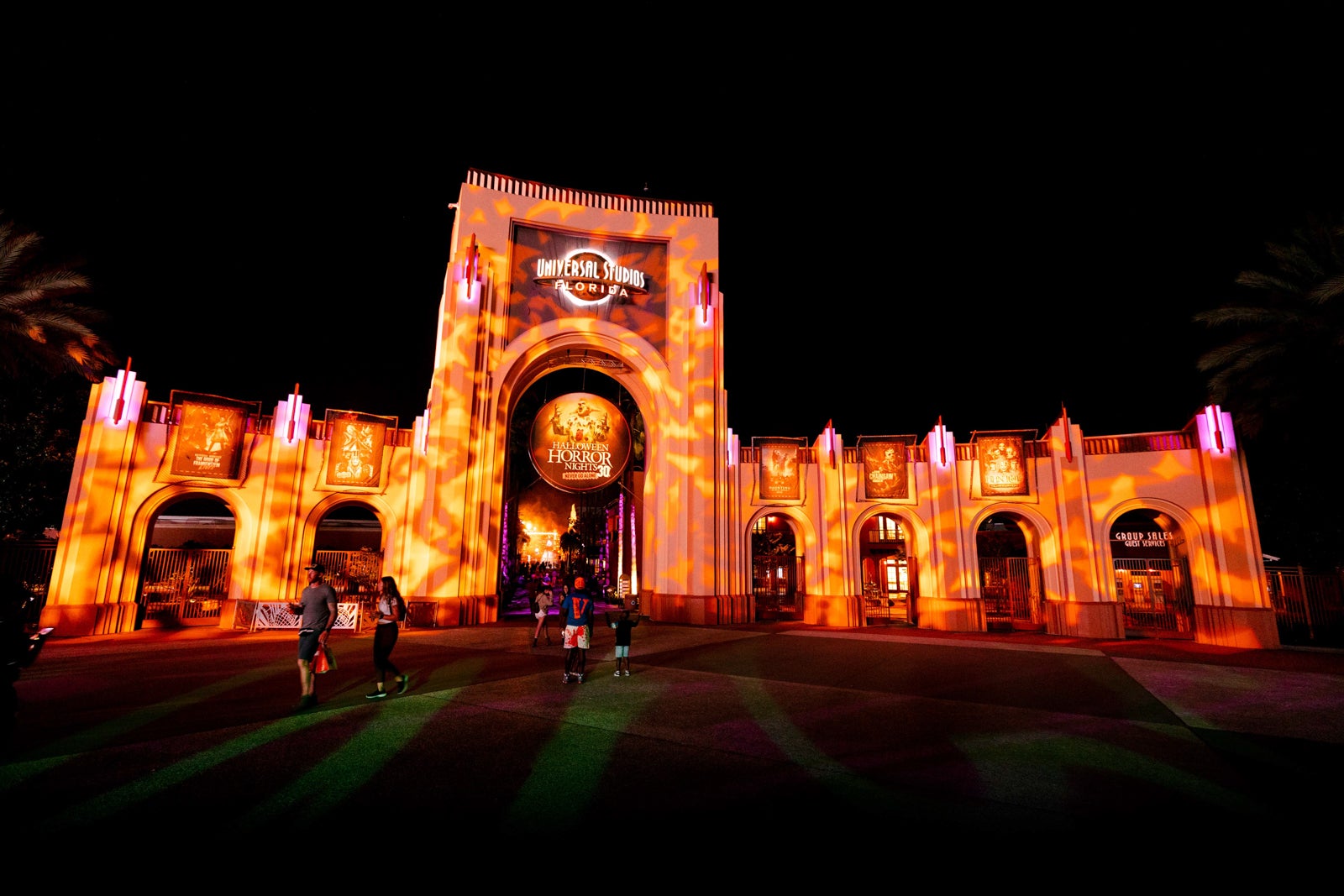 Haunted houses
There will be 10 haunted houses at Universal's Halloween Horror Nights this year, though only one has been confirmed so far. Houses are usually a mix of original concepts dreamt up by the menacing minds at Universal and pop culture horror favorites like "Halloween," "Stranger Things" and "Beetlejuice."
The houses are scattered throughout the park. The Universal Orlando app includes a map of where they are in the park. Some are in overflow queue areas for rides, some are in real, working soundstages, and others are in large tents that don't look nearly as scary on the outside as they do on the inside.
So far, Universal has only announced one of this year's houses — a house inspired by everyone's favorite killer doll, Chucky from the "Child's Play" franchise.
Scare zones
In addition to the haunted houses, Universal creates a series of outdoor scare zones throughout the park. This year there will be five scare zones, and there's pretty much no way to get around the park without facing the scare zones head-on.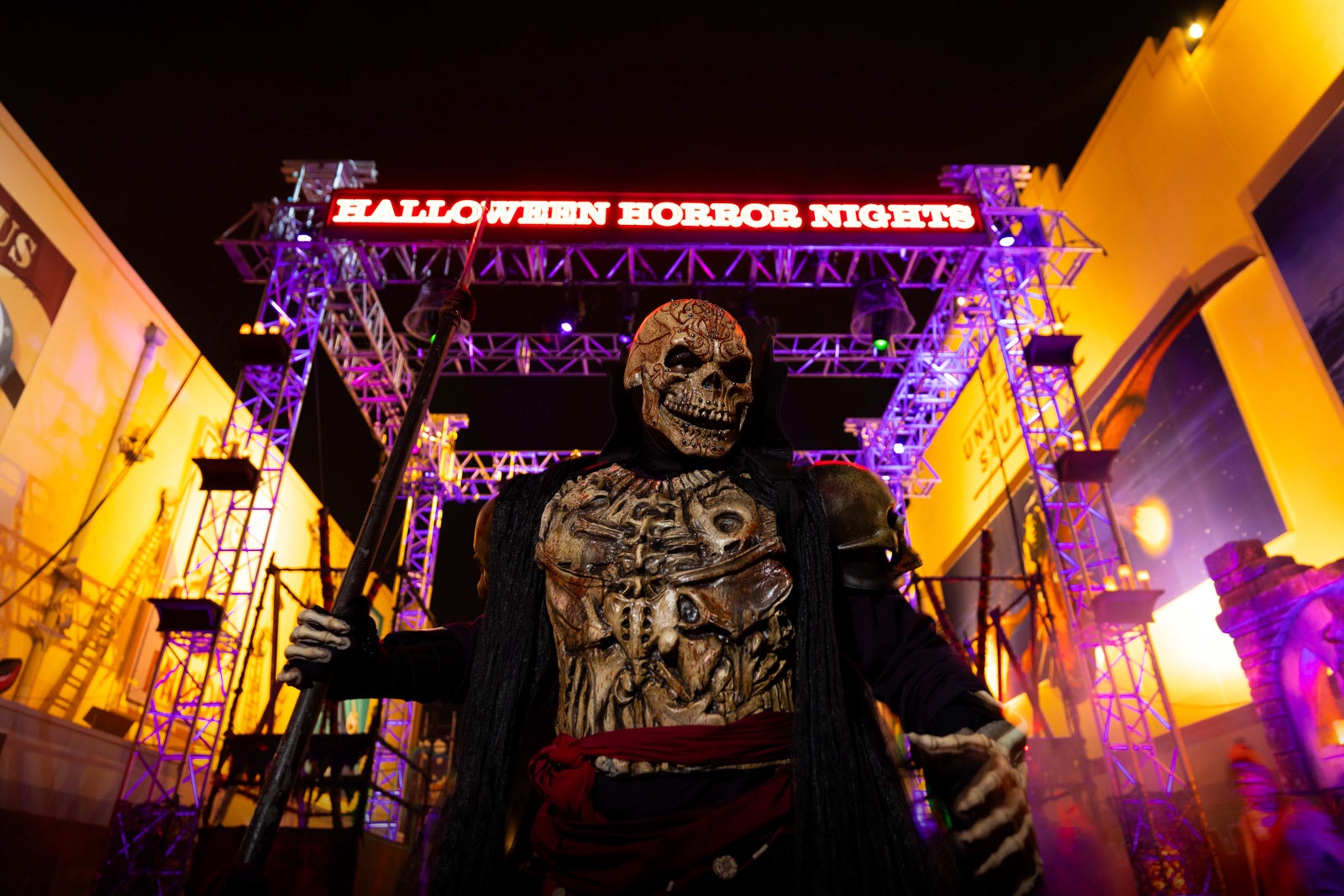 "Scareactors" (it rhymes with "characters") roam around the scare zones looking for unwitting victims to frighten, but they aren't as scary as the houses. They are more likely to shoot you an evil glare or follow behind you a bit too closely. However, they also won't hesitate to rev a chainsaw right in front of you if they think it'll make you jump.
Like the houses, each scare zone has a different theme, though none have been announced yet for this year's event.
Tickets
Single-night tickets for this year's event start at $79.99 per person, plus tax. Halloween Horror Nights is a separately ticketed event, so this doesn't get you daytime access to the parks.
If you do have a daytime ticket (or annual pass), Universal usually keeps small sections of the park open where you can have a drink and bite to eat while they "flip" the park for that night's festivities.
You'll have the opportunity to be one of the first in line for the houses when the park reopens for the evening. In past years, you could also pay a bit extra to add on a "Scream Early" pass to get into the parks before the gates open to other HHN guests.
Related: How to use points to save money at Universal Orlando
If you plan on visiting multiple times throughout the event, Universal also offers multinight passes.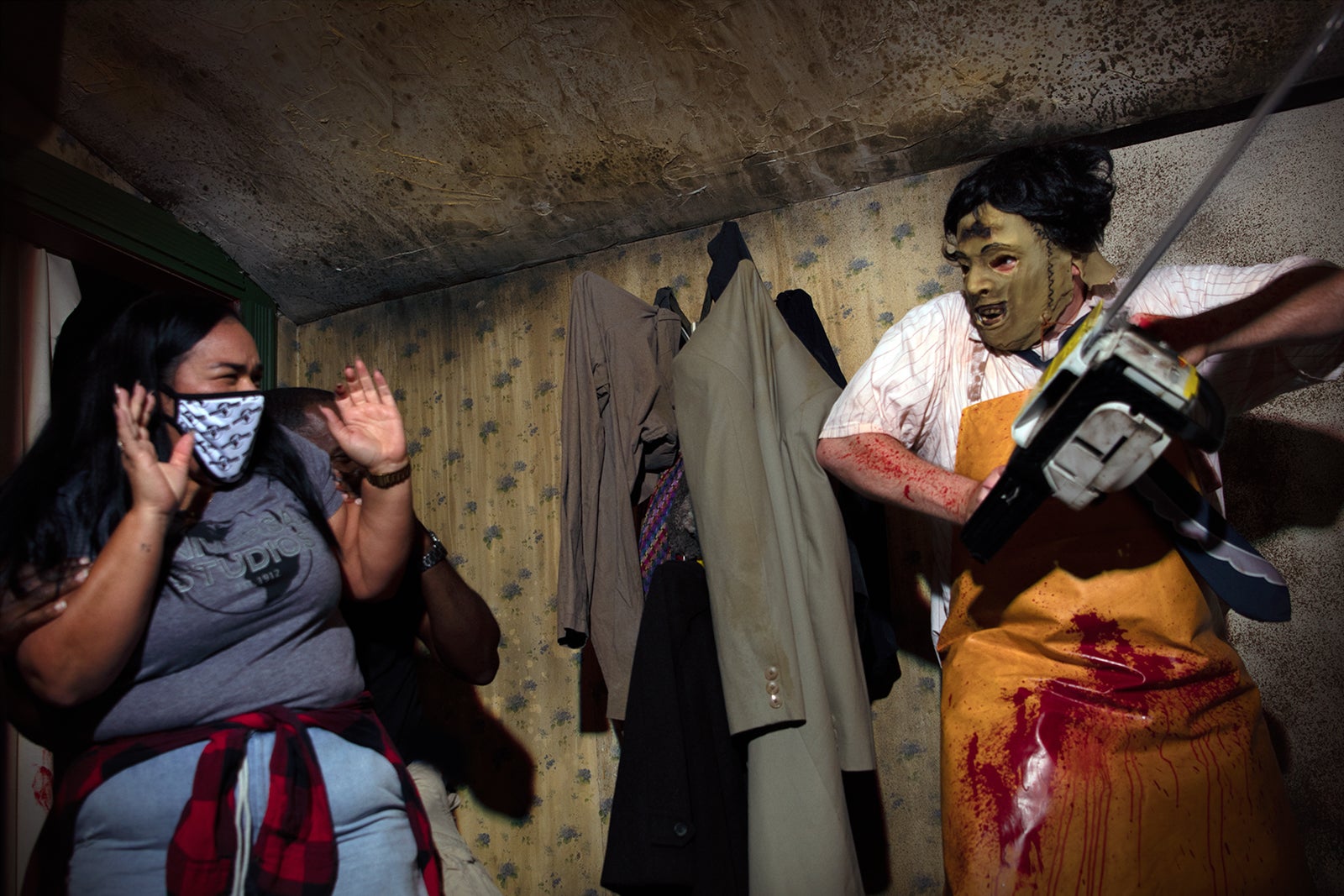 If you do want to enjoy the parks during the day and at night, vacation packages are available that include hotel accommodations, park tickets and admission to Halloween Horror Nights. You can even use your hotel keycard to access a dedicated event entrance only for hotel guests.
Upgrades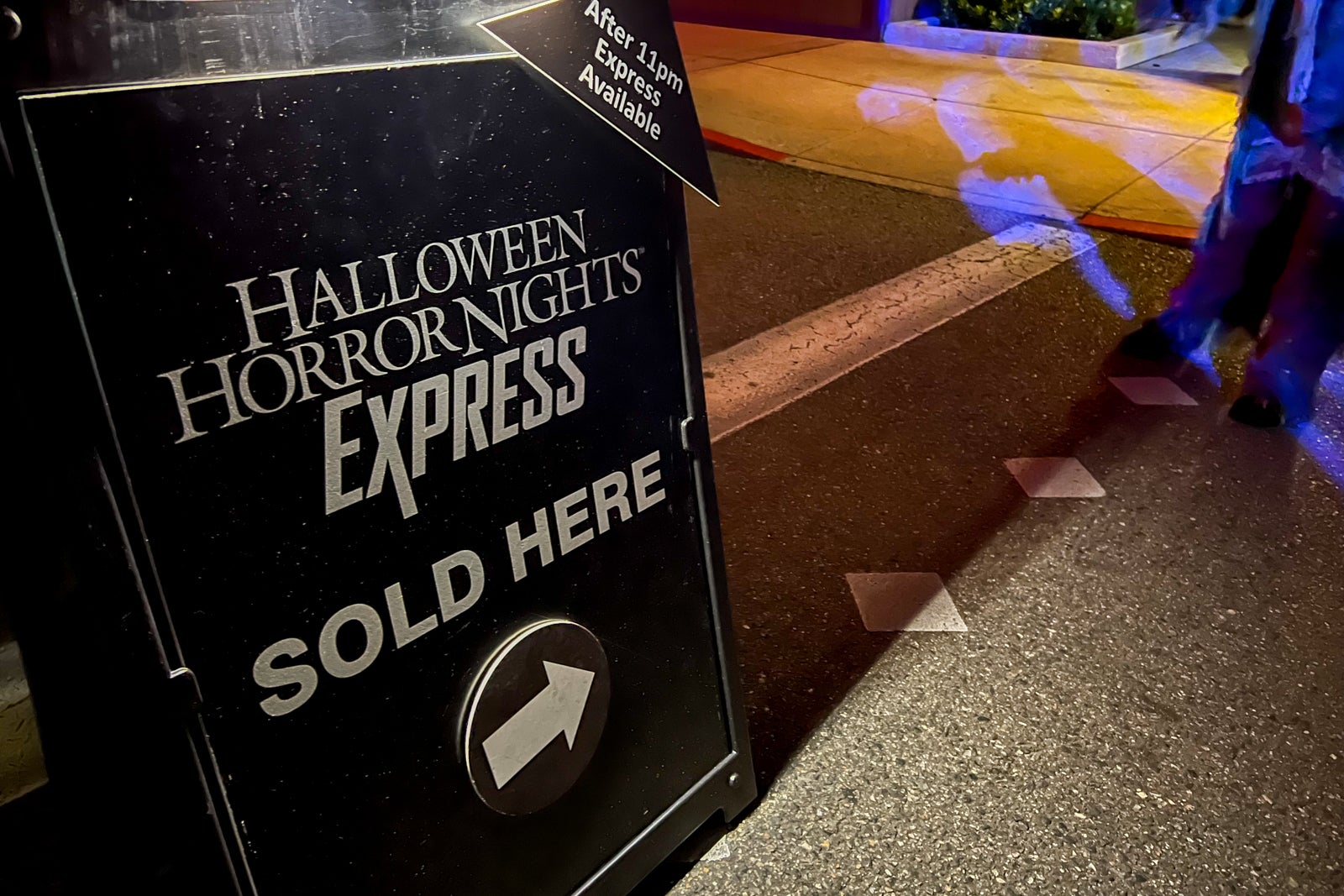 Universal offers a variety of add-ons and upgrades for Halloween Horror Nights. These include:
Halloween Horror Nights R.I.P. Tour: This is Universal's play on a VIP tour for Halloween Horror Nights. Your expert guide will lead you to a priority entrance at each house, sharing their in-depth knowledge of the event along the way. You'll also get access to a pre-tour reception with complimentary food and a cash bar, unlimited Universal Express skip-the-line ride access and a commemorative tour credential, lanyard and pin. Group and private tours are available, and pricing begins at $299.99 per person, which doesn't include the cost of your Halloween Horror Nights ticket.
Halloween Horror Nights Behind-the-Screams: Unmasking the Horror Tour: Two types of people would benefit from the Unmasking the Horror tour. Those who are too scared to visit the haunted houses at night and those who want to dive deeper into the detail of the houses. This is a lights-on tour that takes place during daytime hours. You can choose to tour three or six haunted houses, and prices start at $119.99 per person, plus tax, and $169.99 per person, plus tax, respectively. Regular theme park admission or Halloween Horror Nights tickets are not required for this event.
Halloween Horror Nights Express Pass: Universal also offers an HHN Express pass that lets you skip the standby line once per night at the haunted houses and select attractions, similar to the daytime Universal Express pass. Wait times for the haunted houses can climb as high as 90 minutes on busy nights, so this add-on is well worth the money. Pricing starts at $109.99 per person, plus tax.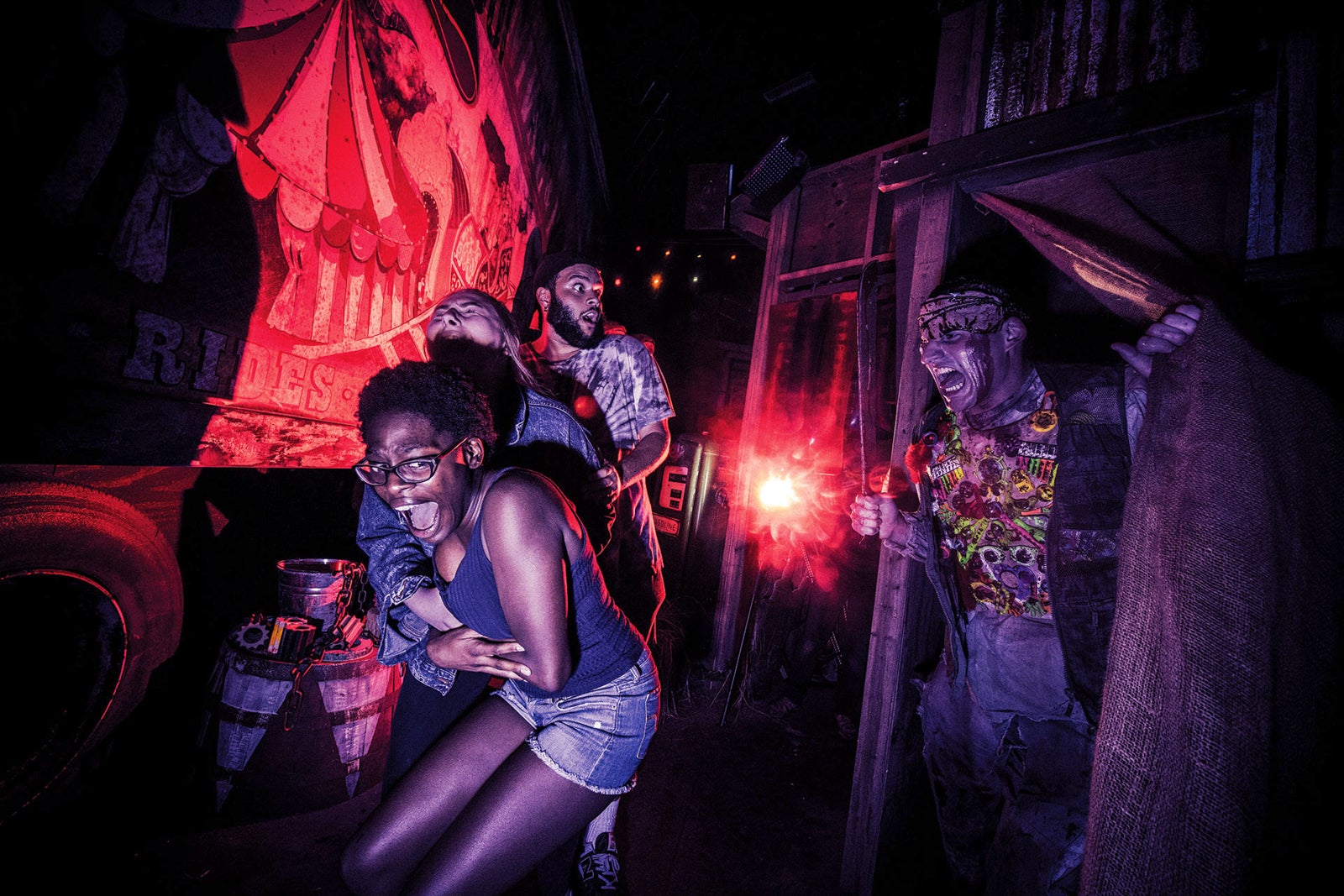 Related: Best credit cards for Disney and Universal vacations
Tips
Live shows
When we say that Halloween Horror Nights takes over the entire park, we mean it.
Aside from the haunted houses and scare zones, there are two live shows, themed food and drink booths and exclusive Halloween Horror Nights merchandise. The Universal Orlando app includes times for live shows. You typically want to arrive at least 30 minutes prior to showtime to get a good spot.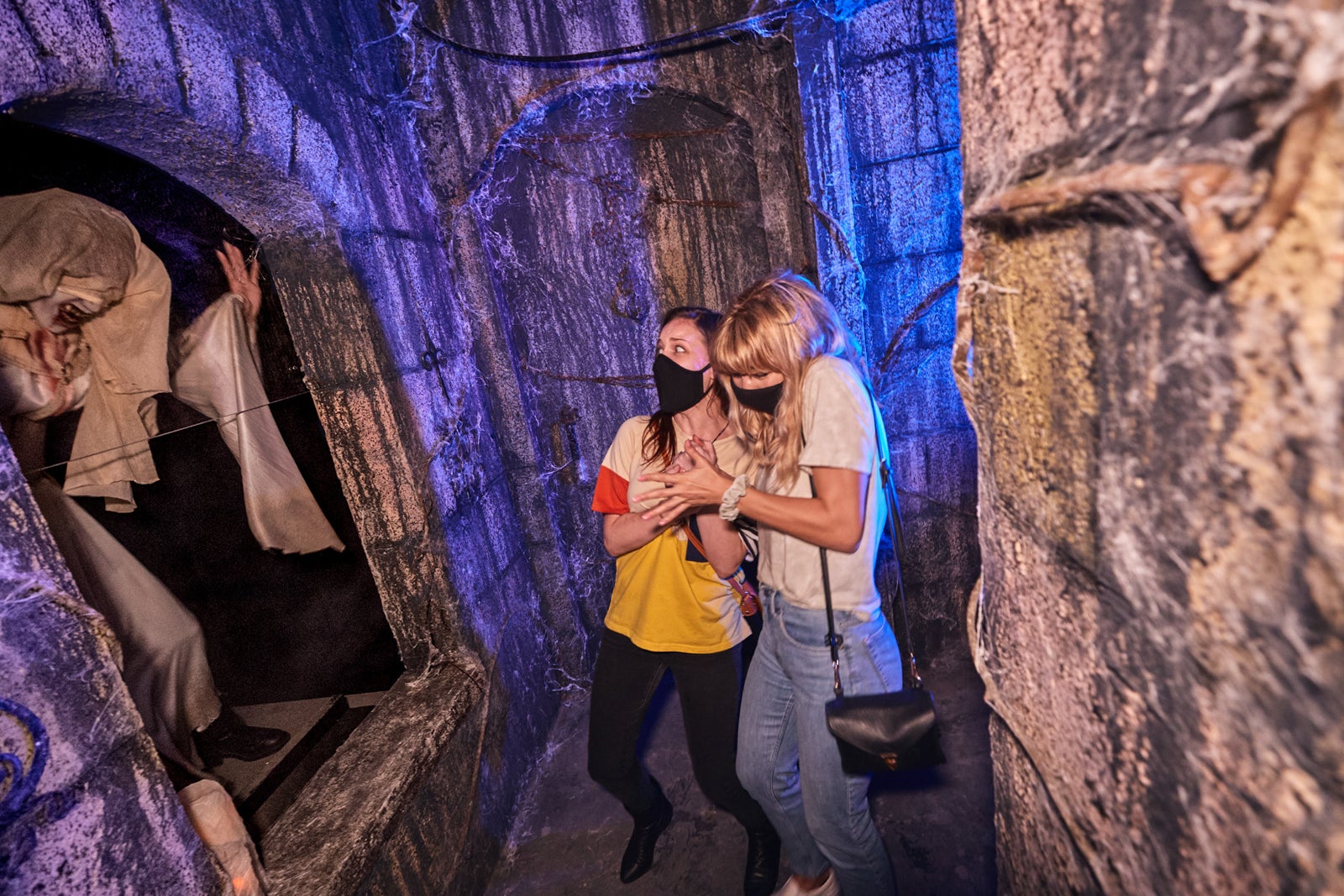 How to get in early
If you have a daytime ticket, annual pass or the "Scream Early" add-on and a ticket for Halloween Horror Nights, you can typically take advantage of what is unofficially called "Stay and Scream." When the park closes for the day to regular guests, you can stay inside the park in designated "holding areas" to be one of the first in line for the haunted houses once the event starts for the evening.
Tips for scaredy cats
If you typically don't do the haunted house thing, you may be wondering if you should even visit Universal Orlando during Halloween Horror Nights. If you aren't quite sure if you can handle it, there are still ways to enjoy the event.
As we mentioned, the outdoor scare zones aren't quite as scary as the houses, so it's a good way to tip-toe into the event. You can also spend your time playing carnival games, eating themed foods, riding roller coasters and watching the shows if you need a break from the houses.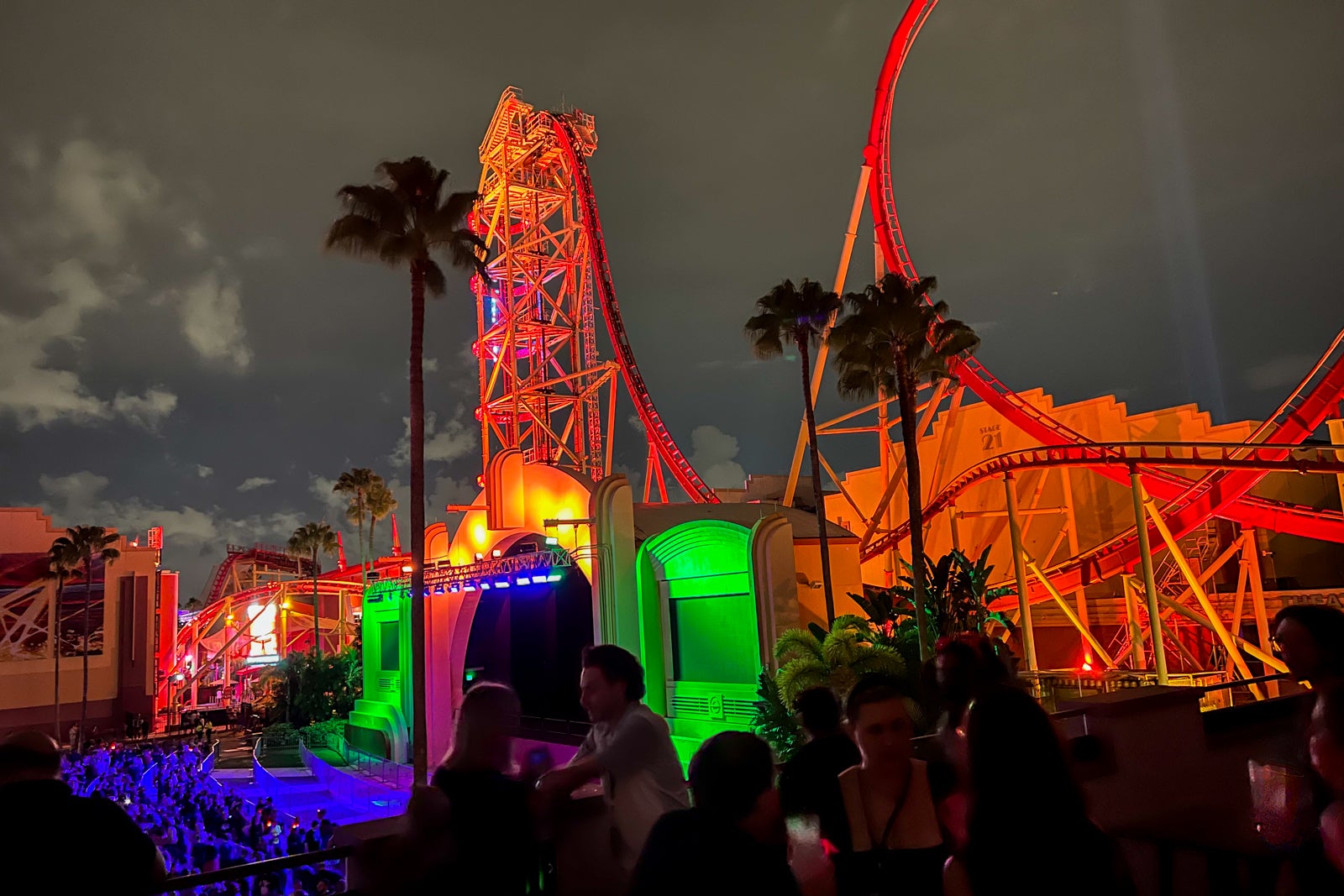 You can also book the aforementioned "Behind the Screams: Unmasking the Horror" tour to see the houses during the day with the lights on and without the jump scares. Seeing the houses with the lights on and getting the lay of the land, so to speak, may even give you the courage you need to visit again at night.
Halloween Horror Nights merchandise
Most of the merchandise is in the Halloween Horror Nights Tribute Store near the Revenge of the Mummy coaster. The store itself is a themed attraction, with multiple rooms filled with props and decor that make it feel like a haunted house without jump scares.
You can purchase the requisite hats and T-shirts, along with specialty masks, art and memorabilia. There's also an entire room dedicated to spooky treats.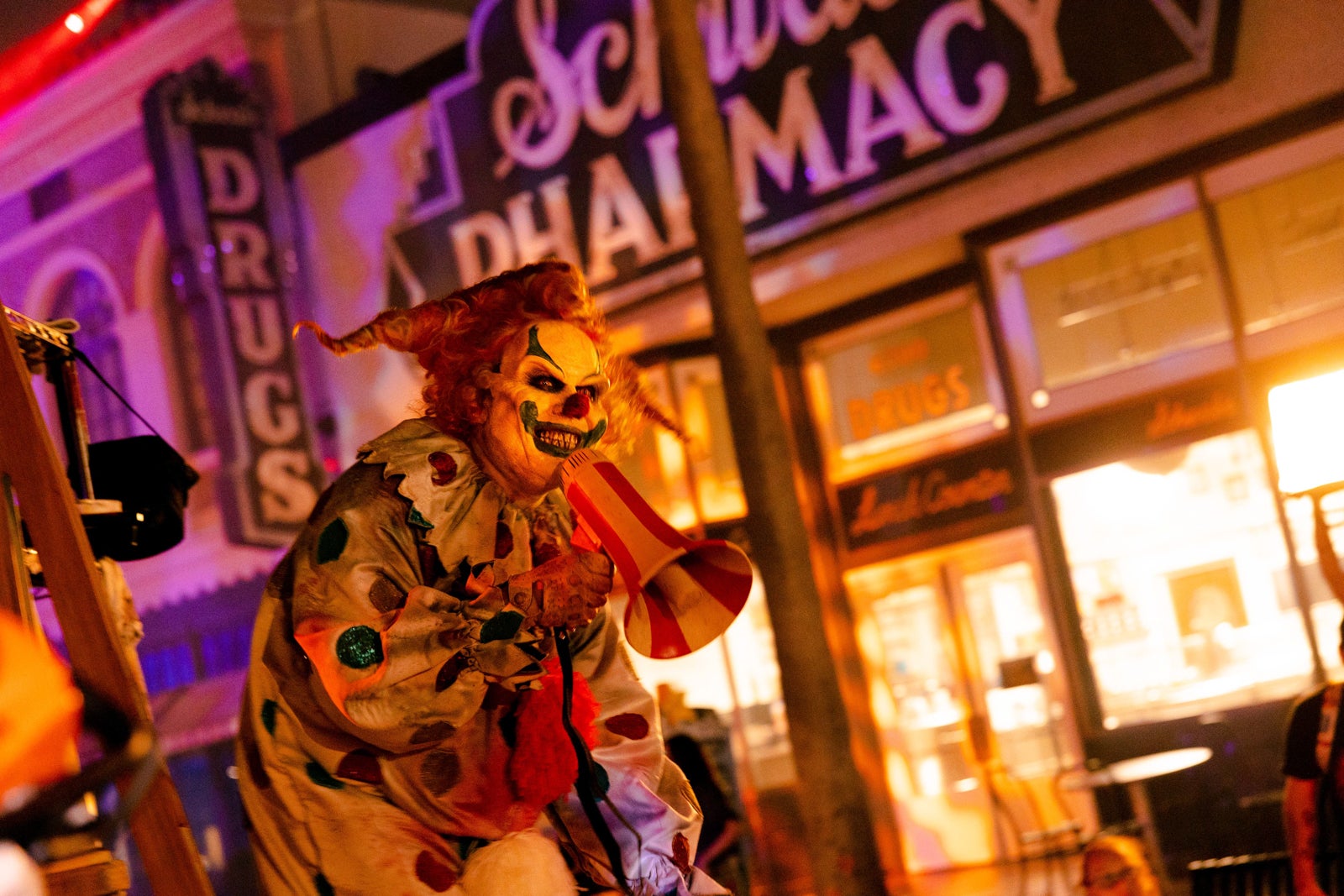 Original characters
One of the most interesting things about Halloween Horror Nights is the original characters, which are well developed and seem to find their way into the event year after year.
A knowledge of these characters and the tangled web of lore surrounding the event isn't necessary to enjoy it, but there are a number of articles on Universal Orlando's blog that go "behind the screams" of the event if you want to learn more.
We'll report back after the event … if we survive.