Less than a year from now, there will be a rare, total solar eclipse across a wide swath of the U.S.
On April 8, 2024, the moon will pass directly in front of the sun, creating darkness in the afternoon sky for more than four minutes in some locations. That places it in an even better category than the eclipse that some parts of the country saw in 2017. Adding to the likely popularity, it will be the last full solar eclipse in the U.S. for two decades, according to NASA.
The best viewing will be in the so-called path of totality, where the moon completely blots out the sun for a period of time. The band where that happens will run from Mexico through Texas, including Dallas-Fort Worth, in addition to parts of Arkansas, Oklahoma, Missouri, Illinois, Ohio, Pennsylvania, New York, Vermont and Maine. It'll hit New Brunswick, Canada, before exiting North America. There are scheduled to be portions of 13 U.S. states in the path of totality.  
NASA will set up group viewing centers in three prime locations: Kerrville, Texas; Indianapolis; and Cleveland.
If you want to see the last total eclipse in the U.S. for the next couple of decades, here's our guide to some of the best spots to watch it and where to stay. A warning, though: You'll need to book hotels as soon as possible, as some are already sold out.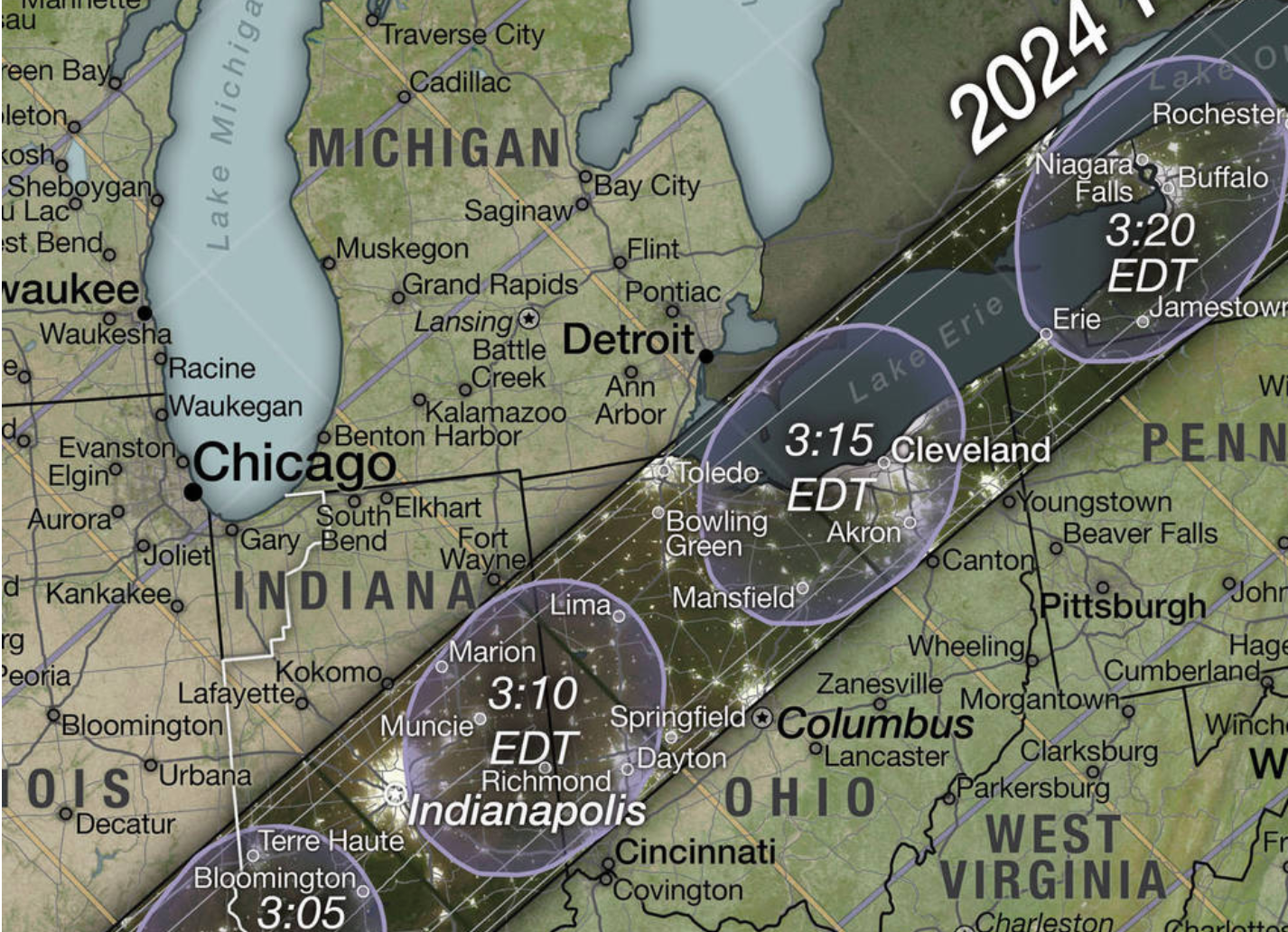 Best places to see the total solar eclipse in 2024
The best way to see the total solar eclipse on April 8, 2024, is to go somewhere there is an undisrupted viewing area, the longest amount of totality and clear weather. As you can see from the NASA map below depicting the path of the 2023 eclipse, a few miles in either direction can dramatically change the duration of your eclipse experience and whether you're still in the path of totality.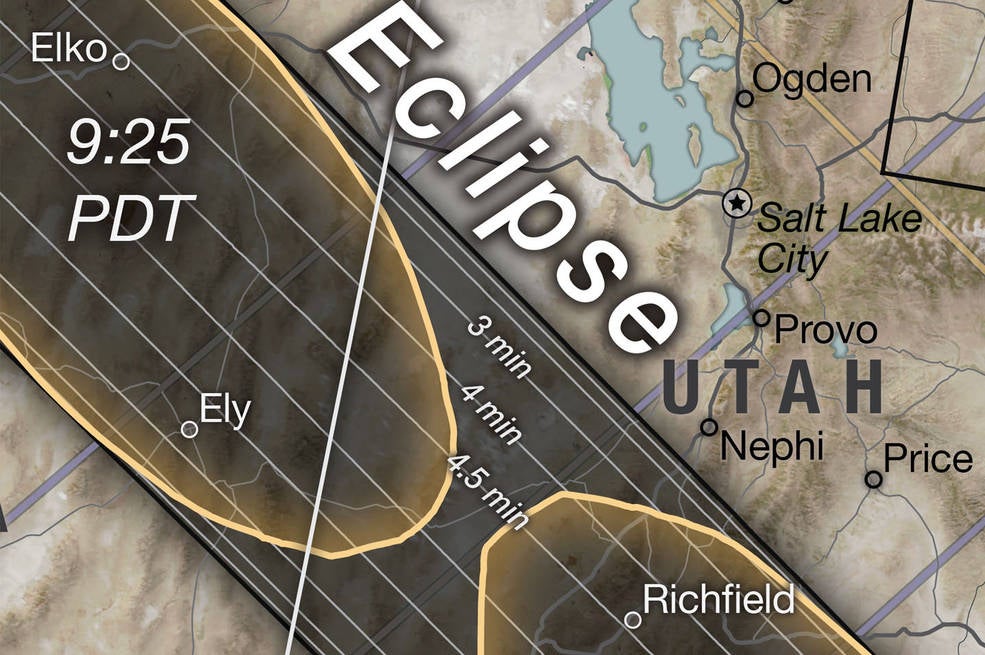 Naturally, it's not possible to predict the weather a year in advance, but some areas have a higher chance of unfavorable weather in early April than others. Based on historical averages, the northern viewing states have a higher chance of cloud cover that day than the southern U.S. viewing areas, according to Fox Weather.
If you see the weather trending against you on that day in your original position, we recommend waking up very early and driving to another spot in the path of totality (assuming you can get to clearer weather within a few hours by car).
Should you want to stay in a hotel somewhere in the path of totality for the 2024 solar eclipse, we recommend booking as early as possible.
Many hotel chains open their booking calendars about 11 months in advance, meaning now is the time to start looking. Rates right along the path of totality, especially in some of the more remote areas, are likely to be quite high. You're likely to encounter minimum-stay requirements — some of which can be as long as four days — as hotels look to make as much money as possible from this four-minute event. If you can find standard award availability using hotel points, you may be able to score a really good deal, assuming the hotel doesn't block out awards for a special event.
Flight schedules typically open for booking about 11 months in advance, so you can start planning your flights by early to mid-May if you need to fly to view the solar eclipse.
Indiana
The best areas to see the total solar eclipse in Indiana are in Indianapolis and nearby Bloomington (about an hour south). These spots will have the longest amount of time – about four minutes – to view the eclipse. The total eclipse is slated to begin at 3:04 p.m. EDT in Bloomington and 3:06 p.m. EDT in Indianapolis.
If you choose Indianapolis as your viewing spot, the city will celebrate with a full weekend of films, lectures, games, live entertainment and more between April 5 and April 8. Ideal viewing spots include White River State Park, the Indianapolis Motor Speedway and the grounds of Newfields — home to beautiful outdoor gardens and the Indianapolis Museum of Art.
If you are traveling from out of town, Indianapolis has a large selection of points hotels to choose from, including:
Crowne Plaza Indianapolis Downtown Union Station, where you can stay in a vintage train car room.
Conrad Indianapolis, a luxury hotel in downtown Indy.
JW Marriott Indianapolis, near White River State Park (an official viewing area for the eclipse).
Residence Inn Indianapolis Downtown on the Canal, for extended-stay accommodations near White River State Park.
In Bloomington, you can find official viewing areas at Lake Lemon, though more will likely be added as the eclipse approaches. You can find points-friendly accommodations near downtown Bloomington at the Courtyard Bloomington and the Hyatt Place Bloomington.
Maine
The whole of Maine typically draws a crowd for eclipses. However, northern Maine appears to be the best spot this time around. If you are considering heading to Maine, book well in advance. Houlton, Rangeley, Jackman, Carrabassett Valley and Baxter State Park are among the top locations in the state.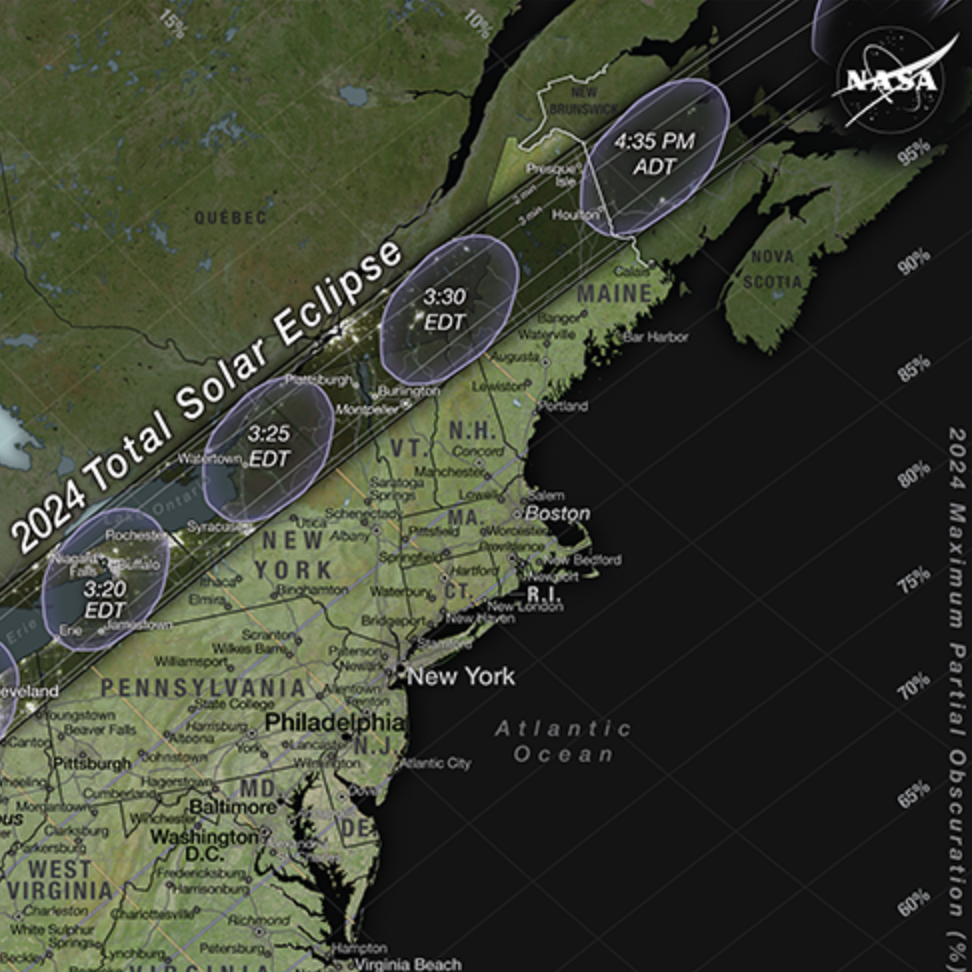 There aren't a ton of hotel options in northern Maine, but you could use a points hotel as a base and drive north to the path of totality. Here are a few hotel recommendations.
Courtyard Portland Downtown/Waterfront.
Home2 Suites by Hilton Bangor.
TownePlace Suites Bangor.
Residence Inn Bangor.
New York
Northern New York will be the place in the state to view the total eclipse, but many hotels are currently showing as unavailable. Still, it doesn't hurt to monitor for availability in case the spot you want (like the Hotel Saranac, Curio Collection by Hilton) opens up for booking.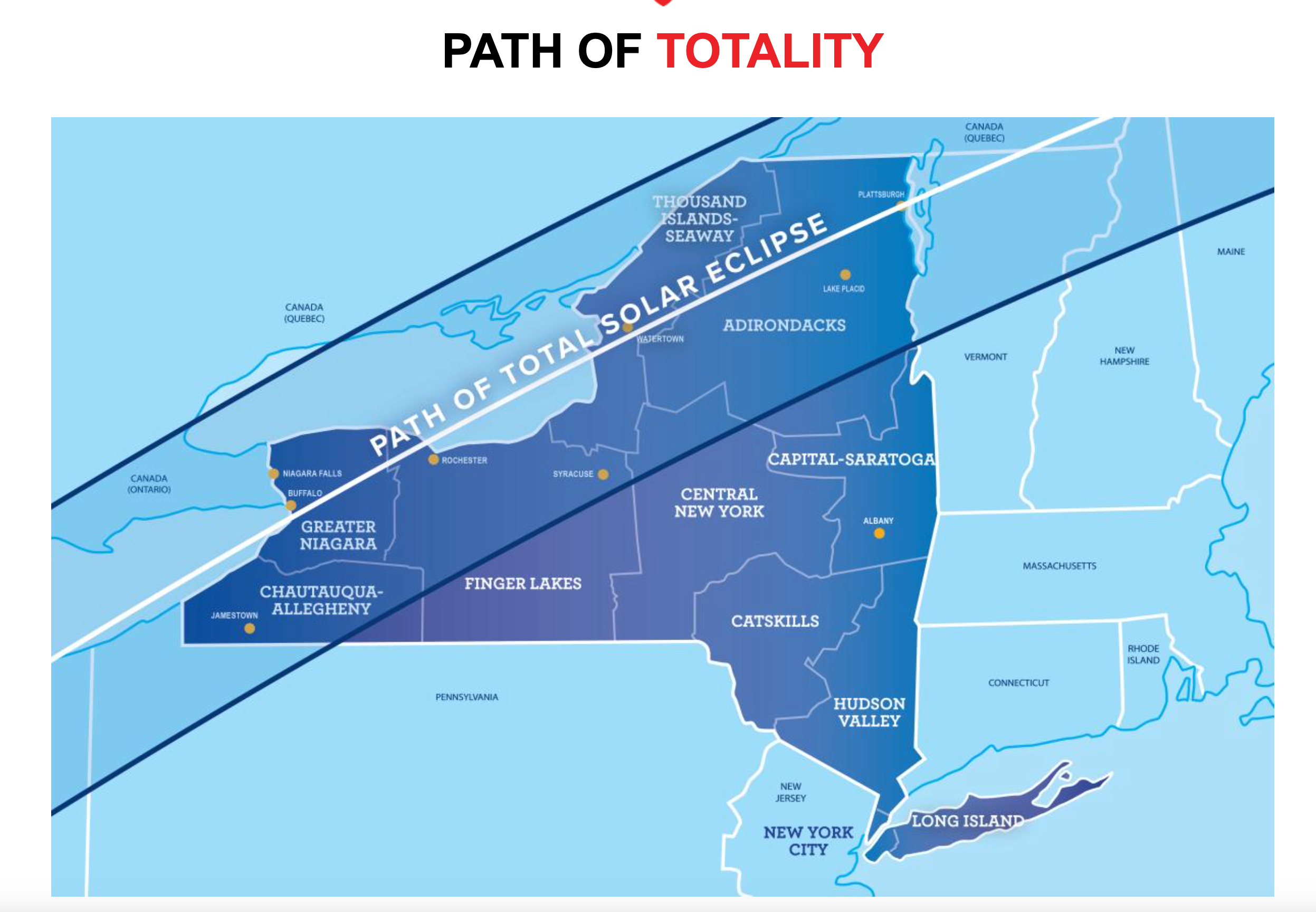 Consider Lake Placid or even right across the border in Niagara Falls for views of the eclipse unbothered by bright city lights or too large of crowds. Buffalo, Rochester and Syracuse are among the larger cities that will have the best views.
Here are some other hotels to consider:
Miraval Berkshires Resort and Spa.
Hampton Inn Watertown.
Marriott Syracuse Downtown.
Delta Hotels Utica (Marriott Bonvoy).
Fairfield Inn & Suites Plattsburgh.
To give you an idea of how strategic you'll need to be with points bookings, I looked at how much the Hyatt Place Niagara Falls was charging for April 8. I had sticker shock: A one-night stay on April 8 costs $1,014. Unsurprisingly, it is not currently allowing World of Hyatt bookings.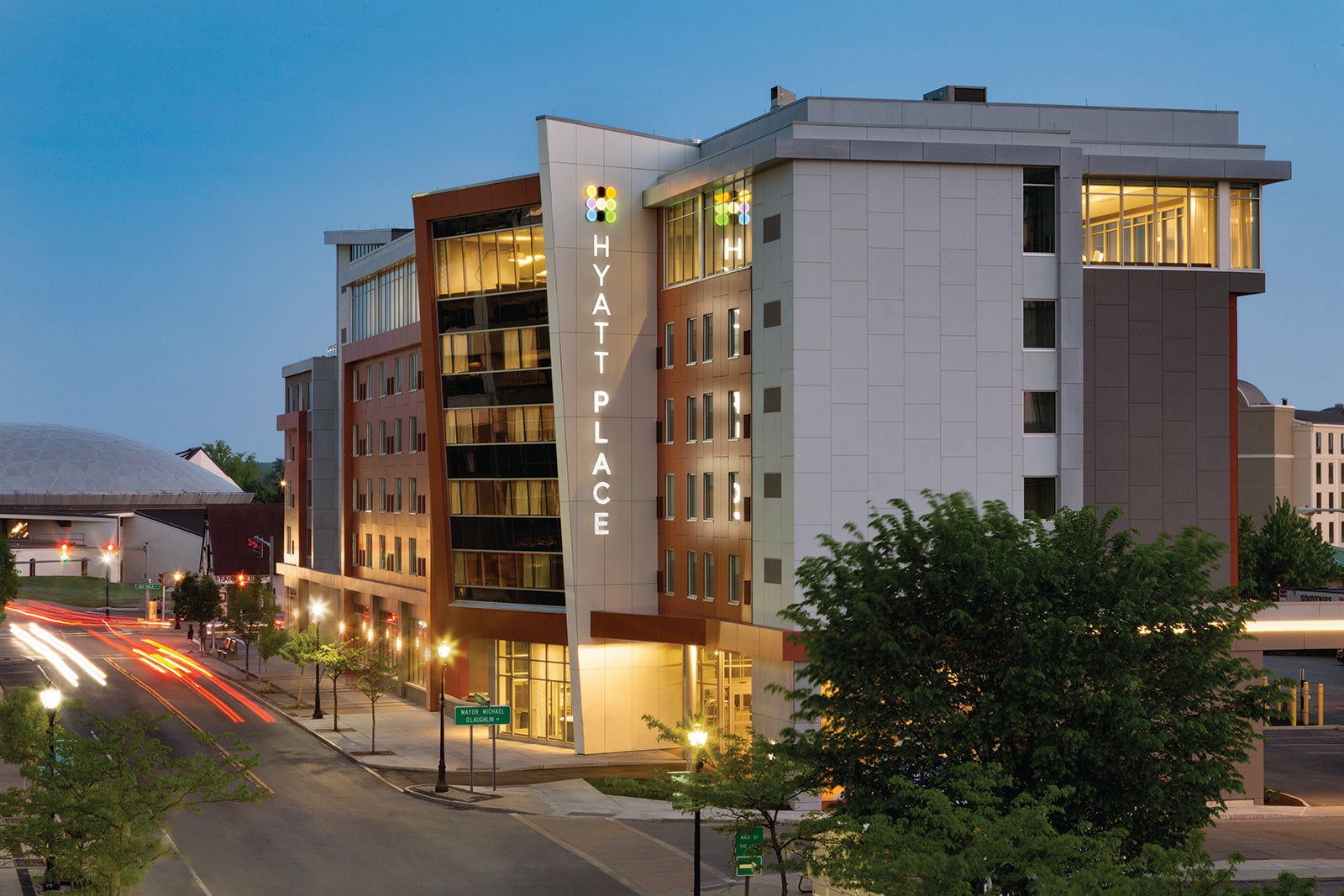 Ohio
This eclipse is a big deal for people in Ohio, as they haven't been in the path of totality for hundreds of years, according to the Columbus Dispatch.
Akron, Cleveland and Dayton are in the path of totality, and Columbus is also relatively close. The state has even created an interactive website to help onlookers find the best viewing spots.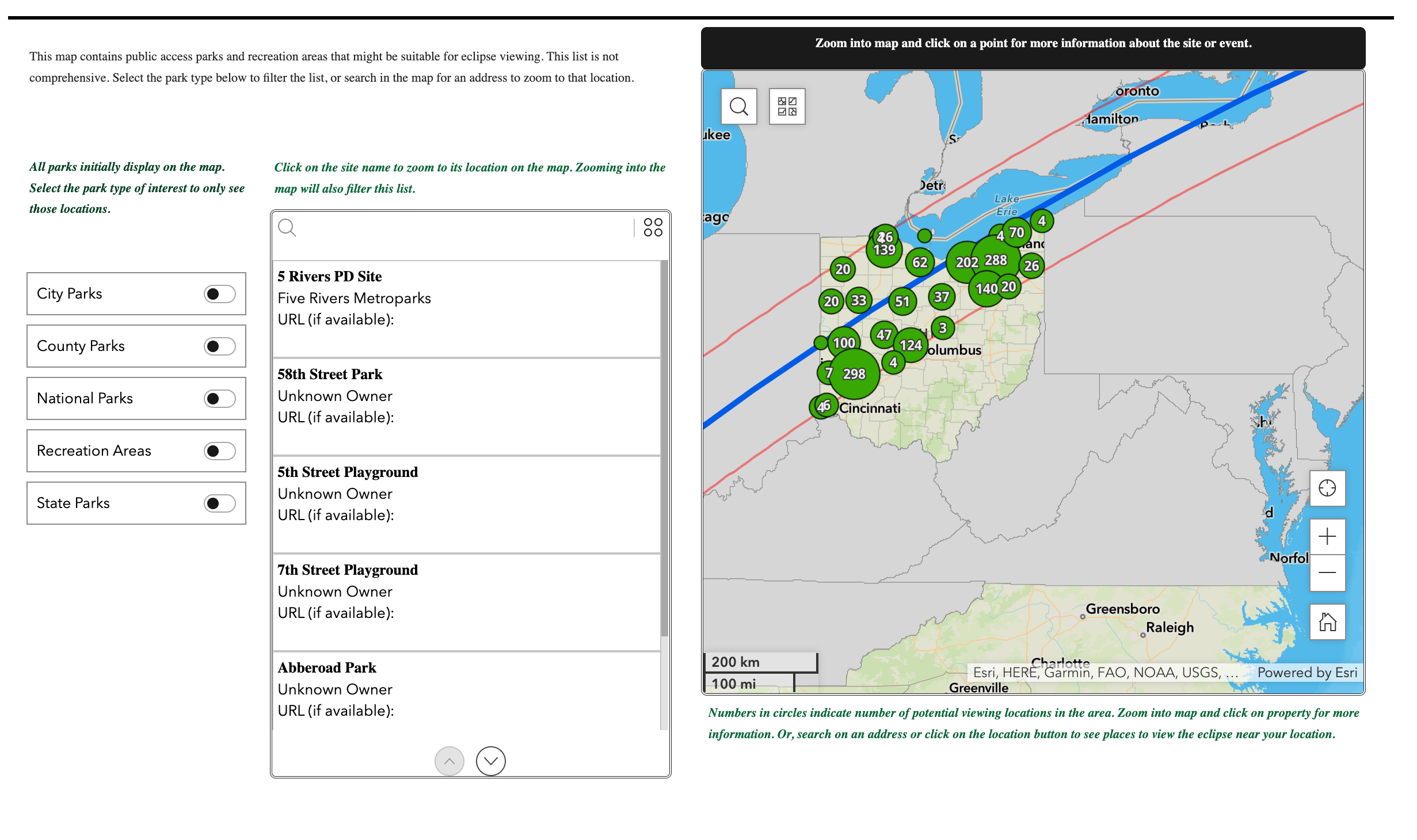 Here are a few points-friendly hotels to consider in Ohio:
Hyatt Regency Cleveland At The Arcade.
Hilton Cleveland Downtown.
Hyatt Place Canton.
Homewood Suites by Hilton Akron Fairlawn.
Residence Inn Cleveland Downtown.
Courtyard Dayton-University of Dayton.
Texas
In the U.S., totality will begin in Texas at 1:27 p.m. CDT. Much of the state will have good views, but Fredericksburg, Kerrville, Waco, Eagle Pass and the southern suburbs of Dallas-Fort Worth are among the best spots. Also note that generally, Texas is statistically likely to have clear skies during April. Many of those locations are along a major interstate in case you need to adjust your positioning due to weather.
A few points-friendly hotels to consider for a trip to watch the total solar eclipse in Texas include:
Hampton Inn Kerrville.
Fairfield Inn & Suites Fredericksburg.
Holiday Inn Express & Suites Eagle Pass.
Hampton Inn Harker Heights (opening June 2023).
If you can't find hotels in the Texas cities with the absolute best viewing, it's worth looking for lodging in nearby San Antonio, Dallas and Austin.
If you can't find lodging in the aforementioned viewing spots, don't fret. According to eclipse cartographers, Boston, New York City, Philadelphia, Baltimore and Washington, D.C., are all within 200 miles of the path of totality. If you don't mind driving, you can easily get close enough to see the eclipse.
Related: The best road trips to take from Houston
2024 eclipse cruises
For a great shot at a nice viewing of totality, consider an eclipse cruise. Here are just a few on offer for April 2024.
Princess Cruises' Emerald Princess: 15-day Panama Canal itinerary, departing April 5, 2024, from Los Angeles. Starts at $1,699 per person for an inside cabin.
Princess Cruises' Discovery Princess: 10-day Mexican Riviera sailing, departing April 3, 2024, from Los Angeles. Sold out.
Holland America's Zaandam: 14-day Mexican Riviera voyage, departing March 30, 2024, from San Diego. Starts at $2,299 per person for an inside cabin.
They generally include things like themed drinks and top-deck viewing opportunities (with free glasses to protect your eyes). Ships can often put passengers in the direct (or nearly direct) path of totality, making for a better viewing experience.
Another eclipse is coming this year
If you can't plan a trip to see the total solar eclipse in April 2024, there is an opportunity to see another partial eclipse in October this year. The moon will pass between the sun and Earth, but because the Moon will be farther from Earth during the eclipse, it will appear smaller and won't completely blot out the sun.
Instead, it will create a glowing ring around the moon — sometimes called a "ring of fire."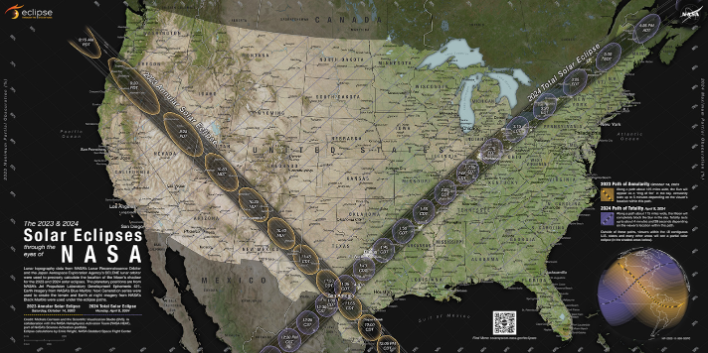 You may not even have to travel for this one, as NASA says it will "be visible from all 48 contiguous United States, plus parts of Alaska and Hawaii."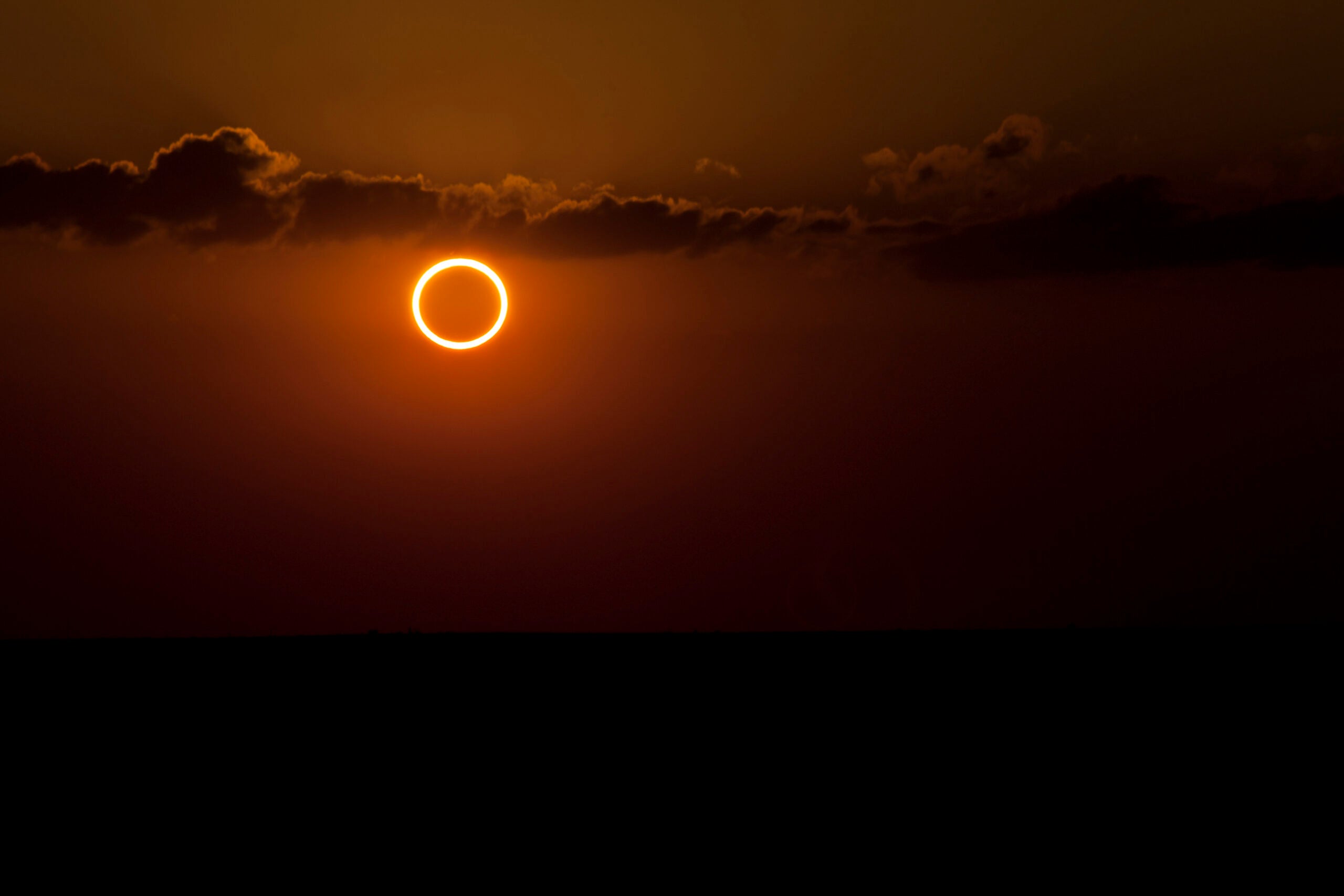 Tips for viewing a solar eclipse
Go to a clear area for the best viewing of the eclipse. As this is likely to be a very popular eclipse enjoyed by millions, you want to plan to get to your viewing spot early in the day with snacks, drinks, shade and other provisions.
If you want to enjoy the event with like-minded stargazers, some cities along the path of totality will likely have formal viewing areas arranged — some available for free and some with a small fee.
Examples of events include one scheduled at McLane Stadium

in Waco, Texas, which costs $20 per standard adult ticket and includes ISO-certified solar glasses. At the Rock and Roll Hall of Fame in Cleveland, there will be a tailgating party set to tunes like Pink Floyd's "The Dark Side of the Moon" and Soundgarden's "Black Hole Sun" as you enjoy a little under four minutes of totality.

Regardless of where you view this phenomenon, don't forget that you should not look directly at an eclipse in its partial phases before and after totality, as it could severely damage your vision. "Viewers must use specialized eye protection or use alternative viewing methods, such as a pinhole projector, the entire time," NASA warns for most eclipses.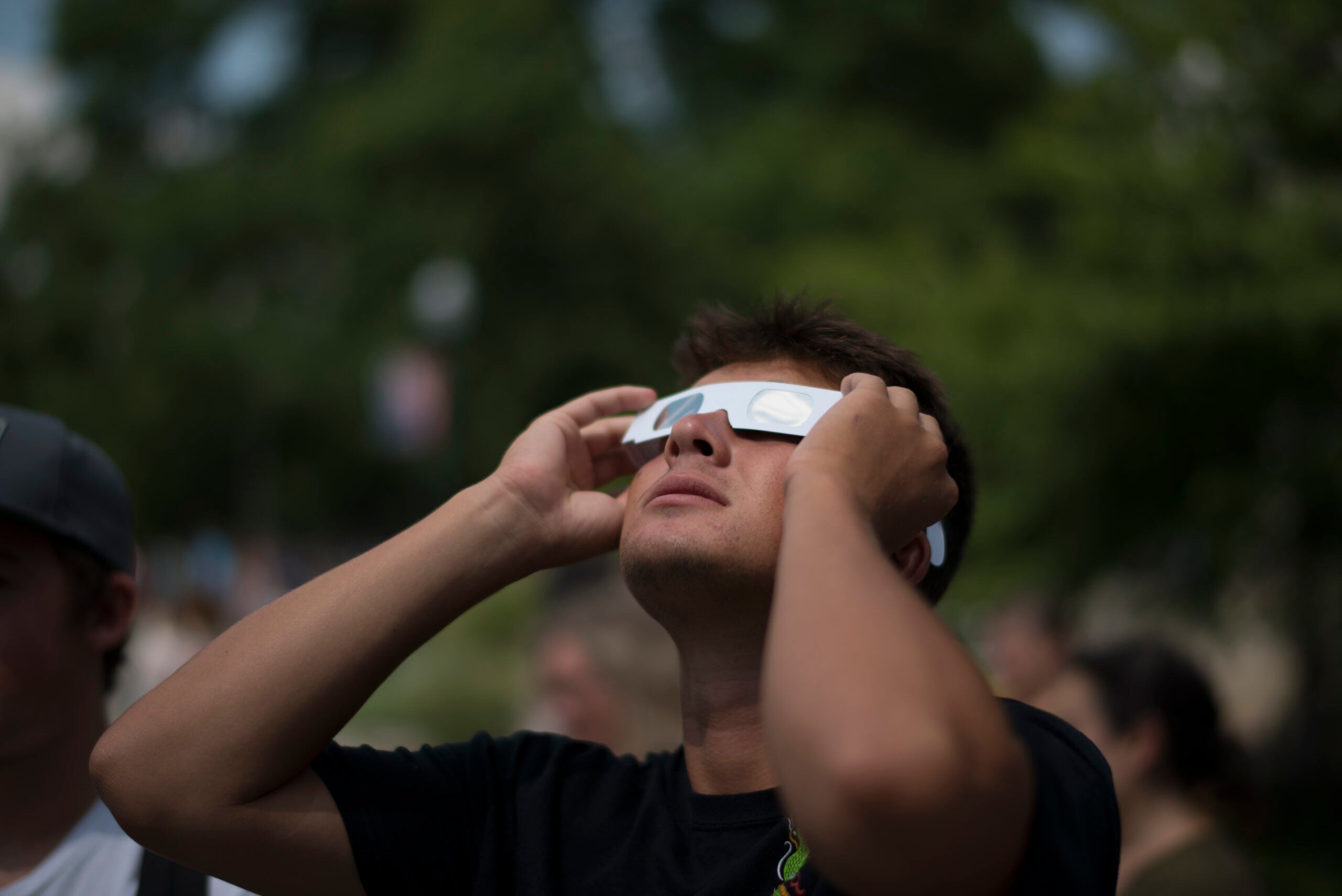 Bottom line
Now is the time to start planning and booking your 2024 eclipse trip. Hotels are already sold out in some of the best spots, so you want to start as soon as possible. Remember, as long as you have transportation and are willing to wake up early to beat any potential traffic, you can stay outside the perfect spots and drive to see the path of totality.
Additional reporting by Tarah Chieffi, Ashley Kosciolek and Gene Sloan.
Related reading: