Editor's note: The Palms provided a complimentary stay so that TPG could get an inside look at the hotel's various suites and amenities. The opinions expressed below are entirely those of the author and weren't subject to review by The Palms or any external entity.
In Las Vegas everything is bigger, better and over the top — especially the hotel suites. And let me tell you, there are plenty of amazing ones you have to see to believe.
Earlier this year, TPG got to see firsthand some of the most baller suites in Sin City — and I took a camera along to document the experience.
When you think about hotel suites, you know there's usually a little more space, maybe an extra bedroom or two and probably a better view. But these suites go way, way beyond that. We're talking suites with more bedrooms than most homes, restaurant-worthy kitchens that flip the idea of in-room dining on its head and even a suite centered around a two-lane bowling alley. Did I mention the one outfitted with over $30 million of art?
To see the full experience, watch the video above to see how the other half live. And, read on for more information about six of the wildest suites this hotel reporter has ever had the chance to step foot in.
Related: Best hotels in Vegas for a Sin City getaway
Empathy Suite — Palms Casino Resort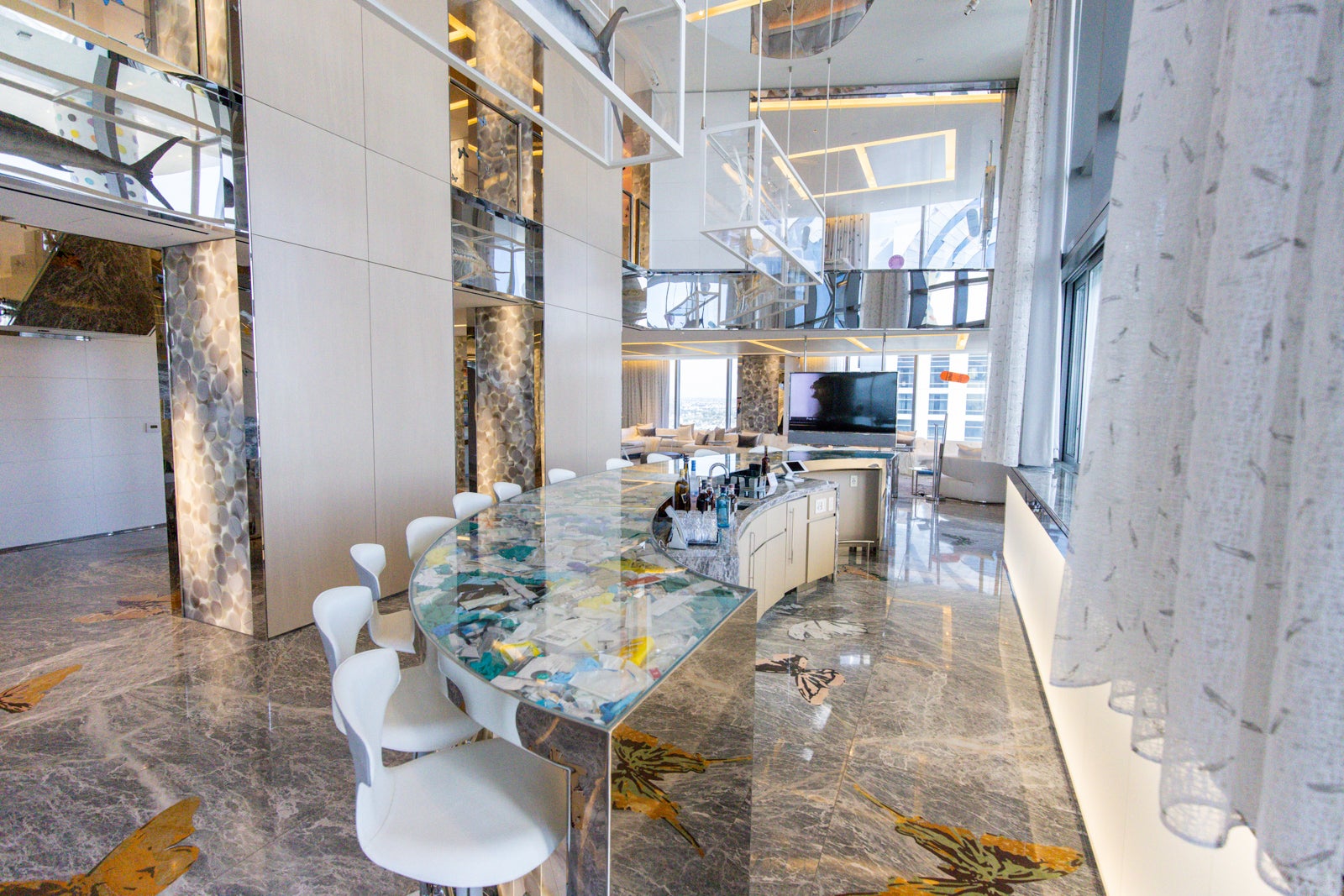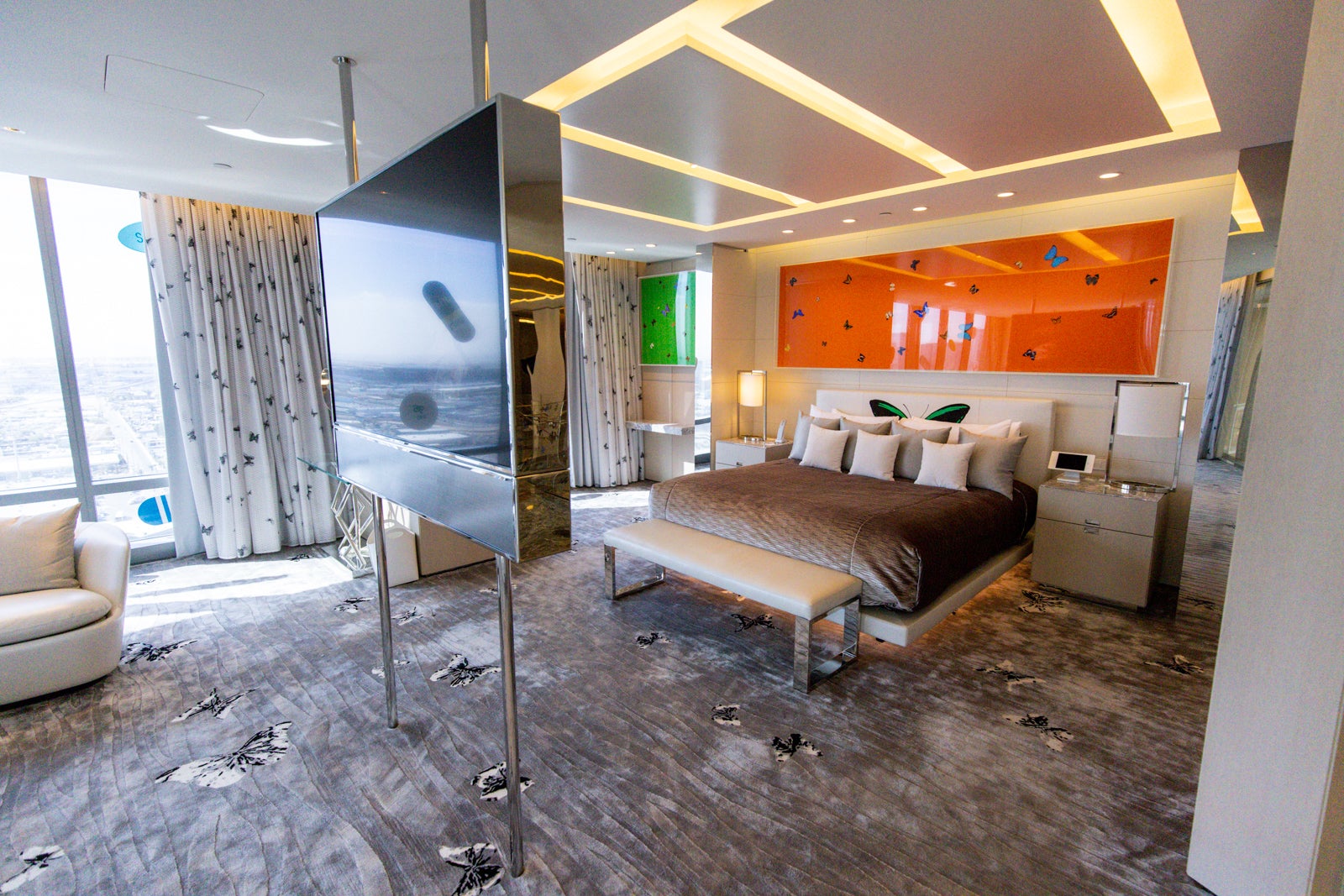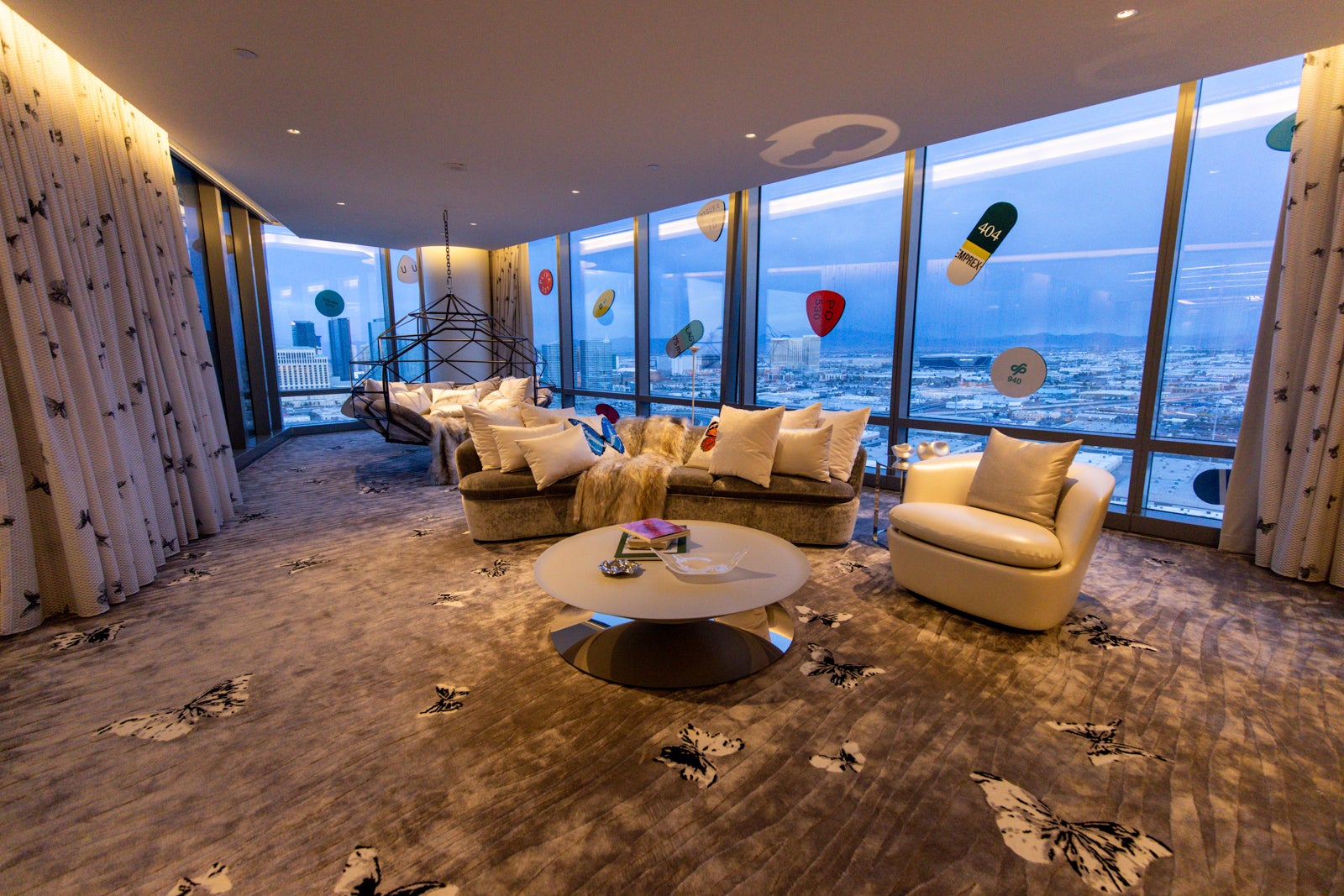 Slightly off the Strip, the Palms Casino Resort might have some of the most over-the-top, hyper-themed suites in town. And one of those, the Empathy Suite, is in a league of its own. Available to book starting at a whopping $75,000 per night, the two-bedroom, 9,000-square-foot suite designed by English artist Damien Hirst has it all, including over $30 million of Hirst's own artworks.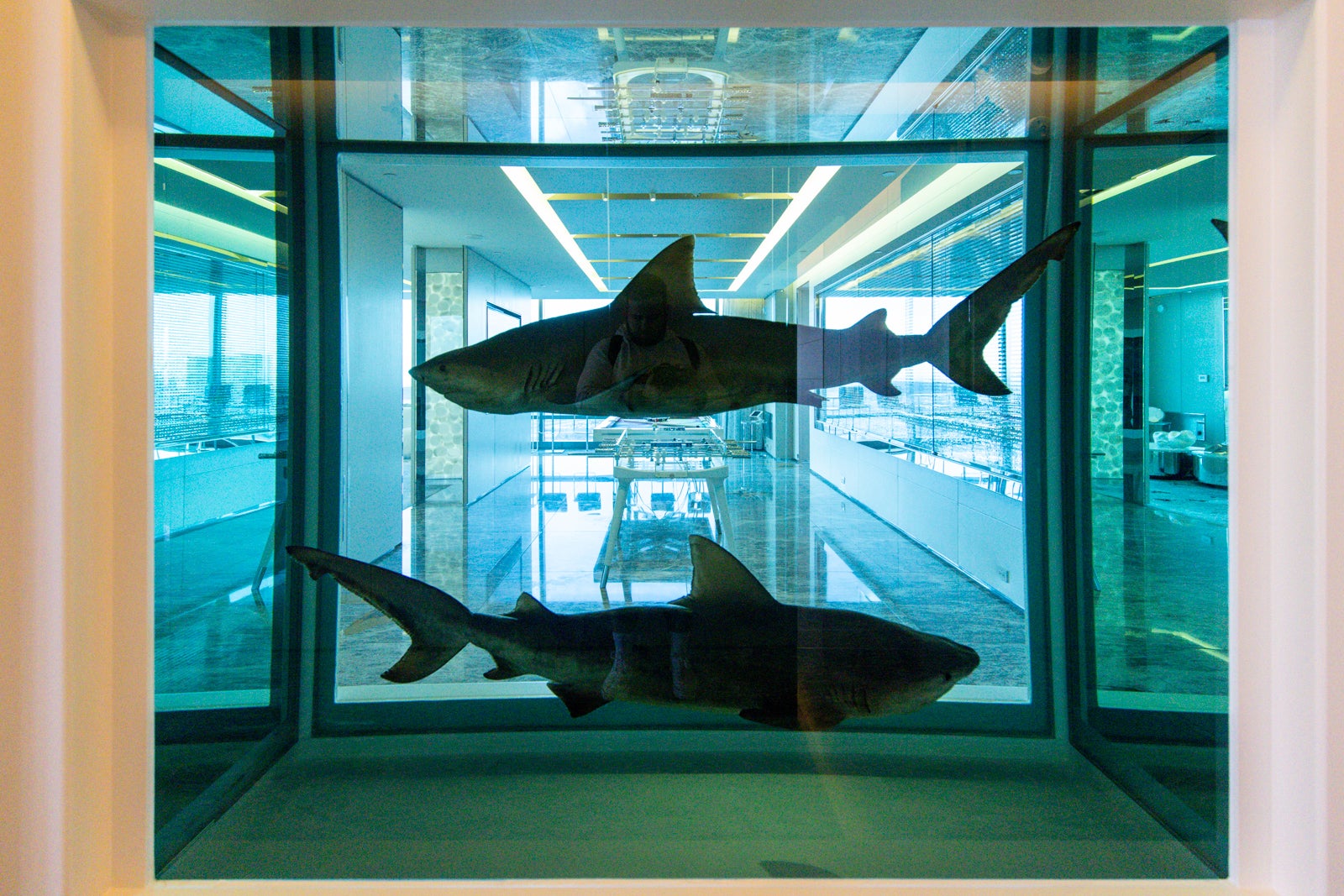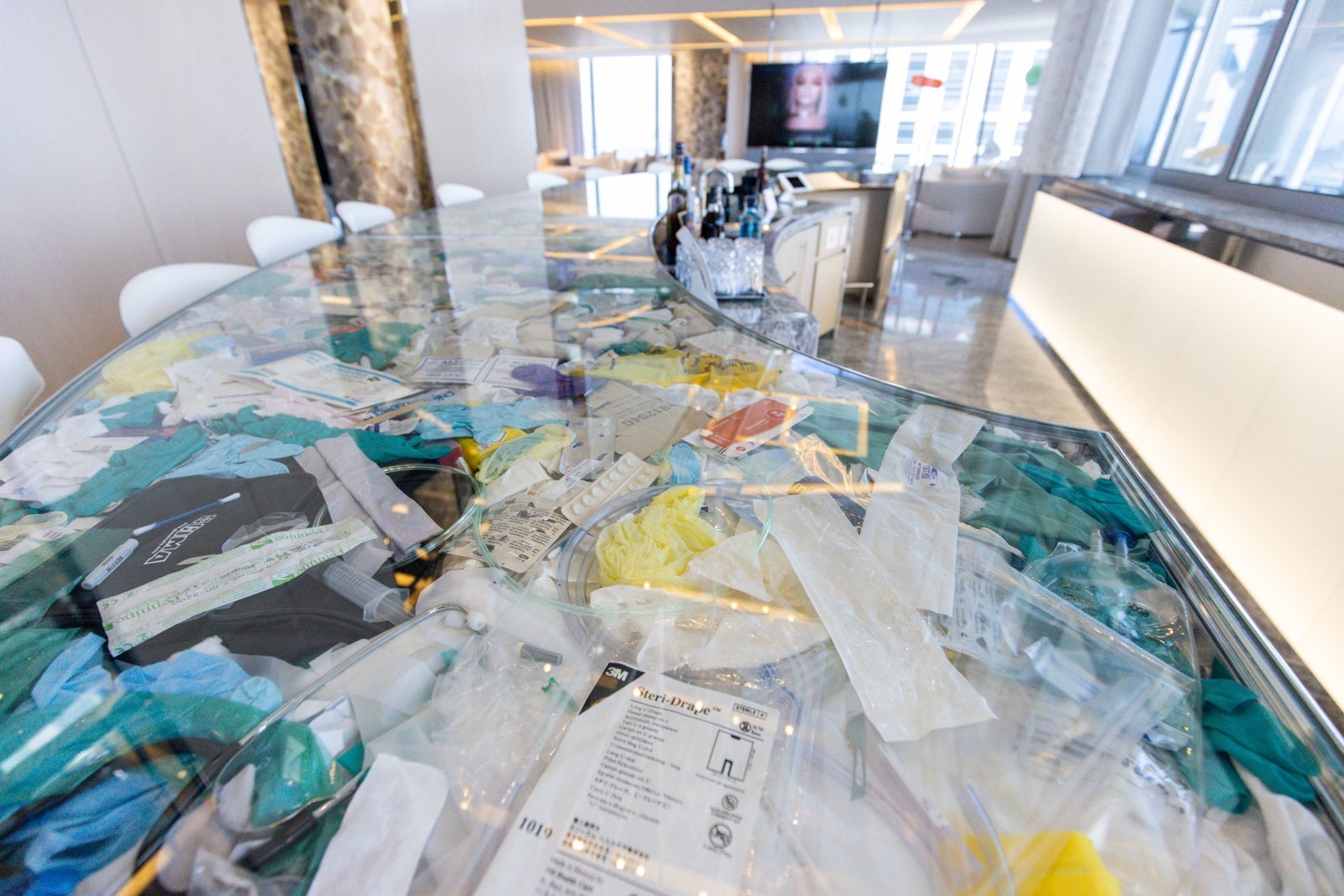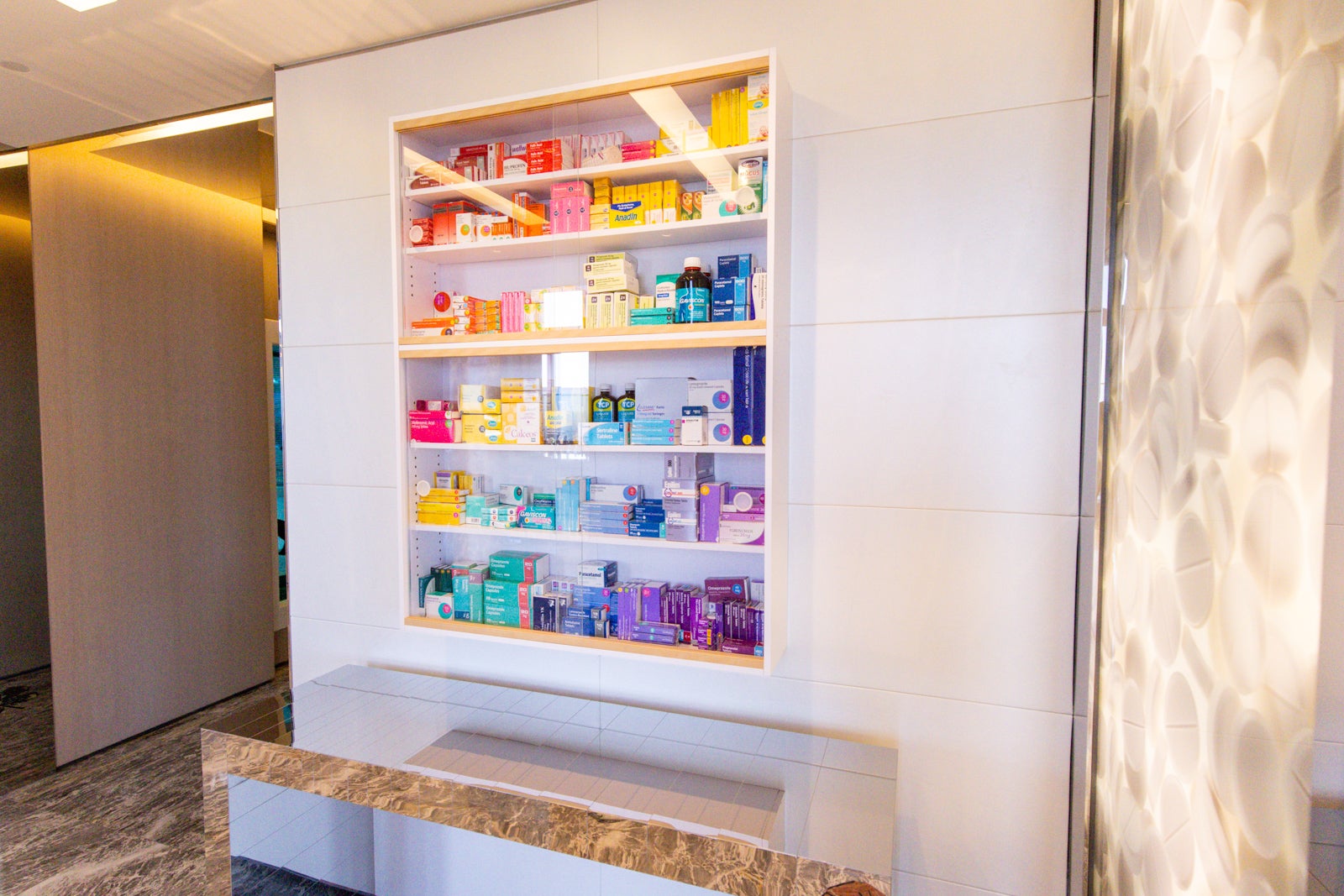 Guests lucky enough to enter the space will find sharks suspended in formaldehyde (a piece called "Winners/Losers"), butterfly and pharmaceutical motifs, a glass bar decorated with medical waste and hidden details that will leave you wondering if it's supposed to make you feel good or uncomfortable — and that's the point.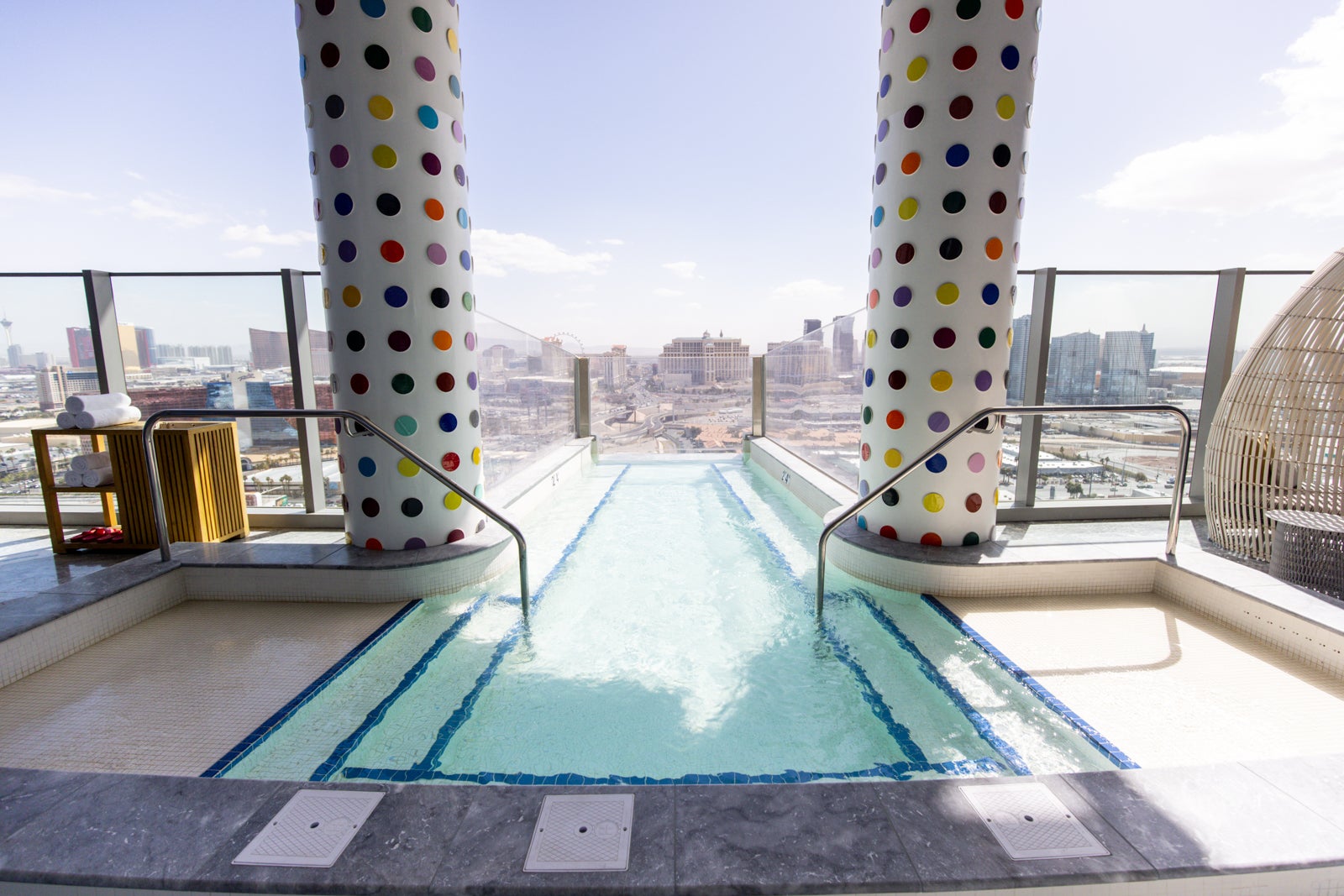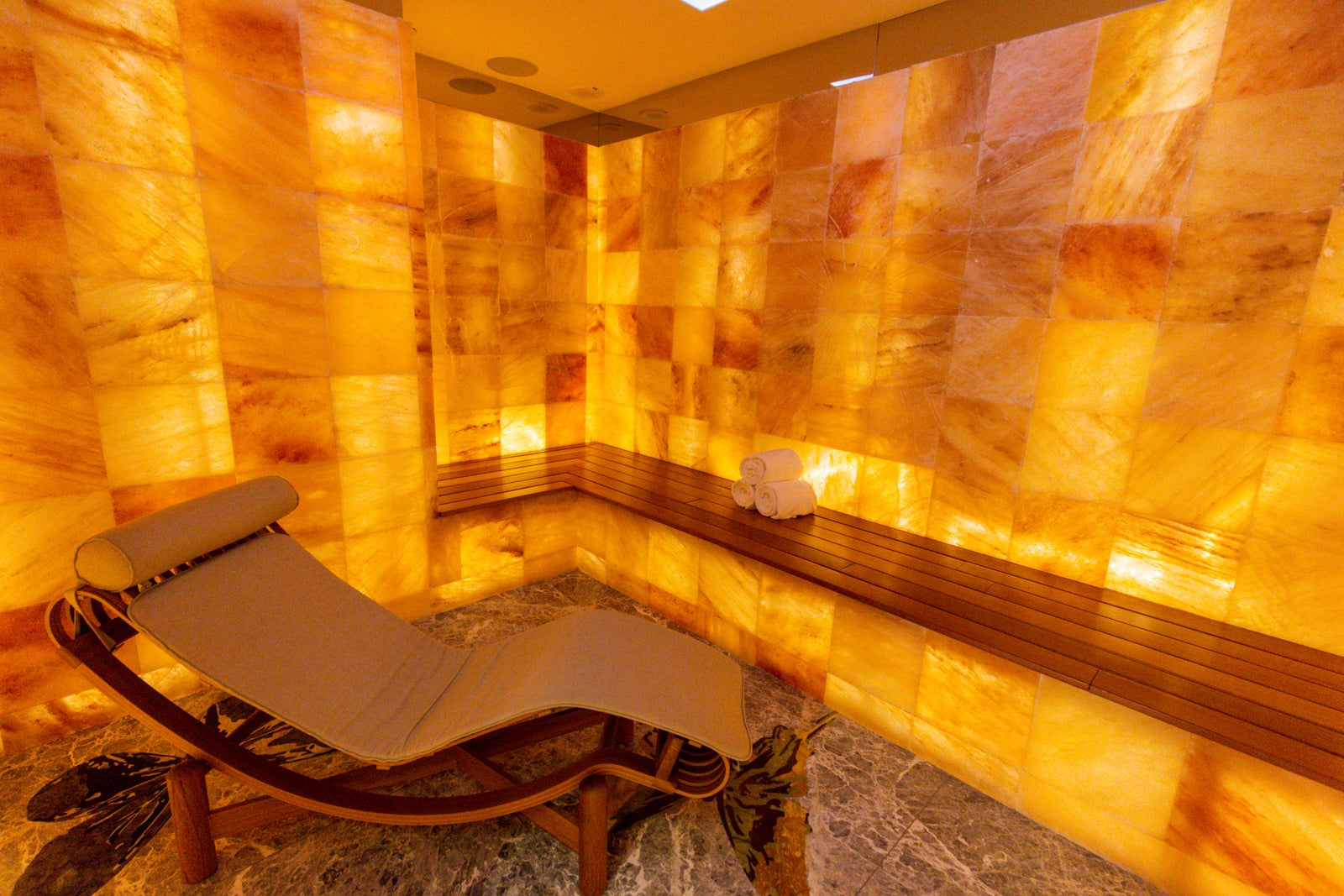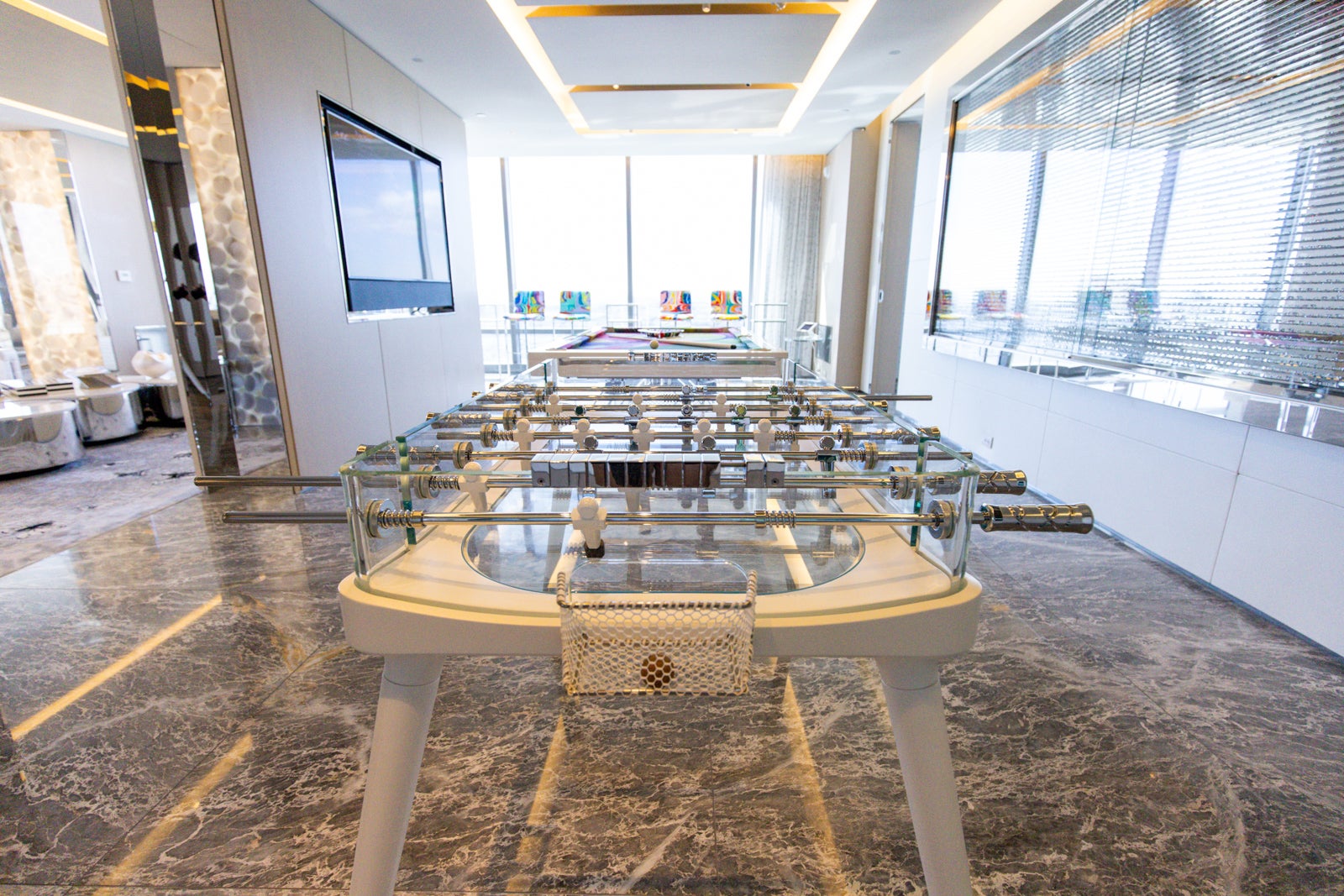 There's also a pool hanging over the side of the building that overlooks the Strip, a Himalayan salt room, a glass foosball table and workout equipment. And, if you need anything — anything at all — a private butler is waiting to assist.
If you're curious about any of the Palm's suites, the resort's dedicated suite website can help you find the right one — even if you don't have a billionaire's budget.
Related: What it's like staying at the Palms Casino Resort in Las Vegas
Chairman's Villa — Crockfords Las Vegas, Hilton Resorts World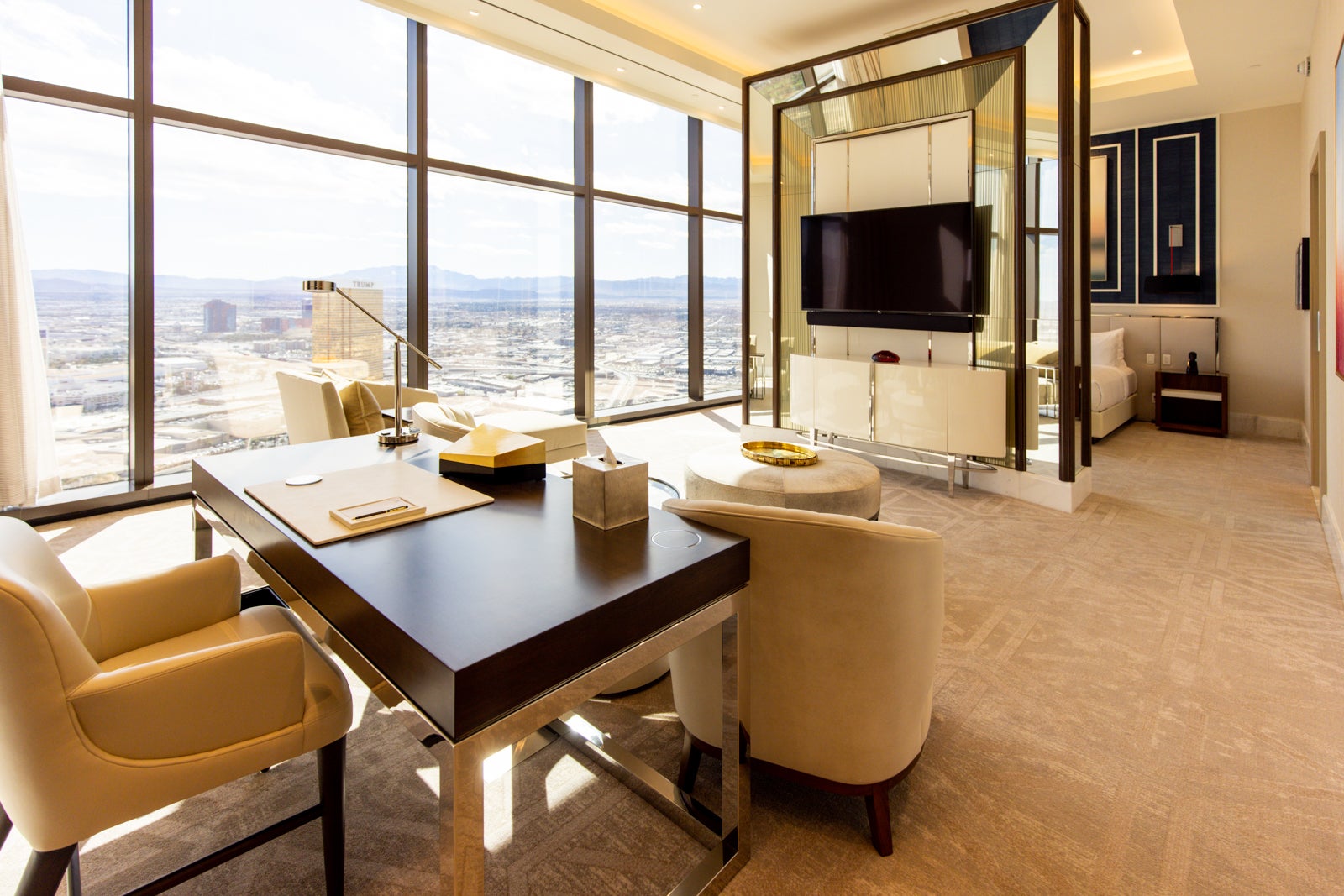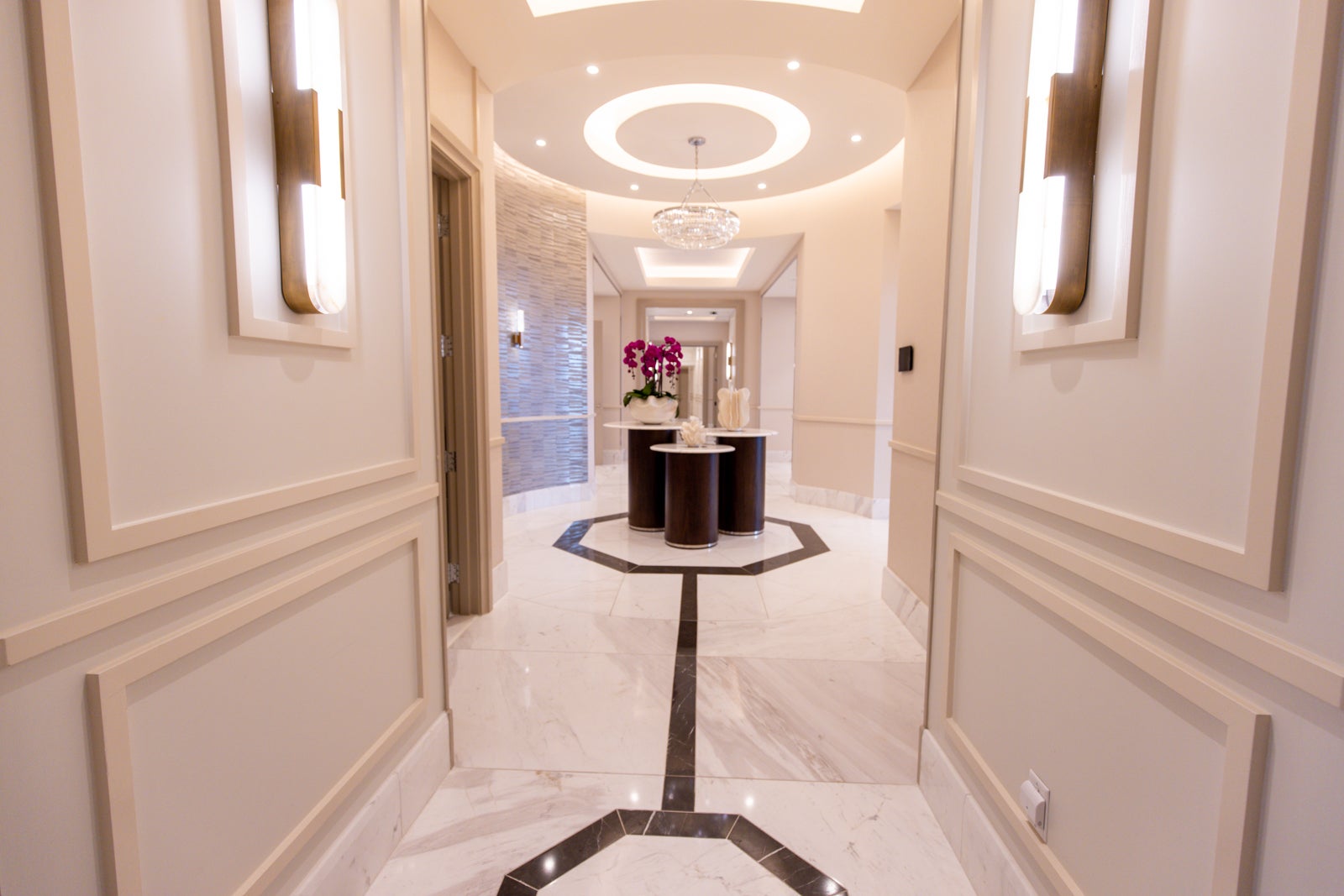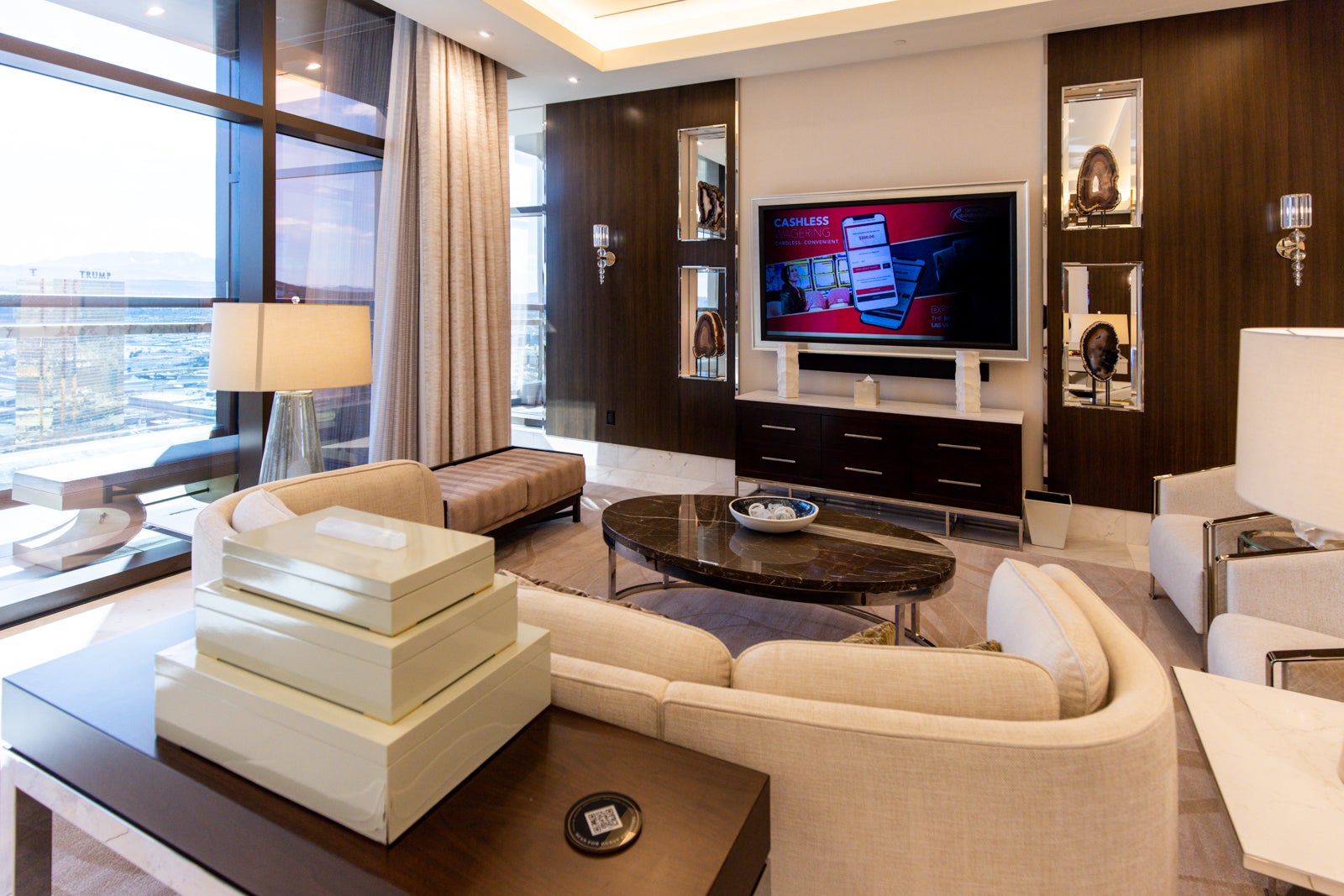 Resorts World, one of Las Vegas' newest casino resorts (and one that's points-friendly), is home to three different hotels, but its créme de la créme of suites is found at Crockfords. I got to check out an absolutely insane Chairman's Villa on the 65th floor. At, 5,500-square-feet, the four-bedroom suite felt palatial and offered views of both ends of the Strip, including an eye-to-eye view of The Stratosphere.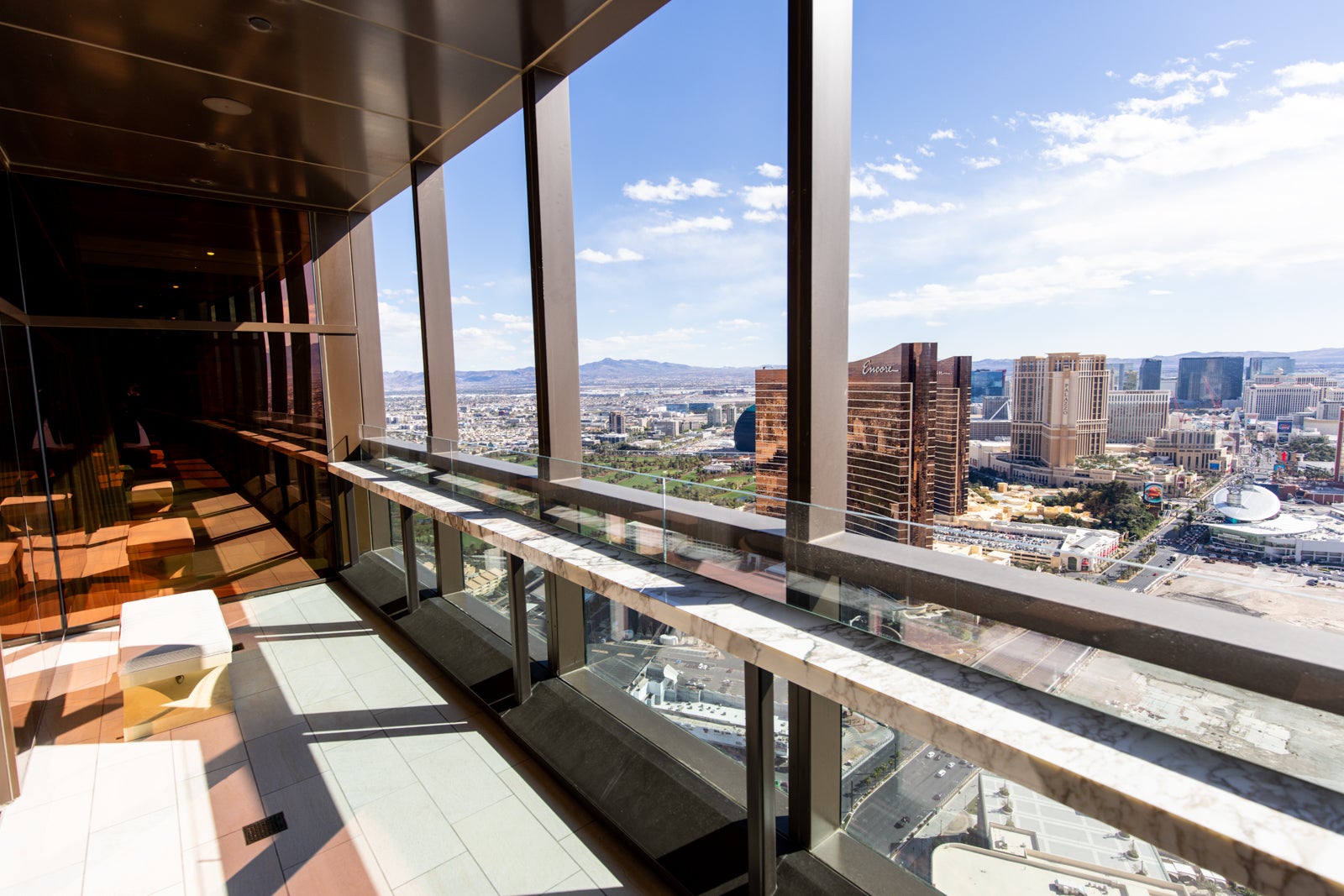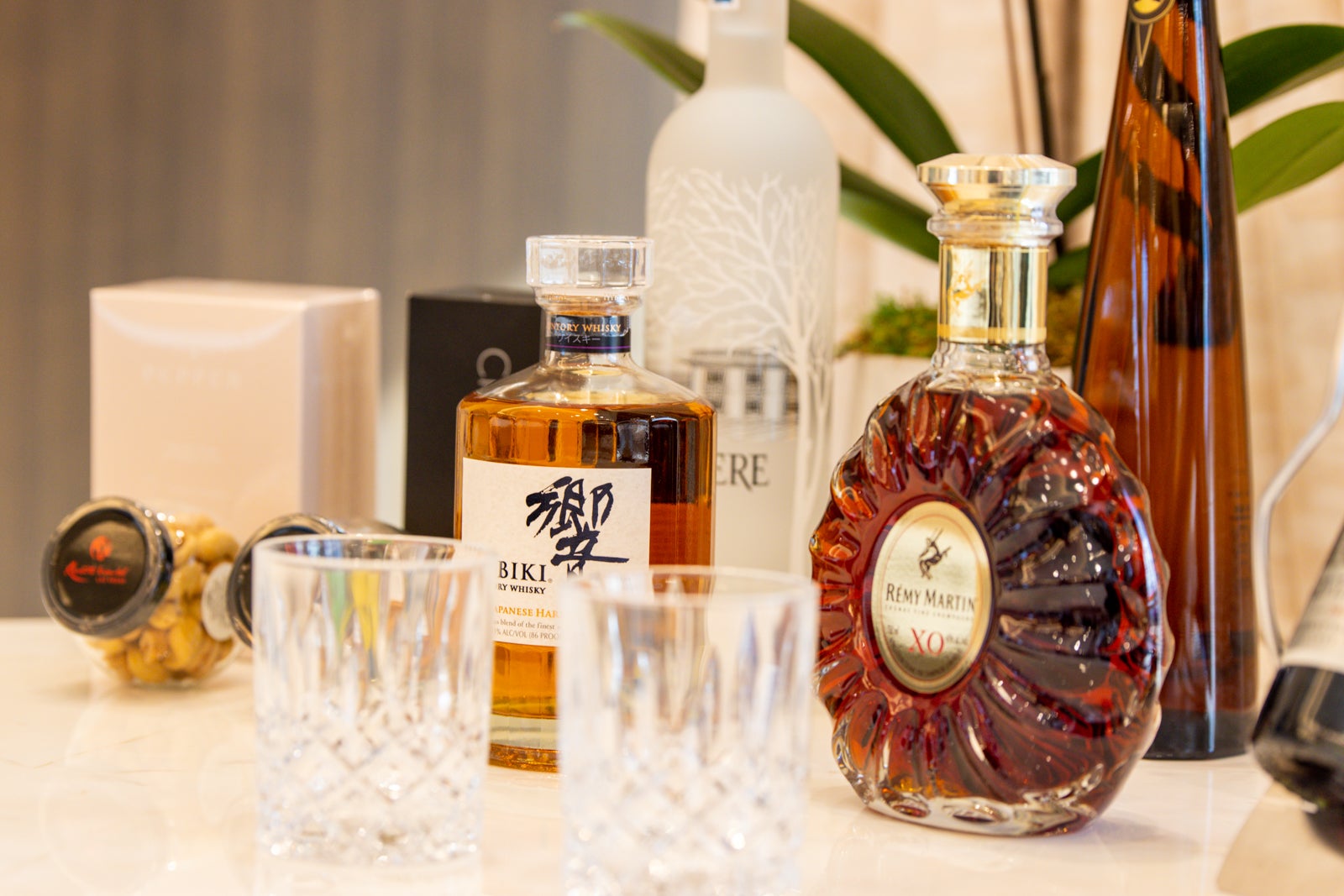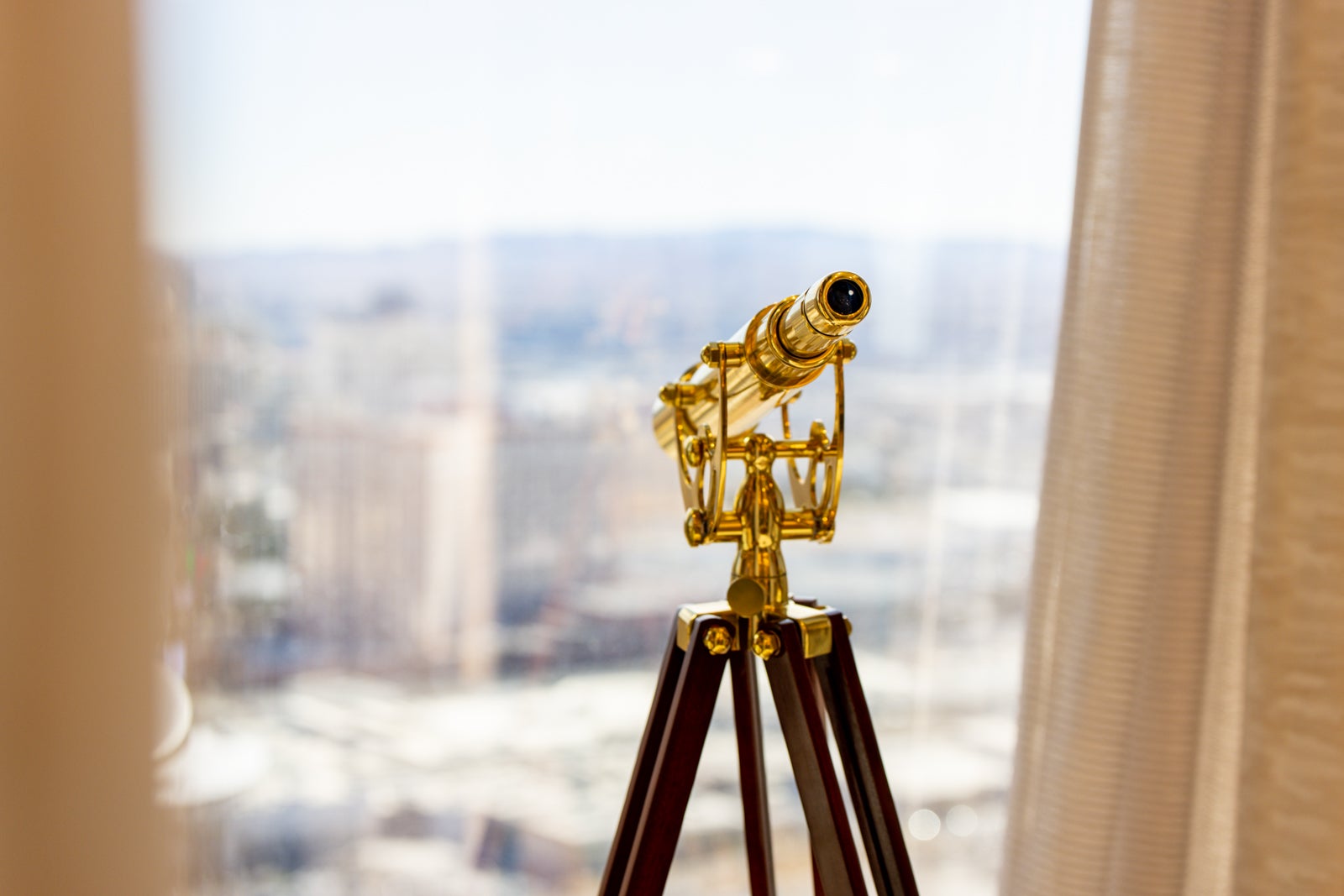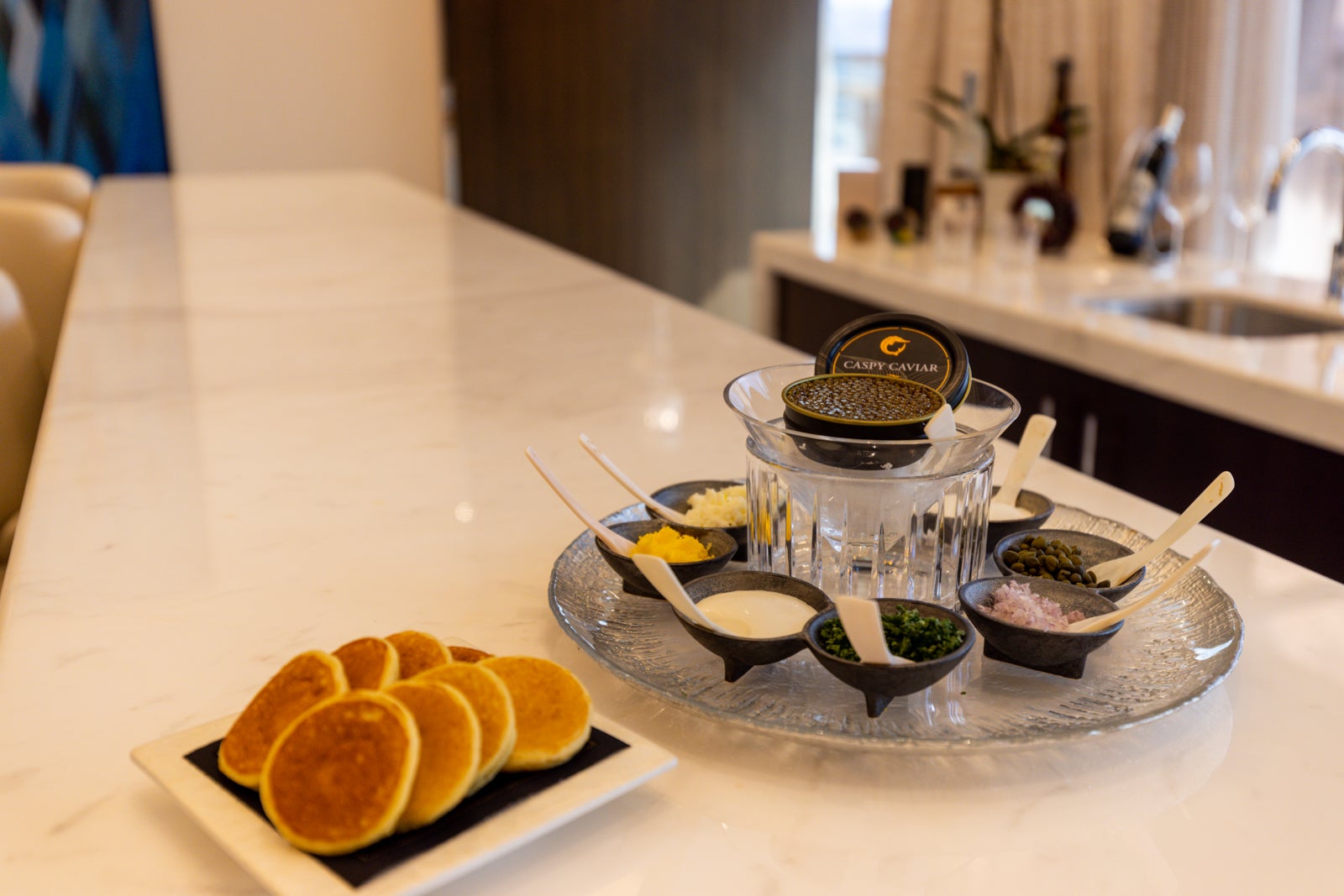 Guests who get the chance to stay at this invite-only suite might just lose one another in the larger-than-life space, but a great meeting spot is the top-shelf bar, where the suite's included butler can have a caviar setup from Caviar Bar (located at the resort) waiting for you. Don't forget to step out onto the balcony for fresh air and more scrumptious views of Vegas.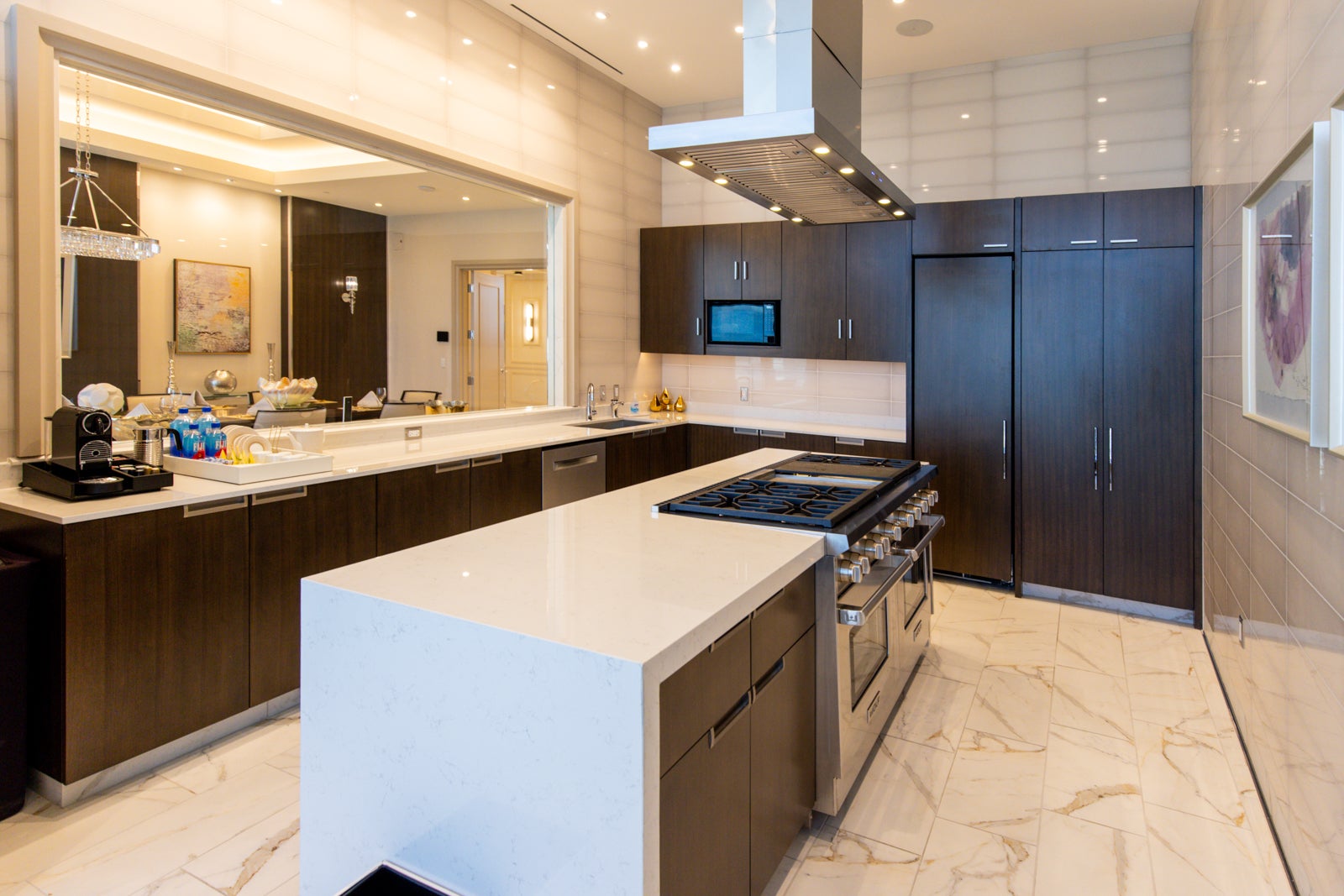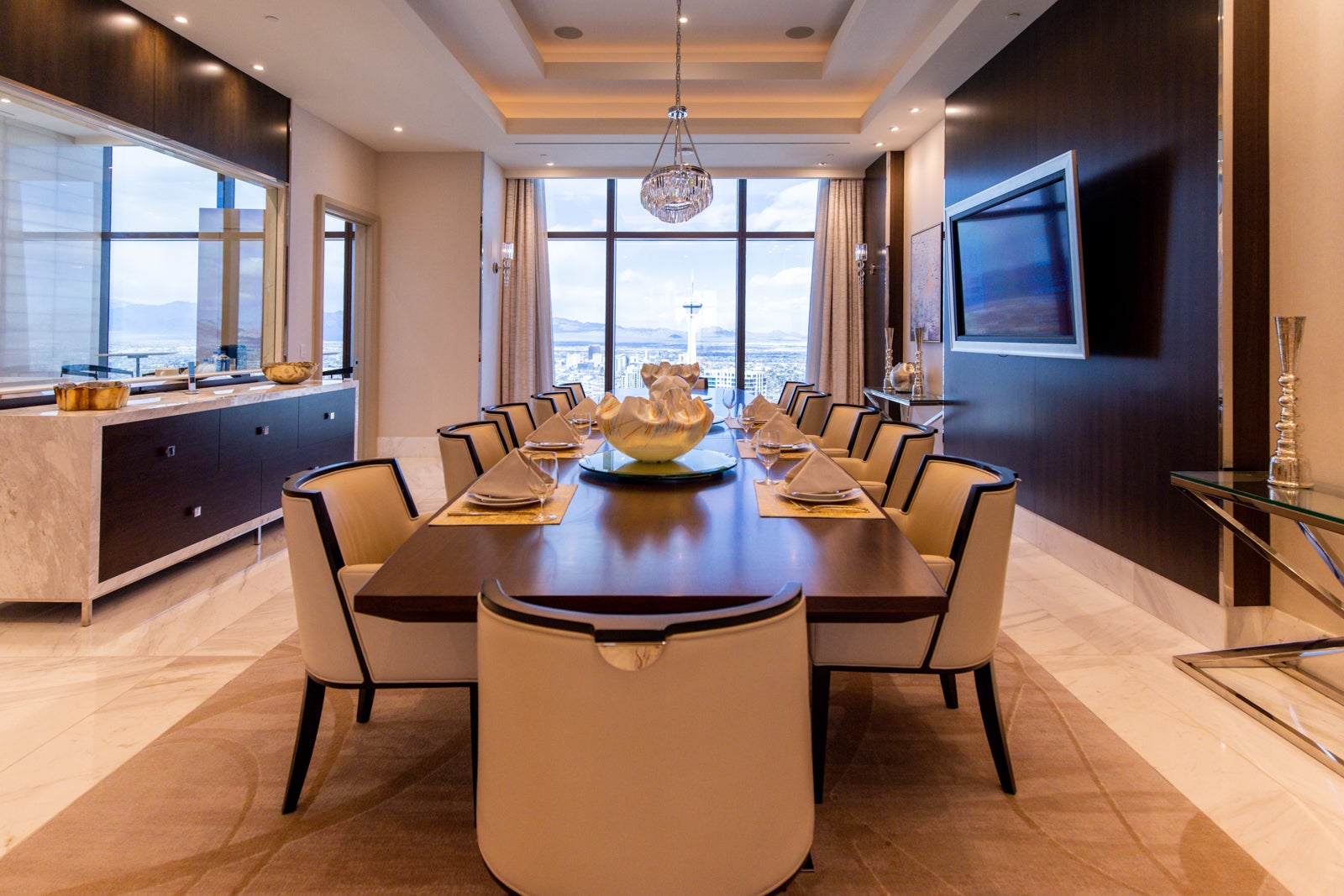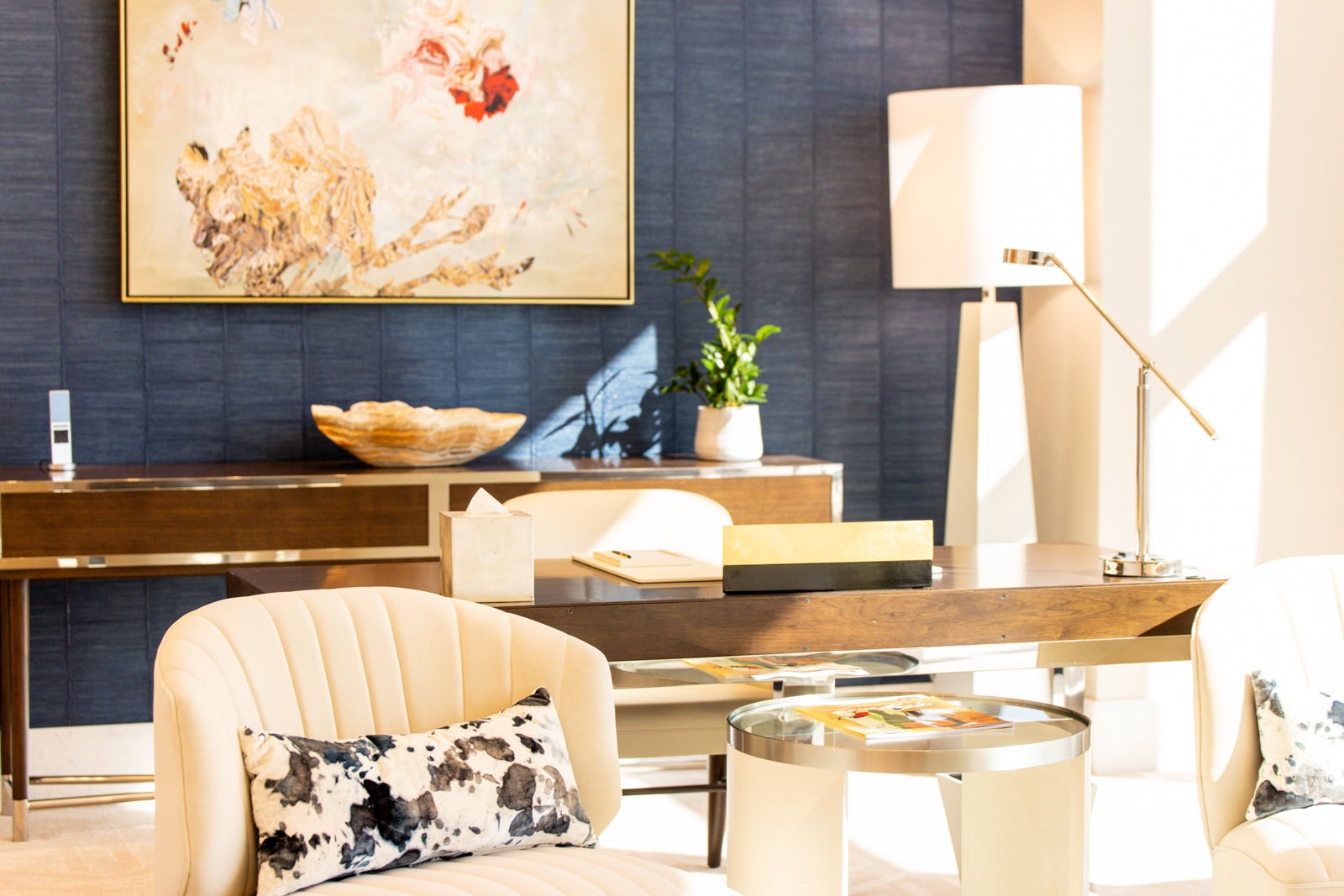 If you get hungry, forget room service — this suite has a full state-of-the-art kitchen that can play host to a chef who can whip up a mouthwatering meal to serve in the dining room (yes, there's an entire dining room). Afterward, head to the entertainment room where there's a couch that could easily fit everyone you know for a movie night (and chances are, if you're lucky enough to stay here, you might be the star of said movie).
Skyvilla — Aria Resort & Casino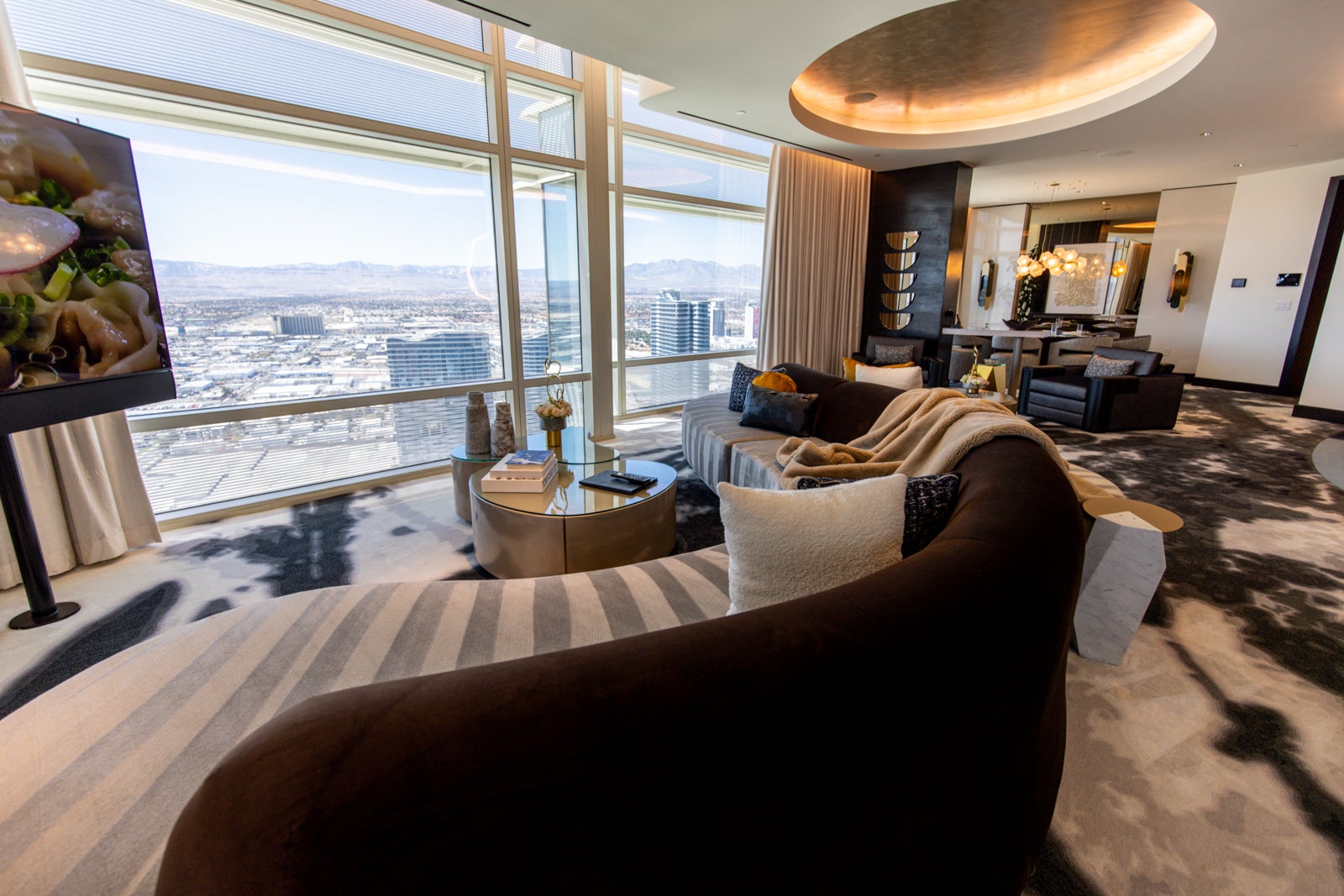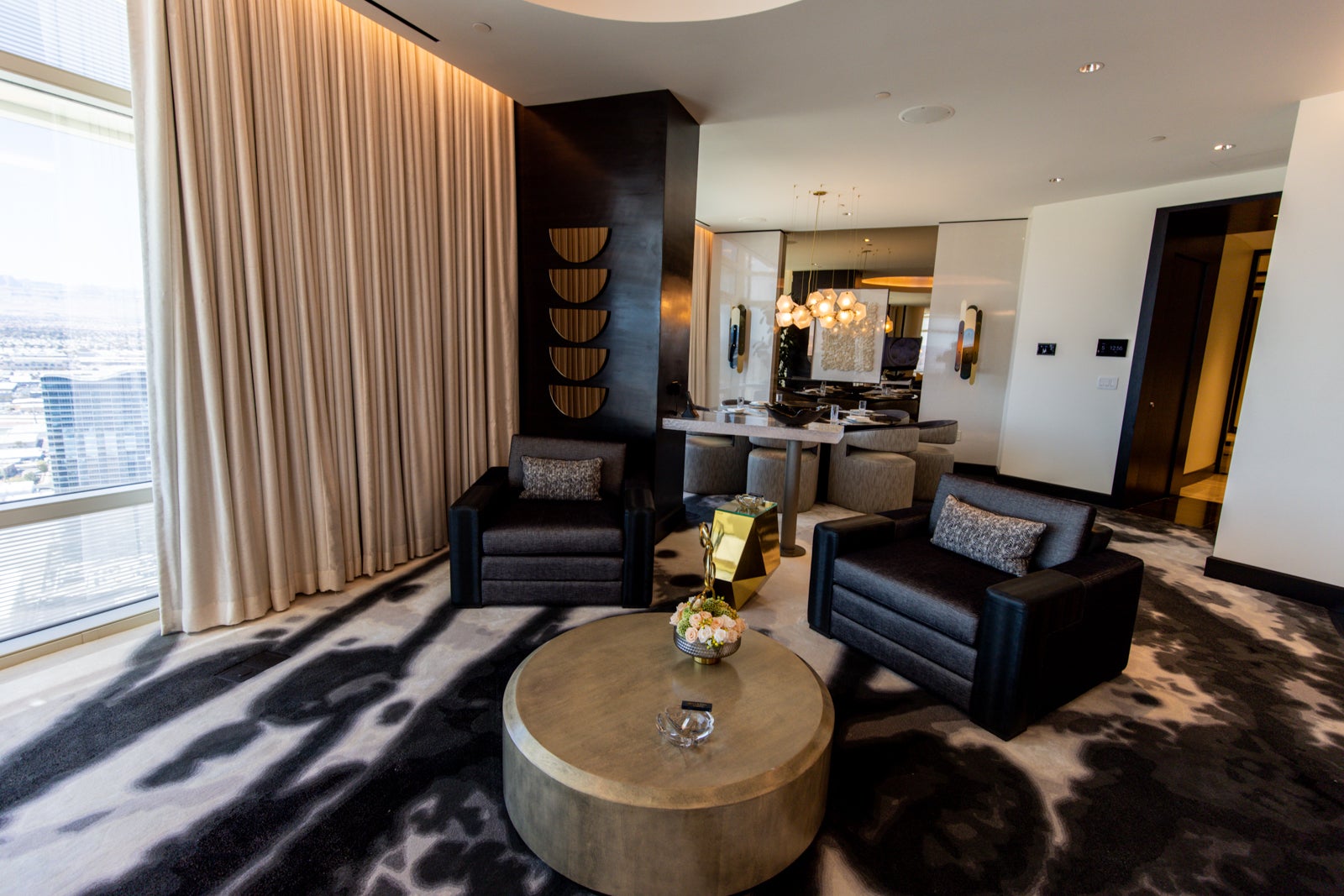 Aria knew what it was doing when it remodeled a handful of its top-tier Skyvillas, another invite-only experience. In this suite, guests will find only the best of the best, from designer coffee table books to out-of-this-world views and even a hand-painted carpet. But, before even entering this two-bedroom Skyvilla, guests can arrive from the airport via a Rolls-Royce where their butler will be waiting to greet them with a glass of Champagne.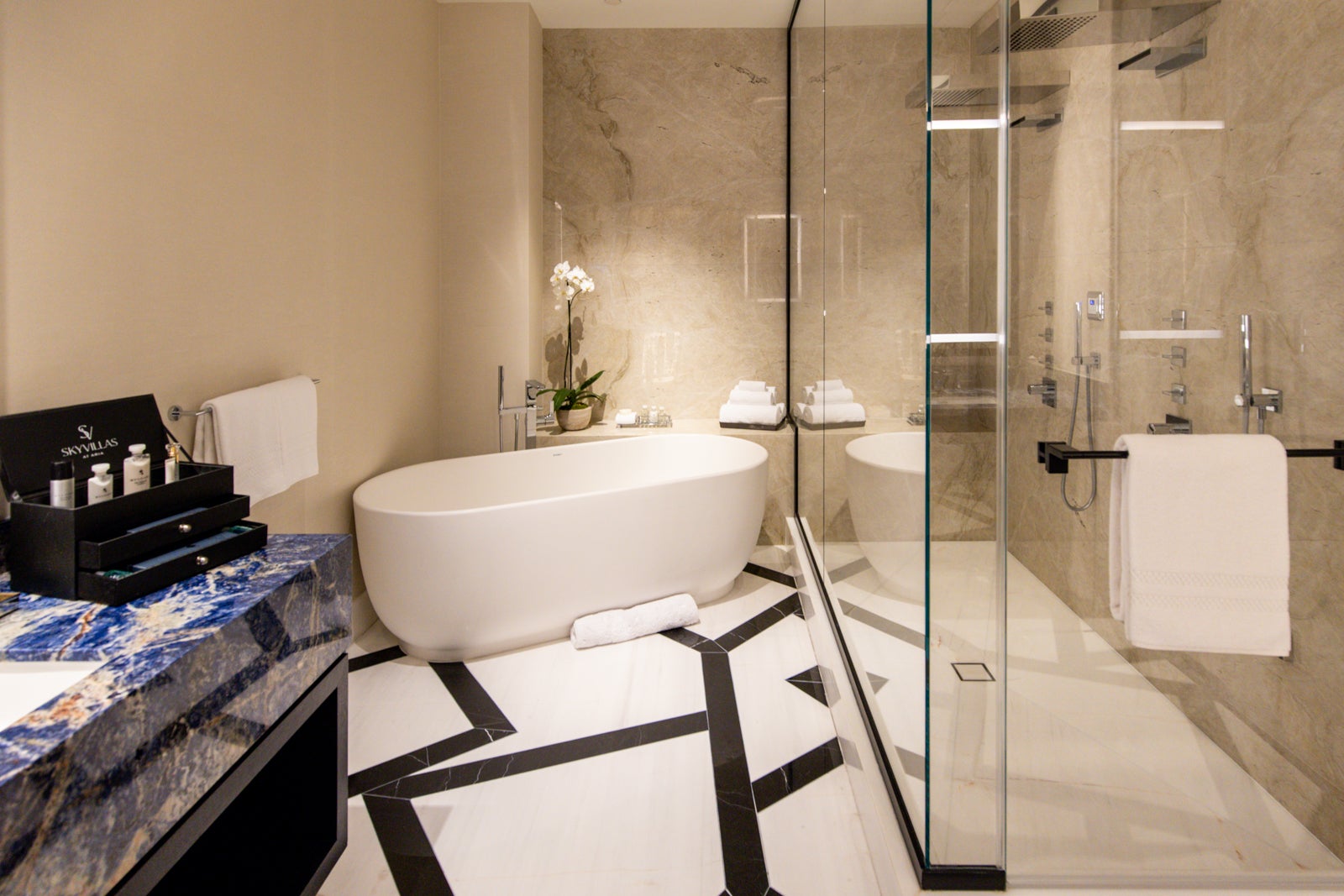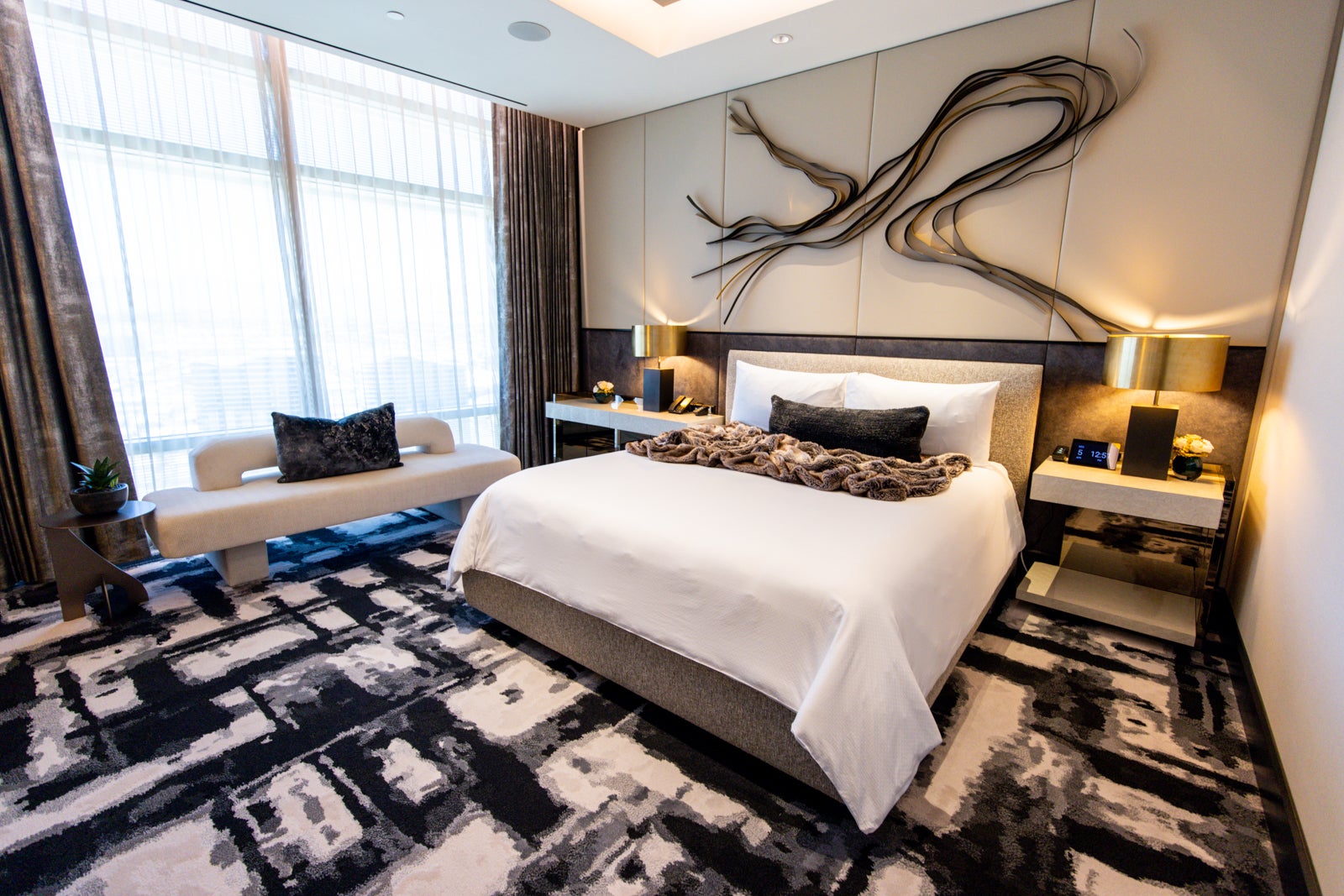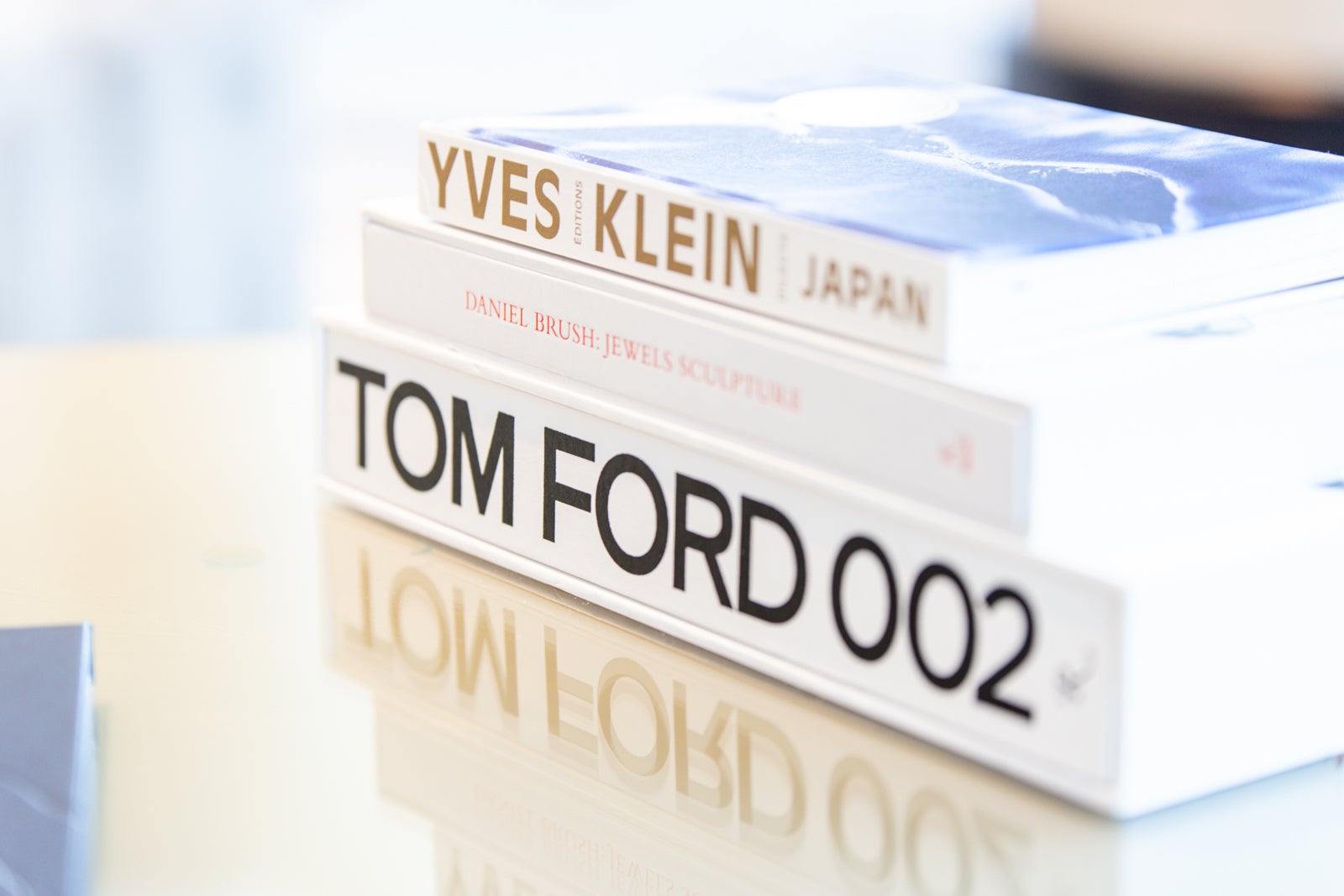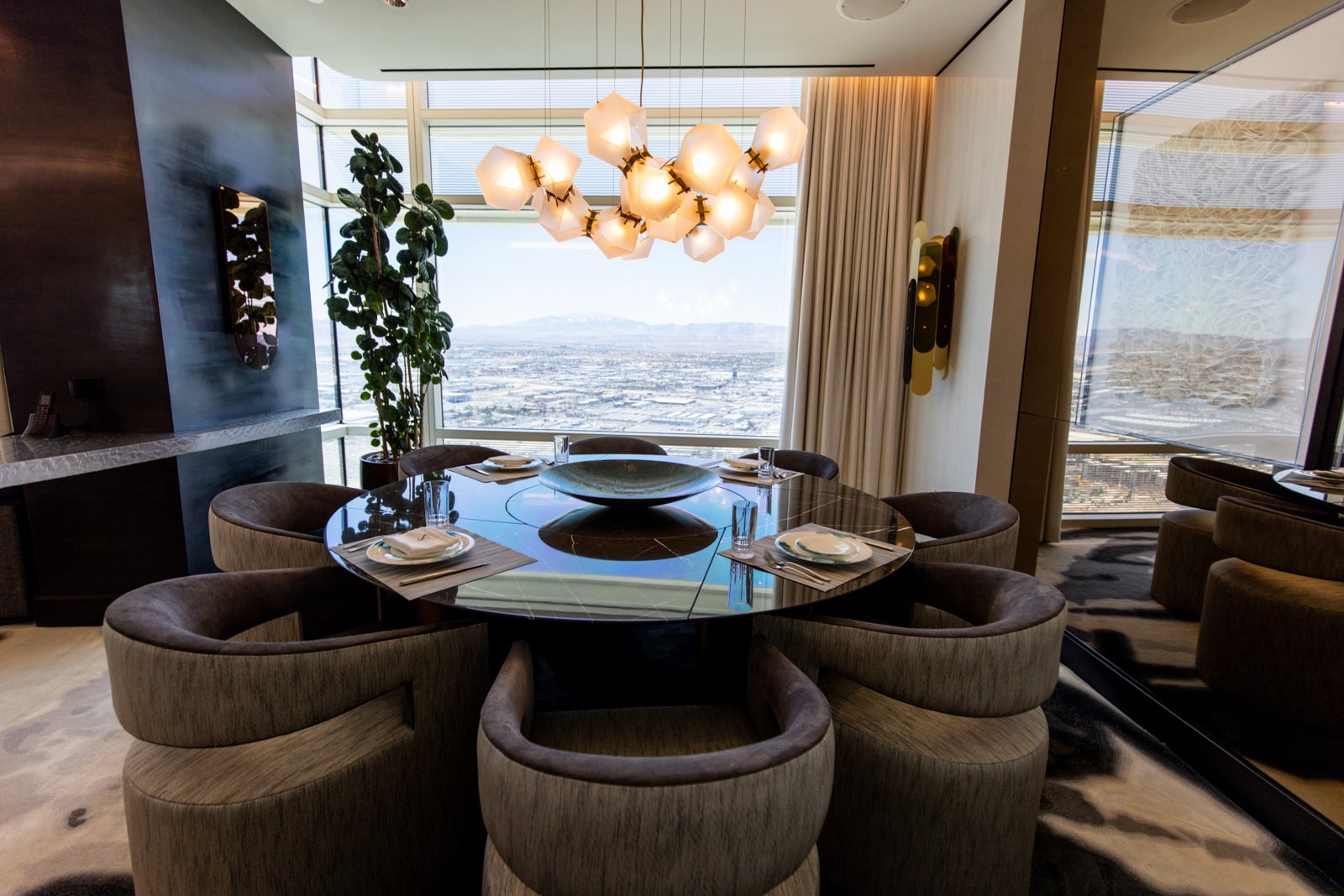 The entire space is totally contemporary, modern and relaxed, unlike many hotel suites that have more gold than the Federal Reserve. It also has some of the biggest bathtubs imaginable, including one against a floor-to-ceiling window so bath time can be enjoyed alongside views of Las Vegas.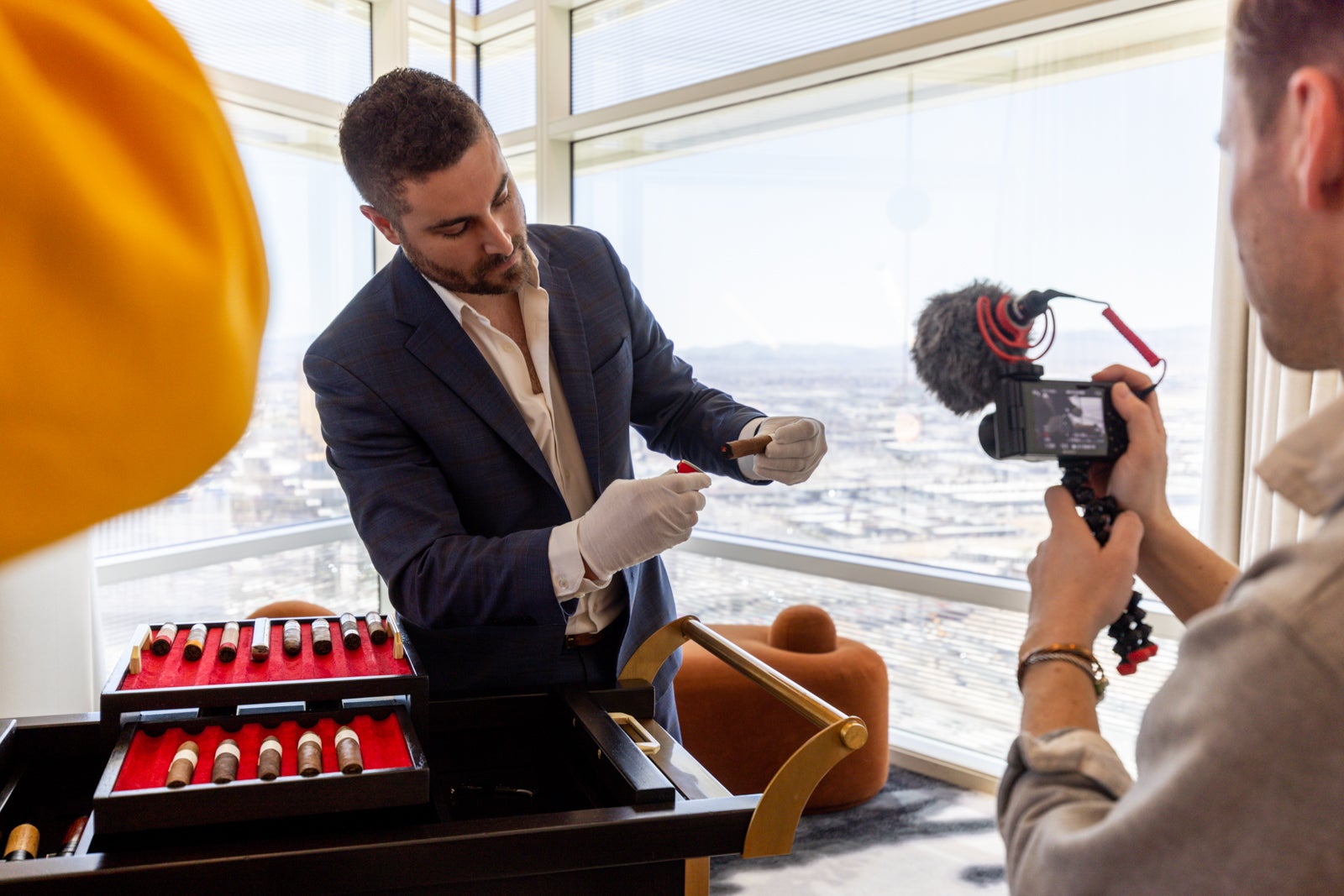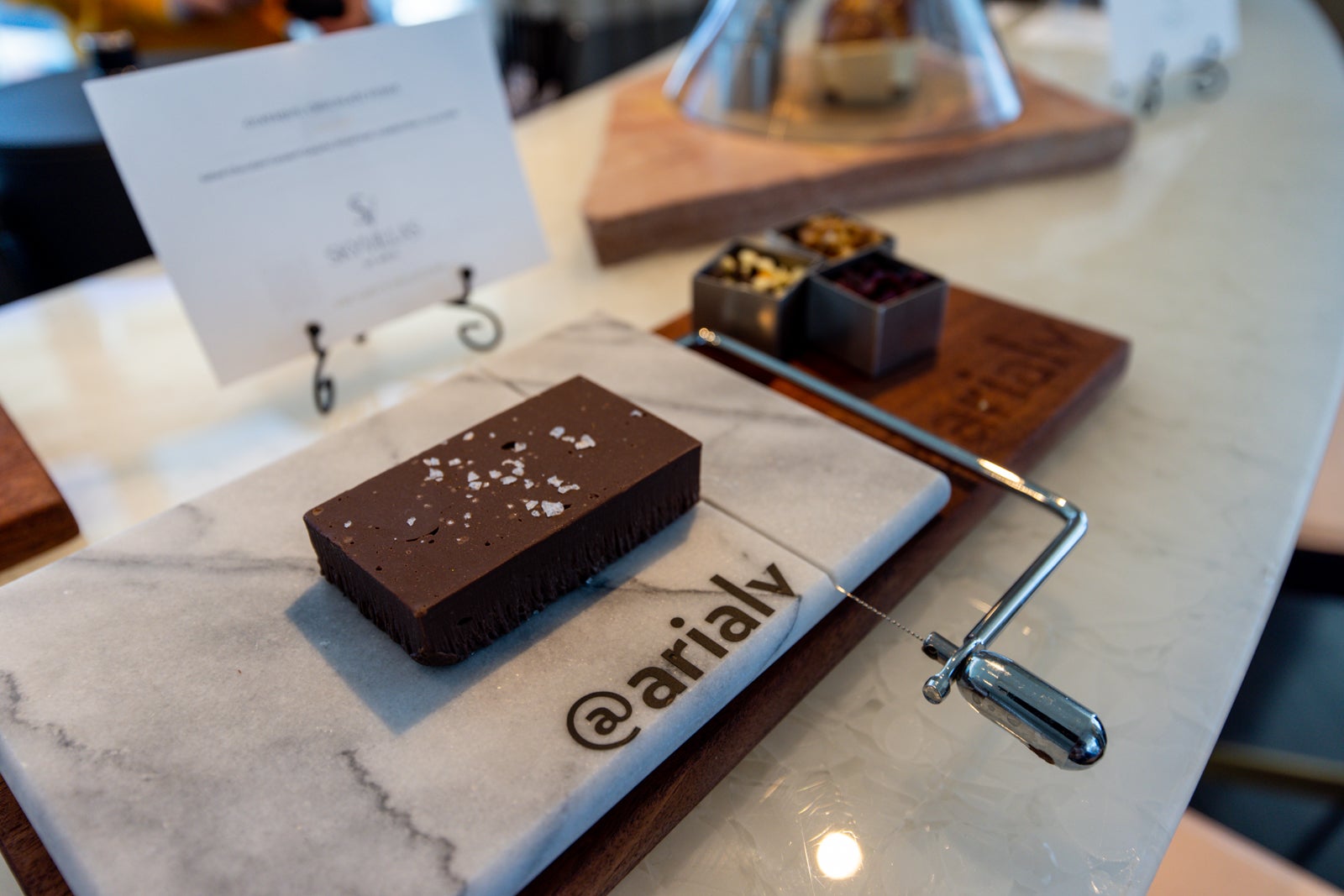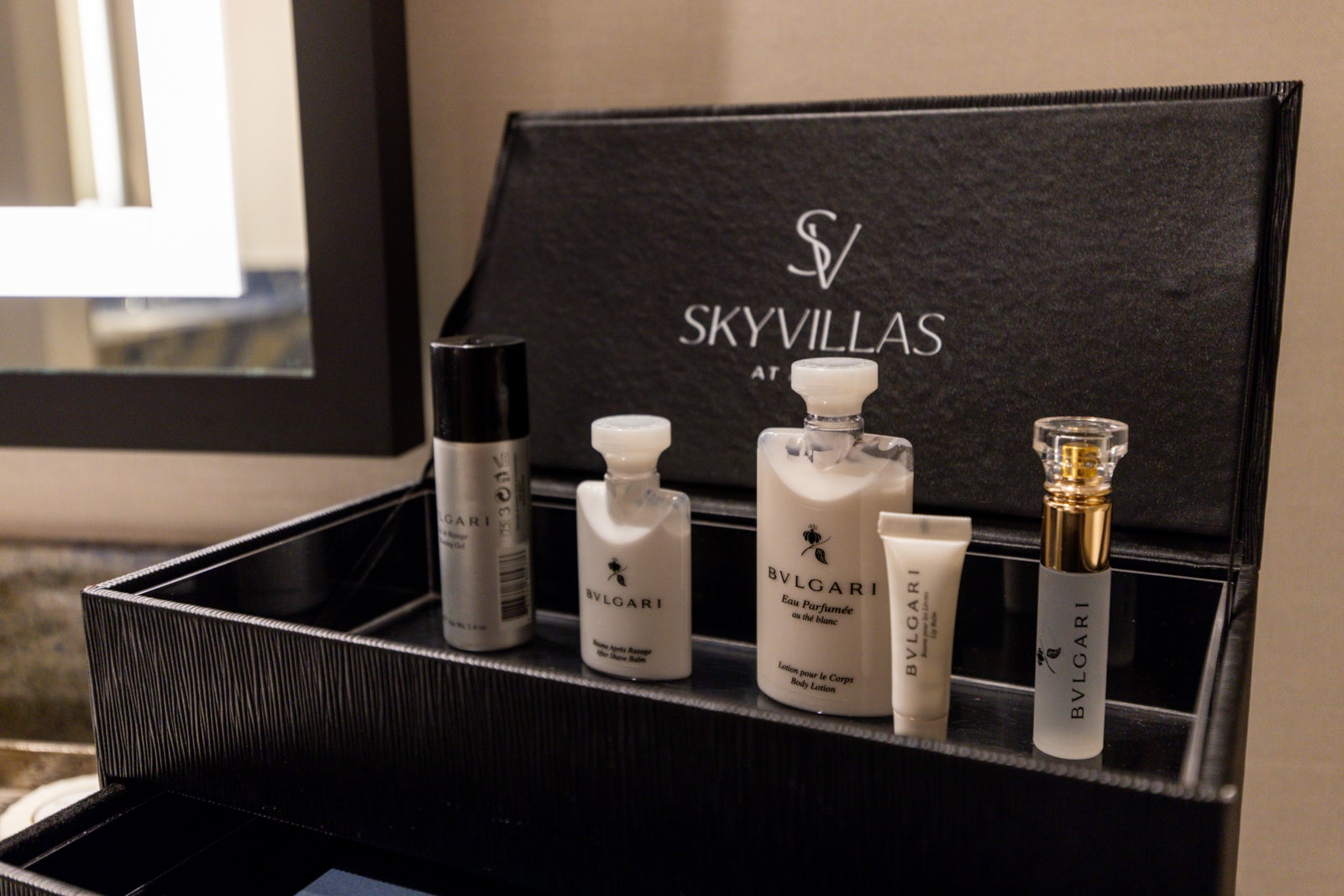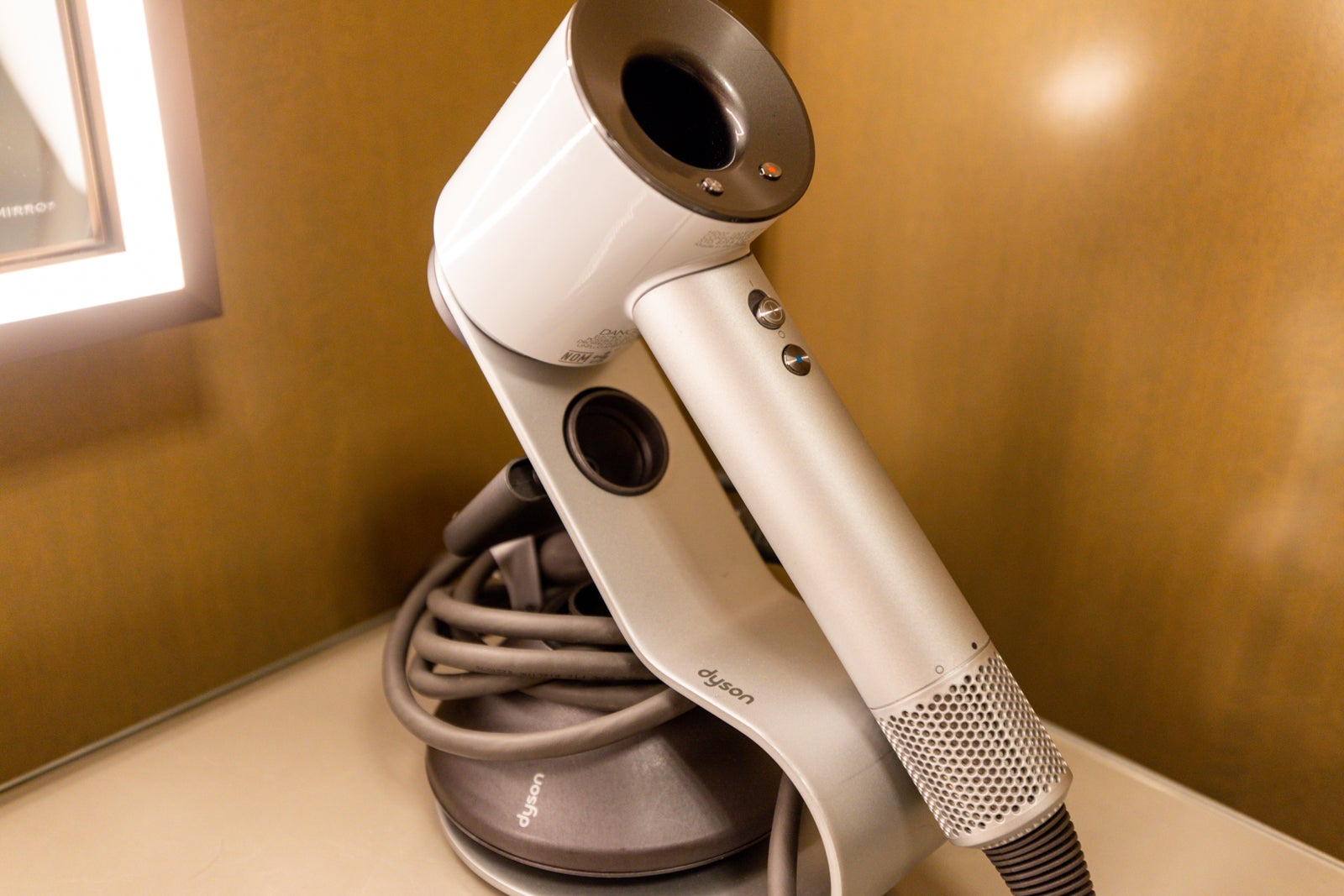 But one of the most unique experiences offered to Skyvilla guests is calling the cigar butler, Ricardo Smenner, and his team, who can arrange an in-room cigar presentation featuring very rare (and expensive) cigars that can be smoked right in the room. Other amenities include a daily gourmet snack from a rotating menu, Bvlgari bathroom amenities, Dyson hairdryers and, because "no" isn't an option for Vegas high rollers, pretty much anything else you could possibly want during a stay.
Presidential Suite — Mandalay Bay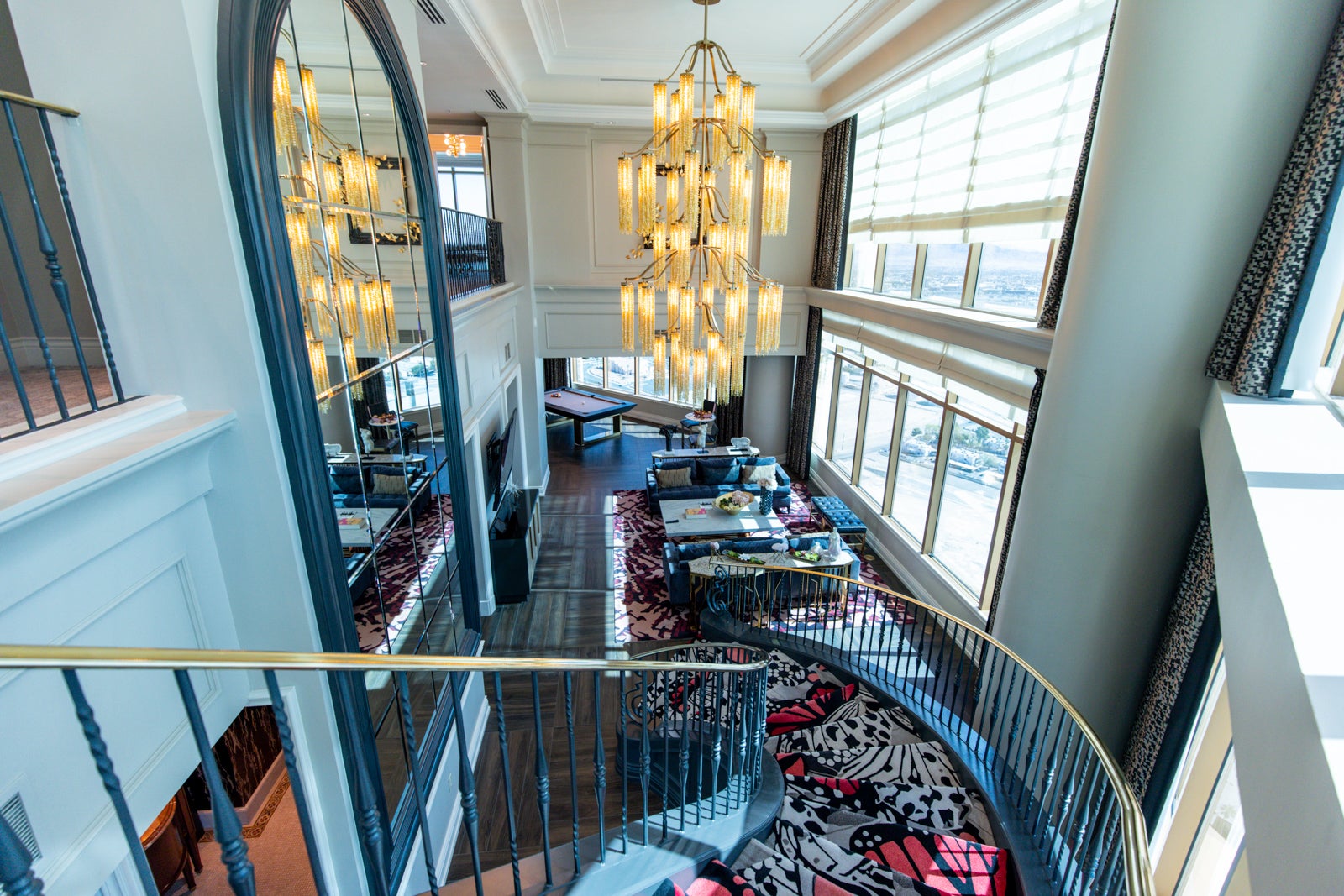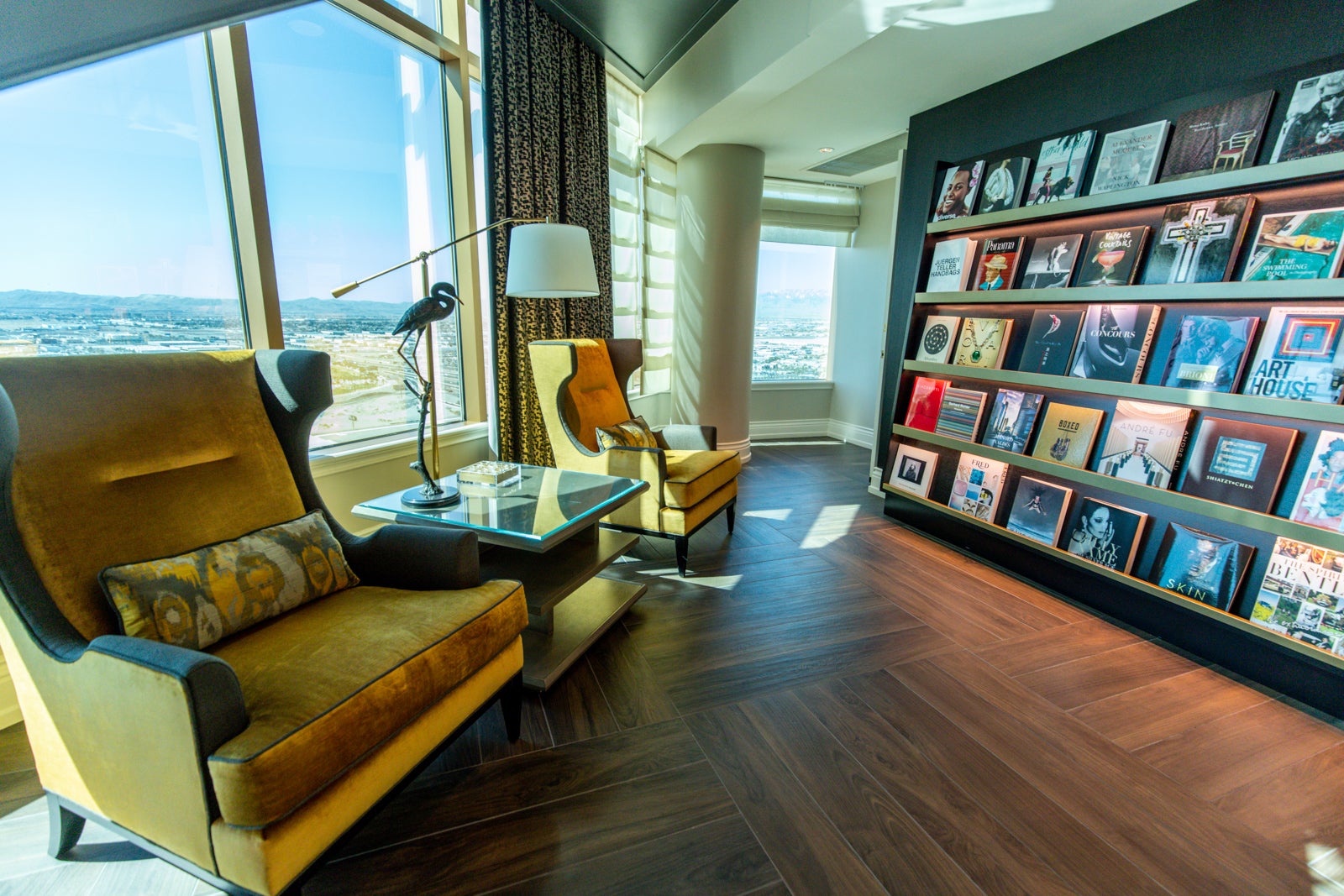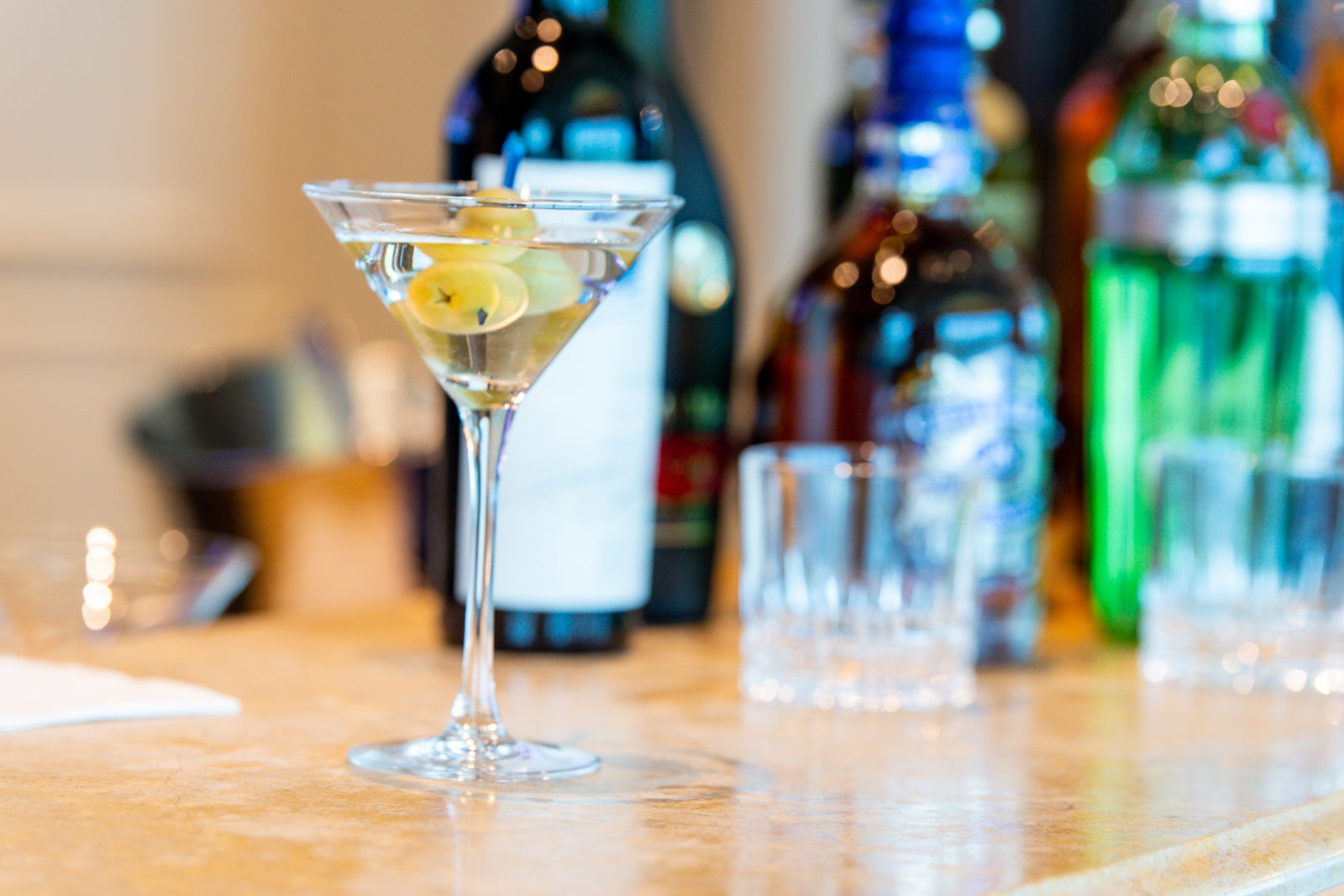 At Mandalay Bay, guests can have a world-class stay in a resort with one of the best pool complexes in town. But in the mind-blowing four-bedroom Presidential Suite, it only gets better. Weighing in at an impressive 5,610 square feet, this double-level suite has a pool table, a cascading chandelier, a library to catch up on the latest design books and a full bar where a butler can whip up a cocktail in no time — the only questions is: Shaken or stirred?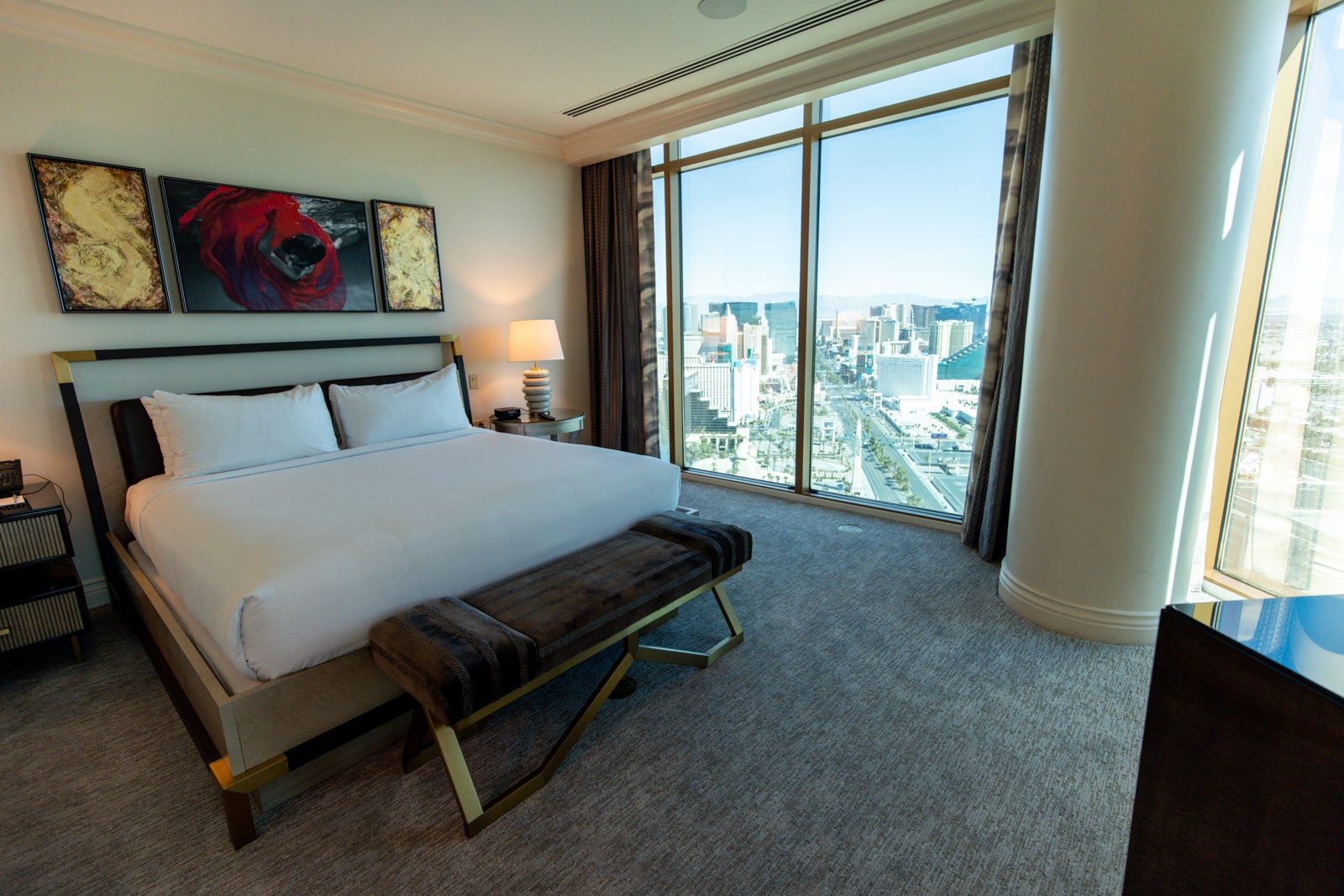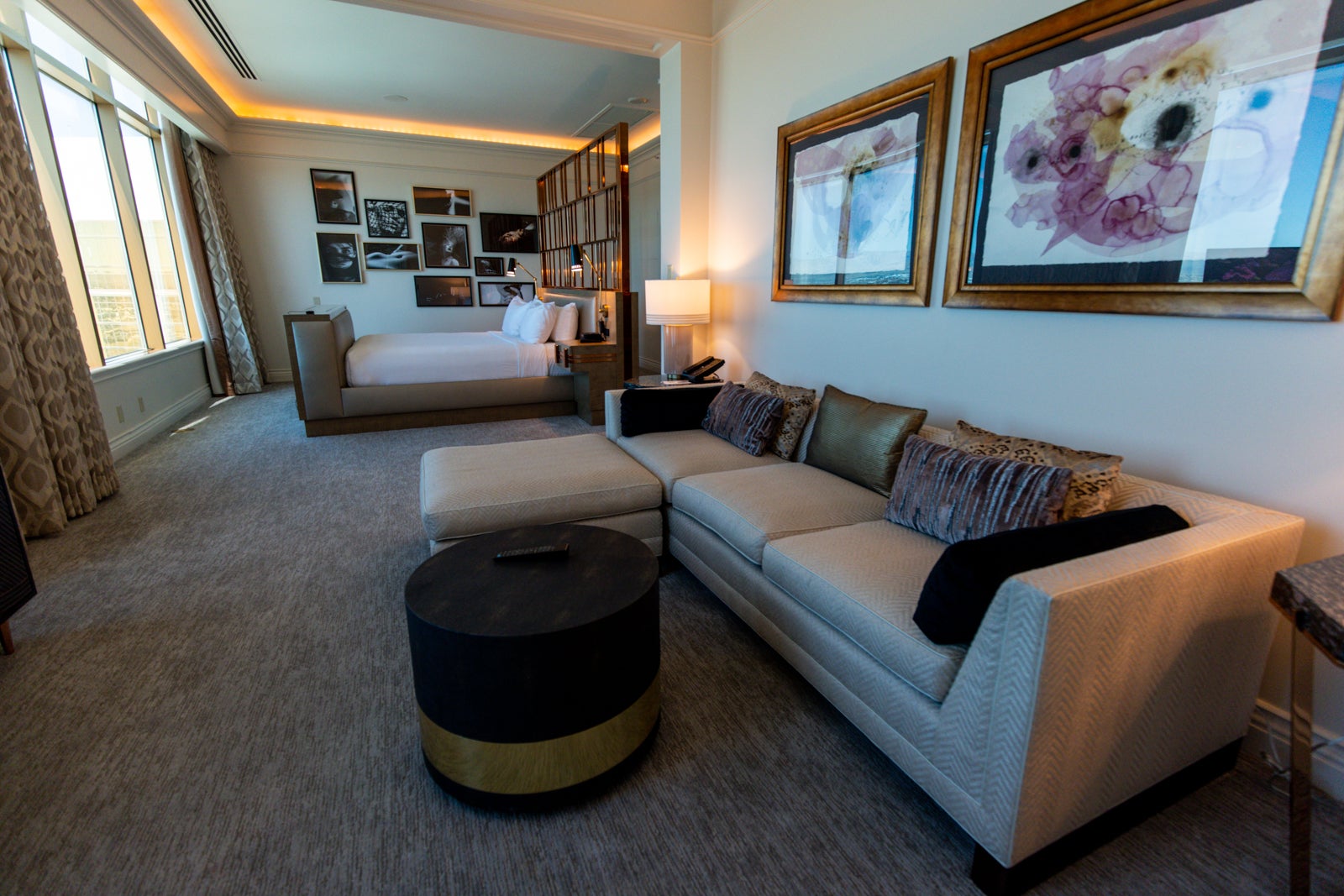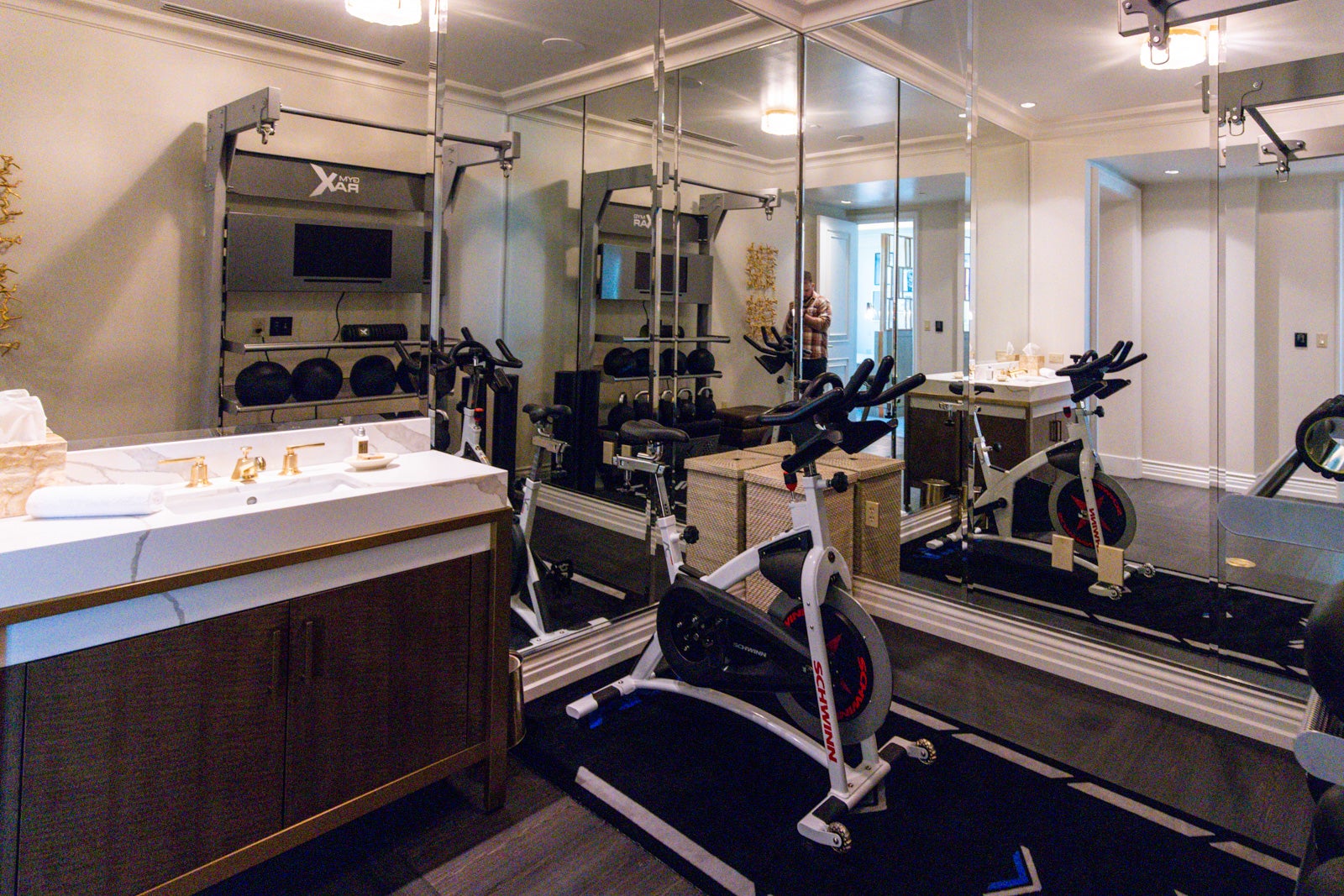 Of course, all four bedrooms have plenty of space and big bathrooms so nobody has to share — and we all know that's true luxury. One of the bedrooms has direct hallway access (and is probably where you should put that one friend who stays out all night.) There's also a fitness room with workout equipment and free weights and an entertainment room.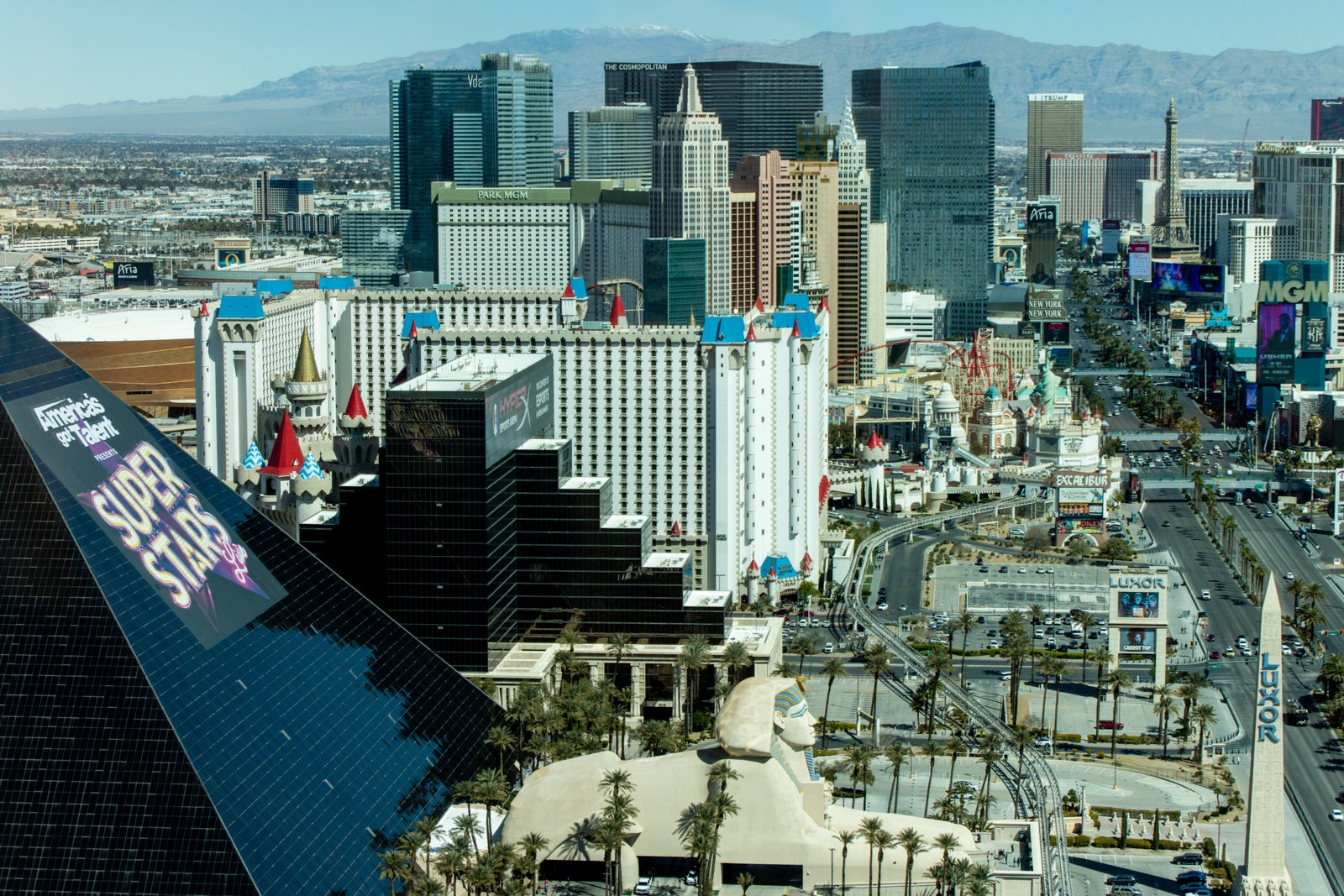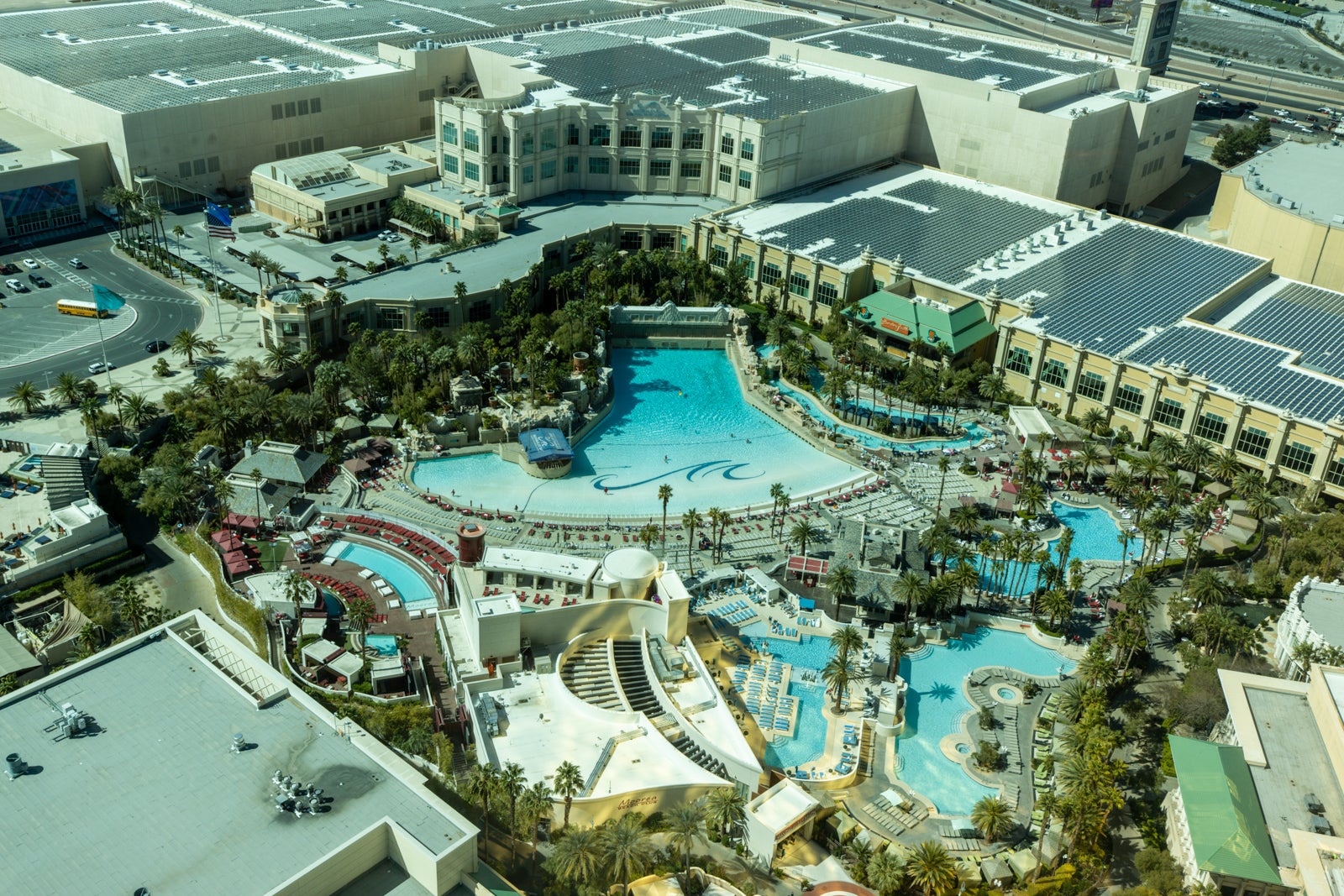 If you do have the chance to stay, be sure to look out every single window because the viewpoints from the floor-to-ceiling windows are incredible. Planespotters will especially appreciate the runway views of Harry Reid International Airport (LAS).
Boulevard Penthouse — The Cosmopolitan of Las Vegas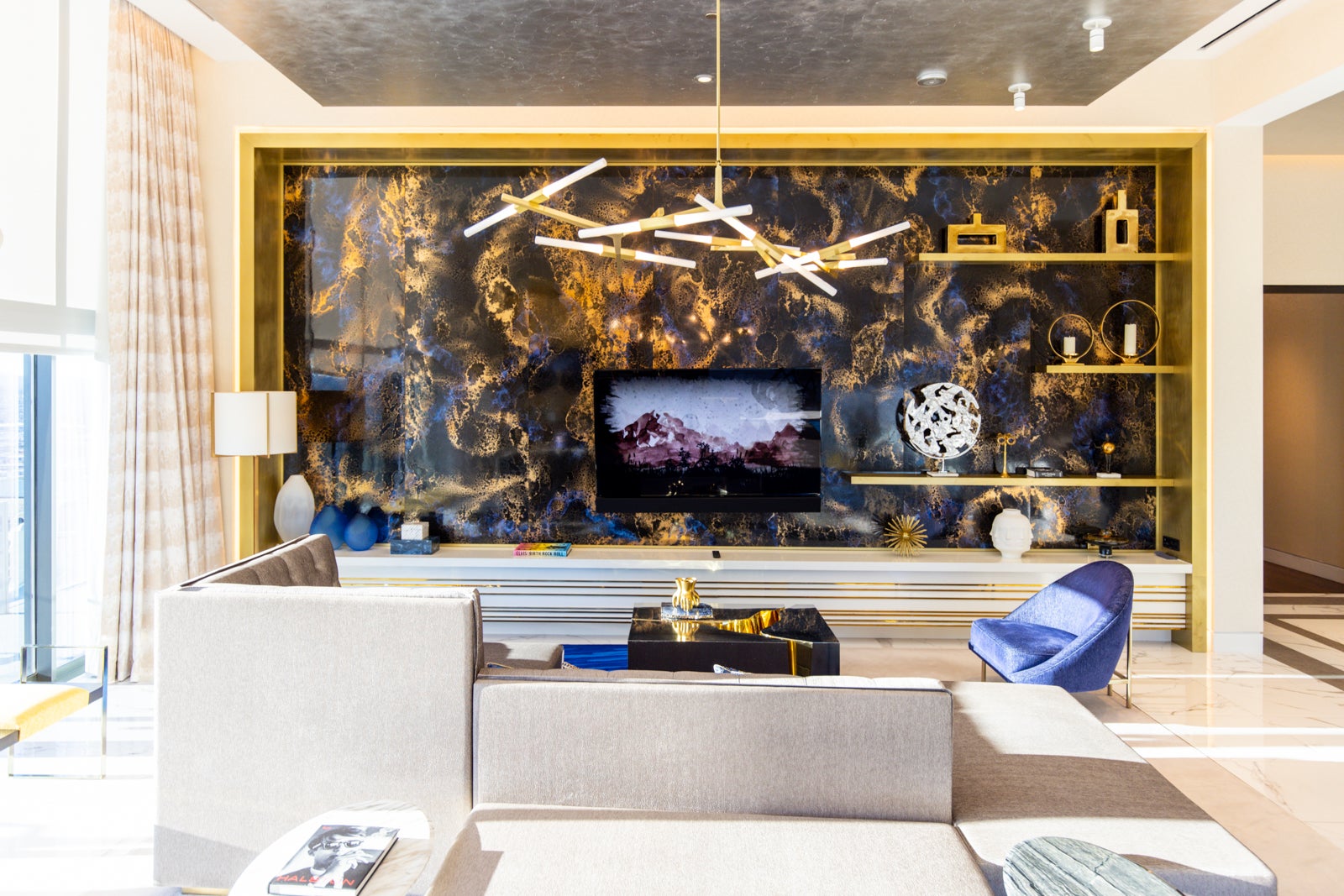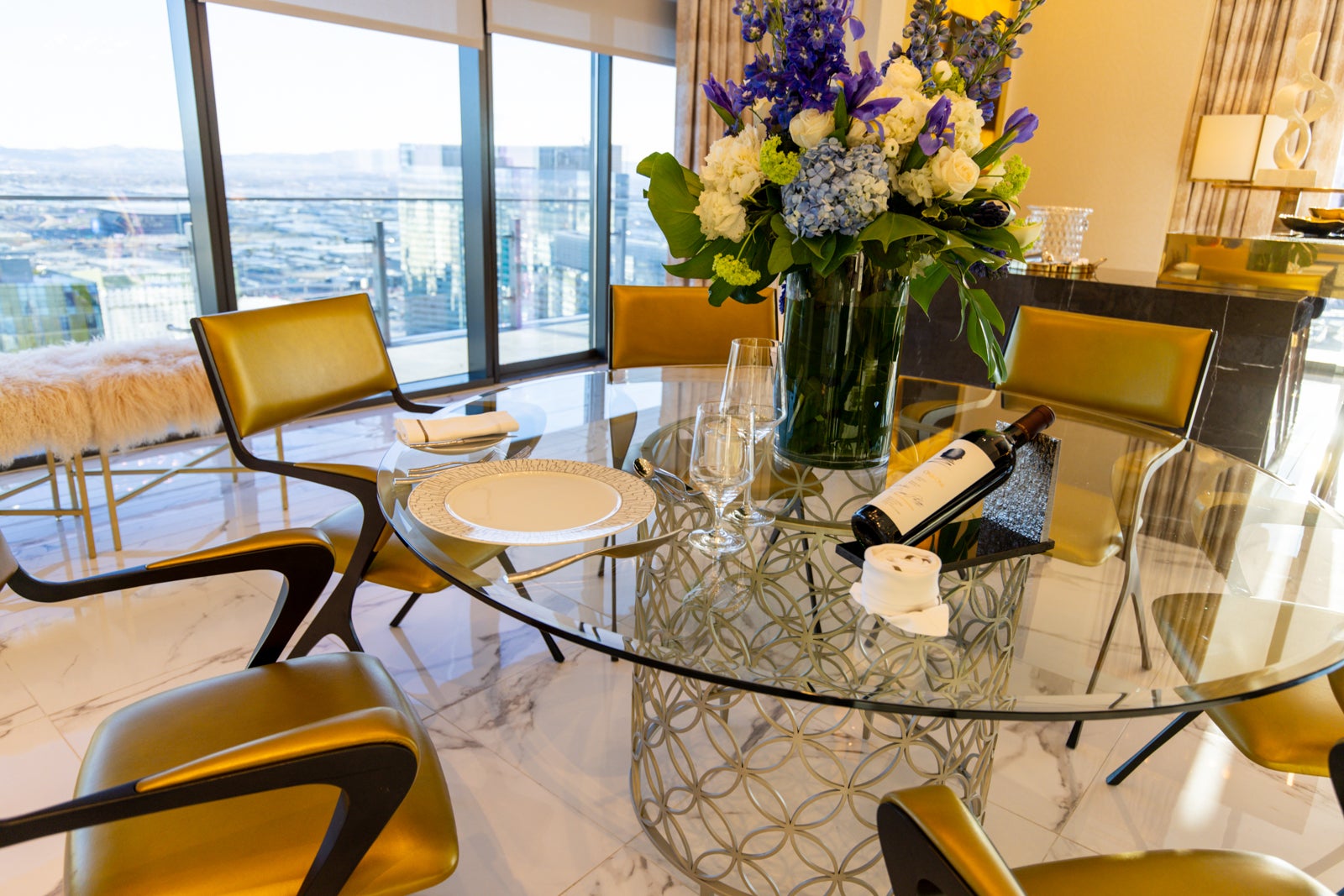 At the Cosmopolitan, everything is glamorous, especially the two-bedroom Boulevard Penthouse that I got to explore. In this suite, there are bright pops of blue, contemporary art everywhere you look and so much natural sunlight from the wall-to-wall, floor-to-ceiling windows. Not to mention, there's a wrap-around balcony offering panoramic views of the city.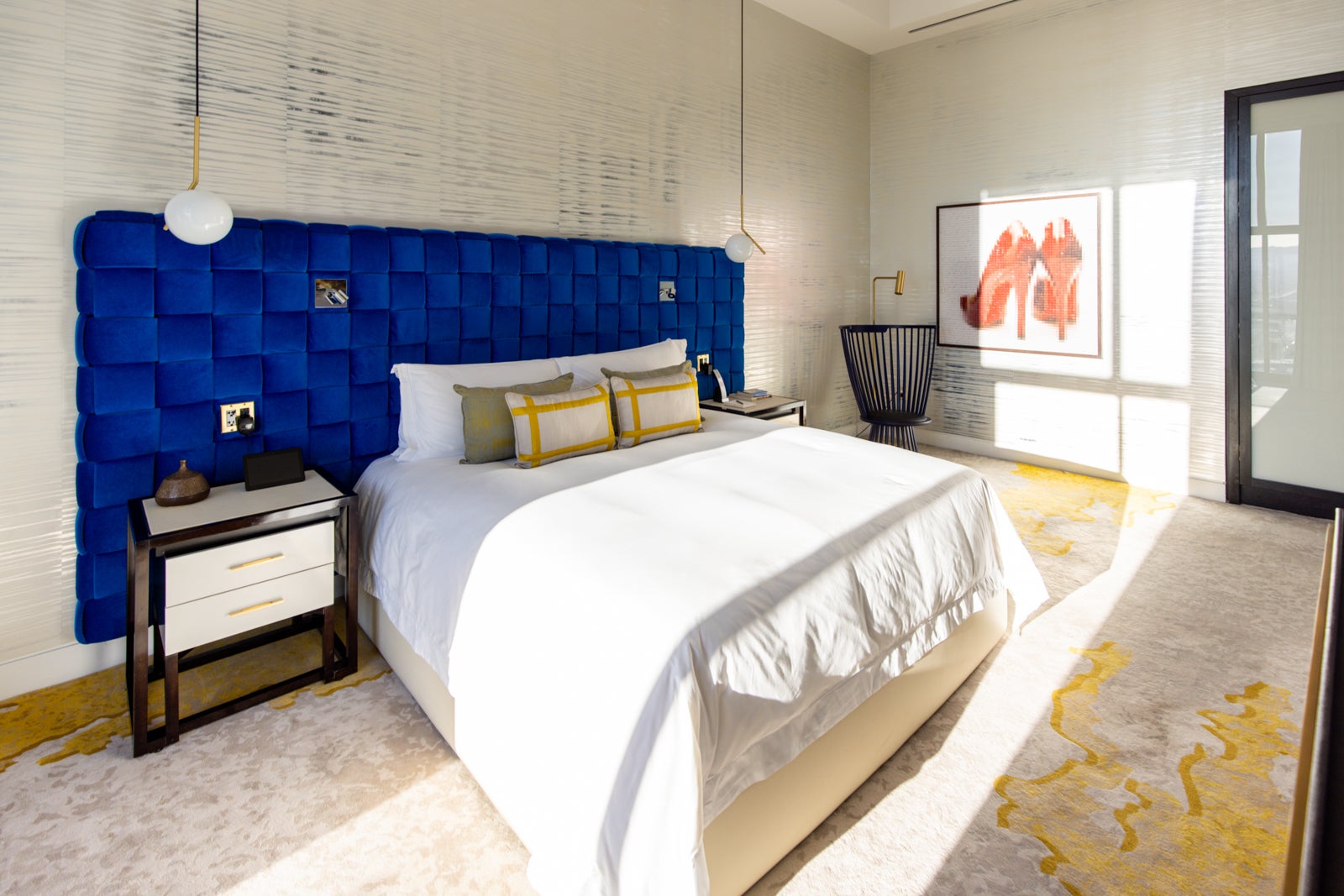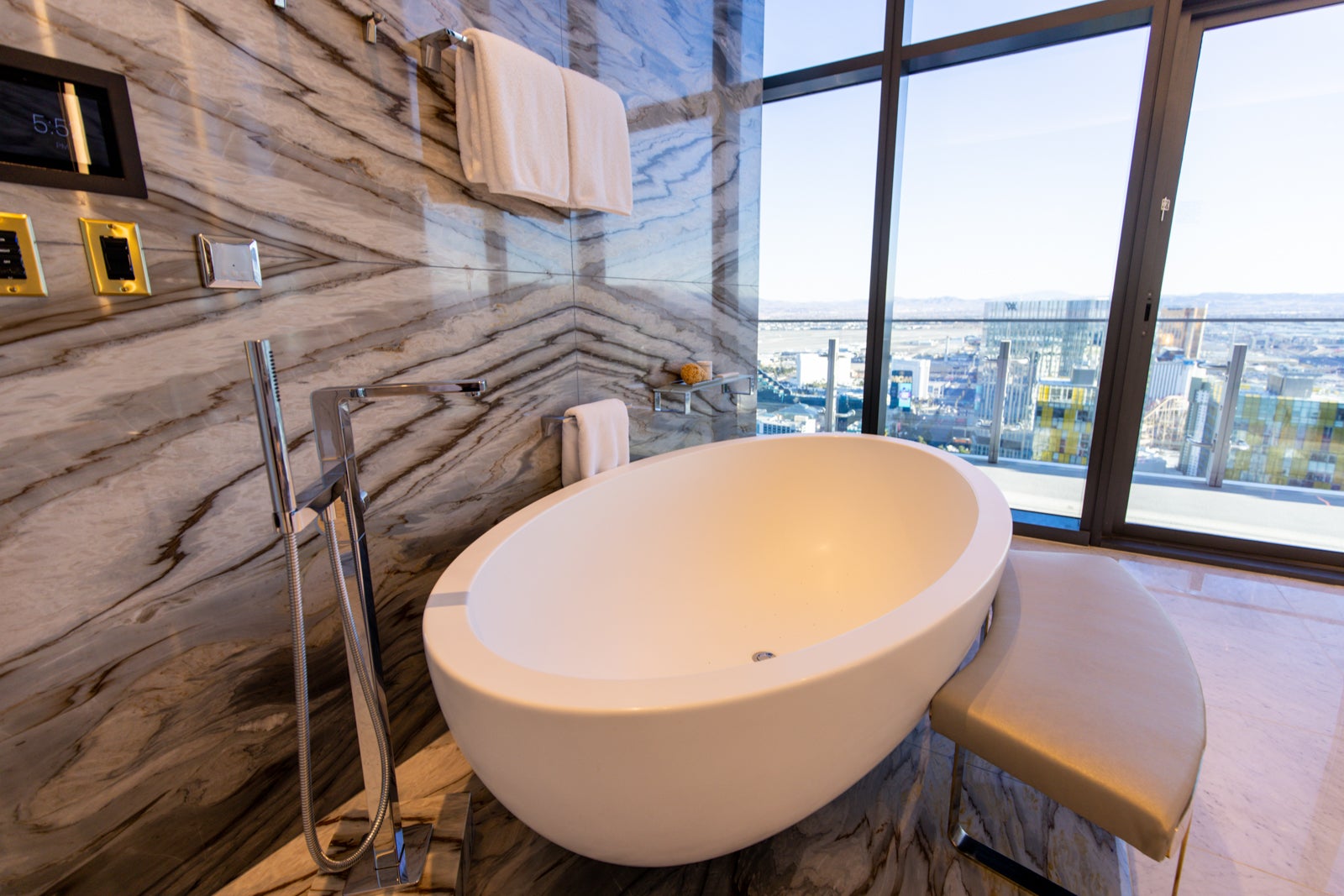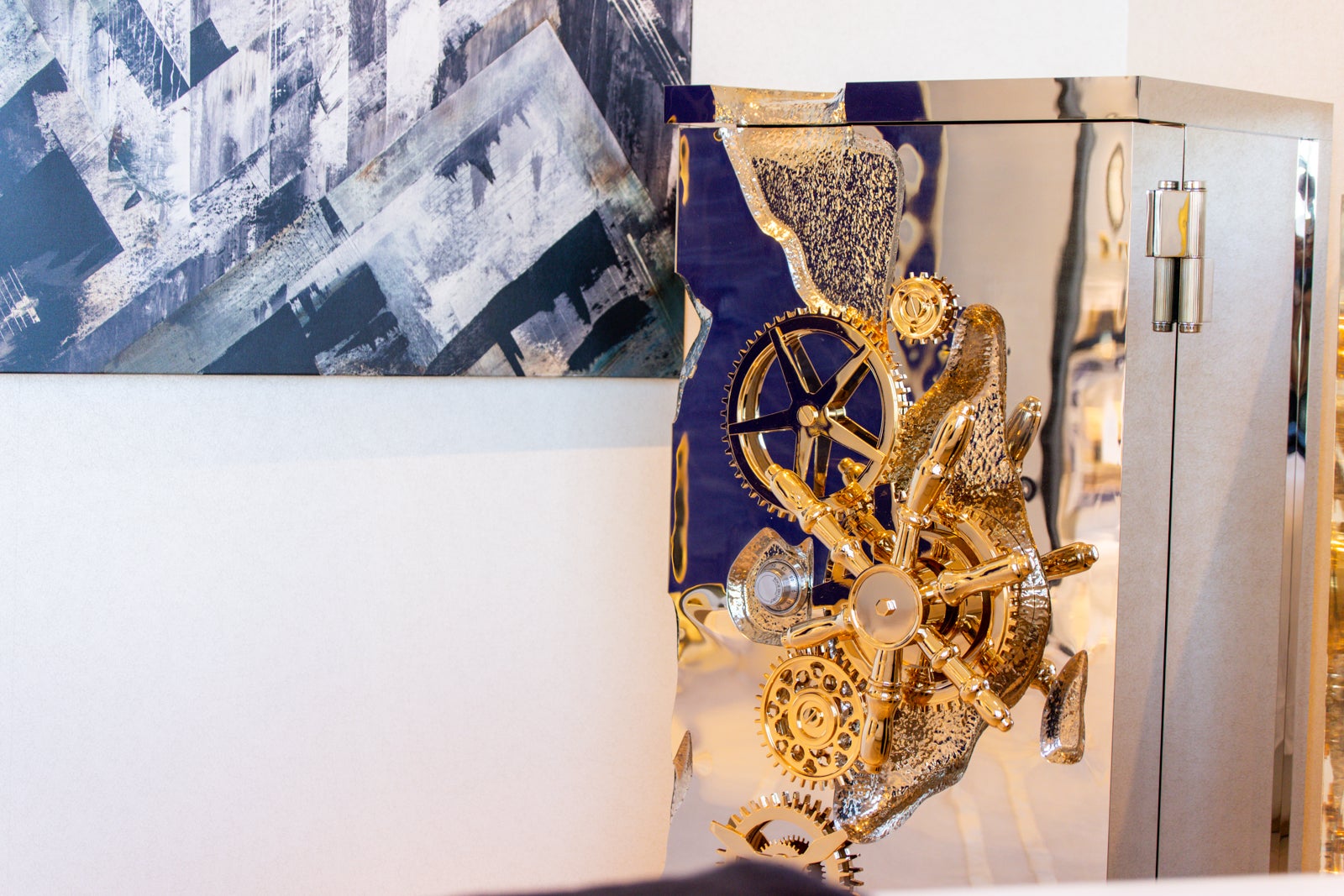 In the rooms, expect to find custom headboards that almost look like they were designed by Bottega Veneta, a safe that feels like it belongs in a contemporary art museum and pod-like bathtubs that you'll want to soak the day away in. If you get hungry, order up a multi-course meal (don't forget the seafood tower) and enjoy it in your dining room. And, when the sun starts to set, have cocktails on the balcony for an evening you'll never forget.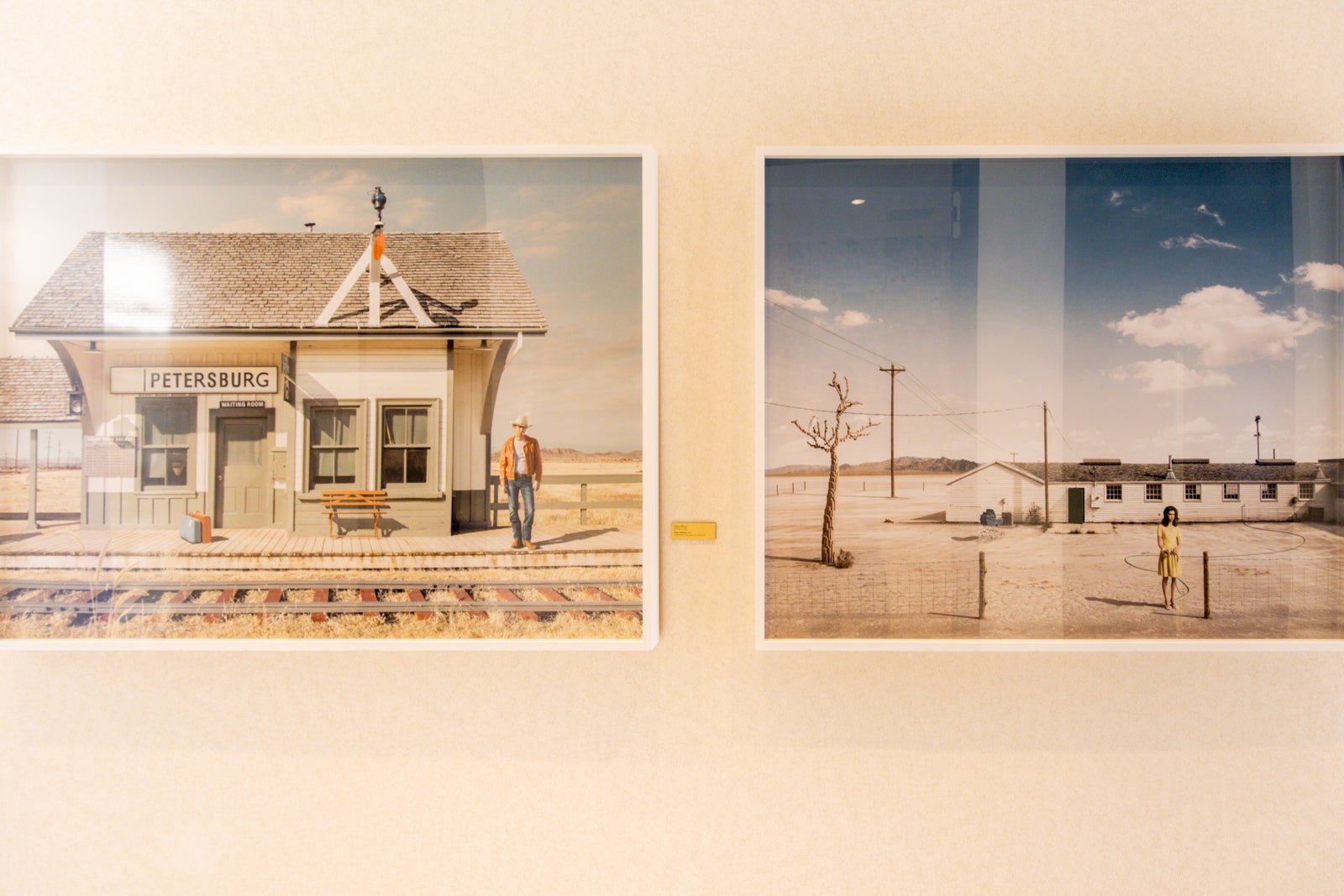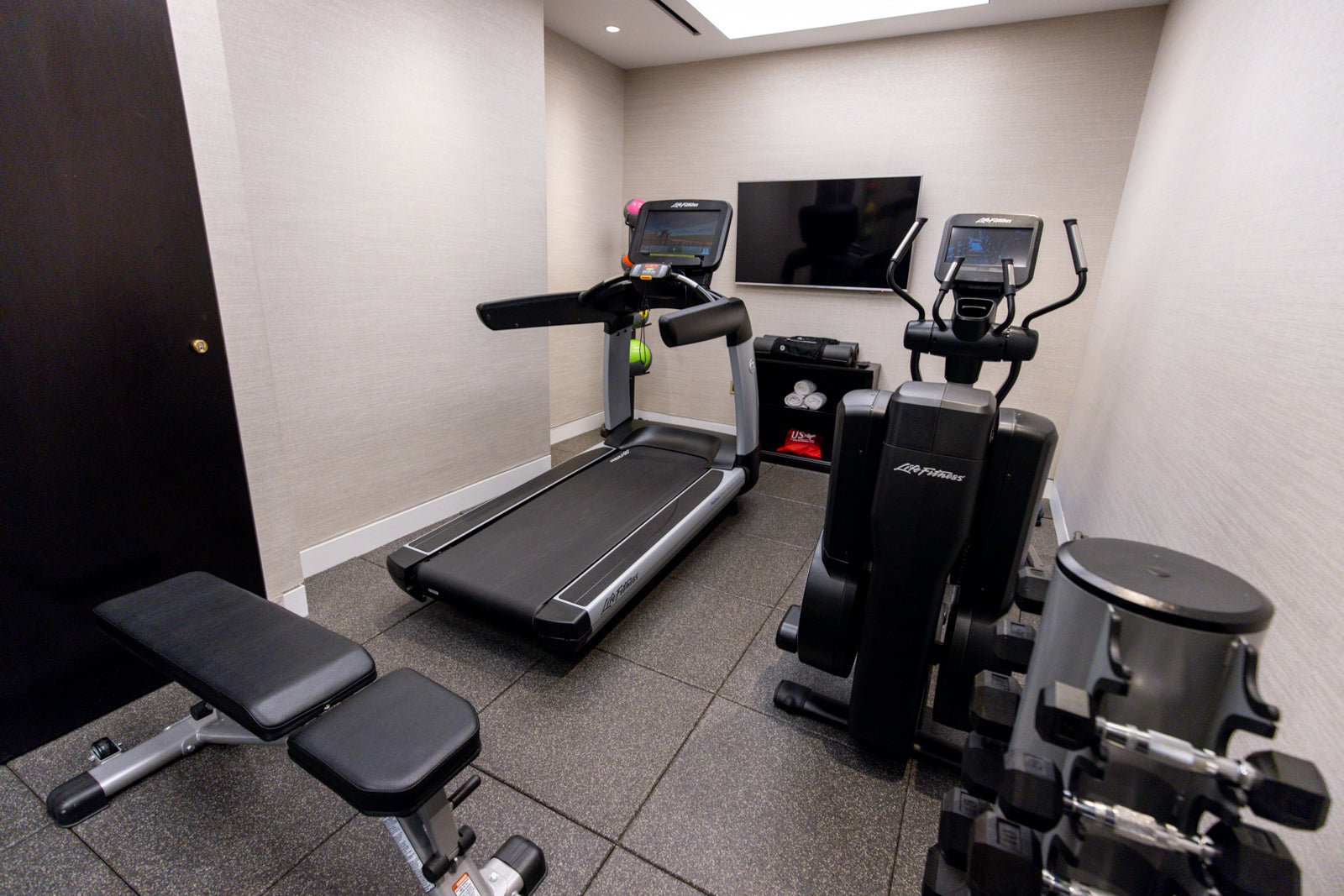 And, in the unlikely chance you get bored, head to the pool table for a game, hit up the ensuite gym for a workout, call for a massage therapist who can work out the kinks in your back in the suite's treatment room or just treat it all like a museum and explore the incredible artwork waiting to be seen.
Kingpin Suite — Palms Casino Resort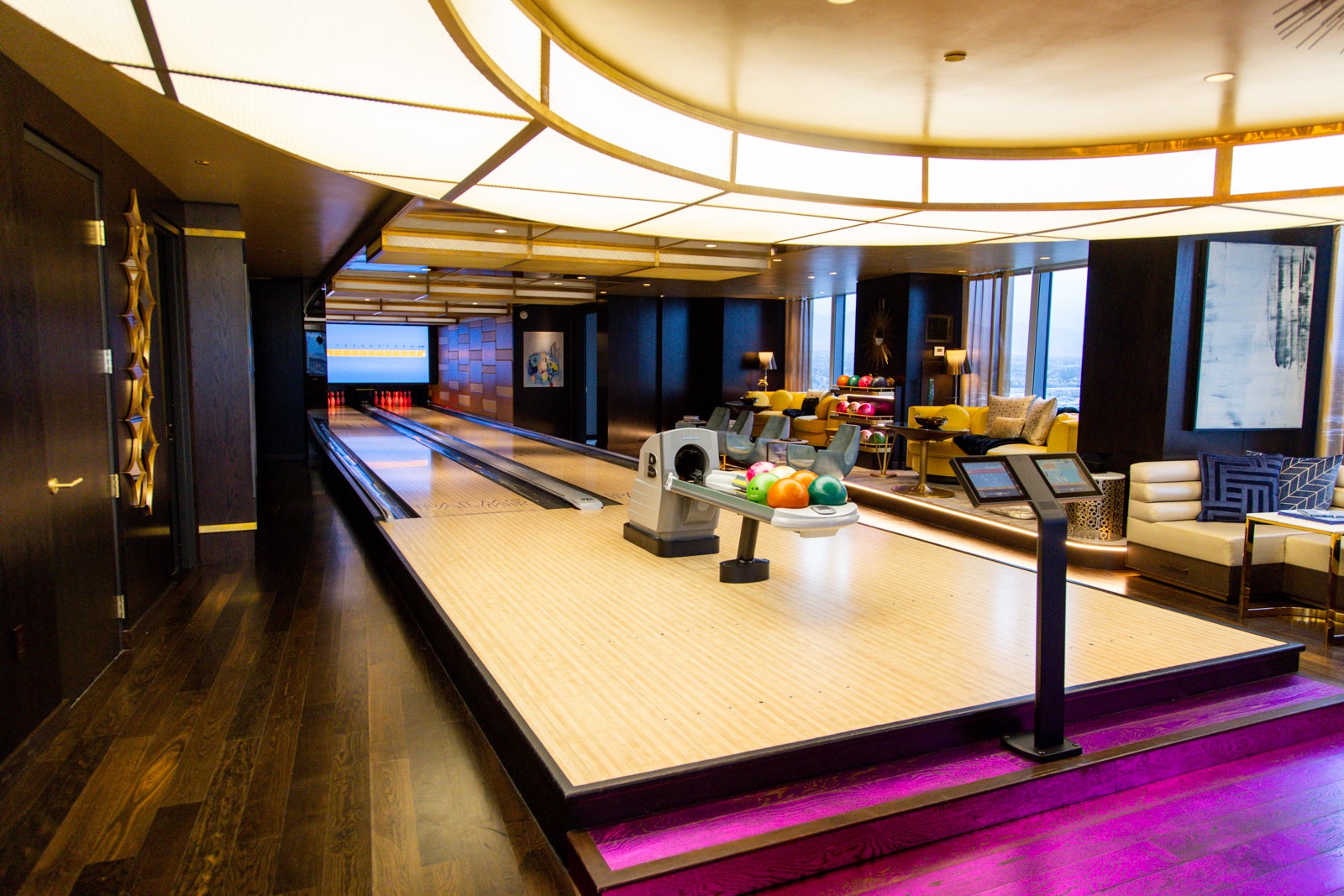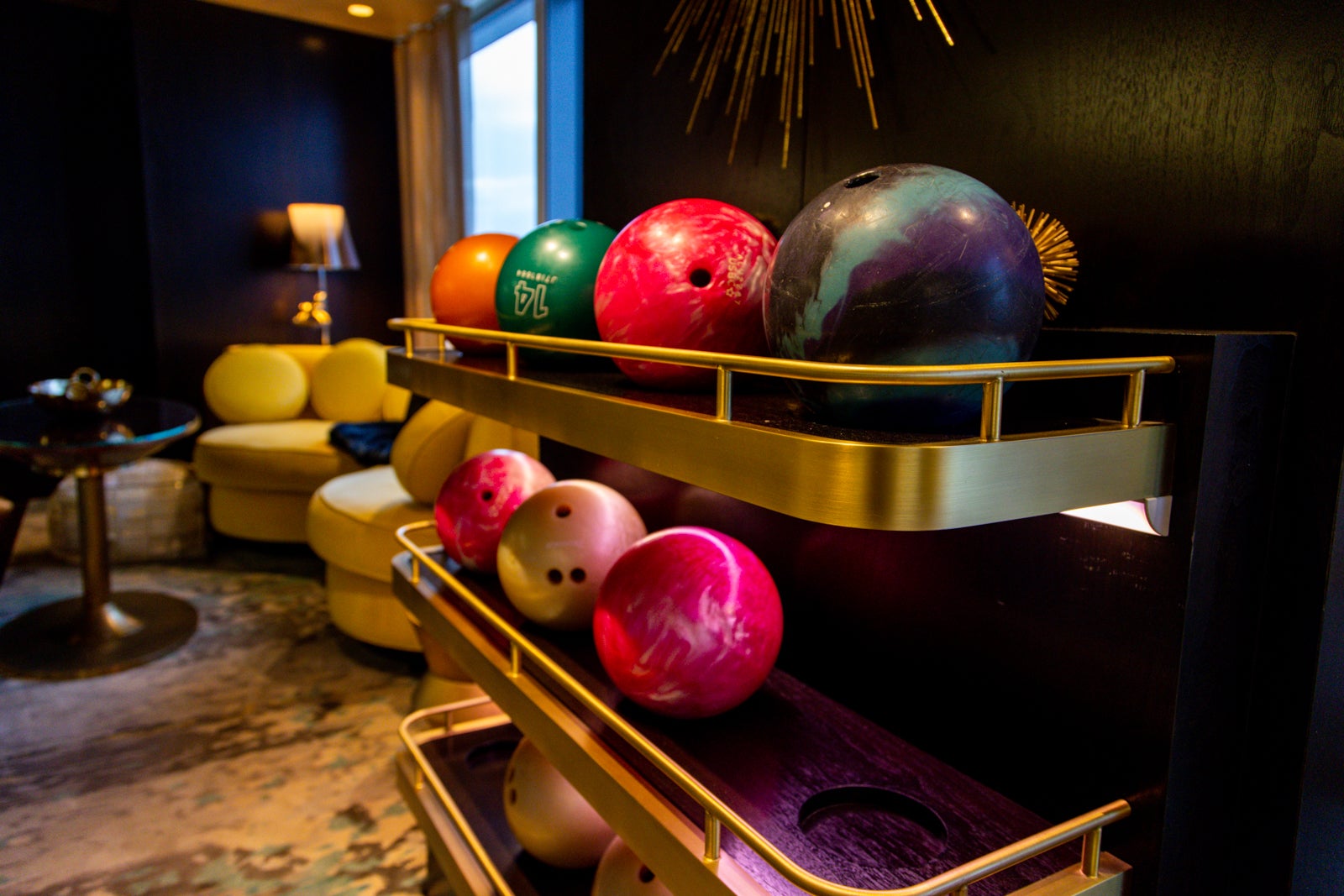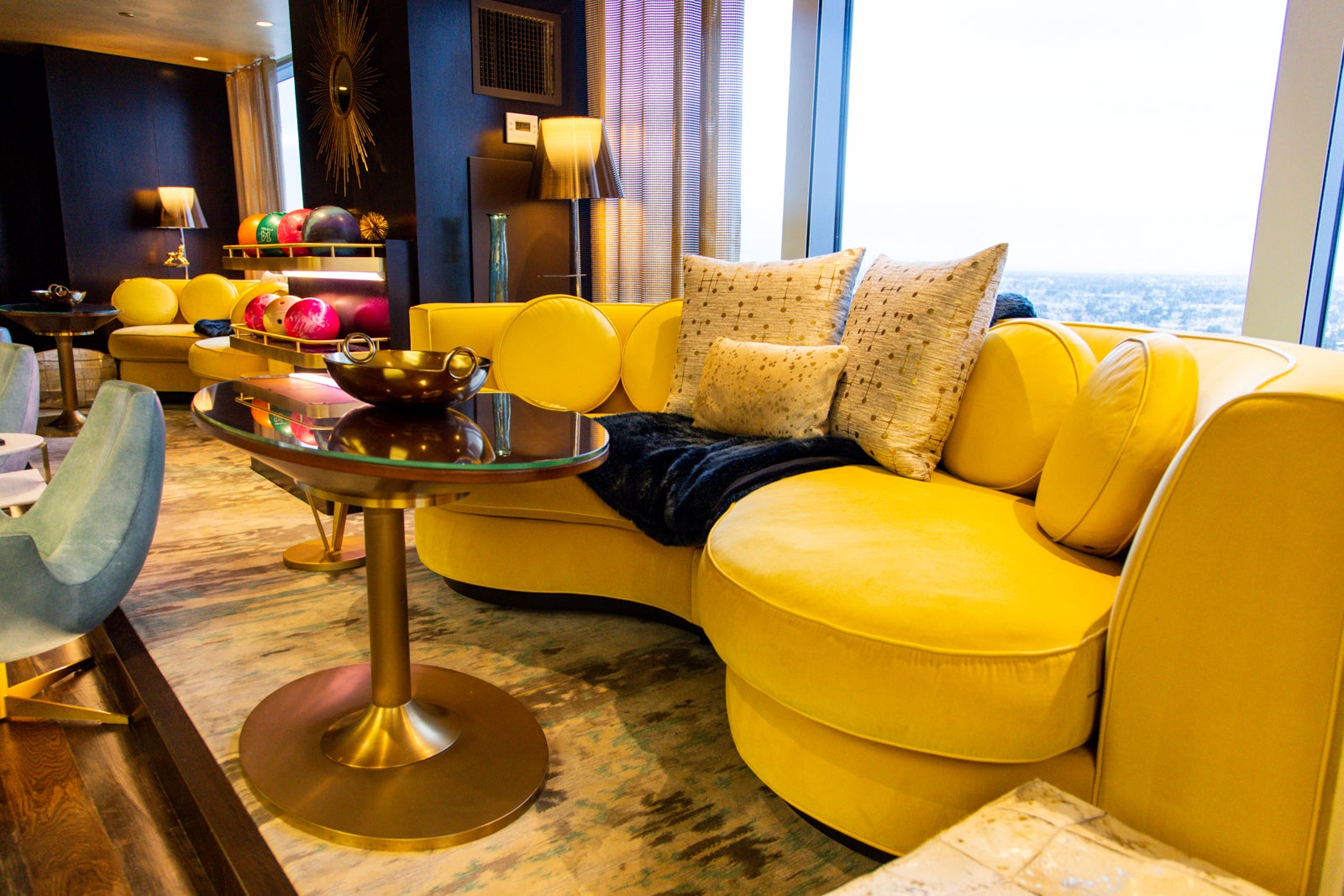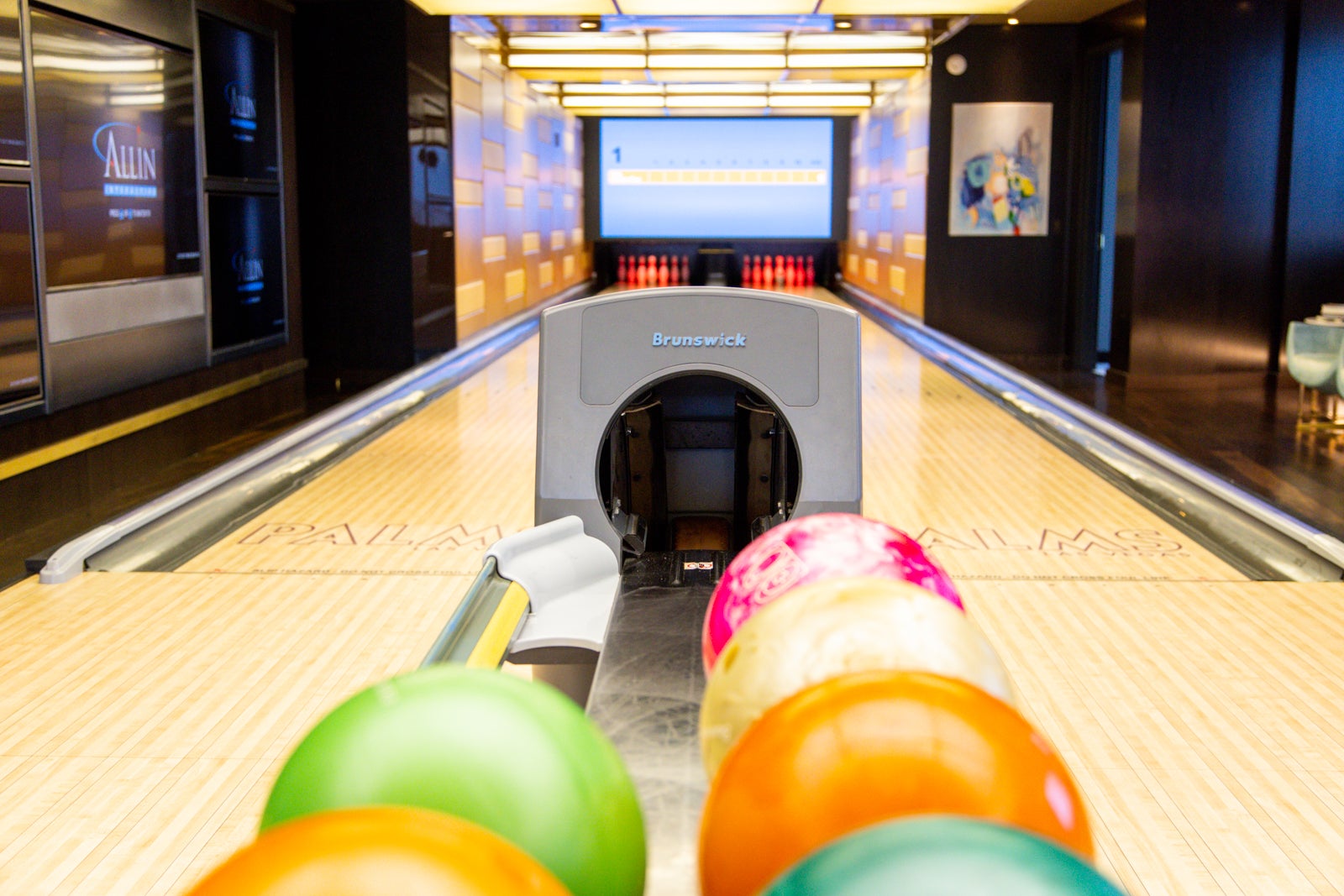 Back at the Palms, a suite with a two-lane bowling alley could be yours starting at $15,000 a night. But, considering it sleeps up to 10 people, you could really break it down and make it pretty cost-effective for a special experience. The suite is totally soundproofed from the other rooms on the floor and the hallway so that you can bowl 24/7, and there's even a special closet full of bowling shoes to choose from. And, considering the party nature of the suite, there's also a wall of TVs you can project all the different channels on, a DJ booth and a long bar.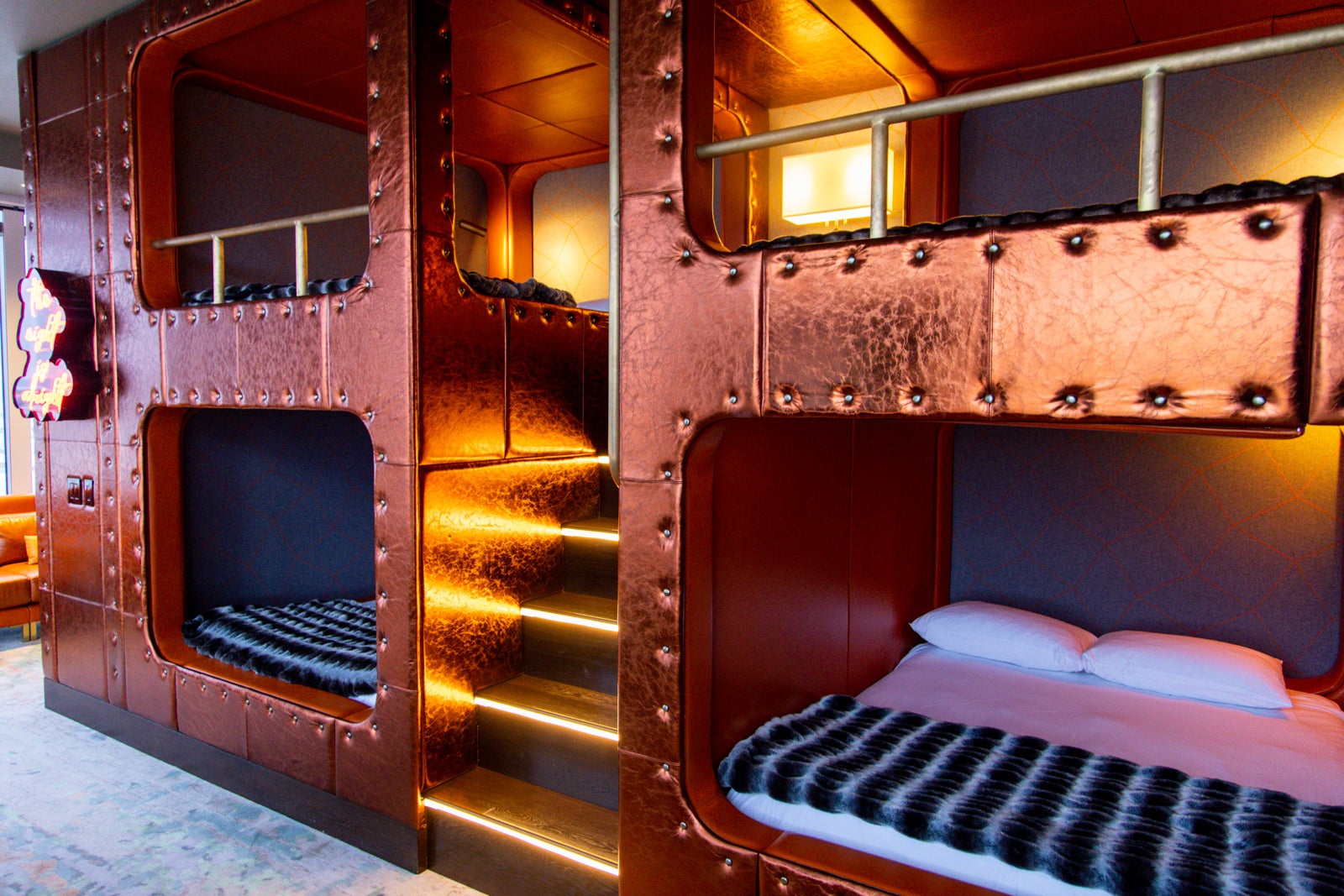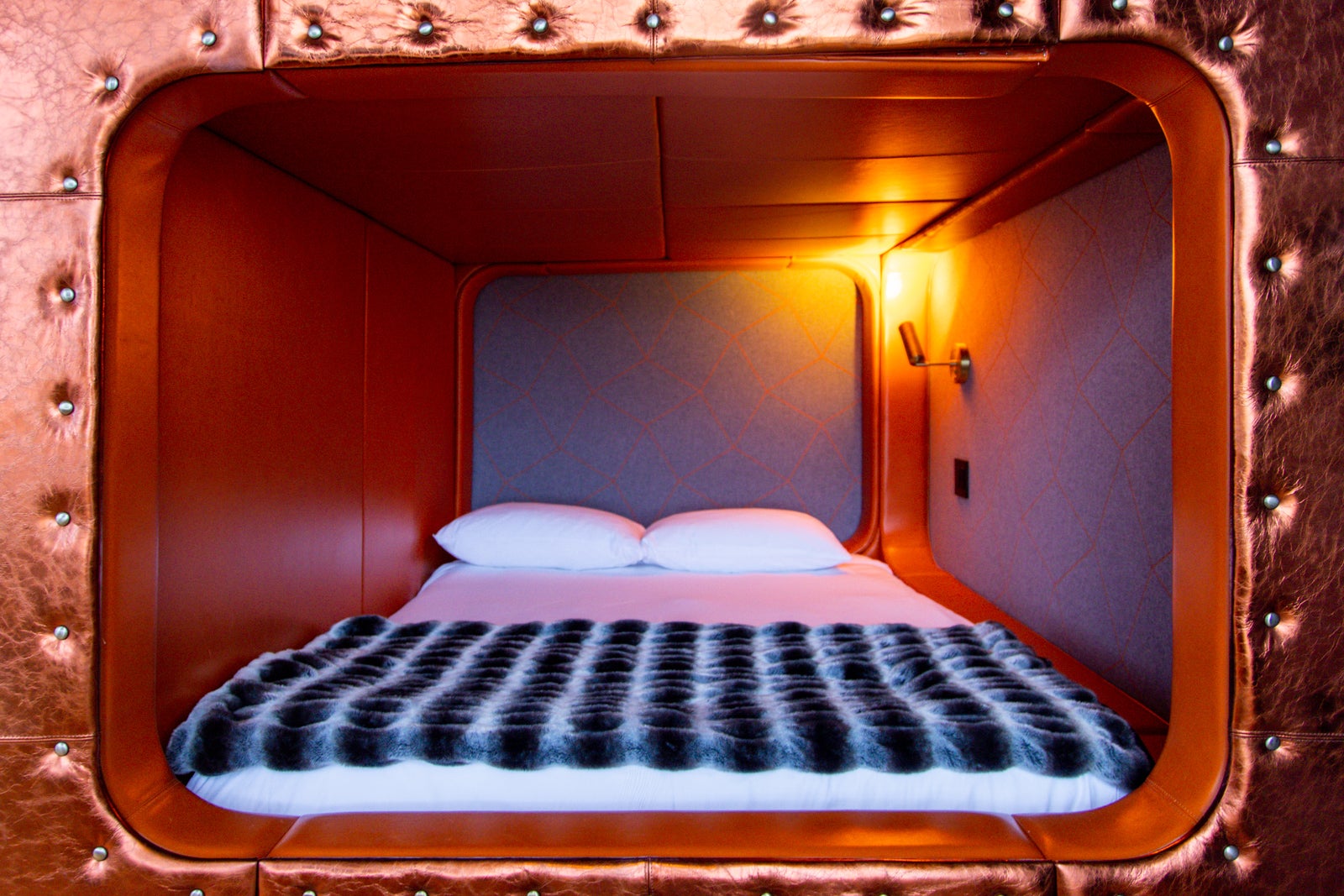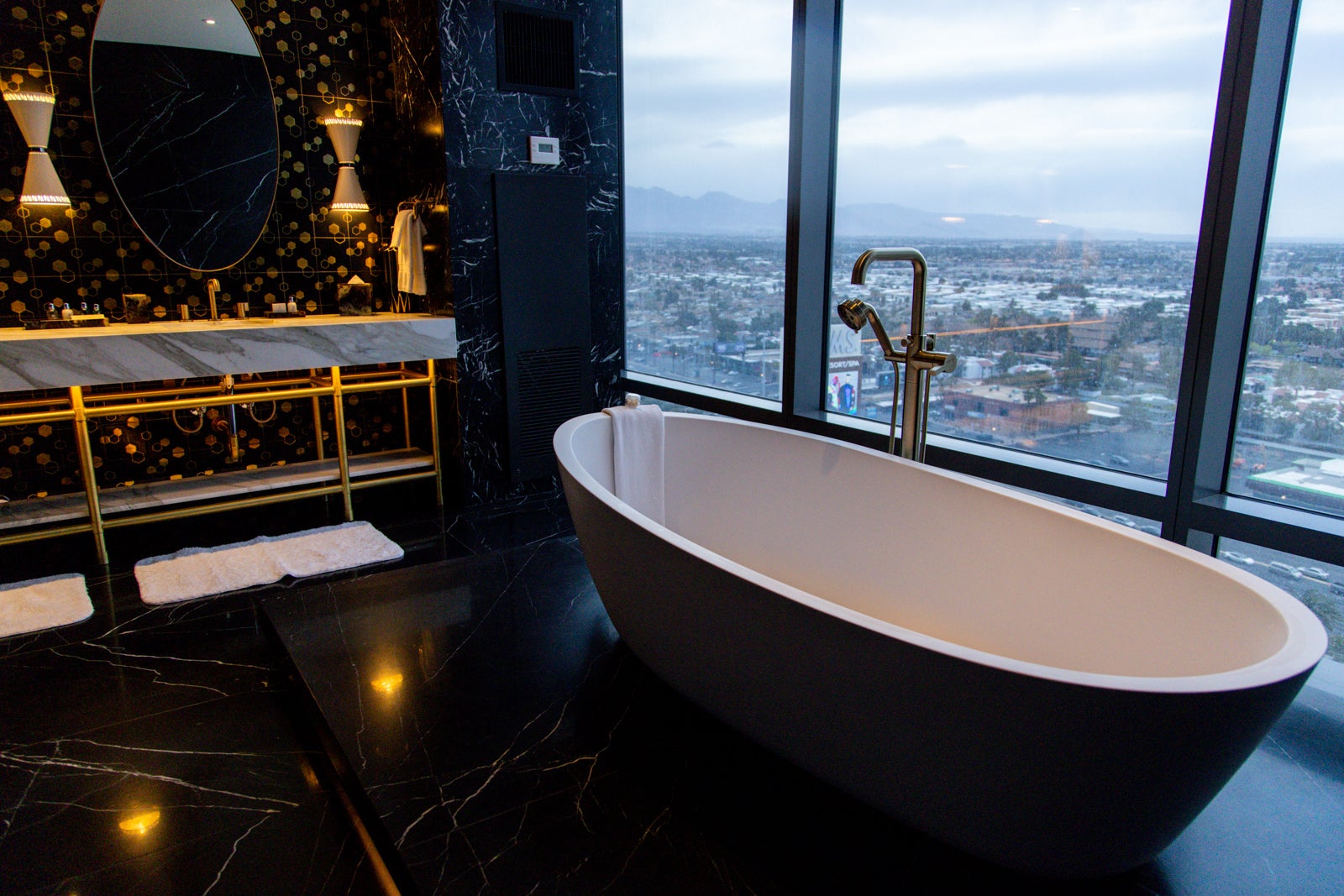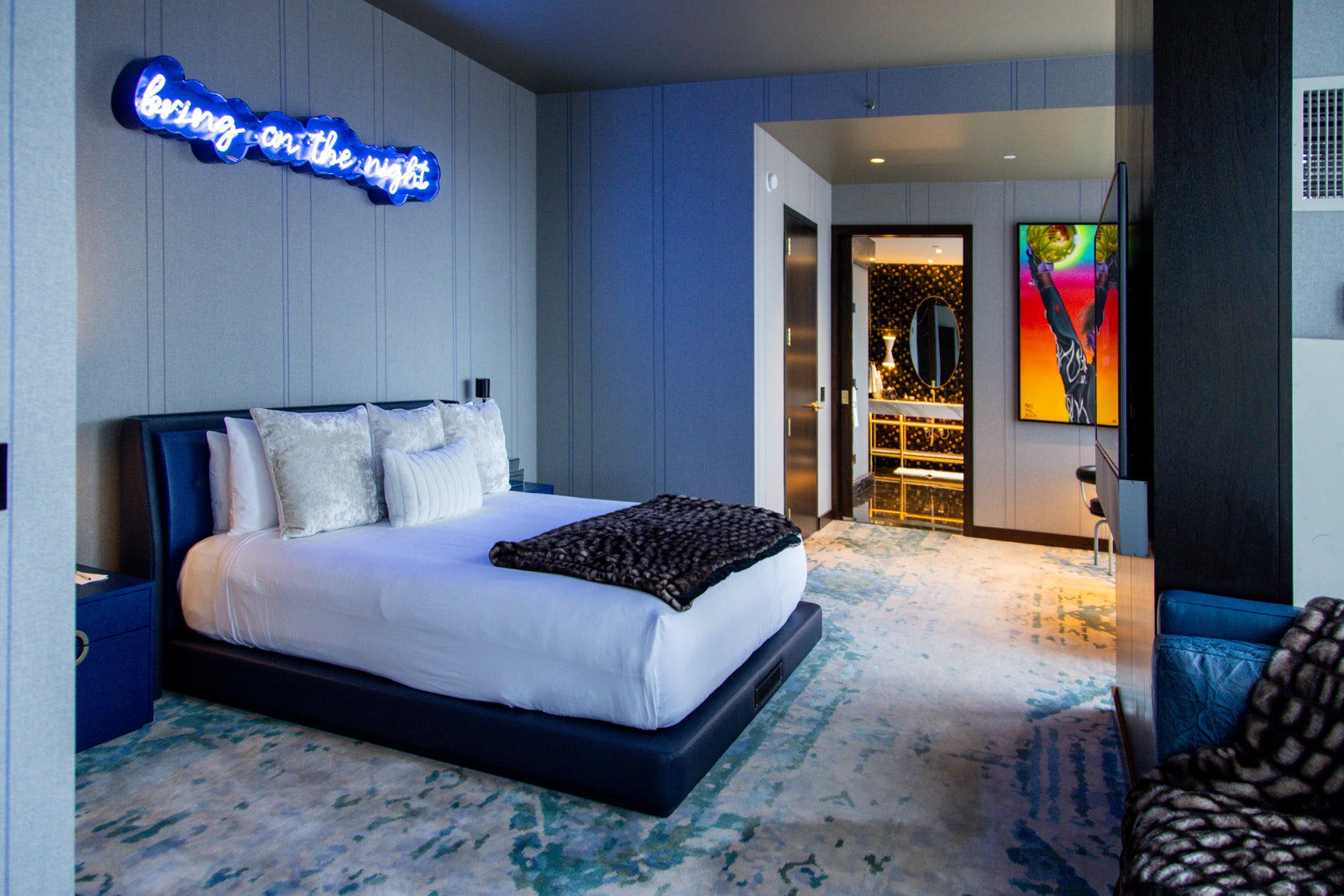 As for where guests sleep, the secondary bedroom has a one-of-a-kind system of adult bunkbeds that can sleep eight, along with a bathroom. The main bedroom is stunning, with views out to the Palms' neighboring tower, plus a bathroom with a soaking tub. But you'll probably not get any sleep in this room as pajama bowling is something that shouldn't be missed.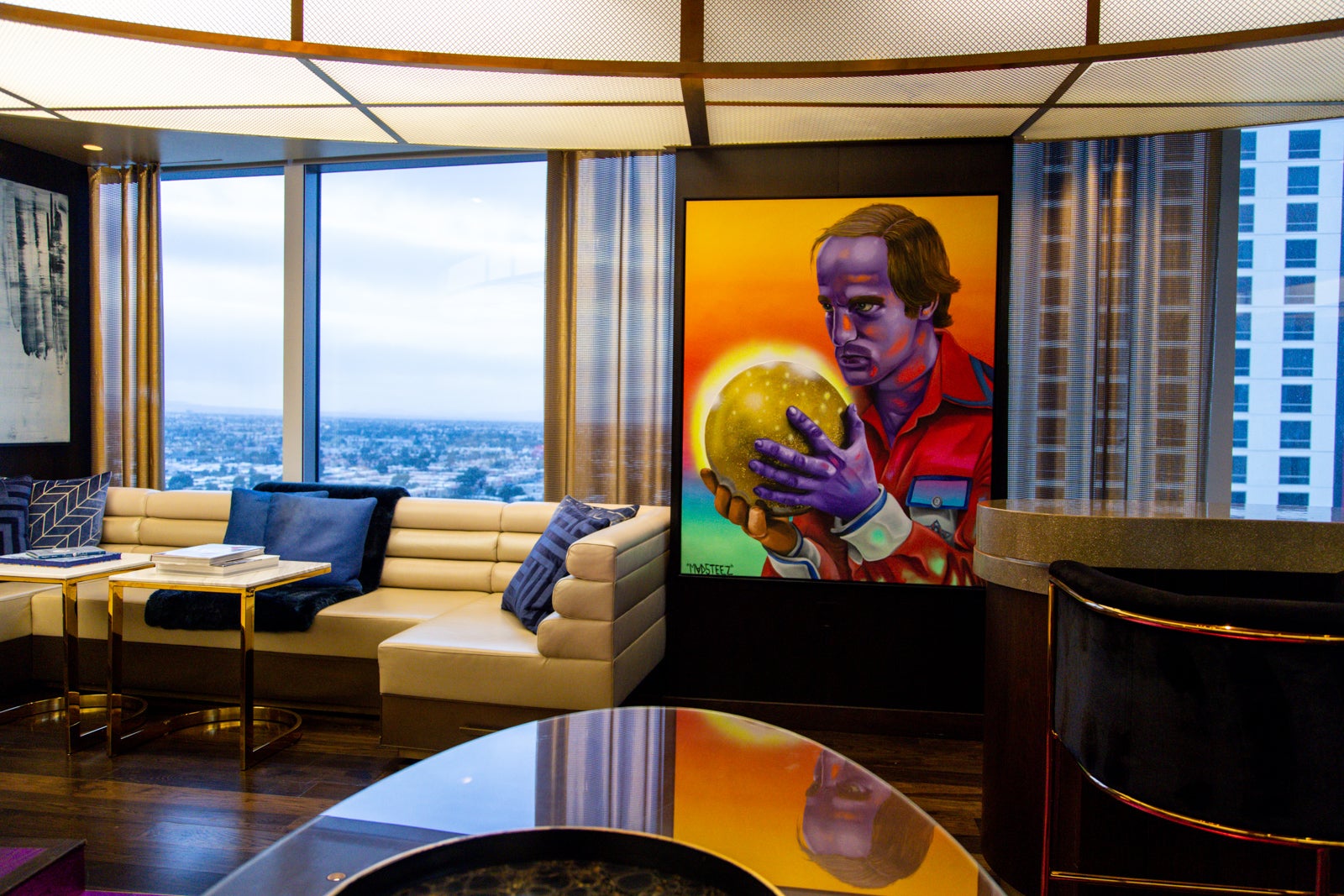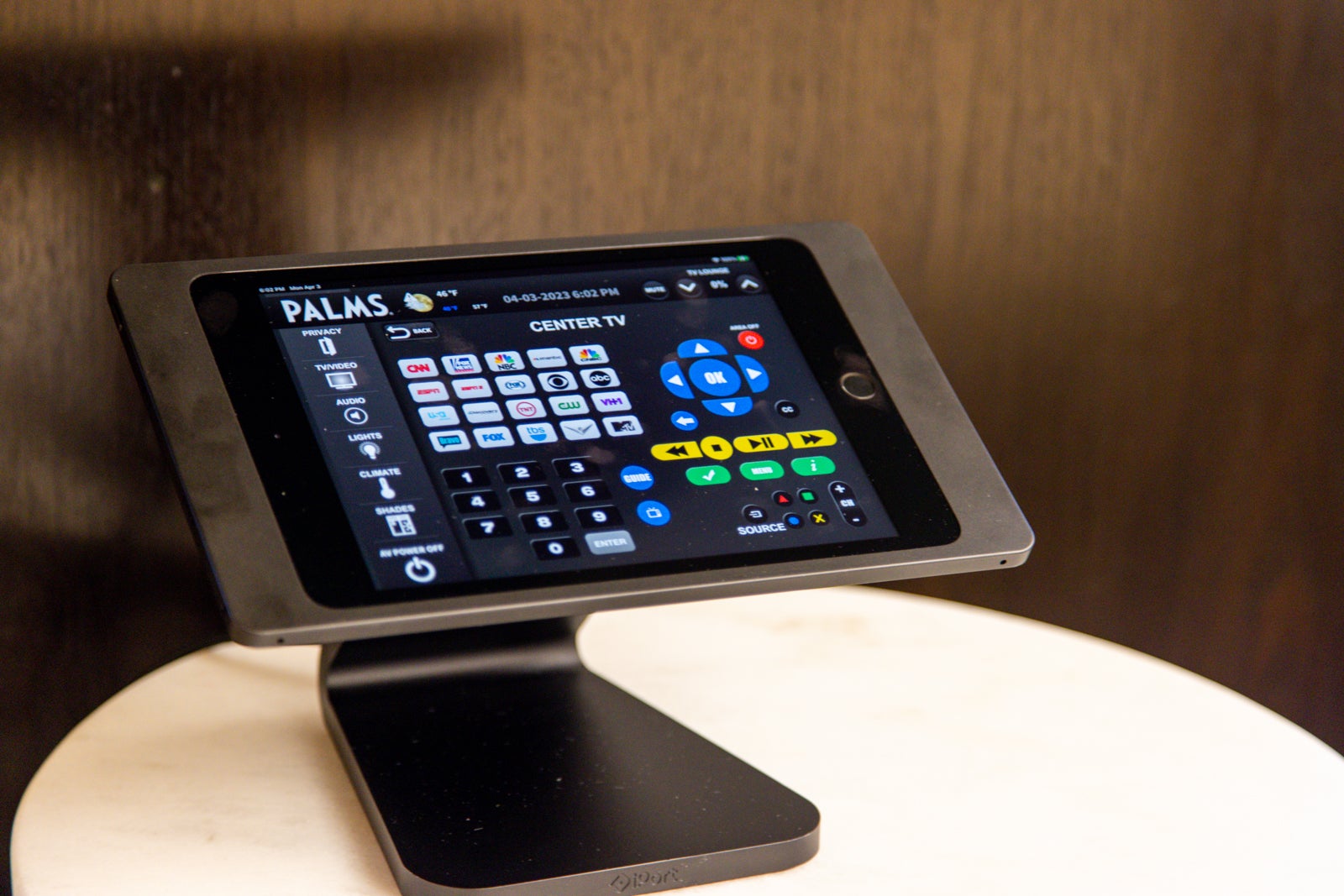 Bottom line
Whether you're looking for a totally classy suite to rest your head, a suite to share for a bachelor or bachelorette party or simply wondering how the other half live, Las Vegas is a place where nothing is too much. You can stay at the cheapest suite in town (a mere $77 a night) or one of the world's most expensive. Either way, Vegas is Vegas — and there's really, truly something for everyone.