What if you could wave a magic wand and conjure up the "Best Flight Ever"?
A flight where everyone is excited to see you and cheers upon your arrival. There's a red carpet, colorful balloon arches, plenty of friendly faces ready to lend a hand, free and unlimited snacks, dancing and face painting at the gate and even free hot food on board.
But that's just the beginning. What if that flight also launched water cannon salutes during takeoff and landing? Perhaps there's even a Broadway performer and published author on board to entertain you with singing and a fun book reading.
This isn't a dream — it really happened April 12 on an American Airlines flight leaving John F. Kennedy International Airport (JFK) with 26 Make-A-Wish children and their families on board. And the Best Flight Ever was just the beginning of their journey..
What is the Best Flight Ever?
The Best Flight Ever is a philanthropic effort from The Points Guy, American Airlines and Make-A-Wish to create a magical, once-in-a-lifetime vacation experience for 26 kids diagnosed with critical illnesses and their families.
Using travel as a force for good is one of the most important things that TPG does, and something that TPG's founder Brian Kelly holds near to his heart.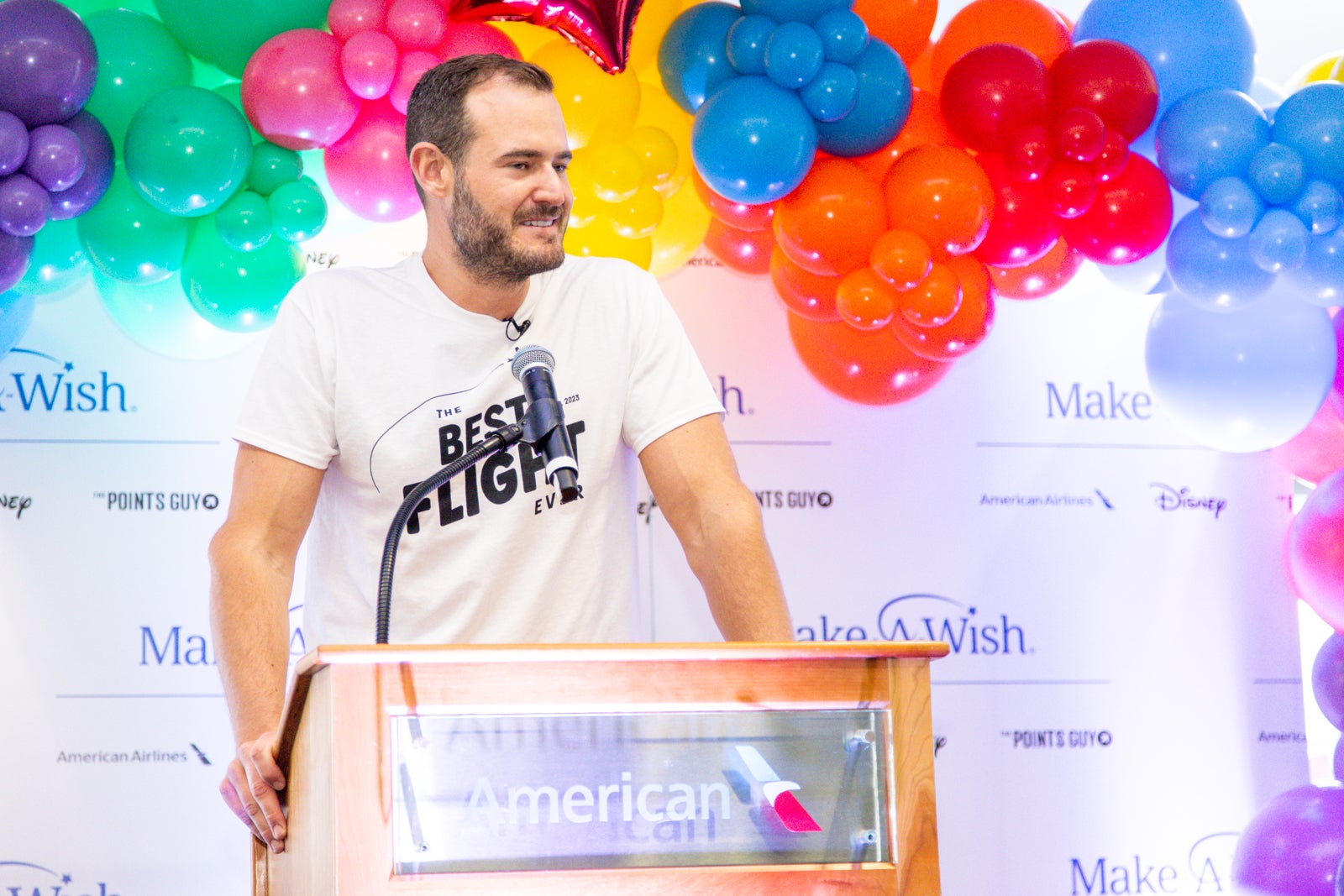 Kelly served as the "chief fun attendant" on the Best Flight Ever, but TPG's involvement with Make-A-Wish goes back to 2017, when TPG hosted a frequent flyer mileage drive and helped Make-A-Wish raise over 1 million miles.
That may sound like a lot, but 75% of Make-A-Wish wishes involve travel. That is oftentimes the biggest expense Make-A-Wish covers for families, and those miles go a long way in helping grant kids' wishes.
"It's a huge expense for them, and it unlocks life-changing experiences for these kids," Kelly said. "These trips are often the culmination of years of treatment and often their successful recovery, so today we have so much to celebrate."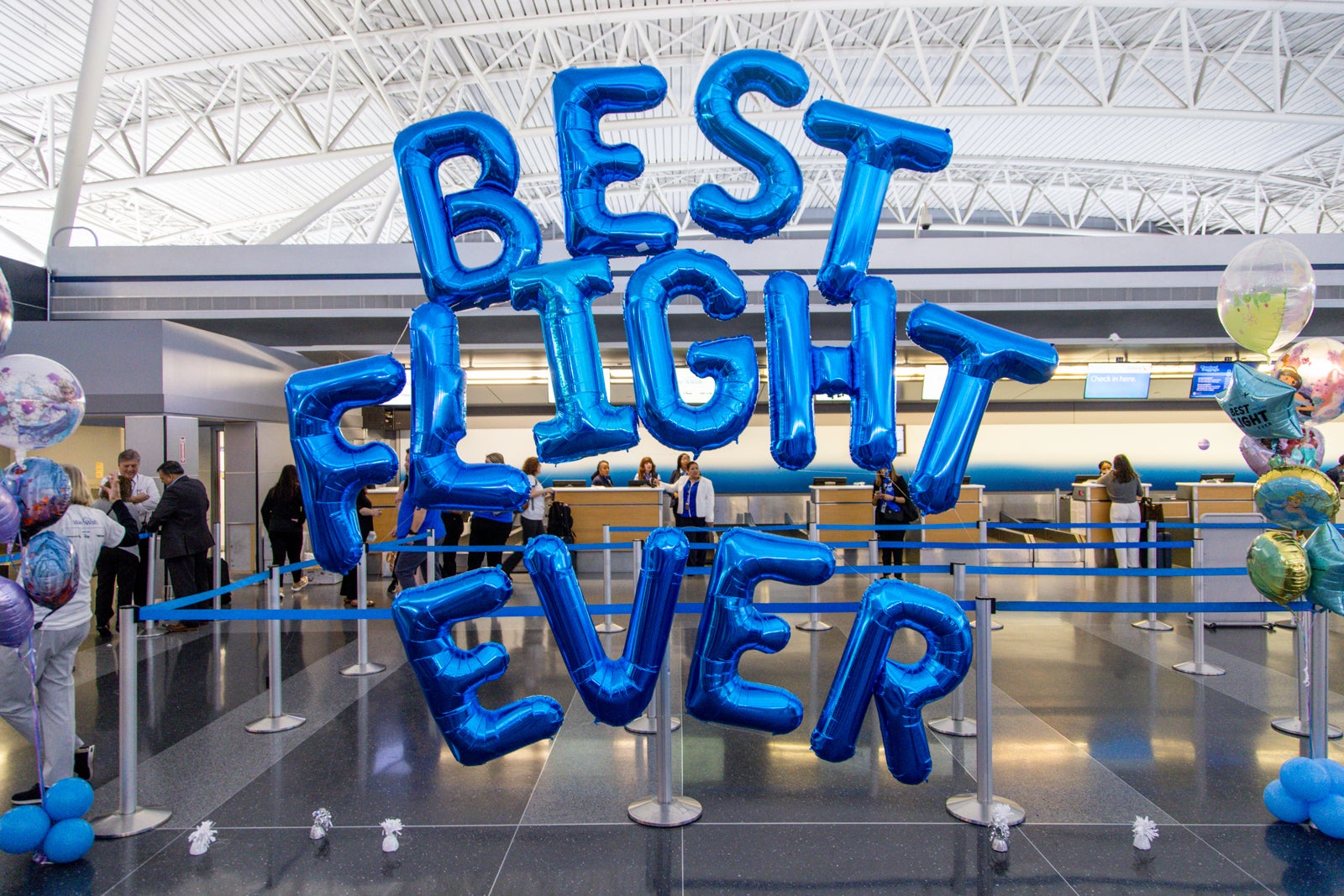 Since the partnership began, TPG's involvement with Make-A-Wish has only grown. TPG has raised and donated hundreds of thousands of dollars to Make-A-Wish, but Kelly knew we could do even more.
"Donating miles and raising money were natural choices for TPG, but we wanted to take it to the next level. We brought the idea of chartering an entire flight of Make-A-Wish kids to our partners at American Airlines, and they were on board from the very beginning," Kelly shared. "They knew it was a crazy idea, but they are all about giving back and together, our teams found a way to make it work, and the way it all came together is truly incredible."
A magical flight to Walt Disney World
For these 26 kids and their families, the Best Flight Ever started with the best ride to the airport ever. The families arrived at JFK by car service and were greeted with balloons and an exclusive check-in counter upon arrival.
After passing through security and being escorted to a private gate area, the kids were welcomed in style with a red carpet and a master of ceremonies announcing their arrival.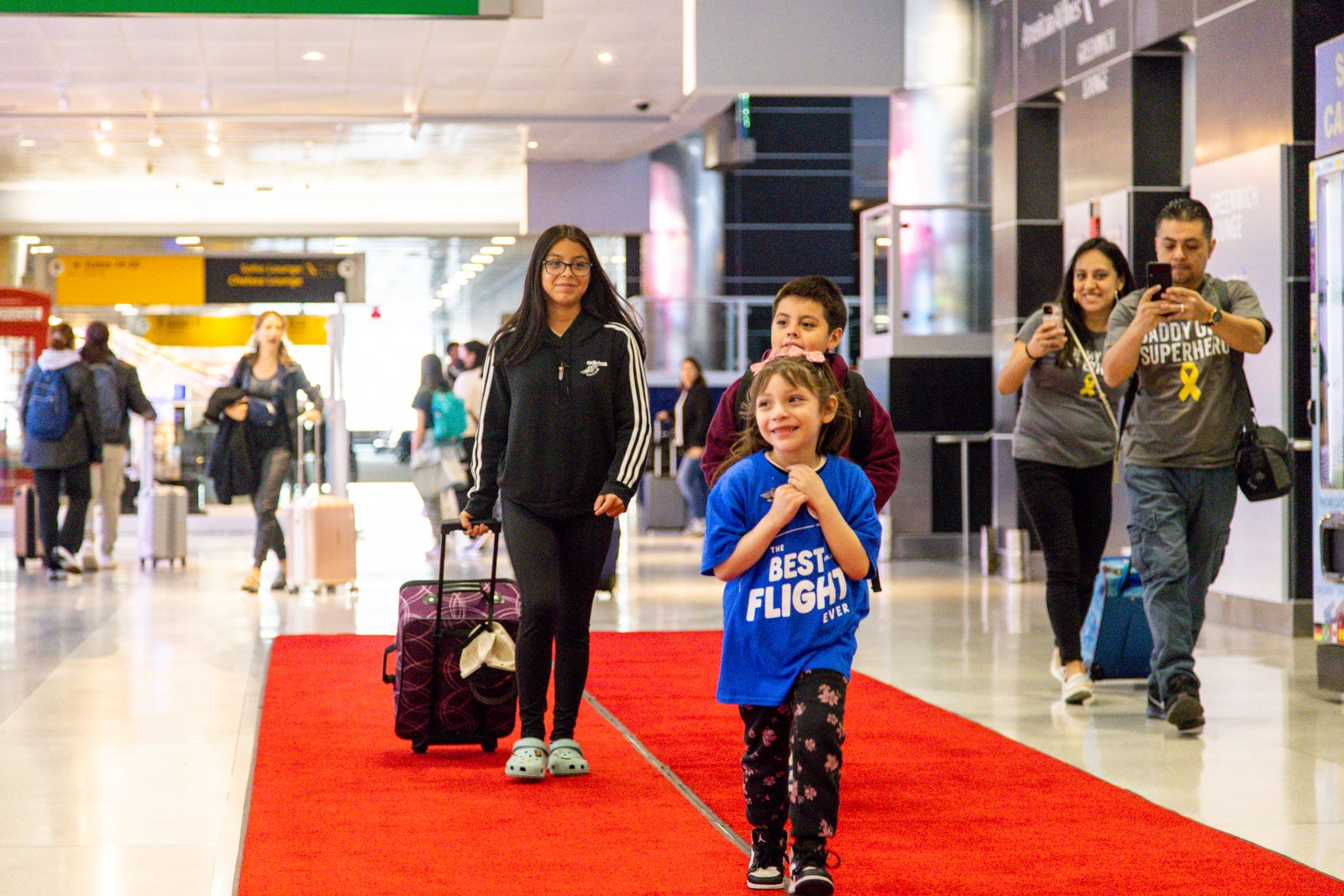 Of course, the Best Flight Ever has to start with the best gate party ever. A DJ kept the music going, there were Mickey-shaped waffles and fruit on the breakfast buffet, kids were getting their faces painted, and the celebratory vibes couldn't have been higher.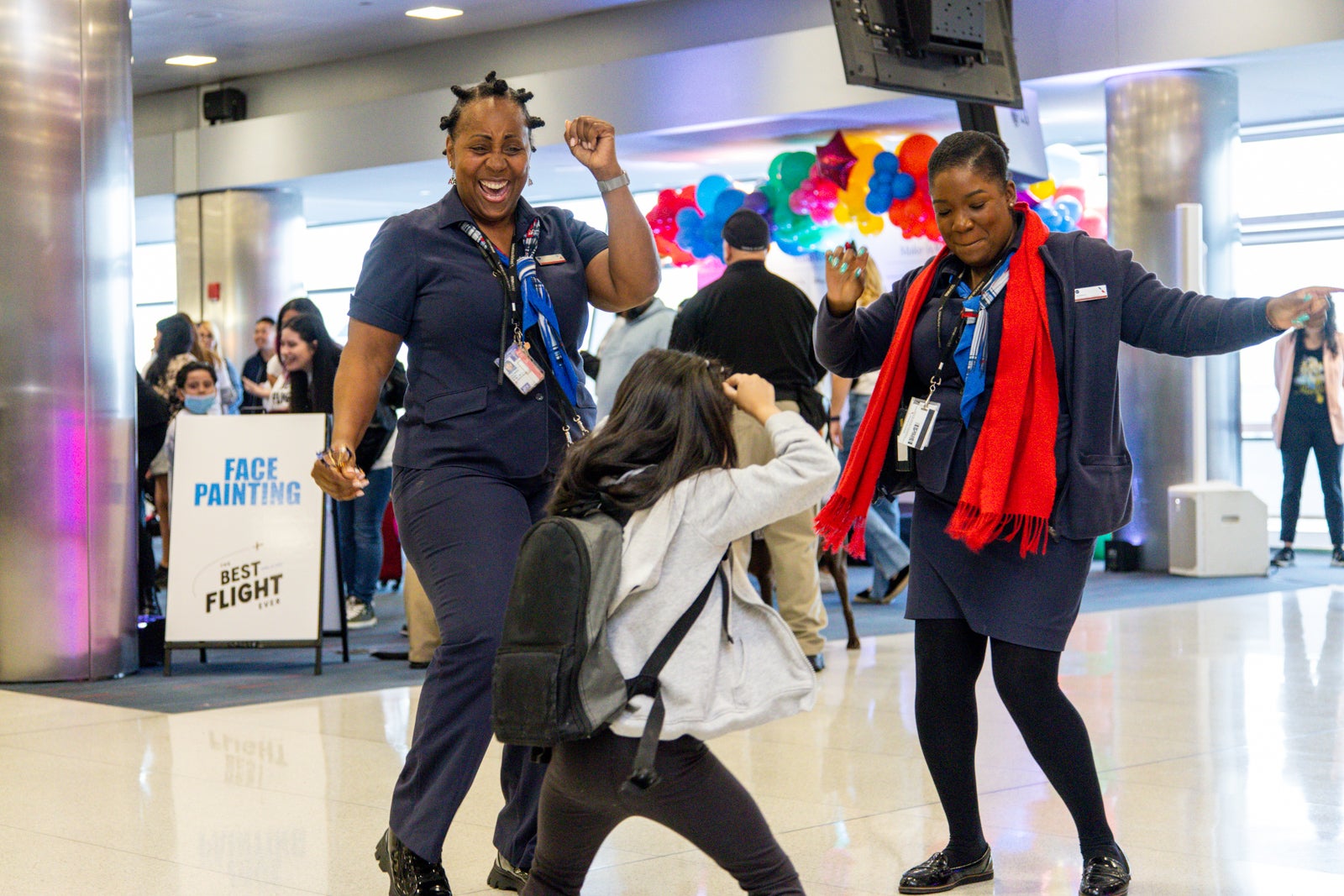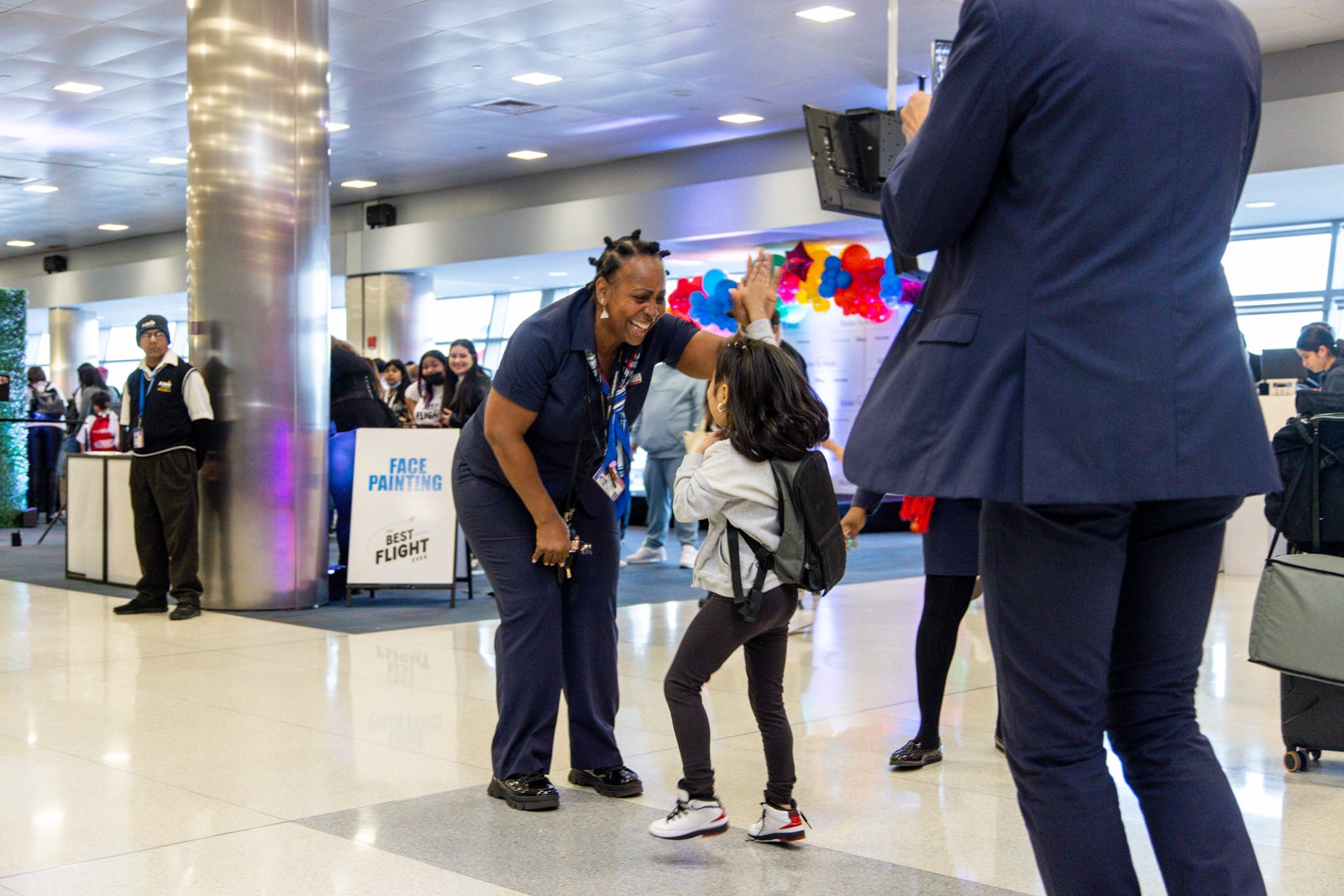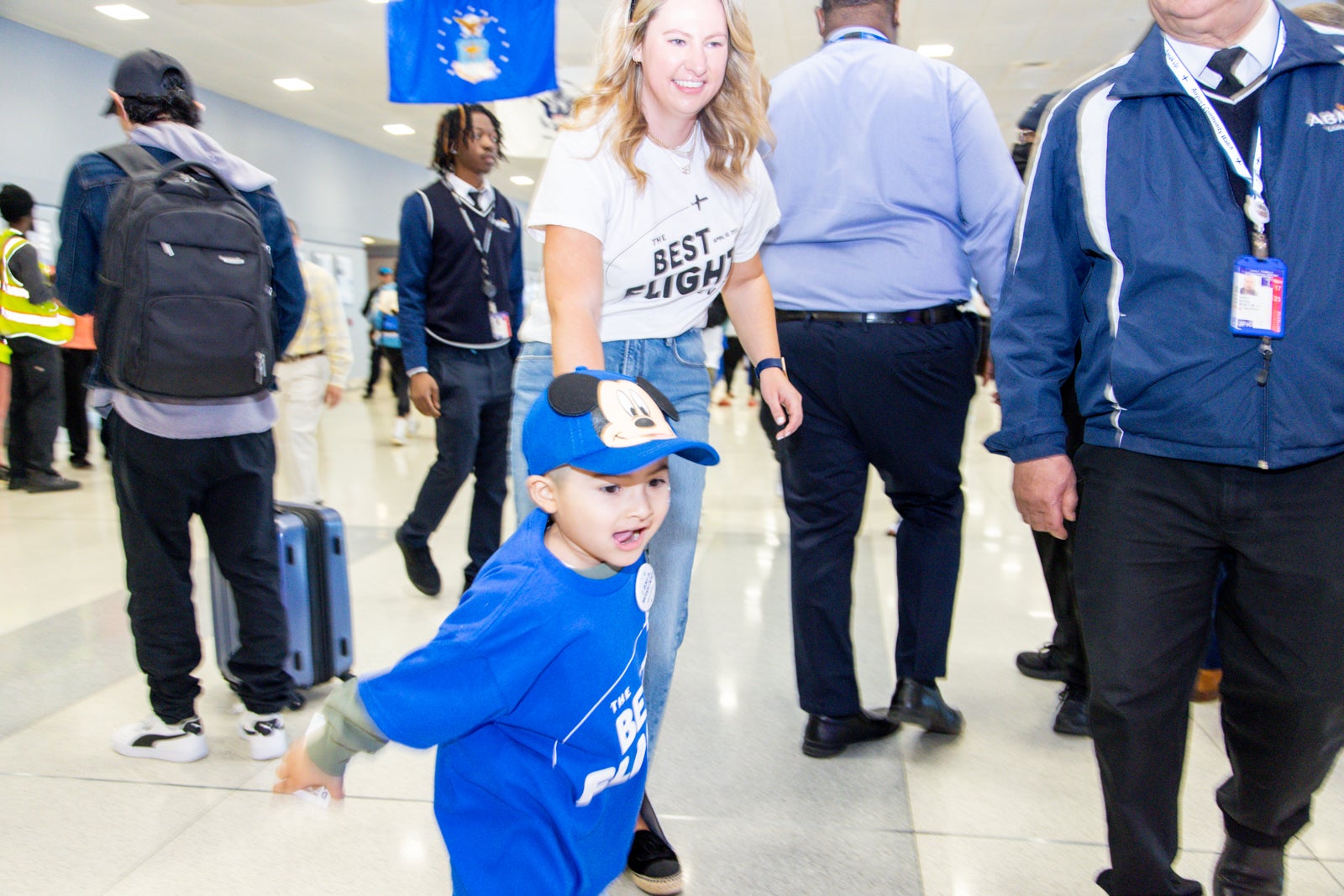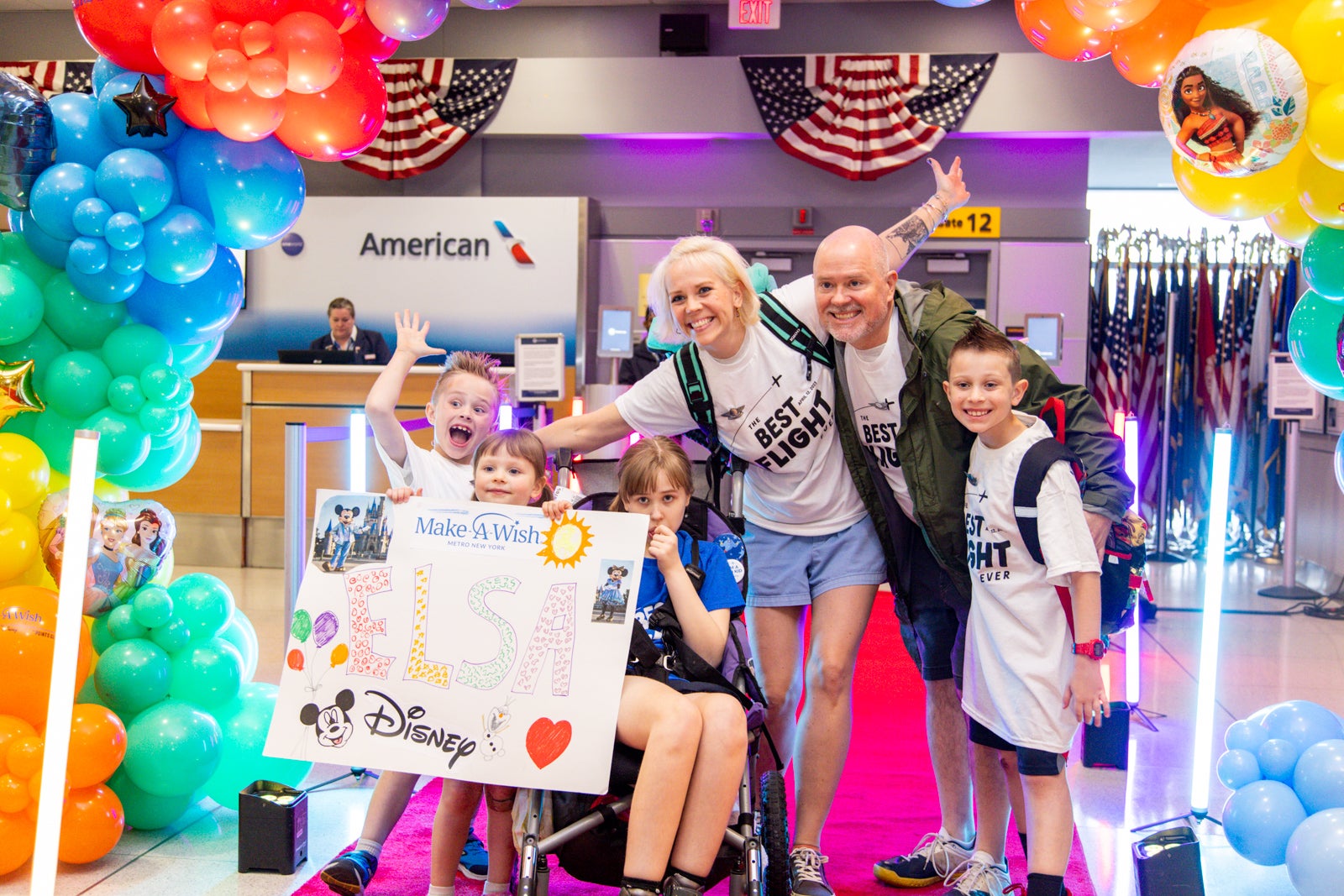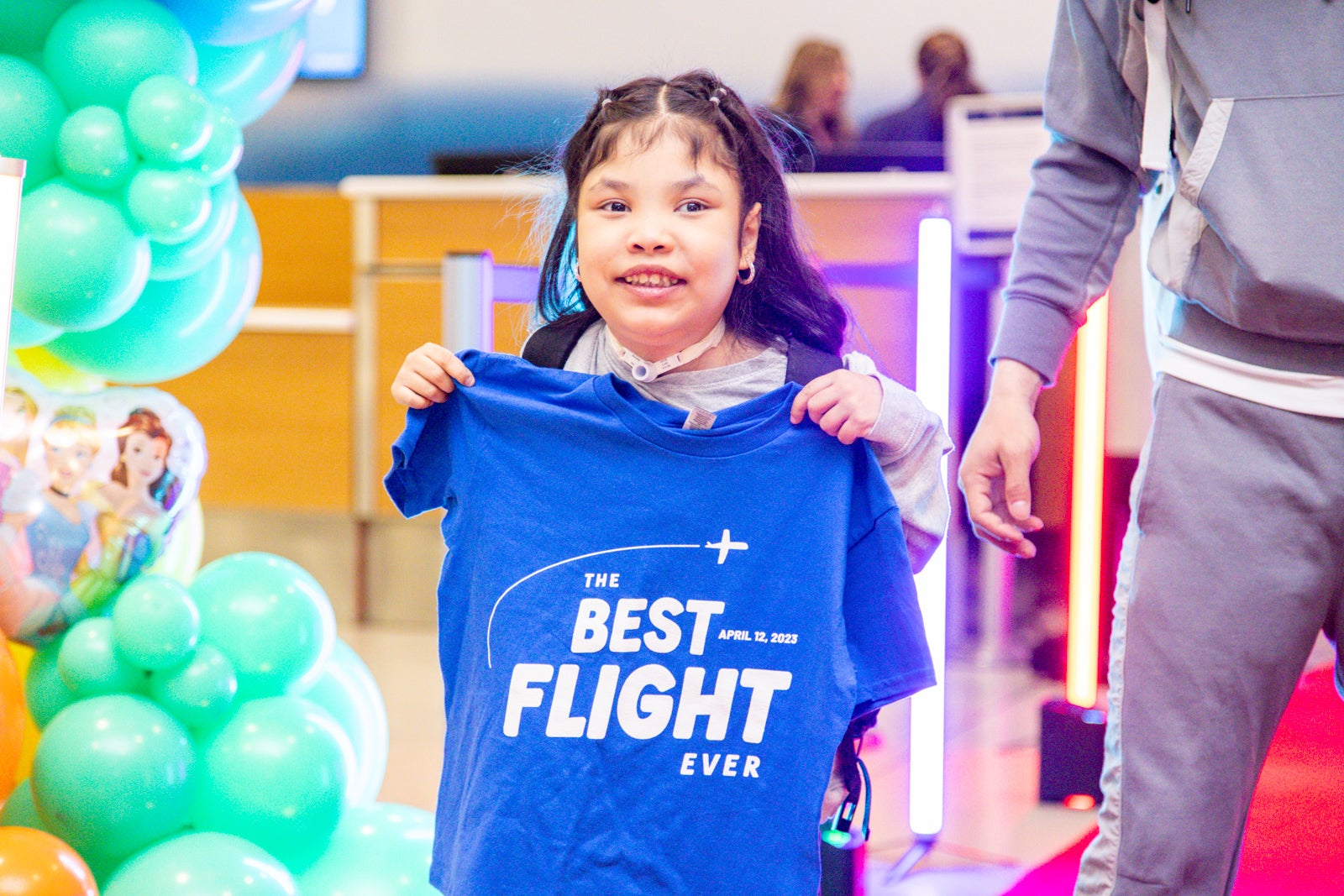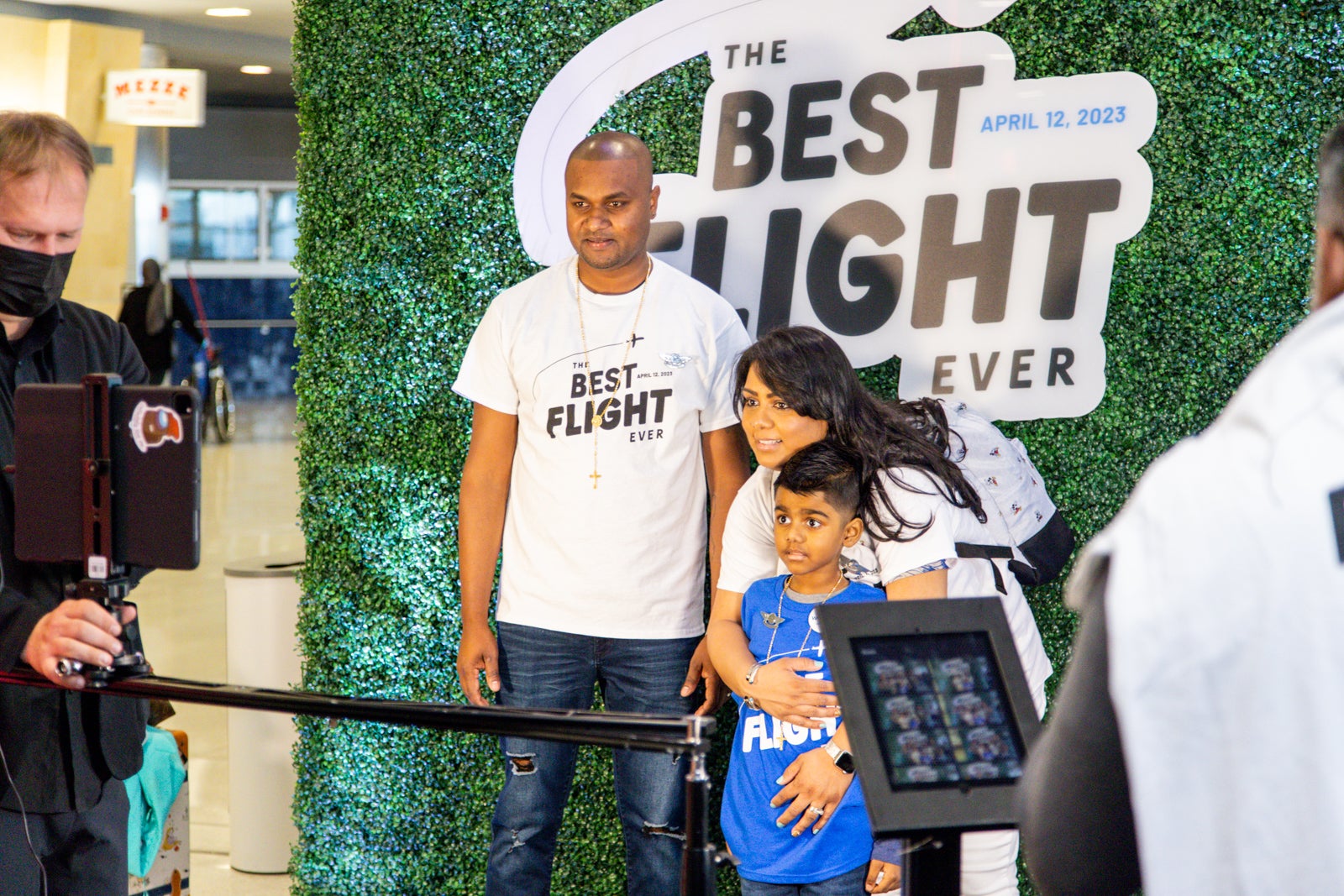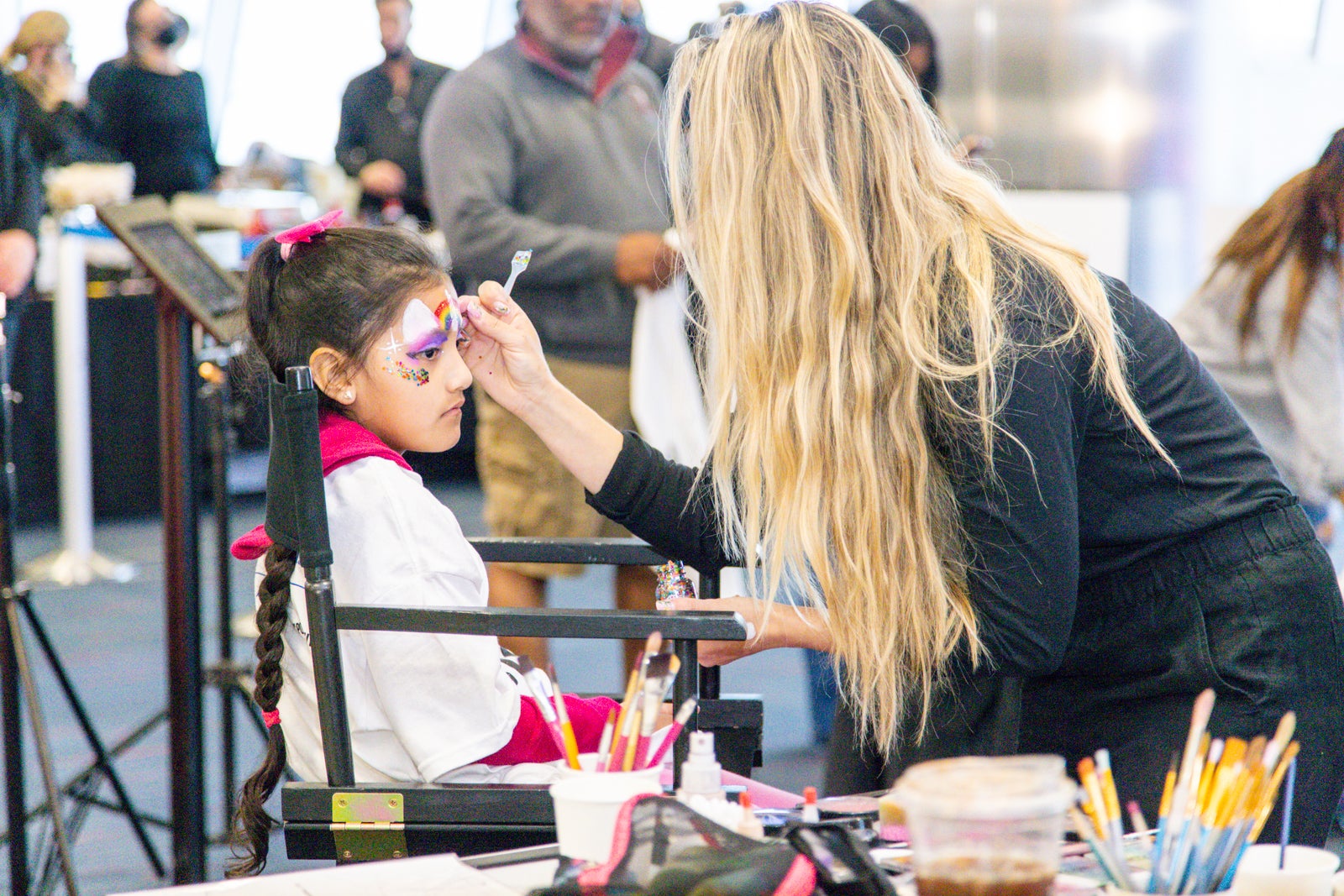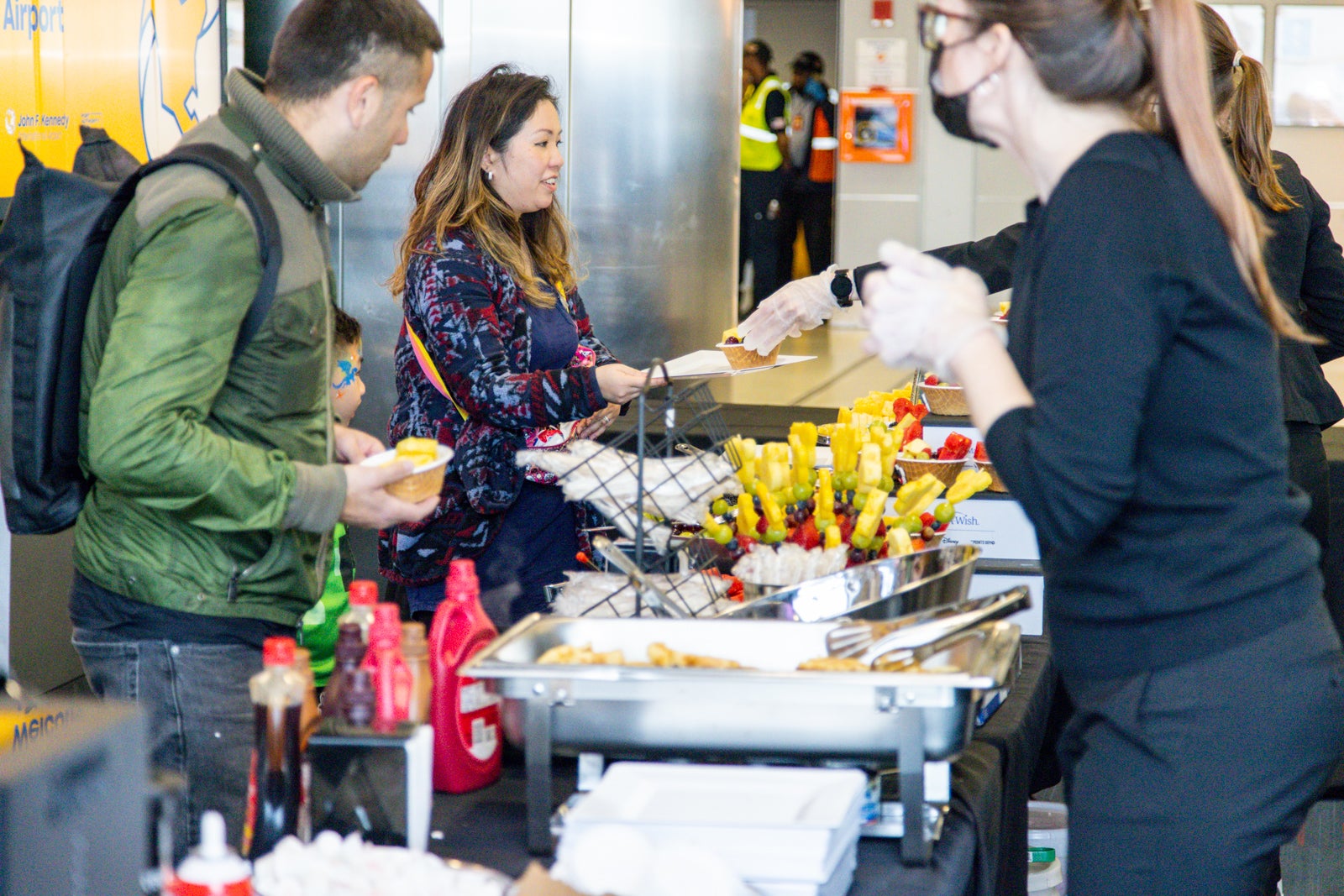 When it was time to board the flight, the master of ceremonies called each child's name and rows of people on both sides of the boarding area cheered for each family as they boarded the plane.
That's enough to get any trip off on the right foot, but the party didn't end there.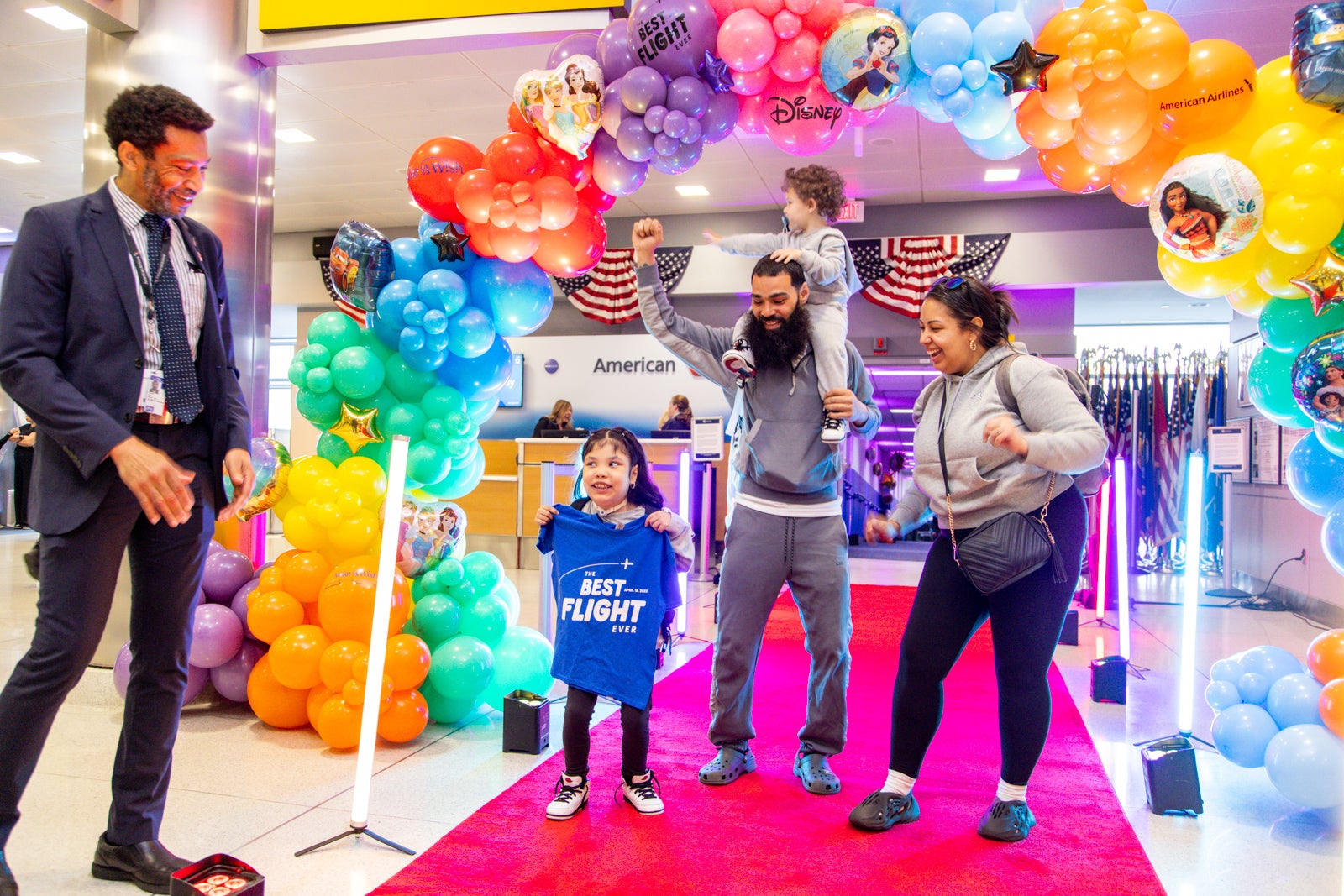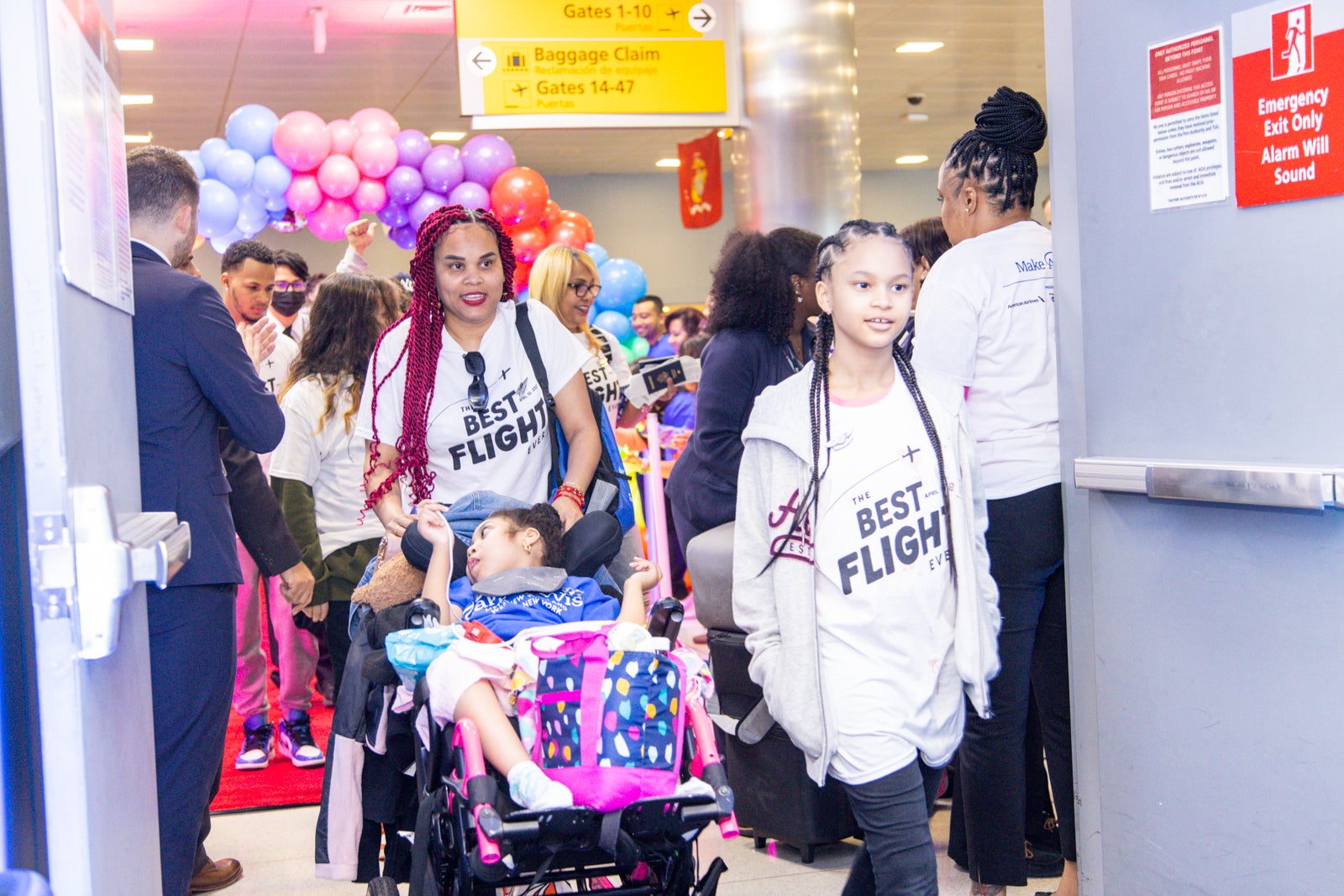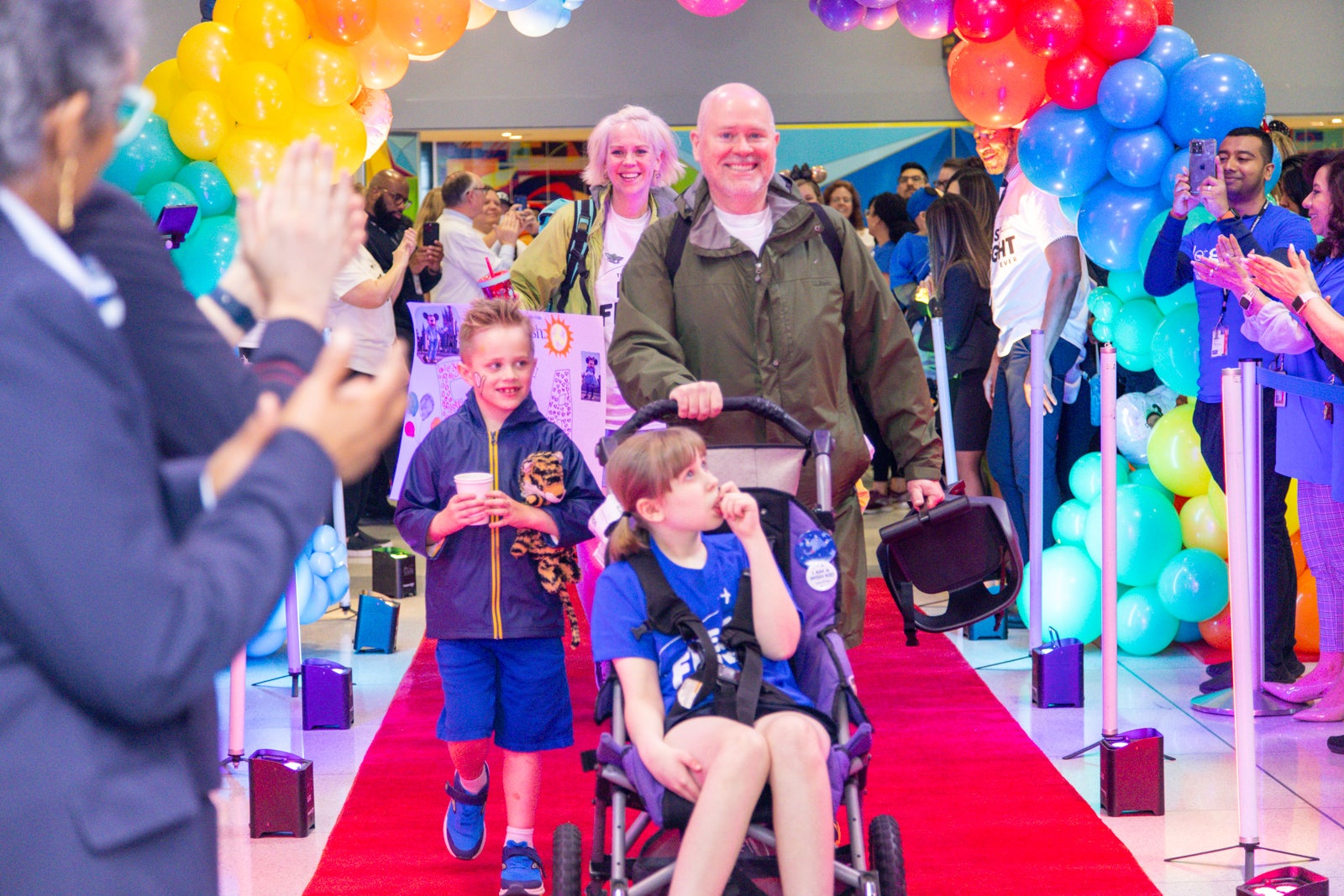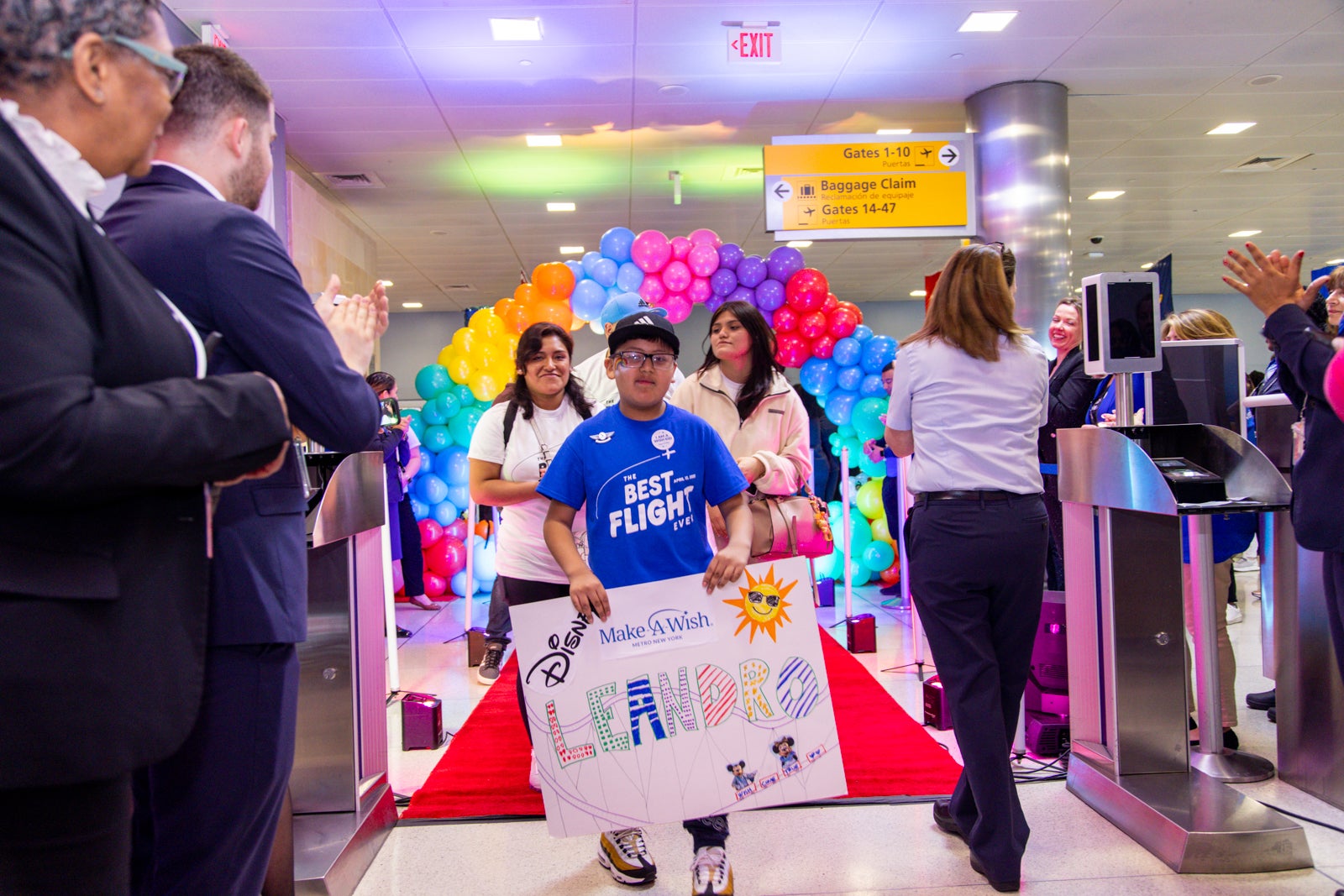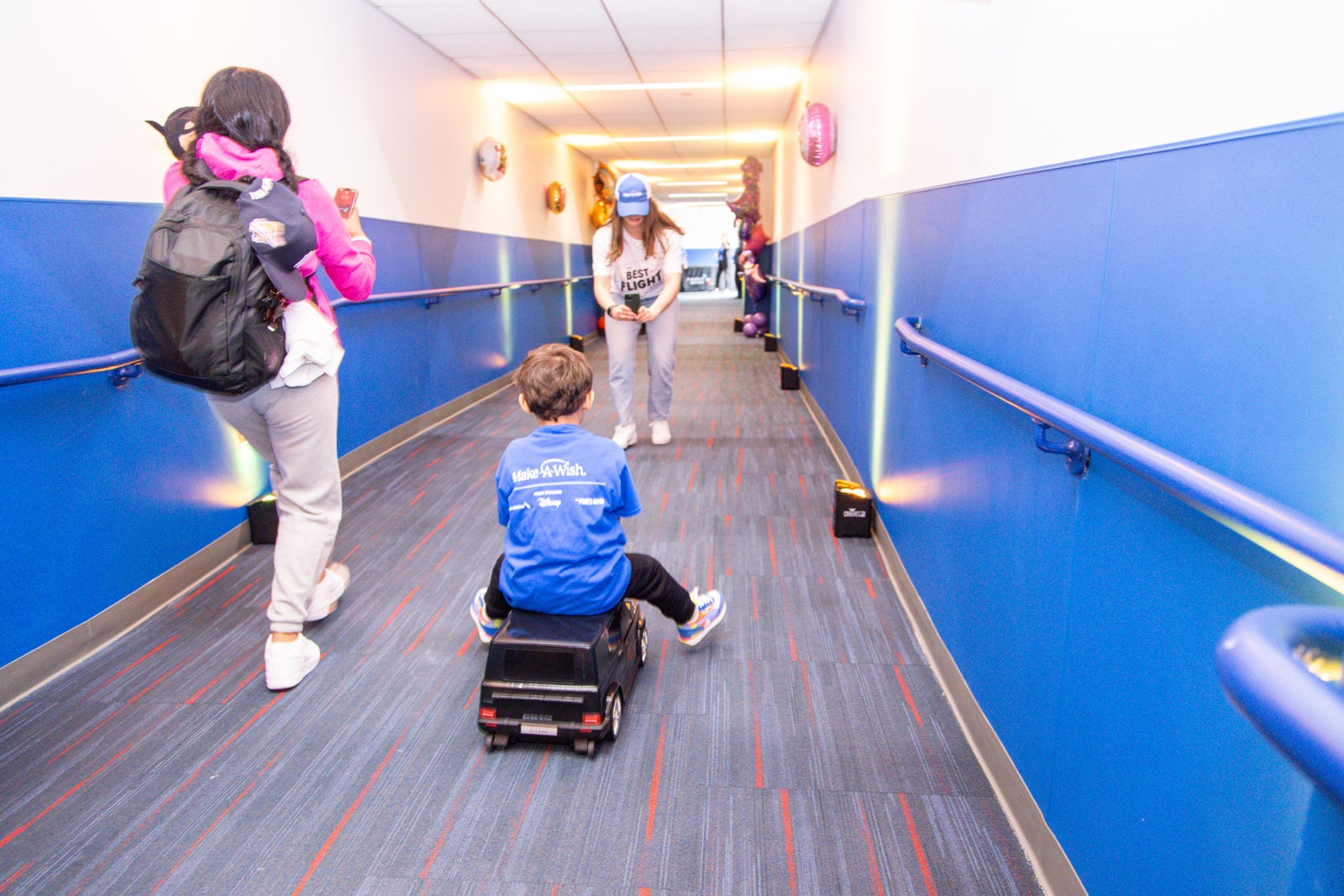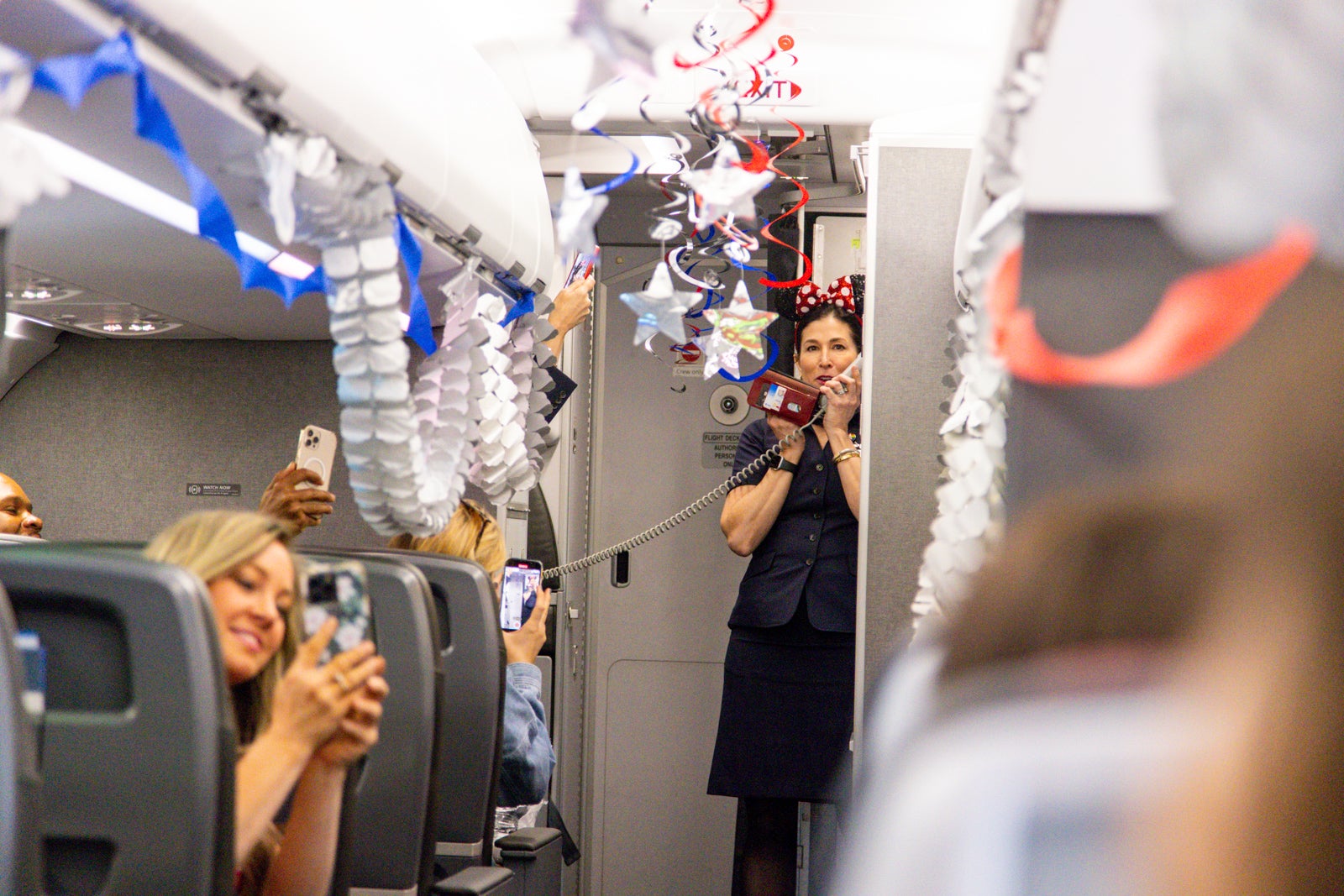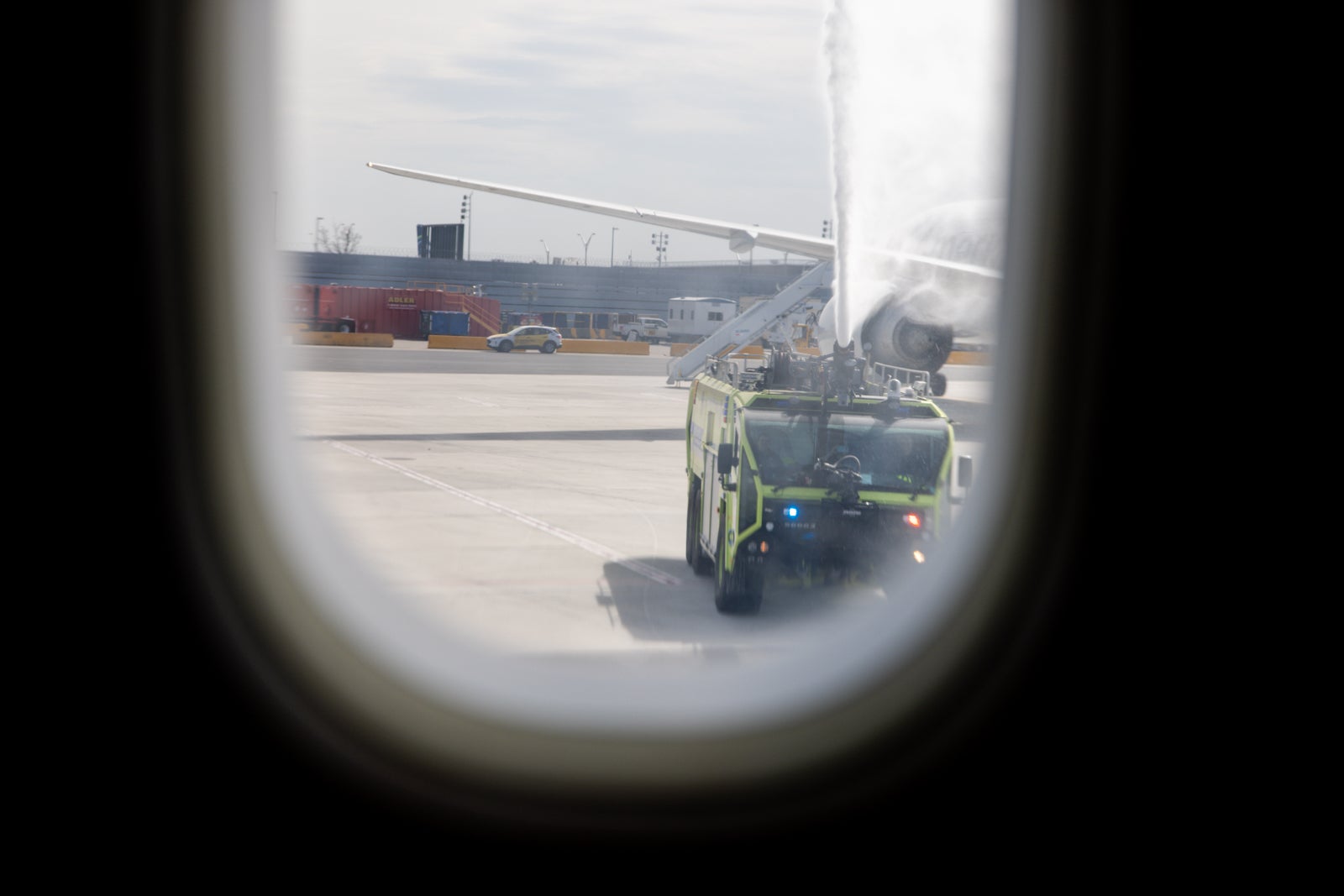 Once on board, the families were treated to a rare "water salute" where the plane taxied underneath sprays of water from firefighting vehicles on both sides of the plane.
Once the plane safely reached its cruising altitude, the flight attendants passed out hamburger meals provided by Red Robin (also a Make-A-Wish partner) and star-shaped lollipops (because every vacation should start with a little sugar).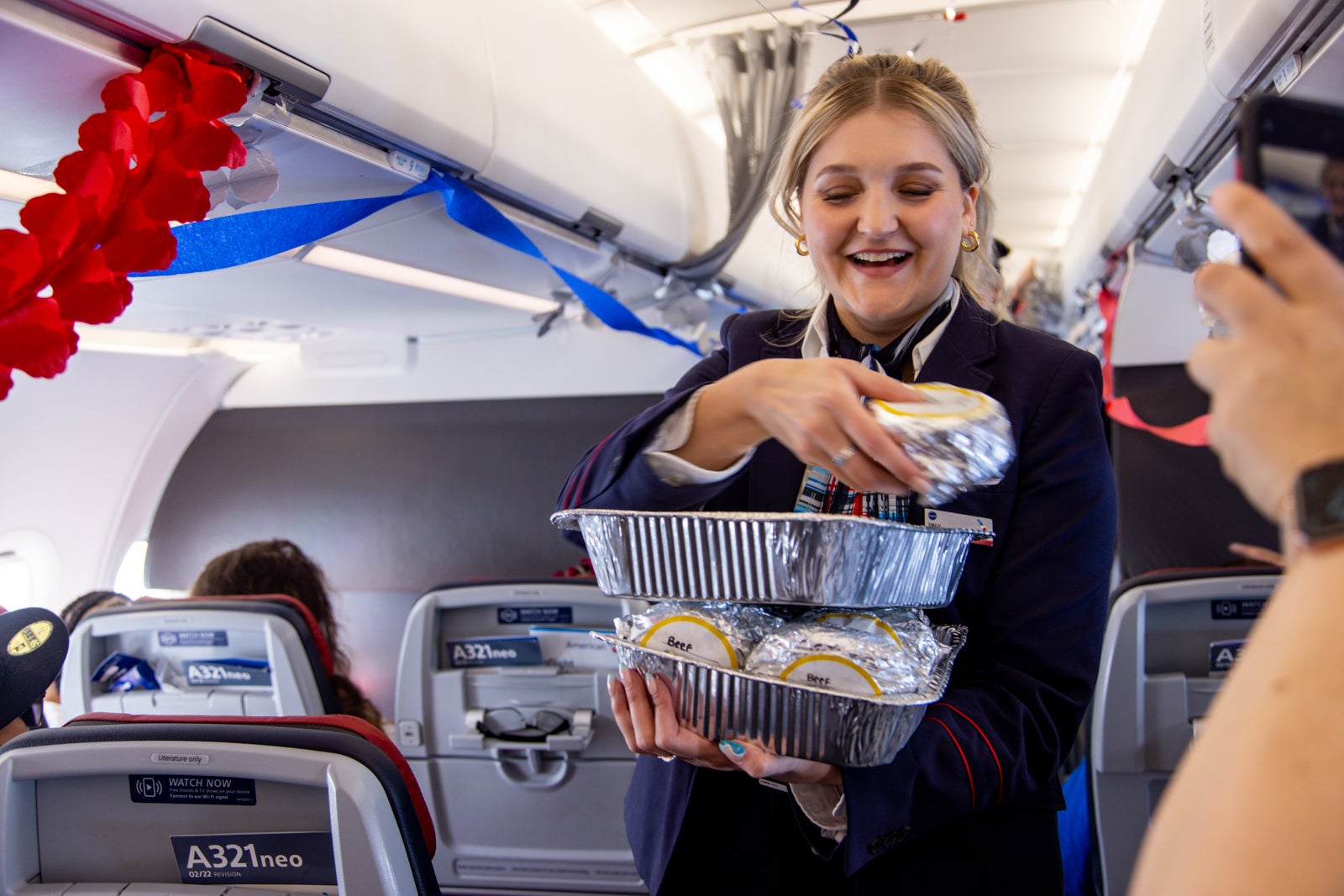 Then, the chief fun attendant kicked off the inflight festivities by bringing Michael James Scott (you may know him as the Genie in Disney's "Aladdin" on Broadway) for a Disney-themed singalong. The kids even received microphones to make it a true karaoke experience. Not surprisingly, many of the kids shared that this was their favorite part of the flight.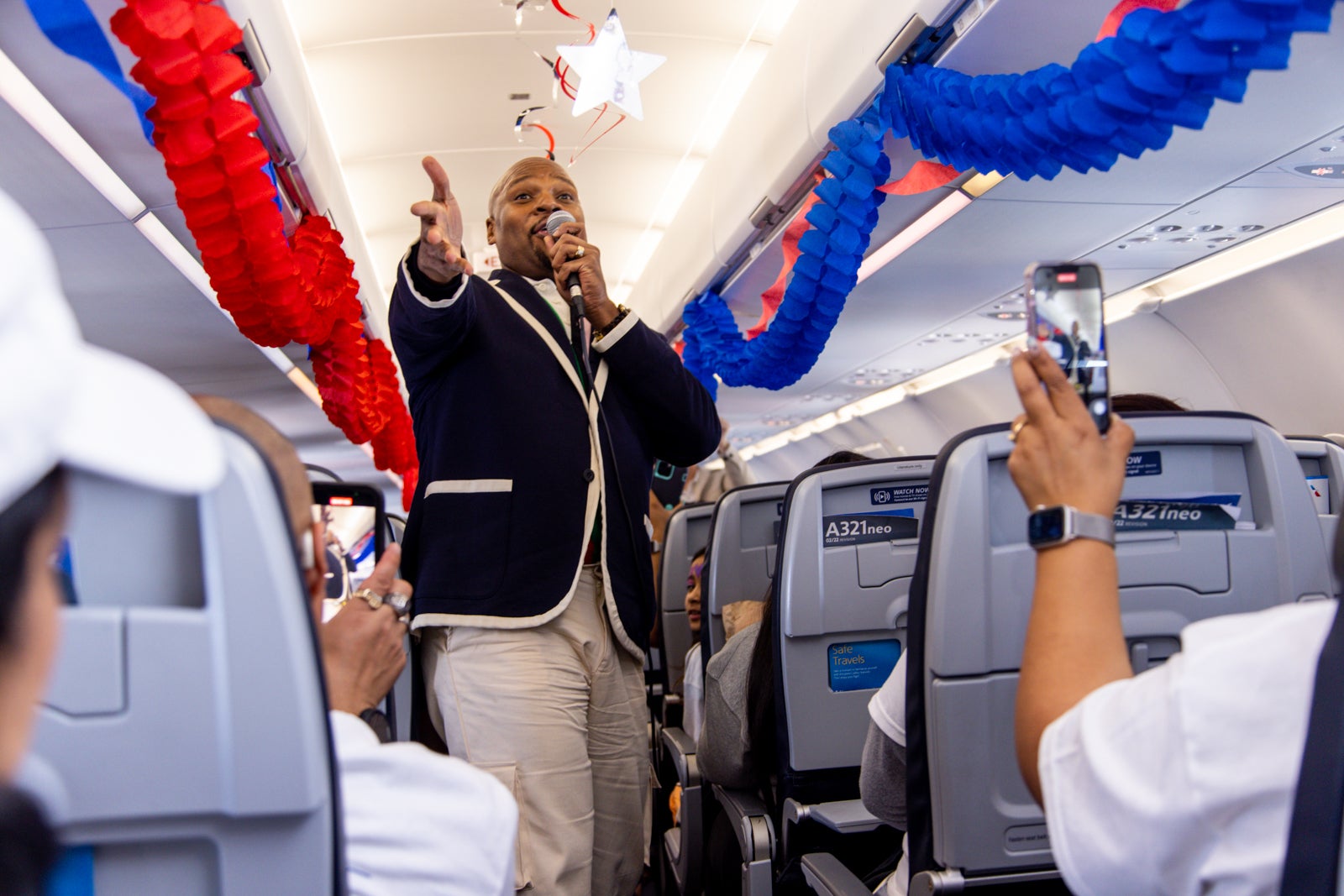 This included seven-year-old wish kid Jaziah, who loves all things Disney but especially "Toy Story," and said the singing was his favorite part of the flight.
Four-year-old Joshy and his ten-year-old cousin Jackson agreed. "My favorite part was when the Broadway singer showed up," Jackson told TPG. Joshy shared that his favorite part was when Scott sang "the Genie song," and Joshy's mom said Scott's rendition of "A Dream is a Wish Your Heart Makes," soothed him to sleep like a lullaby.
The kids also received a copy of "Could I Be a Pilot?: Evie's Journey to Becoming a Pilot," by pilot and author Lauren Settles, who led a read-along of her book with the kids.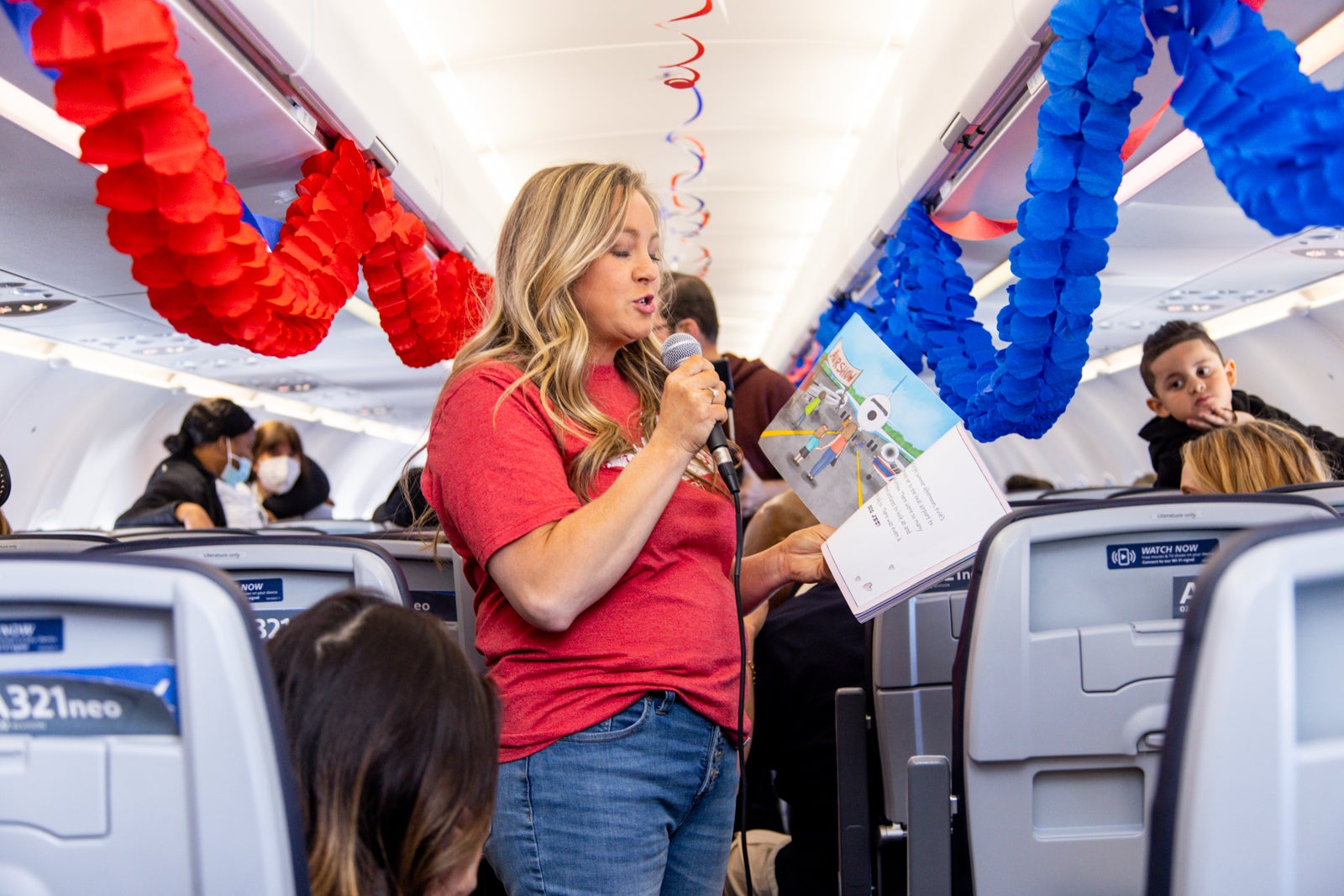 Both Scott and Settles shared their talent with these deserving kids and bestowed some words of wisdom to make sure the kids know they, too, can follow their hearts and make their dreams come true.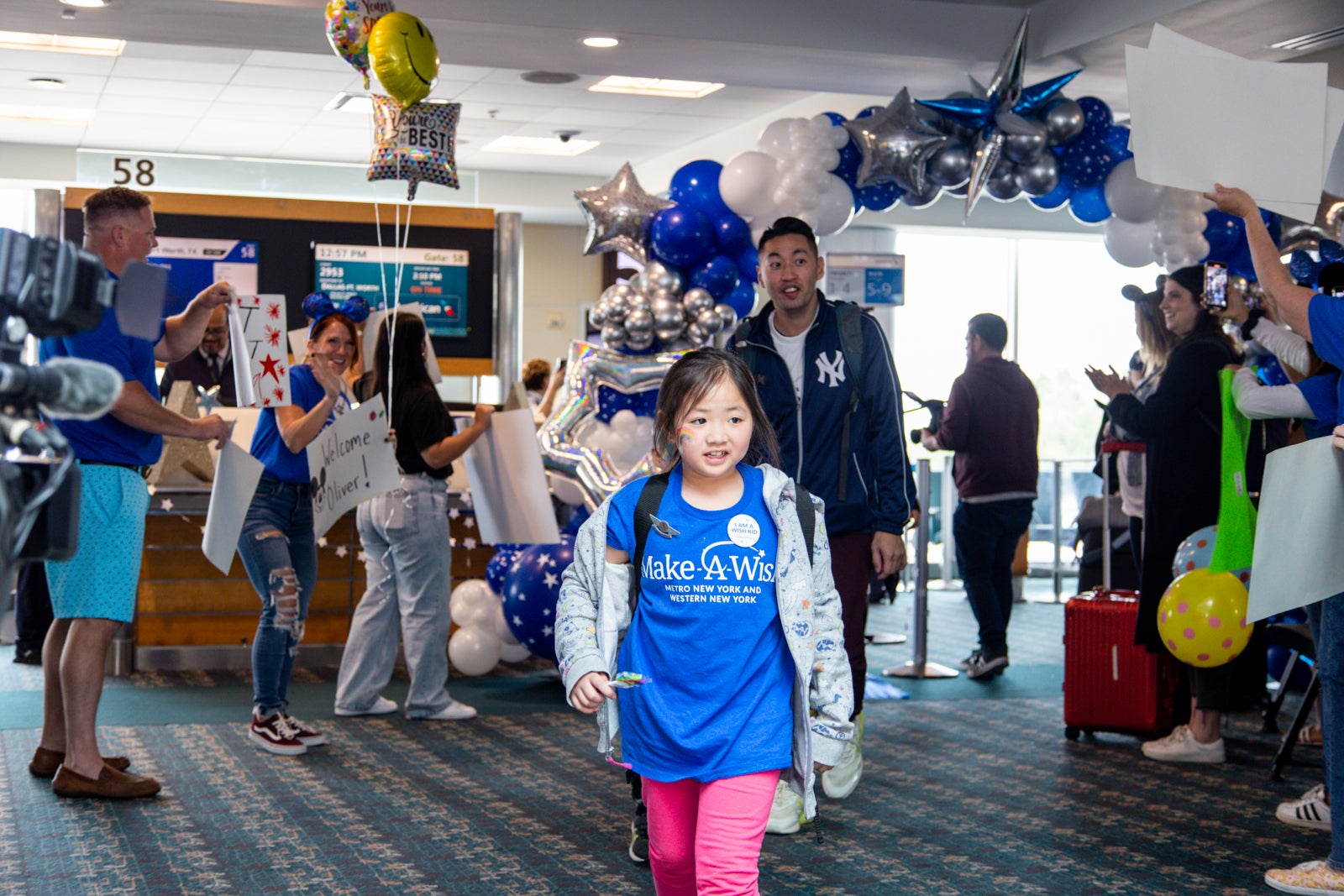 Passengers cheered upon landing as they were surprised with a second water cannon salute before deplaning. Dozens of cheering Make-A-Wish staff members and volunteers welcomed the kids to Orlando.
There's really no better way to describe it. It was the Best Flight Ever.
Now, those same kids and their families get to spend a week visiting Walt Disney World Resort and all of Orlando's theme parks. They'll also stay at the magical Give Kids The World Village — a storybook-themed resort near Orlando that provides cost-free vacations for children with critical illnesses and their families — completely free of charge.
How Disney makes wishes come true
This may have been the first Best Flight Ever, but it's far from the first time a kid's wish to visit Walt Disney World has come true.
Since Disney launched its partnership with Make-A-Wish in 1980, they have granted more than 145,000 wishes to kids wanting to visit Disney parks, take a Disney cruise and have other Disney experiences.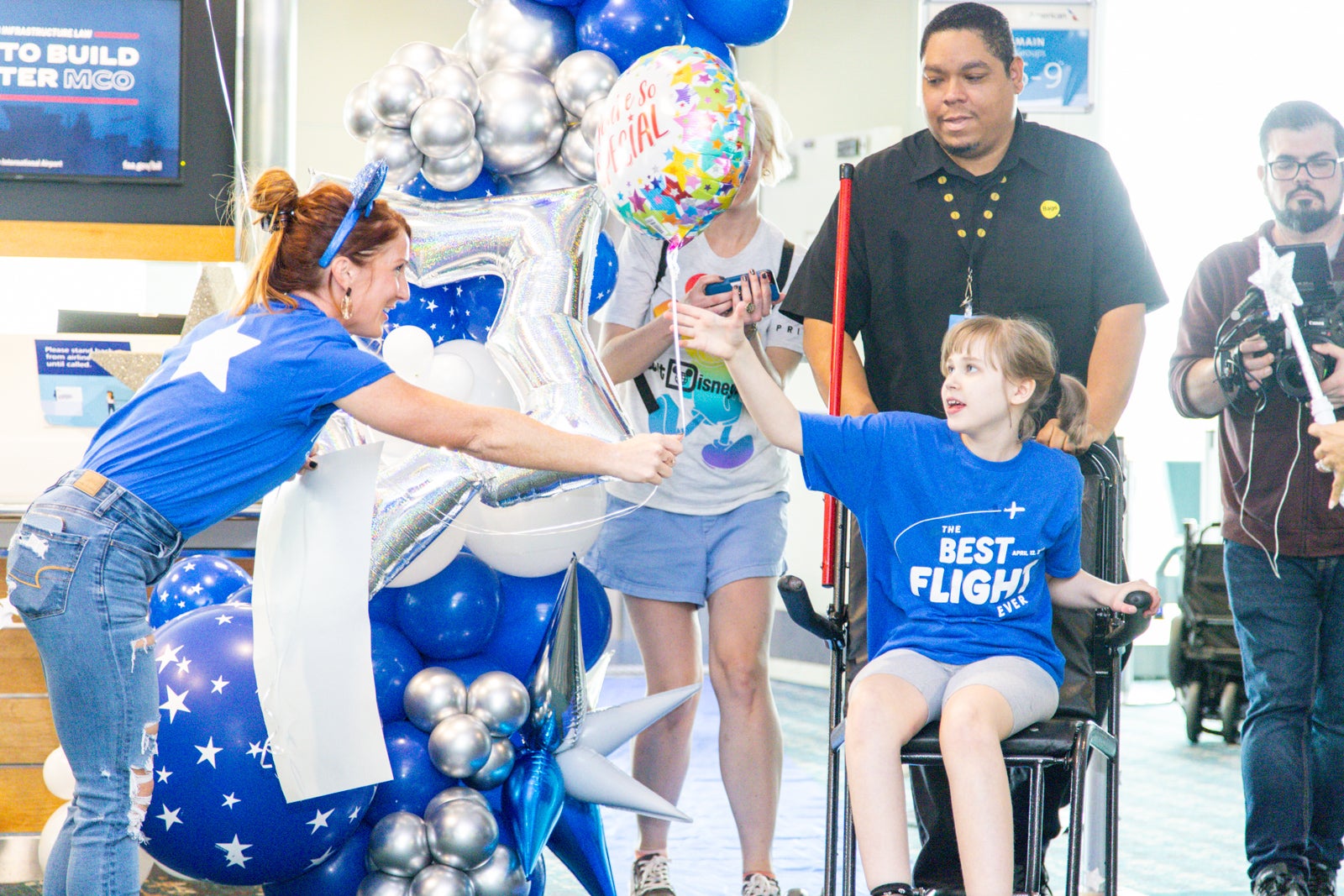 This year, Disney will grant its 150,000th wish through Make-A-Wish, and that impressive wish-granting ability comes largely from volunteer hours and generous donations.
It costs about $6,000 to send each family on their weeklong vacation to Give Kids The World Village for their Make-A-Wish Disney-themed vacations, and you can help make their wishes come true.
The children who visit Give Kids The World Village love their stay there just as much as they love visiting Orlando's theme parks. When asked what they were looking forward to most on this trip, Jaziah and his cousin Jordan enthusiastically exclaimed in unison that they couldn't wait to go to the pool at Give Kids the World Village. Of course, others, like Joshy and Jackson, are excited to visit Walt Disney World.
Help Make-A-Wish grant even more wishes
Wishes do come true, especially for kiddos who need hope and smiles the most.
However, it doesn't happen without the help and support of those who want to make a kid's world a bit brighter.
This particular flight was a charter donated by American Airlines, which makes millions of AAdvantage miles available for wish-granting each year, but Make-A-Wish's needs are even larger than that. It takes almost 3 billion airline miles and points each year to fulfill the travel wishes of children battling critical illness.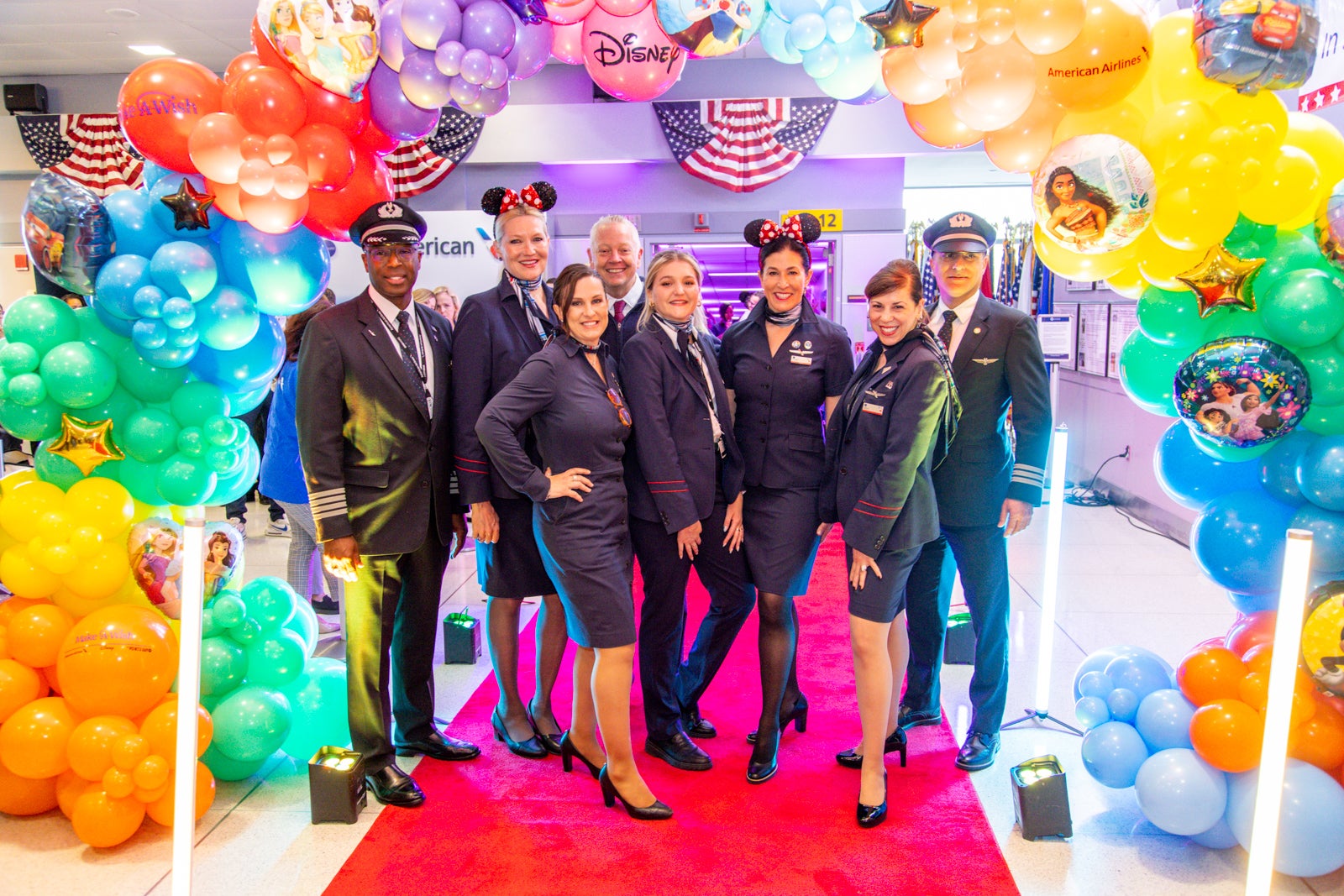 If you want to make a difference, this is the perfect way to help and ensure that Make-A-Wish has the resources it needs to continue to make dreams come true.
You can donate as few as 1,000 miles from programs such as United, American and Delta with a few clicks of the mouse. And those miles will go the distance to making more wishes come true.
Whether it's looking forward to swimming in the pool at Give Kids the World Village like Jaziah, or riding every single attraction at Disney World and singing along with a Broadway star on the Best Flight Ever like Joshy, these kids and families who have persevered through critical illnesses deserve all the magic, hope and joy in the world.
And for the next week, these 26 families will have all of that as their dreams come true in Florida. And together, we can ensure the hope, love and laughter that come from having your wishes come true is available for the next kids who are battling their own illnesses and need that very same thing to help get them through.