First, let me say it's hard to write anything too insightful about a luxury cruise vessel after a visit lasting just a couple of hours.
A lot of what makes a luxury cruise ship luxurious is the way its staff delivers service at an elevated and sustained level over time — something that only becomes apparent over several days.
It's a bartender not only remembering your name but your favorite drink.
"Another sidecar for you tonight, Mr. Sloan?"
For more cruise news, guides and tips, sign up for TPG's cruise newsletter.
Or a room attendant who shines your shoes without asking while you're out on tour because he noticed you came home with a scuff the day before.
In that sense, the quick look I got Tuesday at Evrima, the first cruise vessel for The Ritz-Carlton Yacht Collection, left me wanting more.
More time, essentially, to get a true sense of the place. Is this really a ship that can compete in the same ultra-luxury cruise space already crowded with such famously elegant brands as Regent Seven Seas Cruises, Silversea Cruises and the soon-to-return Crystal Cruises?
But the visit, which took place at Florida's Port Everglades, also left me wanting more when it came to the things that can be evaluated during a quick tour of a luxury cruise vessel — most notably, its overall look, layout and design.
On that count, my first impression of Evrima, which has just begun its first season of sailings in the Caribbean, is this: It's a perfectly fine luxury ship. Lovely, even. It ticks most of the boxes. But there's nothing about it that really says "wow."
Related: TPG's ultimate guide to The Ritz-Carlton Yacht Collection
One thought kept swirling in my head as Doug Prothero, the CEO of The Ritz-Carlton Yacht Collection, and Tony Capuano, the CEO of Marriott International, led a couple of my colleagues and me through the 298-passenger vessel for an hourlong tour: This is a ship that seems like it was designed by committee.
It had the air of a resort created by a big corporate hotel company.
Which, in fact, it was. I had gone into the tour knowing that Tillberg Design of Sweden, a noted cruise ship design firm, had worked on the ship's interiors. But Prothero told me during our walkabout that an in-house design team at Marriott also had a hand in some of the ship's look. He also mentioned a third outside firm that got involved.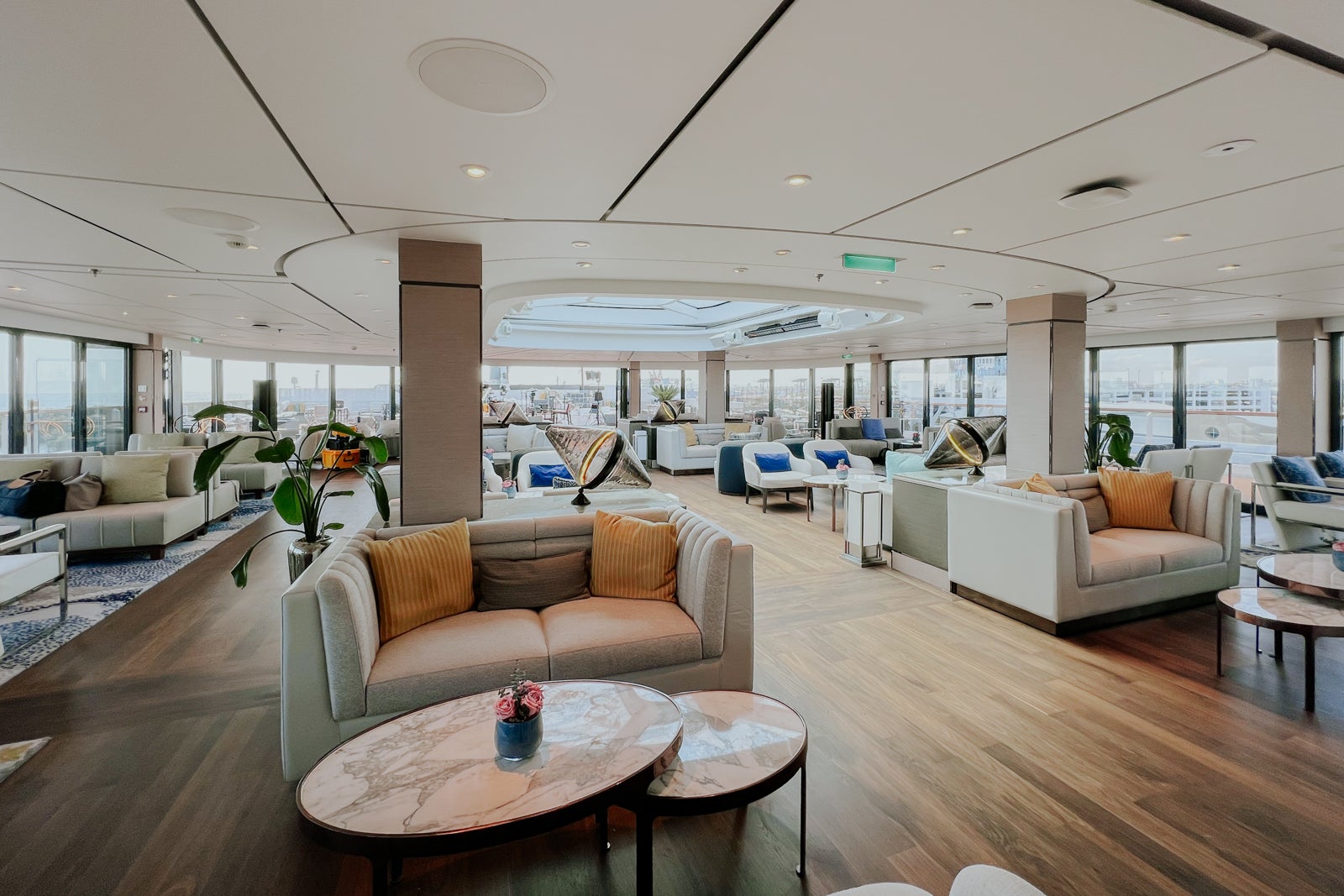 Not that there's anything wrong with using a corporate team for some of the design. As TPG executive editor Scott Mayerowitz, who also was on the tour, noted to me, Evrima is a cruise vessel built for Ritz-Carlton loyalists. Surely, Ritz-Carlton and its parent company, Marriott, know their customers best. It makes sense that the company's in-house design team would help to craft Evrima's look.
Indeed, the three TPG staffers on the tour all agreed that this was a ship that Ritz-Carlton customers would enjoy. It had the luxurious finishings and sumptuous furniture (including leather sofas and marble-topped tables in lounges) that one expects from a Ritz-Carlton property, the smart-looking staffer waiting for your arrival at the door with a cold towel, the masseuses on call at a serene in-house spa to rub away your worries.
Maybe that's all that matters.
Related: First passengers have mixed reviews of Evrima
But alone among the TPG team that visited the ship, I have spent the last couple of decades writing specifically about cruise vessels, and I'm thus more attuned to the fact that cruising is a space where, on the luxury end, at least, interior design has truly pushed the envelope.
What Evrima doesn't have is the sort of depth and cohesiveness of design that you'll find on, say, the new upscale ocean ships of Viking, where the brilliant Los Angeles designer Richard Riveire has played with space, light, color, modernist fabrics and inspired furniture choices to create floating masterpieces.
It didn't wow me like I'm expecting to be wowed by Silversea's soon-to-debut Silver Nova, with its much-discussed asymetrical design that includes a sideways-facing pool area.
This quick take first began forming in my mind just moments after we walked aboard the ship. The entryway dropped us into an unassuming antechamber near an elevator bank. There was no sweeping, glass-walled lobby with soaring openings that rise through the center of the ship, such as the one Riveire recently created for Viking's new vessel on the Nile — a ship less than a third the size of Evrima.
Even compared to the modest lobby of The Ritz-Carlton, Fort Lauderdale, where I had spent the night before in a free room provided by Ritz-Carlton, it was a letdown.
Meanwhile, just off the entrance, what should have been Evrima's marquee interior space, its main lounge (known as The Living Room), was oddly disjointed. Designed as the ship's central gathering place, it had no central focal point, such as the soaring, back-lit whiskey bar that commands the center of the main lounge on what is perhaps the closest luxury vessel to Evrima at sea: Scenic Luxury Cruises' 3-year-old Scenic Eclipse.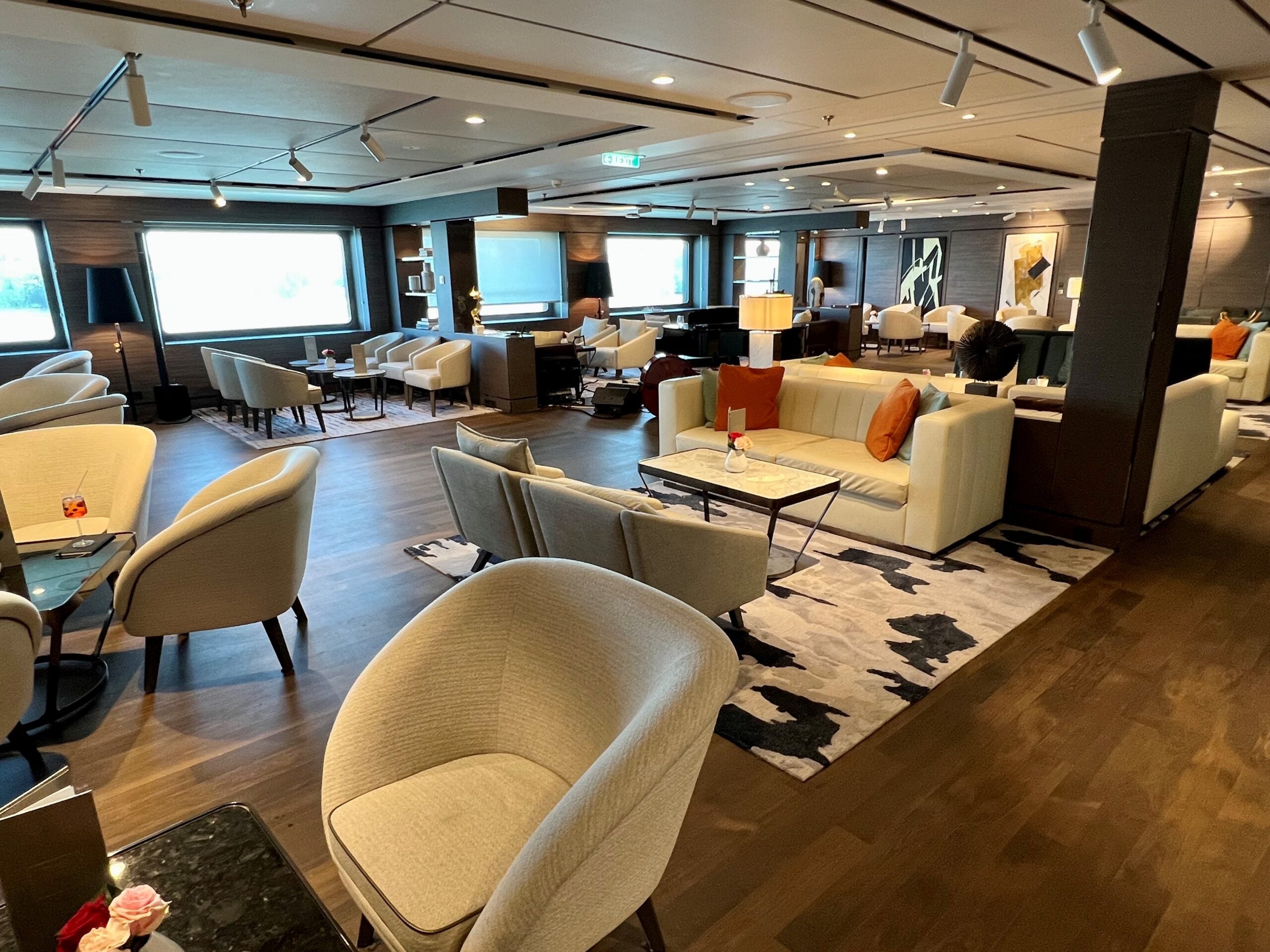 Like Evrima, Scenic Eclipse is a small ultra-luxury vessel designed with a yachty vibe that holds fewer than 300 people — 228 to be exact.
Instead, at the center of Evrima's The Living Room, there was what was essentially a thruway corridor to get passengers from one end of the ship to the other. It broke up the space in an odd way, forcing clusters of furniture to either side of the walkway. A small bar that could have been a star attraction was hidden away in a corner.
It was almost like this most important of interior spaces was put together as an afterthought.
It was one of two major public areas that left me scratching my head. The other was the main pool area at the back of the vessel. It had a lovely (if narrow) infinity pool as a focal point and was an enticing space. The only problem: It wasn't big enough — at least for a vessel that is designed to hold 298 passengers. I counted just 18 lounge chairs around the pool, plus two sofalike day bed clusters that probably could accommodate another 10 to 15  people. There also were four additional chairs positioned within a shallow portion of the pool itself.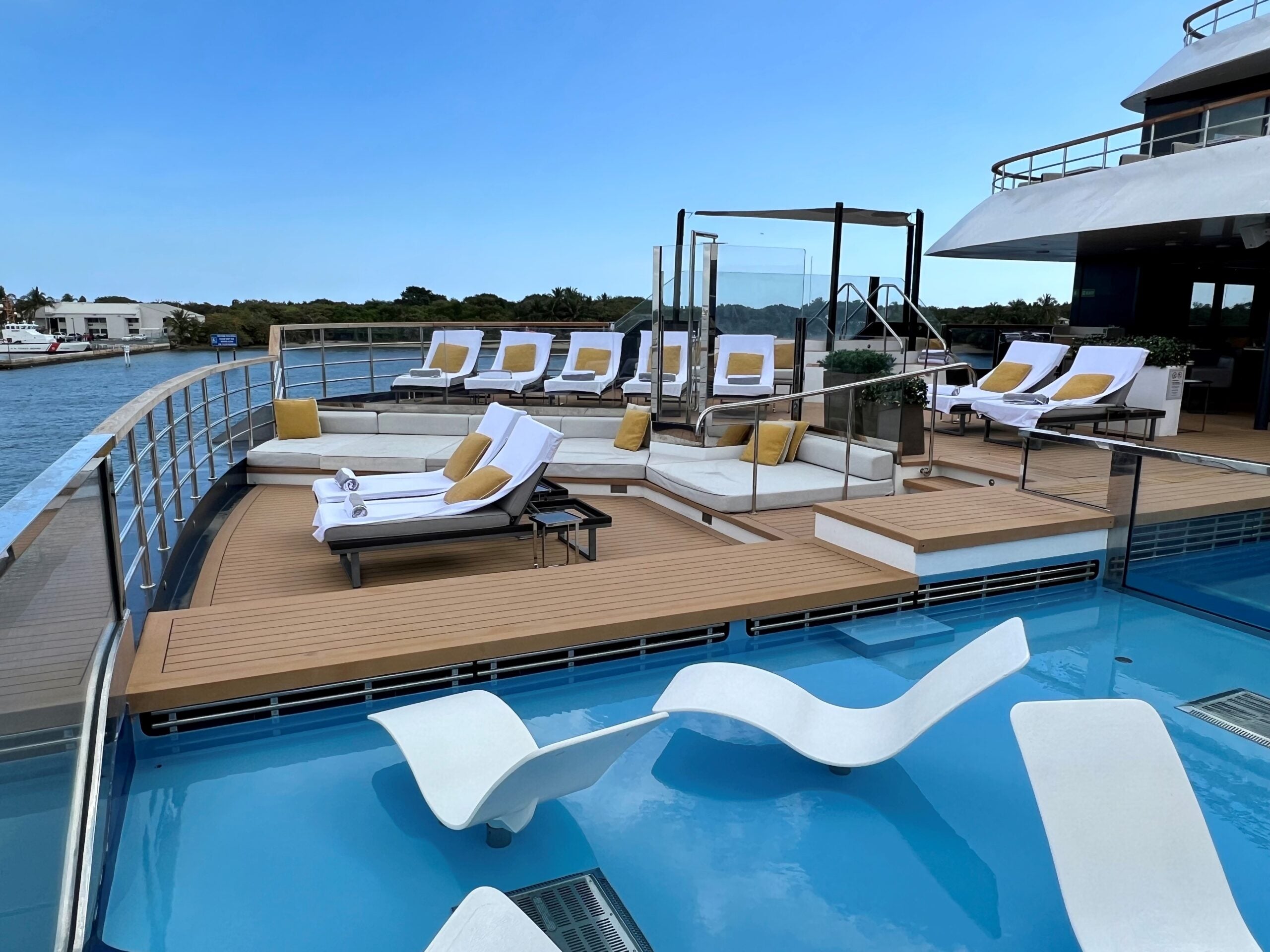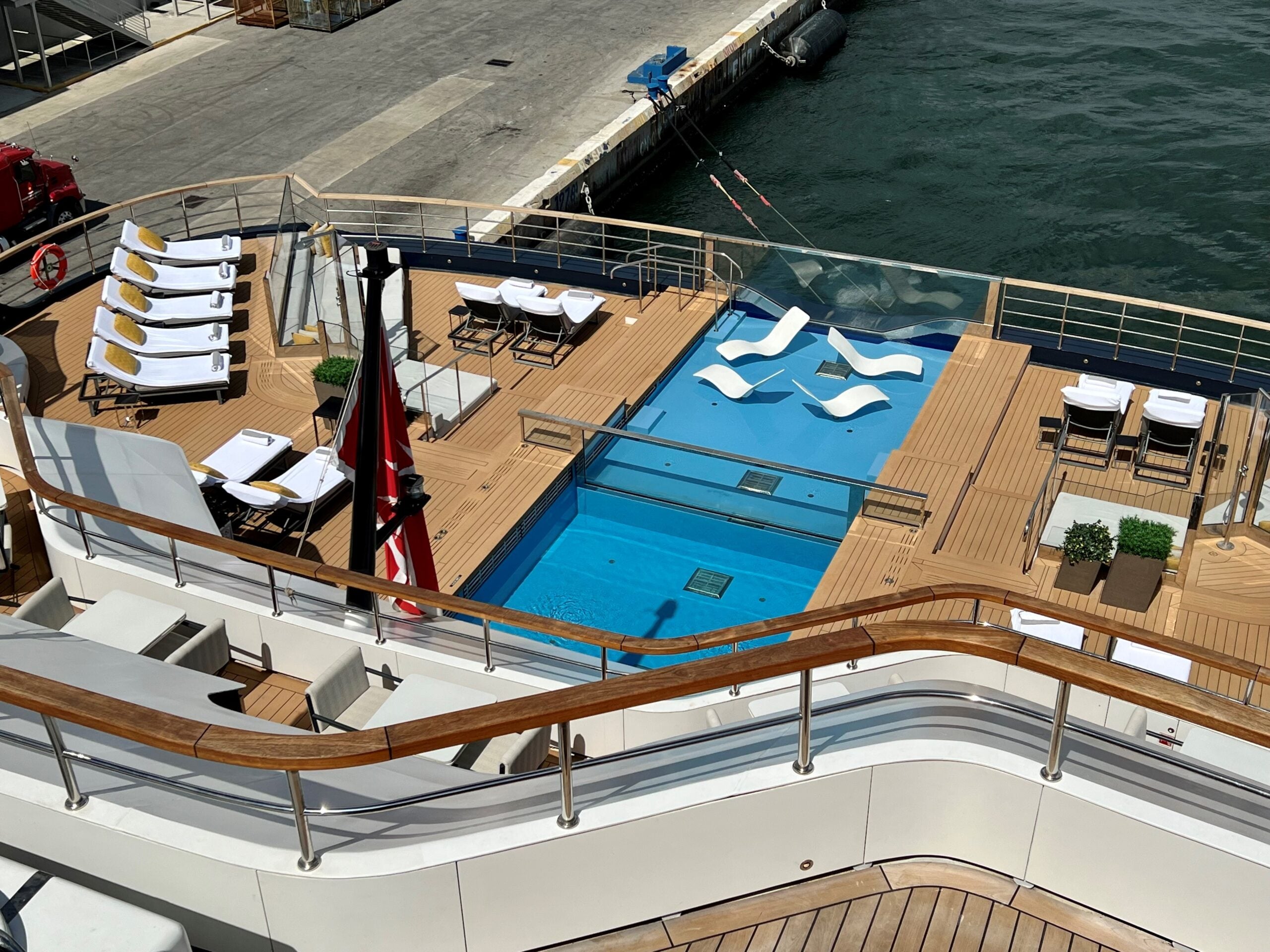 It's hard to know what the flow of passengers is on a ship until you sail on one for a few days, but on a sunny sea day, when everyone wants to be out by the pool, I suspect that this is a crowded space — too crowded for a product where the top rooms sell for as much as $10,000 a night per couple.
In defense of the ship's designers, there are a sprinkling of other little nooks for outdoor lounging at both the front and back of the vessel, including a secondary small pool area three decks above the main pool area and an outdoor lounge area at the front of the ship outside of its observation lounge.
In short, passengers can spread out around the ship when it comes to outside time.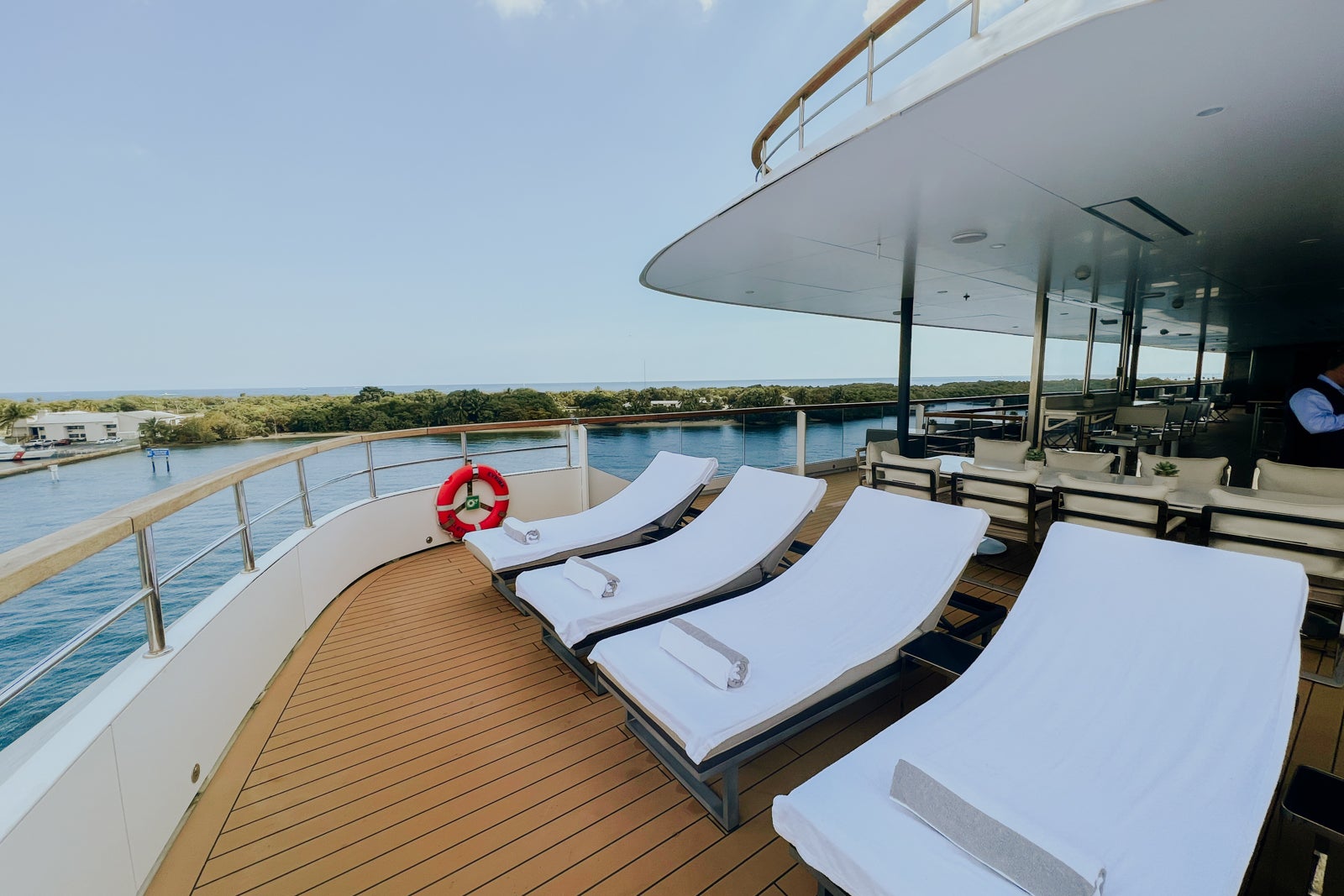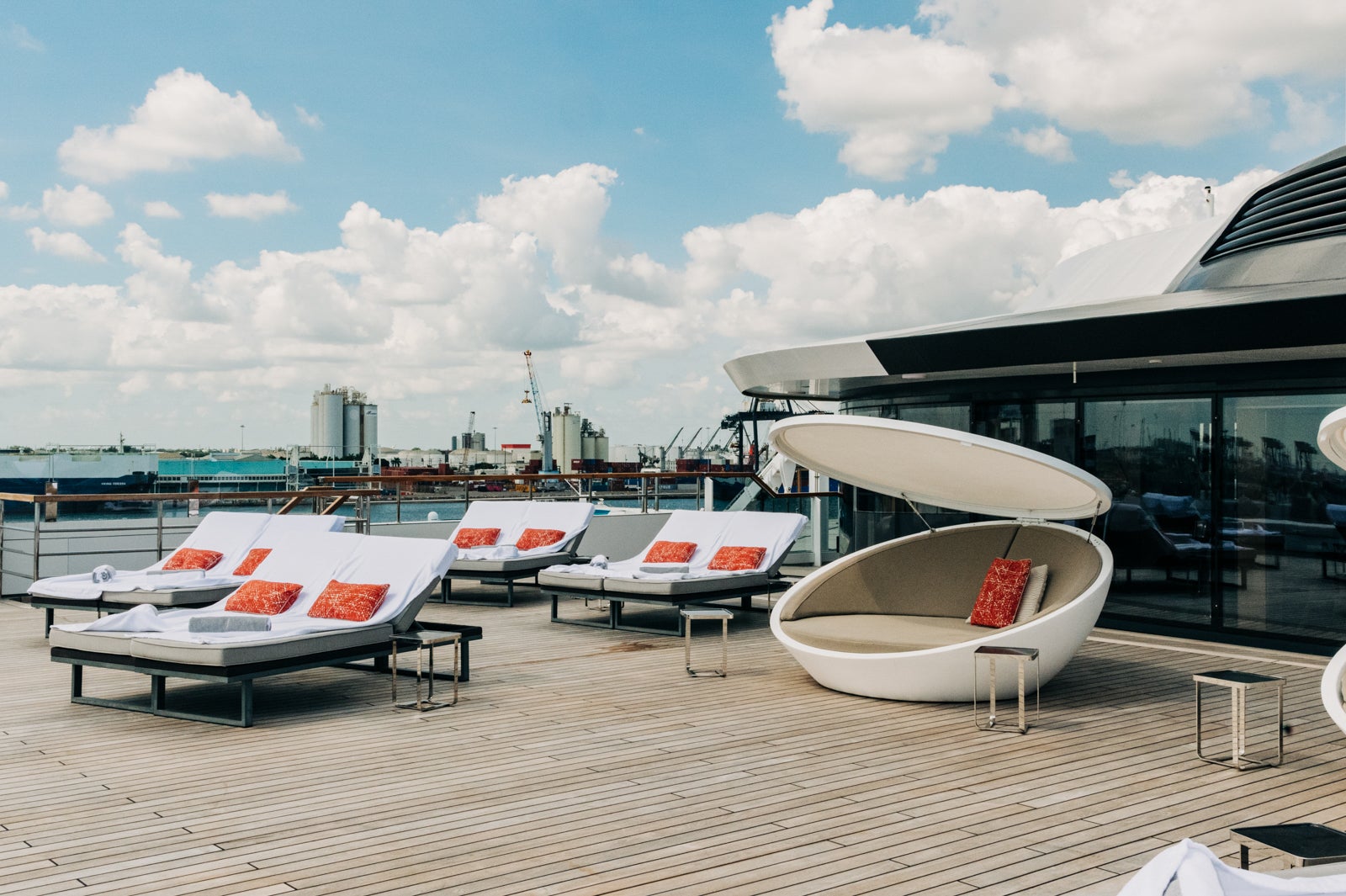 It should be noted that cruise ship designers usually don't put outdoor lounge areas at the front of ships, as the wind over the bow can make them unpleasant places to be. If you're sailing at 12 knots, for instance, that's a constant 12 knots (the equivalent of 14 miles per hour) of wind over the bow, plus or minus the effect of the prevailing winds.
Prothero told me that the windbreaks that Evrima's designers had installed around its forward outdoor lounge areas had been successful at keeping the spaces calm even while the ship was underway.
Touring from deck to deck, I did find many things to love about Evrima.
One of the most important parts of any luxury vessel is its accommodations, and I found most of Evrima's rooms well designed with the right level of luxuriousness.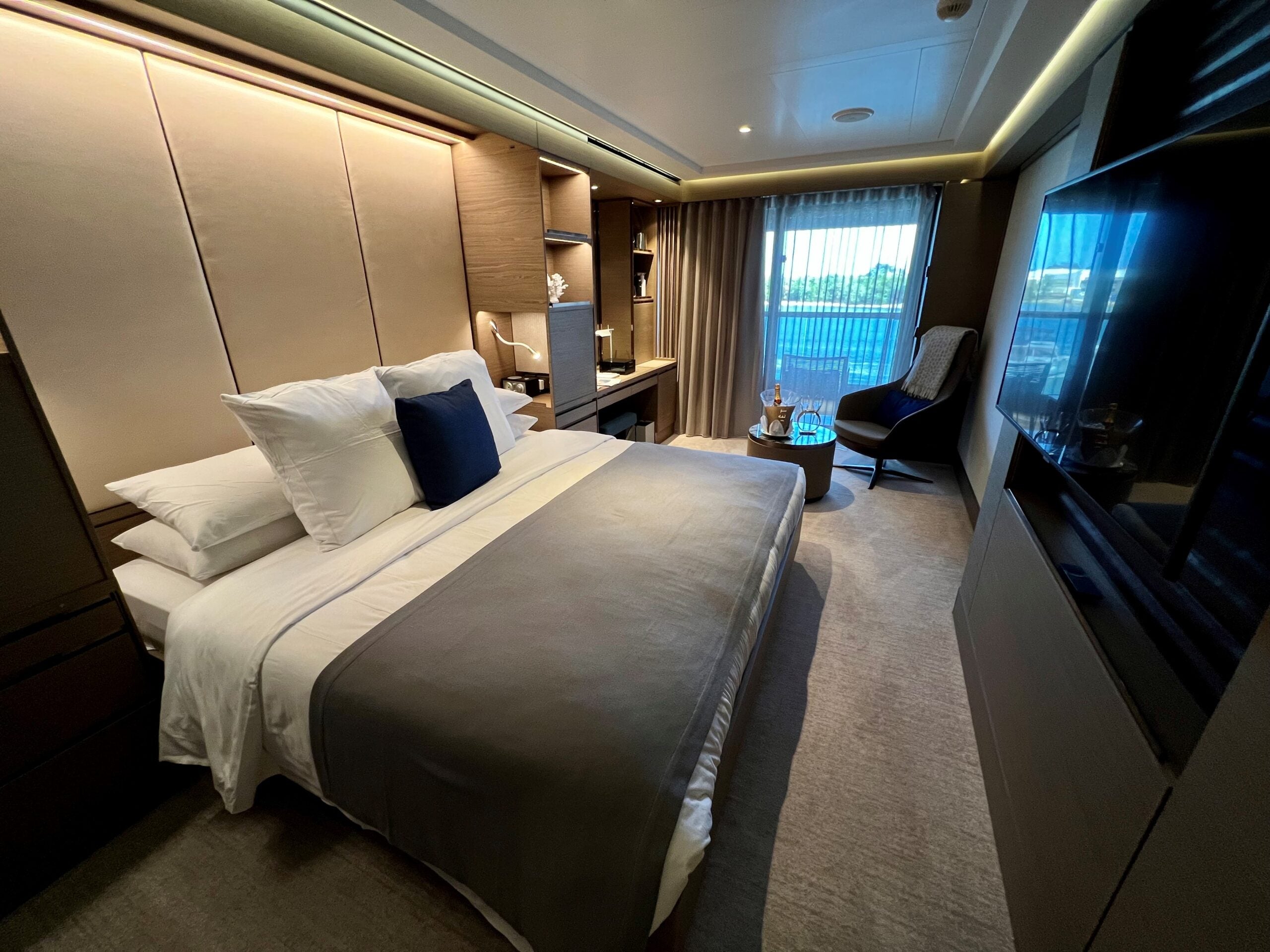 I say rooms, but a hallmark of Evrima is that it is an all-suite ship. Every room is a suite, and every suite has a balcony, to boot. That's not typical for cruise vessels in general, although it's common for the latest generation of luxury ships.
Even the smallest of Evrima's rooms, its Terrace Suites, measure 300 square feet. While this may seem small to Ritz-Carlton regulars who are used to the sprawling rooms found at the company's land resorts (the smallest rooms at The Ritz-Carlton, Fort Lauderdale, for instance, measure 764 square feet), it's a generous size for a cruise vessel.
Many basic cabins on mass-market ships offer less than 200 square feet of space, and 300 square feet is the norm for starter cabins on luxury ships, though the soon-to-debut Silver Nova, notably, is making its entry-level cabins about 20% bigger at 357 square feet.
Related: How to earn and redeem Marriott Bonvoy points when booking Evrima
Evrima's starter-level Terrace Suites are soothing and contemporary in feel, with luxurious king beds topped with white bedding and gray accents. Bathrooms are bright and modern with double vanities and separate shower and toilet nooks.
The rooms have such luxury touches as personal espresso machines and minibars that will be provisioned to your preferences — no extra charge. In addition, a bottle of Moet Champagne awaits you in the room upon your arrival. If you want more, just ask. It's an Evrima signature.
In short, the Terrace Suite is everything you would expect a Ritz-Carlton room at sea to be.
Evrima also has an array of bigger suites that start at 429 square feet in size (for what is called a Signature Suite) and get as big as 1,091 square feet. There are two of the latter, which are known as Owner's Suites, and they truly are expansive. Alas, they're also pricey. This is where your fare for two can reach $10,000 a night, as I mentioned above.
Related: Four Seasons getting into small-ship cruising, too
Basic Terrace Suites on the ship have been for sale lately on the brand's website starting around $1,600 a day for two for a Caribbean sailing.
No matter which suite you choose, it's not an inexpensive ticket.
One of the most discussed suite categories on the vessel, the 12 two-story Loft Suites that start on Deck 4 and rise to Deck 5, was probably my least favorite. At more than $4,000 per day per couple on a typical Europe sailing, a Loft Suite is a pricey room. It'll set you back about twice as much as a basic Terrace Suite.
But at just 519 square feet spread over its two floors, it feels tight. Instead of one wider room, you get two levels of narrow rooms. The upper floor, in particular, feels cramped, with a table and four chairs jammed into a narrow space next to the stairs, blocking access to the main seating area.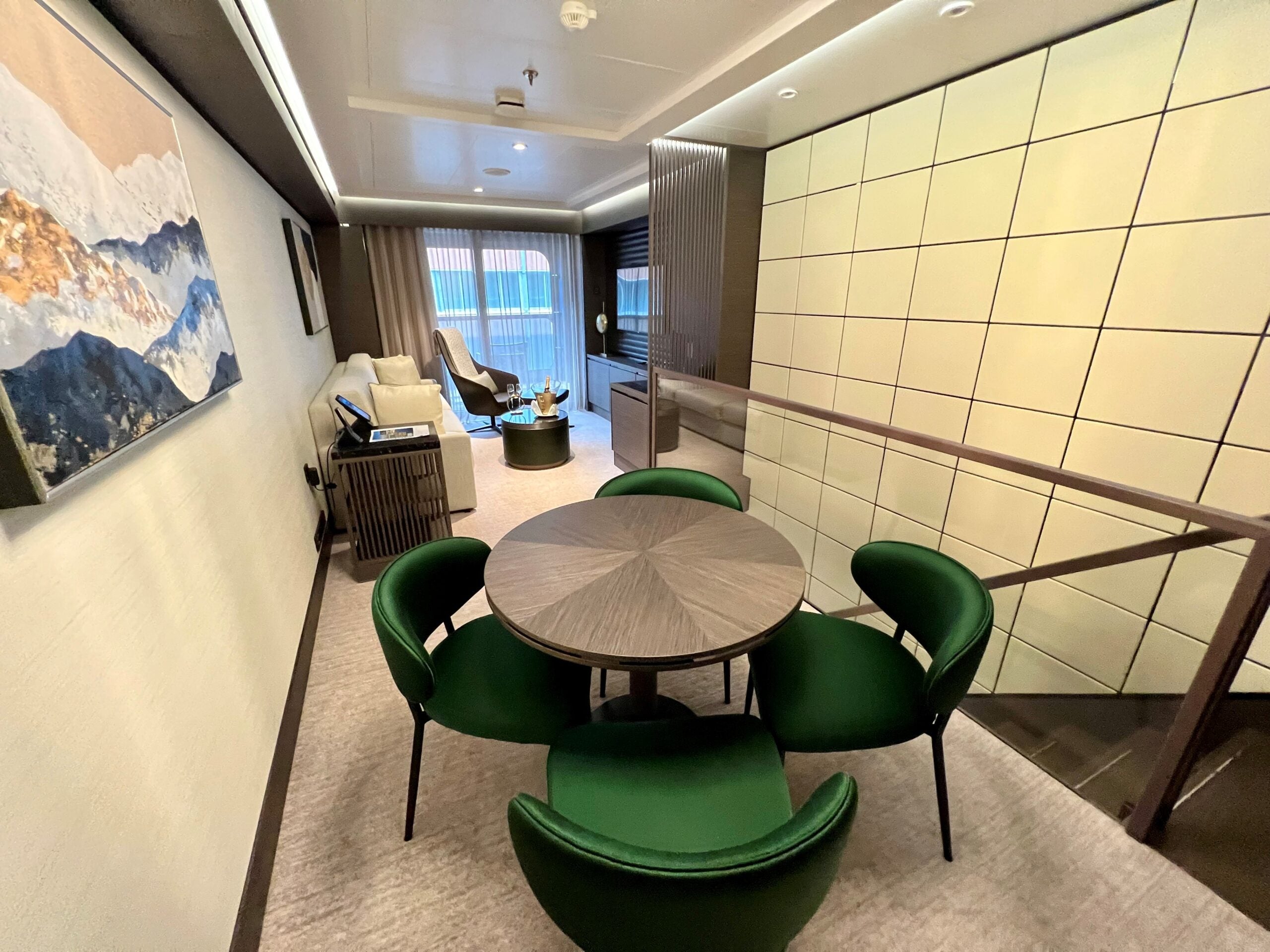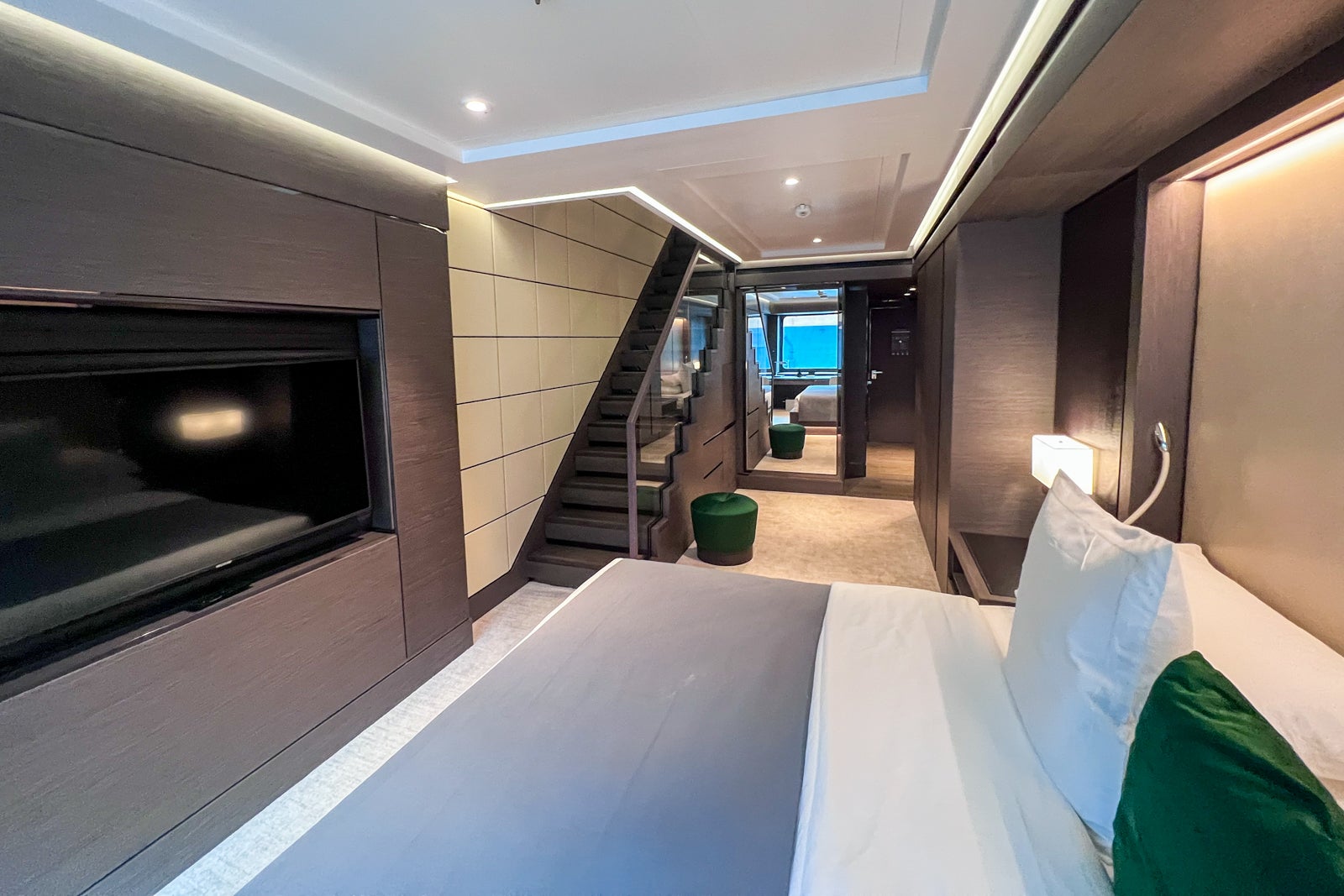 I love the idea of having a second level to my cruise cabin — how cool! But if I were going to pay that kind of money, I'd probably upgrade to one of the ship's 14 Grand Suites. It'll cost you about 25% more but gets you 587 square feet spread across a single floor with a lovely lounge area and dining area facing the sea through a wall of glass and a separate bedroom complex.
Keep in mind that once you're at the Grand Suite level, you'll be shelling out in excess of $5,000 a night for two.
In general, the pricing for Evrima seems high to me for what you get. Similarly sized suites to Evrima's Grand Suite on ultra-luxury Silversea ships in Europe, for instance, are available for considerably less on like-for-like itineraries.
A Grand Suite on Evrima on a seven-night sailing from Athens, Greece, to Venice, Italy, in July 2024 currently costs $19,300 per person, based on double occupancy (or about $40,000 for two). A nearly-as-large, 521-square-foot Medallion Suite on a seven-night Silversea sailing out of Venice the same month costs just $10,100 per person, based on double occupancy (or about $20,000 for two).
Plus, the Silversea pricing includes economy airfare to reach the ship and transfers in addition to room and board. The Silversea ship in question is the 392-passenger Silver Whisper, which is similar in size to Evrima.
That's quite a difference in pricing.
What I think is going on here is that The Ritz-Carlton Yacht Collection is pricing Evrima on par with Ritz-Carlton resorts, not other ultra-luxury cruise vessels — and people are willing to pay those rates. Evrima's passenger count on Tuesday was listed on the bridge as 273, meaning the vessel was nearly full.
It's a well-known conundrum often discussed by cruise line executives that cruise vessels at all levels of the industry are priced significantly lower than like-for-like properties on land. Many executives peg the differential at 30% or more.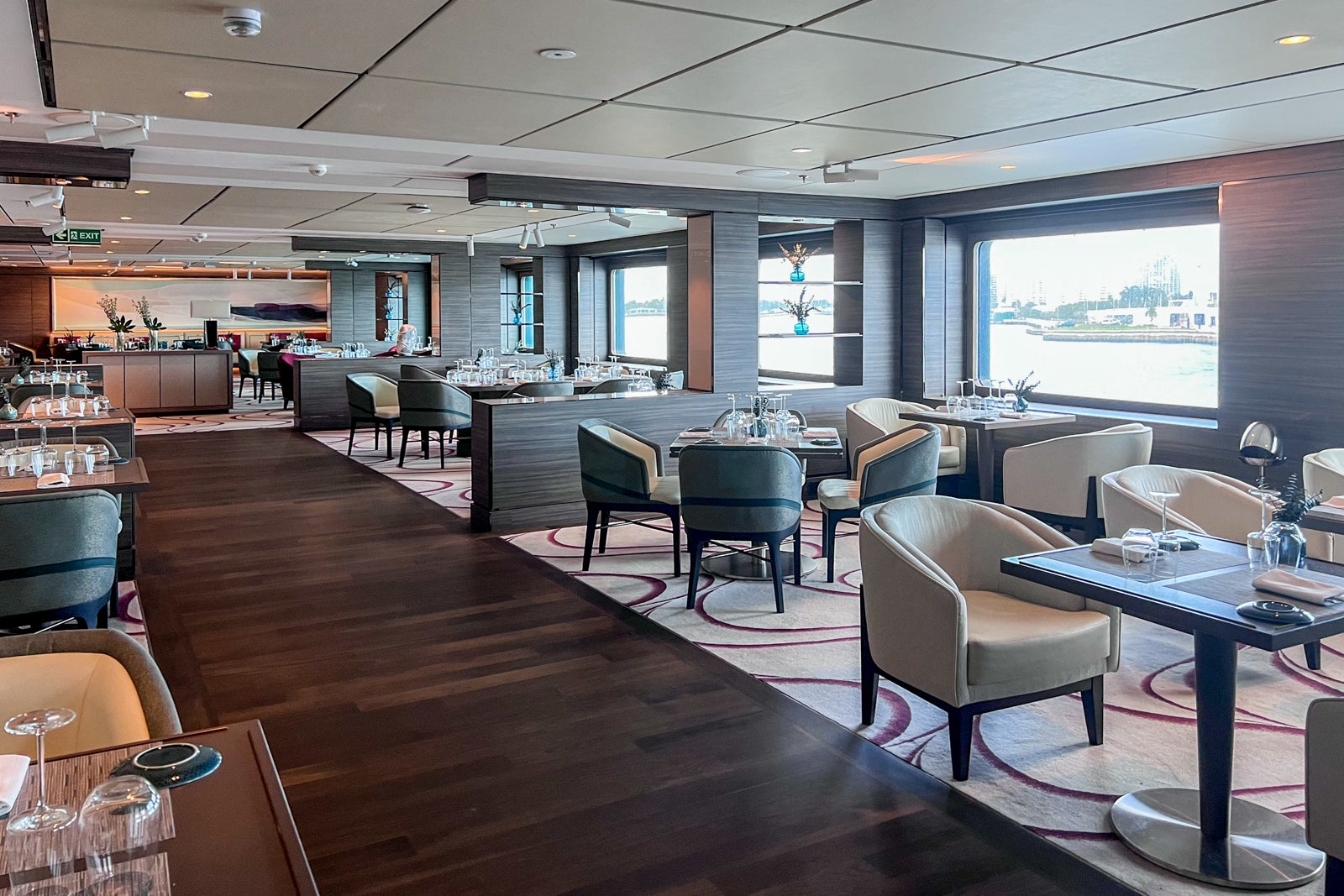 As a product aimed more at land-resort lovers than cruisers, The Ritz-Carlton Yacht Collection is able to command the higher price. It's not playing to the cruise-world crowd that comes in with pricing (or design) expectations formed from sailing with other brands.
And that is the bigger point here. Evrima really isn't a ship meant for a cruiser. It's a ship, as my colleague Scott noted above, meant for Ritz-Carlton loyalists, and that includes Marriott Bonvoy loyalists, too. Indeed, Prothero told me that 70% of the line's customers so far are Marriott Bonvoy members. About 75% of customers are completely new to cruising.
In that sense, the look and feel (and pricing) of the ship may be just right.
Or, to put it another way, maybe the cruise writer at TPG is the wrong person to be evaluating Evrima. A hotel and resorts writer, or at least a non-cruiser, who knows luxury travel on land might be the better bet. Along those lines, Scott, who has toured a few cruise ships but is not a cruiser, told me he found Evrima's design refreshing.
My bottom line on Evrima? If you're a Ritz-Carlton fan or Marriott Bonvoy member looking to burn some points (a lot of points — you'd need about 1.6 million points per couple for the least expensive five-night sailings currently available — enough to book at least 13 nights at the St. Regis Bora Bora or Ritz-Carlton Maldives), you're probably going to love it. If you're a veteran of the upscale ships of Regent or Silversea or Crystal or Viking, you're going to find some nits to pick, as I did.
But keep in mind that's just on the things that one can see in a quick tour. As mentioned above, the heart of what a luxury ship is all about is the service you receive while on board. For a verdict on how Evrima ranks on that score, my final judgment will have to wait.
Planning a cruise? Start with these stories: