Editor's note: This post has been updated with new information.
---
Cruise ship cabins have improved since the days when you bumped into walls on your way to your bathroom. However, there is still a difference between staying in a small, windowless interior space versus a room with its own balcony or even a lavish suite. For many people, it makes sense to upgrade to the best cabin you can afford.
Consider a cruise cabin your hotel room for the week, and start with a deep think about how much time you will actually be in your room (or rooms). If you plan to do every shipboard activity, party until the wee hours and use your cabin only to sleep, shower and shave — and especially if you're on a tight budget — a lower-priced cabin with or without a window or porthole may well suit your needs.
For cruise news, reviews and tips, sign up for TPG's cruise newsletter.
If, on the other hand, you want your own private place to escape from the crowds and the frenetic pace of cruise activities, without missing any ocean and coastal views, you may be better off upgrading to a balcony cabin or a suite with a balcony — even if it adds hundreds or thousands of dollars to your cruise vacation budget. You'll have more private space to lounge around reading a book, watching movies or ordering room service.
Here are several reasons why it pays to upgrade your cruise ship cabin.
Access to suite perks
At the top end of cruise accommodations are suites. Be aware that "suite" is a flexible term on cruise ships. It may mean only a 250-square-foot room, with or without a curtain separating a bed and sofa area. With a bigger budget, you may be able to book a multi-room, multi-bathroom apartment — or even a spectacular suite that's a house-sized oasis.
Space is reason enough to upgrade to a suite, but other perks come with the experience. On some big ships, suites are located in a separate complex with a private restaurant, sun deck, swimming pool and a lounge open only to guests in the fancy accommodations.
RELATED: 7 reasons to splurge on a suite on your next cruise
If you want a king-sized bed, a cruise rarity, you are most likely to find one in a suite. Bathtubs and whirlpool tubs, other cruise rarities (most cabins just come with a shower) are also, typically, a suite perk.
Suites tend to come with larger balconies than you'll find with balcony cabins. In top suites, these spaces are huge — complete with outdoor living rooms, dining areas and hot tubs.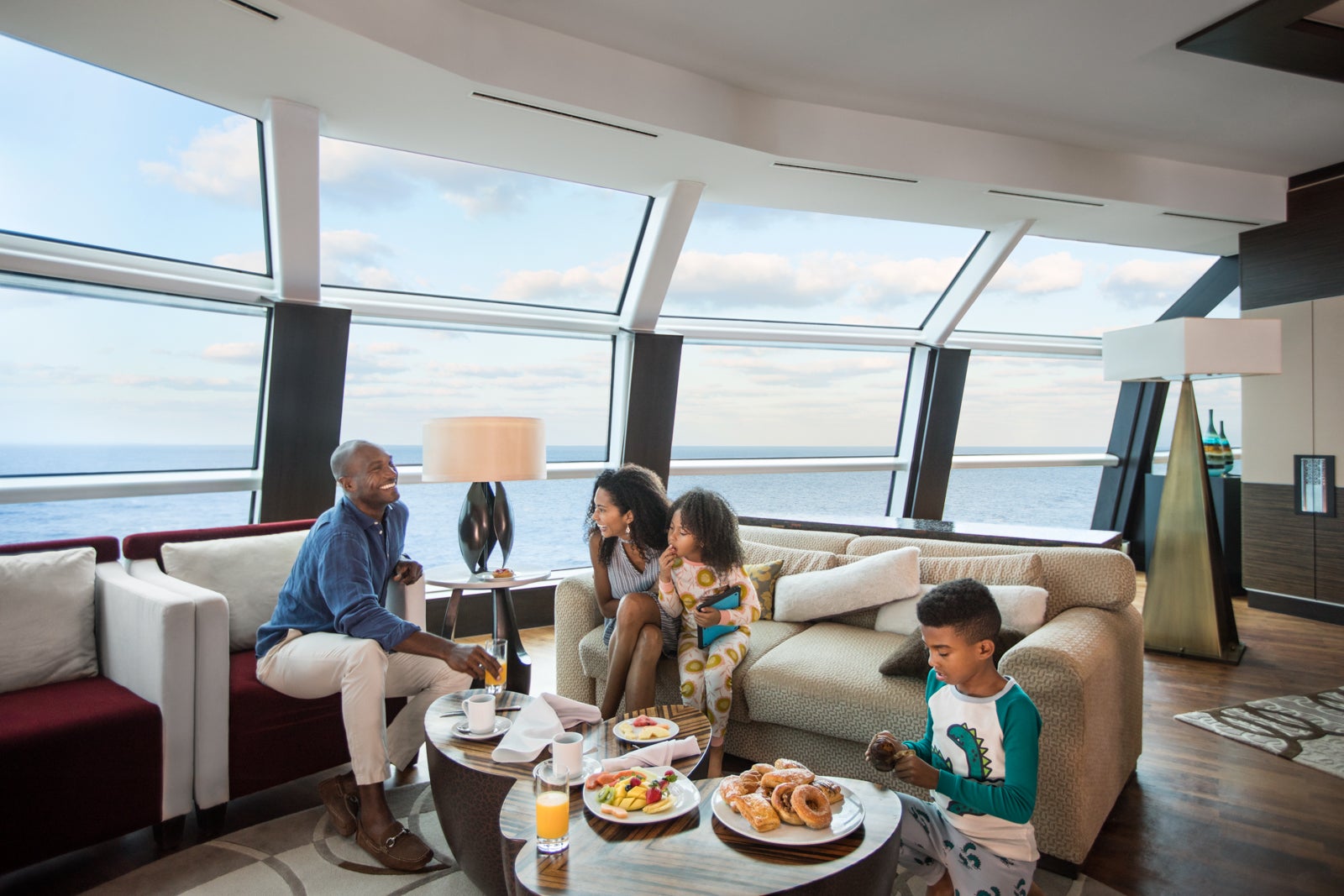 Depending on your ship, additional perks may include everything from cushy robes and designer soaps to free drinks and specialty dining. Your suite accommodations will likely come with the services of a special concierge desk to help you book shore excursions, spa treatments and dining reservations. You may even have a butler at your beck and call.
If you are thinking of upgrading to a suite, carefully read how much space you'll actually get, and evaluate whether the perks are something you will actually use.
Bring the spa life to your cabin
Spa cabins have decor designed to inspire Zen and even romantic moments. These extra-fee cabins are usually located near the spa and fitness facilities — no need to traipse through the whole ship in your bathrobe or gym shorts. Spa cabins typically are balcony cabins or suites with more space than standard cabins.
Cabin amenities may include a bathtub and special soothing bath products, upgraded bathrobes, designer water and even beautiful scents. You will have complimentary access to the spa's thermal suite, where you will find an array of wet and dry experiences such as a sauna, steam room, hydrotherapy pool and aromatherapy showers.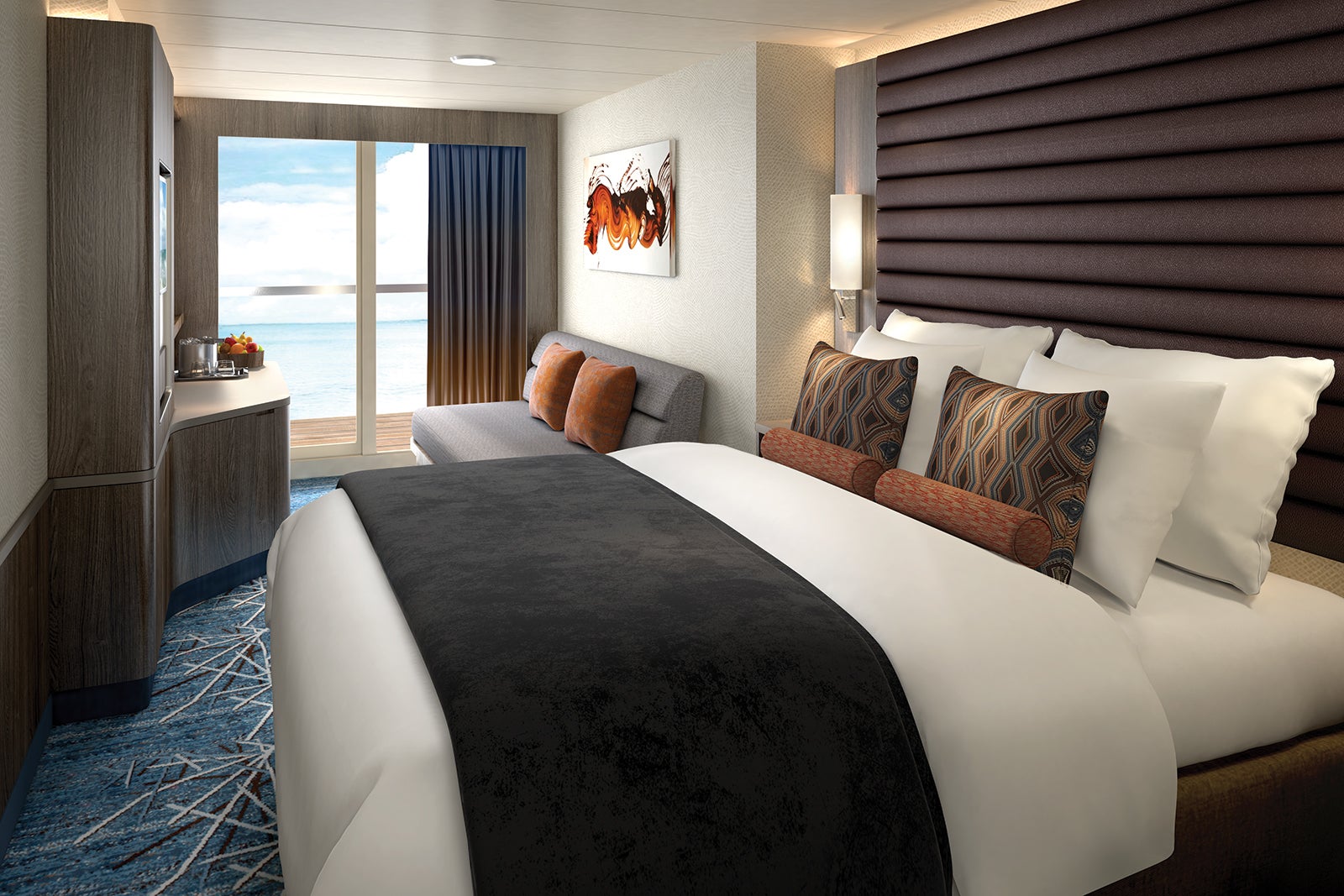 You'll enjoy priority access in terms of booking massages, and discounted spa treatments may be included. The same goes for fitness classes; you'll be able to sign up fee-free before the classes are open to others on the ship.
If you are a big spa fan or gym rat, these suites are worth the upgrade.
Related: The 6 best cruise ship spas
Fresh air is nice
Balcony cabins — standard cabins with a step-out space for sitting — are among the most popular accommodations on cruise ships both for views and the fact that you can open your door to let in the sea breezes and hear the waves. (A recent innovation is balcony-ish cabins where a large window opens.)
If you have a standard, step-out balcony, it will be furnished with two chairs and a small table for drinks. Larger balconies may have loungers and an actual dining table where you can enjoy a private meal.
RELATED: 6 reasons to book a balcony cabin
Some cruisers consider a balcony an unnecessary upgrade. They are just as content to book a cheaper cabin and don't mind jockeying for a lounge chair on the open decks. However, others relish having the option of being able to head outdoors directly from their cabin, even in their bathrobes, to enjoy the sea.
On itineraries where stunning coastal scenery is a particular focus — such as the glaciers in Alaska and fjords in Iceland and Norway — a balcony is particularly worth the upgrade.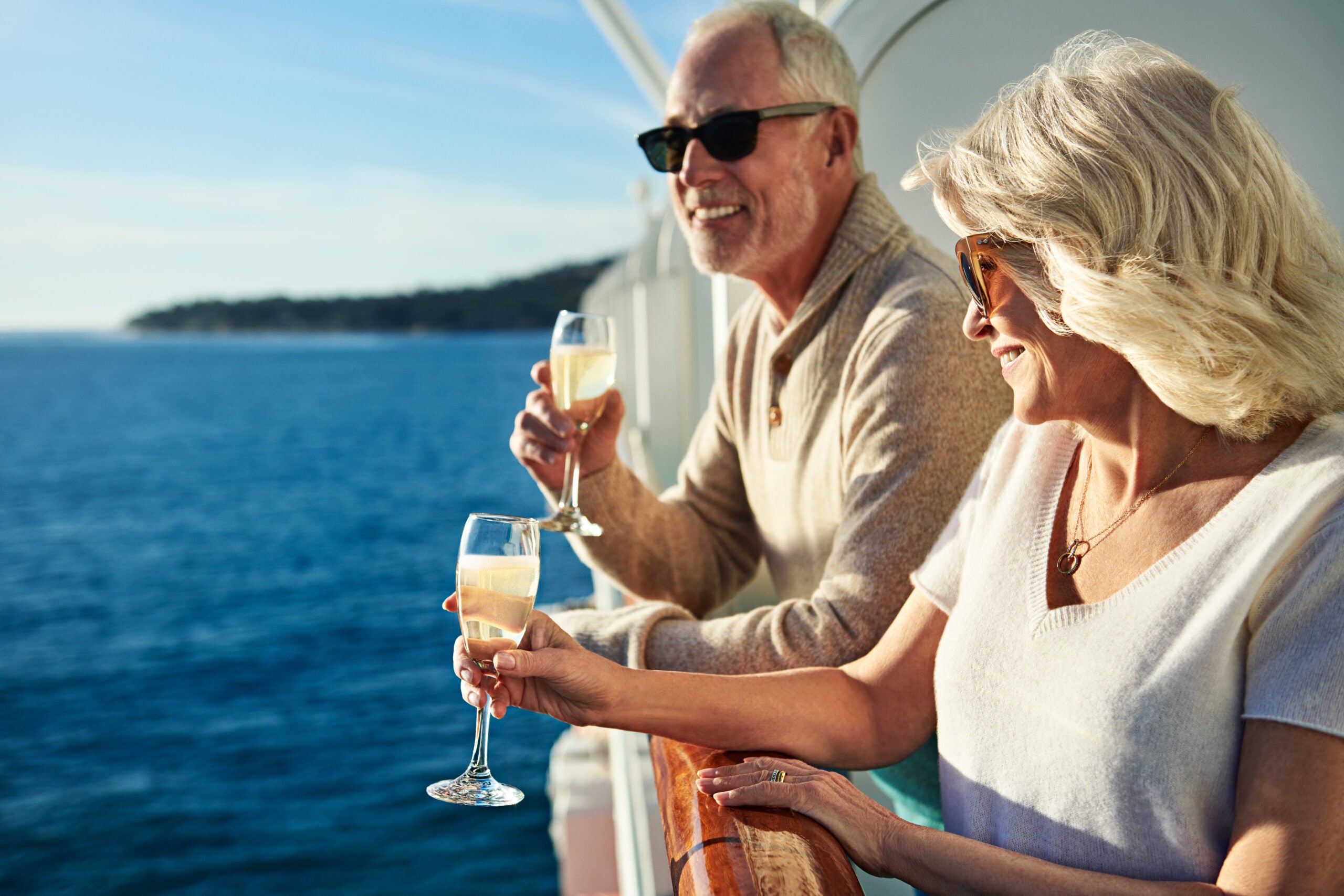 Be aware when considering an upgrade to a balcony that not all these accommodations are spacious. They may even be the same size as standard windowed cabins, and the balconies they offer may not be all that big. On the smallest ships, your knees may be up against the railing when you sit. Aft cabins with views of the wake and, often, larger balconies, are some of the most sought-after cabins on the ship.
More space when traveling with kids
With space a commodity on cruise ships, a mistake some families make is cramming everyone into the tight quarters of standard accommodations — the kids on bunks that drop down from the ceiling or sofa beds, with parents (or grandparents) sleeping on the regular bed. Such closeness may not be conducive to family harmony, particularly when you are sharing one bathroom and limited closet and drawer space.
A better choice, if your ship has them, are family cabins designed to sleep five or six that provide more room to spread out. On some ships, these accommodations have the bonus of a half bathroom in addition to a full bathroom. These cabins are sometimes located near children's facilities, so you can send the kids right down the hall to participate in camp-like activities.
Related: The 8 best cruise ships for kids
Families also might consider booking two adjoining cabins, which give older kids and adults some privacy and delivers two full baths. If you need the space, check the price of family suites, which may be only a few hundred dollars more than basic family cabins and include perks reserved for suite guests.
Bottom line
In most cases, an upgraded cabin is always better than the most basic room on board. The only thing stopping you from splurging on a larger space, a private balcony and extra perks is your budget.
If you change your mind once you've booked, you'll find several ways to upgrade your cabin to a higher-category room. However, there are times when you should just say no to that cabin upgrade offer, especially if what the cruise line thinks is a nicer room is not what you'd consider better accommodations.
If you think you'll be happier in an upper-category cabin, it's always a good idea to book it right away, so you have control over which type of room and the exact ship location you will most enjoy on your vacation.
Planning a cruise? Start with these stories:
Additional reporting by Erica Silverstein.