United Airlines loves to make a scene.
This past week the airline placed an order with Boeing for 100 wide-body 787 jets with another 100 options, and exercised options for additional 737 MAX narrow-bodies while placing a new order for even more MAX jets.
It was the biggest single order for wide-body jets ever placed by a U.S. airline, United said, and will carry the airline through its fleet renewal and expansion plans through the next decade.
United and Boeing teamed up to throw a big event at the plane-maker's Dreamliner assembly plant in Charleston, South Carolina, to mark the order signing, with appearances by Boeing CEO Dave Calhoun, Boeing Commercial Airplanes CEO Stan Deal, most of United's C-suite — including CEO Scott Kirby — and South Carolina Gov. Henry McMaster.
Want more airline-specific news? Sign up for TPG's free biweekly Aviation newsletter.
But underneath the dignitary-laden splash lies a high-stakes dynamic as United charts its strategy through the mid-2030s, a gamble with huge potential upside, but also one with high risks and costs.
Such events, and using a grandiose "historic" announcement to outline a business plan, have become the standard M.O. at United, largely to its benefit as it's dominated aviation headlines in recent years.
Last year, for instance, even as the airline industry was still struggling to claw its way back to profitability from the lows of the pandemic, United held a boisterous event at its Newark Liberty International Airport (EWR) hub to announce its "United Next" plan, a road map to reconfigure its capacity and fleet, which included an order for 270 narrow-body jets, the largest-ever single order by a U.S. carrier.
This week's event did not involve the reveal of a new cabin or product, but still saw the airline go big with a heavy media and marketing push, even chartering one of its own 737 MAX 8 aircraft to fly its army of employee-influencers — staffers from work groups across the airline who use their personal social media accounts to promote the airline, with their employer's tacit guidance — to Charleston to share images and videos. The assembly line in Charleston, meanwhile, came to a brief halt as employees left their stations to don matching blue T-shirts and sit in the plane-maker's gigantic hangar.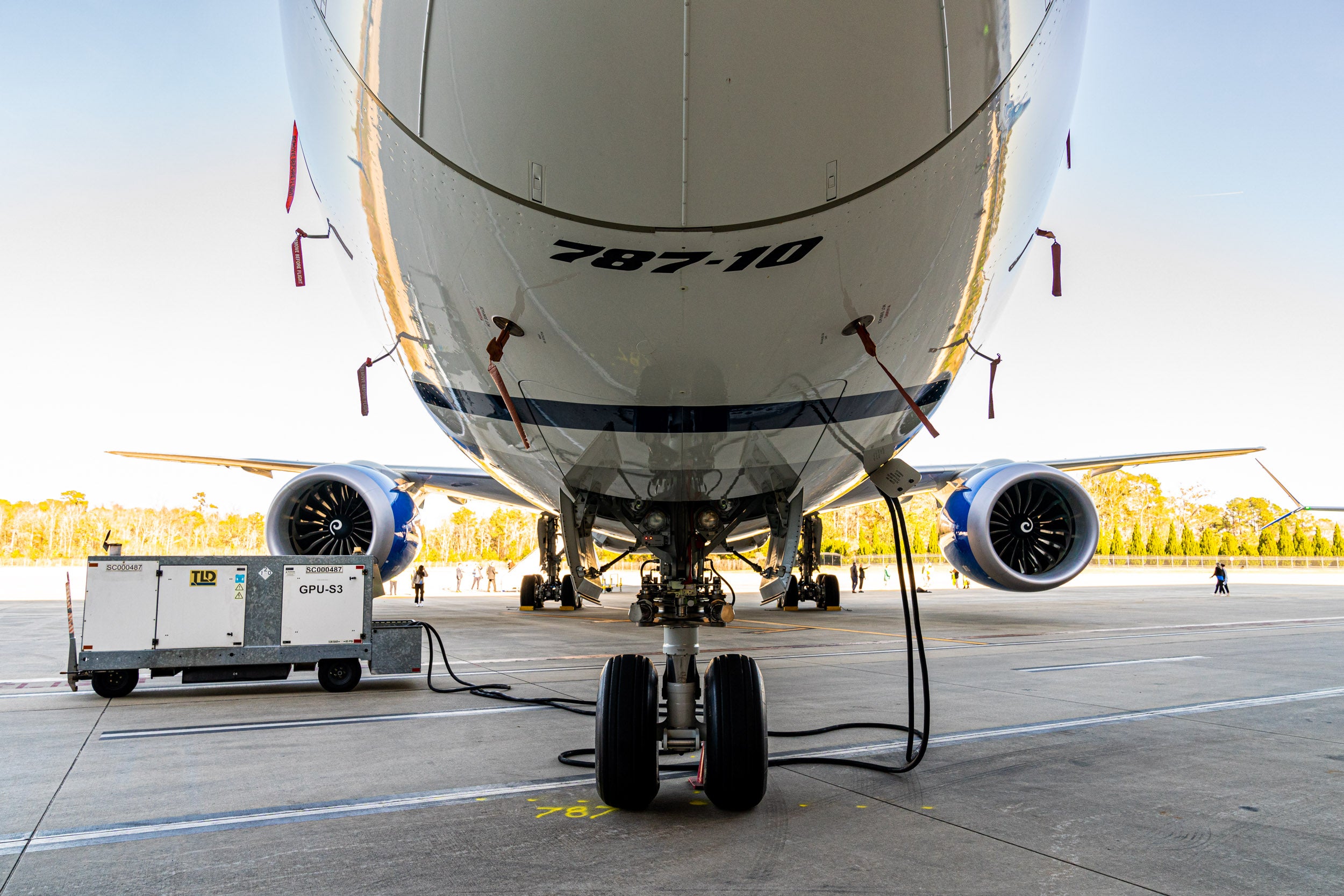 While United's CEO clearly enjoys being seen as an industry leader and enjoys making headlines — as airline journalist Brian Sumers wrote in a recent newsletter, Kirby will either be remembered as "one of the top three most transcendent U.S. airline executives in modern memory" or "one of the all-time failures … for spending billions on aircraft his airline didn't need" — and chief communications officer Josh Earnest's team has an unparalleled ability to capture the news cycle and online virality, there was actually something there this time.
Should Sumers' first scenario come true, it will be because Kirby led the airline through the COVID-19 pandemic and the turbulence of the years after with an incredible degree of prescience.
When United placed the narrow-body order, travel demand was trickling back but was still far from recovered. United was still deep in the hole and did not have an obvious path to the cash flow to support any near-term capital investment. The idea of retrofitting its existing fleet with new interiors seemed wild.
But 18 months later, the move seems like a good one.
Runway and other infrastructure constraints at major airports — and what are effectively slot limitations at its Newark hub — put a limit on how many flights airlines can operate. Part of United's strategy is to "upgauge" aircraft on many smaller routes to combine frequencies — in other words, for example, flying a route twice daily with a 100-seat airplane instead of operating it four times in a day with a 50-seat airplane, saving two takeoff and landing slots.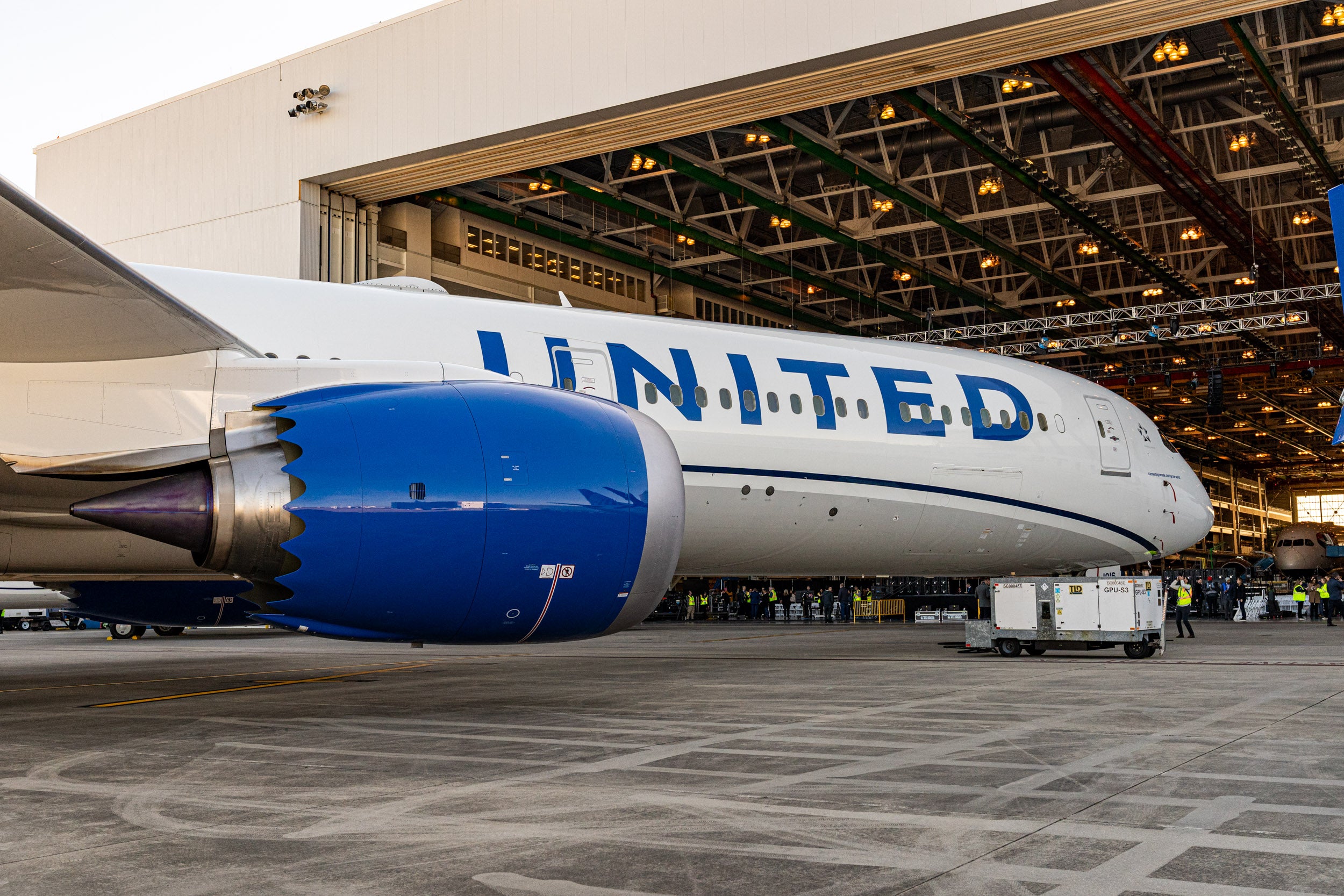 Ongoing supply chain constraints, meanwhile, seem likely to last for a while longer across the global economy. With the orders in place and delivery slots secured, United has a degree of relative certainty for its new aircraft, assuming Boeing can stabilize its production rate. It also locks in pricing terms during a period of high inflation.
United thinks that the supply chain issues are something that will work out over the long run. Its project to retrofit the interiors of its cabins has gone slower than it expected, but is still expected to be largely finished by the middle of this decade, Kirby told reporters on Tuesday at a deal-signing event at Boeing's Charleston factory.
"Not much has been done so far," Kirby said. "It's on track to be, if not 100% complete by 2025, substantially completed by 2025."
"There have been some supply chain [issues], but we've mostly gotten those wrestled to the ground."
Notably, it was the first time that United has suggested the project could slip beyond 2025.
It's too soon to say whether the order will prove to be the right call over the long run, and it's far too early to see how the wide-body order holds up.
But initially, it seems like a smart move.
International travel demand has rebounded, Kirby said, and there's no reason to expect it to decrease. Long-haul travel also offers United a growth opportunity that it can't quite replicate in the domestic market. Executives at the airline frequently point to their 2020 decision not to retire any of its wide-body fleet as allowing it to seize returning demand in the following two years, and to return to a global route-building initiative.
"It really is just the next logical step on the journey that United has been on since the beginning of the pandemic," Kirby told reporters at the event in Charleston this week. "United wound up positioned on the other side of the pandemic in a totally unique way."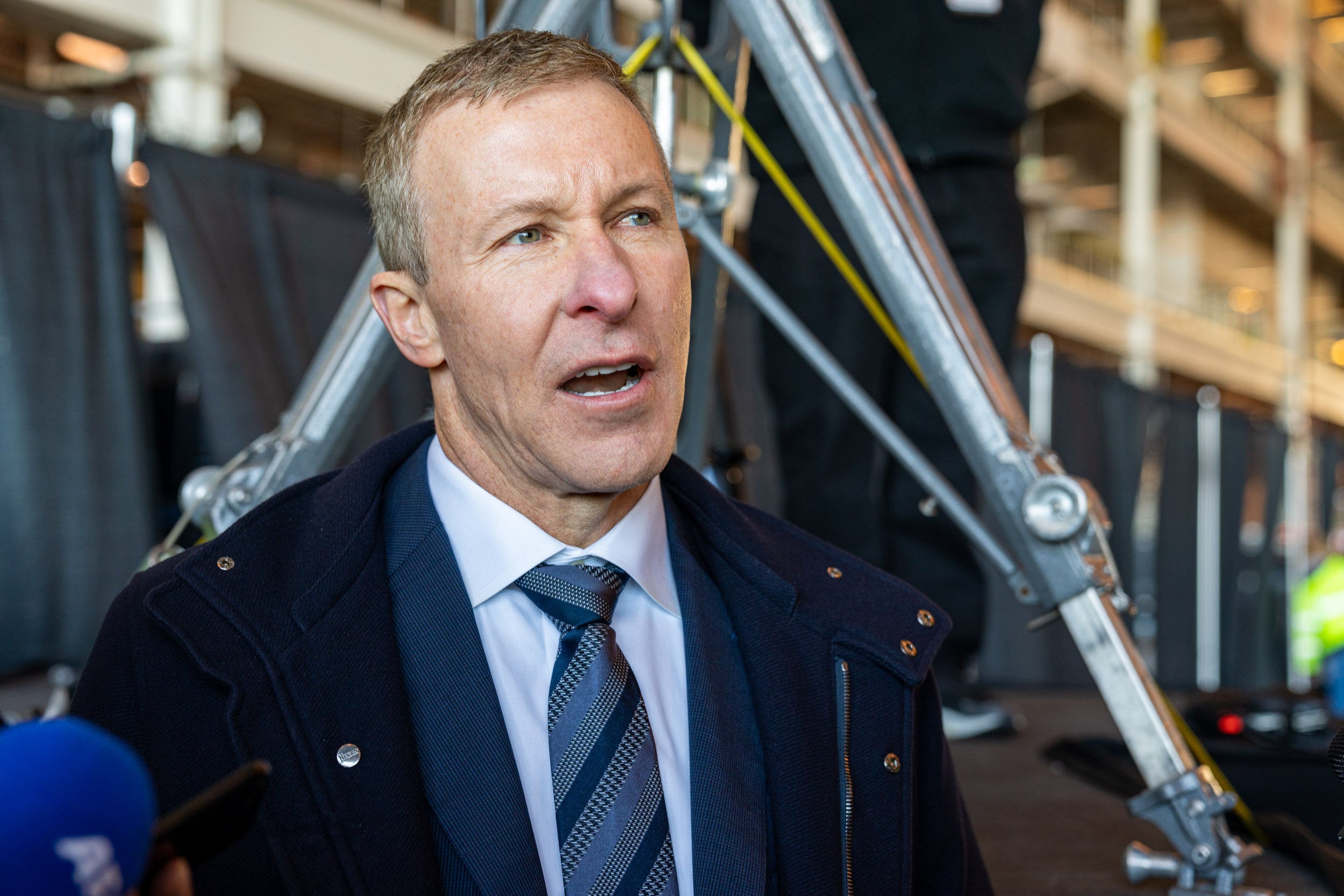 Kirby also said that the airline chose to place such a big order to try and seize the opportunities created by the pandemic — after all, before the pandemic, an order for just 50 wide-body jets would have been considered a big deal.
"The reason we went big is, one, we are big," Kirby told reporters, "and we have a unique position in our hubs for international growth, and I think international's going to be really strong in the years to come."
"The structural changes that happened during COVID mean it's going to be a long time before many of our competitors can get back to growing, even get back to where they were in 2019," Kirby added. "We start with a head start, and we're going to run even harder."
United has grown ambitiously since international borders began reopening following 2020's lockdowns, trying out new and surprising destinations like Ghana, Jordan, and Malaga, Spain.
Notably, the 787s average about 25% better fuel efficiency per seat than United's current international fleet, which offers an extra incentive to replace the older jets.
Even so, airplanes are expensive, and United's commitment to the 100 new wide-bodies is a large one.
At list price, the order would be worth around $30 billion, depending on how many of each variant United settles on. While airlines never pay full price for new aircraft and United received favorable terms — "I'm smiling, that's all I'll say on price," Kirby laughed in response to a reporter's question in Charleston — it nevertheless is a large amount of money for a company that already has hundreds of aircraft on order. For reference, United ended the third quarter of this year reporting $942 million in profit on revenue of $12.9 billion, with $20.4 billion in liquid assets.
Still, speaking at Tuesday's event in Charleston, chief financial officer Gerry Laderman said that the airline expects no issues.
"The aircraft you build are profit machines," he said. "We'll make so much money with these aircraft that the more the merrier, as far as I'm concerned."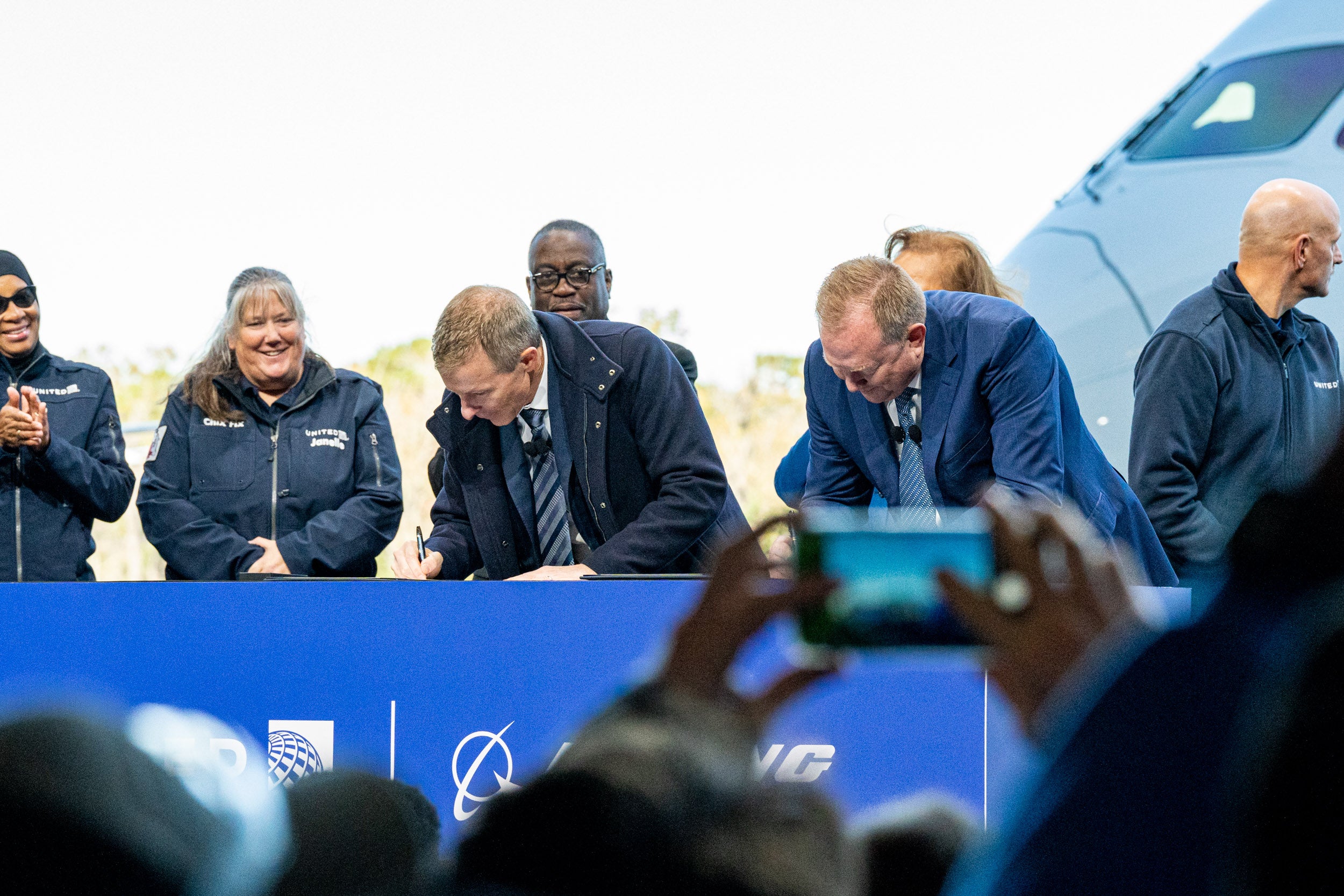 During a pre-event briefing Monday, Laderman specified that the airline expects to pay for the aircraft out of its incoming revenue, but said that it could choose to finance some "to the extent we find capital market financing attractive."
"We have the luxury of making that choice," he added.
What ultimately will make or break United is demand. If Kirby and the airline are correct and international demand stays strong, the airline will approach the 2030s with a wide-body fleet at least as big as today's — with 100 additional planes United can opt to buy should the "opportunity" to expand to new routes or markets arise, as Laderman said during a pre-event briefing on Monday.
But if travel demand contracts or begins to look different — perhaps renewing a trend toward larger jets or a hub-and-spoke preference for international travel — or if the plan to upgauge routes and decrease frequencies ends up failing, then United is stuck figuring out what to do with, and how to pay for, 700 inbound aircraft.