Editor's note: This is a recurring post, updated with new information.
---
Think hotels have too many brands? You're not the only one.
It can be confusing to decipher distinct brand identities when individual hotel companies have so many. For instance, Marriott International ended up with 30 brands following its 2016 takeover of Starwood Hotels & Resorts. Meanwhile, Paris-based Accor clocks in at more than 40 brands.
TPG will spend the next few months examining each of the major hotel companies and their many brands, starting today with Hilton. While Hilton might be Marriott's chief rival in the hotel arena, it follows a different ethos when it comes to its brands.
For starters, Hilton's brand line-up is a lot smaller, with only 18. The McLean, Virginia-based company also tends to favor organically launching hotel brands as opposed to acquiring them from existing companies. The Hilton brand spectrum also ranges from ultra-luxury — with its Waldorf Astoria collection — to the more affordably priced, extended-stay brand Homewood Suites. It even boasts a timeshare arm with Hilton Grand Vacations.
If you're already confused, don't fret. You've come to the right place for a crash course in Hilton brands.
Waldorf Astoria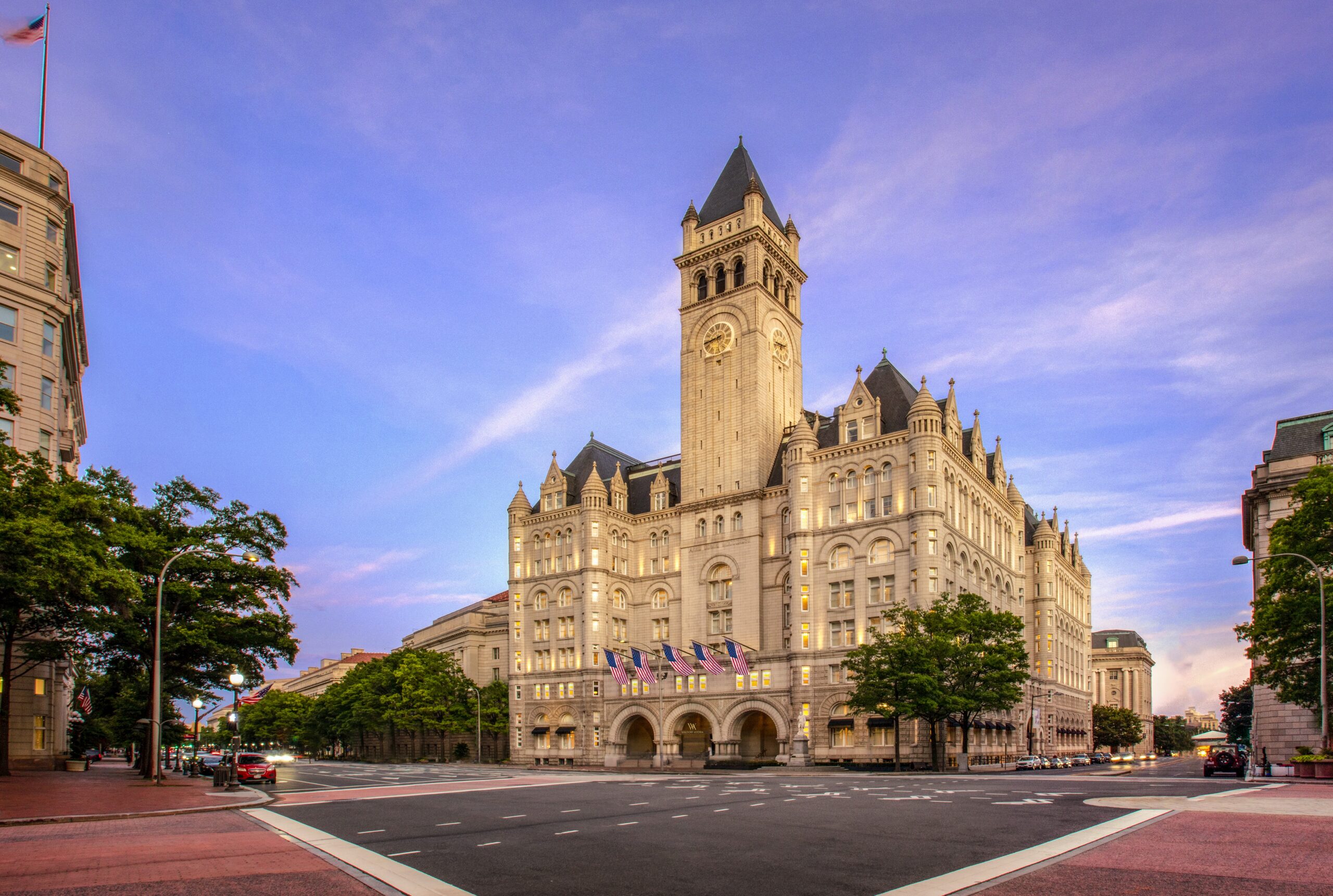 32 hotels and resorts located across 15 countries and territories
Hilton's pitch to hotel owners and developers: "In landmark destinations around the world, Waldorf Astoria Hotels & Resorts reflect the culture and history of their extraordinary locations. With a fresh, modern expression of its rich, authentic legacy, Waldorf Astoria provides guests the exceptional environment and the personalized attention of True Waldorf Service that creates unforgettable experiences for our discerning travelers."
TPG's takeaway: Waldorf is one of the hotel brand grand dames. A wide array of historical figures and celebrities — from Winston Churchill to Frank Sinatra to Paris Hilton — have stayed (or lived) at the original Waldorf in New York City. Although it stands out for its place in history, Waldorf is no longer a big fish in a small pond of luxury hotel providers. The brand faces tough competition in the points world from Marriott's St. Regis and Ritz-Carlton brands as well as Accor's Raffles. Smaller, high-end brands such as Aman and Capella appeal to ultra-luxury connoisseurs who don't mind cash rates.
The True Waldorf Service initiative is a great selling point for those who want or need butler service during a stay, but that's a baseline expectation in this stratum of hotel brands. The robust Hilton Honors points and loyalty network gives Waldorf some competitive advantage. However, we are watching to see what happens as Hilton beefs up this iconic brand into more cities — and tries to differentiate it from the pack.
Reviews: The Trump-turned-Waldorf Astoria in D.C., Waldorf Astoria Los Cabos Pedregal, Waldorf Astoria Maldives
LXR Hotels & Resorts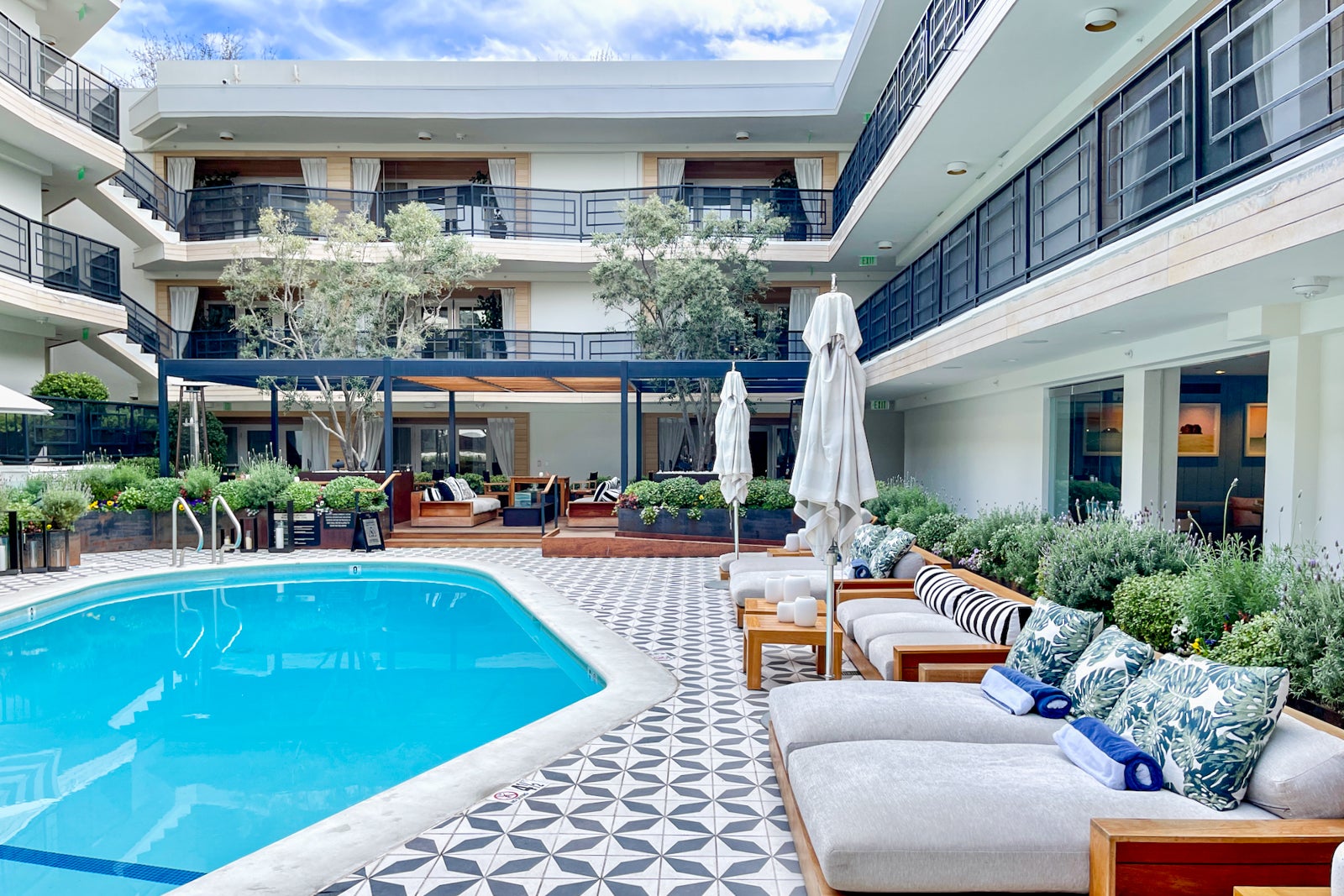 Nine hotels across seven countries and territories
Hilton's pitch to hotel owners and developers: "Found in the world's most alluring locations, LXR Hotels & Resorts immerse you in truly profound travel experiences. We've connected legendary luxury properties into a network of hotels offering singular service and remarkable experiences."
TPG's takeaway: Major hotel companies like Hilton desperately want to beef up their luxury footprints. However, that doesn't mean every luxury hotel owner wants to tap into a Waldorf license agreement and go through all the hassle of retrofitting a property to that brand's design and experience standards. Enter: LXR Hotels & Resorts. These hotels enjoy inclusion on the Hilton Honors loyalty network but maintain the unique, bespoke feel of an independent top-tier hotel.
Reviews: Oceana Santa Monica, Hotel 1000
Conrad Hotels & Resorts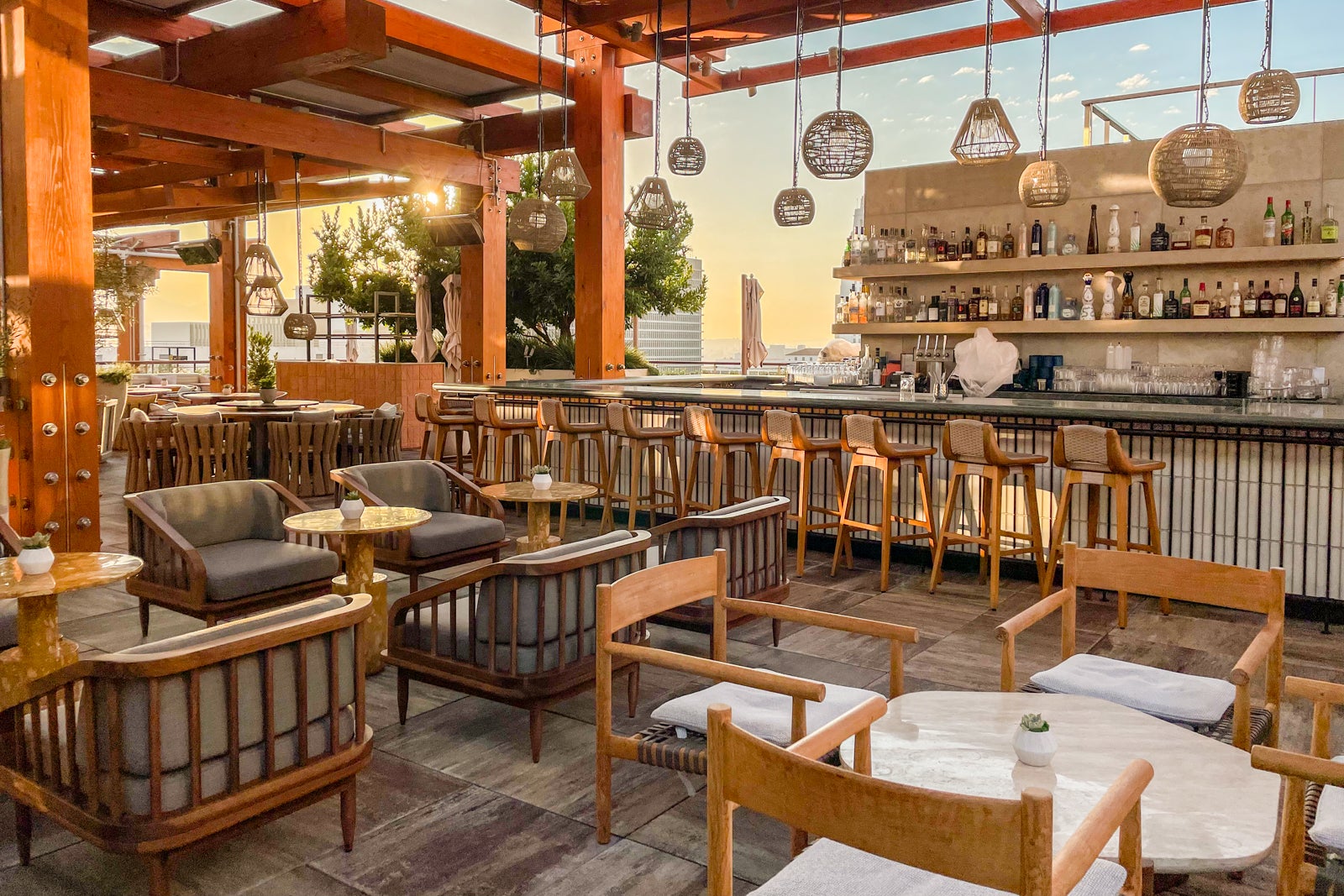 44 hotels and resorts across 22 countries and territories
Hilton's pitch to hotel owners and developers: "Never just stay. Stay inspired. Smart luxury is at the core of everything Conrad Hotels & Resorts does. We offer access to a world of infinite connections, intuitive services and inspired experiences along our guests' journeys. We are the destination of a new generation of smart luxury travelers for whom life, business and pleasure seamlessly intersect."
TPG's takeaway: This is essentially the JW Marriott of the Hilton brand family — but not just because they are both named after their respective founders. The brand operates in a bit of purgatory between the upscale spectrum of Hilton Hotels & Resorts and the luxury segment commanded by Waldorf and LXR. Think of these properties as affordable luxury options that work in both cities and resort destinations. While you stay at one, you can debate if Conrad Hilton's last words really were, "Leave the shower curtain on the inside of the tub."
Reviews: Conrad Los Angeles, Conrad Miami, Conrad New York Downtown
Canopy by Hilton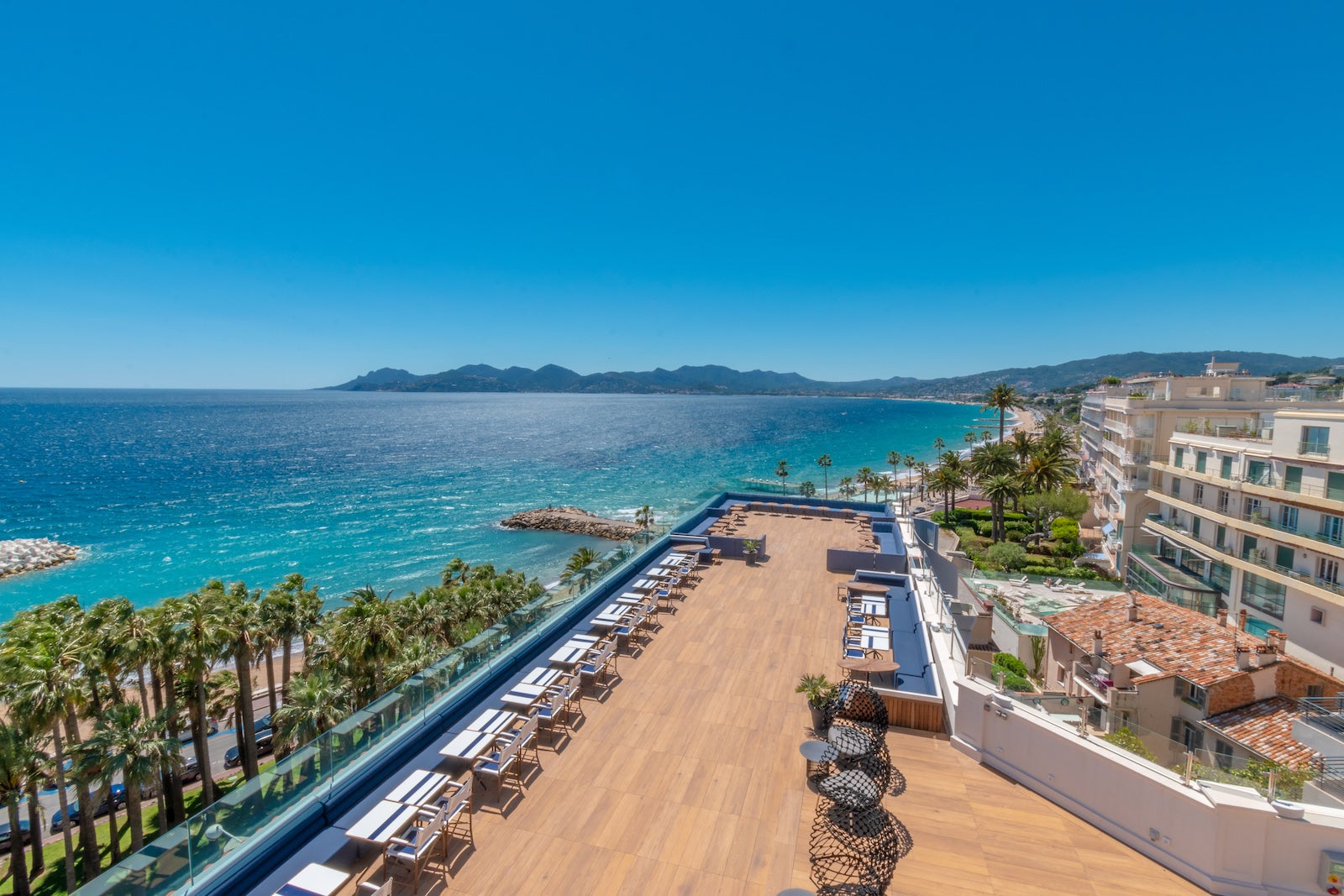 37 hotels across 10 countries and territories
Hilton's pitch to hotel owners and developers: "Positively Yours. For those seeking an energizing experience, Canopy by Hilton is the hotel brand that creates 'a positive stay' with its simple, guest-directed service and thoughtful, local choices."
TPG's takeaway: Canopy is one of Hilton's newer kids on the block. It was initially included in a wave of brands like Moxy and Aloft that aimed to attract younger travelers — though Hilton refrained from using the m-word (millennial) as much as its competitors. Fast forward to today, and the brand is more of a play for the lifestyle hotel sector. Its properties integrate more into their surrounding neighborhoods and offer elevated food, beverage and dining experiences for guests.
Reviews: Canopy New Orleans, Canopy Reykjavik City Centre
Signia by Hilton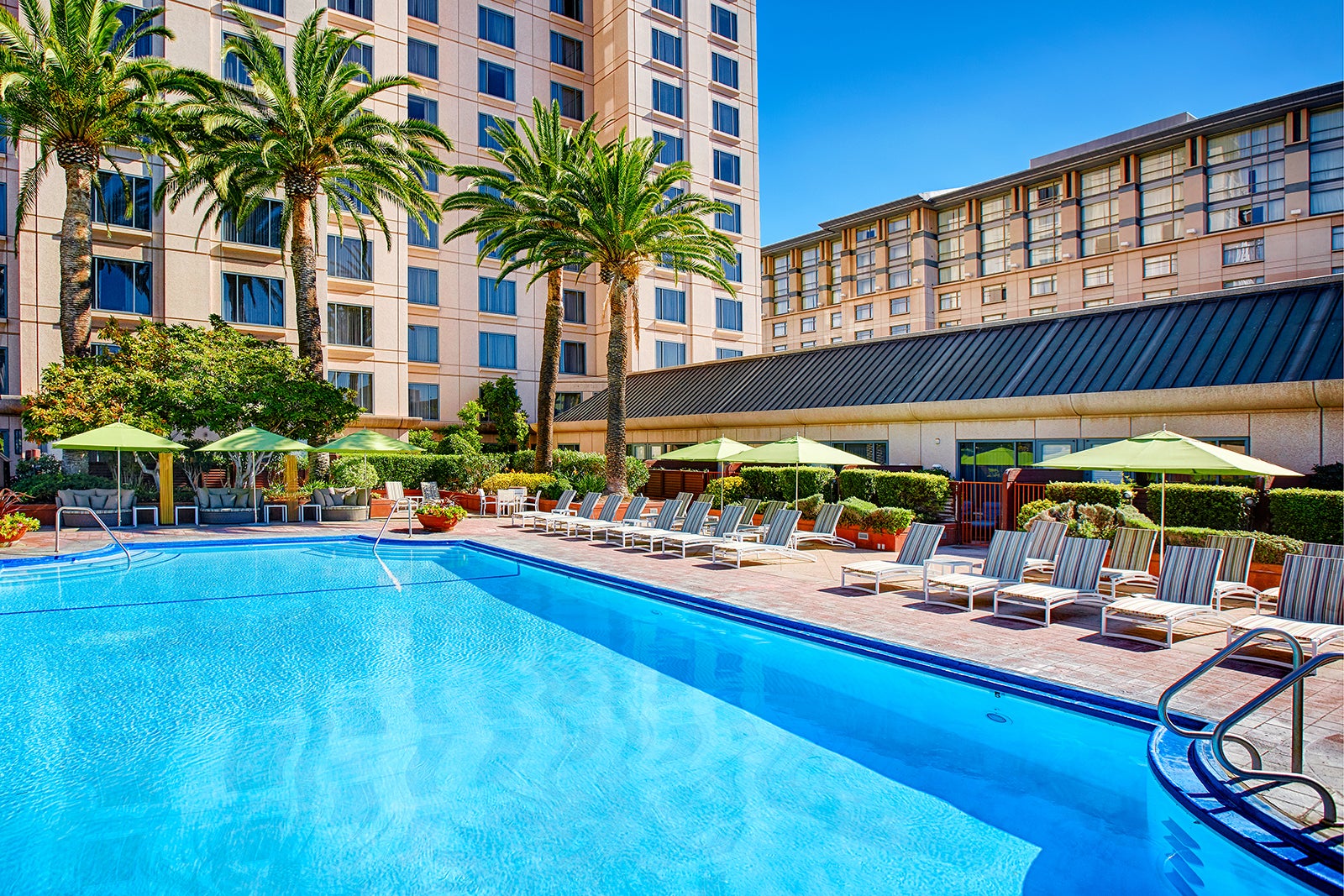 Two hotels across the U.S.
Hilton's pitch to hotel owners and developers: "Signia by Hilton is a new portfolio of premier hotels in highly sought-after urban and resort destinations. Each Signia by Hilton hotel offers unparalleled, dynamic meetings and events capabilities with world-class design, state-of-the-art technology, signature food and beverage experiences and premium wellness offerings, all backed by the Hilton name and award-winning Hilton Honors program."
TPG's takeaway: While it was a head-scratcher to see Hilton move ahead with a convention brand in the depths of the pandemic (though the brand itself was launched prior to then), the hotel company did just that. The brand fills a hole in Hilton's network by allowing it to compete with the likes of Omni and Gaylord in the convention business.
Hilton Hotels & Resorts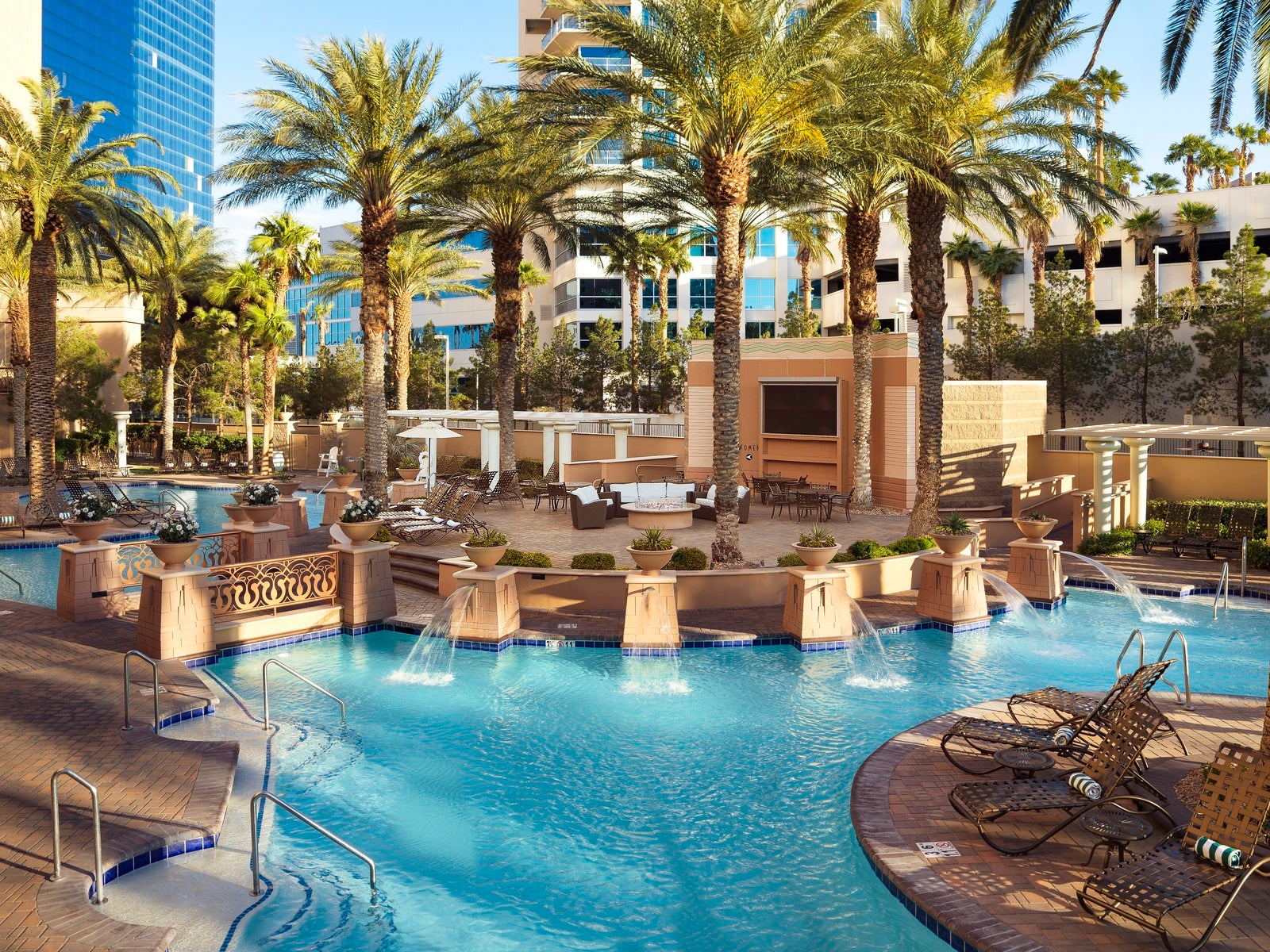 601 hotels and resorts across 95 countries and territories
Hilton's pitch to hotel owners and developers: "For nearly a century, Hilton Hotels & Resorts has been proudly welcoming the world's travelers. With more than 584 hotels across six continents, Hilton Hotels & Resorts provides the foundation for exceptional travel experiences and values every guest who walks through its doors. The most recognized name in the industry, Hilton remains synonymous with the word 'hotel.' From inaugural balls and Hollywood award galas to business events and days to remember, Hilton is where the world makes history, closes the deal, toasts special occasions and gets away from it all. As the flagship brand of Hilton, Hilton Hotels & Resorts continues to set the standard for hospitality, providing new product innovations and services to meet guests' evolving needs."
TPG's takeaway: It's the namesake brand with locations all over the world. Think of it as the hotel version of a McDonald's and Starbucks: It offers standardized service that isn't always going to knock your socks off but reliably offers a clean place to sleep, shower and get on with your travel. Of course, there are a few properties that stand out (such as the Beverly Hilton, which typically hosts the Golden Globes) and give Hilton its global brand power.
Reviews: Hilton Mauritius, Hilton Tel Aviv, Hilton Reykjavic Nordica
Curio Collection by Hilton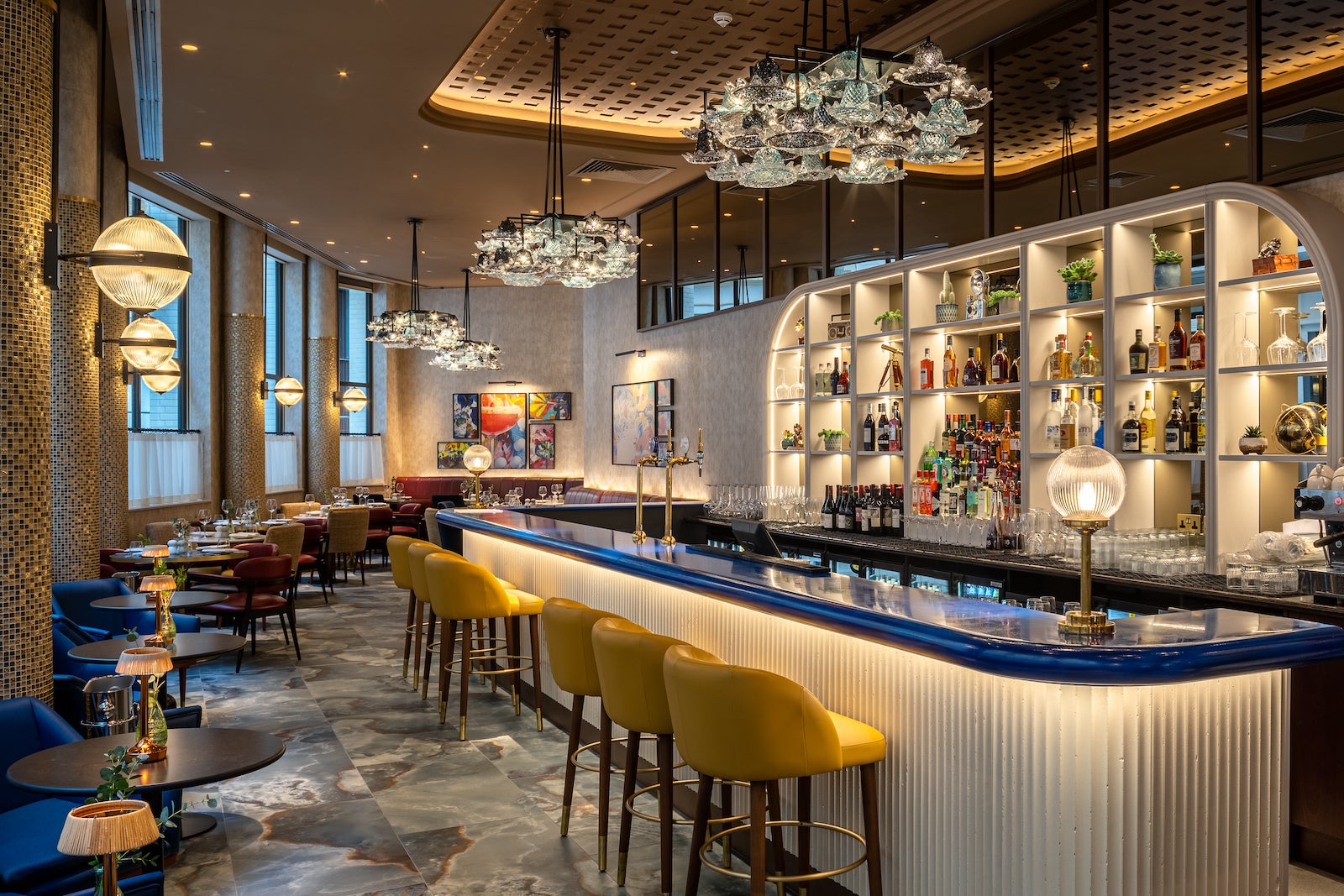 133 hotels and resorts across 34 countries and territories
Hilton's pitch to hotel owners and developers: "For the Curious. Curio is a collection of independent, remarkable hotels whose only unifying characteristic is their glorious individuality. Each hotel is hand-picked for its distinct character and personality, appealing to passionate travelers seeking local discovery."
TPG's takeaway: Curio is another of Hilton's soft brands that seem more like a boutique hotel collection rather than one with rigid brand standards like Canopy and DoubleTree. The portfolio's outposts are mainly located in North America and Europe, but Curio-flagged properties now dot Asia and the South Pacific. Consider this a way to get a rich, local experience without paying the higher rates of an LXR-branded hotel — all while earning or redeeming Hilton Honors points.
Reviews: Maison Astor Paris, WB Abu Dhabi, SAii Lagoon Maldives
DoubleTree by Hilton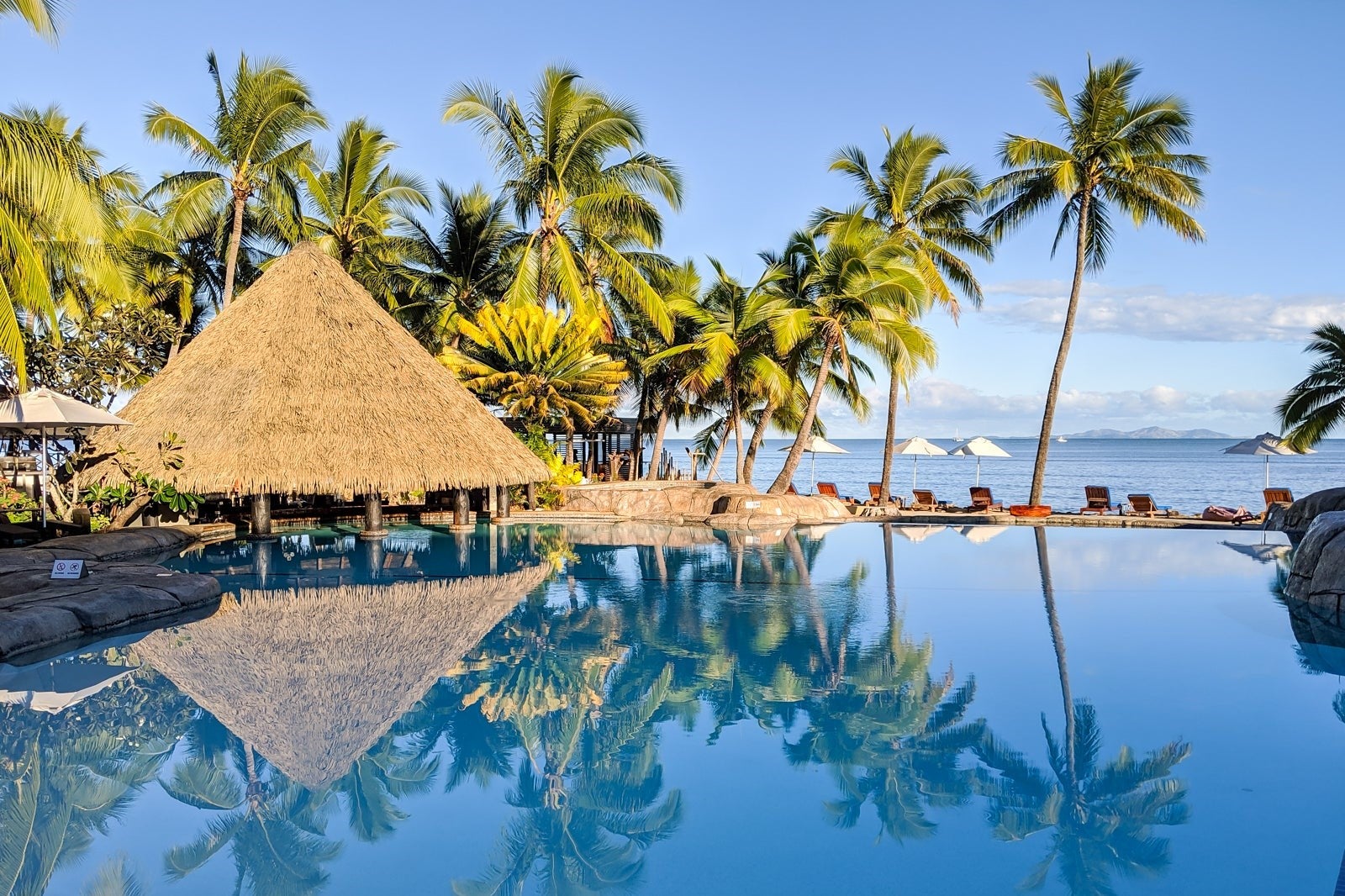 649 hotels and resorts across 51 countries and territories
Hilton's pitch to hotel owners and developers: "Come for a stay and see how nice travel feels. Something happens when you stay at a DoubleTree by Hilton hotel. Maybe it's all the little things we do to show we care. From thoughtful touches and friendly service to our warm chocolate chip cookie welcome, we're here to make your stay as comfortable as possible, right from the start. The niceness you experience with us stays with you long after you check out, and we wouldn't have it any other way."
TPG's takeaway: Who cares about the guest rooms? We're just here for the free chocolate chip cookies! DoubleTree is a middle-tier brand catering to business and leisure travelers. It may not be the stuff of a dream vacation, but it offers consistency across its portfolio largely focused on North America and Europe. However, the brand does have a presence in destinations like New Zealand and Fiji.
Reviews: DoubleTree Wellington, DoubleTree Amsterdam, DoubleTree Fiji
Tapestry Collection by Hilton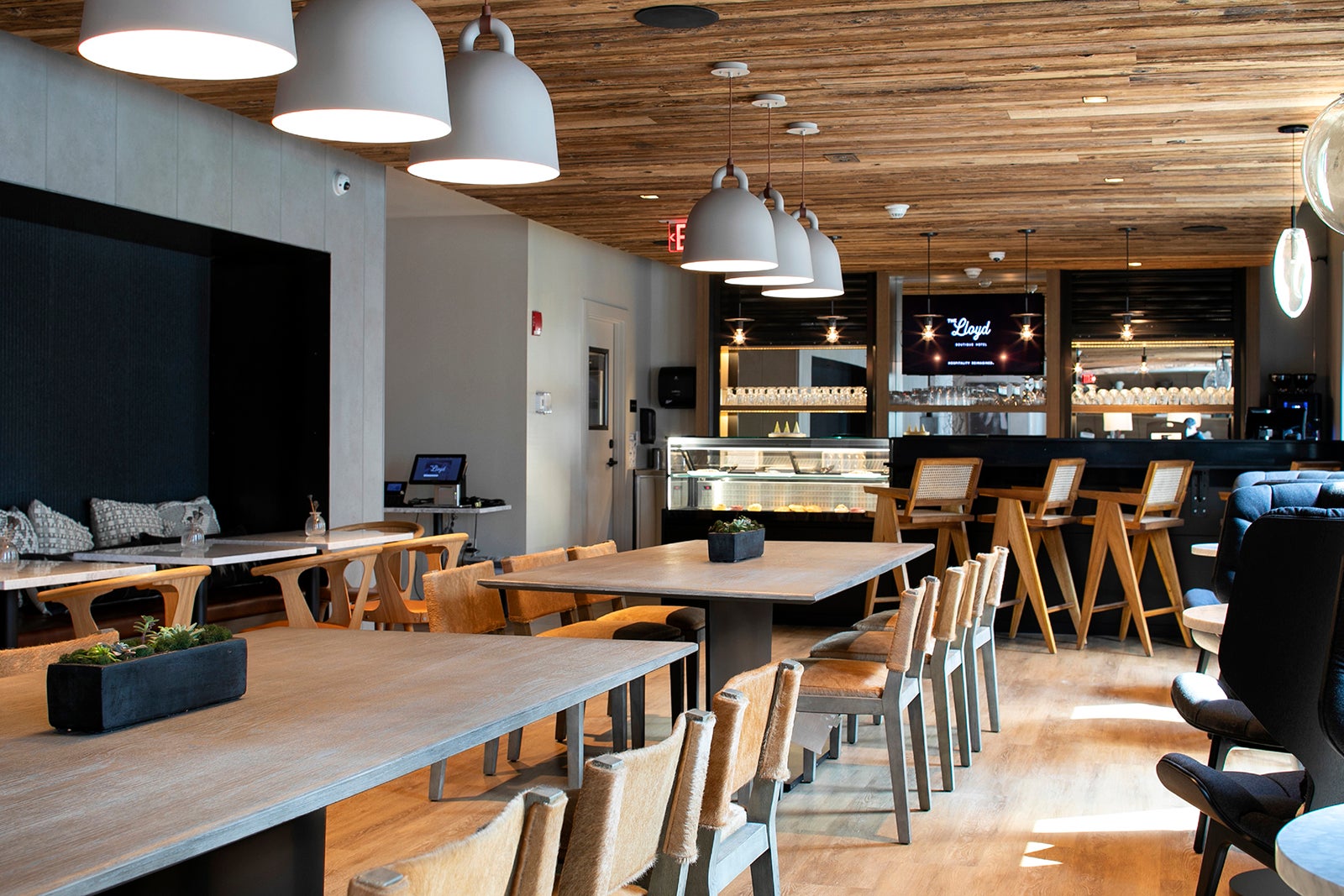 90 hotels across 12 countries and territories
Hilton's pitch to hotel owners and developers: "Weave your own story. Tapestry Collection is a gathering of unique hotels that have been chosen because of a commitment to weaving their own story, meant for the traveler who never wants exactly the same experience twice."
TPG's takeaway: Rounding out Hilton's soft brand trinity is Tapestry Collection. The boutique hotel movement centered on the world's largest cities, but there has been a wake-up call across the industry that travelers to smaller cities also like the feel and experience of a cool, one-off property. These independent-minded hotels that tap into Hilton's loyalty network are usually more affordable than their siblings in the Curio Collection and are typically found in smaller markets.
Embassy Suites by Hilton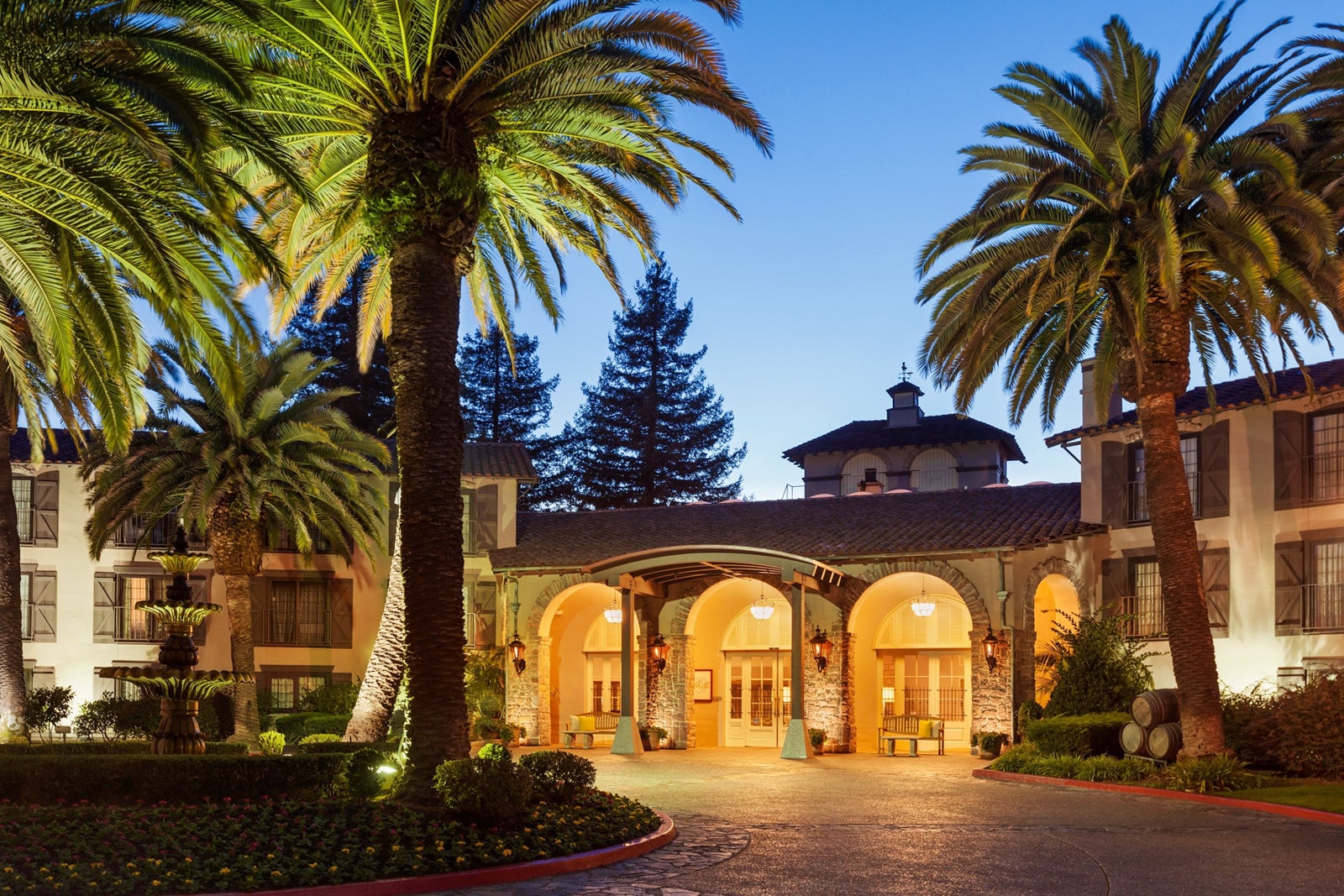 261 hotels across five countries and territories
Hilton's pitch to hotel owners and developers: "Embassy Suites by Hilton defines the upper-upscale, all-suite hotel category with its mix of two-room and studio suites, along with an atrium space designed to house the value-added food & beverage offerings, including free made-to-order breakfast and complimentary Evening Reception. With significant market share premiums and consistent best-in-class customer service, Embassy Suites engenders enormous loyalty amongst owners and customers alike."
TPG's takeaway: It is beauty. It is grace. It recently won TPG's award for best free hotel breakfast in the U.S. The suites-only hotel is good for those looking for more than just a limited-service hotel: Along with the free breakfast (complete with made-to-order omelets), Embassy Suites offers a daily evening reception with free snacks and drinks. My hometown Embassy Suites back in Memphis, Tennessee, is even home to one of the city's nicer Italian restaurants.
Tempo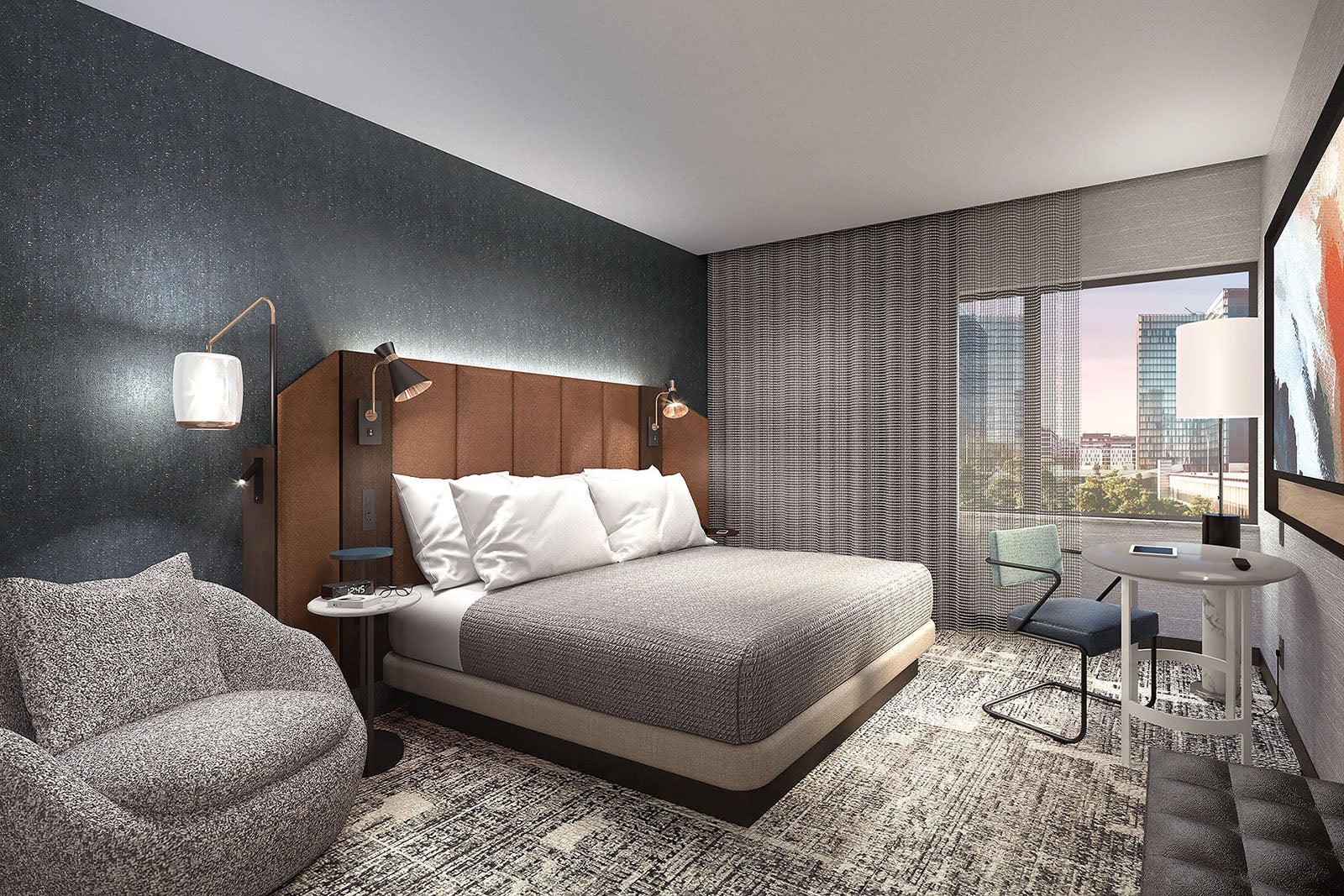 No hotels open yet
Hilton's pitch to hotel owners and developers: "Tempo by Hilton is a stylish and contemporary lifestyle hotel brand dedicated to exceeding the expectations of the ambitious, yet balanced, class of discerning traveler — the modern achiever. Thoughtfully designed and uplifting, Tempo offers dynamic public space including an open lobby concept with dedicated spaces to relax and work, as well as premium culinary options, such as the brand's signature coffee fuel bar, a casual breakfast café and an inviting bar experience. Each Tempo will include well-being offerings, state-of-the-art fitness facilities and programs, as well as flexible meeting and working spaces."
TPG's takeaway: Tempo is another Hilton play for the lifestyle hotel segment, this time at a more affordable price point. These hotels are meant to feature a midcentury modern style — so travelers can feel like they're sleeping in a West Elm catalog. They have co-working spaces, elevated fitness centers and even wellness rooms, designed in partnership with Peloton.
Related: Can Hilton win over new travelers with its just-launched brand?
Motto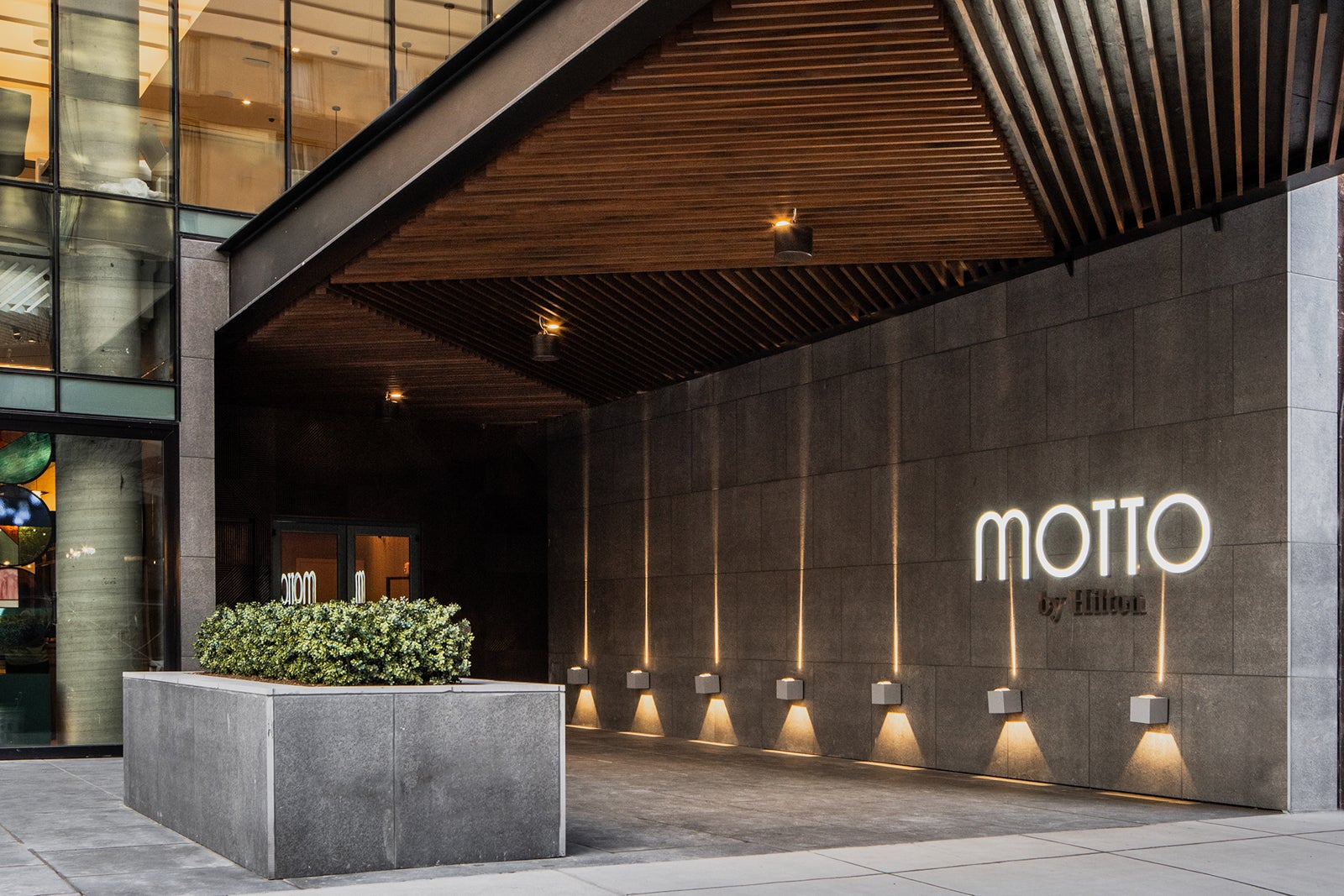 Three hotels across the U.S.
Hilton's pitch to hotel owners and developers: "Motto by Hilton is Hilton's new micro-hotel with an urban vibe in prime global locations that empowers guests by giving them the freedom to create their own experiences in the world's most sought-after cities. Motto offers travelers centrally located, reasonably priced and less traditional lodging that provides a one-of-a-kind experience. At its core, Motto is a beacon for today's modern, global community of travelers, delivering a flexible innovative hospitality experience with guest-empowered service."
TPG's takeaway: At first glance, Motto might seem like Hilton's version of Marriott's Moxy or Hyatt's new Caption brand. However, the vibe here doesn't avoid family travel, either. TPG's hotels team toured the new Motto in New York City and saw how three adjoining rooms with different floorplans connect to create a two-bedroom suite; there's even a living room in between thanks to flexible furniture that can make a bed double as a living area couch. It may have a small footprint today, but Motto could grow to become a formidable player in the family travel space for those looking to get to a major city.
Reviews: Motto Philadelphia
Hilton Garden Inn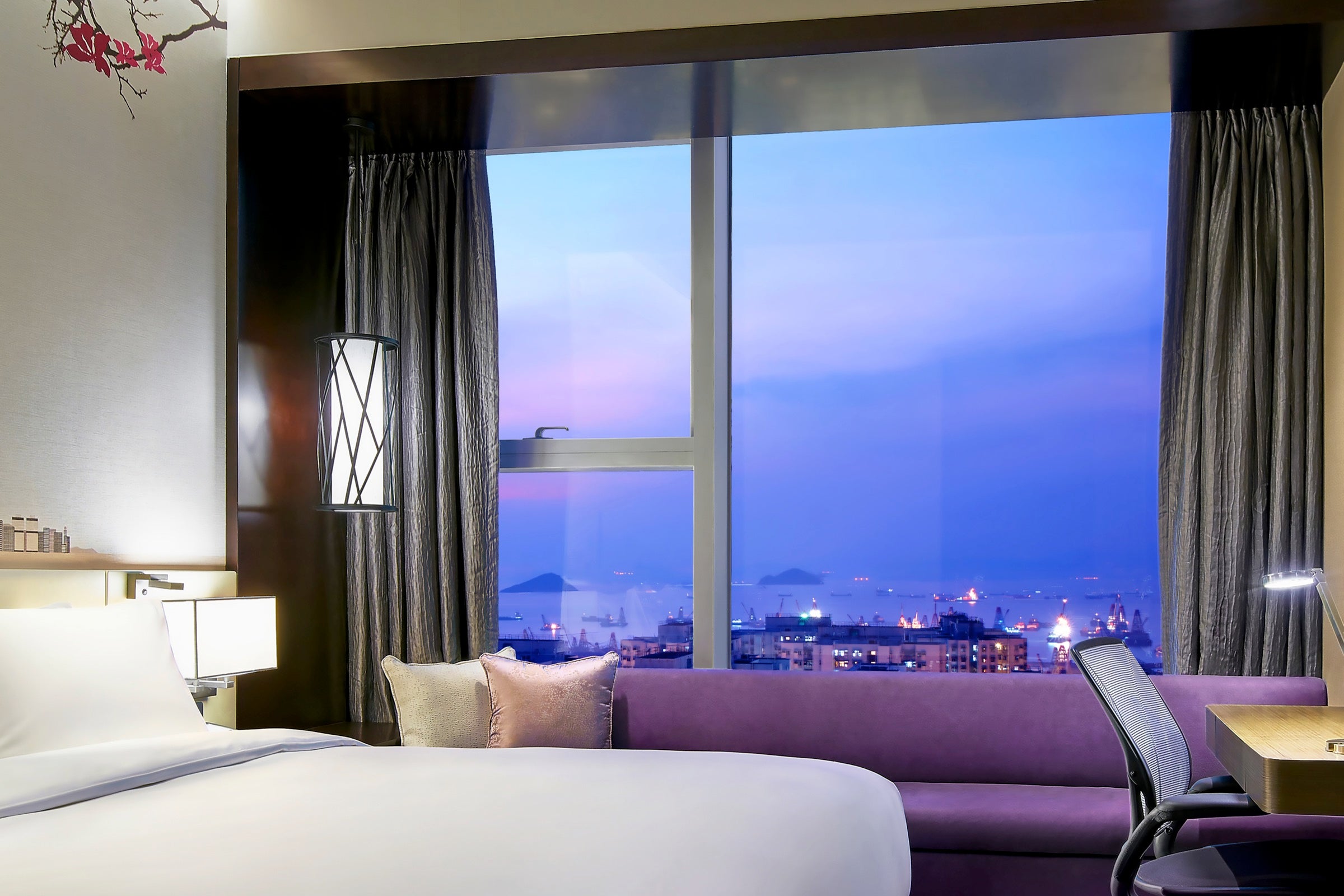 960 hotels across 56 countries and territories
Hilton's pitch to hotel owners and developers: "Hilton Garden Inn is the laid-back sophisticated brand offering heartfelt service and award-winning amenities."
TPG's takeaway: It's hard to fit Hilton Garden Inn into one box. You'll find them everywhere from Grand Forks, North Dakota, to Tangier, Morocco. Given that it's one of Hilton's larger brands, Hilton Garden Inn is clearly a hit with business travelers as well as leisure travelers looking for a standardized product that offers made-to-order breakfast and amenities like a business center and gym.
Hampton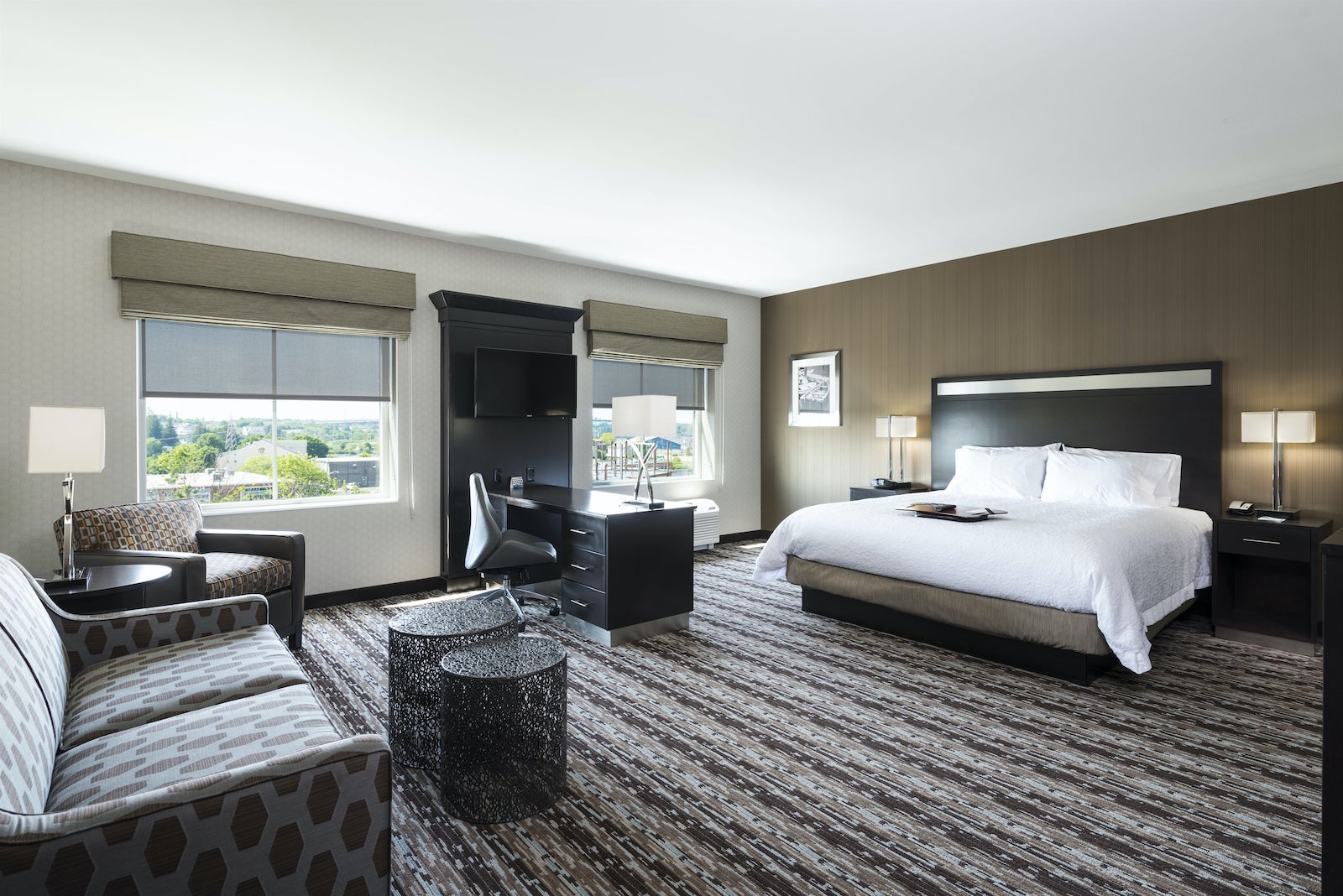 2,839 properties across 35 countries and territories
Hilton's pitch to hotel owners and developers: "Hampton by Hilton is the industry's leading upper-midscale brand. Every Hampton Inn and Hampton Inn & Suites is committed to the 100% Hampton Guarantee providing an exceptional guest experience and consistent, high-quality accommodations and amenities. When you invest with Hampton, you join a brand of more than 2,500 hotels in 29 countries and territories around the world backed by Hilton's power, reputation, scale and performance engine."
TPG's takeaway: Hampton Inns may come in all shapes, sizes and locations, but consider this Hilton's workhorse in the roadside and airport hotel space. With more than 2,800 locations, Hampton is Hilton's largest brand by far. The brand is generally a mainstay off highways. It offers a clean, consistent product to road warriors on the hunt for a spot to pull off, grab some shut-eye and enjoy a free breakfast the next morning.
Tru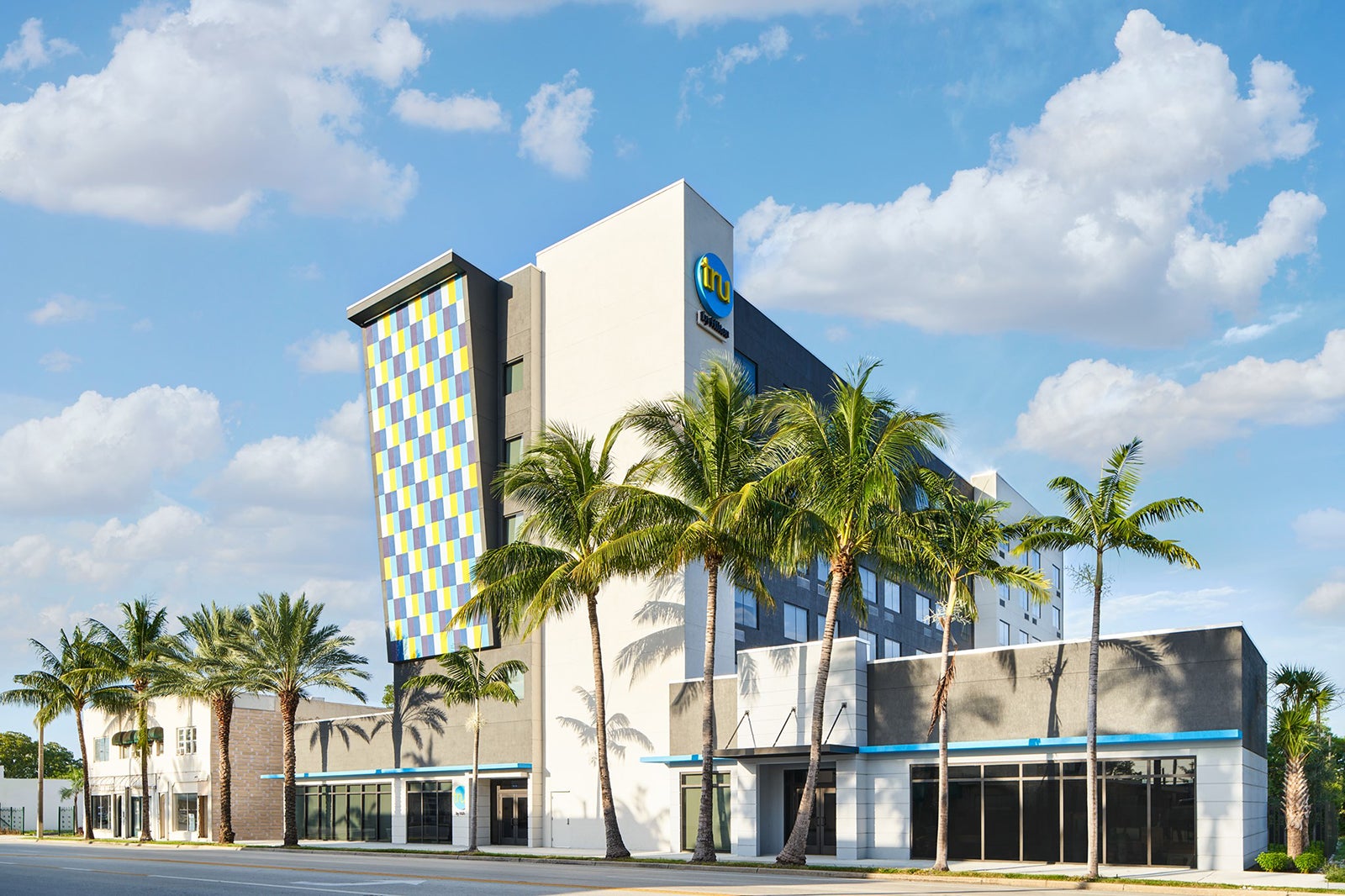 227 hotels across three countries and territories
Hilton's pitch to hotel owners and developers: "Catch The Spirit. Welcome to Tru by Hilton, a place that embraces vibrant simplicity and is fun and engaging. We stand for the love of simplicity, we embrace the human spirit, and we champion the value-conscious traveler. This is a back-to-basics experience with soul."
TPG's takeaway: When TPG first did a Hilton brand lineup, we said Tru was focused on cost-conscious millennial travelers. In my opinion, the way to appeal to this audience is by launching a vacation platform like Airbnb. After all, are any millennials really staying loyal to any of these millennial-minded brands? That said, Tru and its simple, smaller rooms are taking off with more than 200 hotels largely located across the U.S.
Homewood Suites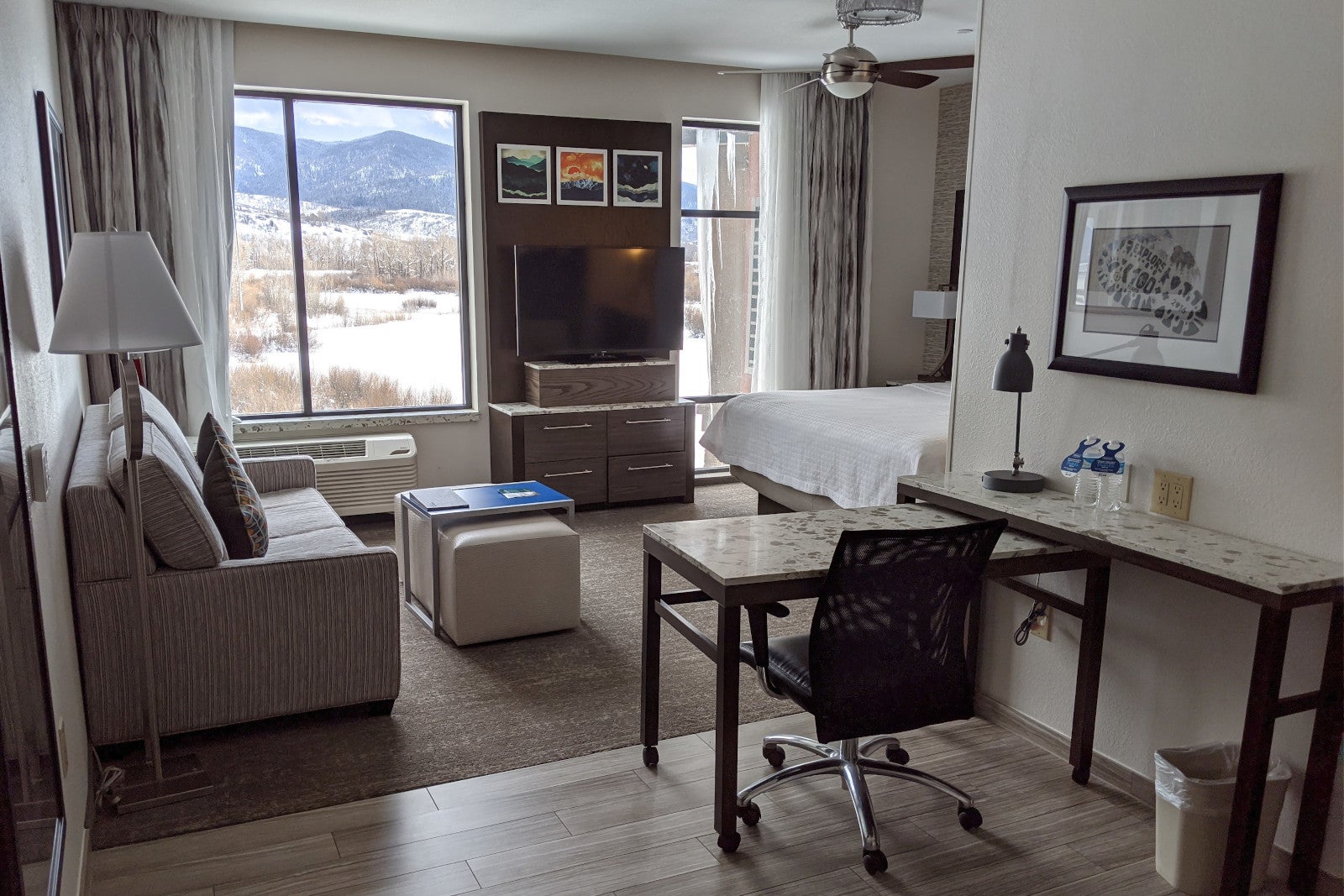 533 hotels across four countries and territories
Hilton's pitch to hotel owners and developers: "Homewood Suites by Hilton is the upscale, all-suite, residential-style, extended-stay leader in satisfaction and performance. This innovative brand offers travelers a unique approach to longer stays by allowing guests to stay in their routines while on the road for business or leisure. Homewood Suites offers developers a cutting-edge blueprint for success that has fueled unprecedented growth and demand for the brand. Homewood Suites is an exciting investment opportunity for a balanced hotel portfolio and is flexible enough to complement a variety of site locations."
TPG's takeaway: Those on the hunt for a higher-end, extended-stay booking will find solace at Homewood Suites. Suites typically include a kitchen, bedroom and living room along with free breakfast and a complimentary evening happy hour. Extended-stay hotels can often feel like sterile corporate housing, but Homewood Suites has a nice hospitable touch to elevate it over the pack.
Related: Best budget hotels for families who need space
Home2 Suites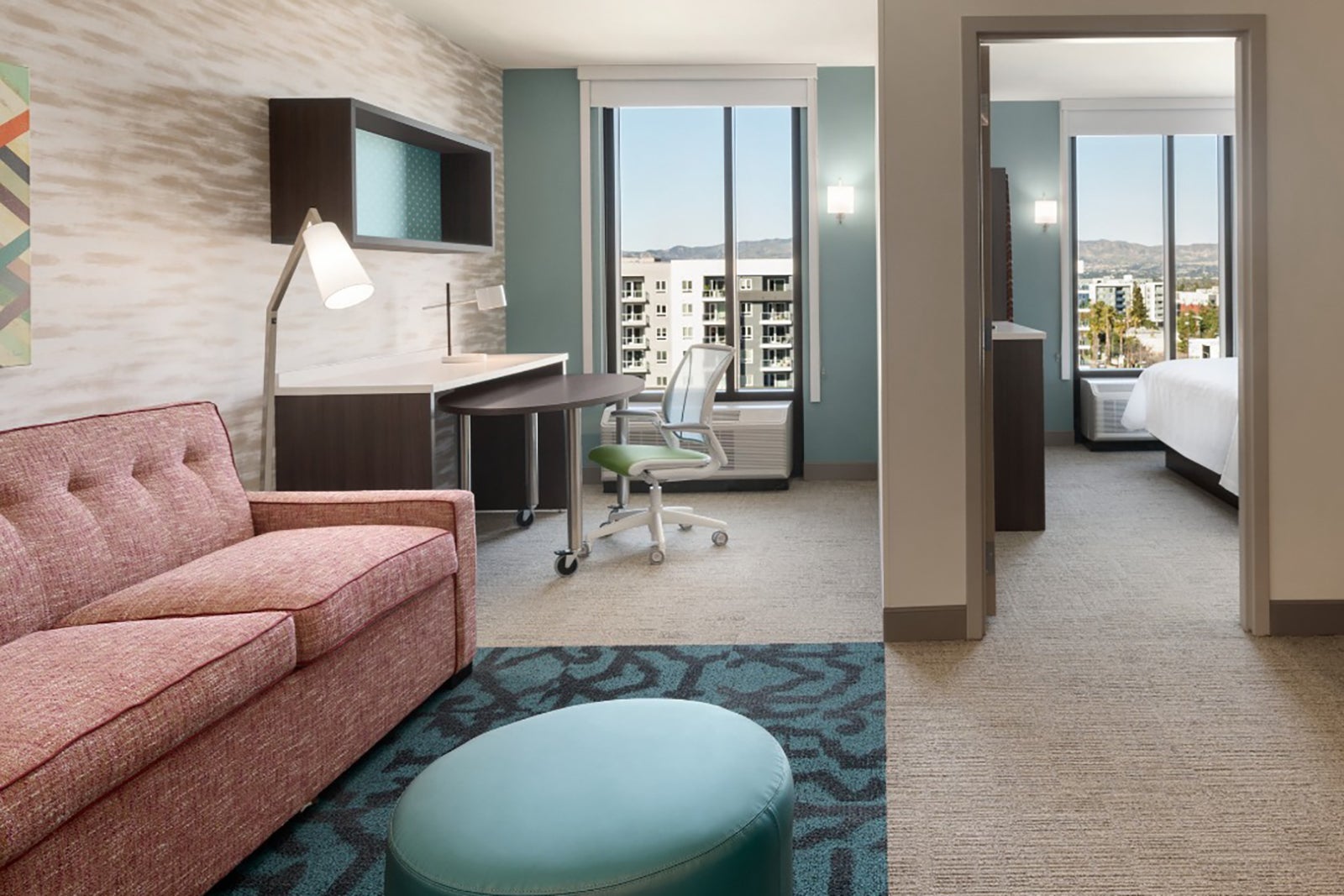 560 hotels across three countries and territories
Hilton's pitch to hotel owners and developers: "Home2 Suites by Hilton is a fresh take on the mid-scale, all-suite hotel targeted to the value-conscious extended-stay (5+ night) traveler. The brand's innovative prototype combined with our sustainable practices and products ensures cost-effective development and operation. Home2 Suites drives a strong value proposition for owners while offering unique amenities for guests, including our eco- and pet-friendly spaces plus free breakfast, laundry and fitness centers and more."
TPG's takeaway: This is the place to stay when looking for an extended-stay reservation on a budget. Properties in the Home2 Suites portfolio generally offer a pool, outdoor space, a gym and a laundry facility for those needing a place to call (temporary) home.
Hilton Grand Vacations
73 resorts across seven countries and territories
Hilton's pitch to hotel owners and developers: "A vacation state of mind. At Hilton Grand Vacations, we are committed to the idea that life is incomplete without vacations. With an ever-growing collection of resorts in spectacular settings around the world, Hilton Grand Vacations invites you to experience a lifetime of vacations in spacious, comfortable elegance with our innovative vacation ownership program. Guests enjoy accommodations offering the comforts of home, amenities tailored to each destination, and the legendary service synonymous with the Hilton name."
TPG's takeaway: The timeshare sector may not be the sexiest product in the travel orbit, but it — along with all-inclusive resorts — garnered attention from the hotel business community during the pandemic.
Timeshare brand Wyndham Destinations acquired media brand Travel + Leisure in 2021 for $100 million and now goes by Travel + Leisure Co.; this move is a major way to court younger travelers to this type of travel that is typically associated with a more mature demographic. Similarly, Hilton Grand Vacations made its own acquisition play and bought Diamond Resorts for $1.4 billion in 2021. The beefed-up Hilton Grand Vacations has a presence largely in the U.S. and Caribbean, but there are even some properties in Japan.
Members book stays using either Hilton Honors points or ClubPoints accrued via membership in the HGV network. TPG previously noted timeshares are usually lackluster in terms of redemption rates and wasn't advocating this as an option to redeem points. However, given all the branded blitz in this sector over the last two years, it is certainly one to watch. This is especially true as the competition to court younger travelers — who represent the fastest-growing demographic in timeshare and vacation club membership — heats up.